Planning a honeymoon in Abu Dhabi? It is one of the best spots in the whole world!
From luxury desert hotels offering once-in-a-lifetime experiences to incredible beaches, high-end restaurants and plenty of cultural or adrenaline activities, it's a top honeymoon destination to make lifelong memories.
The Emirate of Abu Dhabi has a cosmopolitan city surrounded by desert, traditional towns, wildlife hotspots and beautiful turquoise Gulf waters.
Abu Dhabi's shoreline has amazing beaches, where epic sunrises and sunsets are always reliable!
Aside from, luxury resorts, fantastic architecture, and fine dining options, Abu Dhabi is an escape from the hustle and bustle of Dubai.
Abu Dhabi is the ultimate luxury whether its high-class hotels, restaurants or designer malls.
Irrespective of the high-end life, every honeymooner's budget can be met in Abu Dhabi while offering an excellent balance between activities and sights. In fact, there are tonnes of free activities in Abu Dhabi.
Abu Dhabi Honeymoon
Embrace the year-round sunshine as you begin your married life. Organising a wedding can be super tiring. Hence, we have come up with an extensive list of places to stay and things to do when spending your honeymoon in Abu Dhabi.
Our suggestion is to stay in one of the desert or island resorts for a couple of nights, followed by some time in Abu Dhabi city itself.
1. Qasr Al Sarab Desert Resort by Anantara
Although Abu Dhabi boasts some of the world's most lavish hotels, none are more inviting than Anantara's Qasr Al Sarab Resort. A 90-minute journey from the city, it is one of Abu Dhabi's most famous desert hotels in the region.
Set in the vast expanse of the Empty Quarter, this resort stands out like a mirage in the openness of the desert.
There are plenty of opportunities to explore the dunes, be it as early as dawn to watch the sunrise or a camel ride into the sunset.
Honeymooners can also opt for dune bashing and sandboarding, among other exciting thrills.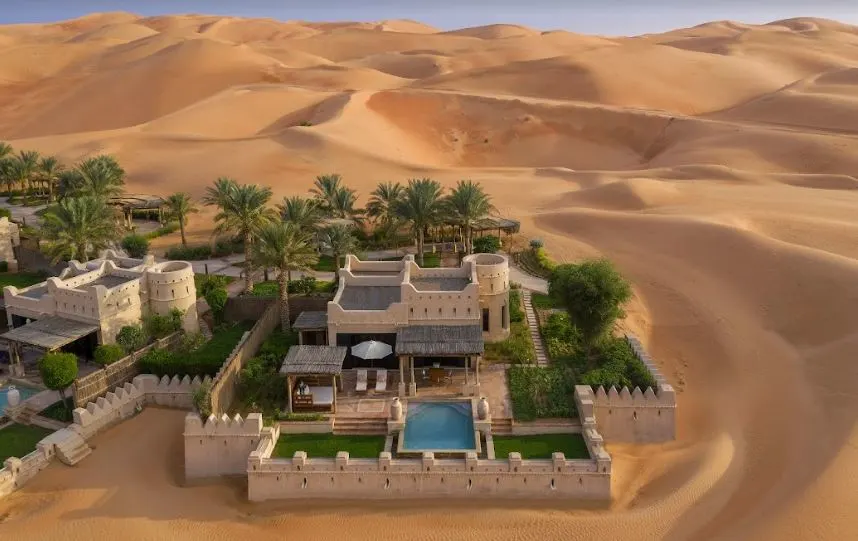 Picture a fortress filled with fountains, courtyard houses and spacious suites, private pool villas, not to mention royal Pavillon villas.
We suggest spending 2 nights at the resort. In fact, they have the perfect package for a two-night stay!
The 'Mini Moon At The Palace' package includes:
Two nights in a pool villa or a room of your choice
Service by a villa host and reserved cabana at the main pool
A 60-minute couple's massage at the spa
Breakfast in bed with champagne every day
A stargazing experience
Couples looking to experience authentic Arabian heritage can also choose to stay in a luxurious Bedouin-style Camp, Camp Nujum, which lies in the midst of the desert.
Book a stay at Qasr Al Sarab Desert Resort by Anantara
Location: Qasr Al Sarab Desert Resort – Al Mirayr – Abu Dhabi – United Arab Emirates
2. Al Wathba, A Luxury Collection Hotel & Spa
Al Wathba, a luxury collection Hotel and Spa, is an ideal honeymoon hotel in Abu Dhabi, located just 49 kilometres from Sheikh Zayed Grand Mosque.
The adult-only boutique resort has 99 suites and a choice of one, two or three-bedroom villas with private pools.
An outdoor pool, spa, fitness centre, 24-hour reception, and an electric car charging station are just some of the amenities this luxurious sustainable resort offers.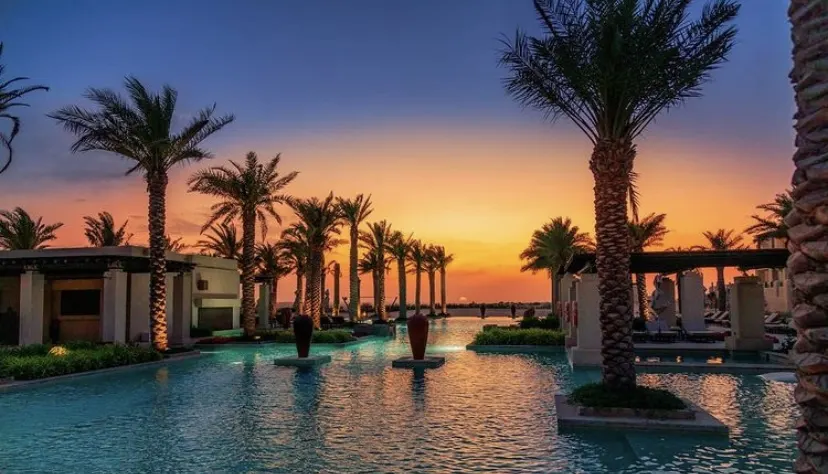 If residing at Al Wathba resort for a few days is on the cards, there are many hidden gems nearby worth exploring.
Al Wathba wetland reserve
Al Wathba camel racing track
Fossil dunes
Al Wathba hill, which is a man-made hill offering the most spectacular view of the area
Honeymooners can enjoy an array of international cuisines and drinks at their finest restaurants, a rooftop bar with views of the desert, and a swim-up bar.
Book a Stay at Al Wathba, A Luxury Collection Hotel & Spa
Location: Al Wathba South 56620 – Abu Dhabi – United Arab Emirates
3. Telal Resort, Al Ain
Telal Resort is located among the dunes of Al Ain and is unique. With its breathtaking pool overlooking the dunes and a cold plunge pool surrounded by exquisite Arabic architecture, the shared facilities are as luxurious as the private ones.
Among the options are the deluxe one-bedroom, the Domani two-bedroom, the Oryx pool villa, and the Presidential mansion, to name a few.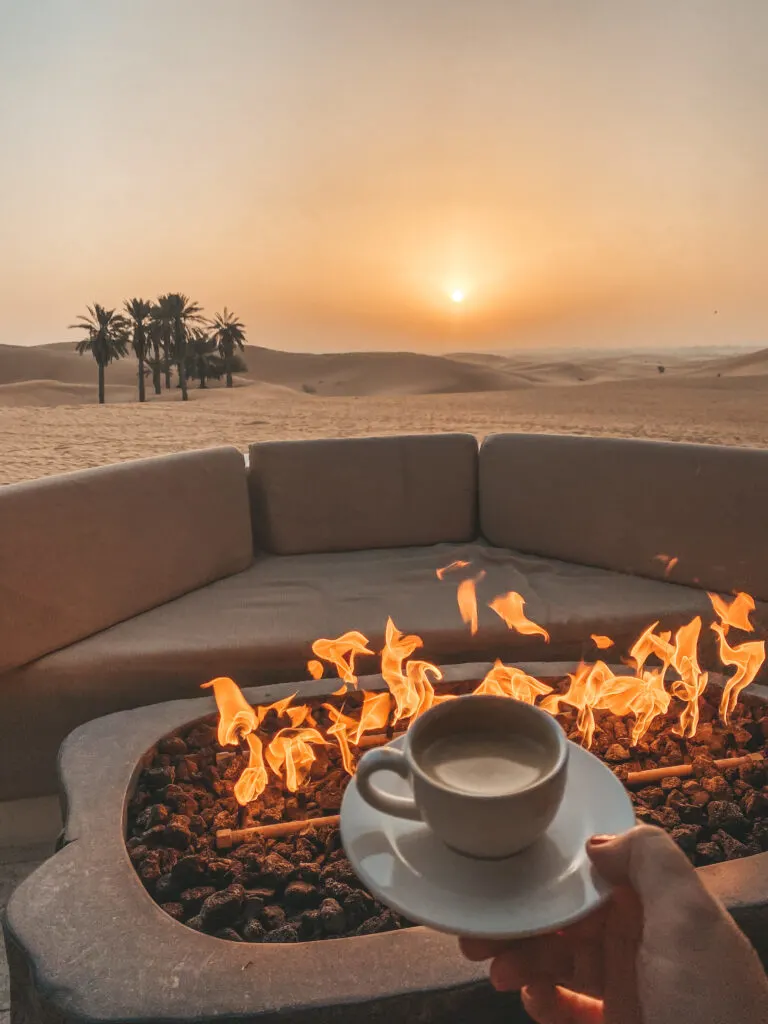 Telal Resort has created some unique experiences for newlyweds and couples.
They have an exclusive 'Romantic Desert Escape' package with a few specials:
Arrangement of rose petals in a romantic setting
Indulgent strawberries dipped in chocolate.
Access to various recreation facilities, including cycling, foosball, badminton, volleyball, darts, and giant chess.
A heart-shaped cake
All of this is inclusive of an overnight stay with Breakfast for two adults.
In addition to the stunning accommodation, the hotel offers a wide range of activities. Whether it's desert safaris, spas, or gyms, there is something for everyone.
Also within this hidden treasure is an instagrammable secret oasis that is exclusive to Telal resorts guests. Moreover, the green Mubazzarah hot springs are also in the vicinity, which is a 35 minutes car ride.
Telal Resort is very close to Al Ain where the rocky mountain Jebel Hafeet can be seen, the stunning garden oasis with palm trees, not to mention souks, mosque architecture and much more.
Al Ain is quite different to Abu Dhabi city itself and is well worth visiting.
Book a stay at Telal Resort, Al Ain
Prices vary depending on season
Location: Rimah – Abu Dhabi – United Arab Emirates
4. Nurai Island, Abu Dhabi
Located 15 minutes by boat from Abu Dhabi along the Arabian Gulf lies the perfect piece of paradise, Nurai Island.
Clear waters, powder-white soft sand and lush vegetation, surround the exclusive island resort.
The modern villas seamlessly blends into the natural landscape and feature private temperature-controlled pools, floor-to-ceiling windows overlooking the Arabian Sea and air-conditioning, setting the villas apart from other resorts in Abu Dhabi.
With a magical sea view and the sound of the waves outside, guests can enjoy individual spa sessions or revitalising couple massages at Nurai Spa.
Yoga and personal training can be arranged at sunrise or sunset, making it an excellent activity for newlyweds.
A poolside experience like no other, Ginger Mermaid offers delicate sashimi and sushi carved by an experienced chef.
Book your honeymoon at Nurai Island, Abu Dhabi
Location: Nurai Island – Abu Dhabi – United Arab Emirates
5. Desert Islands Resort & Spa by Anantara
Desert Islands Resort and Spa by Anantara offers an off-the-grid experience of adventure and luxury.
Being a haven for wildlife, Sir Bani Yas Island is the most extensive natural island in the Eastern Arabian Gulf and is 181 km from Abu Dhabi city.
Home to Arabian oryxes, gazelles, hyenas, giraffes, cheetahs, and ostriches, it's a once-in-a-lifetime experience blending wildlife, beaches and desert into one. It is one of the most picturesque places in the Emirate.
Relax by the infinity pool, enjoy the spa, or go adventure together with a choice of outdoor activities such as:
Kayaking
Open water diving
Mountain biking
Horseback riding
A peaceful walk in nature
An exclusive monastery tour at night
Among the highlights is a private open-jeep safari led by an expert guide.
All Desert Island guests have free access to the facilities at their sister Abu Dhabi Resorts at Al Sahel, African-inspired and Al Yamm, which has a barasti style set-up overlooking the Arabian Gulf.
Foodies will love the array of international cuisines! A wide selection is available from four fine dining restaurants serving fresh seafood with a Middle Eastern and African touch.
They offer a complimentary 4×4 transfer to the restaurants at Desert islands Resort. A honeymoon at this secluded resort is sure to be memorable and worth experiencing.
Book your honeymoon at Desert Islands Resort & Spa by Anantara
Location: 12452, Al Ruwais – Abu Dhabi – United Arab Emirates
6. Ultra Luxurious Honeymoon At The Emirates Palace
Possibly the most famous hotel in Abu Dhabi, Emirates Palace, is as luxurious as it gets. With its breathtaking panoramic sea views, this billion-dollar property has unparalleled elegance and splendour in all of Abu Dhabi.
An incredible honeymoon begins an unforgettable time at Emirates Palace, which features an exclusive 1.3km beach on the city's stunning Corniche, 14 restaurants, two temperature-controlled pools, a lavish spa and a private marina, as well as rooms with personal butlers.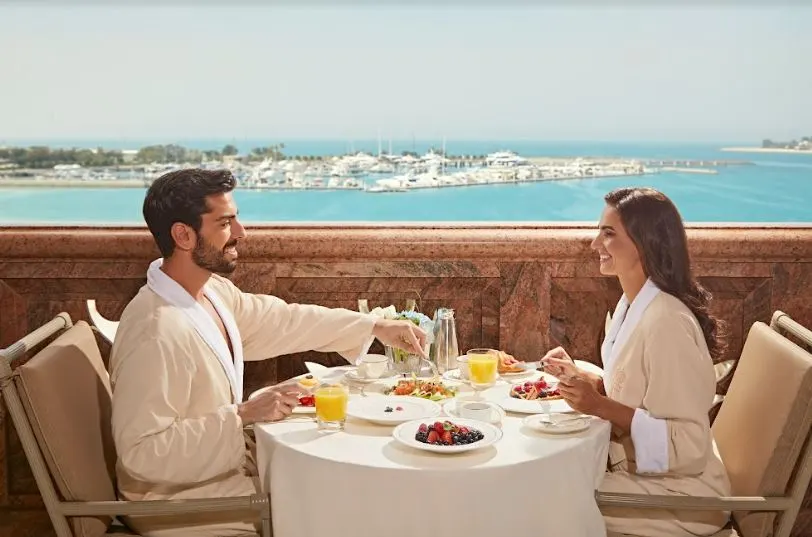 With so many of Abu Dhabi's main attractions just a short drive away, including fantastic shopping destinations and unique cultural and heritage sites, Emirates Palace is the perfect base for exploring the capital's beauty and charm.
Book your honeymoon at the Emirates Palace
UAE residents can get 20% off current hotel rates!
Location: West Corniche Road – Al Ras Al Akhdar – Abu Dhabi – United Arab Emirates
7. The St. Regis Abu Dhabi
Honeymooners at St. Regis will receive unlimited access to the famous Nation Riviera beach club. This is accessible through an air-conditioned private tunnel underneath the Corniche.
The luxurious beach club features indoor and outdoor pools as well as the pristine sandy shores of its private beach.
Guests can sit and catch a break from all the effort and energy that went into planning the wedding.
With its proximity to well-known landmarks such as the Abu Dhabi corniche, Emirates Palace, Qasr Al Watan, A Bateen Marina, The St. Regis Abu Dhabi is also a 5 minutes walk to the Nation Galleria Mall, home to high-end retail stores, movie theatres and restaurants.
As a luxury hotel with boutique experiences, The St. Regis Abu Dhabi is the social epicentre of the Abu Dhabi elite on the West Corniche. It offers a world of dining and entertainment.
Restaurants and bars offer guests and visitors a superb mix of sophisticated tastes, flavours, and sensations at any time of the day.
Book your honeymoon suite at The St. Regis
Location: Corniche, Nation Towers – 1st St – Al Bateen – Abu Dhabi – United Arab Emirates
8. Anantara Eastern Mangroves, Abu Dhabi
The Anantara Eastern Mangroves, Abu Dhabi, is nestled between the eastern mangroves and the cityscape on one side.
It's in a great middle-ground location with easy access to the Abu Dhabi International Airport, Sheikh Zayed Mosque, Zayed Sports City, Abu Dhabi Exhibition Centre, Yas Island, and the Louvre.
Anantara Eastern Mangroves is an excellent choice for a honeymoon and is generally more affordable than some of the other hotels.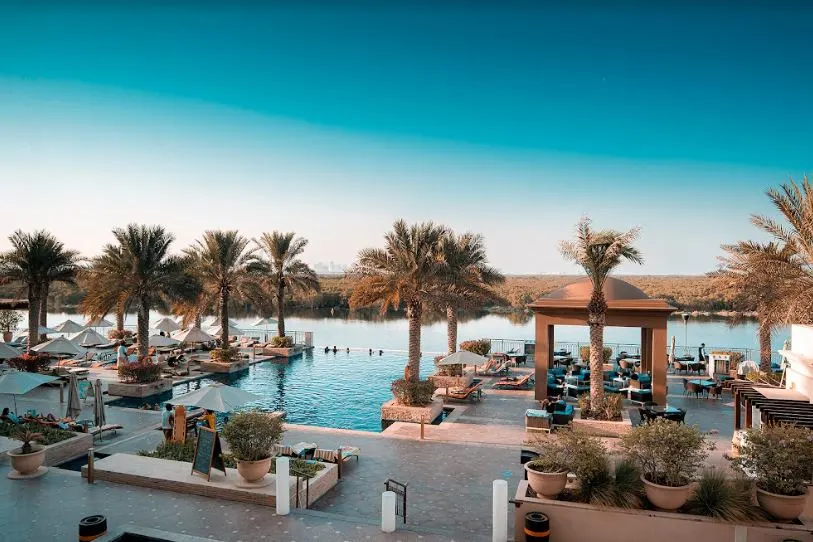 There are over 150 deluxe rooms, 66 Kasara executive rooms and six suites, some with excellent views.
Book a room facing the mangroves with a private balcony for the best vistas. As for amenities, the hotel offers Wi-Fi, an award-winning spa and an infinity pool overlooking the mangroves.
If you are a nature lover, we recommend trying a kayak tour through the mangroves, and you'll see wildlife in its natural habitat. It's just a minute's walk from the hotel along the promenade.
An alternative could be a boat trip through the vast mangrove if you prefer not to work up a sweat.
Book your Honeymoon at Anantara Eastern Mangroves
Location: Al Salam Street – Al Kheeran – Eastern Mangrove – Abu Dhabi – United Arab Emirates
9. St. Regis Saadiyat Island Resort
Set on the pristine shores of Saadiyat Island, the St Regis Saadiyat Island Resort is a 5-star haven.
Saadiyat is the best location for those who want to experience a glorious natural beach.
In addition to being just a 10-minute drive from Abu Dhabi's bustling city centre, St Regis Saadiyat Island Resort is an ideal place to explore Arabian culture, natural sights, and local attractions.
Choose from superior guest rooms, spa suites and royal suites! Honeymooners can take the opportunity to rejuvenate at Iridium Spa. With 12 treatment suites offering a unique mix of traditional and modern therapies.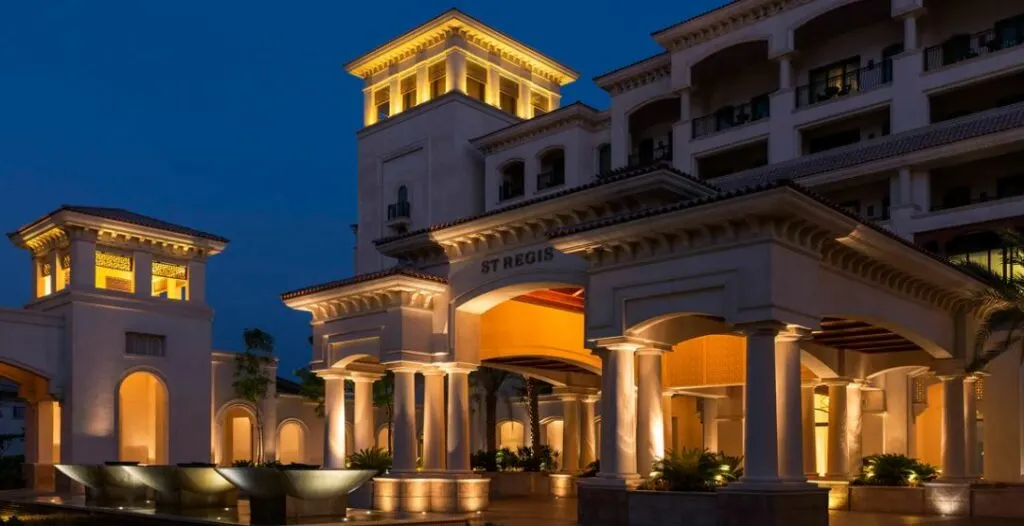 Take a dip in one of the three outdoor pools or spend some time on the private beach before dining at one of the fine restaurants.
They offer a chauffeur service to tour the city or you can always hire a car to explore the city at your own pace.
This hotel is minutes from the Louvre and the Manarat Al Saadiyat on Saadiyat Island. Yas Island is also just a short drive away.
Sunsets on the resort's private beach are breathtaking and depending on the time of year, sometimes turtles can be seen.
Book your honeymoon at St. Regis Saadiyat Island Resort
Location: Al Saadiyat Island – Abu Dhabi – United Arab Emirates
10. The Ritz-Carlton Abu Dhabi Grand Canal
With its 57 acres of lush gardens and sparkling pools, The Ritz-Carlton Abu Dhabi Grand Canal combines modern elegance with a rich tradition.
The Ritz-Carlton's layout never fails to amaze guests, it's like entering the massive gates of a palace.
The options for accommodations range from standard Venetian-inspired rooms, to suites and villas, each setting a unique tone.
Some of the other amenities provided by the Ritz are a 24/7 fitness centre, complimentary valet parking, the club-level lounge, live entertainment, happy hour and tons of daily dining offers.
The Ritz-Carlton has one of the most expansive outdoor pools in Abu Dhabi, sprawling over 1600 square metres.
From sunrise over Al Maqta Creek to sunsets illuminating Sheikh Zayed Grand Mosque, guests at this luxurious collection immerse themselves in a world of Middle Eastern luxury.
Book your honeymoon stay at The Ritz-Carlton, Abu Dhabi, Grand Canal
Location: Al Rawdah – Al Maqta' – Abu Dhabi – United Arab Emirates
11. Royal M Hotel and Resort Abu Dhabi
Set 3 km from the Abu Dhabi Corniche, tucked away at the Al Bateen Marina is the sophisticated waterfront retreat, Royal M Hotel & Resort Abu Dhabi.
A magnificent facade frames the hotel's lobby, showcasing the hotel's elegant, modern style.
The resort's nautical design, contemporary architecture, and bespoke villas promise an experience unlike any other.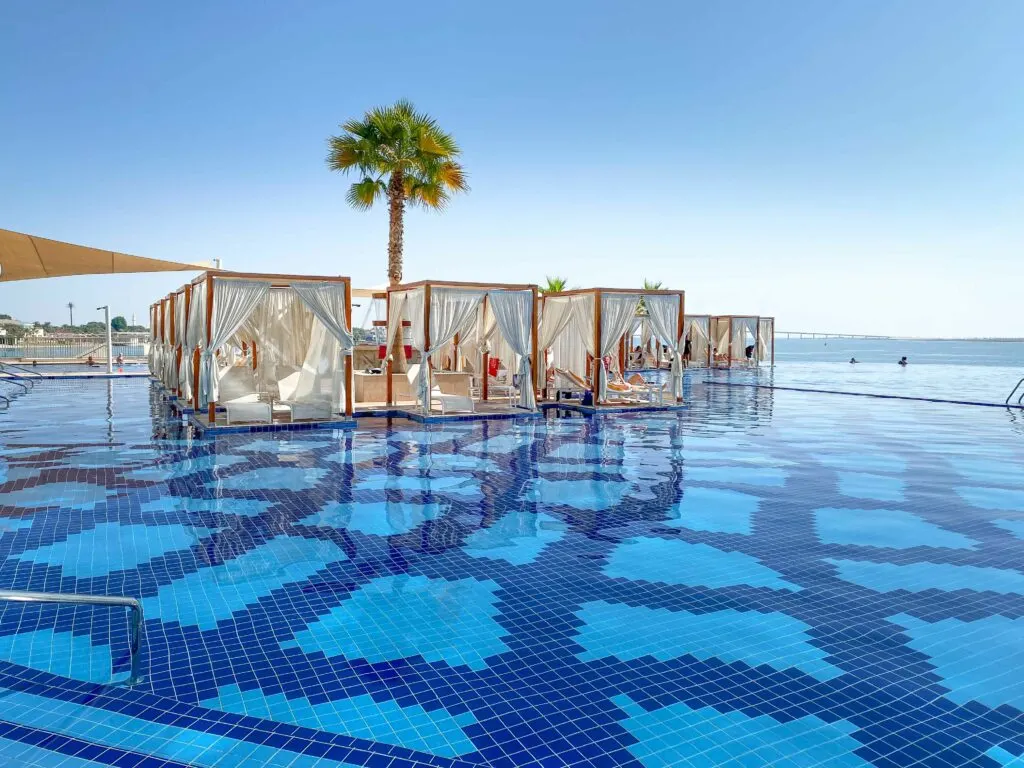 Some of the offerings of this resort include a 24-hour front desk, scenic views, state-of-the-art fitness and spa facilities and a wide variety of royal dining venues.
The accommodations range from the deluxe room to the Royal M suite and everything in between.
Couples and newlyweds can book an exclusive dinner 'by the shore package' which is served on the private Crown Island.
Guests will enjoy a breathtaking sunset view with a candlelit dinner on the beach. A true romantic escapade!
Book a stay at Royal M Hotel and Resort
Location: Al Bateen Marina – Al Quffal St – Abu Dhabi – United Arab Emirates
12. Shangri-La Hotel, Qaryat Al Beri, Abu Dhabi
With panoramic views of the water channels, this exclusive Abu Dhabi property offers a private beach with gondola rides and Chi spa with outdoor pool and massage therapies.
Shangri-La, Qaryat Al Beri is the place to check in for couples and newlyweds looking for an escape in Abu Dhabi at a luxurious hotel with a kilometre private beach and lush gardens on either side.
Luxurious rooms combine the elements of sophistication and Arabian architecture, perfect for a honeymoon getaway.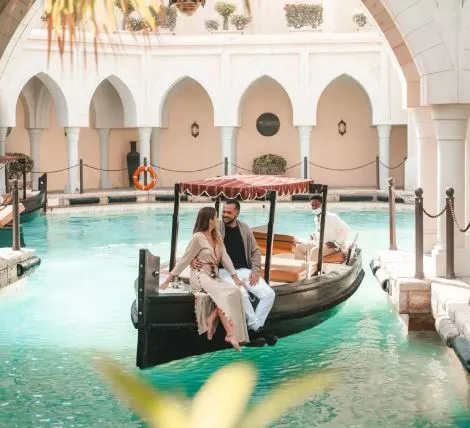 The hotel has traditional abra boats to trip around Qaryat Al Beri's through narrow waterways. It feels like Venice with a touch of Arabia!
With plenty of great packages available, like the ultimate 'spacation', social brunch, and a dim sum lunch, to name a few, there is so much to experience.
The rooms and lawns of this gorgeous hotel offer mesmerising views of the Sheikh Zayed Grand Mosque.
Book a stay at the Shangri-La Hotel, Qaryat Al Beri
Location: Khor Al Maqta, Qaryat al Beri – Abu Dhabi – United Arab Emirates
13. The WB Abu Dhabi
If you are planning a family moon AKA honeymoon with your kids, The WB Abu Dhabi, Curio Collection by Hilton could be the perfect answer. This collection is the world's first Warner bros. Themed hotel!
The hotel is perfect for couples who love theme parks and are kids at heart.
Guests staying at this unique and plush hotel receive a free day pass to Yas Waterworld and the world's largest indoor theme park, Ferrari world, which is home to the world's fastest roller coaster.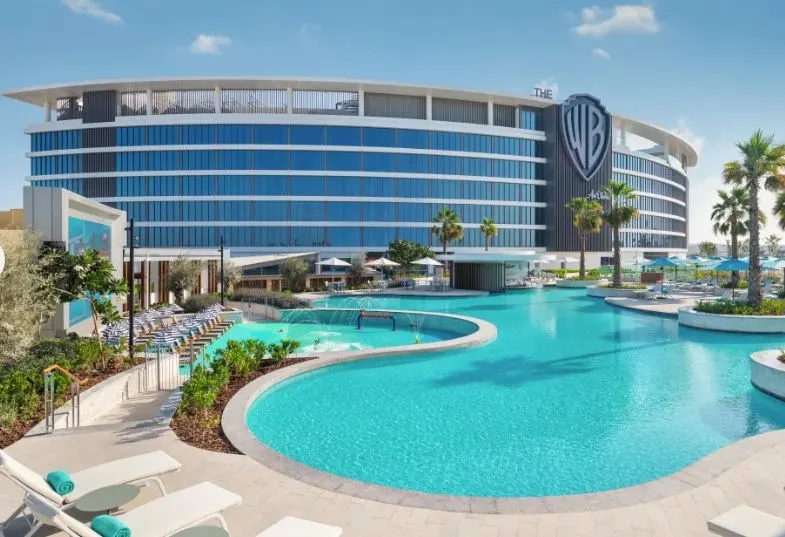 The Warner Bros. World Abu Dhabi VIP experience entitles guests to:
Sidekicks Family Restaurant for breakfast
VIP seating for the Winter Spectacular at Warner Bros. World™ Abu Dhabi
Festive dinner voucher at The Starlight Restaurant
Fast Track Pass to Warner Bros. World™ Abu Dhabi
Exclusive 'Batmobile' experience
Merchandise voucher valued
An outdoor pool, a fitness centre, a currency exchange, a 24-hour front desk, and a dive-in cinema are also available at the hotel.
Considering its prime location, guests can tour Yas Island and head to the famous F1 circuit, Yas Marina, Yas Bay and even Yas Mall for an exciting shopping experience.
Book your honeymoon at The WB Abu Dhabi
Location: Yas Bay – Yas Island – Abu Dhabi – United Arab Emirates
14. The Abu Dhabi EDITION
A luxurious yet serene getaway awaits couples at the waterfront of Al Bateen Marina.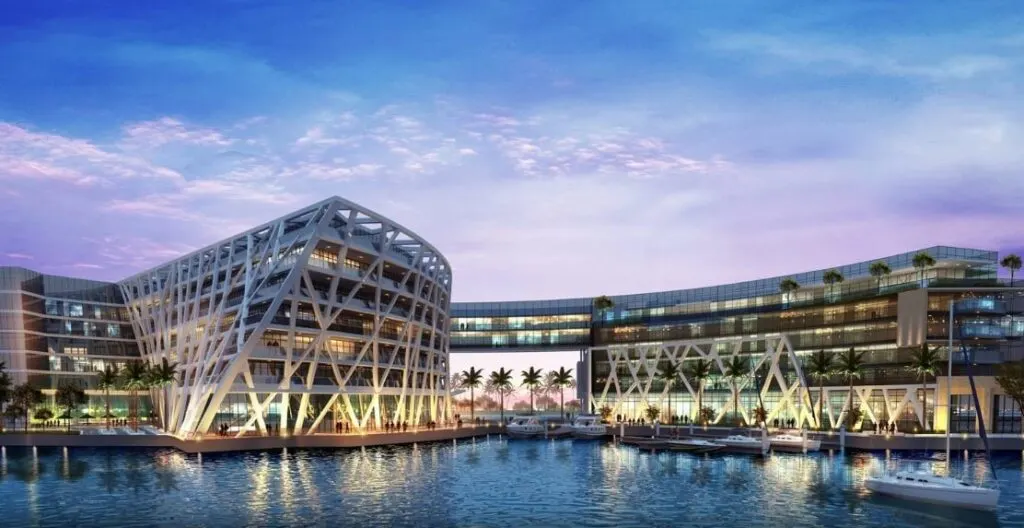 With a choice of 198 rooms, guests are able to choose one offering the finest views of the Marina.
Abu Dhabi EDITION package offers guests an overnight stay at the Deluxe Marina room, a three-course Mediterranean dinner at the Alba Terrace, and a leisurely breakfast in the Market at EDITION.
For those who would like to partake in a weekend brunch, we suggest opting for the EDITION Weekender package.
Enjoy two outdoor pools, customised treatments at the spa, an indoor fitness centre and party the night away at their exclusive three-storey nightclub featuring a rooftop garden bar.
Book a stay at The Abu Dhabi EDITION
Location: Marina – Al Bateen – Abu Dhabi – United Arab Emirates
15. Four Seasons Hotel Abu Dhabi
The Four Seasons Hotel Abu Dhabi is truly an ultra-modern sanctuary on the edge of the Arabian Gulf.
With a convenient location on Al Maryah Island, guests staying at this plush hotel are sure to have a memorable honeymoon celebration.
This luxurious hotel provides guests with plenty of amenities. From a swimming pool embracing expansive views of the city, to top restaurants and bars.
Not to mention a shopping mall with food courts and movie theatres, guests are in for a stay of a lifetime. It is uniquely attached to the luxurious Galleria Mall! The accommodation is extensive, from deluxe rooms to executive suites, perfect for a honeymoon splurge.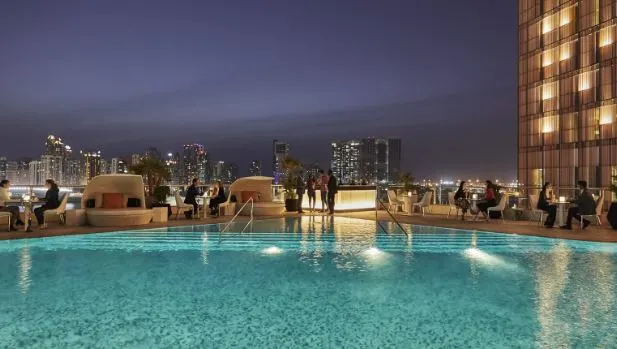 For special occasions, we recommend the Celebration package which includes carefully curated Four Seasons gifts and daily breakfast for two.
Make sure to visit Butcher & Stills, Café Milano, and Zsa Zsa cocktail bar, to name a few great places to grab a bite to eat or drink when strolling around.
After a busy day exploring, head to the in-house Pearl Spa & Wellness for a peaceful retreat.
Book your honeymoon at the Four Seasons, Abu Dhabi
Location: Al Maryah Island – Abu Dhabi Global Market Square – Abu Dhabi – United Arab Emirates
16. The Rosewood Abu Dhabi
Rosewood Abu Dhabi provides views of the city skyline. Hotel guests at the luxury collection can stay in over 189 lavish rooms and suites and dine at eight in-house restaurants.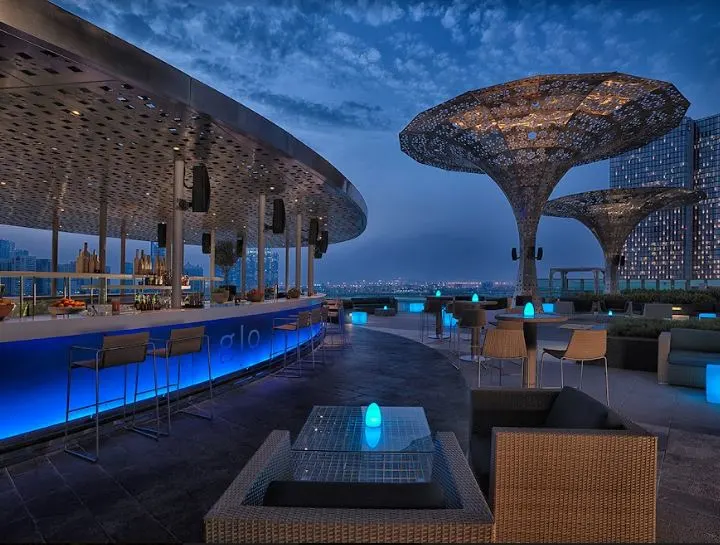 The accommodation option for a romantic escape is the Suite Sojourn package providing guests with:
Early check-in and late check-out
A flat 35% off all suite bookings
Complimentary access to the Manor Club
The perfect getaway for sophisticated holiday-makers seeking an elegant residential-style suite in a city retreat.
For relaxation, guests can escape to a sanctuary of tranquillity at Sense, a Rosewood Spa that includes nurturing treatments.
An outdoor swimming pool and a state-of-the-art fitness centre are available. Either break a sweat or laze around while soaking in the views Rosewood offers.
A spectacular fireworks display over the Al Maryah Islands waterfront is always on show during special occasions such as New Year's Eve or UAE National Day.
It's best viewed from Glo Bar, as pictured above. The architecture is like something straight out of Avatar! incredibly unique and stunning at sunset.
Book your stay at the Rosewood Abu Dhabi
Location: Al Maryah Island – Abu Dhabi – United Arab Emirates
Romantic Things To Do When Honeymooning In Abu Dhabi
Abu Dhabi is a diverse city with tons of things to do during a vacation in the capital. But what about when you're on your honeymoon? Yes, you are on a romantic adventure, but why not make it memorable by doing something exciting together?
Below is a comprehensive list of the best things to consider during your honeymoon in Abu Dhabi.
1. Full Moon Guided Kayaking Tour At The Louvre
The Louvre Abu Dhabi on Saadiyat Island offers a diverse collection of artworks from different cultures and civilisations, from ancient to contemporary.
For visitors seeking something different, kayak tours across the Arabian Sea provide an opportunity to experience the museum from an entirely different perspective. Kayaking through offers a unique perspective on the architecture of the Louvre Abu Dhabi.
Our recommendation for honeymooners would be to take the 60-minute guided kayak tour on a full moon night.
On nights like these, the moon shines brilliantly on the surface of the Louvre and the surrounding waters, creating an incredible magical view. Making it one of the most romantic activities in Abu Dhabi.
For admission tickets to Louvre Abu Dhabi
Museum Timings: 10 AM to Midnight
Full Moon Kayaking Tour Timings: 7:30 PM and 9 PM (25 slots per schedule)
Location: Saadiyat Island – Abu Dhabi – United Arab Emirates
2. Wahat Al Karama, Abu Dhabi
Another spot worth visiting is Wahat Al Karama. The structure here commemorates Emirati martyrs who gave their lives in service of their country.
Are you curious about the location of the pictures of the magnificent Mosque reflecting in the water? Well, this is it!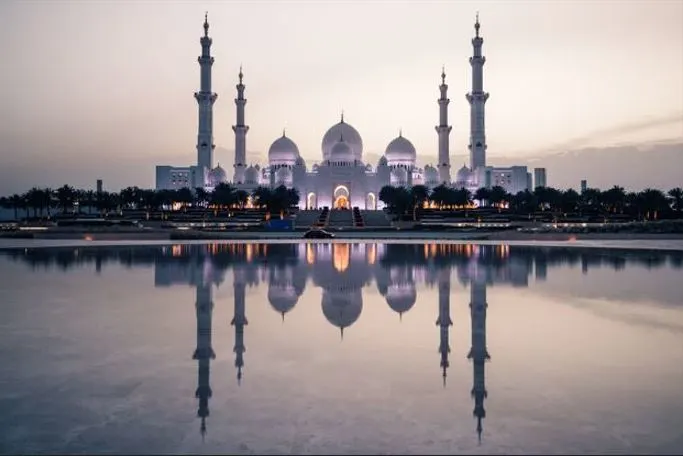 Since it lies across the street from the Sheikh Zayed Grand Mosque, visitors do not need to adhere to the dress code of the Mosque.
The marble dome and minarets of the Mosque reflect sunset hues as the evening sky fades into night. It is truly a magical experience to watch the sun set behind the Mosque.
This little-known spot also makes for some fantastic Instagram-worthy photo opportunities, and visitors can go anytime, day or night, without the hassle of finding a parking spot.
If this view blows your mind, take a private tour of the Sheikh Zayed Grand Mosque to gain an in-depth understanding of this stunning architectural masterpiece.
Timings of Wahat Al Karama Memorial Plaza: 24 hours
Location: Wahat Al Karama Street, Abu Dhabi
3. A Serene Sunset Cruise Along Eastern Mangroves
Another excellent opportunity to watch the sunset with your loved one is a sunset cruise along the Eastern Mangroves.
On this tour, guests will be taken on a 45-minute cruise through the winding waterways of Abu Dhabi's Eastern Mangrove National Park to a secret beach location.
Once here, guests can relax on the mangrove beach and gaze at Al Reem Islands' skyline diminishing into the sunset. Enjoy the serenity and calmness of the sea once the boat docks.
After exploring the island, couples can enjoy a candle-lit dinner with the group or a cosy private dinner under the stars, complete with BBQ, s'mores, and a bonfire before sailing back to shore.
This entire experience lasts over three hours and is definitely something to add to a romantic itinerary.
For honeymooners looking for something adventurous, there is an option of booking a private kayaking tour or hopping on a double kayak and paddling around at your own pace while soaking in the views of the Eastern Mangroves.
Book your private kayaking tour here.
If kayaking early in the morning is your thing, consider booking a night at the gorgeous Anantara Eastern Mangroves hotel with endless views of the entire area.
Book your honeymoon stay at Anantara Eastern Mangroves.
Location: Al Salam Street – Al Kheeran – Eastern Mangrove – Abu Dhabi – United Arab Emirates
4. Breakfast With Giraffes At Emirates Park Zoo
Breakfast with giraffes at the Emirates Park Zoo is one of the most memorable breakfast experiences you can have on a honeymoon in Abu Dhabi.
The breakfast spread includes a continental, English or Arabic breakfast of your choice with all the accompaniments. And a chance to get closer than you're likely to ever get to majestic giraffes.
The zookeepers allow visitors the giraffes and you can have your photographs with the giraffes by a professional photographer.
A complimentary environmental tour guide will follow the breakfast and feeding experience, followed by African drumming and full access to the zoo to cap off the experience.
For more information on breakfast with giraffes.
Timings: 8 AM to 10 AM
Location: 12th St – Al Bahyah – Abu Dhabi – United Arab Emirates
5. Sunset Supper On The Helipad
Each month, St Regis Abu Dhabi organizes an exclusive sunset supper on its helipad limited to only 20 guests.
Two hundred fifty-five metres above Abu Dhabi, guests can enjoy the mesmerising sunset and breathtaking birds-eye views of the city coming to life.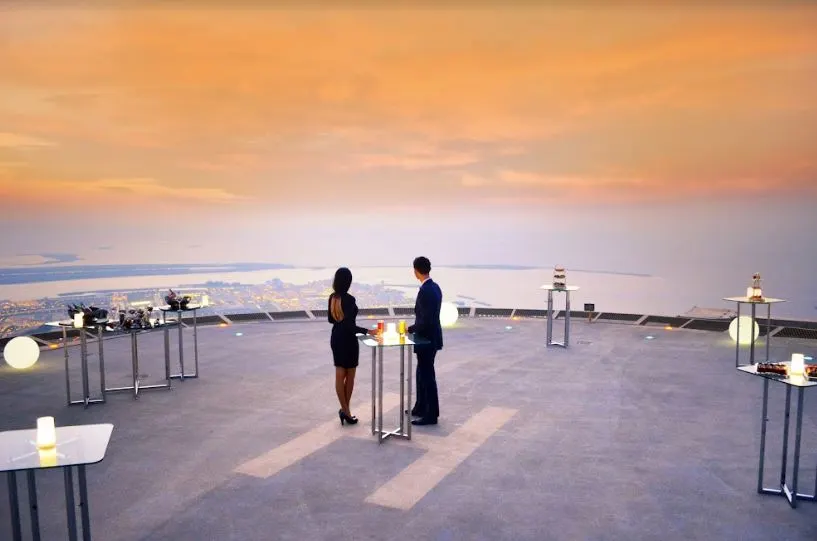 Gourmet delights like caviar and oysters as well as a variety of internationally acclaimed drinks, plus unlimited champagne and canapés. Entertainment is provided by a saxophonist throughout this extravagant affair.
Location: Corniche, Nation Towers – 1st St – Al Bateen – Abu Dhabi – United Arab Emirates
6. Attend A Brunch In Abu Dhabi
The hotel and restaurant scenes in Abu Dhabi are well known for weekend brunches. Some may have a family vibe, while a majority have more of a party feel.
In contrast to other countries, the brunch concept in the Emirates is quite different if you are unfamiliar.
An elaborate late lunch usually takes the form of a lavish buffet, even though some restaurants offer table service and a set menu.
There is also the choice of an evening brunch, which generally comes with either soft drinks or a house drink package.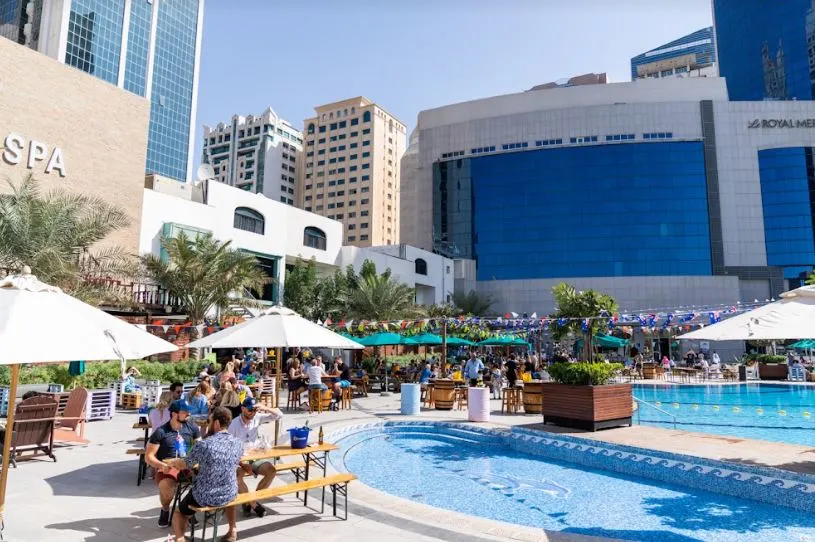 Typically lasting three to five hours on a Saturday, depending on the venue, guests are sure to have a memorable time, sharing food and drinks.
Discover the best brunches in Abu Dhabi, featuring everything from Pan-Asian cuisine to gourmet fare, vegan dishes, Jamaican cuisine, pizza and more!
The Best Time To Visit Abu Dhabi
UAE's capital city, Abu Dhabi, is known to have sunshine all year round, with an occasional rainy day in between.
If you are looking to celebrate in this fantastic Emirate, we suggest making a trip anytime between October and March. The weather is pleasant, cooler and less humid.
During the cooler months, Abu Dhabi comes to life with many events and activities worth experiencing. With concerts, Formula 1 races, and UFC, the Emirate comes alive.
If you are a budget-conscious traveller, making a trip during the holy month of Ramadan is another excellent option.
The flights and hotel rates are considerably cheaper, and you won't be bumping into a lot of crowds during the day as most of the residents are either at work or observing their fast.
However, some key points to keep in mind when visiting during Ramadan would be, to dress conservatively, avoid any form of PDAs, and definitely be conscious not to eat in public.
Restaurants are open and ready for customers, however, eating along the street would be frowned upon.
All that being said if you want to get a feel for the culture, Ramadan is a fantastic time to visit. Experience Suhoor or Iftar lavish meals with locals featuring incredible Arabic dishes.
Read more on what to wear when visiting the UAE
To Sum Up Honeymoon In Abu Dhabi
Abu Dhabi is an Emirate that has something for everyone. From culture-rich tourist attractions to incredible beaches and quirky cafes to tonnes of Instagram-worthy places.
Looking at something more adventurous? Consider booking an overnight desert safari, a kayaking excursion through the serene mangroves, or a tandem skydive.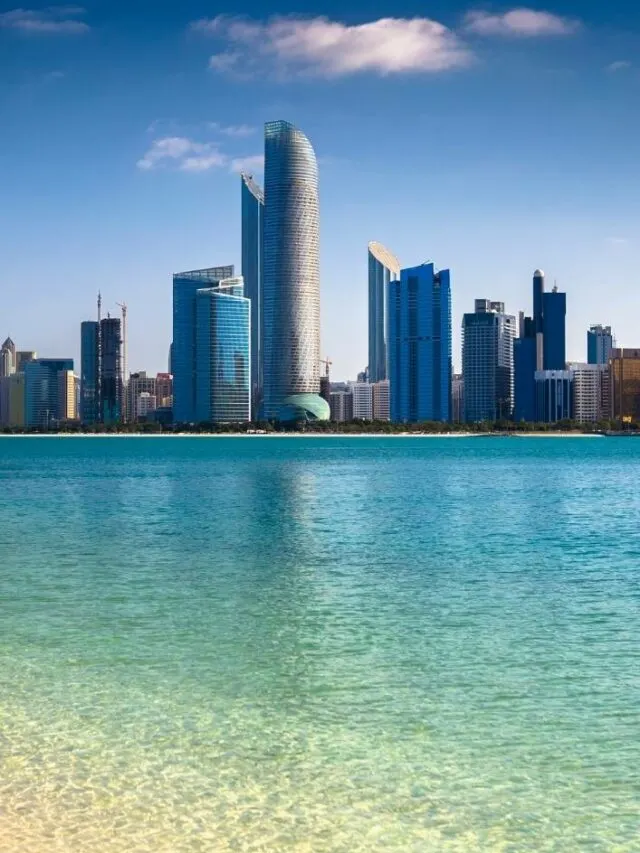 We hope this Honeymoon in Abu Dhabi post has provided you with all the information you need when making your trip to this beautiful destination!
Please share your experience with us if you have stayed at any of the hotels mentioned above. We would love to hear from you.
The Best Time To Visit Abu Dhabi
The tourism season kicks off around October or November when there are lots of events such as F1. December is equally as busy with events, in particular National Day.
January and February are the coolest quieter months after New Year. In March and April, the weather is still pleasant to visit.
The hotter summer months start in May when most events move inside. It is a good month to visit for those who enjoy the arts.
Whilst June through July and August attract budget travellers as many resorts and attractions offer great deals.
September is considered a shoulder month, it is still quite hot but tolerable early morning and in the evenings.
You may also like:
Long Salt Lake Abu Dhabi – Everything You Need To Know
Best Camping Sites In Abu Dhabi
Disclaimer: This post about a honeymoon in Abu Dhabi may contain affiliate links. By using them, it does not cost you any extra, we get a teeny commission to keep us writing. Thank you in advance for your support.