If you're considering visiting Yas Waterworld or wondering what it is all about, you've come to the right place. We have covered everything you need to know in this complete guide to visiting Yas Waterworld in Abu Dhabi.
It is one of the best waterparks in the UAE and has over 40 rides. Some of the features include slides, a lazy river and a rollercoaster, to name a few. Not to mention two of the attractions hold a Guinness World Record!
Yas Waterworld is based in the heart of the entertainment district, Yas Island and attracts residents and tourists alike, especially in the hot desert months. It's the ideal place to cool down over the summer.
It's also a great spot for passengers on a layover from the airport since it is only 10 minutes away!
The park is inspired by Emirati culture and folklore, which are easily recognisable in the names of some of the rides and general design.
In this post, we cover everything you could need to know about purchasing tickets at Yas Waterworld and where to find a good deal.
Not to mention, a rundown of all the attractions, including information on height restrictions, attractions for younger children and all the facilities and amenities available!
Abu Dhabi Yas Waterworld Tickets
Booking a ticket online before arriving may help to beat the queues. Similarly, the official Yas Waterworld site offers an online discount of 10% for single-day tickets. Tickets must be booked one day in advance to avail of this offer.
Yas Waterworld ticket price is 295 AED for an adult and 225 AED for a child when purchased online. Book a ticket to the waterpark on this website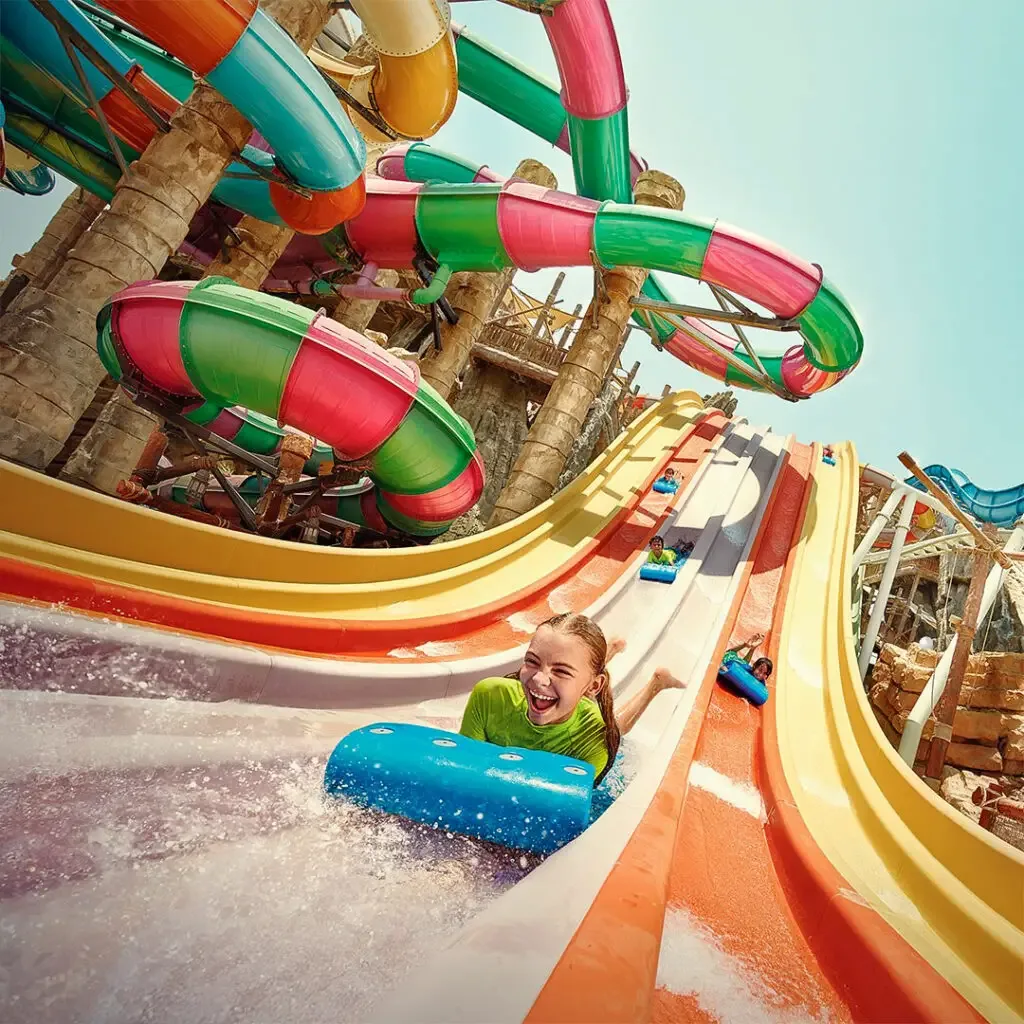 If you happen to be visiting Dubai, it's worth noting the Dubai Pass includes access to Yas Waterworld.
Regarding offers for Yas Waterworld, there are several combo tickets, including other attractions, such as SeaWorld, Ferrari World and WB World, which are valid for up to 14 days. These can be found on the official website.
Yas Waterworld Offers Perfect For Residents
There is a significant saving on these combo deals, making it a fantastic Yas Waterworld offer, especially for tourists.
The Entertainer does not often list Yas Waterworld discounts. However, Groupon occasionally offers entry as part of a combo deal with other local attractions. Discounts are available for Fazaa / Homat Al Watan cardholders.
An annual pass can be a fantastic deal for residents, especially those with young children living nearby who want to make the most of the neighbourhood waterpark!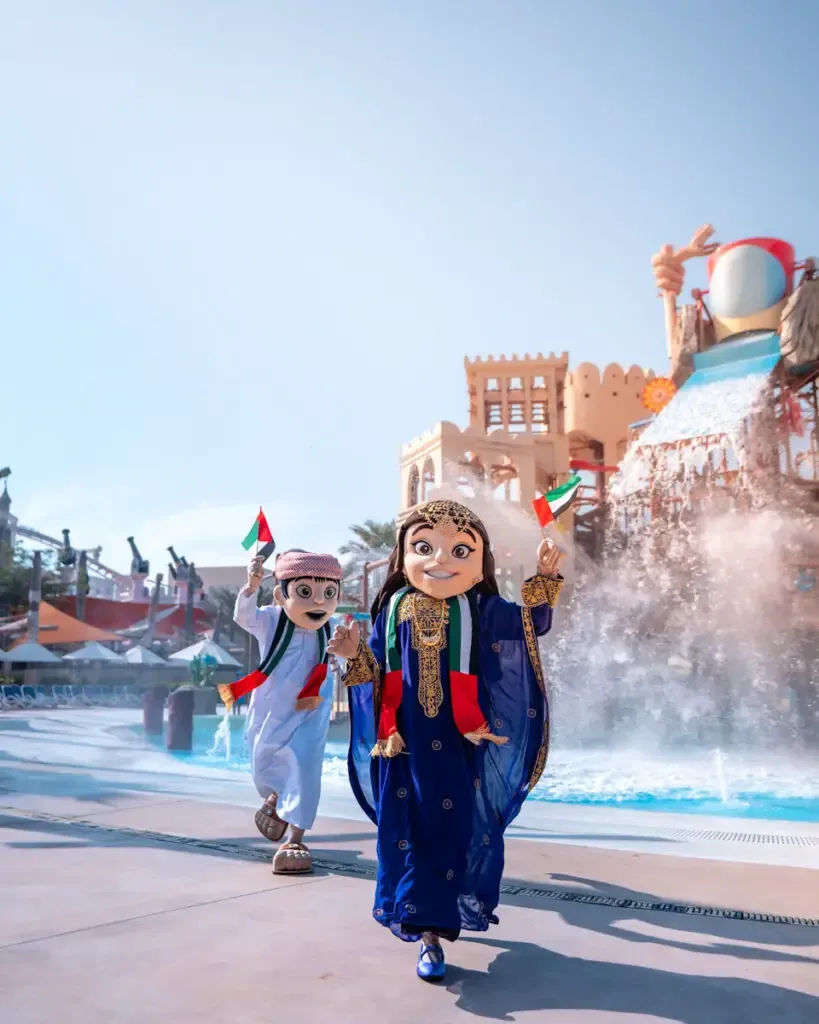 The annual pass includes discounts and offers, such as preferred parking at Yas Mall and Yas theme parks. Not to mention discounts on dining and shopping.
Annual passes come in Silver, Gold and Diamond, each with additional offers and perks. The pass provides entry to Warner Bros World, SeaWorld and Ferrari World. Prices range from 1495 AED per person.
For example, a family of 4 on the gold annual pass could access the above-named theme parks for 5980 AED for the whole year.
It's worth noting, children under three go free. Overall the annual pass is one of the best offers for Yas Waterworld Abu Dhabi residents.
Yas Waterworld Rides
Some attractions have height restrictions, and it is best to be aware of this in order not to disappoint eager children.
Here is a list of the incredible rides at Yas Waterworld and the height restriction for your awareness:
Yas Waterworld Dawwama is the world's largest six-person tornado waterslide. The ride involves an adrenaline-fuelled journey through a giant funnel on a raft reaching high speeds and experiencing weightlessness.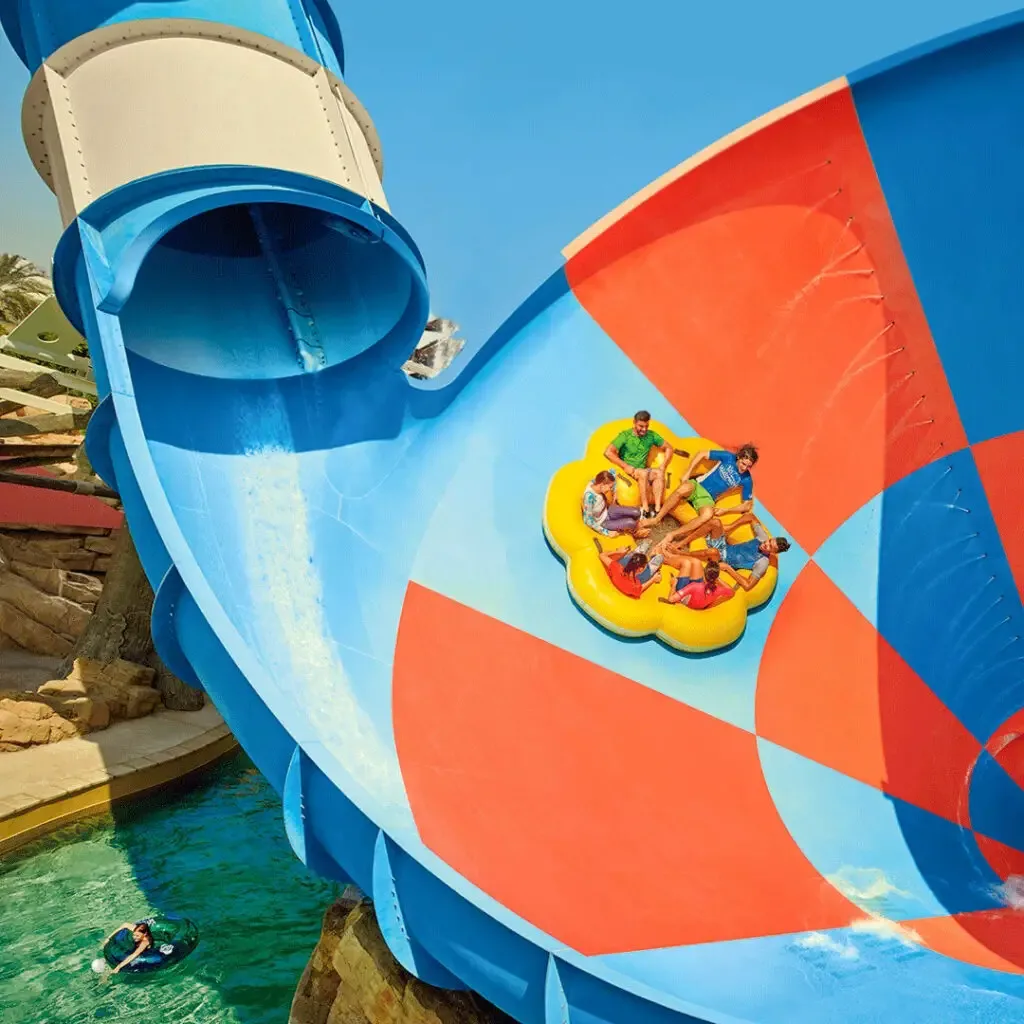 This ride has a height restriction of 130 cm. Dawwama was recently upgraded to enhance the experience.
The Yas Waterworld Liwa Loop is a waterslide that drops riders through a trapdoor, propelling them into a high-speed loop before a final splashdown. It has a minimum height requirement of 120cm.
Jebel Drop (appropriately named after the Al Ain attraction) is a freefall water slide that offers a thrilling 20-meter drop! Climb the dizzy heights to an incredible vantage point in the park before plunging to the bottom. The height requirement for the Jebel Drop is 120 cm.
Hamlool's Humps is exactly as the name suggests. Plunge from the top and take on three humps for that dropping feeling! This is a particularly fast slide and has a height restriction of 120 cm.
110cm & Below
The Bandit Bomber is the world's only waterpark suspended rollercoaster that takes a tour around the park with plenty of splashing for good measure! 100cm is the minimum height and a maximum of 205 cm.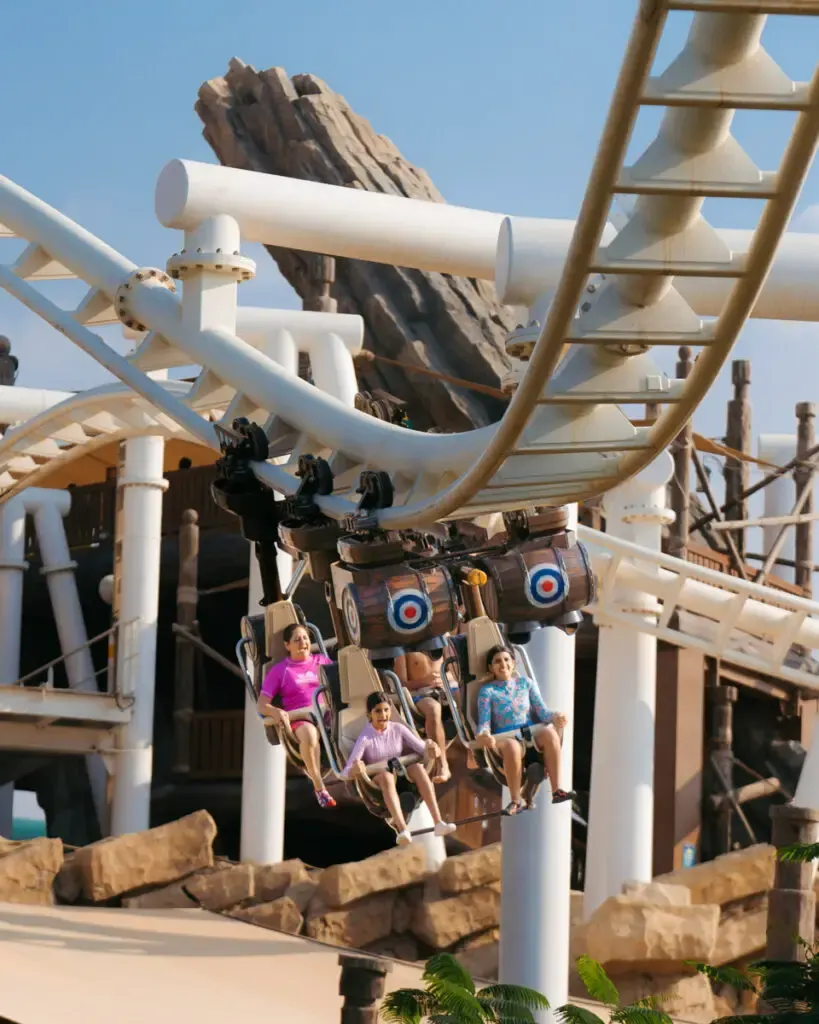 Falcon's Falaj is another raft-style slide which is adrenaline-fuelled. It takes several riders on twists, turns, and rapids. This slide has a slightly less restrictive height requirement of 110cm.
Slither's Slides is one of the most iconic attractions of the park! Thrill seekers ride down huge slides into the mouth of a serpent before plunging into the pool! The slides feature sharp turns and drop for the extra fun factor and have a height restriction of 110 cm.
Sebag features six lanes of slides for the ultimate race with friends or family. This attraction requires skill with manoeuvres to make the most of gravity to cross the finish line first. Sebag has a height restriction of 110 cm.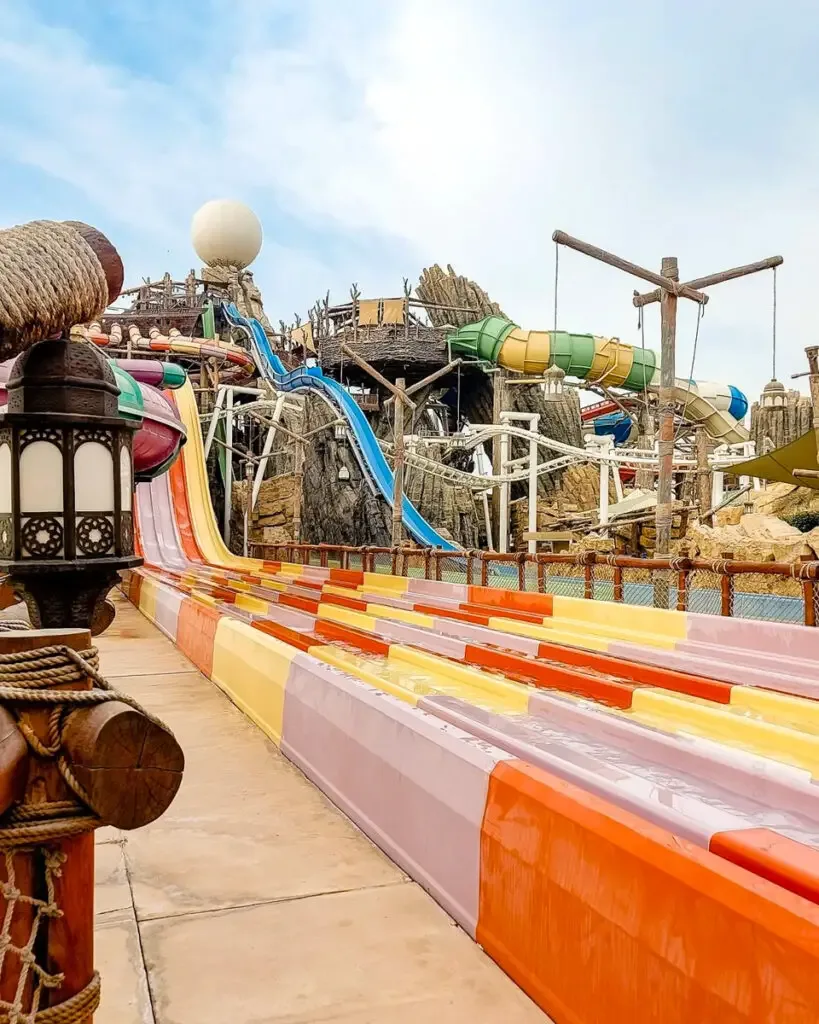 Rush Rider is essentially Yas Waterworld's very own wave. This Yas Waterworld ride is perfect for trying bodyboarding or surfing and has a height restriction of 110 cm.
In addition to these rides, Yas Waterworld has several attractions, such as lazy rivers, children's play areas, interactive water playgrounds, and more.
Yas Waterworld For Younger Children
Yas Waterworld is not only about the adrenaline-fuelled rides, there is plenty for younger children too. Here are some attractions for kids.
Marah Fortress has to be one of the highlights for young children. The ultimate interactive water playground has fun features, including multiple slides, water cannons, dumping buckets, and shallow pools. Be careful with little ones who may not like the huge bucket tipping on them.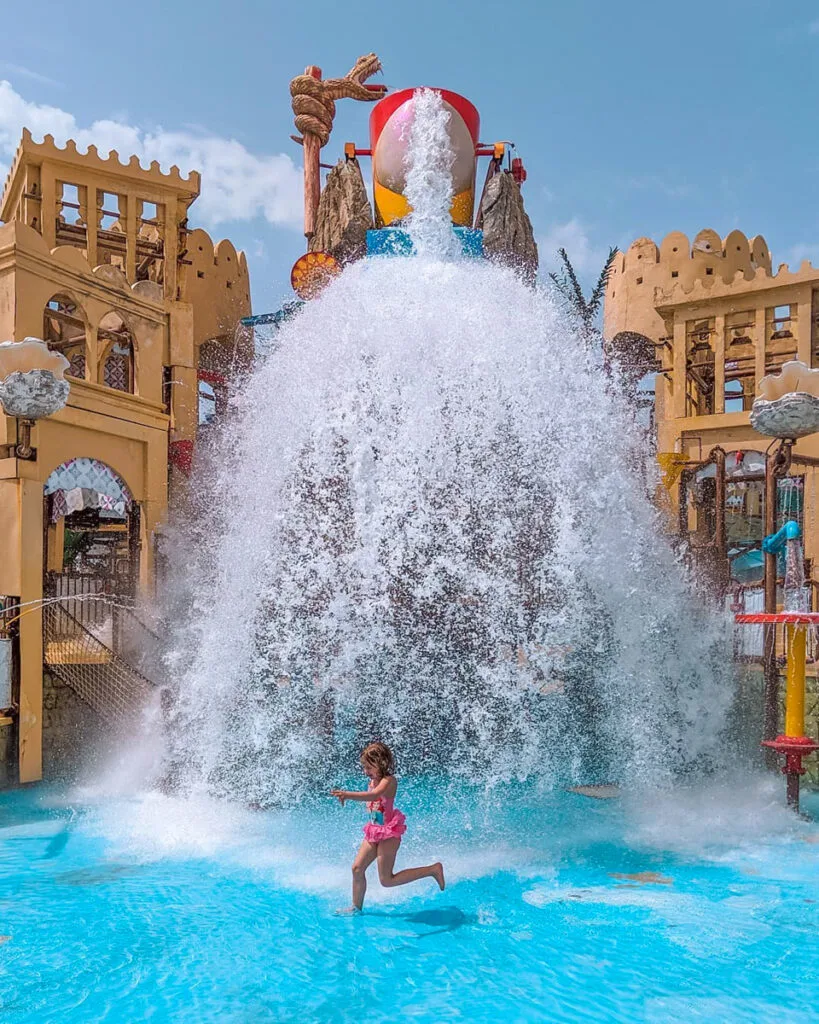 Tot's Playground is designed for toddlers and has a shaded area with small slides, water fountains, and gentle water sprays. It's the perfect spot for little ones to have fun.
Yehal is like a mini training ground for kids to get used to the slides on a smaller scale before heading to the bigger ones in the park.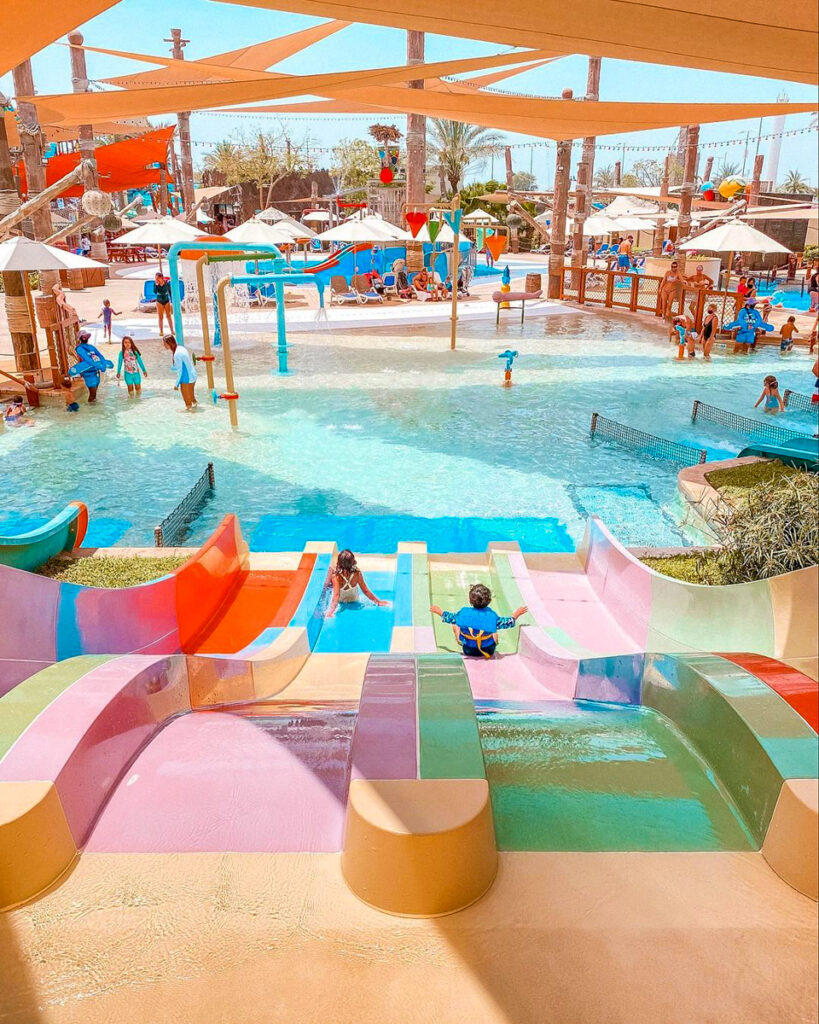 Cannon Point is the perfect spot for kids to get a little mischievous. They can shoot water at riders on the Bandit Bomber as they zip overhead.
Amwaj Wave Pool is one of the first places most visitors head on arrival to Yas Waterworld. It is a giant shallow wave pool. It gradually gets deeper, so the water's edge is perfect for younger kids to sit and play.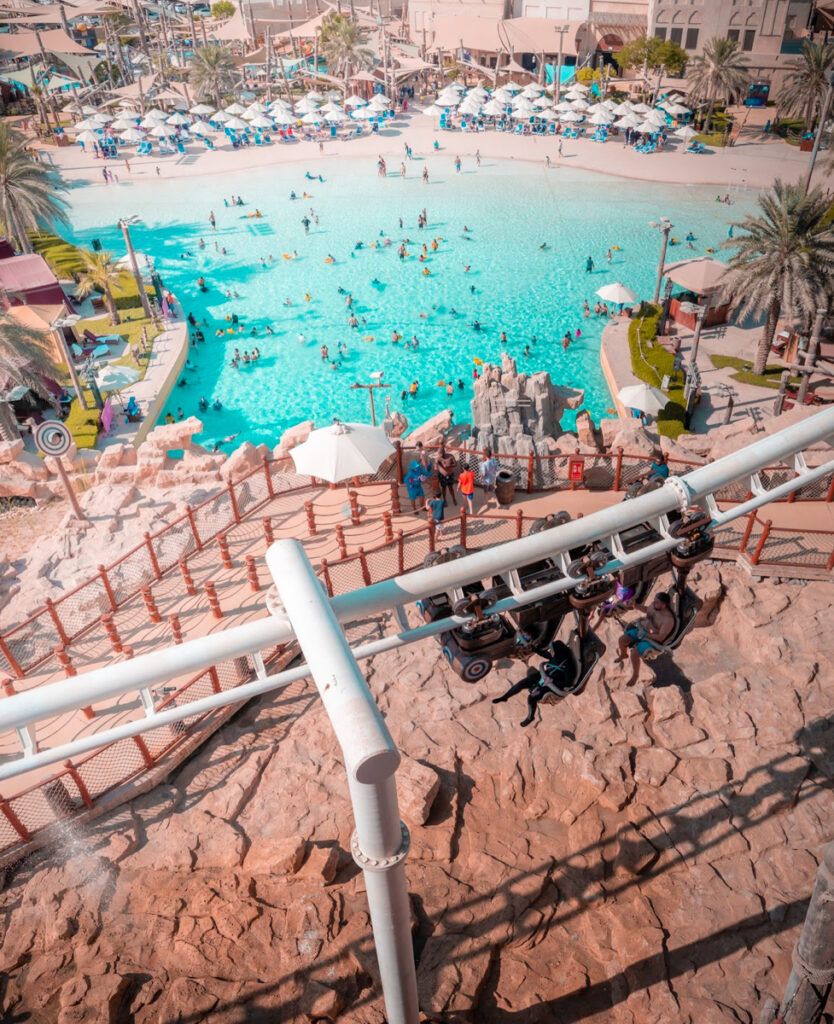 Yadi Yas is the crazy river where visitors can enjoy a thrilling ride on a doughnut. The other is the Al Raha River, which is much more relaxed, often called the 'lazy river'.
Water Wars is the ultimate water fight! To enjoy this attraction, you'll need to purchase a bucket of water balloons as ammunition, and let the war begin!
Yas Waterworld Opening Times
Yas Waterworld timings occasionally change to allow for special events, bank holidays and long weekends.
Usually, the opening hours are from 10 am to 7 pm daily. The official website has an online calendar updated regularly with the opening hours. Ramadan and Eid may impact hours.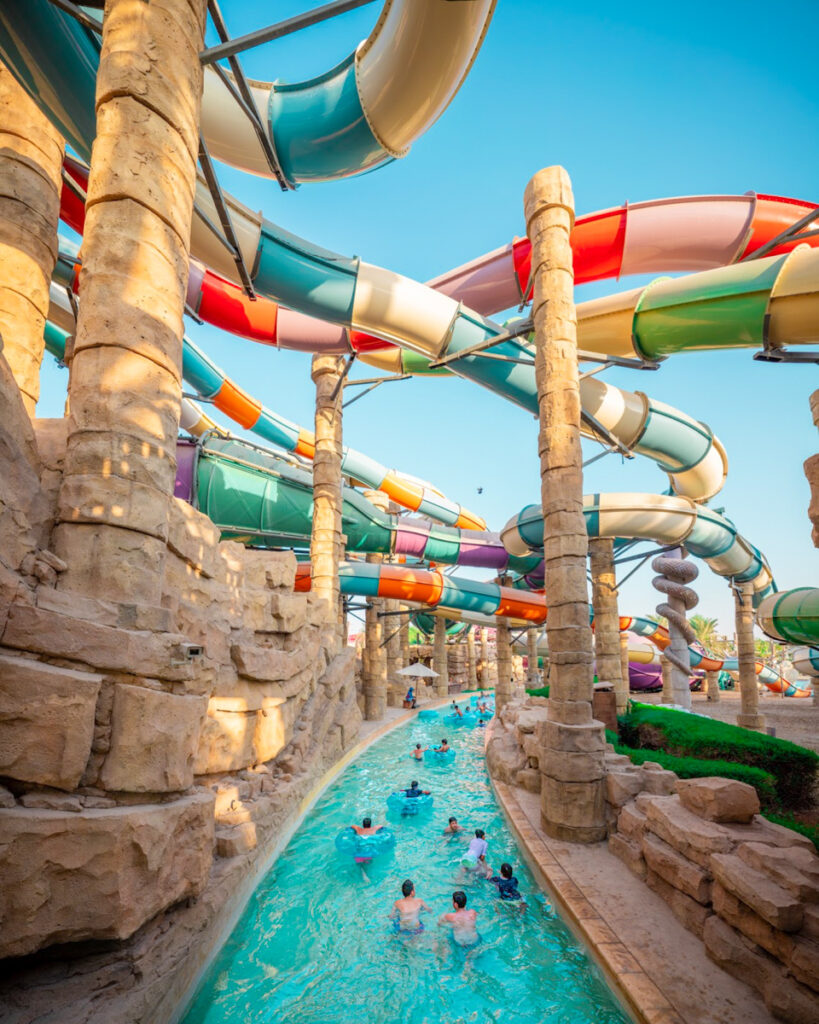 Summer months from June through September may have extended hours to allow visitors to make the most of the outdoors in the evenings with cooler conditions.
Always check the calendar before planning a visit.
Special Events At Yas Waterworld
There are regular special events at Yas Waterworld, which makes the visit even more interesting.
One of the most recent events is 'Yas Waterworld Ladies Day' on Fridays from 1 pm to 10 pm. Yas Waterworld uses female-only staff for the event. Mobile phones are not permitted, and CCTV is monitored by female staff.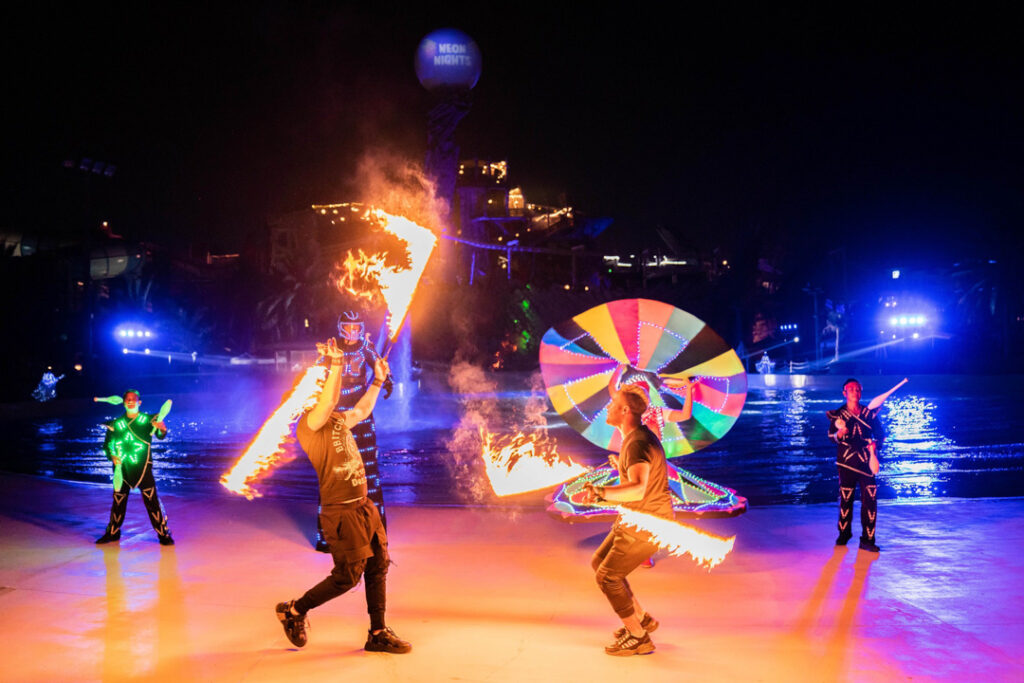 The event has live performances, female DJs and some special extras. It is the perfect ladies' day out!
"Summer Nights' is another popular event, held every Saturday in June. It runs from 10 am until 9 pm.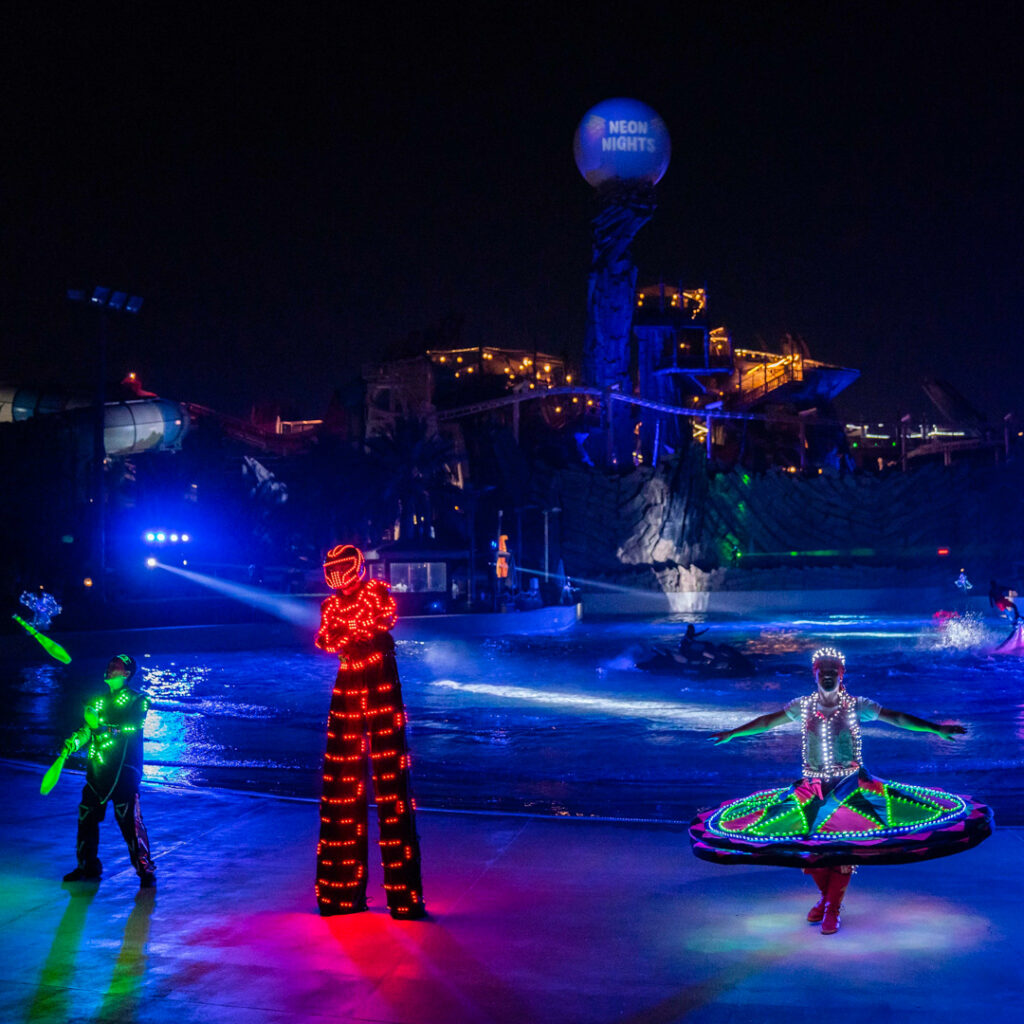 The event has glow-in-the-dark lighting, body paints, bracelets, and illumination.
Not to mention, the performing fire breathers and resident DJs add to the vibe! It makes for a perfect evening out over the summer.
These events are not all! There are many more themed events, be it Halloween or Christmas.
Yas Waterworld Map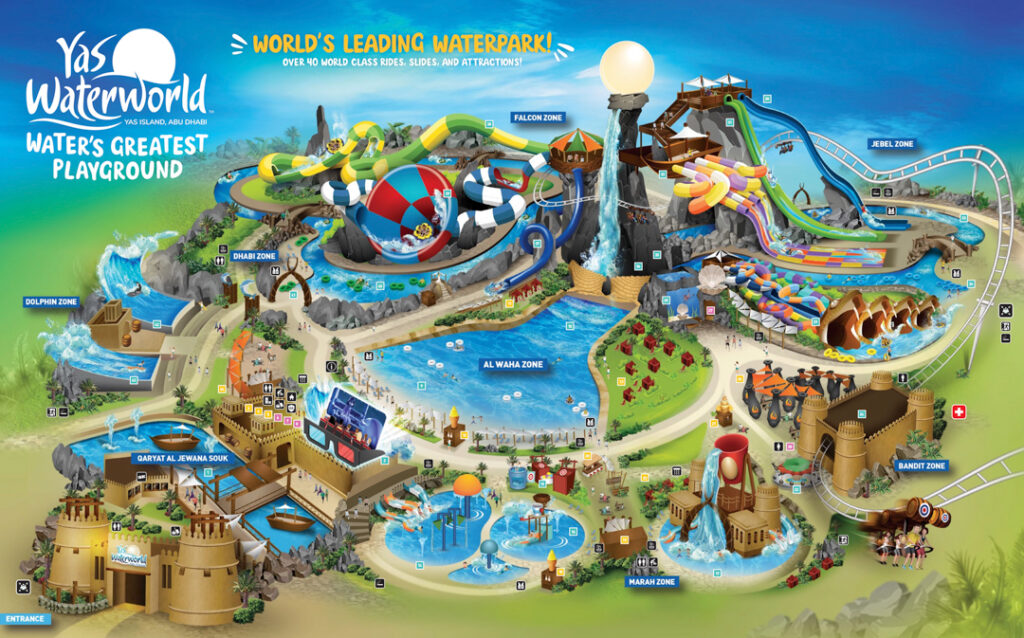 Yas Waterworld Dress Code
As Abu Dhabi is a conservative destination, it is worth noting, there is a dress code at Yas Waterworld. Here is a detailed guide on what to wear in Abu Dhabi in general.
Suitable swimwear includes burkinis, swimsuits, board shorts and rash guards. Avoid bikinis and revealing swimwear. By wearing appropriate swimwear, it demonstrates respect for the local customs and traditions.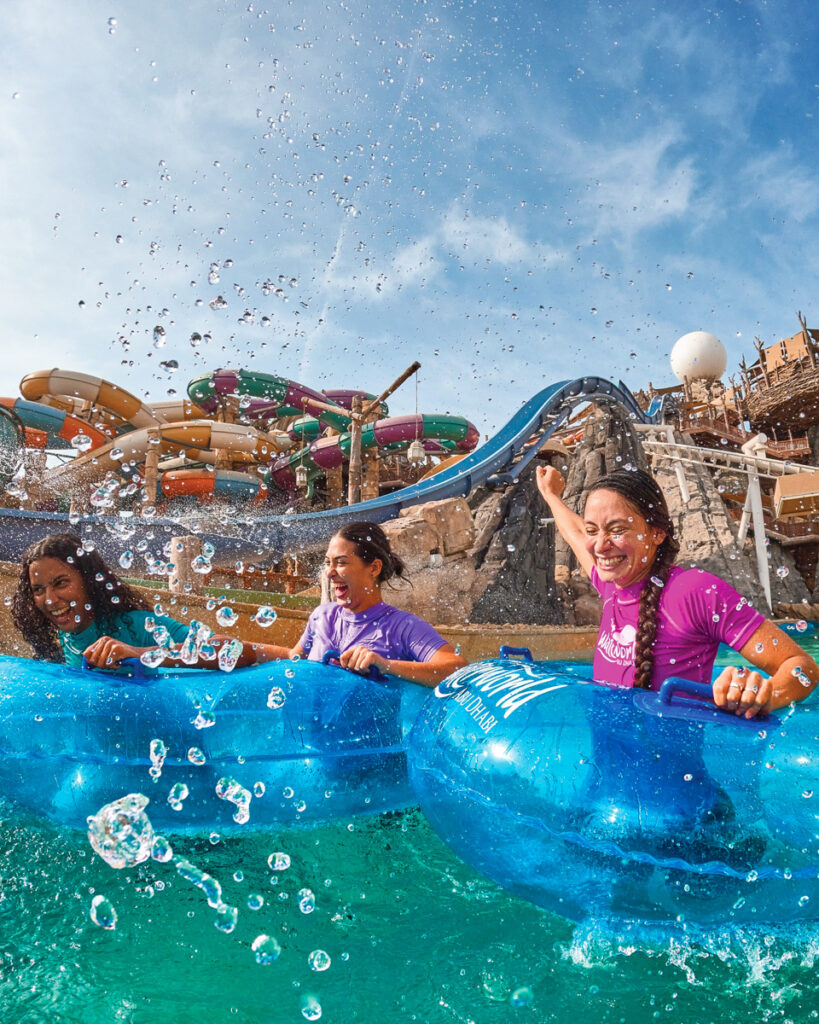 Ensure your swimwear has no zippers, buckles, buttons or any metal that could catch when on a ride. Similarly, it is best to leave jewellery at home. Long pants, including jeans, trousers, or slacks, are not prohibited.
Facilities At Yas Waterworld
Yas Waterworld has tonnes of facilities and amenities on site. Here is an overview of what to expect:
There is an extensive changing and locker room area, some of which are specifically for families. This makes it much easier when dressing younger kids when both parents can be in the same area.
There is a charge for renting lockers. Similarly, towels are available for rent at an additional fee.
There are plenty of restrooms, accessible toilets and showering facilities available onsite.
For a VIP experience, book a private Al Waha Cabana to enjoy the peace of a shaded, comfortable spot. The experience comes with a VIP butler, a free towel, a mini fridge, an exclusive menu and a safe for valuables.
Several retail outlets include a gift and souvenir souk, a pearl shop and a beachwear store. Not to mention, the photo service, which captures fun moments in the park.
Should you need medical assistance, First aid care is available.
Prayer rooms are also available within Yas Waterworld.
Some attractions have free Wifi, however, it can be a little slow, especially when the park is busy.
Yas Waterworld is designed to be accessible to guests with disabilities. It offers accessible parking, ramps, and specialized facilities.
Food & Beverage
The park has some incredible dining options and is one of the only theme parks serving healthy options such as giant wedges of juicy watermelon! Here is a rundown of all the food and beverage options at the park.
Salama's Snack Shack serves pasta, salads, sandwiches and fresh-cut fruits. This outlet also has juices, smoothies and slushies.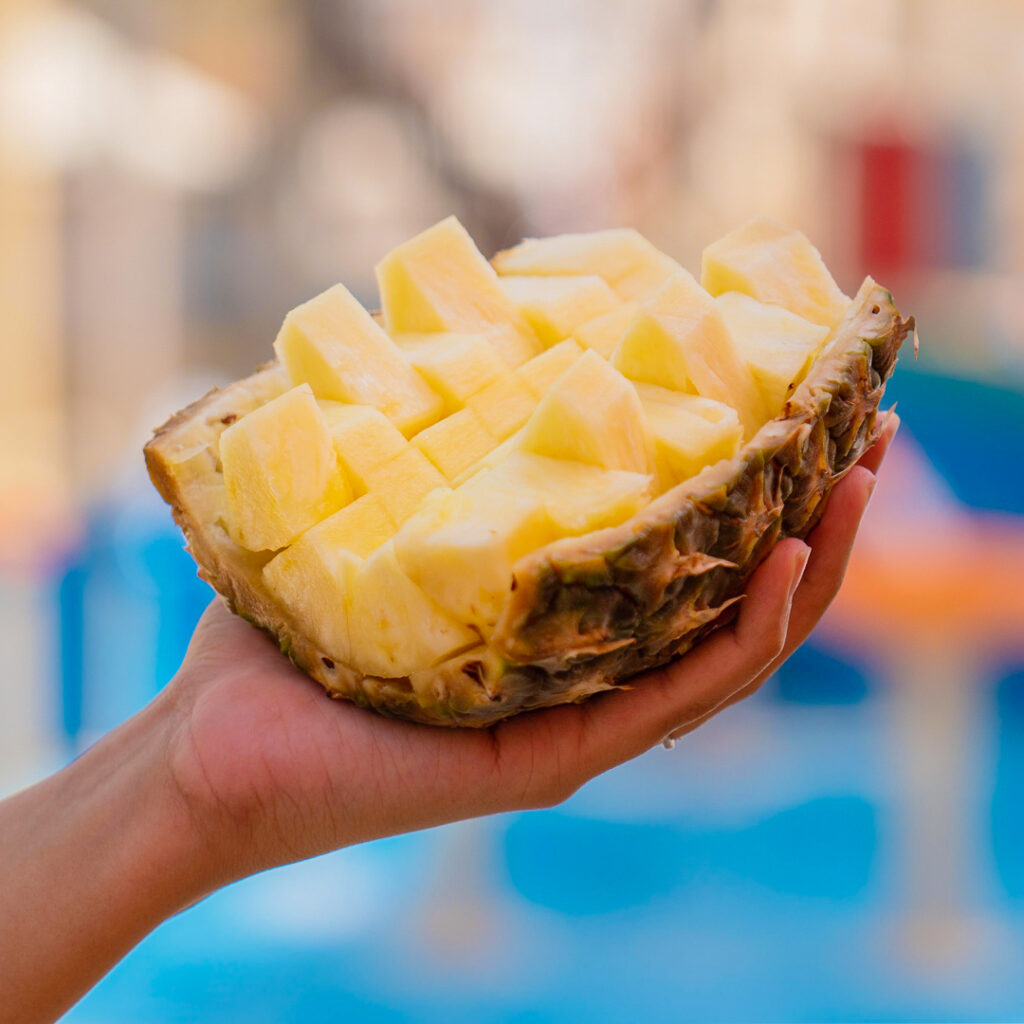 Chubby Kitchen offers a wide variety of international food, including pizza, noodles, fried chicken and daal.
Gahwat Naseer is the best choice for Arabic coffee, dates and camel milk chocolates!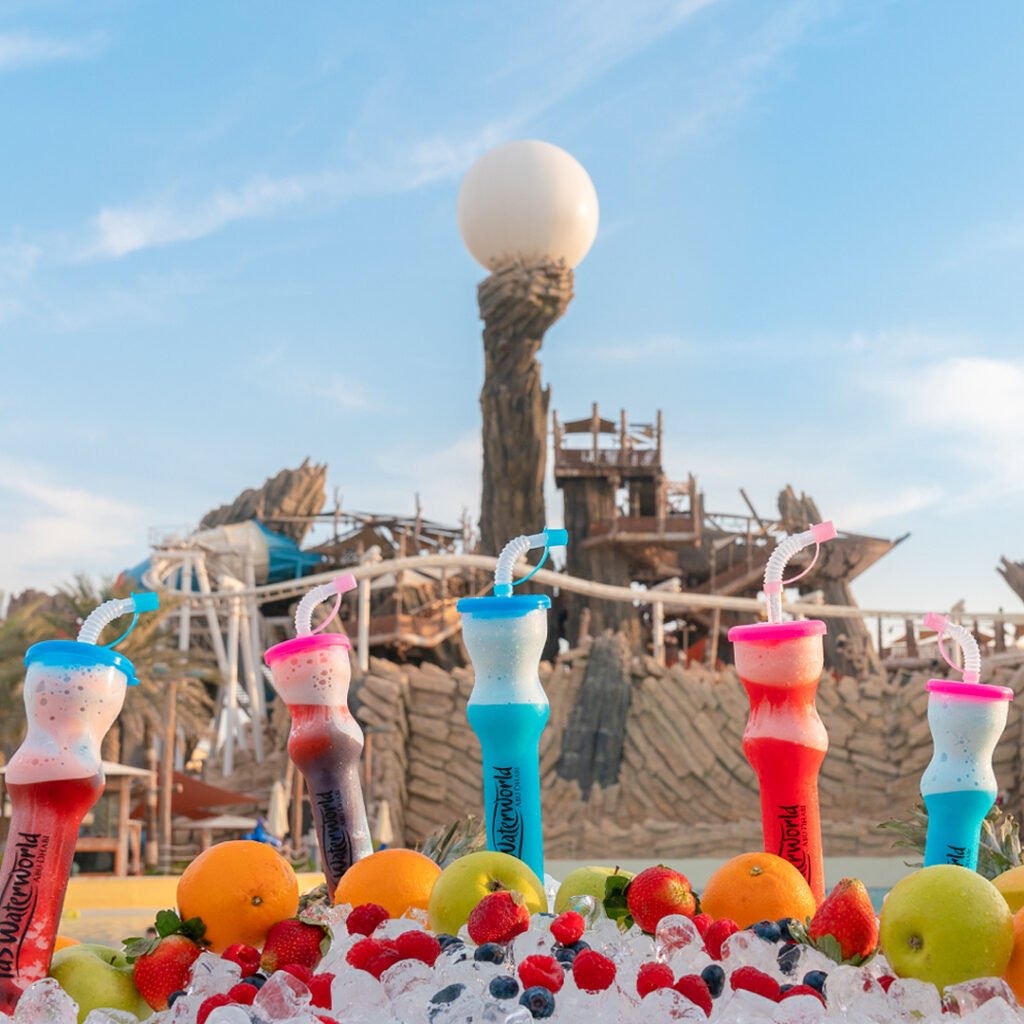 Dana's Diner serves burgers, BBQ wings, salads and sandwiches. It is situated close to the Bubbles Barrel.
Skinny Frozen Treats is the perfect spot for an ice cream or cooling lemonade!
Hotels With Yas Waterworld Entry
If you are a tourist visiting Abu Dhabi or maybe a UAE resident looking for a staycay, there are quite a few hotels offering packages which include a stay and Yas Island theme park entry.
It is worth noting, such deals may change at any time, so make sure to do a little research to ensure the deal is still available.
WB World Hotel guests can enjoy access to Yas Waterworld, Ferrari World or WB World. Some packages include all three, whilst others only include one theme park of your choice.
This particular hotel is incredible and in an ideal location, just a few steps from the front door of WB World. It features a floating cinema, splash pads, a kids club and several restaurants.
Deals to this particular hotel which include theme park access, can be found on a variety of platforms.
W Abu Dhabi is a hotel renowned for having a view over the Formula 1 track. This hotel is in a prime position to enjoy all of the theme parks on Yas Island.
It is one of the only pet-friendly hotels in the Emirate and features a spa, fitness centre and several dining venues, including one of the best brunch spots. Packages inclusive of theme park tickets can be found on the Yas Island website.
Double Tree By Hilton Abu Dhabi Yas Island is ideal for any family looking for an aparthotel, perfect for those travelling with young children and needing a little space. Packages can be found on the Yas Island website.
Three Star Hotels
Yas Island Rotana is part of a popular hotel chain in the UAE and is just a few minutes from the F1 track. This hotel features, twin rooms, family rooms and suites. Deals can be picked up with beach or theme pack access here.
Crown Plaza Abu Dhabi is set alongside the stunning Yas Island golf course. The green view is something unique in this desert location. The hotel has standard twin or king rooms with deals inclusive of theme park access.
Park Inn By Radisson Abu Dhabi is another hotel with twin and king rooms and is budget-friendly. This hotel features two swimming pools, a fitness centre, and fantastic elevated views. Theme park access and stay packages can be found here.
Centro Yas Island is a 3-star hotel with a pool. Some packages include beach access, and some include theme park access. It also has a spa and wellness centre and three restaurants onsite.
Getting To Yas Waterworld
Yas Express is a complimentary shuttle bus service on Abu Dhabi's Yas Island, operating daily on multiple routes.
This service provides convenient access to the attractions and landmarks of the island, including Yas Waterworld. It is perfect for tourists staying on the island and wanting to get from one park to the next.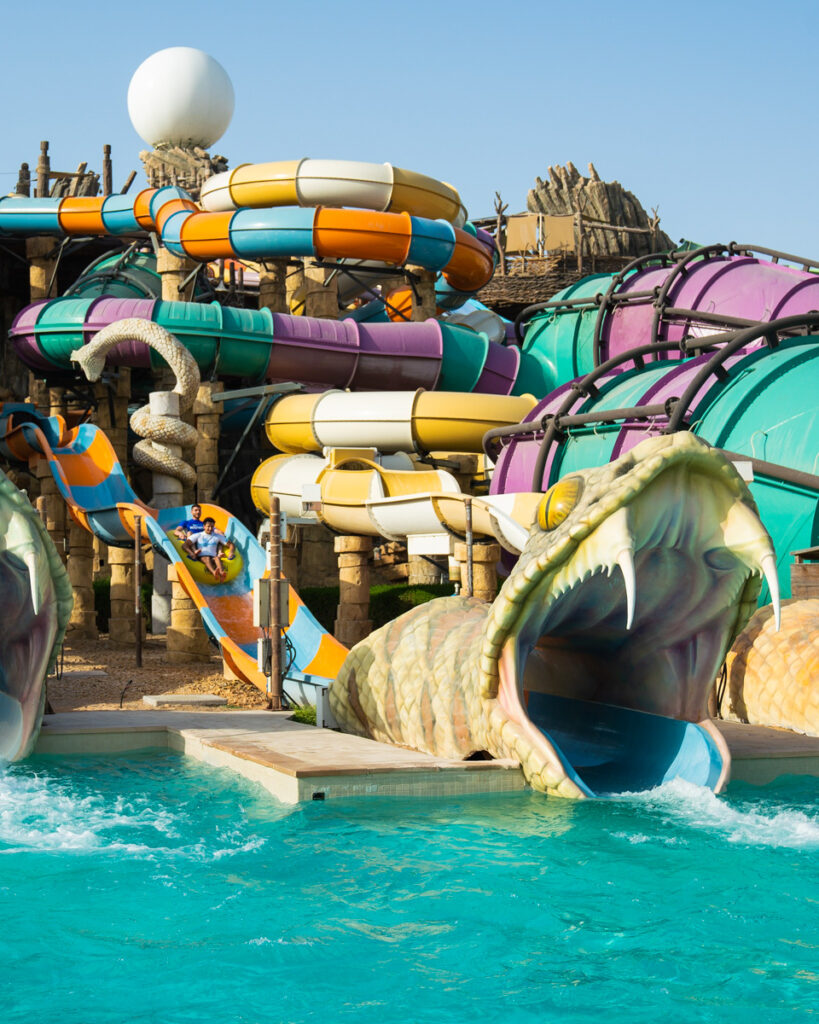 Y1 Route
The Y1 route commences at the Yas Plaza hotel and includes stops at W Abu Dhabi – Yas Island, Ferrari World Abu Dhabi, Yas Mall, Clymb, Yas Waterworld Abu Dhabi, and Warner Bros. World Abu Dhabi. This bus operates from 9 am to 11:35 pm, seven days a week.
Y2 Route
The Y2 route begins at the Hilton Yas Island hotel and stops at Ferrari World Abu Dhabi, Yas Mall, Clymb, Yas Waterworld Abu Dhabi, and Warner Bros. World Abu Dhabi. The bus service operates from 9 am to 11:35 pm, seven days a week.
Y3 Route
The Y3 route initiates at the Yas Plaza hotels and includes stops at W Abu Dhabi – Yas Island, Hilton Yas Island Hotel, Yas Beach, Yas Marina, and Yas Marina Circuit. This bus runs seven days a week from 9:30 am to 11:30 pm.
There is also a free shuttle bus from Dubai to Yas Island for those who have purchased a ticket to the theme park. The Y7 bus departs from the Mall of the Emirates. It takes 1.5 hours to arrive at Yas Waterworld.
For those driving, there is plenty of covered and non-covered parking. The car park can get busy, especially during peak times. It can be quite hot walking from distant parking spots to the waterpark. Bring an umbrella for shade!
Arriving by taxi is a fantastic option to get dropped right at the door! Abu Dhabi taxis in general, are very affordable. Simply download the Abu Dhabi official taxi app. Alternatively, Uber is also available.
Additional Information & Rules Of The Waterpark
Refunds or date changes for general admission tickets must be requested before 7pm on the date of your visit. No refunds or changes will be processed after this time.
Children aged 11 and under must be accompanied by a responsible adult with a valid ticket.
Children aged 3 and under can enter the park for free and do not require a ticket.
Food and drinks from outside are not allowed in the park.
Follow ride rules and instructions provided by the park.
Comply with health and safety measures during your visit.
Certain rides, attractions, shows, or outlets may be unavailable.
Admission and use of the park are at your own risk. The park accepts no liability for any loss, injury, or damage sustained.
Unauthorized resale or transfer of tickets is prohibited.
FacePass may require biometric data processing, subject to enrollment requirements and consent.
Cancellation policy: Tickets are non-refundable and non-exchangeable.
Capacity restrictions may apply, so arrive early to avoid disappointment.
Ladies Day tickets can be changed or refunded if notified 24 hours in advance.
Ladies Only events have specific rules for privacy and access.
Boys aged 8 and below are allowed in the park with proper identification.
Annual Pass holders may attend Ladies Days subject to capacity restrictions.
Tickets are not valid with other offers or promotions unless approved in advance.
The Park reserves the right to deny admission or remove guests for not following the rules.
Please note that these rules are condensed summaries, and it's important to refer to the original terms and conditions for full details.
Frequently Asked Questions About Yas Waterworld
if you haven't found the information you were looking for, here are a few frequently asked questions answered!
What to wear to Abu Dhabi Waterpark?
Swimwear which is not too revealing, ideally a swimsuit for ladies and board shorts for men.
How many rides are there at Yas Waterworld Abu Dhabi?
There are 40+ attractions and rides.
What is the biggest slide in Abu Dhabi Yas Waterworld?
The Jebel Drop has the highest vantage point.
In which year did Yas Waterworld open to the public?
It opened in January 2013.
Which is the better park between Yas Waterworld Abu Dhabi and Aquaventure Dubai?
Both parks are excellent, however Yas Waterworld is based in the heart of the entertainment district. It is fantastic to have the opportunity to see a few theme parks in the area. Yas Waterworld holds two Guinness world records for unique attractions.
What are the best tourist attractions in Yas Island Abu Dhabi?
The best attractions include Ferrari World, F1 Track, WB World, Clymb, Yas Mall and Yas Marina.
Did you visit Yas Waterworld? Leave a comment, we'd love to hear about your experience!
Disclaimer: This post about Yas Waterworld contains affiliate links. Using them will not cost you any extra. We will receive a small commission to keep us writing.