The Emirate of Abu Dhabi is a cosmopolitan city offering so much more than the desert. Surrounded by turquoise-blue Gulf waters, Abu Dhabi is lined with amazing beaches, where epic sunrises and sunsets take place.
The instagrammable places in Abu Dhabi are in abundance, with so many unique places to capture.
There is no need for an expensive camera to capture the view. A phone and a bit of creativity are more than enough to get great shots.
Sandy shores, insta-worthy restaurants, and cafes, impeccable architecture and golden dunes are just some of what can be expected in Abu Dhabi.
Check out the below list of the most Instagrammable places in Abu Dhabi. It's possible to squeeze a few into any itinerary whether it's just one day in Abu Dhabi or 4.
Instagrammable Cafes In Abu Dhabi
Restaurants and coffee shops are a way of life in Abu Dhabi. The city is one of the fastest growing in the world. Many of the establishments are brand-spanking new and had social media aesthetics in mind.
1. Alkalime
Alkalime has earned a reputation for being one of Abu Dhabi's prettiest cafes. There is something unique about the boho-chic interiors with beach vibes.
Take a shot in the hammock or perch near the window where the aqua-blue shores of Sol Beach can be seen in the background.
While defined as a healthy homegrown restaurant, the meals are absolutely delicious and well worth trying.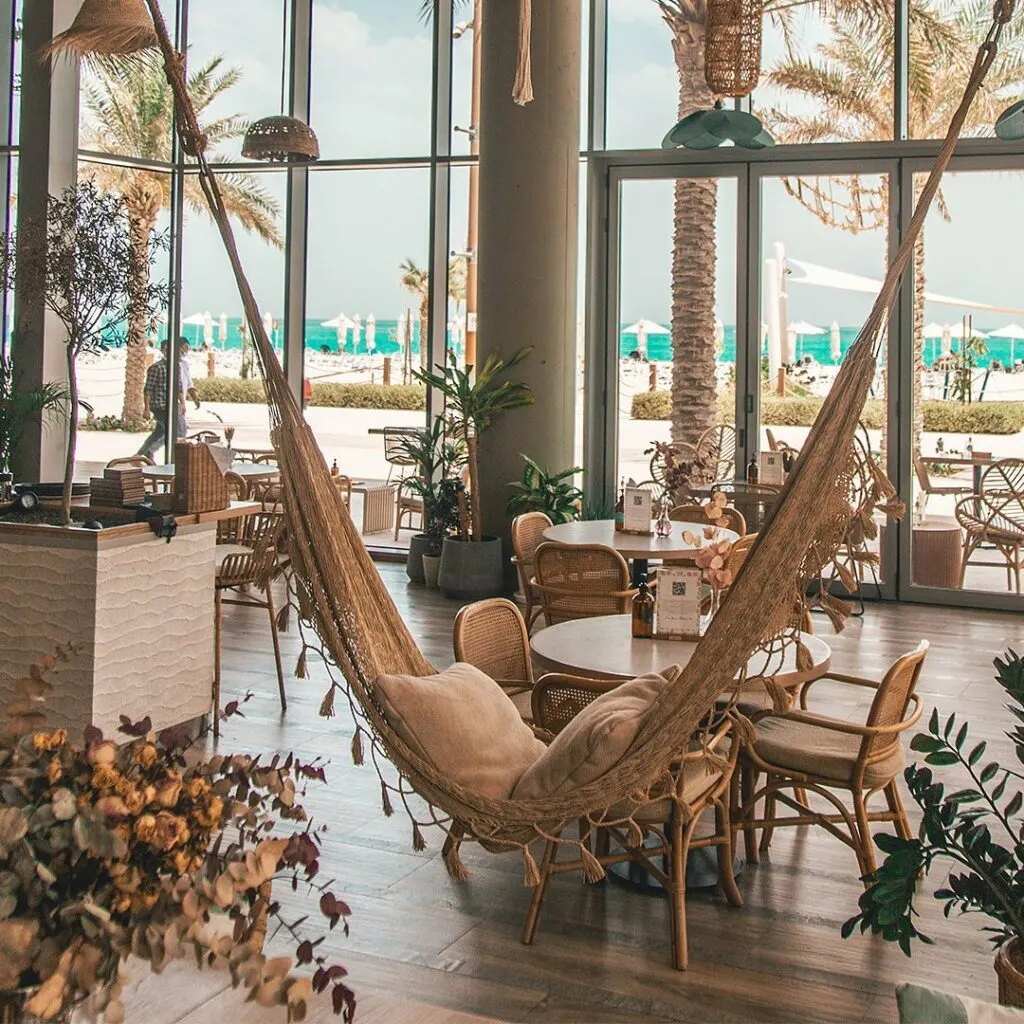 The coffee shop has a wonderful atmosphere. It's a great place to spend time, whether you're working online or meeting up with friends.
Aside from coffee and great food, there are often yoga classes with breakfast. Not to mention ceramics painting workshops with drinks and a 'Café Conversations' program.
Alkalime is an innovative spot making it one of the best coffee shops and instagrammable places in Abu Dhabi.
Timings: 9 AM to 9 PM (Monday to Sunday)
Location: Cultural District, Saadiyat Island, Abu Dhabi
2. ZOE Modern Greek Kouzina
For some of the most authentic Greek food in all of Abu Dhabi make sure to visit ZOE. The beautiful decor of this cafe transports you directly to Greece, alongside ZOE'S mouth watering menu, the vibrant colours of the mosaic tiles and Greek mural as you enter is a photo lovers delight.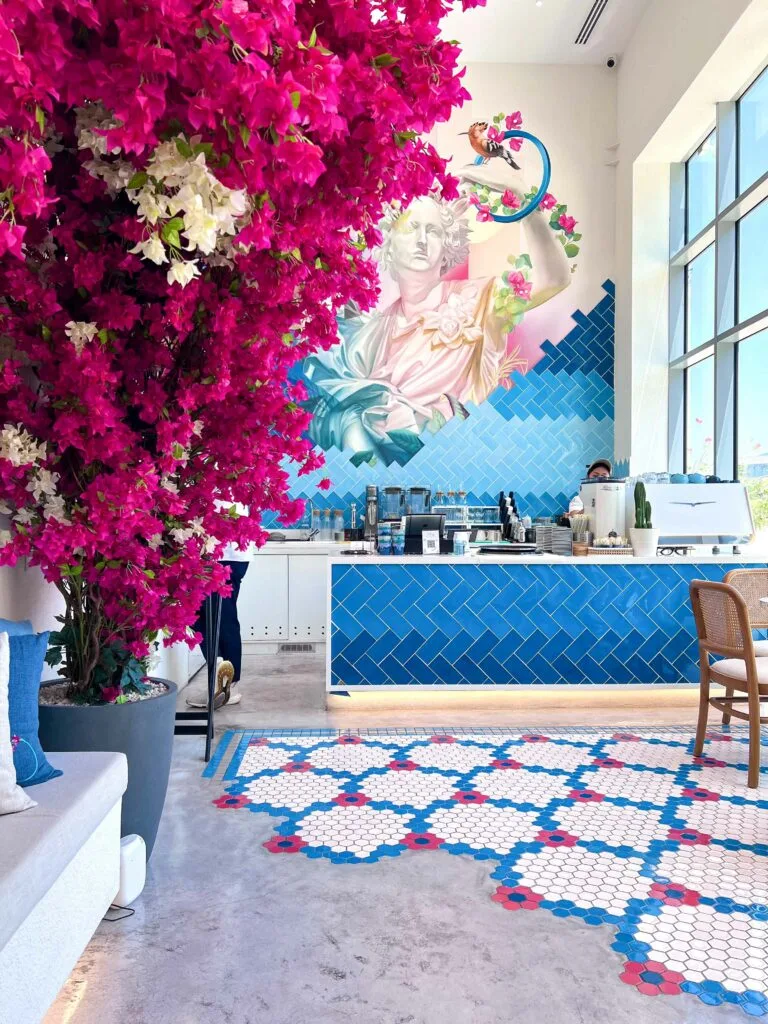 The interior is decked out in blue and white furnishings with cactus plants spread along the stone planters.
There is a wide variety of dishes to choose from, like the trio of colourful dips with fresh bread to Moussaka and Roast Chicken options.
Indoor and outdoor seating is provided with some lovely views of the marina and boats passing by! Make sure to try one of ZOE's exquisitely crafted mock-tails, you won't be disappointed.
Timings : 9am – 11PM Weekdays
9am – 12pm on Weekends
Location: Marsa Al Bateen Marina, Abu Dhabi
3. Sanderson's Café
Sanderson's is a Mediterranean-themed cafe known for its friendly staff and atmosphere. It is well lit with clusters of straw baskets on the roof of the chic café adding easily distinguishing it from other cafés in Abu Dhabi.
Sergio Lopez is the mastermind behind the coffee shop concept. Some people may know him as being one-half of the foodie duo 'Tom & Serg.'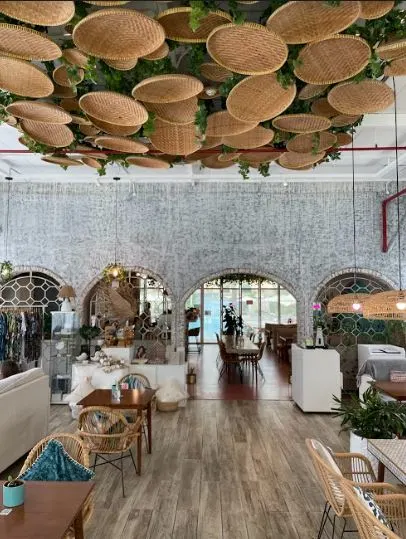 The Tom & Serge café opened in Dubai with great success as a hip and cool all-day breakfast establishment. Sanderson's has since followed in its footsteps with locations in Abu Dhabi and Dubai.
Visitors can enjoy the usual Americanos and cappuccinos made by Gold Box Roastery in Dubai. Sanderson's offers colourful lattes and flavours like red velvet, matcha and chai masala!
Choose from an array of speciality kombuchas as well as smoothies and juices. Enjoy everything from breakfast pancakes and a delicious healthy lunch or dinner including exciting weekly specials.
If you are in the Al Seef area, check out one of the best instagrammable cafés in Abu Dhabi.
Timings: 8 AM to 10 PM (Monday to Sunday)
Location: Al Seef Village, Abu Dhabi
4. Aptitude Café
Aptitude Café is located at the famous Louvre on Saadiyat Island. The prime location, of course, makes for some of the most picturesque views of the city.
Featuring lush greenery, swaying palm trees and irresistible bites, Aptitude is a stunning cafe in Abu Dhabi. Guest can get that perfectly composed shot featuring the sun, sky and sea, all in a single frame.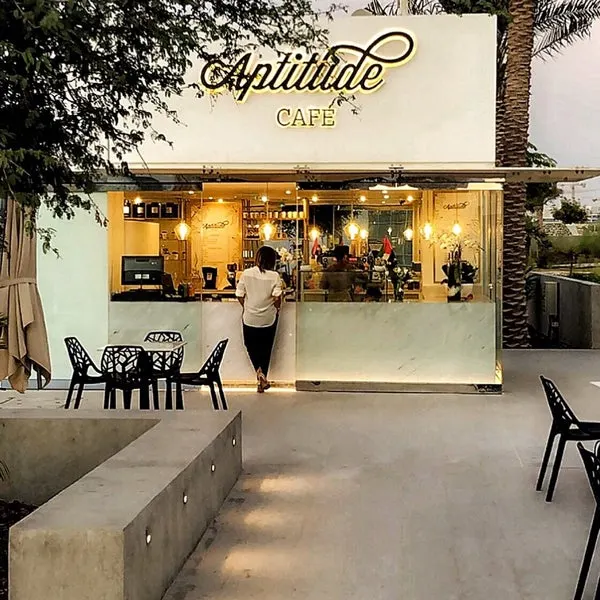 This gives the café a spot on our most instagrammable places in Abu Dhabi. We recommend visiting around sunset to capture the sun's golden hues reflecting off the Persian Gulf and the Louvres dome.
With the recent renovations, Aptitude now offers more seating, a fresher space, and a larger kitchen.
Customers can enjoy breakfast, hot dishes, pastries and irresistible coffees! The interior fits in with the artistic surroundings making it an enjoyable place to visit for a cup of coffee and pastry.
A number of events are also held at Aptitude cafés, such as pizza nights and live music shows.
Timings: 9am to 10pm (Monday to Sunday)
Location: The Louvre, Saadiyat Island, Abu Dhabi
5. Forever Rose Café
Forever Rose is a unique café in Galleria Mall. There is a clear theme surrounding this unique coffee shop with its 2D illustrations. It feels like being inside a comic book.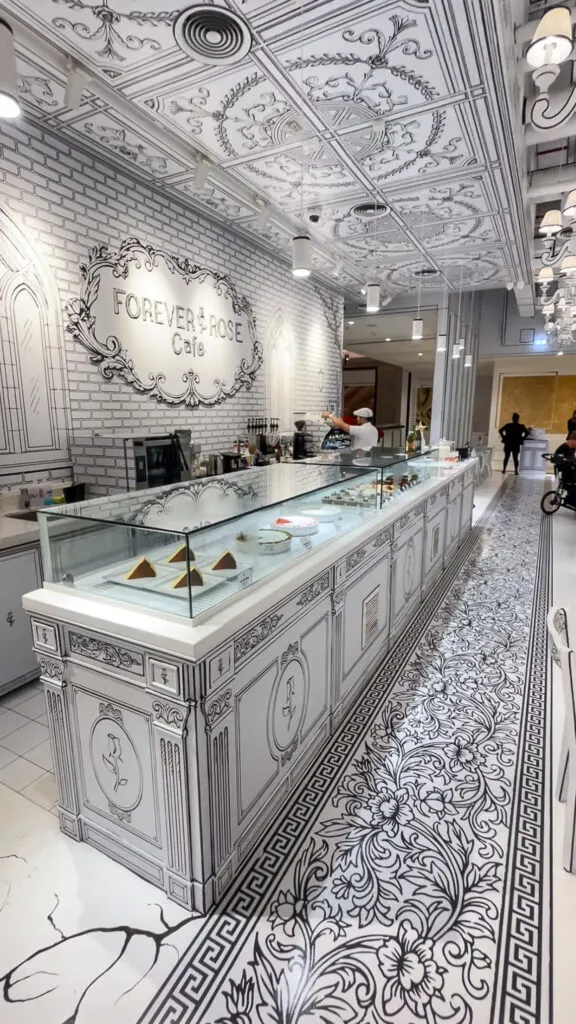 The experience is unique, an escape from reality. Everything from the décor to the cutlery has unique 2D illustrations making it one of the most Instagrammable places in Abu Dhabi.
With their reasonable pricing for delectable breakfast bites and an array of coffee selections, it is a must-visit if you are looking for the most instagrammable cafés in Abu Dhabi.
Timings: 8 AM to 10 PM (Sunday to Thursday) and 8 AM to 12 AM (Friday and Saturday)
Location: The Galleria Al Maryah Island, Abu Dhabi
6. LOCAL
Local is one of the most fascinating and top-notch coffee spots in Abu Dhabi. The concept of the cafe combines coffee, barbering, and retail products.
Everything at Local has a hipster vibe, from haircuts to brews and sneakers. The cafe is decorated with Persian rugs and plants to provide an urban yet cosy atmosphere.
Local offers a 'sneaker laundry' for sneakers that could do with a glow-up, and will return them as good as new!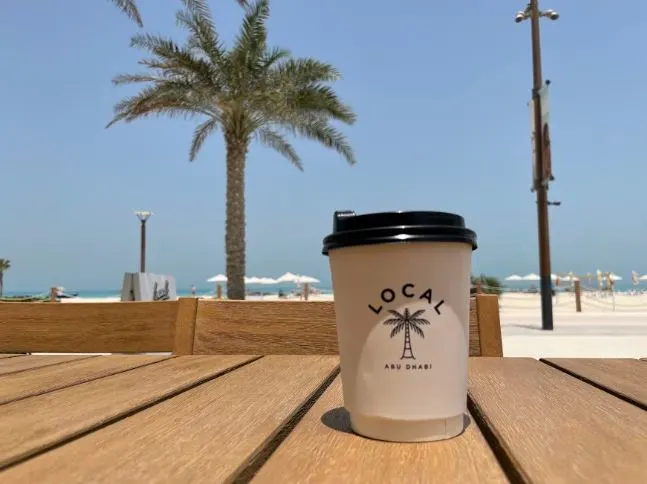 Located in Saadiyat, it is one of the quirkiest venues in the district. Saadiyat Island is one the most picturesque locations in Abu Dhabi and home to the only natural beach in the UAE capital.
The beaches have pristine white sand and turquoise waters, making it an insta-worthy spot and perhaps the most instagrammable place in Abu Dhabi.
On one side of the island is a strip of fantastic restaurants, and on the other is Soul beach.
While the strip is relatively short (approximately 1km), many residents walk up and down it multiple times to get a workout while some wait to capture the perfect sunset.
Listen to the soft music emanating from hidden speakers early in the evening and enjoy the mesmerising view of the beach and the twinkling lights on the palm trees.
Timings: 8AM to 11 PM
Location: Mamsha Al Saadiyat, Al Saadiyat Island, Abu Dhabi
7. RAIN Café
RAIN café is another well-known chain of cafés among UAE residents. It is evident in all 4 locations around Abu Dhabi they have nailed down cafe aesthetics.
It was designed to provide visitors with a relaxing experience of pleasant views and raindrops! Incorporating soothing blue hues and savoury snacks, RAIN Café is a treasure in the Capital.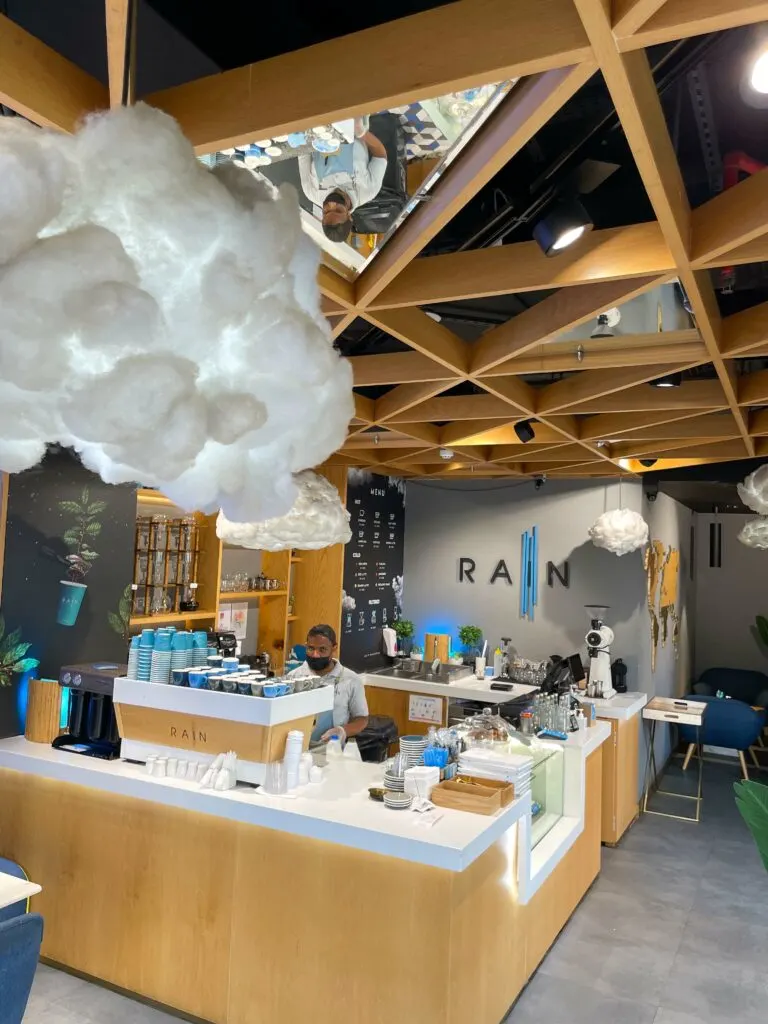 Some favourites include a wide variety of acai bowls, lattes, cappuccinos, cakes, juices, and smoothies.
Mohamed Al Shehhi, the founder, hopes to create an environment where customers can experience raindrops, calmness, and peace. A welcomed escape from the desert environment.
The unique environment of the café wins it a place on the list of the most Instagrammable places in Abu Dhabi.
Timings: 7 AM to 11:30 PM (Monday to Friday) and 8 AM to 12 AM (Saturday and Sunday)
Location: Abu Dhabi Corniche l Muroor l Yas Mall l Hudayriyat l
8. Café Arabia
Café Arabia's location, opposite Umm Al Emarat Park, is a popular spot among locals and tourists.
The cafe offers comfortable seating and beautiful interiors reminiscent of the traditional Arabesque style.
The traditional lanterns mixed with modern wall art and inspiring bookshelves make it an insta-worthy location. There is an open-air rooftop lounge overlooking the park.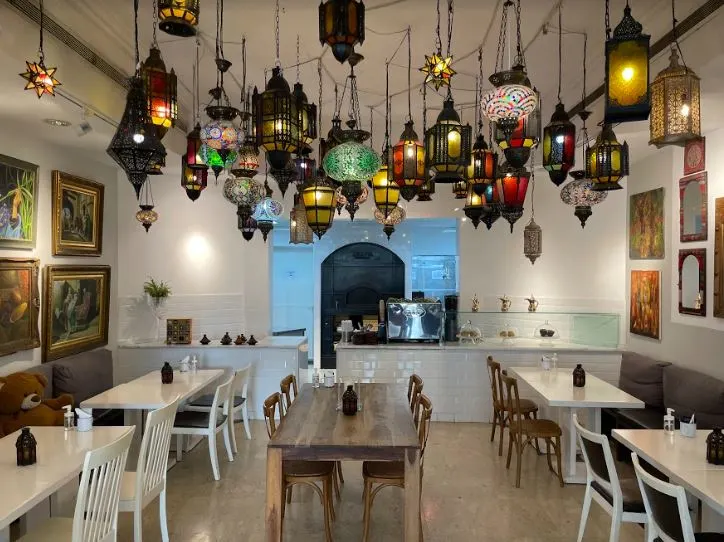 Café Arabia puts a strong emphasis on lattes. Customers can select anything from Spanish to turmeric, and coconut to matcha! The café offers Karak teas and regional favourites such as the Egyptian Karkade.
Besides the wonderful tea and coffee blends, enjoy a bite to eat, including an all-day breakfast!
The Palestinian shakshuka is a top-recommended dish, which is excellent served with a pot of traditional coffee. Also on the menu are starters, salads, and main dishes, like tacos, pasta, and burgers.
Stroll around Umm Al Emarat Park after. Early mornings and late evenings are the perfect time to go and get clicking away at another one of the Instagrammable places in Abu Dhabi.
Timings: 8 AM to 11 PM (Monday to Sunday)
Location: Villa No. 637, 15th Street, Airport Rd، Opposite Umm Al Emarat Park, Abu Dhabi
9. LARTE Ristorante
As the most art-deco Instagrammable Restaurants In Abu Dhabi on the list, Larte Ristorante serves classic Italian dishes in Saadiyat's cultural district: Manarat Al Saadiyat.
A plethora of quirky design objects and misfit art installations grace each restaurant's colourful interiors, which take inspiration from fashion and art.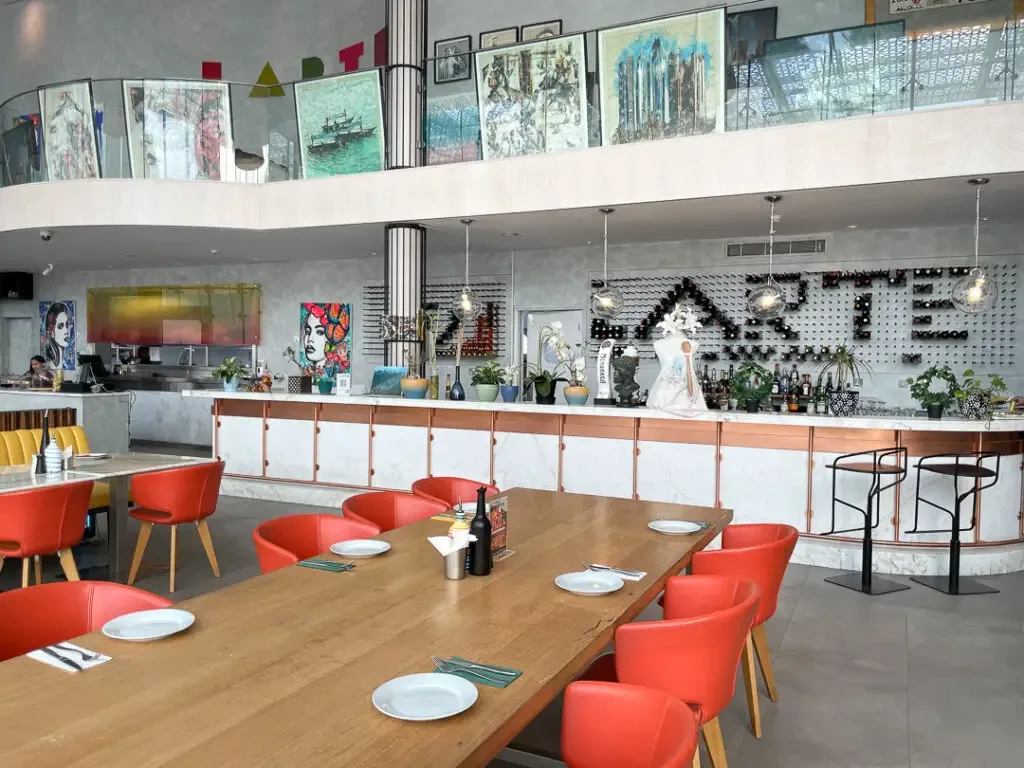 It features large windows, bright and interesting décor, and an outdoor terrace. It feels like an escape from the city. it's the perfect spot to talk about art and culture, especially after seeing an exhibition at the museum.
With the right angles and a bit of creativity, diners can capture the true essence of art at one of the instagrammable places in Abu Dhabi.
Timings: 12 PM to 11 PM
Location: Manarat Al Saadiyat, Sheikh Khalifa Bin Zayed Al Nahyan Hwy, Abu Dhabi
10. Yellow Door Café
Yellow Door Cafe is tucked away in Al Bateen and stands out with its ( you guessed it) brightly painted yellow door. The old-school yellow pick-up truck parked right outside is another cool feature when it comes to photography.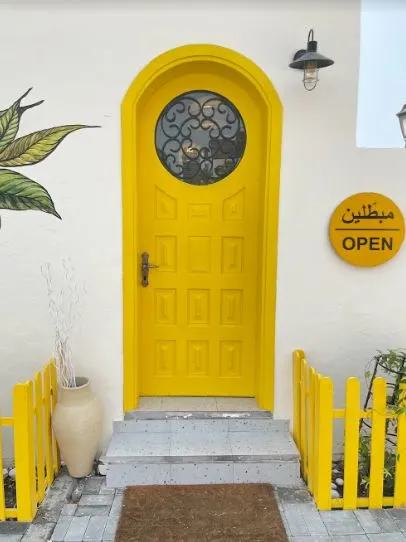 At the café, enjoy a variety of breakfasts, snacks and hot or cold coffees.
Timings: 7 AM to 11 PM
Location: Al Bateen, Abu Dhabi
11. Fil Florist and Café
Fil Florist and Café (you guessed it) is not only a cafe but a functioning florist store at the same time. The traditional brown-coloured walls and warm lighting are inviting and cozy.
It is a little more tricky to take a photo with the lighting, however, the internal architecture with smooth curved walls looks great in any light! Visit to get your caffeine fix and leave with a bouquet of flowers.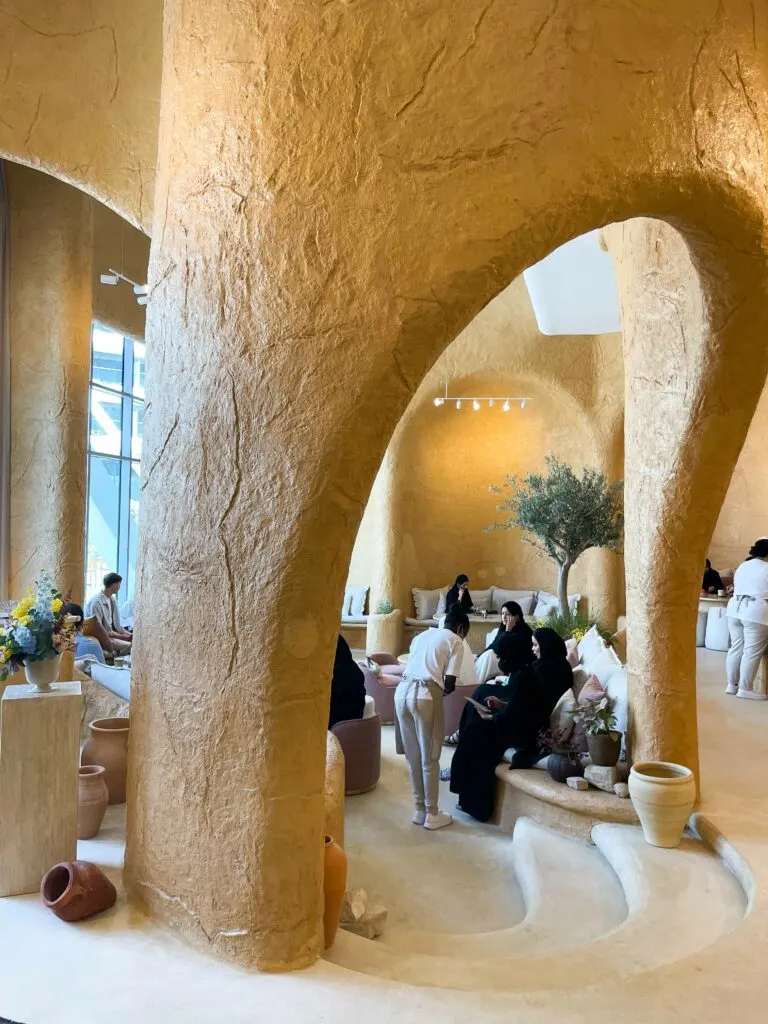 Timings: 8 AM to 11 PM (Monday to Sunday)
Location: F82P+PGX – Al Bateen – Abu Dhabi
12. Secret Garden by L'ETO
When it comes to relaxing and finding calm, consider stopping into a flower garden nestled in the heart of The Galleria Mall.
Secret Garden by L'ETO, Abu Dhabi is one of the most frequented restaurants in the mall. Guests can sit indoors while still feeling like being in the middle of a park.
Its interior features flowers and foliage hanging from the roof, but its exterior is open, allowing you to people-watch, just like sitting in a park.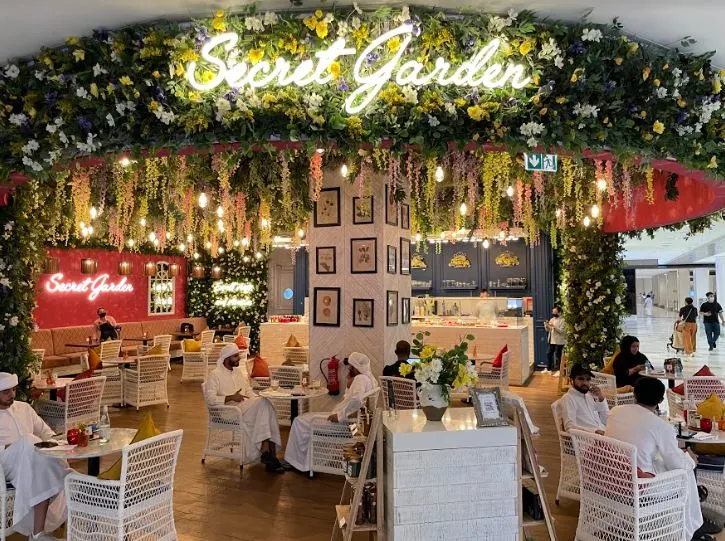 The juices and coffee menu are irresistible, particularly the assortment of desserts and croissants.
It might seem like a cafe to some, but if you're looking for some excellent breakfast, lunch or dinner choices, Secret Garden by L'ETO is the spot to be.
If you want to make a very cool reel, they serve up some extravagant mocktails with smokey bubbles encased in elaborate glasswork.
See it to believe it is the least we can say about this restaurant, making it one of the Instagrammable places in Abu Dhabi.
Timings: 10 AM to 11 PM (Monday to Thursday) and 10 AM to 12 AM (Friday to Sunday)
Location: The Galleria Al Maryah Island, Abu Dhabi
13. Brunch & Cake
Brunch & Cake most certainly owns a spot on the list of instagrammable places in Abu Dhabi. A popular hangout for social media influencers, entrepreneurs, and locals.
The plant-decorated entrance, pastel-hued interiors, and tempting meals have made it one of the most sought-after restaurants in the city.
Located in the heart of Al Bateen, this area is the perfect place to spend time with friends, read a book, or enjoy a cup of coffee or a glass of fresh juice. Considering the serving sizes, every dirham is worth it!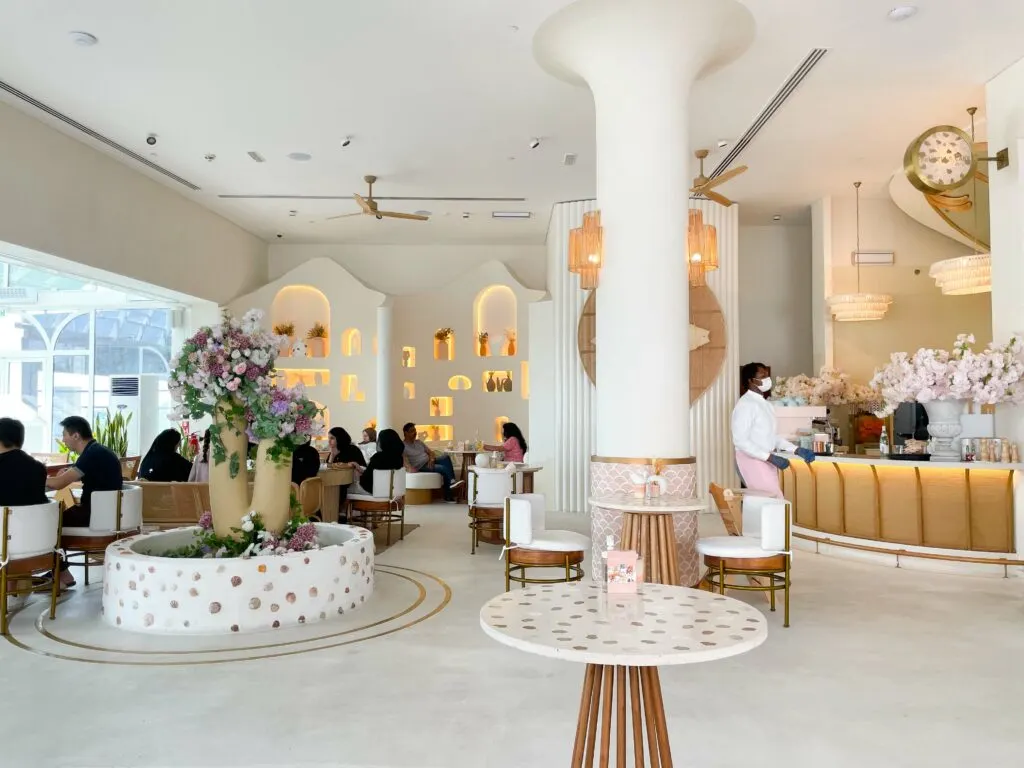 The menu includes zucchini blossoms with mushrooms, charcoal waffles, and Instagram-worthy avocado toast. Healthy eaters can opt for a Pitaya smoothie bowl with chia, berries & a tasty mermaid tail.
Snap away, and grab a selfie against the blush pink accents, brass decor, and rustic furniture before checking out the decorated conservatory.
Timings: 9 AM to 11:30 PM (Sunday to Thursday) and 9 AM to 12 AM (Friday and Saturday)
Location: Marsa Al Bateen Marina, shop G-9, Abu Dhabi
14. LPM Abu Dhabi
Situated on the waterfront promenade of Al Maryah Island, guests won't fail to notice LPM's trademark decorative Max Cartier saucepans and the vibrant paintings on the walls.
Inside has a backdrop reminiscent of the French Riviera with white china, fine linens and marble. In contrast, there are 20th-century artworks exploding with brilliant, vivid colours. Floral arrangements in unstructured vases complement the decor.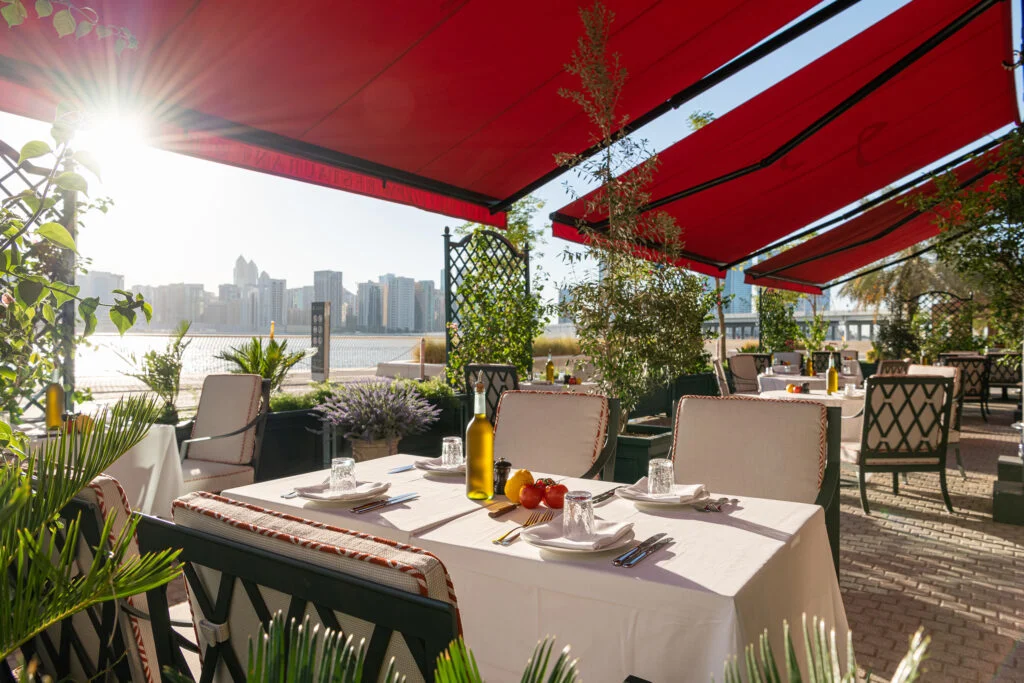 Finally, a bronze sculpture serves as the centrepiece of the room. Including antique gold and harlequin mirrors from the 19th century, making it to the list of top Instagrammable places in Abu Dhabi.
A delicious combination of French classics and emblematic Niçoise dishes makes for an unforgettable dining experience.
Timings: 12 PM to 12:30 AM (Sunday to Thursday) and 12 PM to 1 AM (Friday and Saturday)
Location: The Galleria Al Maryah Island, Abu Dhabi
15. AQUA at Rosewood
Located at one of the top Instagrammable places in Abu Dhabi, the Rosewood Hotel terrace, AQUA, bar offers the most spectacular views of the waterfront and the cityscape from both its restaurant and rooftop terrace.
Aqua boasts a menu which is savoury, sophisticated, and creative.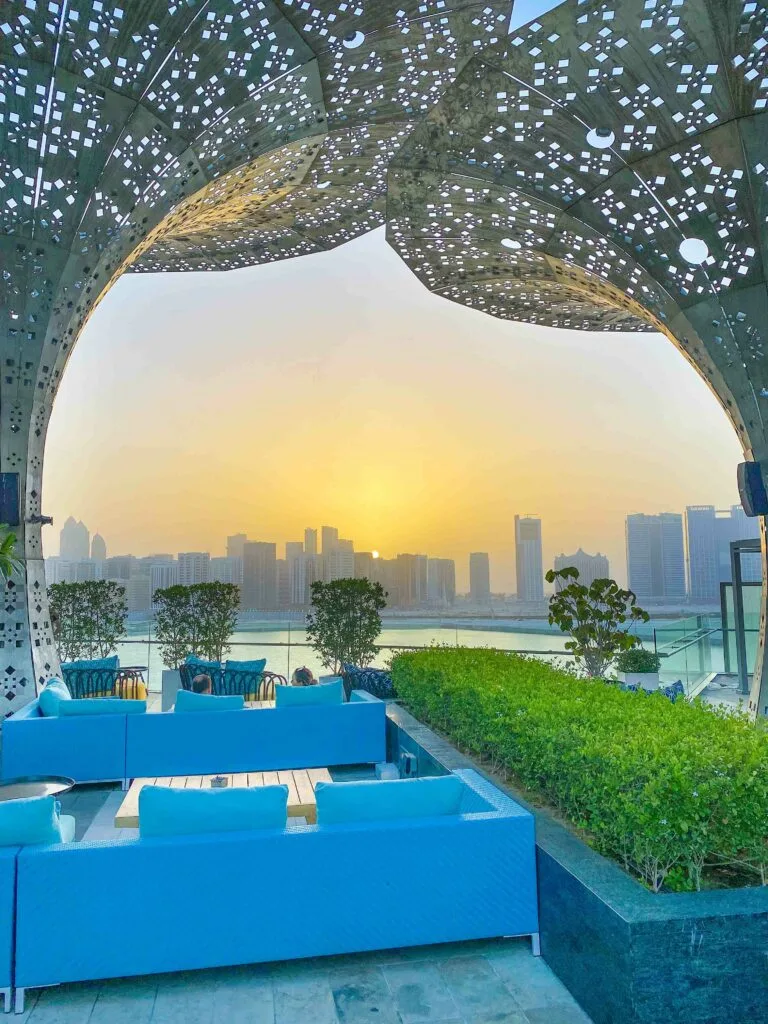 The most insta worthy shot at Aqua has to be the avatar-like sculptures which dominate the skyline along with tall palm trees overlooking the ocean. They are a one-of-a-kind structure making Aqua quite unique from other spots mentioned.
Breakfast Timings: 6:30 AM to 10:30 AM (Weekdays) and 6:30 AM to 11 AM (Weekends)
Lunch Timings: 12 PM to 3 PM
Dinner Timings: 7 PM to 11 PM
Location: Rosewood Hotels, Al Maryah Island, Abu Dhabi
16. Sontaya
With its floating pavilions overlooking the glistening pools, the amazing Sontaya exudes a serene and enchanting atmosphere with the turquoise waters of the Arabian Gulf.
The unique Asian cuisine is insta worthy on its own but looks even better with the stunning backdrop.
Timings: 6 PM to 12 AM (Monday to Sunday)
Location: The St Regis Saadiyat Island Resort – Abu Dhabi
17. Grand Beirut
Grand Beirut is inspired by the vibrant culture and blooms of the world's most charming capital. Bringing together art and food, Grand Beirut offers authentic Lebanese dishes with innovative twists in a space that will transport guests to the heart of Lebanon.
The restaurant is a well-deserving mention in our top list of Instagrammable places in Abu Dhabi. Based inside the main part of Galleria Mall it is super accessible facing out into the main foyer from the 2nd floor.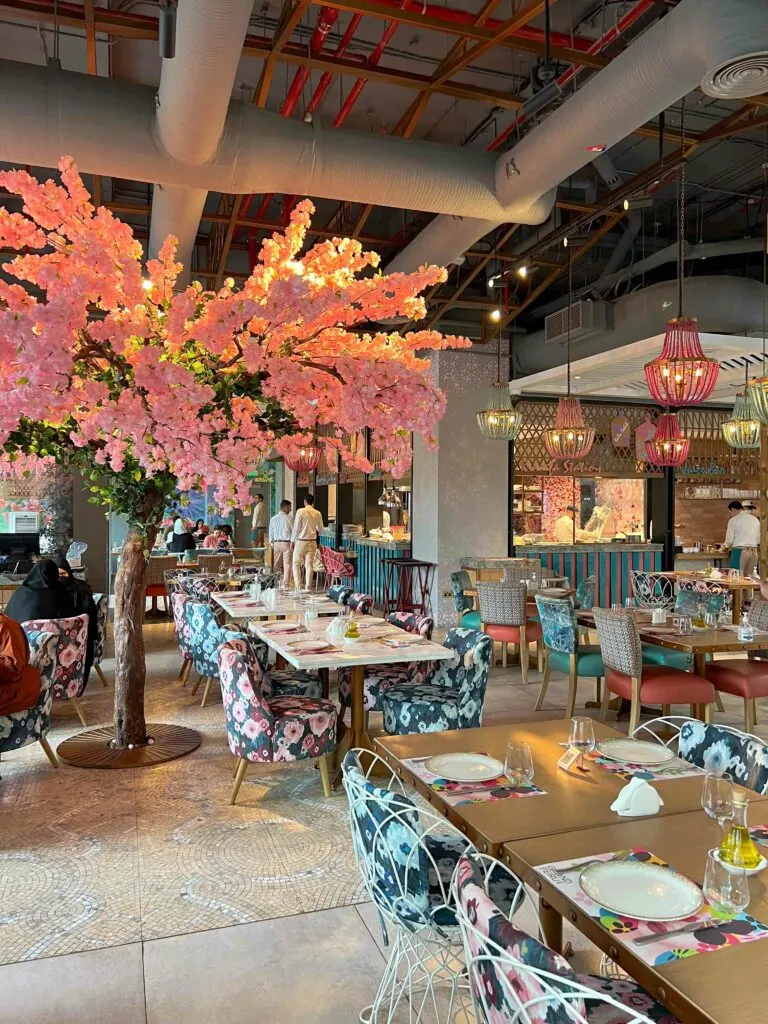 The restaurant catches the eye of everyone walking past with thousands of pink flowers hanging from the ceiling.
Timings: 10 AM to 10 PM (Saturday to Wednesday) and 10 AM to 12 AM (Thursday and Friday)
Location: The Galleria – Al Maryah Island, Level 2 – Abu Dhabi
Instagrammable Places In Abu Dhabi
18. Qasr Al Watan
There are no words to describe how stunning Qasr Al Watan is, no pictures can justify how beautiful it is in real life.
The Presidential Palace is most certainly one of the most Instagrammable places in Abu Dhabi with some of the best architecture in the world.
Its fascinating design shows how governance works on every level – from what people wear when they meet foreign leaders to how they dress when visiting queens!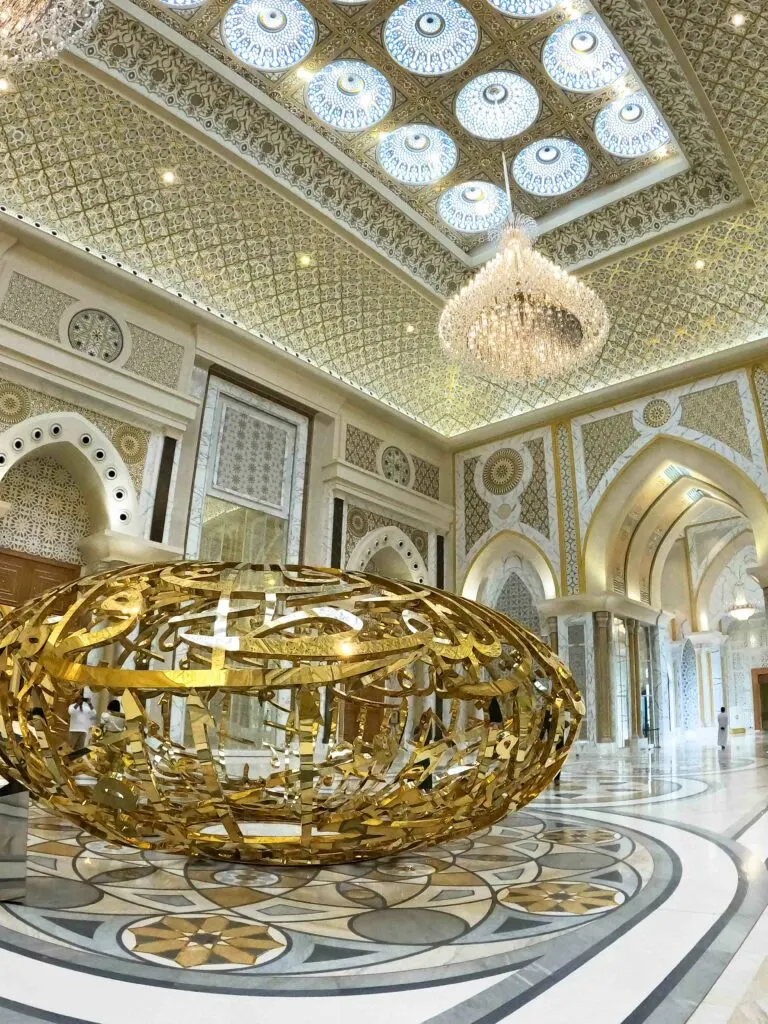 Visitors can explore the spectacular building's arabesque design and architecture. Qasar Al Watan offers visitors an experience called Palace in Motion.
Light shows adorn the castle's exterior at night, creating a captivating atmosphere, perfect for making your Instagram reel shine.
Outside the castle, guests can relax in the seating area while lights and music transform the entire front of the building into a magical story.
According to the dress code, you should cover your knees and shoulders. Check out this guide on what to wear.
For details on Qasr Al Watan tickets
Kids Tickets : AED 30
Adult Tickets: AED 65
Timings: 10 AM to 5:30 PM (Wednesday to Monday), Closed on Tuesday
Location: Emirates Palace, Al Ras Al Akhdar, Abu Dhabi
19. Sheikh Zayed Grand Mosque
One of the world's biggest and most-impressive mosques, the Sheikh Zayed Grand Mosque is a must-see in Abu Dhabi.
The Founder of the UAE had the grand mosque built to create a cultural haven for all.
A magnificent edifice, Qutr al-Marah, stands majestically on this site. It is sure to make an incredible photo with 1,096 columns embedded with amethyst and jasper.
Not to mention 82 white marble domes with reflective pools beneath. Sheikh Zayed Grand Mosque ranks among the most Instagrammable places in Abu Dhabi.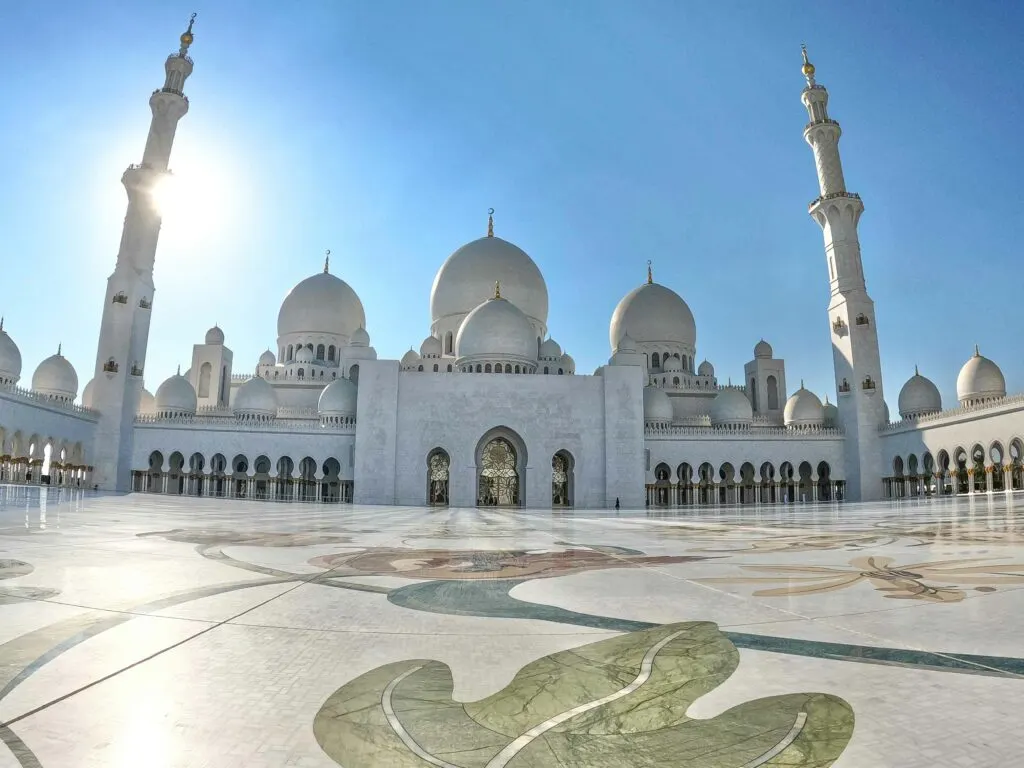 The best time to visit is about an hour before sunset in order to capture the mosque in different lights.
Visitors must adhere to a specific dress code. For example, the entry gate requires shoulders and knees to be covered and shoes should be removed.
Abayas are available for purchase on the lower ground floor of the mosque where stores, cafes and souvenir shops can be found.
As part of the experience and to enhance photo opportunities, men and women often purchase traditional clothing.
Tickets: Free
Timings: 9 AM to 10 PM (Saturday to Thursday)
Friday Timings: 9 AM to 12 PM and 3 PM to 10 PM
Location: Sheikh Rashid Bin Saeed Street، 5th Street, Abu Dhabi
20. Wahat Al Karama
Wahat Al Karama commemorates Emirati martyrs who gave their lives in service of their country.
The landmark is strategically located across the road from Sheikh Zayed Grand Mosque, making it one of the most Instagrammable places in Abu Dhabi.
It is located across the main highway, so you don't need to step inside the Mosque or adhere to the strict dress code.
This lesser-known spot makes for some great insta-worthy pictures and can be visited during the opening hours without the hassle of finding a parking spot.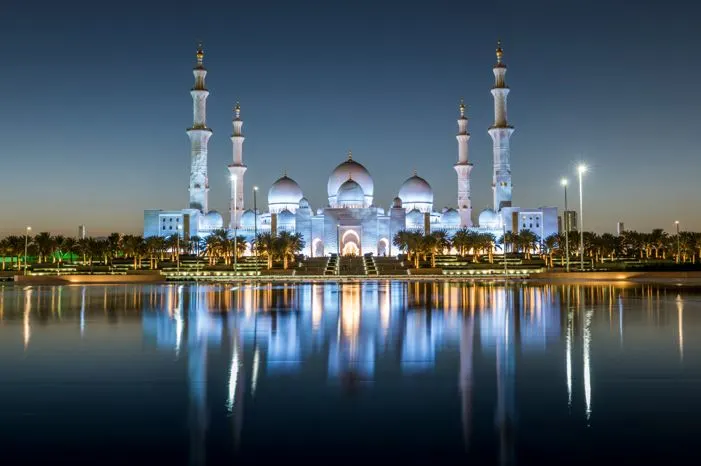 There is no better time to make some epic Instagram photos than at sunset! The sun sets right behind the mosque, and the view is absolutely stunning.
Capture the stunning scenery of the mosque reflecting in the water under the starry sky.
Tickets: Free
Timings: Visitor Centre 9 AM to 7 PM
Tour Booking 10 AM to 6 PM
Memorial Plaza Area: 24 Hours
Location: Wahat Al Karama Street, Abu Dhabi
21. Bani Hashim Mosque
Located in Abu Dhabi, the Bani Hashim Mosque is similar to the Al-Aqsa Mosque in Jerusalem's Old City. it's a truly awe-inspiring facade adorned with a gold dome and exquisite blue as well as turquoise engravings.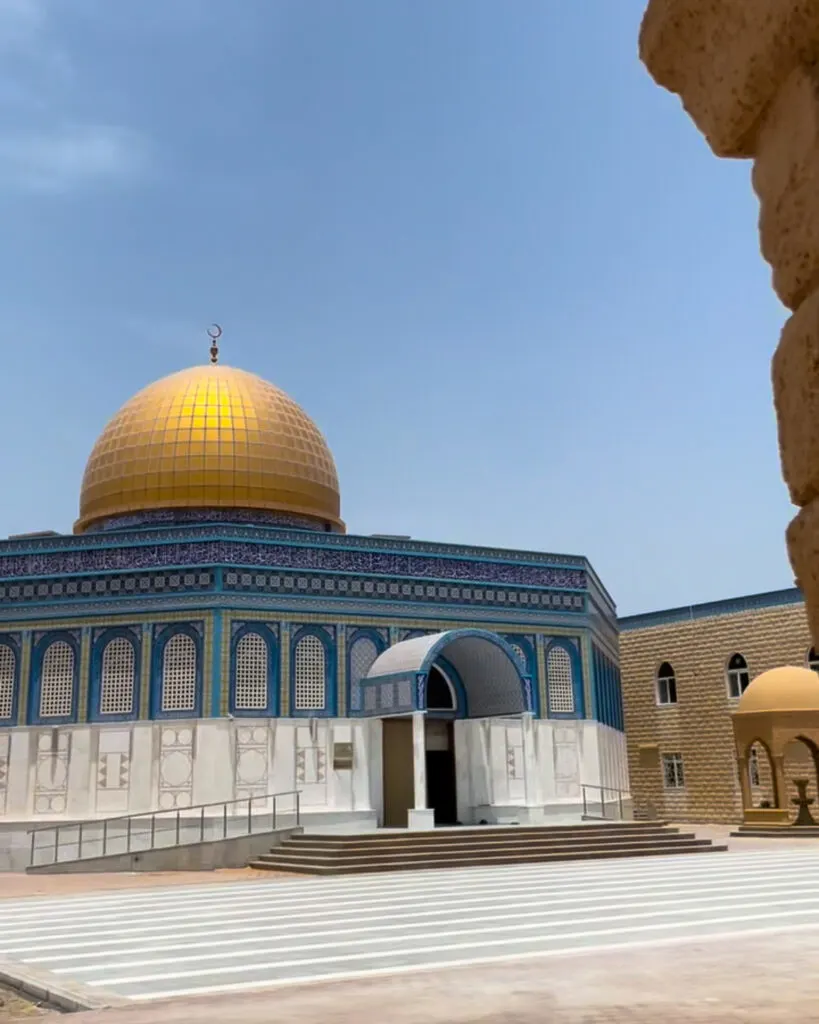 It's no secret Sheikh Zayed Grand Mosque is breathtakingly beautiful. The mosque is more understated but equally gorgeous and certainly one of the culture-rich instagrammable places in Abu Dhabi.
Location: CF5V+MGJ – Rabdan – Al Maqta' – Abu Dhabi
22. Emirates Palace
The remarkable Emirates Palace is one of the best Instagrammable places in Abu Dhabi and is widely regarded as the world's most iconic buildings.
From the moment guests arrive at this luxurious resort, they are treated to an unforgettable experience.
With its private white sand beach and stellar service, the palace welcomes everyone into its world of indulgence.
As one of Abu Dhabi's top attractions, the beautiful property offers plenty to keep families occupied. However, there is no need to stay the night to enjoy the majestic beauty of Emirates Palace.
The glamorous hotel is open to exploring its lobbies and exhibitions without making a reservation.
Unfortunately, there is no public access to the gardens or private beach of the hotel, which is reserved for paying guests.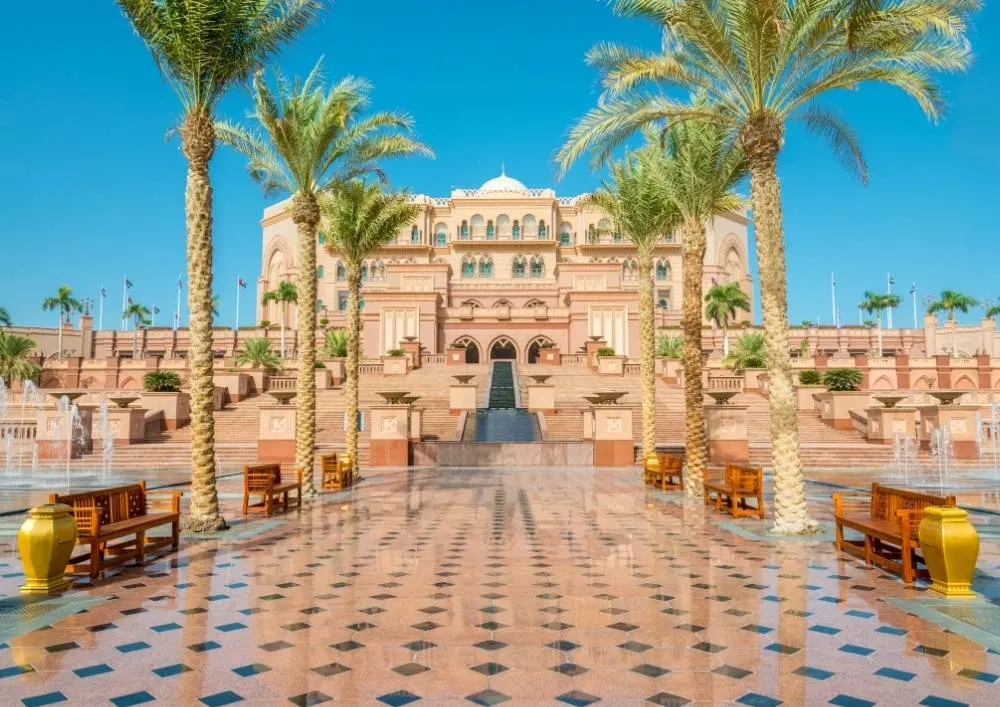 The best way to commemorate a visit to Emirates Palace is by sipping on a cappuccino topped with 24-carat gold flakes.
The fancy drink is served at Le Cafe, which is open daily from 8 AM to 2 AM. Although it is a bit pricey, we would recommend trying it as a one-off experience.
It's important to note if you plan on strolling around the hotel, you need to wear appropriate clothing and be sure to cover your knees and shoulders.
Tickets: Free access
Timings: 10 AM to 4 PM
Location: Corniche Road, Abu Dhabi
23. Shangri-La, Qaryat Al Beri Gondola
Guest and visitors at the Shangri-La can experience the Qaryat Al Beri complex by riding traditional Middle Eastern boats along a 700-meter waterway.
Abras stations include a stop at the Qaryat Al Beri Souk, where guests can browse local artefacts and crafts.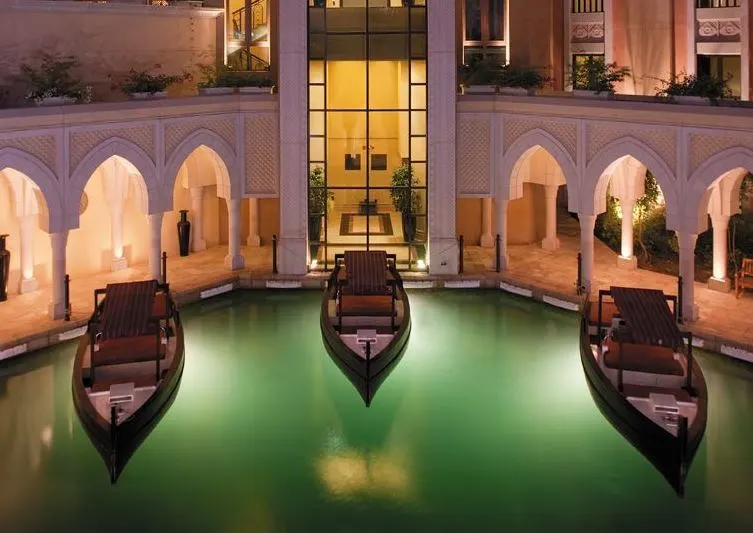 In addition to the picturesque surroundings, guests are transported back in time throughout the journey.
The culture-rich trip allows passengers to snap away while navigating the channels, making it a worthy contender on our list of Instagrammable places in Abu Dhabi.
Location: Khor Al Maqta, Qaryat al Beri – Abu Dhabi
24. Louvre Abu Dhabi
The Louvre Abu Dhabi, situated on Saadiyat Island, is a cultural wonder and revolutionizing collaboration between the well-known building in Paris and Abu Dhabi.
Experience futuristic architecture inside a world-class museum and explore masterpieces from around the world.
Embark on a journey through stunning galleries displaying works of art spanning the ages. Below the dome-shaped roof, sunlight filters through creating a pattern on the path.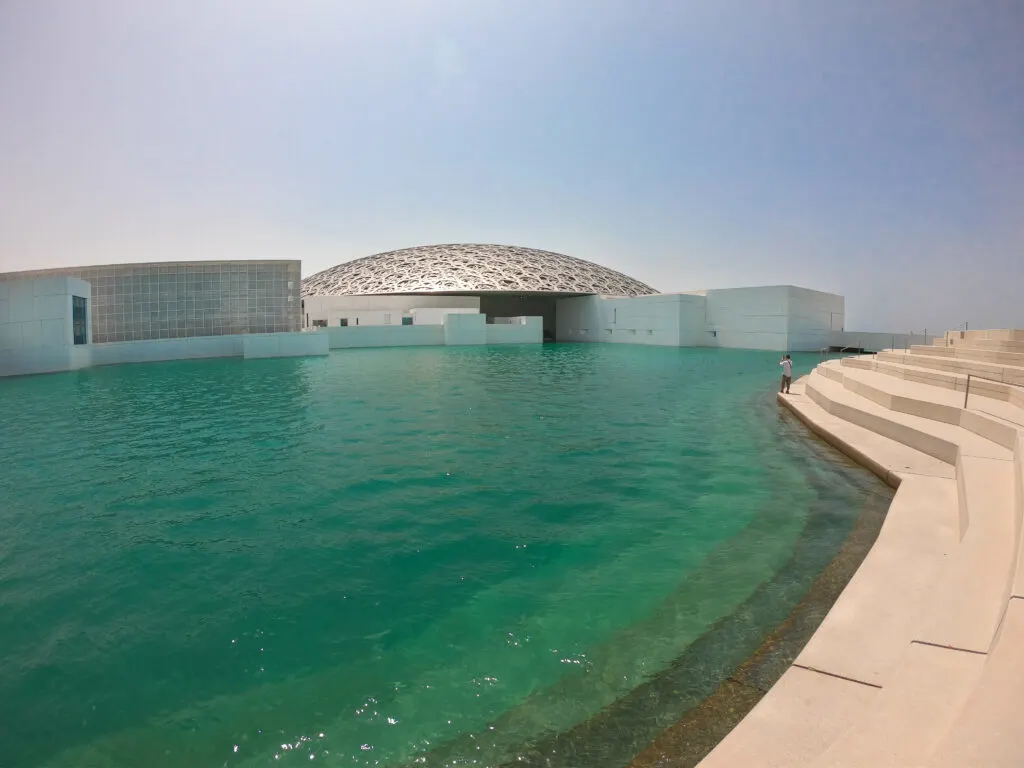 The chronologically-ordered galleries follow the progression of culture and humanity from one century to the next. A visit to the Louvre facilitates learning, reflection, and inspiration from the magnificent exhibitions.
Water fountains are dotted throughout the Louvre as the building was built over part of the sea. Kayaks are available on certain days, full moon nights are a perfect time to give it a try. Hence, the Louvre joins the list of Instagrammable places in Abu Dhabi.
Tickets: AED 63 for general admission
Free admission for children under 18
Timings: 10 AM to 6:30 PM (Tuesday to Sunday), Monday closed
Location: Saadiyat Island, Abu Dhabi
25. Ferrari World Yas Island
Ferrari World Abu Dhabi features rides and attractions themed around Ferraris with a touch of Italian flair.
More than 40 record-breaking attractions and coasters at this Instagrammable place in Abu Dhabi are sure to excite even the most seasoned thrill-seekers.
Ferrari World has some of the best rides ever to be experienced. Formula Rossa is the world's fastest roller coaster and among the most famous rides.
Riders are required to wear eye protection in order to shield them from extreme speeds. A surge of 4.8Gs is felt as riders are launched. Just 4.9 seconds later, the train accelerates to 240km/h.
Among the other spectacular roller coasters are Flying Aces, which features the world's highest loop, Turbo Track. It takes riders through the roof of the theme park before a zero-gravity fall backwards.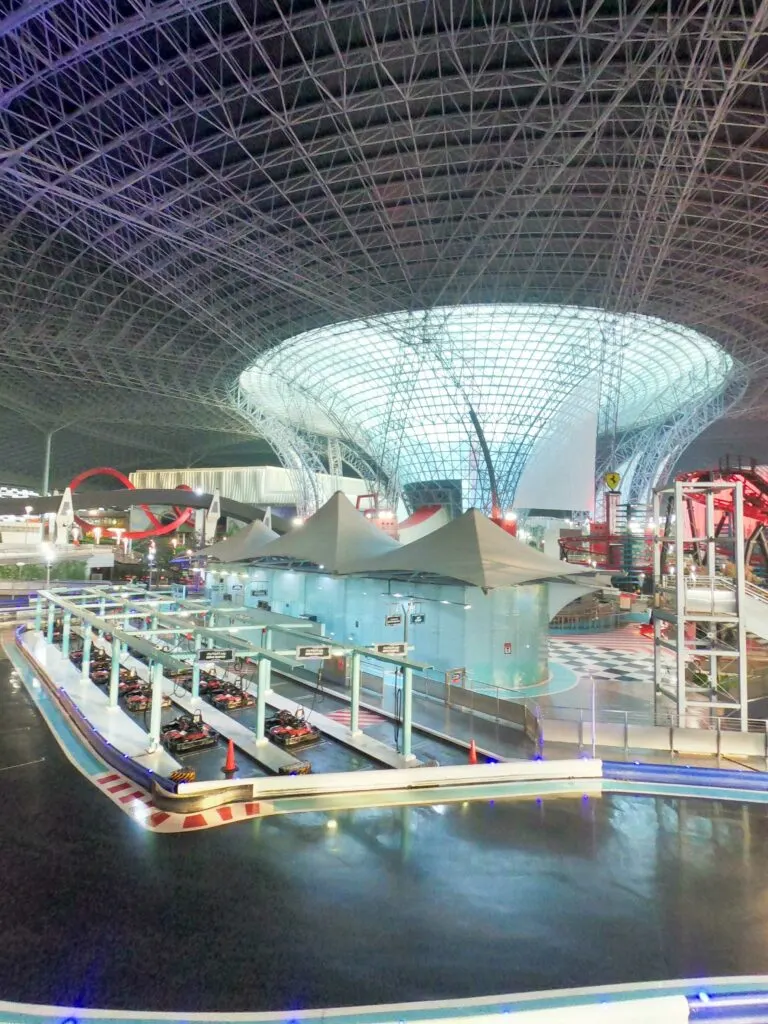 Besides rollercoasters and other rides, Ferrari World also has racing simulators, Formula 1 merchandise, carnival-like rides, and an Italy-themed section, very creatively decorated to feel like Italy.
Several dining options are available, such as Italian, burgers, coffee, and snacks.
The best shot is with the Formula Rossa, zoom out to 0.5 lense if using an Apple iPhone.
The location can be photographed throughout most of the day, especially midweek as Ferrari World is most popular in the evenings and at weekends.
Book your Ferrari World Tickets
Tickets: Starting at AED 225
Timings: 11 AM to 8 PM (Saturday and Sunday)
12 PM to 8 PM (Monday, Thursday and Friday)
10 AM to 7 PM (Tuesday)
10 AM to 8 PM (Wednesday)
Location: Yas Leisure Drive, Yas Island, Abu Dhabi
26. Al Wathba Long Salt Lake
The Al Wathba region offers some of the most stunning natural scenery Abu Dhabi has to offer. Snow-white salt-crusted lake banks create an otherworldly appearance.
If you are looking for something natural and unique, Al Wathba Long Salt Lake needs to be on the list of Instagrammable places in Abu Dhabi.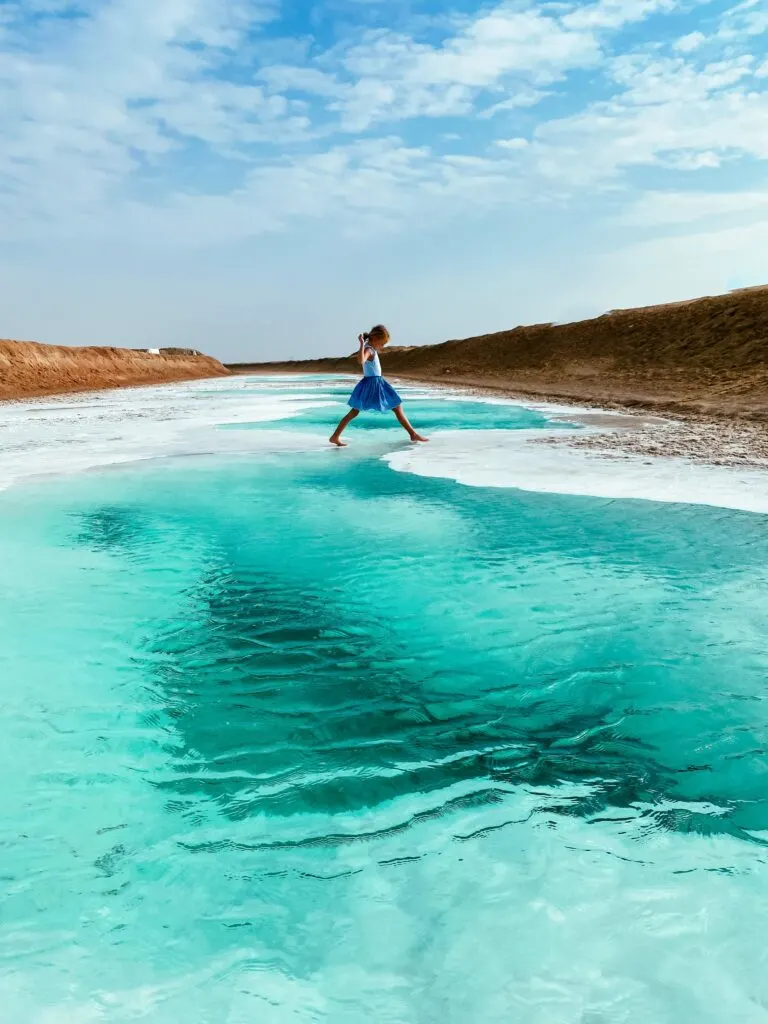 The salt flats or sabkha result from a combination of high salt content in the ground, hot temperatures, and water deposits. The channel contains salt pads that are used as stepping stones, a mystery still to be solved.
It is important to respect the Salt Lakes' scenic charm and leave it as you found it so others can enjoy its beauty in the future.
The best time to visit the long salt lake is at sunrise in winter months as it dries up in summer.
Top tip: Make sure to enter Al Wathba Long Salt Lake rather than Al Wathba lake into google maps. It is a different place 45 minutes away.
Entry: Free access to public
Location: Al Nahdah, Al Wathba, Abu Dhabi
27. Al Hudayriyat Island
Al Hudayriat Island is a man-made island near Abu Dhabi city with a growing entertainment and dining district along the beach, also known as Marsana Beach. Nature lovers and adventure seekers alike find Hudayriat Island a paradise.
A large suspension bridge connects the island to the mainland. With a free public beach that includes parasols and loungers, soak up the striking beauty and enjoy high-end sporting facilities.
It includes tennis courts, football pitches, basketball courts, padel courts, a 400m athletics track, a 5km and 10km cycling track, a skate park, a BMX park, high ropes, and an OCR park.
Most of the facilities are free or low-cost to use. For example, various parks, the beach, and a cycling track are all free to the public.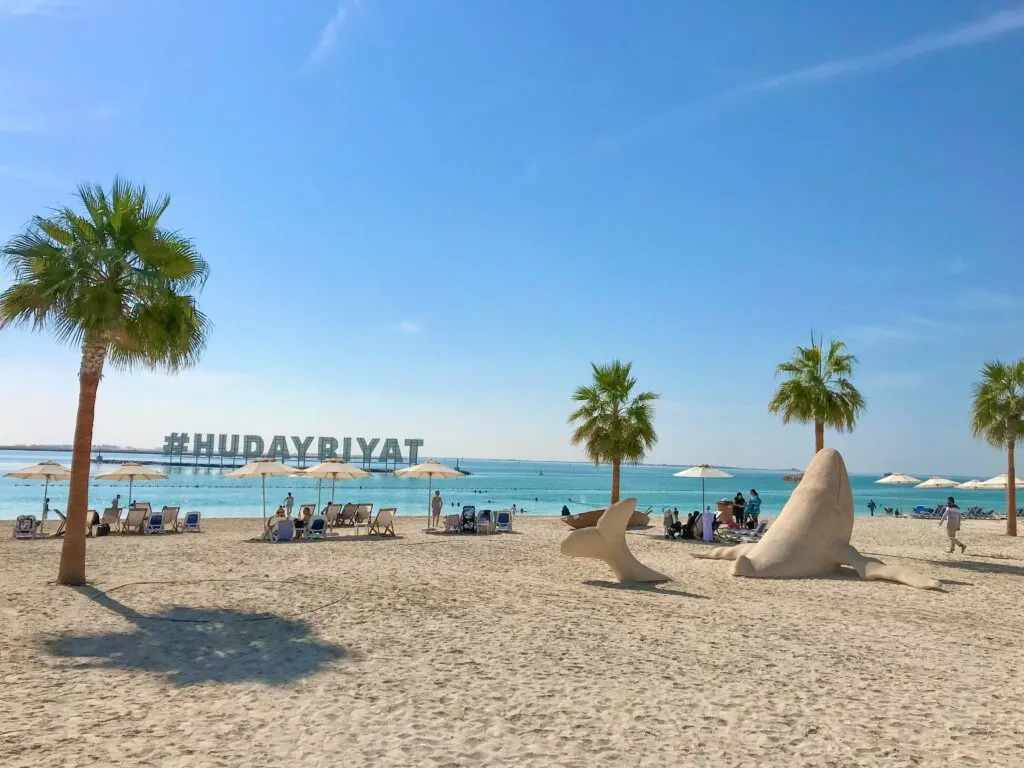 Whether cycling around the island's 10km or 5km track or taking a stroll on the beach, the views of Hudayriyat island are stunning making it one of the top instagrammable places in Abu Dhabi for adventurers.
There are many great restaurants/cafes along the wooden walkway and food trucks on the main beachfront (also drive-thru). It is easy to take pictures on Hudayriyat Island however, there are restrictions on professional cameras.
Al Hudayriat Island is best enjoyed in the late afternoon when the mesmerising sunset can be witnessed at the beach.
In the evenings when all the food truck vendors are open is a good time for foodies who like retro vehicles as their photo backdrop
Entry: Free access to the beach, parks and cycling track
Location: Al Hudayriyat, Abu Dhabi
28. Al Maya Sand Bank
Al Maya sand bank is accessible by a small boat and can be rented off the Al Bateen port area.
Boats can be hired with a captain to capture the mesmerising views of the Persian Gulf on the way to the sand bank. Be on the lookout as Dolphin pods may be spotted in the vast expanse of the ocean.
Enjoy the sounds of the crashing waves and spot a couple of gazelles strolling the bank when docked.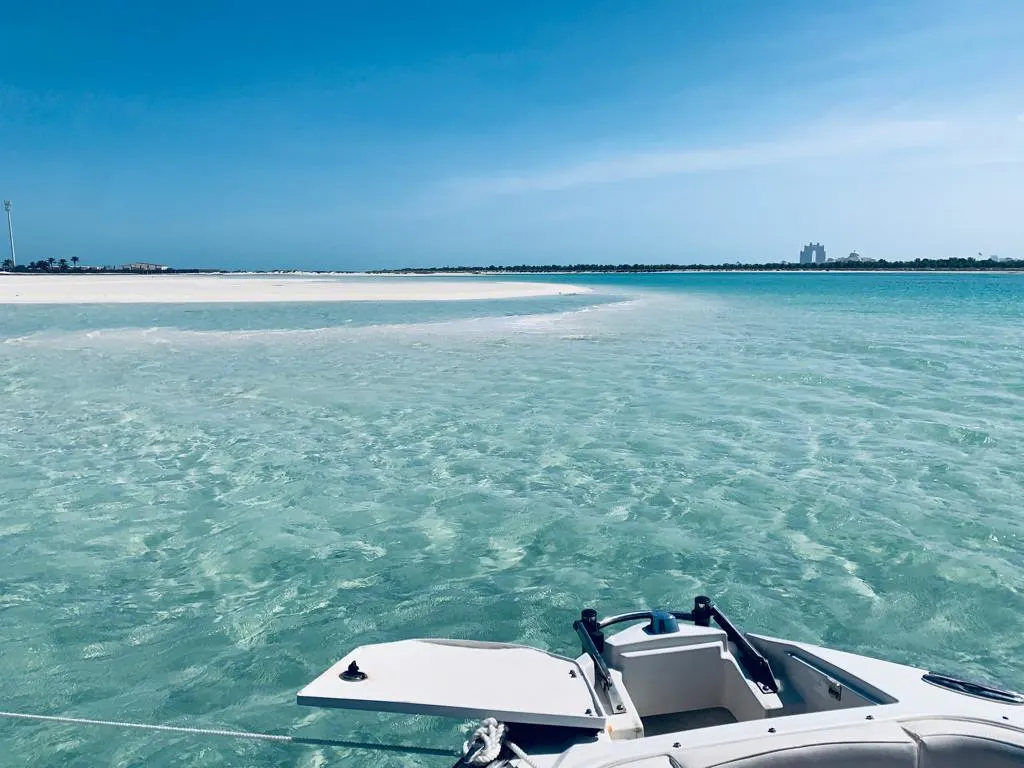 Al Maya Sand Bank is best recorded with a drone to capture unreal footage, which has an uncanny resemblance to the Maldives.
I recommend getting your hands on the DJI Mavic mini fly to capture the incredible views of one of the best Instagrammable places in Abu Dhabi. However, ensure you are aware of up-to-date rules on drone usage in the UAE.
The best time to visit the sandbanks is around 9 AM or sunset.
Location: Al Maya Island – Abu Dhabi
29. Nurai Swing
Nurai Island is located 15 minutes by boat along Abu Dhabi's coastline. Stunning turquoise water, infinity pools, hammocks and swings in the water feels like the Maldives.
Famous for its swing and hammocks suspended above gulf waters, your Instagram post is likely to generate some major likes!
Take a boat from Saadiyat Island every hour from 9:30 AM onwards to make the most of the time at one of Abu Dhabi's top instagrammable spots.
Location: Zaya Nurai Island, Abu Dhabi
30. Jubail Mangroves Board Walk
Jubail Mangroves offer lush greenery and the tranquil sounds of the tides flowing in and out, providing a peaceful escape from busy city life.
A series of pathways weave through the mangroves, wildlife may be spotted within the natural landscape.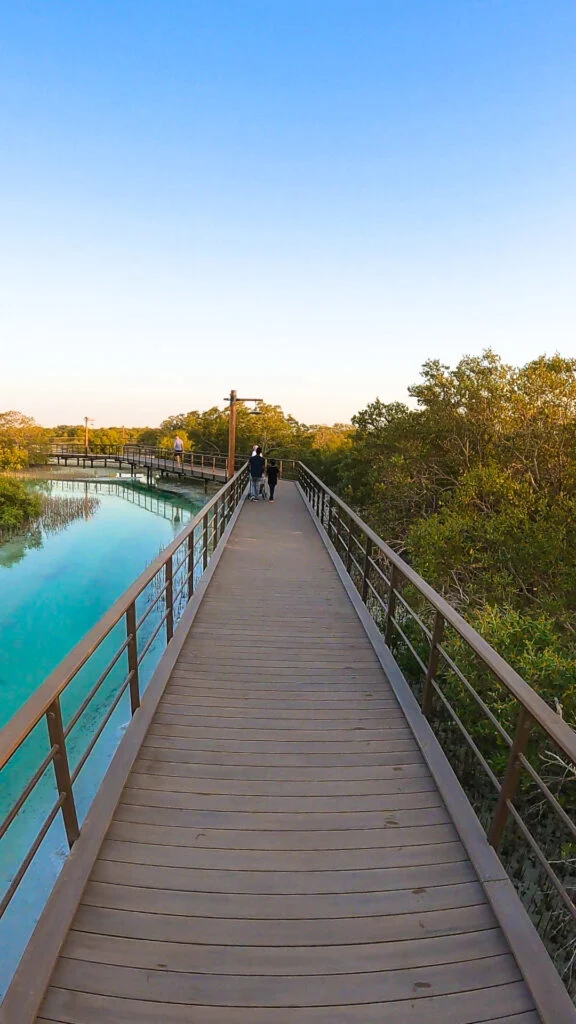 The site was developed to enhance awareness and understanding of mangrove habitats and how they are essential for preserving Abu Dhabi's coastline.
A lovely cafe/restaurant, Crane, is located at the park's entrance serving coffees, smoothies, sandwiches and pastries.
With stunning views of the mangroves, visitors can sit inside with fresh air conditioning or outside with shade making it to the list of popular instagrammable places in Abu Dhabi.
We recommend visiting Jubail Mangrove early evening or in winter at high tide. Kayaking is also a fantastic way to see the mangroves.
Entry: From AED 15
Timings: 7 AM to 9 PM (Monday to Sunday)
Location: Al Jubail Island, Khor Laffan, Abu Dhabi
31. The Empty Quarters
Exploring the Empty Quarters offers some of the best views of golden sands and exotic animals in their natural habitat. The vast expanse of desert land makes stunning desert photography.
Travelling to the Empty Quarters by desert safari tour is the best way to visit. Guests can drive 2-4 seater sand buggies around the desert. Although it usually comes with an additional charge, we definitely recommend it.
Around the area where camels and buggies are stationed, there are usually a few market-style stalls and shops. Among the items, you can purchase traditional scarves and clothing.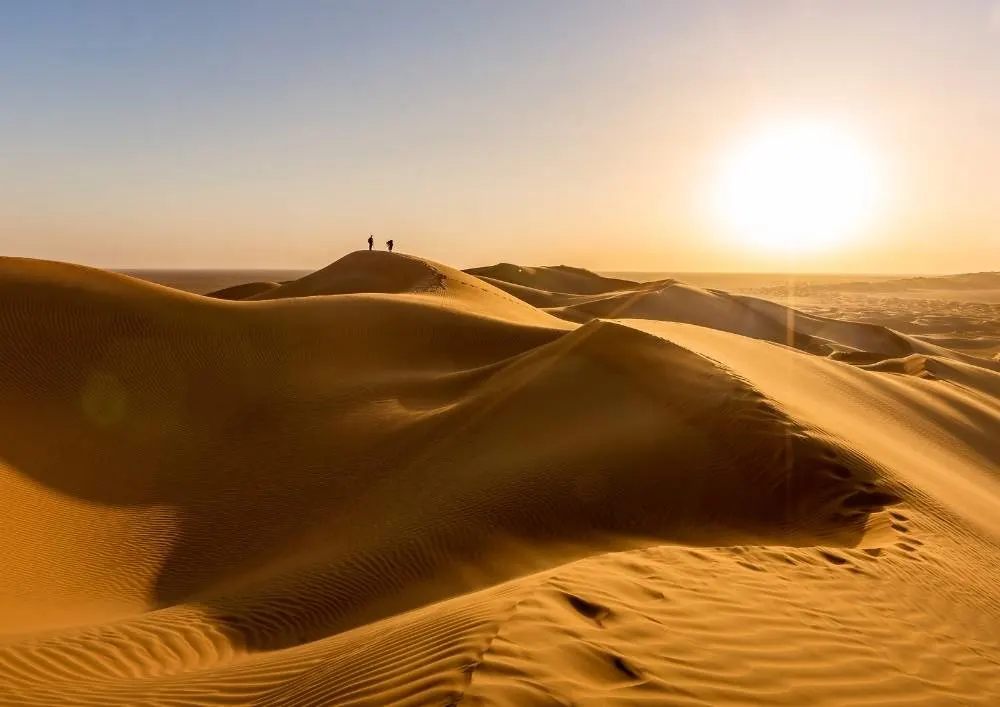 After the exhilarating dune bashing, walk up to the top of the sand dunes and capture sunset pictures.
The sunset in the desert feels unreal, and photos don't do it justice, making the Empty Quarters one of the must-visit Instagrammable places in Abu Dhabi.
The traditional campsite features stalls and tents arranged around a large stage, where shows such as belly dancing and flame-throwing take place.
The area is one of the most popular places in the world to photograph the Milkyway galaxy and spot a few shooting stars.
For more information on booking your desert safari
32. Fossil Dunes
Abu Dhabi's Fossil Dunes were formed through a combination of wind, sand, and time. The formations result from wind-swept sand hardening when saturated with calcium carbonate. It created distinct, unique structures.
The Fossil Dune formations will inevitably change over time, making this place worth mentioning in our list of instagrammable places in Abu Dhabi.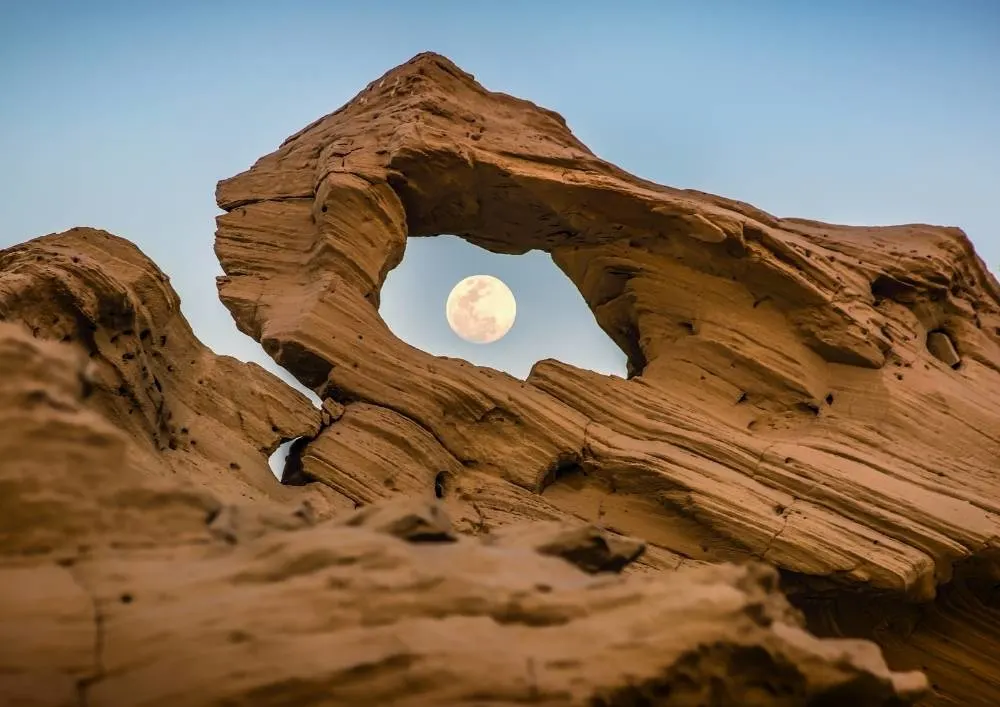 It is important all visitors act responsibly and do not damage or leave litter on the site which is free to visit.
Location: Al Wathba, 5HCH+9RJ, Abu Dhabi
33. Yas Bay Waterfront
For Abu Dhabi's best high-end sightseeing opportunities, head to Yas Bay Waterfront. The waterfront promenade is scattered with oversized sculptures of astronauts, as well as a snorkeler peeking out of the water, which makes for a great photo opportunity for the gram.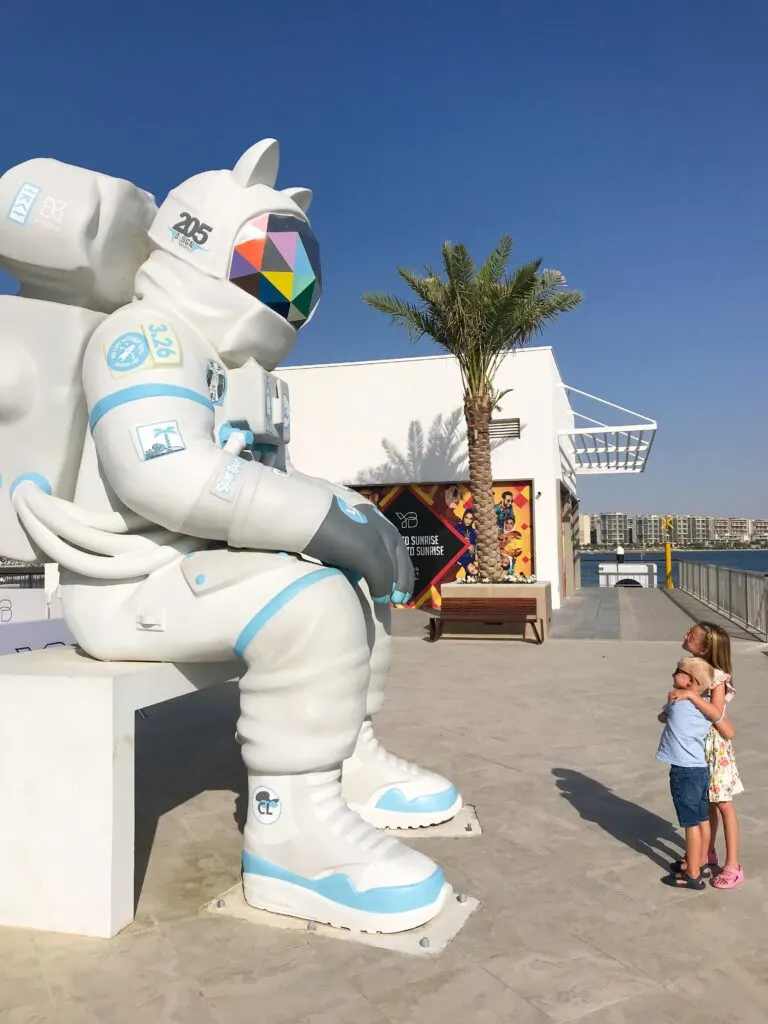 The best time to visit Yas Bay waterfront is definitely in the evenings, the promenade is illuminated and sparkles with all its glitz and glamour.
With some of the most popular restaurants in Abu Dhabi, beach clubs and Yas Creative Hub, the area of the Island is one of the most sought-after Instagrammable places in Abu Dhabi.
Location: Yas Island, Yas Bay, Abu Dhabi
34. Telal Resort-Oasis
The Telal Resort is a luxurious desert getaway perfect for a staycation not too far from Al Ain. A secret oasis lies within this hidden treasure, which only guests of Telal Resorts can access.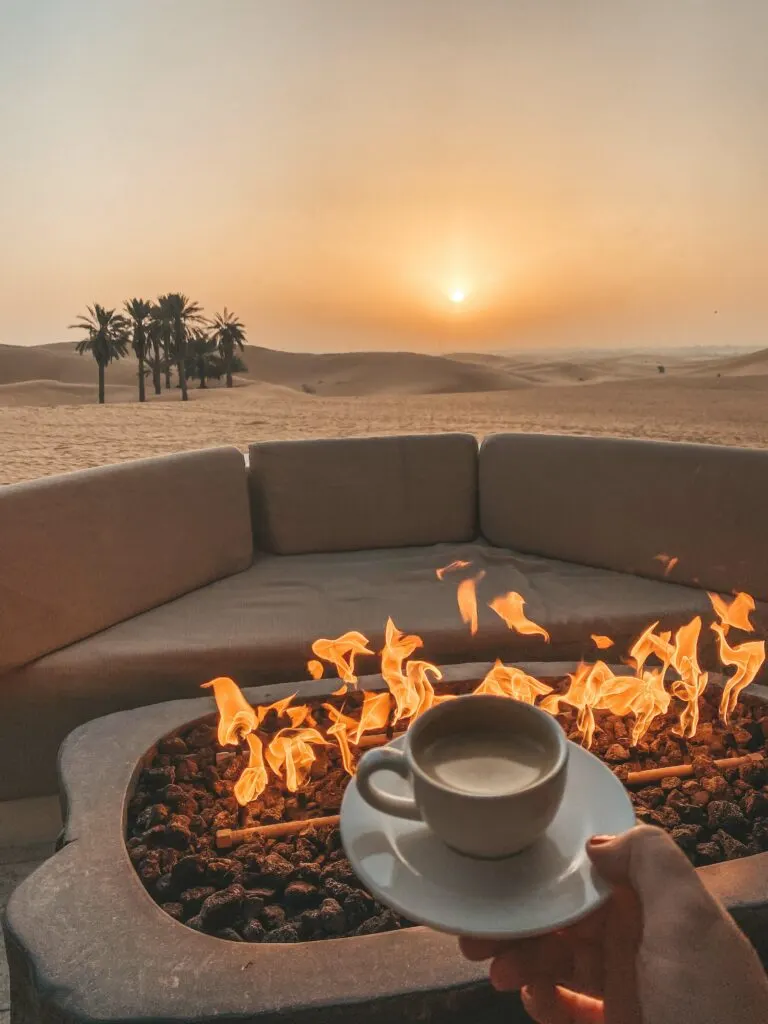 Book a stay at this incredible resort and stroll through the pathway leading to vast expanse of paradise in the heart of the desert.
We would suggest getting a drone shot, which would be perfect, to capture the secret oasis in all its glory when the sun is setting.
The desert oasis most certainly gives Telal a spot among the most Instagrammable places in Abu Dhabi.
Location: 675M+HQ Sweihan, Abu Dhabi
35. Kai Beach
Saadiyat Island's Kai Beach, boasts soft white sands along a wide stretch of coastline, making it one of the UAE's most desirable beaches. Bright sunny days, sustainable watersports and a healthy menu awaits visitors.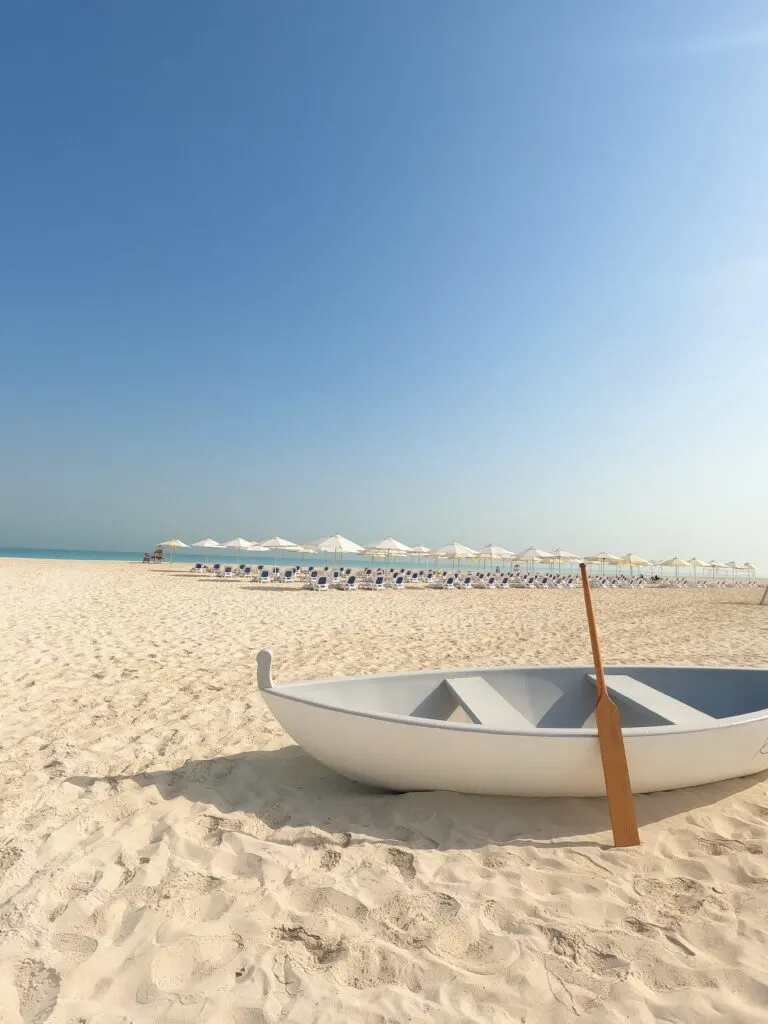 Standing between the luxurious Park Hyatt and St Regis Saadiyat, the secluded desert island charm of Kai Beach is enhanced by shrubs and greenery which are rarely found on most beaches in the Capital.
Early evenings are best for watching the golden sunset and taking beautiful pics. The hammocks and rustic fishing boats make it one of the very Instagrammable places in Abu Dhabi.
Location: Al Saadiyat Island, Abu Dhabi
To Sum Up Instagrammable Places In Abu Dhabi
If you have reached this far, congrats on reading all the way through this guide to 37+ Best Instagrammable places in Abu Dhabi.
Bookmark this useful post for the next time you leave the house or decide to spend a couple of days in the Capital!
Abu Dhabi is home to so many incredible attractions you could easily fill a week with Instagram-worthy photos, culture, and culinary experiences.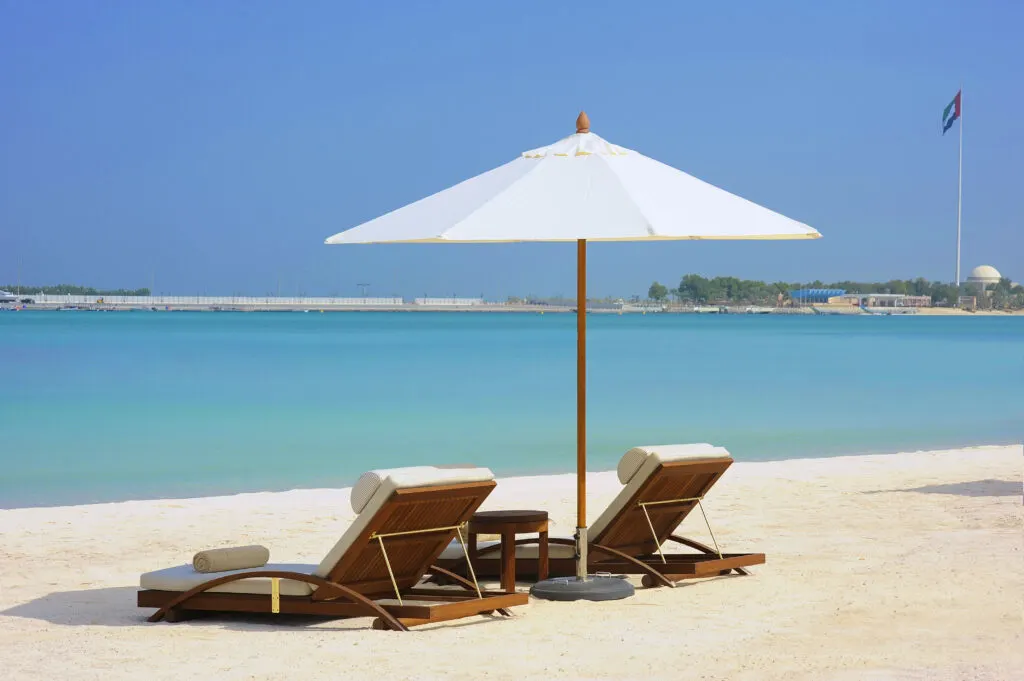 If you're a foodie, check out our blog on the best Instagrammable burgers in Abu Dhabi, as well as our detailed guide to things to see and beach clubs to visit while in Abu Dhabi.
Disclaimer: This post may contain affiliate links, by using them it will not cost you any extra, we will receive a small proportion of the sale to keep us writing!