The weather in Abu Dhabi in February is one of the best months to visit in the year. It is cool and pleasant to enjoy the outdoors as Abu Dhabi has a lot to offer!
From tropical beaches to deserts and mountains to a cosmopolitan city, there is something for everyone. There are also some fantastic festivals and events whilst the weather is pleasant.
November through April tends to be peak tourism season. Whilst May through October attracts small amounts of budget travellers. Not to mention those on a stopover from Abu Dhabi airport.
Read on as we uncover what to expect from the weather in Abu Dhabi in February. As well as fantastic events and things to do throughout the month!
Weather In Abu Dhabi In February
Abu Dhabi experiences a subtropical desert climate characterised by hot and dry summers and mild winters.
February falls within the winter season in Abu Dhabi. It is considered to be one of the most pleasant months of the year in terms of weather.
The average temperature in Abu Dhabi in February during the day ranges from 22°C to 27°C (72°F to 81°F).
Temperatures in Abu Dhabi in February can go up to 29°C (84°F). While the low temperature can drop to 18°C (64°F).
In the evening and at night it may be cooler. So, it's advisable to bring a light cardigan or sweater.
Humidity is relatively low, with an average of around 54%. This makes the weather feel more comfortable, especially during the daytime when temperatures are at their highest.
Winds in Abu Dhabi in February are generally light to moderate. The city is known for its shamal winds, which are strong, northwesterly and can occur in the summer months.
Shamal winds can cause dust storms and reduced visibility, but they are not common in February.
Rainfall in Abu Dhabi during February is quite low, with an average of only 5mm of precipitation. It is unlikely to rain. However, it is always a good idea to check the weather forecast before planning any outdoor activities
There are tonnes of indoor activities in Abu Dhabi if it turns out to be a rainy day!
What To Wear In Abu Dhabi In February
For those travelling from a colder climate, the Abu Dhabi temperature in February can feel warm. Funnily enough, locals can feel chilly and often wear heavier attire from December through to the end of February.
Evenings outdoors may require a layer and it's worth noting, malls and indoor places are generally air-conditioned.
Abu Dhabi is a conservative destination so having conservative clothing is important for visiting culturally important sites. Equally, in malls and other public places, covering knees and shoulders is respectful for both men and women.
Check out this detailed guide on what to wear in Abu Dhabi.
Abu Dhabi Events February
The Middle East Film Comic Convention, Feb 9-11
The Middle East Film Comic Convention is an annual event that takes place in Abu Dhabi. The convention celebrates all aspects of pop culture, including movies, television, comics, and video games.
Expect to see a wide range of activities such as cosplay competitions, autograph signings from industry celebrities, and exclusive previews of upcoming blockbuster movies.
The 2024 edition of the event is scheduled to take place from 9-11 February and is expected to draw crowds of fans from all over the world..
Chinese New Year, February 10th
Abu Dhabi never disappoints when it comes to international cultural and religious festivities. They are always marked no matter what, even if it falls on Ramadan.
Everything from Christmas to Diwali and Halloween to Chinese New Year is celebrated in the Capital.
Chinese New Year is a festive occasion with a range of events and activities taking place throughout the city. It is not an official holiday in the capital, nonetheless, it is marked by many Chinese restaurants across Abu Dhabi.
One of the most popular ways to celebrate Chinese New Year is by enjoying traditional cuisine and participating in cultural events.
One of the top places to celebrate Chinese New Year in Abu Dhabi is the Dai Pai Dong restaurant.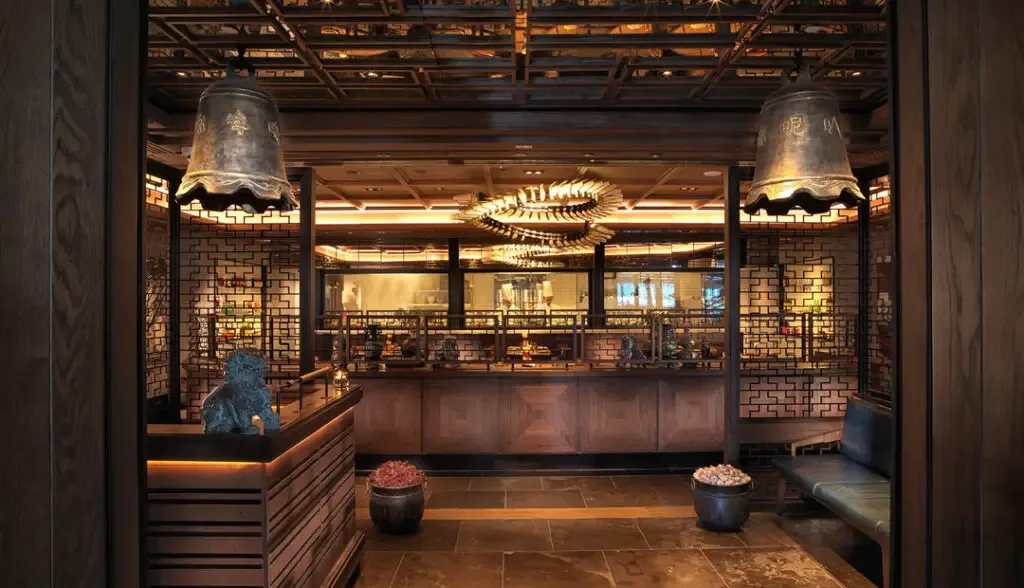 The restaurant offers a range of traditional Chinese dishes, including dim sum, roast duck, and steamed buns.
During Chinese New Year, the restaurant hosts special events and offers festive menus showcasing the best of Chinese cuisine. Another fantastic spot is the fine dining restaurant Hakkasan at Emirates Palace.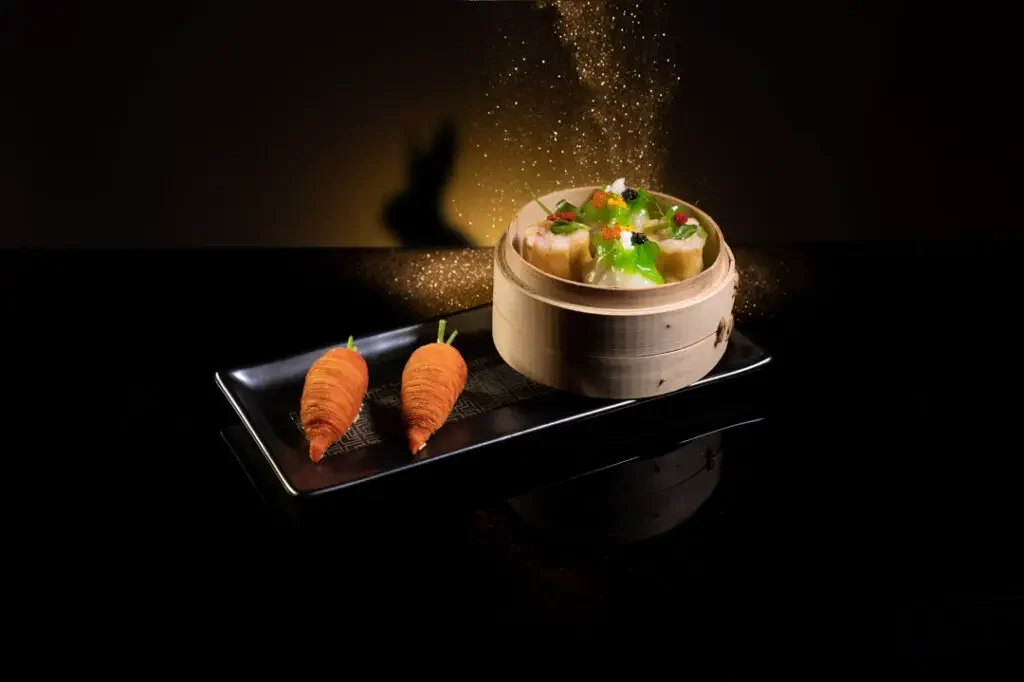 There are a few Chinese shops around the city selling festive red decorations and marking the celebration with offers and great traditional food to make at home!
Check out this post on Chinese New Year in Abu Dhabi for more information.
Sheikh Zayed Festival
The Sheikh Zayed Festival takes place annually in the Emirate. It celebrates the legacy of the late Sheikh Zayed bin Sultan Al Nahyan, the founder of the UAE.
The festival is held in Al Wathba, about 45 minutes drive from Abu Dhabi city, and is a popular attraction for tourists and locals. It usually runs from November through to February or March.
The festival showcases Emirati culture, heritage, and traditions through various activities and exhibitions.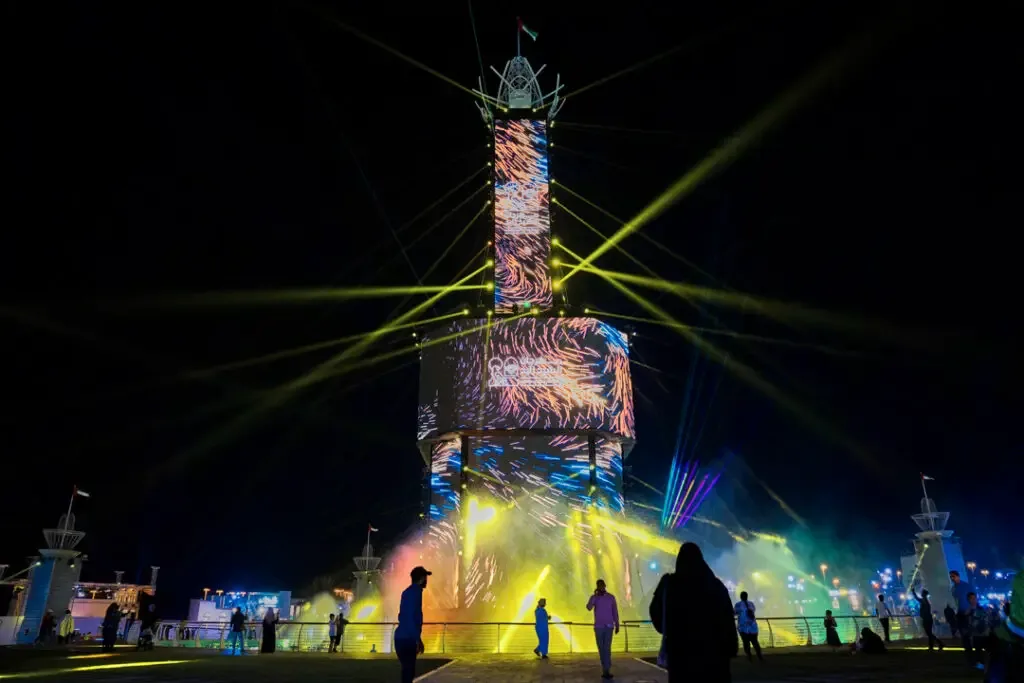 Enjoy camel racing, falconry, and traditional Emirati music. Not to mention dance performances, and cultural displays.
There are also food stalls selling traditional Emirati cuisine and handicrafts on display.
The festival often features firework displays and drone shows which is the perfect contrast between modern and old, a true reflection of the Emirate today.
One of the festival's main attractions is the camel beauty contest, where thousands of camels from all over the UAE compete for the title of the most beautiful!
The contest is judged based on various criteria, including the camel's beauty, size, and coat quality.
It's also possible to take part in various competitions, such as traditional Emirati dance competitions, poetry contests, and henna tattoo competitions.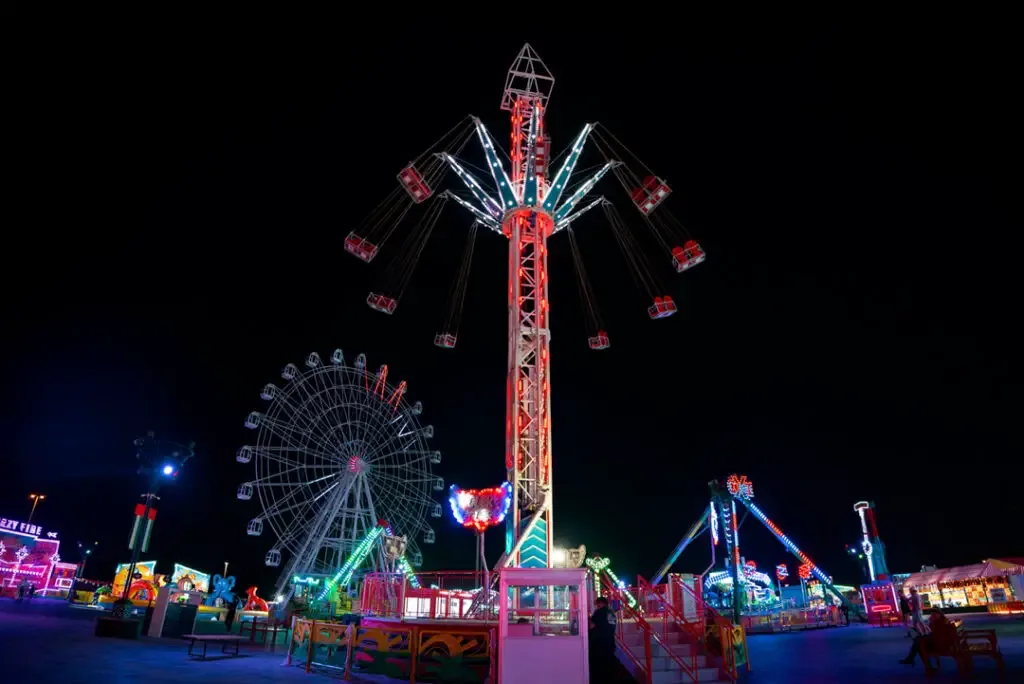 It is advisable to wear comfortable clothing and footwear as the festival involves a lot of walking and standing.
Sheikh Zayed Festival is an excellent way to experience Emirati culture and learn more about the country's rich heritage and traditions.
It is family-friendly and highly recommended for anyone visiting Abu Dhabi during the winter season.
Location: Al Wathbah – Al-Wathba South – Abu Dhabi – United Arab Emirates
TriYas Triathlon
The Tri Yas event is an annual triathlon race taking place on Yas Island in Abu Dhabi.
The event attracts participants from all over the world and is open to both amateurs and professionals. Interestingly, the race course is set in a scenic environment.
It takes participants on a journey through the island's famous landmarks, including the Yas Marina Circuit, Ferrari World Abu Dhabi, Yas Links Golf Course, and Yas Beach.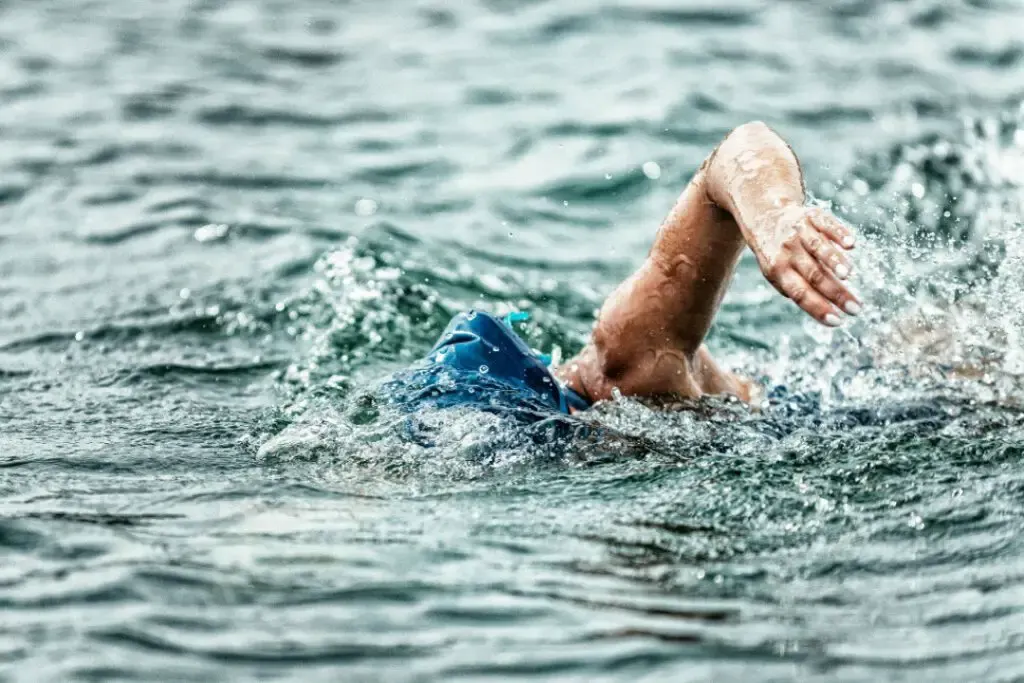 The Tri Yas event offers a unique opportunity to experience the thrill of racing in a world-class venue while enjoying the beauty of Yas Island.
It is well-organized, and participants are provided with all the necessary support and facilities, including a post-race party!
Dates are TBC for Tri Yas however pre-registration is currently open.
Valentine's Day, February 14th
Valentine's Day is widely celebrated in Abu Dhabi with many hotels offering a romantic stay. Equally, restaurants bars and beach clubs have a special event for the day.
'Galentines' AKA Girls Only Valentines is becoming quite the celebration across the capital for singletons.
Abu Dhabi is a wonderful place to celebrate Valentine's Day with many romantic experiences and activities to make it special.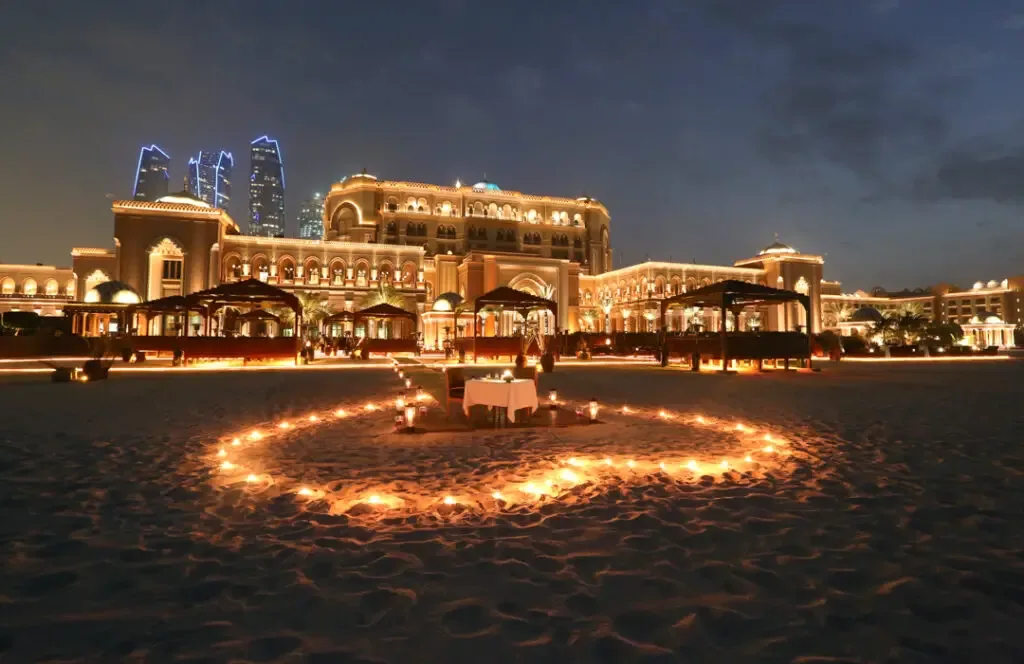 Abu Dhabi has a wide range of romantic dining options, from luxurious rooftop restaurants to cosy beachside cafes and couples spas.
Book a table at one of the city's top restaurants, such as Fouquets, Alba Terrace or Mykanos and enjoy a romantic candlelit dinner with stunning views of the city.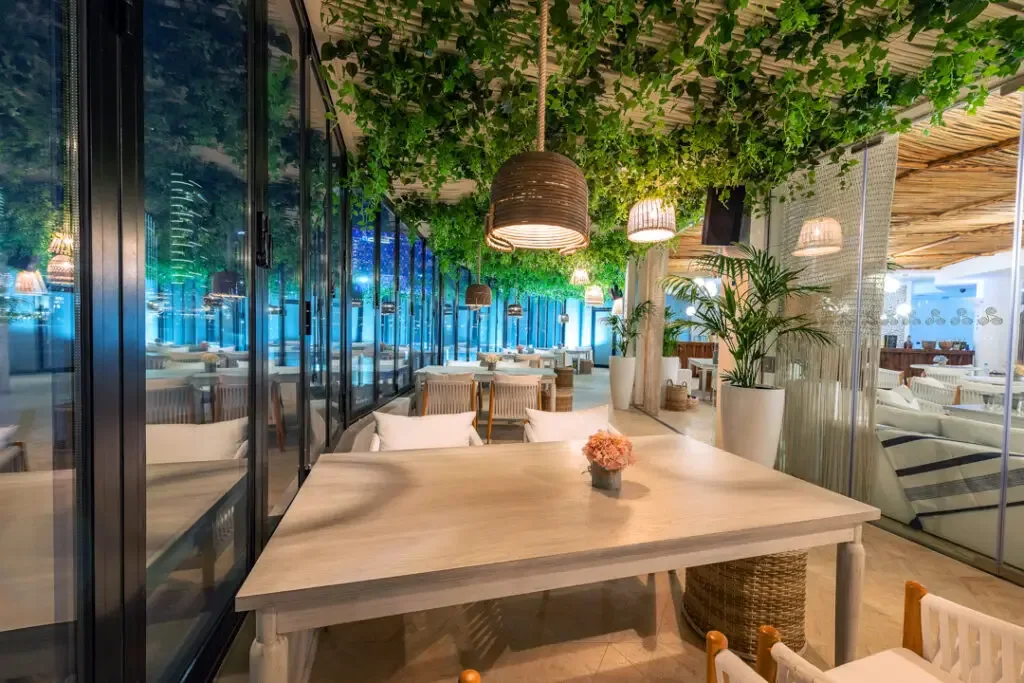 Many spas across the city do special offers on Valentine's Day. A lovely spot for a couples massage is Sense, A Rosewood Spa at Rosewood Abu Dhabi.
They have a couples massage room, however, some facilities such as the plunge pool are separate for opposite sexes.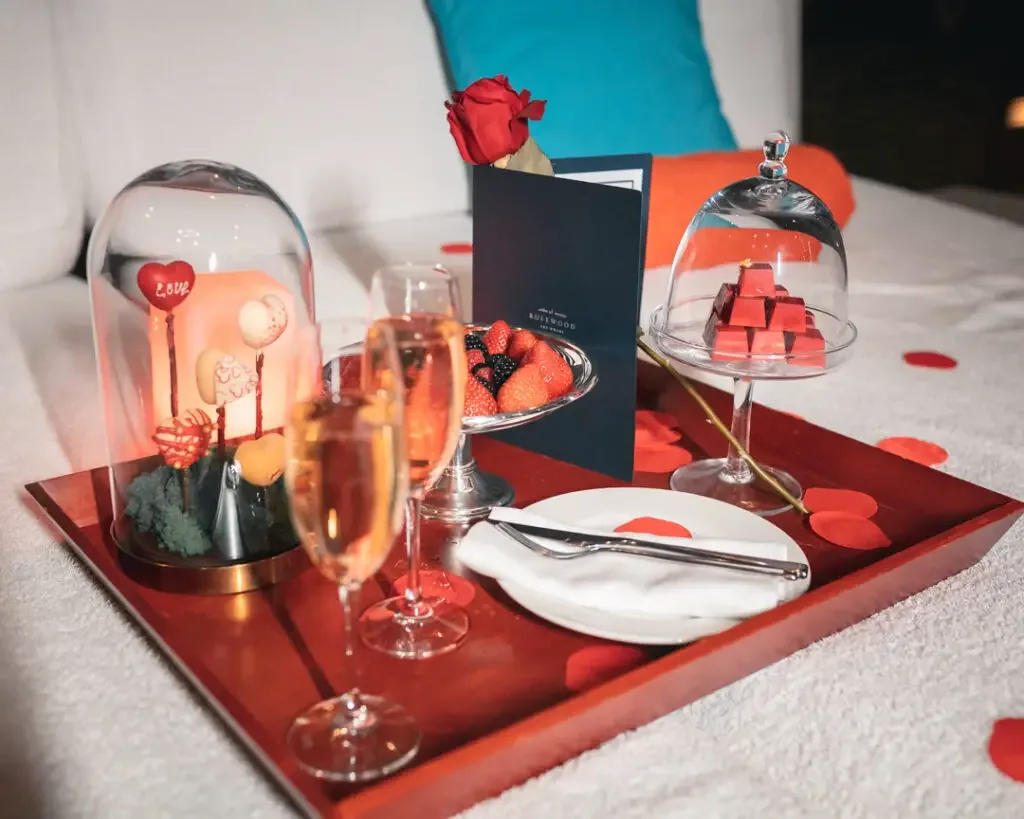 Another option is a sunset dhow cruise along the Abu Dhabi Corniche!
Check out this post on Valentine's Day in Abu Dhabi for detailed information.
Things To Do In Abu Dhabi In February
Beach Day
The weather in Abu Dhabi in February is the ideal time to enjoy the beautiful beaches. There is a mix of natural and man-made options, some of which are free to enter while others charge a fee.
Saadiyat Island is home to some of the most beautiful beaches, including Soul Beach, which has aqua-blue water and powder-white sand!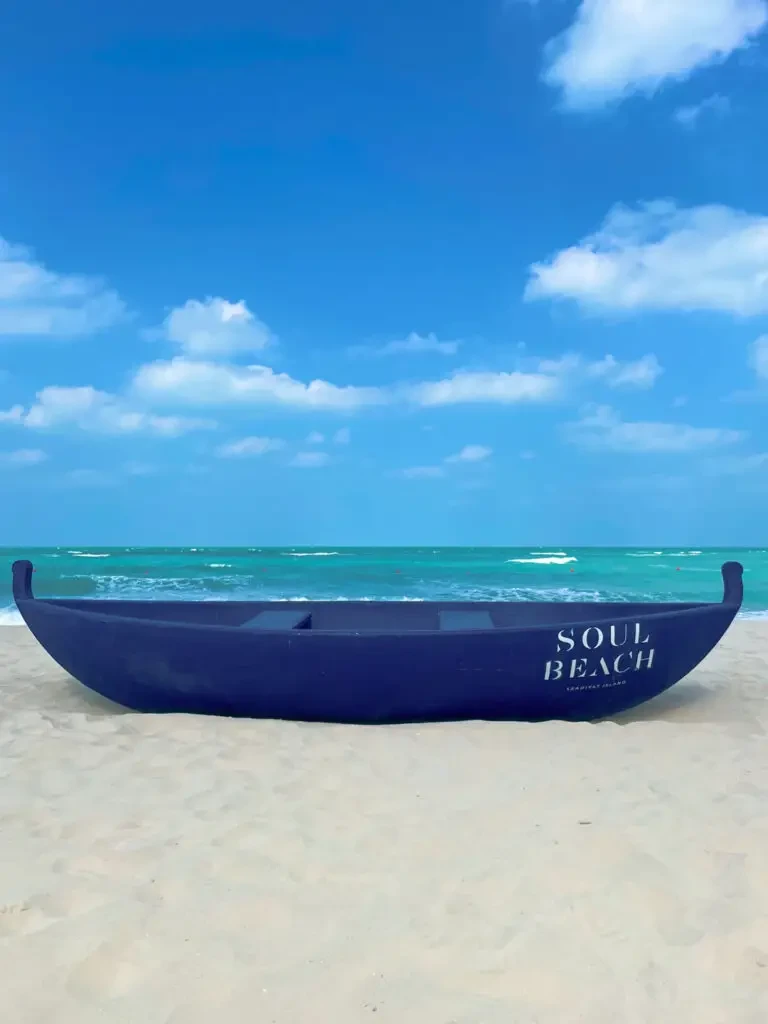 Soul Beach provides sunbeds and umbrellas as part of the entry fee, making it a comfortable option for a day at the beach.
It's also possible to order food and beverages and have them delivered directly to the sun lounger, making it a truly luxurious experience! Make sure to try the burgers from Black Tap if you are in the area.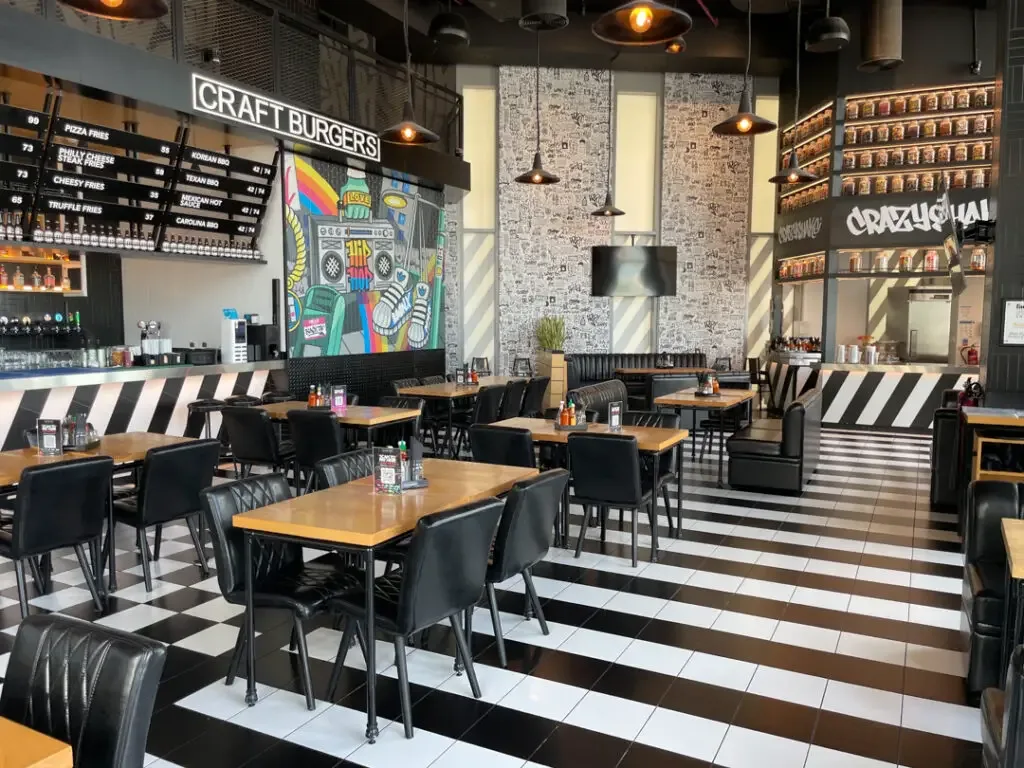 Al Hudariyat Island is a great option for those looking for a nice beach experience in Abu Dhabi without having to pay a fee.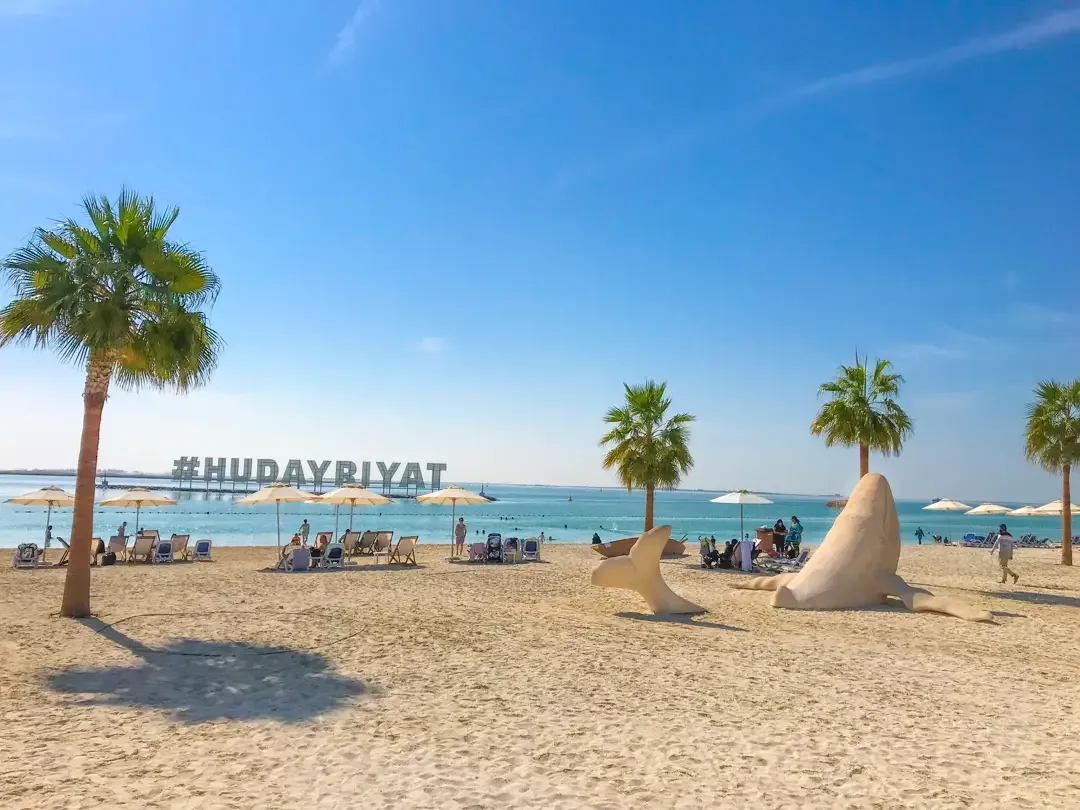 The island offers free access to a beautiful beach with crystal-clear waters and white sand, perfect for swimming and sunbathing.
There are several facilities nearby, including cafes, restaurants, a beachside cabana, a children's splash park and a high rope course.
Check out this detailed post on the best beaches in Abu Dhabi.
Desert Safari
A desert safari trip is one of the most popular things to do in Abu Dhabi, especially during the cooler weather in February.
With average temperatures ranging from 19°C to 26°C, it's the perfect time to explore the desert without having to deal with the intense heat of the summer months.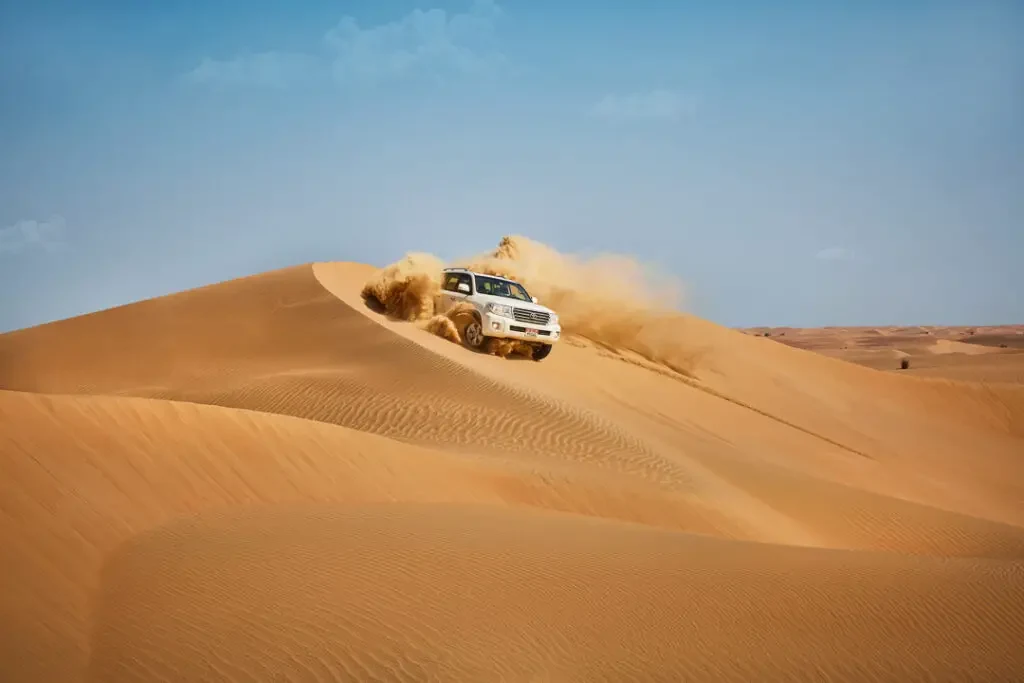 During a desert safari trip, experience dune bashing, camel riding, sandboarding and occasionally quad biking.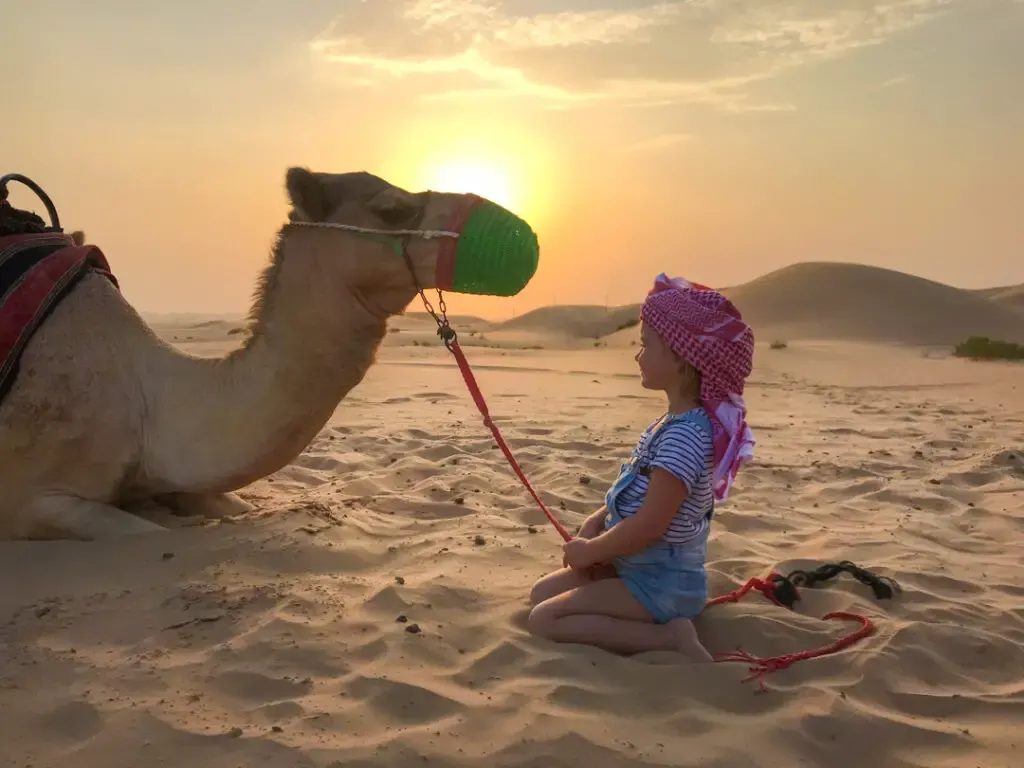 Learn about the traditional Bedouin culture and enjoy a delicious dinner under the stars in a desert camp.
The camp offers traditional entertainment such as belly dancing, henna painting, and falconry shows, providing a glimpse into the rich cultural heritage of the UAE.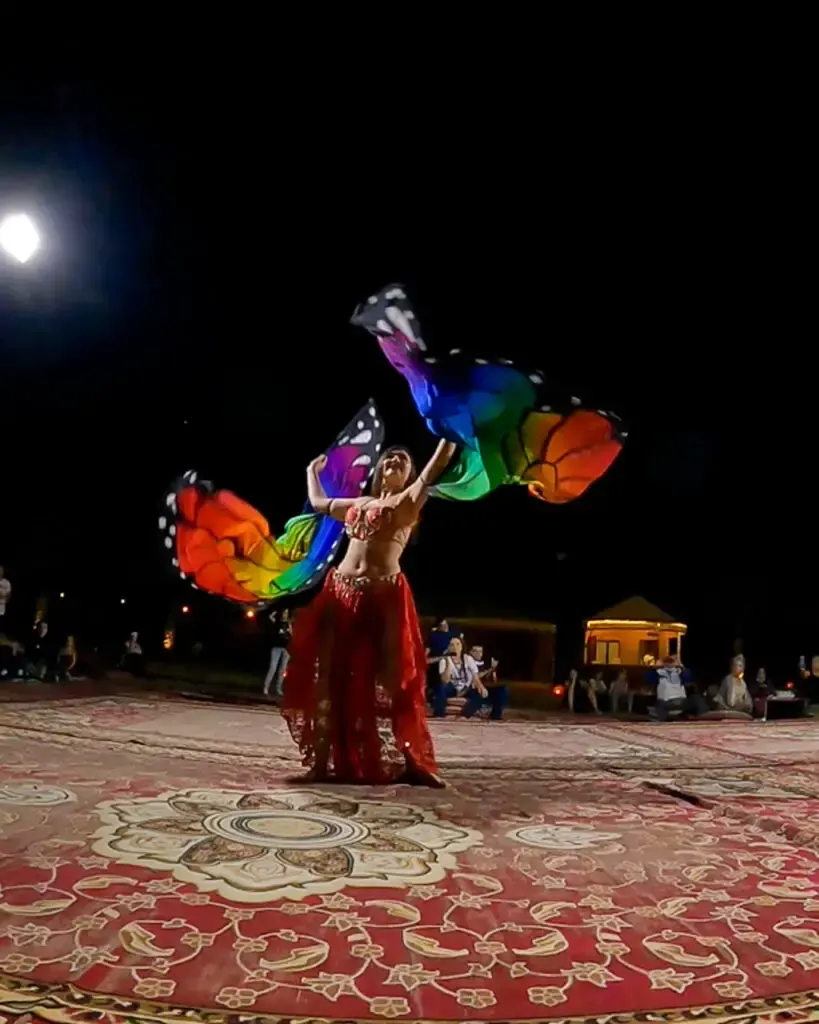 It's possible to do a morning, evening or overnight desert safari. However, for time-strapped tourists, the evening safari offers the widest range of experiences.
Book a desert safari trip here.
Long Salt Lake
Al Wathba is a suburban area located just 40 minutes' drive from Abu Dhabi's downtown.
It has become a popular attraction for tourists in recent years due to the expansion of residential developments and nearby attractions like the Al Wathba Nature Reserve.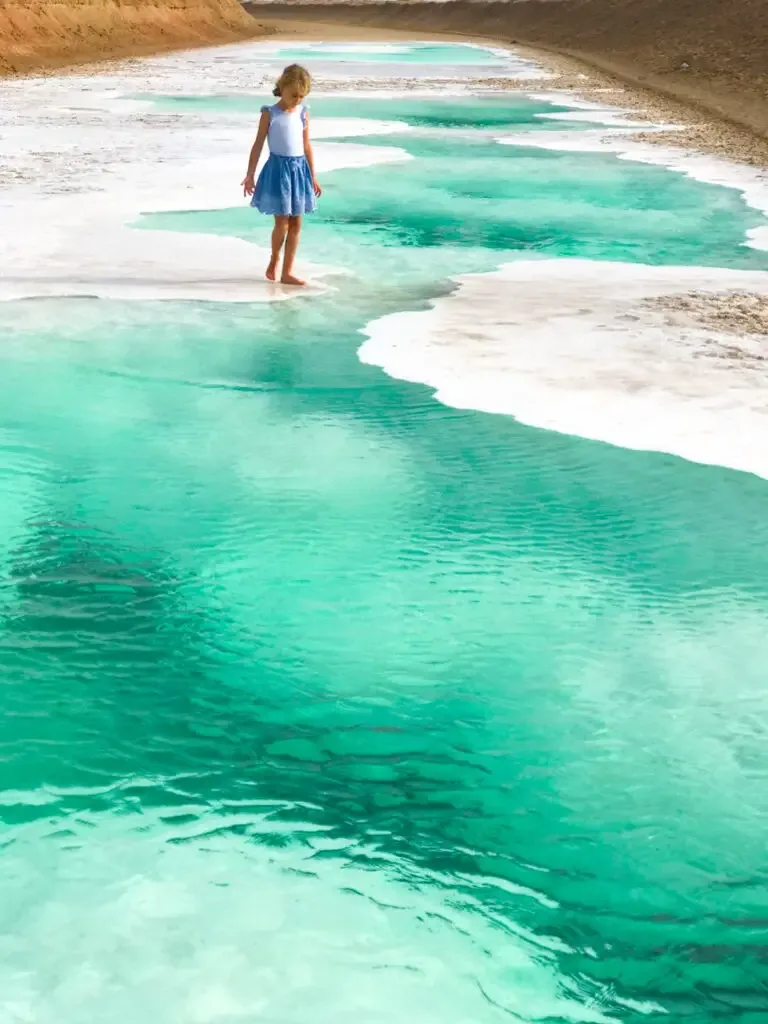 However, the Long Salt Lake Abu Dhabi is what stands out the most, since it went viral on social media for its mesmerizing salt bergs and aqua blue water.
The lake is thought to be supplied by an underground pipe, while the salt structures are natural formations caused by the dense salt content of the desert soil.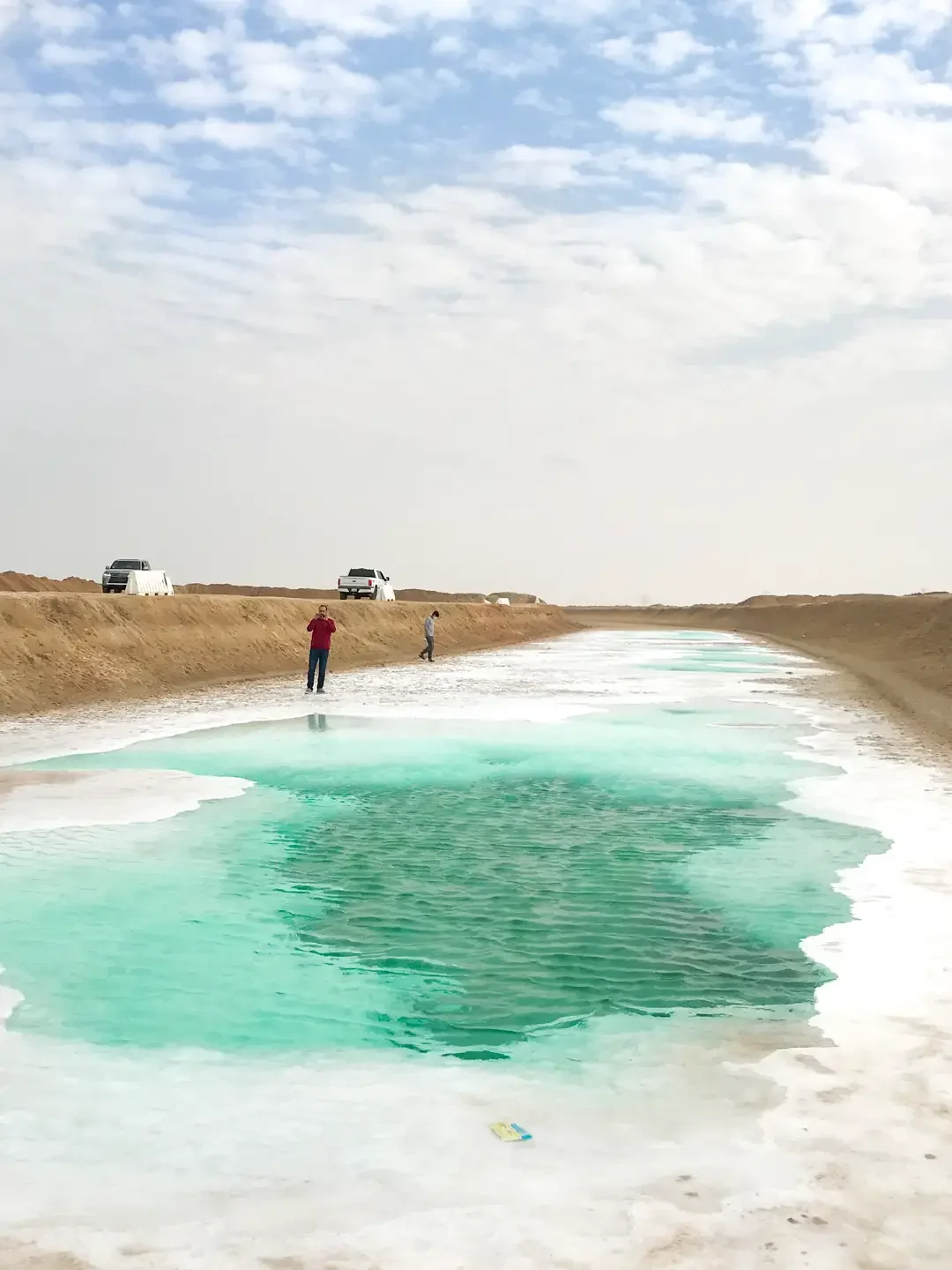 The lake dries up in hotter months, but during the cooler months of December, January and February, visitors can enjoy a long stream of clear water.
Nearby attractions include the Al Wathba fossil dunes and Al Wathba Nature Reserve to make a day of the trip!
Check out this detailed post on visiting Long Salt Lake in Abu Dhabi.
Kayaking The Mangroves
Kayaking through the mangroves is a unique experience in Abu Dhabi, particularly during the cooler weather of February.
It offers an opportunity to explore the stunning natural beauty of the mangrove forests, which are home to a diverse range of flora and fauna.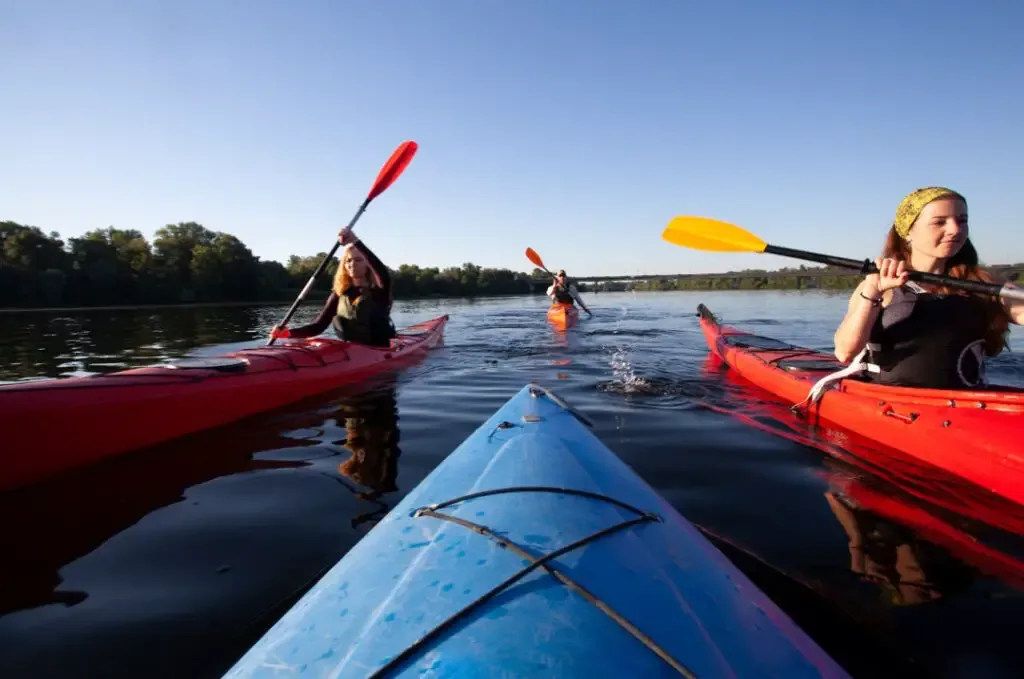 There are a couple of spots to explore and paddle through the tranquil waterways, surrounded by mangrove trees. Eastern Mangroves and Jubail Mangrove Park are both fantastic options.
Eastern Mangroves is just in front of Anantara and has an intricate network of mangroves perfect for exploring on a kayak solo or on a tour. Not to mention there are many other types of boat tours.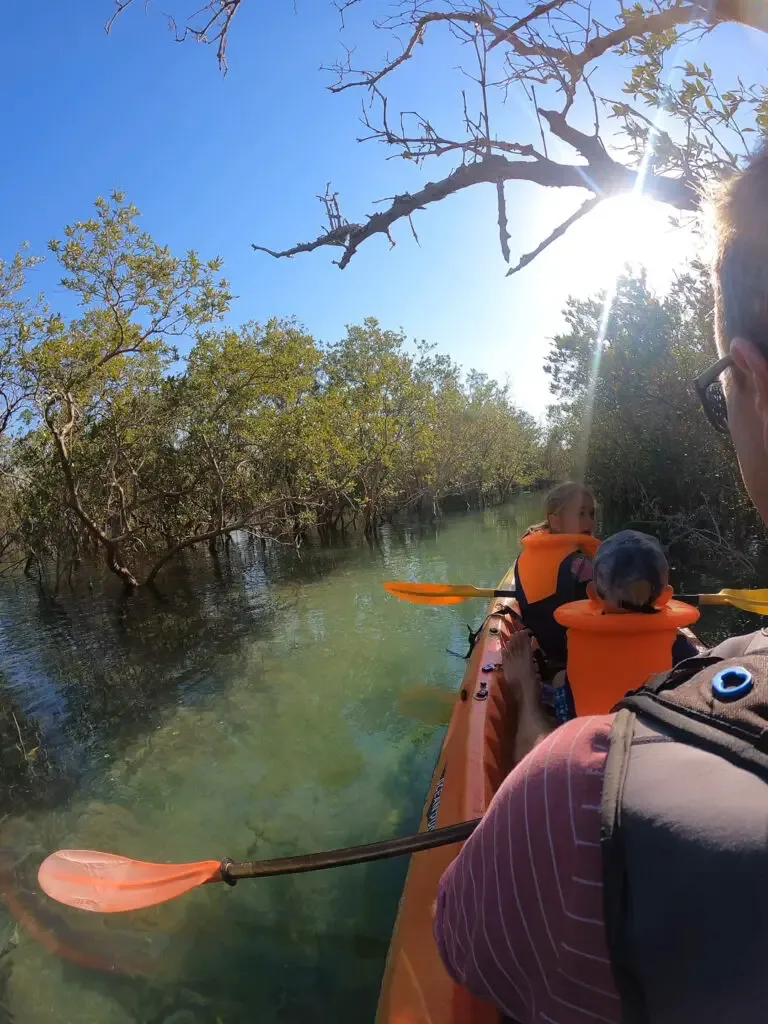 It is particularly lovely at sunset when the sky turns orange behind the mangroves with the backdrop of the city in the distance.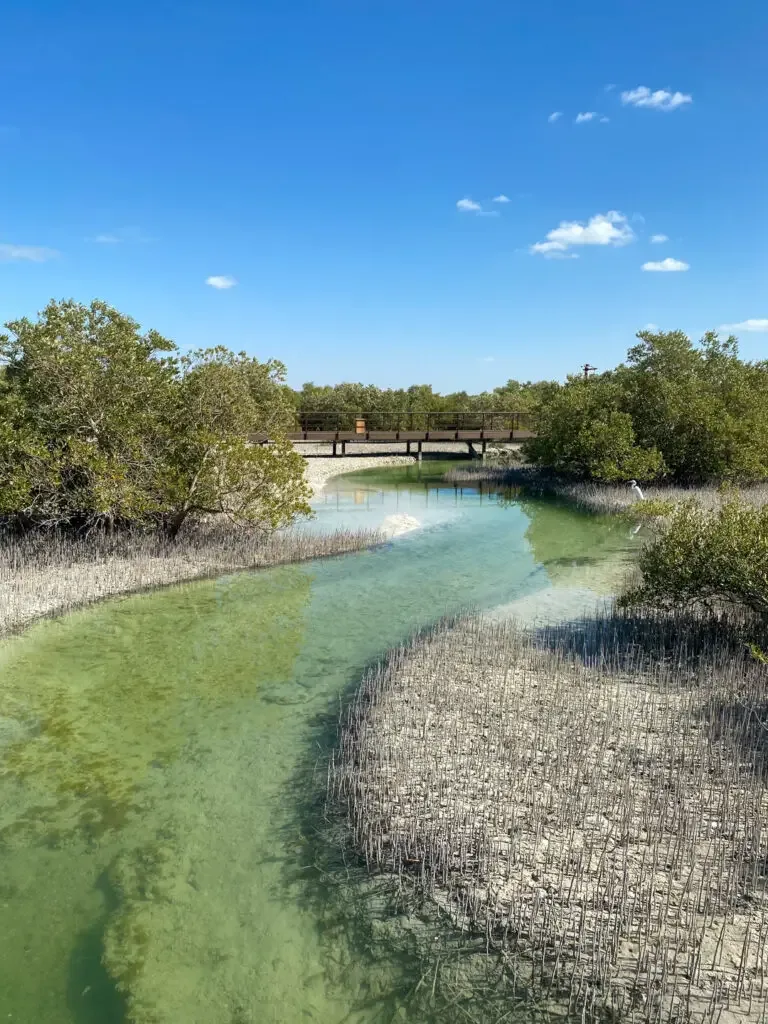 Kayaking can be a little strenuous on the shoulders, and although it is suitable for most, a basic level of fitness is required.
It's a peaceful experience that offers a unique perspective of the city's natural surroundings and provides a welcome break from the usual city attractions.
Check out this detailed post on kayaking in Abu Dhabi.
Qasr Al Watan
Qasr Al Watan is a stunning working presidential palace that was opened to the public and has become a popular tourist attraction.
Visitors can explore the impressive architecture of the palace, which is adorned with intricate details and features a stunning dome.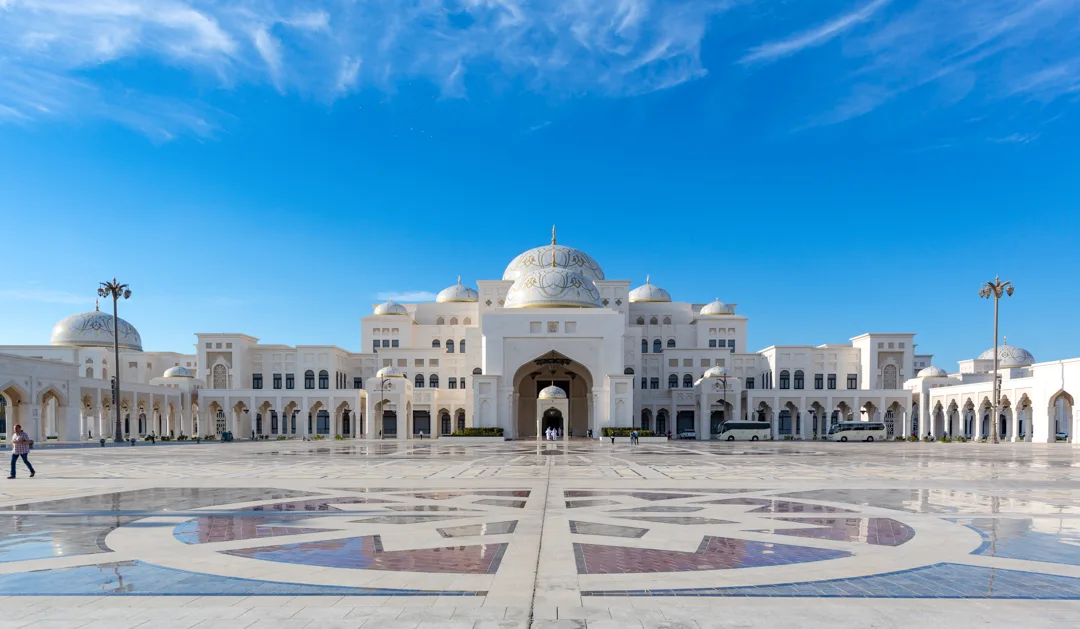 The palace houses a vast collection of artefacts and exhibits showcasing the country's history, culture, and values.
Qasr Al Watan also has a library, which contains a collection of books and manuscripts on the history and culture of the UAE.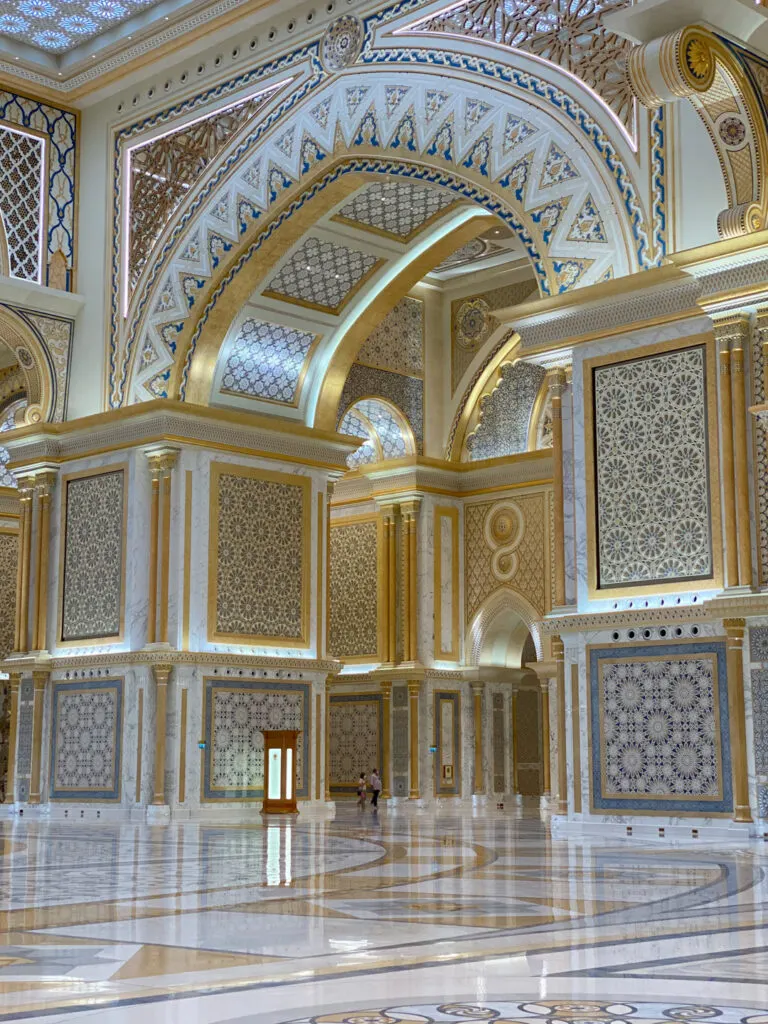 Both the interior and exterior of the building are equally as impressive. February is the perfect time to enjoy the tranquil gardens with water fountains!
Most evenings, Qasr Al Watan comes alive after closing with a light show projected onto the exterior of the white granite building which requires a separate entry ticket. It is perfect for adults and children to enjoy!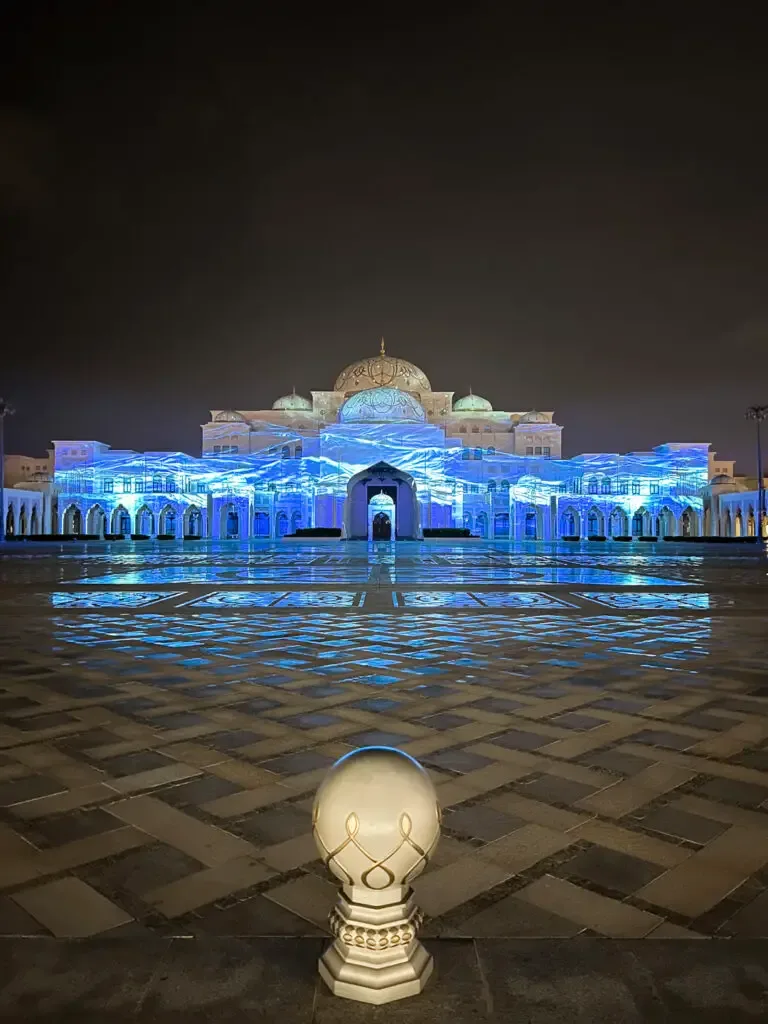 Book tickets to Qasr Al Watan here.
Location: Al Ras Al Akhdar – Abu Dhabi – United Arab Emirates
Sheikh Zayed Grand Mosque
The Sheikh Zayed Mosque is one of the most iconic landmarks in Abu Dhabi and a must-visit destination for tourists visiting the city.
The mosque is a masterpiece of Islamic architecture, featuring stunning domes, minarets, and intricate designs.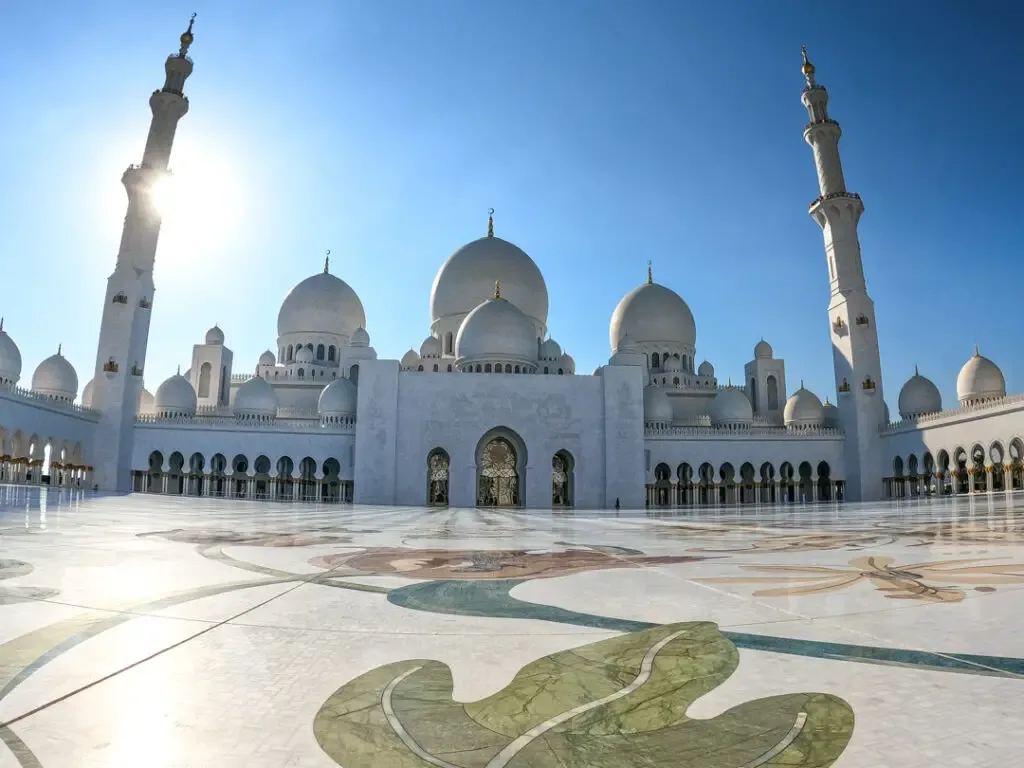 February is an excellent time to visit the Sheikh Zayed Mosque, as the cooler weather makes it easier to explore the outdoor areas surrounding the mosque.
Visiting close to sunset can be an especially magical experience. The sun casts a beautiful orange and pink glow on the mosque, creating a stunning backdrop for photos. It is one of the most Instagrammable locations in the Emirate!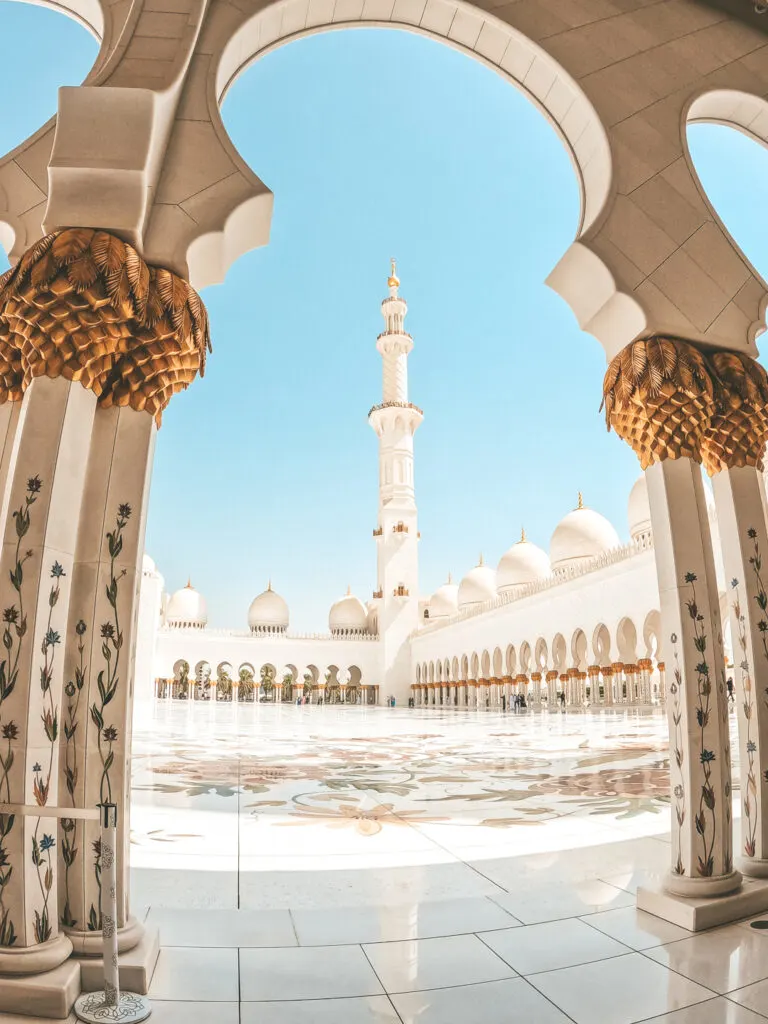 As the sun sets, the mosque's lights turn on, illuminating the building with a blue glow.
Stroll around the courtyard and admire the stunning architecture, before heading inside the mosque to witness the impressive interior.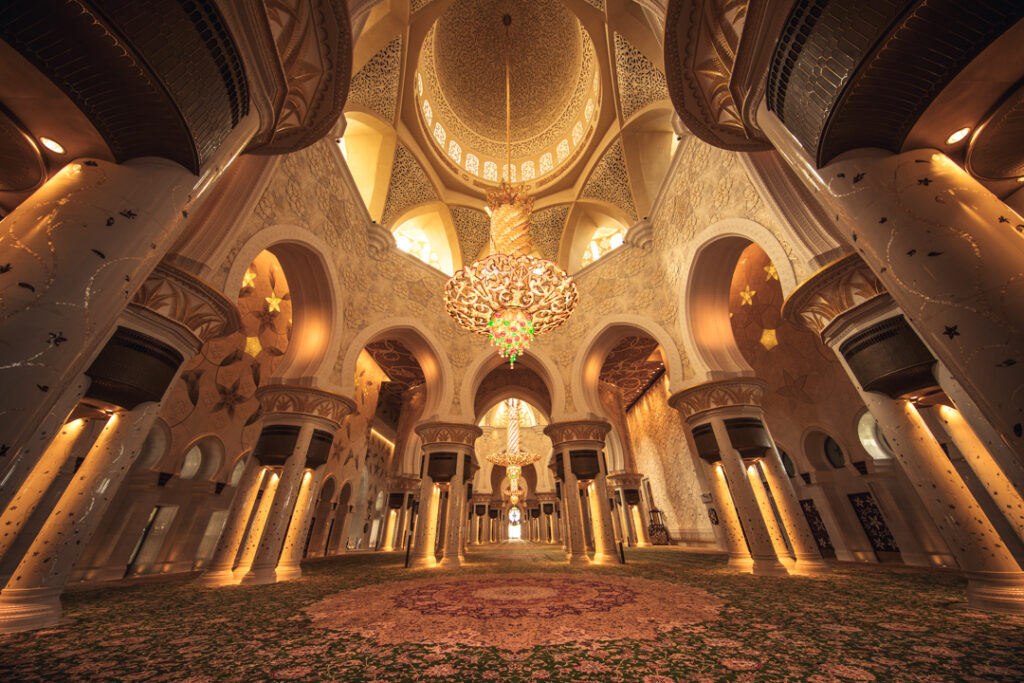 Inside, visitors can marvel at the intricate designs of the mosque's walls, floors, and ceilings, which are adorned with beautiful patterns and designs.
The main prayer hall features the world's largest hand-knotted carpet and the largest chandelier in the world, which are both incredible to see!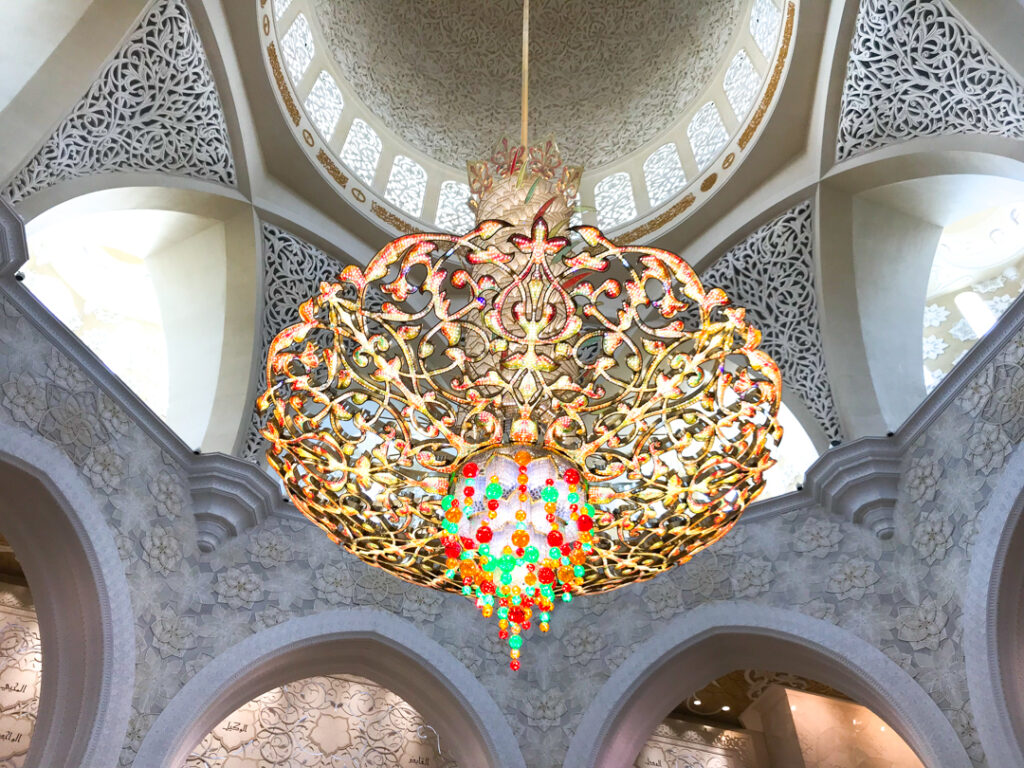 The mosque's stunning beauty and intricate details make it one of the most remarkable architectural masterpieces in the world.
Check out this detailed post with tips on visiting Sheikh Zayed Mosque.
Location: Sheikh Rashid Bin Saaed St, 5th St
Book a tour of the Grand Mosque.
The Louvre Abu Dhabi
Visiting the Louvre in Abu Dhabi is an unforgettable experience for art lovers and cultural enthusiasts.
The museum features an impressive collection of art and artefacts from around the world, including works by some of the most celebrated artists in history.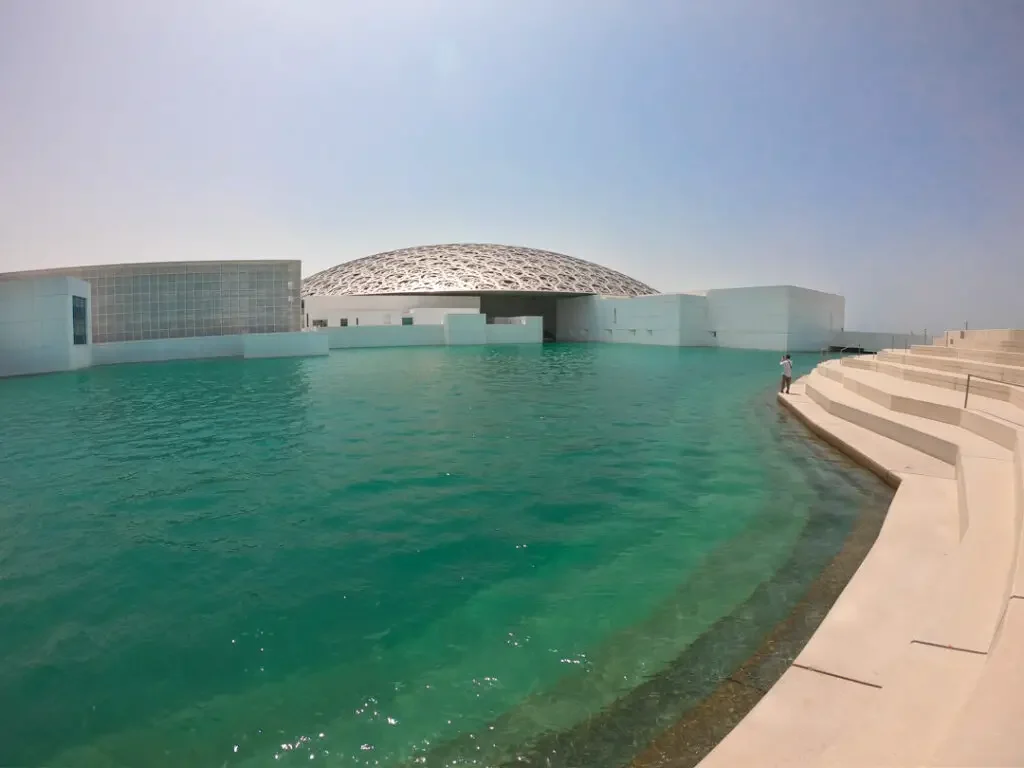 A visit in the later afternoon or early evening is recommended when it is typically less crowded.
The museum's Art Lounge which is an outdoor bar offers a perfect opportunity to relax and unwind after a day of exploring the museum.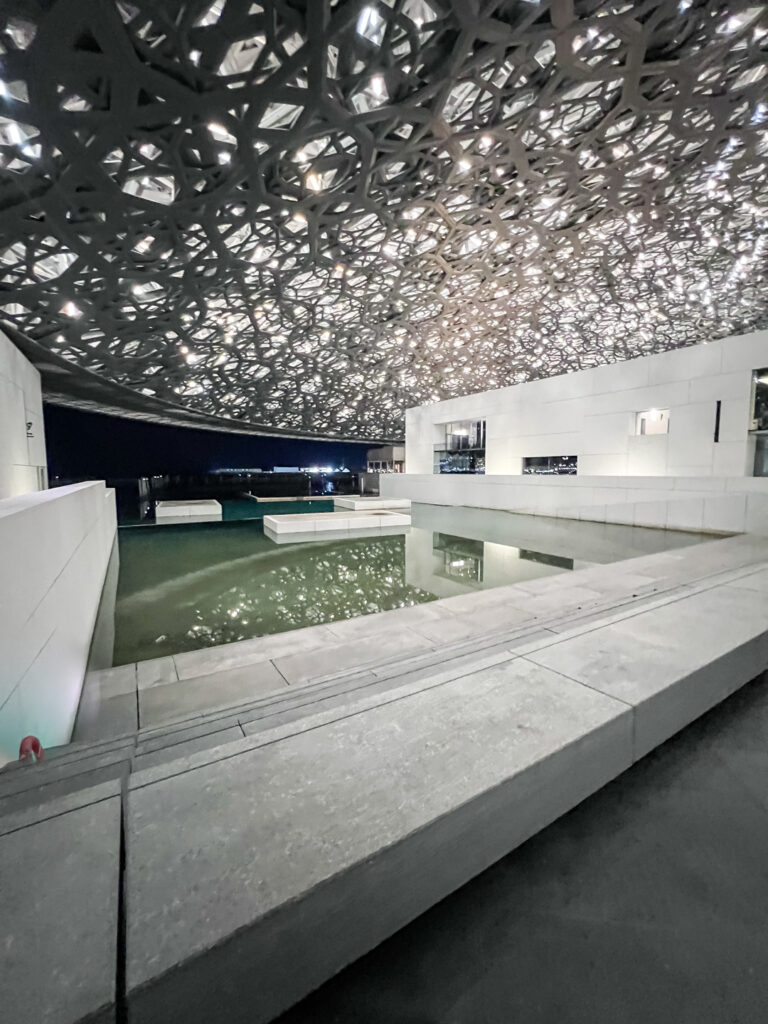 The bar offers a range of nibbles and beverages and is a popular spot with its serene atmosphere, making it a great place to unwind after a day of sightseeing.
Did you know the Louvre occasionally runs yoga classes under the beautiful dome?
Book tickets to The Louvre Abu Dhabi.
Location: Saadiyat – Abu Dhabi – United Arab Emirates
Day Trip To Al Ain
Al Ain is a picturesque oasis city nestled in the heart of the desert about an hour and a half drive from Abu Dhabi.
Explore the city's many historic and cultural landmarks, including the Al Ain Palace Museum, the Al Ain Oasis, and the Al Jahili Fort. Al Ain is well known for preserving the cultural heritage of the region.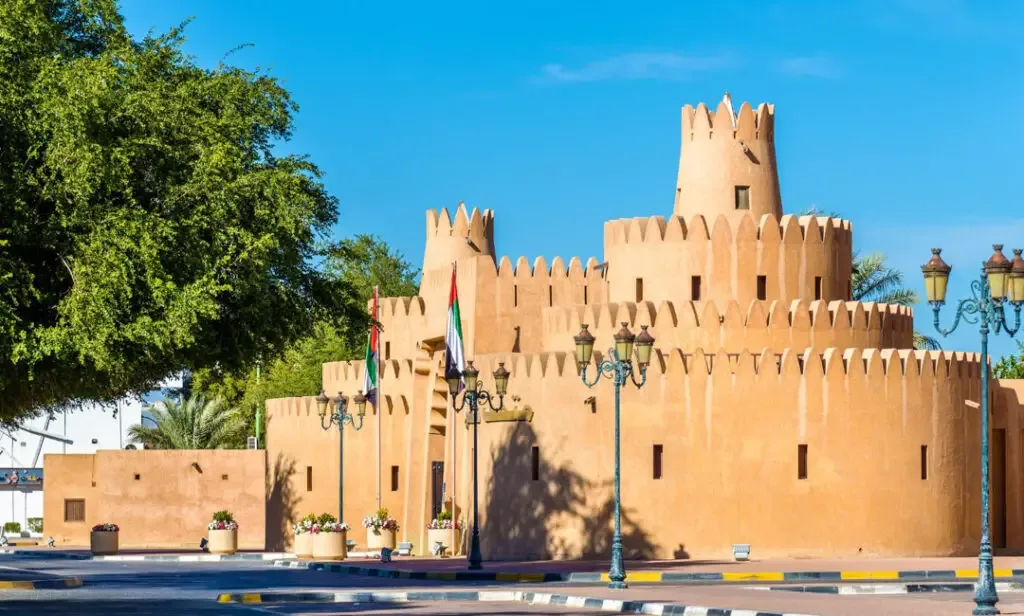 One of the most popular attractions in Al Ain is the Jebel Hafeet mountain, which offers stunning panoramic views of the city and surrounding desert.
Take a scenic drive up the rocky mountain, stopping at various lookout points along the way to take in the scenery. The mountain is quite a unique site within Abu Dhabi since most of the Emirate is desert!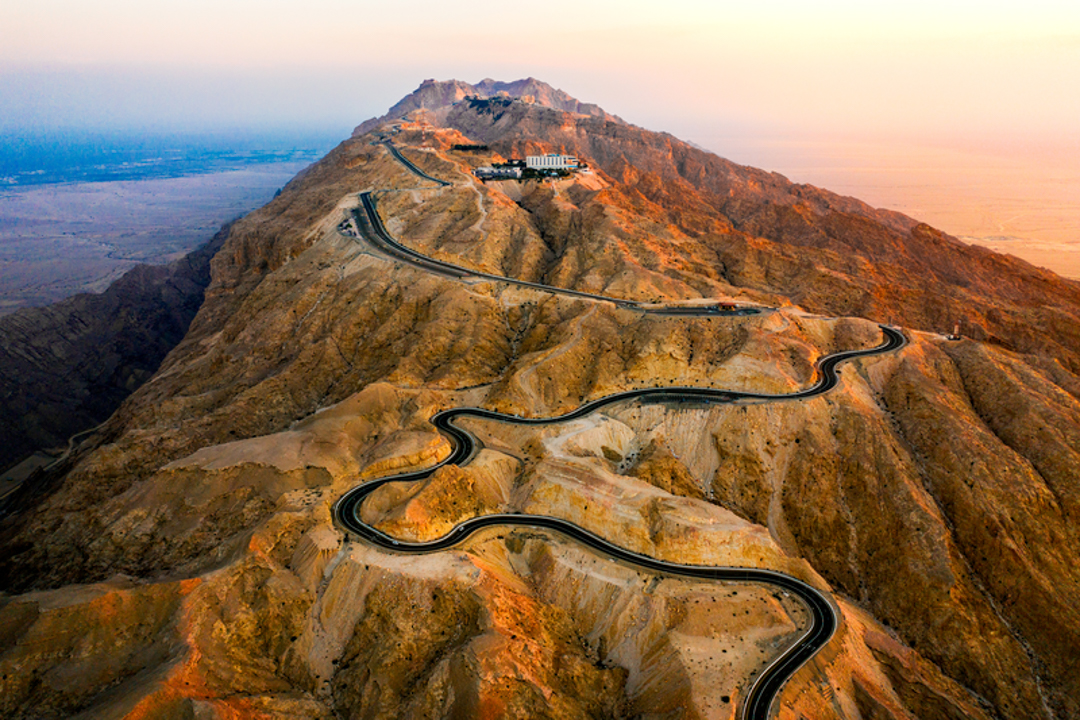 Al Ain Adventure park features a man-made river with rapids to try rafting! There are tonnes of other activities at Al Ain Adventure including kayaking and zip lining for example.
The city has several parks and nature reserves, including the Al Ain Zoo which has a vast amount of land where animals roam freely and it is possible to go on a safari drive to see giraffes, ostrich and many gazelles for example.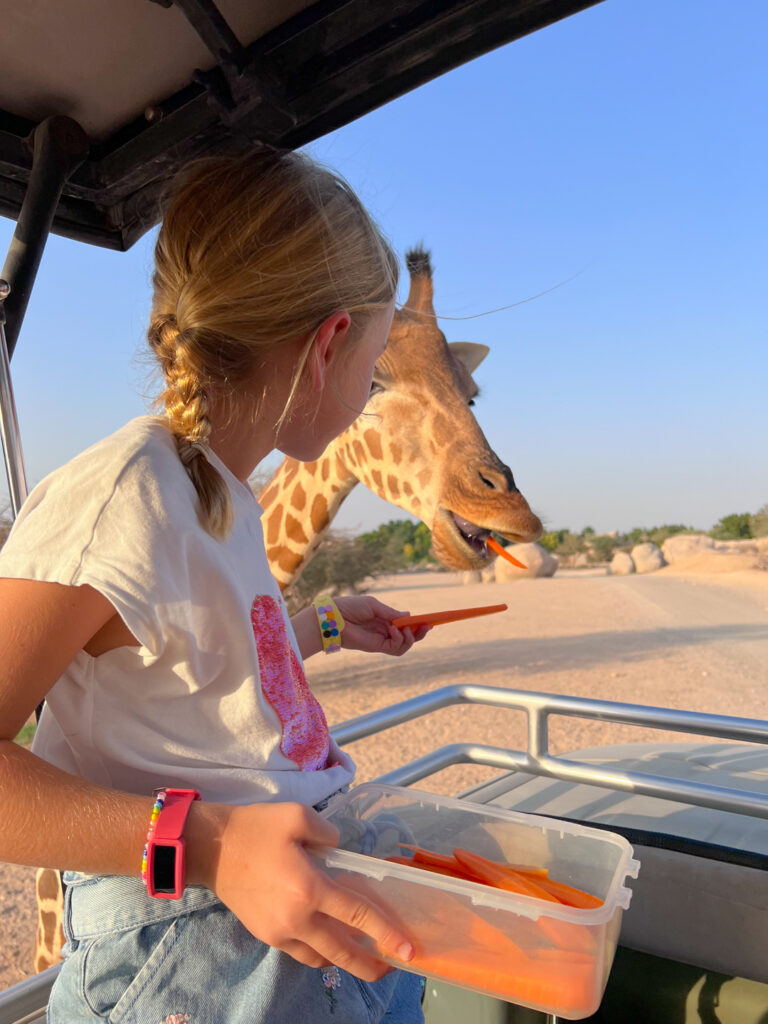 In fact, the giraffe comes right up to the safari truck and interacts with visitors!
Check out this detailed post on places to visit in Al Ain.
Day Trip To Dubai
A day trip to Dubai from Abu Dhabi is a popular excursion to explore more of the UAE's vibrant cities.
Located just over an hour's drive from Abu Dhabi, Dubai is a world-famous destination known for its stunning architecture, luxurious shopping, and vibrant nightlife.
Explore the city's many iconic landmarks, including the Burj Khalifa, the world's tallest building, and the Dubai Fountain, a spectacular water and light show every night!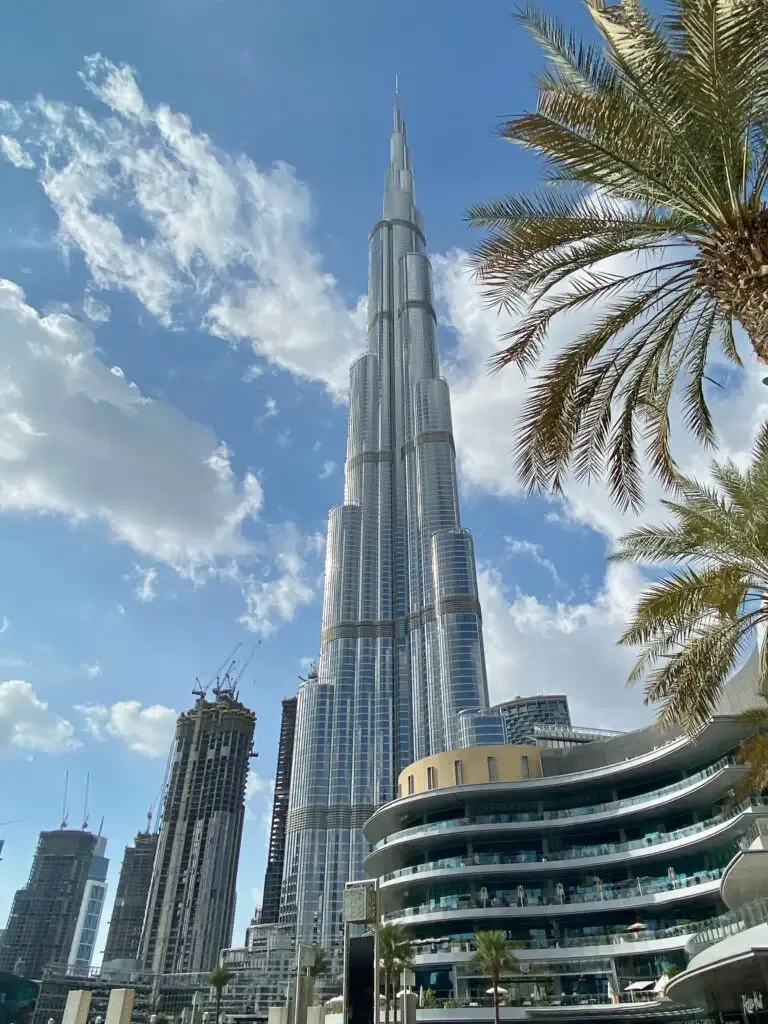 For those interested in shopping, Dubai is home to some of the world's most luxurious shopping destinations, including the Dubai Mall and the Mall of the Emirates, both of which have designer stores, high-end boutiques, and speciality shops.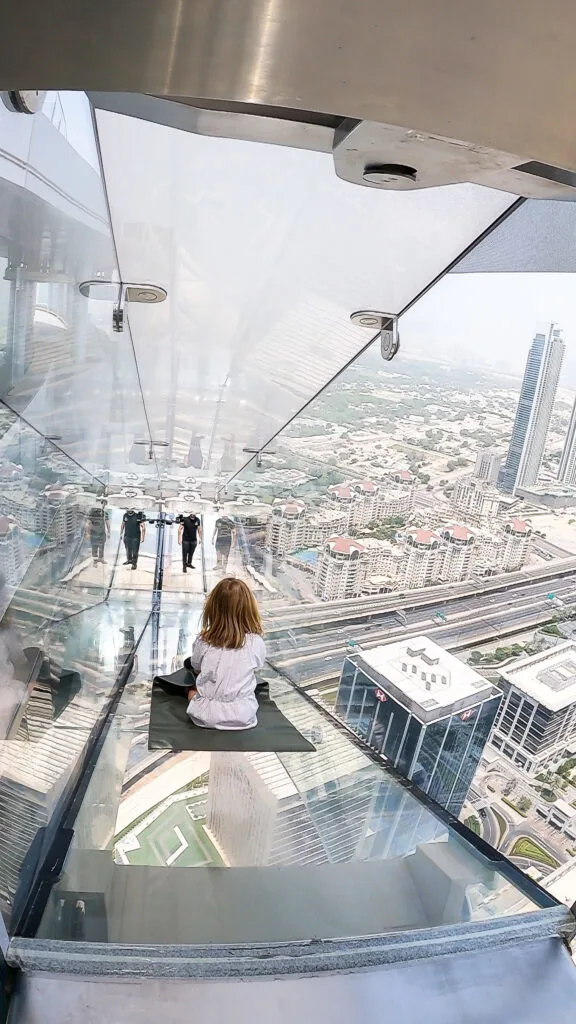 Dubai is home to many cultural and historic attractions, including the Dubai Museum and the Jumeirah Mosque.
Dubai also has lots of outdoor activities, including desert safaris, hot air balloon rides, and skydiving experiences.
Weekend Brunch
Weekend brunch is a popular social activity in Abu Dhabi. There are many restaurants and hotels in Abu Dhabi that offer weekend brunch, each with its own unique atmosphere and menu.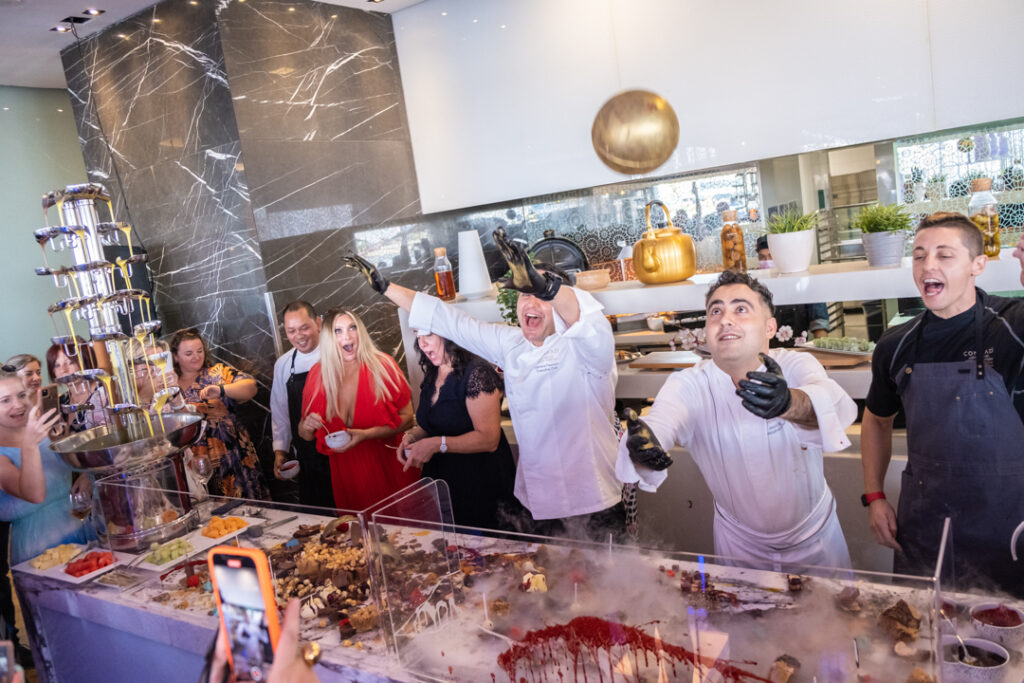 One of the most opulent brunch destinations in Abu Dhabi is Nahaam at Conrad Etihad Towers. It offers a luxurious and elegant setting for brunch, complete with live music and stunning views.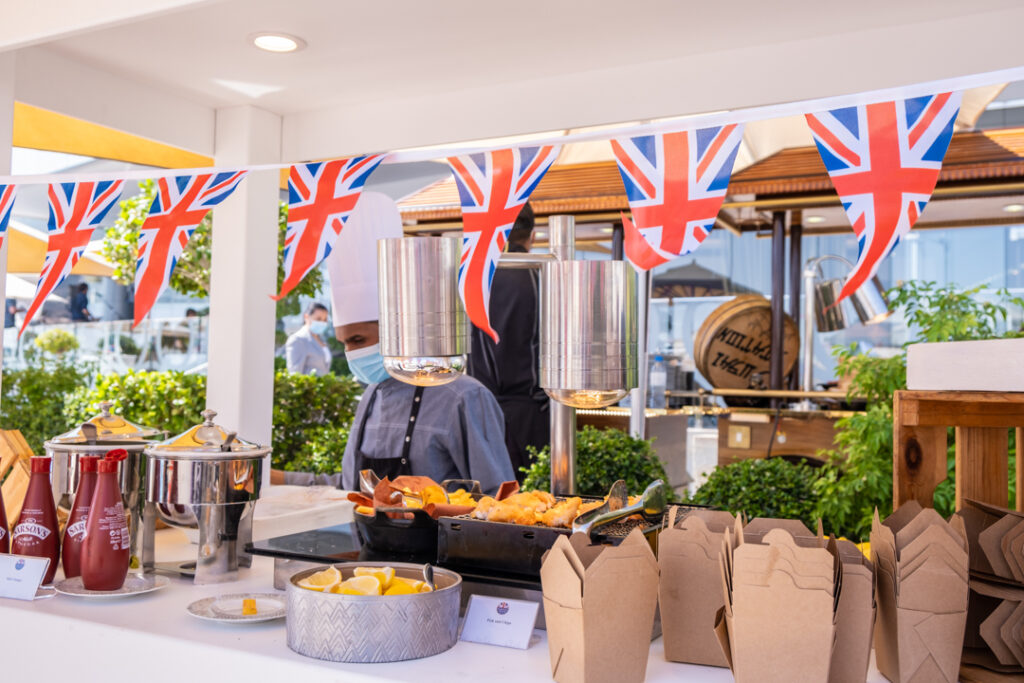 Many of the brunches feature international cuisine with everything from Arabic delicacies to Mexican and Italian to sushi, not to mention, pizza! Some brunches have a party atmosphere whilst others are quite family-orientated.
Check out this detailed post on the best brunches in Abu Dhabi.
Indoor Attractions In Abu Dhabi
Abu Dhabi is known for its sunny weather. Although rare, rainy days can happen. There are plenty of fun indoor activities to enjoy for such a scenario.
Ferrari World Abu Dhabi is a mostly indoor theme park which features the world's fastest roller coaster, the Formula Rossa, and other exciting rides and attractions.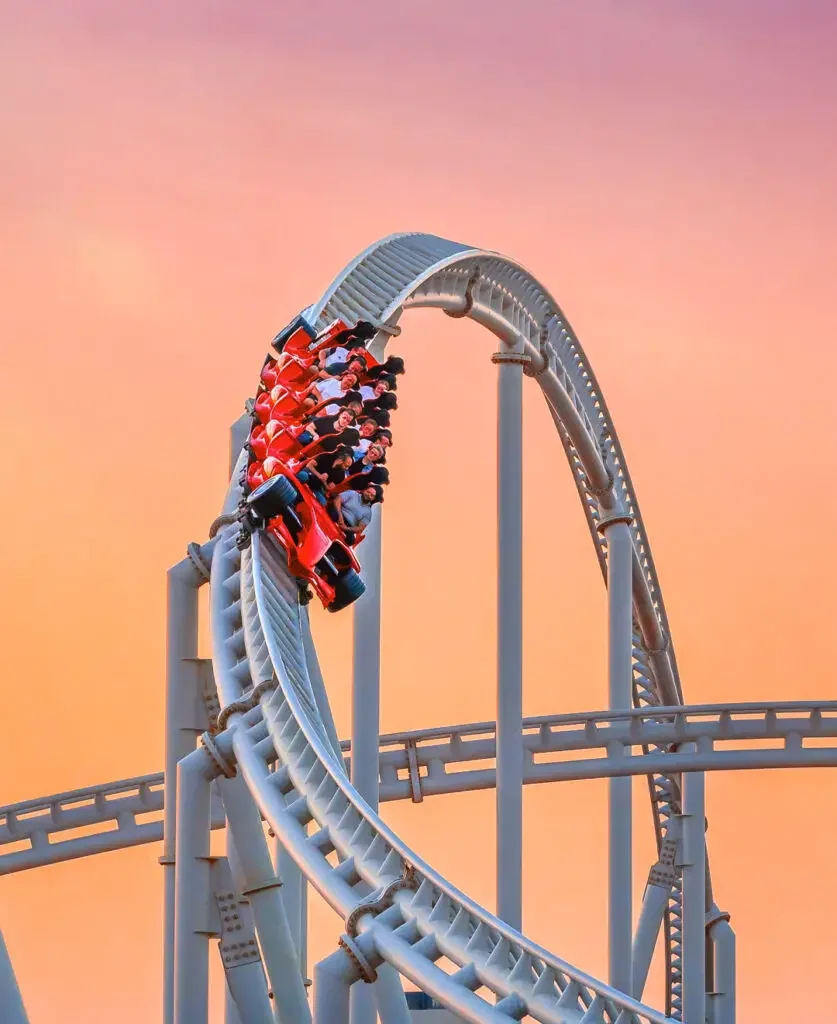 Visiting Warner Bros World Abu Dhabi is like stepping into a world of cartoons and superheroes. It's the largest indoor theme park in the world with rides and attractions inspired by characters such as Bugs Bunny, Batman, and Superman.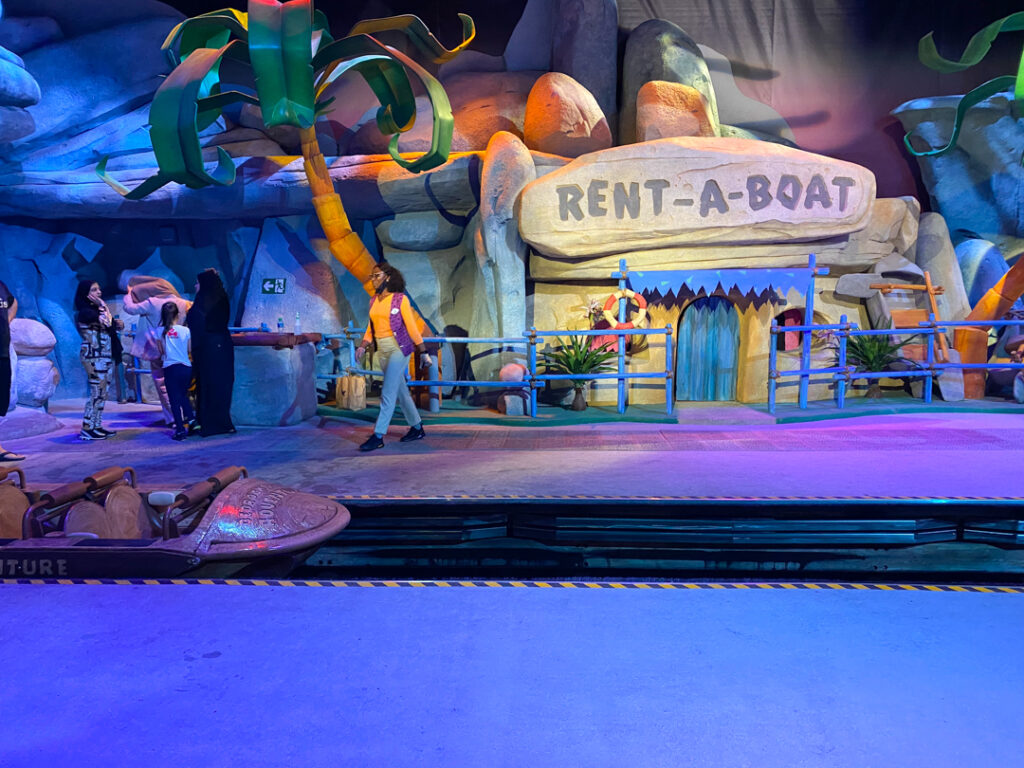 CLYMB Abu Dhabi offers a unique adventure with the world's tallest indoor climbing wall and the world's biggest indoor skydiving wind tunnel. Both experiences are fantastic for adventure seekers, even kids can give skydiving a go!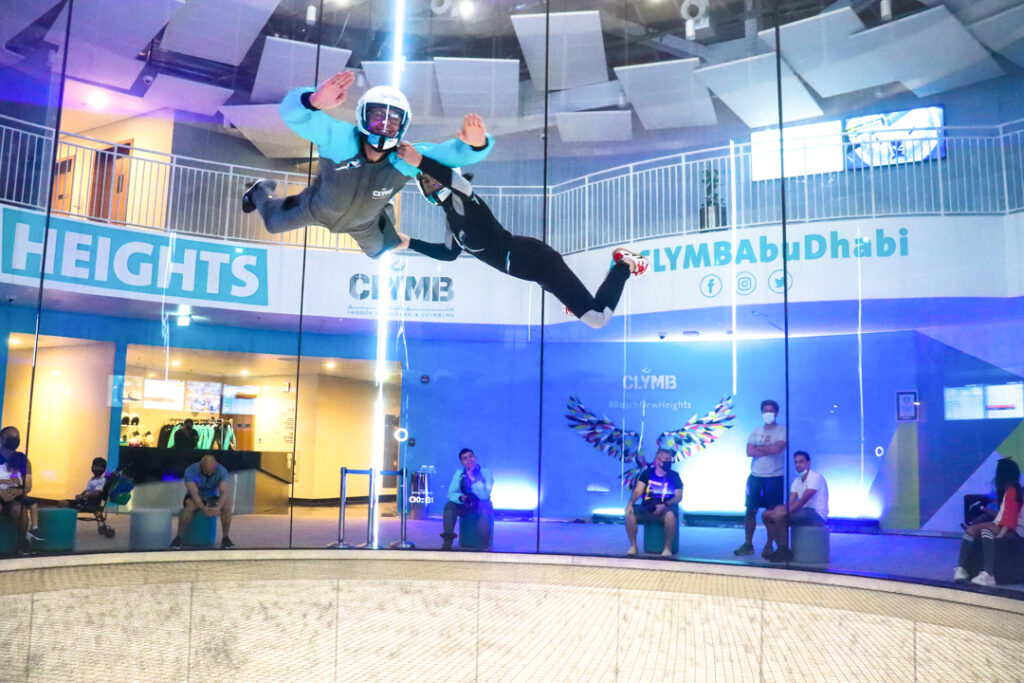 All of the attractions are on Yas Island which is considered the entertainment district of Abu Dhabi.
Check out this detailed post on things to do on Yas Island.
Yas Waterworld
The weather in Abu Dhabi in February is ideal to explore Yas Waterworld. It is a fantastic waterpark located on Yas Island. It's the perfect place to cool off and have fun on a hot day.
The park features over 40 rides, slides, and attractions, including a lazy river, a tornado slide, and many more.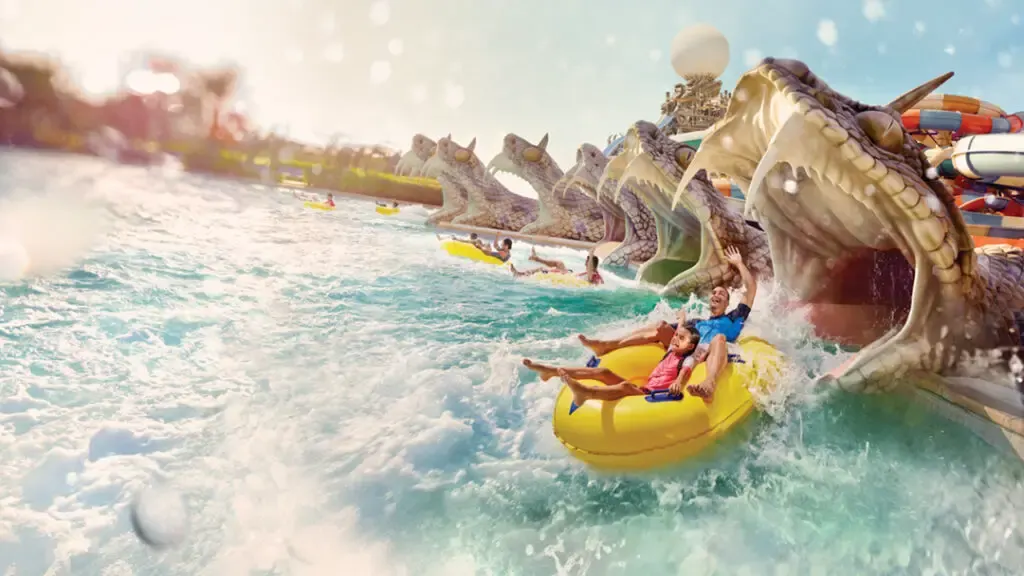 Yas Waterworld has a number of unique attractions such as the Bandit Bomber, a rollercoaster-style water slide that has laser and water effects.
The Falcon's Falaj is a water coaster that takes you on a ride through dark tunnels and into the sunlight.
There's a dedicated area for younger children with a pirate ship splash park. It is perfect for little ones to have fun and play in the water.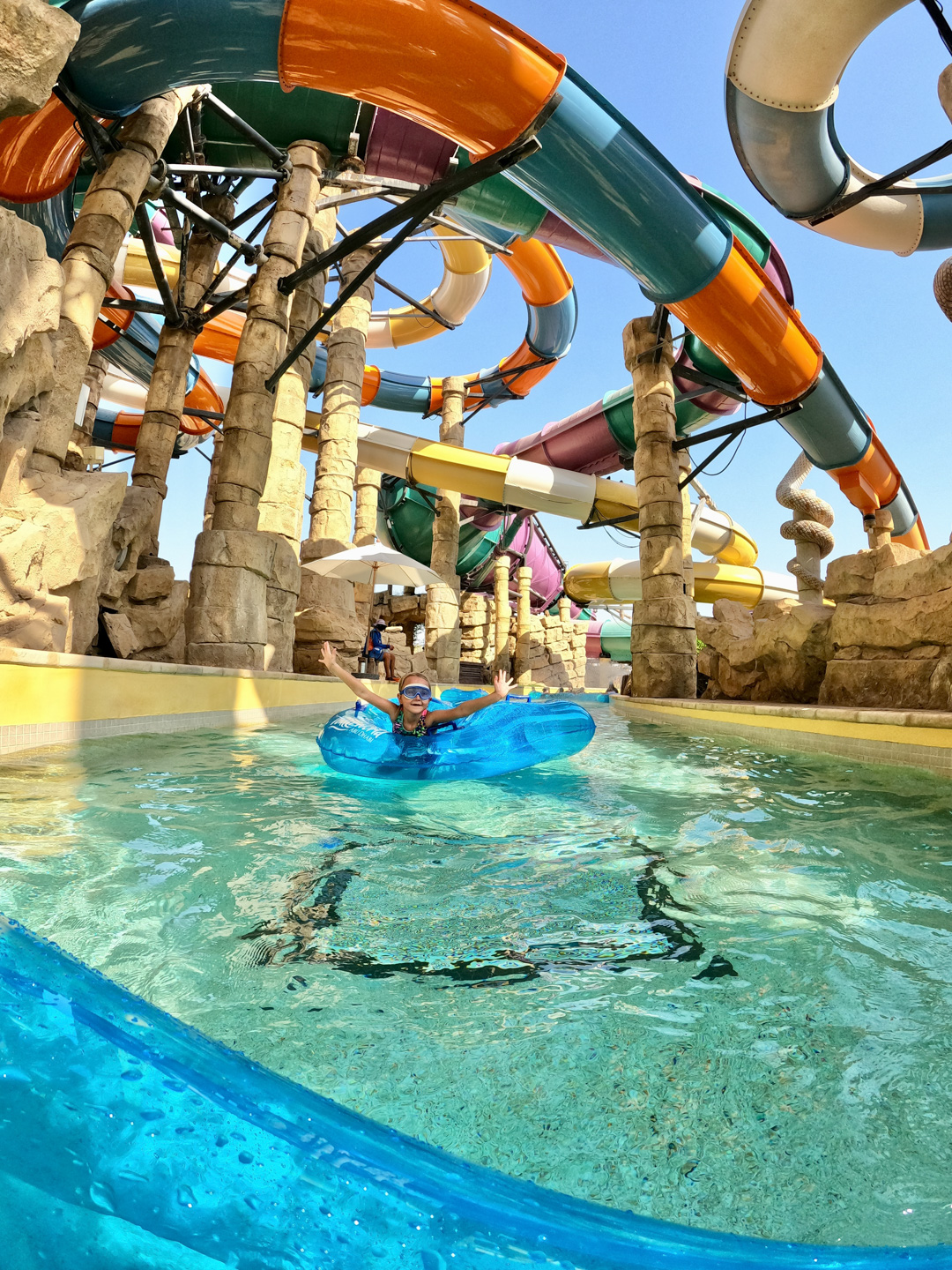 Yas Waterworld offers a range of dining options, including cafes, restaurants, and snack bars.However the fruit shack is the best, serving up giant juicy wedges of watermelon and fresh coconuts!
Book tickets to Yas Waterworld here.
Location: Yas Island – Abu Dhabi – United Arab Emirates.
We hope you found this post about events and weather in Abu Dhabi in February helpful. Let us know if you attend any in the comments.
Disclaimer: This post about events and weather in Abu Dhabi in February contains affiliate links, by using them will not cost you any extra. We may receive a small commission to keep us writing.