Looking for the best business lunch in Abu Dhabi to entertain clients and colleagues? Don't worry we have all the bases covered!
Halftime in the day is an important time to grab lunch. The Emirate is well known for its array of cuisine with many high-end restaurants offering fantastic business lunch options.
Lunch is the best time in the day to break away from the grind of work, unwind and get to know colleagues and clients. Or even better just a good oul chat over lunch with a work buddy!
Lunch deals can be a fantastic opportunity to enjoy a fine dining restaurant for a good price or experience any restaurant at a lower price.
With all that in mind, we have compiled a list of all the best business lunches in Abu Dhabi.
Best Business Lunch In Abu Dhabi
1. 99 Sushi Bar & Restaurant
99 Sushi Bar & Restaurant most certainly owns a spot on the list of best business lunches in Abu Dhabi.
The brand originated in Spain even though it is Japanese cuisine. Michelin Abu Dhabi awarded the restaurant one star as each sushi roll and dish is crafted to perfection!
For an authentic experience, it is best to sit at the sushi counter to witness the skill that goes into preparing the food.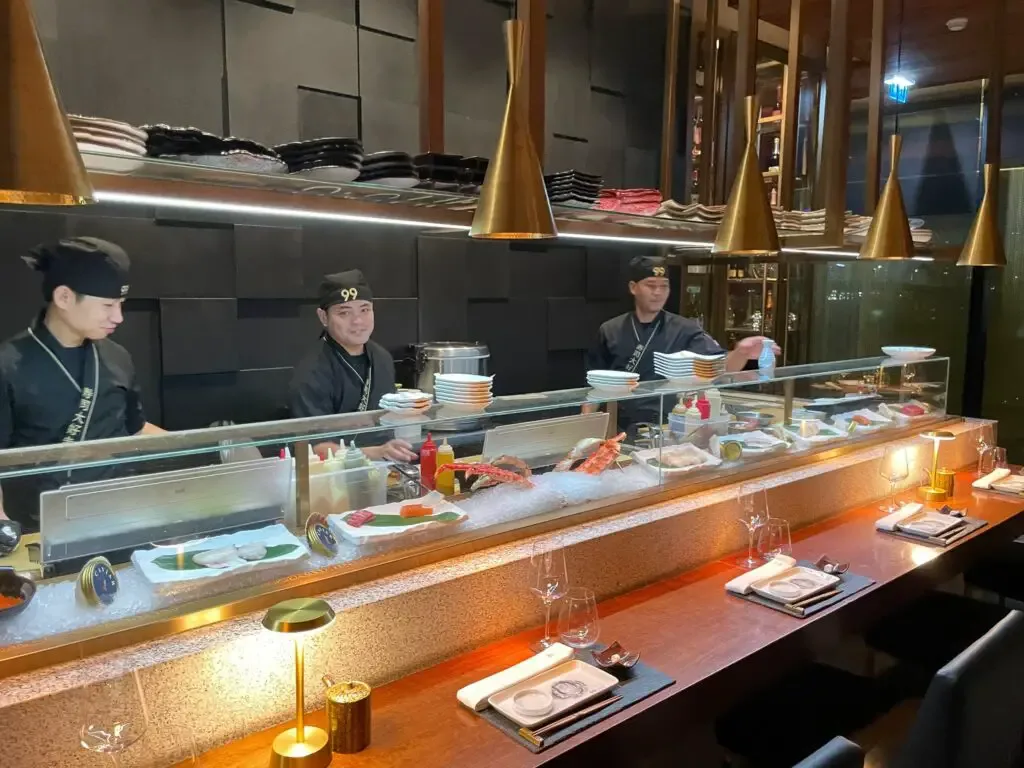 The ten-course extravaganza is not to be missed and will make for an epic business lunch break.
Starting with a delicious amuse-bouche hosomaki chu-toro, a miniature tuna roll. Kobe edamame soaked in wagyu fat, truffle and shichimi togarashi tantalises taste buds.
Capumiso soup with truffle, leek, tofu and seaweed brings a delicious cup of hot goodness to the table.
Corn-fed chicken gyozas with the perfect layer of crispiness glazed in saffron with spicy passion fruit candy is a highlight on this lunch in Abu Dhabi Menu.
What's a visit to a sushi bar without some proper maki rolls? The 99 wagyu maki with kobe-miso emulsion, shitake and veal jus steals the centre place on this menu.
The vegano maki brings another dynamic with braised shitake, butternut asparagus tempura and truffle.
Amaki Nigri with pickled ginger is simplistic but delightful and quickly followed by a scallop flambe nigiri with yuzu mayonnaise.
A Japanese taco with smoked beef, tomato and aromatised herbs brings the savoury courses to an end.
The affair finishes with authentic mochi ice cream and tea or coffee.
Check out this detailed post on the best sushi in Abu Dhabi.
Information
Omakase business lunch: AED169 for a 10-course menu
Timings: 12 PM to 2:15 PM (Monday to Friday)
Location: Four Seasons Hotel, The Galleria Al Maryah Island – Abu Dhabi – United Arab Emirates
2. Villa Toscana
Villa Toscana in St.Regis on the Corniche brings a taste of Italy to Abu Dhabi with its rich culinary flavours and dishes.
The elegant villa-styled restaurant oozes a warm and hospitable atmosphere. The walls have murals of the Tuscan countryside, providing a glimpse into the origin of the cuisine.
A large wooden structure similar to a grapevine trellis shelters the outdoor patio, giving it a sophisticated Tuscan look.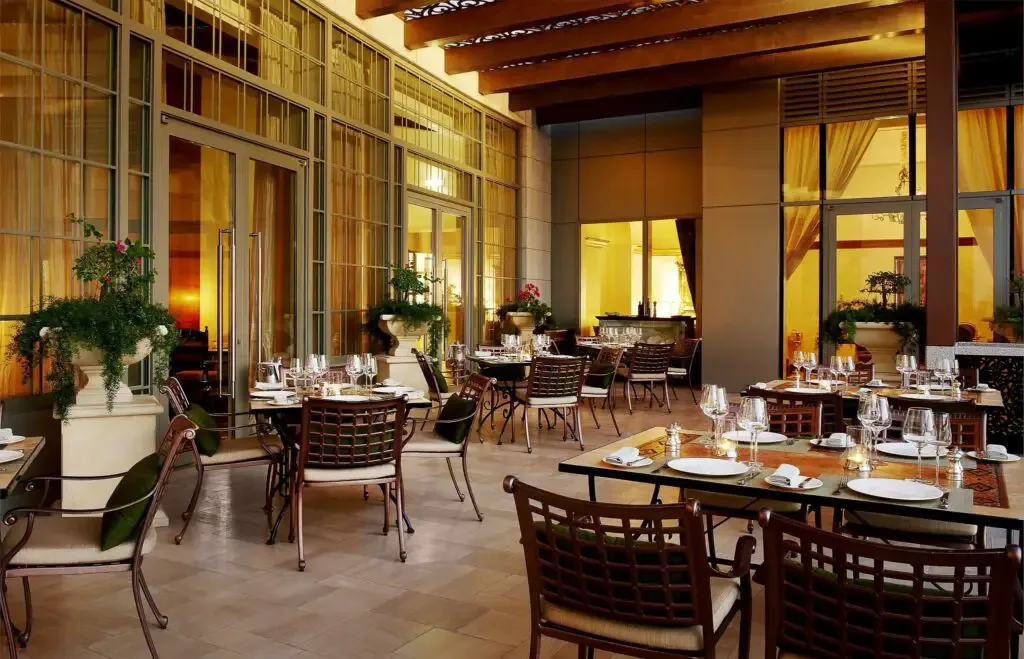 On weekdays, enjoy fine dining at this business lunch in Abu Dhabi. The afternoon outing starts off as a buffet lunch and Villa Toscana puts out extensive spreads of antipasti!
The main courses include homemade pasta, charcoal grilled lamb chop, mixed fried calamari, prawns with seasonal vegetables, and many more. Finish up lunch with some of one of the delicious homemade desserts.
The deal will include antipasti with desserts AED 120 or Antipasti with a main and desserts AED 145.
For reservations: call 009712 6944553
Espresso Business Lunch: 12 PM to 3 PM (Monday to Friday)
Location: Nation Towers – The St. Regis Abu Dhabi – W Corniche Rd – Abu Dhabi – United Arab Emirates
3. LPM Restaurant And Bar
LPM French Riviera-styled restaurant provides Abu Dhabi with an exquisite fine dining experience and fresh Mediterranean-inspired produce.
The waterfront terrace just outside Galleria Mall is something reminiscent of Côte d' Azur during a sunny day in Abu Dhabi.
Inside, the light colours, fresh floral arrangements, French-style shutters and minutiae tells a story of the French Riviera in the 20th century.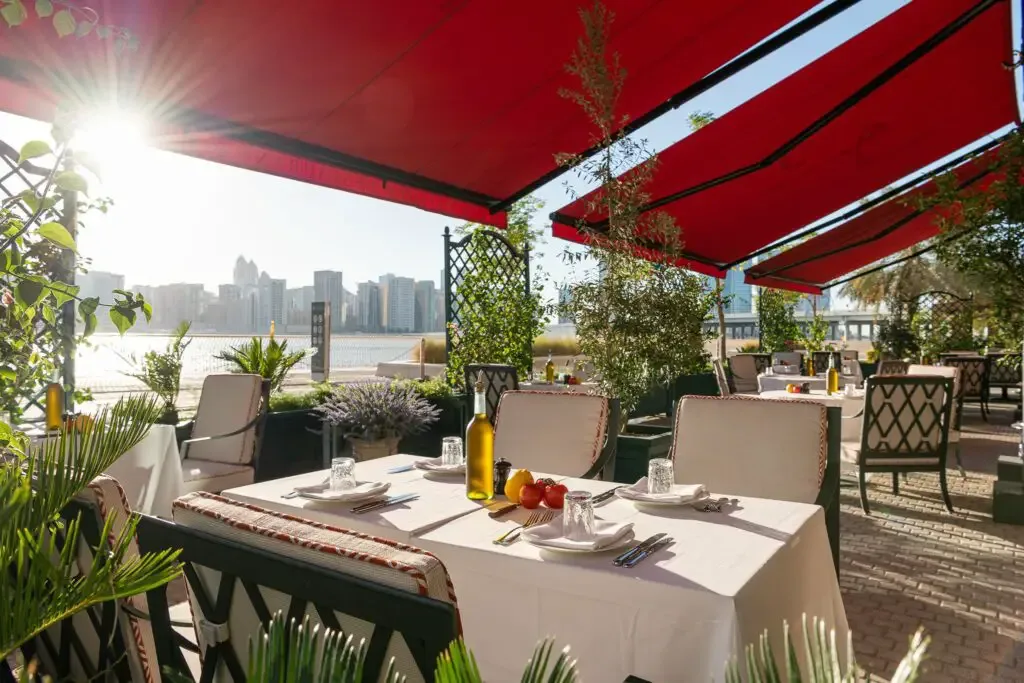 Whatever the plate of the day, LPM was recommended by Michelin restaurants in Abu Dhabi.
Déjeuner D'affaires is LPMS business lunch! Le petit business lunch costs 135AED for one starter and a main.
The Le Grand costs 185AED for two starters plus a main or one starter, main course and dessert.
Starter choices include calamari frits, warm prawns with olive oil, angels hair pasta with pistou and prawns, sea bream carpaccio with lemon dressing, tartare of tuna, sweet corn with pomegranate and herbs or green lentil salad with an apple with burnt tomatoes.
Main courses include seafood pasta with prawns and squid, tiger prawn marinated with green chilli and coriander, grilled sirloin steak, slow-cooked duck leg with orange glaze or a homemade rigatoni with mushrooms.
With the Le Grand desert options include vanilla cheesecake with berry compote, warm chocolate mousse with malt ice cream or a selection of homemade sorbets.
Add a 250ml carafe of white, red or rose grape for 65AED.
For more information call +971 2 692 9600
Business lunch weekday specials: 12 PM – 3 PM
Le Petit business lunch: AED 135 for 1 starter + 1 main
Le Grand business lunch: AED 180 for 1 starter+1 main+1 dessert.
Location: The Galleria Mall – Al Maryah Island – Abu Dhabi – United Arab Emirates
4. Hakkasan
Hakkasan received one star from Michelin Abu Dhabi in 2022 in keeping with its world-renowned reputation. Hand-crafted wood structures and oriental lighting provide a contemporary dining experience.
A popular option in the cooler months is to dine al fresco on the large terrace overlooking the gardens of Emirates Palace with epic views of the Corniche skyline in the background.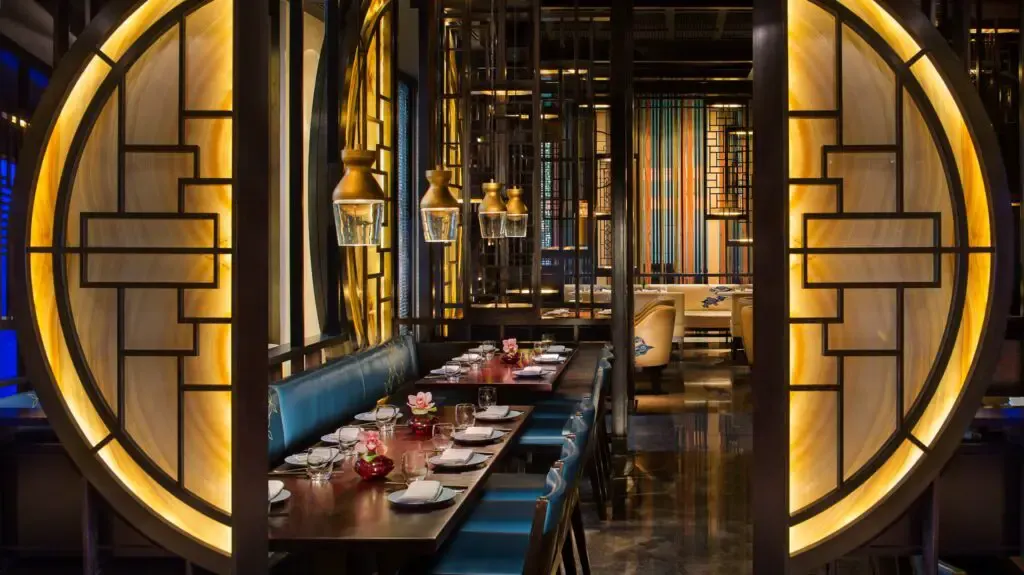 Steamed, fried and baked dim sum is available at this Saturday lunch Abu Dhabi special.
The steamed dumpling section highlights include Szechuan style prawn wonton, honey wagyu beef bun scallop chicken shu mai and truffle seafood Xiao Long bao which is the ultimate Chinese feast!
The fired and baked section has wagyu beef truffle buff, lychee lobster yuzu pearl and roasted duck pumpkin.
For more information call +971 2 690 7739
Saturday Lunch Specials: 12 PM to 3:30 PM
Costs: 3 Dim Sum Baskets for AED 98
5 Dim Sum Baskets for AED 138
Location: Emirates Palace – W Corniche Rd – Al Ras Al Akhdar – Abu Dhabi – United Arab Emirates
5. Coya Abu Dhabi
Walking into the Inca inspired decor of Coya for a business lunch is a treat during the work day. Coya is a unique vibrant restaurant that has references to its Peruvian ancestors throughout.
The restaurant maintains a sophisticated upmarket dining experience amidst the South American interior.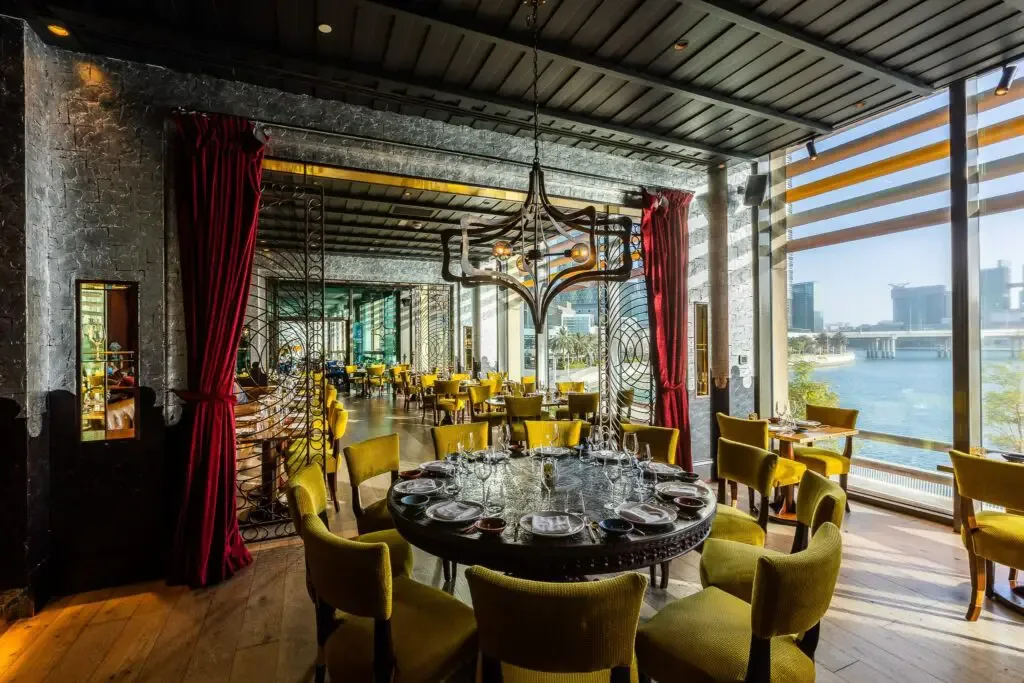 The best tables are positioned next to the windows which get an Arabian breeze in the cooler months. The bar area has a jungle vibe and the pisco sour is very tempting as the mixologists are renowned for perfectly crafted beverages.
This business lunch in Abu Dhabi deal costs 130 AED for two starters and a main. There is an option to add on a dessert for 30 AED.
Highlights amongst the starters include sea bass croquettes, wagyu beef buns, salmon ceviche and burrata salad.
Three of the main courses are included in the 130 AED price. Other dishes are subject to a surcharge. In the deal is corn-fed baby chicken, grilled salmon with miso or quinoa and pumpkin iron pot.
Slow-cooked beef ribs, Chilean sea bass rice iron pot, grilled sea bream fillet and spicy beef fillet are available for an extra 30 AED.
Grilled tiger prawns and grilled wagyu sirloin cost an extra 50 AED.
Deserts include purple corn colada, churros and corn meringue for an additional 30AED.
Timings: Monday to Thursday, 12:00 PM to 16:00 PM. Friday 12:00 PM to 14:30 PM
Call: 97123067000
Location: Four Seasons Hotel, The Galleria Mall- Abu Dhabi
6. Penelope's Abu Dhabi Business Lunch
Interested in discussing business matters? Make your way to Penelope's this month, as the restaurant is introducing a special Business Lunch menu for the entire month. This exclusive offer will be available from Monday to Friday.
Guests will have the opportunity to select from a variety of options for their two- or three-course meal. They can also complement their dining experience with the sommelier's choice of white, red, or rosé wine (available for an additional Dhs88 per 250ml carafe).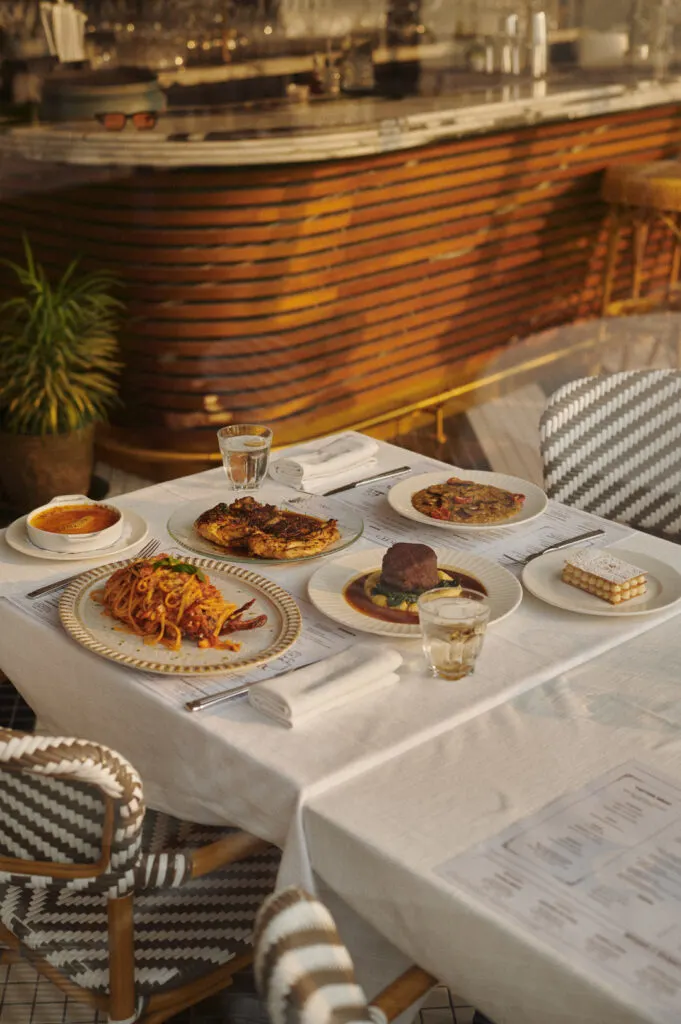 For your appetizer, you can choose from a selection of dishes, including salads, seabass carpaccio, and beef tartare.
As for the main course, your options range from roasted seabream fillet with fennel salad, spaghetti puttanesca, and rigatoni bolognese, to steak frites served with béarnaise sauce.
Finally, for dessert, you can indulge in a rich chocolate fondant paired with Madagascar vanilla ice cream or savouring a delectable crème brûlée.
Pricing: The offer is Dhs99 for two courses or Dhs120 for a full three-course meal.
Call: 971502042475
Timings: Monday to Friday, 12:00 pm to 3:00 pm
Location: Yas Marina, Yas Island, Abu Dhabi.
7. Café Milano
Cafe Milano at the Four Seasons offers a premium and authentic Italian business lunch in Abu Dhabi.
The restaurant overlooks the Al Maryah Islands waterfront promenade. In the cooler months, the Venetian shutters are opened up and the restaurant gets the cool winds of the Arabian gulf.
On weekdays, the restaurant offers a starter and main for 220 AED with the option for three courses at 250 AED.
Starter options include vegetable soup, Venison tenderloin carpaccio with roasted pears, and salad drizzled in a pomegranate dressing.
Prawns sautéed in garlic, red chilli and cherry tomatoes topped on a bruschetta make for the excellent first course.
The main course makes for one of the best business lunches in Abu Dhabi. It's a Mezze Maniche whipped up with onions, beef pancetta and pecorino cheese.
Perhaps a lighter dish with mixed fried semolina fish is more to the fancy. Confit duck leg braised apple, and red cabbage in a citrus thyme glaze is another great option in the main course section.
Toffee pudding with vanilla ice cream or a selection of homemade gelato with biscuits is on offer for those opting for a three-course meal.
Included in the business lunch is one soft drink, mocktail or a glass of house grape or hop.
For reservations call +971 2 333 2444.
Business Lunch Specials: AED 220 for a Starter + Main or
AED 250 for a Starter + Main + Dessert
Timings: 12 PM to 5 PM (Monday to Friday)
General Timings: 12 PM to 12 AM (Monday to Sunday)
Location: Four Seasons Hotel Abu Dhabi – Al Maryah Island – Abu Dhabi – United Arab Emirates
8. Fouquet's Abu Dhabi Business Lunch
Fouquet's Abu Dhabi is based inside The Louvre and is the only Parisian brassiere to feature on the business lunch in Abu Dhabi list.
Chef Pierre Gagnaire knows his way to a Michelin star. The Brasserie is now 'recommended' by Michelin Abu Dhabi.
The Louvre is a spectacular museum and the perfect setting to enjoy Parisian gastronomy.
Fouquets has a chic authentic interior reminiscent of an upmarket Parisian brassiere. Embrace the views on the terrace whilst enjoying incredible food!
There are two options, the first is a starter with a main course and the second option is a main course with a dessert.
Start with a lentil soup seasoned with cumin and a soft-boiled egg. A chicken caser salad may be a better option for those looking for something light and fresh.
Main courses include a farm roasted supreme chicken with tubetti pasta and morel sauce. Grilled salmon pink peppered fennel with lemon butter sauce makes for another fantastic choice.
For reservations call: +971 2 205 4200.
Lunch Specials: AED 220 for a starter, main course and dessert, or
AED 165 for a starter and main course or a main course and dessert.
Timings: 12 PM to 6 PM (Tuesday to Sunday)
Location: Saadiyat Cultural District 1 – Al Saadiyat Island – Abu Dhabi – United Arab Emirates
9. Zuma Abu Dhabi Business Lunch
Based inside Four Seasons, Zuma is a popular choice when it comes to business lunch in Abu Dhabi.
Granite stone, carved wood and sake wall cellars encased in glass gives the restaurant a contemporary interior.
When Michelin Abu Dhabi visited Zuma, they commended their top-notch Japanese dishes. Don't be fooled by the simplicity of the presentation. Each dish is full of high-quality produce and flavour.
Experience a wide variety of options as the restaurant boasts three different kitchens, including the sushi counter, robata grill and main kitchen.
There are two options to choose from at the Ebisu lunch. The express lunch includes a miso soup with a main course for 79AED.
For something more substantial, a miso soup, two appetizers and a main course costs 149 AED.
Highlights include avocado tempura in a ginger broth, shrimp tempura in a lime-chilli dip, and prawn and black cod gyoza.
Other great choices include a selection of sushi, grilled Australian wagyu beef sirloin with truffle mayo and miso-marinated black cod donburi.
Drinks are chargeable and there is an option to add on a dessert for 79AED.
The Ebisu and express lunch options make the perfect halftime break during the working week.
For reservations, call +971 2 401 5900.
Ebisu Lunch Specials: 12 PM to 2 PM (Monday to Friday )
Costs: AED 149 for a Miso Soup+2 appetisers, and a main course (or)
Express Lunch option for AED 79 for a Miso soup and a main course.
Location: The Galleria Al Maryah Island – ADGM – Abu Dhabi – United Arab Emirates
You may also like: