There are so many different types of Abu Dhabi boat tours. From romantic cruises to eco boats and fishing tours to traditional dhows.
Wooden dhows populated Abu Dhabi waters throughout a rich fishing and pearl diving history. Nowadays dhows are used as authentic tourist experiences.
With over 700 km of coastline and 200 islands, Abu Dhabi has incredible secluded beaches, mangrove forests, aqua-blue waters, canals, and many natural wonders to explore.
Abu Dhabi has several private member boat clubs, maritime fuel stations, boat showrooms and maintenance companies, which makes it a very boat-friendly city.
The Emirate hosts the Abu Dhabi International Boat Show, which showcases magnificent engineering. It's the ideal place to pick up (or at least dream about) buying the perfect boat.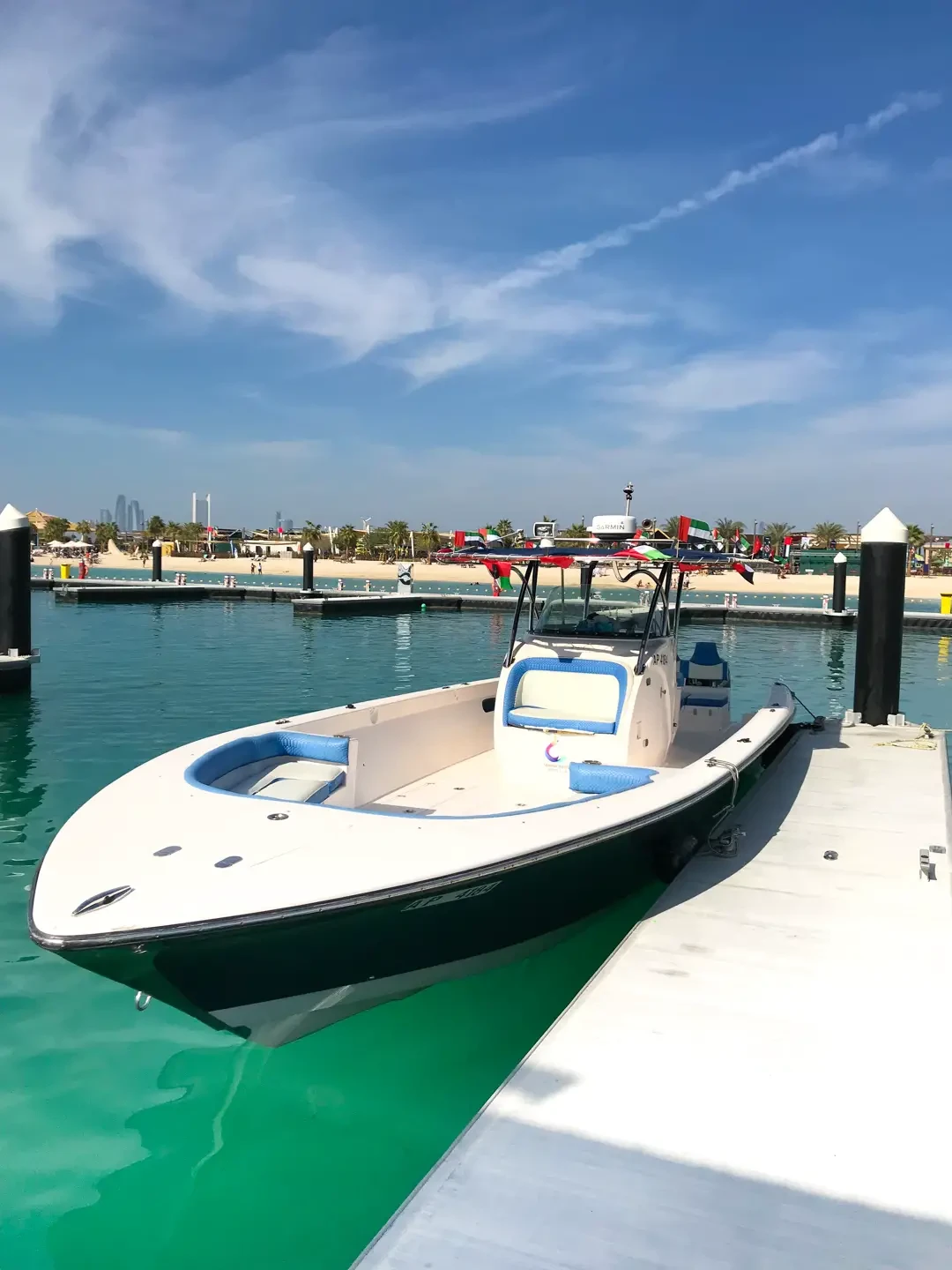 Abu Dhabi has warm weather throughout the year. However, like most desert regions, there are very hot spells throughout the summer. The weather is cool from November until around April.
The F1 takes place in November when the rich and famous arrive at the marinas of Abu Dhabi in super yachts.
March is the windiest month which can lead to choppier water. Especially with the 'shamal' phenomenon which translates to northwesterly. However, there is plenty of opportunities to hit calm Arabian waters with cool weather.
It is possible to go on one of the Abu Dhabi boat tours in the summer. It's important to use a boat with shade and go early morning or evening as the temperatures are too high during the day.
Whether you are looking to wakeboard, jet-ski, fish, cruise or yacht parties, this guide covers all the bases when it comes to Abu Dhabi boat tours.
Overall, a combination of natural beauty, amazing weather conditions, and a range of boating activities make Abu Dhabi an excellent destination for those interested in exploring the Arabian Gulf.
Boat Tours Abu Dhabi
1. Buffet Dinner Cruise
Take in breathtaking views of the Yas Marina and the surrounding area on a buffet dinner cruise.
Sit back, relax and enjoy a buffet on a wooden dhow sailboat. As the boat meanders through the Arabian waters, passengers can peer out the large windows to take in the historical and modern-day wonders of the city.
The lavish buffet comes with unlimited soft drinks, water, coffee, and tea. It typically lasts two hours and sets sail on a return journey from Yas Marina.
The boat has a capacity of 15 passengers and is wheelchair friendly. Tourists can be collected from a hotel within the realms of Abu Dhabi City.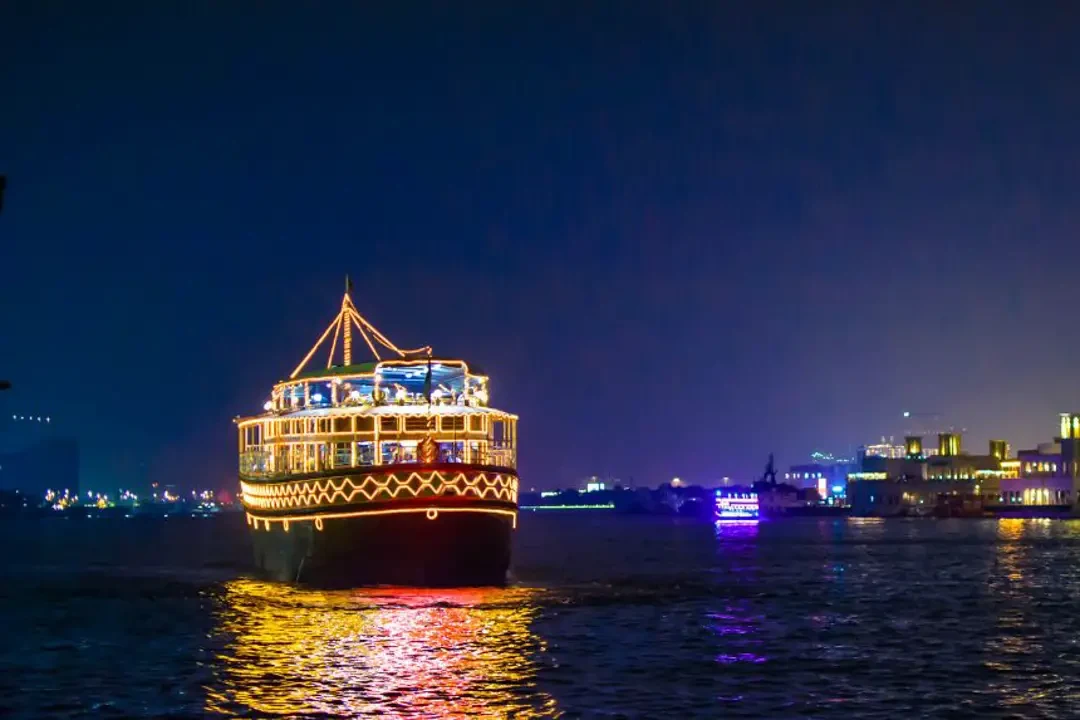 Residents can head straight to the marina or be picked up from any hotel.
Location: Yas Marina
Timings: 20:00 pm
Call: 017026485873
Book a buffet dinner cruise here.
2. Abu Dhabi Dhow Dinner Cruise
Take in the opulent views of the Corniche skyline on a traditional dhow boat whilst listening to Arabic music.
The buffet offers supreme Arabic food on this relaxing Abu Dhabi boat tour. The tour lasts two hours and the dhow sets sail at 8 pm. It can accommodate children and it is wheelchair friendly.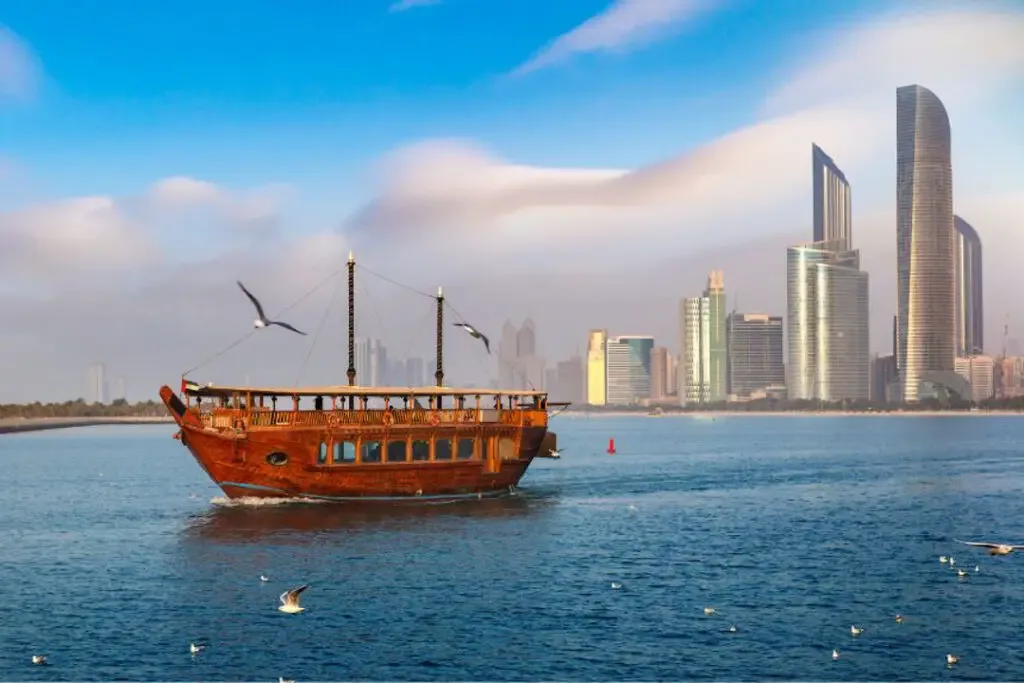 Guests can be picked up from a hotel and residents can be collected from their nearest hotel.
Timings: 20:00 (2-hour Journey) (May differ during Ramadan)
3. New Abu Dhabi Dinner Cruise
Abu Dhabi Dhow tours can be found in various locations and this one set sail near the marina mall. Passengers will be greeted with a red carpet, welcome drinks, coffee, dates and a cold towel.
A delicious buffet is enjoyed whilst the dhow sails the waters alongside the famous landmark including Rixos Marina Hotel. The experience lasts two hours and the company arranges hotel pick-up.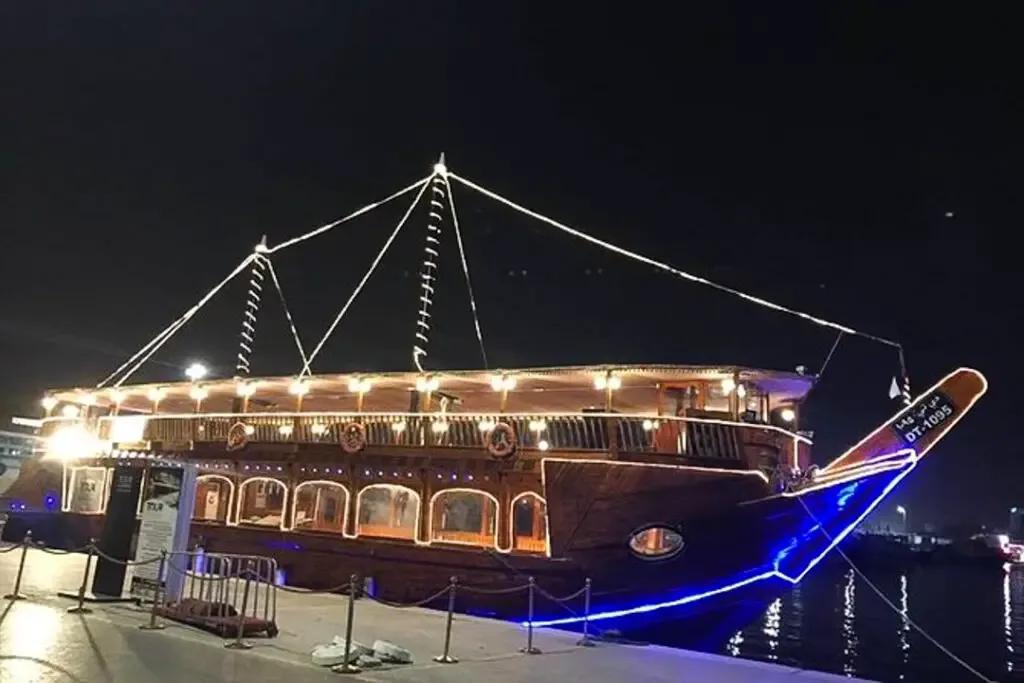 This boat ride in Abu Dhabi is not wheelchair accessible and children must sit on the laps of parents.
Timing: 20:00
Book the Marina Dhow tour here.

4. Private Boat Cruise Experience
Explore the beautiful coastline of Abu Dhabi, secluded islands, and the mangrove forest on this speed boat Abu Dhabi tour. The tour lasts three hours and the sets sail from Rixos Marina Abu Dhabi.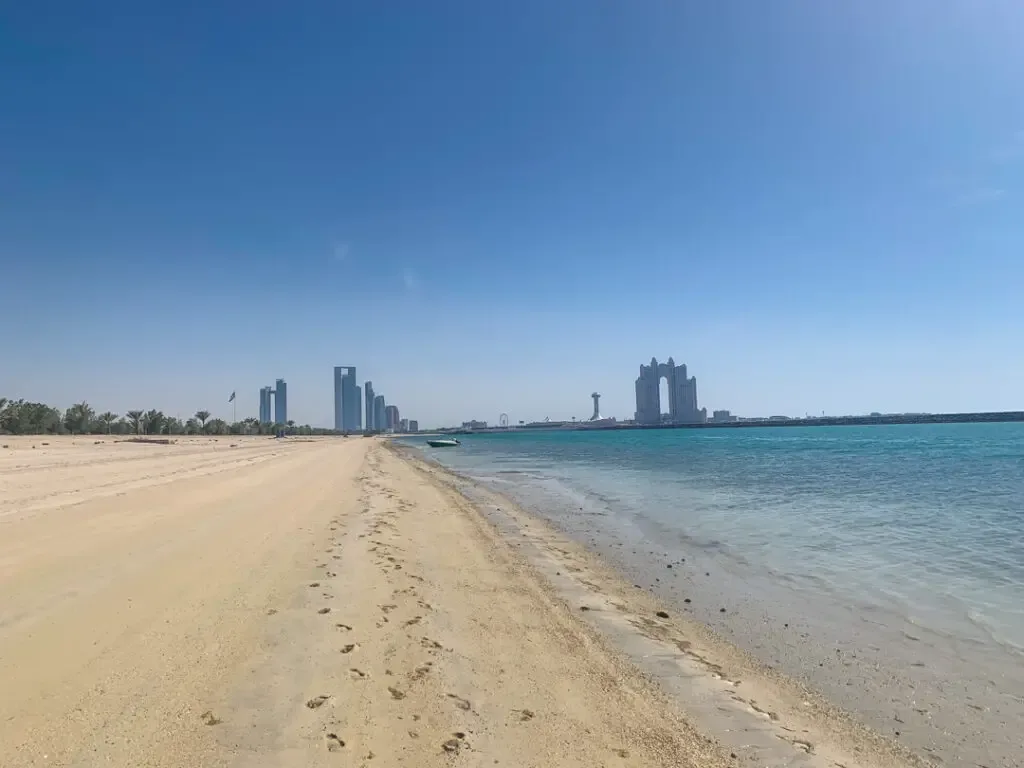 It can take up to ten people and is exclusively private. The tour cruises past the Corniche, mangroves, Bain Al Jessrain and islands throughout Abu Dhabi.
Water is included in the trip, and it is not wheelchair accessible. Infants need to sit on parent's laps.
Book a 3-hour private boat tour here.
Timings: 3-hour tour, to be arranged with the company.
5. Private Island Cinema Experience
Who needs an Imax cinema when you can take a boat to a private island and have the most secluded cinema experience in Abu Dhabi.
The experience last four hours which is plenty of time to watch movies on Netflix or Youtube.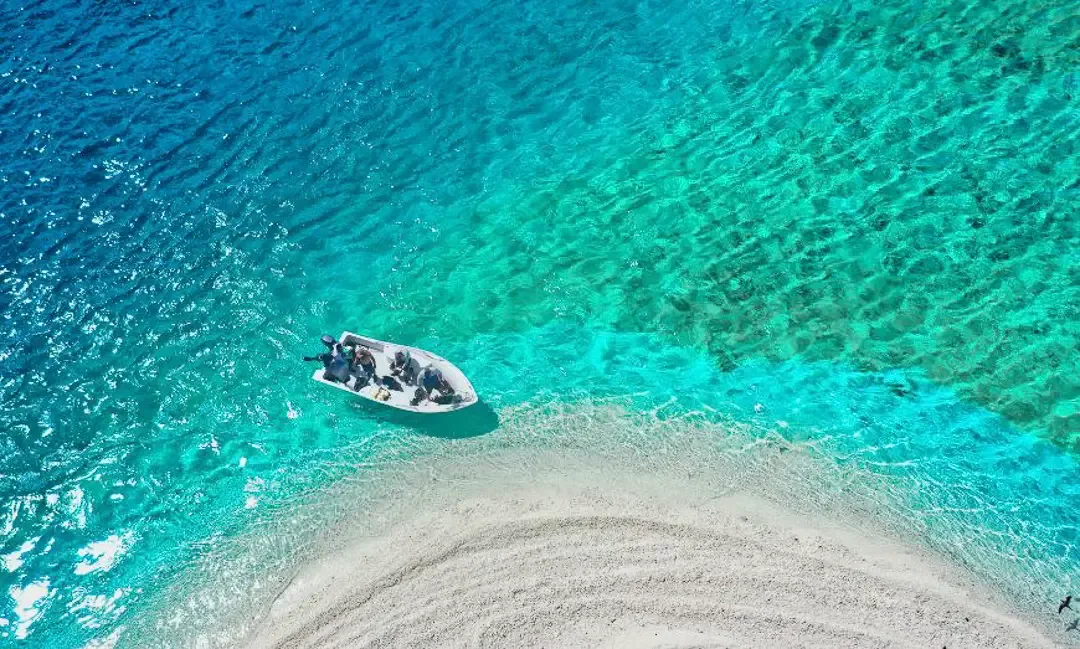 The tour is around sunset creating the perfect ambience for a romantic date or a group of friends who just want to do something different. This particular tour can take up to five people.
The screen is 100 inches and comes with free Wi-Fi, chairs, tables, lighting, a cooler box, water and a bonfire.
Location: S.T. Marine Boat Charter
Timing: Monday to Sunday, 18:00 to 22:00
Book a boating cinema experience on a private island here.

6. Mangroves Self-Drive Speedboat
Be the captain of your own ship on a two-seater boat tour in Abu Dhabi. Luckily, there is no need for a license to jump on the miniature vessel.
Self-driving boat tours in Abu Dhabi are few and far between. Not only is it a lot of fun self-driving through the water, it's also a guided tour through the mangroves.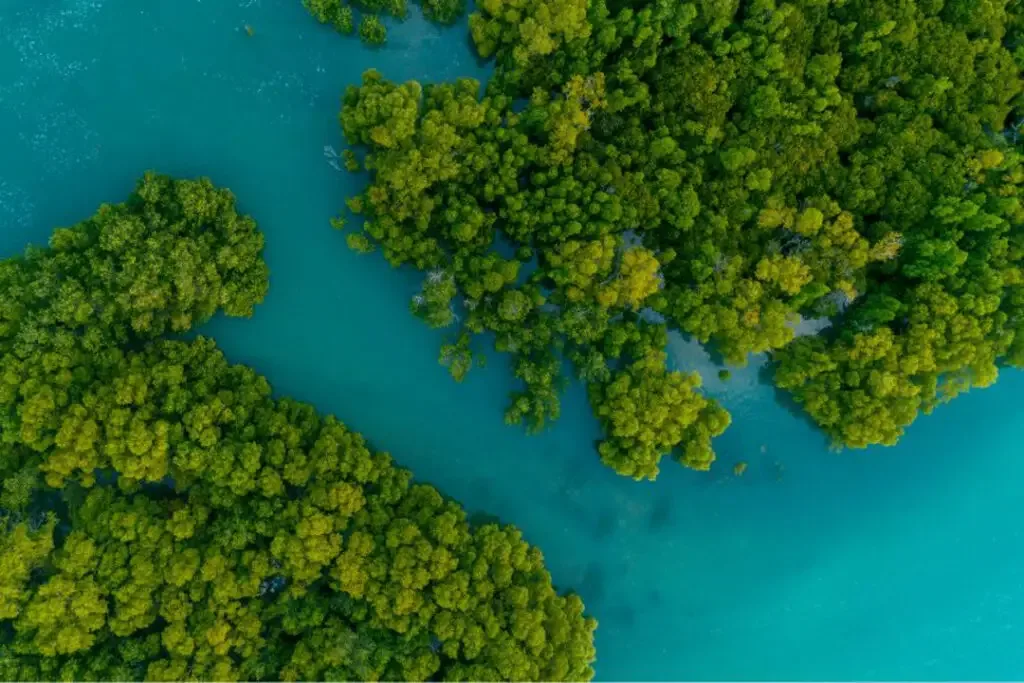 The park is rich in lush greenery and wildlife with a chance to see turtles, herons, flamingos, and dolphins.
Once you've navigated the mangroves' diverse flora, test the engine and reach top speeds on route to a secluded island. Explore the island and dip in the lagoon before returning home!
If a speedboat if not your thing, try kayaking through the mangroves.
Location: Anantara Jetty-Al Kheeran- Eastern Mangrove-Abu Dhabi
Timings: Multiple time slots are available
Book a mini self–drive speedboat trip here.
7. Guided Sightseeing Boat Tours
A yellow boat tour experience brings a thrill to the Arabian waters. It launches at Emirates Palace Marina and tours landmarks around the city on a high-speed boat.
Overall, the ride lasts approximately an hour and a half. The first stop is a brief visit to Heritage Village. Thereafter, the boat skips across to the iconic Conrad Etihad Towers for a quick photo shot.
Other stops include a historical fisherman's village, Lulu Island and Qasr Al Watan.
The waters between Lulu and Qasr Al Watan is a prime dolphin location making it an Abu Dhabi boat trip to remember for many!
8. Sea Breeze Abra Tour
The Abra Boat tour brings an affordable Abu Dhabi boat tour to the list. The boat launches from the Souk Qaryat Al Beri and the iconic Grand Mosque is the backdrop of the trip, making it quite special.
Connect to bluetooth and play your favourite music. The boat takes up to ten people and can accommodate strollers and wheelchairs!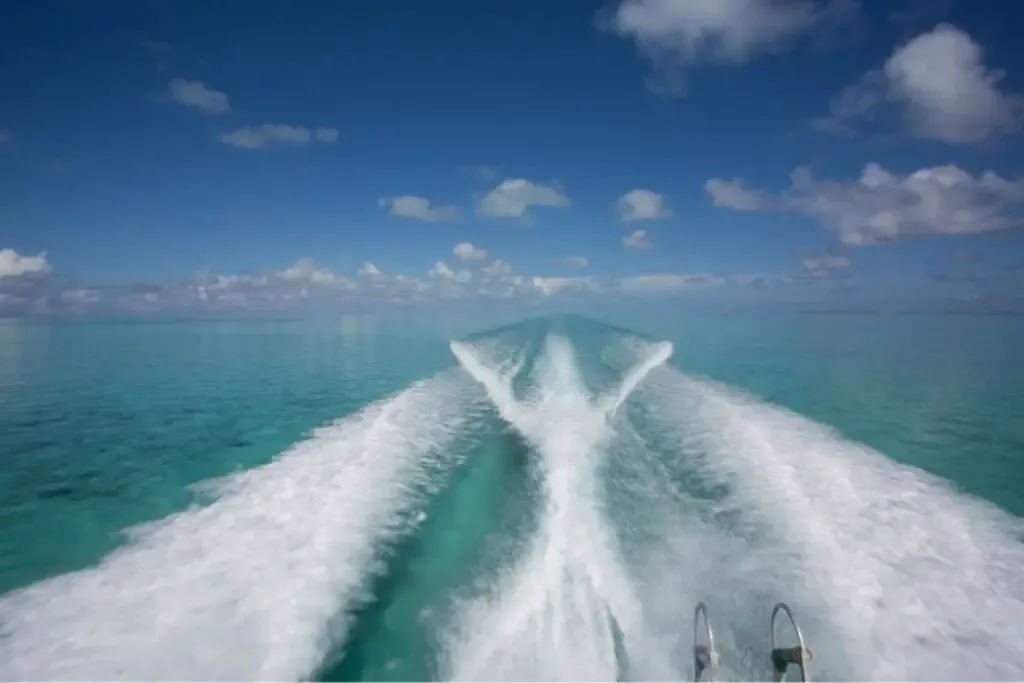 Timings: Monday – Thursday: 09:00 AM – 10:00 PM
Friday – Saturday: 09:00 AM – 11:30
Sunday: 09:00 AM – 10:00 PM

9.Eco-Mangrove Boat Cruises
There are many types of boat rides in the Mangroves. However, the eco-cruise is one of the most relaxed boat trips in Abu Dhabi. Whether its midday, sunset or night, there are many departure times to choose from.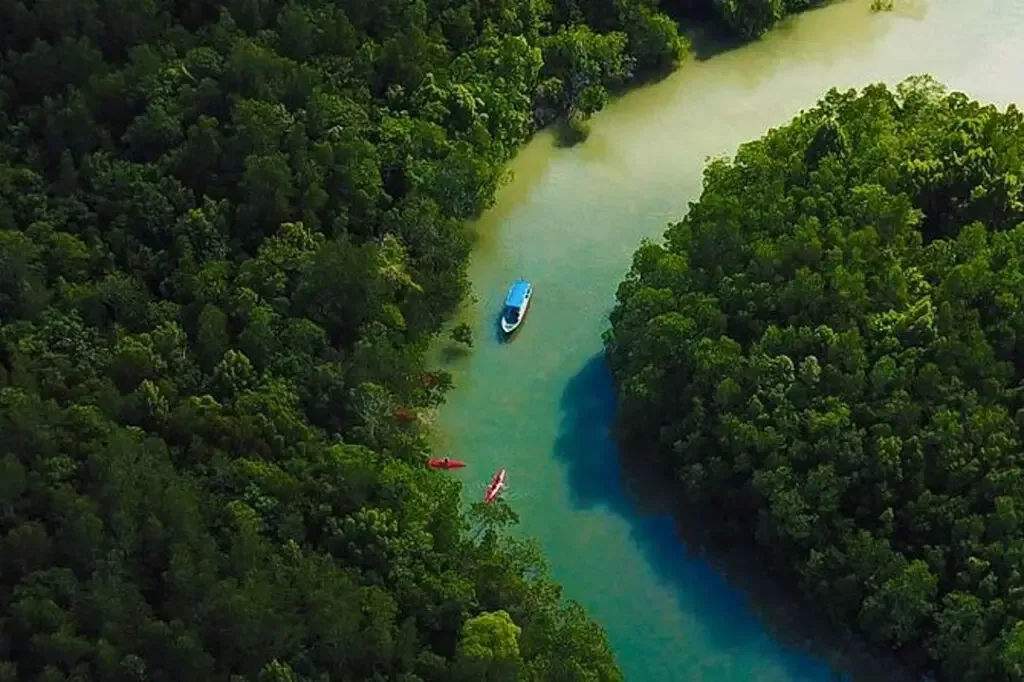 Guests can request pick-up or head straight to the jetty. The mangrove boat tour Abu Dhabi experience lasts an hour and is a private tour.
Book an Eco mangroves cruise here.

10. Yellow Boat Tours Abu Dhabi
Yellow Boat Tours offers an exclusive tour by car and the last part is one of the best Abu Dhabi boat trips.
The boat ride lasts 75 minutes and takes passengers around Yas island passing attractions, incredible architecture, wildlife, and nature. Prior to the boat tour, it is a full-day out!
The car tour starts at 9 am with the Sheikh Zayed Grand Mosque being the first stop. There is a pass by at the Louvre and Corniche for some photo opportunities.
The next stop is Heritage Village which includes entry. Followed by Marina Mall which is a perfect chance to shop and grab lunch.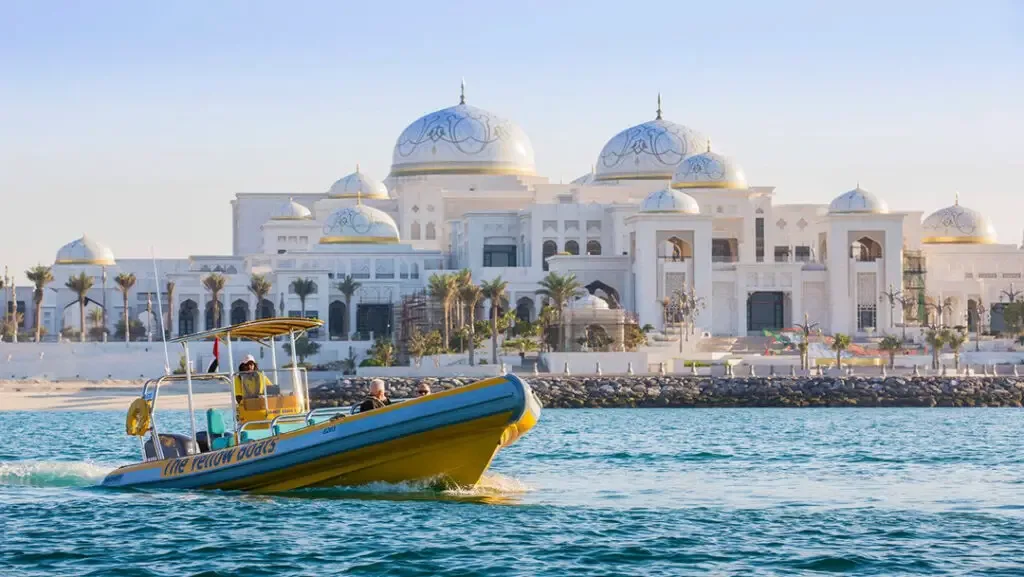 A quick pass by of Qasr Al Watan and Emirates Palace is also included on the tour.
There's a chance to visit an authentic dates market and thereafter Manarat Al Saadiyat, Etihad Towers and a quick stop at Ferrari World for some photos bringing the tour to the speedboat.
For guests from Dubai, pickup is possible from any city centre hotel and Sharjah guests can be picked up from Sharaha Center.
Book the full day tour with Yellow Boat
Timing: Starts 09:00 am

11. Yas Island Sightseeing Cruise
Yas Island sightseeing cruise is one of the express boat tours in Abu Dhabi as it only takes one hour.
Gain a different perspective on Yas Island with panoramic views of the famous island from a wooden dhow.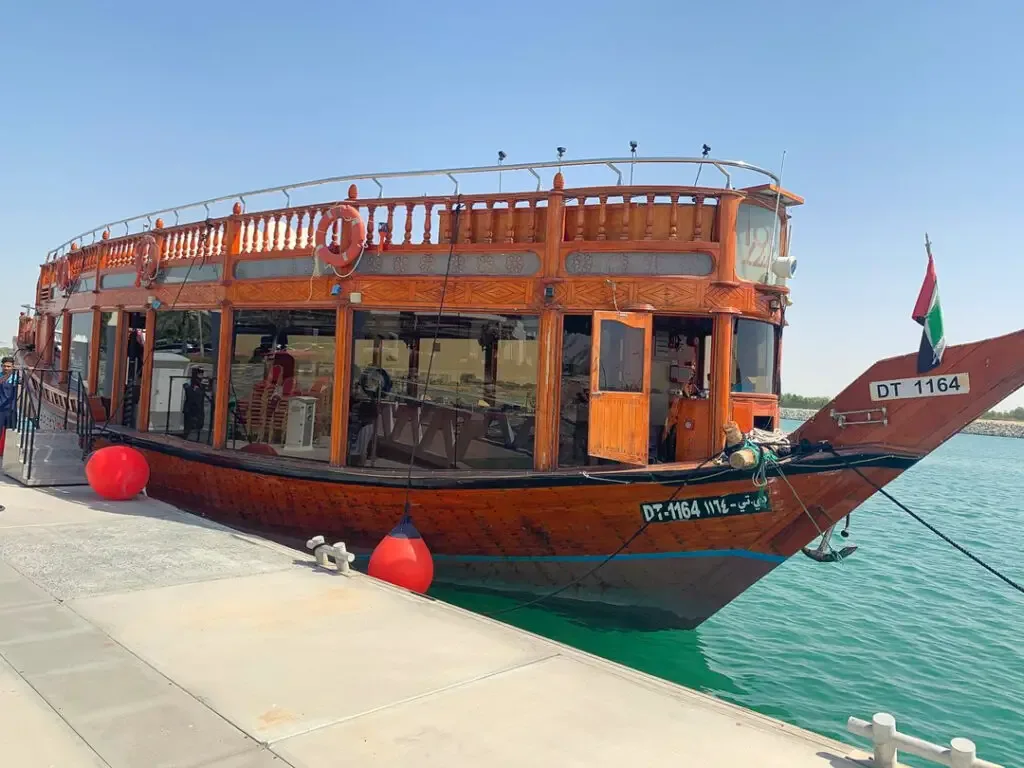 Ferrari World, Yas Marina, Yas Marina Circuit and Yas Bay are some of the highlights. Meet at W Hotel before heading to V3 dock. The boat ride is stroller and wheelchair friendly!
Location: W Hotel
Book a Yas Island sightseeing cruise here.
12. Fishing Boat Trip & Sightseeing
Abu Dhabi is home to a vast amount of fish and the likelihood of striking on a fishing trip is quite high.
Especially if the trip is with a guide, who knows the local waters. The fishing boat rental Abu Dhabi tour can take up to 8 people and the trip is inclusive of water, soft drinks and fishing gear.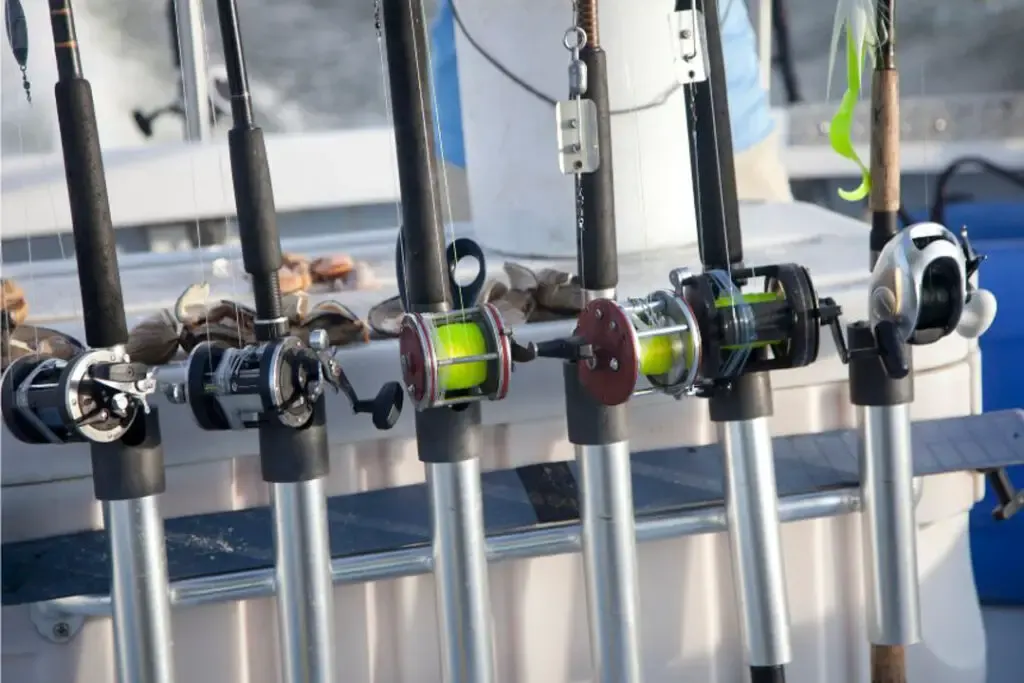 This is an introductory trip to fishing and a perfect chance to pick up some new skills. It is somewhat of a sightseeing tour as well as the boat passes iconic landmarks such as Qasar Al Watan and Etihad Towers.
The tour lasts four hours and it departs from Al Bateen Marina.
Book a fishing trip in Abu Dhabi here.
13.Eco Donut Boats Abu Dhabi
Eco Donut Boats can be found at Al Reem Central Park and Eastern Mangroves. They can fit up to six people, perfect for a group of friends or family.
Donut Boats have a table in the middle, perfect for a picnic and sharing food. The company also have a solar-powered catamaran. It's another great way to explore the Mangroves.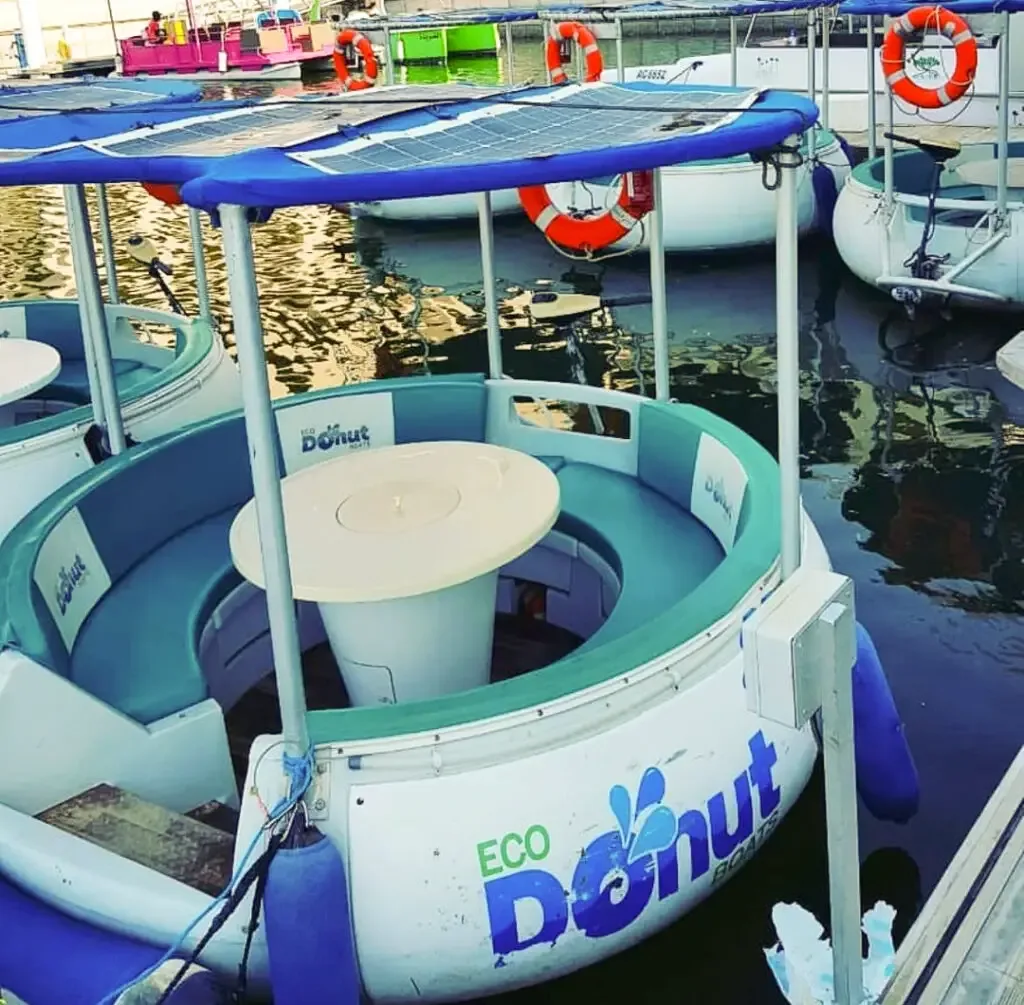 Timings: Monday to Sunday, 09:00 AM to 23:00
Location: Al Reem Central Park & Eastern Mangroves Promenade
Call: 971564800427
14.JetCars UAE, West Bay
Jet Cars UAE is not an everyday experience and has become somewhat of an Instagram sensation. Roar along the Corniche waters in a Bugatti jetcar!
The jet car takes up to four people in its racing-style seats. Contrary to other boats, you must slam down on the gas pedal to get it going. Otherwise, the nose will not lift out of the water!
The boat can reach speeds of 80 km/hr.
Prices: 15 Mins 300 AED
550AED for 30 minutes
1000AED for 1 hour
Location: West Bay Beach Club, Corniche Abu Dhabi.
Call: 971547000922
15. Shangri-La Boat Ride
The Shangri La Abu Dhabi boat ride is one of the most Instagramble things to do in the city. The hotel has a canal system meandering the beautiful architecture of the hotel.
It feels like an Arabic version of Venice and is a rather romantic experience.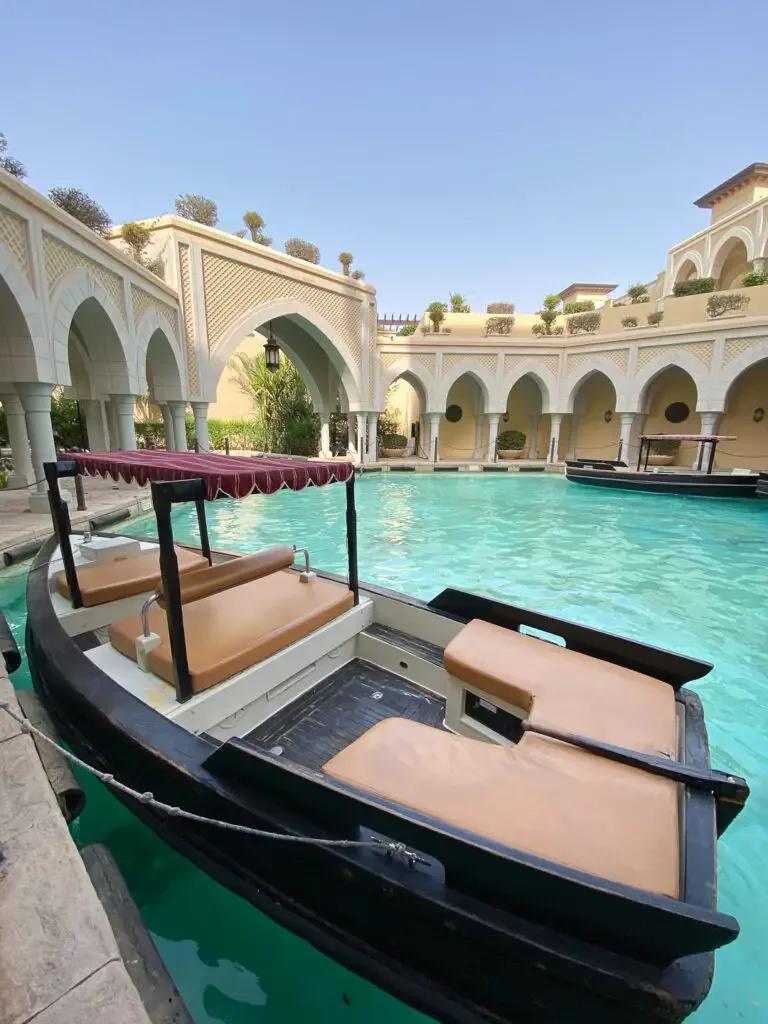 When the boat reaches the end, Souk Qaryat Al Beri offers a contemporary spin on Arabic markets. There are also a number of restaurants, shops, cafes and stalls selling souvenirs.
Cost: 25 AED per Person
Location: Khor Al Maqta,Qaryat al Beri – Abu Dhabi
Ph: 97125098888
16. Cruise to Lulu Island
Embark on a 36-foot yacht from Marina Mall and take a two-hour trip to Lulu Island. This is one of the most luxurious Abu Dhabi boat trips.
The trip is inclusive of water and soft drinks and guest can bring their own food if they wish.
Swim in the aqua-blue waters and discover Lulu Island.
Location: Marina Mall-Al Marina Abu Dhabi
Timings: 2 hours; enquire for departure times
Book the private yacht trip here.
17. Yacht Rental Abu Dhabi
Book a yacht for a boat party Abu Dhabi vibe! Yacht Rental Abu Dhabi caters for birthday parties, weddings, and corporate events.
The yachts range from 40 to 110m feet long and can accommodate between 6 and 125 people.
Food is not included in the private yacht hire. However, water and soft drinks are included.
The company offers a luxury yacht dinner cruise which is 180AED per person.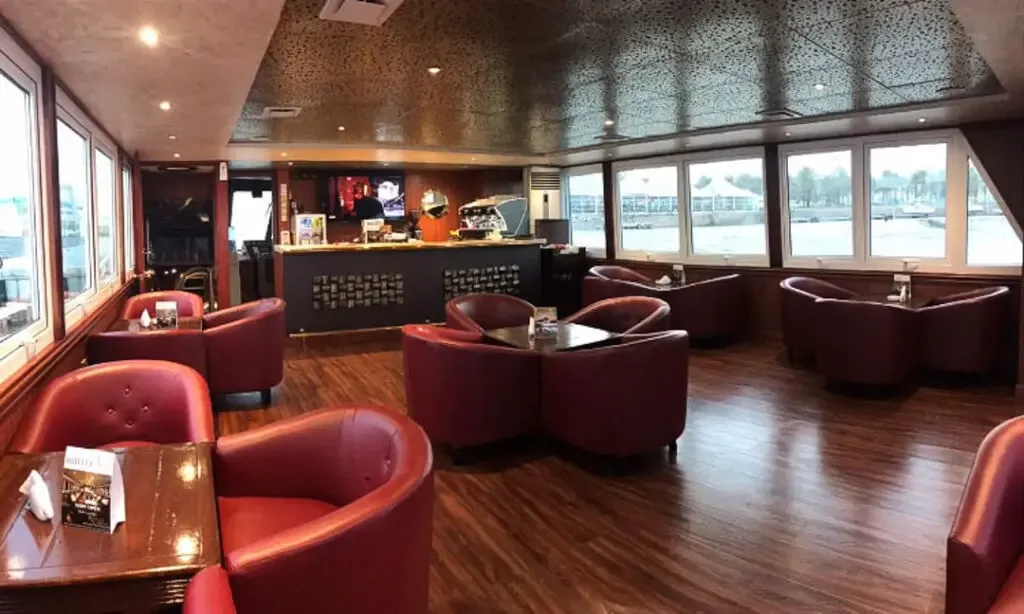 The boat dinner experience last two hours and is a buffet-style meal. Alternatively, book the boat for 2200 AED per hour for a private group.
Upfront payment is required and residents need to supply an Emirates ID and tourists need to show a passport and visa.
Location: Abu Dhabi Marina
Pricing for private yacht hire: Starts from 450 AED per hour
Timings: As per the booking
Luxury yacht dinner cruise: Thursday to Saturday, 18:00 pm to 20:00
Abu Dhabi Boat Rental Requirements
Getting A Boat License In Abu Dhabi
Getting a boat license in Abu Dhabi is incredibly easy and straightforward. In some cases, the fee to join a club covers the cost of the license which takes two days to obtain.
The theory test usually costs 1500 AED to do independently. Not to mention, the course covers speed limits, channels to follow, how to park a boat, restricted areas in Abu Dhabi, buoy systems, weather reading at a basic level and much more.
It's worth noting, some boat license Abu Dhabi issuers are international and others are only valid in the UAE.
The starter captain's license is valid for vessels up to 12 meters long, which is more than enough for a starter.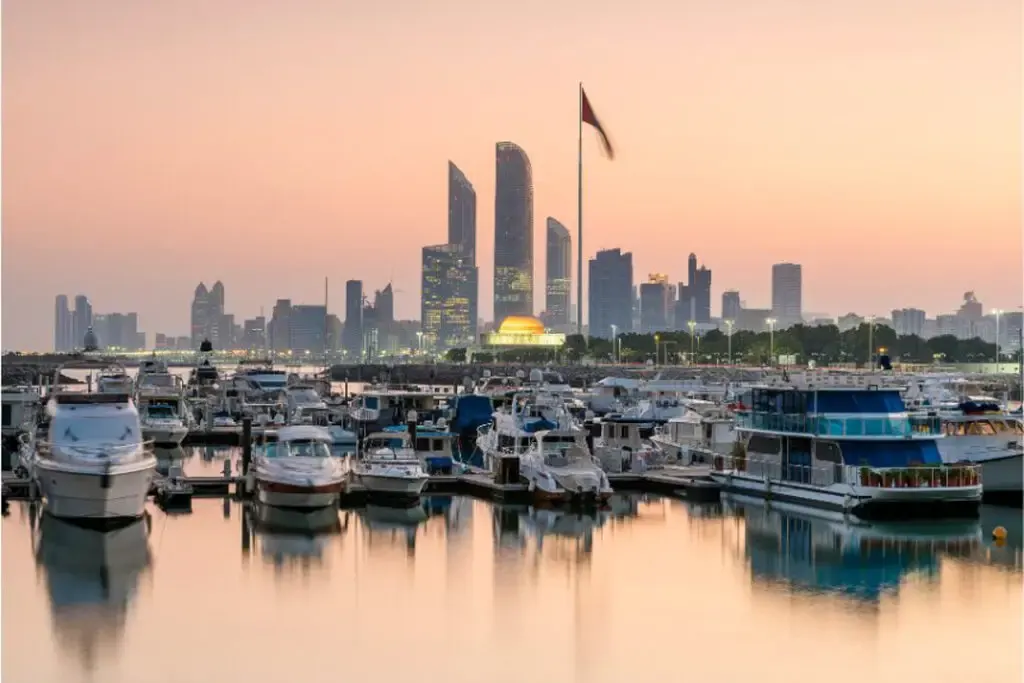 Thereafter, an in-house captain of the club provides the necessary training. Parking is the trickiest element, thereafter, most things are straightforward.
Having a captain's license opens a whole new world of leisure activities in this maritime city.
Some of the best memories are made cruising to islands with friends, wakeboarding, camping overnight, and most of all, learning fishing from a diverse group of people who come along for the experience.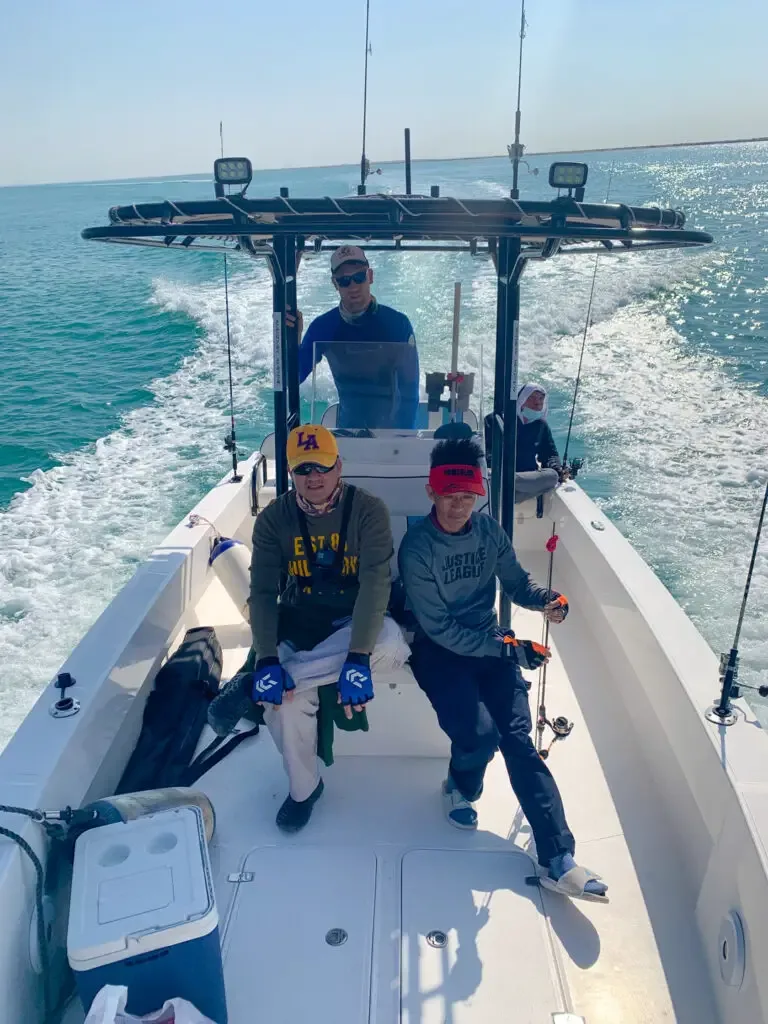 Joining a club is the most cost-effective option, as owning a boat is expensive when it comes to maintenance and parking costs.
There are always heavily discounted deals around Ramadan especially if an annual fee is paid upfront as opposed to a monthly fee. The cost of fuel and refilling the boat is the member's responsibility.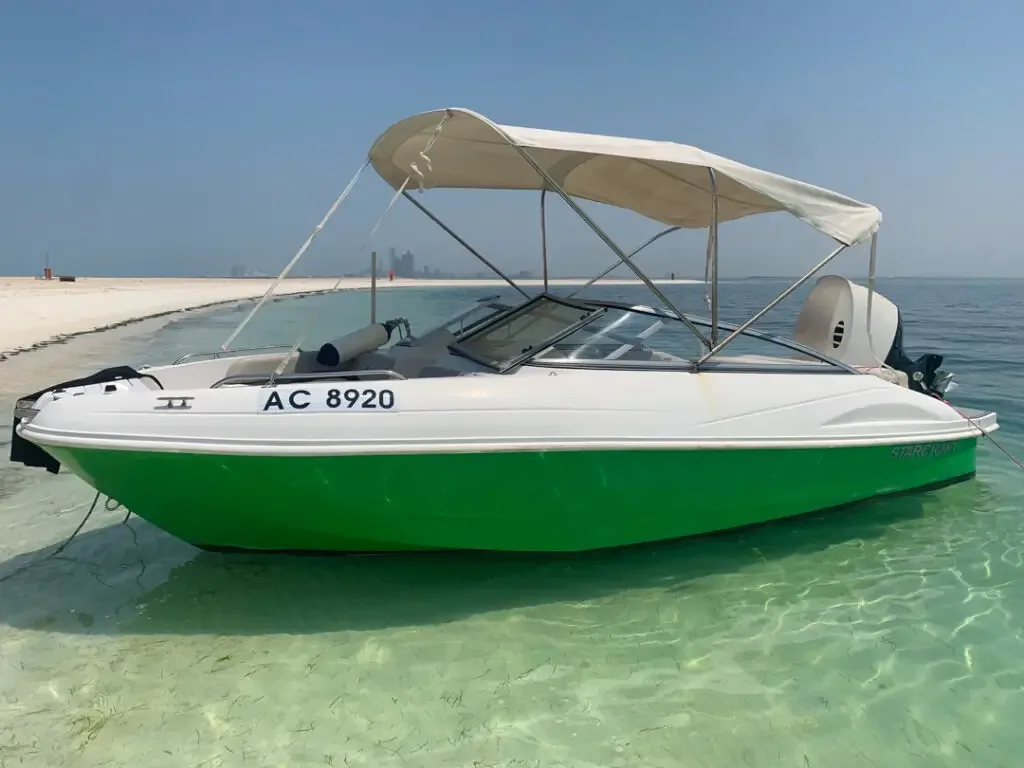 Any damage caused to boats is the captain's liability, so make sure a checklist is completed in the marina with the clubhouse prior to departure.
Some clubs offer inflatable rings to toe wakeboards, ice, barbeques and fishing gear.
The Captains Club
Captains Club boat hire Abu Dhabi service is one of the best in the city, with three marinas and over a hundred boats to choose from.
It's possible to explore beyond Abu Dhabi with boats in Ras Al Khaimah and Dubai marinas.
Choose a flexible payment or up-front plan and obtain a captain's license in two days. Thereafter, captains are free to book two to three rolling bookings via the app.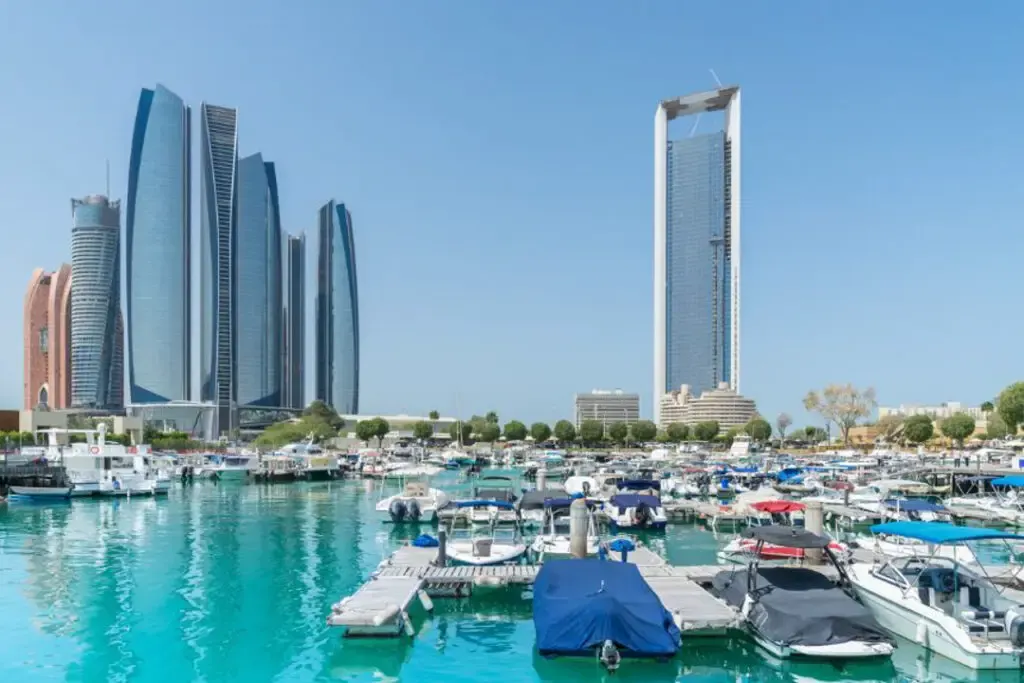 For those travelling abroad on holidays, there are up to sixty days of freezing time which can maximise the usage of the membership.
There are 3 complimentary 'in-house captains' per year, whereby you can take a break from driving and kick back with friends or family.
Joining fee: 7000 AED
Boat rental Abu Dhabi price: Annual and monthly fees vary depending on seasonal offers
Call: 97180082278
Office hours: 09:30 AM to 17:30 PM daily
We hope you found this post about Abu Dhabi boat trips helpful.
Disclaimer: This post about Abu Dhabi boat trips and rentals contains affiliate links, by using them will not cost you any extra. We may receive a small commission to keep us writing.