Visiting Sheikh Zayed Mosque should be on every Abu Dhabi and Dubai itinerary. No trip to the UAE is complete without visiting the white marble architectural masterpiece.
The Grand Mosque is one of the most recognisable landmarks on the planet and is often compared to one of the seven wonders of the world, The Taj Mahal.
Sheikh Zayed Grand Mosque took twelve years to build and is a modern-day masterpiece, although it feels like it has been standing for centuries with its intricate detail in every centimetre.
Whether you are day-tripping from Dubai, on a layover in Abu Dhabi or a tourist in the capital, here are some top tips for visiting Sheikh Zayed Mosque.
Check out some other beautiful mosques in Abu Dhabi.
Sheikh Zayed Grand Mosque Centre
Book An Online Access Pass
There is no entry fee to the Sheikh Zayed Grand Mosque, however, visitors can book an access pass in advance on the website. There are kiosks to get the pass on arrival, however, doing it online makes the process a little smoother.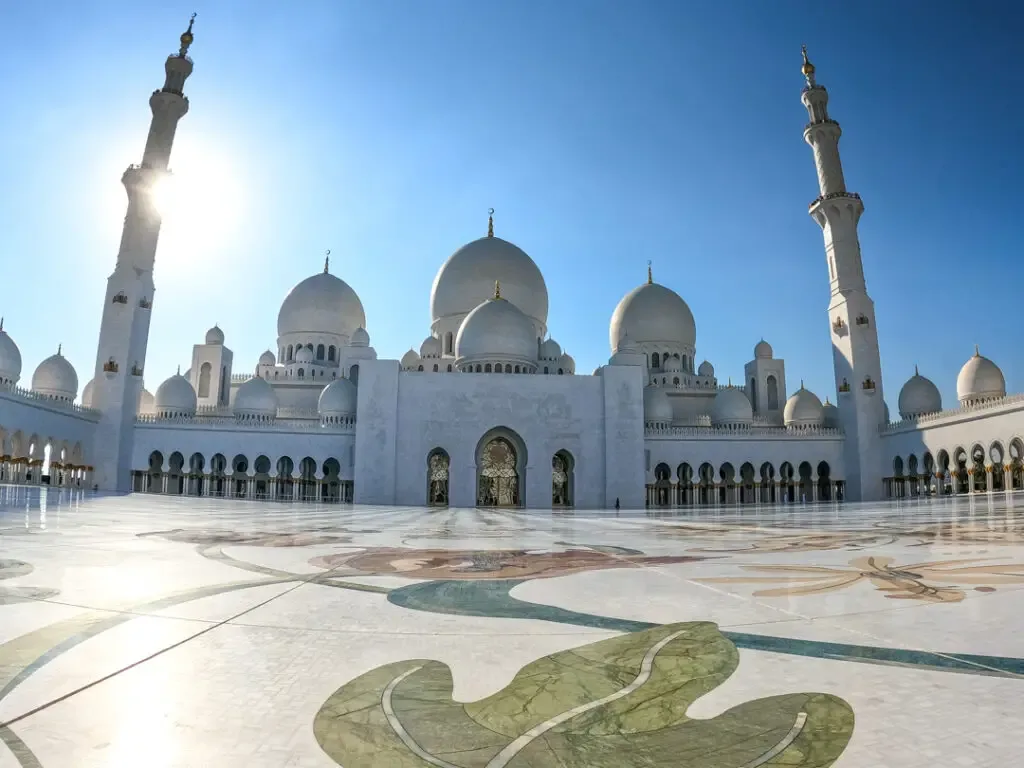 The slots are every 10 minutes throughout the hour starting from 9am until 10pm. Only a handful of details are required such as name, nationality, email, number of visitors, gender, age and type of visa.
How To Get To The Grand Mosque
From Dubai
If you are travelling from Dubai to Abu Dhabi to visit the Sheikh Zayed Mosque taking a taxi costs around 300 AED ( approximately $82) and the journey is around 75 minutes. This is by far the easiest way to travel from Dubai to the Grand Mosque
There are two buses which connect Dubai to Abu Dhabi. E101 and E102, both finish at the downtown Abu Dhabi bus station and costs 25 AED. Take the 94 route to Wahat Al Karama which is around 40 minutes.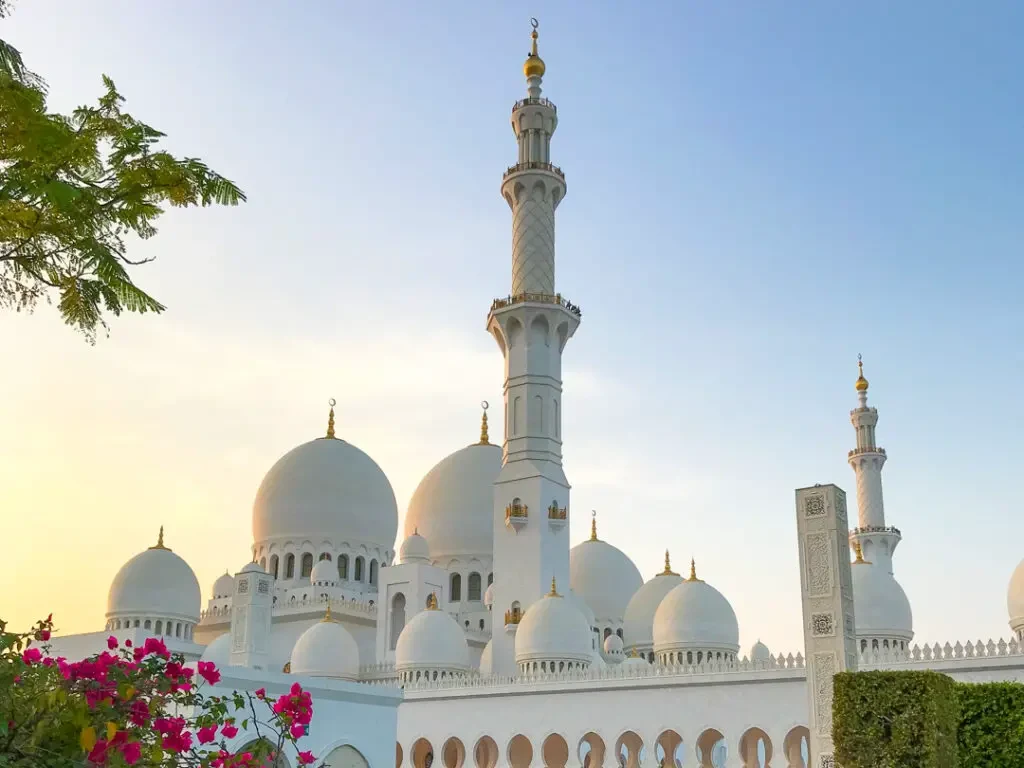 You will need to walk for 12 minutes from the drop-off. The walk is only possible in the winter months starting in November or December through to March since the desert heat is too intense for more than half of the year, particularly over the summer months.
The bus is comfortable with AC and free Wifi. However, the trip takes around two hours between Dubai and Abu Dhabi. It is a budget-friendly option, however, the whole trip would take over 3 hours.
Make sure to check out this guide on the best things to do in Abu Dhabi if you are day tripping to the Capital.
From Within Abu Dhabi
If you are visiting the Sheikh Zayed Grand Mosque from Abu Dhabi, again, a taxi from pretty much anywhere in the city is quite affordable and will cost 25-50 AED.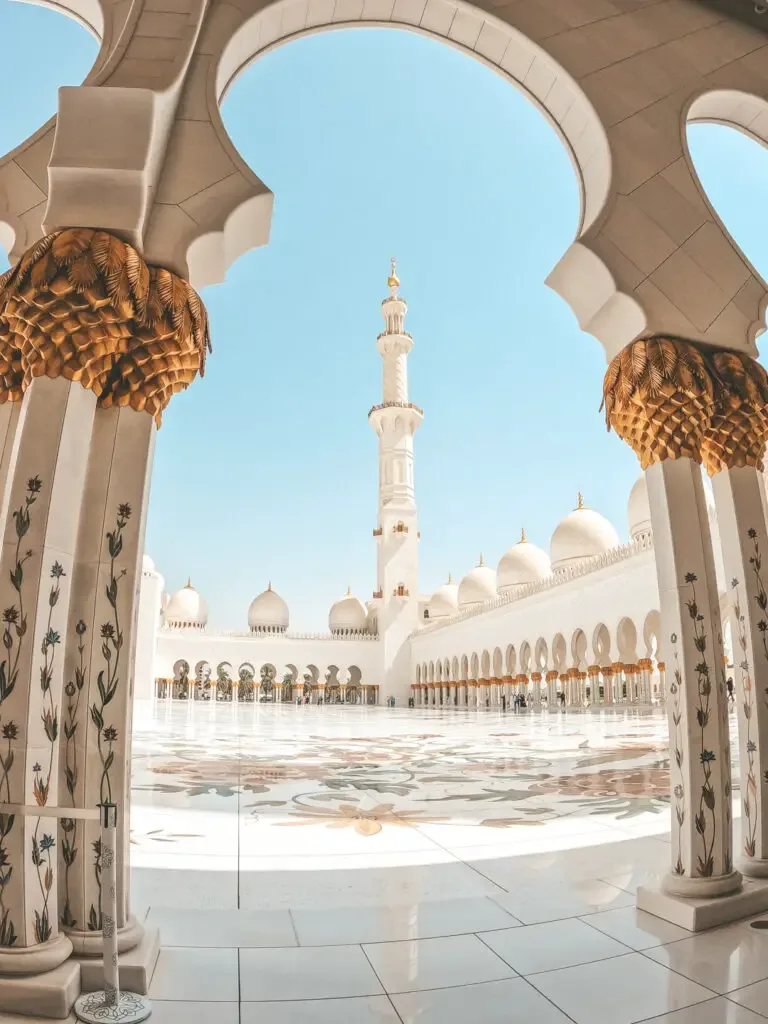 Uber is available in Abu Dhabi, however, downloading the local Abu Dhabi taxi app provides competitive fares.
Alternatively, take the 94 bus from the Abu Dhabi bus station to Wahat Al Karama and walk for 12 minutes to the mosque.
Parking At The Mosque
There is parking at the mosque with a drop-off zone for passengers on the ground floor. The parking is underground with easy access to the mosque. It is a huge space with a lot of capacity and it is free.
There is overflow parking outdoors which may be required during peak times such as Friday prayers and Ramadan.
Wear Comfortable Footwear
There is quite a lot of distance to cover when visiting Sheikh Zayed Mosque, especially if you have driven to the mosque. It is best to wear comfortable footwear.
The drop-off zone is connected to the mosque through a series of underground walkways which feel as though they go on for miles.
There is a free buggy service for pregnant women, the elderly and the disabled. However, the service can get busy at peak times.
Sheikh Zayed Mosque Visiting Timings
Sheikh Zayed Mosque is open to visitors from 9 am to 10 pm daily with the exception of the main prayer hall on Fridays from 12 pm to 3 pm.
Many residents visit the Grand Mosque on Friday for prayers also known as 'Jumah' so this can be a busy time to visit. However, it provides insight into some of the local culture and traditions.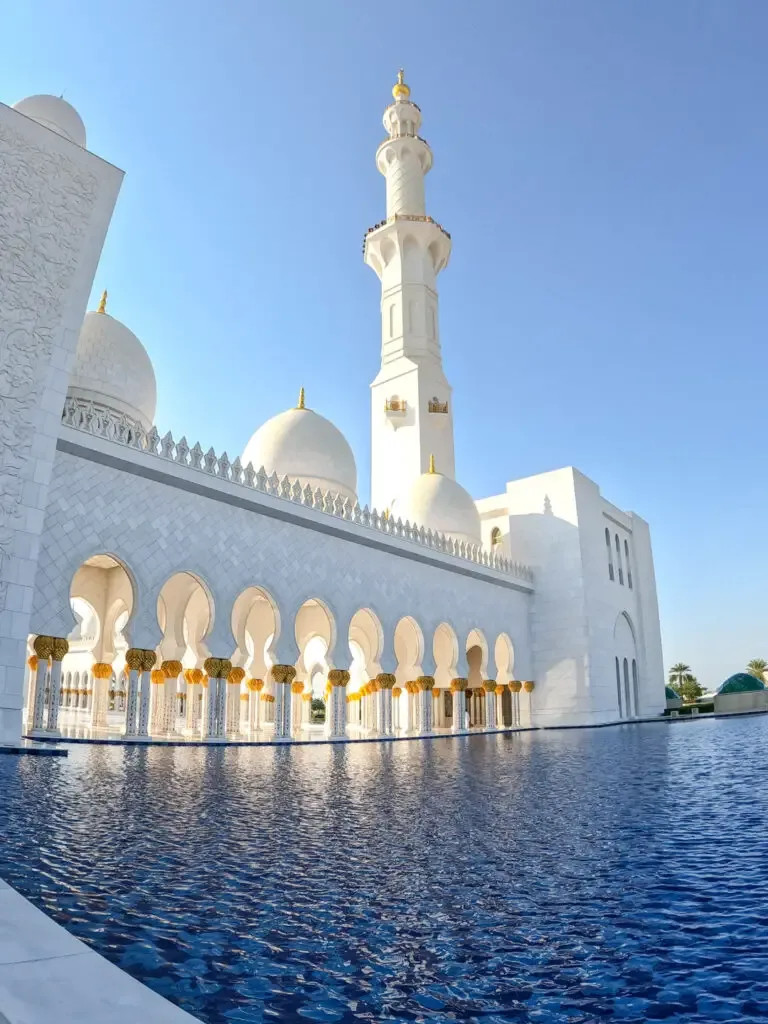 The best time to visit the mosque is in the late afternoon, an hour or so before sunset. The temperature starts to drop and the mosque can be seen in different lights. Not to mention the sunset is incredible turning the white marble a golden colour in the disappearing sunlight.
Sheikh Zayed Grand Mosque is illuminated in the evenings with blue lights allowing the architectural masterpiece to be seen for miles from around the city.
It is one of the first sites on the route from the airport to Abu Dhabi and is simply jaw-dropping.
Visiting the mosque during the day is possible in the winter months since the temperatures are not too high.
The mosque is open to visitors during Ramadan with closure for Iftar in the evening. Needless to say, it is quite a spiritual time to visit the mosque.
Sheikh Zayed Mosque Dress Code
It is important to note the Sheikh Zayed Mosque dress code for both men and women in accordance with Islamic customs and traditions.
Women must be fully covered including their hair. Similarly, men must dress conservatively in full-length trousers and shoulders must be covered. This is strictly enforced.
Beneath the mosque in the visitor's plaza, there are a number of souvenir shops, restaurants and cafes. There are many abayas and kandouras for sale which are the local attire for men and women.
There are many different designs and colours with some options for as little as 50 AED ($14) and they make a great souvenir. Not to mention, wearing local attire makes some fabulous photos. with the backdrop of the mosque.
Bring Sunglasses
As previously mentioned the Grand Mosque is made of white marble which is quite reflective. Packing sunglasses is essential to visiting Sheikh Zayed Mosque.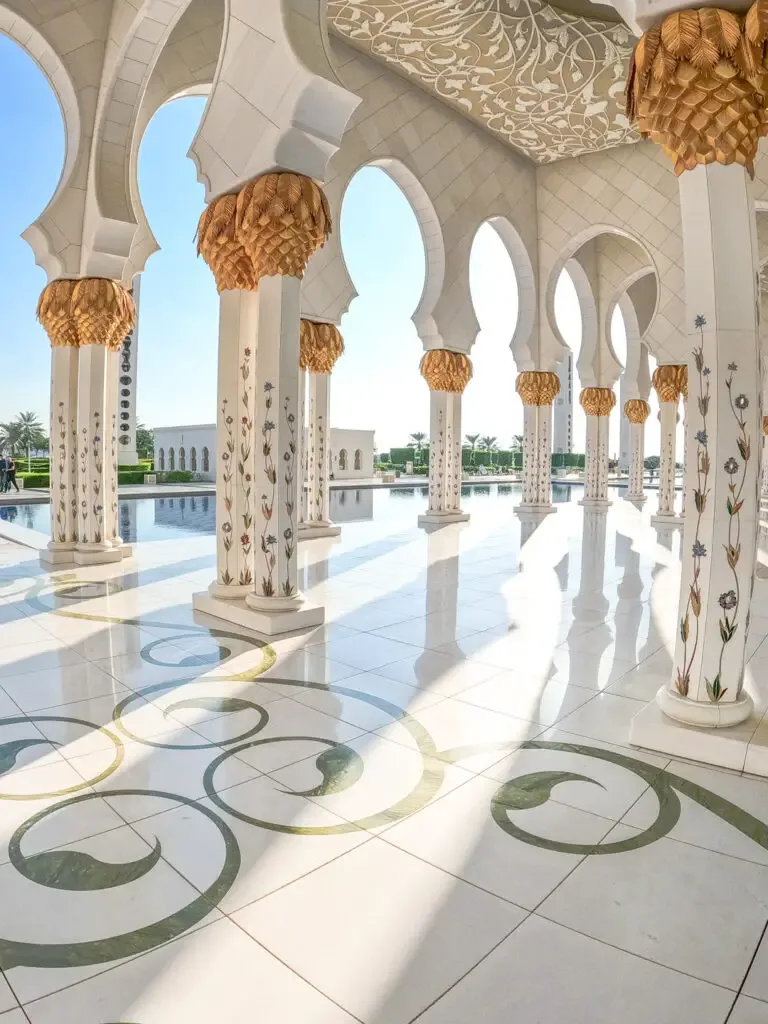 If you are visiting with children make sure to bring sunglasses for them too since it can be quite uncomfortable without.
Sheikh Zayed Mosque Tour
The mosque offers free guided walking tours for individuals and groups. Tours are led by official guides of the mosque and cover details about the architecture and Islamic culture.
There are plenty of tour options from Dubai and Abu Dhabi which have multiple stops including Sheikh Zayed Mosque.
This is the perfect option for Abu Dhabi day-trippers or tourists of the city who would like to see a few sites on the same day.
Book a tour of Abu Dhabi including the Grand Mosque.
Be Respectful
Sheikh Zayed Grand Mosque is a place of worship, it is not just a place for tourists. With that in mind, it is important to be respectful of Islamic culture and traditions.
As mentioned previously, wearing appropriate attire is one of the most important factors. Mobile phones should be switched to silent and it is important to be as quiet as possible.
Food and drinks are not allowed. A bottle of water is usually ok, however, glass bottles are prohibited since they could damage the tiles in the mosque.
It is particularly important not to eat or drink anything, not even water in the mosque during Ramadan.
Consider Photography Points
There are a number of no photo zones in the Sheikh Zayed Grand Mosque which is enforced by security. This is clearly marked with signage so it is something to consider.
However, there are a number of designated spots to take photos which capture some of the best vantage points within the mosque.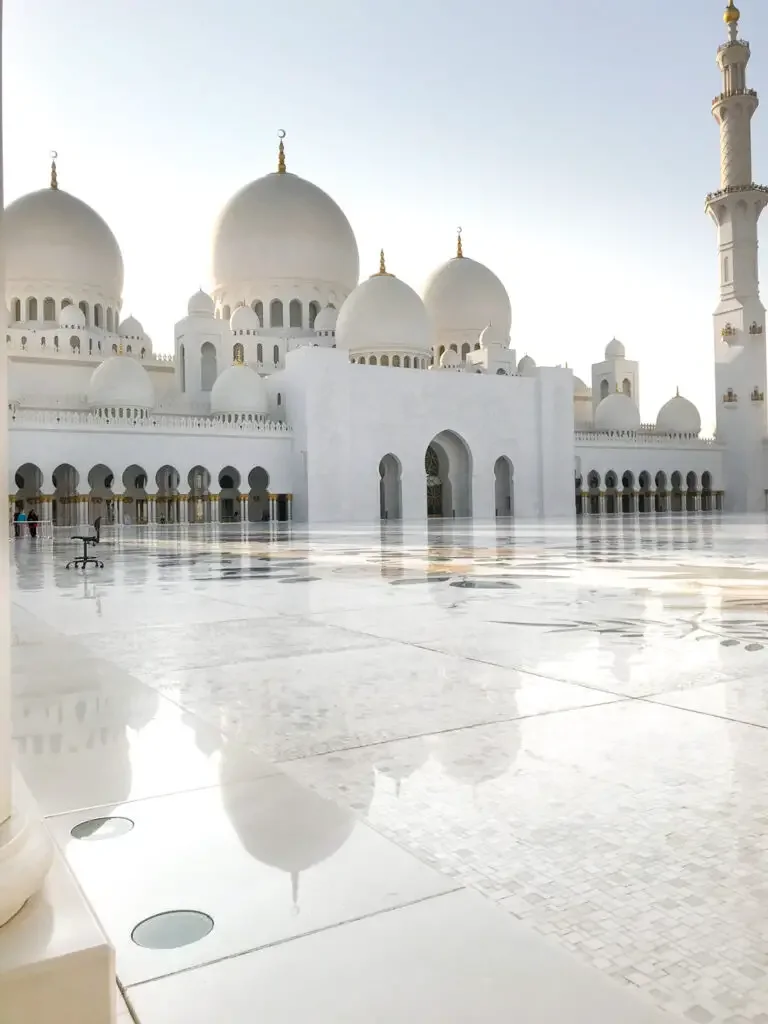 The best thing to do is keep an eye out for the signs to avoid being approached by the security team.
The Best Vantage Point
One of the best vantage points to capture Sheikh Zayed Grand Mosque is from the Martyrs Memorial known as Wahat Al Karama. It is just across the road from the mosque.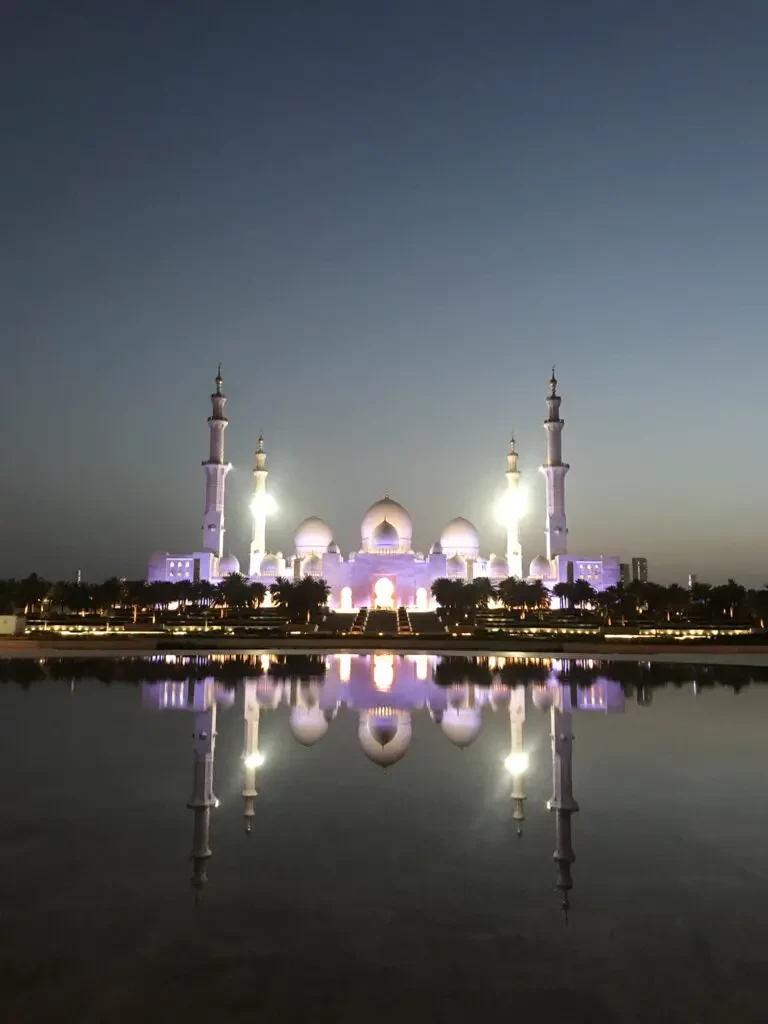 There is no specific dress code other than the usual level of modesty expected in Abu Dhabi. Parking is right next to the view. It is such a great position to see the mosque in its entirety and particularly beautiful at sunset and at night when it is illuminated.
Interesting Facts About Sheikh Zayed Mosque
The Grand Mosque is a landmark which has so many interesting facts in Abu Dhabi.
It is one of the largest mosques in the world with a capacity for 41,000 worshippers.
The mosque is named after the Founding Father of the UAE, Sheikh Zayed bin Sultan Al Nahyan and first opened its doors in 2007 after over a decade of construction.
Its design incorporates elements of various Islamic architectural styles, including Ottoman, Mamluk, and Fatimid.
The mosque holds a record as a home to the worlds largest hand-knotted carpet as well as the worlds largest chandelier.
The carpet alone took 2 years to make and over 2000 people were involved in the project in Iran.
The chandelier is 10 meters in diameter, 15 meters high and weighs around 12 tons.
It is made of gilded stainless steel, brass, and thousands of Swarovski crystals. Not to mention it has 82 branches, which represent the number of verses in the first chapter of the Quran.
The chandelier is illuminated by thousands of LED lights, which can change colour to reflect the mood of the prayer service. It was designed by a German company called Faustig.
The chandelier was assembled in Italy and transported to Abu Dhabi, where it was installed in the mosque's main prayer hall.
The mosque's exterior features four minarets and 82 domes, which are covered in white marble and decorated with floral patterns and calligraphy.
Whilst the courtyard features a reflective pool and is surrounded by colonnades, which provide shade and shelter. The minarets are some of the tallest in the world at over 107 metres high.
The mosque's library contains over 50,000 books and serves as a centre for Islamic studies and research.
There are also modern amenities at the Grand Mosque, including air conditioning, a sound system, and wireless internet access.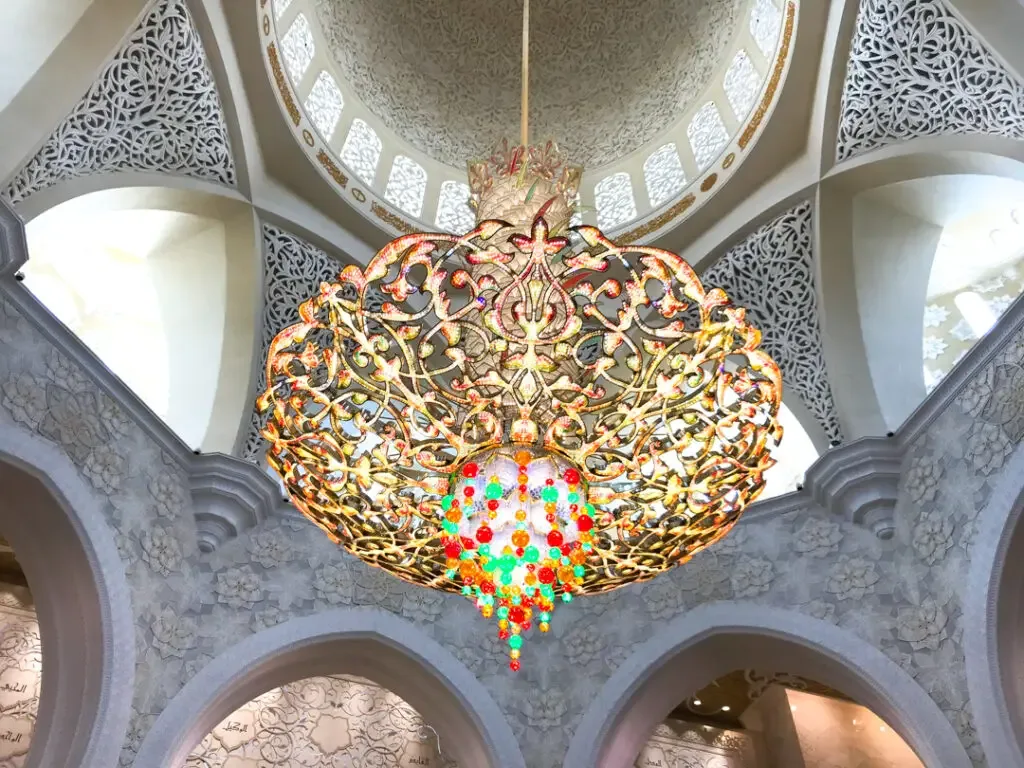 Frequently Asked Questions About Visiting Sheikh Zayed Grand Mosque
Can tourists visit Sheikh Zayed Mosque?
Yes tourists can visit the mosque between 9am and 10pm daily, however the prayer room is closed for Friday prayers between 12 and 3pm. Also it is closed during Iftar over the Ramadan period.
Do you need to book to visit Sheikh Zayed Mosque?
Entry is free, however an access pass is required. This can be obtained online in advance, or simply pick it up at one of the kiosks on site.
How much does it cost to visit Sheikh Zayed Grand Mosque?
Visiting the mosque is totally free.
What is the best time to visit Sheikh Zayed Mosque?
One of the most magical times to visit Sheikh Zayed Mosque is around an hour before sunset. It is the perfect opportunity to see the architecture in daylight as well as sunset, and of course the night time illumination.
Is Sheikh Zayed Mosque open on Friday?
Yes the mosque is open for its usual hours on Fridays. However the prayer hall is closed to non-worshippers between 12 and 3pm.
Why is Sheikh Zayed Mosque important?
The grand mosque was a vision of the Founding Father of the UAE with the idea of welcoming people from all cultures. It is one of the largest mosques in the world welcoming millions of visitors every year.
The architecture blends different types of Islamic design concepts and has over 82 domes, 1000 columns 24c gold chandeliers.
As previously mentioned the worlds largest hand woven carpet is in the main prayer hall.
How many domes in Sheikh Zayed Mosque?
The Grand Mosque has 82 domes.
Can you pray in Sheikh Zayed Mosque?
Yes worshippers can pray at the Grand Mosque. Check prayer timings here.
What are the requirements to enter Sheikh Zayed Mosque Abu Dhabi?
The only requirement at present is to have an access ticket which can be booked online or picked up at a kiosk on arrival. A handful of personal details are required.
Other Information About Visiting Abu Dhabi
If its your first time visiting Abu Dhabi here is some helpful information.
The currency used in Abu Dhabi is the United Arab Emirates Dirham (AED). ATMs and currency exchange is widely available, especially in malls.
The power sockets in Abu Dhabi are type G (British 3-pin), so you'll need a universal adapter if you're traveling from a country that uses a different type of plug.
Abu Dhabi is known for its hot and humid weather, especially during the summer months. The best time to visit is in the cooler months from November through to March. Both January and February are the coolest and quietest months making them a pleasant times to visit.
The summer months start pretty much in May running through June and July with August and September being the hottest.
By the month of October, the temperatures become more tolerable to be outside.
Must-pack items include sunscreen, sunglasses, a hat, and comfortable walking shoes. It's also a good idea to pack some conservative clothing if you plan on visiting any religious or cultural sites. However it is easy to pick up an abaya for example in many of the souvenir stores.
Abu Dhabi has a reliable and affordable public transportation system, including buses and taxis. Renting a car is also an option for flexibility.
Abu Dhabi is the capital of a Muslim country, so it's important to respect local customs and dress modestly in public. Check out this guide on what to wear in Abu Dhabi which covers everything from the beach to the mosque.
Sheikh Zayed Grand Mosque, Emirates Palace, Ferrari World, and the Louvre Abu Dhabi are some of the top tourist attractions in the city. Don't forget to check cultural festivals to experience Emirati customs and traditions.
Disclaimer: This post about visiting Sheikh Zayed Mosque in Abu Dhabi may contain affiliate links. By using them, it will not cost you any extra, we may receive a small commission to keep us writing.