The weather in Abu Dhabi in September and October is often referred to as the 'shoulder season'. It is pretty much the tail end of the extremely hot desert climate summer. Peak season is from November through to March.
Since it is still quite difficult to spend time outside in Abu Dhabi in September, there are not quite as many outdoor events as there are in October, November and December through to April.
Late August sees many residents return to the Emirate as many travels to their home countries over the summer. Many tend to leave in July when school breaks up.
Resident children are usually back to school in September so overall it is a relatively quiet period in Abu Dhabi mid-week.
Whilst September in Abu Dhabi is still intensely hot, there are quite good deals at hotels and resorts. It is tolerable to spend a little bit of time early morning and late evening by the pool, beach or waterpark with plenty of sun cream.
Abu Dhabi Weather In September
The temperature in Abu Dhabi in September sees highs of 39°C (99°F), sometimes exceeding 40°C and lows of 27°C (81°F). Overall the humidity is pretty high so the Abu Dhabi temperature in September can feel much higher. Humidity is around 70%.
Northwesterly winds known locally as Shamals usually begin to tail off in September. However, they can still occur in shoulder season. Shamal winds can cause sandstorms which can impact air quality in the Emirate.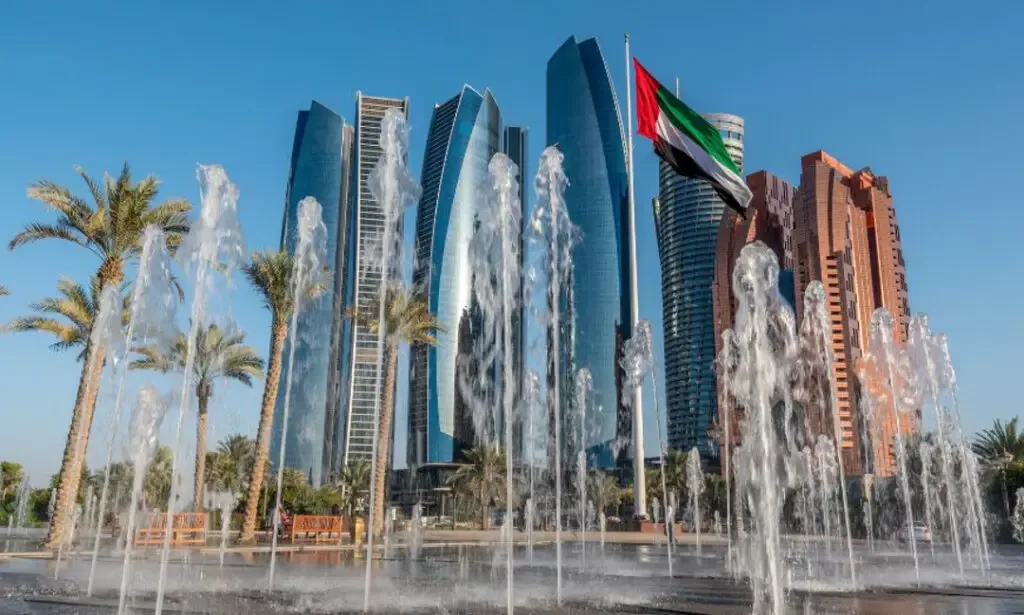 Overall, Abu Dhabi in September is hot and humid. From the hours of 11 am to 3 pm it is intolerable to be outside for longer than a few minutes.
Despite the Abu Dhabi temperature in September, it is still a fantastic place to visit with plenty of indoor activities to enjoy. The city is not as busy and there are plenty of opportunities to get fantastic rates on luxury hotels and resorts.
The best time to visit to enjoy the cooler weather is in January or February to enjoy the cooler weather with fewer crowds. By March, cultural festivals draw to a close.
May and June through October are the hottest months.
Abu Dhabi is built to manage the hot weather. As a result, there are so many indoor activities and as mentioned the beach and pool are tolerable from late afternoon onwards.
Things To Do In Abu Dhabi In September
Ferrari World
The theme parks in Abu Dhabi are predominantly indoors on Yas Island. Ferrari World is known to have the fastest rollercoaster in the world among many other rides.
It is the first Ferrari-branded theme park in the world and spans 86,00 square metres with a variety of rides for all ages.
Formula Rossa is internationally famed for reaching speeds of 240 km/hr or 149mph not to mention the track is a whopping 2.2km long.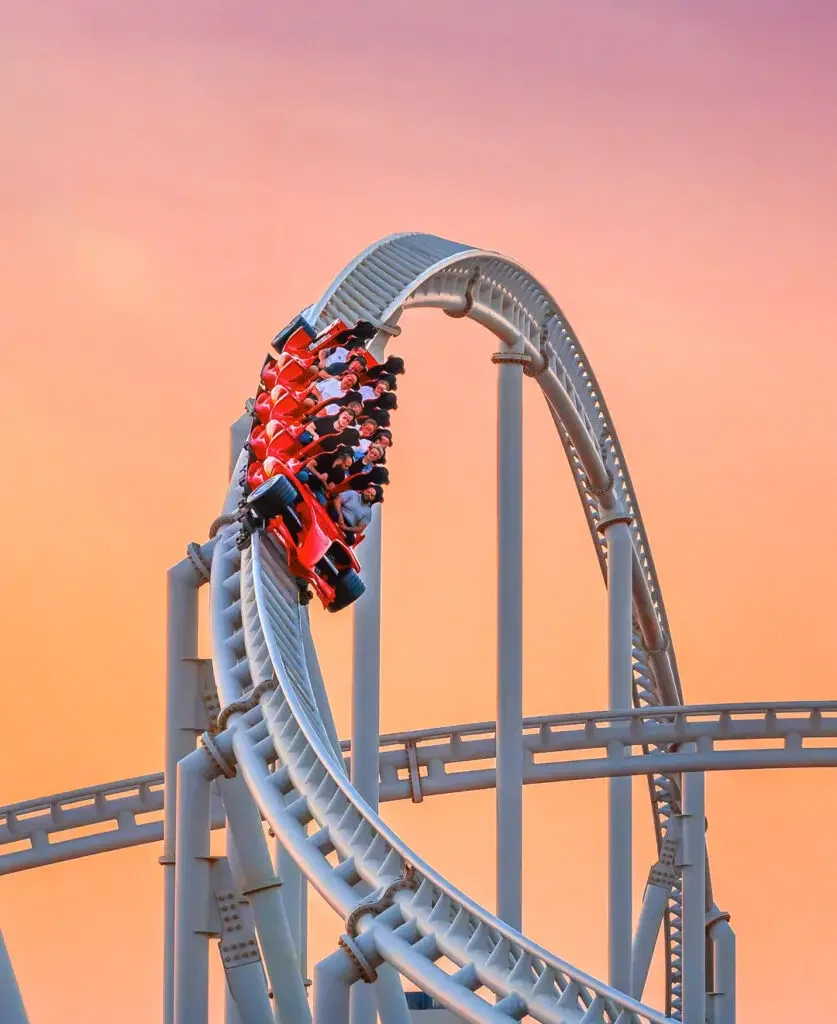 Other popular rides include the flying aces and the turbo track. There are plenty of places to eat including Italian-themed restaurants and cafes.
There is an option to do a roof walk and zipline for those who want the full adventure experience. Not to mention an opportunity to drive an F1 car, for diehard Formula 1 enthusiasts.
Location: Yas Island – Yas Leisure Dr – Yas Island – Abu Dhabi – United Arab Emirates
WB World
Warner Bros World is the largest indoor theme park in the world and covers a whopping 1.65 million square feet.
Based on Yas island, it's a popular attraction amongst families and adults who simply love theme parks. Especially since the park features recognisable characters from many childhood favourites.
WB World has six areas each with its own theme and attractions. Namely Warner Bros. Plaza, Bedrock, Dynamite Gulch, Cartoon Junction, Gotham City, and Metropolis.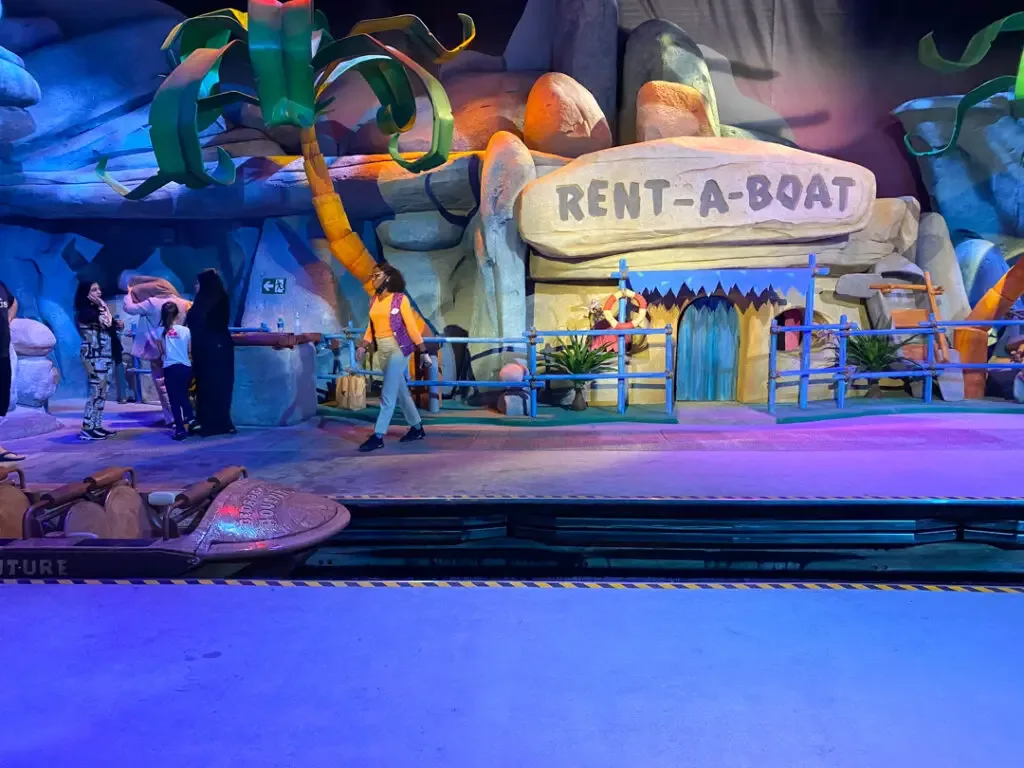 One of the park's standout attractions is the Batman Knight Flight roller coaster. It's a high-speed ride through Gotham City with special effects.
Other popular rides and experiences include the Scooby-Doo, The museum of mysteries interactive experience, the Tom and Jerry Swiss cheese spin ride, and the riddler revolution spinning ride.
There are a few rides for smaller children to enjoy. Not to mention quite a few dining outlets with fast food options. Central Perk Cafe is one of the most popular.
Warner Bros has its very own themed hotel right next to the theme park. It is a fantastic place to stay for young families with lovely facilities. The pool area features a floating theatre with movies airing.
Plenty of characters can be seen around the hotel and the rooms are themed as well. Staying at Warner Bros Hotel provides free access to many of the Yas Island attractions.
Book a stay at the Warner Bros Hotel.
Location: Yas Island – Abu Dhabi – United Arab Emirates
The National Aquarium
The National Aquarium is another fantastic indoor activity for all ages in the Emirate. It is based in Al Qana and surrounded by a tonne of incredible restaurants and a cafes to make a day of it.
The Aquarium in Abu Dhabi has so much marine and bird life. Featuring over 330 unique creatures including fish, sharks, rays, crocodiles, coral reefs, sea stars, sea urchins and jellyfish to name a few.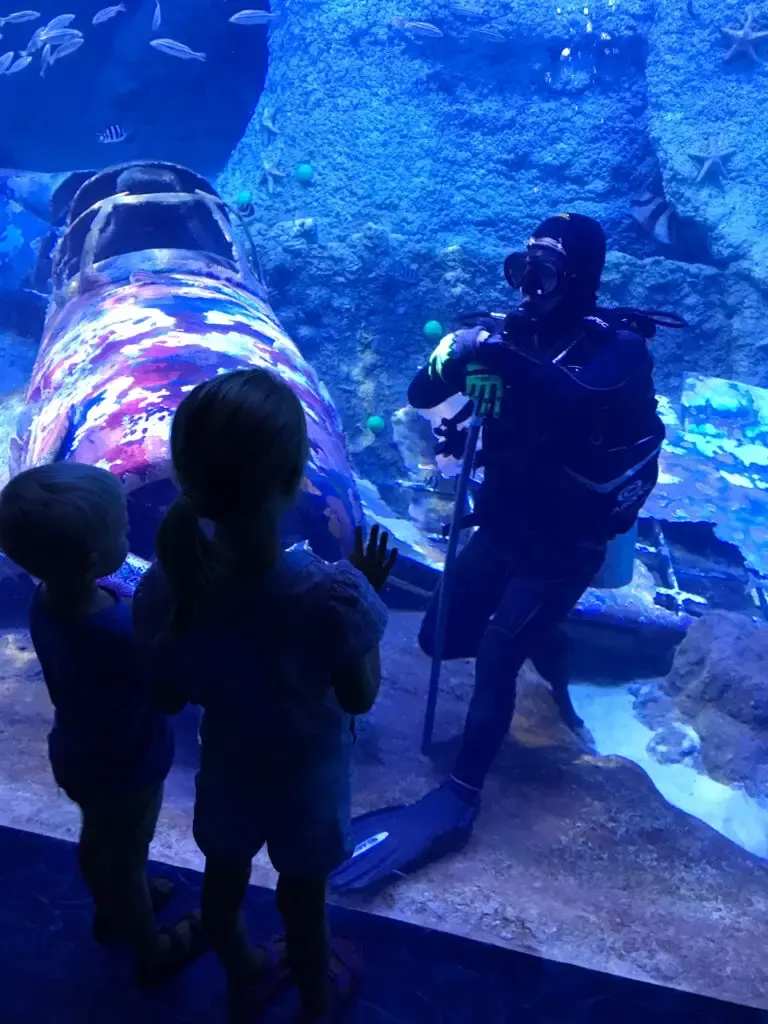 There are many opportunities to interact with the resident creatures in the form of touch pools and in particular, the bird life tends to flock overhead in the realistic amazon forest setting.
One of the most incredible features of the aquarium is the 10 metre underwater glass tunnel with 180-degree views inside the massive tank.
Additional experiences include a glass bottom dhow boat ride to see marine life from a different angle. Not to mention a behind-the-scenes tour to learn about the conservation taking place within the aquarium.
The Aquarium even runs summer camps for kids in Abu Dhabi which are fun and educational, however, they usually finish in August.
Location: Al Qana – Rabdan – Abu Dhabi – United Arab Emirates
Sheikh Zayed Grand Mosque
Whilst there are many different mosques worth checking out, no trip to the Emirate is complete without a visit to Sheikh Zayed Grand Mosque.
It is best to visit in the evening with the weather in Abu Dhabi in September, just around sunset.
The beautiful white marble structure should be coined the 8th Wonder of The World, it is that magnificent!
The Grand Mosque has been compared to the landmark Taj Mahal with its white marble exterior and intricate detail.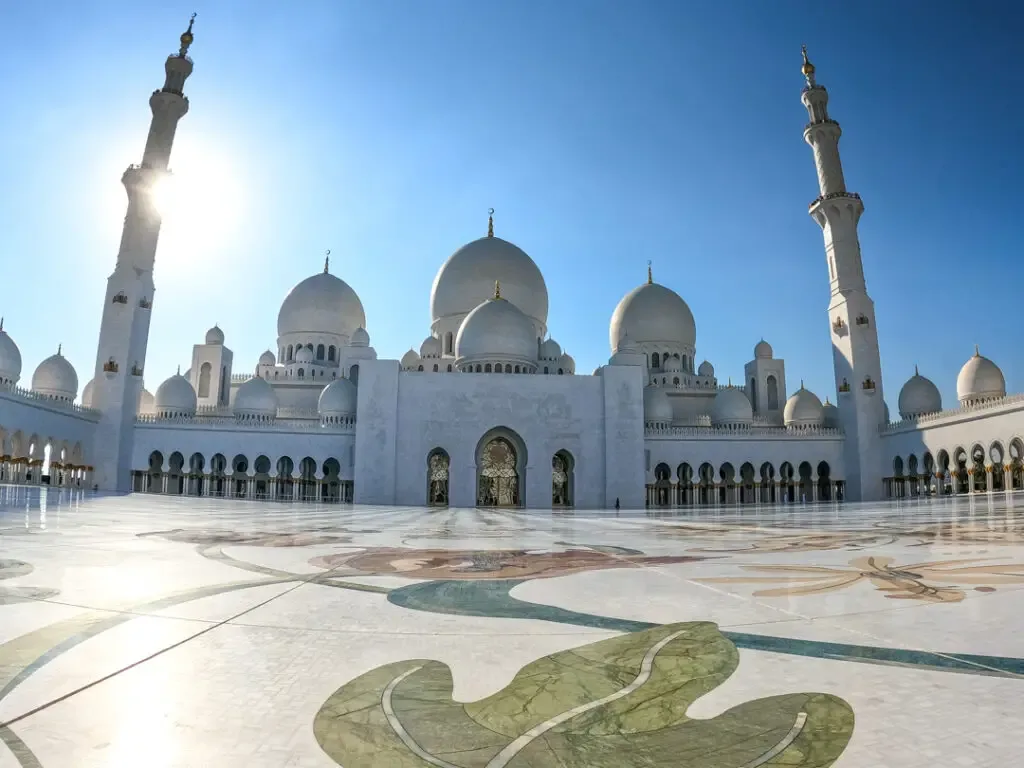 It is a fully functioning mosque where worshippers attend to pray. It is worth noting the main prayer hall is closed between 12 and 3 pm on Fridays for Jumah prayers.
The architecture of the building is simply stunning with 82 domes, 4 minarets, and detailed Arabic calligraphy throughout. It is one of the largest mosques in the world and can accommodate up to 41,000 worshippers at any one time.
The Grand Mosque was the vision of the Late Founding Father and President of the UAE, Sheikh Zayed.
There are free tours run by professional guides within the mosque on a daily basis. However many operators also offer tours of the mosque which include transport and other sites.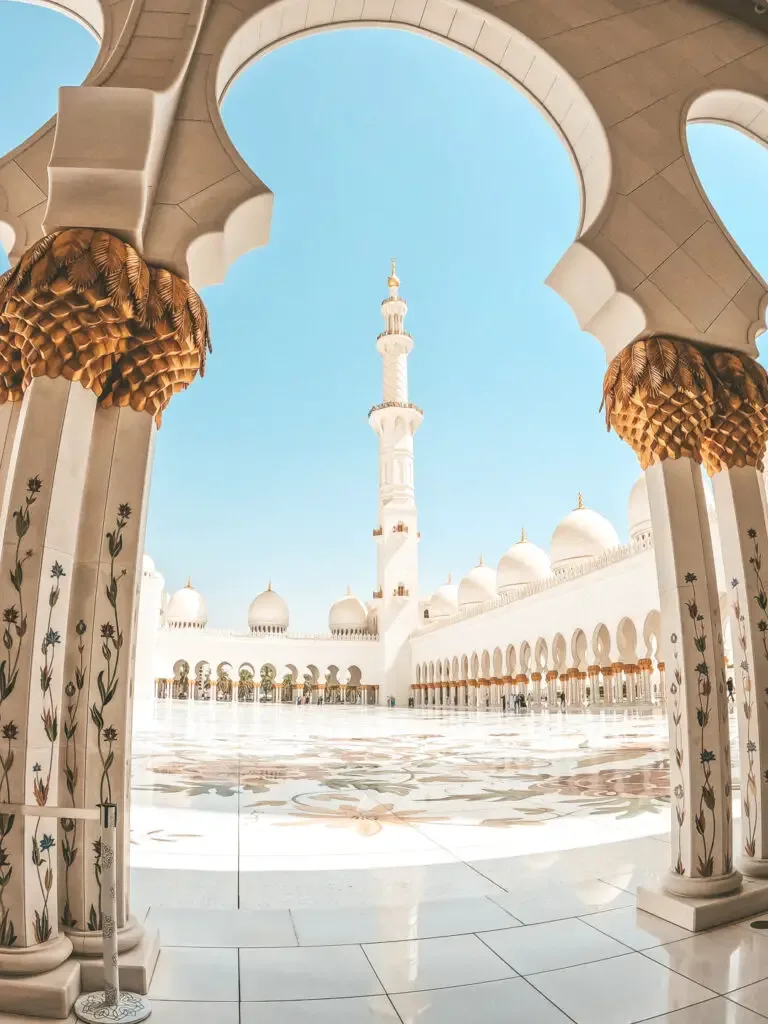 There are many interesting facts about the mosque. It is home to the largest hand-woven carpet in the world and has one of the biggest chandeliers in the main prayer room.
The chandelier is adorned in gold and crystals and weighs over 12 tonnes! Whilst the carpet took 2 years to make, 2000 people in Iran were involved. It was delivered to the mosque in nine parts and put together inside the prayer hall.
Mosque Etiquette
One of the most important points to note is you must dress appropriately in the mosque. Women should be fully covered including their hair. This includes men who should wear full-length trousers and whose shoulders should be covered.
Since it is a place of worship, it is important to be respectful and follow the rules. No food or drink is allowed, and visitors should try their best to be quiet by turning mobile phones to silent.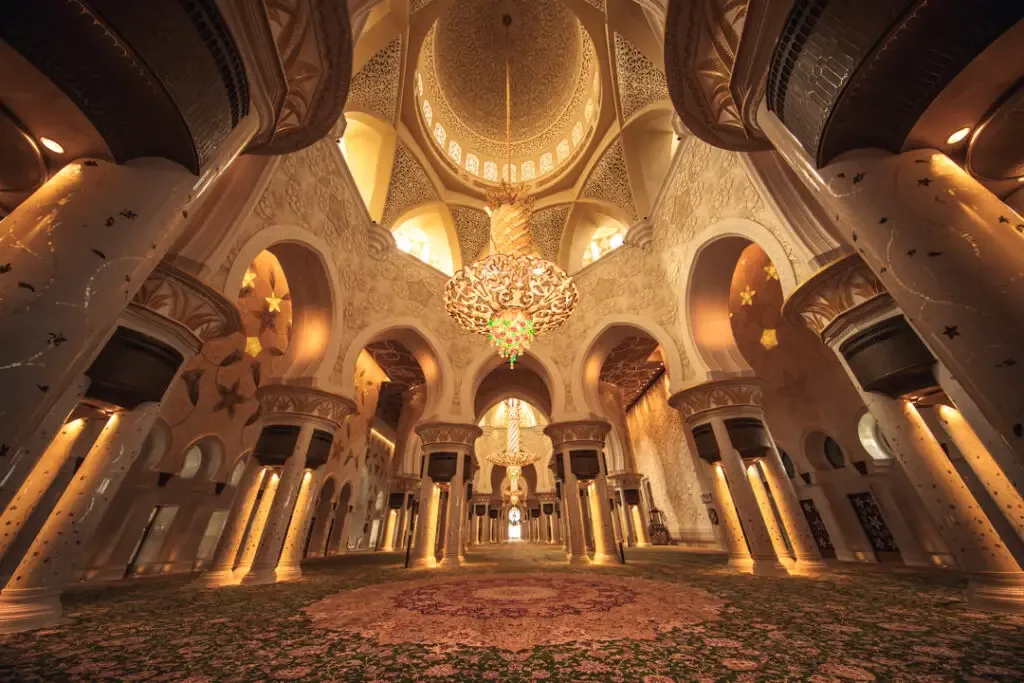 There is a visitor plaza below the mosque where there are a few restaurants, cafes and souvenir shops.
Many visitors pick up an abaya or a kandoura ( traditional attire for men and women) for as little as 50 AED (14 USD).
Aside from making a great souvenir, wearing traditional clothing is ideal for modesty as well as fantastic photos with the backdrop of the mosque.
Location: Sheikh Rashid Bin Saeed Street، – 5th St – Abu Dhabi – United Arab Emirates
Read this detailed guide on visiting Sheikh Zayed Grand Mosque.
Shopping
With the weather in Abu Dhabi in September, there is no doubt you will want to spend some time at one of the fantastic malls.
The Galleria Mall and Yas Mall are two of the best in Abu Dhabi, offering a wide variety of shops, activities, and restaurants.
The Galleria Mall is located on Al Maryah Island and features a mix of luxury and high-street brands, including Louis Vuitton, Gucci, H&M, Zara, and many more.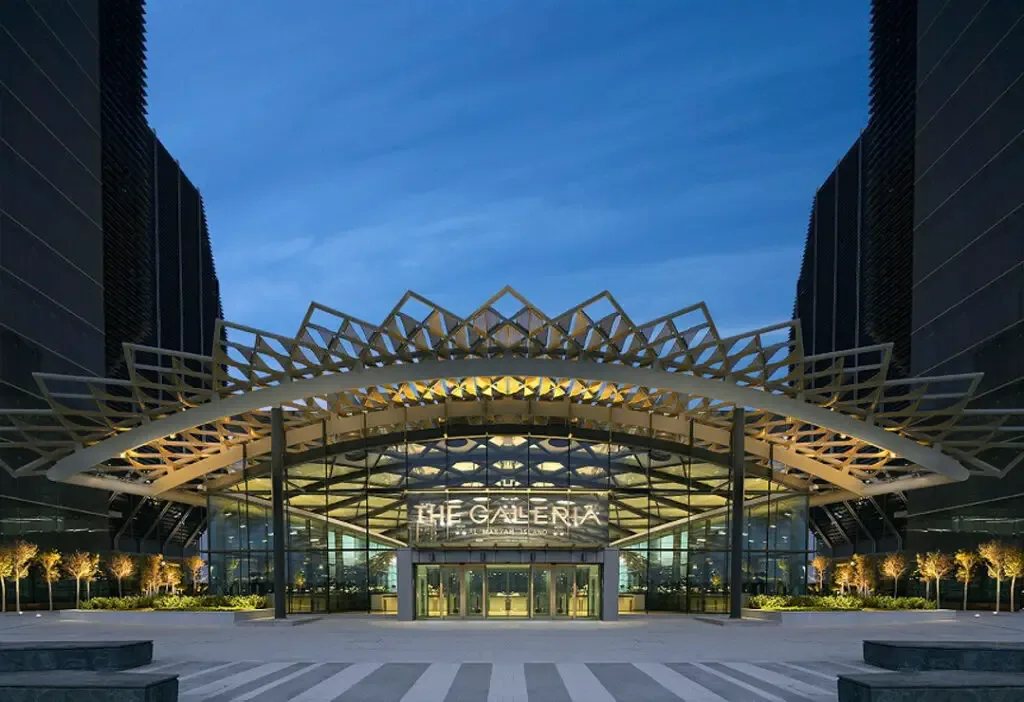 The mall has an extensive selection of restaurants and cafes, ranging from casual eateries to high-end dining options.
There is a cinema and a range of family-friendly activities, such as an indoor play area and a virtual reality park.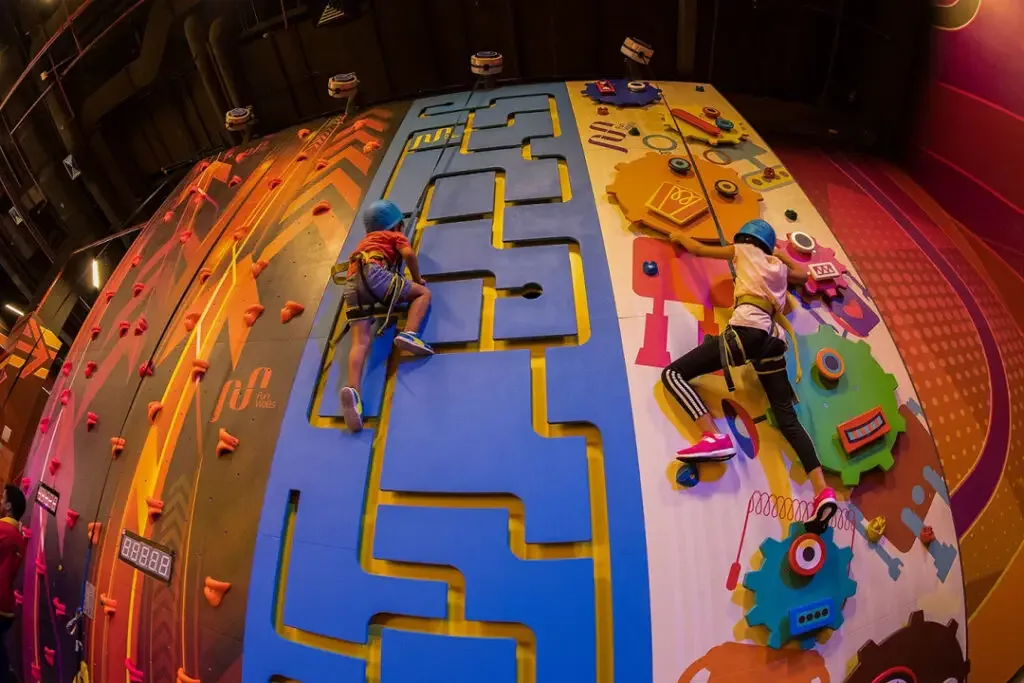 Yas Mall is one of the largest shopping centres in the city. The mall features over 370 stores, ranging from luxury brands to affordable high-street shops.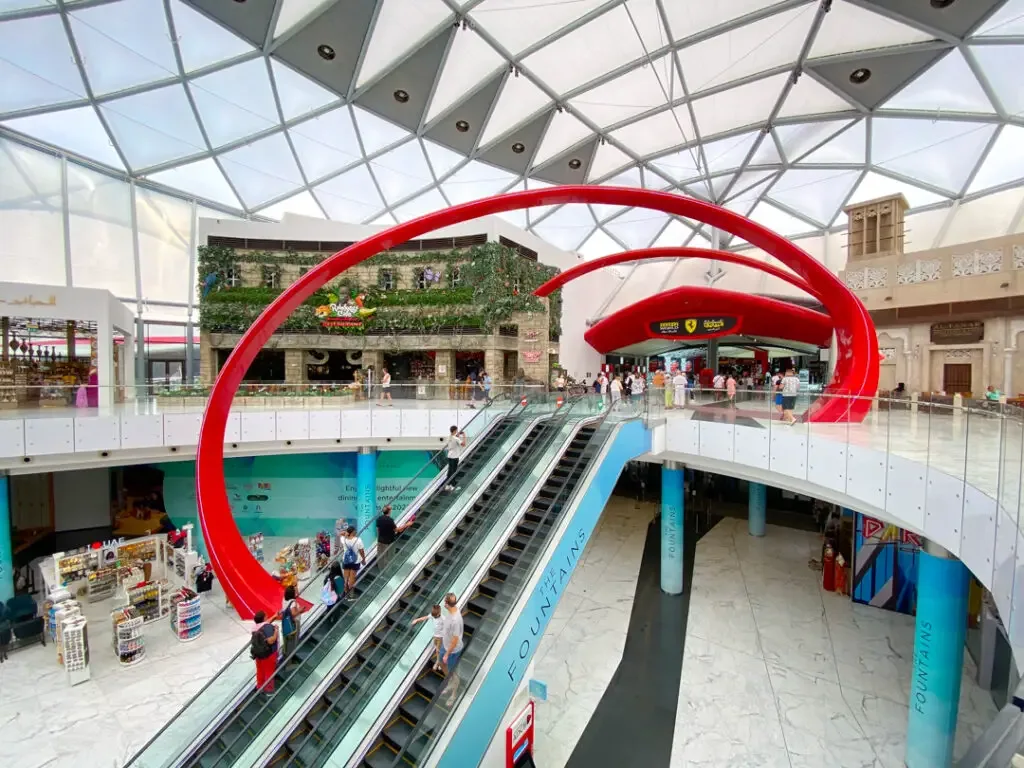 There is a wide range of dining options, including international restaurants and fast food outlets.
The mall has a range of entertainment options, such as a cinema, bowling alley, and Clymb which is the largest indoor climbing wall and sky diving vault in the world.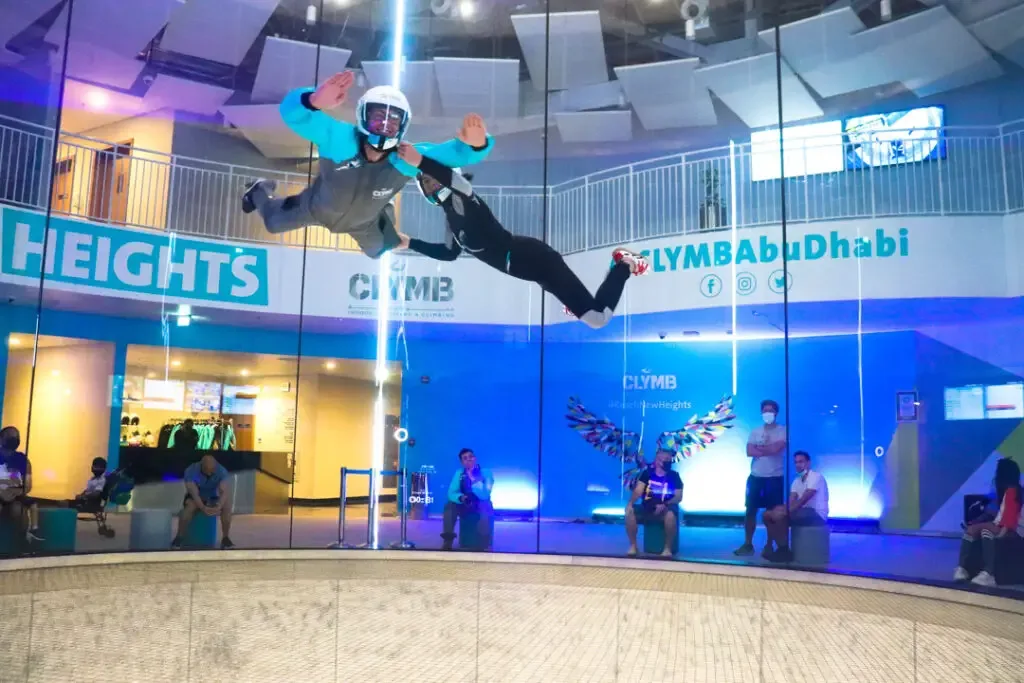 Check out our full guide to malls in Abu Dhabi.
Location: Galleria Mall – 107 Hamouda Bin Ali Al Dhaheri St – Al Maryah Island – Abu Dhabi Global Market Square – Abu Dhabi – United Arab Emirates
Location: Yas Mall – Yas Island – ياس غرب – Abu Dhabi – United Arab Emirates
Yas Waterworld
The popular Yas Waterworld is a busy spot on weekends with the weather in Abu Dhabi in September. Again it is best to visit just before sunset so the temperature is not too hot.
With over 40 water attractions for both adults and children, it is the perfect place to cool down.
From thrilling slides to a rollercoaster above the park and a lazy river to splash pads, there is plenty to enjoy.
Previously, Yas Waterworld held an amazing neon party on the weekend in September. We are excited to see if it takes place this year. Featuring neon characters, water performances and neon body painting, it is a super fun event for both adults and children.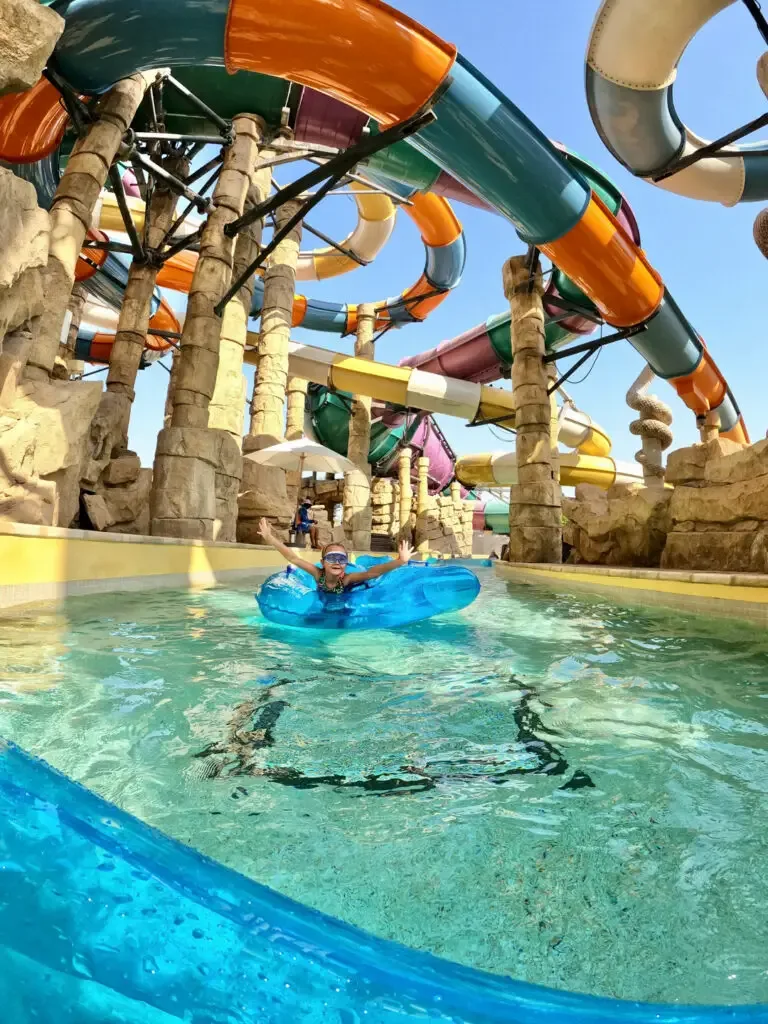 Some of the most thrilling water slides include the Liwa loop, the Jebel drop and Dawwama.
The Dawwama is the world's largest six-person tornado water coaster. Visitors ride on a raft from what feels like a mountain top into a 20-metre tornado funnel.
There are plenty of places to pick up a snack or a bite to eat at Yas Waterworld. From burgers to a fruit kiosk serving up massive wedges of water melon, there is plenty to choose from.
Not to mention fantastic changing facilities with locked storage for personal items.
Location: Yas Island – Abu Dhabi – United Arab Emirates.
The Louvre
Although The Louvre has plenty of indoor space some of the museum is based outdoors underneath the shade of the incredible geometric dome.
Based on Saadiyat Island, The Louvre is on the edge of the Arabian Gulf with the unique feature of water running through the centre of the building. It is most certainly an architectural masterpiece.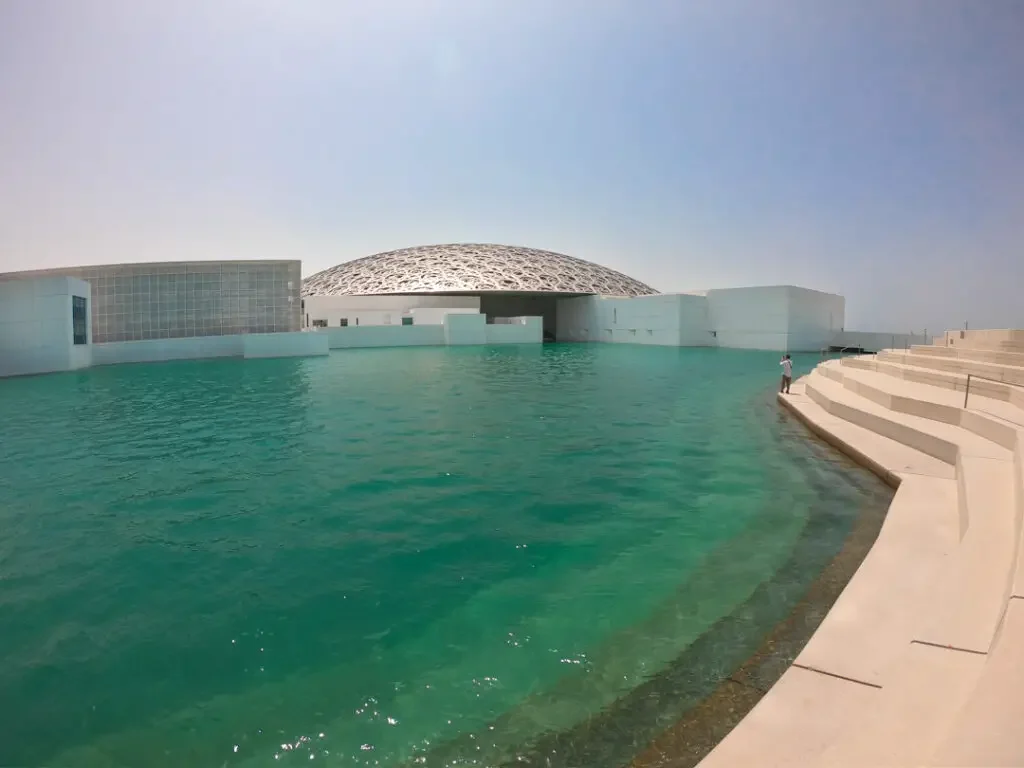 The museum is home to a huge collection of artwork and artefacts from around the world. There are several exhibits spread across multiple galleries, all with a unique look and feel.
The dome-shaped roof is made up of 8,000 metal stars filtering sunlight into the galleries below. It creates a pattern of light and shade which changes throughout the day as the sun passes over.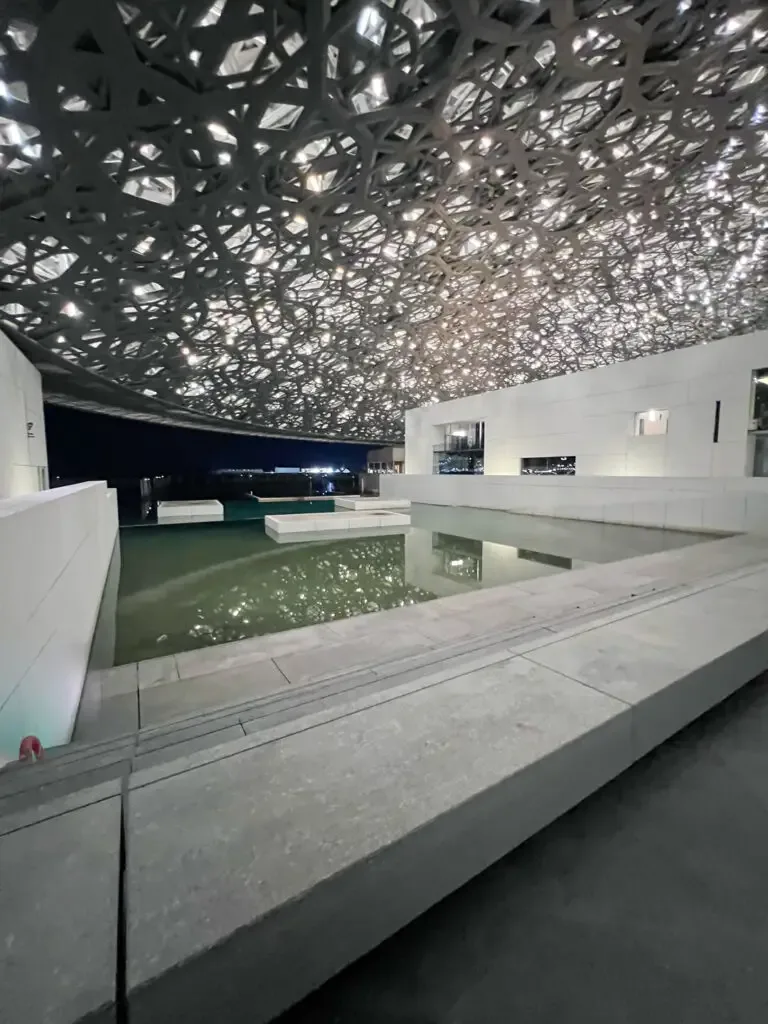 The museum is closed on Mondays. It's also worth considering booking tickets in advance to avoid long queues.
The Louvre runs yoga classes during the cooler months occasionally.
Location: Saadiyat – Abu Dhabi – United Arab Emirates
Qasr Al Watan
Qasr Al Watan is a magnificent palace and cultural centre located close to the Marina end of the Corniche.
There is a light show on every evening which tells a story with a series of illuminations on the exterior of the building with music.
It is truly magical and a fantastic way to spend the evening with the weather in Abu Dhabi in September.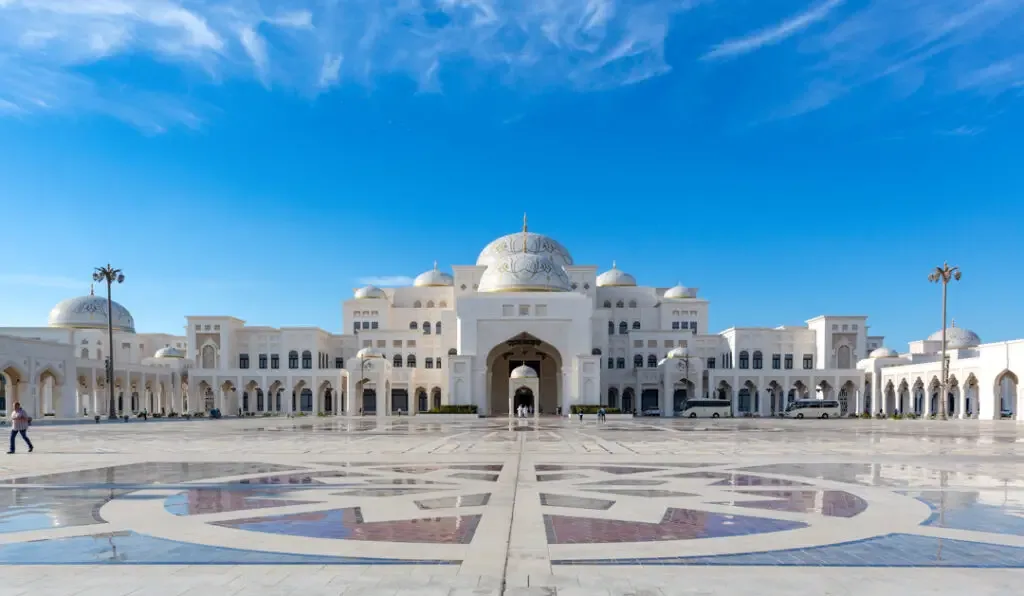 The nighttime show is a separately ticketed affair to the regular daytime entrance to the palace. Visitors cannot go inside on a light show ticket.
However, visiting during the day in September is totally possible since it is mostly indoors. Marvel at the incredible interior featuring intricately patterned tiles on the floor, walls and ceiling.
Adorned in gold and many other lavish materials, it is incredible to see the detail in every centimetre of the presidential suite.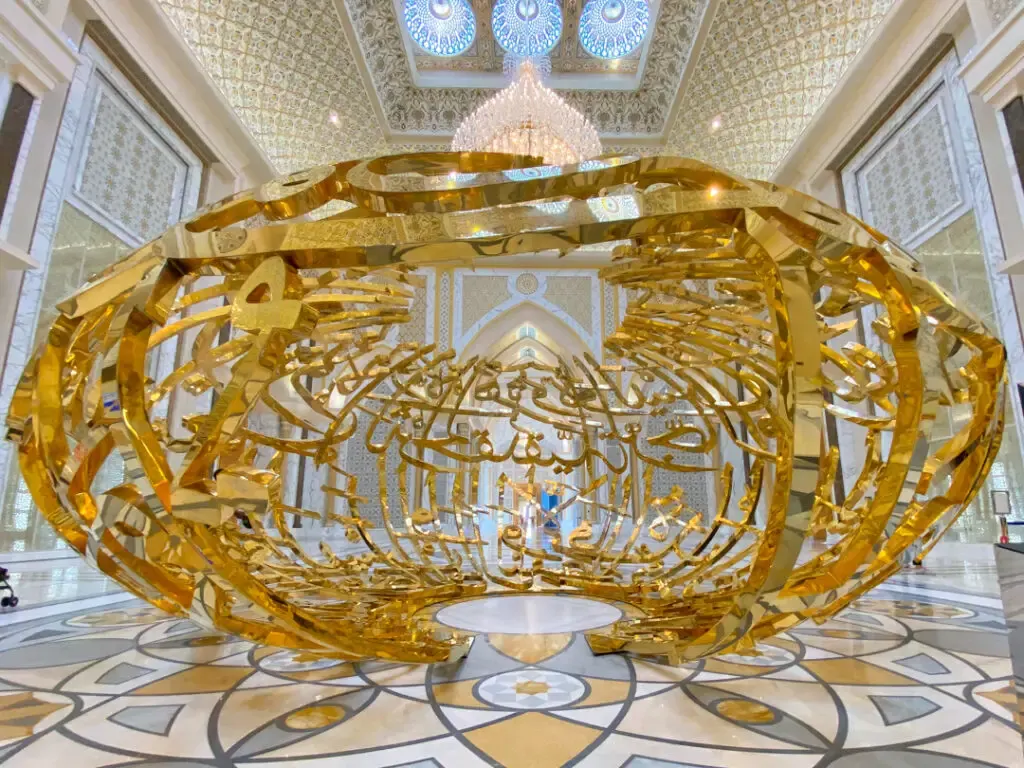 The facade of the building is made with white granite and there are gardens, water fountains as well as a beautiful tiled terrace in the shape of a five-point star.
The front of the building is incredibly bright as the sun reflects off the white exterior. Make sure to bring sunglasses.
Since it is an official building, visitors need to dress modestly. Men should wear long pants and shirts with sleeves, while women should wear long skirts or pants and cover their shoulders.
Location: Al Ras Al Akhdar – Abu Dhabi – United Arab Emirates
Abu Dhabi Style Brunch
Brunch in Abu Dhabi and the UAE, in general, is like no other. It is usually a weekend affair which many restaurants, bars and hotels offer.
Featuring an extensive selection of food, sometimes served in the form of sharing platters or an elaborate buffet. Some have a family-friendly vibe whilst others have a party atmosphere.
Family brunches typically start at lunchtime and some options include pizza, pasta and salad bowl-sharing platters, particularly at the Hyatt.
Some packages include soft drinks and usually, an additional free-flowing alcohol can be added to the experience. Not to mention, many hotels include beach and pool access depending on the venue.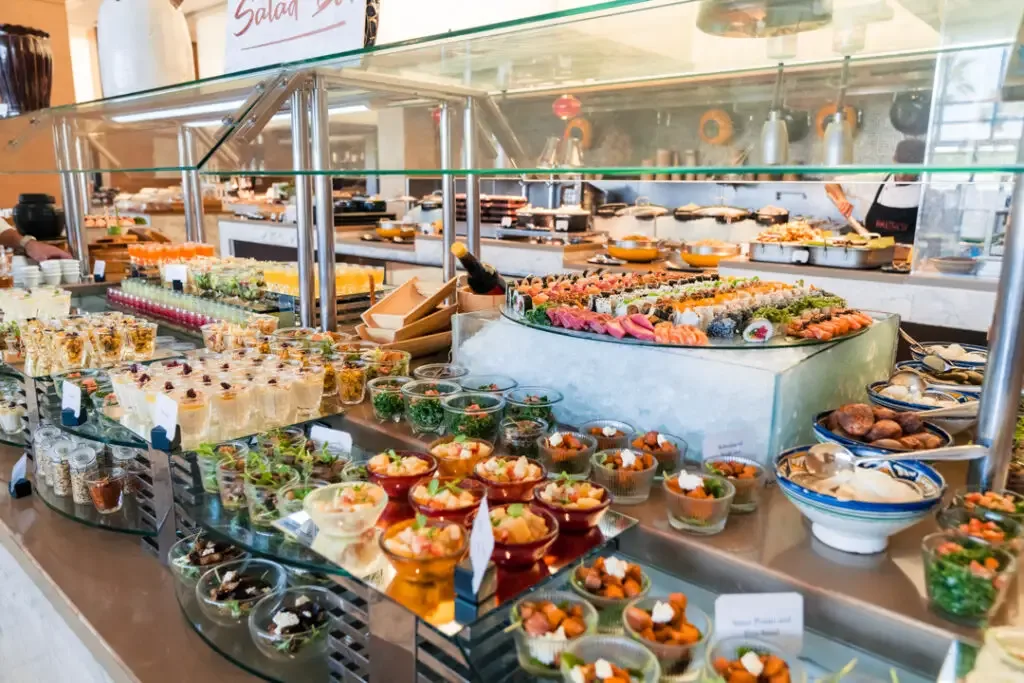 This allows brunchers to spend the whole day enjoying fantastic food and great facilities.
Nahaam in the Conrad Etihad Towers is one of our top recommendations when it comes to weekend brunch in Abu Dhabi. Running every Saturday, from 12:30 to 4:30 pm, prices start at 375 AED for the soft drink package.
Nahaam has a distinctly British theme, featuring the iconic red phone box dessert station, filled with classics such as Bakewell tarts and apple cake.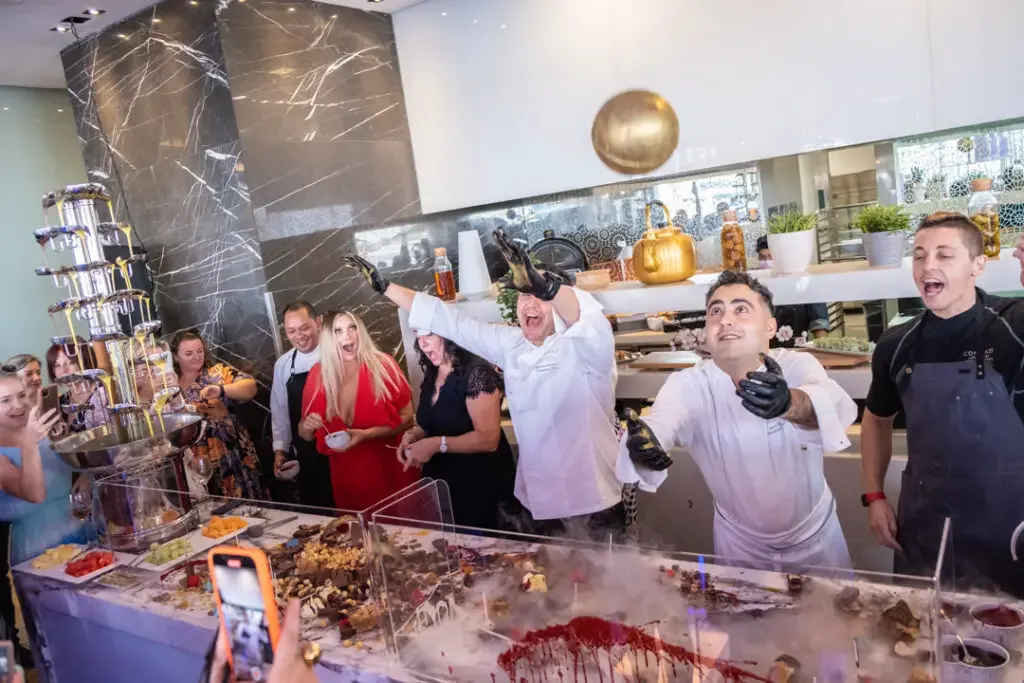 Location: Podium Level 1 – W Corniche Rd – Al Bateen – Abu Dhabi – United Arab Emirates
Another recommendation is the Fairmont Bab Al Bahr. Quite often the hotel puts offers on Groupon and the Entertainer for brunch with pool access.
The brunch features a variety of international dishes, including fresh seafood, sushi, and Italian cuisine.
Not to mention Arabic dishes and occasionally Turkish and Thai or even Mexican food.
Enjoy live cooking stations, free-flowing drinks (depending on the package), and a dessert buffet.
It is one of the best brunches in town when it comes to vegan options in Abu Dhabi.
Location: Khor – Al Maqta – Abu Dhabi – United Arab Emirates
Read this detailed guide on brunches in Abu Dhabi.
Afternoon Tea
Afternoon tea is a lovely activity whatever the weather in Abu Dhabi in September. Although it is a British tradition, afternoon tea has been embraced in Abu Dhabi with its own modern and sometimes Arabic twist.
One of the best places to enjoy afternoon tea has to be at Observation Deck at 300 on the 74th Floor of the Conrad Abu Dhabi Etihad Towers. It is an elegant affair with stunning views over the city and Arabian Gulf.
It's possible to add bubbles to make it an extra special get-together be it a date with the ladies or someone special.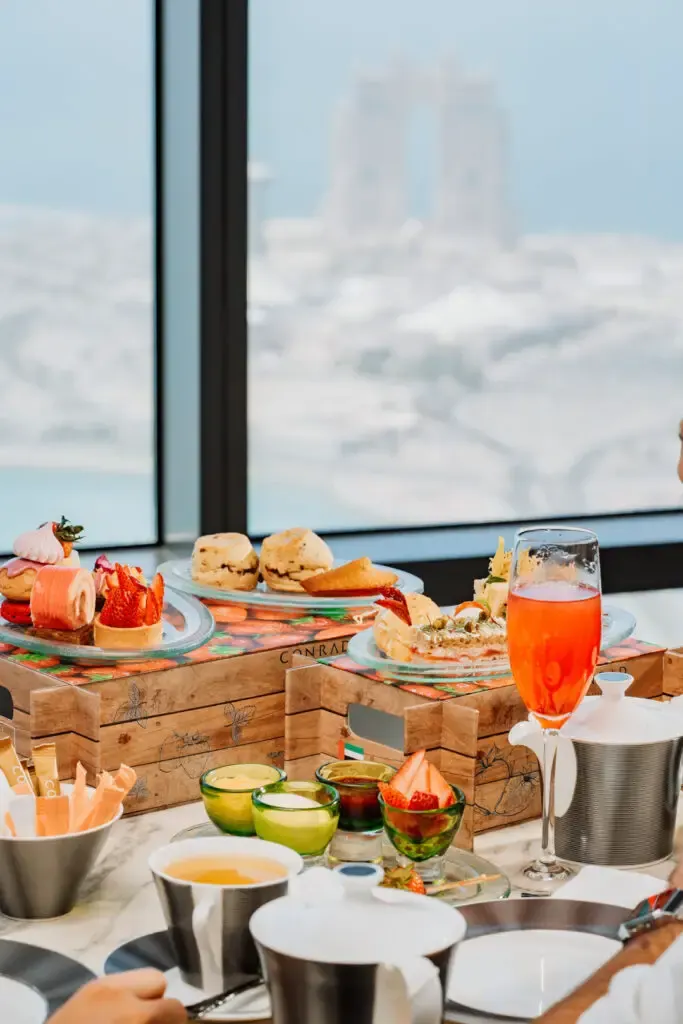 The afternoon tea menu includes a selection of sweet and savoury treats, along with a wide range of teas, coffees, and other beverages.
It is certainly one of the most Instagrammable affairs in Abu Dhabi with its perfect presentation on a tiered rack.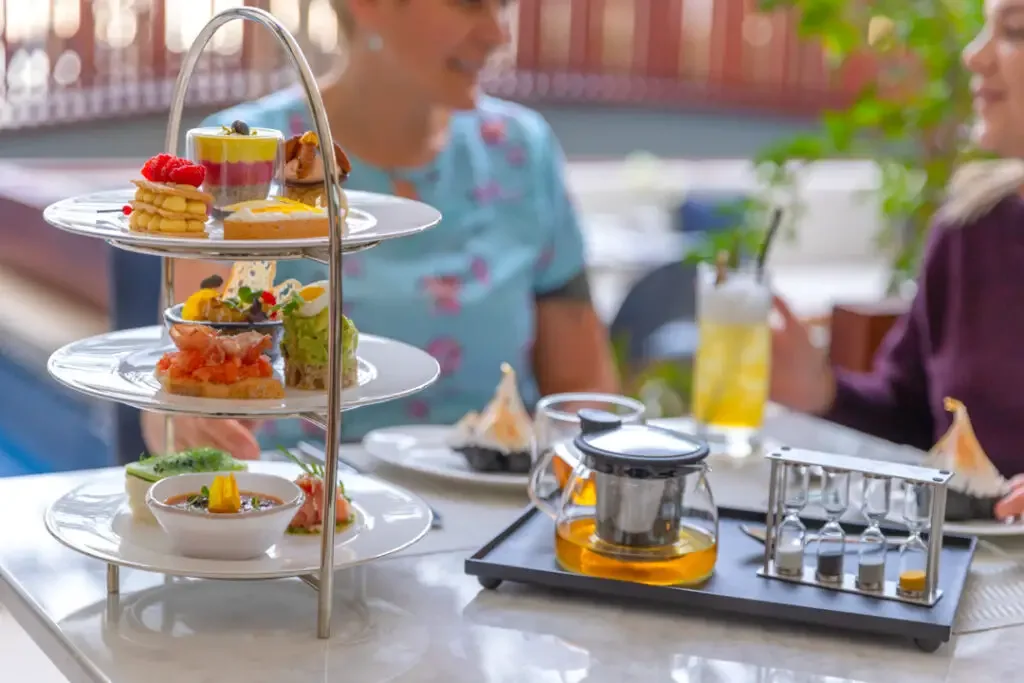 Another recommendation is the Majlis Lounge at the Rosewood Abu Dhabi. Afternoon tea is served daily between 3 and 6 pm. The tea selection includes a range of classic and unique blends.
Whilst the food menu features sandwiches, scones, pastries, and other sweet and savoury treats.
Location: Rosewood Al Maryah Island – Abu Dhabi – United Arab Emirates
Evening Sunset At The Beach
Evening weather in Abu Dhabi in September is tolerable so it is the ideal time to enjoy the beach and maybe a sunset.
Abu Dhabi sees some incredible sunsets on Saadiyat Island, along the Corniche and Al Hudayriyat Island.
Some beaches in Abu Dhabi have an entry whilst others are free. One of the nicest beaches on Saadiyat has to be Kai Beach.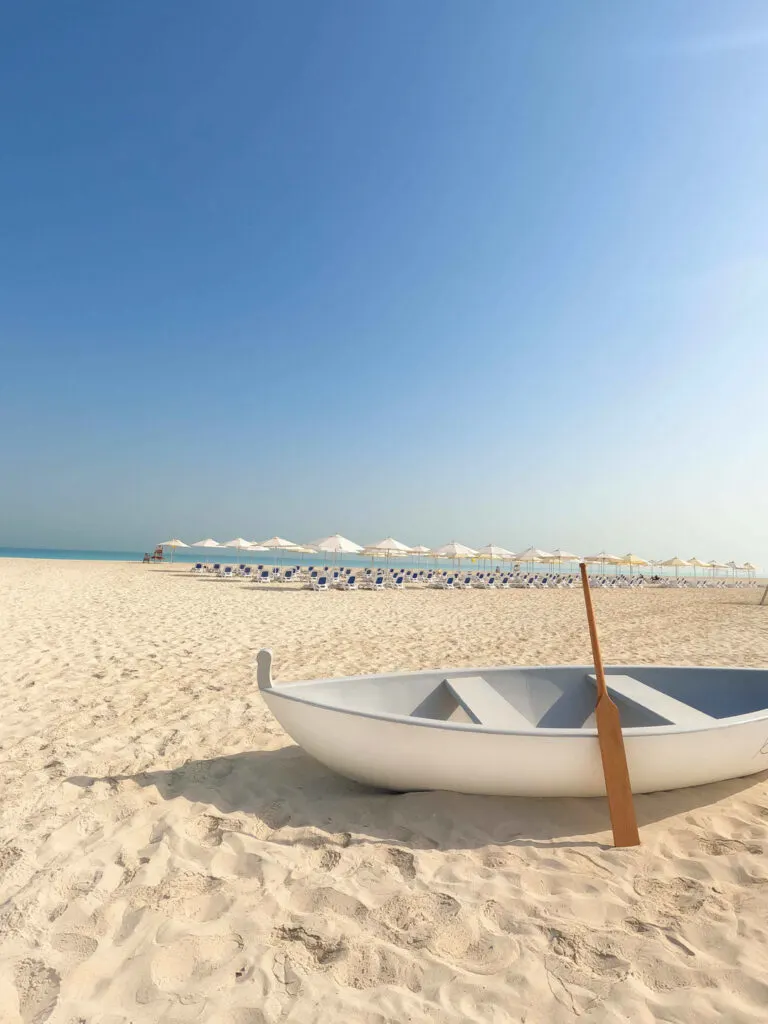 There is an entry fee but there is sun loungers and food trucks to make an evening of it. It's one of the few natural beaches in the Emirate and has beautiful white sand with turquoise water.
The Al Hudayriyat Island beach is free and has some incredible watersports including kayaking and boat tours and is surrounded by many great restaurants and cafes.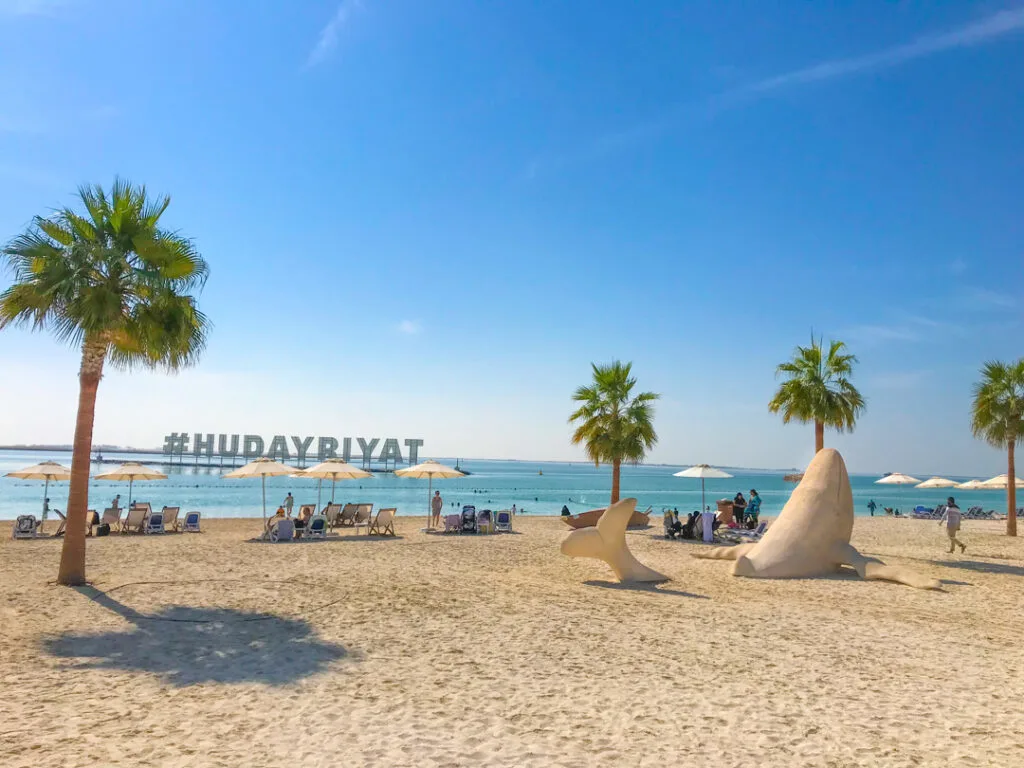 There is also a splash park for kids which has a small entry fee. Not to mention a high rope obstacle course which is another great activity in the area that can be enjoyed in the evening.
Location: Al Saadiyat Island – Abu Dhabi – United Arab Emirates
Location: Al Hudayriyat – Abu Dhabi – United Arab Emirates
Beach Club
Beach clubs are a great place to hang out for a sundowner in the Emirate. There are plenty across the city with varying facilities. Some are family-friendly whilst others have a party vibe.
Some of the beach clubs have amazing, food, from sushi to burgers and everything in between. There is always excellent pool facilities and sometimes water activities, a gym and of course a beachfront location.
Some of the best beach clubs include:
Nation Riviera Beach Club is located on the Corniche and features a stunning infinity pool, private beach access, and a range of water sports activities. The club has several dining options, including a beachfront restaurant and bar.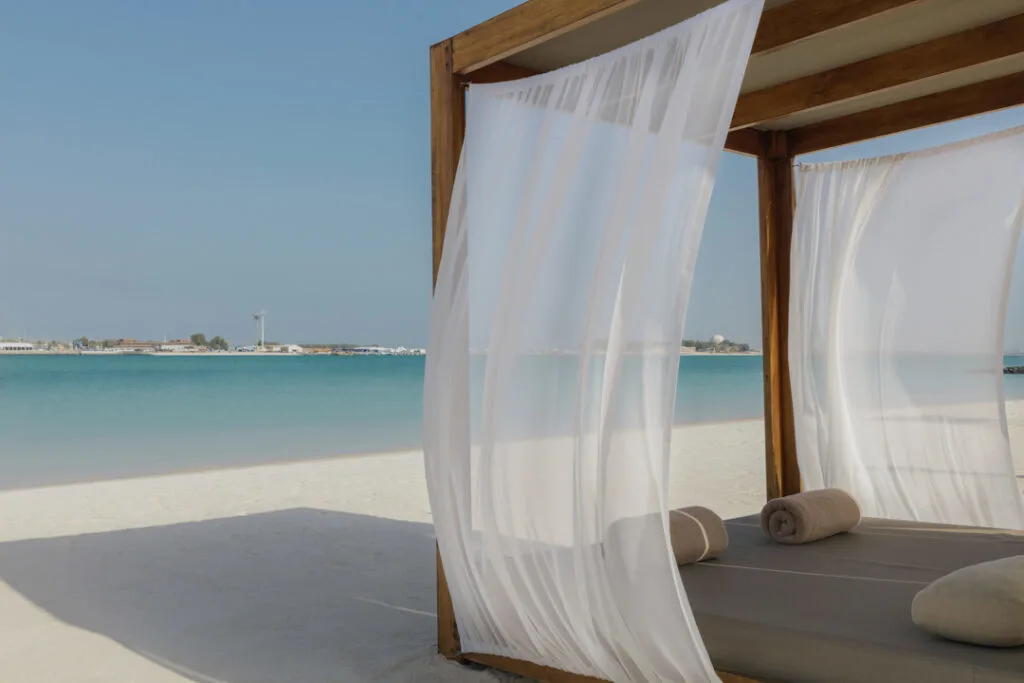 Saadiyat Beach Club is a luxury option located on Saadiyat Island. It is a popular destination for those looking to enjoy a relaxing day by the beach or pool, with stunning views of the Arabian Gulf.
The resort features a range of facilities, including a wellness schedule, several restaurants and bars, and a variety of water sports activities.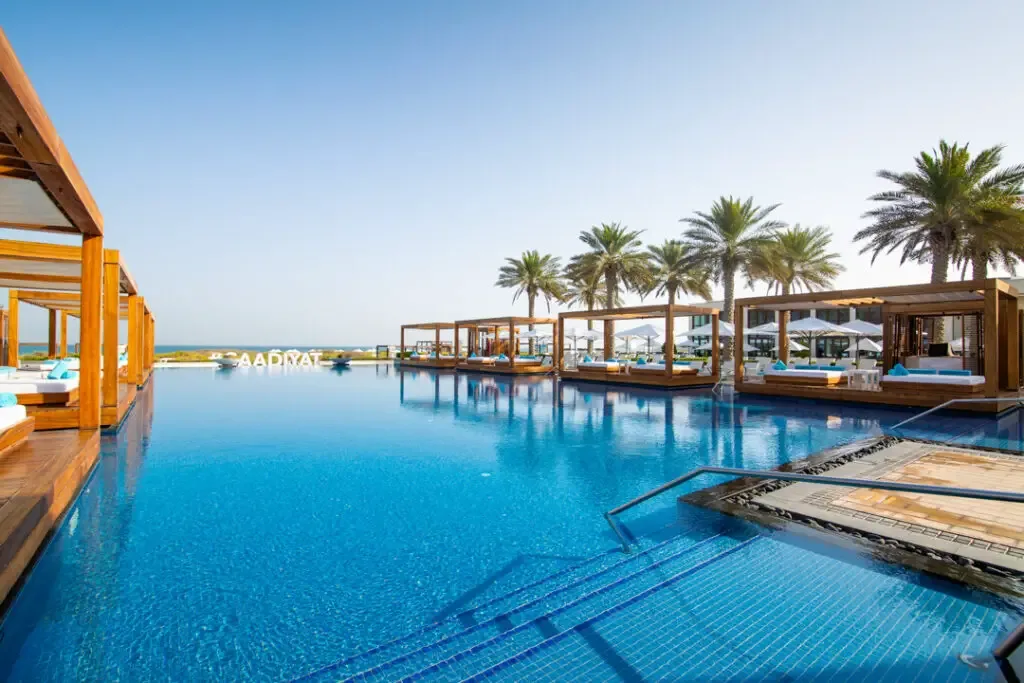 Saadiyat Beach Club is known for its sophisticated atmosphere and high-end amenities, making it popular with tourists and locals alike.
Location: The St. Regis Abu Dhabi – Nation Riviera Beach Club – Abu Dhabi – United Arab Emirates.
Location: Saadiyat Island, Exit 14 – Abu Dhabi – United Arab Emirates
Wakeboarding
The weather in Abu Dhabi in September allows for late afternoon or early evening watersports. Wakeboarding is becoming increasingly popular in the capital with parks and companies popping up.
Al Forsan Resort has a wakeboarding park which is a series of cables in a lake pulling wakeboarders around the course. Some of it is for beginners whilst other parts are more technical for experienced wakeboarders.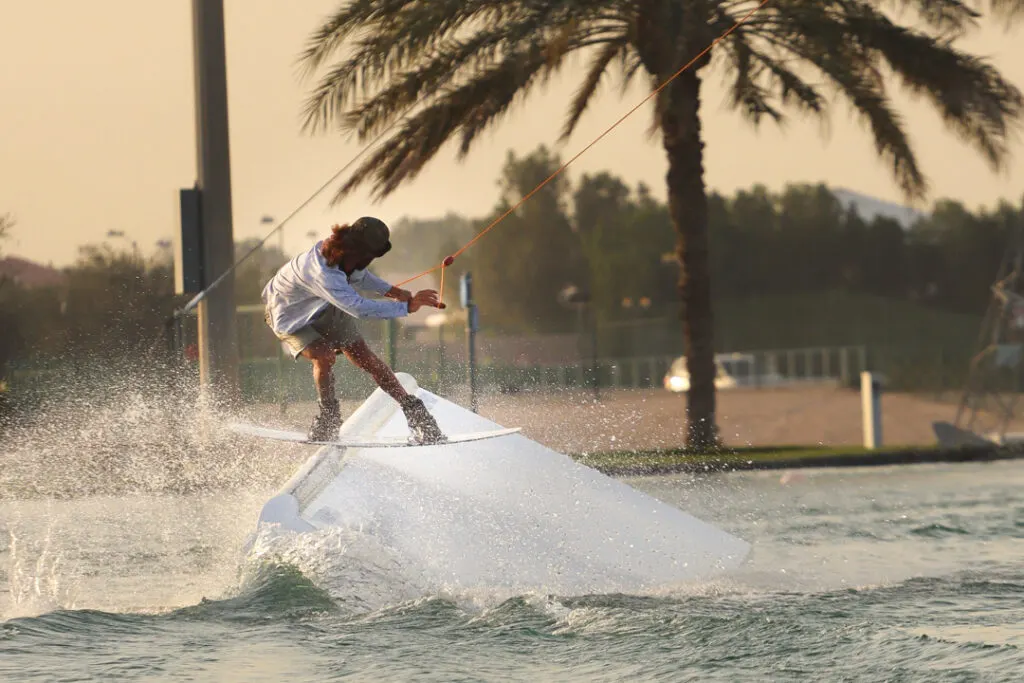 Based in Abu Dhabi Marina close to Emirates Palace is another great place to learn wakeboarding. The company offer a money-back guarantee – newbie wakeboarders will stand up during lessons.
The waters in the area are relatively calm, not to mention there is a stunning view of the city on one side and the Arabian Gulf on the other.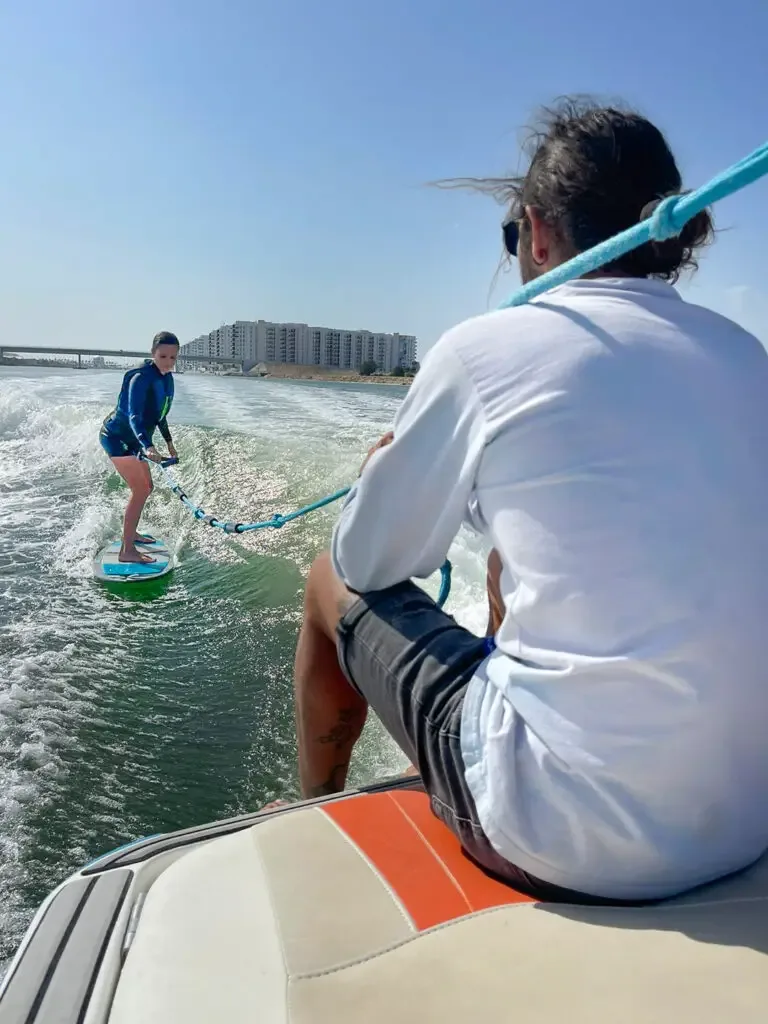 Dolphins regularly follow the company boat whilst wakeboarders get to see them playing on the water. Between the views and the wildlife, it is a multi-experience, to say the least.
Kayaking
Abu Dhabi is surrounded by a network of mangroves which protect the coastline of the city and creates a haven for marine life.
Many companies offer kayak rentals to explore the mangroves either independently or on a tour.
Kayaking just before sunset is the ideal time with the weather in Abu Dhabi in September. Exploring the mangroves is a super tranquil experience and one of the few opportunities to encounter nature in the Emirate.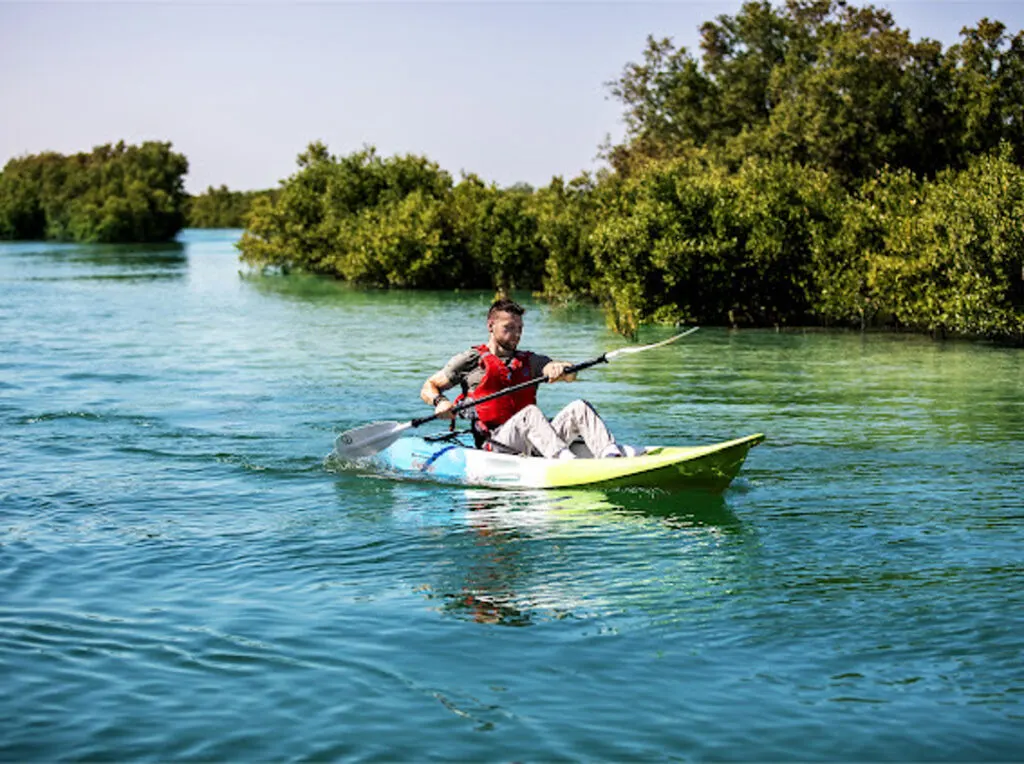 There are two fantastic places to go kayaking. The first is at Eastern Mangroves just in front of the Anantara Eastern Mangroves Hotel.
There is a tonne of rental companies in the marina. However, weekend evenings are particularly busy so it is worth reserving ahead of time.
The mangroves are stunning and it is a beautiful sunset spot with the Abu Dhabi and Reem Island skyline in the distance.
There is a secret beach and tonnes of mangrove tunnels to navigate. Not to mention a pontoon which is super fun to jump off!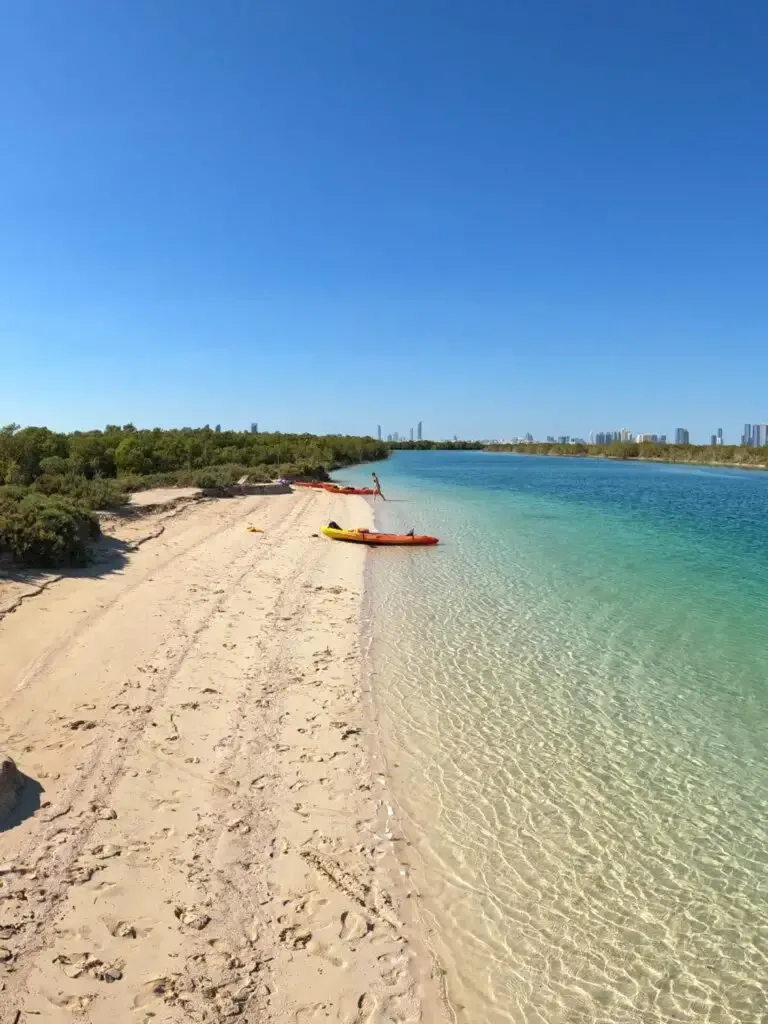 Another spot to go kayaking is Jubail Island, home to Mangrove Park. It is sandwiched between Yas Island and Saadiyat Island. There is a boardwalk around the mangroves which is beautiful at sunset and kayaks to rent onsite.
Location: Eastern Mangroves – Al Salam Street,Sheikh Zayed Street,Eastern Mangroves Near – Abu Dhabi – United Arab Emirates
Location: Jubail Mangrove Park – Al Jubail Island – Abu Dhabi – United Arab Emirates
Explore Abu Dhabi's Food Scene
Since the weather in Abu Dhabi in September is so hot, exploring the many, restaurants, cafes and bars is an ideal way to keep cool whilst enjoying the foodie scene.
The Emirate has pretty much every cuisine imaginable. Be it local Emirati food, Italian, Mexican, Indian or sushi. Not to mention fine dining and the prettiest cafes serving everything from pancakes to great coffee!
Some of our favourite spots include:
Nolu's is a popular spot for Afghan and Mediterranean cuisine offering a range of dishes made with fresh ingredients. The menu features everything from smoothie bowls to veggie burgers and pancakes to salads. The food is generally quite healthy and full of flavour.
Hakkasan Abu Dhabi restaurant serves contemporary Cantonese cuisine in an elegant and luxurious setting.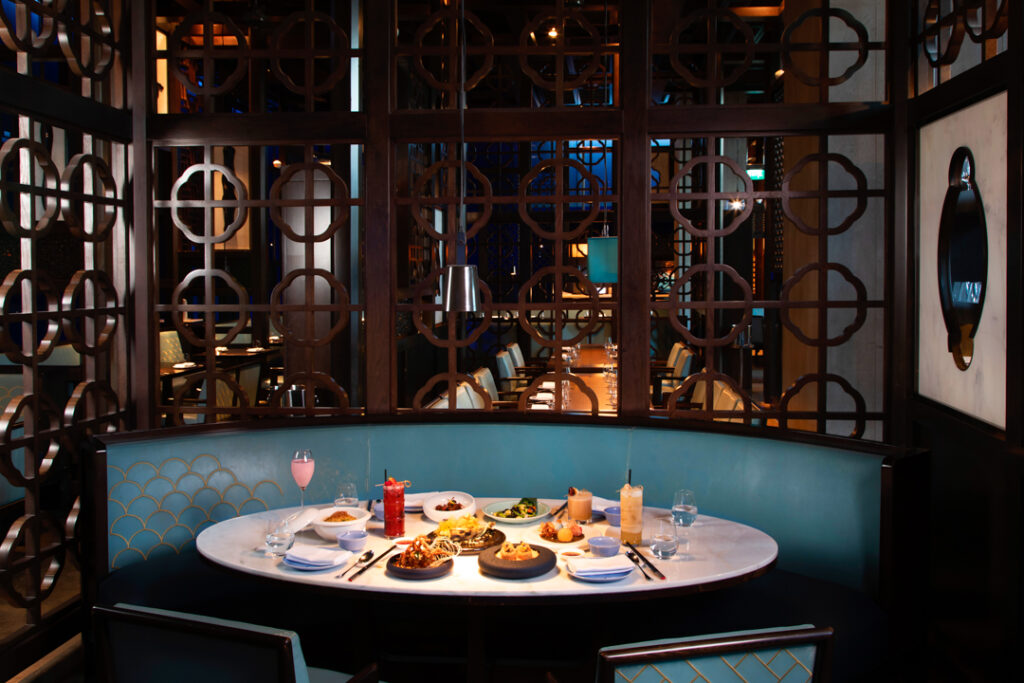 The menu features a range of dishes made with the highest quality ingredients, including dim sum, seafood, and meat dishes.
The restaurant also has an extensive wine and cocktail list, making it a great option for a special occasion or a romantic night out.
Coya Abu Dhabi is a modern Peruvian restaurant offering a range of dishes inspired by the vibrant flavours and culinary traditions of Peru.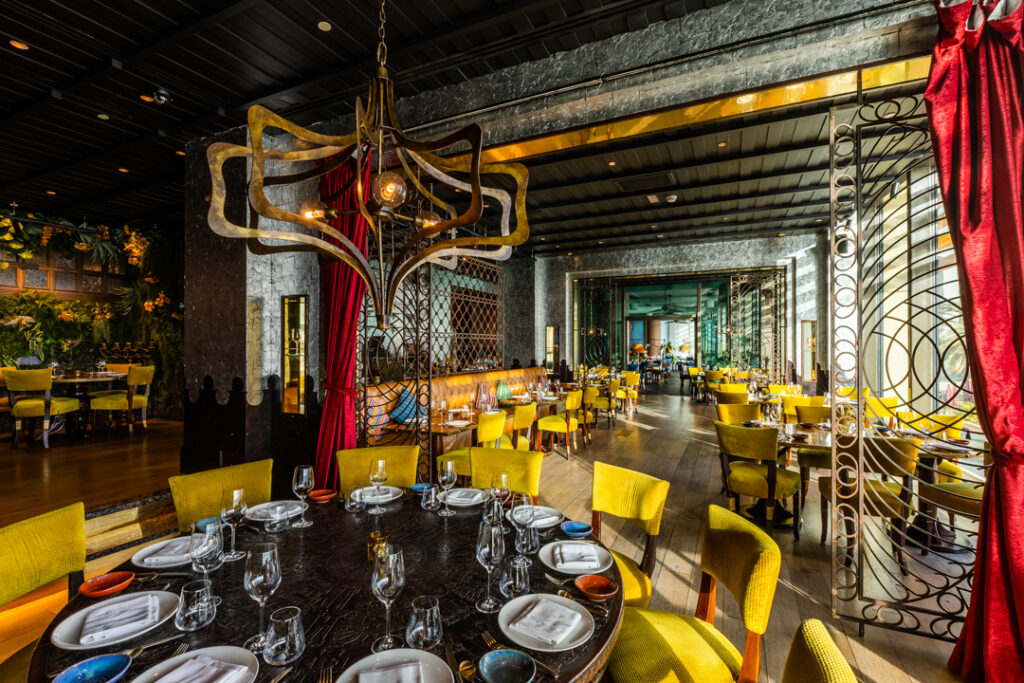 The menu features a range of ceviche, grilled meats, and fresh seafood, as well as a selection of creative cocktails and Latin American wines. The restaurant has a chic interior design, making it a great option for a sophisticated night out.
Have you found this post about things to do and the weather in Abu Dhabi in September helpful? Did you visit any of the places mentioned in September? Leave a comment, we love to hear from you!
Disclaimer: This post may contain affiliate links, by using them it will not cost you any extra. We may receive a small commission to keep us writing.