Muslims observe Ramadan, the ninth month of the Islamic calendar. It's a time of fasting, prayer, reflection, and community building.
During Ramadan in Abu Dhabi, Muslims are encouraged to practice self-control, tolerance, sacrifice, and empathy for those who are less fortunate with acts of generosity and compulsory charity (zakat).
According to the Hijri calendar, each year, Ramadan begins approximately ten days earlier on the Gregorian calendar, which is confirmed by the moon sighting committee.
Ramadan lasts for over a month. This year it is likely to be from March 23 to April 21.
Over the last few years, Abu Dhabis' approach to Ramadan has become a little more liberal. Coffee shops and restaurants remain open for tourists and non-muslims.
One thing to remember when observing Ramadan in Abu Dhabi, the city comes alive post-sunset. Perfect for late-night walks on beaches, Ramadan markets, traditional meals such as Iftars and Suhoors and tonnes of shopping offers.
Ramadan Abu Dhabi 2023
Ramadan Iftars In Abu Dhabi
The first meal after the sun sets during Ramadan is known as Iftar. There is no shortage of options for those looking to break fast in style. From lavish Iftar buffets to delicious takeaway services.
In fact, visiting Abu Dhabi during Ramadan allows tourists to experience the Iftar tradition alongside locals and residents, whether it be in a hotel or restaurant.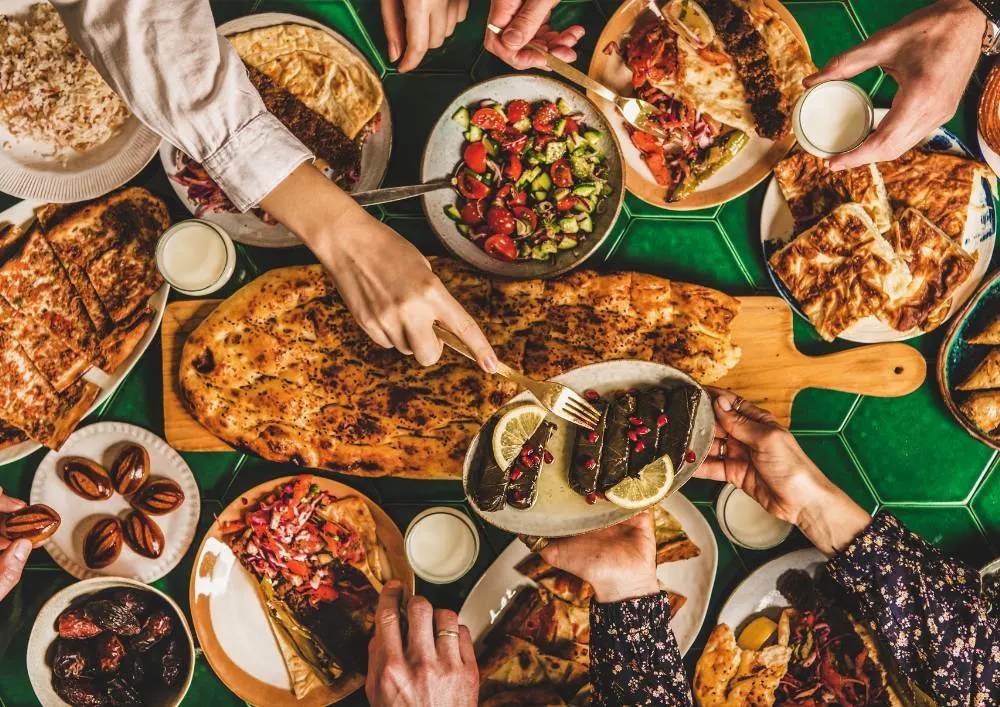 Traditionally, the fast is broken with dates, yoghurt and water. After the evening prayer known as Maghrib, families and friends eat Iftar together.
Iftar is a personal choice, however, at hotels and places serving the meal, the food is predominately Middle Eastern. Dishes may include, shawarma, fattoush grilled meats, kibbeh, fatayer, and tabbouleh, as well as local sweet dishes.
Iftar is often gifted to those working after sunset. For example Muslim taxi drivers and workers often receive a box with food from hotels and restaurants.
Staff will head to the streets to give out parcels. This is all part of the tradition of giving during Ramadan.
Whether you are visiting during Ramadan or live in Abu Dhabi, experiencing Iftar is a fantastic experience.
Below are a few best places to experience Iftar!
Iftar Buffet At Cyan Brasserie
Guests can enjoy an Iftar buffet at the Franco-Arab signature restaurant Cyan Brasserie at Andaz Capital Gate Abu Dhabi.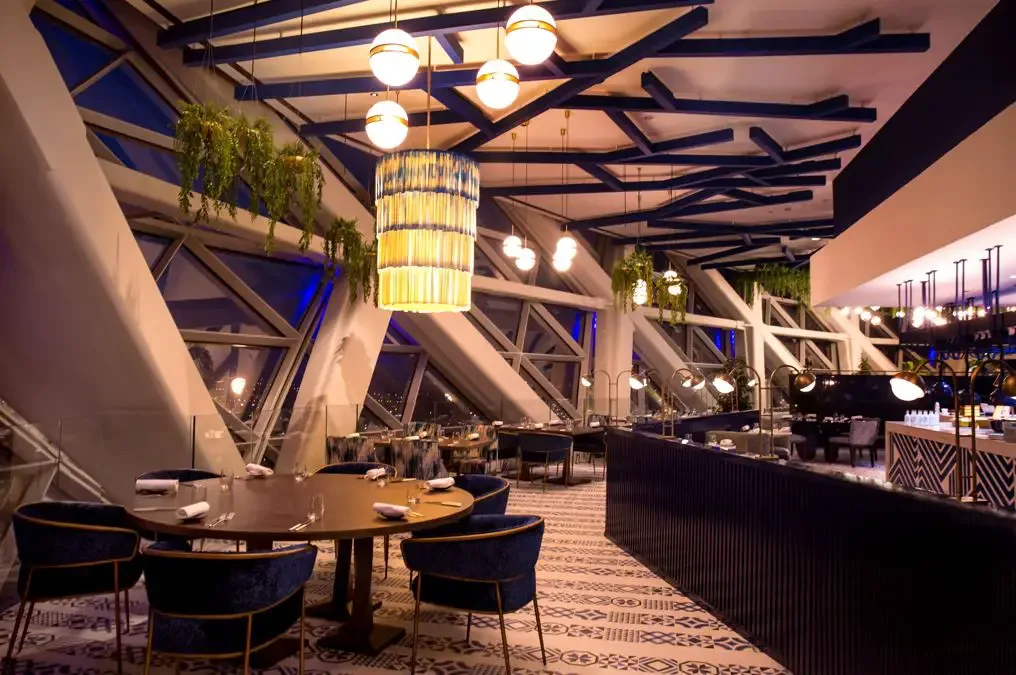 Standing tall in the iconic Guinness World Record-holding building, Cyan Brasserie is offering a luxurious spread of delicacies inspired by Arabian flavours along with shawarma, Saaj and dessert live counters to the guests accompanied with a choice of teas, coffees and Ramadan juices.
Call +971 56 544 8158.
Timings: 6:30 PM to 10 PM (Monday to Sunday)
Cost: From AED 195 per person
Location: Andaz Capital Gate in Abu Dhabi National Exhibition Centre – Abu Dhabi – United Arab Emirates
Bab Al Qasr
From sunset until 9pm, Bab Al Qasr serve a delicious Iftar buffet. Featuring live cooking stations, international and Middle Eastern cuisine, hot and cold mezzes, as well as pan-asian dishes, there is so much to feast on!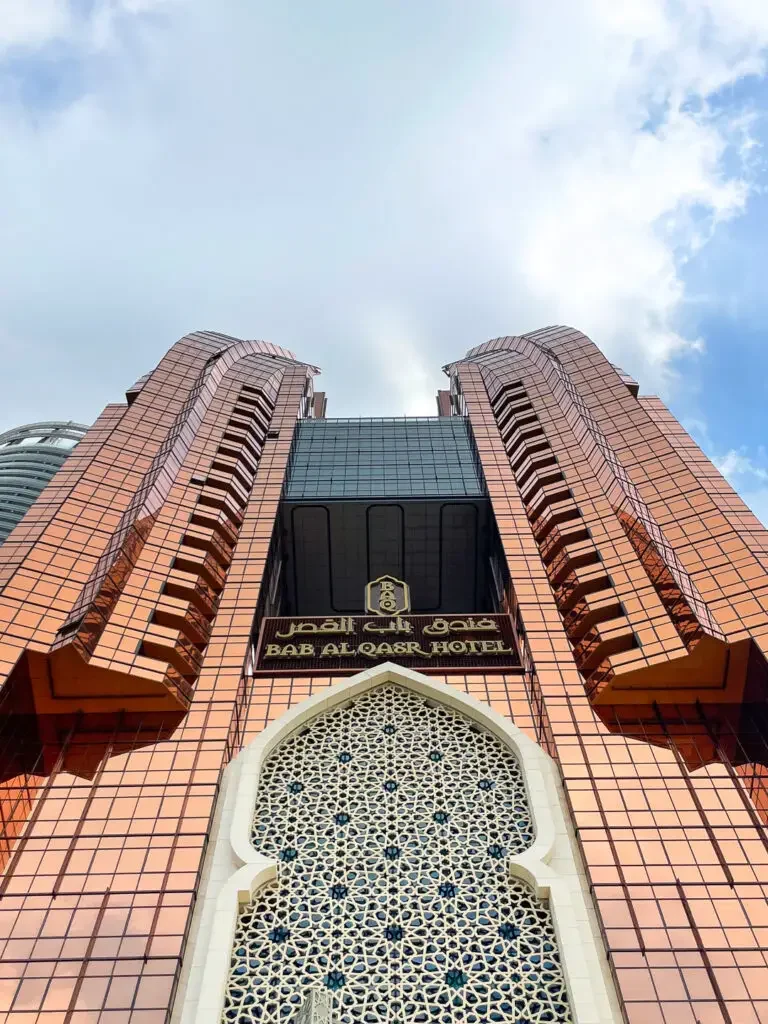 There are a number of deals that can be found online, including discounts for larger groups and children eat free under the age of 6 ( 1 child per couple).
Choose between the Artisan Kitchen Terrace, or sit inside at Rosemary Terrace.
Call +971 56 992 2078 to make reservations.
Cost: From AED 125 per person
Location: W Corniche Rd – Al Bateen – Abu Dhabi – United Arab Emirates
Al Khayal
With Middle Eastern buffets, live cooking stations, and an extensive international menu, diners, Al Khayal is a comfortable setting to enjoy Iftar.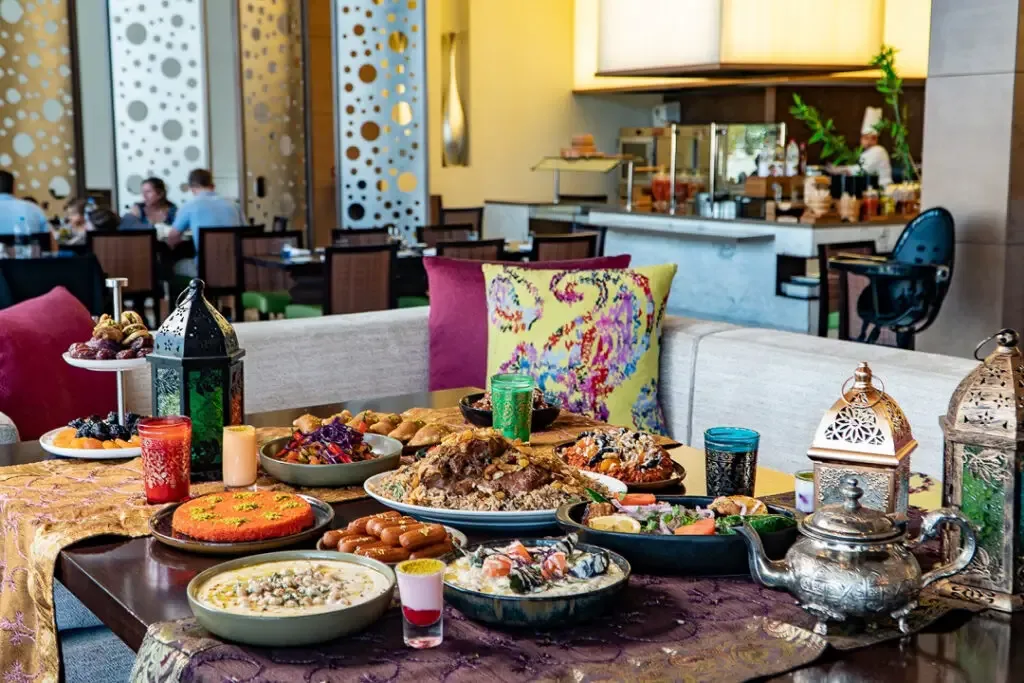 For reservations call +971 2 201 4131.
Location: Marriott Hotel Al Fursan – Khalifa City A – Abu Dhabi – United Arab Emirates
Experience Thai Cuisine At Silk And Spice
Silk and Spice, an award-winning Thai restaurant, offers a family-style Iftar menu with plenty of food options for something a little different from Middle Eastern cuisine.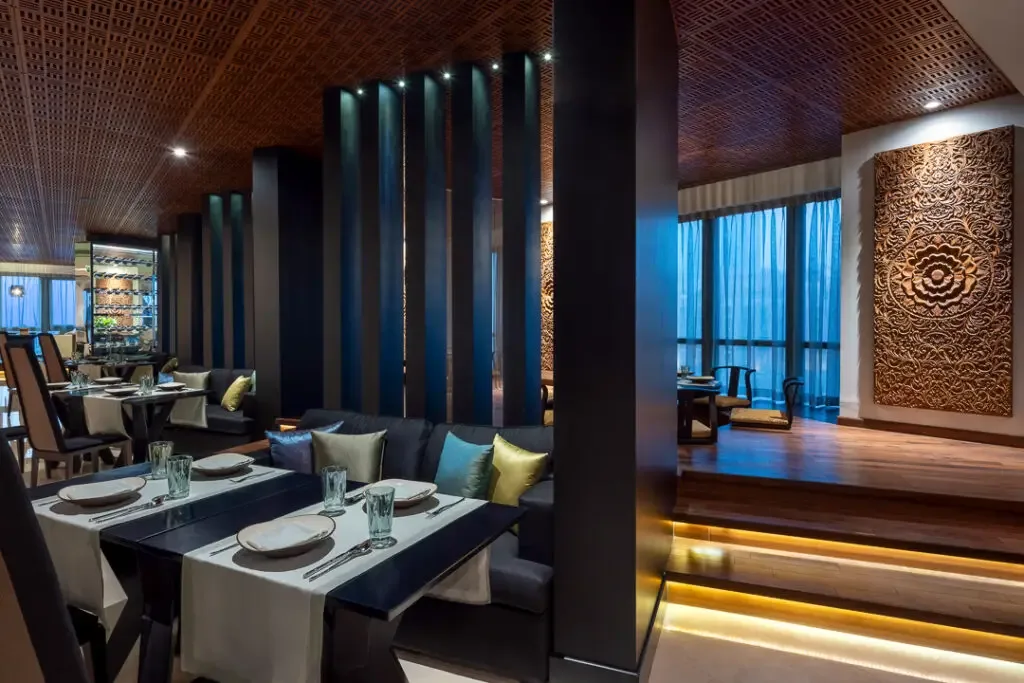 To make a reservation, call +971 2 813 7777
Cost: AED 195 per person
Timings: 7 PM to 11 PM
Location: Sofitel Abu Dhabi – W Corniche Rd – Abu Dhabi – United Arab Emirates
Suhoor In Abu Dhabi
The pre-dawn meal, known as suhoor, is a significant part of Muslims' Ramadan rituals. It is the last meal before sunrise when fast commences for the day.
Suhoor allows praciticing muslims to get some calories on board for the day ahead.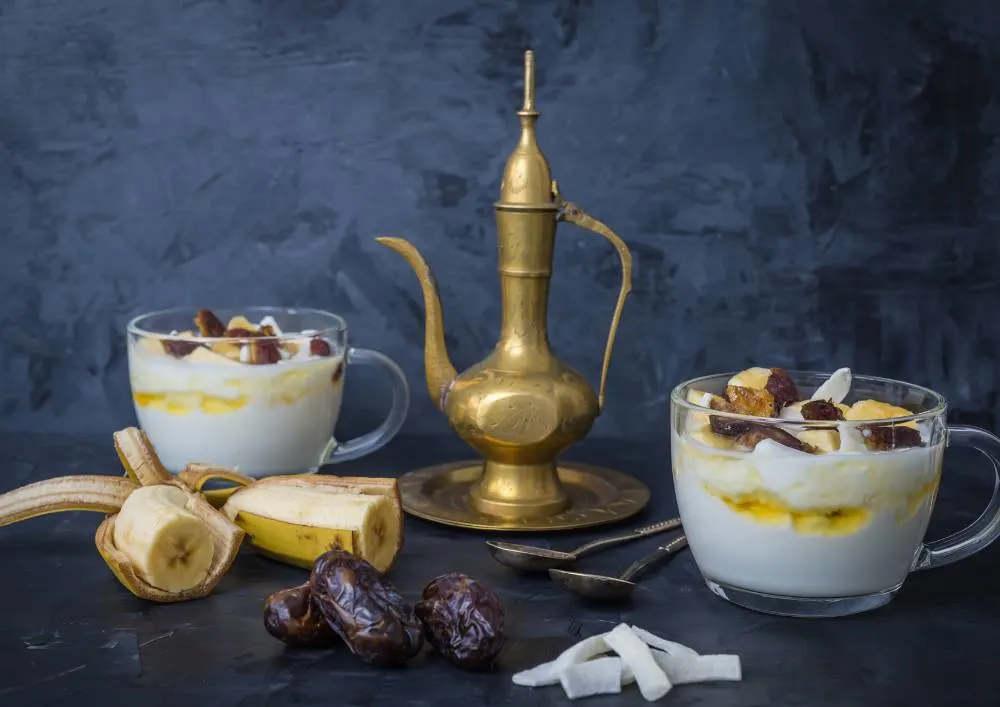 Suhoor meals typically contain eggs, beans, Greek yoghurt, oats, dates, meat, chicken, and lentils. The food is high in protein, which are important when fasting.
Most Muslims eat Suhoor at home, some prefer to dine out with family and friends. Again, it is another fantastic tradition to witness and experience.
Imagine getting up in the middle of the night for the ultimate breakfast. It is usually served between 9 pm and 2 am. The following are some places for Suhoor during Ramadan in Abu Dhabi.
Suhoor At Mykonos Abu Dhabi
The best way to start the day of fasting is by having Suhoor in Mykonos, which overlooks the Arabian Gulf in the heart of the city.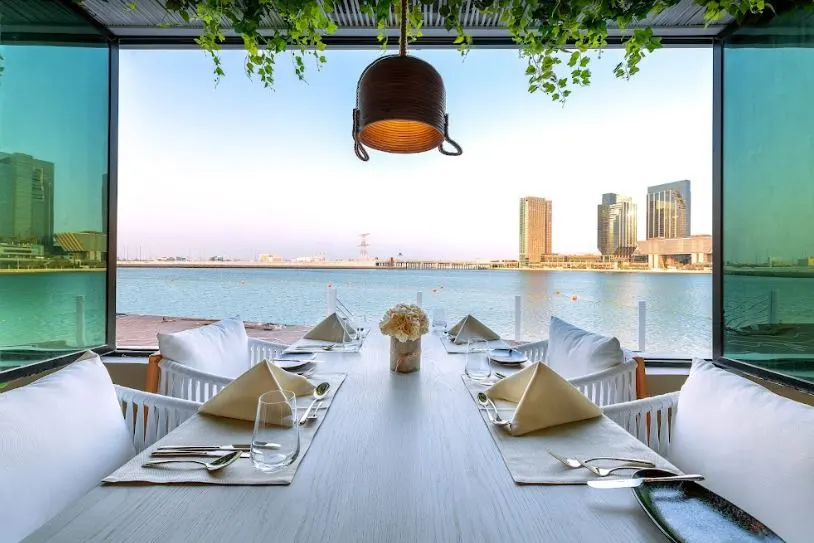 This quirky beachside restaurant offers a set menu for suhoor.
Cost: AED 150 for set menu
Location: Le Meridien – Al Zahiyah – Abu Dhabi – United Arab Emirates
Bab Al Qasr
As mentioned earlier in this post, the outdoor setting at Bab Al Qasr, surrounded by lush greenery, is bound to have Suhoor guests feeling energised for the day ahead.
With a prime location on the Corniche, residents staying in the vicinity can drop in to experience Suhoor at its finest.
Included on the menu is Ramadan juices, dates, arabic cheeses, cold mezzehs and fresh fruits.
To make a booking call +971 56 992 2078
Location: W Corniche Rd – Al Bateen – Abu Dhabi – United Arab Emirates
Saraya Tent
Saraya Tent adds a traditional touch to Ramadan. A choice of traditional Arabic cuisine and the indoor and outdoor seating areas of this Suhoor is an authentic experience during the holy month of Ramadan.
Cost: A La Carte
Location: Al Raha Beach Hotel – Al Raha Creek – Abu Dhabi – United Arab Emirates
Kamoon
Kammon is another local favourite on the Corniche. Suhoor guests can enjoy an exotic Middle Eastern flavour fusion while taking in the stunning Arabian Sea views.
Choose from A La Carte or living cooking stations featuring saj and manakish. Not to mention hooka blends and delicious mocktails.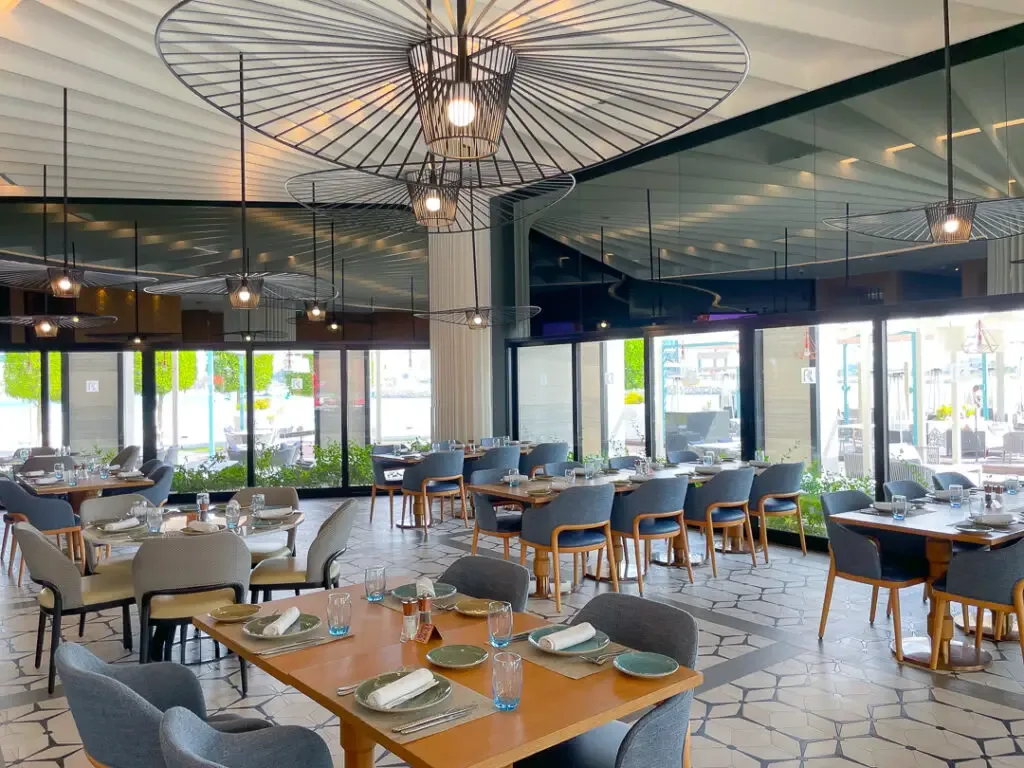 Timings 9pm-2am
For bookings call +971 2 657 0111
Location: Khalidiya Palace Rayhaan – Corniche Rd – Abu Dhabi – United Arab Emirates
The True Meaning Of Ramadan In Abu Dhabi
There is nothing more pious, charitable, and blessing-filled than Ramadan.
From sunrise to sunset, Muslim men and women around the world abstain from eating, drinking, or smoking during Ramadan, the ninth month of the Islamic calendar.
Muslims cannot consume food or drink from dawn to dusk and must adhere to this fasting as one of their five pillars of faith.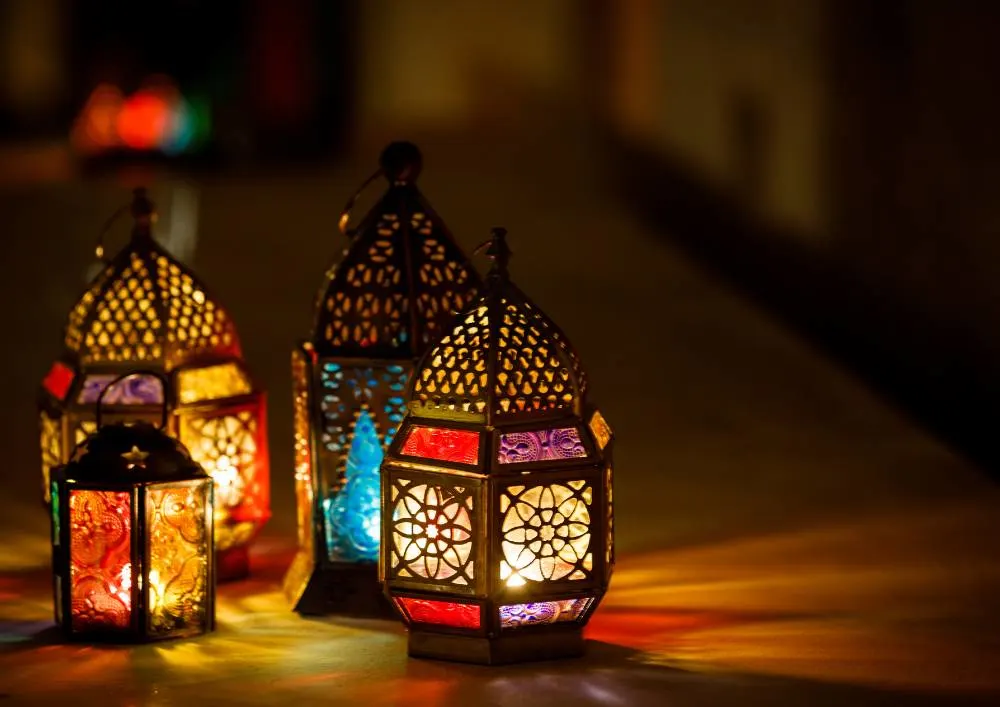 The period marks the commemoration of Muhammed (PBUH), obtaining the revelations of what became the Qur'an, the holy book for Muslims.
Ramadan
Fasting is a practice Muslims follow around the world, including in the United Arab Emirates.
The month-long practice begins with waking up just before sunrise to eat a meal known as Suhoor, fasting until sunset, and breaking their fast with Iftar.
Non-Muslims can be respectful by refraining from consuming anything in front an observing Muslim during this time.
During the past few years, Abu Dhabi and the other Emirates in the UAE have become more lenient about fasting. Therefore, shopping malls no longer cover food courts and eateries with drapes.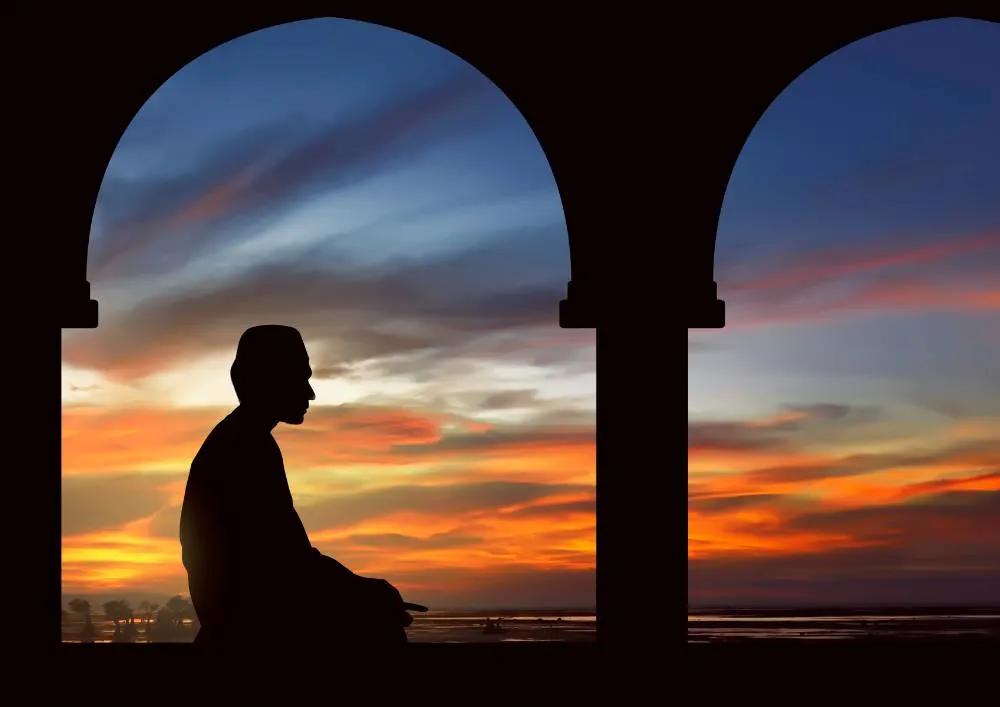 It has a profound spiritual significance, aimed at purification, turning to Allah (God) and detaching oneself from material goods, making fasting one of the fundamental purposes.
It is a time to turn towards others and display kindness, generosity, and love for the people close to us.
Ramadan marks a time when Muslims worldwide join in communion and gather in mosques.
Fasting Exemptions During Ramadan In Abu Dhabi
Fasting may be exempt in many circumstances.
Children under the age of puberty
Elderly
Physically or mentally disabled
Women who are pregnant & breastfeeding mothers
Those travelling are exempt
For those travelling, exemption from fasting is depending on three conditions:
Travelling a minimum distance of 77 kilometres, with the condition of making up for the day.
Travellers staying at their destination of travel for less than three days.
Exceedance, which means going beyond the confines of one's home town or city.
Restaurants Open During Ramadan Abu Dhabi
A vast majority of standalone restaurants and dining venues remain closed during the day throughout Ramadan, but those in shopping malls and hotels tend to stay open until the early hours.
Only one rule applies: eat at home, in the establishment, or a permissible dining area during the daytime until sunset.
The following is a list of places where Non-Muslims can dine or grab a quick bite during Ramadan in Abu Dhabi.
LOCA
Loca Mexican restaurant overlooks the promenade at The Galleria on Al Maryah Island. We suggest trying their business lunch specials that include loaded burritos and two drinks for just AED 99.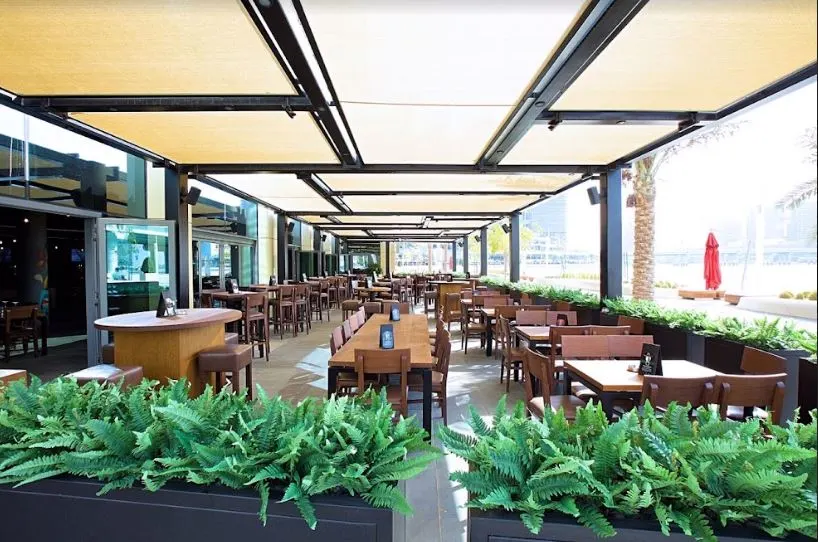 Light eaters should order the guacamole, which is well worth every Dirham.
For bookings and more information
Timings: 12 PM to 2 AM
Location: Al Maryah Island – Abu Dhabi Global Market Square – Abu Dhabi – United Arab Emirates
Diablitos
A cosy and casual restaurant with a rooftop dining experience overlooking the marina and race track is the ideal spot to grab a bite.
Diablitos is a must-visit restaurant featuring Mediterranean food, from homemade pizza to Spanish tapas and patatas bravas to paella.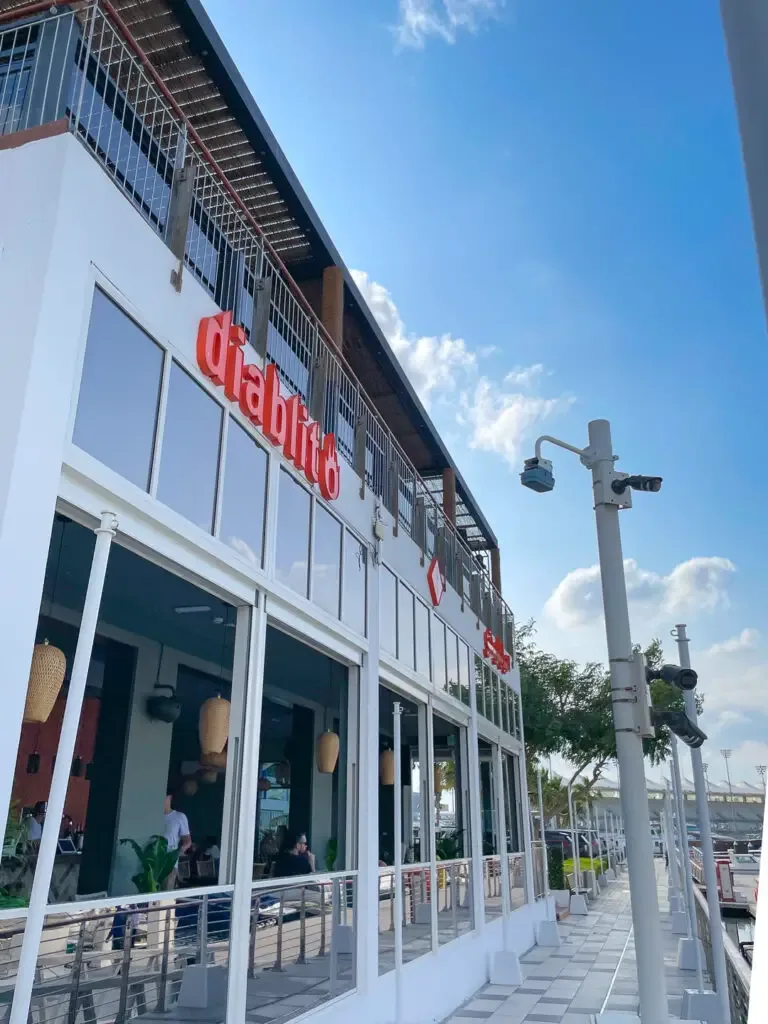 For more information and offers
Timings: 12 PM to 12 AM
Location: Diablito Building 6A Yas Marina – Yas Island – Abu Dhabi – United Arab Emirates
Aquarium
A favourite dining spot in Abu Dhabis' Yas Island, the Aquarium offers a variety of fresh seafood options, and weekly promotions are plentiful.
It's usually known for its vibrant atmosphere, however during Ramadan it is alot quieter.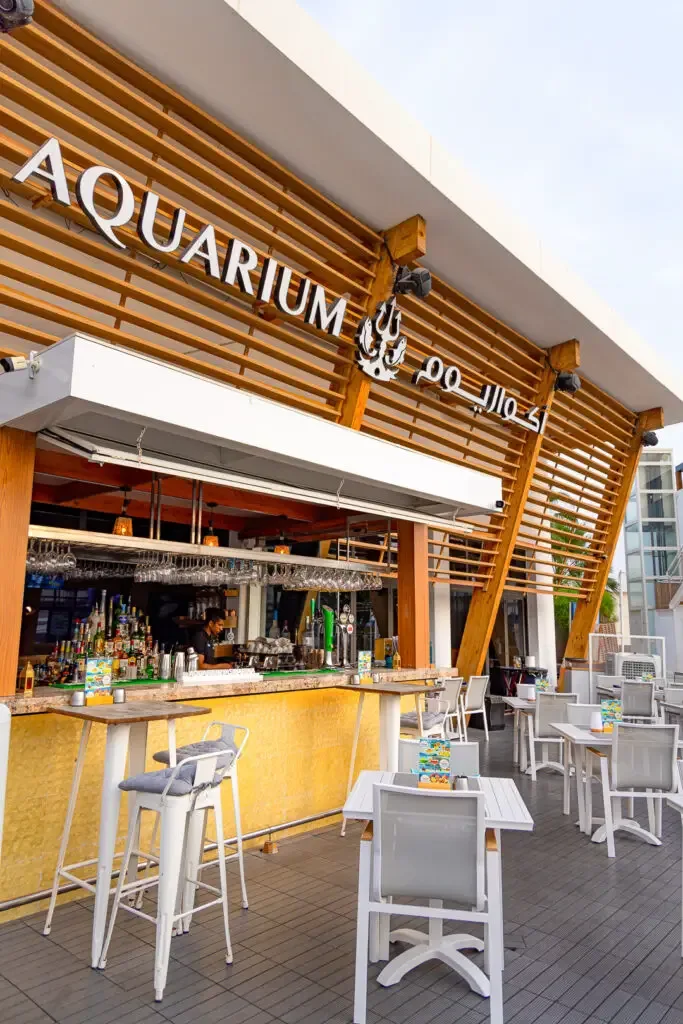 For more information and daily promotions
Timings: 1 PM to 2 AM (Sunday to Thursday)
1 PM to 3 AM (Friday and Saturday)
Location: Yacht Club – Yas Marina Circuit – Yas Island – Abu Dhabi – United Arab Emirates
Cafe Milano
Cafe Milano is an authentic fine-dining Italian restaurant located at the Four Seasons on Al Maryah Island. Guests have the option of A La Carte or business lunch option which varies daily.
For more information on dining at Cafe Milano
Business Lunch Specials: AED 220 for a two course meal
AED 250 for a three course meal
Timings: 12 PM to 12 AM (Monday to Sunday)
Location: The Galleria Level 1, Four Seasons Hotel – Al Maryah Island – Abu Dhabi – United Arab Emirates
Al Meylas
Al Meylas serves authentic Middle Eastern dishes with indoor and outdoor seating, its one of the top restaurants to dine at during Ramadan.
The sophisticated restaurant offers breakfast, lunches, and afternoon teas.
To make a reservation call +971 (2) 333 2444
Timings: 9 AM to 1 AM (Monday to Sunday)
Location: Four Seasons Hotel – Al Maryah Island – Abu Dhabi – United Arab Emirates
Brunch & Cake
Brunch and Cake is another local favourite frequented by residents of Abu Dhabi.
As one of the top most Instagrammable eateries, the restaurant is unique and chic. The cafe is well-known for its cake, coffee and wide range of other cuisines.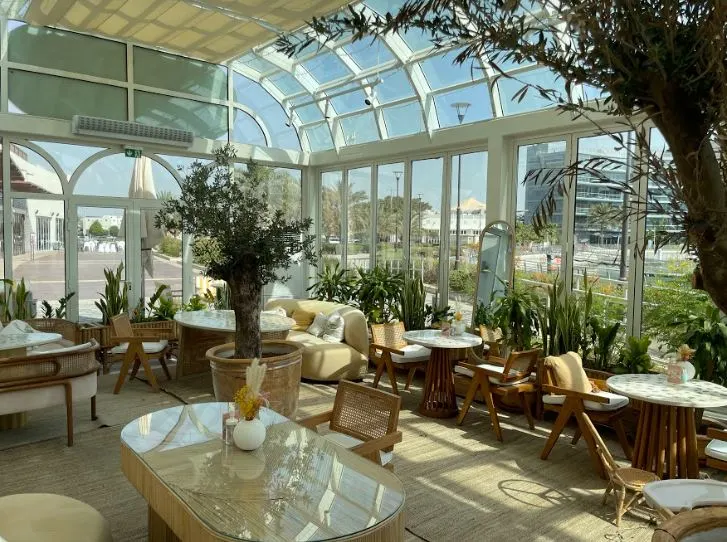 Timings: 9 AM to 11:30 PM (Monday to Thursday)
9 AM to 12 AM (Friday to Sunday)
Location: Marsa Al Bateen Marina, shop G-9 – Abu Dhabi – United Arab Emirates
Alba Terrace
A true reflection of Mediterranean cuisine is evident at Alba Terrace. Known for its lavish breakfast and locally sourced coffee, the restaurant offers light lunches and afternoon tea.
We recommend checking out the social lunch specials, which feature a variety of coastal Mediterranean cuisine.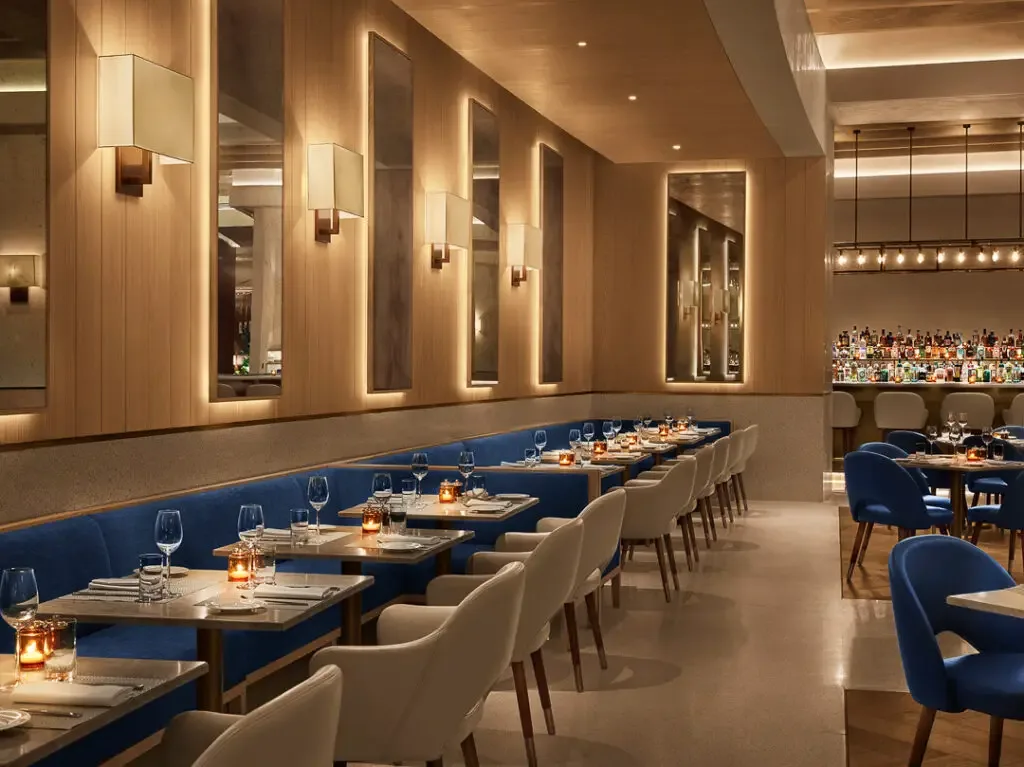 For details on making a reservation
Timings: 12 PM to 11 PM (Monday to Sunday)
Cost: AED 125 for a two course meal
AED 145 for a three course meal
Location: The Abu Dhabi EDITION – Al Bateen – Abu Dhabi – United Arab Emirates
Beach House
Beach House is a pleasant place to spend the day. The location is spot-on for catching a quick break during the day, just a few steps away from the beach.
In addition to Mediterranean cuisine, they offer Italian, Spanish and Middle Eastern options.
With a wide selection of lunch menu choices, there is something to suit every palate.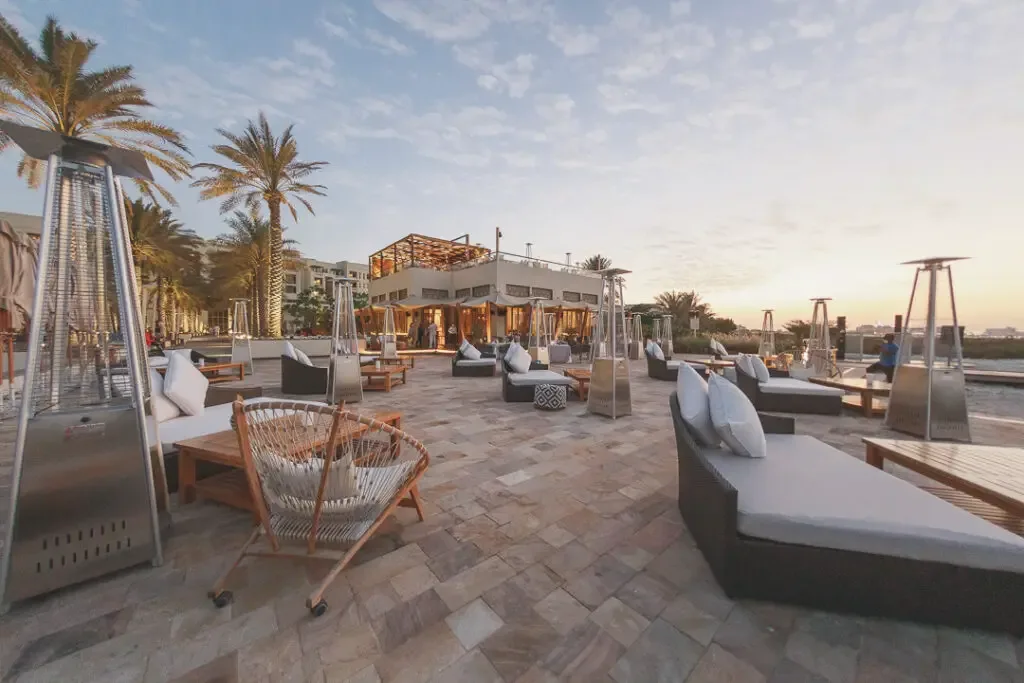 Timings: 12:30 PM to 12 AM (Monday to Sunday)
Cost: A La Carte (Approx AED 300 for two persons)
To make a reservation, please don't hesitate to reach out to +971 2 407 1138
Location: Park Hyatt Abu Dhabi Hotel and Villas – Al Saadiyat Island – Abu Dhabi – United Arab Emirates
Punjab Grill
For an authentic taste of Indian cuisine, try Punjab Grill. Every aspect of the dining experience at the upscale restaurant is exceptional.
Featuring rich curries infused with spices and an array of appetizers,the food is divine!
For reservations, call us on +971-50-668-3054
Timings: 12:30 PM to 12 AM (Monday to Sunday)
Cost: A La Carte
Location: The Ritz-Carlton Grand Canal, Venetian Village – Abu Dhabi – United Arab Emirates
SOLE Ristorante
SOLE serves traditional and modern Italian food in a plush setting. There is an aesthetic element of simplicity and elegance which is apparent in the set-up as well as the menu.
A wide variety of vegan options are available to guests, which retain a rich Italian flavour.
For more information on reservations
Timings: 12 PM to 3 PM and 7 PM to 11 PM (Sunday to Friday)
12 PM to 11 PM (Saturday)
Cost: A La Carte
Location: Podium Level 1 Etihad Towers – W Corniche Rd – Abu Dhabi – United Arab Emirates
Rasoi Ghar
Rasoi Ghar is another authentic Indian restaurant open during Ramadan in Abu Dhabi. A glance at the menu makes clear this is a vegetarian restaurant serving up some tasty Gujarati cuisine.
There is a mandatory reservation policy during the weekdays. However, during Ramadan, it might not be particularly busy in the day, so guests could take a chance. Over the weekend, walk-ins are welcome.
For bookings call +97125500567
Timings: 11 AM to 10 PM (Monday to Sunday)
Cost: A La Carte
Location: Yas Mall – The Fountains – Abu Dhabi – United Arab Emirates
Fouquet's Abu Dhabi
Fouquet's is a fine dining restaurant in the heart of the Louvre Museum. Incorporating the techniques of classical French cooking with a number of Fouquet's signature recipes while embracing contemporary international cuisine.
No restaurant in the city offers an exquisite French dining experience like this one.
For information on reservations
Timings: 12 PM to 12 AM (Tuesday to Thursday and Sunday)
12 PM to 1 AM (Friday and Saturday)
Closed on Monday
Cost: A La Carte
Location: Louvre Abu Dhabi – Cultural District – Al Saadiyat Island – Abu Dhabi – United Arab Emirates
Visiting With Kids During Ramadan In Abu Dhabi
If planning a trip to Abu Dhabi with the little ones during Ramadan is on the cards, we highly recommend going for it.
During Ramadan there are less crowds and queues at the popular theme parks. Visit the iconic Ferrari World or Yas Water World and other touristy spots around the capital.
Read more on things to do in Abu Dhabi with kids.
Schools During Ramadan In Abu Dhabi
To accommodate a two hour reduction in working hours during Ramadan, Abu Dhabi schools cannot open before 9:30 AM and must close by 3:30 PM.
Students and staff who are Muslims fast during the day. As a result, they may either have to wake up right before dawn or stay up late to eat, hence the shorter hours.
In Abu Dhabi, most schools try to keep their school hours within five hours.
Entertaining Kids During Ramadan
Ramadan is about embracing culture, doing good and spreading happiness. While Ramadan may seem like a solemn event, there are several ways to make it fun for kids without loosing sight of the true purpose of the month.
There are plenty of art and crafts kids can enjoy during Ramadan such as lantern making. Visit Ramadan Village at Abu Dhabi Mall, where they can partake in activities curated especially for kids.
Enjoy a lovely beach or park walk to watch the Ramadan moon glisten in all its glory.
The Do's And Don'ts Of Ramadan In Abu Dhabi
A visit to Abu Dhabi and other Emirates in the UAE is a breathtaking experience.
However, if you're new to the city, it is crucial to know Ramadan is the holy month of the UAE. There are several things to keep in mind when visiting Abu Dhabi and other Emirates during Ramadan.
Do's Of Ramadan
Embrace the spirit of the community and wish Muslim friends and colleagues a blessed Ramadan. For example say 'Ramadan Kareem'.
Be patient. There might be less productivity at work and a little fatigue among people fasting.
Accept food and drinks during Iftar as it is courteous and respectful.
Give fasting a try for a day. It's an excellent way to understand Muslim colleagues and friends.
Don'ts Of Ramadan
Don't eat, chew, drink, or smoke in public during the day, whether you follow Islam or not.
Don't dress inappropriately. Wear modest clothing.
Don't play loud music in the vicinity of those who are fasting. The use of headphones is permitted as long as others cannot hear the music.
Don't worry if all the rules seem overwhelming. Take advantage of the peace and tranquillity of Ramadan.
Visiting Sheikh Zayed Grand Mosque During Ramadan
The Sheikh Zayed Grand Mosque is among the most frequented places by worshippers in Abu Dhabi during the holy month of Ramadan.
Many Muslims visit the mosque in Abu Dhabi and spend several hours praying. Muslims perform a special communal prayer every night in addition to the five regular prayers that are at the heart of the core of Islam called the Tarawih prayer or the night prayer.
For Tourists and non-Muslim expatriates, you can still visit Sheikh Zayed Grand Mosque.
The Founder of the UAE, also known as 'the father' or Abdul Aziz bin Sultan Al-Nahyan, built the mosque to create a cultural haven for all, irrespective of their background.
During Ramadan, the Centre continues its cultural role by welcoming visitors to the mosque, one of the world's most important religious and cultural tourist attractions.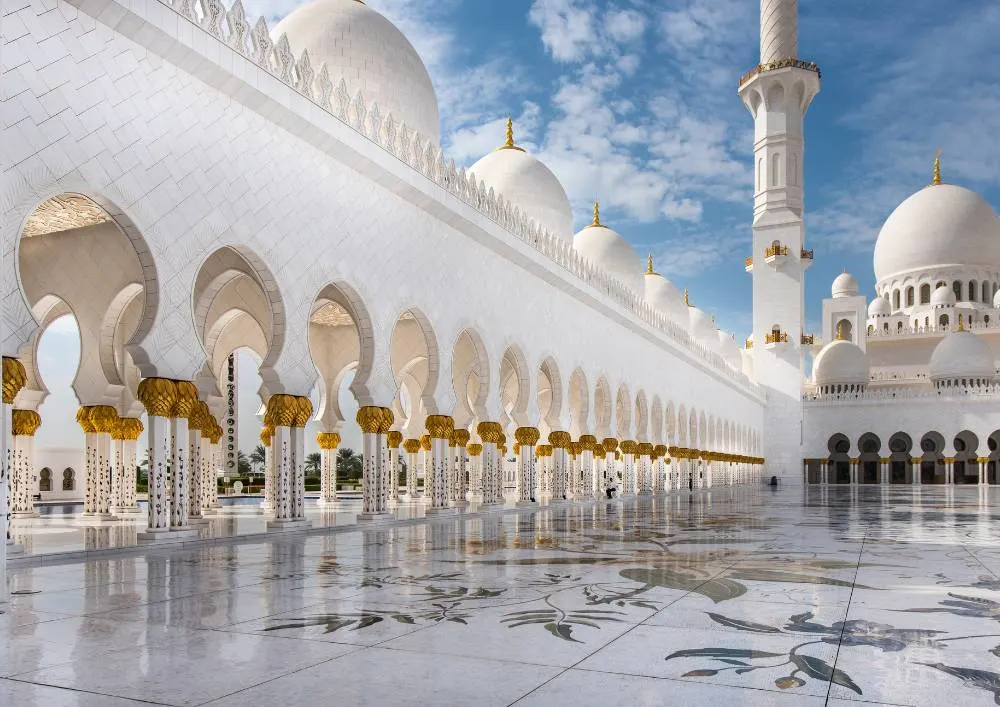 However, it is important to be aware certain areas within the Grand Mosque will not be accessible during religious worship.
A breathtaking view awaits with 1096 columns embedded with amethysts and jaspers, 82 white marble domes with reflective pools beneath and more.
Observers of daily fasts head to the mosque to pray at sunset, which inevitably results in the area being busier, particularly during Ramadan.
From Saturday through Thursday, the mosque is open from 10 AM to 6 PM and 9:30 PM to 1 AM. On Fridays, the mosque will be open from 3 PM to 6 PM and then from 9:30 PM to 1 AM.
In order to observe Tahajjud prayers during the last ten days of the holy month, visiting hours will end at 11:30 PM, seven days a week.
Book your tour of the Sheikh Zayed Grand Mosque
Ramadan Cannons At Sheikh Zayed Grand Mosque
An enduring tradition continued by the Emirati society, the Squadron of the Support Units Command fires the cannon to announce the beginning of Ramadan – a symbol of the UAE ancestors cultural legacy.
The first two shots indicate the commemoration of the month of fasting. The cannon will be fired daily for 30 straight days during the holy month, marking the time for iftar for Muslim residents.
As one can imagine, this is an impressive sight and part of Sheikh Zayed Grand Mosque's Ramadan tour itinerary.
In honour of Eid, two shots are fired at the end of the holy month, marking the end of Ramadan.
What To Wear During Ramadan
There is no doubt Ramadan is an auspicious month for the UAE. However, respecting the Muslim culture requires a more conservative dress code during the sacred time.
Clothing that may be considered too tight or revealing may be perceived as offensive by the locals, especially during the holy month.
Despite rules relaxing over recent years, it is still important to respect the culture and tradition to the fullest extent possible.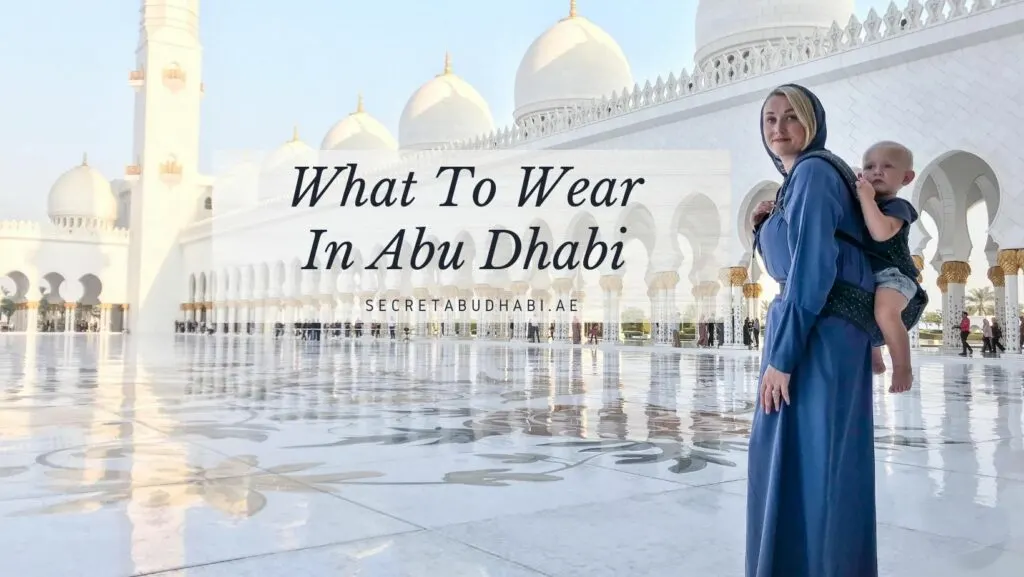 It is advisable to wear light clothes that cover shoulders, waist, and knees during Ramadan.
While on holiday, remember to wear conservative clothing until you get to your destination.
In order to stay cool and covered, long-flowing dresses are a good choice for ladies, whilst linen trousers and shirts are great for guys.
Read more about how to dress when visiting the UAE in our blog post – What to wear in Abu Dhabi.
Ramadan In Abu Dhabi Frequently Asked Questions
When does Ramadan start in Abu Dhabi?
Depending on the moon sighting, Ramadan may take place from March 23 to April 21.
Can I travel to Abu Dhabi during Ramadan?
During Ramadan, Abu Dhabi is generally quiet due to a lack of corporate travel, flights and hotels are likely cheaper than usual.
How is Ramadan in Abu Dhabi celebrated?
Ramadan is a time when charity is welcome. The donation does not necessarily have to be money, it may be food for Iftar.
The UAE provides free Iftar meals to its citizens. Meals are available at mosques, massive pop-up tents, shopping malls and other public places, including traffic junctions.
Is it okay to wear shorts during Ramadan in Abu Dhabi?
Both men and women should dress conservatively during Ramadan in Abu Dhabi and other Emirates. Not doing so may offend people who are fasting.
Wearing revealing or tight clothing during Holy Month may be considered inappropriate. At the very least, individuals should cover their shoulders and knees.
In Abu Dhabi, are restaurants closed during Ramadan?
Most of the restaurants remain closed during the daytime and open right after sunset until the wee hours of the morning.
However, we have listed a handful of restaurants above that stay open during Ramadan for dine-in and takeaways. Usually, malls and hotel restaurants are open.
Is alcohol served in Abu Dhabi hotels during Ramadan?
Non-Muslims are allowed to consume alcohol in Abu Dhabi, but there may be some restrictions during Ramadan.
Alcohol is rarely available at hotels during the day except in bottle shops where non-Muslims can purchase it.
Post-iftar, various bars and establishments serve alcohol.
Do clubs remain open during Ramadan in Abu Dhabi?
Bars and pubs will likely remain open but only serve alcohol indoors or after sunset. There will also be no live music or loud sound in bars and pubs.
Do malls in Abu Dhabi remain open during Ramadan?
Malls in Abu Dhabi are open during the holy month of Ramadan with updated hours of operation.
What are the exceptions to fasting?
Fasting is not necessary for children under the age of puberty, elderly, pregnant women, nursing mothers, or travellers.
Is it acceptable for Muslims to be given gifts during Ramadan?
The practice of giving Ramadan gifts is acceptable. To observe Ramadan, exchanging gifts with one another is allowed.
When invited to a Muslim household for Iftar, what do you bring?
Visitors are welcome to take a gift, however be mindful of what is haram and halal.
Presenting a box of dates, dried fruit and nuts, bouquets, halal sweets, and "Attar" (Arabic scent or perfume in a Muslim household) are all acceptable gifts to be given during the holy month.
What are the working hours for Ramadan in Abu Dhabi?
Employees' working hours are cut by two hours per day during Ramadan. A consistent working schedule will apply to all government organizations in Abu Dhabi, Dubai and the Northern Emirates from 9 AM to 2:30 PM.
Certain circumstances may allow individuals to leave earlier, such as having children at home, or in school.
To Sum Up Ramadan In Abu Dhabi
As you can see, Ramadan is not just a period of fasting and restrictions. It's an experience to enjoy and learn about traditions and culture.
Expat residents and locals in the region can enjoy fewer working hours, which means more free time for spending with the family and catching up on rest.
Non-Muslim families have the opportunity to explore the city on weekends, visit tourist attractions, and shop in malls. During Ramadan, there are many discounts, offers and fewer crowds around.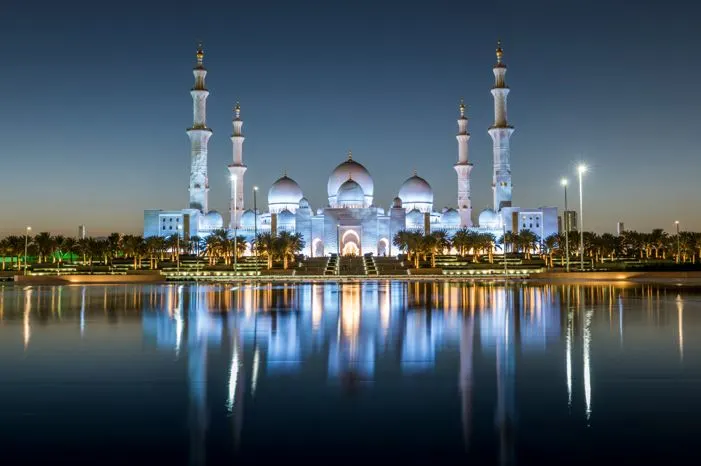 We hope you found this post abut what to expect during Ramadan in Abu Dhabi helpful. We love to hear from you, please leave a comment below!
For those looking at spending Eid in the United Arab Emirates, check out our guide to the most popular Eid staycations in Abu Dhabi and the neighbouring Emirates.
You may also like:
Eid celebrations in Abu Dhabi
Disclaimer: This post on celebrating Ramadan in Abu Dhabi may contain affiliate links, using them won't cost you anything, but we may receive a small percentage of the purchase to keep us writing!