New Years Eve Abu Dhabi events are always 'extra' with some of the largest firework displays in the world, not to mention fantastic parties and lavish brunches and banquet feasts.
Last Year, Al Maryah Island held the most prominent New Year's Fireworks display in the world. In true UAE fashion, it included an elaborate drone show creating incredible 3D images.
The drones slowly make their way into position, and it is genuinely mesmerising how clever the NYE displays are year on year.
The weather over the festive period in Abu Dhabi is perfect to be outside. It is high season in the region for visitors and events.
Interestingly, the Islamic New Year does not fall at the same time. It is also referred to as Hijri New Year and will be in July.
The date of Hijri is based on the moon, like all Islamic celebrations, be it Ramadan or Eid. The current Islamic year is 1444. Despite UAE being an Islamic country, New Year's as we know it is widely celebrated.
Whether you are spending New Years Eve in Abu Dhabi as a tourist, or living in the Emirate, we have all the basis covered. Check out this complete list of all the New Year Celebrations in Abu Dhabi covering every inch of the city.
Lookiing to plan next year? Check out the UAE public holidays.
New Year Abu Dhabi Events
1. New Year's Eve Masquerade Themed Galla Dinner At Al Bateen Ballroom, Grand Hyatt
Celebrate the arrival of the new year in absolute style at Grand Hyatt's Masquerade-themed Gala dinner. Prepare for a lavish evening brimming with live entertainment to ring in the New Year.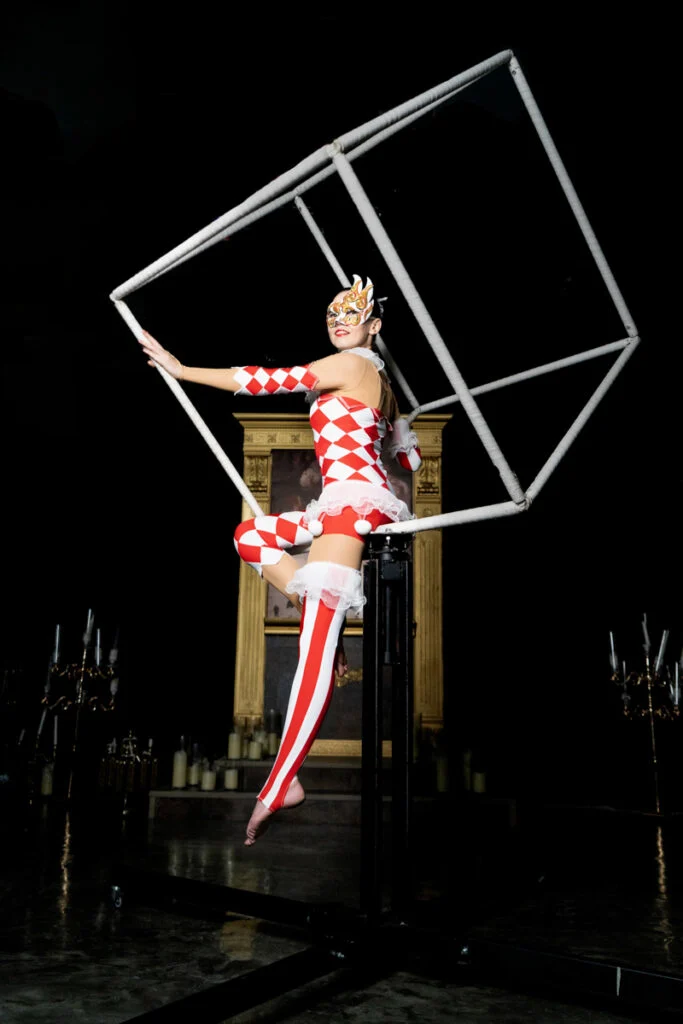 Don your finest attire for an unforgettable night of fine dining, dancing, and live entertainment.
Timings: 31st December 2023, 8:00 PM to 1:00 AM
Price: AED 600 for 1 – Including Soft Package, AED 800 for 1 – house beverages
Dress Code: Formal
2. New Year's Eve Cocktail Party At The Lexx Terrace, Grand Hyatt
Raise your glass to the New Year and take in the sparkling vistas of the West Corniche from Grand Hyatt Abu Dhabi, where they will be holding a terrace soirée.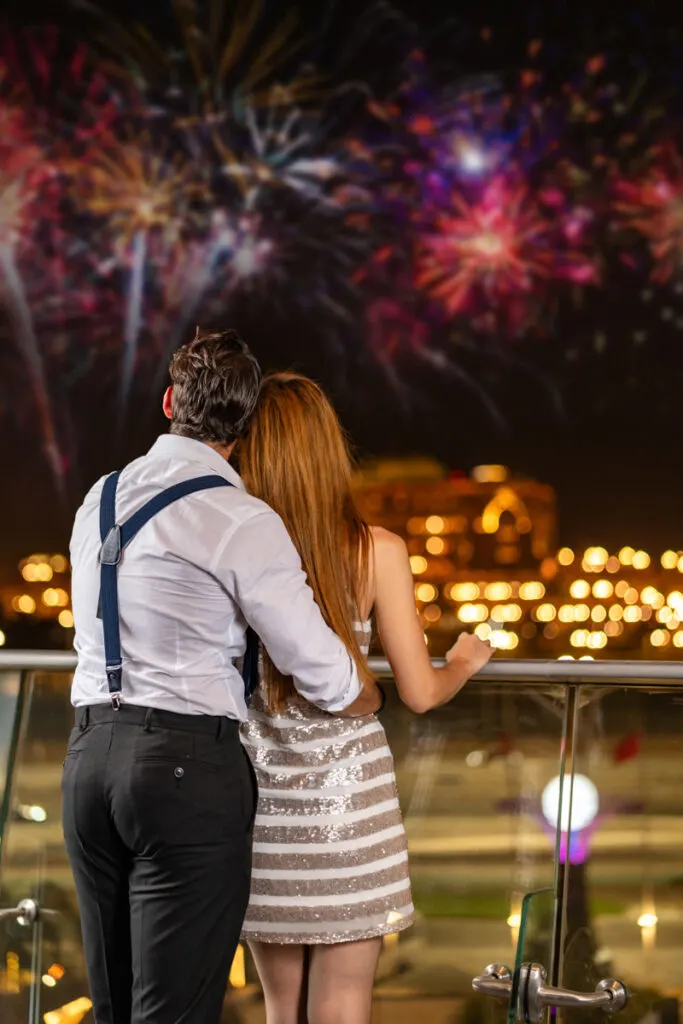 This adults-only New Year's Eve festivity provides seating with a view of the Palace, a dance floor, and live entertainment to guarantee your farewell to 2023 is an evening to remember.
Timings: 31st December 2023, 10:00 pm – 2:00 am
Price: AED 1100, Including Champagne
For reservations to both of these Grand Hyatt events, call 02 510 1234 or email.
3. NYE At Saadiyat Beach Club, Gala Dinner & After Party
Ring in the New Year at Saadiyat Beach Club with a Gala Dinner on December 31st, starting at 7:00 PM. Choose from Soft AED 799, House AED 999, and Premium AED 1,299 packages.
Indulge in a delectable menu crafted by our Executive Chef, featuring seasonal ingredients and culinary artistry.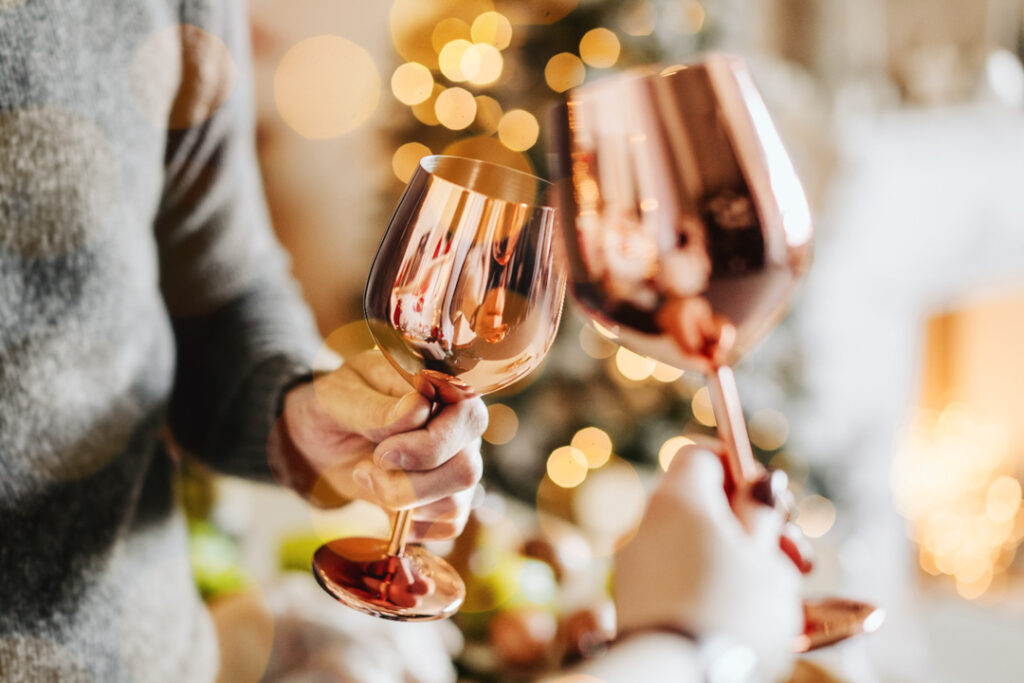 As the night unfolds, enjoy live performances by a sensational band, a vibrant DJ, and performers.
The celebration continues with the New Year's Eve After Party on January 1st, from 12:30 AM to 4:30 AM, priced at AED 199.
4. Emirates Palace Mandarin Oriental
Celebrate the start of 2024 in style at Emirates Palace Mandarin Oriental, where guests can dine at a restaurant, including incredible live entertainment and performances throughout the night.
The Palace Terrace will host a variety of musical performances and be centre stage for the fireworks grand finale, with four open bars and canopes throughout the night.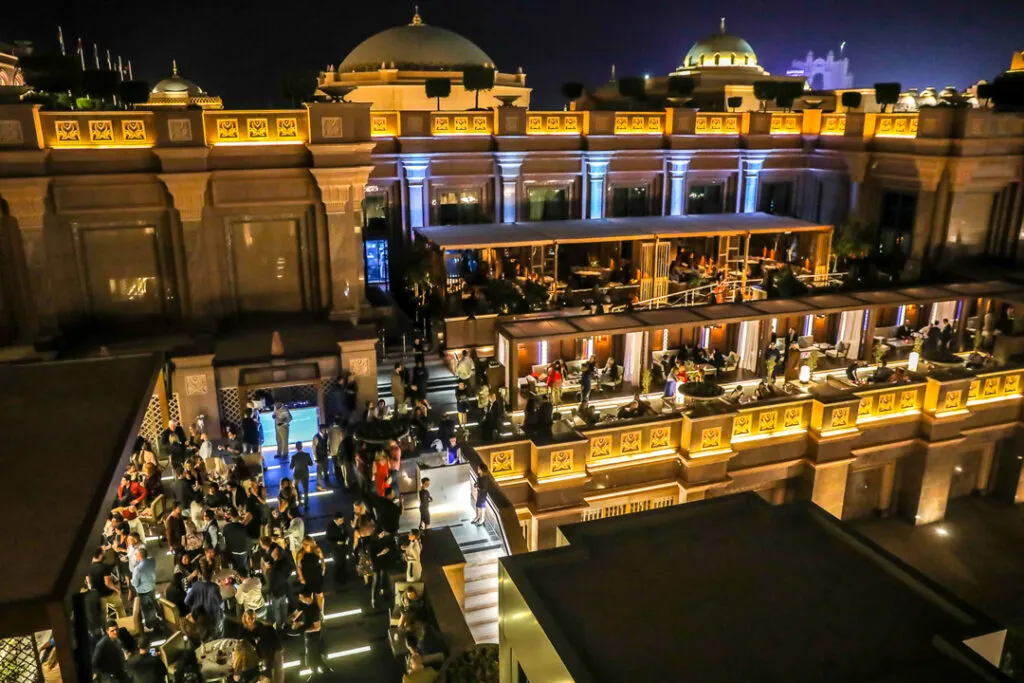 Diners can choose from 8 restaurants with packages including beverage pairings such as Hakkasan, Lebanese Terrace, Broadway, Vendome, Talea and more.
Price : AED 4,500 per person, for the entire event from 7:30 pm till late, including drinks.
AED 2,500 per person , Party celebrations from 10pm till late, including drinks.
For reservations, please contact +971 2 690 7999 or email.
5. Nahaam and Sole
Conrad Etihad Towers are ringing the New Year in style at two of its restaurants. Nahaam and Sole are bringing a New Year's Eve Spectacular evening brunch.
As always, the food is set to be incredible! Featuring authentic Italian pizzas, pasta, fresh seafood, succulent grilled meats, decadent handcrafted desserts and more.
The live band will get all the punters into festive spirit with tunes perfect for ringing in the New Year.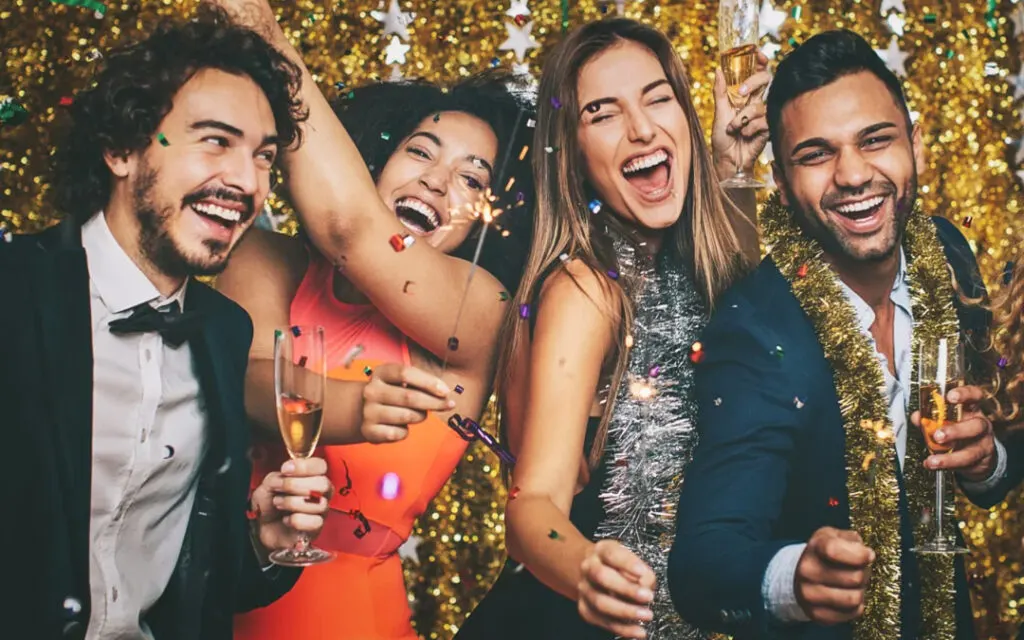 The New Year Party Abu Dhabi style starts at 7pm with free-flowing drinks and a feast until midnight.
Price: AED 650 (soft package)
AED 850 (house package)
AED 950 (bubbles package)
AED 250 for ages 6–12; under 6 dine free
Location: Nahaam, Conrad Abu Dhabi Etihad Towers West Corniche
Contact: 02 811 5666 for bookings.
6. VaKaVa
VaKaVa is set to serve a four-course menu this New Year's Eve curated explicitly by Head Chef Eber Villalobos. Enjoy a glass of bubbles with a divine selection of dishes.
Should guests wish to ring the New Year in a glamorous atmosphere with plenty of food and beverage options, VaKaVa is the ideal place to celebrate!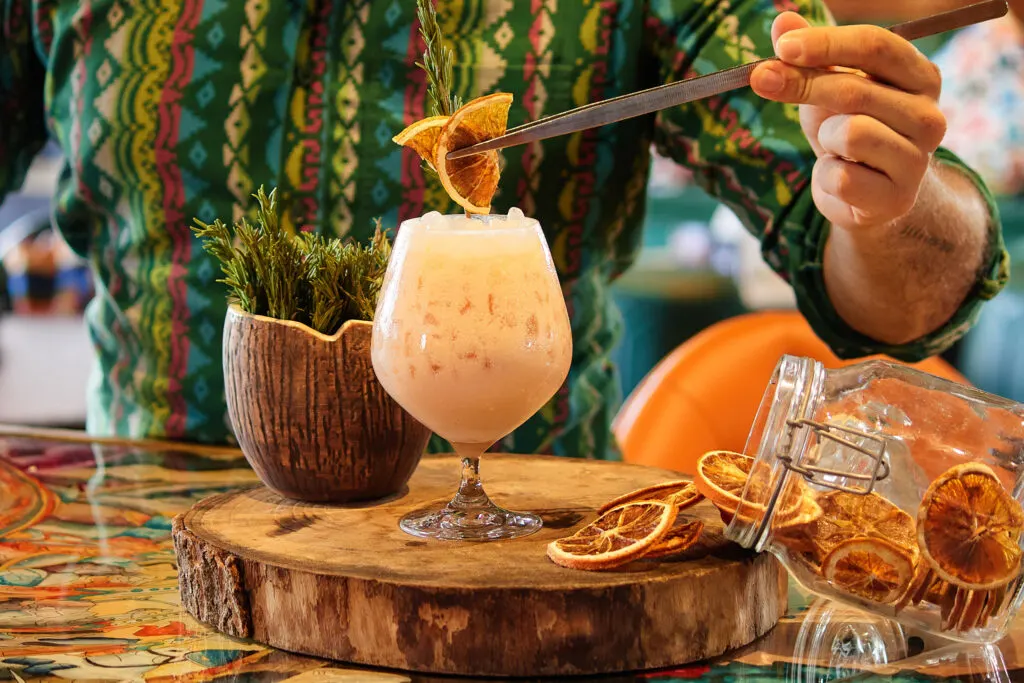 Price: Dhs500 (soft package)
Dhs 800 (house package)
Location: VaKaVa, Dec 31, 7pm – 11pm, Conrad Abu Dhabi Etihad Towers West Corniche
Contact: 02 811 5666
7. Ray's Grill
Situated 62 floors above the glittering Abu Dhabi skyline, Ray's Bar invites guests to ring in the New Year with this sensational dining spot for steak enthusiasts complemented with wine or bubbly.
Socialites are free to dance the Abu Dhabi New Year 2023 away and welcome 2024 at the highest party place in the city.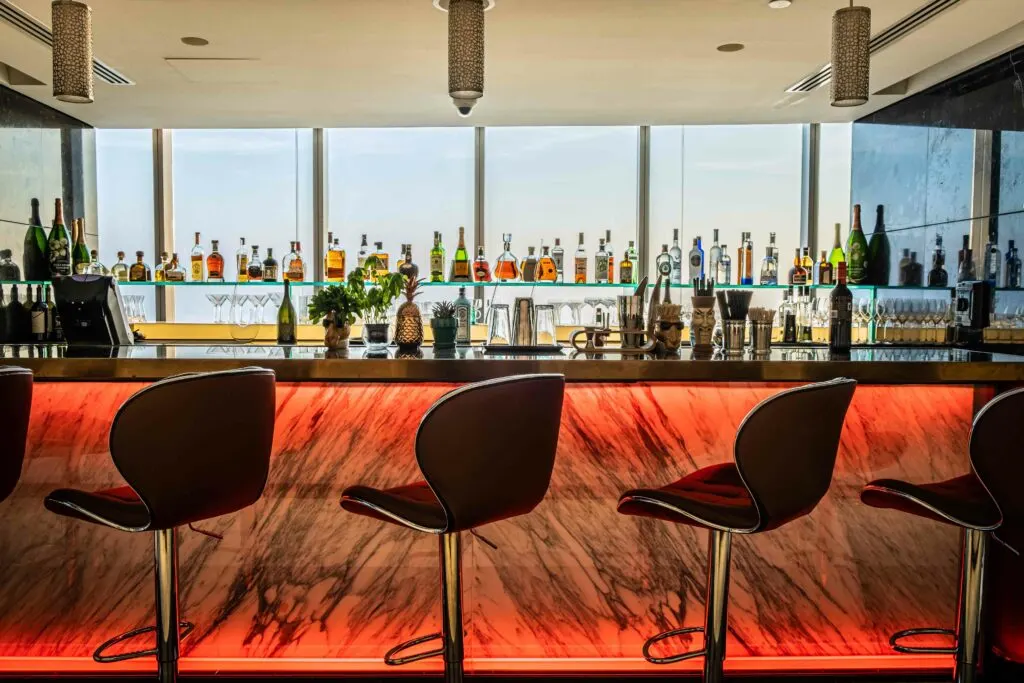 Offering 2 seating's 6pm – 8.30pm & 930pm – 12am
Price: AED 350 6:30pm – 8.30pm
AED 650 9.30pm – 12am
Location: Ray's Grill, Conrad Abu Dhabi Etihad Towers West Corniche
Contact: 02 811 5555
8. Oak Room New Years Eve Dinner
The acclaimed Oak Room at The Abu Dhabi Edition offers a New Year's Eve celebration featuring top-tier ingredients. Welcome 2024 with exceptional appetizers and a selection between premium Wagyu Striploin or Monkfish for your main course.
With the glistening backdrop views of Al Bateen Marina, conclude your culinary voyage with the indulgent Black Forest S'mores.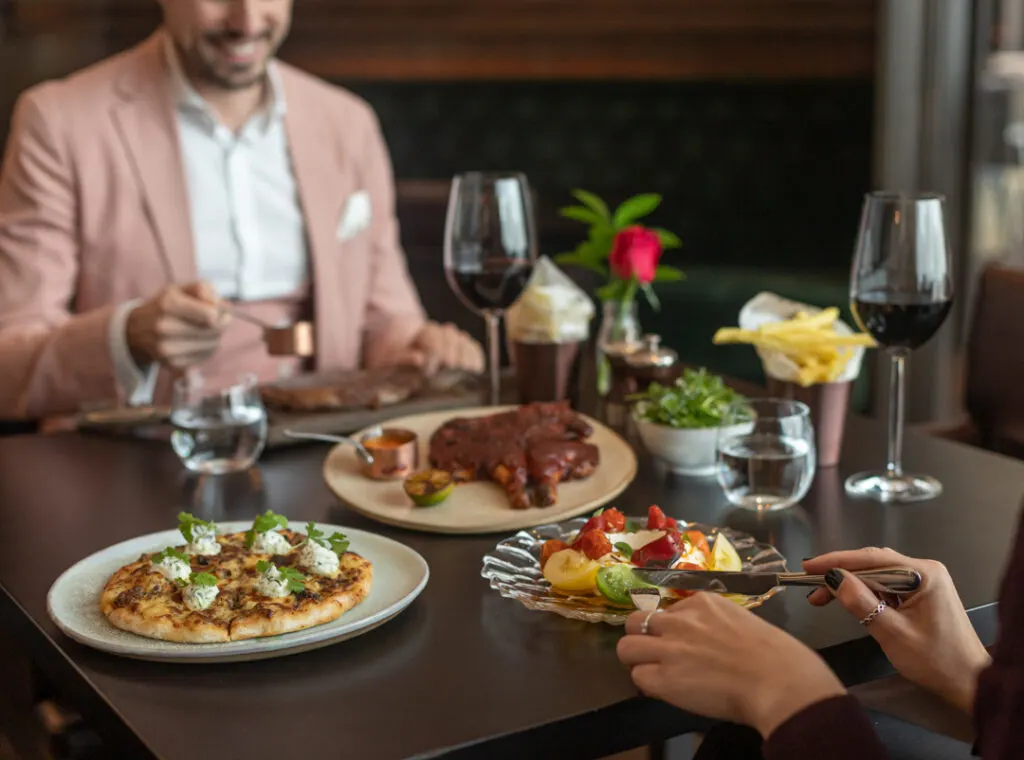 The night is enhanced with live performances, top-notch cocktails, and sparkling beverages, all set for a celebratory toast.
Timings : 7pm to 12am , 3 – hour experience
Price : AED 545 per person including coffee, tea and soft beverage.
AED 645 per person including selected house beverages
AED 745 per person including bubbles
9. Alba Terrace, The Abu Dhabi Edition
Prepare for a lively coastal Mediterranean-style festivity at Alba Terrace this New Year's Eve. Enjoy live entertainment, creating a vibrant atmosphere on the terrace and by the pool, complemented by Italian sparkling wine.
From delightful appetizers to main courses, like Beef a La Bourguignon, Alba Terrace crafts the ideal conclusion to the year.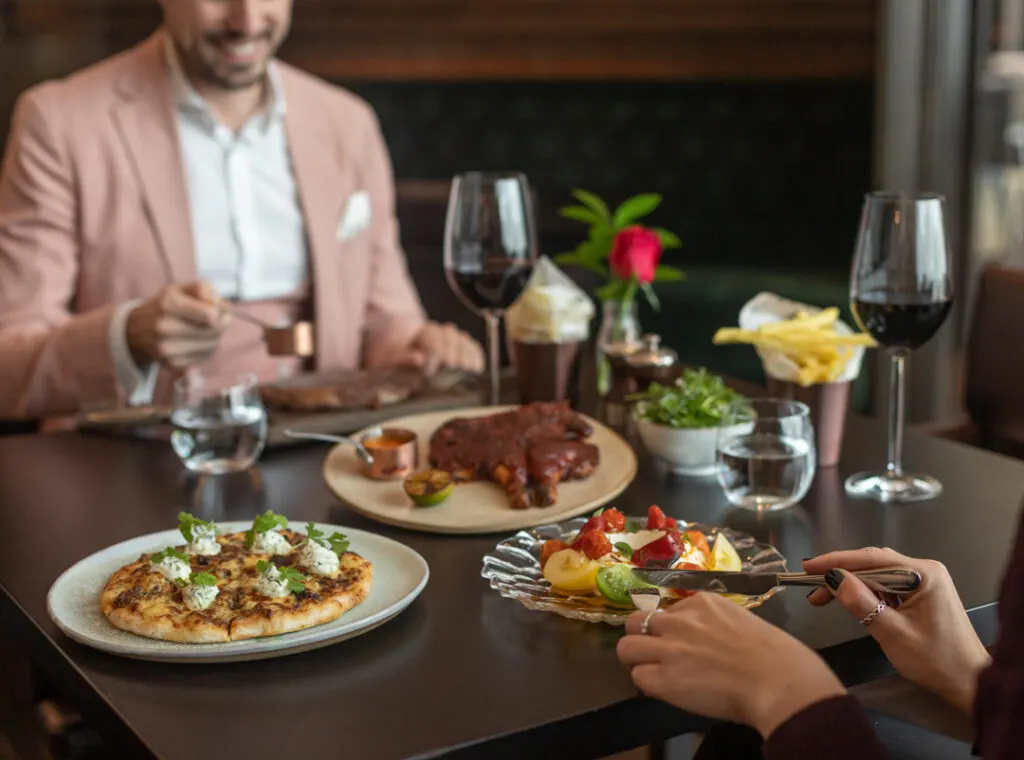 A diverse array of mouthwatering desserts follows, and as the evening unfolds, Amaretto and Limoncello cocktails, along with live entertainment, set the stage for the countdown.
Timings : 7pm to 12pm 3 – hour experience
Price : AED 395 per person including coffee, tea and soft beverages.
AED 525 per person including selected house beverages
AED 625 per person including bubbles
10. Butcher and Still, Four Seasons
Celebrating New Year's Eve at Butcher & Still has become a tradition among many UAE residents, and this year's celebration promises to be the most unforgettable one yet.
True to its distinctive 1920s Chicago steakhouse style, the venue is pulling out all the stops to host a stylish, sophisticated, and retro-inspired gathering that will leave a lasting impression.
As a perfect way to reminisce before 2024, guests are invited to savour a selection of premium prime cuts and delectable side dishes with the bonus of breathtaking firework views from Butcher & Still's iconic waterfront terrace.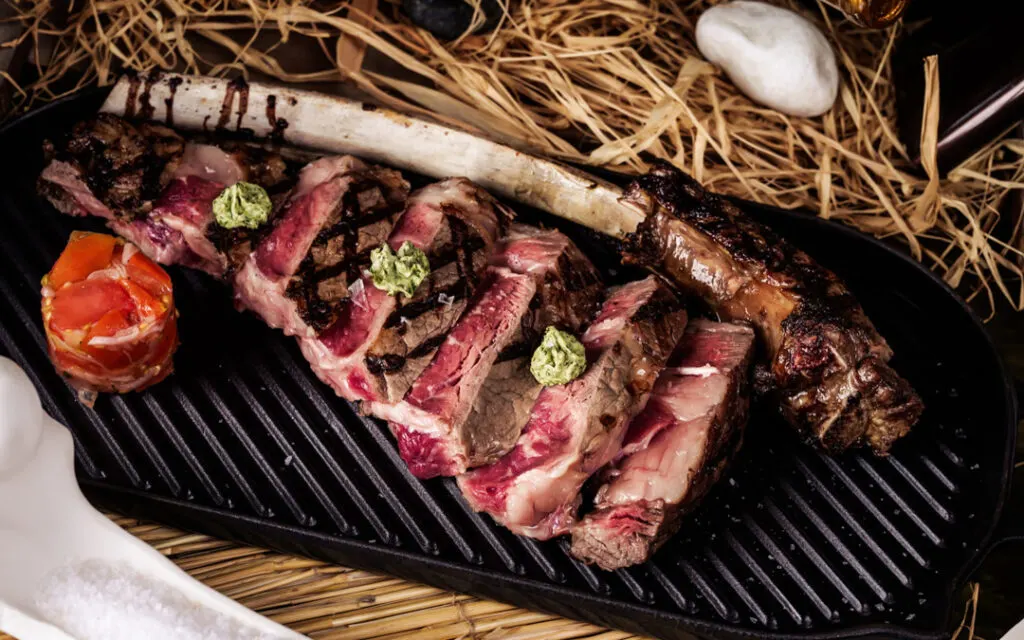 A live DJ will provide the musical tunes, so guests can revel in feasting, socializing, and dancing well into the night.
Timings : Sunday December 31st from 7pm until late
Price : Food and beverages are priced a la carte.
To reserve a table, call +971 2 333 2444 or email dining.abudhabi@fourseasons.com.
11. The Grill
This NYE Abu Dhabi at The Grill will have a specially curated set menu. Featuring prime cuts and succulent BBQ meats, soft drinks, house beverages or champagne to welcome the New Year.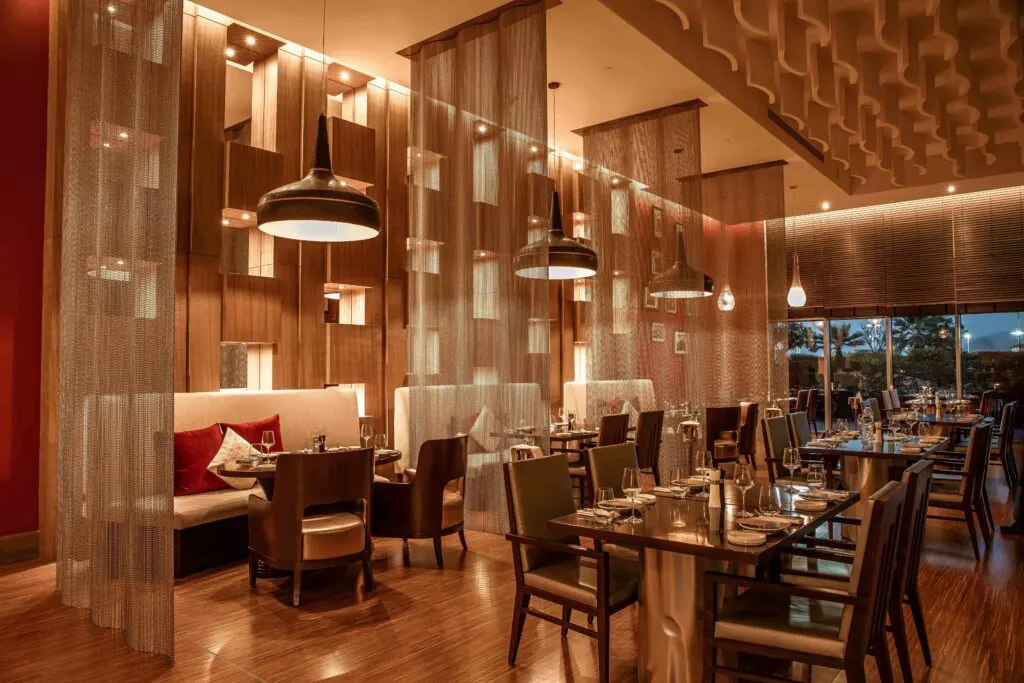 Price: AED 305 per person – Soft package
AED 455 per person – House package
AED 555 per person – Champagne package.
Timings : 8:30pm to midnight
Location: The Grill, Marriott Hotel Al Forsan 31st December
Call: 02 201 4131
12. Park Rotana NYE
Ring in the New Year beneath the starry sky. Join your friends at the poolside for a magnificent buffet, WITH live stations like the sushi & sake bar, oyster & caviar station, carvery station, peking duck corner, dessert bar, and more.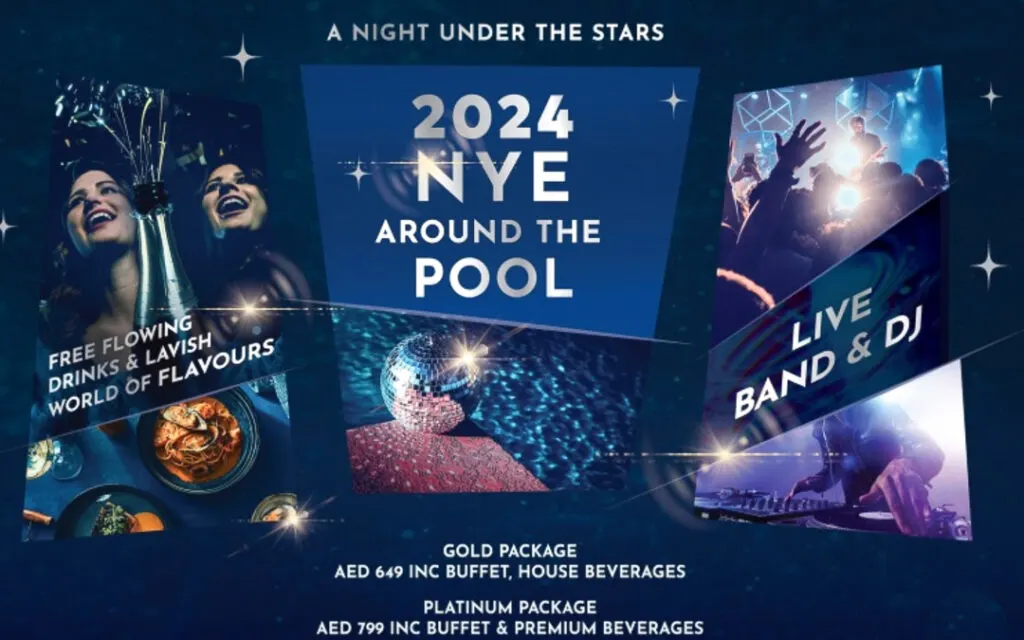 Sip on the cleverly crafted signature cocktails and select beverages to enhance the experience.
The night will be further elevated with a captivating performance by Lebanese singer Cynthia and her band, accompanied by DJ Frankey on the decks. This promises to be a memorable night!
Timings – 8pm to 3am (food till midnight)
Price : AED 649 including buffet, house beverages & soft drinks.
AED 799 including buffet & premium beverages.

For inquiries and bookings call 02-657
3335.
13. Balcon Terrace
Get set to sparkle as you bid farewell to 2023 and welcome 2024 amidst a dazzling ambiance of blue and white.
The Southern Sun Abu Dhabi is set to host an EVENT, with live music featuring a violinist, DJ, and international performances for a stylish New Year's celebration.
At midnight, guests have the option to venture to the 27th floor for an incredible fireworks spectacle or stay on the dance floor to groove into the new year.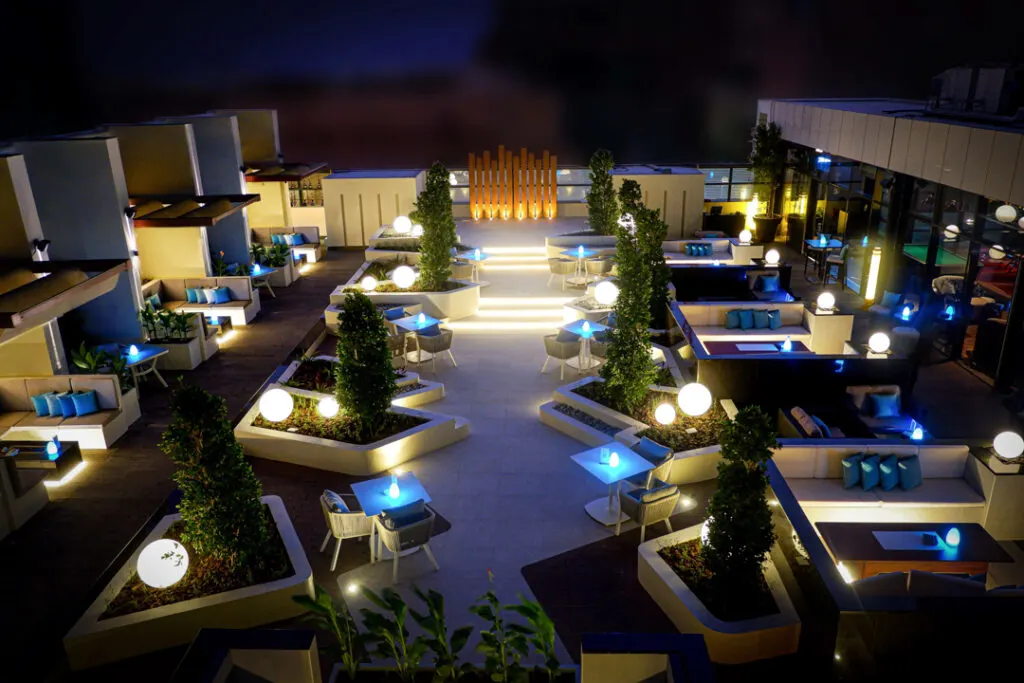 Timings : Sunday 31st December 2023, 7pm – 1am
Price : AED 600 for the Soft Beverage Package, AED 750 for the Premium Beverage Package,
AED 990 for the Champagne Package and AED 250 for the Kids Package.
To book, contact +971 56 515 3388
14. NYE Gala Dinner at Grills @ Chill 'O
Begin the last evening of 2023 with a rich Bouillabaisse Station featuring fresh seafood soup, Foie-Gras, scallops, oysters, and various meats.
Discover New Year crackers on your table filled with exciting surprises while the live entertainment keeps the party lively.
The DJ will lead the countdown at midnight for a stylish New Year's welcome. Head to Sofitel's NYE Gala Dinner for an unforgettable night of celebrations!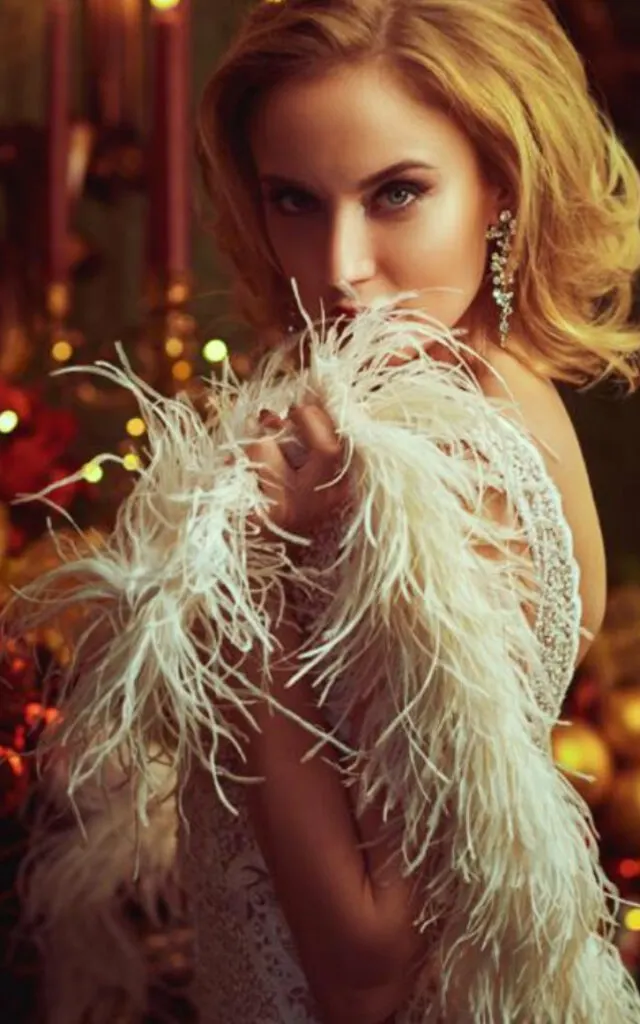 20% Early Bird on selected offers until 15th of December 2023
Timings : December 31st | 8:00 PM to 1:00 AM
Live band: 9:00 pm to 11:30 pm
DJ: 11:30 pm to 1:00 am
Price : AED 395 per person with soft drinks
Add AED 165 per person for unlimited house beverages including sparkling wine
Add AED 495 per person for unlimited champagne
50% for kids (6-12 years)
Have you found this post about New Year Abu Dhabi events helpful? Leave a comment, we love to hear from our readers.
Disclaimer: This post may contain affiliate links, by using them it will not cost you any extra, we will receive a small proportion of the sale to keep us writing!