After a scorching desert summer, the weather in Abu Dhabi in October is the first sign of cooler days ahead. With that comes some exciting outdoor events after a long period of indoor life in the Emirate.
Whilst the weather in Abu Dhabi in October is not quite as cool as in November and December, it is tolerable to be outside.
Ripe markets begin to restart, not to mention the parks, beaches and outdoor attractions welcome visitors again.
In fact, there are some special events in Abu Dhabi in October covering everything from sports to international festivities, and concerts to reopening parties.
Weather & Temperature In Abu Dhabi In October
October is essentially right between summer and winter in Abu Dhabi. The temperatures and humidity begin to decrease.
The average temperatures in Abu Dhabi in October range from a low of 24°C (75°F) to a high of 35°C (95°F).
The humidity levels in Abu Dhabi in October are relatively lower than in the summer months. The average humidity is around 50-60%.
Abu Dhabi weather in October sees very little rainfall with an average of around 5 mm. The Emirate sees around 10 hours of sunlight per day in October.
Whereas wind is around 10 km/hour or 6 mph. As the season changes, there are occasional sandstorms known as Shamals. Shamals translates to Northwesterly wind.
Overall the weather in Abu Dhabi in October time is cooler than in summer. January and February are the coolest quietest months making them a pleasant time to visit.
By March, cultural festivals tend to draw to a close. April is still pleasant enough to explore the outdoors. However, come May it gets quite hot.
The summer months including June through July and August can attract budget travellers when excellent deals are available on top resorts and attractions.
However, in the middle of the day, temperatures can reach the mid 30's so it is a good idea to have an itinerary with a mixture of indoor and outdoor activities.
Specific Events In Abu Dhabi
October marks the beginning of the tourist season in Abu Dhabi. With that comes slightly busier attractions and of course some fantastic events to enjoy.
The schools in Abu Dhabi typically have a half-term break in October as well. Many resident families tend to stay in the Emirates whilst the weather is tolerable.
Whereas in the summer months, resident families tend to travel outside of Abu Dhabi. Hence many attractions are particularly busier during school holidays. Here are some events expected to take place this October.
Octoberfest – Throughout The Month
Last year saw many hotels and bars across the Emirate run Octoberfest. From Abu Dhabi Golf Club to St Regis, this year is expected to be no different!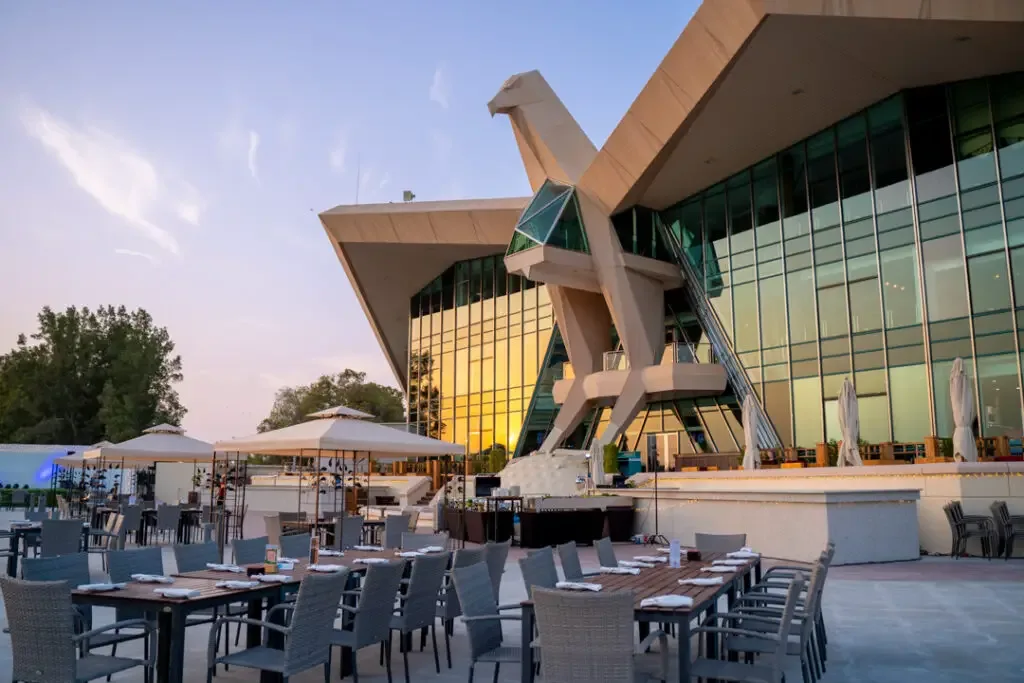 Featuring live music, giant beers, and bavarian food, not to mention traditional costumes, it is a fun festivity held in many places across Abu Dhabi and Dubai.
Reopening Parties – Throughout The Month
There are a number of places which shut down over the summer months. Outdoor venues cannot be utilised in the scorching desert temperatures. Two that spring to mind are Art Lounge in the Louvre and Pura Glamping Eco Resort on Jubail Island.
Art Lounge is a fabulous outdoor bar on the edge of the Louvre overlooking the Arabian Gulf. Set on the premises of an architectural masterpiece, Art Lounge is the perfect place for a sundowner with delicious nibbles.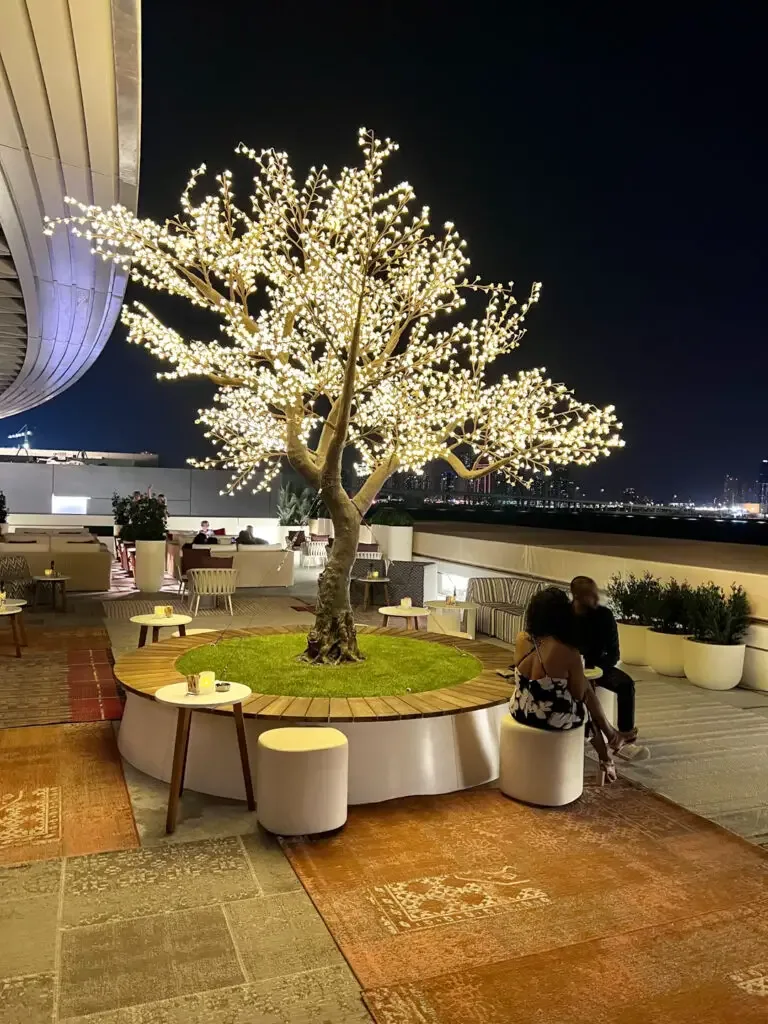 Art Lounge usually reopens its doors in October and the opening party is the place to be! Dates for this year are to be confirmed, keep an eye on their website for more details.
Pura Eco Resort is not only a place where tourists come to enjoy high-end glamping. UAE residents very much love the resort for a winter staycay.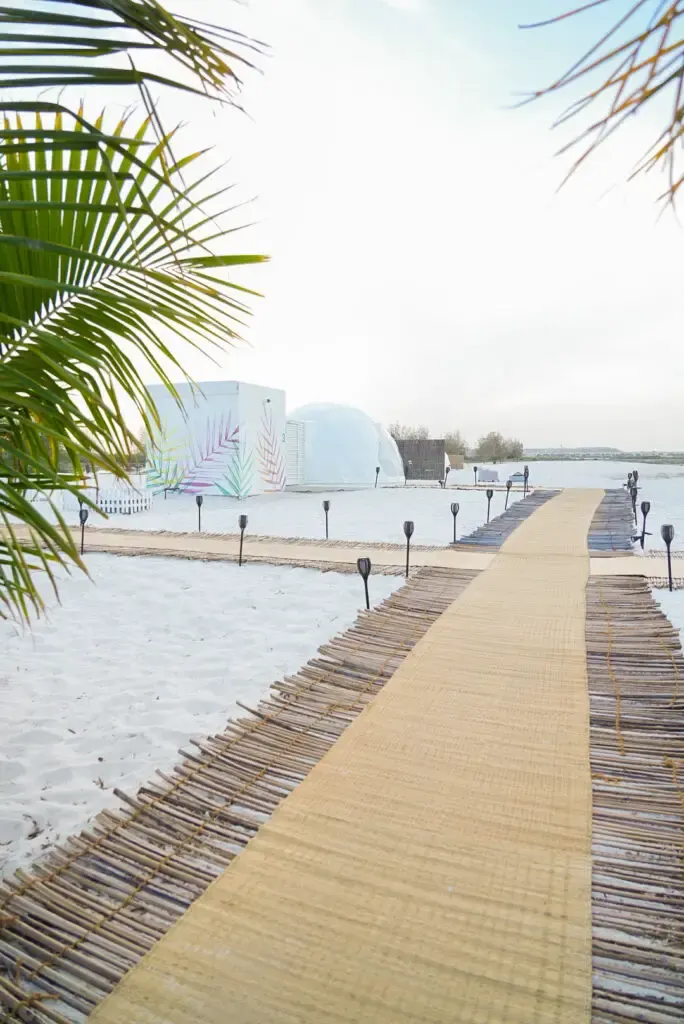 Not to mention, the glamping site has a number of parties and festivals as well as al fresco brunches on the weekend in the winter months.
Keep an eye on the Pura Eco Resort for the date of reopening this year.
Canadian Thanksgiving – Monday 9th Of October
Abu Dhabi is renowned for embracing special international holidays and Canadian Thanksgiving is no different.
With plenty of Canadian ex-pats living in the capital, many hotels and restaurants mark the day with themed brunches. The Canadian Business Council Abu Dhabi hosts an event annually with all the trimmings!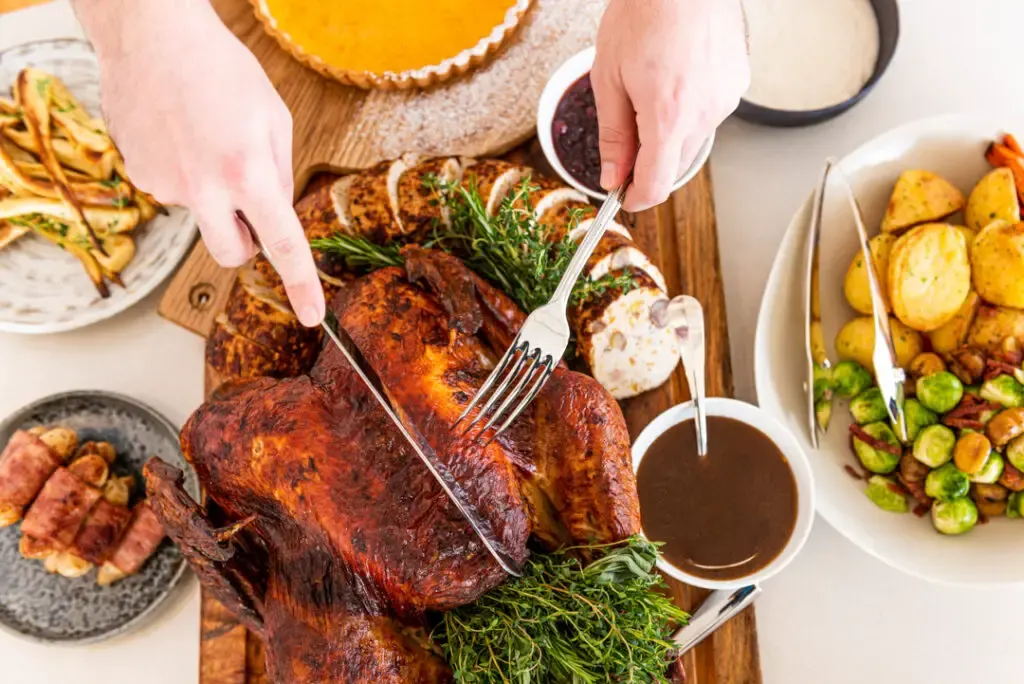 In previous years, Canadian Thanksgiving has been held at Jumeirah Al Saadiyat and Shangri La. Keep an eye on the CBC AD website to join the annual event and find out where it will be held this year.
The Club Abu Dhabi always marks Canadian Thanksgiving. Although it is a private members club, friends of members can attend as guests to enjoy the event.
Disney on Ice 11th to 15th of October
Disney On Ice presents 100 years of wonder this October in Abu Dhabi. The show will be held in Etihad Arena on Yas Island.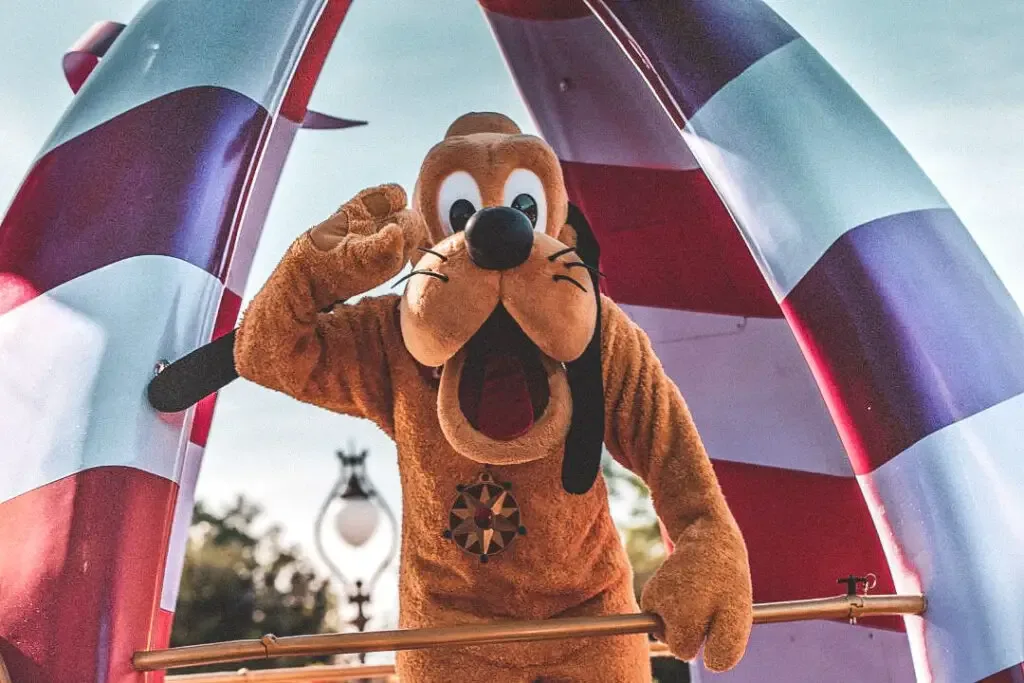 Featuring Micky Mouse, Goofy, Aladdin, Moana, Coco and Beauty & The Beast to name a few, the show is set to be an incredible experience for adults and children alike.
Book tickets to Disney On Ice.
WATC Golf Tournament 18- 28th Of October
The World Amateur Team Championships ( WATC) will be hosted at the Abu Dhabi Golf Club this October. It will be the first time the event will be held in the Middle East since its inauguration in 1958.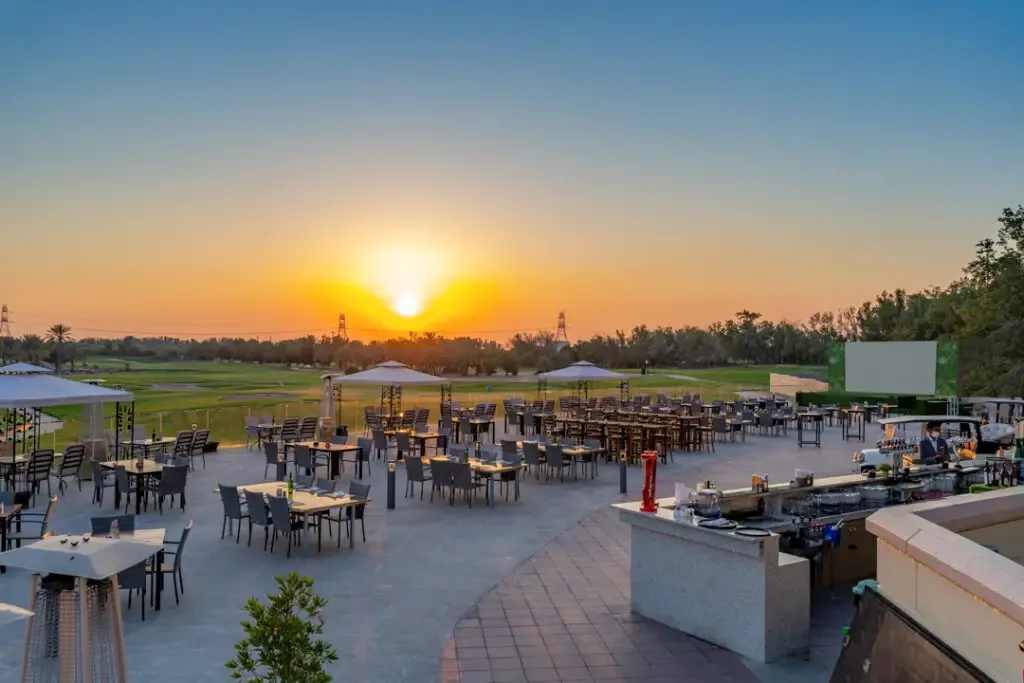 The men's trophy will run from the 18th to the 21st of October and the women's trophy will run from the 25th to the 28th of October.
Visit Abu Dhabi Golf Club site for more information.
UFC 21st of October 2023
UFC is a renowned sport quite often held on the coined 'fight island' AKA Yas Island. This year, UFC 94 will take place on the 21st of October.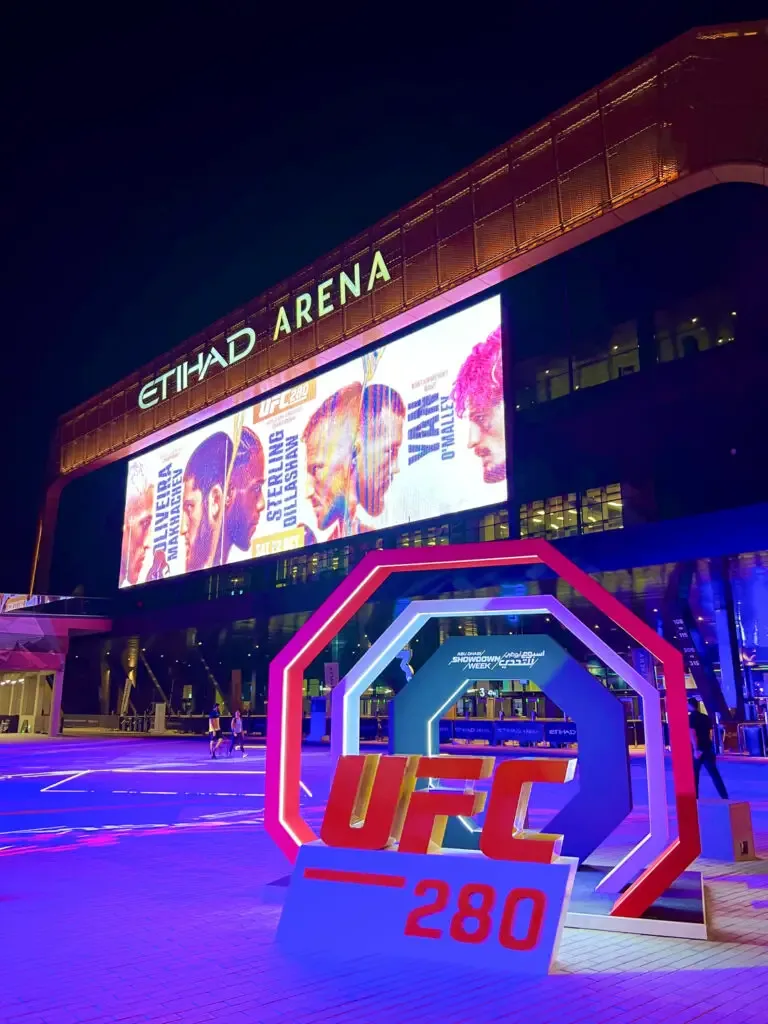 Components are yet to be announced. However, it is safe to say there will be a tonne of parties and events surrounding the UFC. Cafe Del Mar Beach Club is renowned for hosting parties and meet and greets with fighters.
Halloween – 31st of October
Halloween is widely celebrated in the UAE. Malls and shops are adorned in black and orange decor close to the day. There are many events for Halloween in Abu Dhabi.
Both Yas Mall and Galleria Mall host a festival with 'scary' concerts, hands-on activities, themed street food and so much more. The event usually lasts for a couple of days at least and is really popular so it is worth arriving early to guarantee entry.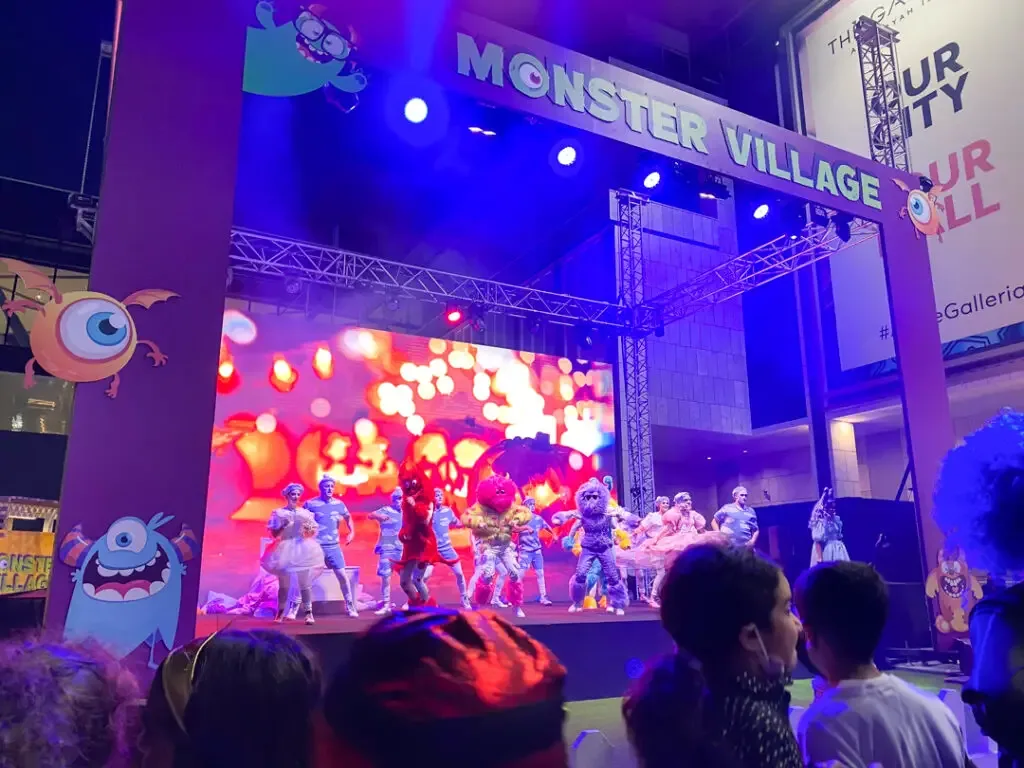 Other activities that have taken place in previous years include the 'spooky kayak' tour at the Louvre. Circuit X high ropes on Al Hudayriat have had a spooky event. Not to mention, Halloween-themed brunches and evenings for adults.
Check out our Halloween post for events.
Al Dhafra Festival ( Late October TBC)
The Al Dhafra Festival takes place annually and is a celebration of Bedouin culture, heritage and traditions. The festival usually starts late October with dates to be confirmed for this year.
Things To Do In Abu Dhabi In October
Now that we've looked at all the events in Abu Dhabi, let's check out some of the best things to do in October around the Emirate. From camel pageants to tapestry workshops and horse racing to falconry it is a one of a kind Emirati experience.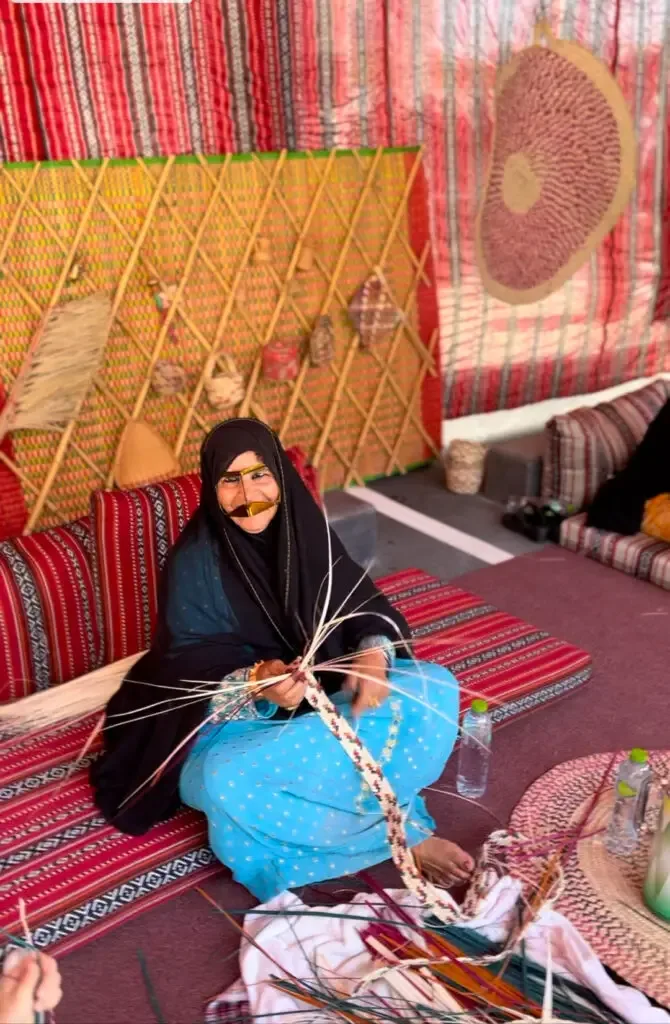 It is held close to Madinat Zayed which is a couple of hours out of town. It previously started in late October, keep an eye on the website for updates on this year.
Desert Safari Trip
No trip to Abu Dhabi is complete without a trip to the desert on a safari adventure. There are three types of trips to choose from. Morning, evening excursion, or an overnight desert safari.
The evening safari offers the most amount of activities for time-strapped tourists. Guests are collected from any Abu Dhabi city location in the afternoon in a comfortable 4×4.
The journey towards the dunes takes around 45 minutes before the off-roading commences. An experienced driver takes on the mounds of sand in the first activity of the trip – dune bashing!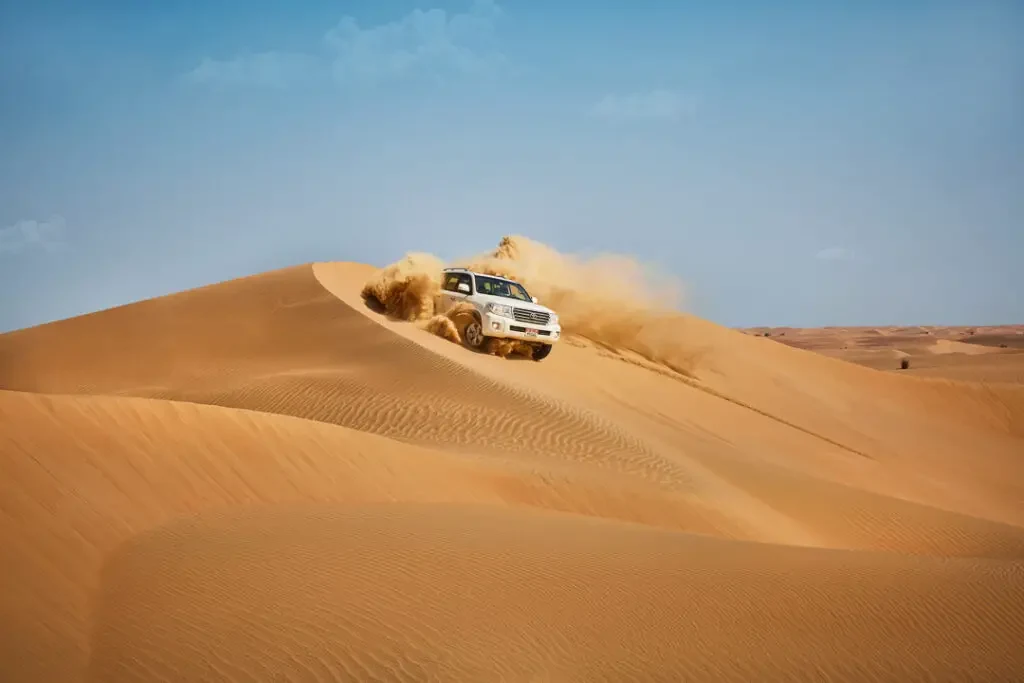 It is an adventure fuelled trip climbing vertical dunes at speed, skimming the top before a tummy-churning drop to the bottom. Dune bashing is not for everyone so guests can request an early drop-off at camp.
Once the dune bashing is finished, guests are brought to a traditional Bedouin style camp featuring a central seating carpet with comfortable cushions and tables.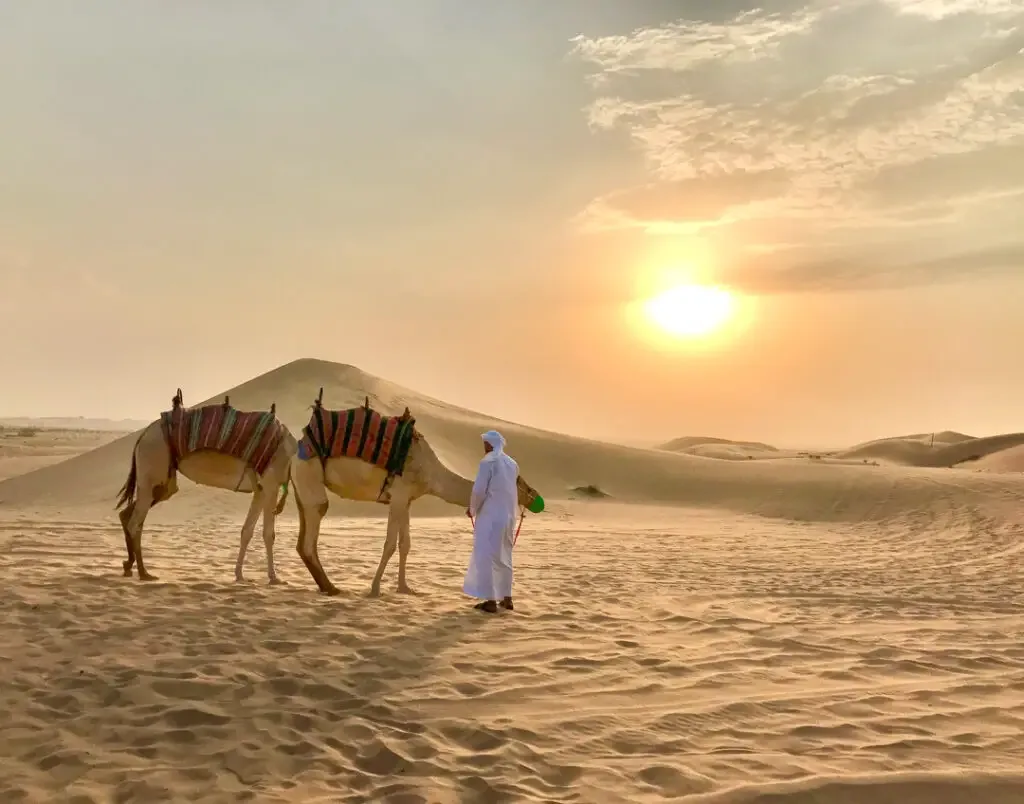 There is a shisha lounge, henna painting, falconry, camel rides, and an area to try on traditional clothing.
Book a desert safari trip or read our detailed guide on desert safaris in Abu Dhabi.
Beach Clubs & Beaches
The beaches in Abu Dhabi are very well maintained, some of which have an entry fee. With the fee usually comes an umbrella and sun lounger, not to mention access to watersports such as wakeboarding.
There are quite a few free beaches such as Al Hudayriat. Some of the beaches are manmade whilst some are natural.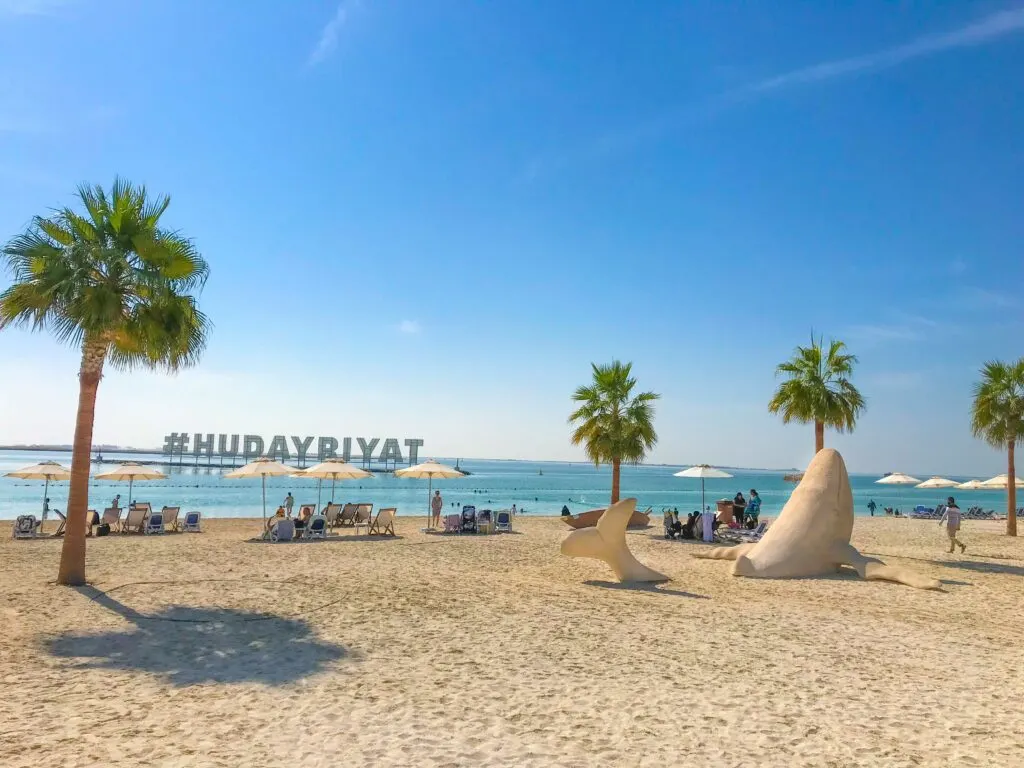 The beach club concept is growing ever popular in Abu Dhabi with tens spread across the capital.
Featuring great food, swimming pools, beach access, hand-crafted beverages, good music and occasional live entertainment, they are a great place to hang out for a fun-filled afternoon.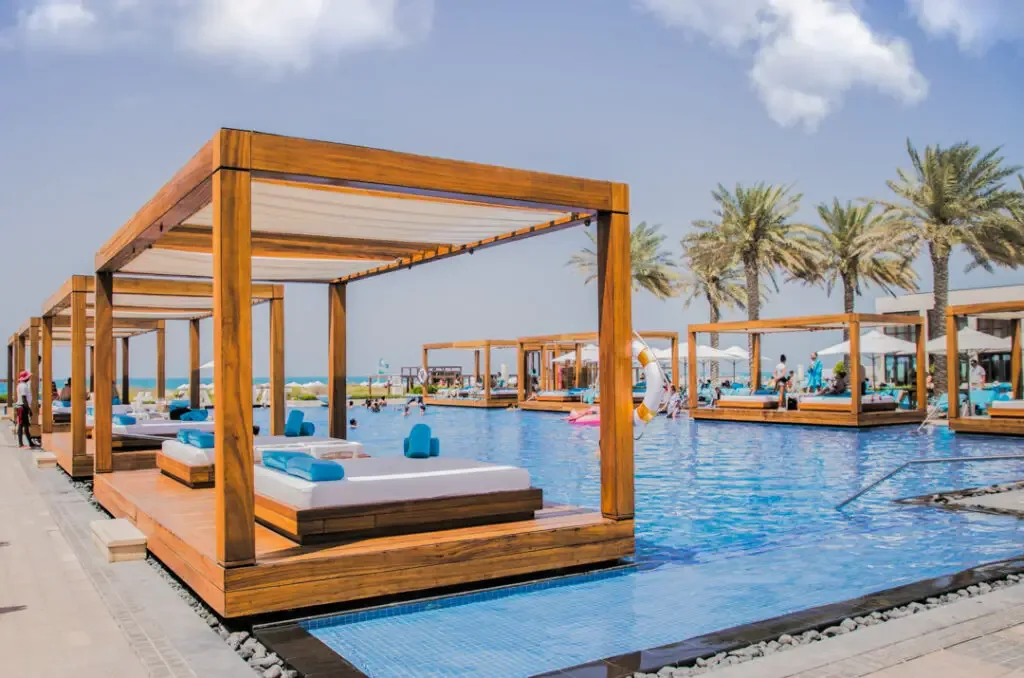 Some of the most notable beach clubs include West Bay, Cafe Del Mar and Saadiyat Beach Club.
Check out this complete guide to Abu Dhabi beach clubs.
Enjoy The Parks
Many of the beautiful parks around Abu Dhabi start to see more visitors in October with the cooler weather.
Umm Al Emarat is one of the top parks in the city with palm tree-lined walkways, beautiful open green spaces, and a handful of cafes and restaurants not to mention street food trucks.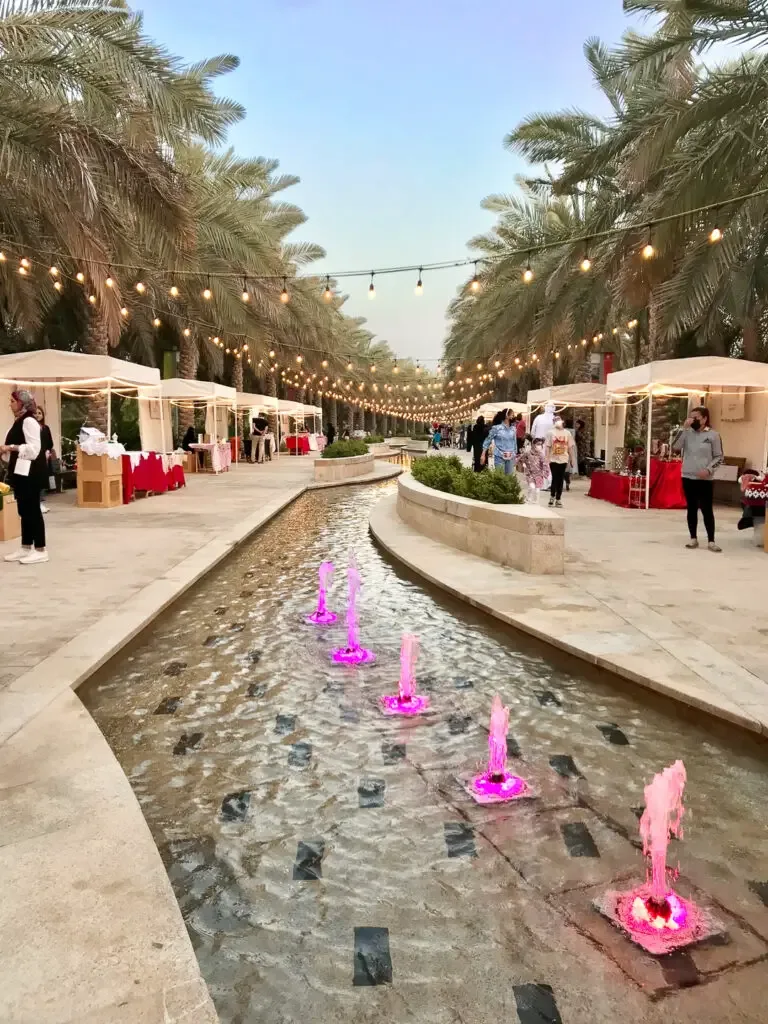 There is plenty for children as well with a small petting zoo, a splash park and two playgrounds.
The weekend ripe markets occasionally start back in late October, however, sometimes the Umm Al Emarat market does not start until the first weekend of November.
Check out our guide to the best parks in Abu Dhabi.
Visit Long Salt Lake
The Instagram-famous Long Salt Lake evaporates over the summer and October in Abu Dhabi is probably the first time in the cooler months when it is possible to be seen.
Al Wathba Long Salt Lake is somewhat of a man-made accidental geographical wonder of Abu Dhabi. What started out as earthworks, has resulted in a salt lake featuring giant circular-shaped plates and icebergs beneath the aqua blue crystal clear water.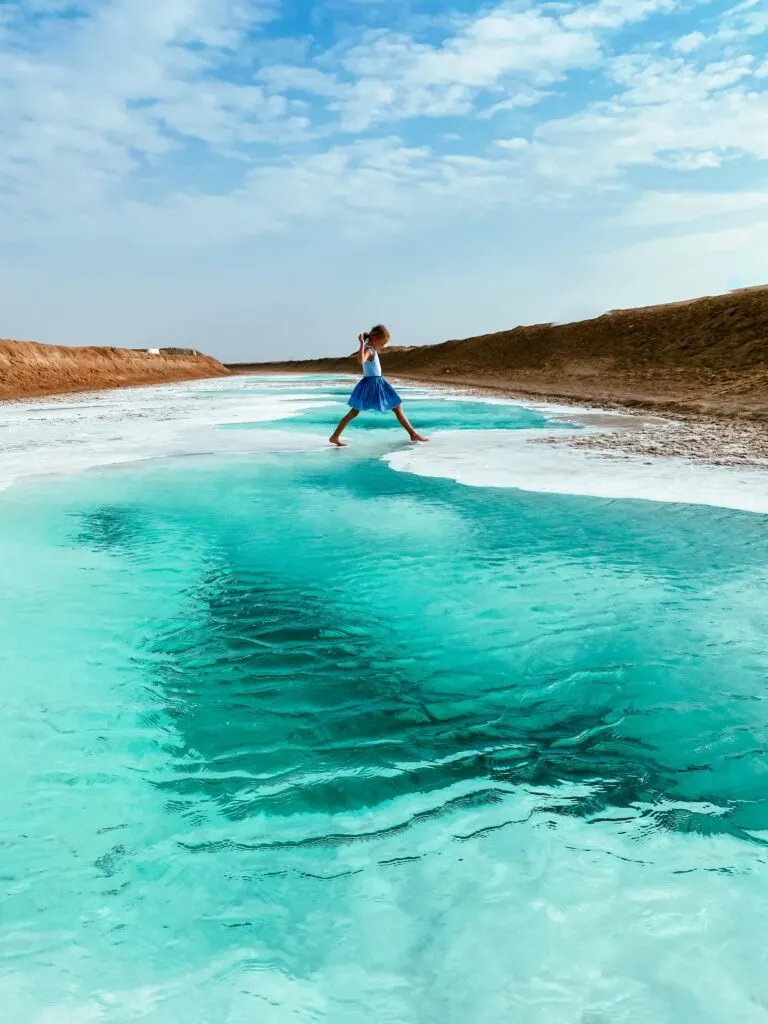 It is quite hard to believe it exists in the middle of the desert. Visit first thing in the morning close to sunrise to avoid crowds and see the lake in more tolerable temperatures.
To make the 45-minute journey out of town worth it, visit the nearby Al Wathba Wetland Reserve where pink flamingos are often spotted. Not to mention the Al Wathba fossil dunes which are particularly impressive.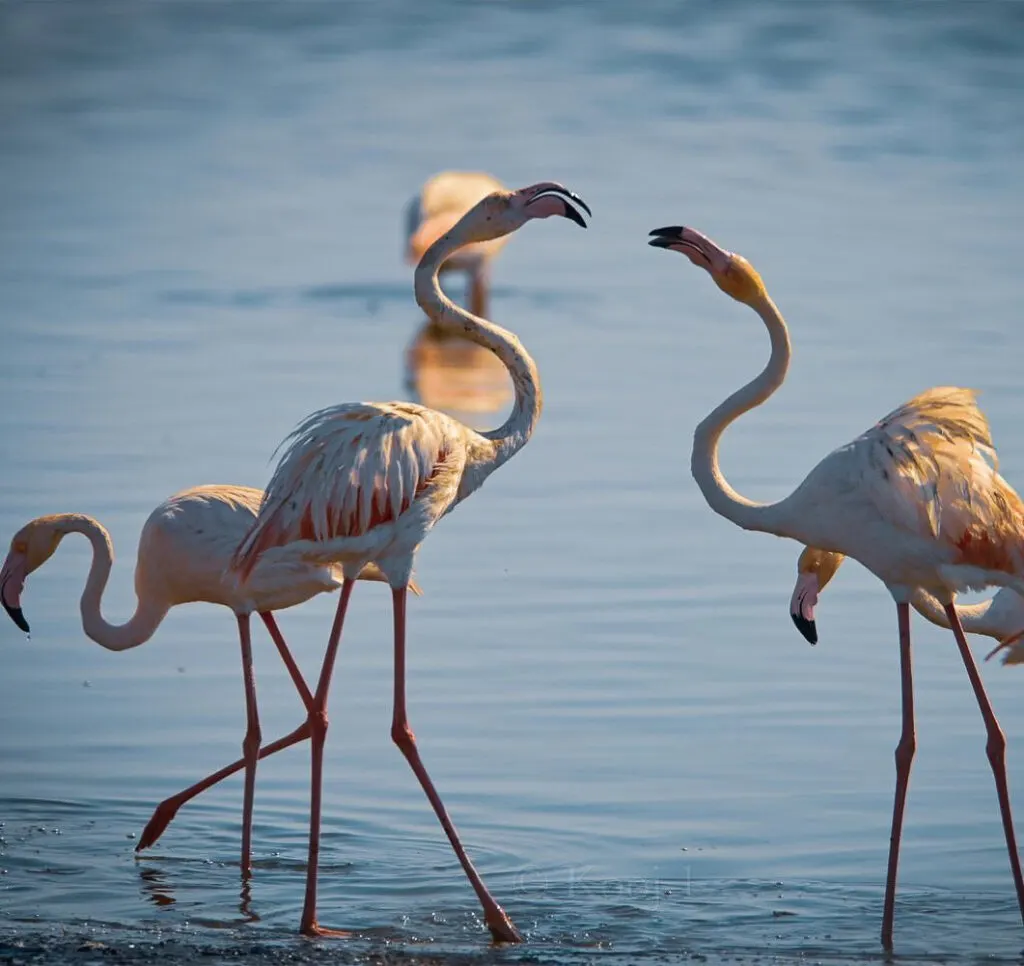 Check out our full guide to visiting the Long Salt Lake in Al Wathba.
Abu Dhabi Style Brunch
Brunch in Abu Dhabi is not like brunch in the rest of the world. It is an elaborate meal on the weekend usually in the afternoon running into the early evenings.
Many restaurants host brunch with a delicious buffet spread featuring international cuisine, everything from sushi to Arabic food and many catering to vegan diets.
Not to mention Mexican and Thai food are also sometimes on the menu.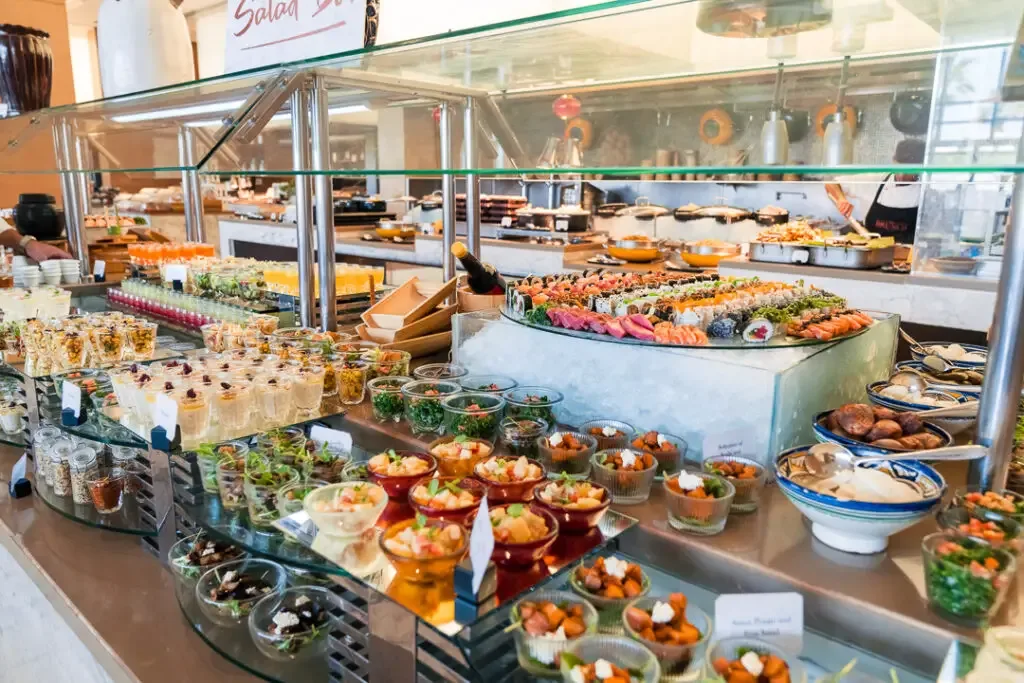 Brunches in Abu Dhabi are quite social. Some are more family-friendly, whilst others have more of a party vibe and run into the evening.
Family brunches typically start at lunchtime and the Hyatt for example sever sharing platters with fantastic pizzas, pasta and salads.
Some of the most incredible brunches are on Saturday at Conrad Towers, Fairmont and Hyatt.
Check out this full guide to Abu Dhabi brunches.
Kayak Through Mangroves
Abu Dhabi is surrounded by a network of mangroves some of which are natural whilst others are planted.
The mangroves protect the coastline of Abu Dhabi, absorb carbon dioxide and create a unique ecological haven for marine life.
There are many places to explore the mangroves and the weather in Abu Dhabi in October is a great time to do it.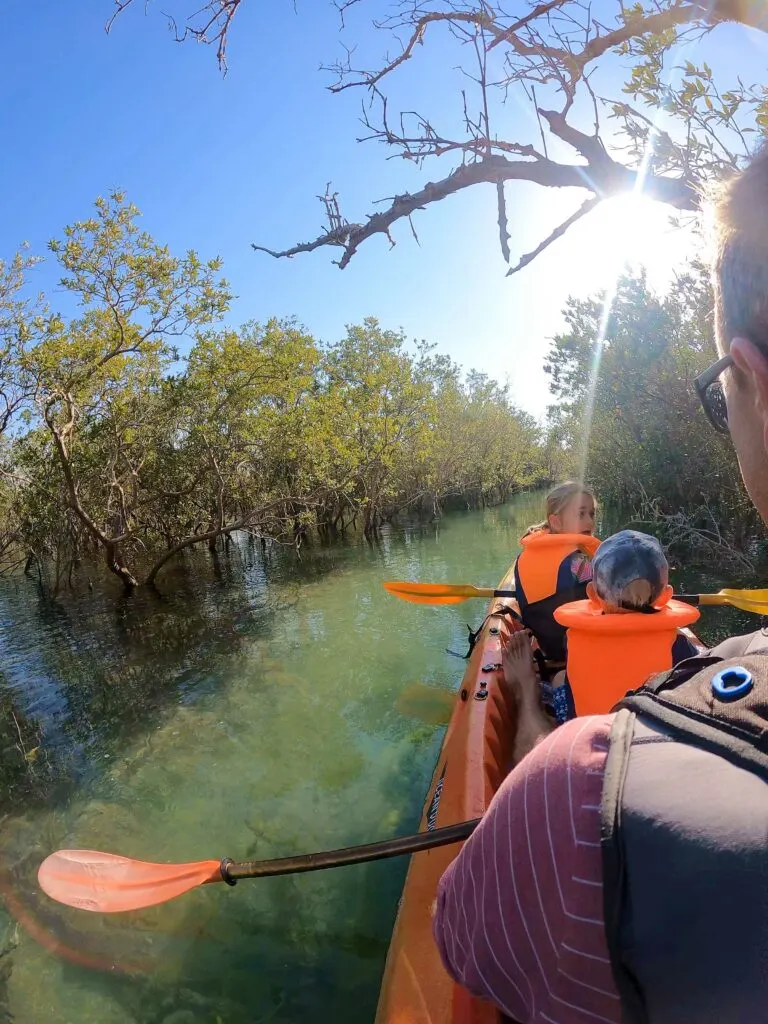 Some of the most popular spots include Jubail Island, Eastern Mangroves and Al Reem Park. There are a few companies that provide kayaks for rent and some also have an additional guided boat tour.
Eastern Mangroves is just in front of the Anantara Hotel and features an intricate network of natural waterways through the mangroves. It is best enjoyed an hour or so before sunset since it is quite open.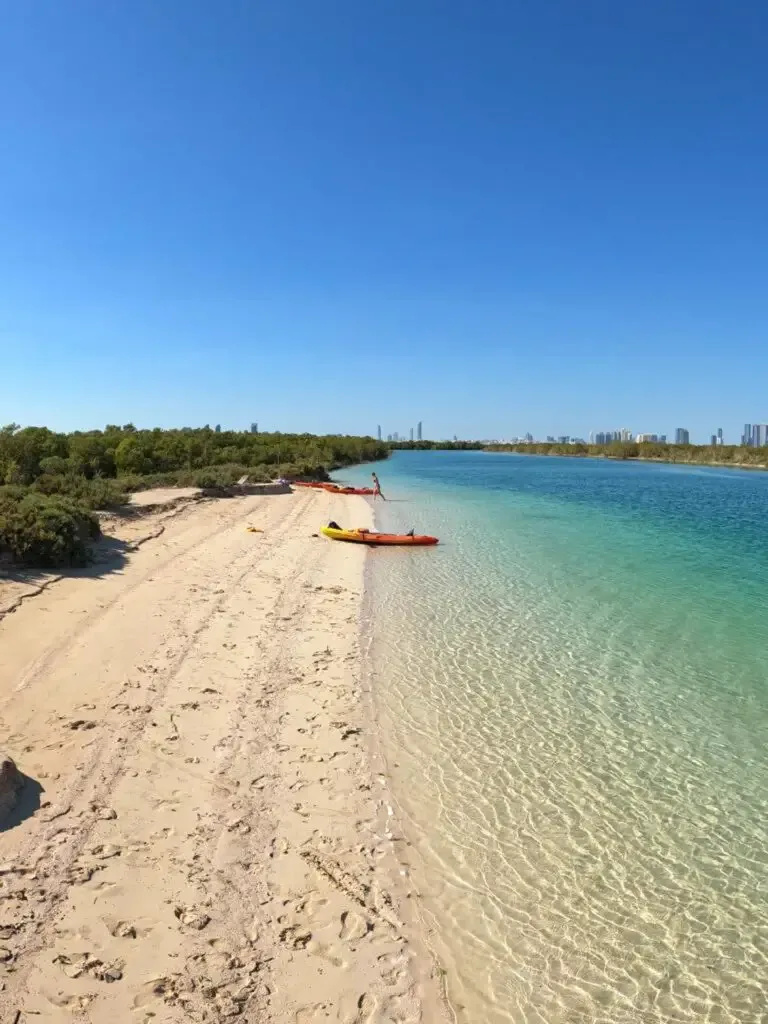 Tours are fantastic for information, however, if you just want to have some independent fun, the mangroves are easy to navigate after a quick briefing. The activity is particularly popular on weekend evenings so it is worth booking ahead.
The Louvre museum is another very unique place to kayak although there are no mangroves, it is beautiful to marvel at the architectural masterpiece from the water.
Book a mangrove kayak trip here.
Visit Sheikh Zayed Grand Mosque
No trip to Abu Dhabi is complete without a visit to the Sheikh Zayed Grand Mosque, a worldwide architectural masterpiece. There are many interesting facts about the Abu Dhabi mosque.
It is home to some of the largest chandeliers on the planet, not to mention the biggest hand-woven carpet in the world.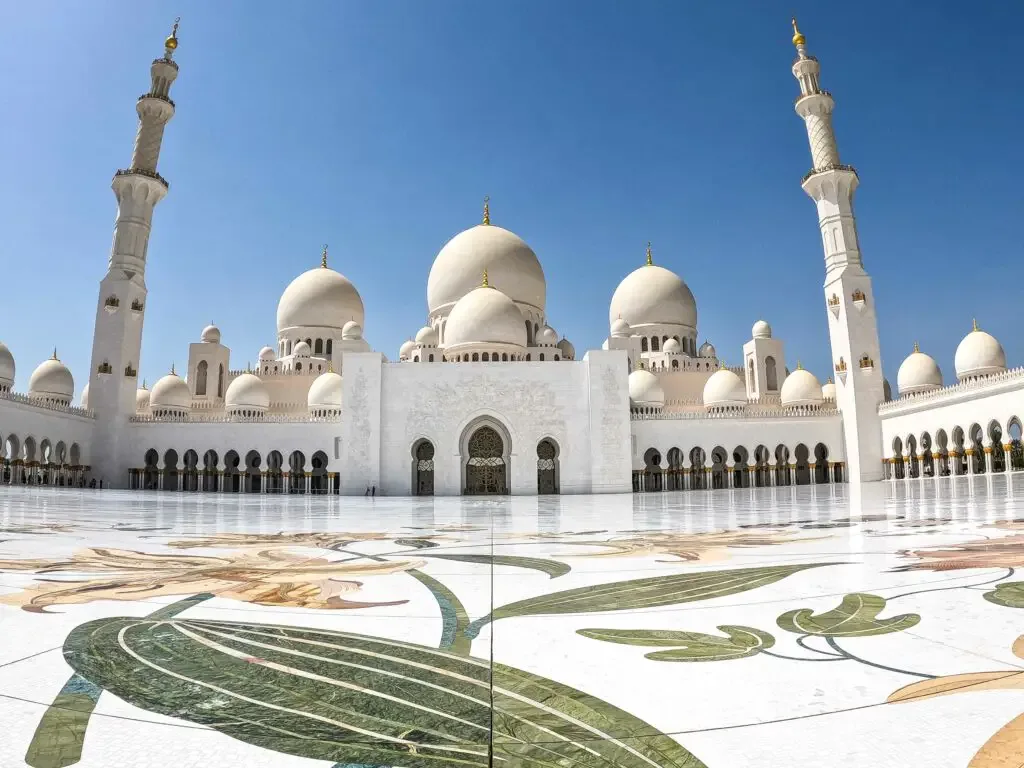 The mosque took 12 years to build and has been compared to one of the seven wonders of the world, the Taj Mahal.
Featuring reflective pools 82 domes, four minarets, and 96 pillars made of Greek and Macedonian marble, it is a once-in-a-lifetime opportunity to visit one of the most beautiful mosque's in the world.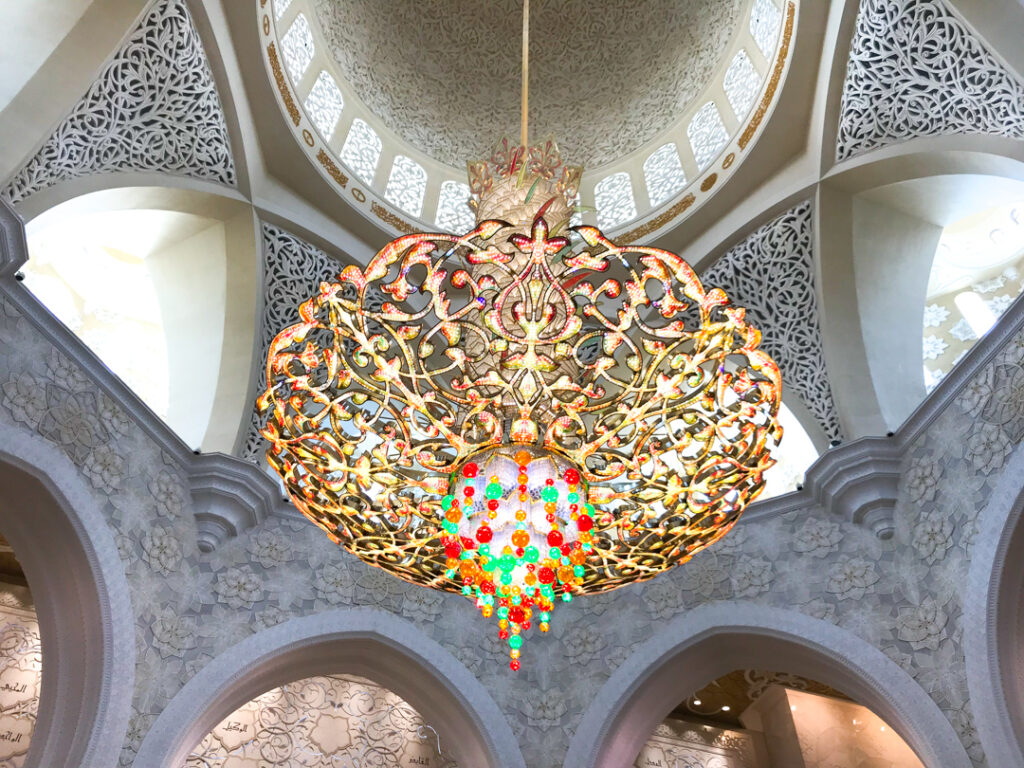 Remember to check out what to wear to the mosque. Ladies should be covered including their hair. Men are expected to be modest with trousers and shoulders covered.
On the lower ground floor of the mosque, there is a tonne of souvenir stores which sell traditional clothing for both men and women. Wearing an abaya or kandoura makes for great photos at the mosque.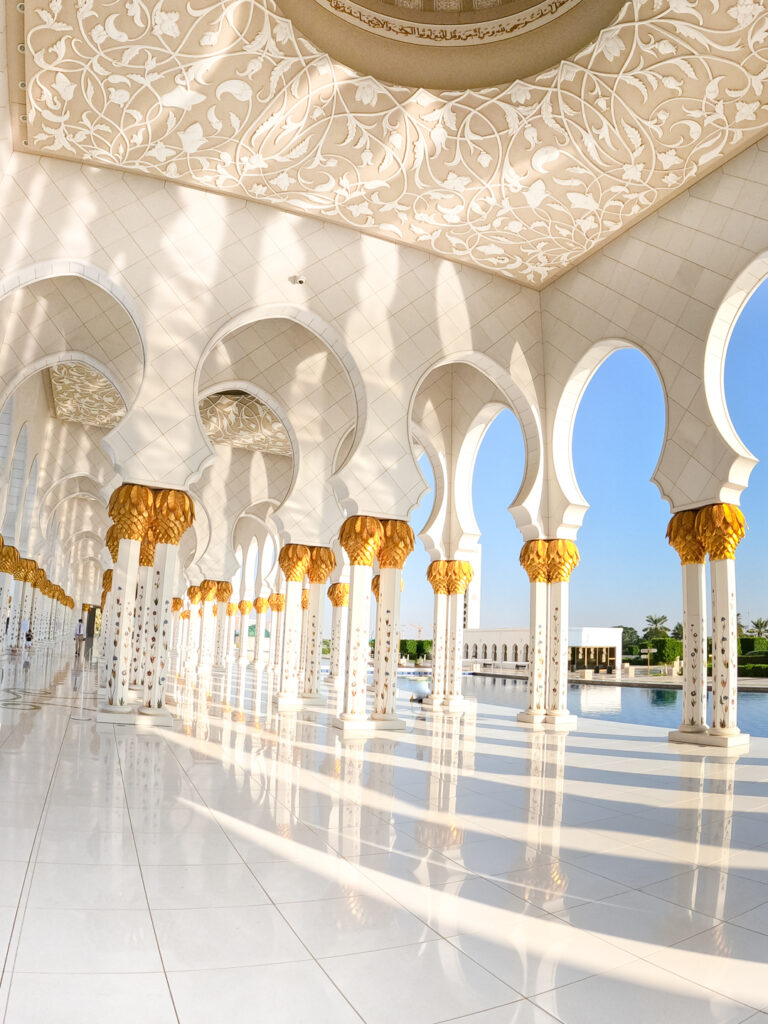 It is possible to explore the mosque independently, however, it is worth taking a tour if you like to learn the history of the landmark building.
Book a tour of the Sheikh Zayed Grand Mosque.
If you prefer not to enter the mosque, a great vantage point to see the architectural masterpiece is from Wahat Al Karama across the road.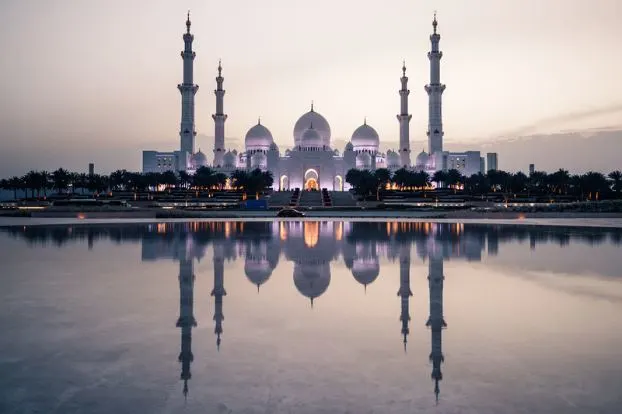 There is no obligation to fully cover up, just the usual Abu Dhabi attire is acceptable and it is free to enter. Parking is also easier and there is very little walking involved in comparison to visiting the mosque itself. The best time to visit is just before sunset.
Enjoy The Theme Parks
There are quite a few theme parks to enjoy in the Emirate. Since temperatures can reach 35 degrees celsius, it's always a good idea to have some indoor activities for those scorching afternoons.
Yas Waterworld, Warner Bros World & Ferrari World are the most notable attractions when it comes to theme parks in Abu Dhabi.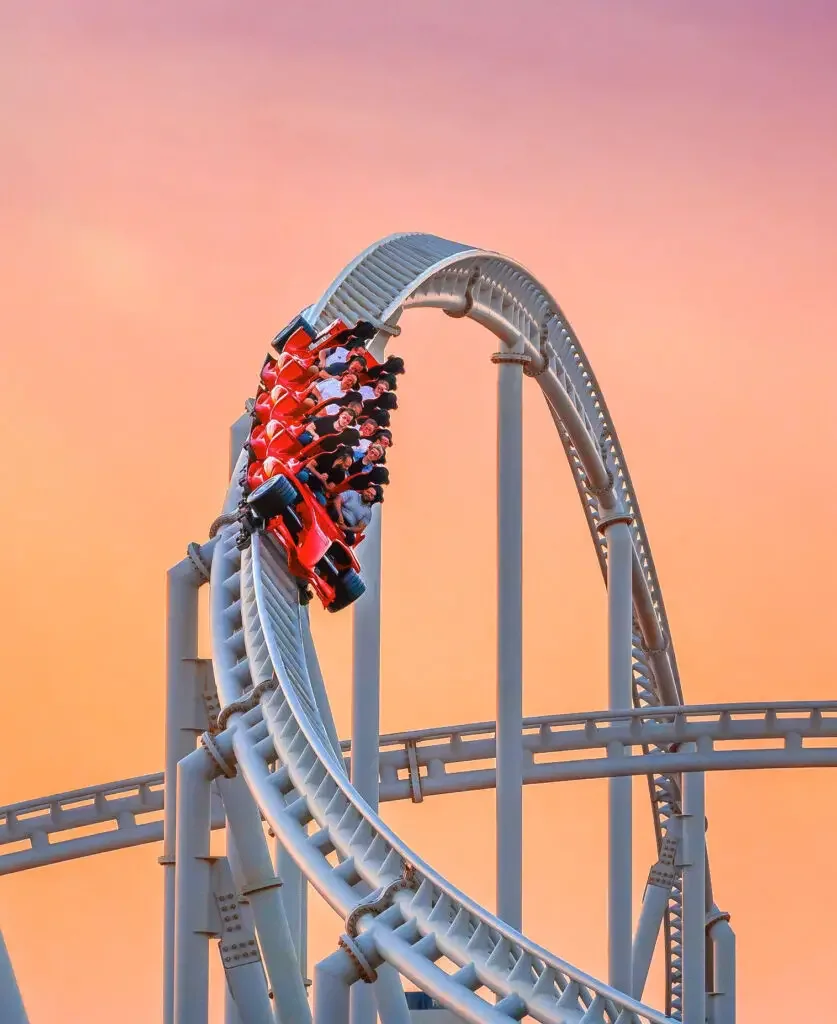 Most of Ferrari World and all of Warner Bros is based indoors making it a perfect spot to keep cool whilst having fun.
Ferrari World is famed for having the fastest roller coaster in the world whilst WB World is the largest indoor theme park featuring rides for all ages including 6 adrenaline-pumping rides.
Yas Waterworld features a lazy river, splash pads and a network of thrilling slides, not for the faint-hearted. The waterpark is ideal to keep cool outside.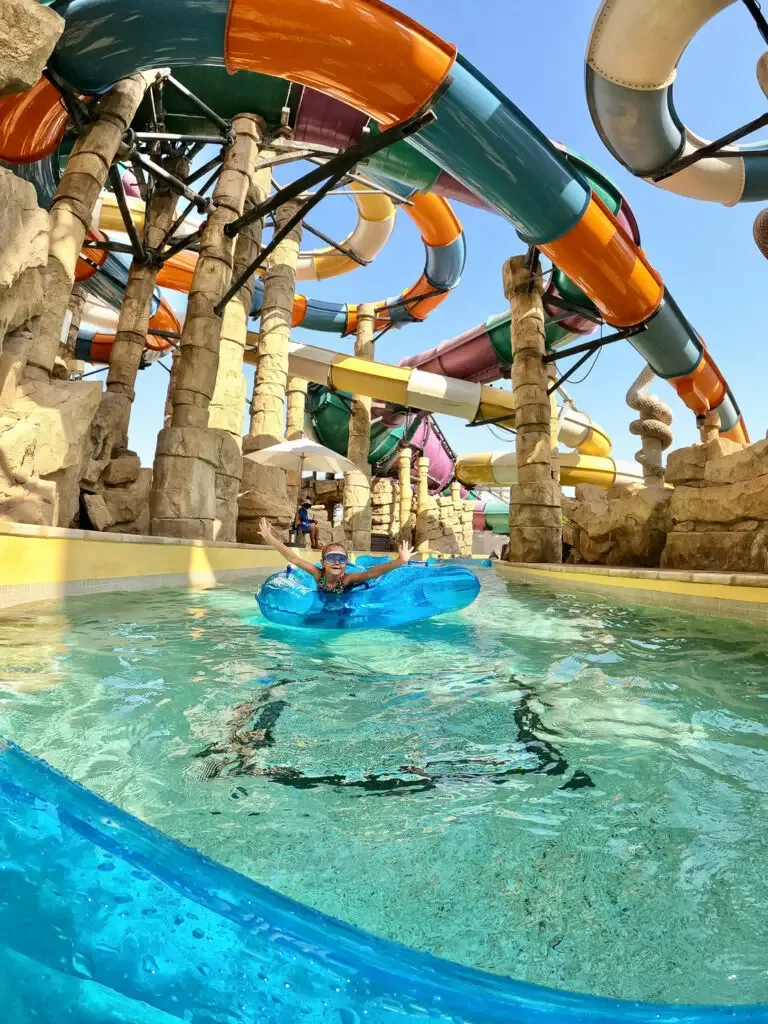 Each park has plenty of facilities be it restaurants, cafes or storage.
All theme parks in Abu Dhabi are suitable for children and adults. However, some of the bigger rides and slides have a minimum height restriction worth noting before visiting with kids.
Shopping
Abu Dhabi is well known for having some of the most incredible malls in the world. Malls are a way of life in the Emirate. Everything can be found in some of the best malls. From gyms to restaurants and theatres to kids' activities.
Some malls feature everyday shops whilst places like Galleria Mall and Yas Mall have some high-end luxury designer brands. Tourists have an opportunity to claim back tax paid on purchases by holding onto receipts.
Tax can be claimed back on the last day before departure with a boarding pass and the receipts at a tax kiosk which can be found in some malls.
Check out this list of complete guide to the best malls in Abu Dhabi.
If you are interested, Galleria Mall occasionally holds free yoga classes on the rooftop terrace.
Day trip to Al Ain
Al Ain is part of the Emirate of Abu Dhabi and is around an hour and a half drive from downtown. It is a fantastic spot to see the cultural side of the region.
Featuring souks, museums and an oasis with agricultural methods dating back hundreds of years, Al Ain is full of history and preserved culture. It is often known as the garden city since it is surprisingly green.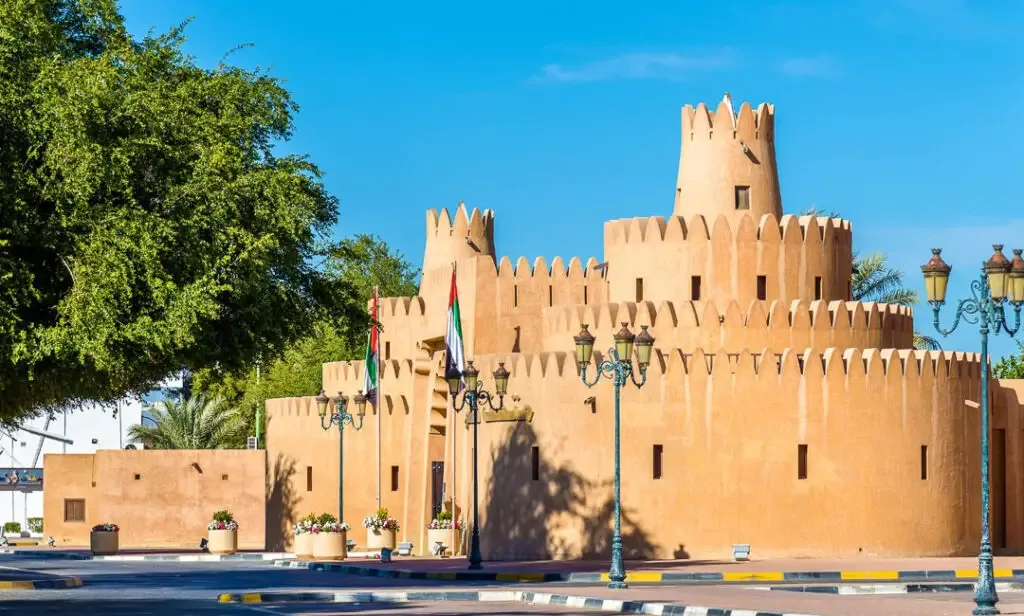 Unlike any other landscape in Abu Dhabi, Al Ain is home to the highest mountain in the country Jebel Hafeet! The mountain is pure rock and looks other worldly from all aspects, be it on the road winding around the mountain or looking at it from a distance.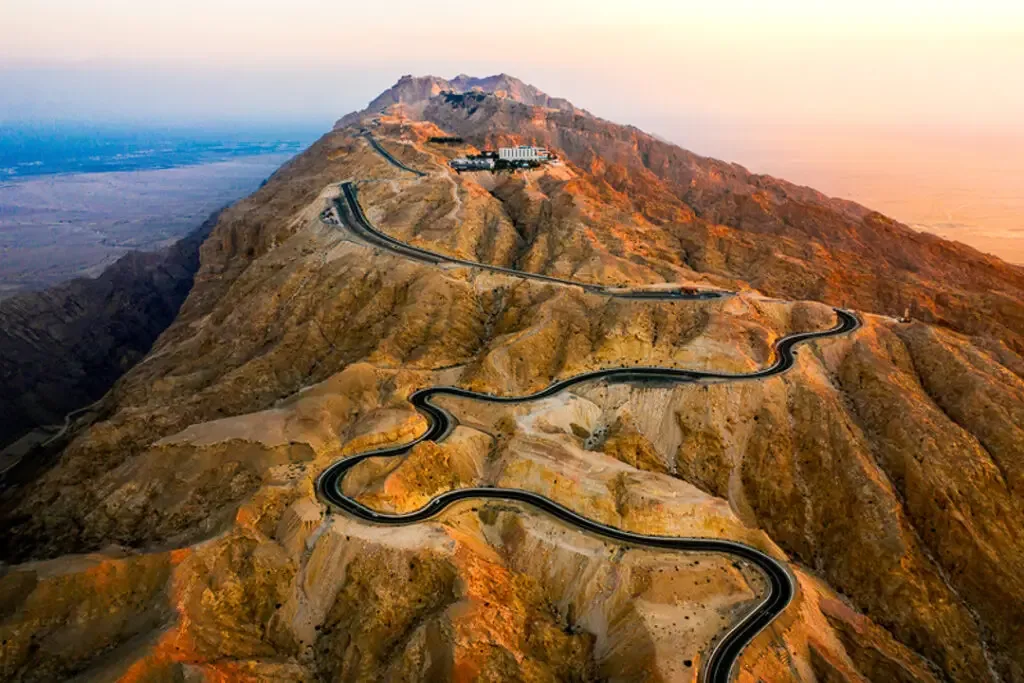 Aside from the souks, museum and mountain, there is also Al Ain Zoo which has a unique safari option to see the animals free roaming vast land. Not to mention Al Ain Adventure features a manmade river with grade 4 and 5 rapids to try rafting amongst other water-based activities.
Check out this full guide to visiting Al Ain.
Day Trip To Dubai
Dubai is a much busier city than Abu Dhabi since it has a larger population and is generally a lot more built up. It is easy to take a taxi or a public bus from Abu Dhabi to Dubai.
At only 25 AED and comfortable coach-style buses with AC and WiFi, it is a popular choice among budget travellers.
There is so much to see in Dubai it feels almost impossible to see everything on a day trip.
However, some of the highlights include taking a traditional boat on the Dubai Creek, a visit to the souks, going to the top of Burj Khalifa and finishing off with the Dubai Mall Fountain Show in the evening.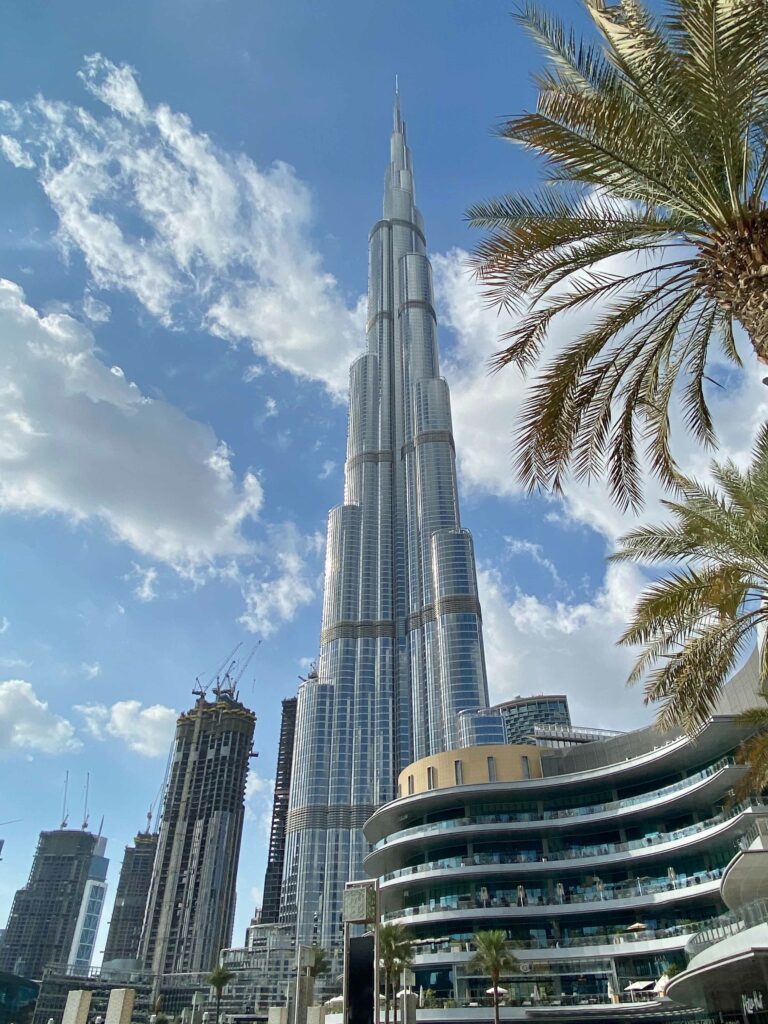 Whilst for families, some of the highlights include Green Planet, Oli Oli Museum, Infinity Des Lumieres in Dubai Mall, Atlantis The Palm Aquarium, Snow Planet and of course the fountain show at the mall is loved by kids too.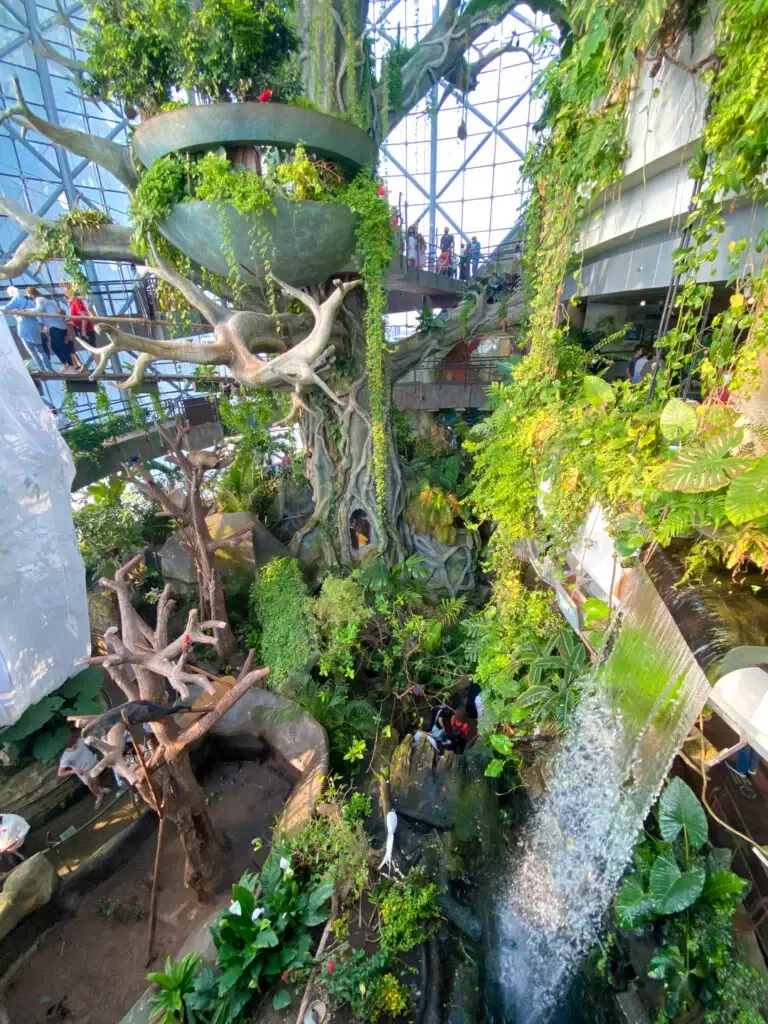 Frequently Asked Questions About October In Abu Dhabi
How hot is Abu Dhabi in October?
Temperatures in October in Abu Dhabi range from a low of 24°C (75°F) to a high of 35°C (95°F). The humidity starts to drop in October so it is more tolerable than summer months.
Midday is essentially the most difficult time to be outside. However, there is a tonne of indoor activities to pass the hottest period of the day.
We hope you found this post about events and weather in Abu Dhabi in October useful. Did we miss something? Or did you visit Abu Dhabi in October? Let us know in the comments we love hearing from you.
Disclaimer: This post about the best desert safari in Abu Dhabi contains affiliate links. By using them, it will not cost you any extra, we will receive a small commission to keep us writing.