The weather in Abu Dhabi in January is the best time of year to explore everything the Emirate has to offer.
From November to April, most events are outside and the weather is perfect to explore beyond the malls and indoor activities.
There are a few outdoor seasonal events that take place during the lovely weather in Abu Dhabi in January. From cultural festivals to ripe markets, and concerts to sporting tournaments.
Read on as we uncover what to expect weather-wise, the best events and fun things to do in Abu Dhabi in January.
Abu Dhabi Weather In January
Abu Dhabi experiences a desert climate with hot and sunny weather throughout most of the year.
January is considered one of the coolest months in the city, with comfortable temperatures and pleasant weather conditions.
The average daytime temperature in Abu Dhabi in January is around 24°C (75°F). Whilst the high temperature can reach up to 26°C (79°F) during the day. The low can drop down to 14°C (57°F) at night.
Rainfall is quite rare in January in Abu Dhabi. The average is only 10 mm of precipitation throughout the entire month.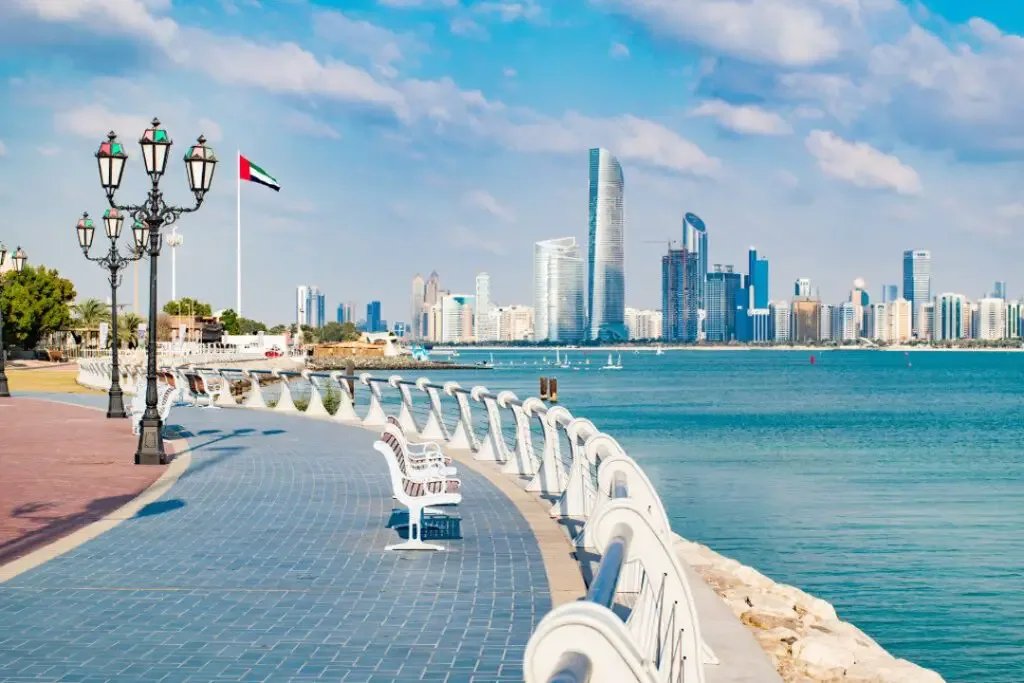 Expect mostly clear skies and plenty of sunshine, making it an ideal time to holiday in the city and take part in outdoor activities.
Abu Dhabi is known for its Shamal winds, which can occasionally occur during the winter months.
Shamal winds which are essentially northwesterly are typically strong and dusty. They can lead to reduced visibility and mild discomfort for those with respiratory issues.
Humidity levels in Abu Dhabi in January are relatively low with an average of around 50%.
What To Wear In Abu Dhabi In January
Locals in Abu Dhabi who are acclimatised to the weather conditions feel like the weather is cold from December through to February. It starts to get a little warmer by March.
Emiratis usually trade in their light local attire for a heavier version to keep warm in the winter months.
However, for those coming from a colder climate, especially from European winter, the weather will feel quite warm.
Do not rely on picking up summer clothes in Abu Dhabi in January as the malls are full of heavy winter clothing.
Bring usual summer clothing, swimwear and some layers such as a light cardigan or sweater for the malls and cooler evenings.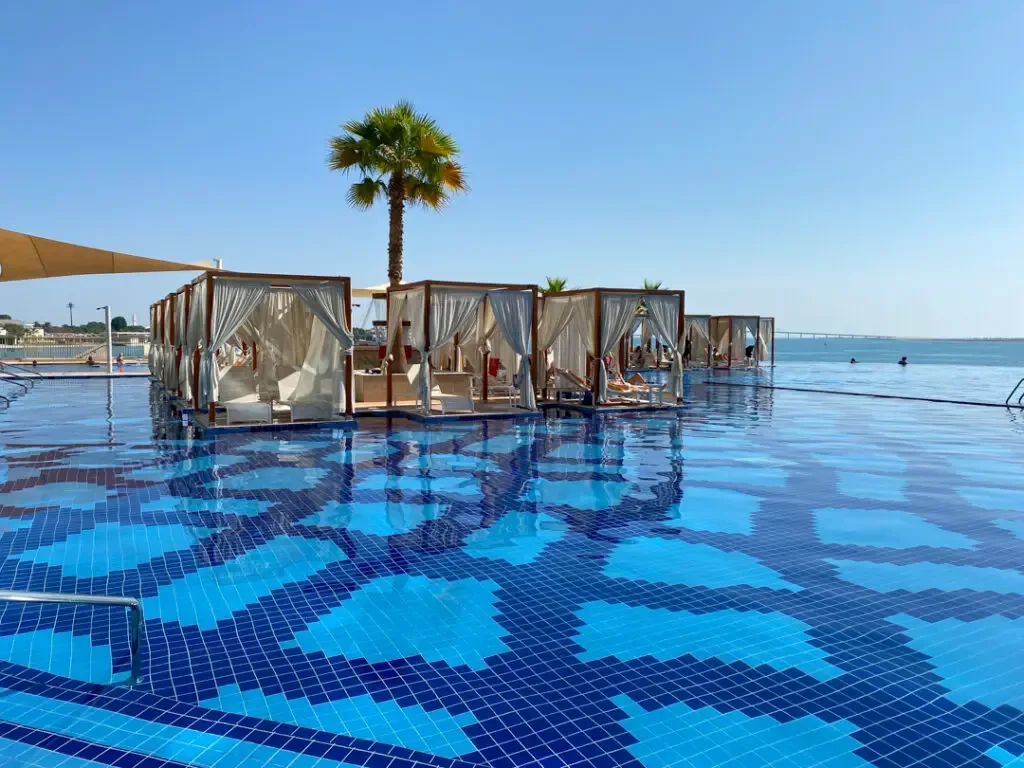 If you are coming from a summer climate in January, for example, Australia or NZ, you may want a light jacket for evenings and windy days.
It is worth noting, the UAE is a conservative country. When exploring official buildings and malls, it is important to cover knees and shoulders to respect the local culture. This applies to both men and women.
When visiting mosques, women are expected to cover up completely including their hair. Men are expected to be conservative as well.
The Sheikh Zayed Grand Mosque has a plaza on the lower ground floor filled with cafes and souvenir stores. There are pretty abayas and kandouras available to purchase which are the local attire for women and men respectively.
It is not compulsory to wear local clothing, however, it makes for a good photo with the backdrop of the landmark mosque.
Read this detailed guide on what to wear in Abu Dhabi for more information.
Events In Abu Dhabi In January
New Years Day
Following on from New Year's Eve, many hotels and restaurants run special New Year's Day celebrations in the form of brunch.
Abu Dhabi does brunch totally differently from anywhere else in the world! It is usually an every weekend occurrence in hotels, restaurants and some bars.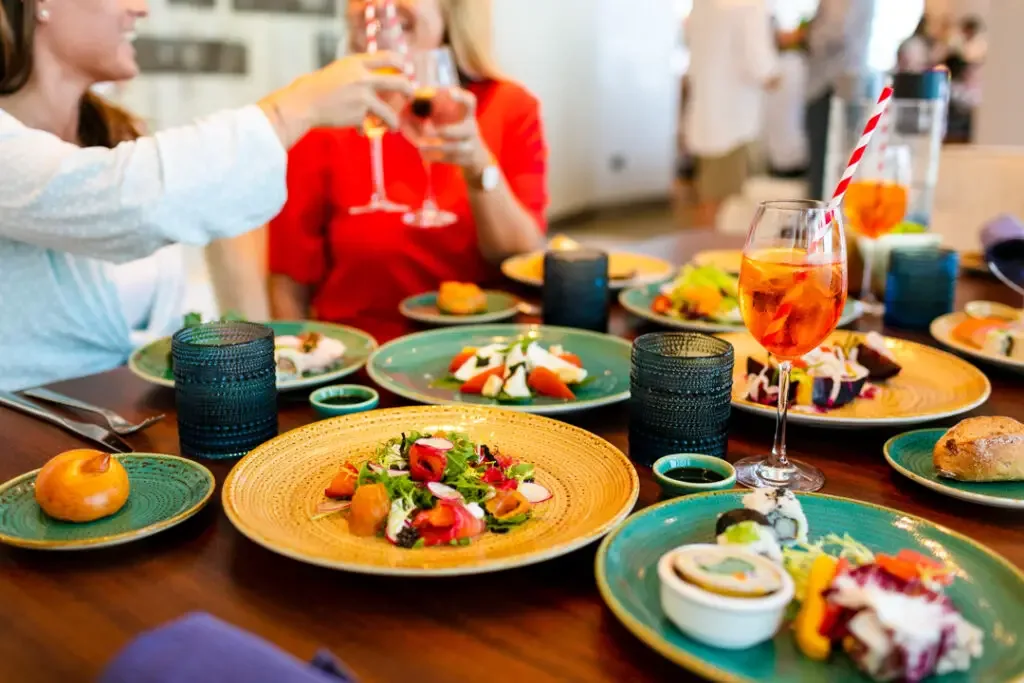 Going to brunch is a place where residents socialise and it can be served in sharing platters to the table or in the form of a lavish international buffet.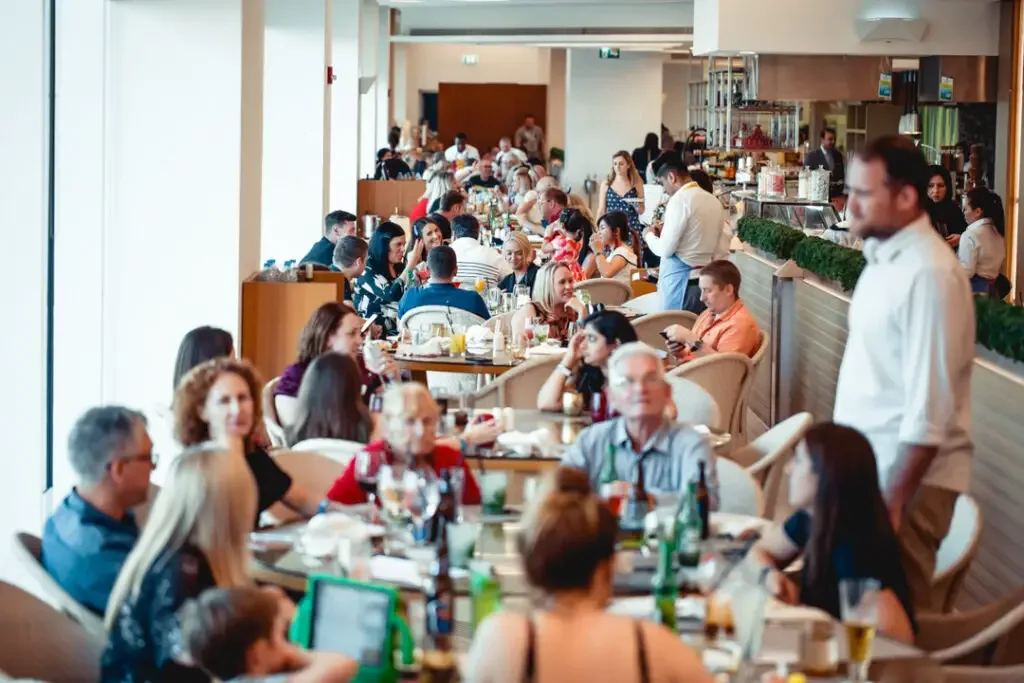 New Year's Day is no different other than the potential for Bloody Marys featuring heavily to sort out NYE woes!
Check out this New Years Day post for updates closer to the time.
Mother of the Nation
The Mother Of The Nation is an annual fun festival which usually takes place on the Corniche. It runs from mid-December through to the first couple of days of January. However, dates for this year are yet to be confirmed.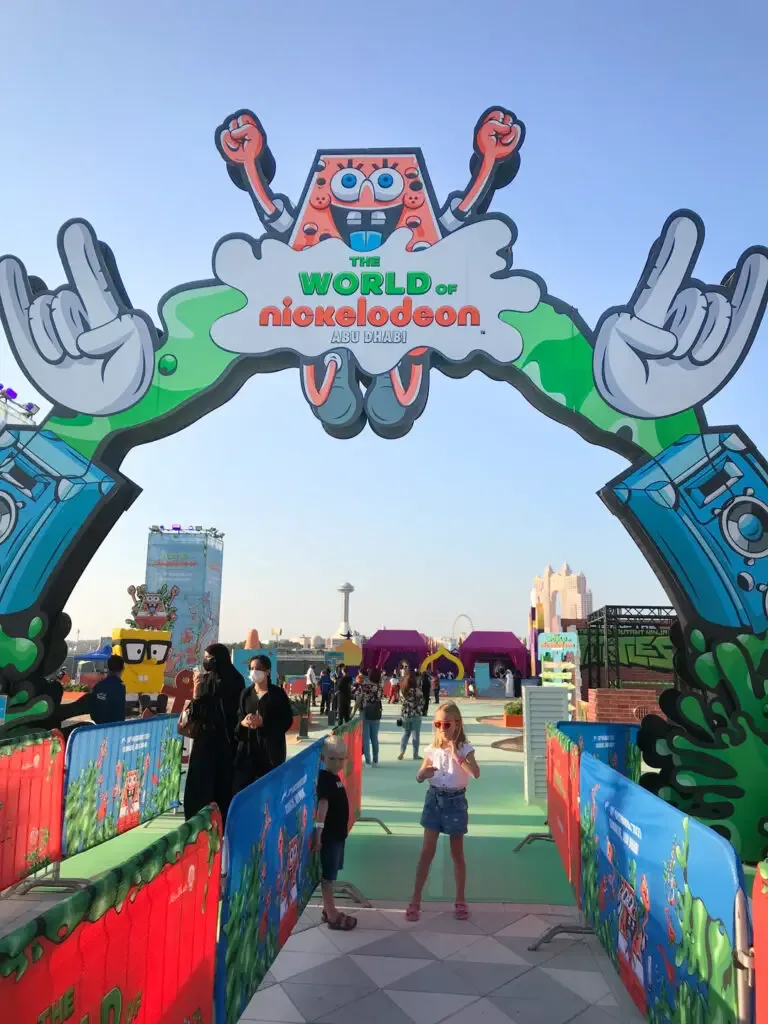 The festival is lots of fun with live music, shopping stalls, immersive installations, amusement rides, street food and so much more. It's also suitable for kids making it a fantastic family activity.
Organisers go the extra mile to make it the most Instagram-able event of the year with colourful displays and funky installations. The festival is well worth a visit as it's only on for approximately 10 ten days!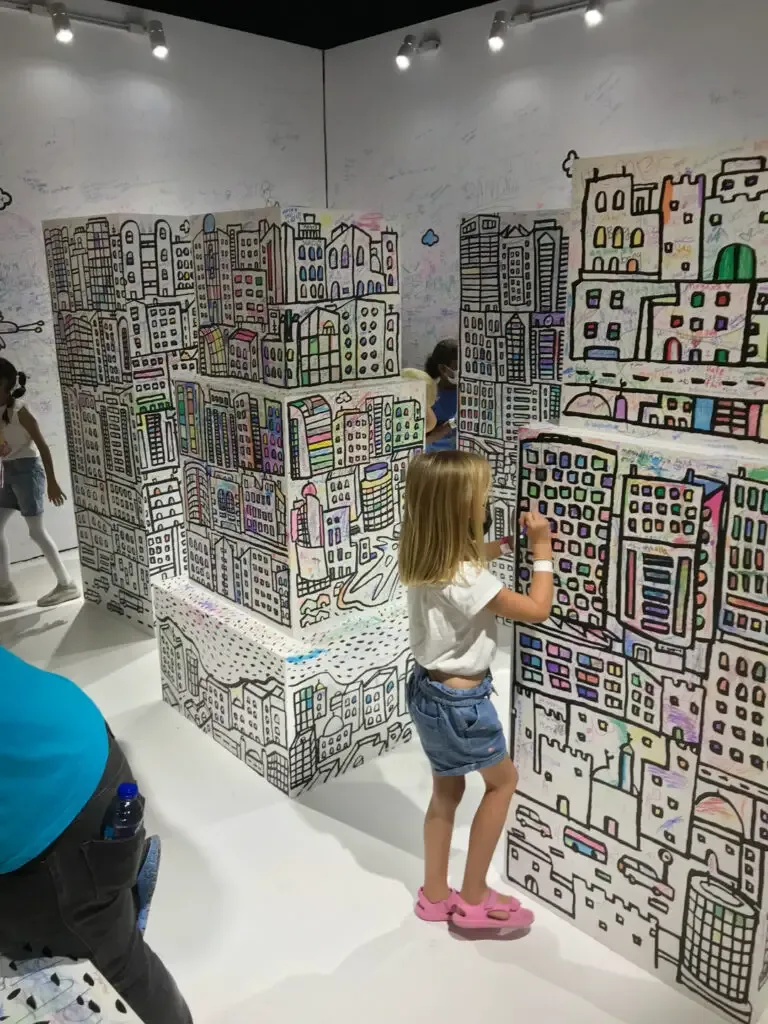 Dates: Dec to Jan ( precise dates TBC)
Location: Corniche – Abu Dhabi – United Arab Emirates
Sheikh Zayed Festival
Sheikh Zayed Festival is an annual cultural festival which takes place in Al Wahba, Abu Dhabi. It is around 45 minute's drive out of town and usually, it runs from November through March.
The festival showcases the culture and heritage of the region and is quite varied with everything from Bedouin craft displays to evening drone shows.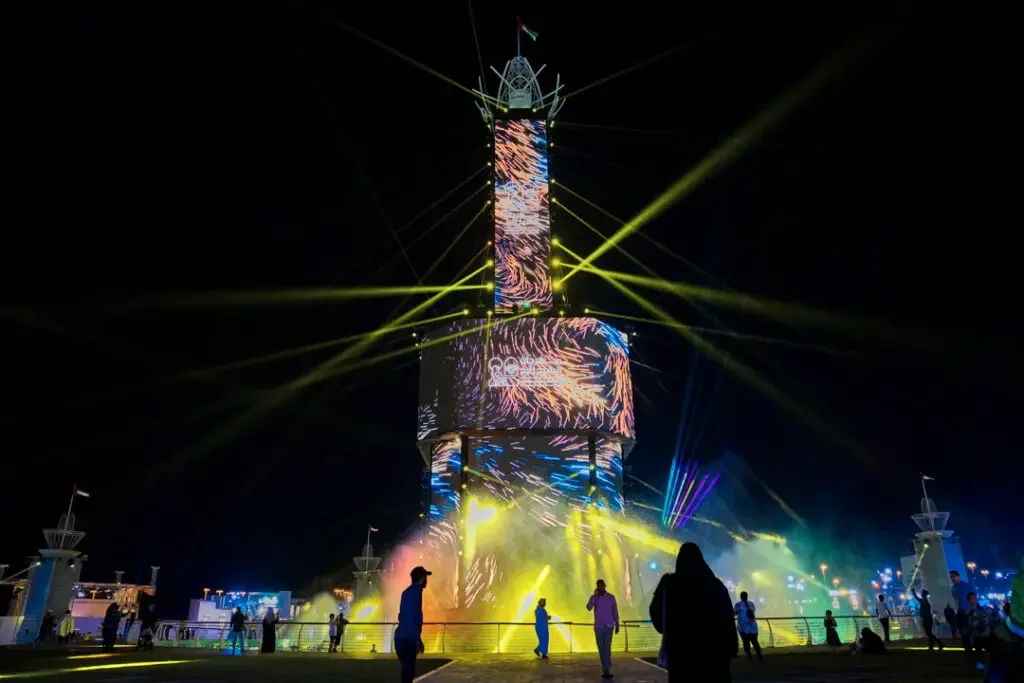 That is not all, there are tonnes of amusement rides, water fountain displays, performances and competitions. The contrast between history and modernity is a true reflection of Abu Dhabi today.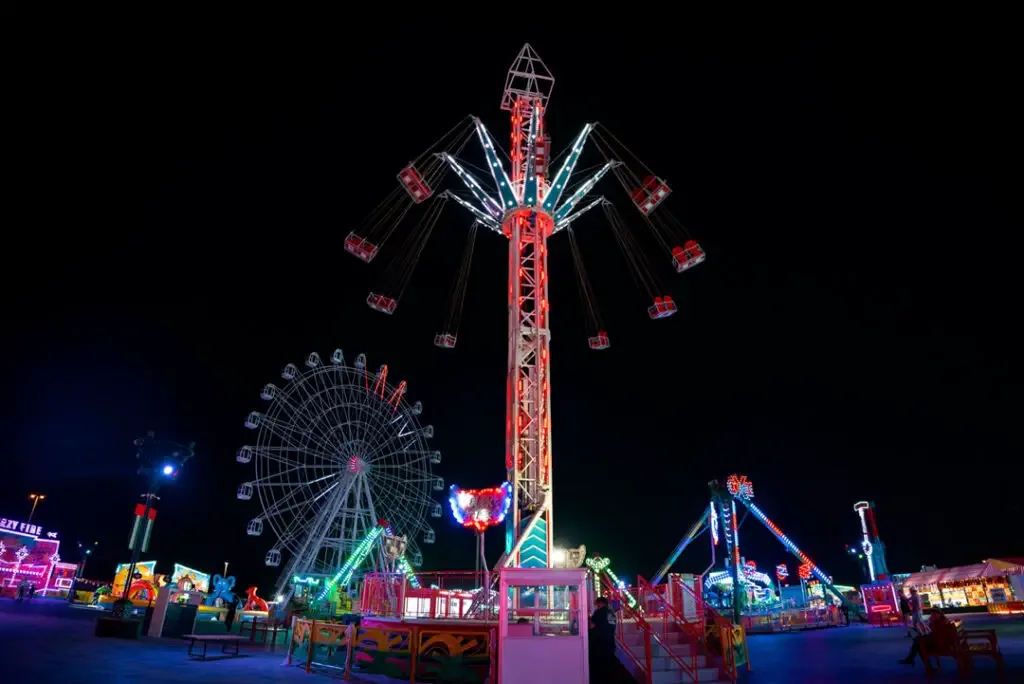 Dates are yet to be announced for the next festival, however, based on the last few years, it is fairly reliably on throughout January.
Dates: Nov to March ( precise dates TBC)
Location: Al Wathba – Al-Wathba South – Abu Dhabi – United Arab Emirates
Al Hosn Festival
Al Hosn Festival usually takes place in Abu Dhabi in mid-January. It is a vibrant celebration of Emirati culture, heritage, and traditions.
It's the ideal opportunity to get a feel for the local culture while enjoying a range of activities and events.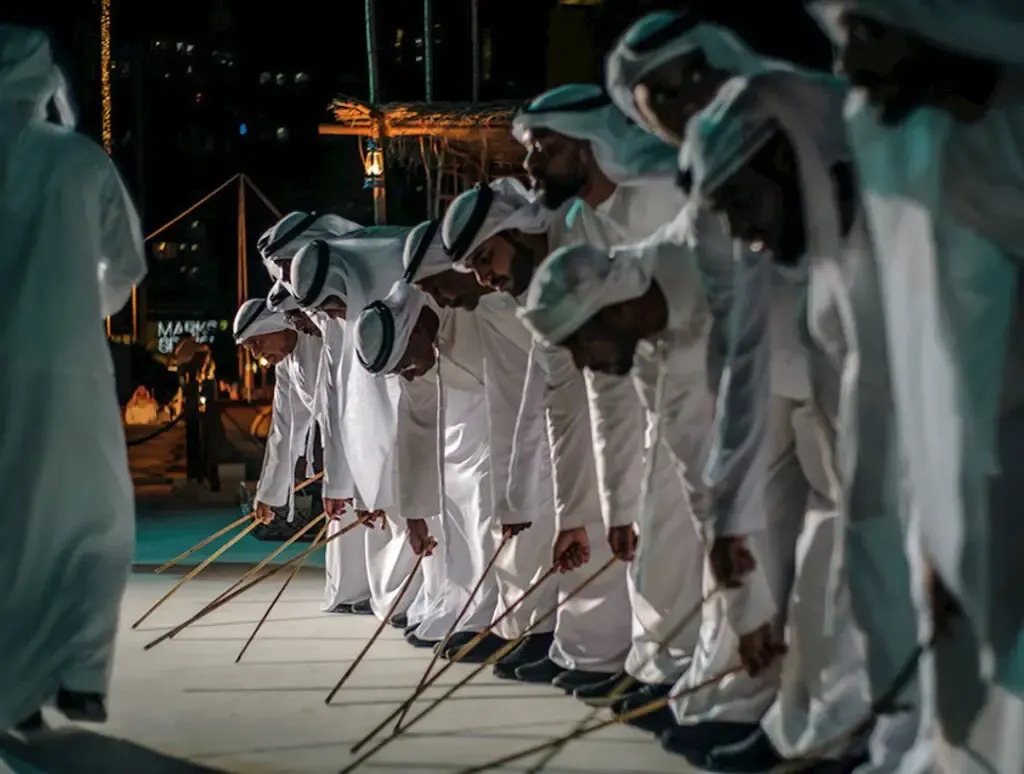 The festival is held at Qasr Al Hosn, which is a historic landmark in Abu Dhabi.
The palace, which was built in the 18th century, is a testament to the rich history and heritage of the UAE. During the festival, the palace and its surroundings are transformed into a vibrant hub of activity.
One of the main attractions of the festival is the traditional Emirati souq with a variety of stalls selling local handicrafts, food, and clothing. It's a fantastic place to pick up some souvenirs or sample Emirati cuisine.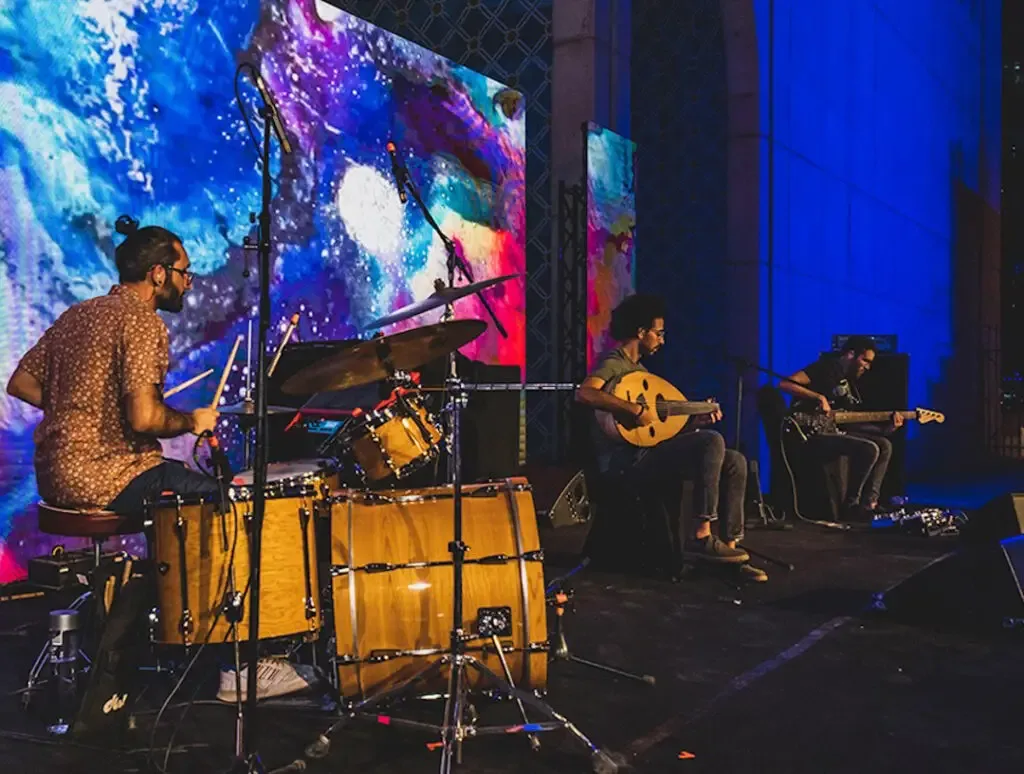 There are several cultural performances and exhibitions that take place throughout the festival. Not to mention, a range of activities such as camel rides, falconry displays, and traditional Emirati games.
There is a dedicated kids' zone, where children can enjoy face painting, storytelling, and other fun activities.
Dates: January, precise dates TBC
Location: Rashid Bin Saeed Al Maktoum St(2nd St) – Al Hisn – W3 – Abu Dhabi – United Arab Emirates
Abu Dhabi HSBC Golf Tournament
It's fair to say golf is a prominent sport in Abu Dhabi with many incredible courses across the Emirate. The Abu Dhabi HSBC Golf tournament is part of the DP World Tour.
Prize money is significantly more than other tournaments since it is associated with Rolex and is set to take place across 4 days. Tickets are not on sale just yet, however, spectators can join in for free with an admission ticket.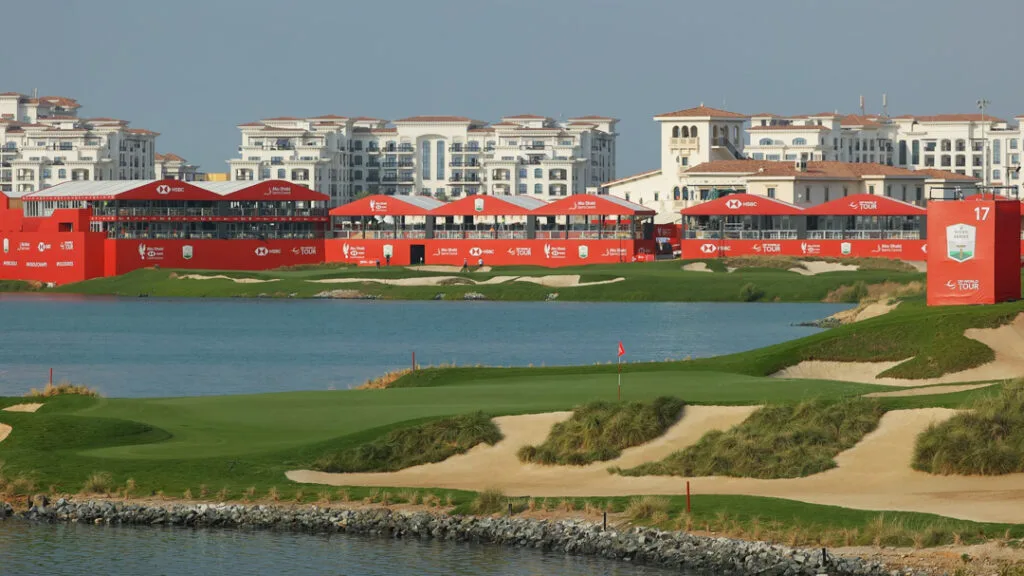 Whilst the event is set to be in January, the precise dates are yet to be confirmed.
Dates: January (precise dates TBC)
Location: Yas Links – Abu Dhabi – United Arab Emirates
Things To Do In Abu Dhabi In January
January is one of the best times to visit Abu Dhabi to experience the varied landscape of the Emirate.
From sand dunes to tropical beaches and stunning architecture to world-class dining, there is a lot to enjoy. Read on as we uncover some of the best things to do in January.
Desert Safari
Desert safari is one of the top activities to enjoy in the cooler weather in Abu Dhabi in January. It is such a fun experience which should be on every Abu Dhabi itinerary.
There are a few choices between going on safari in the morning, evening or overnight. Read about the different desert safari choices here.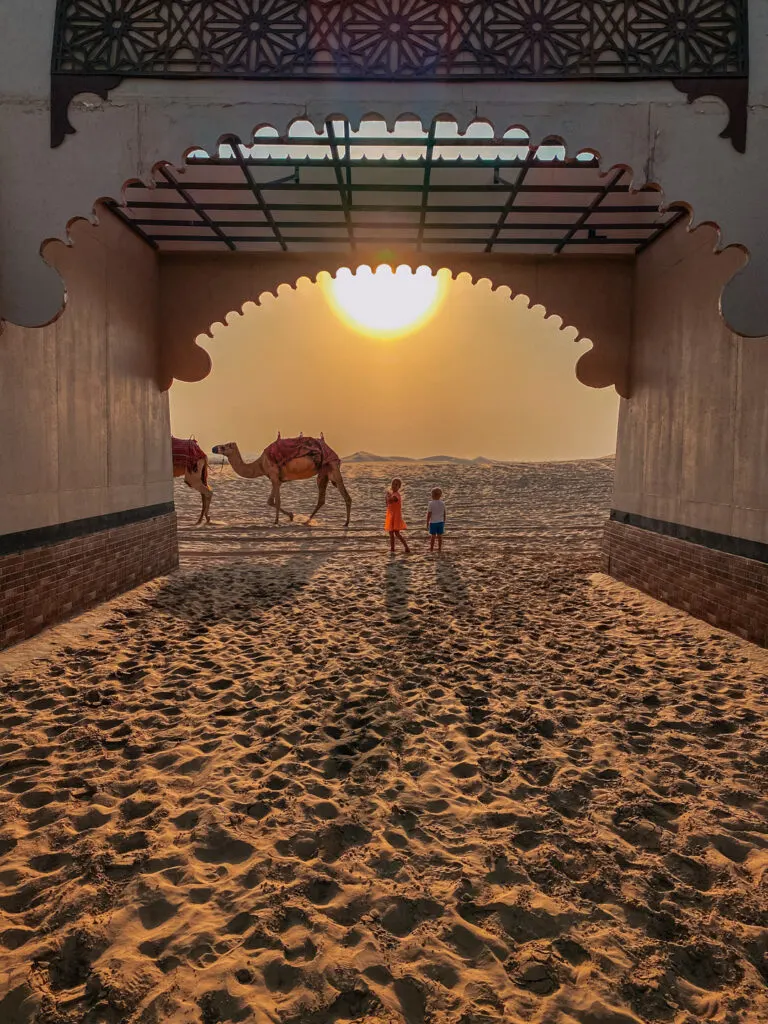 However, we are big fans of the evening safari as it fits so much into a few hours.
An evening safari typically begins with a pickup from a hotel or a designated meeting point, followed by a drive in a comfortable 4×4 vehicle to the desert.
Pick-up is usually around 3 pm to ensure guests arrive in the desert in time for sunset. Sometimes the vehicle can be shared with others unless you specify you want a private tour. This may come at an additional cost.
What To Expect
Once on the road, it takes around 45 minutes to reach the desert when the fun begins with dune bashing in the 4×4. Expect around 10 minutes of hair-raising, heart-pounding, vertical climbs and drops off the side of the dunes.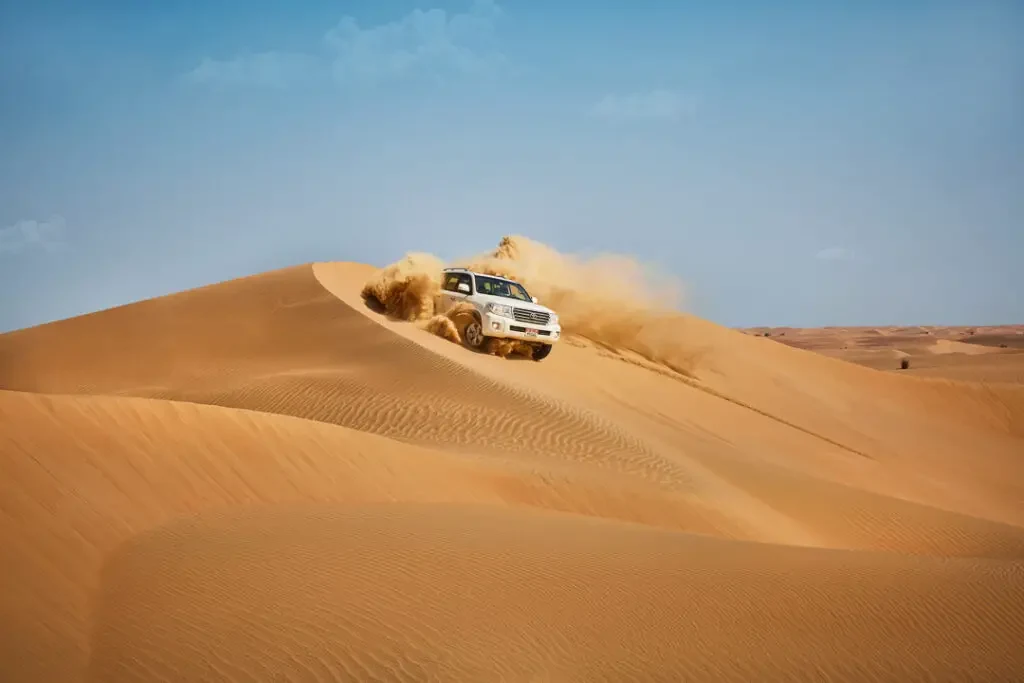 There is an opportunity to get out on the top of the dunes for photos as the sun is setting. Desert sunsets are typically hazy pink and orange making for excellent shots.
Don't forget to bring sunglasses and a scarf to protect the eyes incase of any wind.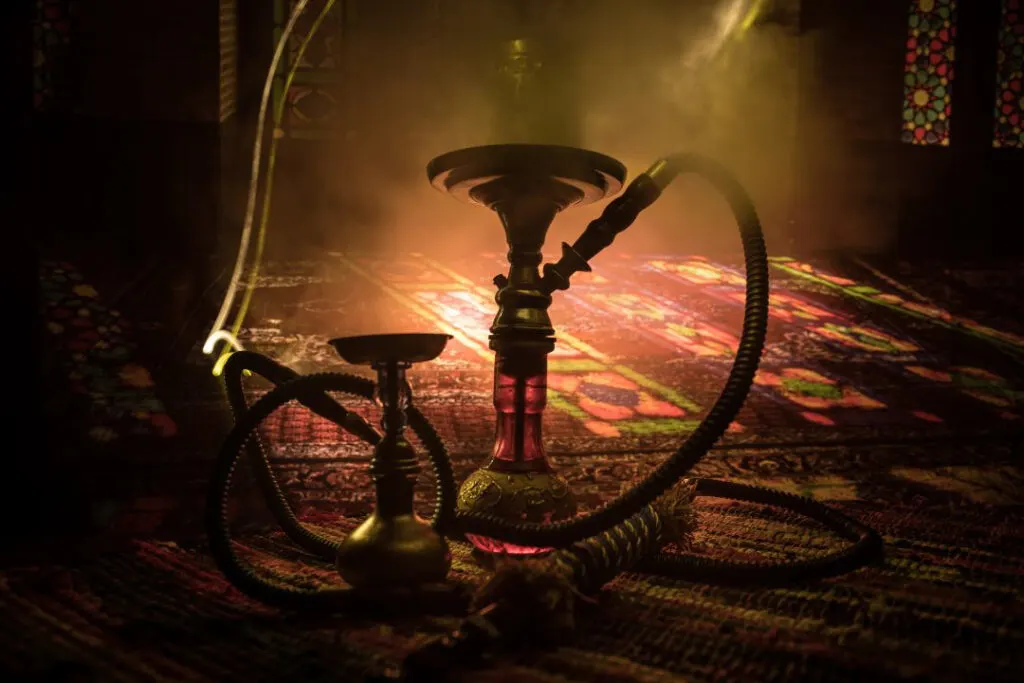 It is not for everyone and it is not compulsory to do the dune bashing. There is an option to be dropped at camp early which may be more suitable for those with small kids.
The camp is a traditional Bedouin setup with carpets and cushions in the centre and tents around the edge filled with various activities.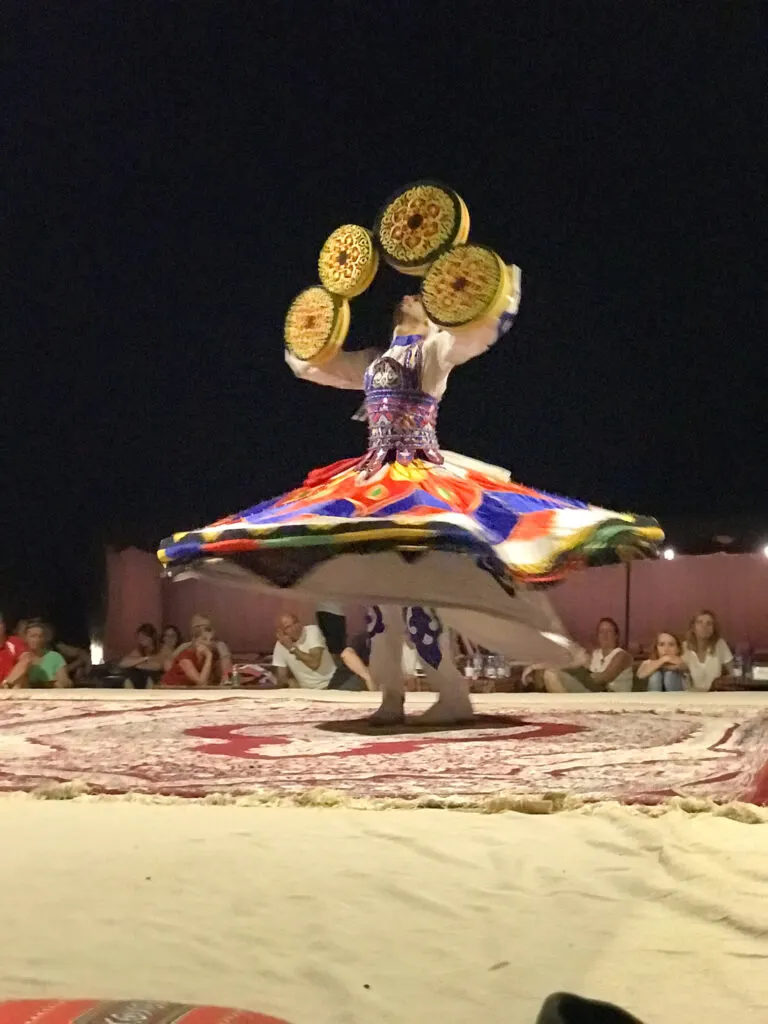 Typically, guests are taken to camp after the dune bashing and can take part in everything from sandboarding to henna painting. Or, try on local attire for the ultimate desert photo!
There is also a shisha lounge to give hookah a try, not to mention dates and coffee which are typical of Emirati hospitality.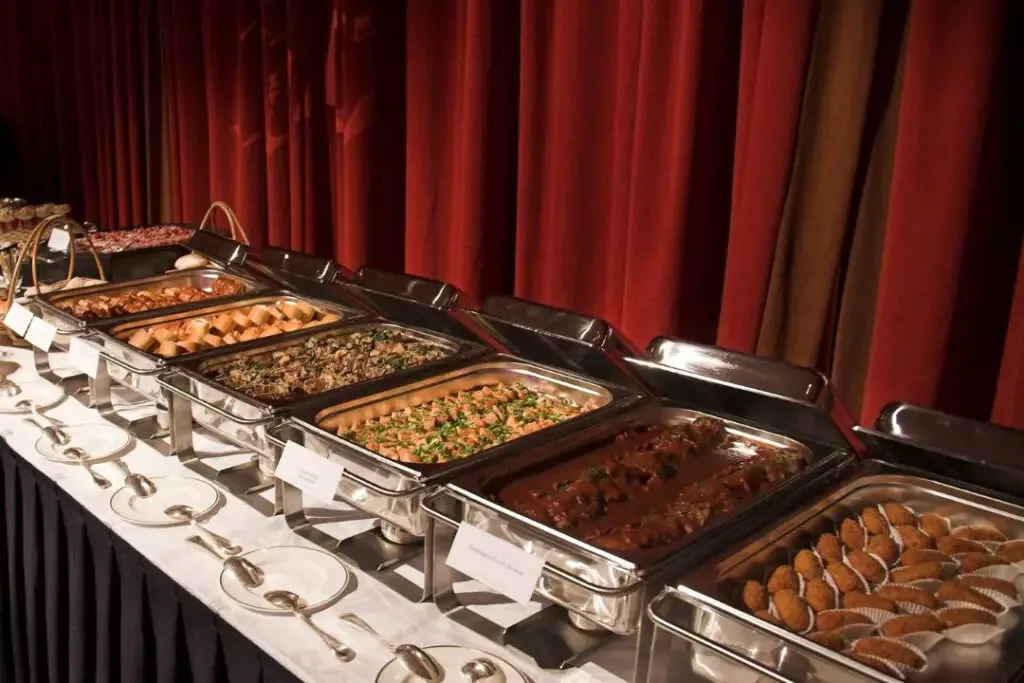 As night falls, a delicious BBQ dinner is served which typically includes a range of Middle Eastern dishes such as shawarma, hummus, falafel, grilled meats, and regional salads.
After everyone has eaten, guests gather on the carpet to watch a live belly dancing and/or tanoura performance. It is the perfect end to the evening before heading back to Abu Dhabi.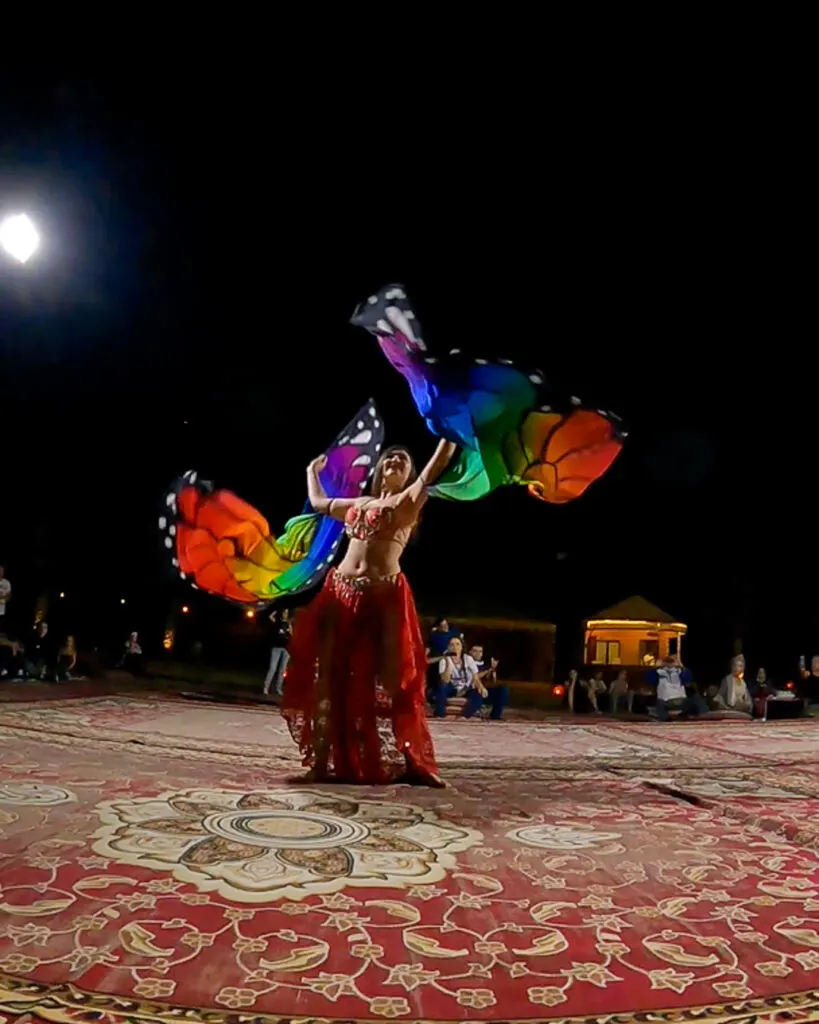 Desert safari is suitable for all types of travellers be it families, friends, solo or couples.
Book a desert safari trip here.
Long Salt Lake
Long Salt Lake Abu Dhabi is a must-visit attraction located about 45 minutes from Al Wathba. The lake's stunning aqua-blue water and mesmerizing salt bergs have made it a social media sensation.
The lake was the result of earthworks so it is essentially a trench and the water is believed to be supplied by an underground pipeline. However, salt formations are a natural phenomenon resulting from salt-dense desert soil.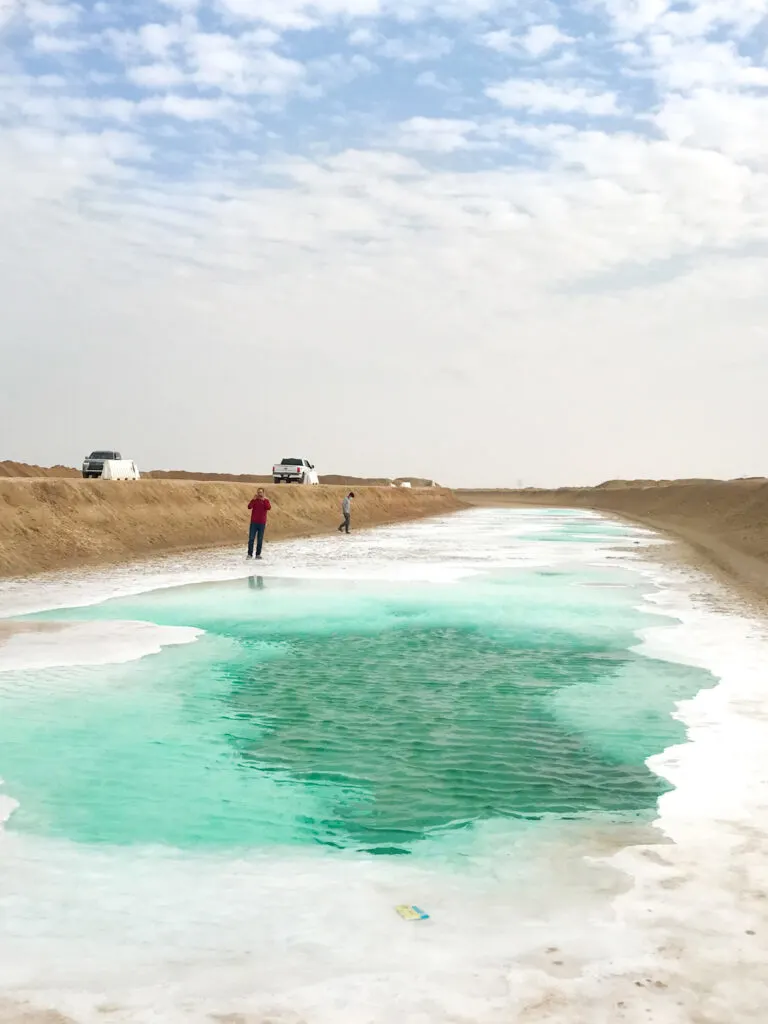 Long Salt Lake Abu Dhabi is an excellent example of when something man-made becomes a natural wonder.
The lake dries up in the hotter months from May through to October, leaving behind salt and small amounts of water. January os one of the best times to visit.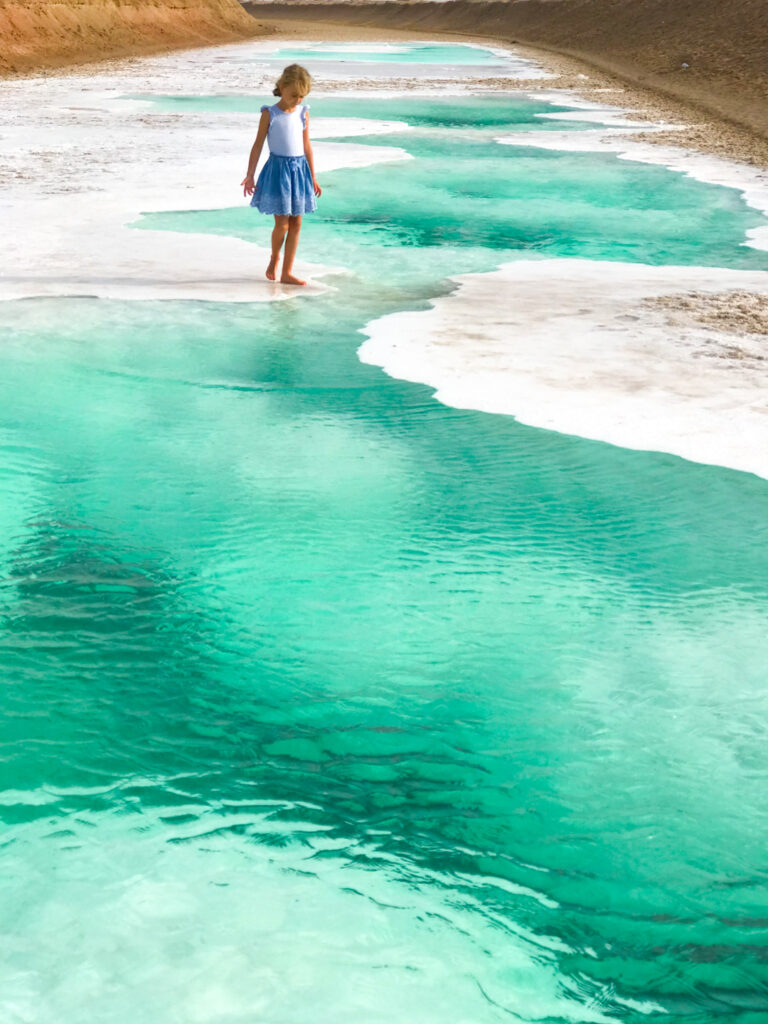 To make the trip out into the desert worth it, combine the visit with the al Wathba Fossil Dunes.
Read this detailed post on visiting Long Salt Lake Abu Dhabi.
Location: 5G52+HX5 – Al Bihouth – Al Wathba South – Abu Dhabi
Kayaking the Mangroves
Abu Dhabi's coast is protected by a network of mangroves, some of which are natural and others which have been planted.
One of the best places to go kayaking in Abu Dhabi is from the Eastern Mangroves promenade in front of Anantara. There are a number of companies offering kayak rentals, boat trips or guided tours.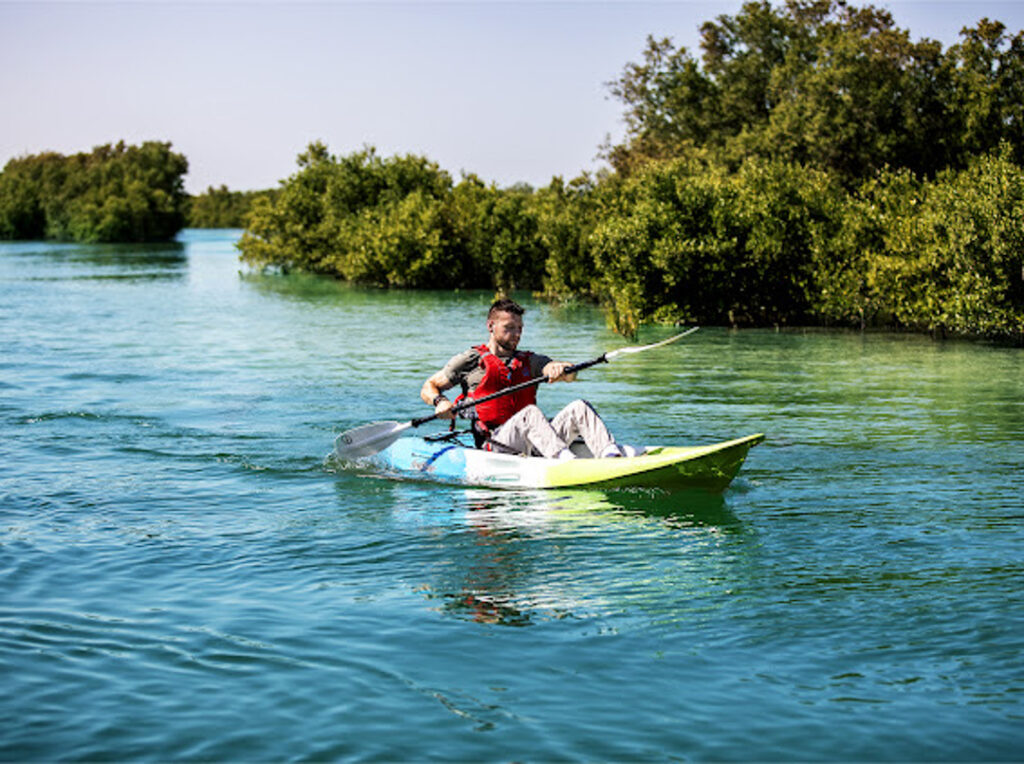 The best time to go is late afternoon, a couple of hours before sunset. Seeing the sunset over the mangroves is stunning with the backdrop of the city in the distance.
Kayak companies advise a route through the mangroves. Along the way, there is a secret beach which is an ideal pitstop for a quick dive off the pontoon. The water around the mangroves is so clear and it is a haven for marine life.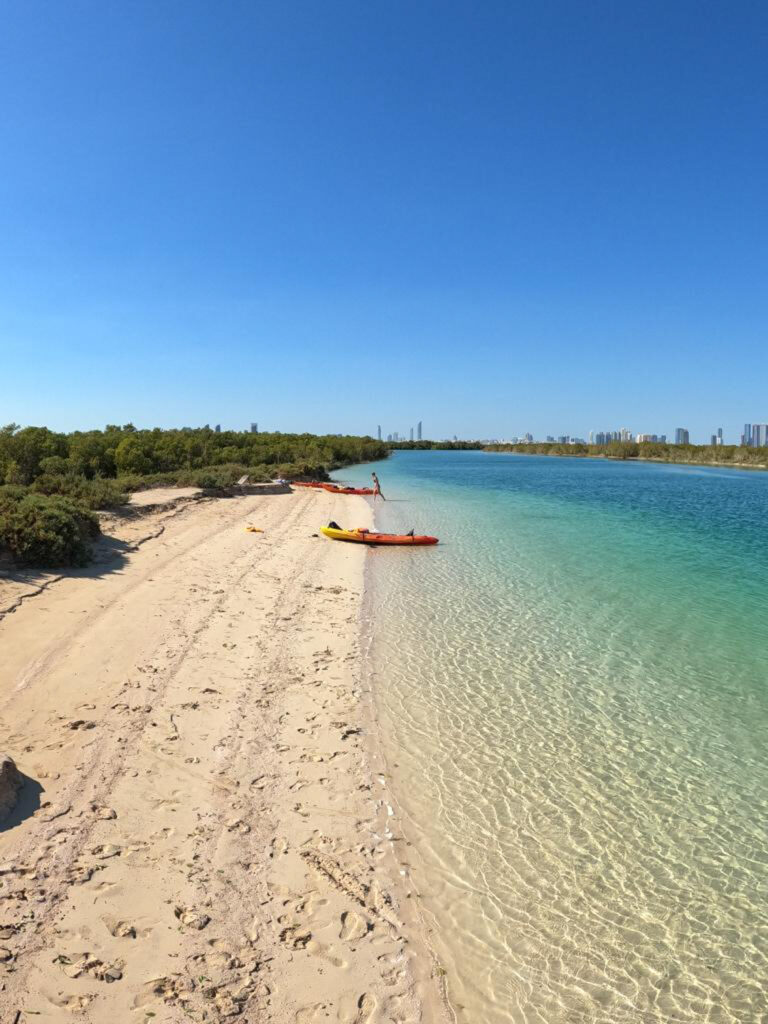 Expect to see a variety of fish, crabs and lots of birds along the way. If you plan to go kayaking on the weekend, be sure to book in advance as it is an incredibly popular activity.
Book a kayaking trip in Abu Dhabi here.
Location: Al Salam Street – Al Kheeran – Eastern Mangrove – Abu Dhabi – United Arab Emirates
Sheikh Zayed Grand Mosque
The Sheikh Zayed Grand Mosque is a worldwide recognisable landmark and should be considered the 8th wonder of the world.
It has been compared to places like the Taj Mahal with its stunning white marble facade, intricate mosaic carved columns and traditional domes typical of Islamic architecture.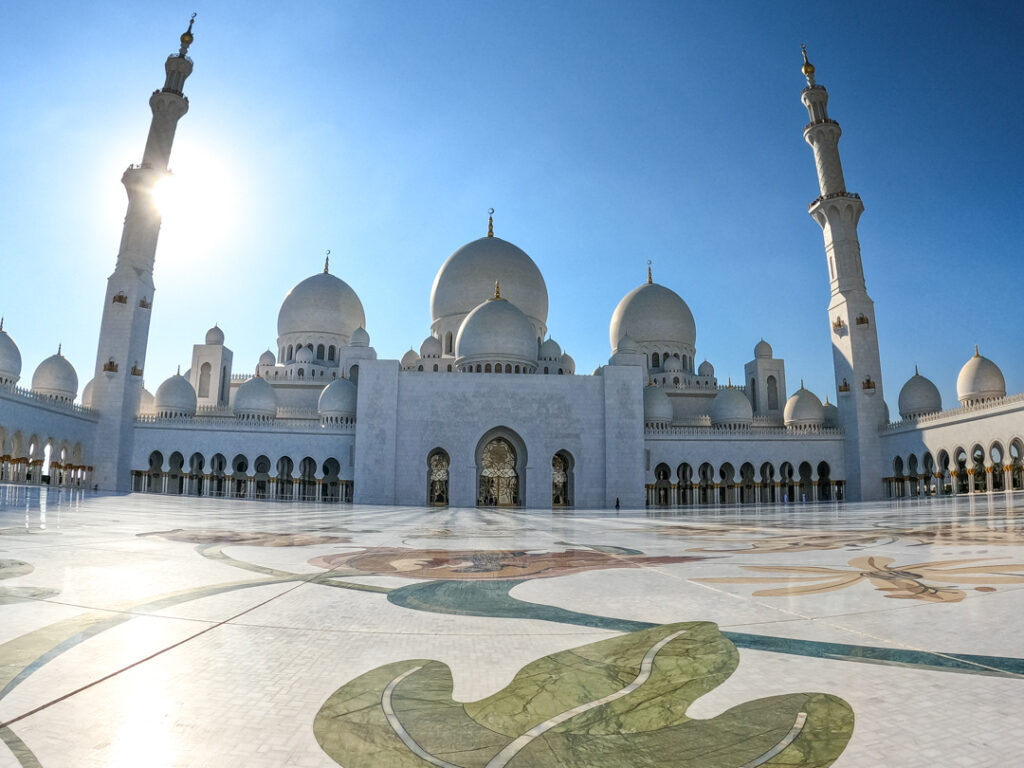 The stunning mosque is one of the largest in the world. Visiting The Grand Mosque during the cooler months of January is an ideal time as the temperature is pleasant for exploring the outdoor courtyards and gardens.
One of the most beautiful times to visit the Sheikh Zayed Grand Mosque is just before sunset.
As the sun begins to set, the white marble facade transforms into different shades of pink, orange, and gold. Watching the colours of the sky and the mosque's walls move from day to night.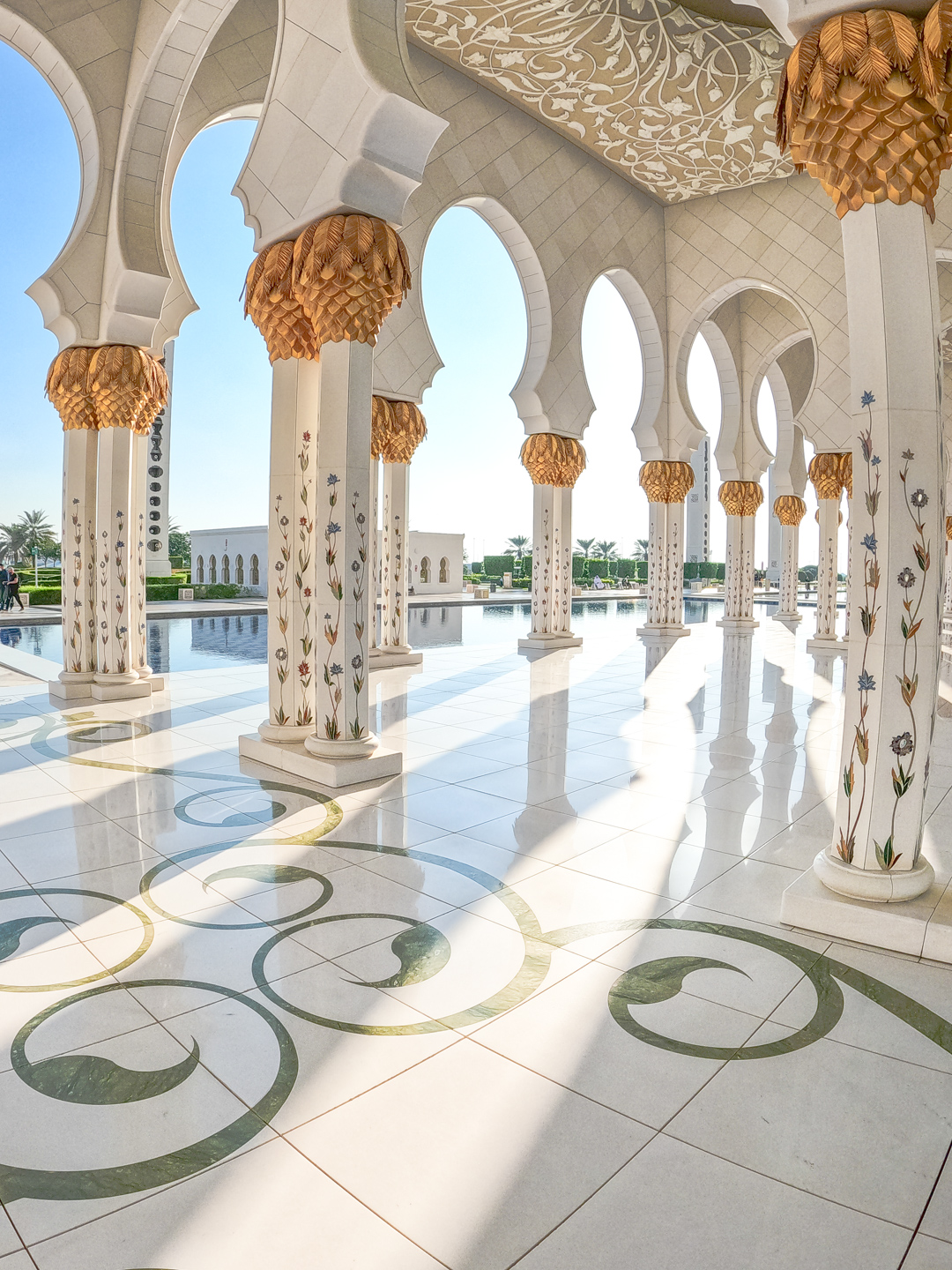 The interior of the mosque is equally as impressive and the carpet in the main prayer hall holds a record. It is the world's largest hand-woven carpet in the world and it took two years to make.
Similarly, the chandelier in the main prayer hall is one of the largest in the world weighing in the region of 12 tonnes!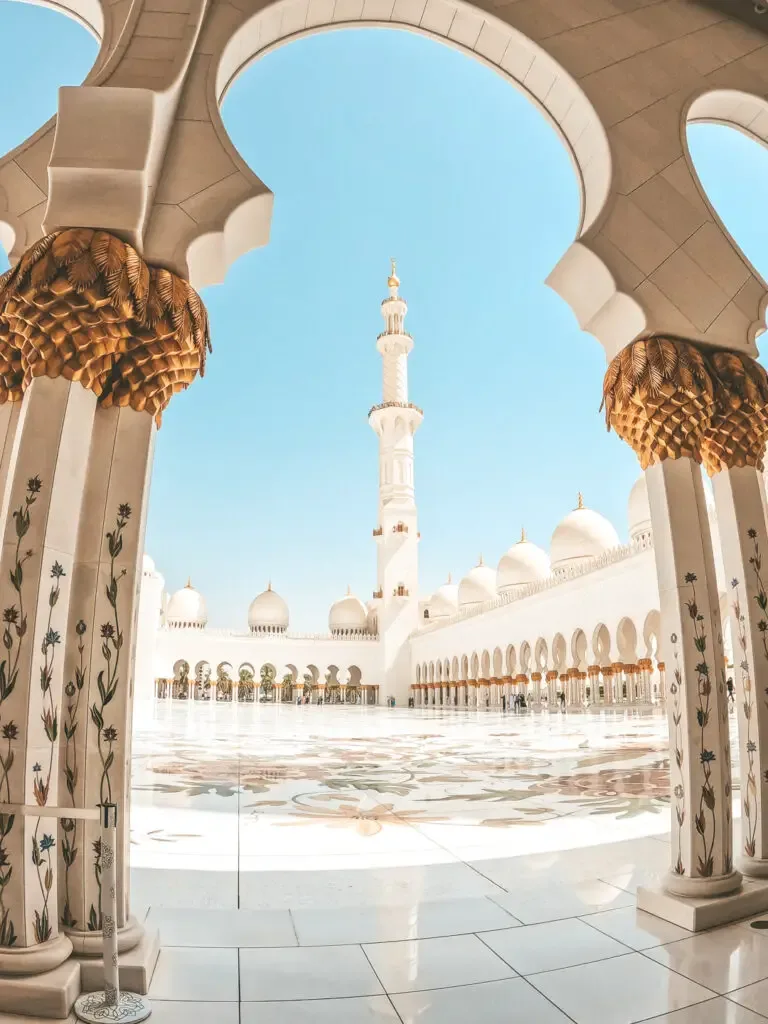 There is a free guided tour available to learn more about the mosque's history and architectural details while taking in the stunning views.
Sheikh Zayed Mosque is not just a tourist attraction, it is also a place of worship for locals so it is important to be respectful when visiting. There is a dress code and it is important to be as quiet as possible.
Location: Sheikh Rashid Bin Saeed Street، – 5th St – Abu Dhabi – United Arab Emirates
The Louvre Abu Dhabi
The Louvre Abu Dhabi is a stunning museum with an incredible architectural design. The dome covering the museum is made up of thousands of geometric stars allowing light to filter through.
As the sun moves over head during the day it creates different patterns of light and shade throughout the building.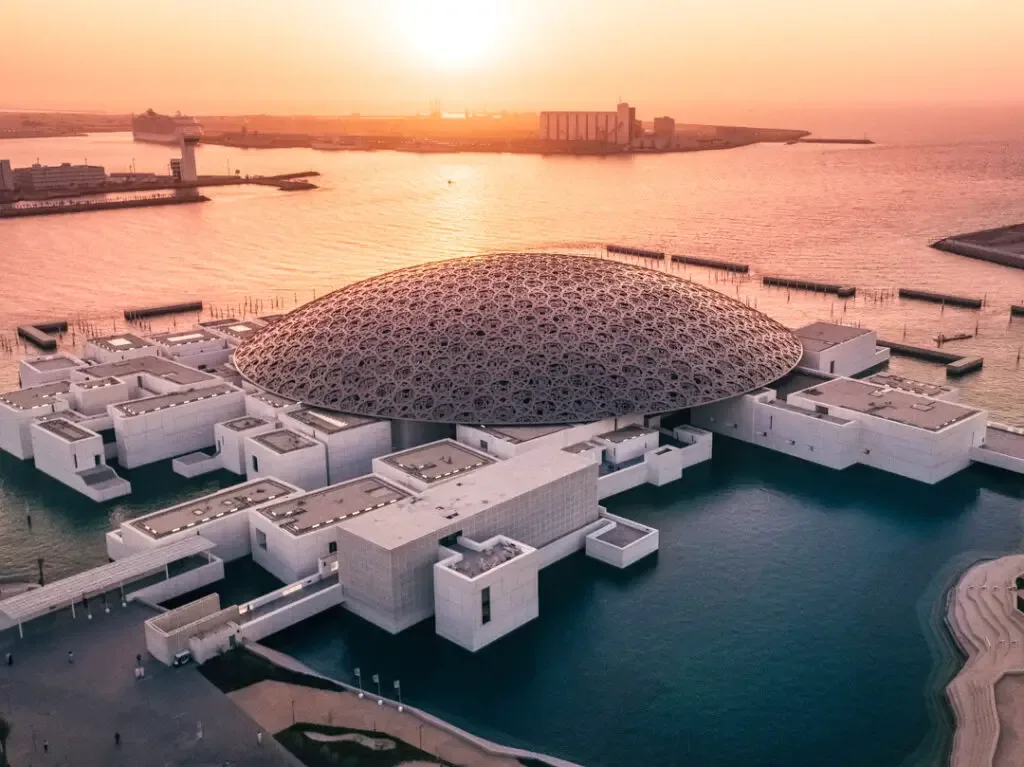 The museum is home to thousands of pieces of art and artefacts from around the world across several galleries, each with a distinctly different theme and feel.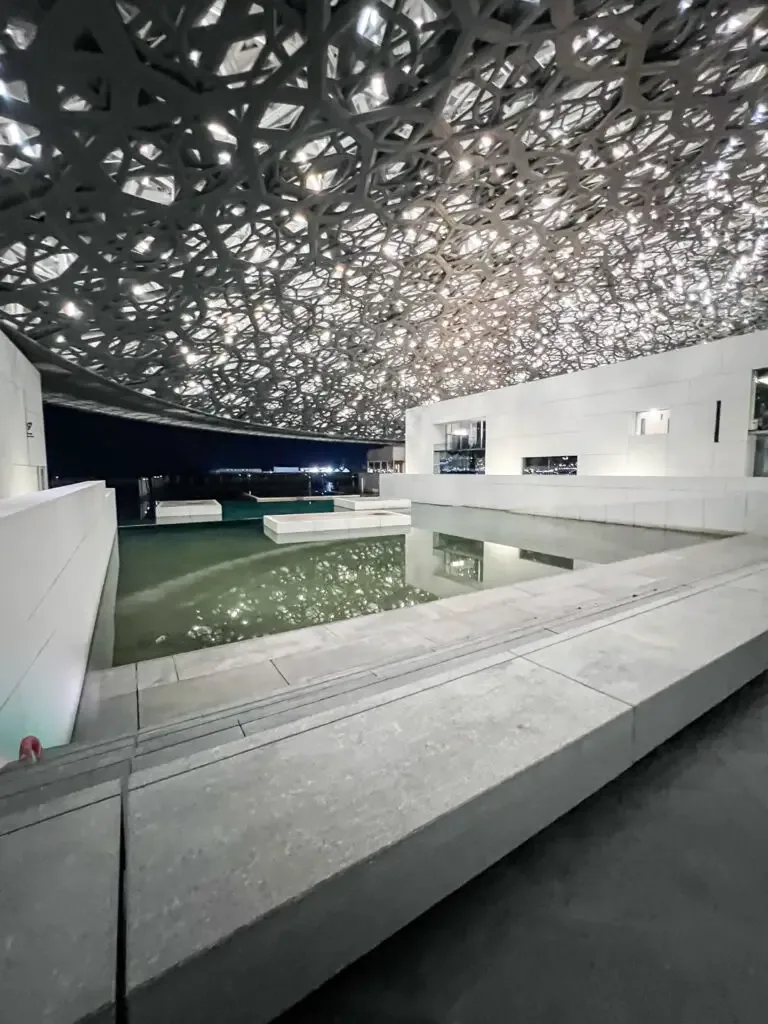 January is a lovely time to visit The Louvre Abu Dhabi and enjoy some of the outdoors surrounding the museum as well as the galleries.
Did you know The Louvre occasionally holds yoga classes beneath the beautiful dome?
Book tickets to The Louvre here.
Location: Saadiyat – Abu Dhabi – United Arab Emirates
Day Trip To Al Ain
Although Al Ain is an hour and a half from downtown Abu Dhabi, it is still part of the Emirate and it is so different, making it worth the trip!
Al Ain is often referred to as the Garden of Abu Dhabi and is well known for its efforts in preserving the culture and history of the region.
The town has an incredible oasis with paved walk ways to explore. The Agricultural methods used at the oasis date back centuries making it a unique experience.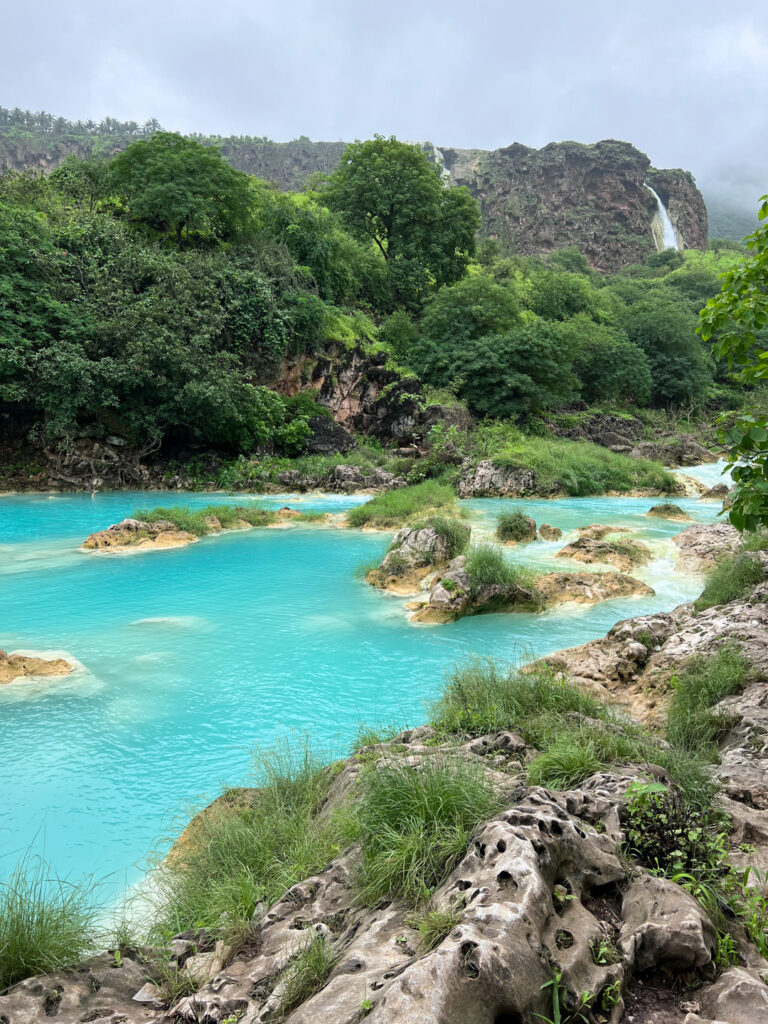 It is beautiful exploring the oasis first thing in the morning. Listen to the water trickle through the plantations with sun beams peaking through and illuminating sections of the stunning landscape.
Al Ain Oasis has over 147,000 date palms and is a UNESCO World Heritage Site. Explore on foot or rent a surrey and cycle through the intricate pathways shaded by the date palms.
Don't forget to buy some dates from the farmers before leaving for the full experience!
Another must-visit attraction in Al Ain is Jebel Hafeet, the highest mountain in the UAE. The rocky mountain is like no other landscape in the region.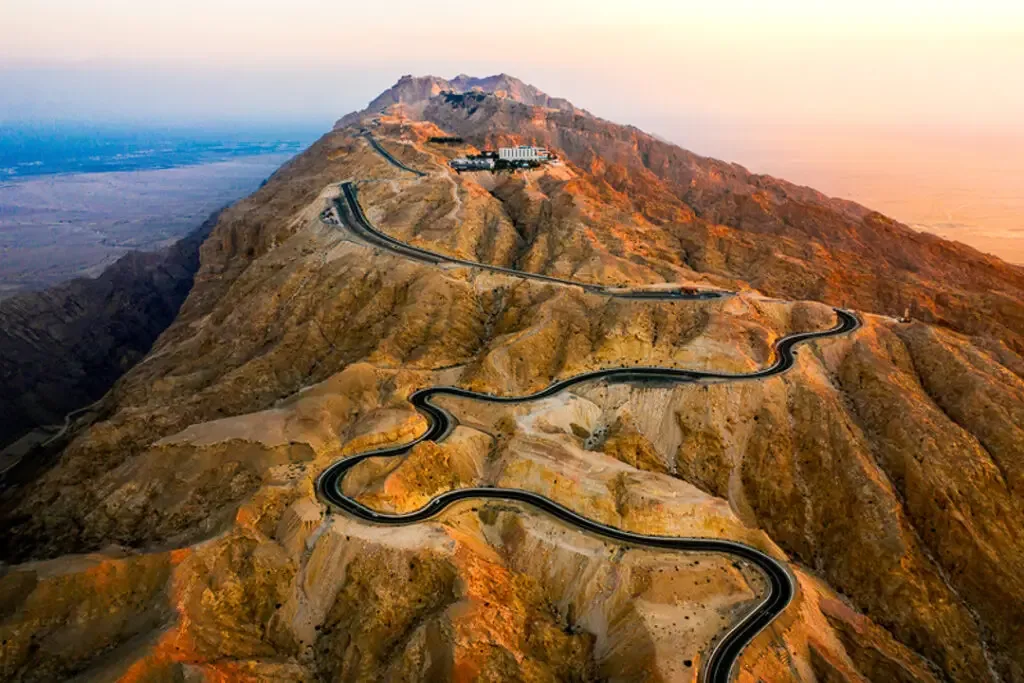 Jebel Hafeet is right on the border between Al Ain and Oman and has a winding road to the top where there are stunning views, especially at sunset.
The city offers a variety of cultural experiences, including souks and museums showcasing the region's history and heritage.
For adventure seekers, Al Ain Adventure offers white-water rafting on manmade rapids, wakeboarding, zip-lining, and kayaking to name a few activities.
Read this detailed guide on the best places to visit in Al Ain.
Al Fresco Brunch
One of the must-do activities on the weekends in January is an al fresco brunch. Many hotels in the city offer outdoor brunch options, perfect for taking advantage of the cooler weather.
Some hotels offer additional pool or beach passes in their brunch package, making it a complete day out.
Two options for al fresco brunch are Buddha Beach Bar at St Regis Saadiyat and Pura Eco Resort Brunch.
In general, brunch is served in a buffet style with a range of international options, including Italian and vegan dishes, as well as sushi.
Some restaurant brunches do table service with sharing platters such as pizzas and charcuterie, each has a unique spin on the concept. Equally, some restaurant brunches have a family vibe whilst others are more suitable for a party atmosphere.
The family brunches generally start around lunch time.
Check out this detailed post on weekend brunch in Abu Dhabi.
Umm Al Emarat Park
Abu Dhabi is home to several lovely parks, and Umm Al Emarat Park is a one of the nicest!
As far as parks go Umm Al Emarat has everything you could possibly imagine. It is particularly popular with families. Especially with the petting farm where kids can feed the animals, not to mention the splash park with a strategically placed ice cream stall!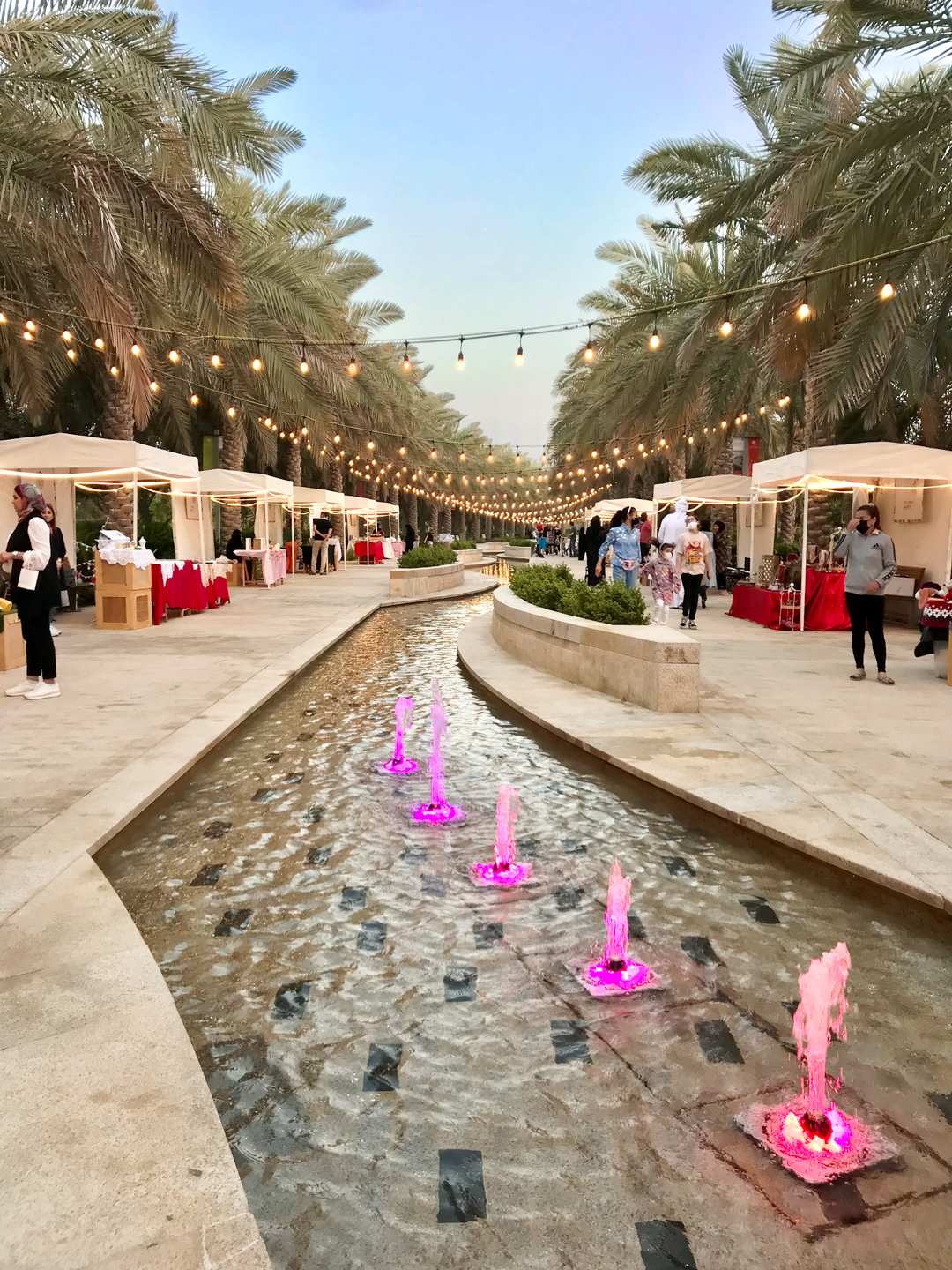 The park is home to a number of cafes and food trucks serving up a range of food from healthy bites to breakfast pancakes and burgers to sandwiches.
During the winter months, Umm Al Emarat has a ripe market on weekends. There are tonnes of activities and local vendors selling their produce and crafts. It has a lovely atmosphere and is definitely worth a visit.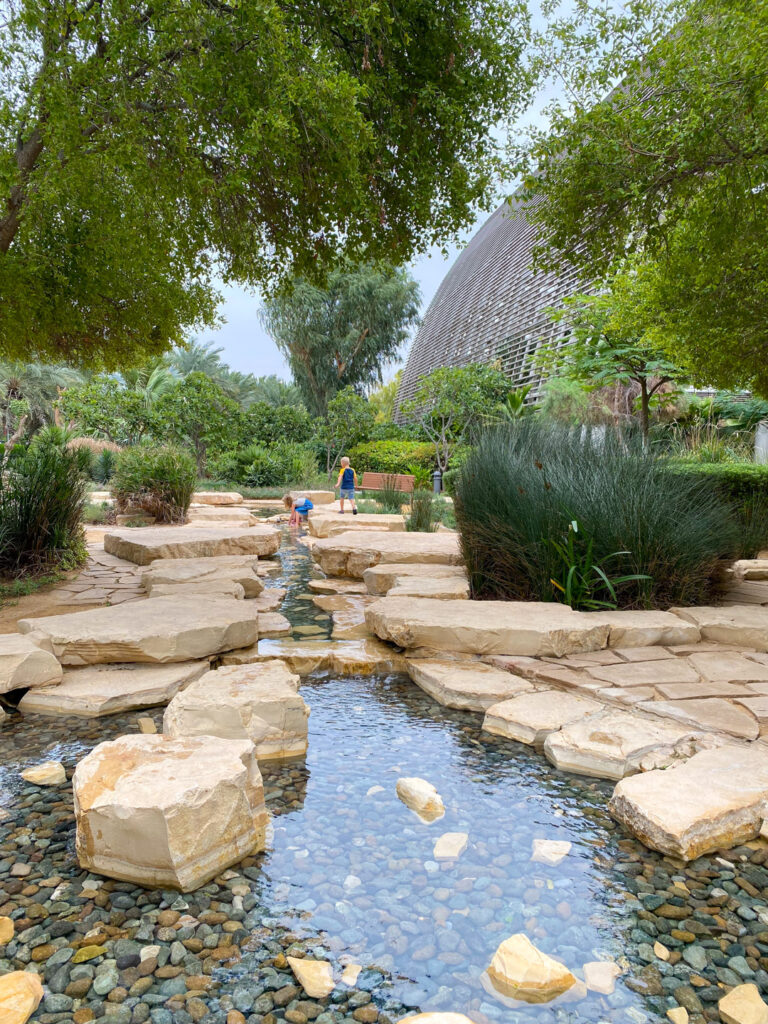 Enjoy live music and entertainment while taking in beautiful surroundings. The park has lots of green spaces with palm tree-lined pathways, not to mention a greenhouse with an elevator to reach a tree-top walkway!
It is a truly unique park with a deserving spot on every Abu Dhabi itinerary in January.
Check out this detailed post on some of the best parks in Abu Dhabi.
We hope you found this post about events, things to do and the weather in Abu Dhabi in January helpful. Let us know if you visit in January and what you did, we love to hear from our readers!
Disclaimer: This post about events and weather in Abu Dhabi in January contains affiliate links, by using them it will not cost you any extra. We may receive a small commission to keep us writing.