The weather in Abu Dhabi in June, to put it simply, is scorching hot! Peak season is well and truly over and residents take life indoors for the rest of the summer. The country is very well equipped with indoor activities.
From huge malls filled with everything you could possibly need, to indoor theme parks, and sporting facilities to swimming pools in pretty much every residential building and hotel. Life in the Emirate over the summer is not as bad as it sounds.
The tourism board has been pushing summer campaigns to entice frugal travellers to Abu Dhabi over the summer period.
Not to mention many hotels, attractions and restaurants have incredible deals in the low season making it an attractive offer for those on a budget.
Abu Dhabi is an expensive destination and the summer months are an opportunity for budget travellers to visit as long as they are comfortable with seeing theme parks, museums and what the malls have to offer.
Swimming pools, the beach, and waterparks are possible in the evenings. In this post, we are going to cover what to expect from the weather in Abu Dhabi in June, events throughout the month and things to do in the city.
Abu Dhabi Weather in June
The temperature in Abu Dhabi in June ranges from an average high of 41°C (106°F) during the day to a low of 29°C (84°F) at night.
It's also one of the driest months, with very little rainfall expected. Humidity levels in Abu Dhabi in June can be quite high, with an average of around 65%.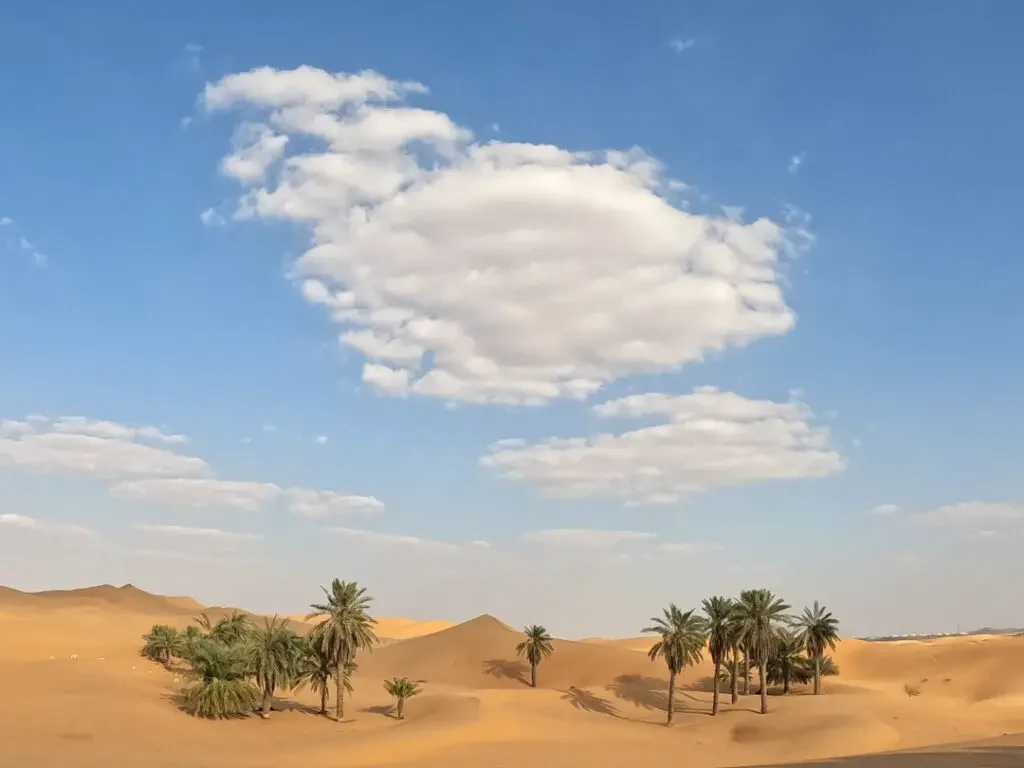 This, combined with the Abu Dhabi temperature in June can make it feel quite uncomfortable to be outside for extended periods of time.
Winds in Abu Dhabi in June can vary, with occasional shamal winds from the northwest bringing in sand and dust storms from the desert. The average wind speed is around 10-15 km/h (6-9 mph).
July and of course, August are the hottest months of all in Abu Dhabi. Whilst December January, February and March are some of the coolest and are considered the best time to visit.
What To Wear In Abu Dhabi In June
The UAE is a conservative country, however, Dubai tends to be a little more liberal than Abu Dhabi. When walking through malls or in official buildings such as Qasr Al Watan, it is best to keep shoulders and knees covered.
It is fine for women to wear a dress which covers shoulders and knees or knee-length shorts for men in the mall. However, for any official buildings men should wear trousers.
Hotels and facilities such as the swimming pool and beach clubs are a little more relaxed and it is fine to wear the usual swimwear. Just have a sarong to hand when walking around.
The weather in June in Abu Dhabi will result in most of your time being spent indoors. Remember most places are a little chilly with AC, especially in the malls so bring some light layers for this situation.
Check out this detailed post on what to wear in Abu Dhabi.
Where To Stay In Abu Dhabi In June
The best places to stay in Abu Dhabi in June are those with conjoined walkways to the mall. This offers a lot of freedom and reduces the need to get a taxi everywhere.
The malls are filled with everything you could possibly need. From gyms to fitness classes, and everyday stores to fantastic restaurants or fast food halls.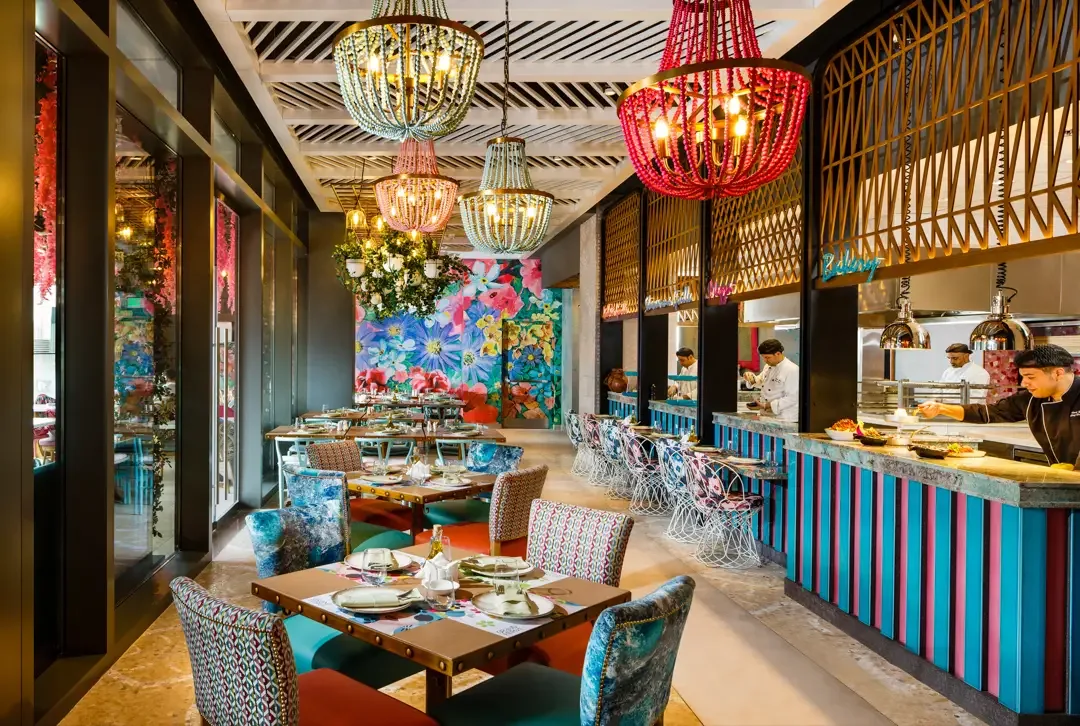 Not to mention entertainment such as cinemas, indoor trampolining and climbing, VR experiences and so much more. There are three hotels which are connected to malls in Abu Dhabi.
Beach Rotana
Beach Rotana is a 5 star hotel and is interconnected with Abu Dhabi Mall. It has a tonne of accommodation types ranging from serviced apartments to standard rooms.
Featuring a swimming pool and a private beach with city views, it's the ideal location in the summer months.
The hotel has some fantastic onsite restaurants, bars and a state-of-the-art fitness centre.
Book a stay at Beach Rotana here.
Four Seasons
Four Seasons Abu Dhabi is interconnected with Galleria Mall which is one of the nicest in the city. Along the walkways between the two buildings are tonnes of high-end designer stores and restaurants.
The 5-star hotel faces out onto the Al Maryah Island waterfront promenade.
Featuring a beautiful swimming pool and some of the top restaurants in Abu Dhabi it is a fantastic location to be in the summer months. Robertos Italian is one of the favourites among locals.
Book a stay at Four Seasons Abu Dhabi.
The Rosewood
Rosewood Abu Dhabi is another 5-star hotel with direct access to Galleria Mall. It is a little closer than Four Seasons to the main parts of the mall.
Featuring a beautiful pool with views of the canal, the rooftop bar is like something straight out of Avatar with its unique sculptures.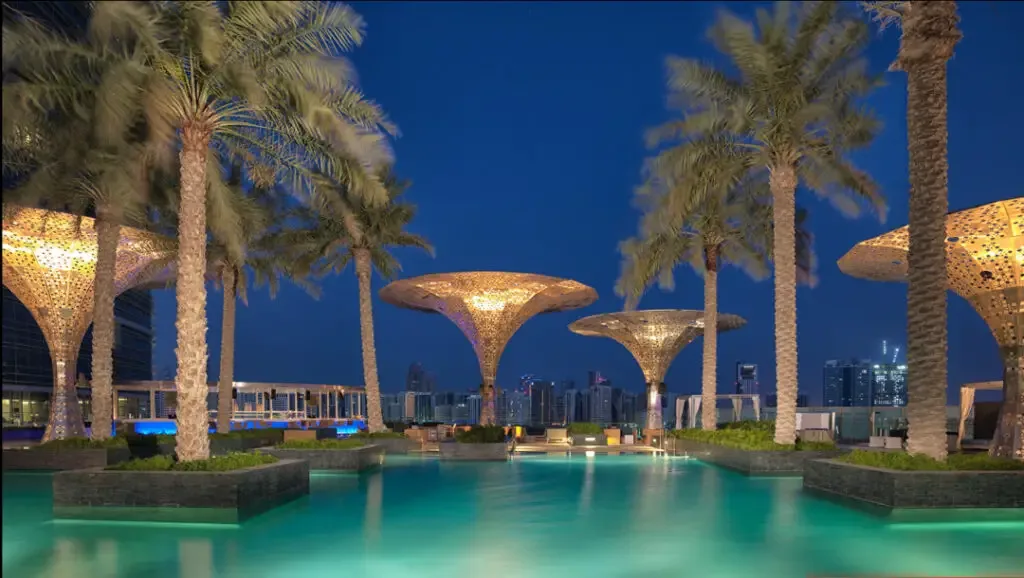 The Rosewood has a Chinese restaurant as well as a hidden bar, not to mention they serve roast dinner on the weekend. The spa is beautiful as well with plush suede furnishing and crystal chandeliers.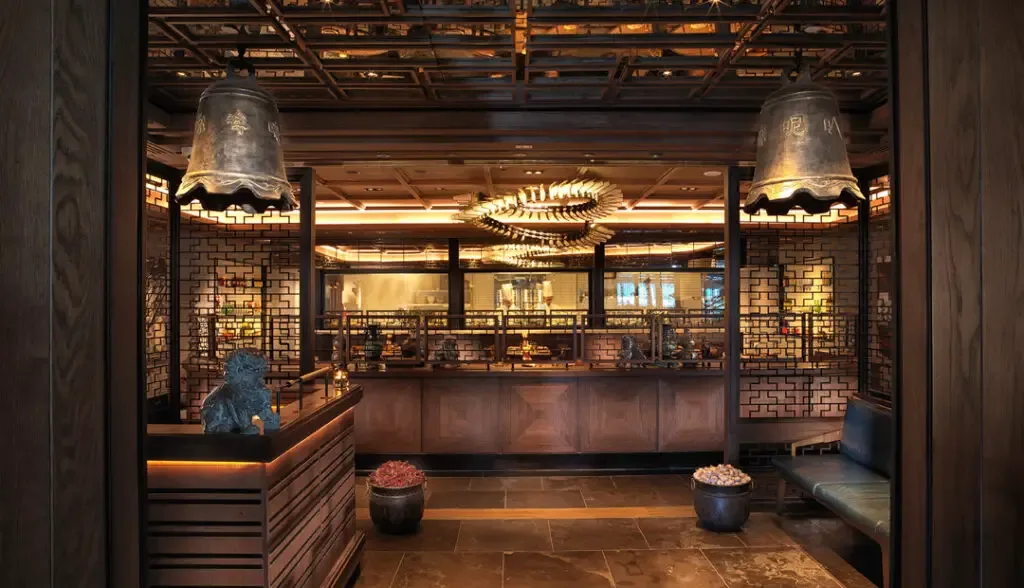 Book a stay at The Rosewood Abu Dhabi.
Events In Abu Dhabi In June
June is one of the quieter months in the capital. However, there are a couple of events which are out in the public domain.
There may be others added in due course and we will of update this page with any new releases!
Guns N' Roses, June 1st
Guns N' Roses are heading to Abu Dhabi on June 1st as part of their massive 2023 World Tour produced by Live Nation.
The iconic American rock band will be performing at the Etihad Arena on Yas Island. This will be their first performance in the UAE since 2017 and is an unmissable opportunity for fans of rock anthems to witness a true musical phenomenon.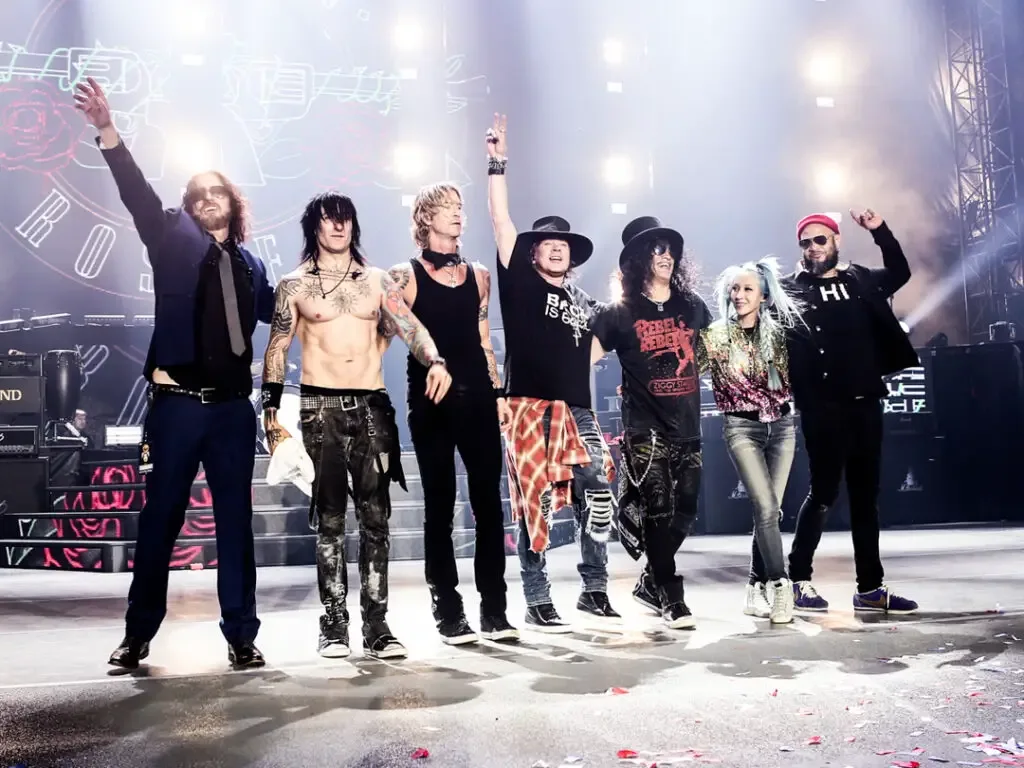 Expect to hear chart-topping hits such as "Sweet Child O' Mine" and "Welcome To The Jungle" as the band takes to the stage.
Fontana Circus
Throughout June on selected dates, Fontana Circus will be putting on a fabulous show at Marina Mall.
It is similar to the well-known Cirque Du Soleil, however, the show features water fountains with some incredible stunts. It is set to be a thrilling event with circus acts, music and fountains all rolled into one show!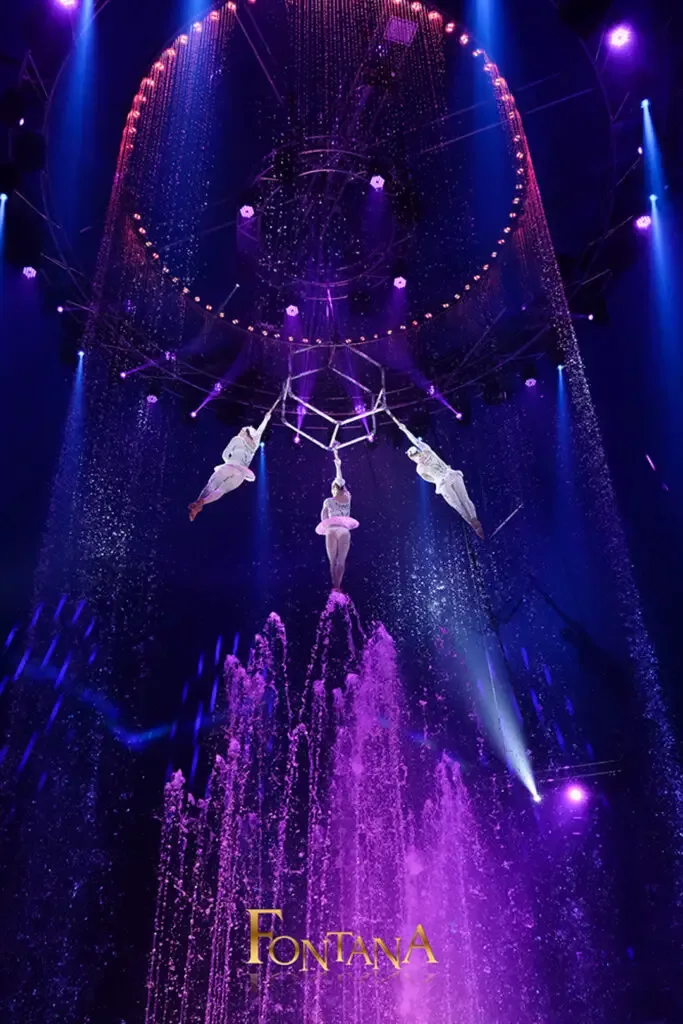 The event will take place inside a typical circus tent and will be in grandstand form providing optimal views for all attending.
Families with children 2 and below are free.
Purchase tickets to Fontana Water Circus here.
Location: Al Kasir – Al Marina – Abu Dhabi – United Arab Emirates
Paw Patrol Live, June 8th to 11th
Paw Patrol Live is coming to Etihad Arena this June in Abu Dhabi.
The show features Ryder and his famous team of pups as they embark on a mission to rescue Mayor Goodway in a Broadway-style performance. Paw Patrol will have live music and exciting storylines.
The audience can be a part of the adventure as they interact with the characters, dance the Pup Pup Boogie, and immerse themselves in the show's action.
VIP ticket holders will have the chance to meet and take a photo with Ryder, Marshall, Chase, Skye, Rubble, Rocky, Zuma, and Everest after each performance.
Book tickets to Paw Patrol here.
Location: Etihad Arena – Yas Dr – Yas Island – Abu Dhabi – United Arab Emirates
Things To Do In Abu Dhabi In June
The National Aquarium
The National Aquarium in Abu Dhabi, located in Al Qana, provides a refreshing break from the scorching desert heat and has a diverse collection of over 300 distinctive marine creatures.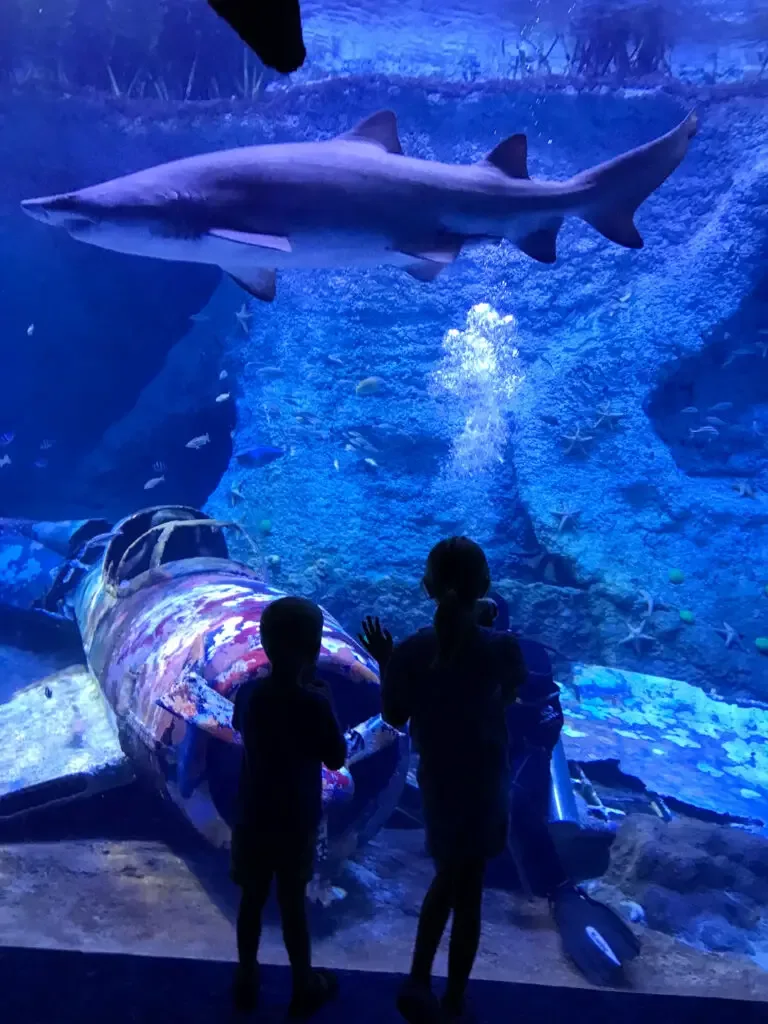 Its various zones offer a fully immersive experience, complete with birds flying overhead and touch pools, glowing jellyfish, and huge ocean tanks with sharks and schools of fish.
The underwater tunnel with 180 views inside the tank is particularly impressive. For added British charm, a red telephone box and a VW Beetle car have been transformed into a fish tank.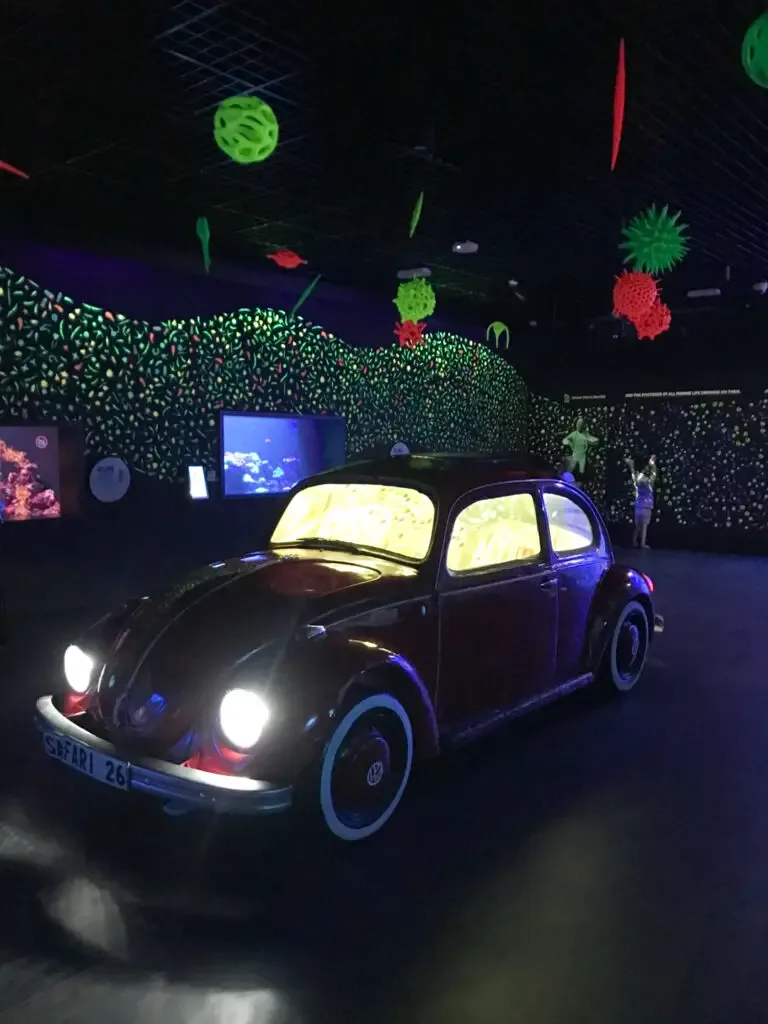 The aquarium offers numerous educational experiences and add-ons, such as behind-the-scenes tours to learn about the aquarium's conservation efforts.
The glass-bottomed dhow boat provides a unique opportunity to observe sharks swimming beneath.
While the aquarium has a small on-site cafe, nearby Al Qana waterfront restaurants are lovely. The area is a few minutes walk so depending on the time of day and temperature it may be a little difficult.
Book tickets to the National Aquarium here.
Location: Al Qana – Rabdan – Abu Dhabi – United Arab Emirates
Qasr Al Watan
Qasr Al Watan is a magnificent architectural masterpiece and a perfect indoor activity in Abu Dhabi. The palace serves as a working presidential suite and is open to tourists and residents to explore.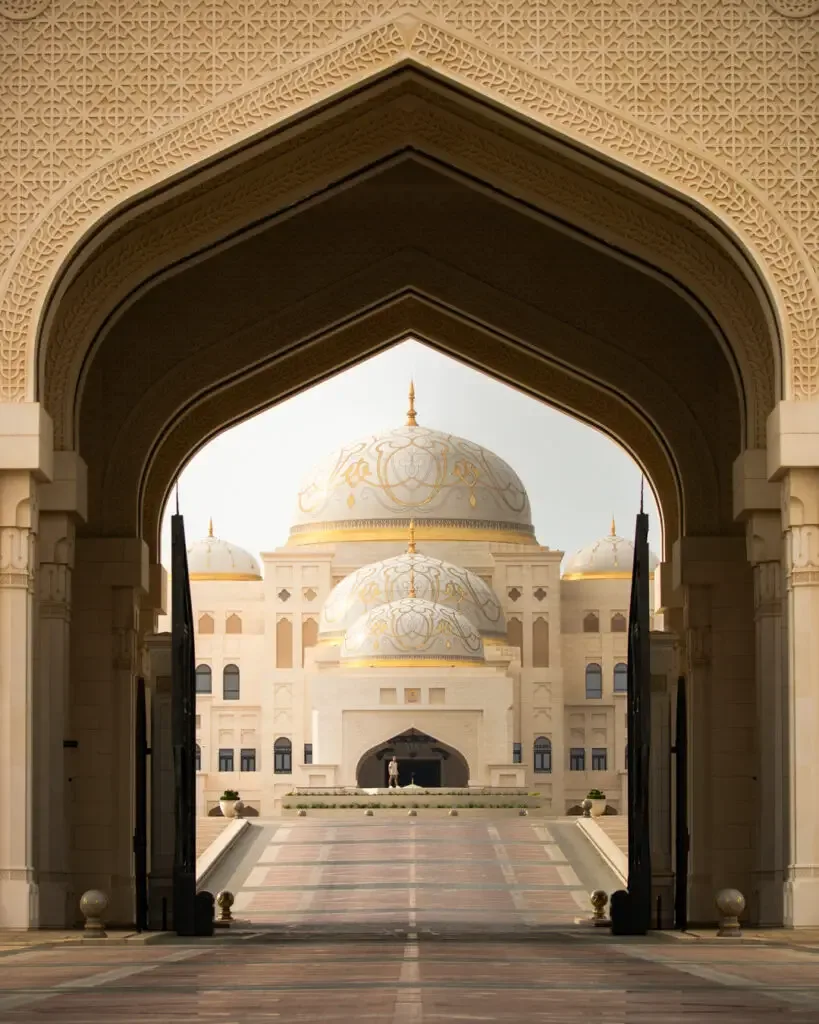 While some of the beautiful grounds are outdoors, there are plenty of incredible sights to see indoors.
The place has a white granite exterior intricately detailed Arabic calligraphy, beautiful domes, patterned tiling, traditional columns, and stunning arches.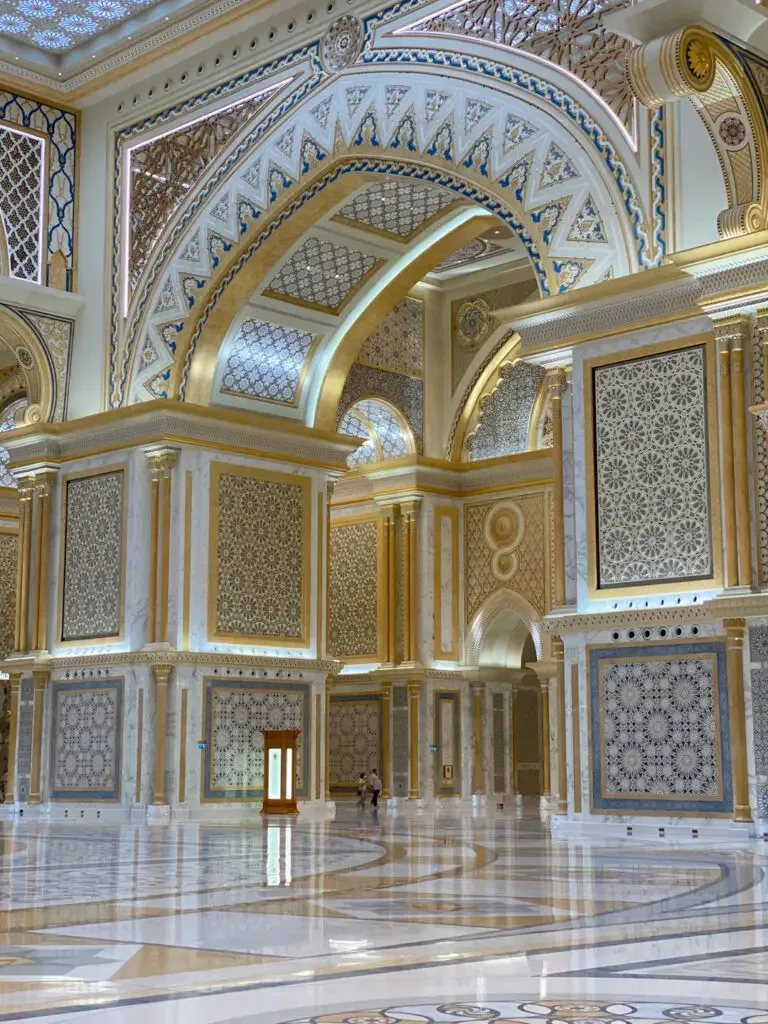 The interior of the palace is equally impressive, adorned with detailed patterns covering the floor, walls, and ceiling. Materials such as gold and crystals decorate the interior with magnificent chandeliers and ornamental displays.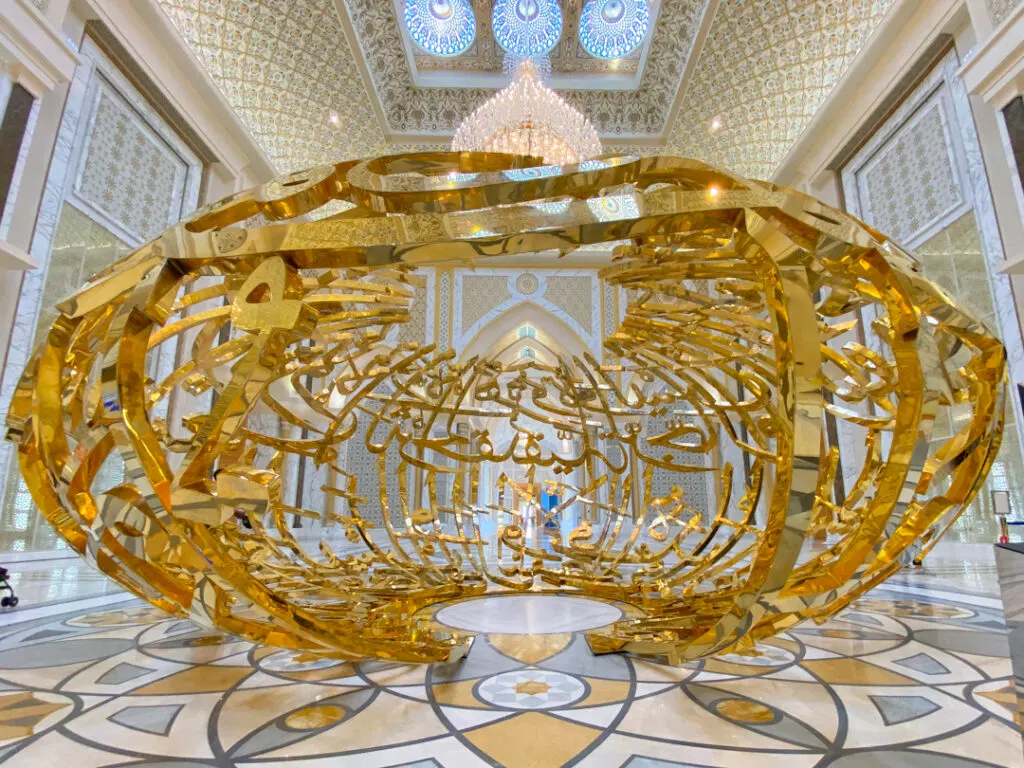 The palace is home to a variety of artefacts, manuscripts, and exhibits significant to the culture and history of the UAE.
Another fascinating feature of Qasr Al Watan is the Library. Housing an extensive collection of books, manuscripts, and documents, the library is a treasure trove of knowledge.
Book tickets to Qasr Al Watan here.
Location: Al Ras Al Akhdar – Abu Dhabi – United Arab Emirates
Yas Waterworld
Visiting Yas Waterworld in June can be challenging due to the high temperatures during the day. However, the park offers a perfect solution to beat the heat by extending operating hours into the evening.
This means the park's attractions can be enjoyed in a more comfortable temperature while experiencing a unique nighttime atmosphere.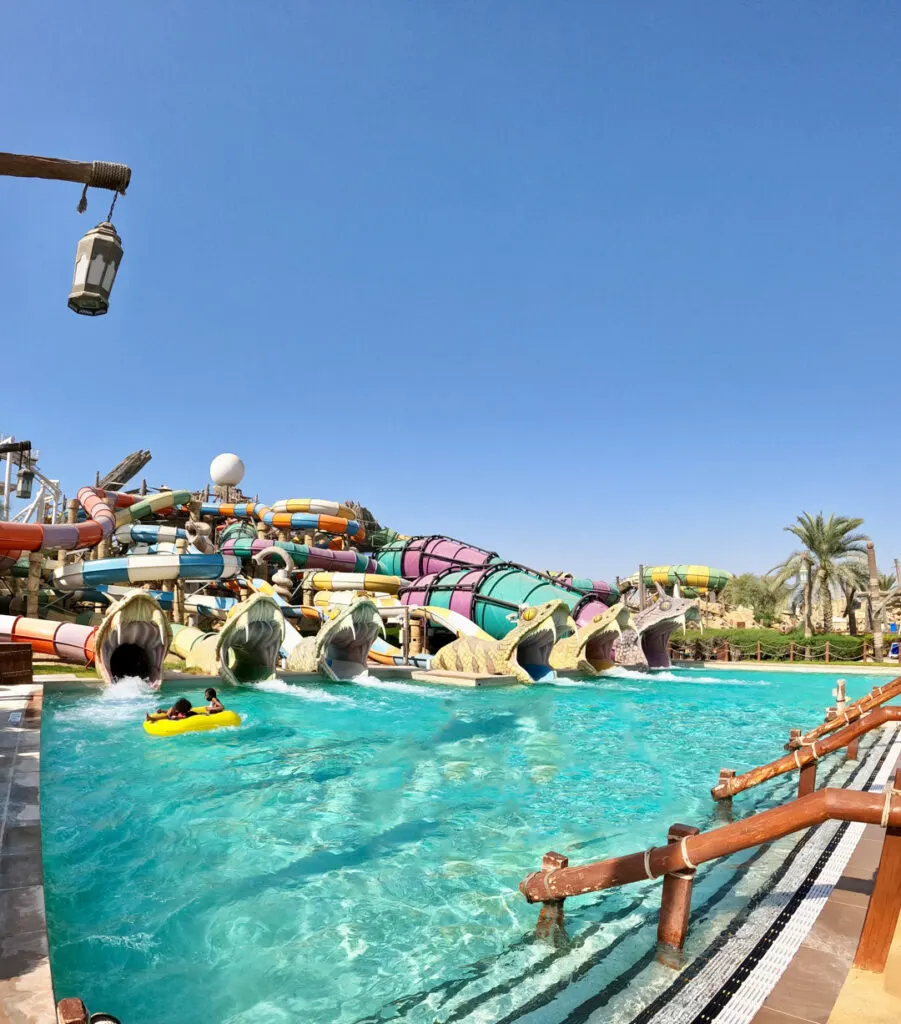 With over 40 rides and attractions, including five one-of-a-kind experiences, Yas Waterworld is the perfect place to cool down and have some evening fun.
Some of the park's most popular rides include the Bandit Bomber, Liwa Loop, and the Slithers Slides.
There are plenty of dining options available, and it is not just typical fast food in most theme parks. There is a fruit stall serving up huge wedges of watermelon and coconuts too!
Book tickets to Yas Waterworld here.
Location: Yas Island – Abu Dhabi – United Arab Emirates
WB World
Warner Bros World Abu Dhabi is the largest indoor theme park in the world. There is plenty for both adults and kids to enjoy in the six immersive areas.
Featuring Gotham City, Metropolis, Cartoon Junction, Bedrock, Dynamite Gulch, and Warner Bros. Plaza, visitors can relive their childhood memories.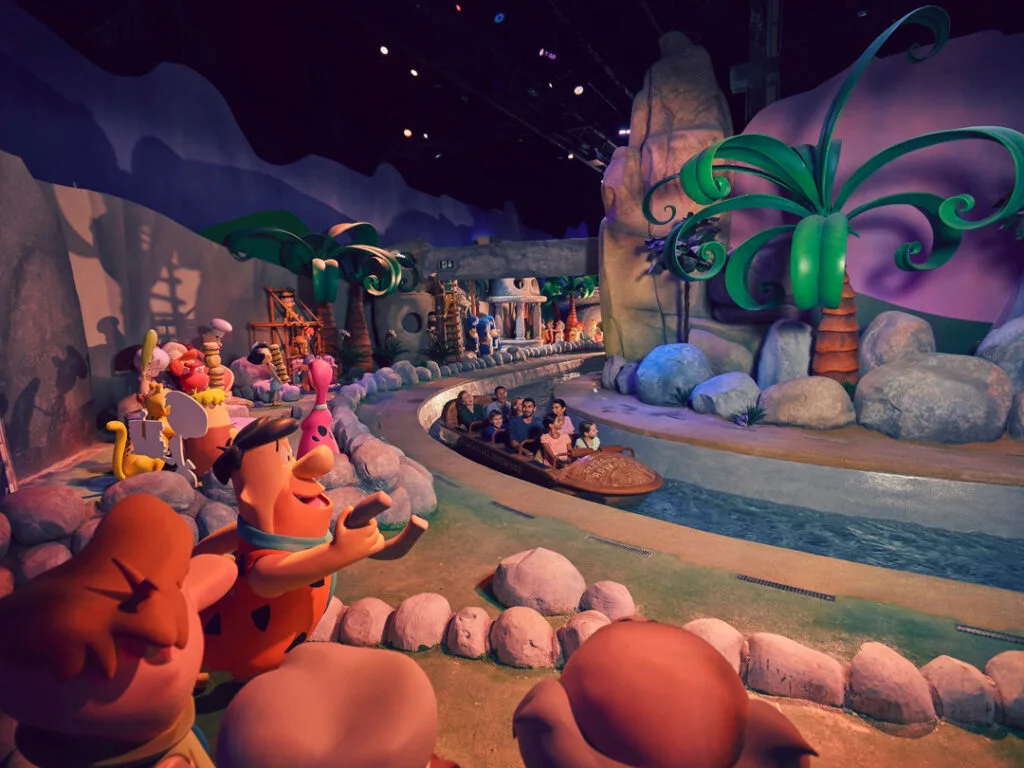 It is a fully air-conditioned theme park with each area designed to simulate an outdoor environment with a sky-like ceiling.
Adults can enjoy rides such as the Batman Knight Flight roller coaster flying through Gotham City, while the Scooby Doo Museum of Mysteries ride adds a slightly spooky touch.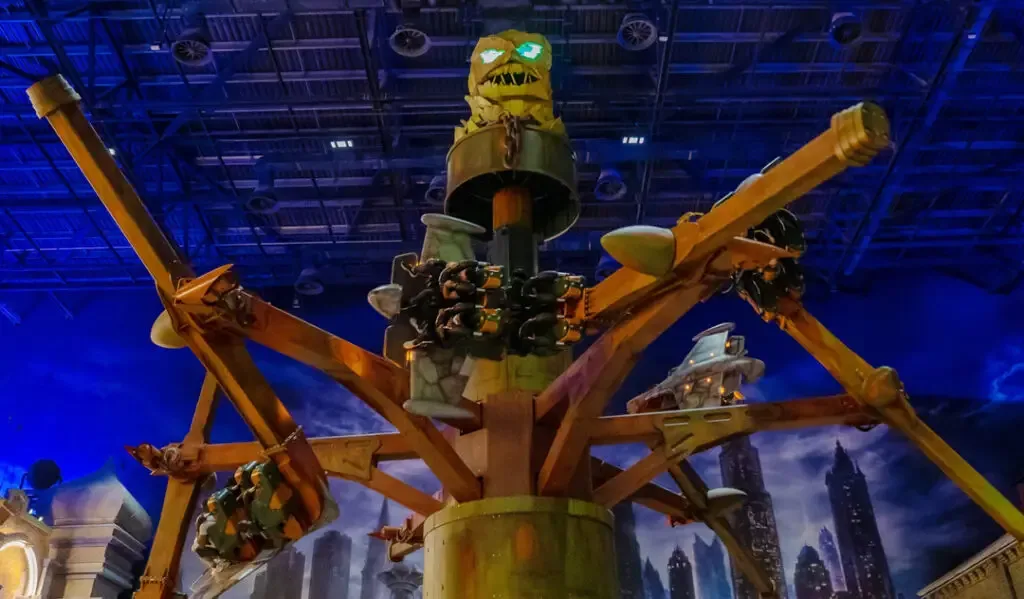 Rides for kids include Flinstones Bed Rock river adventure, Tom & Jerry Swiss Cheese Spin and Fast & Furious to name a few.
Central Perk Cafe, inspired by the iconic Friends TV series, for a blast from the past and certainly worth a visit.
Book tickets to WB World here.
Location: Yas Island – Abu Dhabi – United Arab Emirates
Ferrari World
Ferrari World Abu Dhabi is conveniently connected to Yas Mall in the Yas Fountains area via a foyer.
The majority of the park is indoors and features tens of rides, however the most famous is Formula Rossa, which holds the title of the world's fastest roller coaster.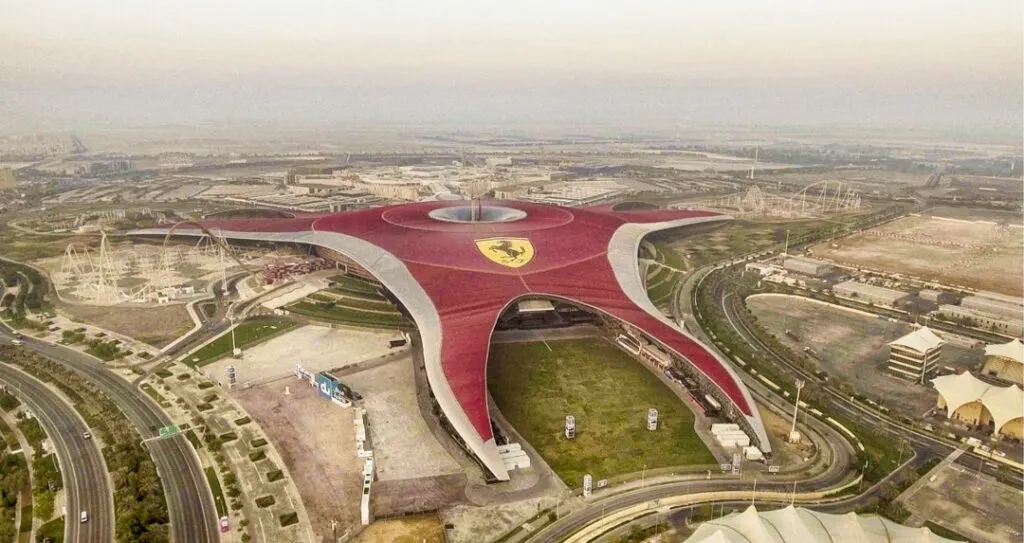 With speeds reaching up to 240 km/hr, it's not for the faint of heart.
For those looking for more driving experiences, the Karting Academy offers a thrilling race around the track, while professional driving lessons and a virtual reality F1 race provide a unique opportunity to test your driving skills.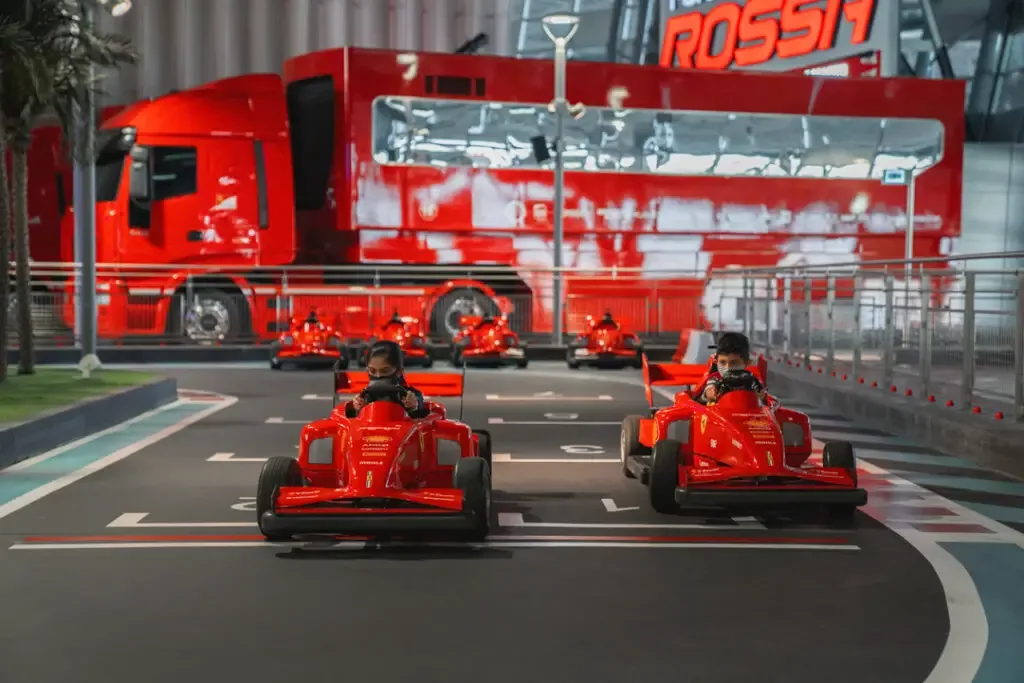 Other exciting rides at the park include the Turbo Track, Flying Aces, and the Fiorano GT Challenge.
Book tickets to Ferrari World here.
Location: Yas Island – Yas Leisure Dr – Yas Island – Abu Dhabi – United Arab Emirates
Weekend Brunch
Weekend brunches are a beloved pastime in Abu Dhabi. Brunches in the UAE are like no other! It's typically an afternoon affair and features a lavish buffet or sharing plates for a family or group of friends.
Hyatt family brunch on a Sunday is one of the best as they serve pizza and pasta, salad bowls as well as nibbles direct to the table which is great with kids. Family brunches are generally start around lunch time.
The cuisine is generally international featuring everything from Italian to Mexican and sushi to local Arabic dishes.
Not to mention occasionally you can find Turkish and Thai food too!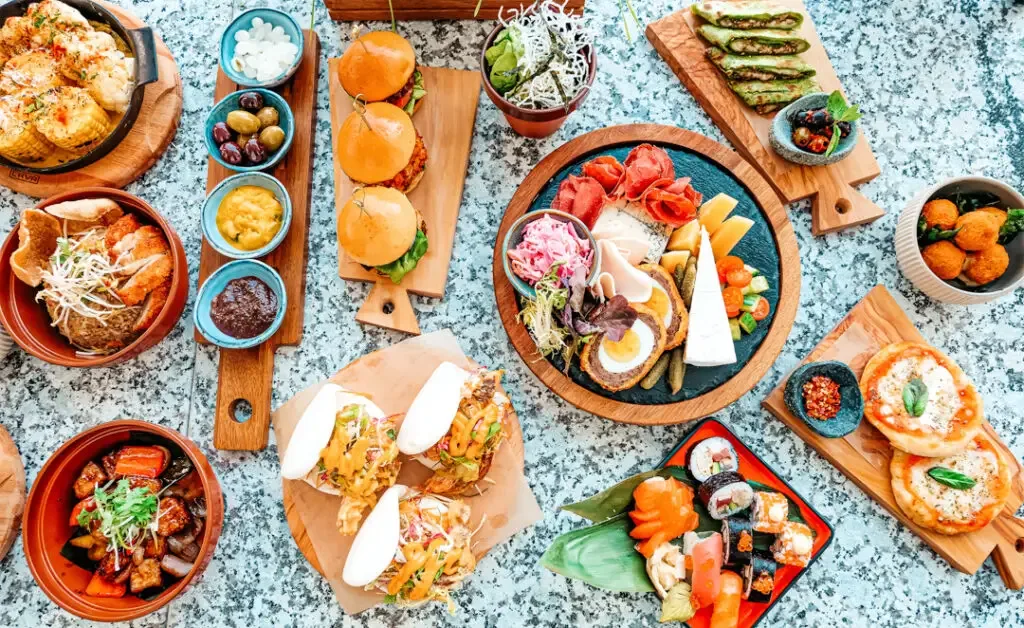 Brunch packages tend to come with soft drinks or alcoholic beverages at an additional cost.
Some of the most highly recommended brunch spots include the Fairmont Bab Al Bahr, which offers an extensive international buffet with stunning views of Sheikh Zayed Grand Mosque.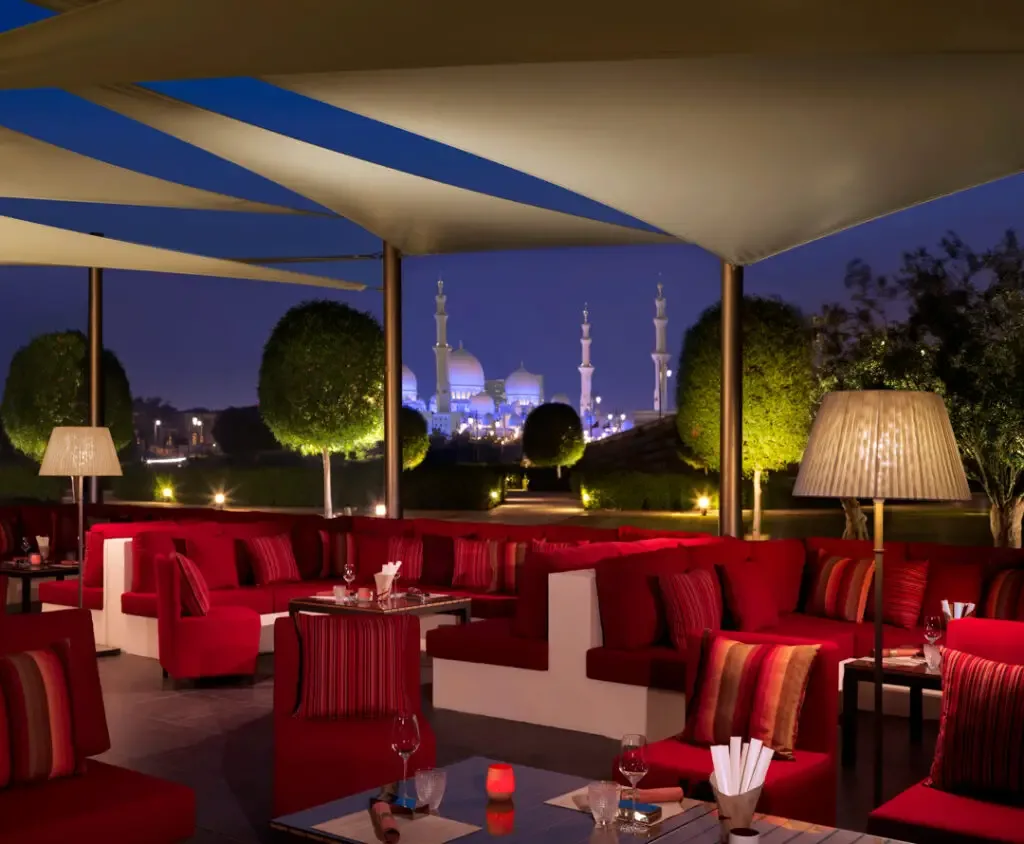 Royal M Hotel in the Marina area is another lovely spot with an array of international cuisine.
For those seeking a truly luxurious brunch experience, Nahaam at the Conrad Etihad Towers is a must-visit.
With its stylish décor, live cooking stations, and innovative culinary creations, Nahaam takes brunch to new heights.
When Is The Best Time To Visit Abu Dhabi?
The coolest month in Abu Dhabi is from November through April. Whilst September and October are considered shoulder seasons.
By February or March, a lot of the cultural festivals begin to finish up. December is one of the busiest times of the year when it comes to tourism.
The best time of year to visit depends on personal preference. The summer months are fantastic for deals and reduced rates. Check out this post with a breakdown of what's on offer in each season.
Whilst the winter months are the best for experiencing the beaches, desert safaris, kayaking the mangroves and so much more.
We hope you found this post about events and weather in Abu Dhabi in June helpful. Let us know if you attend any in the comments.
Disclaimer: This post about events and weather in Abu Dhabi in June contains affiliate links, by using them it will not cost you any extra. We may receive a small commission to keep us writing.