Abu Dhabi is a leading destination when it comes to luxury hotels and resorts. From lavish palace-style properties to desert resorts and high-end glamping, to 5-star beachfront hotels, there is a lot to choose from!
Wether you are honeymooning, on holiday, looking for complete privacy, or want to treat the kids, there are a lot of Abu Dhabi hotels with private pools.
There are several exceptional options ranging from massive aqua tubs to rooftop pools suitable for parties!
Hotels In Abu Dhabi With Private Pool
Whilst a lot of the options are super luxurious when it comes to Abu Dhabi hotels with private pools, there are some budget-friendly options.
There are quite often staycay deals for UAE residents at some of the Abu Dhabi hotels with private pools.
However, if you are visiting Abu Dhabi as a tourist, check out the best things to do in the capital. Here is our complete guide to Abu Dhabi Hotels with Private Pools.
1. Al Wathba, A Luxury Collection Hotel and Spa
Al Wathba Desert Resort & Spa in Abu Dhabi is the ultimate desert destination and the definition of luxury. It is located just 49 kilometres from the Sheikh Zayed Grand Mosque.
A selection of one, two, or three-bedroom villas with private pools are available to guests. It is worth noting it is an adult-only property, guests must be over the age of 18.
The villas with private pools overlook the desert and have a canopy to shade from the hot sun above the patio furnished with tables and chairs. The views are stunning and the perfect spot to watch the sunset whilst chilling in the private pool!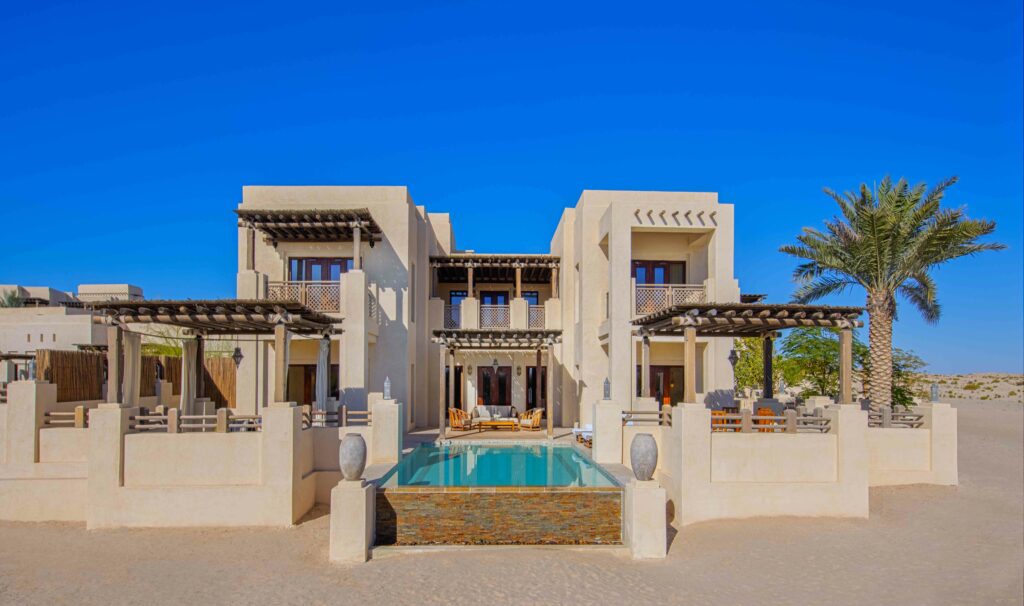 Offering free Wi-Fi, a shared outdoor pool, an incredible spa, fitness centre and great food, there is plenty to explore within the resort.
A number of hidden gems can be found in the nearby Al Wathba region. Check out:
Al Wathba wetland reserves
The fossil dunes
Al Wathba camel racing track
Al Wathba Hill
With the finest dining establishments serving International cuisines, Al Wathba also features endless views of the desert with a swim-up bar.
Get more information on deals at Al Wathba Desert Resort.
Location: Al Wathba South 56620 – Abu Dhabi
2. Qasr Al Sarab Desert Resort by Anantara
Although Abu Dhabi boasts some of the finest luxury hotels in the world, none stand out more than Qasr Al Sarab Desert Resort by Anantara.
Qasr Al Sarab is one of the top Abu Dhabi hotels with private pools and is located 90 minutes from downtown. There are plenty of activities aside from the private pool including camel rides, sunset treks, dune drives and sand boarding.
Guests can choose from villas with one, two, or three bedrooms with private plunge pools looking out onto the desert.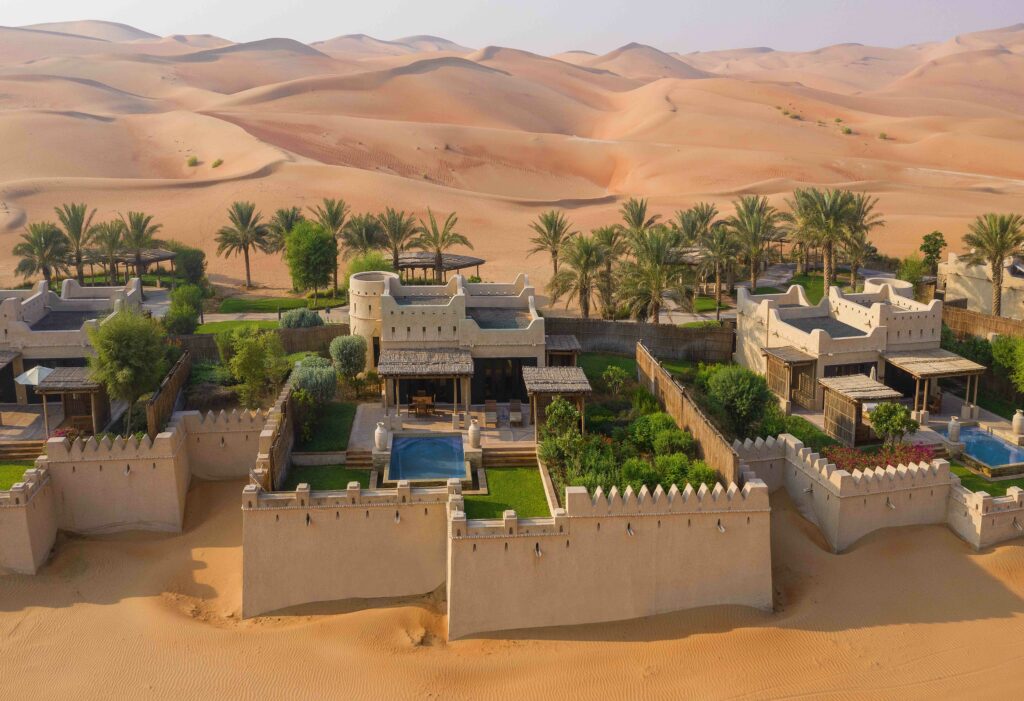 Each villa is provided with breakfast tailored to the number of guests. Free meals are served to children aged six and under. The hotel's amenities include a Turkish steam bath, outdoor tennis court, and free Wi-Fi.
Aside from luxury villas, the hotel offers accommodation in luxurious Bedouin-style glamping. Not to mention a 24-hour reception, concierge and babysitting service at the Qasr Al Sarab Hotel.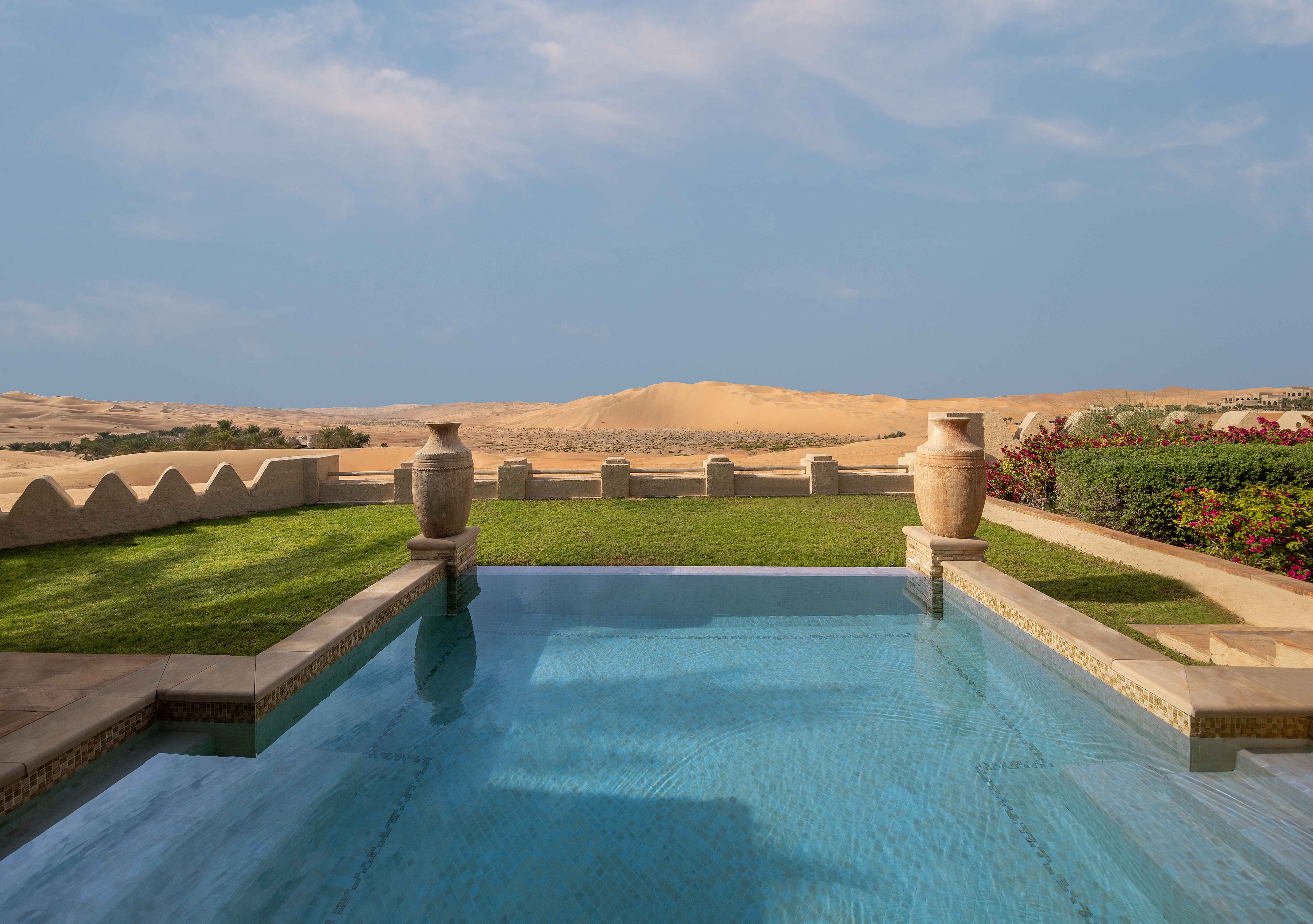 It's possible to save up to 15% with an advance reservation and receive a complimentary breakfast for two. Hotel guests can enjoy international cuisine at the resort's restaurants and relax with a drink in the bar.
There are a range of culinary experiences available. Dine by Design features three signature restaurants for private dining overlooking the desert. It requires reservations at least 24 hours in advance.
Book a stay at Qasr Al Sarab Desert Resort by Anantara, Abu Dhabi.
Location: The Empty Quarters, near Liwa, Abu Dhabi, United Arab Emirates
3. Emirates Palace
Located 25 minutes from Abu Dhabi International Airport, Emirates Palace is one of the most opulent hotels in the Capital.
Club amenities include a 1.3km private beach, two fitness centres, two pools, and a range of water-sports. The beach club facilities are incredible.
Arabia's rich history of hospitality is evoked by the silver, gold, and glass mosaic décor. With 14 food and beverage outlets to choose from, the luxury accommodation offers guests the finest of both worlds, traditional as well as modern.
The Sea View Suites, Panoramic Sea View Suites, or Royal Suites come with private hot tubs and Jacuzzis.
Aside from the hot tubs, the suites feature a balcony, air conditioning, and a flat-screen TV. Each room also includes a 24/7 Butler service.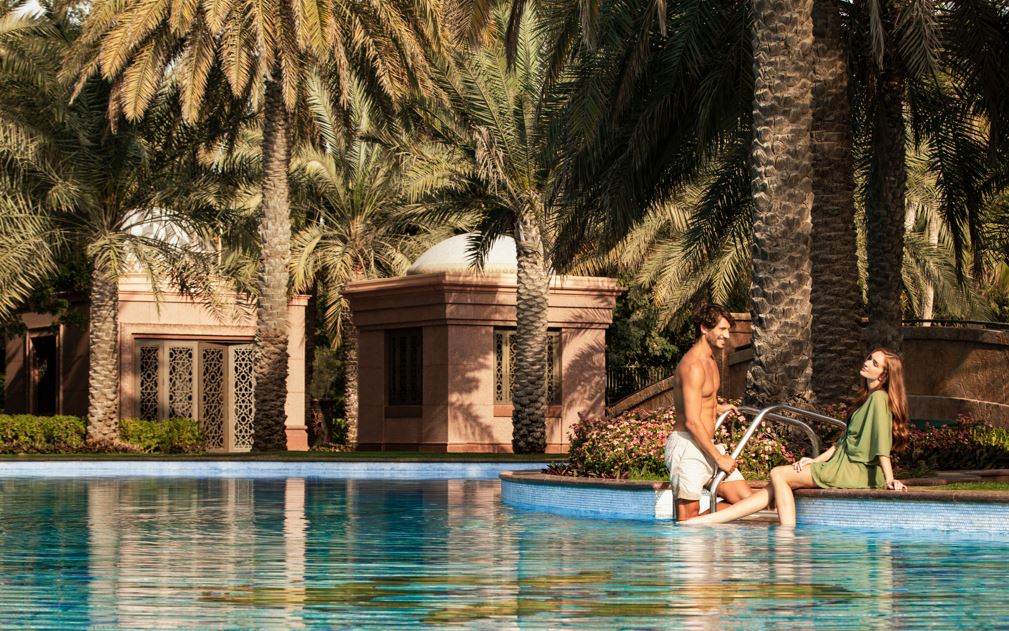 Luxurious bedding and stunning furnishings are found in all rooms and suites. Not to mention marble bathrooms, an iPad mini with integrated room control.
There is a choice of over 150 TV channels, complimentary movies, on-demand services, and free wireless internet access.
The Pavillion offers panoramic sea views and a selection of Arab mezze, Middle Eastern and international dishes, including Mezlai signature dishes.
With 14 opulent restaurants, Emirates Palace offers a wide range of world-class cuisine sure to satisfy any palate. A magnificent view of the Gulf awaits diners at Sayad serving up the finest seafood.
A local dining experience can be enjoyed at Mezlai, while diners at La Vendôme can feast on an international buffet.
Book A Stay at one of the rooms with a private poll Emirates Palace Hotel
Location: Corniche Rd, West – Abu Dhabi
4. Nurai Island Resort
Nurai Island Resort is a 12 minute journey from Abu Dhabi's Saadiyat Island and 60 minutes from downtown Dubai by speed boat.
The boat is included in the price to visit the island. The island is surrounded by aqua-blue clear waters & powder-white sand beaches
Each guest is welcomed to a contemporary villa designed to seamlessly blend into the natural environment (which isn't hard considering how incredible they look).
Private temperature-controlled pools, floor-to-ceiling windows overlooking the Arabian Sea, and air-conditioning set the villas apart from other Abu Dhabi hotels with private pools.
As part of the exclusive Nurai Spa experience, guests can enjoy a magical sea view and listen to the waves whilst enjoying individual spa sessions or revitalising couple massages.
Yoga and personal trainer sessions can be arranged at sunrise or sunset while the Petit Z kids club entertains younger guests.
Breakfast, lunch, and dinner are served at Frangipani using organic and seasonal produce sourced from local farms. The expertly carved raw sashimi and sushi at Ginger Mermaid are among the ingredients
Location: Nurai Island, Abu Dhabi
5. Park Hyatt Abu Dhabi Hotels and Villas
The Park Hyatt Abu Dhabi Hotel & Villas boasts an outdoor pool clubhouse, WiFi, concierge, air-conditioned rooms and beachfront views.
The private Executive Villa measures 200 square metres and features a living area, two bedrooms, a maid's room with a separate entrance and an attached bathroom.
The villa has a spacious outdoor terrace with a private plunge pool, massage beds, and a dining terrace providing stunning views of the Arabian Sea and Saadiyat Island. It is one of the bigger villas on the list of Abu Dhabi hotels with private pools.
Each room features floor-to-ceiling windows and a soft colour scheme. Bathrooms feature an open-plan design with an impressive bathtub and rain shower.
The Atarmia Spa has a variety of massages, facials and other beauty treatments. The gym is open to both men and women, while private rooms can be used by those who want more privacy.
A total of three restaurants are located at the Park Hyatt Abu Dhabi Hotel and Villas. Guests can select from a wide variety of international cuisines at each restaurant.
A panoramic view of Saadiyat Beach and the hotel gardens can be enjoyed from the Beach House Restaurant.
For Book a stay at Park Hyatt Abu Dhabi
Location: Al Saadiyat Island – Abu Dhabi
6. Anantara Eastern Mangroves Abu Dhabi Hotel
Located 20 minutes from the Abu Dhabi International Airport, the Anantara Eastern Mangroves Abu Dhabi hotel features an outdoor swimming pool and a sun terrace overlooking the mangroves.
The pool suites have a private mini plunge pool, indoor and outdoor living areas, and luxurious furnishings.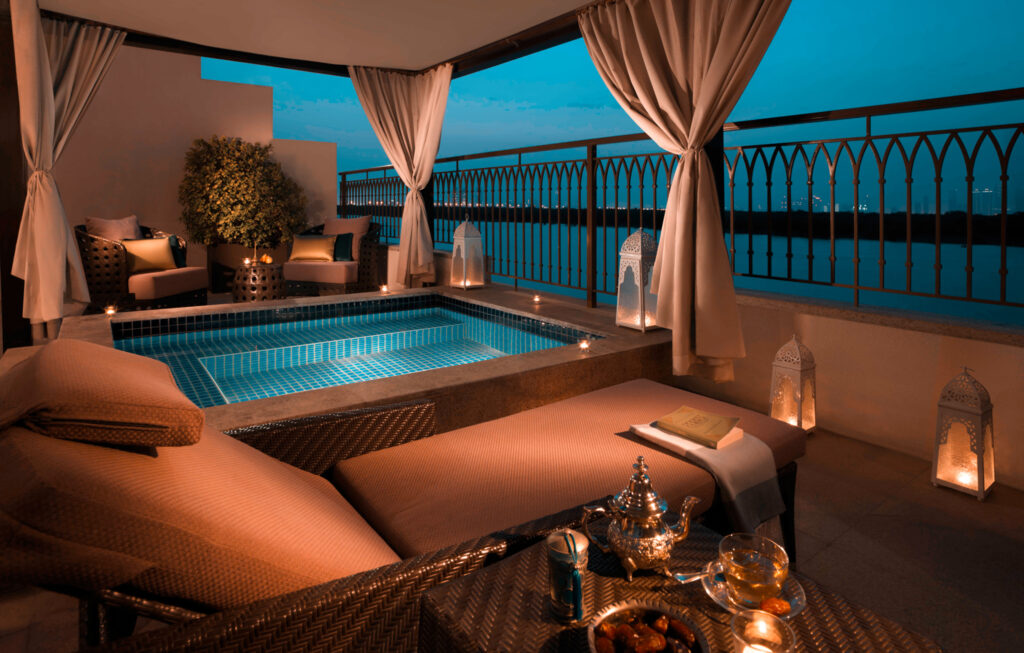 With carpeted flooring and a balcony, the spacious rooms offer a comfortable stay. The rooms also have a sofa with flat-screen TV, tea/coffee maker, and a safety deposit box.
When it comes to dining, Anantara specialises in Thai food. However, cravings for international flavours can be fulfilled at the Ingredients Restaurant.
The different packages can include daily breakfast, lunch or dinner through b&b, half or full board.
Book your stay at Anantara Eastern Mangroves
Location: Al Salam Street – Al Kheeran – Eastern Mangrove – Abu Dhabi
7. The Ritz-Carlton Abu Dhabi
Located 18 minutes from the Abu Dhabi International Airport and 25 minutes from Yas Island, The Ritz-Carlton Abu Dhabi is an escape to a world of Middle Eastern luxury.
From sunrises over Al Maqta Creek to sunsets illuminating Sheikh Zayed Grand Mosque, the views from this luxurious hotel are dreamy and insta-worthy.
Ritz Carlton Abu Dhabi Private Pool
In order to secure a private pool at the Ritz Carlton, book one of the two-bedroom villas. The two-bed villas feature beautiful private plunge pools.
Other features include ensuite bathrooms, separate living room area, and an adjacent garden lawn. The Venetian-inspired hotel is set in landscaped gardens with a private beach overlooking the Grand Canal.
Among the hotel amenities are an outdoor pool, gym, and eight restaurants featuring Middle Eastern, Mediterranean, and Pan-Asian cuisines.
Views of the pool, gardens, or the Grand Canal can be enjoyed from all rooms. Not to mention dedicated 24/7 room service, satellite TV, Nespresso machine, minibar, and ironing board.
The Ritz-Carlton Abu Dhabi also has spa and health club facilities. Within the spa is a massage therapy centre, steam room, Hammam, and beauty salon. The Health club is equipped with cardiovascular equipment and weight-training machines.
Book a stay at one of the Ritz Carlton villa with private pool.
Location: Al Rawdah – Al Maqta' – Abu Dhabi
8. Rixos Premium Saadiyat Island
Located 27 minutes from the Abu Dhabi International Airport, Rixos Premium Saadiyat sits on the shore of a pristine beach with white sand and crystal clear water.
Featuring oriental court gardens, tens of fountains, and a Mediterranean Arab design, it is one of the most beautiful hotels in the city.
With an all-inclusive concept, guests have a choice of luxurious rooms or private villas. On-site amenities include a spa, fitness centre, private beach, water park and a wave pool.
The superior one-bedroom and two-bedroom suites feature a king-size bed, an elegant living room with a flat-screen TV, balcony and private pool.
The high-level service, luxurious accommodations, exquisite gastronomic delights, incredible entertainment, and blissful spa make it difficult to find time to spend in a private villa. 
Book your Rixos Premium Saadiyat private villa with pool here.
Location: Al Saadiyat Island – Abu Dhabi
9. Telal Resort Al Ain
Located amongst the dunes of Al Ain, Telal Resort is quite unique. Featuring a breathtaking pool overlooking the dunes and an indoor cold plunge pool surrounded by exquisite Arabic architecture, the shared facilities are equally as beautiful as the private villas.
When it comes to private pools, there are three options at Telal Resort. The first is Oryx Pool Villa. It is the most luxurious of all in the resort as well in the region.
The luxurious tent has four incredible bedrooms with state-of-the-art technology, air conditioning and lighting controlled by an Apple iPad.
Not to mentioned the private pool, sauna, steam room, and jacuzzi. The villas is on its own dune, and is designed for those who would like to experience Arabian extravagance and personalised service.
The Oryx villa alone gives Telal a place on our list of top Abu Dhabi hotels with private pools. However, there's more!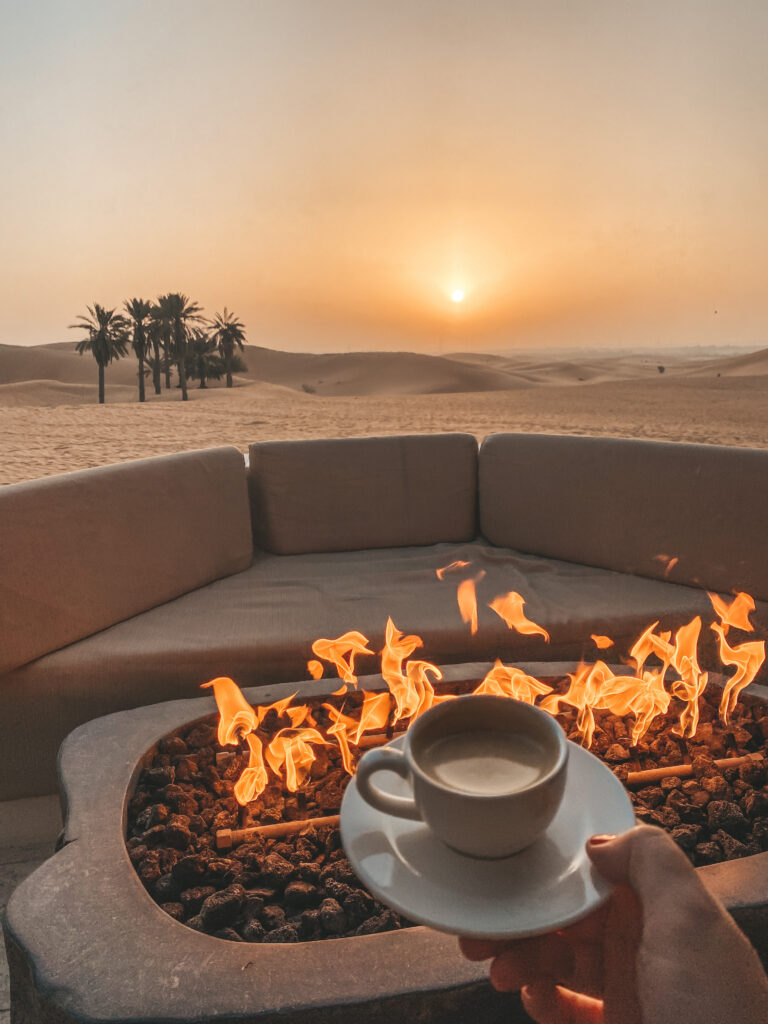 There is also Domani two bedroom pool villa and Reem Presidential Pool Villa. Both villas equally as beautiful with good sized pools.
The main difference is Domani is bigger with an extra bedroom and a jacuzzi as well. Whereas Reem Presidential Pool Villa is perfect for a couple as it is one bedroom.
Aside from the stunning accommodations, there are a number of of activities available. Everything from desert safaris to spas and gyms, there is something for everyone. Also nearby are the Green Mubazzarah hot springs, which is 35 minutes away by car.
Book a stay at Telal Resort Al Ain
Location: Al Khatim- Rimah – Abu Dhabi
10. Anantara Al Sahel Villa Resort
Located 181 kilometres from Abu Dhabi city, on one of the largest natural islands on the Eastern coast, Sir Bani Yas Island is accessible by ferry. The crossing takes 20 minutes from the mainland!
Al Sahel Resort offers 30 villas spread across the lush wilderness. It is one of the premier Abu Dhabi hotels with private pools within natural surroundings.
The one and two-bedroom villas have a private plunge pool, outdoor terrace, living room and dining area equipped with complimentary high-speed Wi-Fi.
Prepare to wake up to the sight of wild gazelle and embark on desert drives through a wildlife sanctuary. Guests can enjoy a culinary journey through Africa inspired by Anantara Al Sahel Villa Resort's unique surroundings.
The Villa Resort offers a wide range of activities, such as nature and wildlife drives, kayaking, open water diving, mountain biking, horseback riding, and night tours of the monastery. 
Al Sahel guests have free access to the facilities of their sister resorts in Abu Dhabi, Desert Islands and Al Yamm.
When it comes to the best Abu Dhabi hotels with private pool, Sir Bani Yas Island is likely to tick all the boxes with its stunning surroundings.
Location: Sir Bani Yas Island – Abu Dhabi
Villas With Private Pool Abu Dhabi
11. Villa Lazuli
Villa Lazuliis is just minutes from the turquoise waters and white sands of Saadiyat Beach. There are many attractions and amenities right on the doorstep.
Each of the four bedrooms in the villa have an ensuite bathroom and private balcony.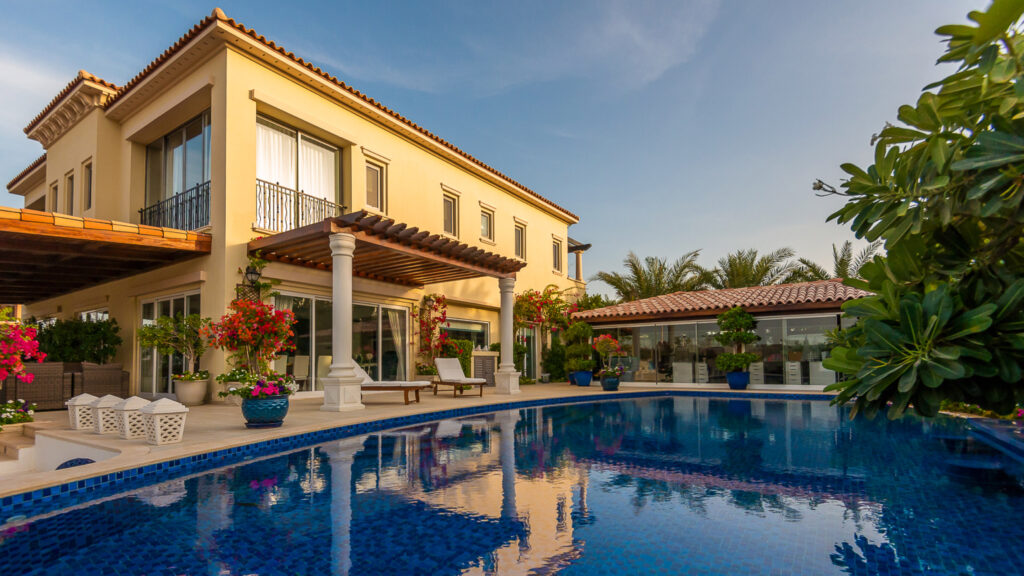 Guests renting out this villa have access to its key features such as:
A private swimming pool with swim-up bar
Gazebos and sun loungers
Linen, bath and beach towels
Fully-equipped kitchen and coffee machine
Coffee, tea and pantry items
BBQ and outdoor kitchen facilities, including pizza oven and teppanyaki grill plate
Use of community tennis and squash courts, kids pool and playground
Property Manager & Housekeeper, Bookings Concierge, Maintenance & Golf Cart Driver
Use of two golf carts (max. 8 people), one electric scooter and two bicycles
Host Dr Charlotte is always delighted to talk about her travels and star-studded past, including the celebrity art, adorning the walls of the villa and funds her foundation's work.
By booking the villa, guests are contributing to charitable projects benefiting underprivileged communities.
Location: Saadiyat Beach Villas, Saadiyat Island, Abu Dhabi
12. Sara Farm Holiday Home
Located 31 minutes by car from Abu Dhabi International Airport, Sara Farm Holiday Home has five bedrooms and five bathrooms. Its kitchen comes fully equipped
Guests at Sara Farm have access to free WiFi, air conditioning, an outdoor pool, and a communal lounge. A private pool, a garden, and free parking are also available.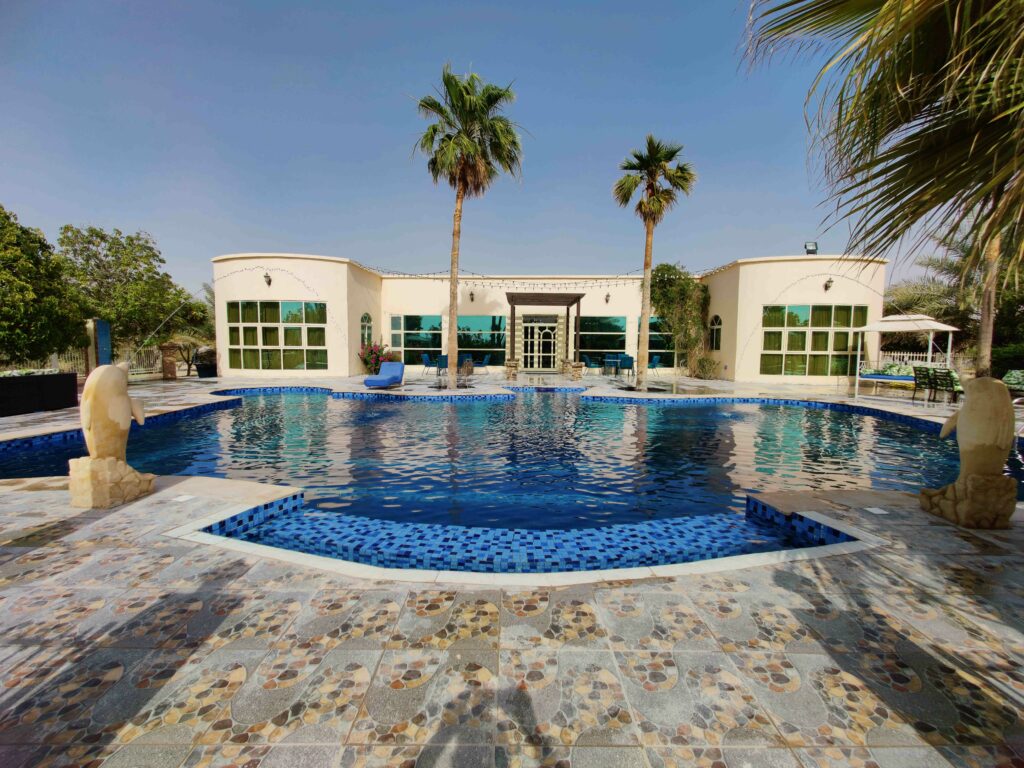 Other property and room amenities include:
Flat-screen TV
Carpeted flooring
Linen
Children's play area
Heating
Patio
Billiard table
Cookware/ Utensils
PIcnic area
Outside dining area
Cash payments are accepted, and check-in is between 3 PM and 4 PM. Check-out is between 11 AM and 12 PM.
For villa online registration and group bookings
Location: Sara Farm, Lane 1237, Abu Dhabi
13. Bab Al Nojoum-Hudayriyat
Bab Al Nojoum offers accommodations with a private beach area, free private parking, barbecue facilities, and a terrace just 31 minutes from Abu Dhabi International Airport.
There are lots of funky accommodations including sleeping beach tents, converted vintage vans, or luxurious glamping in a private villa with its own private pool and garden.
The glamping villas feature:
A plunge pool right in the terrace of the villa
Mini kitchen including cooking top, utensils, cookware, coffee machine and mini fridge
Queen size beds
Dining Table with chairs
A private bathroom with towels and premium toiletries
Free Wi-Fi
Temperature control through split-AC unit
Every morning, breakfast options are available at the accommodation, including continental and à la carte options.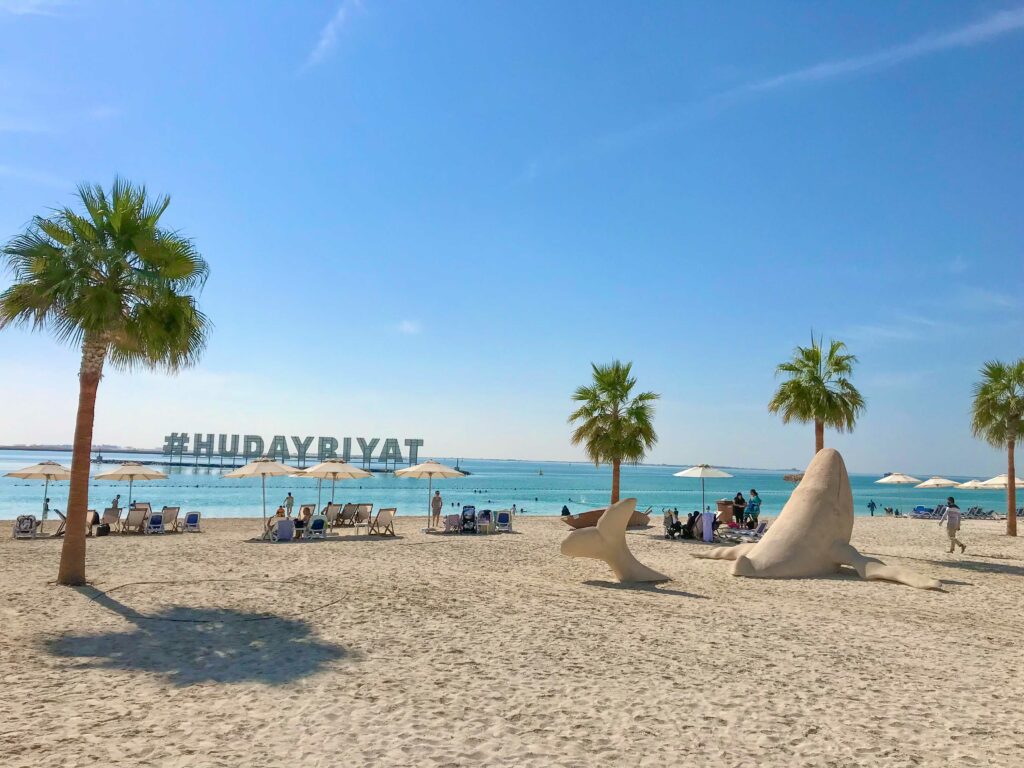 Bab Al Nojoum is family-friendly and offers a playground for children. There is also an option to rent a bike to explore the nearby cycling track as well as play table tennis or darts.
Location: Hudayriyat Mar Vista – Al Hudayriyat Island – Abu Dhabi
To Sum Up Abu Dhabi Hotels With Private Pools
Abu Dhabi offers no shortage of hotel options for weekend getaways or staycations.
Other alternatives for escaping busy city life include camping in the desert. If outdoor camping is not your thing, you can opt to stay at either of the amazing desert resorts.
We appreciate you taking the time to read through our extensive blog on Abu Dhabi Hotels with private pools. If you have visited any of the hotels or villas listed above, please let us know how it was by leaving a comment below.
You may also like:
50+ Best Things To Do In Abu Dhabi l 20+ Best Places To Visit In Abu Dhabi For Free l Best Desert Hotels In Abu Dhabi l Top Camping Sites In Abu Dhabi l Desert Driving Courses In Abu Dhabi l 10+ Monthly Car Rentals In Abu Dhabi l Top Beach Clubs In Abu Dhabi l Best Coffee Shops In Abu Dhabi l 15+ Best Places To Celebrate Halloween In Abu Dhabi l 10+ Festive Places To Celebrate Christmas In Abu Dhabi l Eid Staycations In Abu Dhabi l Best Gyms In Abu Dhabi l 10+ Ladies Gyms In Abu Dhabi l 35+ Best Ladies Night In Abu Dhabi l Best Coworking Places In Abu Dhabi | Thanksgiving in Abu Dhabi | Diwali in Abu Dhabi | Saturday Brunch In Abu Dhabi | Camping In Abu Dhabi | Insta Spots In Ad | Long Salt Lake Abu Dhabi | Festive Takeaway In Abu Dhabi | New Years Eve In Abu Dhabi | F1 Events In Abu Dhabi | National Day Celebrations In Abu Dhabi | Public Holidays In The UAE |
Disclaimer: This post may contain affiliate links, by using them it will not cost you any extra, we will receive a small proportion of the sale to keep us writing!