Yas Island is one of the most popular destinations in Abu Dhabi when it comes to activities and entertainment. The island is home to some of the biggest attractions in the UAE.
With so many options, you may be asking yourself, what are the best things to do on Yas Island and what should be on your list?
Things to do in Yas Island
Ferrari World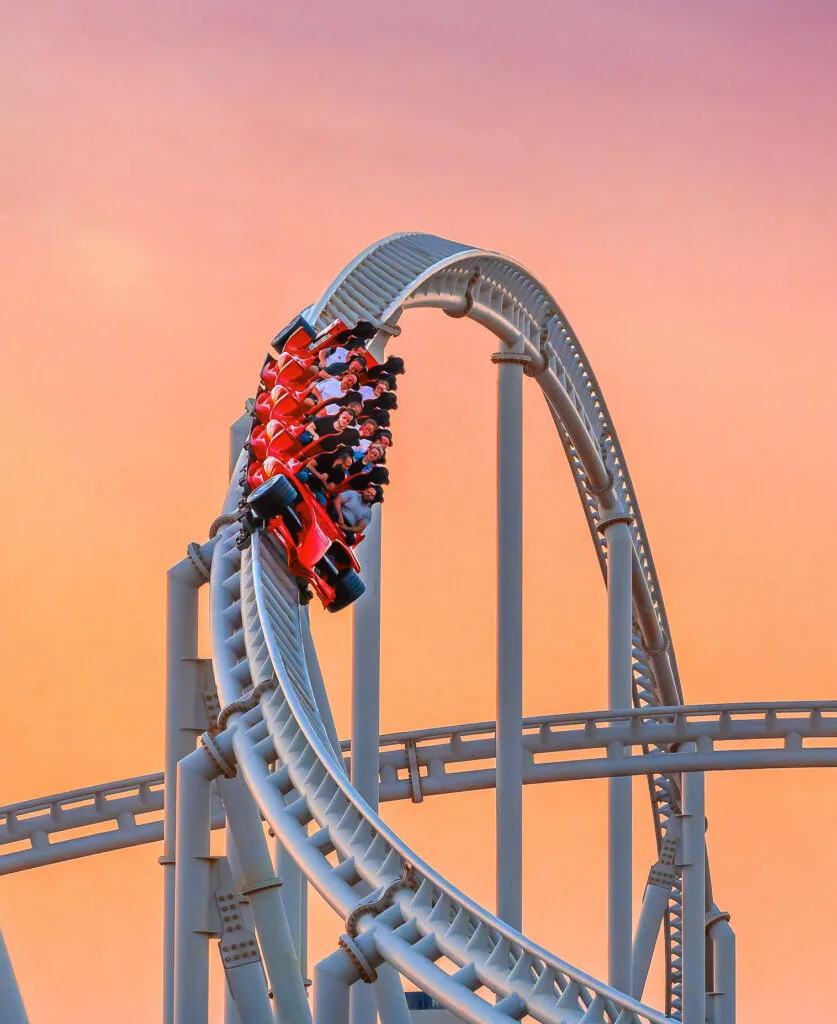 If you are visiting or visiting or living in Abu Dhabi, Ferrari World will be high on your agenda.
Named after one of the fastest car manufacturers in Formula 1, the park is filled with thrilling rides in a Ferrari themed paradise.
This indoor theme park offers a great mix of rides, activities, merchandise and food that proves popular among people of every age!
The first rollercoaster that deserves a mention is Formula Rossa. Remaining true to the Ferrari theme, Formula Rossa is the fastest rollercoaster in the world!
Inside riders will enter the train before putting on a seatbelt followed by a larger restraint and finally a pair of goggles, which are mandatory to protect the eyes when riding at such high speeds.
The train will leave and will stop just outside at the Formula 1 traffic lights where you will wait for lights out before being launched forward, feeling a surge of 4.8Gs.
The train blasts to a speed of 240km/h in just 4.9 seconds.
Next, the Flying Aces. This thrilling rollercoaster contains the highest loop in the world.
The military bi-plane themed ride begins with a 53-degree incline followed by an immediate plummet once you reach the top.
Followed by twists and turns and the world's highest loop, this coaster is sure to get your heart racing!
Third on the rollercoaster list is the Turbo Track. While this is a very short ride in terms of time, the lingering thrill is anything but.
Riders enter the train three across and back-to-back.
This coaster shoots you up through the roof where it will appear that you will run out of track, followed by a zero-gravity fall back down in reverse.
Other rollercoasters worth mentioning include Fiorano GT Challenge, Turbo Tower and Flying Wings.
The Karting Academy and Junior Grand Prix are also great experiences, the karting academy comprises of a 290-metre electronic karting circuit where people can race for the best lap time.
The Junior Grand Prix is a similar concept for younger guests, allowing children to race around a circuit in scaled-down F1 cars.
In addition to the exciting rollercoasters and experiences, Ferarri World also offers things like funfair games, Formula 1 merchandise, soft play areas for children and an 'Italy section' where you will be transported to the streets of Italy.
This park offers a number of dining options including Mamma Rossela, a favourite among many where guests can enjoy Italian pizza, pasta and salads, Il Podio, offering Arabic, Indian and Western grills and the Officers Food Quarters, serving burgers, pizzas and sandwiches.
Those looking for a quick coffee and pastry or some delicious house-made gelato should visit Espresso Rossa.
Ferrari World hosts a number of shows and events throughout the year, including mini-golf, Santa's grotto, gingerbread workshops at Christmas, and much more.
You can book your trip to Ferrari World here.
Yas Water World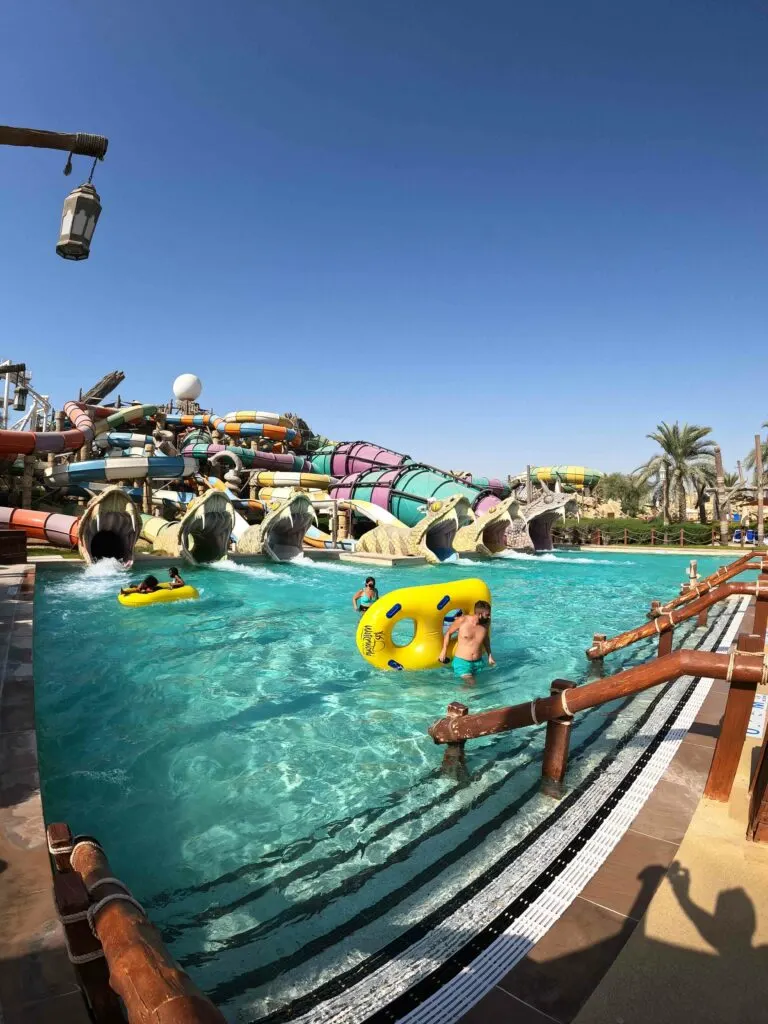 Another favourite of the things to do on Yas Island, Yas Water World. Referred to as water's greatest playground, this park will not disappoint!
Offering countless slides and experiences, Yas Water World is one for people of every age.
Some of the most hair-raising slides include:
Hamlool's Humps, this slide takes a lot of climbing to get to the top but once you are there, you will feel airborne as you fly down a steep drop followed by three large humps.
Jebel Drop, situated right beside Hamlool's Humps, is a waterslide with a view. You won't get much time to enjoy this however as you are launched down a monstrous drop.
Slithers Slides will be a favourite among groups and families. Take a single or double ring and make your way to one of the six different slither slides.
Each offers riders something a little different be it speed, bumps, spins, turns or flashing lights and all slides end with the ring being propelled from one of the snakeheads and into the pool underneath.
The Liwa Loop is not for the faint-hearted. For this slide, you will enter into a tube where you will stand with your arms and legs crossed before the floor opens beneath and you plummet down a vertical fall before looping through to the bottom of the slide. This is one for the thrill-seekers!
Another favourite, SEBAG. Six lanes, one winner! Riders can race down this slide on mats, pick up speed with a good start and fly over the hump to be the first to the finish.
In addition to the slides, there are lots of experiences in this waterpark like the lazy river, wave pool and one of the best children's waterpark areas around.
There are ample options to enjoy some food and drink before heading back to the water. Chubby's Kitchen, Dana's Diner and Salma's Snack Shack are options for larger meals while coffee and snacks can be enjoyed at Gahwat Nasser and ice-creams and drinks at Skinny's Frozen Treats.
You can book a day in Yas Water World here
Warner Bros World Abu Dhabi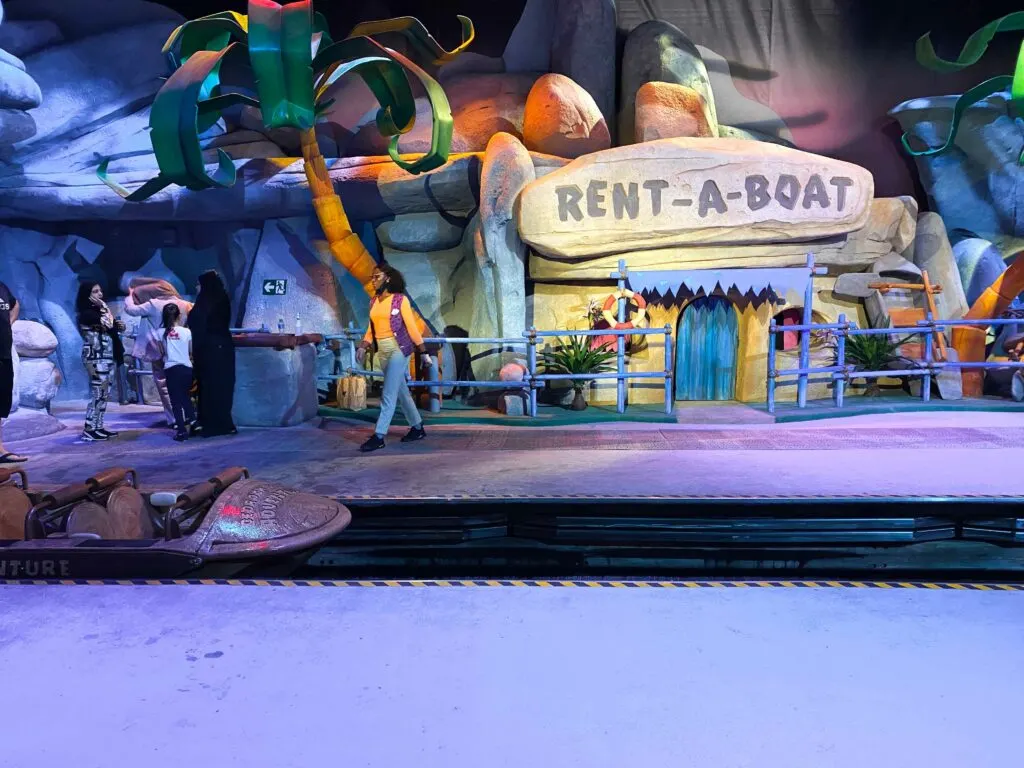 The last of the theme parks, and another strong favourite of things to do on Yas Island, Warner Bros World.
The world's biggest indoor theme park, this day out is a family favourite.
Designed with some of the most impressive effects, you will be transported into childhood favourite lands like Bedrock, Cartoon Junction, Gotham City and Metropolis.
While there are a number of thrilling rollercoasters, the main attractions have to be some of the 3, 4 and 5D experiences, meet and greets with favourites like Tom and Jerry or Batman and the out-of-this-world interior and merchandise.
Some of the Warner Bros themed rides include Fast and Furry-ous, The Flinstone Bedrock River Adventure, Tom and Jerry Swiss Cheese Spin and Scooby-Doo Museum of Mysteries.
3, 4 and 5D experiences not to be missed include Superman 360 – Battle for Metropolis, Green Lantern – Galactic Odyssey and Justice Leagues – Warworld Attacks.
Warner Bros World offers many dining options from Hollywood-style theatre themed The Starlight to the Bedrock pre-historic eatery Mammoth Munchies.
These dining options will satisfy cravings as well as entertain the whole family with brilliant themed interiors and dishes.
Book your trip to Warner Bros World
Yas Mall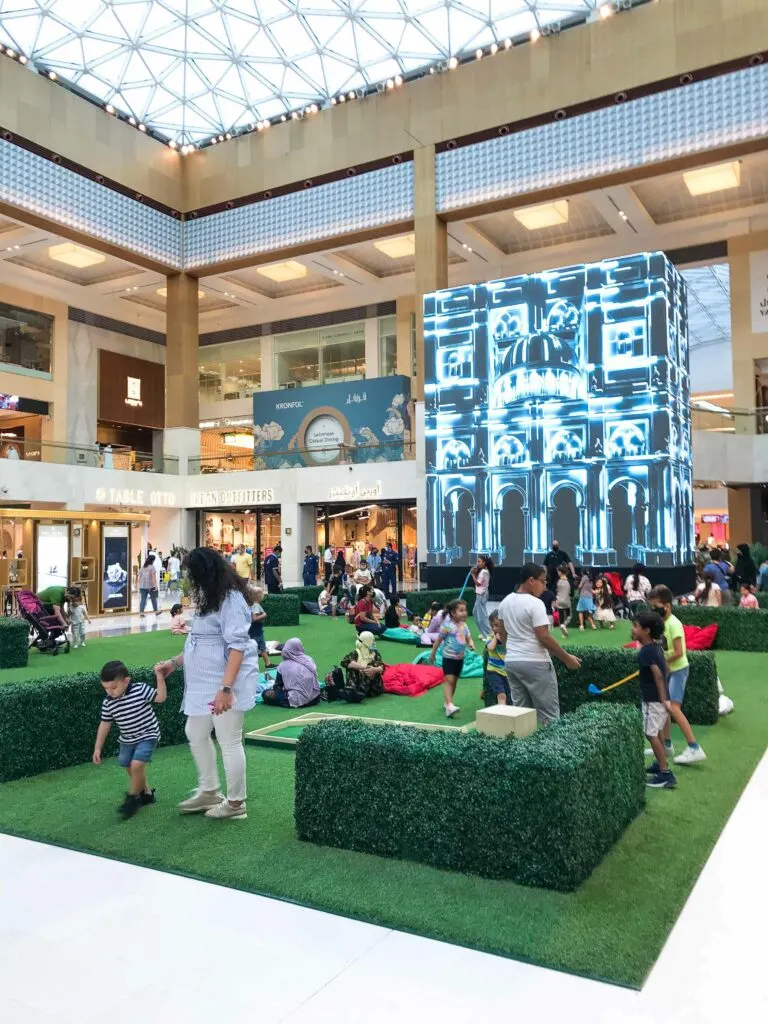 Shopping Malls are a popular pastime for UAE locals and residents. With many shopping malls hosting endless activities in addition to retail shops, they are a great place to escape the desert heat.
If you are looking for somewhere to shop, eat or meet up with friends, Yas Mall is always high on the list of things to do on Yas Island.
The largest mall in Abu Dhabi and the second largest in the UAE, Yas mall is an old favourite for visitors and residents alike.
The bright three-level mall offers over 370 shops, over 60 restaurants as well as cafes and a 20-screen Vox Cinema.
In terms of entertainment, there is a direct link to Ferrari World through the top level of the mall as well as direct access to CLYMB Abu Dhabi.
In addition, the mall offers plenty of options to keep the kids entertained such as Fun Works and the Lego Popin&Play store where children are welcomed to play and build in the lego play area.
Some of the most popular retail stores in Yas Mall include Zara, Stradivarius and Tryano. Not to forget the many sports shops such as Nike, Adidas, Under Armour and Go Sport.
If you are looking for something to eat, some of the food favourites include the Cheesecake Factory, Rainforest Cafe, PF Changs and Shake Shack.
If you are wondering what the dress code in Abu Dhabi malls is, check out our what to wear in Abu Dhabi article.
CLYMB Abu Dhabi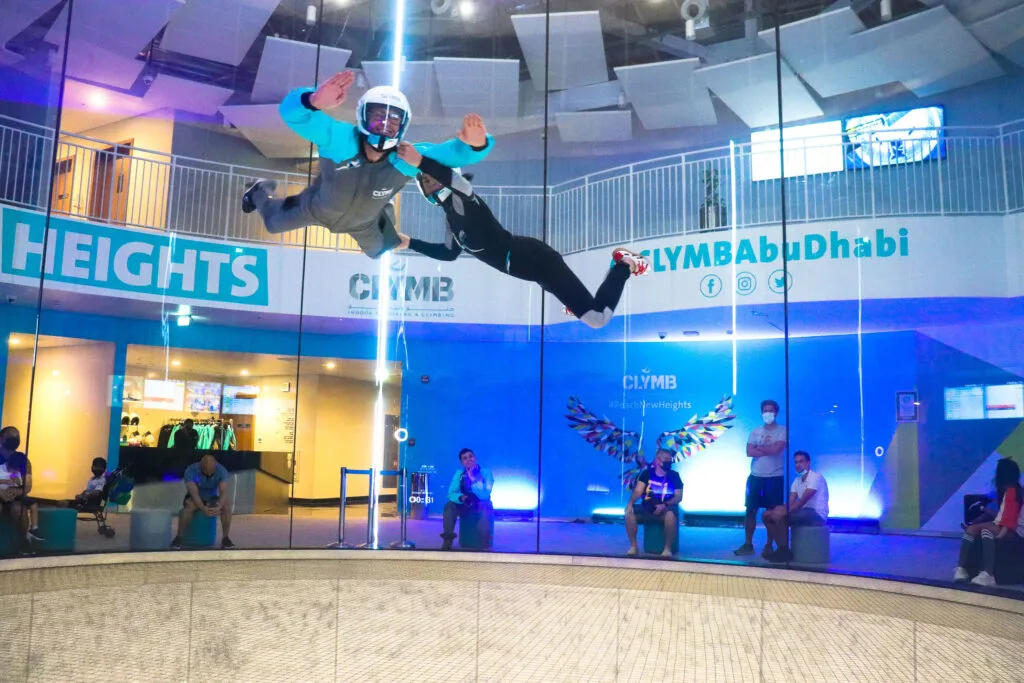 One of the top things to do on Yas Island has to be a visit to CLYMB Abu Dhabi. Located beside Yas Mall, this adventure hub is not to be missed!
CLYMB Abu Dhabi aims to revolutionise indoor skydiving and climbing and it does not disappoint.
Housing the biggest indoor skydiving flight chamber in the world as well as the region's tallest indoor climbing wall, CLYMB Abu Dhabi is one for the adrenaline junkies.
The indoor skydive is one for the bucket list! This state-of-the-art flight chamber has revolutionised indoor skydiving.
The largest chamber in the world is 32 feet in width and 104 feet in height resulting in indoor skydive experiences like never before!
The expert instructors will guide you through an indoor skydive experience helping you to develop your flying skills and teaching you the different flying positions as you progress.
This experience is available for beginners all the way up to expert flyers as the instructors will guide you based on your level and comfort.
Gear up for the region's largest indoor climbing wall, measuring an enormous 138 feet in height.
Climb your way to the top to be able to say you have conquered the region's highest!
Appropriate for beginners and experienced climbers, choose from 5 different walls ranging in height and get yourself ready to conquer the Summyt.
Yas Bay
For anyone visiting or living in Abu Dhabi, high on your list of things to do on Yas Island has to be a trip to Yas Bay.
This waterfront wonder includes endless places to eat, drink, stay, swim, sunbathe and play.
Offering some of the best instagrammable restaurants in Abu Dhabi, beach clubs, the Hilton Hotel and Yas Creative Hub, this area of the Island is one of the most exciting spots in the UAE.
Home to more than 15 restaurants, Yas Bay has something to offer people of all tastes.
Some of the most popular restaurants include:
Asia Asia – the award-winning Dubai favourite has come to Abu Dhabi! Offering Asian fusion cuisine and stunning mixed drinks within breathtaking interiors with internationally-sourced antiques, artefacts and collectables.
Cafe Del Mar – Founded in 1980 on the Spanish Island of Ibiza, Cafe Del Mar has grown to have venues all over the world.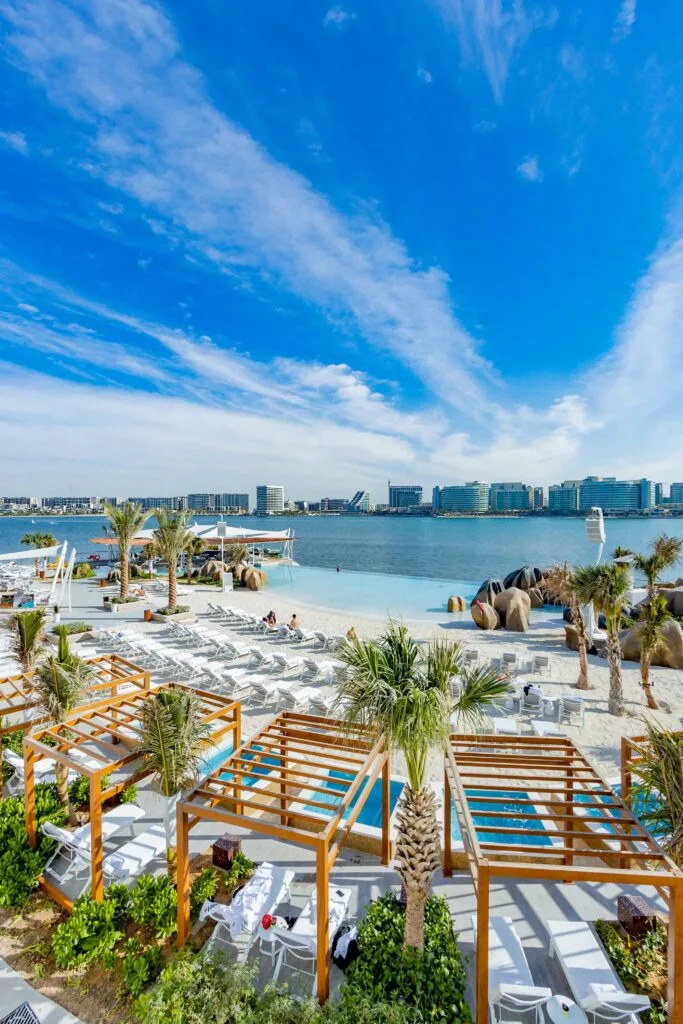 Offering a Mediterranean menu as well as tasty cocktails and not to mention the infinity pool that juts into the bay with a swim-up bar and entertainment.
You can find further information on Cafe Del Mar beach club offers in our best beach clubs in Abu Dhabi piece.
Lock Stock and Barrel – deemed the ultimate social hangout, Lock Stock is a well-loved party bar and brunch spot.
Offering great drinks deals as well as delicious American-style food.
Akiba Dori – comprising of a few different vendors offering Japanese street food with a twist such as their one-of-a-kind Toyko-style Neapolitan Pizzas. Enjoy well priced, authentic food and creative drinks.
Central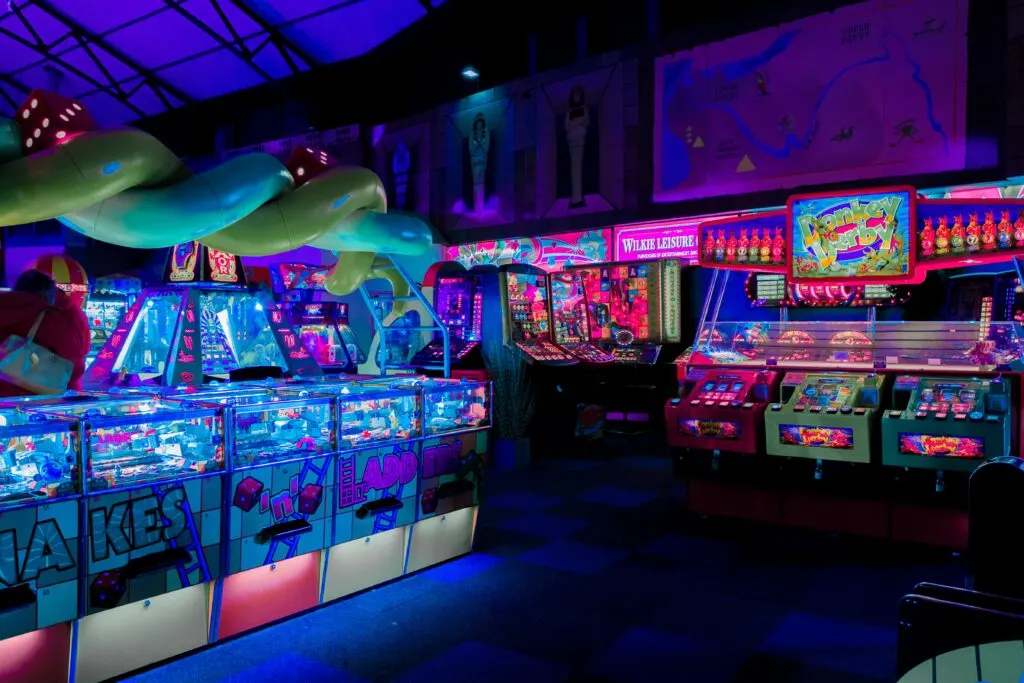 Dubbed as the ultimate food-meets-fun spot, Central is definitely one on the list of things to do on Yas Island.
Offering burgers, beats and bowling, this hangout is very popular among residents and tourists alike.
Central takes inspiration from the streets of the Big Apple, introducing an edgy culture to Yas Bay.
A visit here will satisfy your food and entertainment cravings all in one place. Offering mouthwatering food, a state-of-the-art arcade and a bowling alley making Central one of the best places for families, dates and friends!
Discover more about the food choices in Central in our best burgers in Abu Dhabi piece.
Yas Beach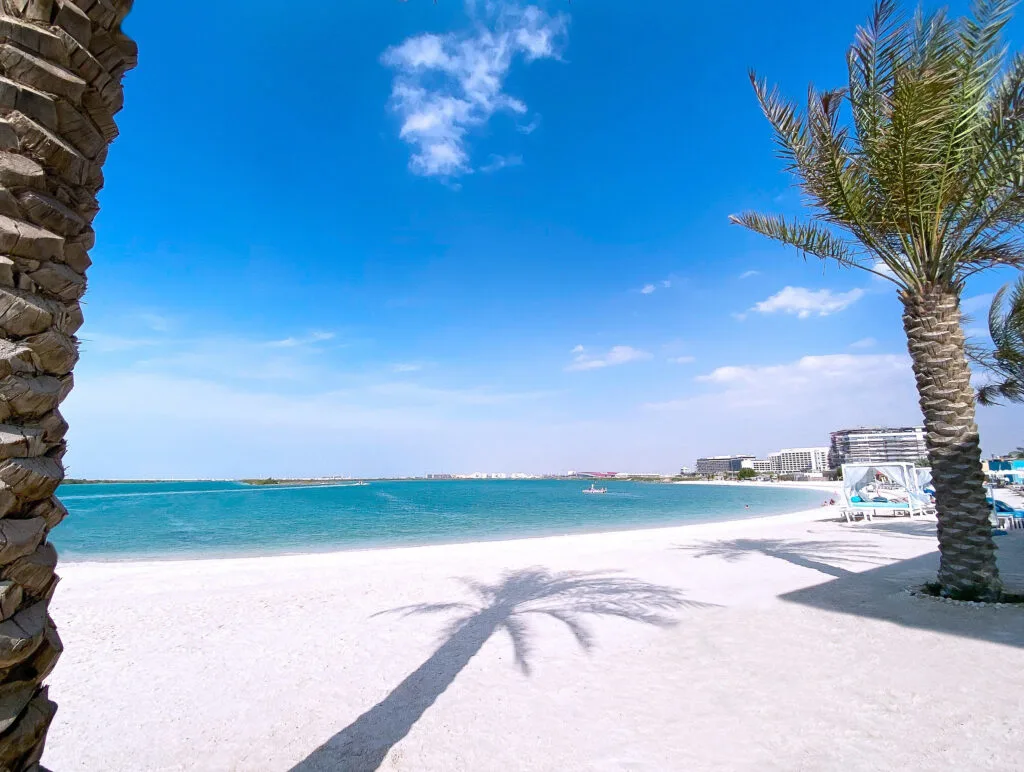 If you are looking for a day at the pool or beach as one of your things to do on Yas Island, Yas beach is a great choice.
Boasting white sands, natural mangrove surroundings and clear water, Yas Beach offers a great escape from the busy city.
You can read more about the offerings and prices for Yas Beach club in our 16+ of the Best Beach Clubs in Abu Dhabi article.
Warner Bros Hotel
If a hotel stay is on your list of things to do on Yas Island, be sure to check out the Warner Bro's themed Hotel.
This hotel is the first of its kind in Abu Dhabi, guests are invited to have an animated stay and step into a world of colour and creativity.
The hotel consists of creative rooms containing cinematic artwork, playful dining options, a full-service spa, a modern fitness centre and fun pools for the whole family.
Guests also receive complimentary day access to Ferrari World, Yas Waterworld and Warner Bro's World.
Dining options:
The Overlook – Enjoy world-class cocktails in lounge-style dining
The Director's Club – Experience inspired dishes that reflect movie-scene settings at the signature restaurant. Offering great cuts, charcoal ovens and infused cocktails.
The Matinee – Enjoy grilled Mediterranean flavours and refreshing drinks poolside.
Sidekicks – All day dining shining a spotlight on some of the favourite cast.
Craft Services – Offering grab-and-go items such as crafted coffee, tea and snacks.
Yas Links Abu Dhabi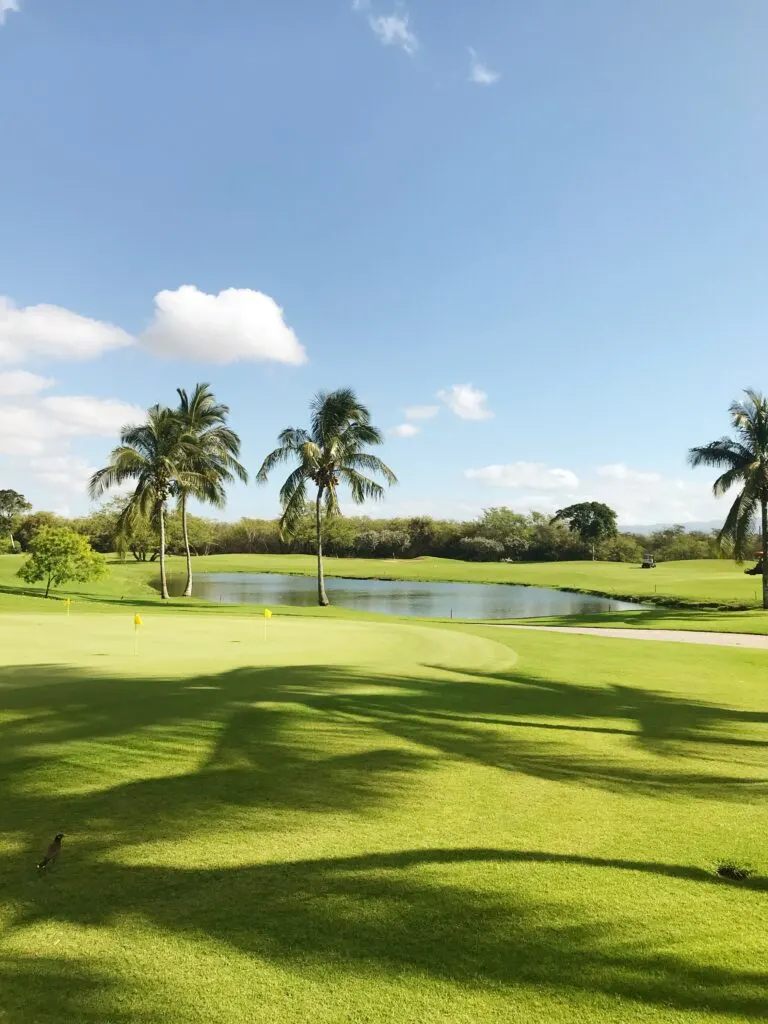 The Abu Dhabi golf scene has been growing quite dramatically in recent years.
We couldn't create a list of things to do on Yas Island without mentioning some form of golf.
Yas links course is a first in the Middle East and a treat for all.
Home to the 2022 Abu Dhabi HSBC Championship, Yas Links has been played on by the best golfers in the world.
Offering breathtaking scenes and the very best of facilities and quality courses, this place is a must for anyone interested in golf.
The 18 hole course includes the kind of challenges top global golfers dream about while the 9 hole, par 3 and practice facilities are ideal for people of all golfing abilities.
Not to mention the opportunity for dining or events in the clubhouse, situated along the water boasting stunning views of the Arabian Gulf.
Yas Marina Circuit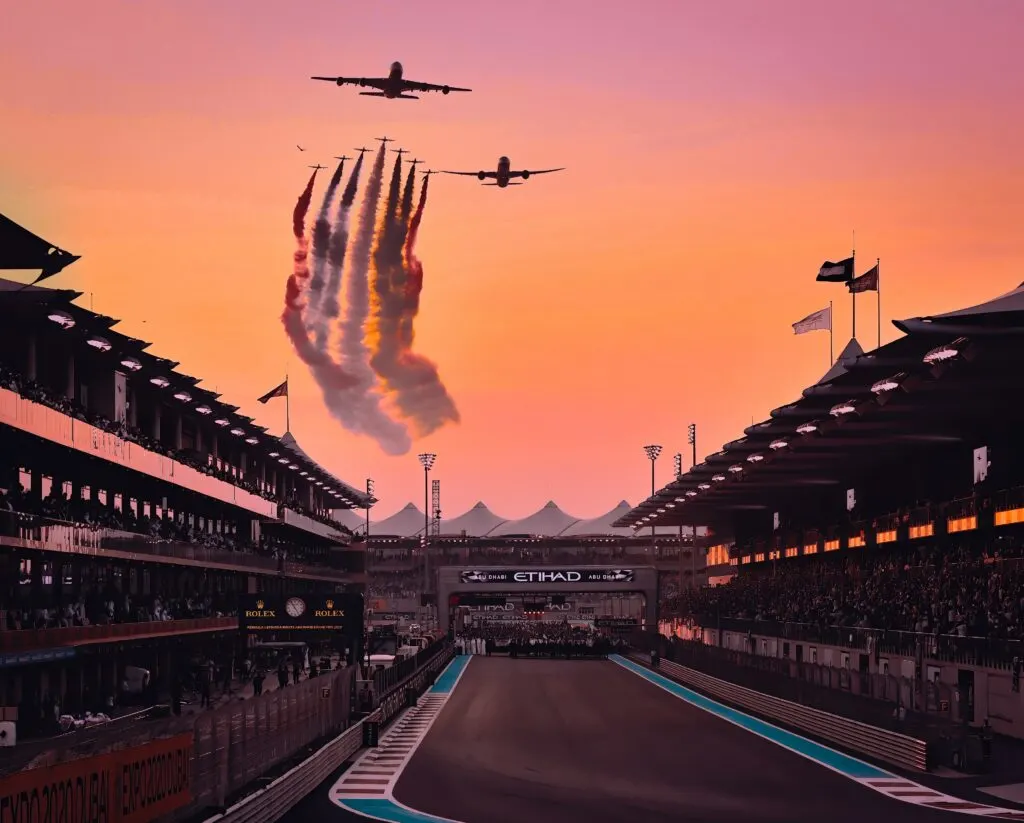 Undoubtedly one of the first things that should be on everyone's list of things to do on Yas Island, the Abu Dhabi Formula 1 circuit.
F1 fan or not, the Yas Marina Circuit offers some of the very best things to do on Yas Island, many of which are completely free.
Home to the final Formula 1 race of every season, there is a special atmosphere around this circuit that cannot be described.
Making the most of this epic track, Abu Dhabi Sports Council (ADSC) in association with ADNOC, invite residents and tourists to come down and exercise on the track.
To encourage people to do so, every Monday and Wednesday evening from 6 pm – 10 pm, people are invited to walk, run or cycle around the prestigious 5.3km circuit for free.
A cycle around this track is a must and the twice-weekly event allows people to rent a bike and helmet at no cost.
In addition, ADSC and ADNOC also offer a range of activities such as fitness classes on the side of the track as well as hosting regular Triathlon and Biathlon events around the circuit.
Some of these fitness classes include running classes, Les Mills, cycling and other boot camps, all for free!
If you are wondering what kind of clothes to wear while exercising in Abu Dhabi, check out our guide on what to wear in Abu Dhabi.
Anyone interested in karting can race their friends around the karting circuit beside the track, you can check prices and book here.
There are plenty of other driving experiences throughout the year including drifting and drag racing.
Towards the end of every year, F1 fans flock to Yas Island for the Abu Dhabi Formula 1 finale. This is a four day, world-class event.
The Abu Dhabi Grand Prix is not just popular as a result of it being the last race on the F1 calendar.
It is also one of the most impressive, well-organised events in the world. Running from Thursday until Sunday, the circuit is transformed into a full festival.
The event includes on-track action, F1-themed activities and competitions, tonnes of food and drinks options and areas to lounge in-between track times with entertainment throughout the day.
Each night a concert takes place once the on-track action has finished. Over the years some of the world's biggest stars have performed during this weekend. Some familiars faces include Beyonce, Eminem, Rihanna, Kings of Leon, Lana Del Ray, Pink, Jay Z, Florence + the Machine and many more!
If you are living in the UAE the Abu Dhabi Grand Prix is a must, if you happen to be visiting during this time, add this to the top of your list of things to do on Yas Island.
To find more of the best things to do in Abu Dhabi for free, check out our guide here.
The Fountains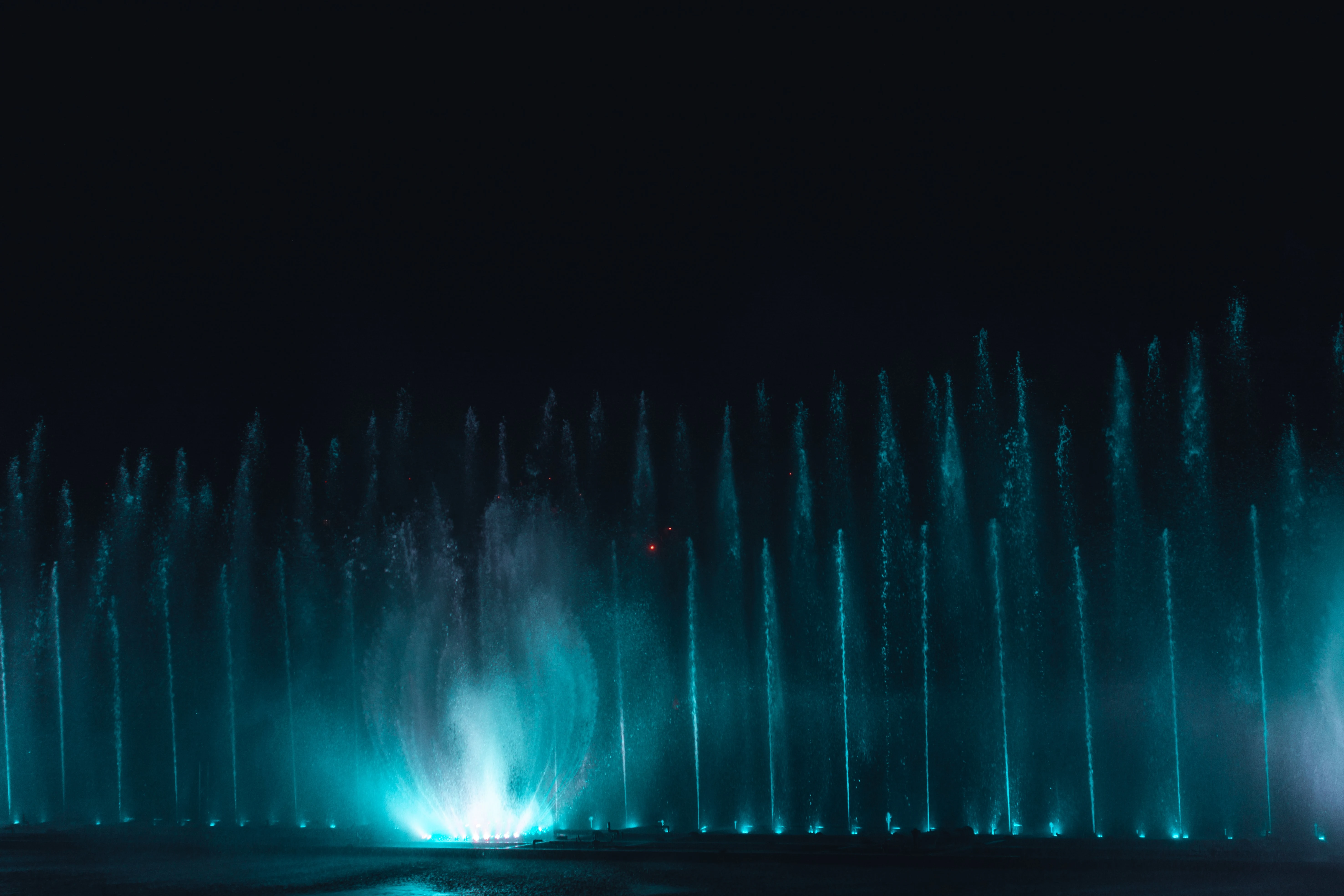 Another of the free things to do on Yas Island is the Yas dancing fountains!
The UAE are fond of its water features, be that in parks, malls or surrounding villas. Some of the more well known extravagant ones include the Dubai Mall fountains at the foot of the Burj Khalifa.
People, particularly those who have not grown up in the UAE can really appreciate these simple features and enjoy the feelings that surface while watching the show.
Who would have known watching moving water and a few lights would put such a smile on people's faces?
Named as the best dancing fountain show in Abu Dhabi, the Fountains at Yas are a great spot during the day or night.
At night, a spectacular show of water and lights choreographed to English and Arabic music comes alive for 30 minutes.
Showtimes:
12 pm – 2 pm (shows with music)
2.30 pm – 6 pm (shows without music)
6.30 pm – 10 pm (shows with music)
You may also be interested in:
10+ Monthly Car Rentals In Abu Dhabi
35+ Best Ladies Night In Abu Dhabi
Co Working Spaces In Abu Dhabi
Disclosure: We only recommend experiences or products that we have personally used or that have been highly recommended by others. If you get anything we have mentioned through the referral links, we may get a small commission with no extra cost for you.