A desert safari in Abu Dhabi has to be on every itinerary when visiting the Emirate. Seeing rolling dunes into the horizon beneath the orange and pink hues of a desert sunset is a once-in-a-lifetime experience.
A desert safari tour is all-encompassing and allows tourists to experience an other-worldly landscape along with Bedouin culture and hospitality.
Quite often, tours feature adrenaline-fuelled desert activities, wildlife encounters, henna and entertainment. Not to mention a delicious Arabic meal in a traditional Bedouin-style camp.
Most tours can be tailored to the individual, for example, families with young kids may not like to partake in dune bashing.
There are a few other options to consider such as an overnight desert safari, an evening safari or a morning desert safari. However the most popular with tourists tend to be the evening desert safari.
If you prefer to stay in one of the lovely desert hotels read this post. Staying in a desert hotel is so special and such a unique experience.
In this post, we are going to suggest a tour for each option which we consider to be the best desert safari in Abu Dhabi. All of which have been tried and tested many times by our team!
Keep reading for what to expect on a desert safari in Abu Dhabi as well as what to pack.
Best Abu Dhabi Desert Safari Tours
Evening Safari
There are a handful of different camps which many tour operators use to take guests on a desert safari in Abu Dhabi. Our favourite has to be Emirates Tours & Safaris.
Whilst many of the setups look quite similar, this one has a unique Arabic detailed arch to the camp which frames the sunset amazingly in the evening. The dune is also right next to the camp for sandboarding and excellent photos.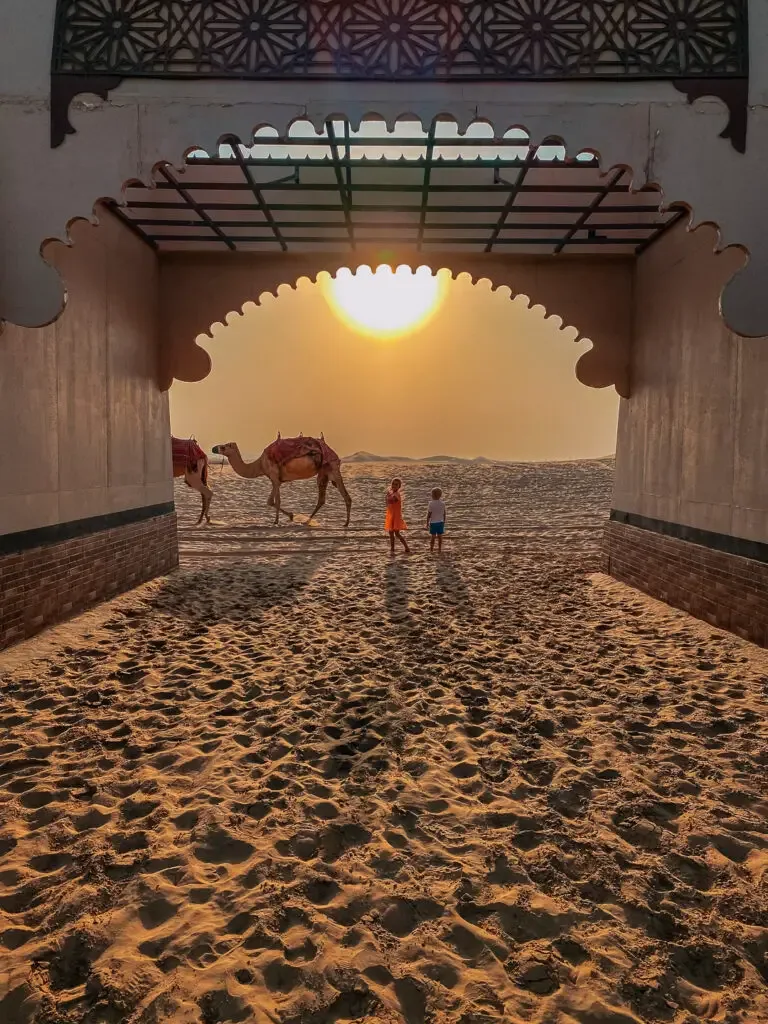 Guests are collected from a location within Abu Dhabi city be it a mall, hotel or residential building in a comfortable 4×4 vehicle which can accommodate 6 guests, perfect for a group or families.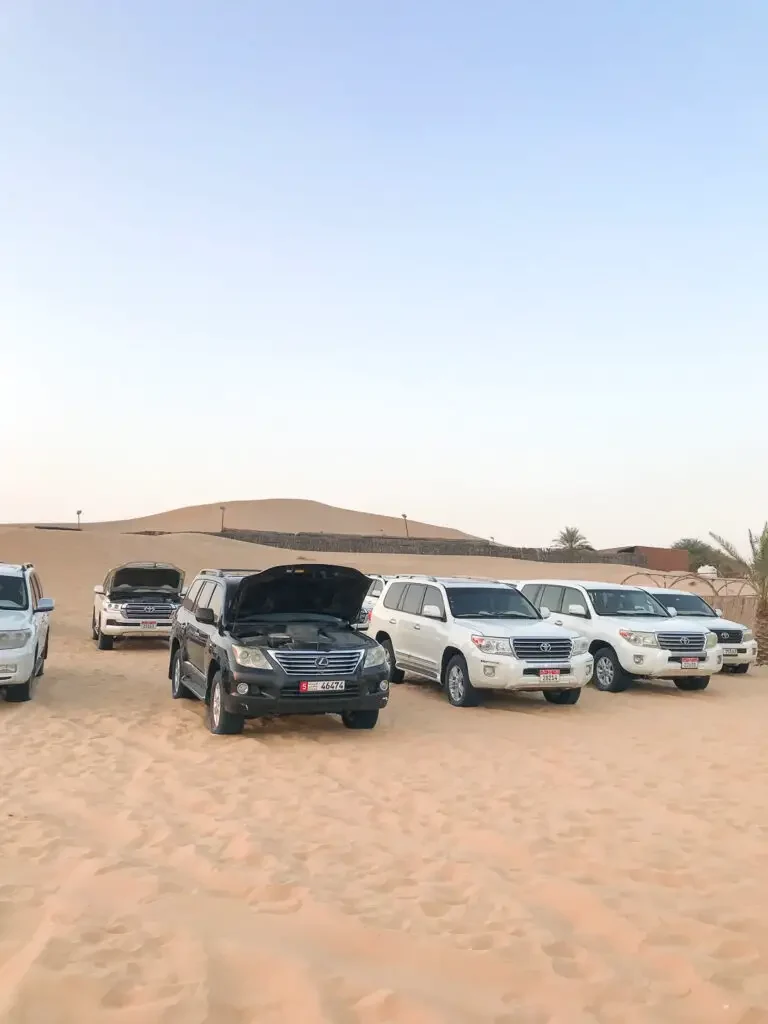 It is worth noting, more than one group may share the vehicle unless you request a private tour.
Pick-up is usually at 230pm in the afternoon to allow enough time to get to the desert location and enjoy sand activities before sunset.
Depending on the pickup location, it takes approximately 45 minutes to drive along the highway on the road towards Al Ain before the driver goes off-road into the desert.
There is a little more driving before getting to the dunes. The driver puts the vehicle into 4WD mode before taking an exhilarating and adrenaline fuelled trip over the dunes towards the camp.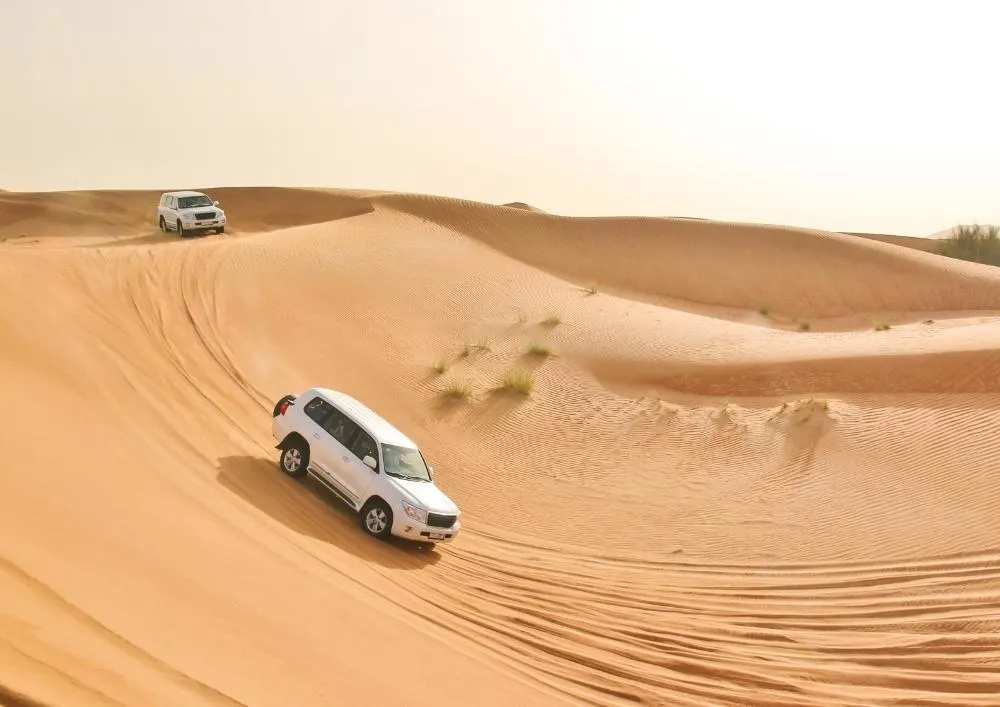 Dune Bashing
Dune bashing is essentially high-speed driving over sandy hills. It can feel as though the car may tumble at any point whilst sand washes over the windows.
If you are a little queasy in cars with bumpy rides, it may be worth wearing anti-sickness bands. Expect a ten-minute exhilarating ride over massive dunes, skimming the top and belly-turning drops.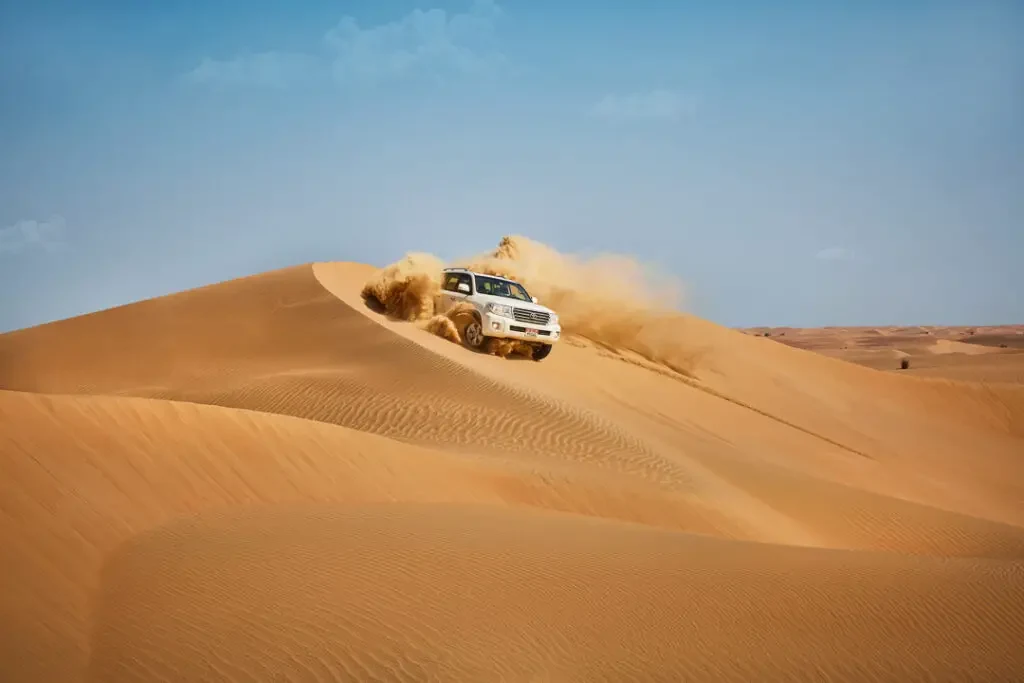 If you prefer not to do dune bashing, request to be dropped at the camp first whilst the rest of the tour takes on the dunes. This may be a good option for families with small kids or those with neck injuries.
Once at the top of the dunes, there is an opportunity to take some photos whilst the sun is low before heading to the camp for the rest of the evening.
Camel Rides & Falconry
Once arriving at the camp, there is an option to take a camel ride. Regardless of wether, you choose to ride or not, seeing the camels in the desert at sunset is pretty incredible.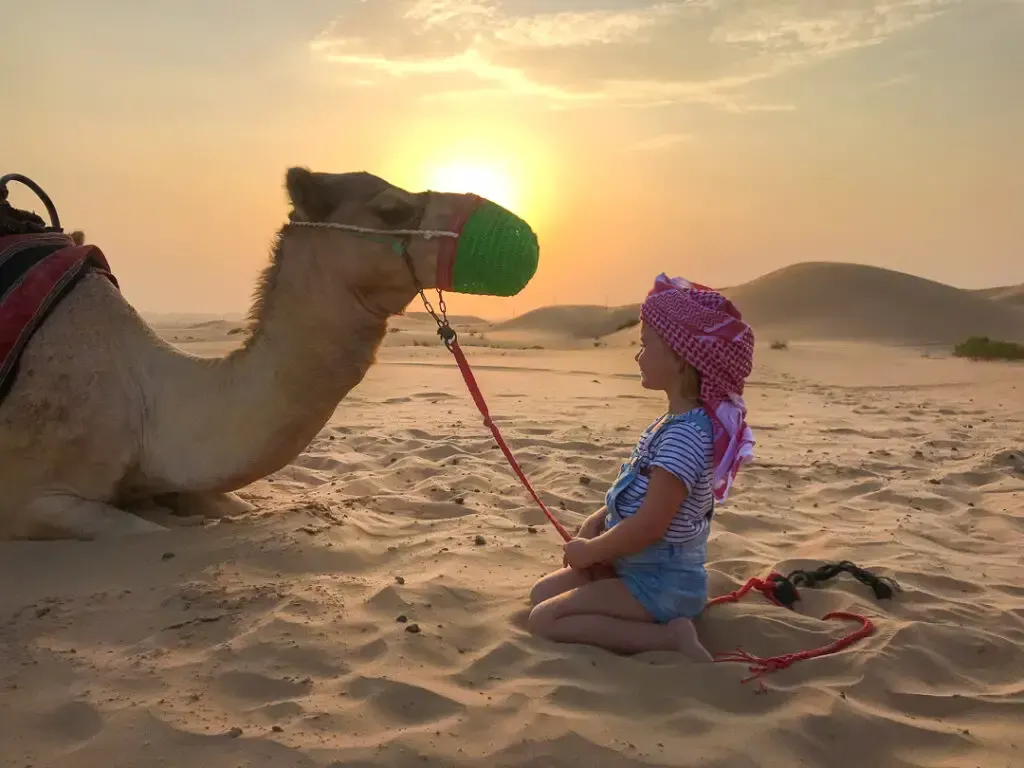 Camels are an important part of Emirati culture and history. For centuries, camels were integral in transportation and were used for milk and meat. Remember, camels love to spit so try not to stand in the firing zone!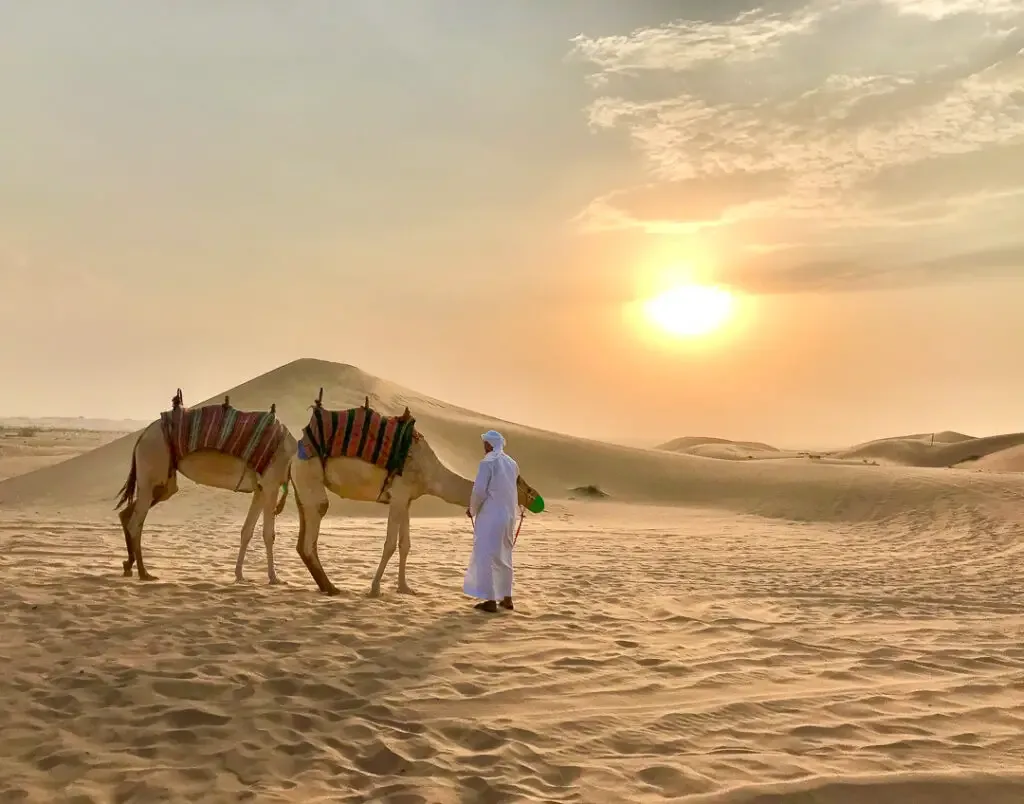 Similarly, falconry is very much a part of Emirati culture, particularly with Bedouins. There are some resident falcons at the camp to see and understand their significance in the UAE.
Sandboarding
Sandboarding is another activity available on this tour. No experience is required, the most difficult part is walking to the top of the dune, it feels like a workout!
Once at the top of the dune, there is a choice between a body board and a snowboard style board.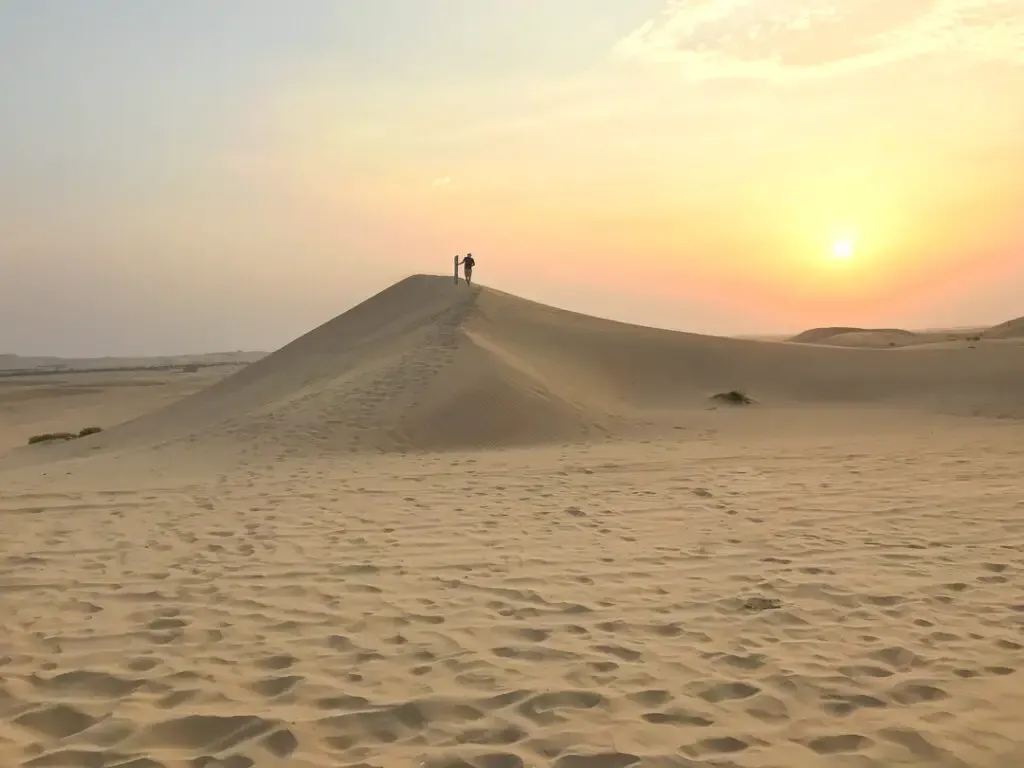 Top tip, if you choose to go down on your tummy, keep the front of the board lifted high enough so you don't get a face full of sand. Going down on a toboggan style is probably the easiest to pick up speed.
The snowboard style is a little more tricky not to get stuck half way down.
Quad Biking
If dune bashing in a 4×4 and sandboarding wasn't exciting enough, there is an opportunity to try quad biking at this particular camp at an additional cost of 50 AED for 10 minutes.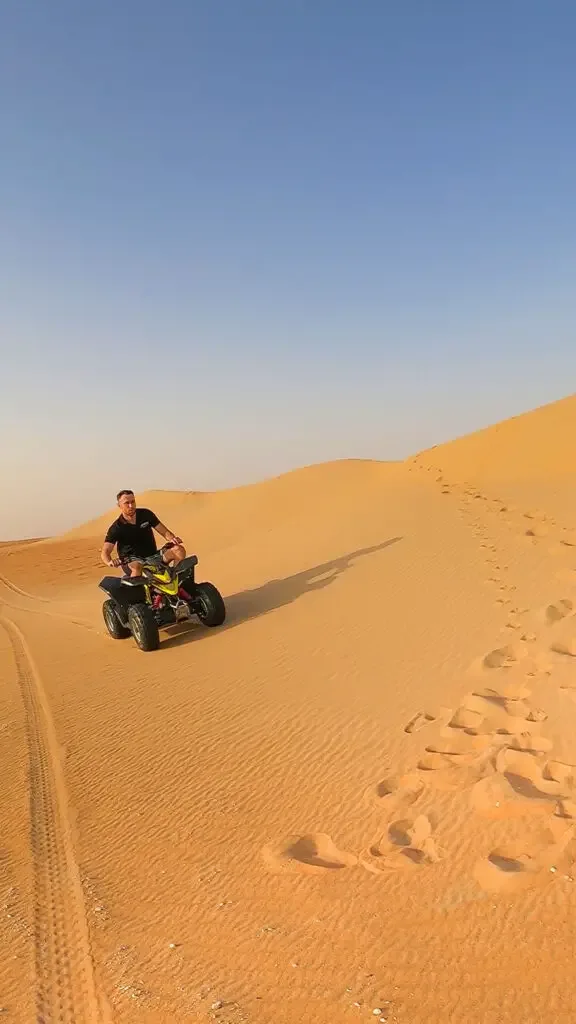 The quad bikes are generally used on the flat area since it would be easy to roll the bike on a dune. Some tours offer dune buggies which are a safer option for riding independently!
Watch The Sunset
Aside from the adventurous activities on the best desert safari in Abu Dhabi, there are plenty of relaxing experiences within the camp.
There is nothing better than a desert sunset. The colour palate of the sunset can be incredible. From orange to yellow, soft pink and deep purple all in one evening.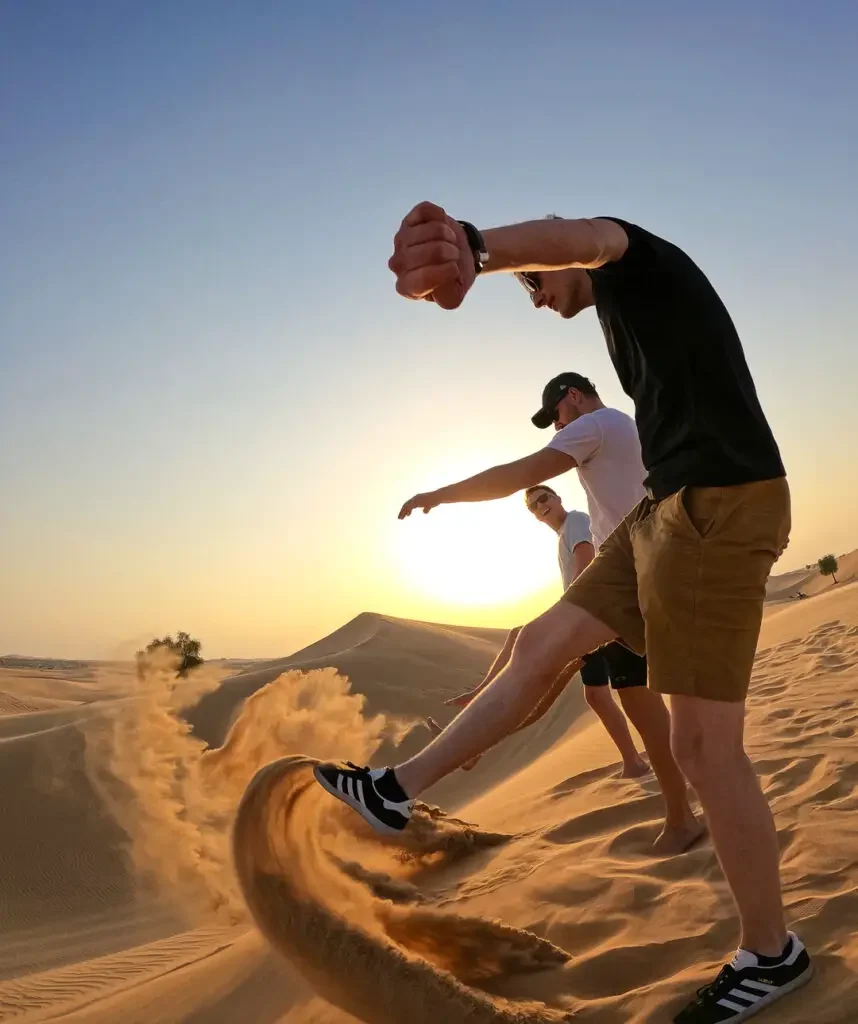 By the time the sun is setting, most guests are enjoying the comfort of the Bedouin camp. There is a central area with traditional cushions and Arabian rugs and the camp serves cold drinks including alcohol unless it is Ramadan.
Whilst the final preparation of the meal is going on, there are a few other activities to enjoy within the camp.
The camp is set around a central seating area filled with comfortable patterned cushions. Each tent surrounding the centre has a different activity.
Get A Henna Tattoo
Henna is made with a natural dye produced from the leaves of the henna plant. It has been used for centuries in the region to create intricate designs on women's hands and feet.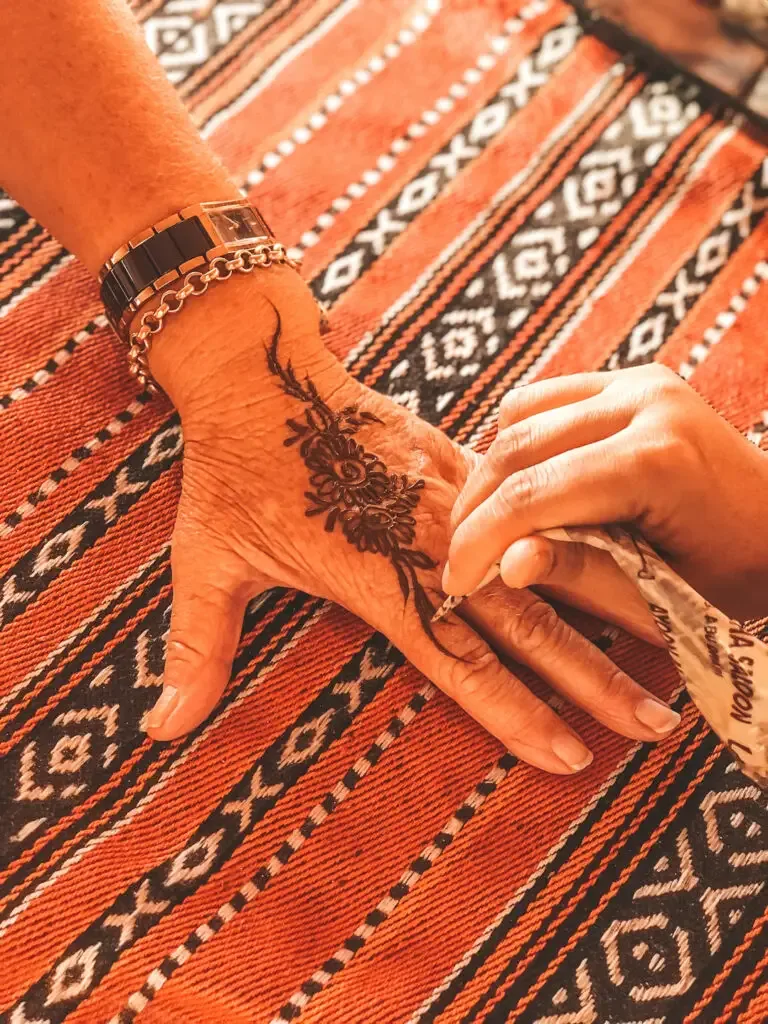 The design typically lasts between one and three weeks. Choose from a variety of designs be it a simple pattern or something more intricate. Give it around 30 minutes to dry before removing the excess paint revealing the temporary tattoo.
Try Shisha
There is a shisha 'lounge' within the camp on this particular desert safari in Abu Dhabi. Shisha, also known as a hookah or a waterpipe, is a traditional Arabic device used to smoke flavoured tobacco.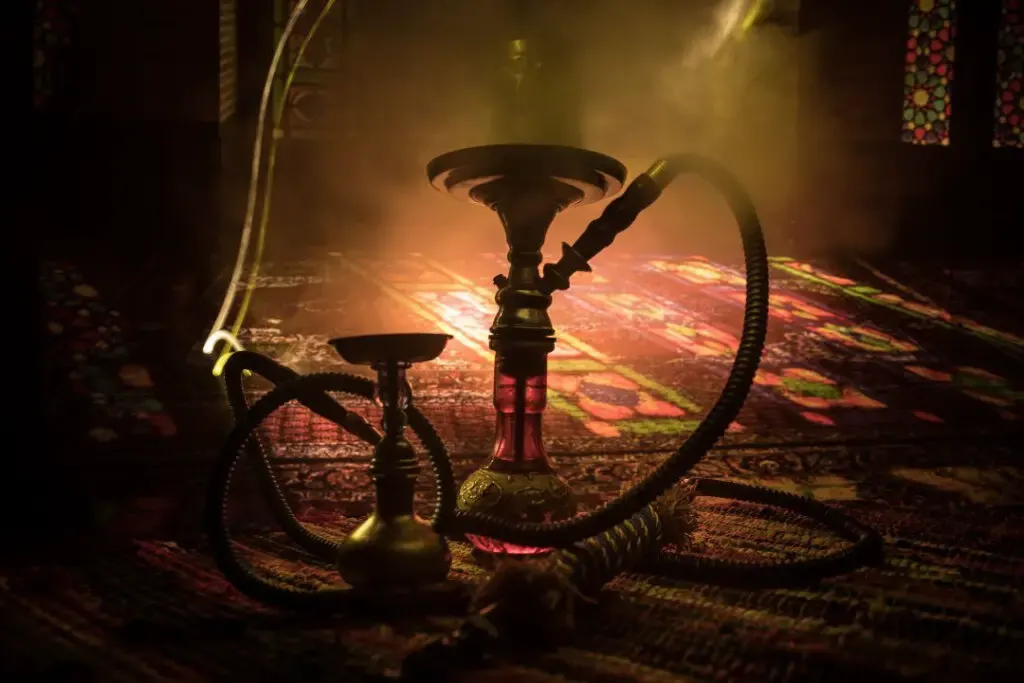 The shisha lounge is an opportunity to experience the cultural tradition in a relaxed and comfortable setting. The lounge is decorated with comfortable seating, cushions, and Arabian rugs, creating an authentic atmosphere.
Traditional Clothing
Trying on traditional clothing makes for some fantastic desert photos and there are options for children, women and men to give it a go!
Men can try on the traditional Emirati kandoura which is a full-length cool and loose-fitting white garment. The tour guide will help wrap the headscarf known as a ghutra which has a thin black rope called an agal.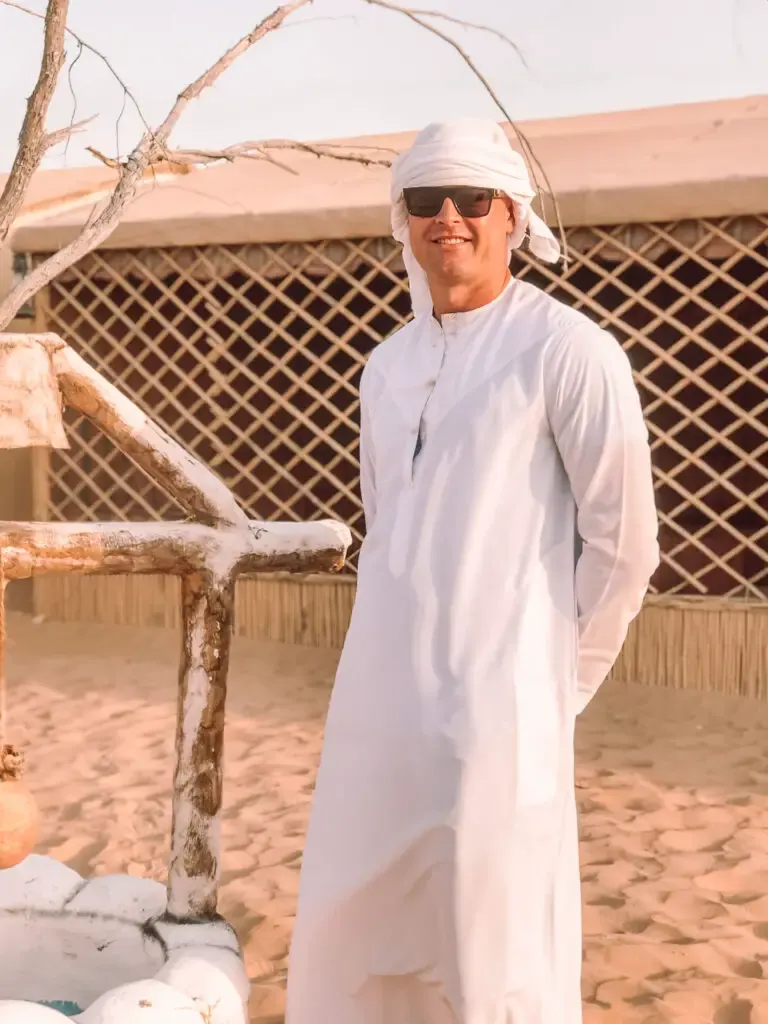 Women can try on an abaya, again a full-length loose fitting and cool black garment. There is help on hand to wrap the headscarf known as a sheila and worn by women locally to this day.
Many tourists buy traditional attire as a souvenir, especially if they've been to the Grand Mosque.
The clothing is not for sale on the desert safari in Abu Dhabi, however, is a fantastic opportunity to try traditional garments and learn how to wrap headscarves.
Children love trying on the outfits, the nazar which is gold head jewellery for little girls is particularly beautiful.
Savour A Traditional Arabic Buffet
Once you've made your way around all of the different camp activities, dinner is served! Be prepared for a traditional Arabic feast!
There are plenty of options for vegans with fattoush salad, tabbouleh, coleslaw, traditional bread, hummus rice and so on.
Whilst for meat eaters there are biryani shawarma and BBQ kebabs, kofta and chicken shish. There is also pasta, french fries and grilled chicken for those who prefer simple flavours.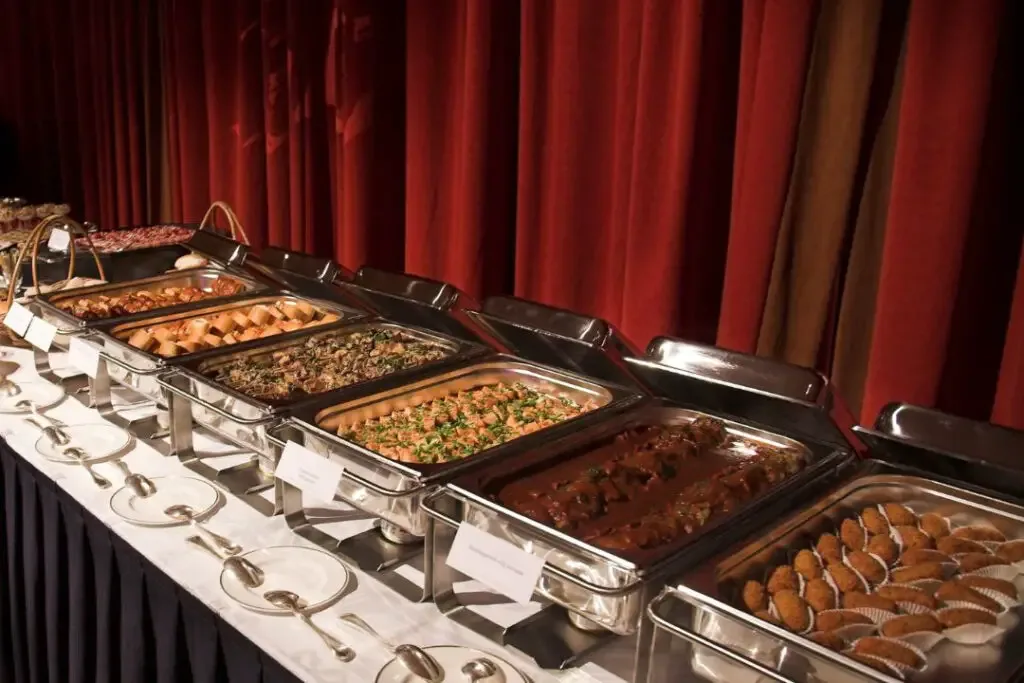 Make sure to leave room for dessert with local delicacies such as umm ali, kunufa and dates as well as fresh fruits.
Guests help themselves to the buffet and sit on traditional Arabic cushions scattered on rugs to enjoy the food. There are plenty of soft drinks and cold water available as well as alcohol when it is not Ramadan.
There are so many different types of cuisine in the Emirate, however, the desert safari in Abu Dhabi is an ideal opportunity to try local food in a traditional setting.
Enjoy The Entertainment
As dinner is finished and the plates are cleared, the entertainment begins in the centre of the camp. On the few occasions we have visited the camp with Emirates Tours & Safaris, the entertainment has been different.
However, there has always been a belly dancer which gets the crowd going. Belly dancing is a traditional Arabic dance originating in the Middle East. It's usually performed by a female dancer wearing a costume adorned with sequins & beads.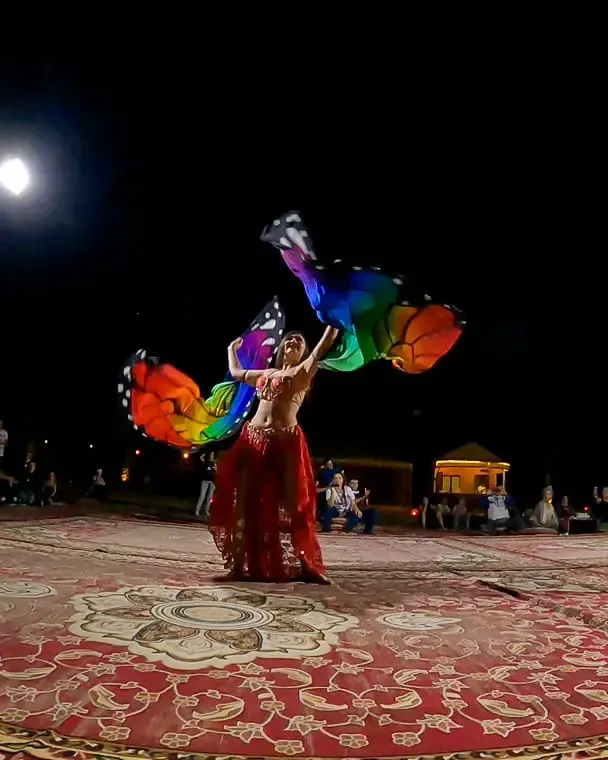 The dance is accompanied by lively Arabic music and the movements are quite skilled.
One time we visited there was an additional Tanoura performance. This is usually performed by a male dancer who wears up to four long skirts adorned in neon lights.
The dance is a hypnotic display of spinning incredibly fast to Arabic drumming. The lights of the garment become one complete circle with the movement and speed of the performance.
Several skirts create clever patterns with the neon lights beneath the dark Arabian sky. It is an incredibly talented routine and is considered to have deep cultural significance in the region.
Stargazing
When the lights go out in the traditional Bedouin-style camp, there is a stunning natural display of stars and constellations which are difficult to see from the city.
The Abu Dhabi desert is one of the most incredible places to see stars, planets and galaxies.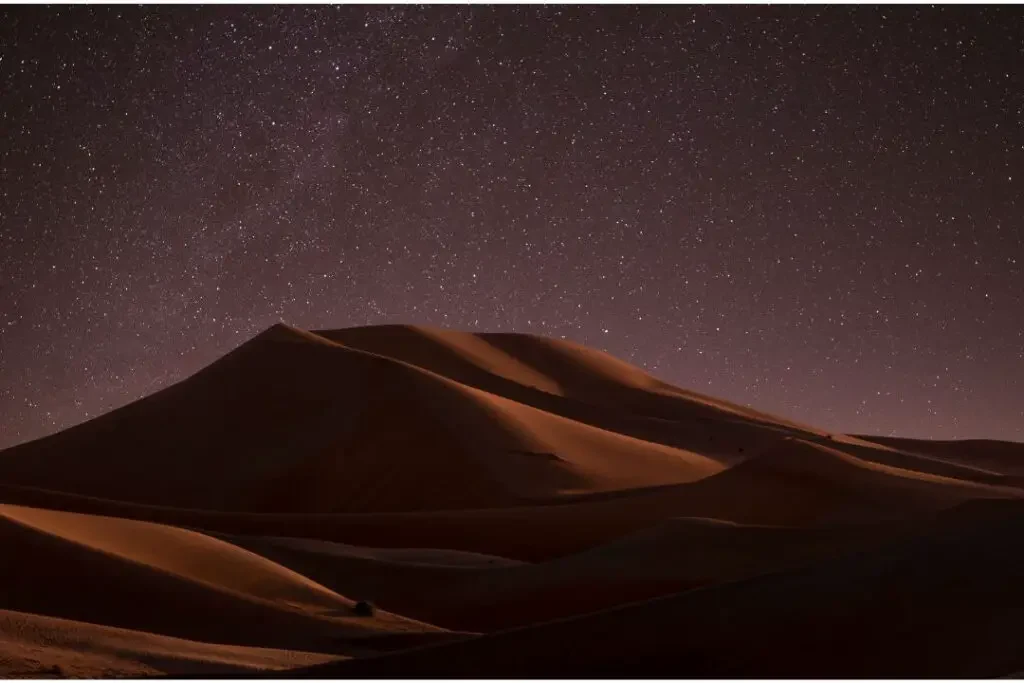 The tour encourages guests to enjoy star gazing toward the end of the evening by turning off all the lights and putting out the fire. Guests lie on their backs on the comfy cushions taking in the views for a few minutes, it is incredible!
The Drive Back ..
The evening draws to a close once the entertainment is over. The tour guide will be ready and waiting to take you back to your hotel. Depending on traffic and drop-off location, it can take approximately an hour to get back.
Overnight Safari
One of the overnight desert safaris in Abu Dhabi is Telal Resort. It takes around 80 minutes from downtown Abu Dhabi. The resort has a few different options when it comes to accommodation.
There are deluxe heritage rooms on the lower end of the price scale. Whilst the Bedouin tent is mid-range and the two-bedroom private pool luxury tent is at the higher end.
All the rooms and villas are fully equipped with AC and WiFi, not to mention comfortable, luxurious and authentic Bedouin furnishings. The resort is right amongst the sand dunes and has some incredible features on-site.
The cold plunge pool in the centre of the resort is surrounded by stunning meticulously designed arches with Arabic detail, it feels like a soothing sanctuary! Whilst the outdoor pool is cleverly designed to blend into the landscape.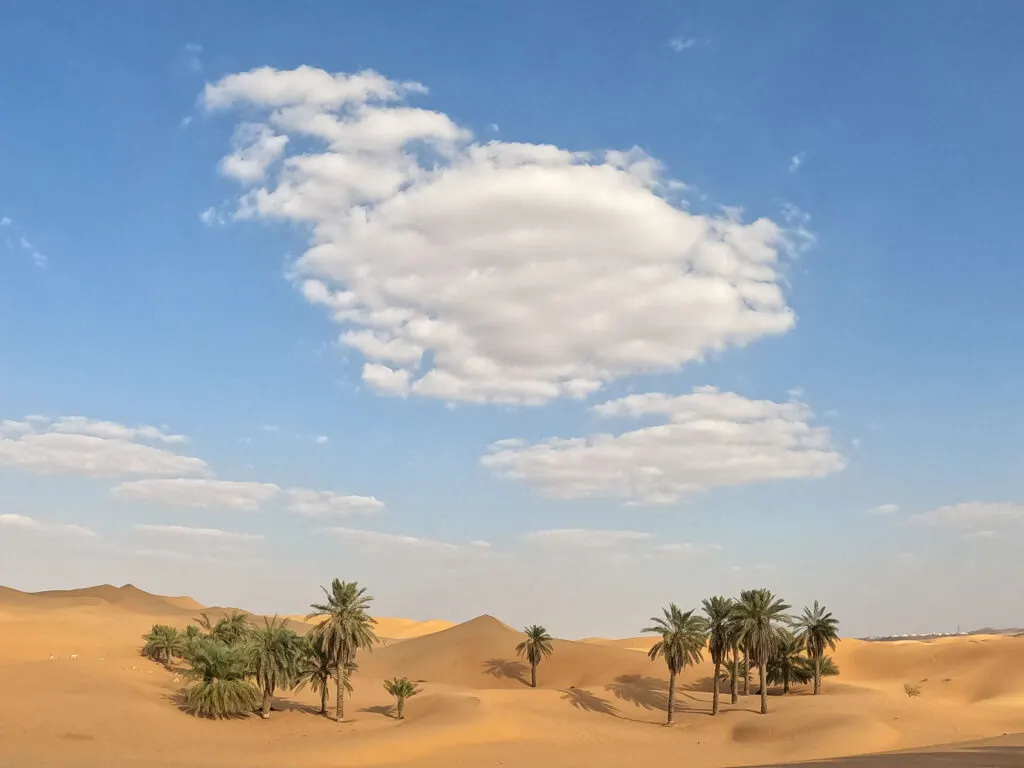 The villas have an incredible view of the dunes and quite often gazelles can be seen passing by. The fire pit with comfortable furnishings on the desert edge is utter bliss and the perfect place to enjoy a morning coffee at sunrise.
The resort has tonnes of desert activities with its very own heritage village which demonstrates Emirati life in the form of souks and traditional houses.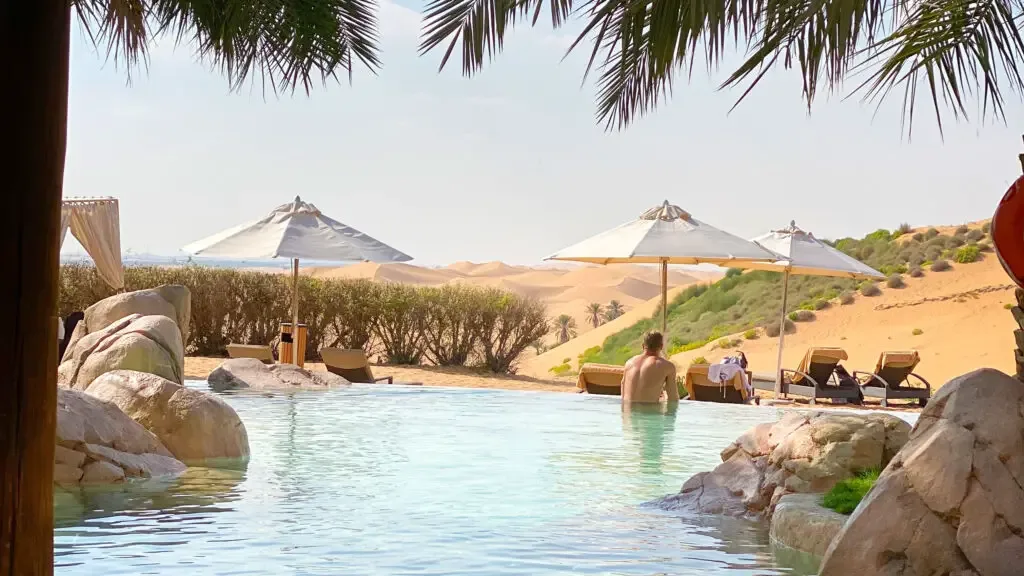 There is also a zipline, not to mention, camel rides, dune bashing, desert walks and falconry displays.
One of the most unique opportunities is to see the desert oasis only accessible to Telal Resort guests. It is literally a beautiful pool of water nestled amongst the dunes. However it is a further one hour into the desert by 4WD.
The restaurant on site serves both traditional and international dishes. Not to mention the spa and fitness centre which are also onsite.
Book an overnight desert safari at Telal Resort.
Morning Safari
Morning is another option for desert safari in Abu Dhabi although we believe the evening safari is the best.
However, sometimes morning is more suitable for guests, particularly if on a layover with a specific window of time available.
On morning safari, guests are picked up before sunrise. The pick-up time can vary slightly since the sun rises earlier from May through to September. Timings are usually confirmed closer to the time via email.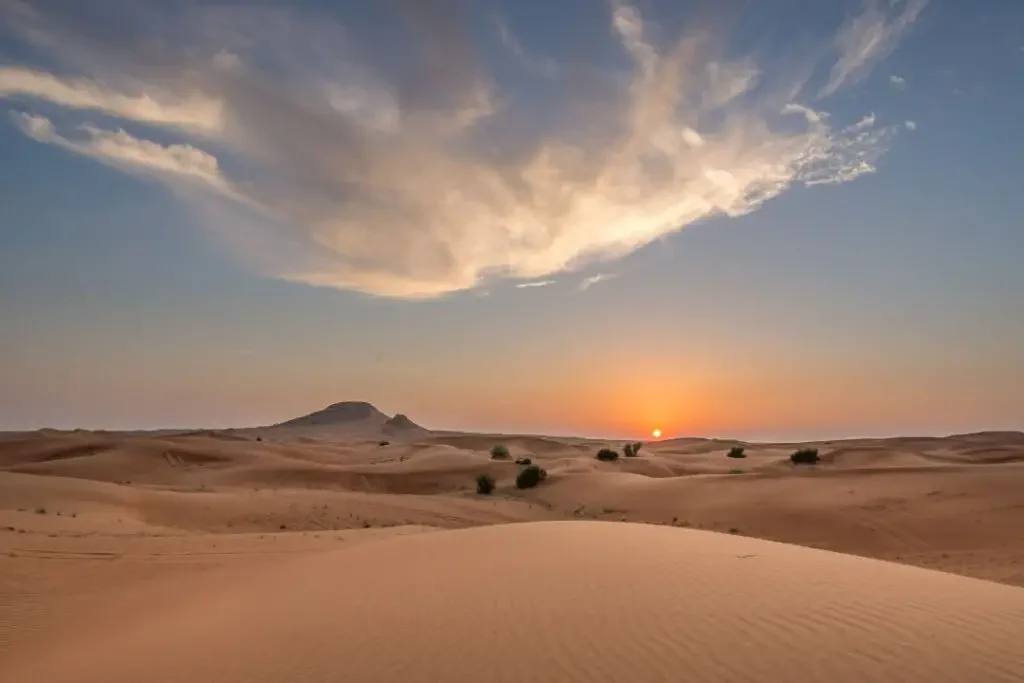 Guests can be collected from anywhere in the city of Abu Dhabi. The tour includes a return 4×4 transfer, and dune bashing, followed by a camel trek and sandboarding at the camp.
There are some light refreshments such as water, Arabic coffee, tea and dates provided which can be enjoyed as the sun rises over the desert landscape.
What To Pack For Desert Safari In Abu Dhabi
Since a trip to the desert is pretty unique, here are some top tips on what to pack when on a desert safati in Abu Dhabi.
Sunglasses & sun hat – Whether you are visiting morning or evening, the chances are the sun will be pretty bright at some point. Make sure to pack sunglasses and a sunhat. Sometimes the wind can blow sand into your eyes so the sunglasses can add a layer of protection.
Suncream – Even if you plan to visit in the cooler months such as November and December, make sure to layer up on suncream and pack some extra.
Battery pack – There is no doubt the views of the desert have everyone filling their phones with photos and videos. Make sure not to miss the moment and bring a battery pack. Each tour lasts at least a few hours so it is definitely worth making sure to have a backup.
Motion sickness – If dune bashing is on the cards, it is definitely worth considering motion sickness arm bands which can be picked up at any pharmacy.
Sandals – There is very little point in wearing closed shoes on any desert safari in Abu Dhabi since they are likely to fill up pretty quickly. Bring sandals that can easily slip on and off.
Loose-fitting clothes – In general in Abu Dhabi it is advisable to be air more on the conservative side. Since there are many activities, it is worth wearing loose-fitting hareem pants or linen trousers for men. Consider camel riding and the fact the camp is up to sit on the ground.
Scarf – The wind can suddenly turn in the desert so it is definitely worth having a scarf for everyone including children to protect their eyes if sand suddenly starts blowing. A scarf will allow you to cover your eyes and shield yourself from the sandstorm.
Other Considerations When Going On A Desert Safari In Abu Dhabi
The summer months are scorching in Abu Dhabi, however, a morning safari is just about possible. A great option for desert safari in the summer months is to stay at Liwa Hotel.
They have all of the activities pretty much on-site including camel trekking and quad biking which can be enjoyed before the sunrises.
Desert safari in Abu Dhabi is best enjoyed from October through to March when temperatures begin to get high. However, staying at a desert hotel any time of year is a fantastic alternative experience.
Don't forget, for the most part, there is very rarely bad weather in Abu Dhabi. However, if it is incredibly windy or stormy, tours may be cancelled. Sand storms can happen from time to time.
Frequents Ask Questions Abu Desert Safari Trips In Abu Dhabi
Can you do a desert safari from Abu Dhabi?
Yes, there is plenty of opportunity to go on a desert safari from Abu Dhabi. Usually, guests are picked up from within the city of Abu Dhabi and taken on a 45-minute drive out of town to enjoy a desert safari.
How much does a desert safari cost in Abu Dhabi?
The price of a desert safari in Abu Dhabi depends on whether it is a morning, evening or overnight tour. Prices ranges from 50 USD to 300 USD for luxury overnight options. The price will also depend on the size of the group.
Which desert safari is better Abu Dhabi or Dubai?
In general, the desert safari is better in Abu Dhabi as the dunes are bigger and the city is not quite as built up, so the trip to get to the desert is quicker.
Where is desert safari in Abu Dhabi?
Many of the desert safari camps are based between the city of Abu Dhabi and Al Ain. Usually, the turn-off is halfway to Al Ain when the road will turn to sand.
Where is the most amazing desert safari in Abu Dhabi?
The most amazing desert safari in Abu Dhabi is about 45 minutes from the city on route to Al Ain. The best camp is close to the E22 and E75 intersection.
What are the best deals for a desert safari in Abu Dhabi?
It is important to book with a reputable company in order to ensure the experience is positive. The best price with a good company is approximately 70 USD for a 5-hour tour including activities such as dune bashing, camel riding, henna, traditional clothing try-on, shisha, entertainment and a traditional Arabic buffet.
This also includes transfer to and from the city of Abu Dhabi, the cost may change depending on the size of the group.
A morning safari can be more affordable since it does not usually include a meal and entertainment.
Which is the best tours and safari in Abu Dhabi?
There are three types of desert safari tours in Abu Dhabi. Morning, evening and overnight. The evening tour is one of the best since the sunset is incredible and having dinner with entertainment is also quite special.
Is the Evening Desert Safari safe in Abu Dhabi and Dubai?
Yes, the tour is definitely safe as long as you book with a reputable company. We suggest booking with Viator. Make sure to check the reviews, we have personally taken a tour with Emirates Tours & Safaris.
The tourism season kicks off around October or November when there are lots of events such as F1. December is equally as busy with events, in particular National Day.
January and February are the coolest quieter months after New Year. In March and April, the weather is still pleasant to visit.
The hotter months start in May when most events move inside. It is a good month to visit for those who enjoy the arts.
Whilst June through July and August attract budget travellers as many resorts and attractions offer great deals.
September is considered a shoulder month, it is still quite hot but tolerable early morning and in the evenings.
Disclaimer: This post about the best desert safari in Abu Dhabi contains affiliate links. By using them, it will not cost you any extra, we will receive a small commission to keep us writing.