Abu Dhabi never lets you down when it comes to international celebrations, even during its holy month of Ramadan! If you are looking for easter brunch in Abu Dhabi there are quite a few options!
We have been busy scouring all our favourite spots to share the best places for Easter Brunch in Abu Dhabi this year.
Whether you're taking the kids along or looking for something a little more romantic, we've got you covered.
Aside from the delicious spread, we've also found some great easter activities for little ones. Here is a full run down with locations & prices.
Easter In Abu Dhabi
Easter Brunch at Graphos Social Kitchen
Head along to the Hilton Abu Dhabi's Graphos Social Kitchen for an unforgettable brunch experience this Easter.
Hilton Yas Island is pulling out all the stops with live performances and fun activities for the children including egg painting and games plus a surprise visit from the Easter Bunny on the day.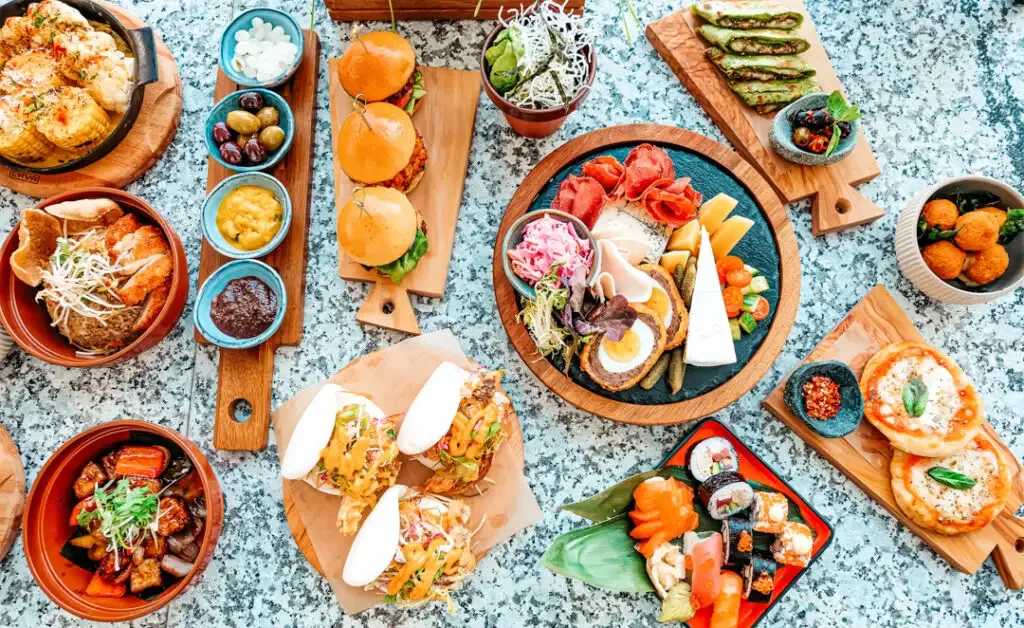 With a lavish variety of cuisines where east meets the west and a live dessert station featuring
ice creams, a chocolate fountain, marshmallows and strawberries, making it the perfect treat for
little ones.
Date: 9th April
Venue: Graphos Social Kitchen
Time: 1pm to 4pm
Price: AED 445 per person with house beverages
AED 345 per person with soft beverages
AED 95 for a child (6 to 12 years)
Children below 6 years old dine for free
For more information email dineatgraphos@hilton.com or call + 971 52 547 6318
Easter Brunch & Egg Hunt at Balcon Terrace
The Southern Sun Abu Dhabi is celebrating Easter this year with an egg-cellent al fresco brunch on their Balcon Terrace featuring all of the classics and new live cooking stations.
Featuring the Chef's Easter-themed desserts and a fun egg hunt for the kids – and the big kids as well to enjoy!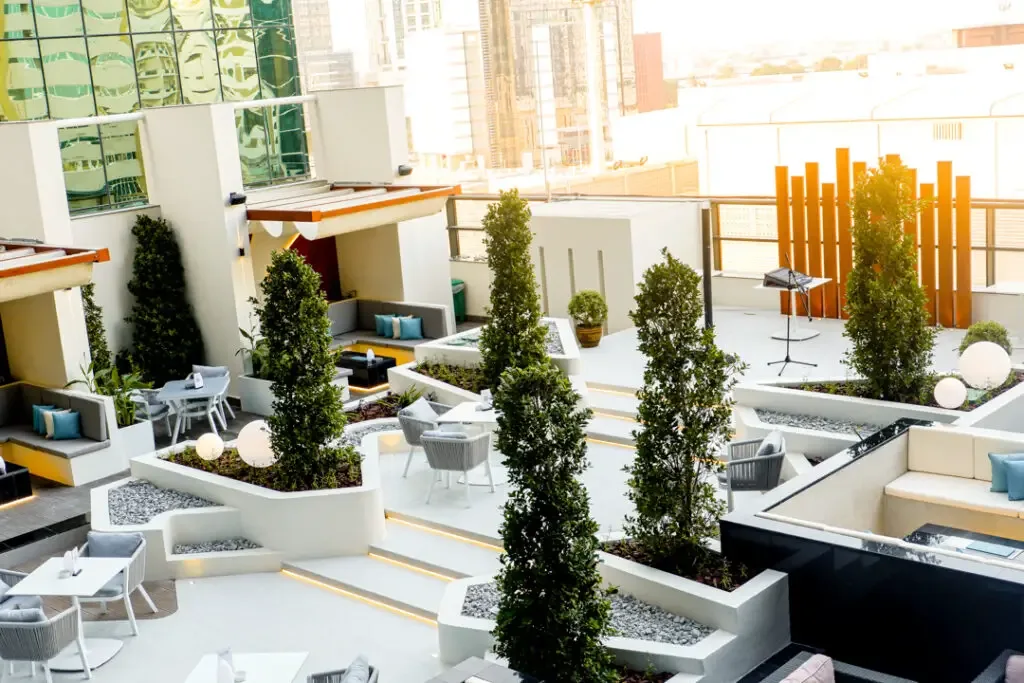 AED 160 Soft Beverage Package
AED 225 House Beverage Package
AED 270 Premium Wine Package
AED 410 Champagne Package
From 1pm to 4pm
After Brunch Party: 4pm – 6pm

To book, call +971 2 818 4888 or email abudhabi.dine@southernsun.com
Easter Brunch at Sofitel Abu Dhabi Corniche
Sofitel has one of the best rooftop terraces in the city. The rooftop has a fresh sea breeze blowing in from the Arabian gulf and perfect views of the corniche waterfront. They have a poolside barbeque brunch that makes for a special easter in Abu Dhabi.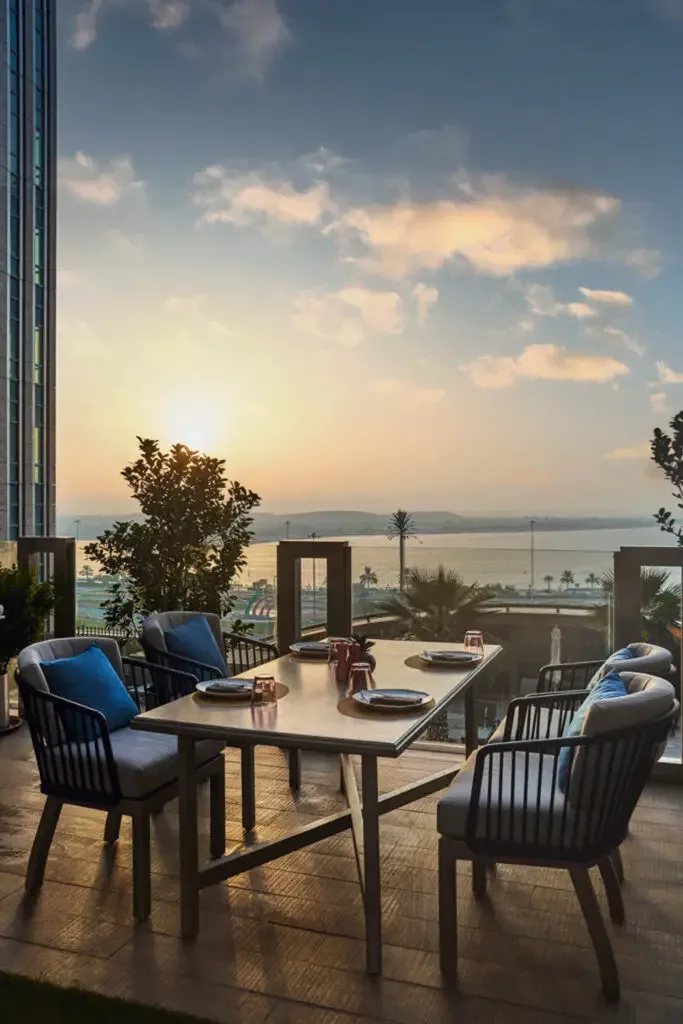 Guests can enjoy perfectly grilled food along with various spreads to choose from.
Sofitel makes kids' entertainment a top priority and they have arranged activities for the little ones at this relaxing rooftop brunch.
The kids are in for a very special treat for the golden egg hunt, as the winner gets a giant chocolate egg and free family brunch for two adults and two kids.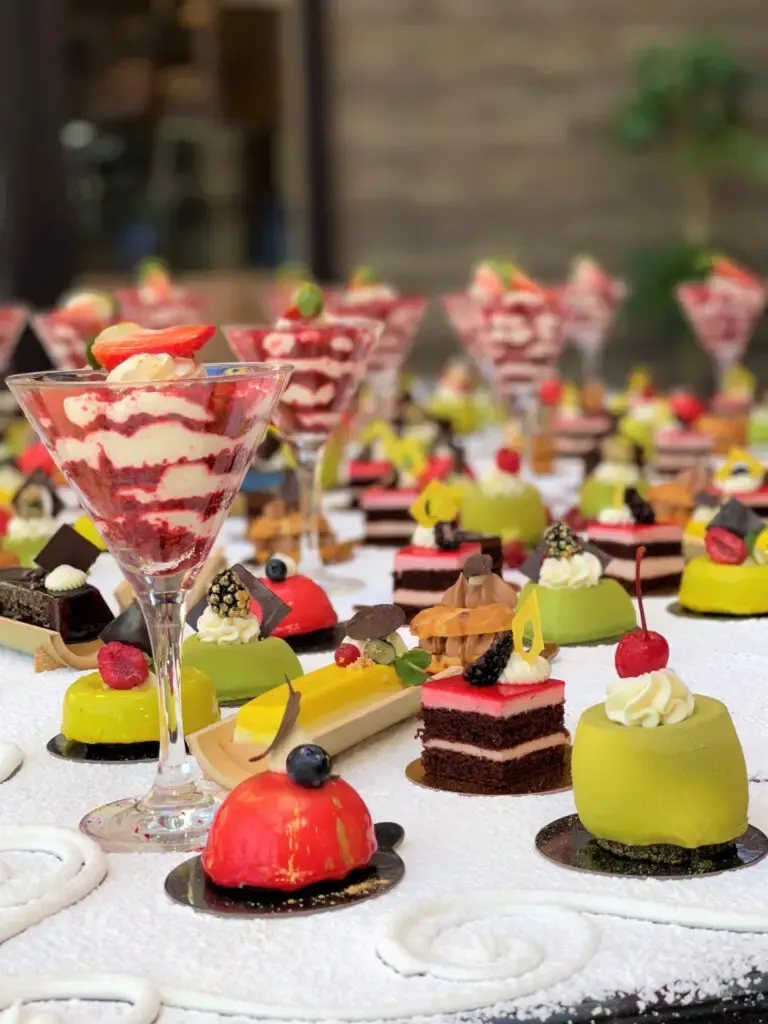 AED 285 per person free flow of soft beverages
Add AED 125 for free flow of house beverages
Kids dine for AED 95 per child (not applicable with any other promotions)
Sunday 9th April 2023
1:00 PM – 4:00 PM
Location – Grills @ Chill'O | Level P8
Call: 97128137777
Conrad Abu Dhabi Etihad Towers
Conrads' Great British-themed brunch is a special affair. The food is divine from start to finish. There are many British delicacies and classic dishes to be enjoyed.
They have an extensive selection of seafood to start, such as lobster, oysters, smoked salmon and shellfish.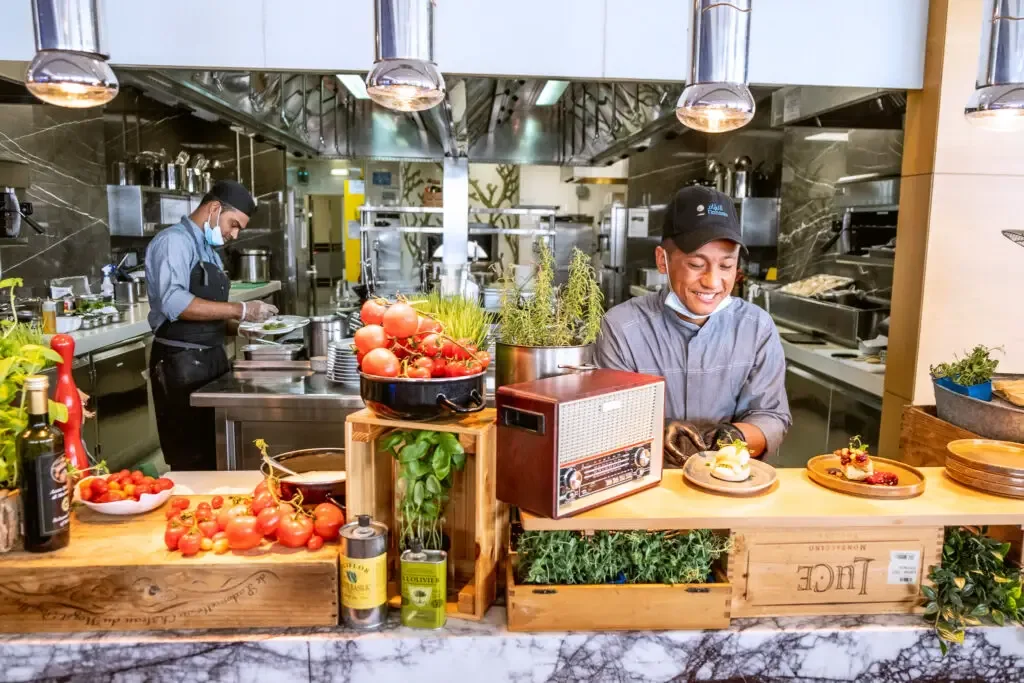 There are live cooking stations throughout, such as a wood-fired pizza oven, barbecue grills, bao bun stations and many more. Quintessential dishes include beef wellington and fish and chips.
The ambience is set by a three-piece band playing groovy British tracks and the live dessert show cant be missed. Make sure to get in on the front-row action for the unique dessert show as the chefs put on an exciting show at the cooking stations.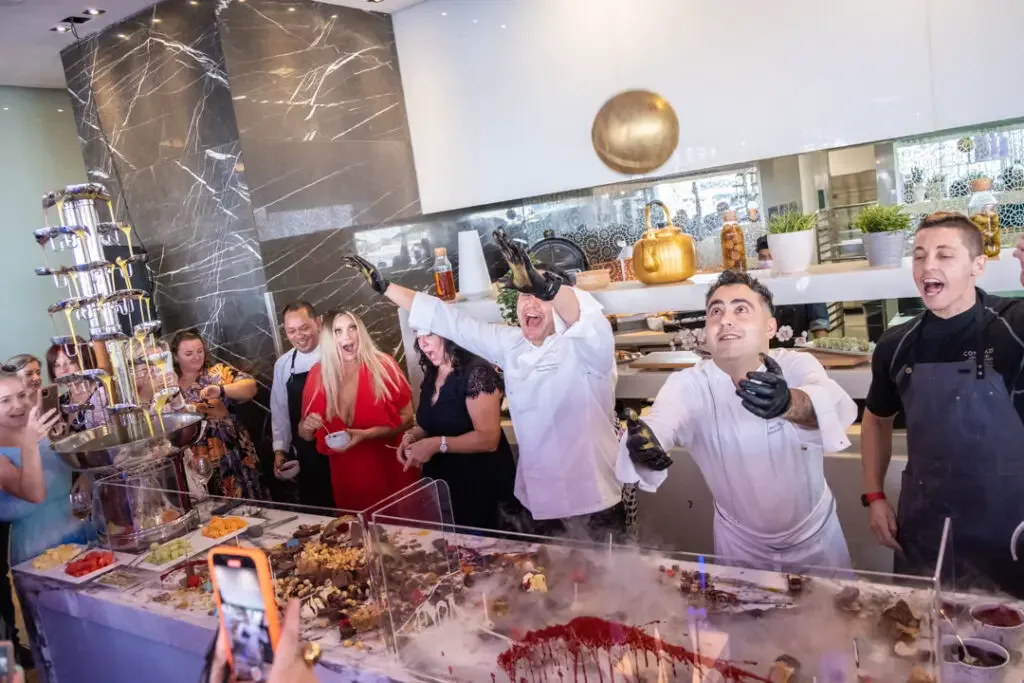 Kids' entertainment is paramount to having a good day out on Easter Sunday. Conrad has arranged for the easter bunny to hop by, along with face painting and an easter egg hunt.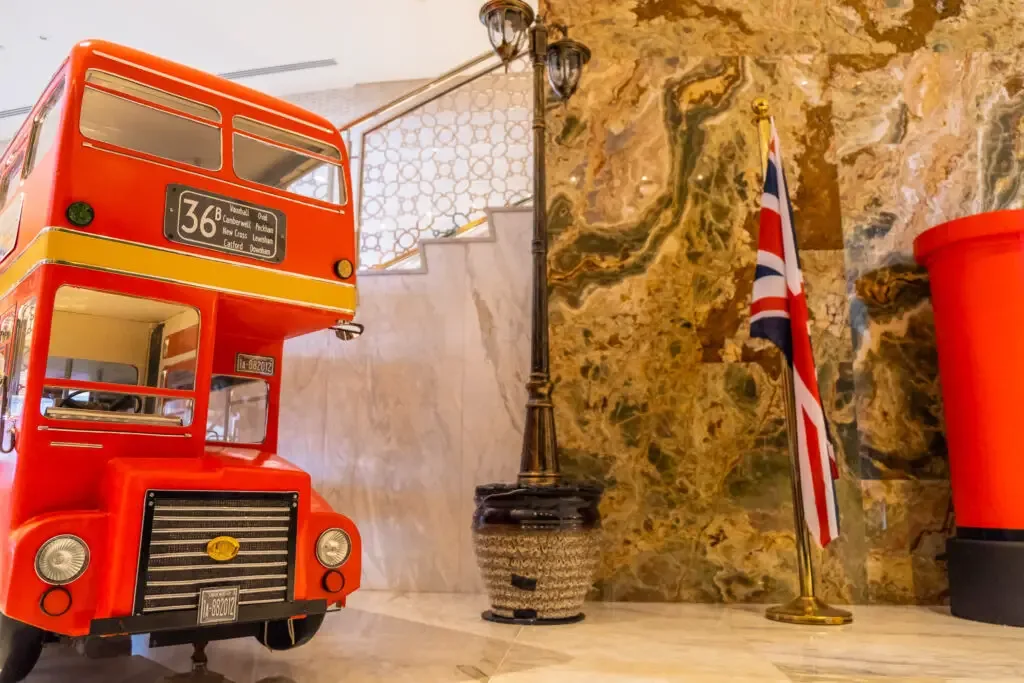 Saturday 8th April | 12.30 pm – 4:00 pm
AED 375 Soft Beverages
AED 495 House Beverages and Prosecco
AED 765 Premium British Experience inclusive of Champagne and Premium Brands
AED 200 Children 6-12
Children aged five and below dine FREE.
Continue brunch with the after-party and DJ from 4:00 pm – 7:00 at Nahaam Terrace.
Five beverages for AED 199
Book on April fools' day for a 25% discount on the brunch
A Seaside Easter, West Bay-Corniche
West bay is one of the city's most talked about beach clubs. The beach club will be an Easter in Abu Dhabi wonderland due to the festive decorations throughout. The beach will become a playground for an easter egg hunt for the kiddies.
The brunch boasts a wide variety of delicious international food and live cooking stations. Highlights include sushi, tacos, quesadillas, paella, dim sum, grilled meats and many more treats.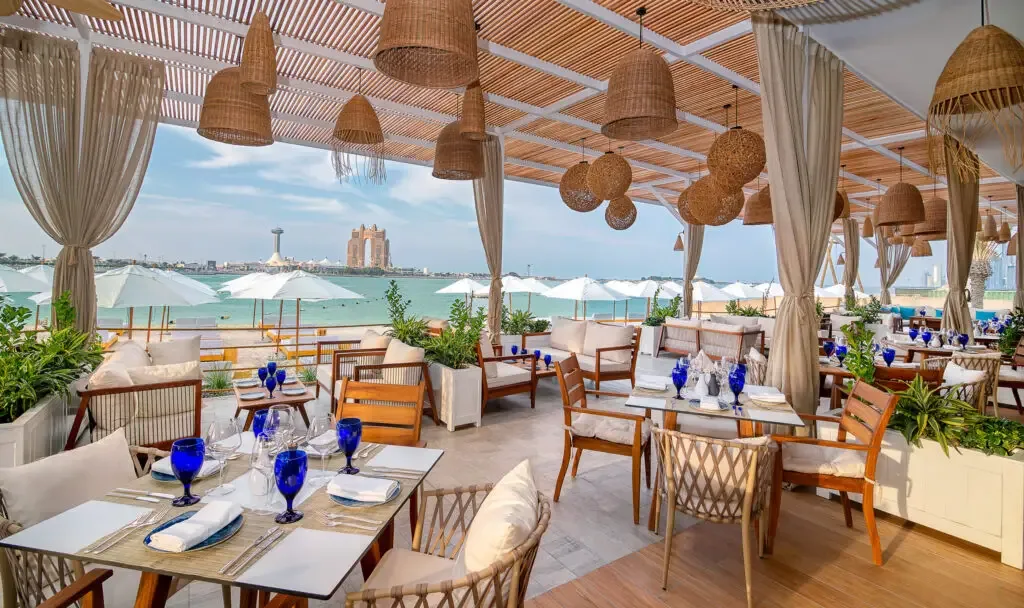 There is a dedicated corner for easter desserts and goodies.
Dhs249 (soft beverages), Dhs379 (house beverages), Dhs125 kids (6-12 years old), Free (below 6 years old). 9 April, Sunday, 1 pm-4 pm. West Bay Lounge, Radisson Blu Hotel & Resort Abu Dhabi Corniche. (054 586 4442).
Easter With a Pool Dip Le Meridien
The Easter bunny will be hopping in the pool to cool off at Le Meridien this year. The hotel welcomes guests to an easter in Abu Dhabi buffet meal with pool access. Although adding pool access is optional, it is a great way to entertain the little ones or to cool off post-meal.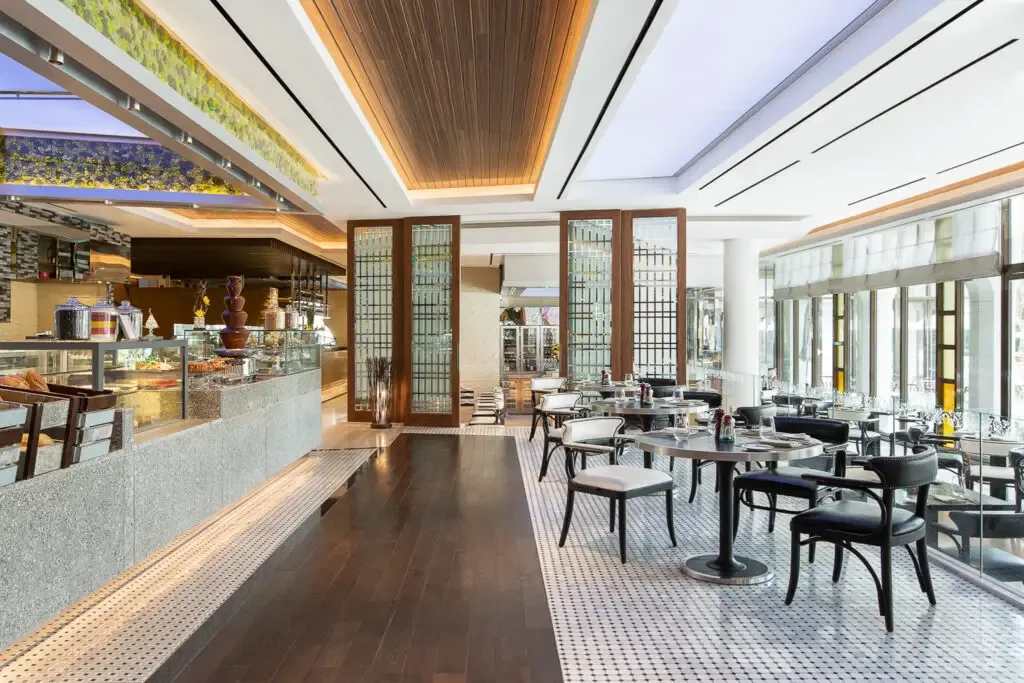 The buffet will have amazing salad, savoury seafood and sweet dishes. The restaurant's warm and hospitable staff serve a multitude of flavours through the buffet.
For just AED 50 more, guests may access the outdoor pool and the private beach. Take a dip in the Arabian water, lounge in the sunshine, and breathe in the fresh air.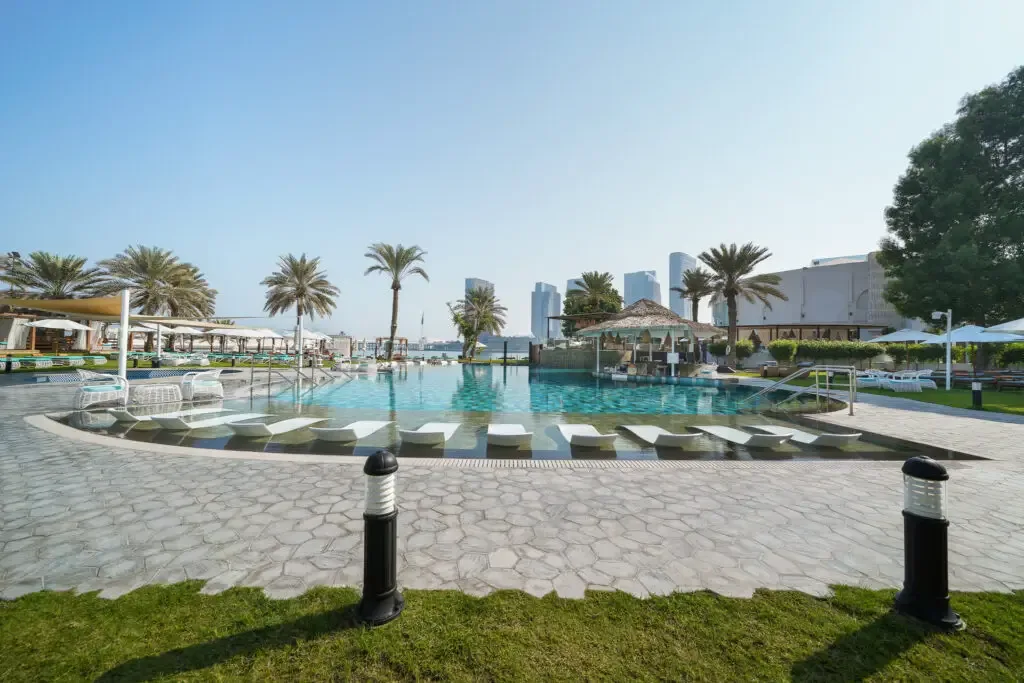 Dhs199 (soft beverages), Dhs50 (additional fee for pool and beach day pass), 50% (6-12 years old), Free (below 6 years old). 9 & 16 April, Sunday 12:30 pm-4 pm. Latest Recipe, Le Meridien Abu Dhabi (056 688 5361).
Gala Easter Roast- Rosewood
The Rosewood has transformed its Sunday roast into an easter extravaganza.
Featuring a live roasting station serving tender meat and mouthwatering poultry. On offer are freshly baked savoury pies and all the trimmings.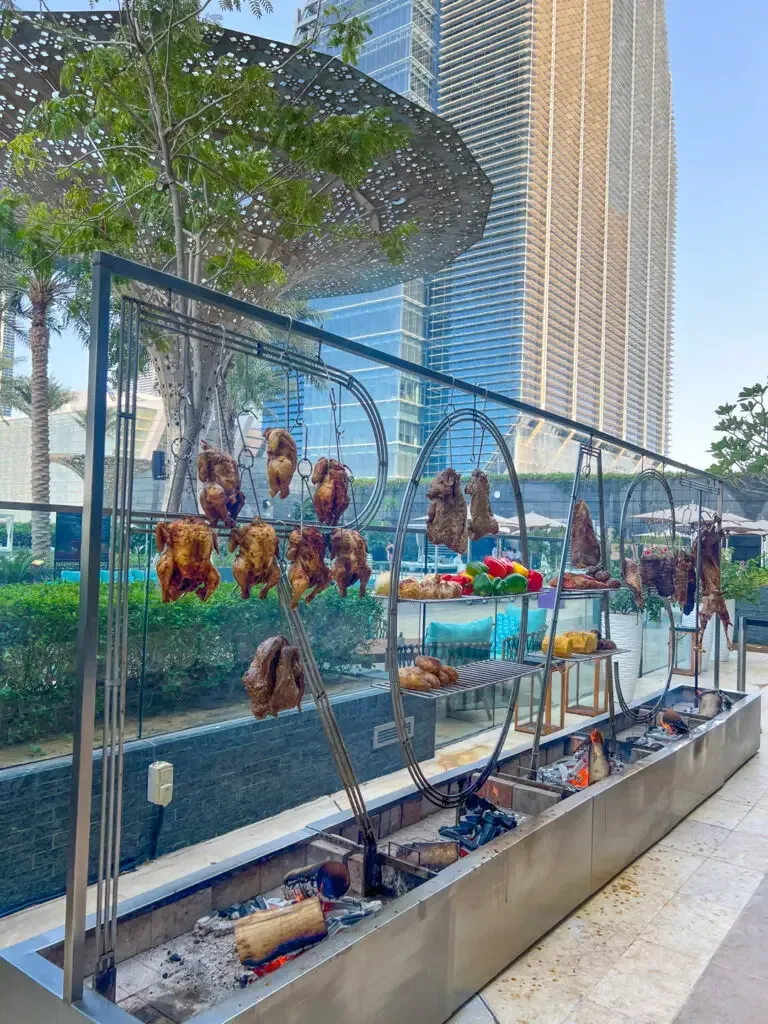 Opt for an alfresco rooftop experience and enjoy Al Maryah Island's glistening views. Watch the little ones have a fun-filled afternoon with egg painting and pool access this easter.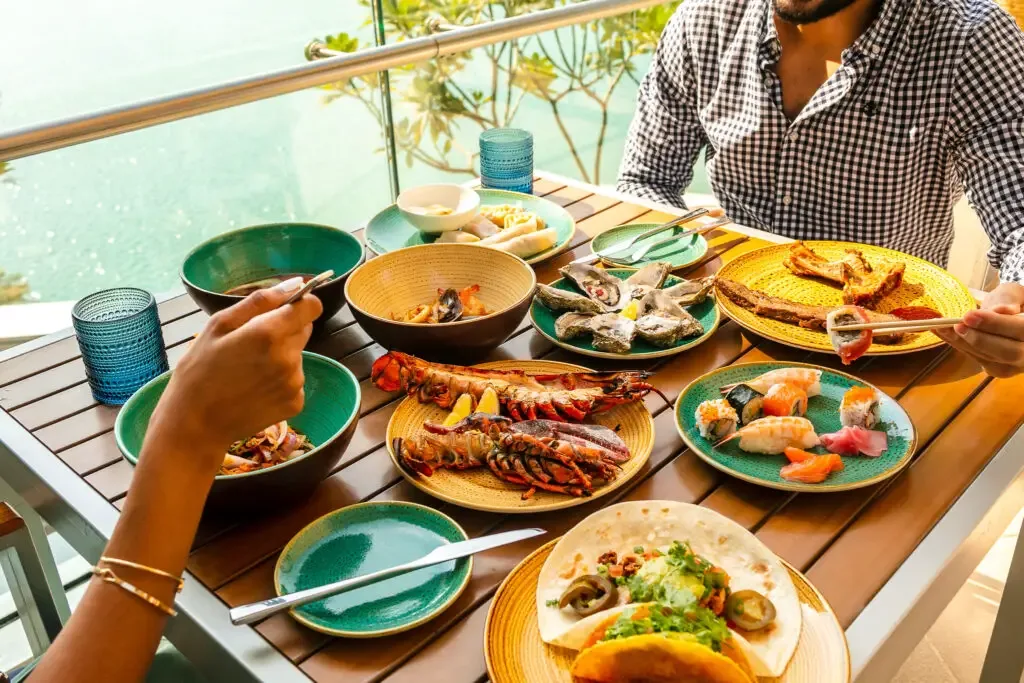 Packages: Starting from AED 365 per person with soft beverages and AED 465 per person for the Alcohol package.
Kids: AED 182.5 per person
Day: Sunday, 9th April
Time: 12:00 pm onwards
Activities: Egg painting, Pool inclusive
Call: 028135550
Roots Bar & Kitchen-Yas Acres
Celebrate Easter in Abu Dhabi at the 19th hole of Yas acres golf club. A sumptuous spread of international dishes is on offer at their Sunday brunch, along with lots of fun-filled activities for the kids.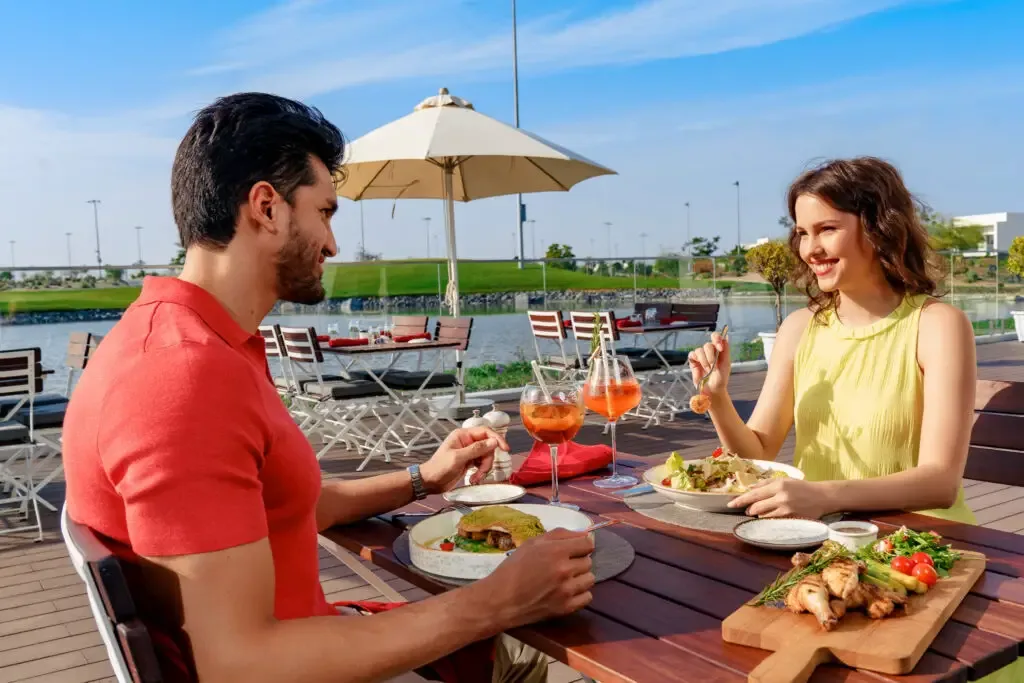 An egg hunt, face-painting, arts and crafts, and a visit from Peter the easter bunny will make this an action-packed afternoon for the little ones. The lush greenery of the golf course makes a beautiful backdrop for the al fresco dining option.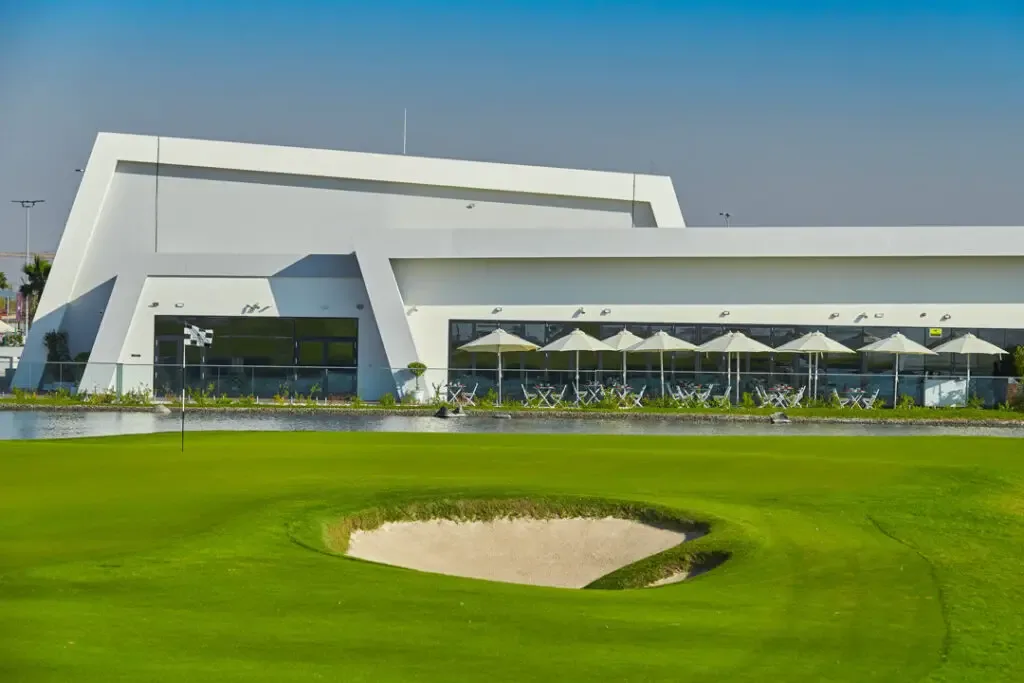 For a more intimate afternoon, choose the indoor option.
Timings: Sunday, 9th April, 12 PM to 3 PM
Pricing:
AED 199, inclusive of soft beverages
AED 299 inclusive of house beverages
AED 90 for children between 6-12 years old, 5 and below, dine for free.
Contact: 02 208 7222
Eggstravaganza Brunch at JA The Resort
The Palmito Garden at JA The Resort will have a selection of delicious dishes for Easter brunch for all the family.
They haven't forgotten the children and have lots of activities planned to keep them entertained.
There are a few packages to choose from; the house beverage package is AED 499 per person, the softs drinks package is AED 299 per person and kids from 6-12 years old are AED 275.
Email restaurant.reservation@jaresorts.com or phone +971 4 814 5604 to reserve a table.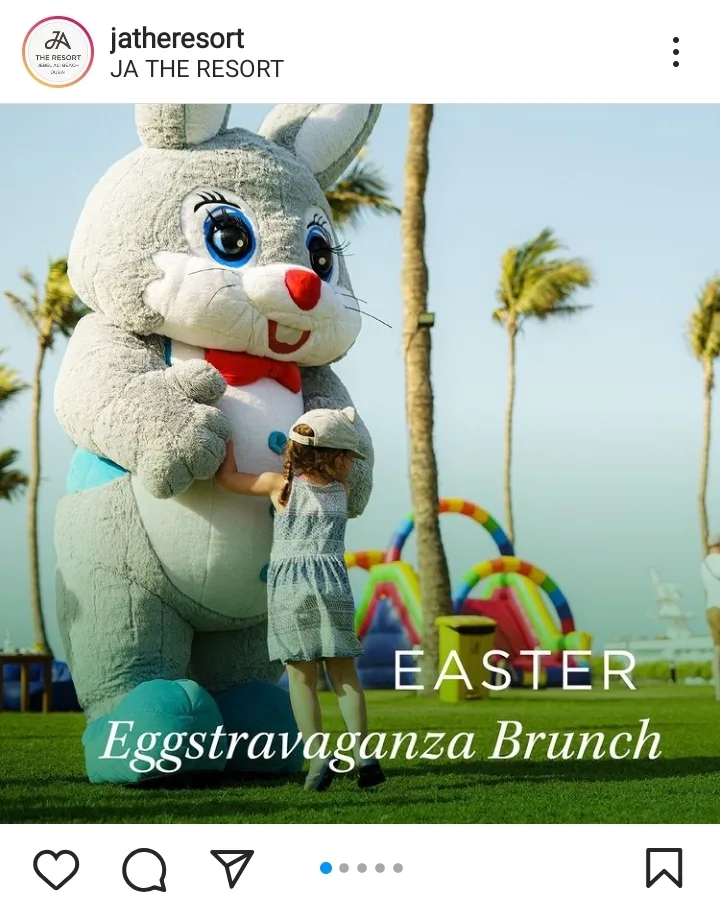 Easter Egg Hunt at Park Hyatt Abu Dhabi
There are many delicious dishes to choose from on Sunday the 9th at the Park Hyatt Abu Dhabi.
Camp Hyatt is open for the little ones between 10:00 am to 17:30pm. Kids between the ages of two to twelve can participate in the egg hunt and many other Easter activities once accompanied by an adult.
Prices for adults start at ABD 375 and kids aged 6-11 eat for half price., Kids 5 and below eat for free.
Brunch Starts at 1 pm until 4.30 pm. Call 050 740 5323 to reserve a place.
Easter Brunch at the Westin
Easter Brunch at the Westin restaurant includes lots of family-friendly Easter activities and live entertainment.
After enjoying a delicious Easter Brunch, the Easter Bunny will be making a surprise visit and an Egg Hunt will take place.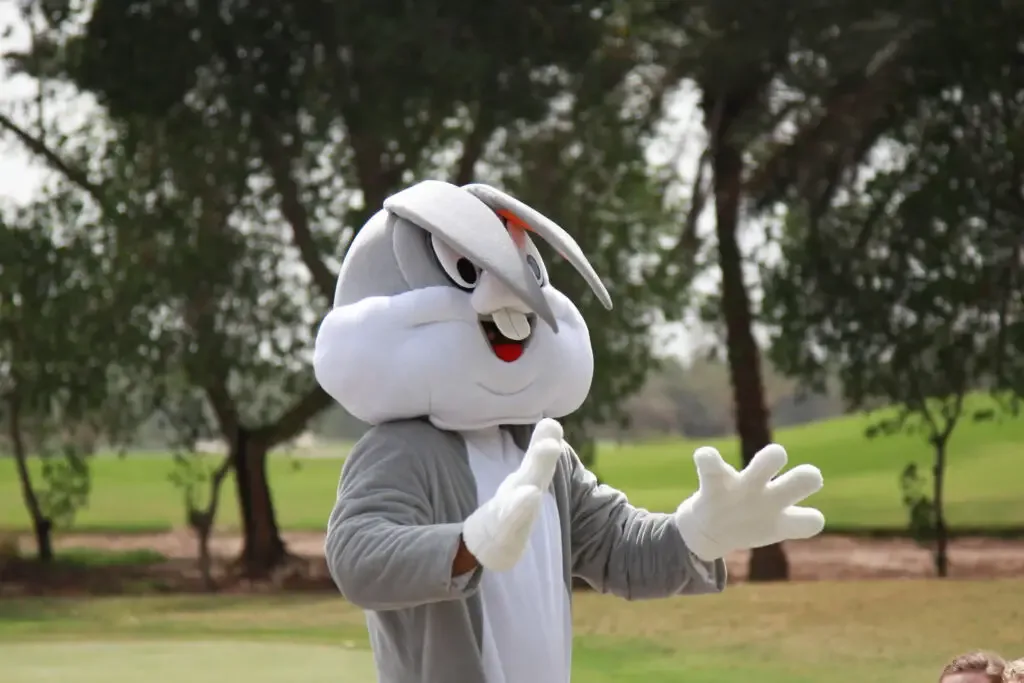 Soft Drink packages start from AED 229. The house package starts from AED 339. Bubbly packages cost AED 559 and children between 6-12 years old are AED 125.
Reserve a table on Sunday 9th of April between 1pm and 4:30pm by calling 02 616 9999.
Easter Themed Brunch at the Ritz Carlton
For a gourmet Easter brunch head to the Ritz Carlton. They promise to have a range of dishes from all over the world.
There are prices to suit each budget, including an Unlimited Bubbles Packaged from AED 650 per person, an Unlimited House Beverages & Sparkling Package from AED 450 per person, and a Soft Beverage Package from AED 350 per person.
For reservations, call +971 2 818 8203 or email abudhabi.restaurants@ritzcarlton.com
The Project Brunch at St Regis Abu Dhabi
On Sunday the 9th, the Terrace on the Corniche is going all out for Easter. There are sure to be a number of spectacular dishes for families to enjoy.
Highlights include tomahawk steaks with foie gras, fresh oysters sprayed with malt whiskey, succulent wood-smoked barbeque beef, lamb, chicken, pasta stations and a vast collection of seafood.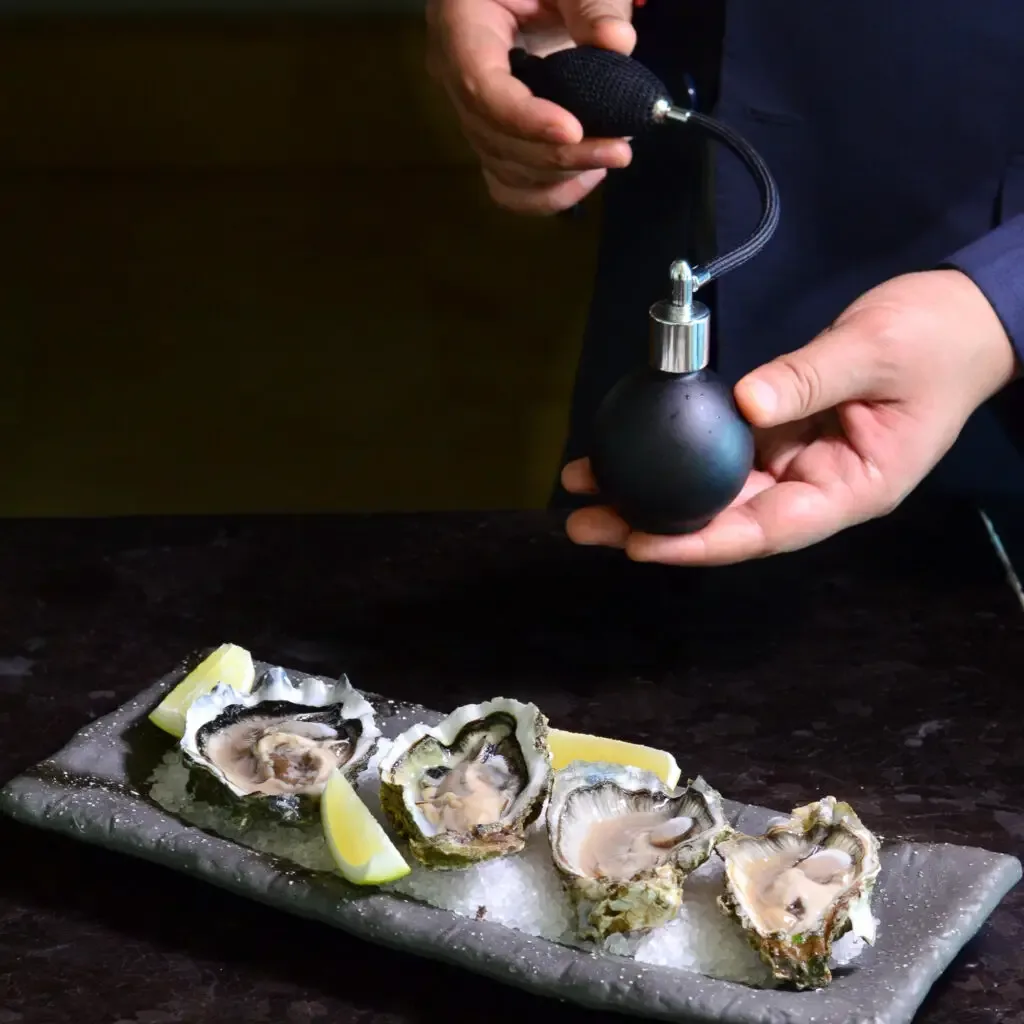 There will be multiple live stations, creative and signature drinks and, best of all, a dedicated room full of desserts.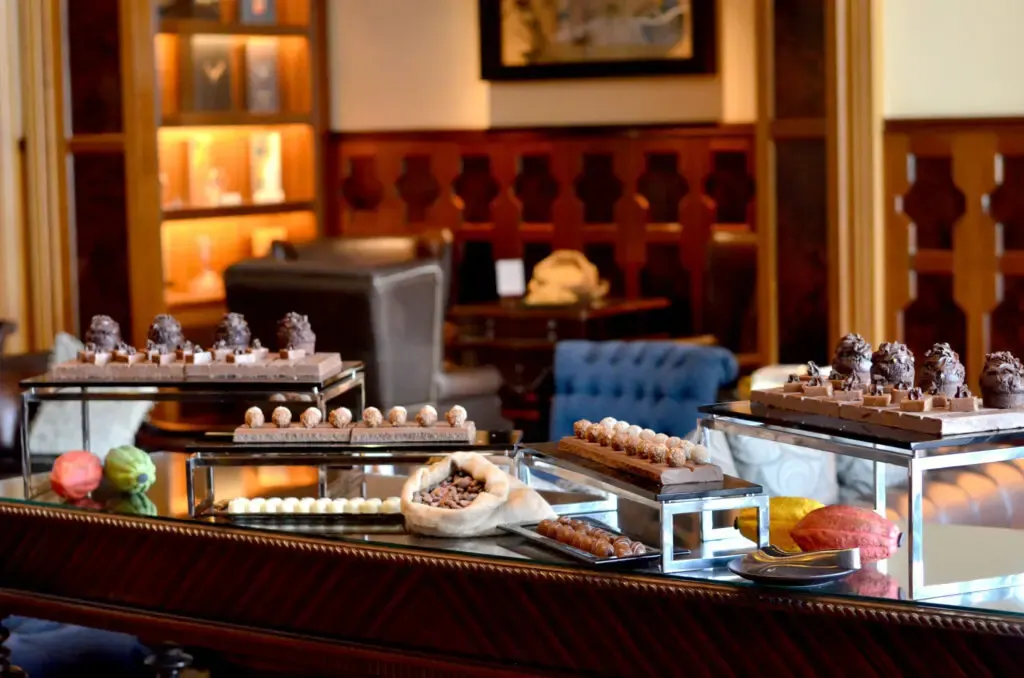 Packages start from AED 275 which includes mock-tails, smoothies, juices and milkshakes, AED400 for house beverages and Italian bubbly and AED 550 for premium French bubbly.
Timings: 12:30pm to 16:00pm
For reservations and more information, dial +971 2 694 4553 or email
Easter Brunch for the Family at Yas Marina
Yas Marina is offering a fantastic family fun day out. There are lots of dining packages to choose from including Easter Brunch.
To keep the kids entertained there are lots of free activities including face painting, crafts, prizes and an Easter egg hunt. The main prize will be annual park passes.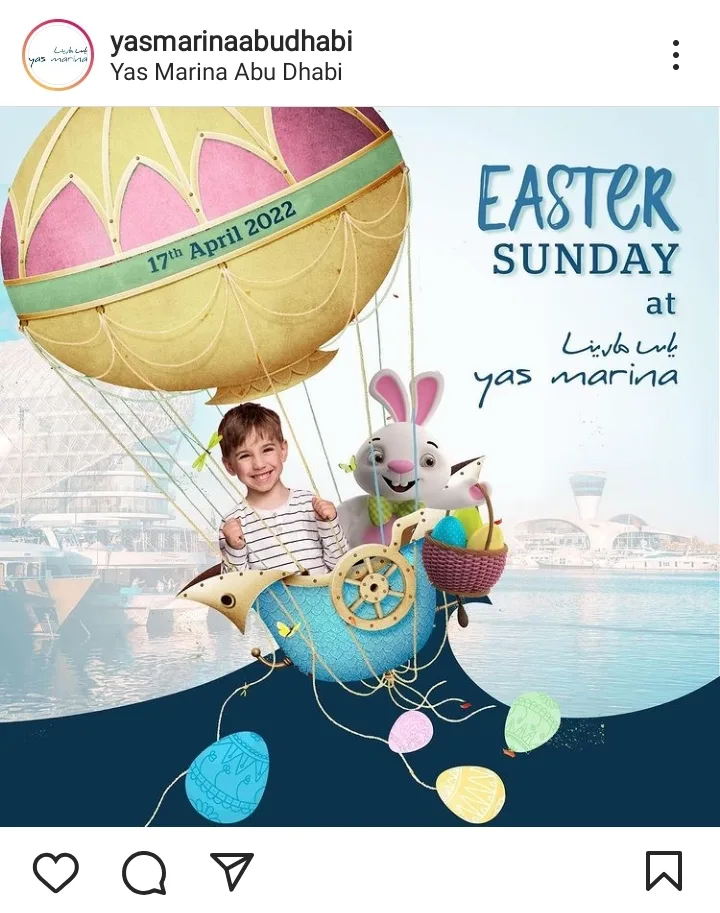 Easter Brunch-Saadiyat Rotana Resort & Villas
The market brunch takes its name from the ambience of a farmer's market with an array of delicious international flavours. As guests meander in and out of live cooking stations, they will hear vibrant live music creating a perfect easter in Abu Dhabi afternoon.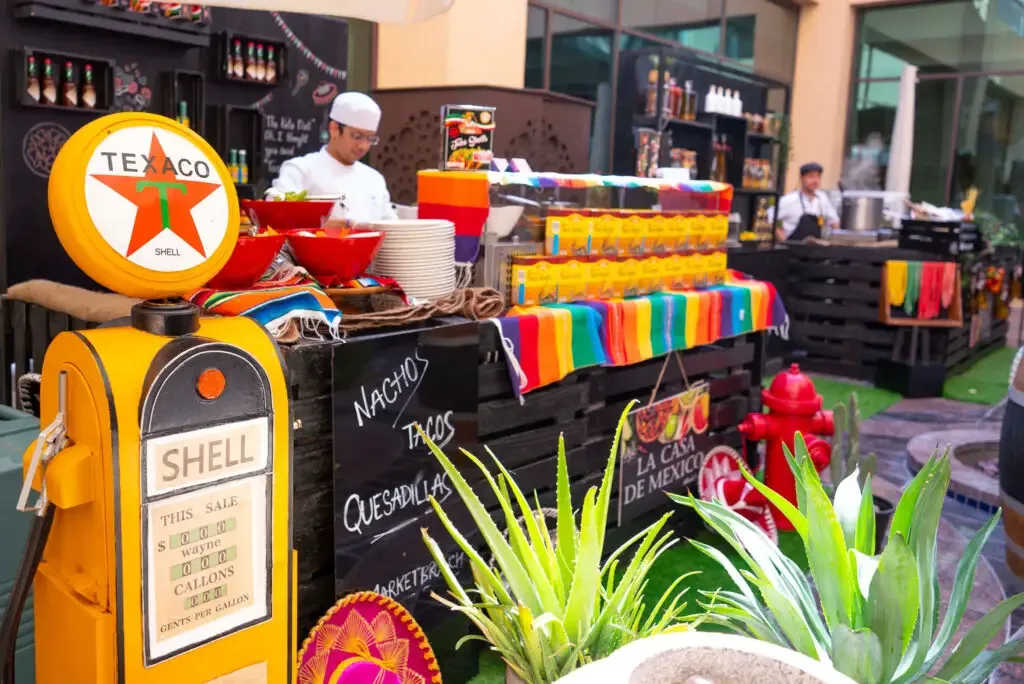 Price: AED 390 – Soft Package | AED 515 – House Package | AED 615 – Premium Package
Children from 6 to 11 years old at AED 195*. Children below 6 years dine for free.
Venue: Saadiyat Rotana Resort & Villas
Telephone number: 02 697 0000
Easter Afternoon Tea- Saadiyat Rotana
Sama Lobby Lounge has curated an easter themed afternoon tea. The two-tiered stand is decorated with sweet and savoury delights. Tea, coffee or a mocktail round off this splendid afternoon.
The tradition of Easter Brunch is the perfect chance for families to spend time together and create their own memories.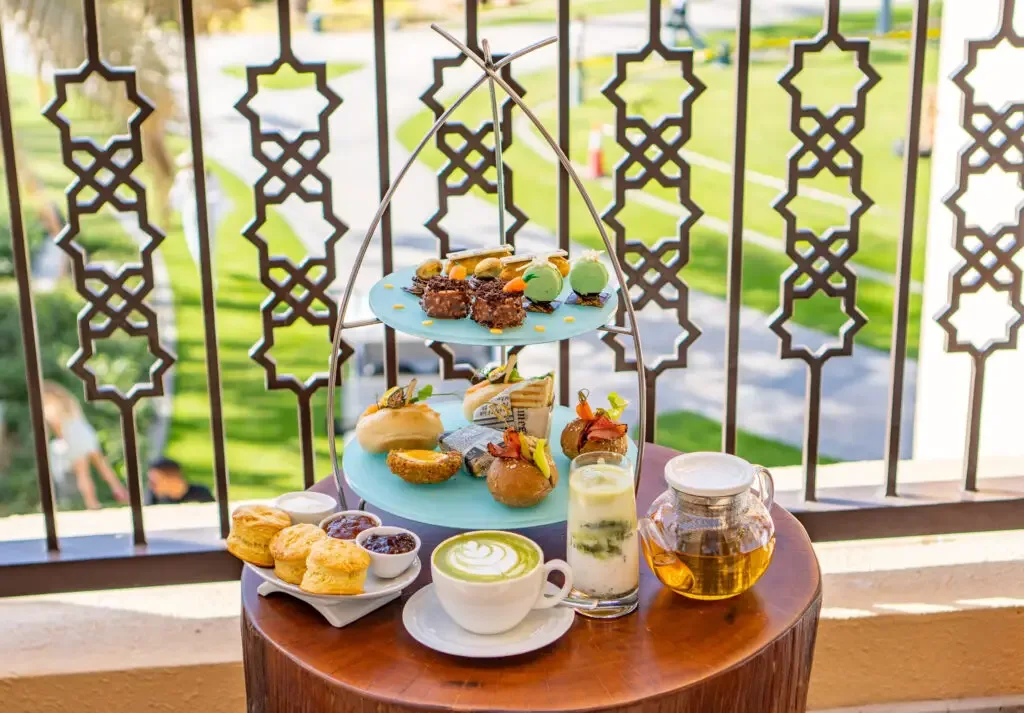 Date: 3 – 10 April 2023
Timings 3:00 pm to 5:00 pm
Price: 185 AED
Call: 97126970000
No matter where families choose to have Easter Brunch in Abu Dhabi they are sure to have fun and enjoy some delicious dishes.
You might also be interested in,
7 Best Easter Egg Hunts And Activities In Abu Dhabi
Disclaimer: This post may contain affiliate links. By using them it will not cost you any extra, we will receive a small percentage of the sale.