The sprawling suburb of Al Wathba sits along the Abu Dhabi – Al Ain highway, just 40 minutes drive from downtown.
In the last couple of years, Al Wathba has evolved into quite an exciting place with an expanding residential development right on the edge of the desert and other attractions such as the Al Wathba Nature Reserve.
However, one particular attraction that stands out in the region is Long Salt Lake Abu Dhabi which has taken social media by storm.
The magnificent stretch of aqua blue water with mesmerising salt bergs is one of the wonders of the UAE.
The long salt lake has been attracting tonnes of visitors since videos of influencers standing on one of the giant salt plates in the middle of the water taken with a drone went viral.
Here is everything you need to know about visiting Long Salt Lake Abu Dhabi. Including directions, how it got there, other attractions in the area, where to stay and top tips for visiting!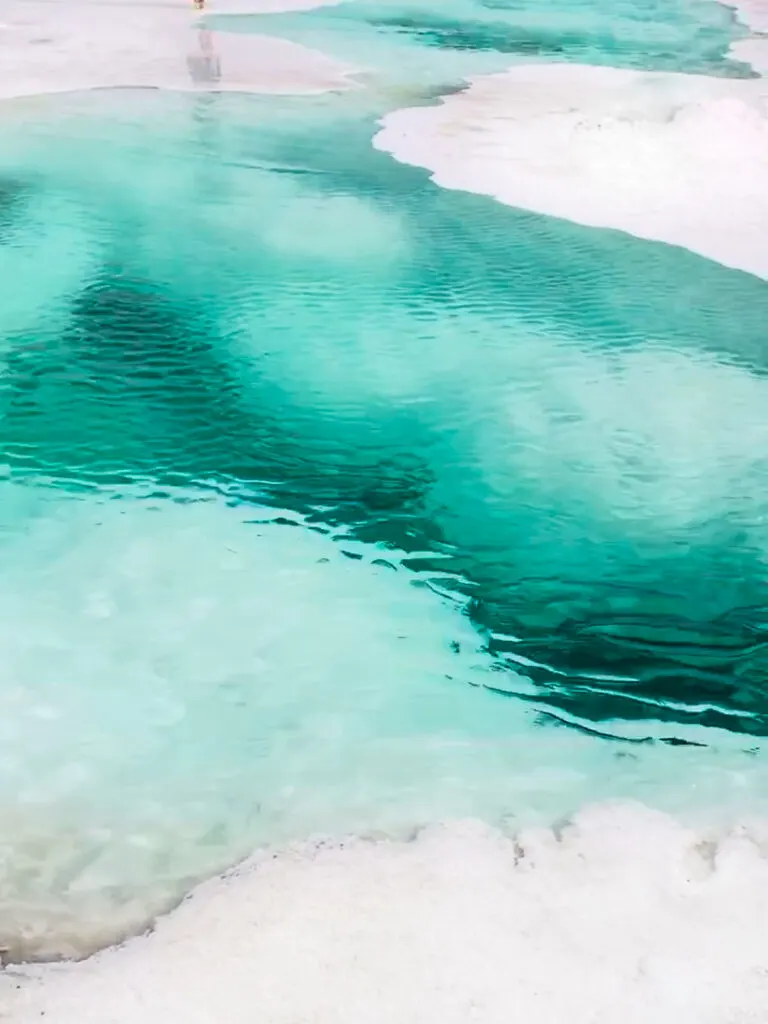 1. How Was Abu Dhabi Salt Lake Formed?
The water in the lake is thought to be supplied by an underground pipe so we consider it be be artificial. However the salt is the real mystery!
About 45 minutes away from Long Salt Lake Abu Dhabi is Al Wathba Lake which has a lot of salt. In fact as you drive to Long Salt Lake Abu Dhabi you'll notice lots of earth works with the city ever expanding.
The piles of sand which have been unearthed look very salty stacked in mounds making way for the next building, railway or resort to be built. The whole area appears to be incredibly salty.
Long Salt Lake Abu Dhabi Geology
Desert soil can be salt dense from intense evaporation in the heat. So whilst the water may have appeared from the nearby pipeline, the salt bergs and plates are a natural phenomenon.
It is a perfect example of when something man-made becomes a natural wonder. A good analogy could be when marine biologists put an object in the ocean to create a surface for coral to flourish.
It is not the only place in the world where a salt structure exists in desert surroundings. The Siwa Oasis in Egypt, Lake Kurum in Ethiopia, not to mention the Dead Sea.
Interestingly, the lake dries up in the hotter summer months leaving the salt and just small amounts of water. It is not as picture-perfect in the hotter months, from April onwards it is pretty dry.
The cooler months, from November onwards, result in less evaporation of the water providing a long beautiful stream of aqua-blue water.
2. Long Salt Lake Abu Dhabi Location
It is really important before setting off to know there are two lakes 50 minutes apart, both with the name 'Al Wathba' in the title.
If you are specifically wanting to visit long salt lake Abu Dhabi with the giant salt plates, make sure to head to 'long salt lake Al Wathba'.
While it may be difficult for some visitors to pinpoint the exact location of the long salt lake Abu Dhabi, we suggest taking the same route often frequented to reach the fossil dunes.
Depending on your whereabouts, stick to the E65 or E30 routes and drive towards the Al Bihouth region of Abu Dhabi, Al Wathba South.
Salt Lake Abu dhabi Directions
The exact coordinates for Long Salt Lake Abu Dhabi is 24.1589° N, 54.5025° E
Copy and paste into sat nav to ensure you are headed to the correct lake.
Whilst there is a small bit of off roading, we saw quite a few normal cars driving the route. it is not full on dune bashing so it is possible to do it.
If you are coming from downtown Abu Dhabi there is a moment in the trip where you'll come to a wire fence. You need to stick to the left of it to get to the lake.
If you go to the right, you wont be able to get over the fence. Although on the map it will look close to the lake, you wont be able to get to it. Sat nav will NOT pick up on this as you'll be running precisely parallel with the correct path.
Stick left at the wired fence!!!!!!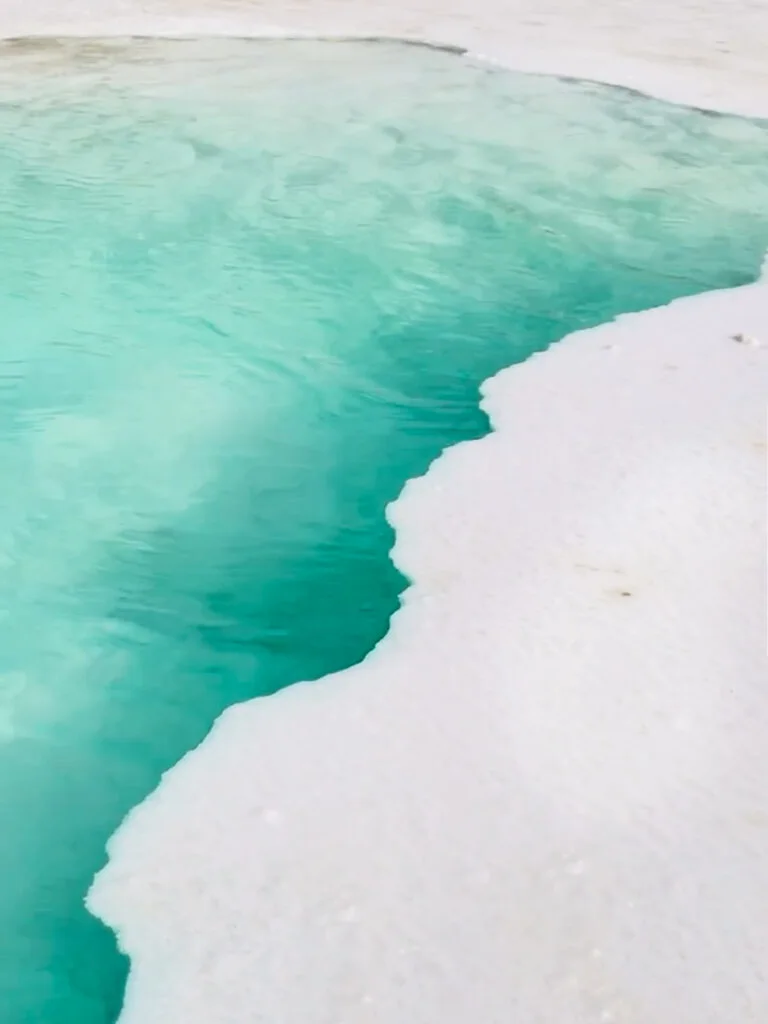 Location: 5G52+HX5 – Al Bihouth – Al Wathba South – Abu Dhabi
If you are not planning to drive, there are no specific tours we could find online, however, there are plenty of drivers in Abu Dhabi with an SUV who will take guests out to see the Long Salt Lake for about 300DHS return.
We suggest speaking with a Viator tour guide to take you to the lake rather than the sites.
3. The Best Time To Visit Long Salt Lake Abu Dhabi
As previously mentioned, the water in long salt lake tends to evaporate in the warmer months. The best time to visit is between November to March.
This period is high season for tourists in the region, so timing is everything. There is no doubt the lake gets more and more busy as the day goes on. Tourists come from Dubai and Abu Dhabi.
We recommend visiting just after sunrise to avoid crowds and get the perfect shot.
Another top tip is to visit on a bright day. When it is overcast and windy it really effects the colours of the water. If the wind is blowing it causes a ripple on the surface making it harder to see the salt bergs beneath.
If you are looking for other beautiful instagram worthy places, check out this post.
4. At Long Salt Lake Abu Dhabi
Once you arrive, there are no specific car parks, just leave the car near the bank of sand. You'll need to climb over the mound of sand but it's not too difficult. I managed to do it at 35 weeks pregnant with twins!
A particular spot in the Long Salt Lake with three giant salt plates is the best place for a good shot. You may need to walk along the bank a little to get to the exact spot.
Some people jump from salt pad to salt pad in the water, whilst others stand on the bank taking photos. It is worth noting kids may find the water stings on their feet. if you have sensitive skin it is probably best not to go in the water. However many manage it without any issues.
5. Others Things To Do Near Long Salt Lake Abu Dhabi
There are a quite few other things to do near Long Salt Lake Abu Dhabi. If you are driving a 4WD there is the possibility of off-roading and conquering the sand dunes which is one of the many fun activities in the area.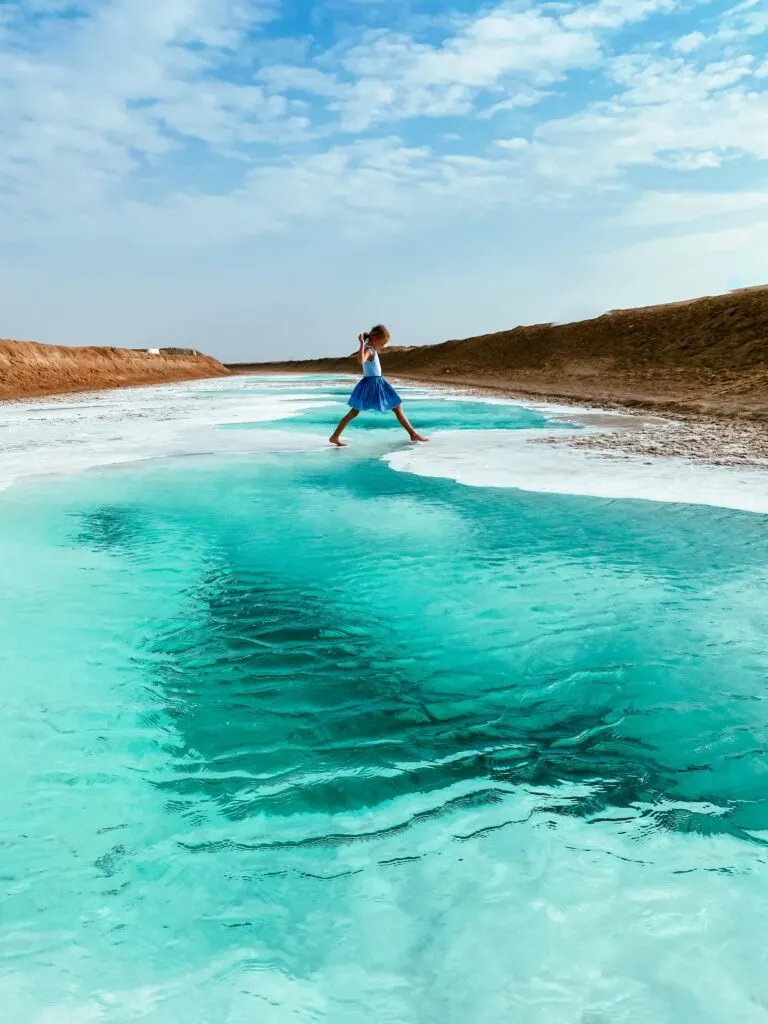 6. Al Wathba Fossil Dunes
When visiting Long Salt Lake Abu Dhabi it is easy to see the famous fossil dunes. They are known for their unique appearance made through the combination of sand, wind, climate and time.
According to scientists, these particular fossil formations have been estimated to be over four million years old.
Visitors are welcome to visit the reserve for free and will find well-lit paths spanning three kilometres in each direction of the reserve.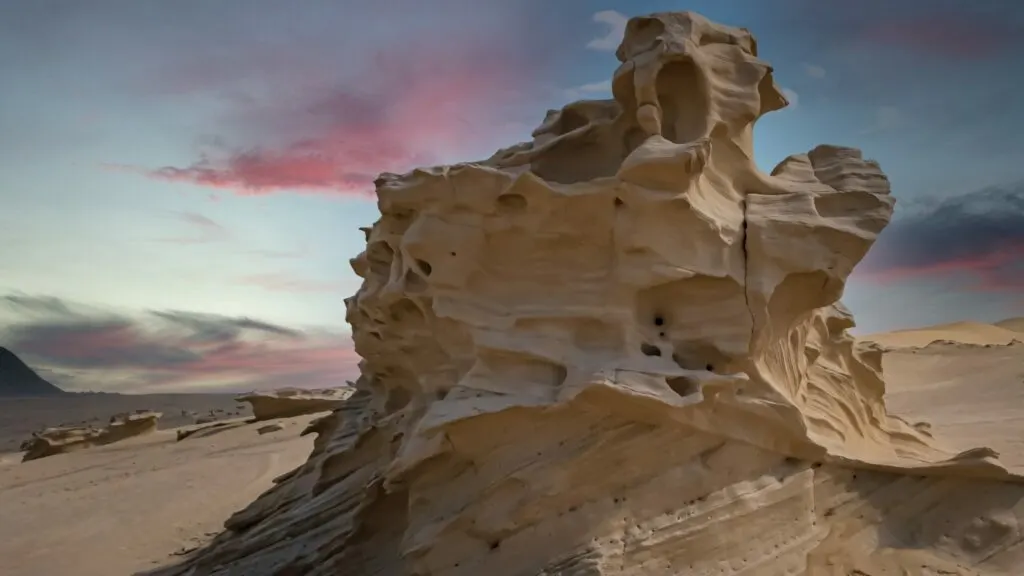 Visitors to the reserve can enjoy music and light shows taking place during opening hours, as well as a variety of refreshments and food trucks.
It is possible to visit the amphitheatre as well as other facilities in the visitor centre, including viewing areas and gallery.
Entry: Free Admission
Timings: 8 AM to 8 PM (Wednesday to Saturday), and closed (Sunday to Tuesday)
Location: 5HCH+FVW – Al Wathba – Al-Wathba South – Abu Dhabi
7. Al Wathba Wetland Reserve
Al Wathba Wetlands are en route from Abu Dhabi. The reserve is approximately 40 minutes from Long Salt Lake and is a mixture of man-made and naturally occurring lakes. It was the first reserve to be protected by law in the region.
More than 250 bird species can be seen in the reserve throughout the year. There are also 37 plant species, and a large range of marine life.
Most notably the flocks of flamingos ( up to 4000) can be seen during the winter months. They usually arrive in November, however this appears to differ year on year due to climate change.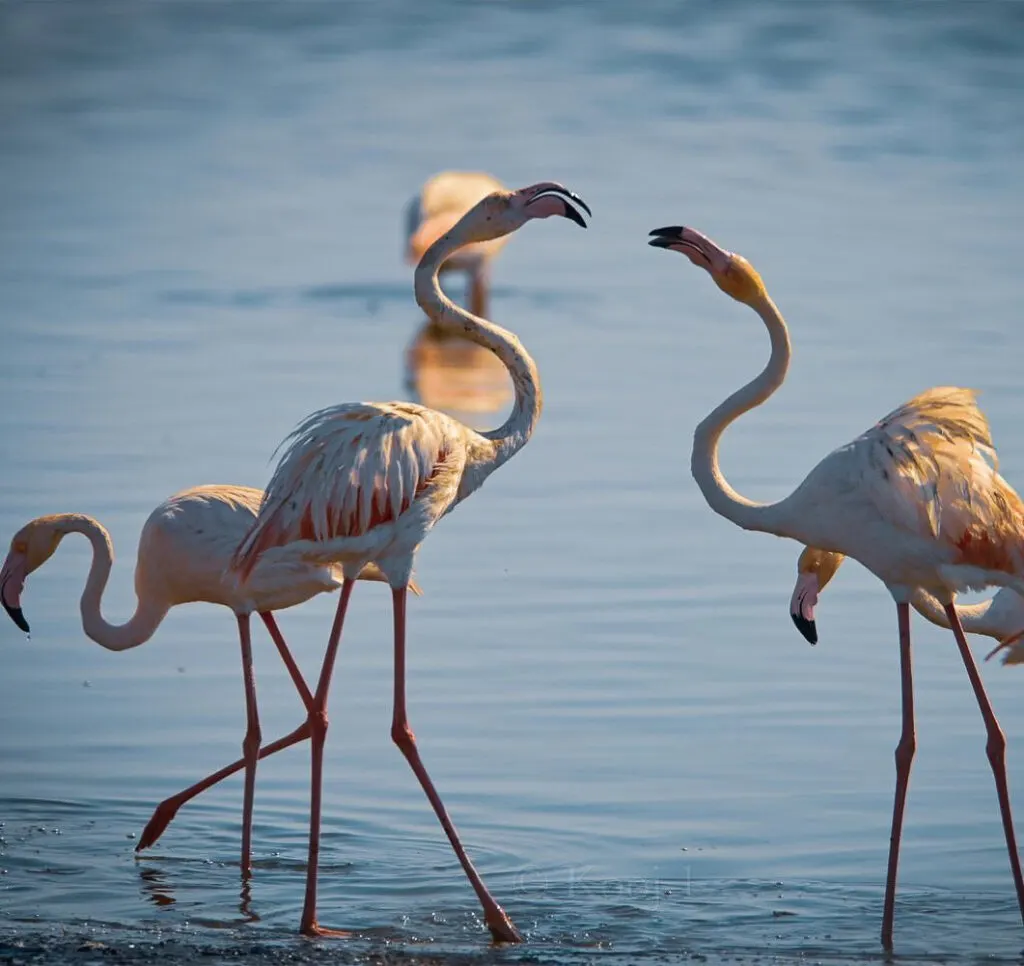 Wander along the self-guided trails and observe the birds while exploring the flora and fauna of the park.
Entry: Free Admission
Timings: 8 AM to 4 PM (Tuesday to Saturday), and closed (Sunday and Monday)
*Timings change, so be sure to check and confirm before you go. It randomly shut at 2pm when we visited.
Location: Jarn Yafour – Al Wathba – Abu Dhabi
8. Al Wathba Hill
Al Wathba hill is only a 40 minute drive from the Long Salt Lake Abu Dhabi, where the flag of United Arab Emirates flutters proudly at it's highest point.
Reaching a height of 182 metres, it is quite a popular spot to visit in the region. With a track leading all the way to the top, visitors can enjoy the most impressive views of the surrounding area when conquered.
It has previously hosted a number of running challenges, paragliding competitions, and motorists wanting to experience the thrill of a steep hill climb.
Since the man-made hill can only be accessed through a desert patch, visitors must take caution when scaling the steep climb, in order not to get stuck mid-way.
Entry: Free Admission
Location: Al Wathbah – Al-Wathba South – Abu Dhabi
9. Where To Stay Near Al Wathba Long Salt Lake
Al Wathba, A Luxury Collection Hotel and Spa, is located just 32 kilometres from Long Salt Lake Abu Dhabi and has been recognised as one of the most luxurious desert hotels in the region.
There are 99 suites at the boutique resort as well as a choice of one, two, or three-bedroom villas with private pools.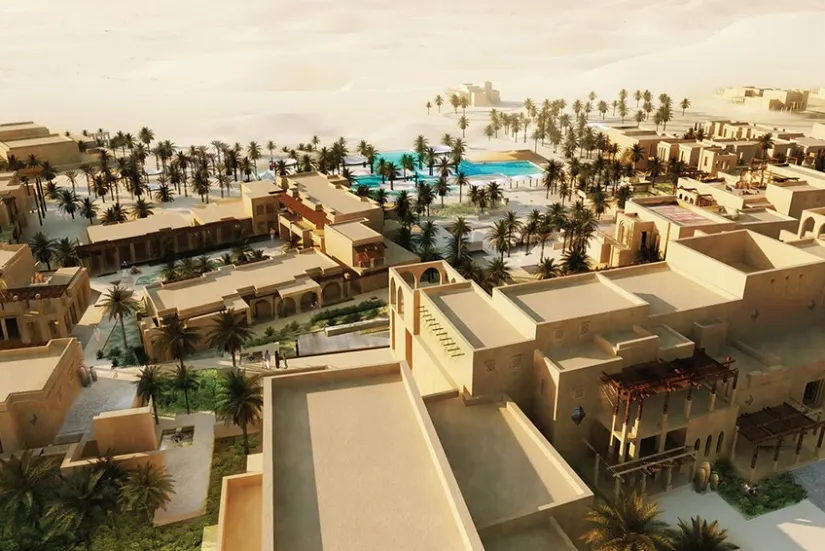 A number of amenities are offered including free Wi-Fi, an outdoor pool, spa and fitness centre, 24-hour reception, as well as an electric car charging station.
Location: Al Wathba South, Abu Dhabi, United Arab Emirates
10. Camping In Al Wathba
Some visitors like to camp the night and see other attractions in the area. The Long Salt Lake itself is not great for camping, however the other Al Wathba lake is a good location to set up a bonfire and camp overnight.
In fact there is a campsite with eco facilities, volley ball courts, playgrounds, running and cycling tracks.
Basic Planning For Camping
When going camping for the first time in the desert, it's a good idea to camp with experienced friends.
Always go with a larger group if you intend to camp deep in the desert, regardless of your experience level.
It is important everyone sticks to the location planned for camping and confirms the route in advance. Without a plan, it is easy to lose the way. Be sure to let friends or family know your whereabouts before heading out.
To avoid breakdowns, it is a good idea to service or check the vehicle. Ensure to deflate your vehicle tyres before heading out onto the dunes.
A Few Basic Rules For Camping
An area with a level surface is the best place to camp. It is best to set up the fire away from tents taking into account the direction of the wind. Keeping a fire under control is easier when it is smaller.
There are a variety of desert creatures, and most of them will not harm you unless provoked or threatened. Whenever you are at the campsite, wear shoes. Shake them every morning to ensure nothing has gotten inside.
Close the tent full at night and keep the camp well-lit. Ensure to clean the site before heading back to the city.
Quick Checklist for Camping In Abu Dhabi
Packing a tent is essential when camping.
A substantial supply of food and water for the trip.
A flashlight comes in handy.
Chopped firewood
A cooking stove, charcoal, and fuel.
A variety of dining utensils, such as plates, forks, spoons, tongs, etc.
Pillows and sleeping bags.
An emergency first aid kit.
Bags for garbage.
Fresh pair of clothes and toiletries.
A Solar Shower to freshen up.
Packing For Camping In Abu Dhabi
In the desert, the weather can be hot and dry during the day, but it can be quite cool at night, so pack clothing and a sleeping bag appropriate for both climates.
Take measures to protect from the sun during the day by wearing sunscreens, appropriate clothing, eyewear, and car awnings that can offer shade.
It is important to pack a working tyre pump so you can re-inflate, shovels and a tow rope in case you get stuck in the sand, as well as petrol in a jerrycan.
First aid kits are good idea to have. Keep your first aid kit stocked with all the necessary supplies.
The biggest concern when staying out in the desert is dehydration. Be sure to bring plenty of water. The minimum amount of water you should carry each day if you plan to stay out in the desert is 15 litres, 5 of which should be drinking water.
Firewood, flashlights and a phone charging cable will be required, as well as a tent with proper fastenings.
Abu Dhabi is known for its pleasantly warm weather. As the temperatures gradually decrease from October onwards, visitors and residents can enjoy the UAE's natural beauty!
A winter camping trip in Abu Dhabi is a great alternative to a fancy staycation or a day at a beach club.
11. Long Salt Lake Abu Dhabi Frequently Asked Questions
Can you swim in the long salt lake Abu Dhabi?
It is possible to swim in the Long Salt Lake, however, it is not advised for babies children or anyone with sensitive skin. The salt content can cause irritation and severe stinging.
Is Long Salt Lake Abu Dhabi open now?
The Long Salt Lake Abu Dhabi is accessible 24 hours, it is not a manned attraction. It is important to note there are no dining facilities or shopping facilities on site, so guests should prepare snacks and drinks from home.
Is Long Salt Lake Abu Dhabi man-made?
The water supplying the area comes from man made water pipes running through the area. However the salt formations are natural from the high concentration of salt in the desert.
So although the water is not naturally supplied, the Long Salt Lake Abu Dhabi is a mixture of man made and nature coming together. We see it as similar to man made coral structures in the ocean. Something is put in place and flourishes naturally thereafter.
There are plenty of salt lakes in similar climates around the world in places such as Egypt, Jordan and Ethiopia being some of those near Abu Dhabi.
Where is Long Salt Lake Abu Dhabi?
The long salt lake Abu Dhabi may be difficult to locate for some visitors, so we suggest taking the same route often used to reach the fossil dunes.
Take the E65 or E30 routes to Al Bihouth region of Abu Dhabi, Al Wathba South, depending on your location. Visitors can navigate using the following plus code, 5G52+HX5 Abu Dhabi, in Google Maps.
When visiting the salt lake, what are some things to keep in mind:
The lake and its surroundings should be kept clean. Take rubbish with you.
Many visitors fly a drone. The UAE has drone laws and anyone using one must have a license to use it. It is not uncommon to see visitors with drones at the Long Salt Lake which can be unpleasant. It is just a small area. It can impede on people's privacy, not to mention they are quite noisy.
Do not take pieces of salt from the lake. To preserve the lake's beauty for future tourists, it must be protected.
To Sum Up Long Salt Lake Abu Dhabi
Long Salt Lake Abu Dhabi is one of the best tourist attractions to visit and explore as long as you are aware of the industrial nature of the surrounding area.
It should not to be confused with Al Wathba Lakes, which is a 50 minute drive away. Tourists can visit the spot to take breathtaking creative photographs, and enjoy the picturesque lake.
Marvel at the sunrise or sunset early in the morning or dusk, making the lake even more magical. The drive might seem long, but it is worth the journey.
We hope this article has given you some ideas on helpful tips when visiting the Long Salt Lake Abu Dhabi and nearby activities which can fill an entire weekend.
If you plan to visit Long Salt Lake, we would love to hear about your trip, do leave us a comment below and let us know about your experience.
The Best Time To Visit Abu Dhabi
The tourism season kicks off around October or November when there are lots of events such as F1. December is equally as busy with events, in particular National Day.
January and February are the coolest quieter months after New Year. In March and April, the weather is still pleasant to visit.
The hotter summer months start in May when most events move inside. It is a good month to visitfor those who enjoy the arts.
Whilst June through July and August attract budget travellers as many resorts and attractions offer great deals.
September is considered a shoulder month, it is still quite hot but tolerable early morning and in the evenings.
You may also like:
Best Coffee Shops In Abu Dhabi
New Years' Eve Celebration In The Capital
Disclaimer: This post may contain affiliate links, by using them it will not cost you any extra, we will receive a small proportion of the sale to keep us writing!