The city of Abu Dhabi is known for its pleasantly warm winters. With the temperatures gradually dropping from October onwards, visitors and residents can discover the natural beauty of the UAE!
Instead of doing a fancy staycay or a day at a beach club, camping in Abu Dhabi is an incredible experience in the winter months.
Abu Dhabi can get quite expensive so camping is a fantastic budget-friendly option for a weekend away.
There are tonnes of options whether you buy your own gear and head out into the wilderness, or take an organised camping tour, not to mention some fantastic places to go glamping in Abu Dhabi.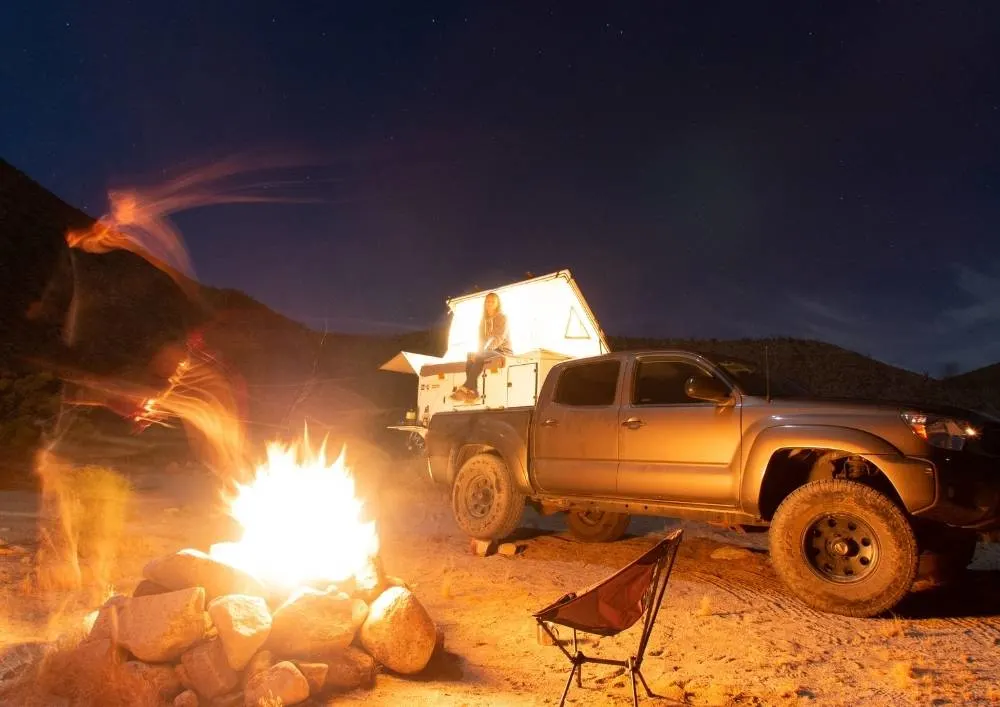 Abu Dhabi has plenty to offer in terms of camping, some of which is free to the public. You may think you can only camp in the desert, however included in this article are lakes and beach camping spots too!
Seeing the twinkling stars in the pitch darkness of the night sky and roasting marshmallows over the campfire is the best thing about camping in Abu Dhabi.
The perfect time to go camping or glamping is from the beginning of November to Mid-March.
Desert Camping Abu Dhabi
A crackling bonfire, a flaming grill, a small gathering of family or friends and a starry night. Camping in the middle of the desert is one of the best experiences money can't buy.
Here are the best places for go camping in Abu Dhabi. At the bottom of the article, you will find a helpful map to help locate each destination!
The Empty Quarter
When it comes to camping in Abu Dhabi, The Empty Quarter is the first choice for many campers.
Stretching over 650,000 square kilometres, bordering UAE, Saudi Arabia and Oman, it is the perfect spot for camping in the wilderness surrounded by untouched sand and enormous dunes.
While camping in the area, one thing to keep in mind is your phone network the signal may be weak being surrounded with barren desert.
Camels can be seen often and possibly Gazelles or foxes which are more rare but there is still a chance!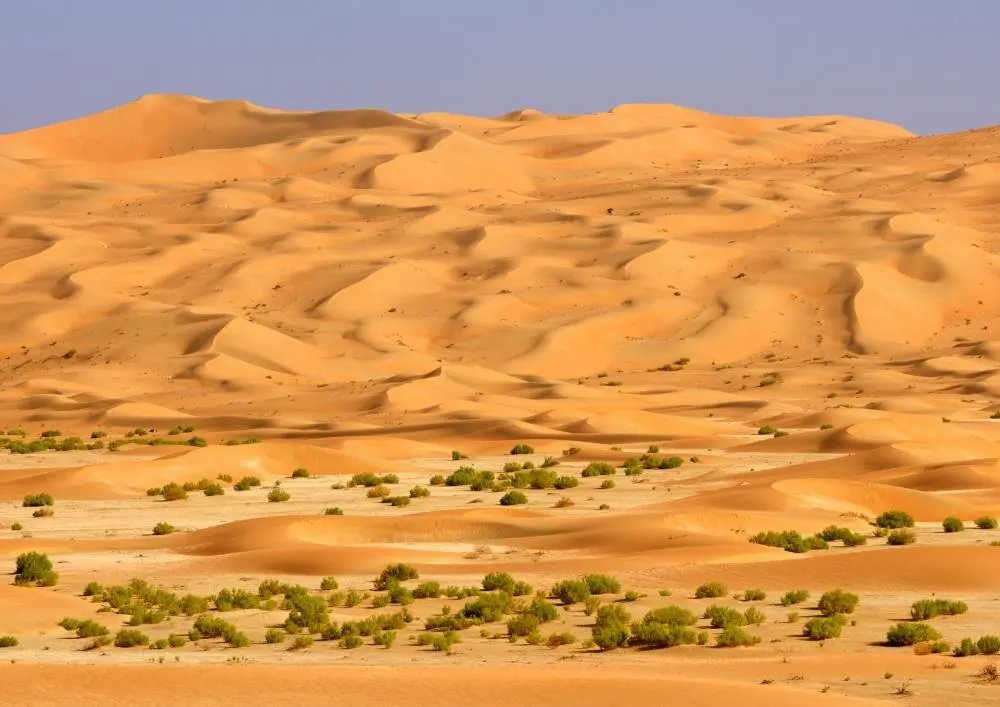 There are tons of spots which are marked as safe for free camping. The Empty Quarter has two kinds of camping experiences.
You can either camp at Liwa Oasis and the surrounding area. Or, stay at one luxurious desert resort, Qasr Al Sarab Desert Resort by Anantara, Tilal Liwa and The Arabian Nights Village, each defining camping by their own standards.
If you do head to Liwa Oasis and fancy taking on some crazy dunes, check out these incredible desert driving courses.
1. Liwa Oasis
Liwa is home to the largest oasis in the Western region of Abu Dhabi. It's known for the fresh underground source of water that helps the Palm trees and other vegetation in the region.
This spot is perfect to set camp for the night to watch the sunset. Get the bonfire and grill going, get your tunes on.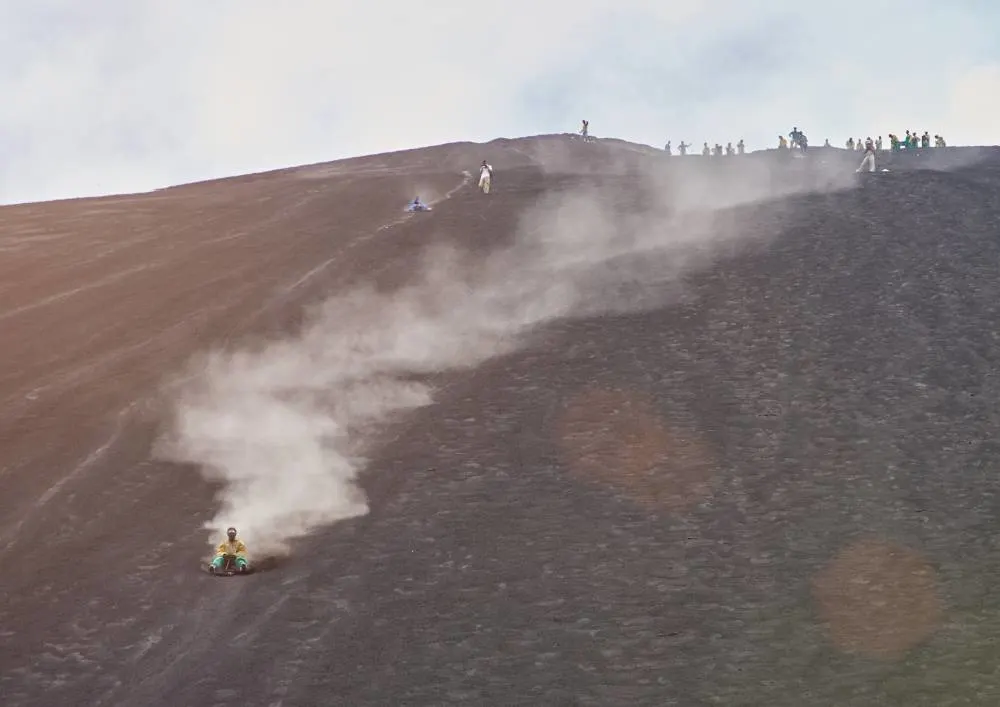 Wake up at the crack of dawn to witness the sunrise and watch it light slowly spread across the golden-reddish sands.
If you are an adventure-seeking enthusiast, you can ride a sandboard over the steep dunes or dune bash after breakfast. The desert gets cool at night so make sure to pack some layers!
2. Al Khaznah Camping Site
Al Khaznah is an excellent one of the free camping sites in Abu Dhabi to experience the wilderness.
With breathtaking dunes stretching between Abu Dhabi and Al Ain, this spot is ideal for off-roading adventures amidst towering dunes and deep-dish sand valleys.
Camping in Abu Dhabi, Al Khaznah area also has an option to stay at the overnight safari campsite with amenities to freshen up.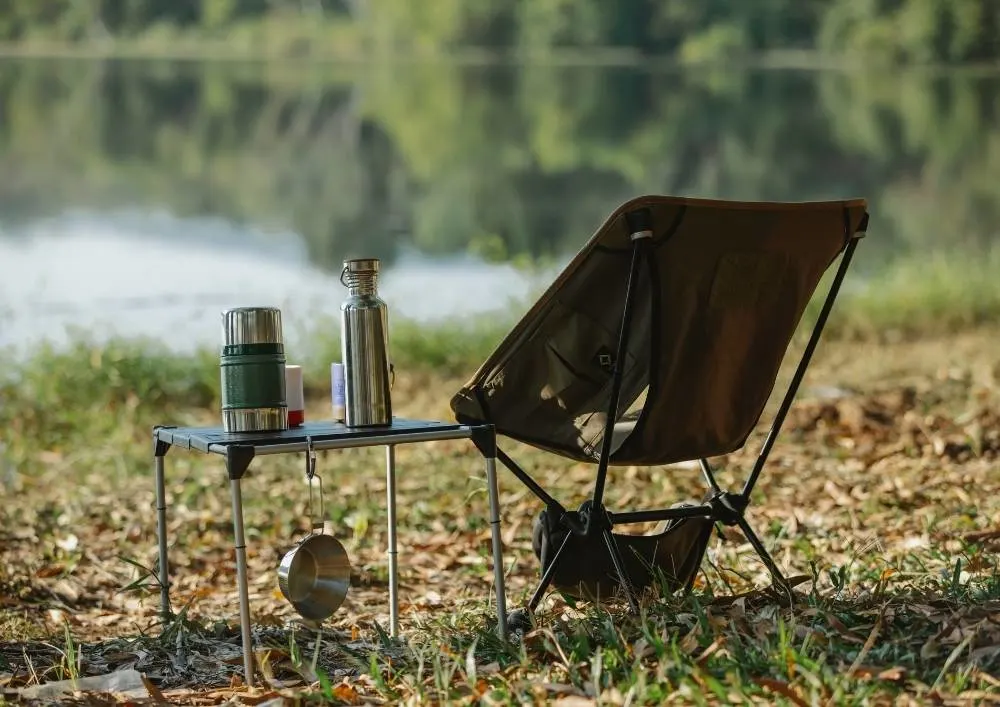 Whether you plan to stay at the official campsite or not, you can experience dune bashing, quad biking, sand boarding and a visit to the camel farm at an additional cost.
Al Khazna has so much to offer! Besides an oasis and camping, enjoy the surrounding desert landscapes and epic sunsets.
Location: Al Khazna, Abu Dhabi
3. Al Wathba Lake Camp
Al Wathba Lake Camp is just a 45-minute drive from Abu Dhabi's city centre. The picturesque lake nestled within a desert landscape, makes it one of the best places to camp in the region.
This particular camping place in Abu Dhabi also has a dedicated cycling pathway to navigate through the immense landscape.
A total of 13 camping sites are available at Al Wathba Lake Camp free of charge. Some of the amenities offered to the public are cafes, food trucks, washrooms, a running track around the lake, a 1.2 km cycle track, two volleyball courts, 7 playgrounds and a massive gathering space.
Whilst in the area, the fossil dunes, Al Wathba Salt Lake as well as the nature reserve are all worth checking out.
Location: Al Wathba, Abu Dhabi
4. Al Dhafra Beach Abu Dhabi Camping Beach
Al Dhafra Beach camping Abu Dhabi is one of the most interesting camping sites the Emirate has to offer.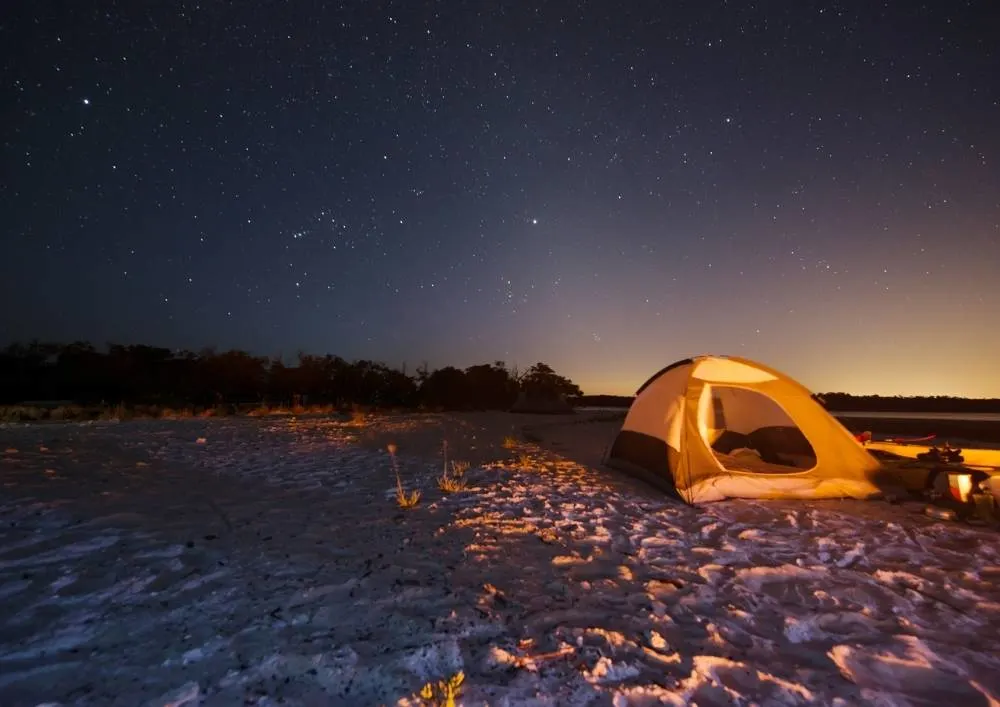 The site has both beach and desert providing the best of both worlds. Camping is the desert can be diffiuclt, however with the ocean available to take a dip, it's a lovely way to cool off whilst experiencing the natural landscape of the UAE.
Location: Western Region, Off E11 Highway, Abu Dhabi
5. Mirfa Beach
Another excellent coastal spot is Al Mirfa Beach in Abu Dhabi. Alot of residents will be familiar with the beach, however, many may not know it is also a great camping spot. It's tucked away roughly 90 minutes away from the city of Abu Dhabi.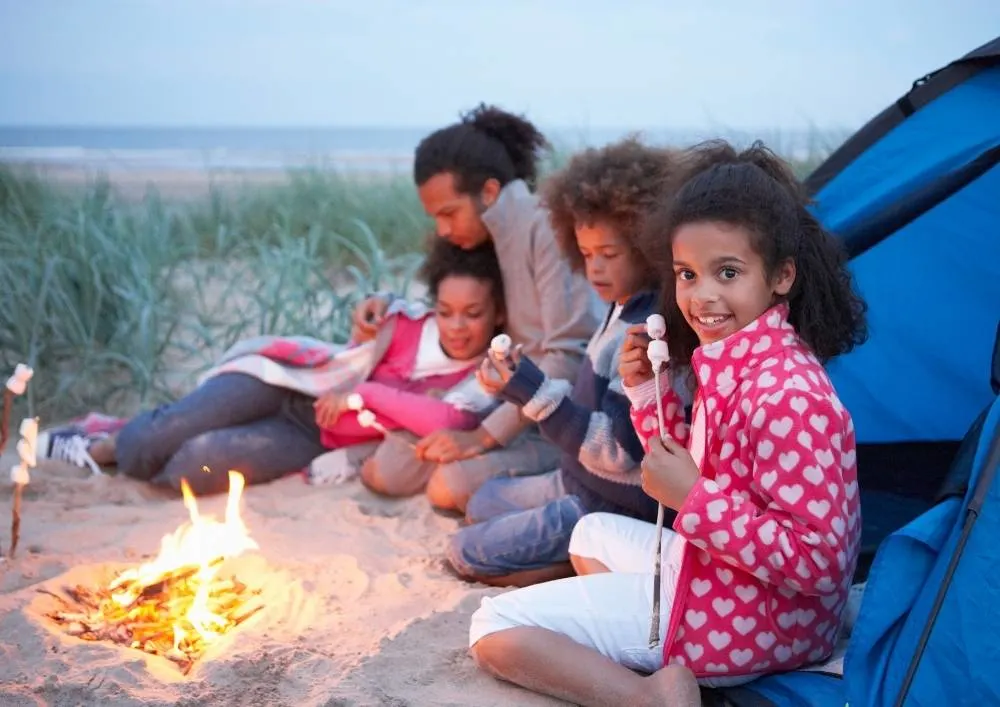 Although Mirfa Beach has facilities you need to bring all the camping essentials. Before you set up camp for the night, take a stroll on the beach where you can participate in some of the adventure sports Mirfa Beach offers.
Location: Off E11 Highway, Al Mirfa, Abu Dhabi
6. Al Razeen Desert
If you are okay with staying in an isolated spot away, Al Razeen Desert Campsite is the perfect spot.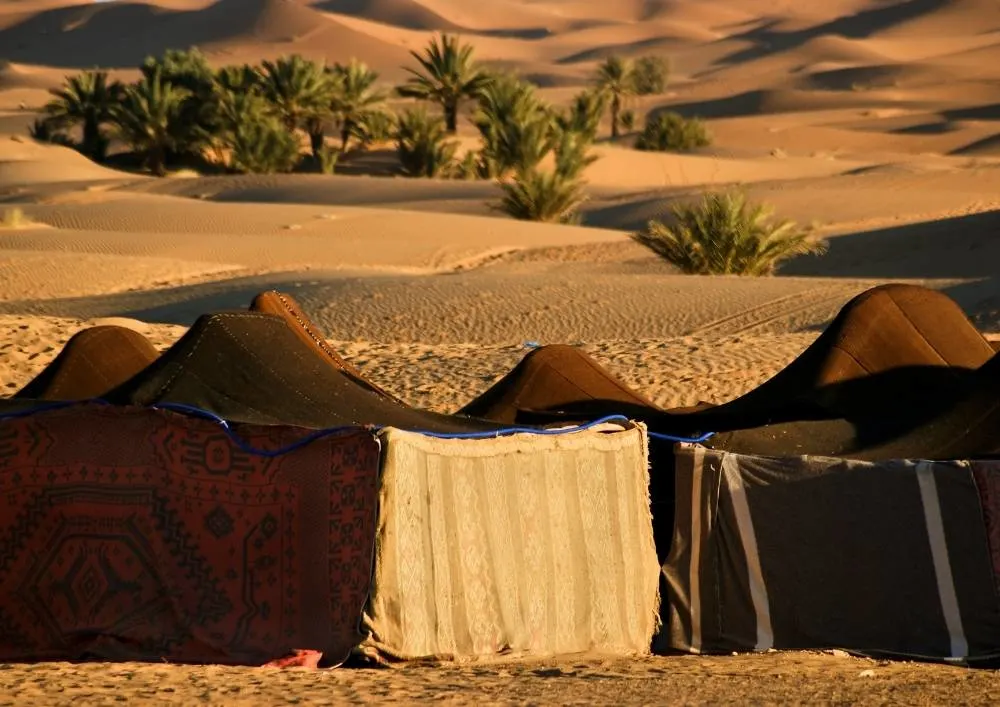 Set up camp and spend a night with friends play a few camping games, flip some burgers, roast marshmallows and sing along while dinner is being prepared on the grill.
Location: Al Razeen, Al Ain Road, Abu Dhabi
7. Al Qua'a Desert
Al Qua'a Desert is also nicknamed the 'Milky Way Spot' a must-visit campsite in Abu Dhabi for those who like to take photos of the night sky.
Located about 90 minutes from the heart of the city, the view of the night sky from this camping spot is simply unreal. The milky way galaxy is visible on a clear night!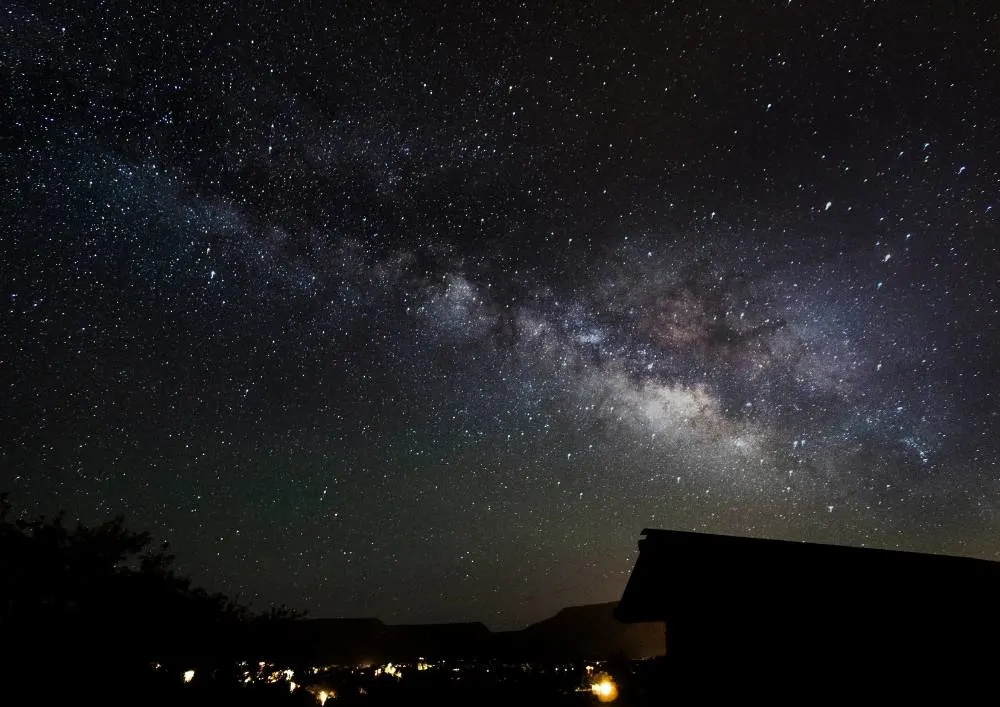 If it is a full moon it may be difficult to see the stars. Darkness is key if you would want to see stunning views of the milky way galaxy.
Location: Al Qua'a, Al Ain Road, Off E11, Abu Dhabi
Glamping Abu Dhabi
8. Bab Al Nojoum – Hudayriyat Island
Bab Al Najoum resort is located on a beautiful beach at the Hudayriyat Islands' Leisure and Entertainment District. Their range of luxury and eco-friendly tents, beachside camping and campers are perfect!
There are 17 plots available with canvas tents, showers on the beach, communal bathrooms and plenty of free parking.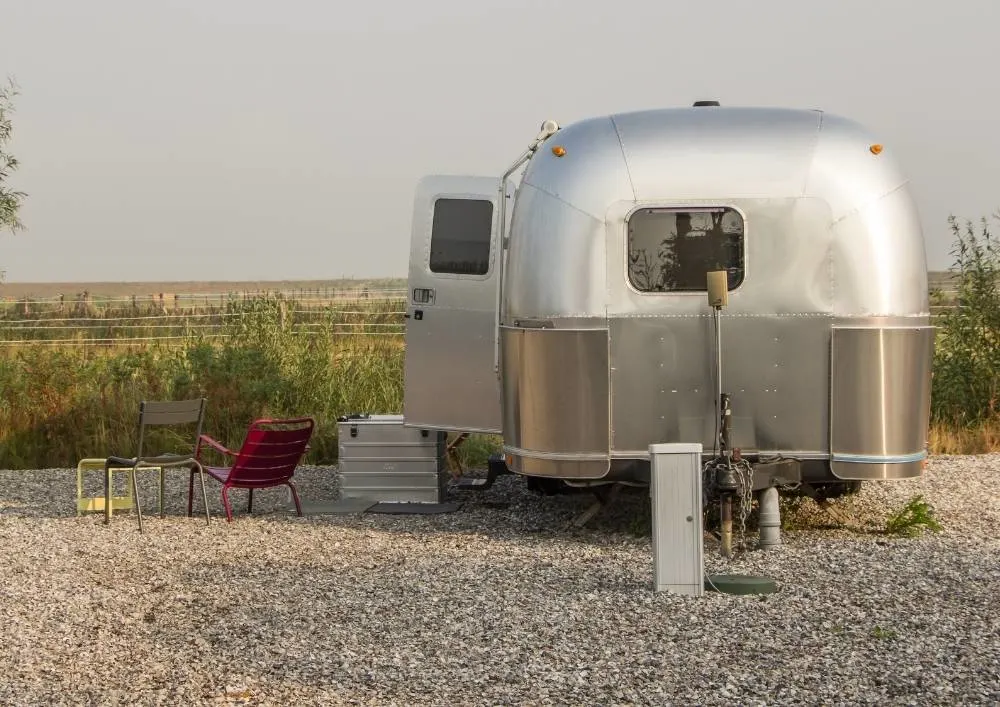 Guests who opt for the modern duplex tents or the lodge-style chalet tents can enjoy a private plunge pool. Each tent is equipped with a mini-kitchen, a private bathroom, comfortable beds, air conditioning and wireless internet access.
For a unique glamping in Abu Dhabi experience, you can opt to spend the night in one of their three available vintage camper vans that come with air conditioning a proper bed and Wi-Fi.
Taking Glamping to the next level, Bab Al Nojoum knows how to keep guests of all ages entertained with their on site barbecue stations, an outdoor cinema, a kids' play area, a bonfire and water sport activities.
Location: Hudayriyat Island, Abu Dhabi
9. Bab Al Nojoum – Al Mugheirah Resort
Located in Abu Dhabi, the Mugheirah Resort is an eco-tourism destination surrounded by green canopies and soothing sounds of a natural forest.
They have plenty of activities for guests, which include hiking, mountain biking, fishing, snorkelling and so much more.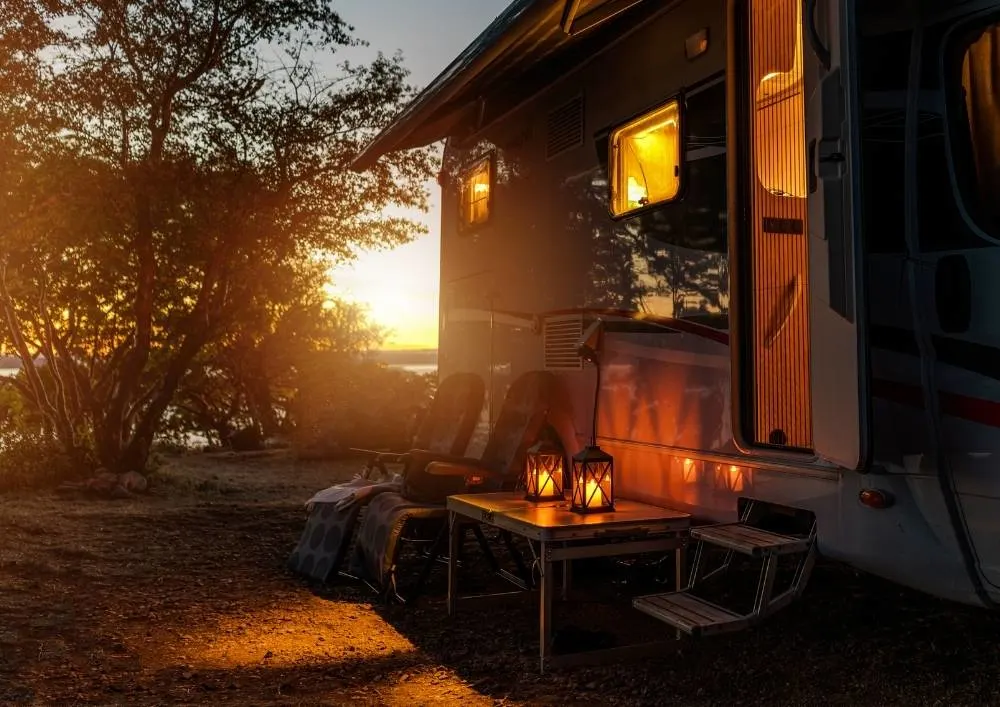 At this glamping location, guests can choose from three kinds of housing to spend the day or stay the night.
A one-bedroom cabin
A two-bedroom cabin
RV Campers
Location: Qassar Al Mighayra St, Al Mirfa, Abu Dhabi
10. Jebel Hafit Desert Park
Located in Al Ain, at the foot of the Jabel Hafit Mountain, the desert park has an array of camping styles scattered in different areas of the park, offering different perspective of similar views.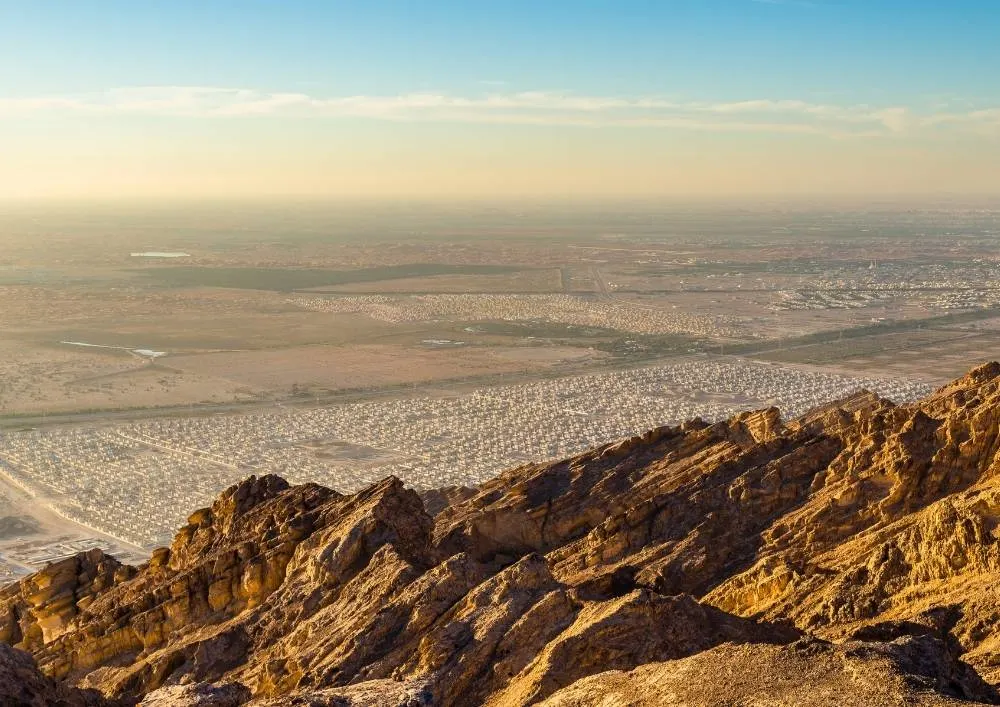 Depending on preference, guests can choose from three kinds of family-friendly camping experiences:
On the open camping grounds there are pitches with a fire pit. Guest need to bring everything else.
There are also Bedouin Tents accomodating 4 to 6 guests depending on the size of tent.
Bubble Dome tent, this is different kind of glamping experience, where you can see the stars at night.
Apart from camping, there are also plenty of activities for kids and grownups such as hiking, horse riding, mountain biking, archery and plenty more.
Whilst in the area, drive up Jabel Hafeet to check out the views from the second highest mountain peak in UAE.
Location: Al Ain
11. Green Mubazzarah Chalets
Green Mubazzarah Chalets are right at the foot of the Al Ain mountains and offer guests a peaceful retreat. The lush landscape at the foot of Jebel Hafit showcases the rich natural resources of Al Ain.
The popular picnic location is packed with families, adventurers trekking up the mountain and campers spending the night in tents at the base.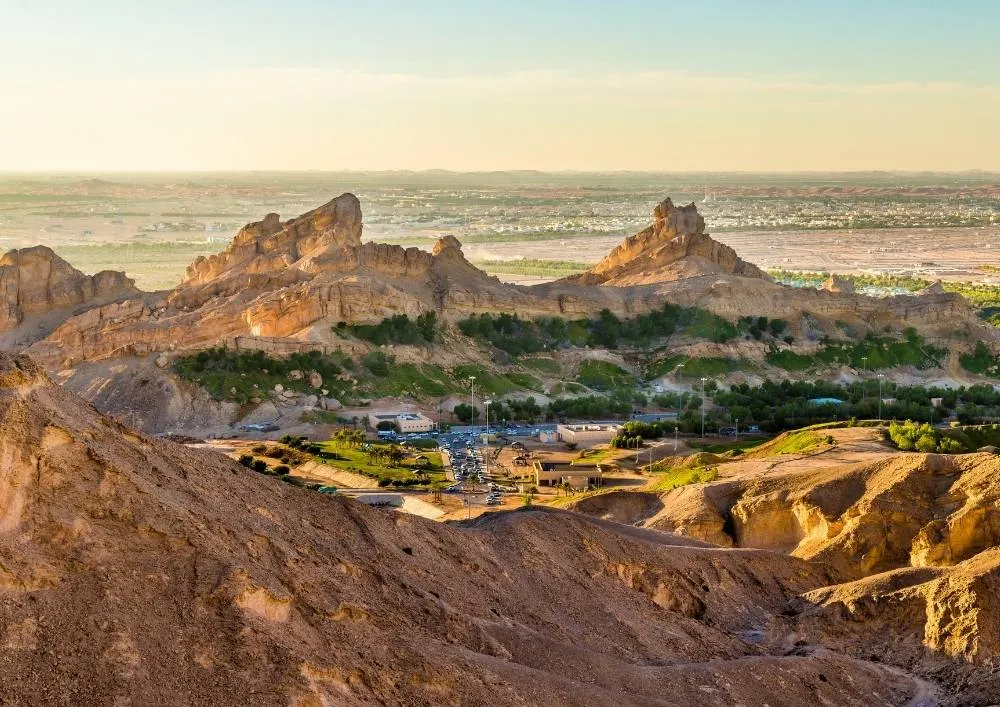 There are plenty of activities at the Green Mubazzarah. From mini trains to natural hot water springs. Not to mention a man-made lake and grassy hill sides.
Location: Al Ain
12. Nujum Camp At Qasr Al Sarab Desert Resort by Anantara
Based in Liwa is Abu Dhabi's Nujum Camp. it is the ultimate choice for immersive Bedouin desert camping. The camping experience is a part of Anantara's Qasr Al Sarab Desert Resort.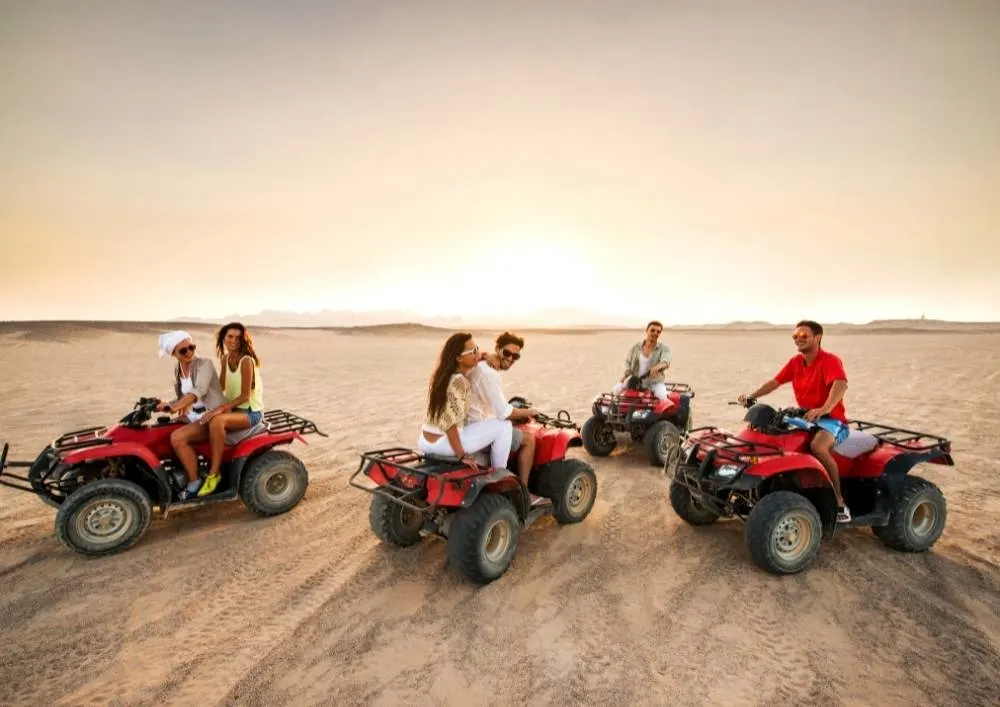 They have a deal which involves 2 days of camping in Bedouin-style tents along with an exciting itinerary.
Aside from camel rides and treks into the sunset, there is also desert driving and sand boarding.
Check out more information on deals at Qasr Al Sarab Desert Resort by Anantara, Abu Dhabi
Location : The Empty Quarters, near Liwa, Abu Dhabi, United Arab Emirates
13. Tilal Liwa
Tilal Liwa is a secluded desert hideaway, located in the Liwa Desert. At 118 kilometres away from Abu Dhabi city, It's still a part of the Emirate.
As a more traditional hotel, Tilal Liwa offers guests an extensive range of activities including camel riding, sand dune driving and quad biking. Not to mention unique accommodation, dining, spa and wellness facilities.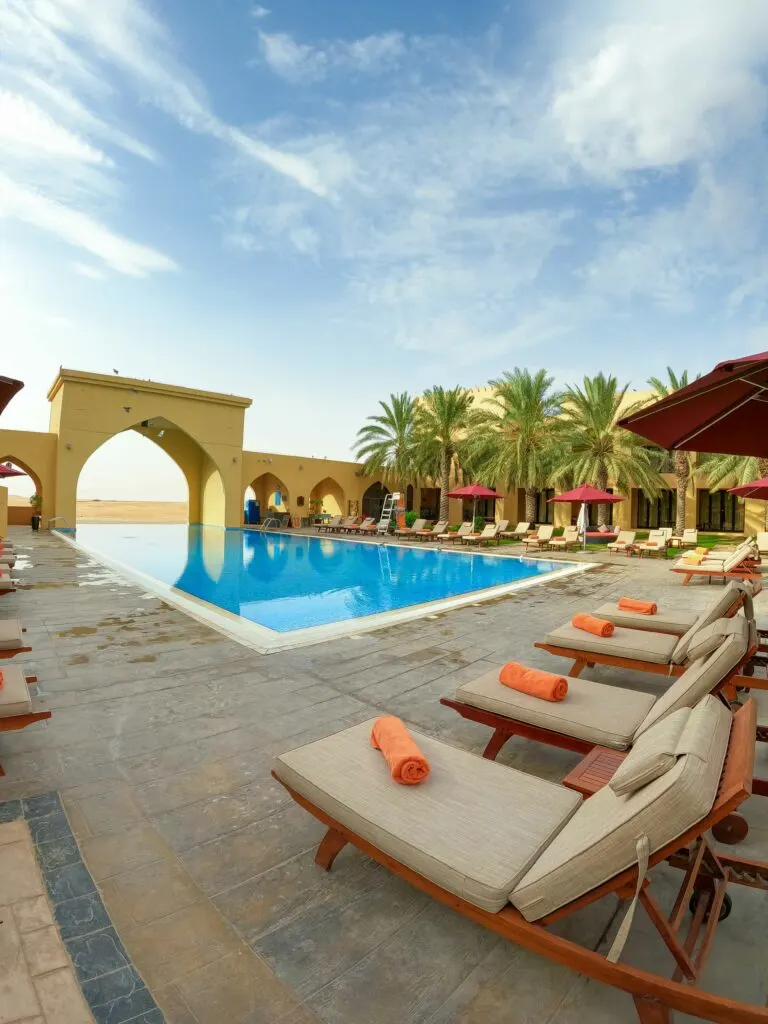 You can visit the Moreeb sand dune, standing at 300 meters tall, making it the tallest in the world. The award-winning desert hotel in Abu Dhabi is the perfect place to relax and explore the area.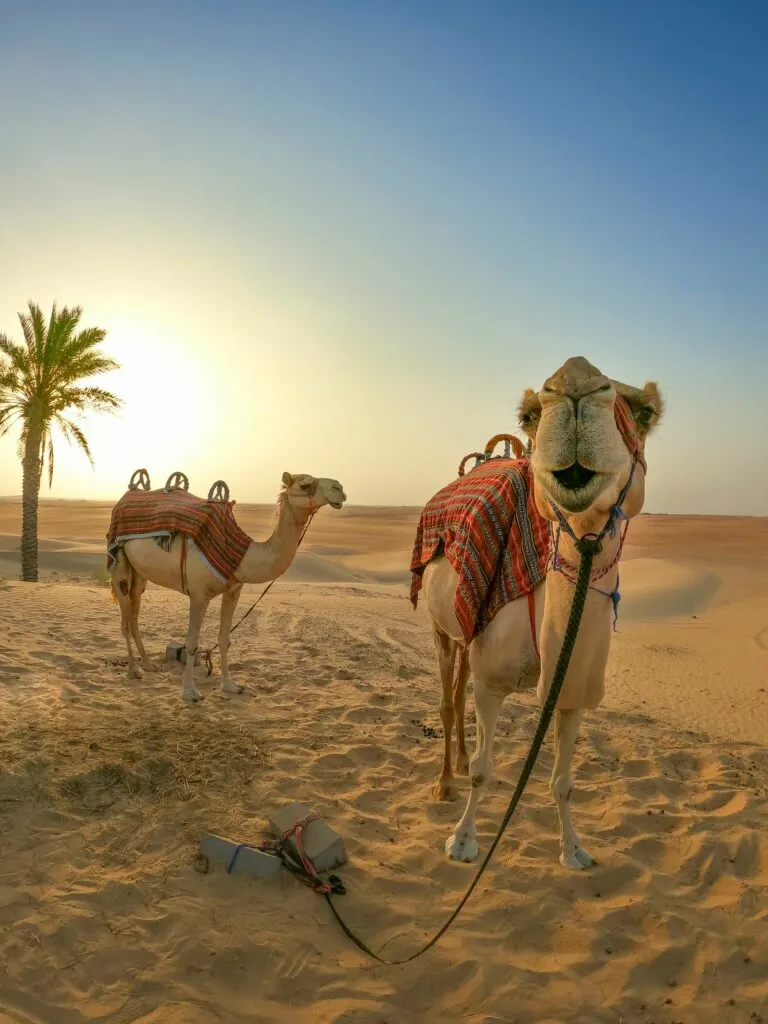 For latest offers at Tilal Liwa Hotel, Abu Dhabi
Location: The Empty Quarters, Madinat Zayed, Zayed City, Abu Dhabi, United Arab Emirates
14. Arabian Nights Village Abu Dhabi
An oasis of verdant palms and imposing dunes surrounds the Arabian Nights Village, located 126 kilometres and a 90-minute drive from Abu Dhabi.
The Arabian Nights Village is a Bedouin-styled village and one of Abu Dhabi's best desert hotels.
Choose from Bedouin-inspired rooms, suites and tents come complete with colourful carpets, cushions and blankets for a comfortable luxurious camping in Abu Dhabi feel.
The hotel is undoubtedly one of the best places to relax and unwind. Children below the age of 7 stay for free.
Guests can take a breathtaking dawn camel trek for an additional fee, the hotel can also arrange dune bashing and quad biking.
Book your stay at Arabian Nights Village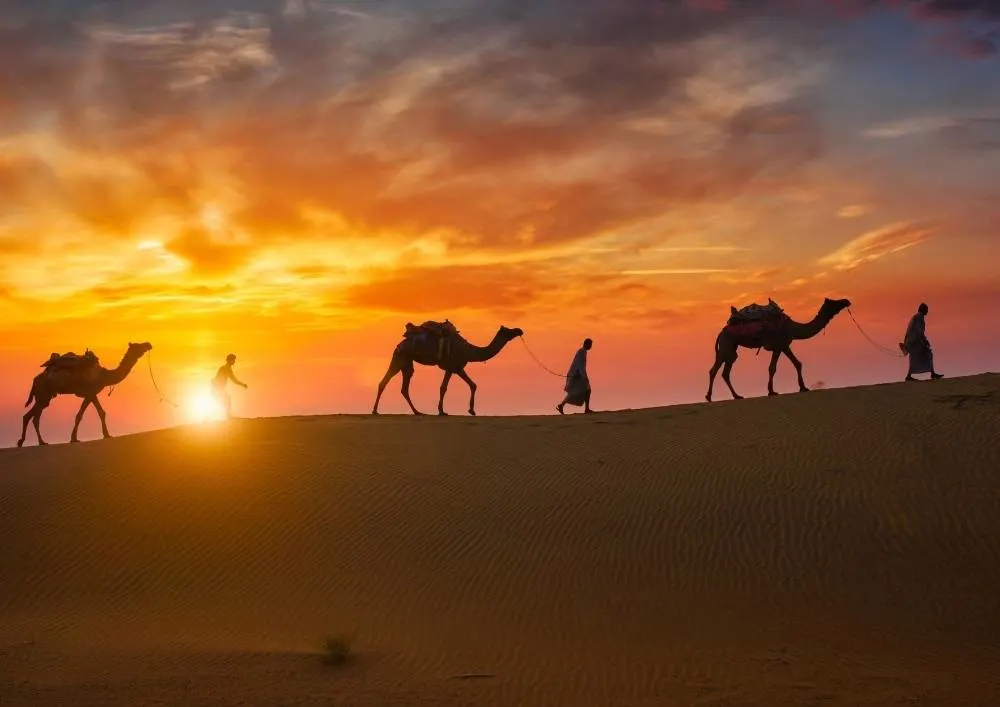 For a nomadic camping experience, it's possible to set camp around The Arabian Nights Village itself. Just bring all your essentials and set up camp!
Location : The Empty Quarters, Razeen area of Al Khatim, Abu Dhabi, United Arab Emirates
Map For Camping In Abu Dhabi Sites
Best Time For Desert Camping In Abu Dhabi
The weather in the United Arab Emirates is hot and humid for most of the year. Winter is the perfect time to go hiking, mountain biking, kayaking and desert camping. The best time to go camping in the UAE is from the beginning of November to Mid-March.
The tourism season kicks off around October or November when there are lots of events such as F1. December is equally as busy with events, in particular National Day.
Therefore, escaping to the wilderness is perfect activity in November and December.
January and February are the coolest quieter months after New Year. In March and April, the weather is still pleasant to camp.
The hotter summer months start in May when most events move inside. It is a good month to visitfor those who enjoy the arts, however it is too hot to camp.
Whilst June through July and August attract budget travellers as many resorts and attractions offer great deals, again too hot to camp.
September is considered a shoulder month, it is still quite hot but tolerable early morning and in the evenings.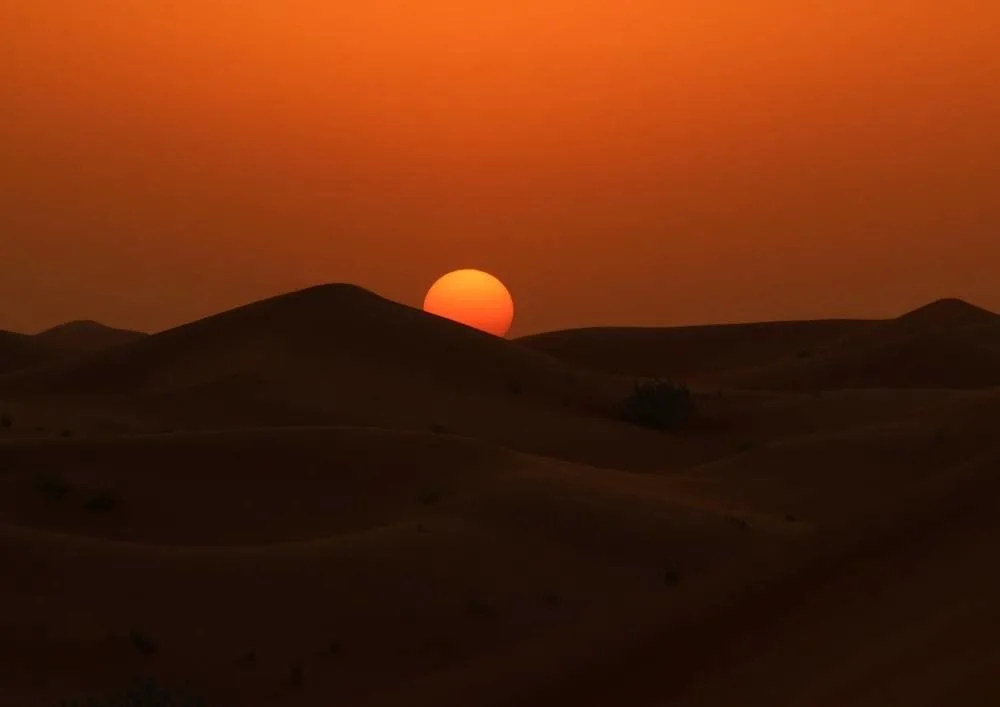 Basic Planning For Camping In Abu Dhabi
It's a good idea to go camping with friends who have experience camping in the desert if it's your first time. No matter what your level of experience may be, make sure to always go as a part of a bigger group, especially if you plan to camp deep in the desert.
Make sure everyone sticks to the location planned to camp and confirm the route before. You can easily get lost in the desert if you don't know where you are going.
Before you set out for the desert, make sure your friends or family know where you are going.
Pick a safe location away from river beds which are prone to flooding with no warnings and areas prone to falling rocks.
It is a good idea to service or check your 4×4 to avoid breakdowns. The tyres of your vehicle should also be deflated before venturing out onto the dunes.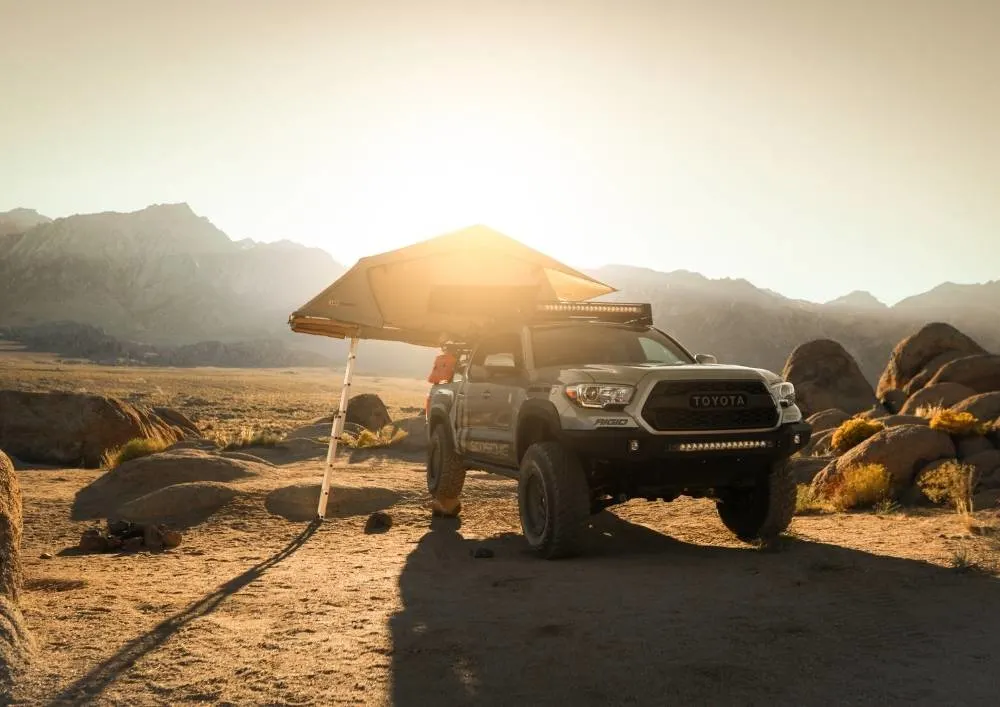 Packing For Camping In Abu Dhabi
During the day, the desert is hot and dry, but at night the temperature can drop drastically, so be sure to pack clothing for both climates along with a sleeping bag.
Protect yourself from the sun during the day by wearing sunscreens, appropriate clothing, eyewear, a ha, and attachable awnings for the car that can provide shade from the sun.
You should pack a working tyre pump so you can re-inflate, shovels and a tow rope in case you get stuck in the sand, as well as petrol in a jerrycan.
In the event of an emergency, a first aid kit is a must, and it can be used to treat insect bites, grazes, and minor burns. Check your first aid kit to make sure it is fully stocked.
Dehydration is one of the biggest worries when staying out in the desert. Bring plenty of water. You should carry at least 15 litres of water per day you plan to stay out in the desert, with 5 litres being drinking water. Make sure you have a portable cooler to keep food and beverages cool.
You will need a tent with proper fastenings, a phone charging cable to use in your car, flashlights and some firewood.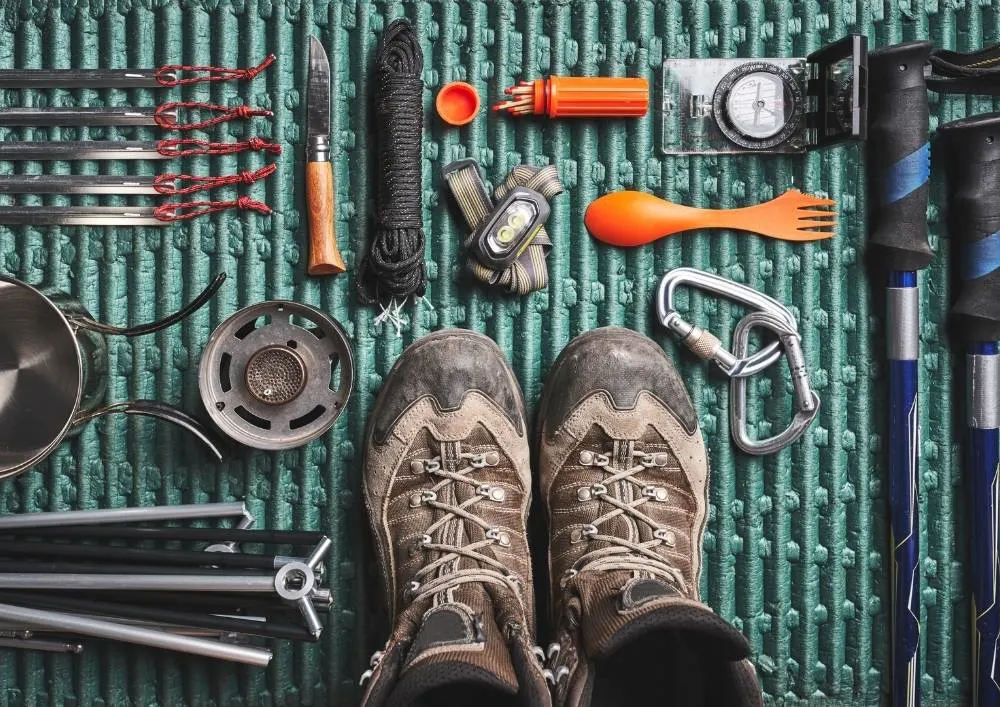 Basic Camping Rules
It is advisable to set up camp on a flat area.
Fire should be set up away from tents paying attention to the direction of the wind. The smaller the fire, the easier it is to control.
Desert creatures are diverse, most will not harm you unless they feel threatened or provoked.
Always wear shoes around the campsite, shake them out every morning just to be sure nothing has crawled inside.
If you are sleeping in a tent, make sure it is fully closed at night.
Keep your camp well-lit at night.
Before you head back to the city, make sure to keep the site clean for future users.
Quick Checklist For Camping In Abu Dhabi
Tents are one of the first things you need to pack for a camping trip.
Food and water to last the trip.
Flashlights to guide you in the dark and if you need to look around for tidbits.
Chopped logs of wood for a fire.
Camping stove, charcoal and fuel for cooking.
Utensils such as plates, forks, spoons and tongs.
Sleeping bags and pillows.
First aid kit.
Garbage bags.
Toiletries and a change of fresh clothes.
Solar shower to freshen up.
Where Is The Best Place To Buy Camping Gear And Equipment?
The amount of camping equipment you carry with you on your trip mostly varies based on factors such as the terrain, the weather and the length of stay. However the basic requirements remains the same.
In Abu Dhabi, there are plenty of individual stores, hypermarkets and shopping malls that will cater you by selling durable camping equipment.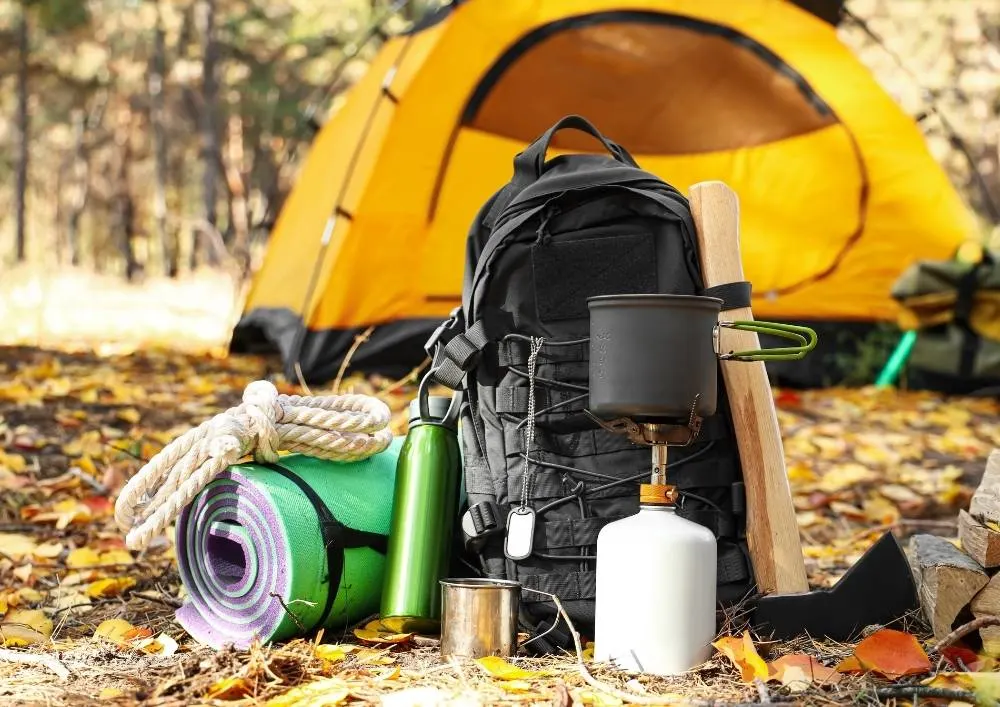 Adventure HQ
Adventure HQ at Dalma Mall has possibly every single camping equipment will need. From steel skewers to shovels and tents. It's a one stop shop for all camping needs.
Location: Adventure HQ, Dalma Mall – Abu Dhabi Industrial City – ICAD I – Abu Dhabi
Downtown Safari Camping Equipment
Downtown Safari Camping Equipment have ssentials like fuel starters, towing ropes, charcoal, firewood and pretty much anything else you may need to camp.
Location: CH2G+7C3 – Al Yas Al 'Ali St – Khalifa City – SE-6 – Abu Dhabi
Decathlon
Decathlon has good quality camping equipment with display in store during season. This is more of a sport store than a specifc camping shop.
Location: 2nd floor, main entrance , The Galleria Extension – Abu Dhabi
ACE Hardware
Ace Hardware not only sells tools and furniture for commercial use, but also have every other hardcore camping equipment you can imagine.
4×4 tyre inflators, shovels, trash bags, ropes, pegs to hold your tent steady including fire extinguishers which are deemed essential while camping especially for longer durations at a time.
Location: Yas Island – Abu Dhabi
ADNOC Service Stations
Serivce stations are perfect to pick up basic necessities like chopped firewood, phone charging cables to use in your car, drinking water, bags of ice and snacks to munch for the drive.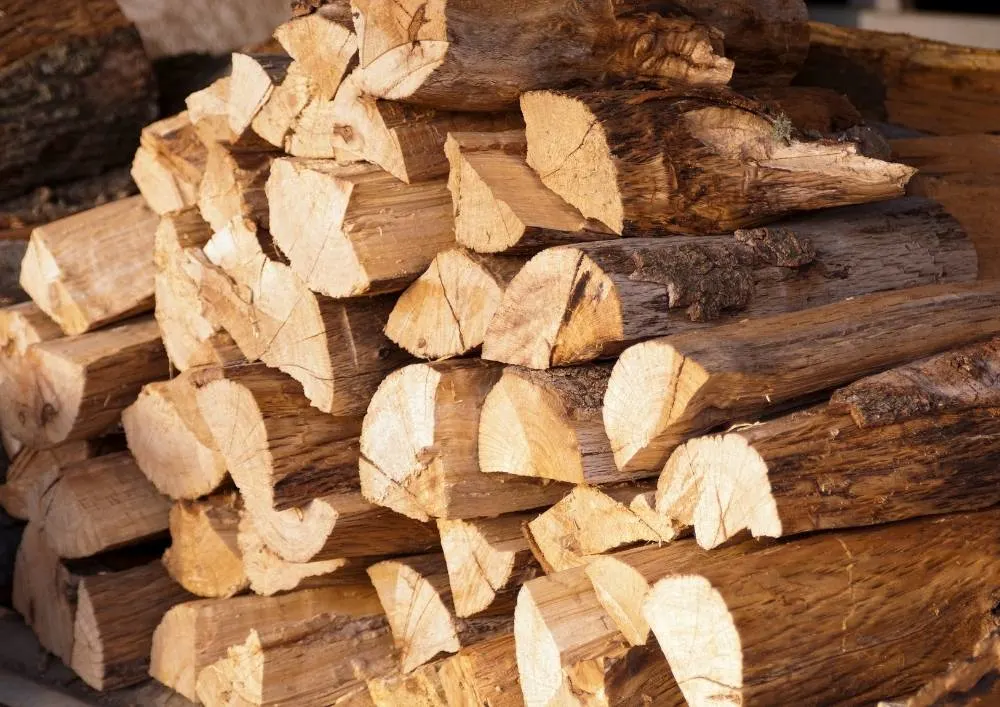 Camping In Abu Dhabi Frequently Asked Questions
Is Abu Dhabi a camping friendly city?
There is no prohibition on camping in Abu Dhabi. Before setting up camp, make sure you have a backup charger for your phone and let your family and friends know where you are, especially if you are going off grid.
Does camping in the UAE pose any dangers?
Camping is safe and allowed in various deserts in the United Arab Emirates.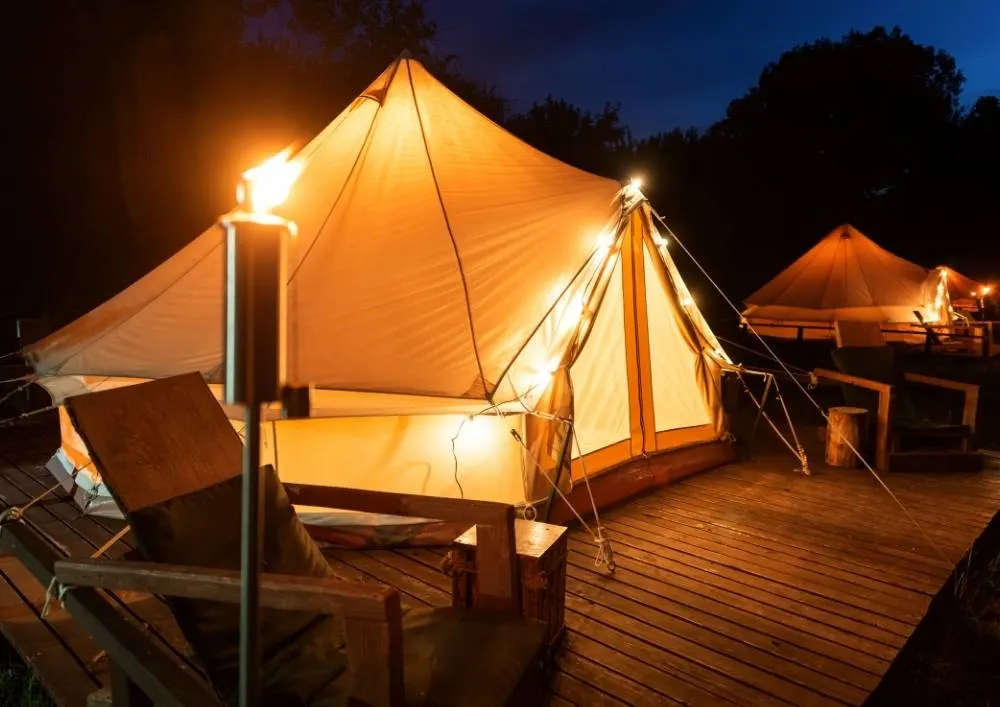 What Is Glamping?
In contrast to traditional camping, glamping involves amenities and accommodations that are more comfortable. Enjoy the freedom and closeness to nature without the hassle of setting up camp.
Are Camping Permits Available In The UAE?
Yes, camping permits are available in the UAE. If you plan to stay overnight, a permit may not be necessary, however, if you do plan to stay longer, a permit would be a mandate.
To Sum Up Camping In Abu Dhabi
Abu Dhabi is a fantastic travel destination and camping in Abu Dhabi is something you must experience at least once in your life.
If you are not a huge fan of camping, there are plenty of amazing desert resorts located in Abu Dhabi amidst the dune to experience nature.
From its beaches, parks, museums and shopping centres, there's no shortage of things to do in Abu Dhabi.
We hope this article has given you some ideas on which desert camping site to pick whether you are a resident or just visiting Abu Dhabi.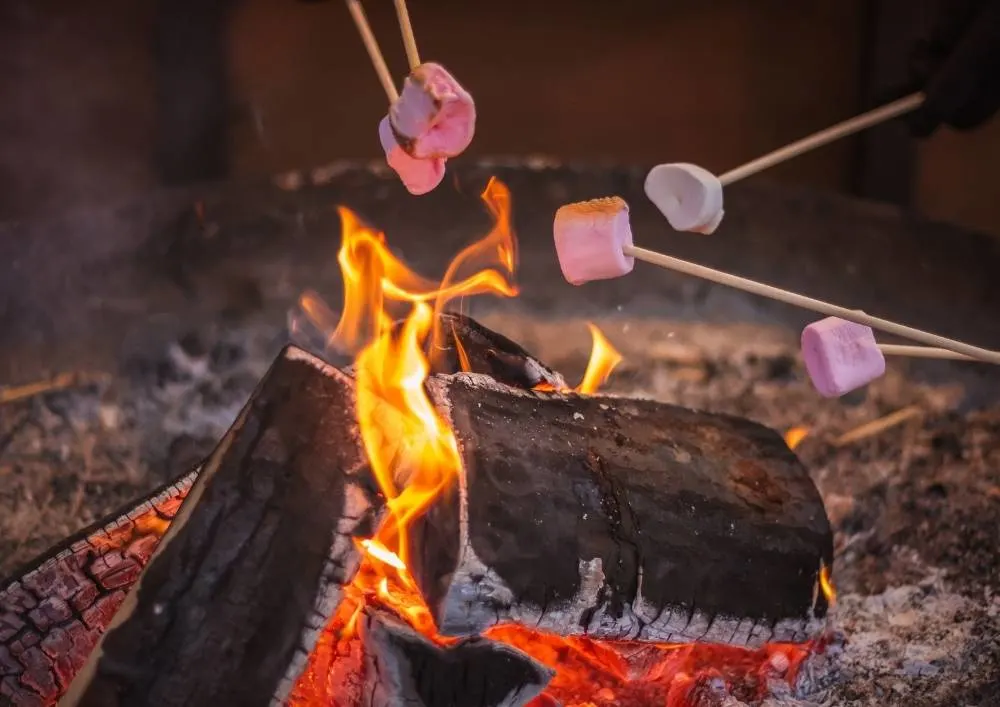 If you have reached this far, we appreciate you taking the time to read about glamping and camping in Abu Dhabi, if you have already visited any one of these places we would love to hear about your experiences.
Do you know of any other secret camping sites around in Abu Dhabi that we may have missed? Do let us know.
You may also like:
10+ Festive Places To Celebrate Christmas In Abu Dhabi
Top Places To Buy Christmas Trees In Abu Dhabi
New Years Eve Celebrations In Abu Dhabi
Disclaimer: This post may contain affiliate links, by using them it will not cost you any extra, we will receive a small proportion of the sale to keep us writing!