If you are looking for some of the best things to do in Abu Dhabi, we've got you covered! The capital of the United Arab Emirates is full of activities and attractions to keep all types of interests entertained.
Below is a guide to some of the best activities this exciting city has to offer.
If you are visiting for a few days, check out our 4 days in Abu Dhabi itinerary!
Abu Dhabi Things To Do For Free
Although Abu Dhabi is renowned for its luxurious hotels and towering skyscrapers, there are plenty of free things to do in Abu Dhabi which are well worth a look before spending any money.
From strolls along the waterfront to sand dunes in the desert, there is plenty to do for families and couples alike. Best of all, entry is free.
So whether visitors are travelling on a budget or simply looking to experience the best things to do in Abu Dhabi, be sure to add these free attractions to your itinerary.
Visit the Fossil dunes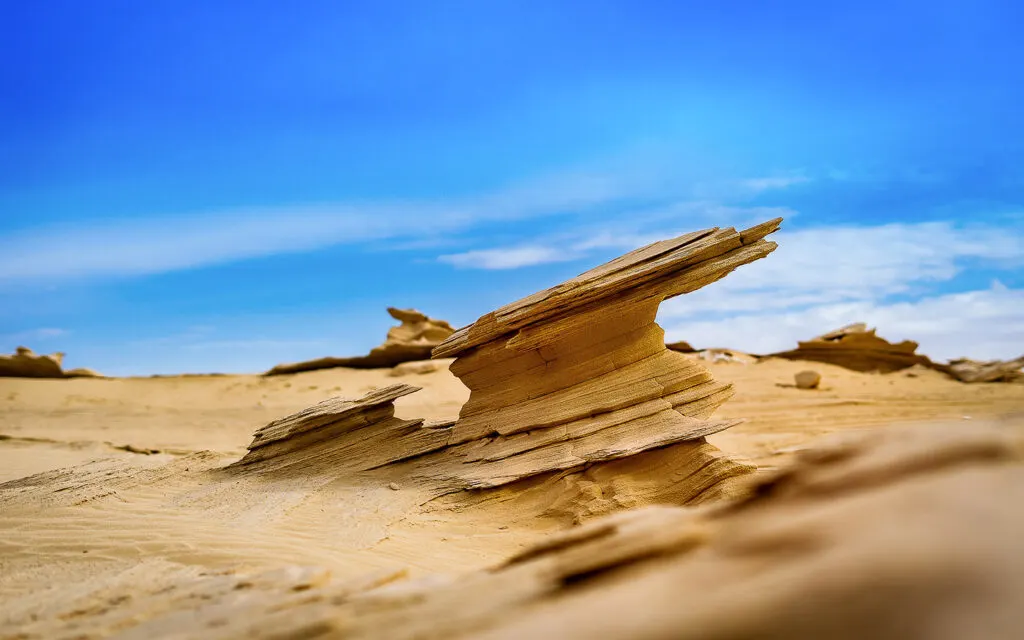 The Fossil Dunes are an experience like no other and one of the best free things to do in Abu Dhabi. Located approximately 70km south of Abu Dhabi beyond Musaffah and Mohammed Bin Zayed City along Al Ain Truck Road (E30).
These awe-inspiring natural structures are breathtaking and are a magical mix of natures natural elements.
Abu Dhabi's Fossil Dunes are a series of unique sculptures which are made up of encrusted sand deposits moulded by the wind over time.
The formations change over the course of their lives as they come into contact with calcium carbonate permeating through them until it hardens forming different abstract shapes every single day.
Access is by 4WD which is recommended for making it possible to park nearby. However, be aware visitors are not allowed to climb on them and should leave the area as they found it.
There are a number of paths guiding visitors through the fascinating fossils.
Best Time to Visit: October to February
Head to Long Salt Lake
For access to some of the most stunning scenery Abu Dhabi has to offer, consider taking a trip out into the Al Wathba region.
There are vast stretches for off-roading so four-wheel drive vehicles are again necessary here. Make sure to have all your necessities such as water, petrol etc before heading on your Al Wathba adventure!
There are actually two 'lakes', one on either side of the access road that leads you to this spot. As the lakes are revealed, the big emerald pools encapsulated with snow-white salt crust banks gives them an otherworldly feel. The surroundings easily feel like something straight out of Scandinavia or perhaps Mars.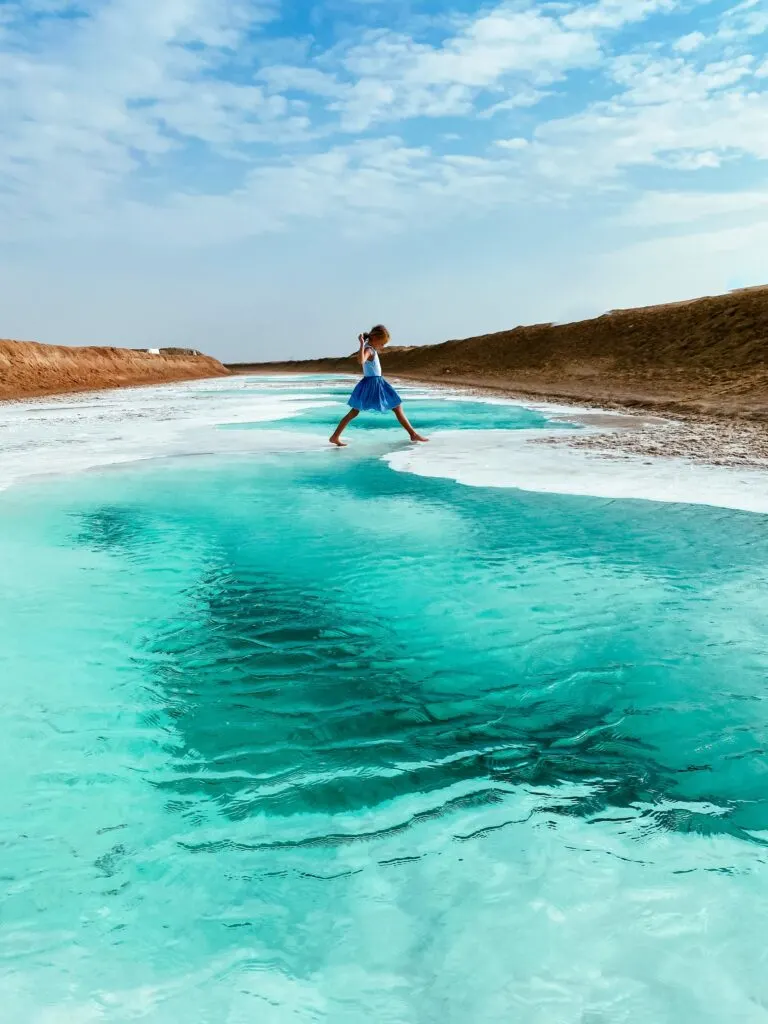 The high salt content of the ground underneath mixing with the hot climate and water deposits result in the salt flats or 'sabkha'. 
The mystery, however, lies in the large dense salt pad features often seen being used as stepping stones throughout the channel.
It takes a significant period of time for these sort of structures to develop through erosion and depositing, much longer in fact, than is possible in the time these man-made lakes were created.
Be sure to add this picturesque, mysterious location to your list of things to do in Abu Dhabi!
When visiting the Salt Lakes be mindful of the scenery and leave it how it was found so others can enjoy its beauty.
Check out our full guide to visiting the Salt Lakes in Abu Dhabi here.
Best Time to Visit: Any time of year at Sunrise
Explore Al Wathba Wetland Reserve
Once a coastal salt flat, Al Wathba wetland reserve has flourished into a mix of natural and man-made lakes that enable many of Abu Dhabi's species to thrive.
The reserve was the first place in the region to be protected by law.
The reserve houses more than 250 species of birds, 37 plant species and a wide range of sealife. 
What makes this one of the best places to visit in Abu Dhabi for free though, os the 4,000 flamingos that can be seen in the reserve during autumn and spring. 
Enjoy a stroll along the self-guided walking trails, admire the fauna and flora and experience some bird-watching.
The reserve allows visitors to reconnect with nature and catch rare sightings of the various species around the wetland.  
Best time to visit: September-November or March-May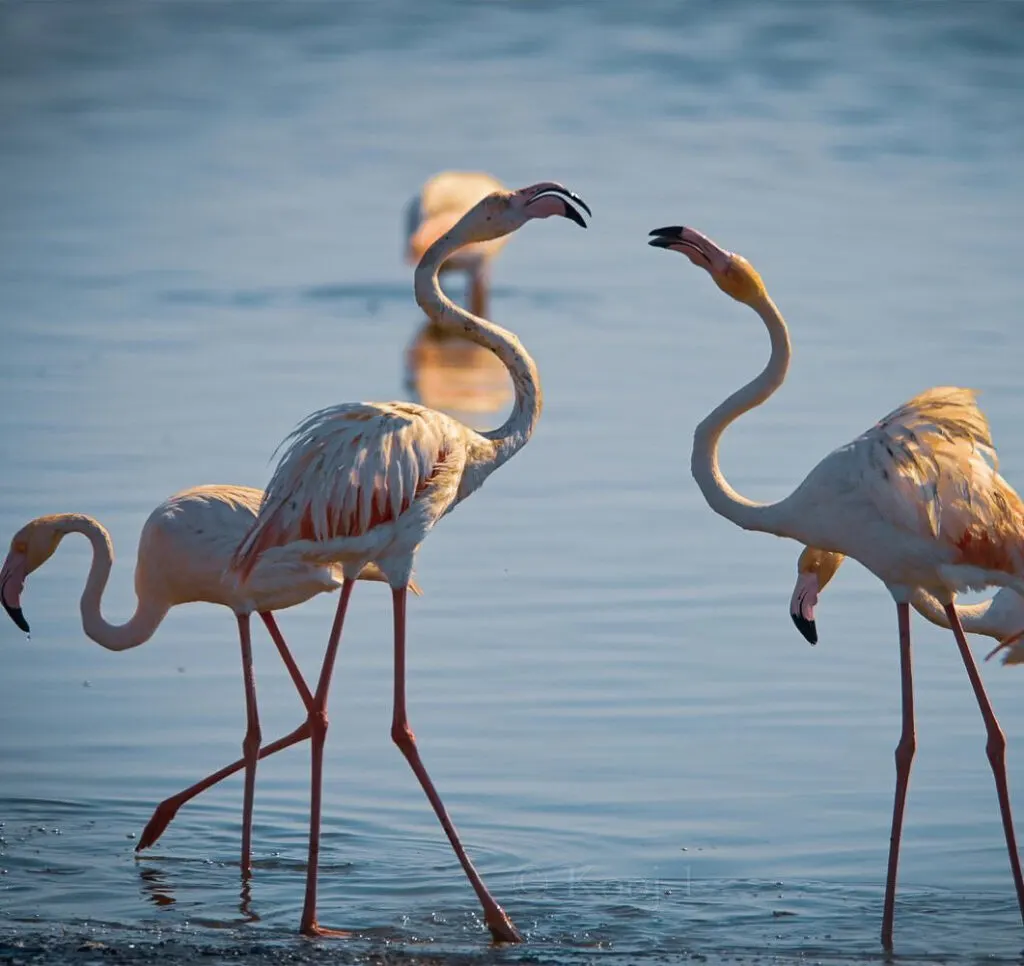 Al Ain Oasis
Find yourself lost in the desert beauty. The city of Al Ain isn't too far away and it provides an opportunity for visitors who want more than just sightseeing, there's plenty happening nearby with shops and many restaurants!
This oasis covers 1 million square meters (10 thousand acres), making up 90 minutes drive from Abu Dhabi City Center which makes the nation's capital easily accessible without having to cross any borders or passport control before getting around town.
Entry to the oasis is free, making it one of the best things to do in Abu Dhabi for anyone yearning to immerse themselves in nature.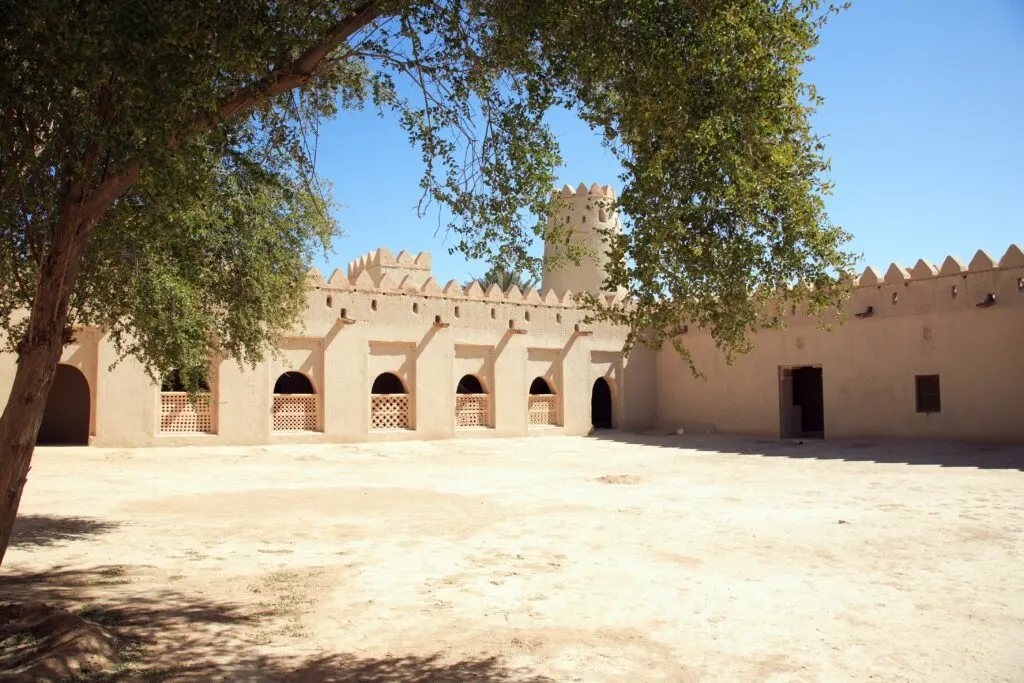 There are many pathways, most shaded by the canopy of trees growing fruit such as mangos, oranges and bananas.
Visitors can get up close with things such as a traditional falaj and the ancient irrigation system that is still in use today for the local grasslands, date palms and fruit trees. 
Visitors may also cycle around the oasis if they prefer.
The oasis houses an Eco-Centre where visitors can experience interactive exhibitions outlining how the falaj system works and how the ecosystem is being preserved. 
See Sheikh Zayed Grand Mosque
The Sheikh Zayed Grand Mosque is one of the most popular free places to visit in Abu Dhabi. It is one of the world's largest mosques and a must see in Abu Dhabi.
It is worth taking one of the official Abu Dhabi tours to soak up all the information about the mosque.
The Founding Founder of the UAE, also known as "the father" or 'Abdul' Aziz bin Sultan Al-Nahyan had this grand mosque built in order to create a cultural haven for everyone; no matter their background.
The magnificent edifice of Qutr al-Marah is a sight to behold. The 1,096 amethyst and jasper embedded columns, 82 white marble domes with reflective pools underneath them make for breathtaking photos!
In fact, a photo doesn't do justice to just how incredible these structures really are, so be sure to spend a good amount of time here especially at sunset when the colours are spectacular!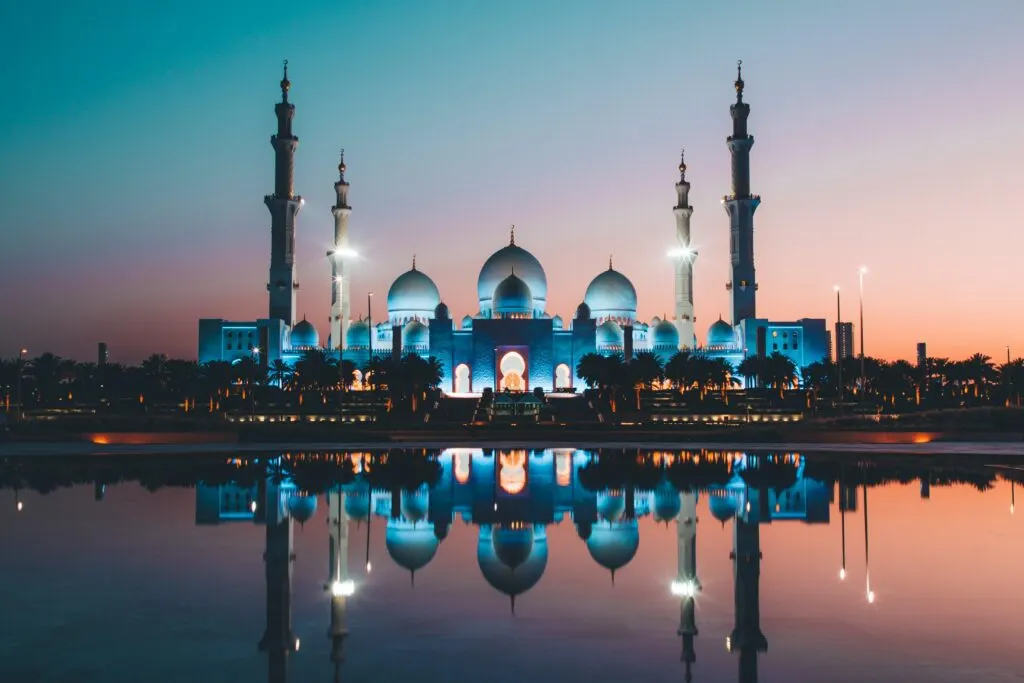 Visitors are asked to follow a specific dress code as an act of respect. Shoulders and knees must be covered, shoes are to be removed at the entry gate. Women must also wear abayas.
For men, it is likely that they can dress appropriately for the visit however, women will likely have to purchase traditional clothing to enter the mosque as their bodies and hair must be covered.
There are a couple of options here:
1. Wear trousers and long sleeves and purchase a hijab which is worn over the hair, ears and neck.
2. Wear any type of clothing and purchase an abaya to be worn over clothes with a hood that will cover the female's hair.
Often, both men and women like to purchase traditional clothing as part of the experience and enhance their photo opportunities.
There are ample places to purchase this clothing around the entrance of the mosque as well as in many shops in any shopping mall.
These items will differ in price but it is recommended to try a few places and purchase the best deal.
If you would like to understand the Abu Dhabi dress code further, check out our what to wear in Abu Dhabi article here.
Best Time to Visit: Any time of year at Sunset
Go to Al Hudayriyat Beach
There are plenty of things in Abu Dhabi to do for free. Located on 3,000 hectares southwest off of one of Abu Dhabi, Al Hudayriat Island boasts an extensive list of amenities for visitors.
Hudayriat Island is a haven for nature lovers and adventure seekers alike. The Island is accessible by a large sweeping bridge which links to the mainland. Visitors can enjoy the free public beach which includes parasols and loungers and soak up the striking beauty with high-end sporting facilities to boot!
Some of these facilities include tennis courts, football pitches, basketball courts, padel courts, and 400m athletics track, a 5km and 10km cycling track, skate park, BMX park, high ropes park and the OCR park.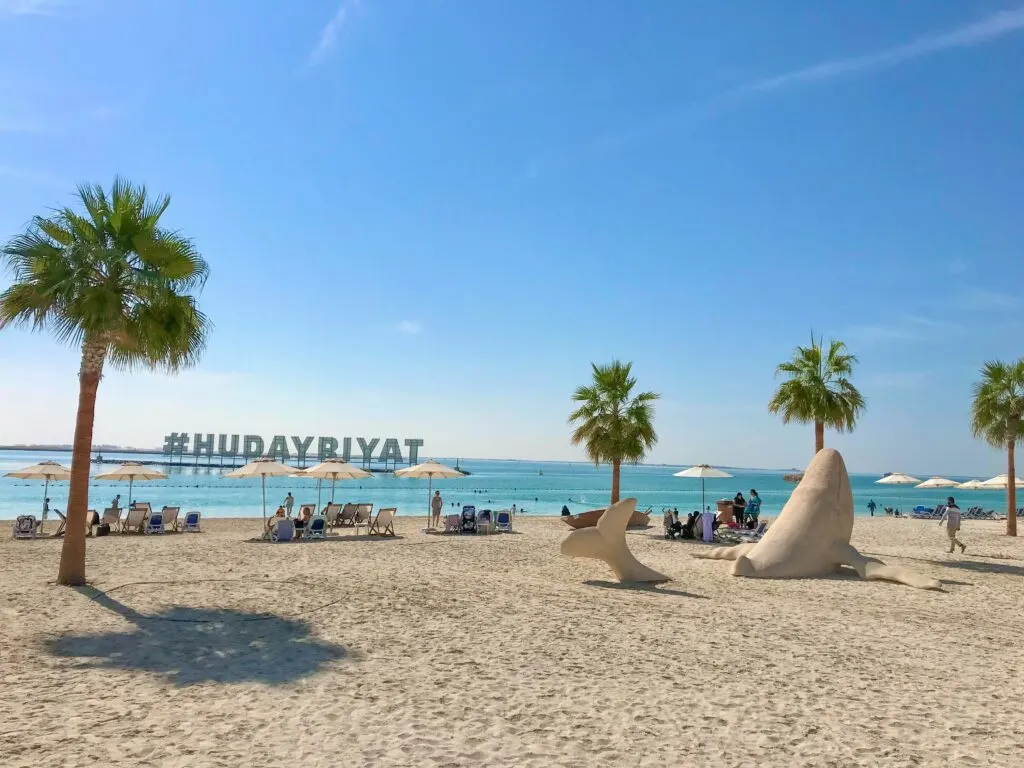 Many of these facilities are available to use free of charge or at a small cost. The beach, cycling track, and various parks are available to the public for free. 
If you own a bike or if you are willing to pay a low price to rent one, the 5km and 10km bike track is a must.
The track takes cyclists around the perimeter of the island, with stunning views of the coast as well as passing many of the sports parks, finishing along the beach back near the car park. 
Bike and skateboard enthusiasts should take full advantage of the free thrilling parks designed for the most exciting tricks and flips!
Adventure enthusiasts are highly encouraged to pay the OCR a visit, this obstacle course consists of eight different obstacles and eight different fitness elements.
Visitors don't have to choose from just one food truck when they visit. There are a whole host of tasty treat trucks available, so everyone can find something perfect for them!
In addition to the food trucks along the main beachfront (that are also drive-thru), there is a full wooden walkway with many great restaurants and cafes to choose from.
Some of the most popular restaurants include Rain, Shrimp Pot, Babu Town, Projecto Acai and Muncheeze. There are also a number of great places for coffee such as DRVN, I Love Coffee and Shot. 
Best Time to Visit: Any time of year, sunrise and sunset is particularly beautiful here!
Stroll Yas Bay Waterfront
Go to Yas Bay Waterfront for some of Abu Dhabi's most high-end sightseeing opportunities. The array of activities not only entertain but also indulge the taste buds with delicious food and refreshing drinks!
You are spoilt for choice here in terms of great places to eat, with a multitude of different cuisines available. One of the best times to visit is at night time when the waterfront promenade is lit up and sparkles with all its glitz and glam.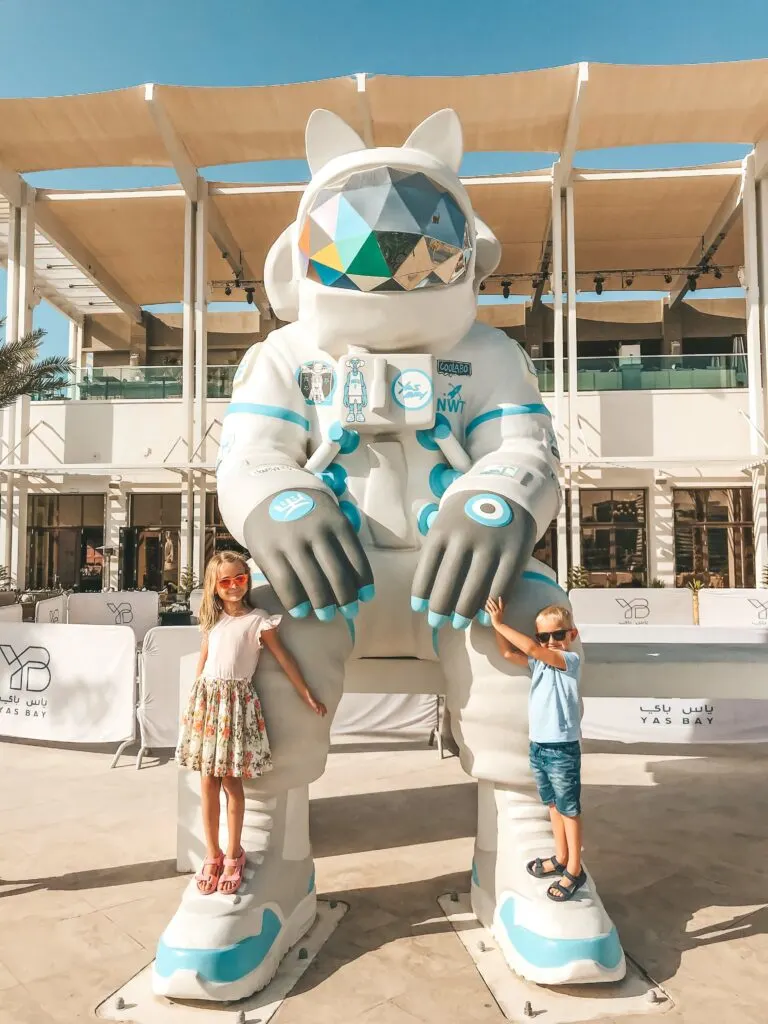 Offering some of the best restaurants in Abu Dhabi, beach clubs, the Hilton Hotel and Yas Creative Hub, this area of the Island is one of the most exciting spots in the UAE. 
Home to more than 15 restaurants, Yas Bay has something to offer people of all tastes.
Some of the most popular restaurants include:
Asia Asia – the award-winning Dubai favourite has come to Abu Dhabi! Offering Asian fusion cuisine and stunning mixed drinks within breathtaking interiors with internationally-sourced antiques, artefacts and collectables. 
Cafe Del Mar – Founded in 1980 on the Spanish Island of Ibiza, Cafe Del Mar has grown to have venues all over the world. 
Lock Stock and Barrel – deemed the ultimate social hangout, Lock Stock is a well-loved party bar and brunch spot.
Offering great drinks deals as well as delicious American-style food. 
Akiba Dori – comprising of a few different vendors offering Japanese street food with a twist such as their one-of-a-kind Toyko-style Neapolitan Pizzas. Enjoy well priced, authentic food and creative drinks. 
Abu Dhabi is not known as a walking city however, areas like Yas Marina Waterfront are perfect for strollers and wheelchairs.
Best Time to Visit: Any time of year
Take a Stroll on Soul Beachfront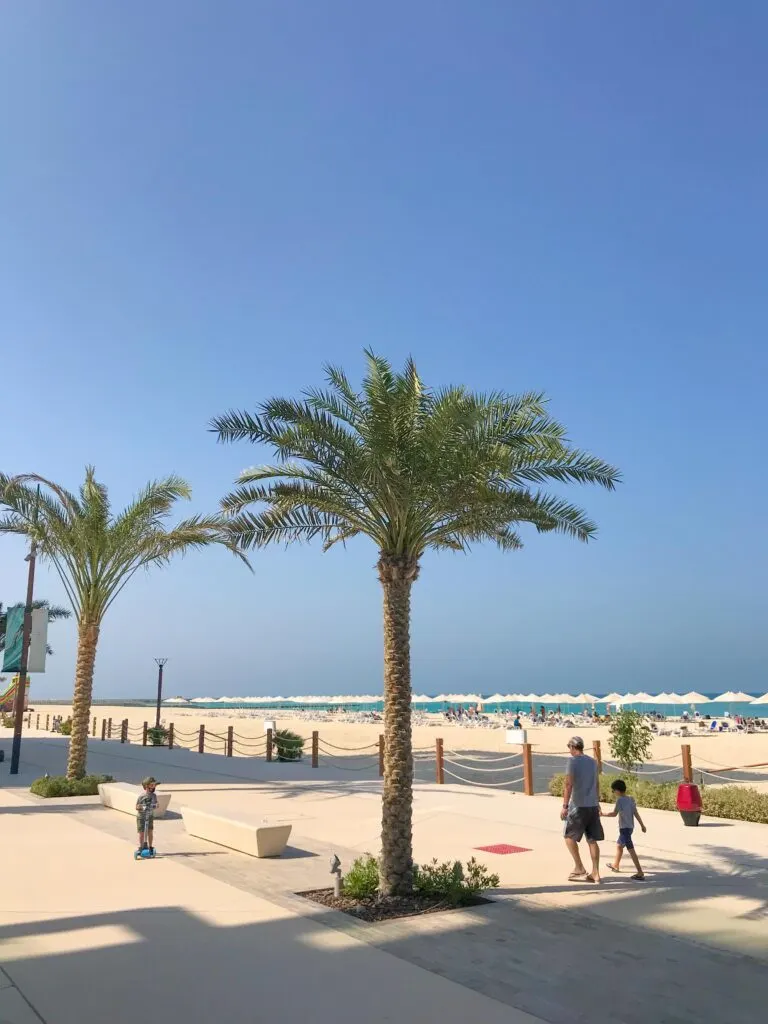 Soul Beach is the latest addition to Saadiyat Island and is another place to be seen in Abu Dhabi. It can be found between the Louvre Abu Dhabi, in what used to just have trees on it.
This location next door from Manarat Al Saadiyat gives easy access for shopping or grabbing some food while listening to music at one of Berklee's stages!
If visitors can stand the heat, Saadiyat Island is a beautiful place to visit in the middle of summer. They can enjoy 400m of pristine white sandy beach with parasols, sun loungers and good food at their fingertips!
There are also many activities for children including sandcastle building workshops or games on site where they will surely spend hours playing.
While it is free to visit the area, the beach charges around Dhs50 for a lounger and parasol mid-week and Dhs75 on the weekend.
Best Time to Visit: Any time of year
Visit Emirates Palace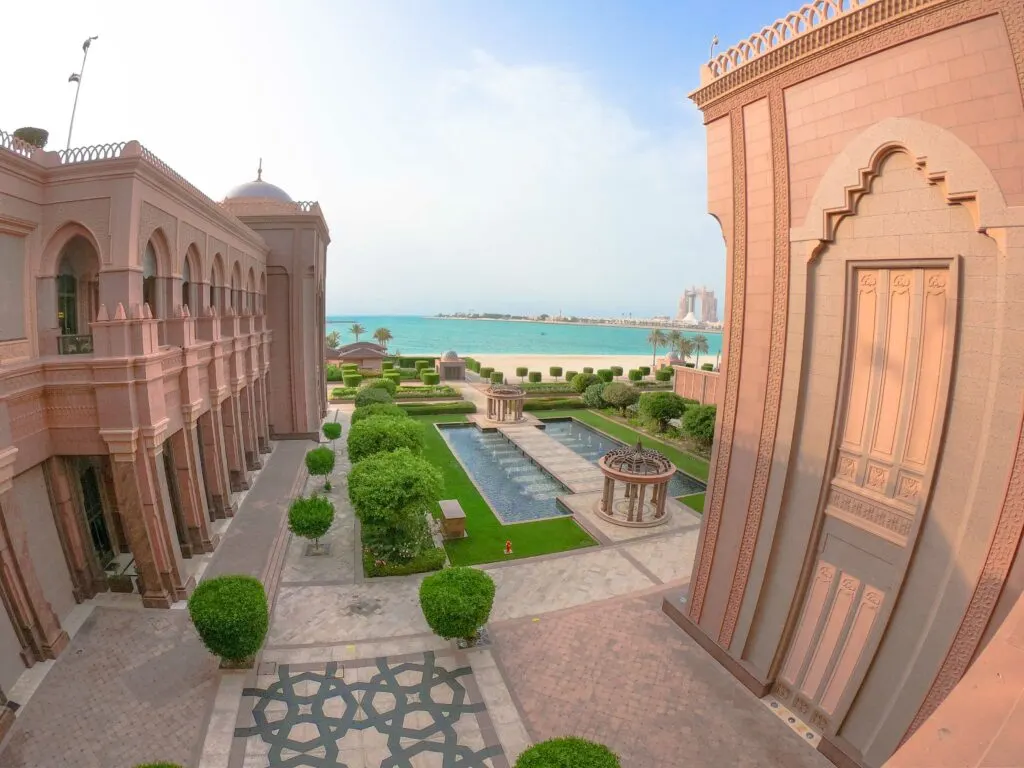 Another Abu Dhabi tourist attraction is the iconic Emirates Palace, this luxurious resort offers guests an outstanding experience from the moment they arrive. Positioned on a private white sand beach, the palace welcomes everyone into its world of indulgence and the service is second to none!
As one of Abu Dhabi's top attractions, there's plenty here to keep families occupied during their stay at this amazing property. However, there is no need to stay in order to enjoy the stunning beauty of Emirates Palace.
The lobbies and exhibitions of this glamorous hotel are free to visit and there is no need to reserve a time. The gardens are off-limits to the public as well as the private beach which is reserved for paying guests of the hotel.
Best Time to Visit: Any time of year
Walk Along Corniche Beachfront 
Abu Dhabi's famous Corniche Beach is another top tourist spot. It is one of the best places to soak up Abu Dhabi's beautiful sunshine. This pristine beach isn't just home to turquoise water and soft white sand, it has an elegant seaside boardwalk which stretches the entire length of the promenade.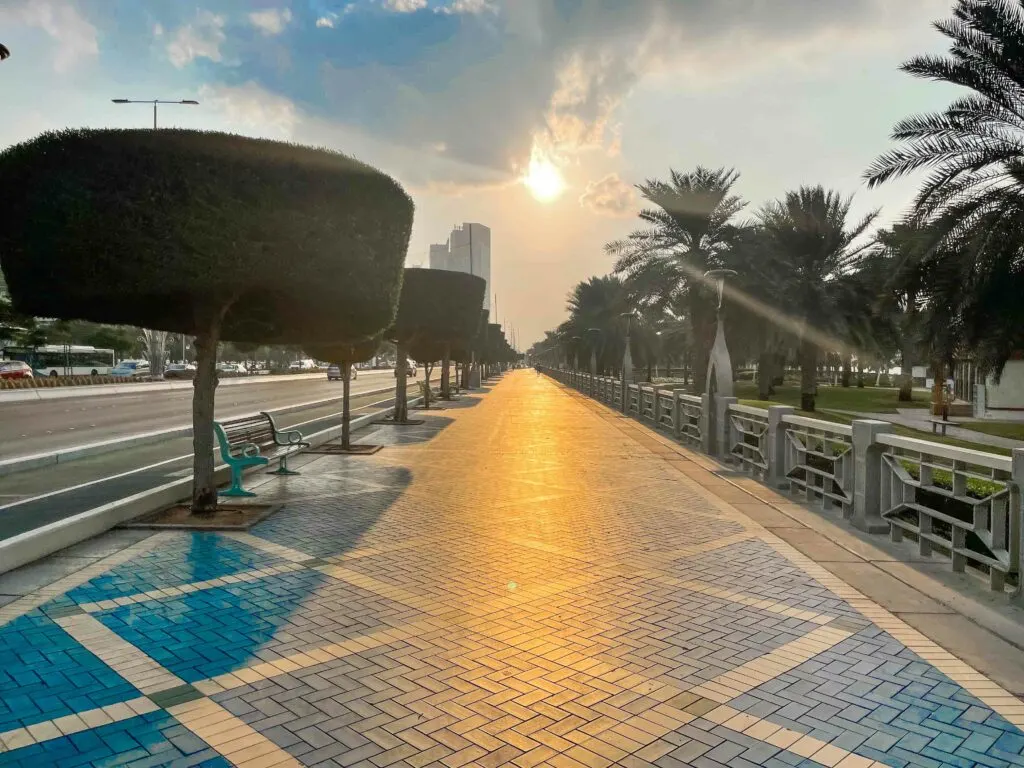 Follow the boardwalk to manicured gardens filled with flowers as well gorgeous views overlooking this picturesque Arabian Gulf coastline.
The Al Sahil Gate is perfect for singles or groups of friends and is free. For anyone travelling as part of a family, the quieter second zone makes it worth while with its own play area where the kids can run wild without upsetting other people!
Best Time to Visit: Any time of year
Heritage Village
Heritage Village is the perfect destination for those who want to experience a slice of traditional UAE life. The village has everything from shops and markets, wildlife, pottery lessons with artisans making authentic pieces on site and glass blown objects made by the locals.
The public workshops let visitors see how traditional crafts like metalwork, pottery or weaving are done before having the chance to try out their trade under supervision from professionals who know what's best.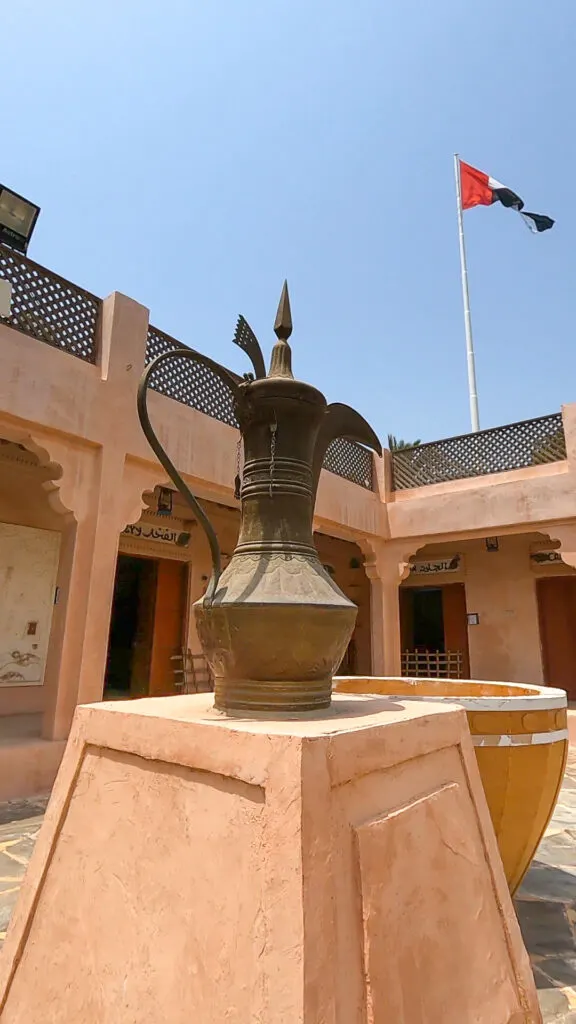 For those looking to buy some souvenirs – there's no better place than the little spice shop where they sell fresh herbs as well handmade soaps made locally using only natural ingredients.
With no admission charge, it is one of the best places to visit in Abu Dhabi for free.
Best Time to Visit: Any time of year
To discover a full list of things to do in Abu Dhabi for free, check out our guide here.
Paid Things to do in Abu Dhabi
Abu Dhabi is a great place to visit for families, couples, or even singles. Some of the best places to visit in Abu Dhabi require an entrance fee.
From outdoor activities in Abu Dhabi such as waterparks to amazing dining experiences at some of the best hotels in the world. Below is a list of some paid activities in Abu Dhabi to keep everyone entertained on their visit.
Desert Safari 
Take a journey to the Middle East on a desert safari where guests can visit some of Earth's most exotic animals. The first stop is at a camel farm, these well-adjusted desert dwellers have been around since before recorded history!
Guests can also usually drive 2-4 seater sand buggies around a designated area of the desert. This is usually at an additional charge however we certainly recommend doing this.
Take it in turns to ride around with family or friends or, if there are enough of you, have a race!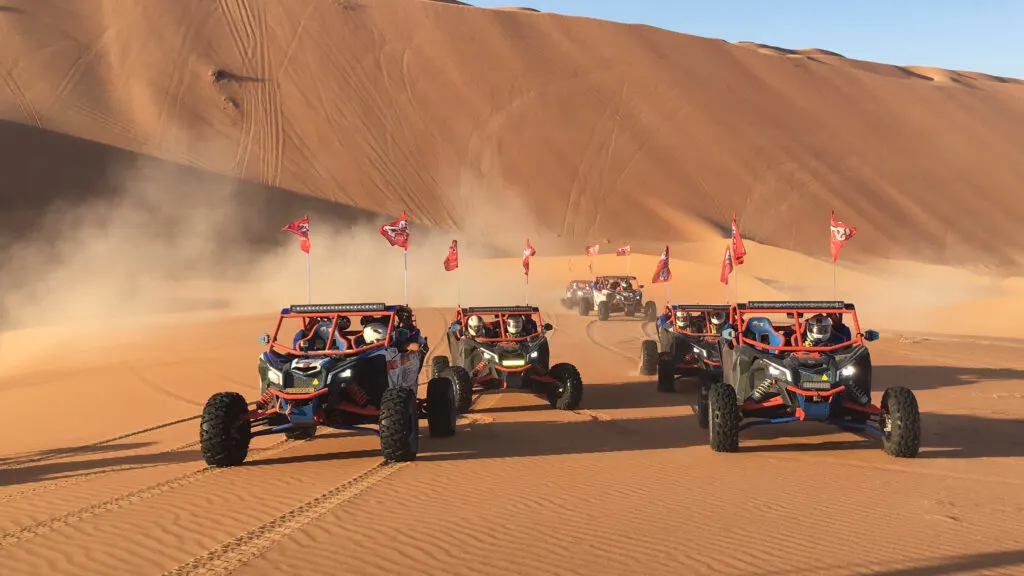 Usually, there will be a few market-type stalls or shops around the camel and buggy area. Here you can purchase things like traditional scarves and other clothing.
Similar to spending time in a traditional Arabian market or souk, the salespeople may be eager to put these items on you in an attempt to get you to purchase.
Next, it's off into the 4WD for some thrilling dune bashing, make sure to hold on tight as guests are driven up and down the mountainous sand dunes on the way towards the desert camp.
There is nothing quite as thrilling as desert bashing on one of these safari experiences.
You may be able to stop for a break from the exhilarating bashing to walk up some dunes and get some beautiful sunset pictures with your party.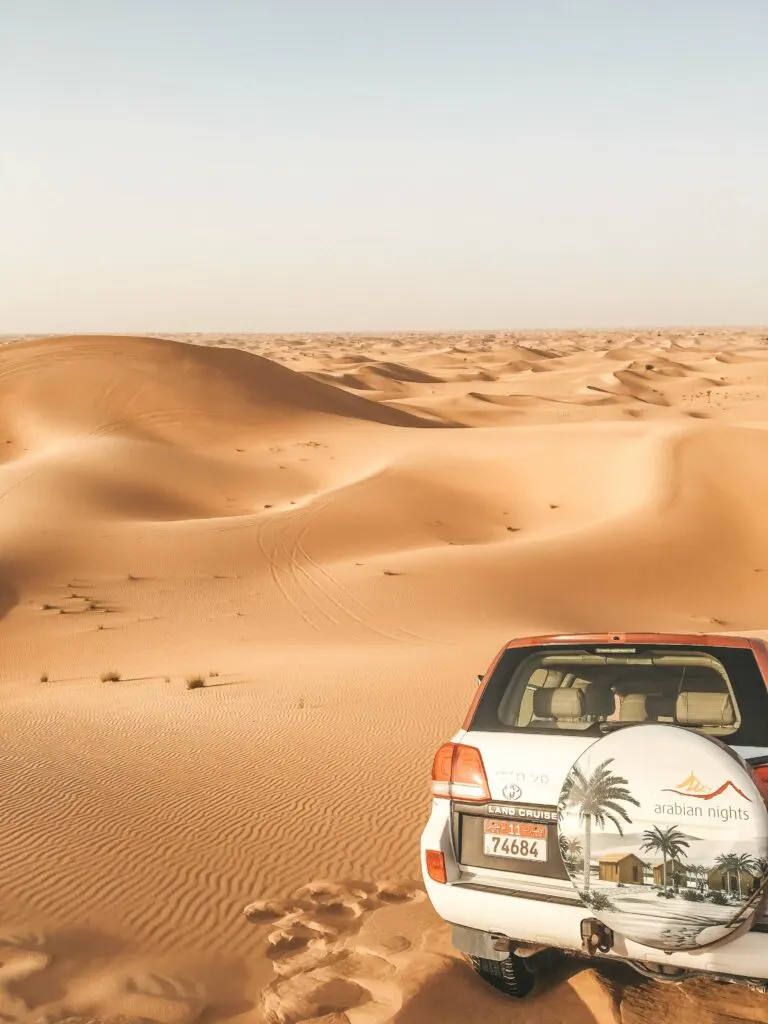 The campsite areas are very traditional with makeshift stalls and tents around a large stage.
Guests will be treated to a seated BBQ buffet dinner whilst enjoying a show, usually some dancing and music.
There will also be some camels and buggies or quads around the site which visitors can take advantage of at a small extra cost.
Then you will either be driven back to an agreed location or if you are staying the night you will be shown to your tent where you can sleep under the desert stars.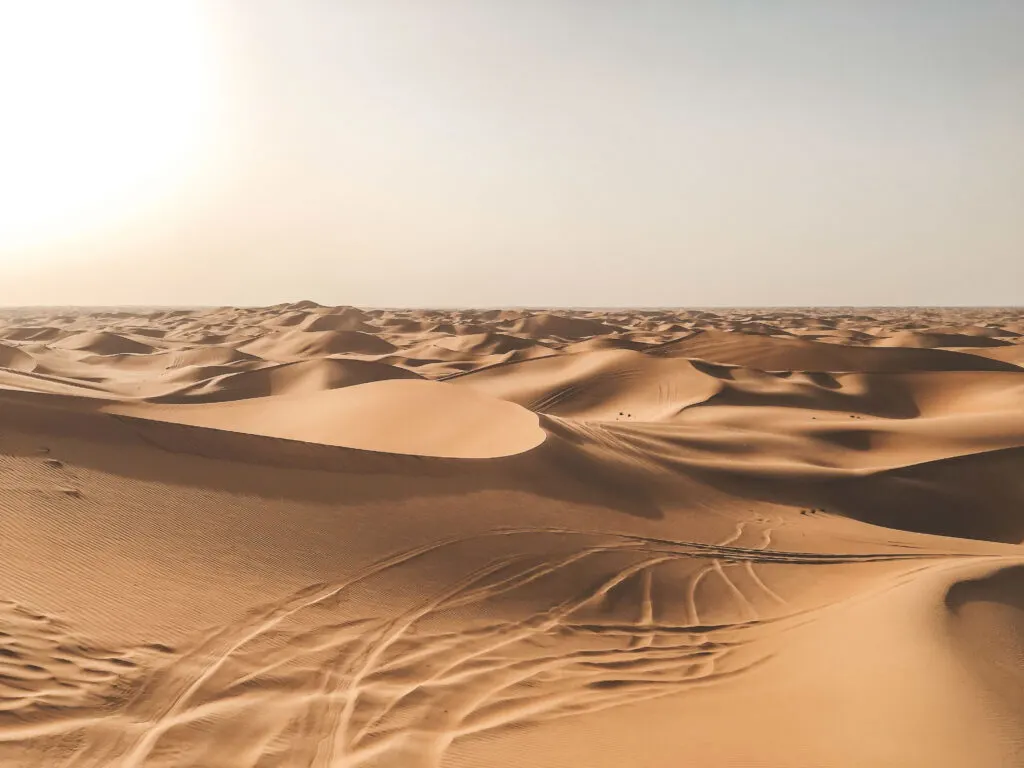 If you do stay the night, you will also be treated to breakfast the following morning before being driven back to an agreed location.
Check out the Desert Safari here.
Mangroves Jubail Board Walk
Visitors to Abu Dhabi's beautiful Jubail Mangrove Park have been exploring the walking trails since it opened in January 2020. And with good reason!
The mangroves are a refreshing escape from busy city life, offering visitors lush greenery and the tranquil sounds of the tides flowing in and out around them.
The pathways wind through the mangroves, allowing visitors to explore the natural landscape and wildlife living in the waterways below.
A floating platform is on site where rangers are available for questions about the local environment and marine life underwater – they will show off their expertise in an informative manner!
The site was developed with the hope of increasing awareness, appreciation and understanding of the mangrove habitats and how they support the protection of the Abu Dhabi coastline.
It is located on a beautiful island, between two otherworldly locations. Opening times are from 8 am to 6.30 pm daily and admission is around Dhs15.
If you get hungry or thirsty on your travels, there is a lovely cafe restaurant 'crane' situated at the entrance of the park.
Here guests can enjoy refreshing drinks like fresh juices and smoothies, all made in-house.
There are also many delicious food options like freshly prepared sandwiches and baked pastries.
Visitors have the option to sit inside in the fresh AC or outdoors in the shade with stunning views of the mangroves.
Best time to visit: Afternoon/Evening time all year round.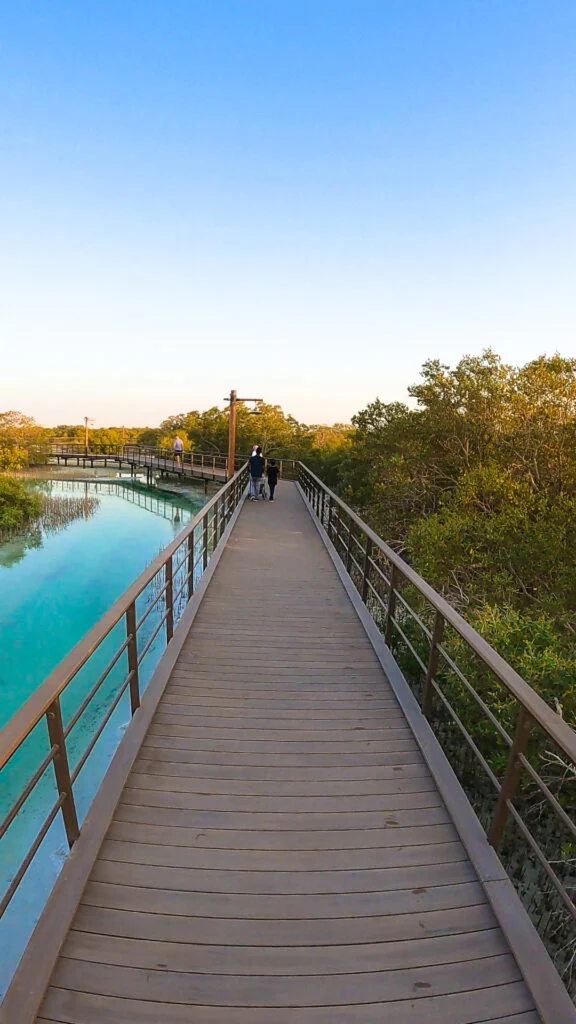 Qasar Al Watan
Qasr Al Watan is more than a palace, it's an interactive journey in which visitors can learn about Abu Dhabi and UAE culture through history from both local perspectives as well as international ones.
The fascinating building has been designed to show how governance works on every level – from what people wear when they're visiting queens or meeting foreign leaders all the way down to their shoes!
Visitors can explore the spectacular building and enjoy the arabesque design and architecture.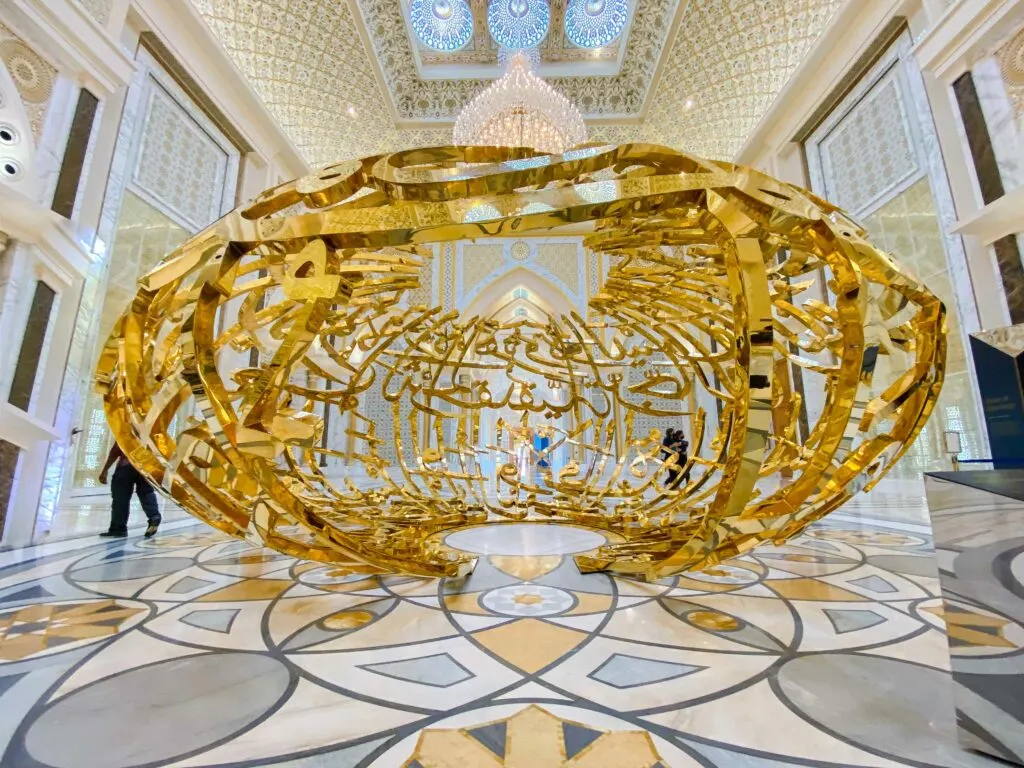 Qasar Al Watan also offers visitors a palace in motion experience which is a treat for visitors of all ages. The exterior of the castle comes to life with an exciting and engaging light show.
Guests relax in the seating area outside the castle while the whole front of the fascinating building turns into a story with lights and music.
This is a brilliantly engaging way to inform visitors of the history of the UAE.
Tickets for the castle are available online and are around Dhs60.
Afternoon Tea at Hotels in Abu Dhabi
Abu Dhabi is a bustling metropolis with a lot to offer families and couples alike. One of the best ways to relax and enjoy some time together is to have afternoon tea.
Abu Dhabi has numerous cafes and restaurants which serve up delicious afternoon tea, complete with dainty sandwiches, scones, and pastries.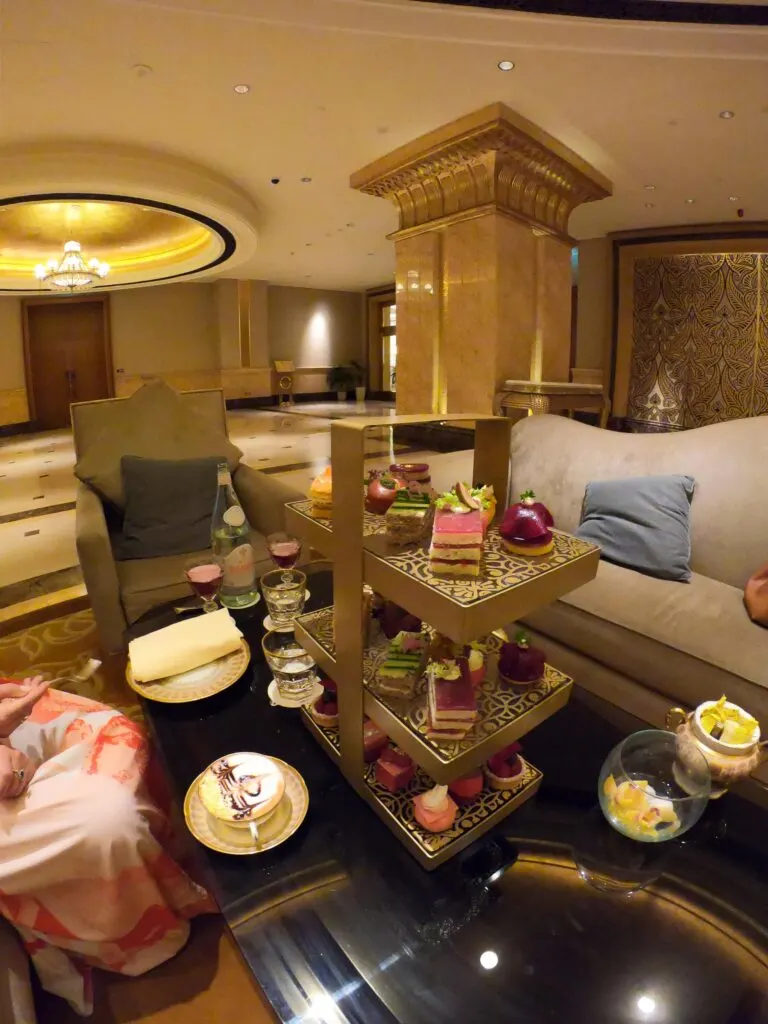 Not only is afternoon tea a great way to spend some quality time together, but it's also a great opportunity to people watch and take in the sights and sounds of the city.
So if visitors are looking for a relaxing way to spend an afternoon in Abu Dhabi, be sure to check out one of the many wonderful hotels offering afternoon tea.
Observation Deck at 300
Head to the lofty floor of Jumeirah at Etihad Towers for an afternoon with incredible views. It's a popular spot among tourists, thanks in part to its 360 degree views and delicious scones!
Guests can also indulge by choosing from chocolate choux Pastry or other tasty options such as delicate tarts & cakes which would please any palate.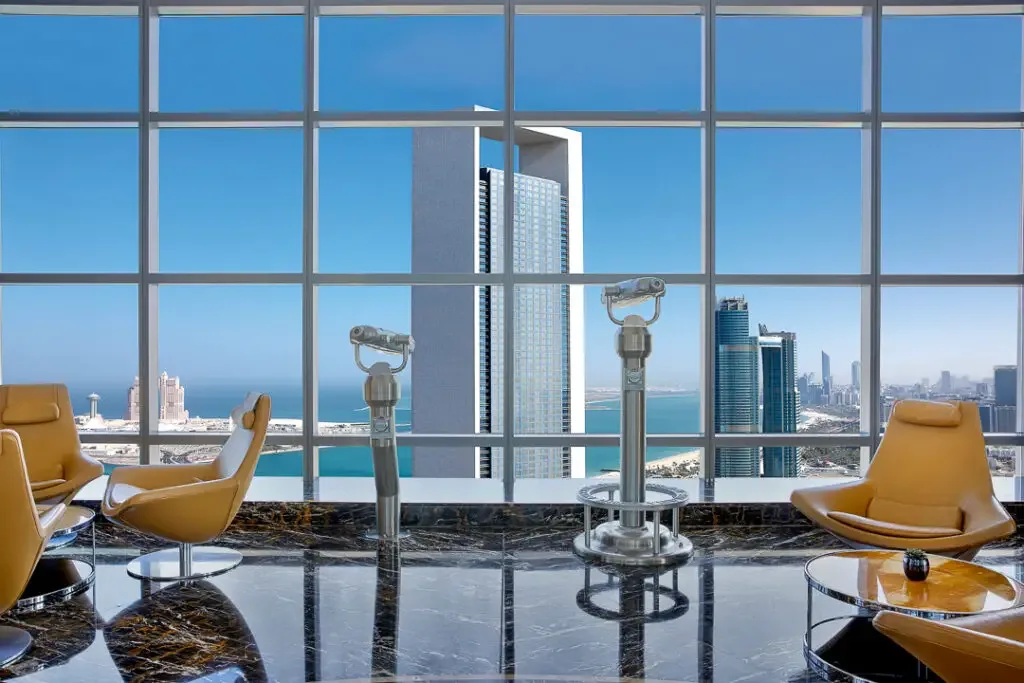 There's no shortage when it comes to beverage selection either, they have everything imaginable including fresh fruit juices at their own juice bar.
Why not book a stay to enjoy the stunning views for longer?
Le Cafe
This exclusive café is found in the grand Emirates Palace hotel, and it certainly lives up to its billing with some extravagant menu items.
It's perhaps most famous for its signature cappuccino topped off by frothy milk mixed with 24-carat gold flakes.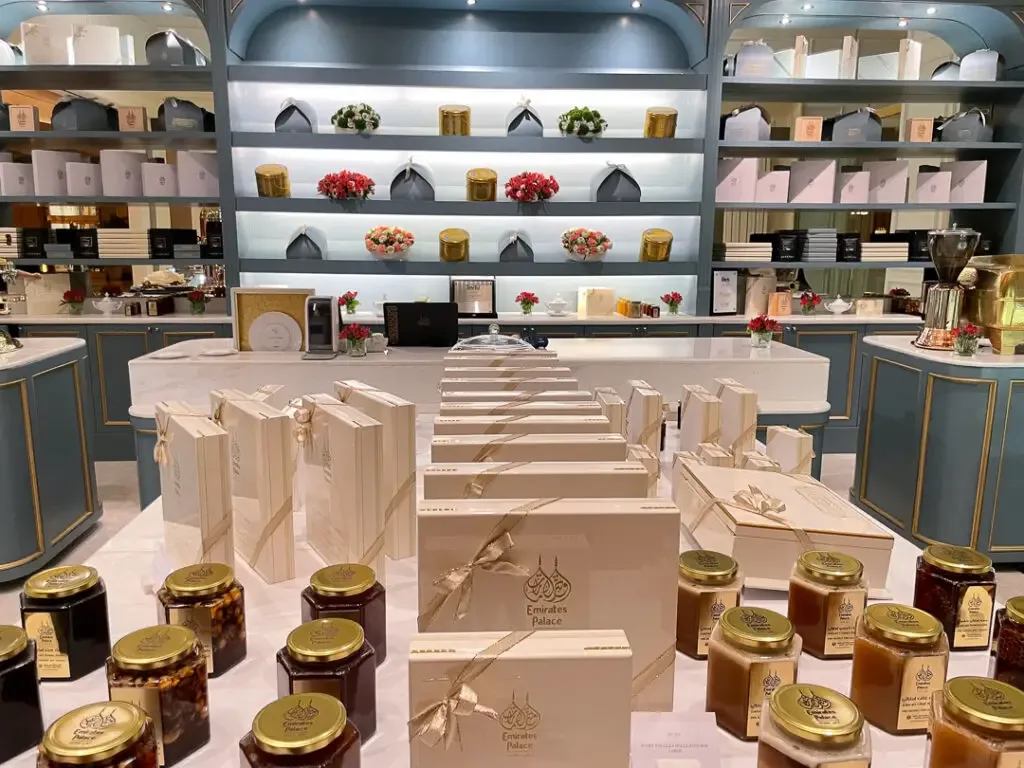 Having an afternoon tea at Le Café is the perfect way to appreciate Abu Dhabi's palatial settings. The tantalising smoked salmon pinwheel with Royal Afternoon Tea and extras like foie gras sprinkled by 24 -carat gold – it is sure to be delightful!
If you really feel like treating yourself or someone else, you can book a stay in Emirates Palace Hotel here.
Majlis Lobby Lounge
Located in the luxurious Rosewood hotel, the Majlis Lobby Lounge is a little piece of heaven on Al Maryah Island.
With the comfiest sofa seating and views of the garden terrace and waterfront, you'll be sure to get lost in this relaxing affair.
The afternoon tea is an absolute treat for all, with a huge selection of coffees and teas, you will be spoiled for choice.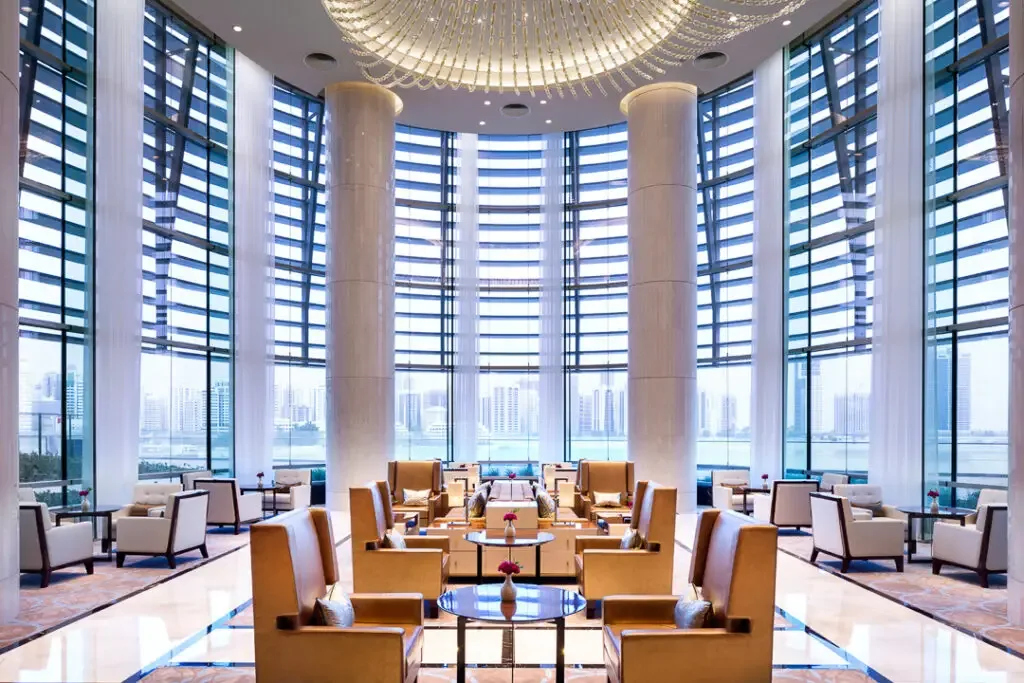 Not only that, there are also a number of different afternoon tea options to choose from, ensuring everyone has been catered to.
The options include traditional afternoon tea (our favourite), vegetarian afternoon tea, vegan afternoon tea, Levantine afternoon tea and Asian afternoon tea.
For the traditional option, there is a great mix of sweet and savoury treats including delicious salmon sandwiches and buttermilk chocolate scones.
We highly recommend staying the night, that way you can enjoy a few drinks after the afternoon tea.
The Drawing Room
Situated on the amazing Saadiyat Island inside the St.Regis Saadiyat Island Resort & Spa, The Drawing Room offers another spectacular afternoon tea.
Named after the founder of afternoon tea, Lady Astor, The Drawing Room presents one of the most traditional yet luxurious offerings in Abu Dhabi.
A stay in a St. Regis hotel is always special, you can book their luxury Saadiyat beach location here.
Emirates National Auto Museum
If guests are visiting Abu Dhabi, the Emirates National Auto Museum is an unforgettable experience for car enthusiasts.
It's home to over 200 vehicles owned by His Highness Sheikh Hamad Bin Hamdan Al Nahyan and features unique collections like off-road trucks and classic American cars as well as some very strange vehicles indeed.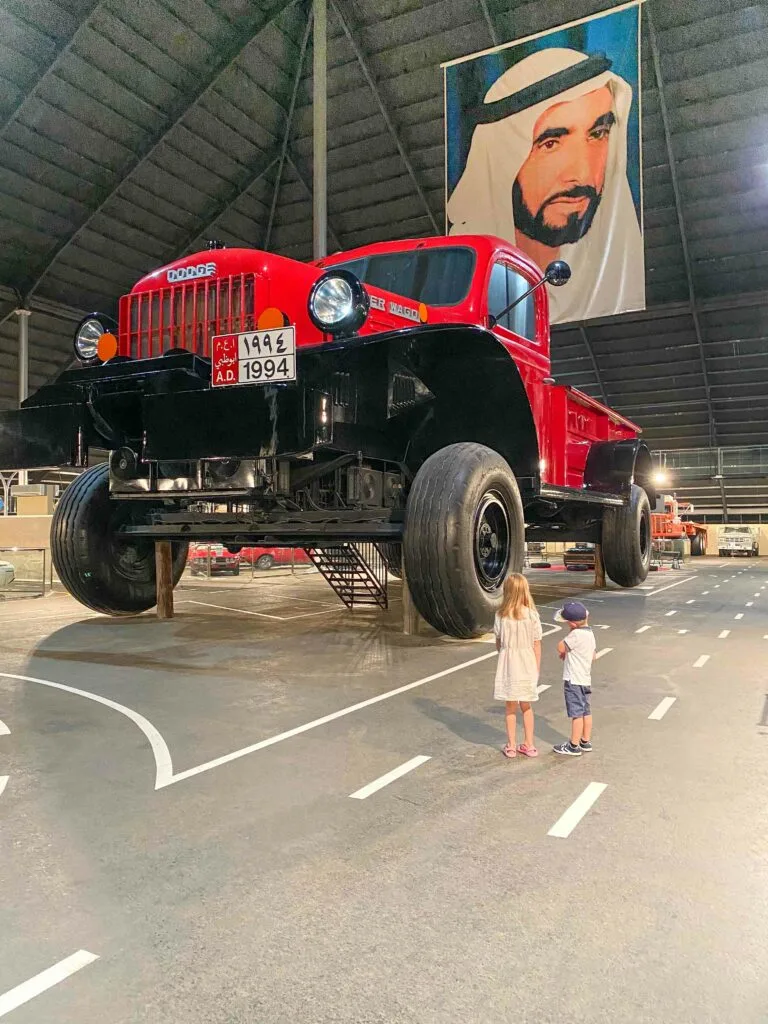 The museum is a photographer's dream and any auto lover would be thrilled with the variety of vehicles on display from around the world. Emirates National Auto Museum is located about 45 mins drive from central Abu Dhabi but could be combined with a trip to the salt lakes which are located in the same area.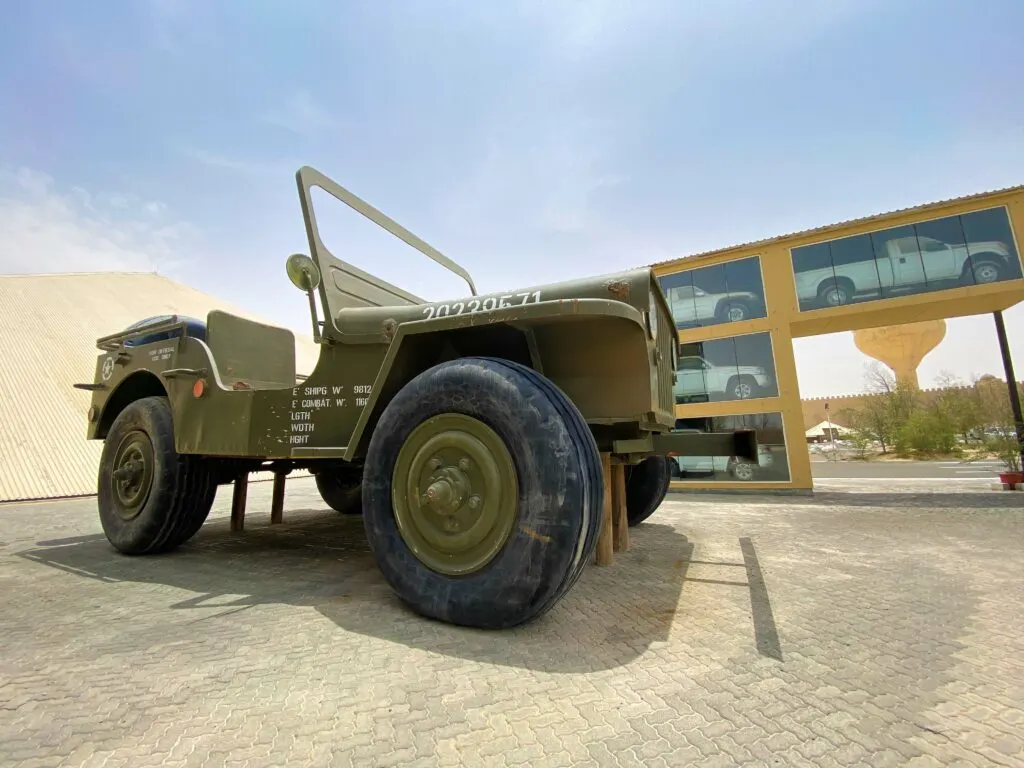 The collection includes many items which were used in Top Gear episode's including one very impressive Dodge (which even has its own separate room).
Prison Island Abu Dhabi Mall
Experience the thrills of an unforgettable adventure at Prison Island in the Abu Dhabi mall, where families, couples and friends work together as a team to solve tricky challenges across unique cells.
Prison Island is an indoor adventure centre comprising of 26 challenges where your brain will be tested as you attempt to solve the mysteries and challenges.
Collect points and have an unmatched experience!
For more information click here.
The Louvre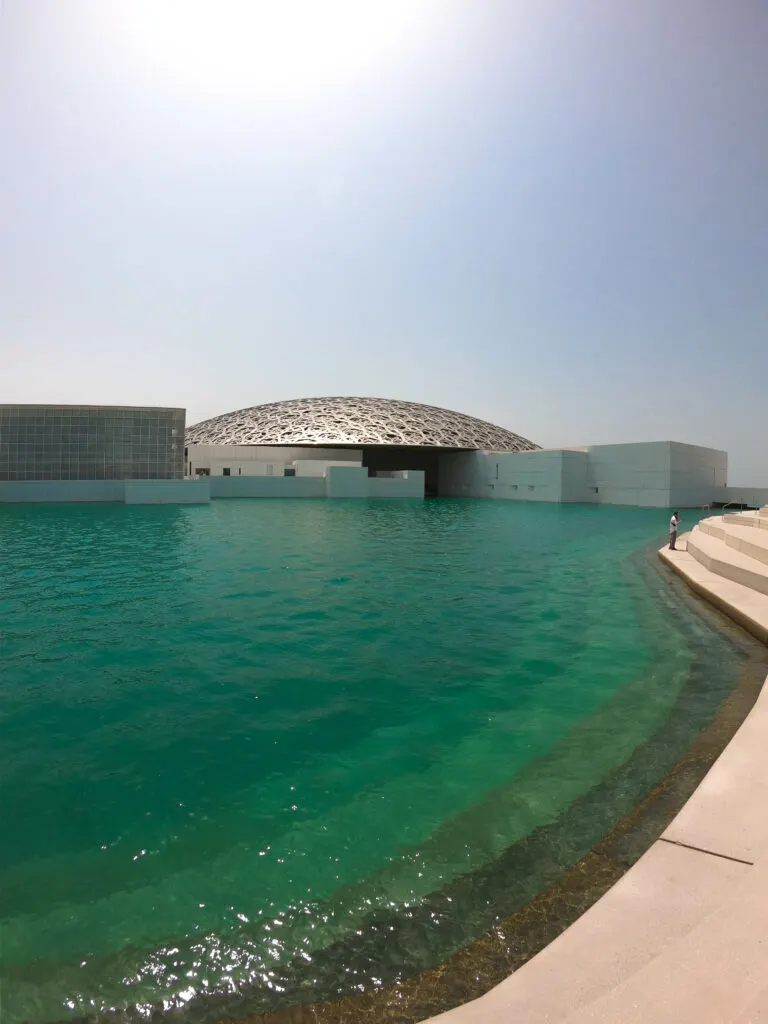 Located on Saadiyat Island, set to be the cultural district of Abu Dhabi, Louvre Abu Dhabi is a cultural wonder and revolutionary collaboration with the well-known Louvre situated in the French capital of Paris. 
Step into a world-class museum and be transported to a futuristic landscape where visitors can view masterpieces from around the globe.
Stride through stunning architecture with captivating artwork on display in galleries spanning centuries. The dome shaped roof filters the sunlight down beautifully to the guests below.
The chronologically ordered galleries mean you walk from one century to the next, witnessing the progression of culture and humanity. The serenity of the louvre facilitates a time to learn, reflect and seek inspiration from these magnificent exhibitions.
The Louvre has been constructed over part of the sea, so seawater has been utilised throughout the museum and you can even explore parts of this museum in a kayak.
Come to the Louvre and see a world-class collection of artwork and architecture. Visitors can explore permanent galleries or special exhibitions, plus there are kid-friendly spaces with exciting new exhibits!
Definitely one of the best things to do in Abu Dhabi, to book tickets to the Louvre click here.
Warner Bros World
If you are visiting Abu Dhabi with kids, Warner Bros World™ on Yas Island is a fun-filled day out for the whole family.
Step into a world of excitement at the Warner Bros. Plaza, where visitors can experience 29 state-of the-art exhilarating rides as well interactive family-friendly attractions to keep everyone entertained for hours!
The world's biggest indoor theme park, this day out is a family favourite.
Designed with some of the most impressive effects, you will be transported into childhood favourite lands like Bedrock, Cartoon Junction, Gotham City and Metropolis. 
While there are a number of thrilling rollercoasters, the main attractions have to be some of the 3, 4 and 5D experiences, meet and greets with favourites like Tom and Jerry or Batman and the out-of-this-world interior and merchandise.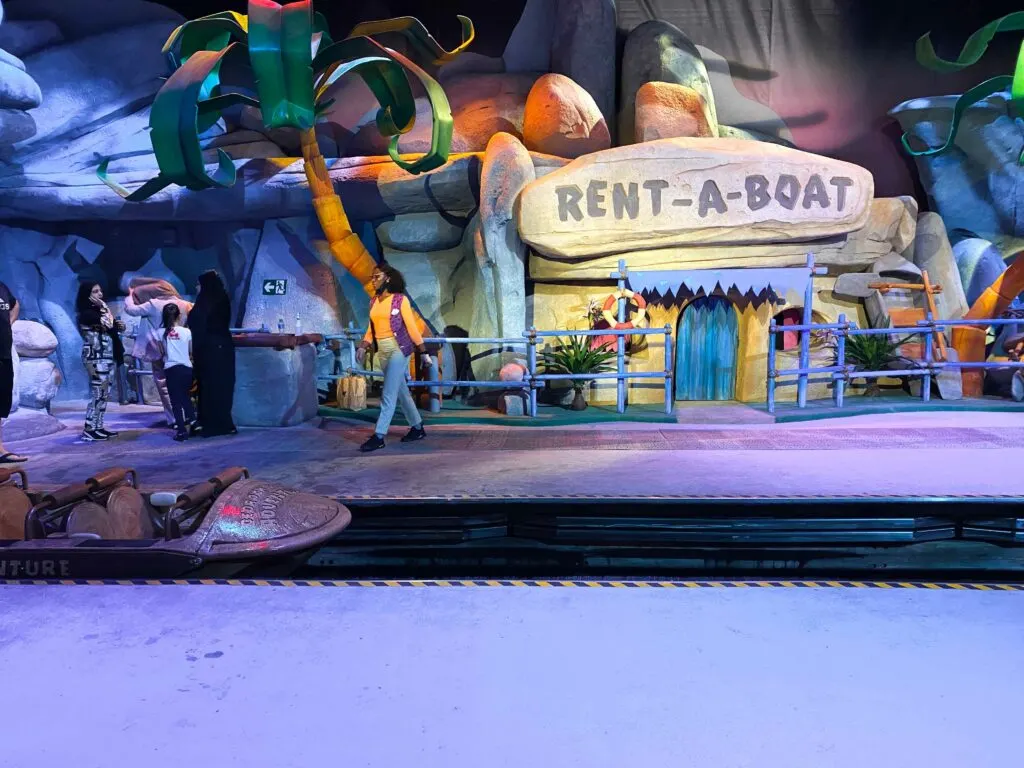 Some of the Warner Bros themed rides include Fast and Furry-ous, The Flinstone Bedrock River Adventure, Tom and Jerry Swiss Cheese Spin and Scooby-Doo Museum of Mysteries. 
3, 4 and 5D experiences not to be missed include Superman 360 – Battle for Metropolis, Green Lantern – Galactic Odyssey and Justice Leagues – Warworld Attacks. 
Warner Bros World offers many dining options from a Hollywood style theatre to the Bedrock pre-historic eatery Mammoth Munchies. 
Check out Warner Bros World here.
To enjoy one of the best things to do in Abu Dhabi with kids, book your tickets here.
Al Ain Zoo
The Al Ain Zoo is home to over 4,000 animals. Some of which can be seen up close like the giraffe feeding experience and other exotic species who live in transparent enclosures.
You can book a 'skip the line' ticket here.
Al Ain Zoo is a great place to go if visitors want an up-close encounter with some of nature's rarest creatures. The zoo has been establishing and preserving these species for years, so they're protected from extinction now.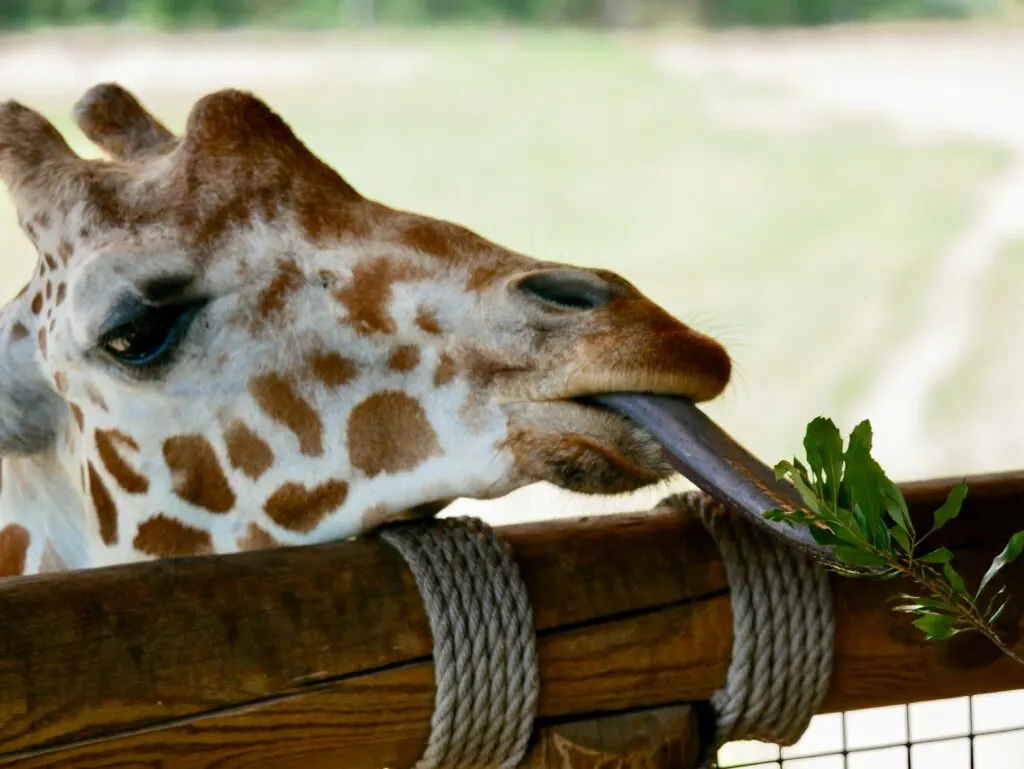 It is possible to explore the park on foot or by train; either way, it is breathtaking when all those animals come into view (especially during feeding time).
The visitor experience is quite unlike any other zoo, with many of the experiences giving guests the opportunity to get up close and personal with many of the zoo animals.
The Safari Lions Feeding experience allows visitors to tour around in an enclosed, caged vehicle. Lion will surround the vehicle allowing guests to get closer to the King of the jungle than ever before.
Visitors can feed these brilliant creatures through the cage and observe how they eat and socialise with their pride.
In addition to the tigers, visitors can also feed giraffes, penguins and budgies!
Check out the Al Ain Zoo here.
Velocity Longest Slide WTC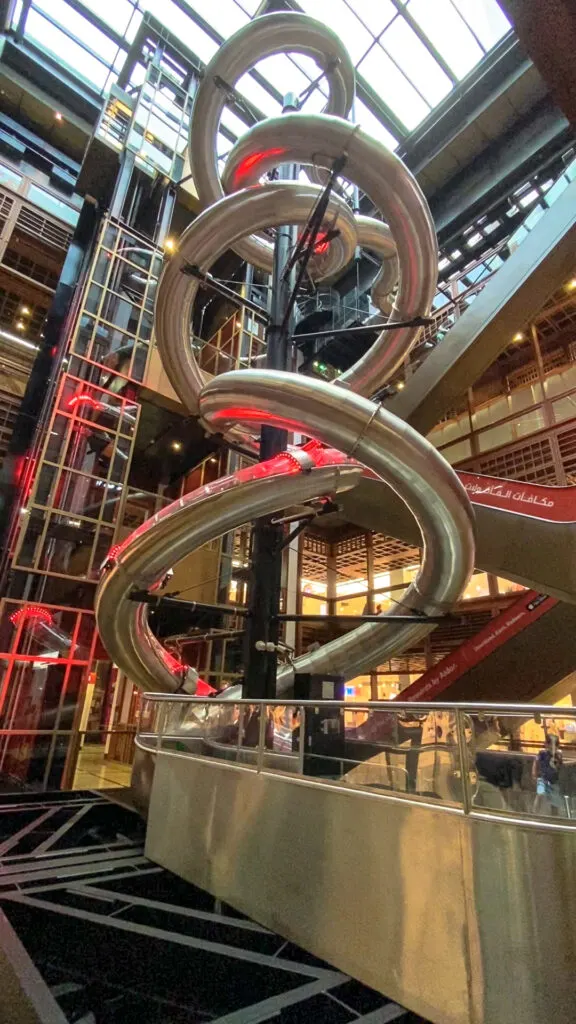 Velocity is an experience like no other. This silver slide can be seen while visitors wander through the World Trade Center Mall! It can accommodate larger groups and even offer bespoke packages for special occasions such as weddings or birthdays.
Why not experience the 68-metre and 54-metre slides gaining speeds of up to 2–3 mph. The megastructure has a transparent section so everyone can see what is happening along the journey while zooming down 4 floors at speed!
This is one that will be popular among the kids and adults alike looking for something fun within the mall.
Would you be tempted to try it out?
Find out more about Velocity here.
Umm Al Emarat Park
Umm Al Emarat Park is one of the largest and oldest parks in Abu Dhabi. Originally named Mushrif Park, it has seen extensive renovations resulting in a great day out for the whole family, friends or even alone!
There are a variety of things to do in this park, including the Shade House which is operated in partnership with Emirates Park Zoo.
This structure houses plants that are grown under artificial sunlight and includes two upper-level decks boasting picturesque views for all to enjoy.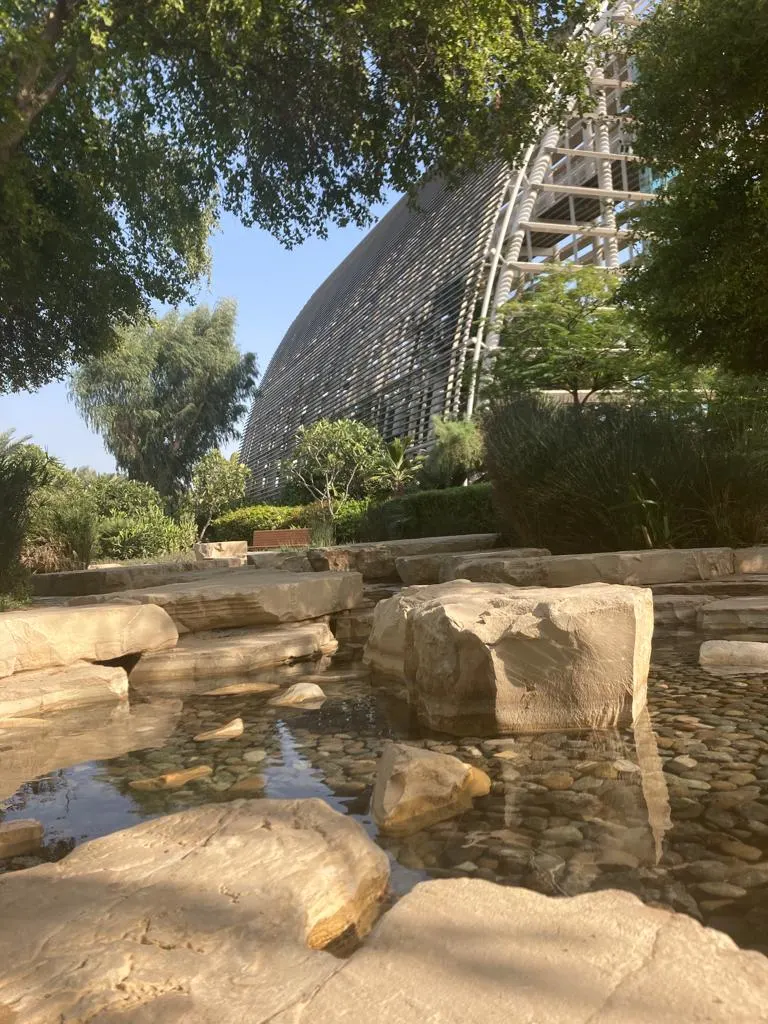 This park offers a lot more including the amphitheatre, children's garden, botanical garden, animal barn and petting zoo, evening garden, wisdom garden and the great lawn.
This is one of the more popular parks in the city, many can be found having a picnic, enjoying a lie down in the grass, reading a book or playing games on the lawn at any time or day of the week.
To find out more information about Umm Al Emarat Park.
Qasr Al Hosn
Qasr Al Hosn, the historical site in Abu Dhabi has been home to many important figures and events over time.
Today it stands as both an archive for our nation's history but also acts as a living memorial with its timeless architecture reflecting what life was like back when these places were first established centuries ago! 
Qasr Al Hosn is the oldest standing structure in Abu Dhabi and home to an original watchtower that makes for incredible photographs. Built around 1790s, this commanding building overlooked the coastal trade routes as well as protecting the growing settlement that was established on the island during the height of the Ottoman Empire rule over UAE's history.
Check out more information here.
Al Forsan Sports Resort
Al Forsan International Sports Resort offers a range of fun activities and entertainment for all ages, from toddlers to teens. There is something here to suit any interest or ability!
One of the best things to do in Abu Dhabi for sport enthusiasts, the sport resort offers visitors a huge choice of activities to choose from.
The Resort incorporates an area of 1.6 square kilometers and offers a mix of sports activities, restaurants and club facilities, along with leading programs and services.
As the international sporting destination in Abu Dhabi grows so does their facilities – they have Olympic-standard facilities with sports such as shooting, equestrian pursuits, motorsports, paint balling, wakeboarding, water skiing and archery.
The sports facilities include padel courts, karate studios, football pitches, tennis courts, basketball courts, a 25-metre swimming pool and more.
Anyone interested in sports and fitness is recommended to visit this resort!
For more information click here.
Adventure in Abu Dhabi
Abu Dhabi is a vibrant and exciting city with plenty of opportunities for adventure. Whether visitors are travelling as a family, with friends, or as a couple, there are countless things to see in Abu Dhabi.
For families, some top attractions include the Ferrari World theme park, Yas Waterworld waterpark, and the Western Region Wildlife Centre.
Couples can explore the beautiful beaches along the coast or take a paddleboarding or kayaking course together. And for groups of friends looking for an adrenaline rush, there are plenty of sky-diving and SCUBA diving opportunities available as well.
Below is a number of exciting and adventurous getaways in Abu Dhabi, there's truly something for everyone here!
Sky dive AD
Skydiving is a thrill unlike any other. The feeling of freedom and excitement which comes with sky diving can't be matched by anything else in life, especially when surrounded by beautiful blue skies on an adventurous journey into unknown territory!
For first timers, a tandem sky dive is the first option.
Check out more information here.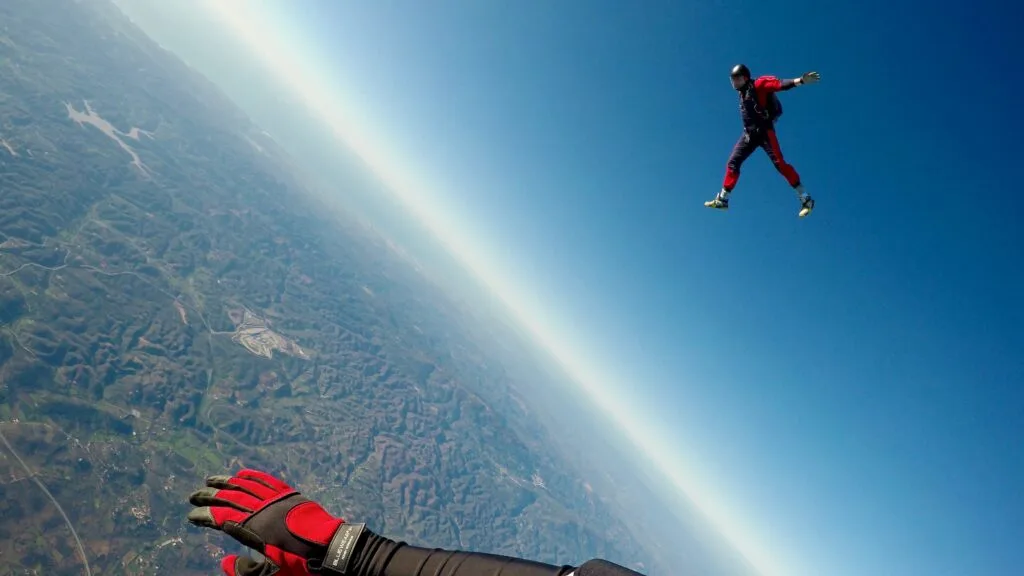 Parasail at Corniche
Looking for an exciting activity to do while on vacation in Abu Dhabi? Look no further than parasailing! This unique experience is perfect for families or couples who want to enjoy stunning views of the cityscape from up high.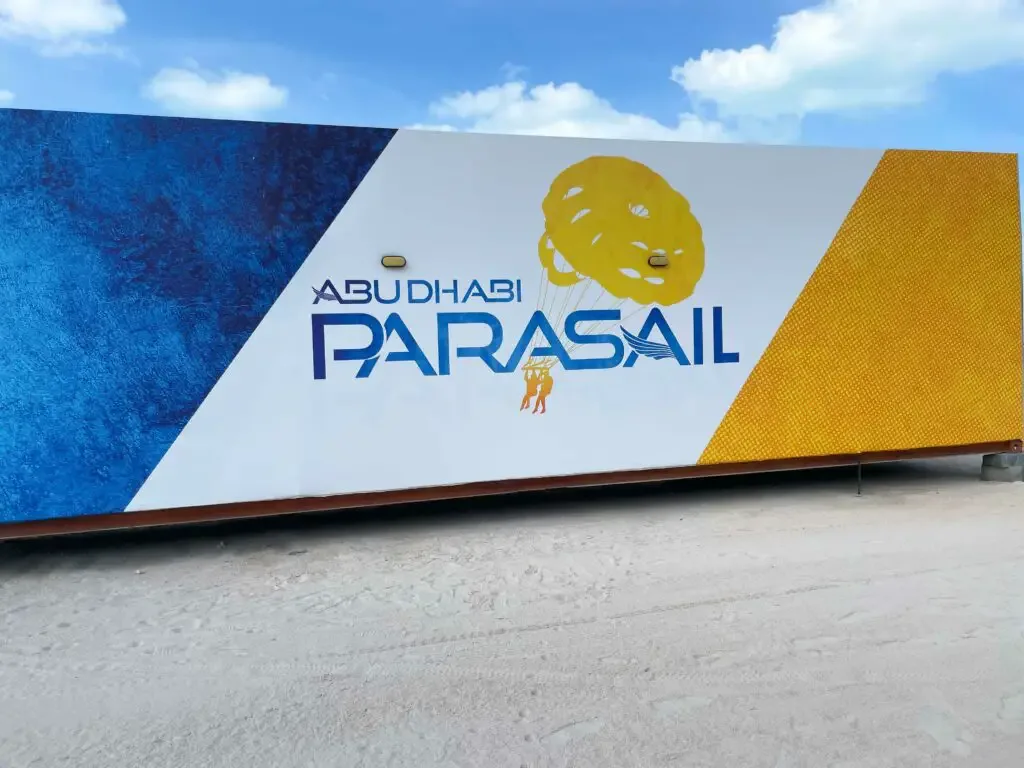 Not only do visitors get to take in the sights, but they feel a rush of adrenaline as they soar through the air. And with experienced instructors on hand to provide guidance, you are sure to be safe while enjoying this one-of-a-kind experience.
So why not give parasailing a try next time in Abu Dhabi?
Click here for more information.
CLYMB Yas Indoor Sky Diving and Rock Climbing
One of the top things to do in Abu Dhabi has to be a visit to CLIMB Abu Dhabi. Located beside Yas Mall, this adventure hub is not to be missed!
CLYMB Abu Dhabi aims to revolutionise indoor skydiving and climbing with the combination of two world-first experiences under one roof, it does not disappoint.
Housing the biggest indoor skydiving flight chamber in the world as well as the region's tallest indoor climbing wall, CLYMB Abu Dhabi is one for the adrenaline junkies. 
The indoor skydive is one for the bucket list! This state-of-the-art flight chamber has revolutionised indoor skydiving.
The largest chamber in the world is 32 feet in width and 104 feet in height resulting in indoor skydive experiences like never before!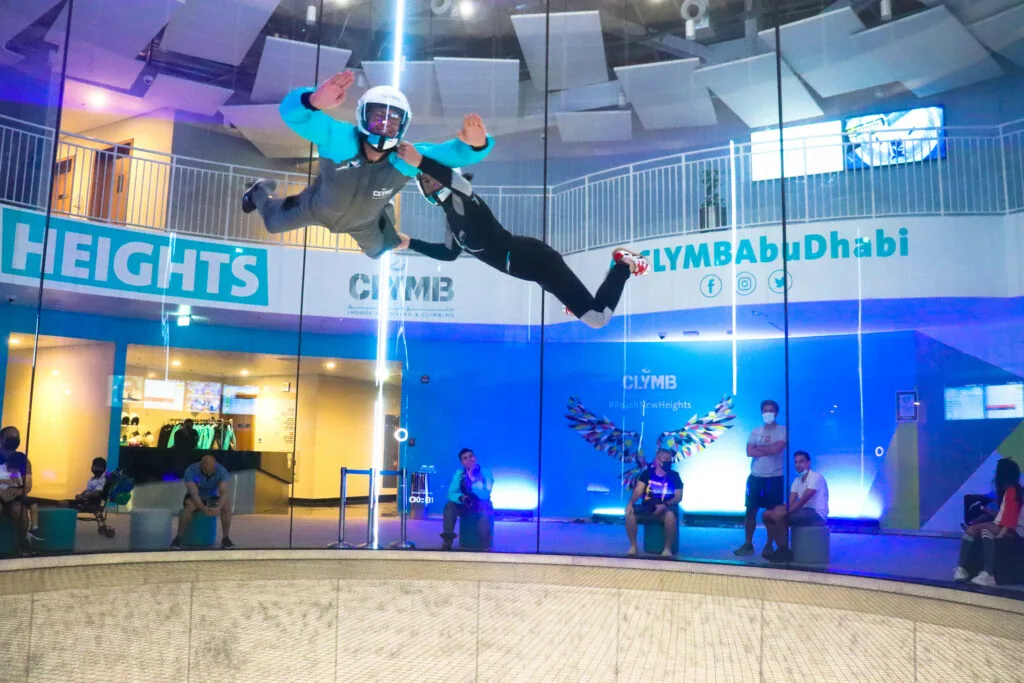 The expert instructors will guide you through an indoor skydive experience helping you to develop your flying skills and teaching you the different flying positions as you progress.
This experience is available for beginners all the way up to expert flyers as the instructors will guide you based on your level and comfort. 
Gear up for the region's largest indoor climbing wall, measuring an enormous 138 feet in height. 
Climb your way to the top to be able to say you have conquered the region's highest!
Appropriate for beginners and experienced climbers, choose from 5 different walls ranging in height and get yourself ready to conquer the Summit. 
CLYMB also includes a big indoor adventure zone for the kids.
If you're interested in other indoor activities for the kids, check out our guide here.
Kayak in the Eastern Mangroves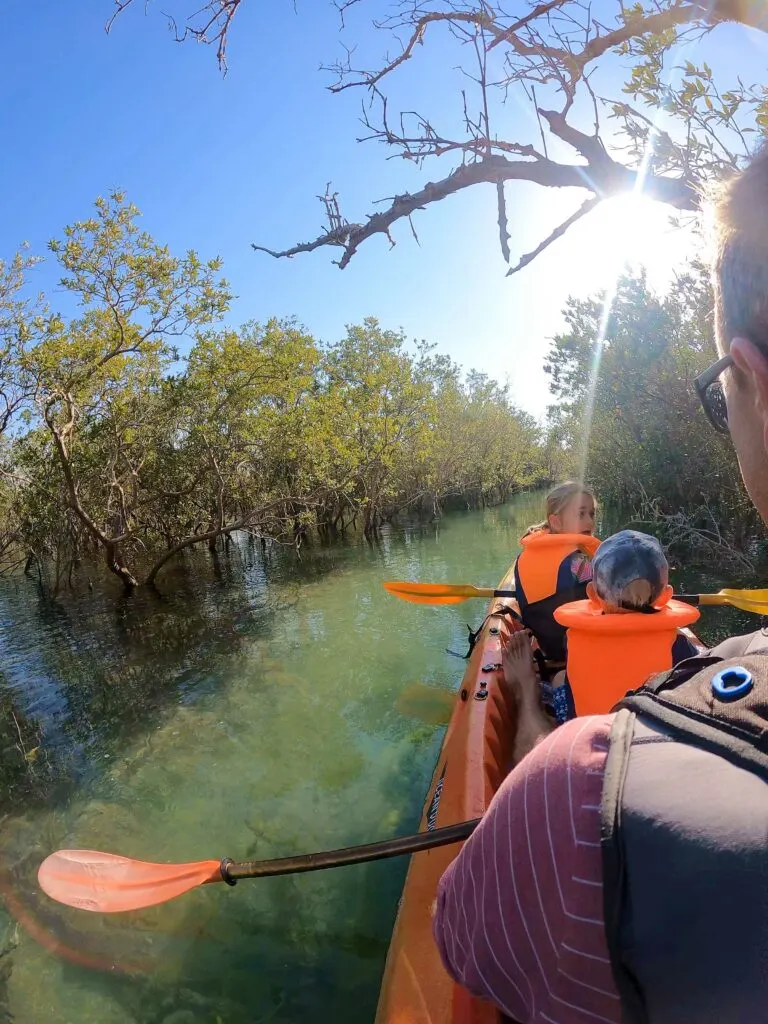 The Eastern Mangrove National Park is a must-see for any nature lover! Home to around 60 species of birds, this vibrant ecosystem provides wildlife a safe habitat and food source, this is one of the great things to do in Abu Dhabi.
Visitors can find many types of marine mammals as well as turtles living in the mangroves' waters – so if they want some good company on their adventure, paddle south on one of the kayaks at the park!
Guests are sure to be mesmerized by the beauty and importance of this mangrove. They can have a chance to take pictures, and rest in relative comfort while taking a break from exploring all there is to offer on their 2-hour guided tour!
Eastern Mangroves offers one of the many kayak tours around the waters of Abu Dhabi. While, all kayak adventures are great fun, there is something extra special about the location of this one on the mangroves.
Click here for more information about kayaking in the Eastern Mangroves.
Eastern Mangroves Boat Trip
Whilst in the area, why not take further advantage of the fabulous Eastern Mangroves with a boat trip.
This cruise takes visitors through the national park and allows you to get a close look at the plant life and any sea life or creatures lurking around the water.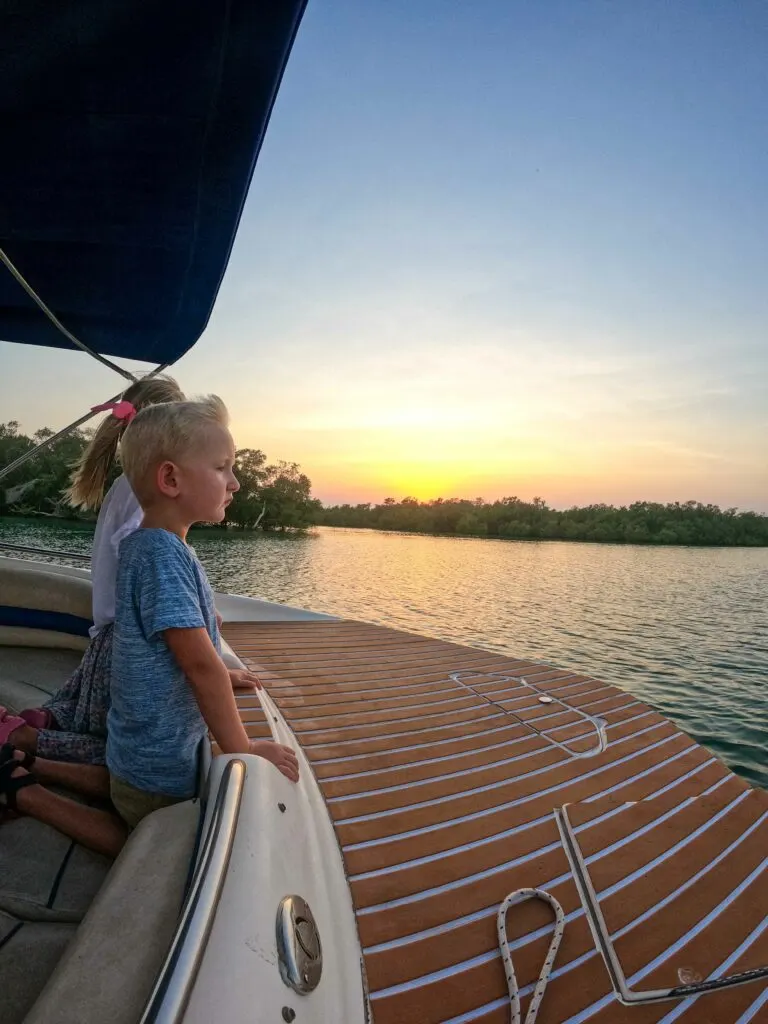 The mangroves are largely unknown outside of their native habitat and help to regulate water levels in coastal areas by capturing sediments from wave channels with deep root systems!
The boat is equipped with all the amenities guests could need on their trip. Afterwards, there is freshwater for rinsing off, changing areas if needed and even towels!
Yas Waterworld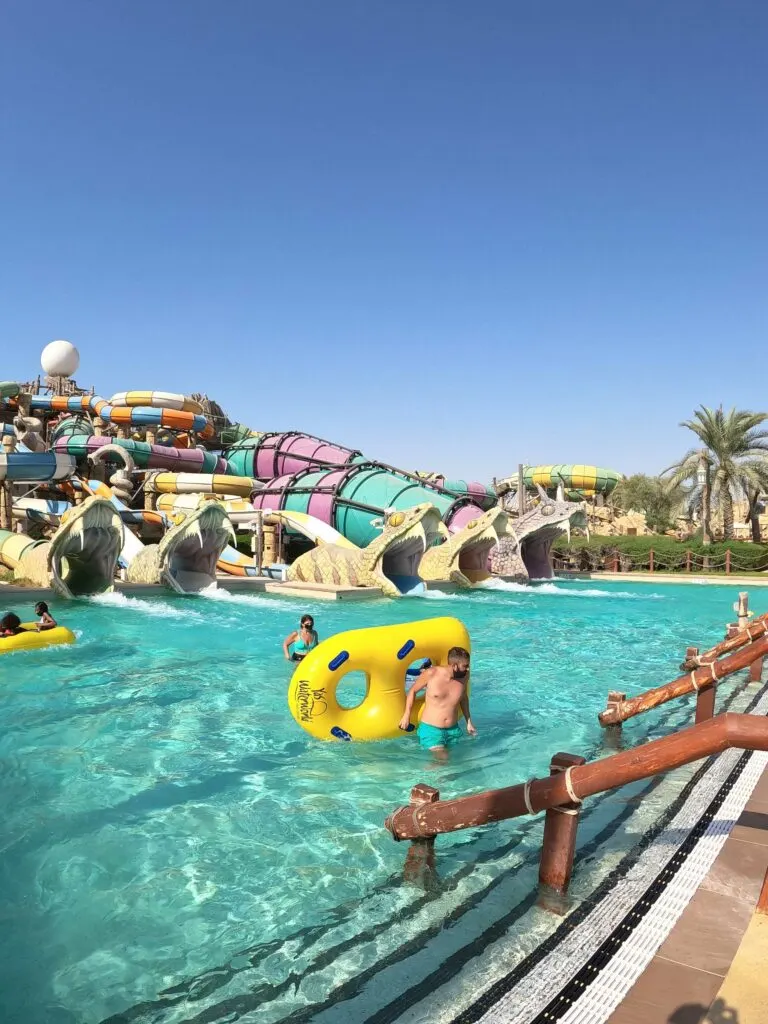 Many will agree that when it comes to things to do in Abu Dhabi, Yas Waterworld is high up on the list!
Whether guests are looking for a thrilling waterslide or just want some family time together, there are plenty of exciting options at this water park.
Some of the exhilarating slides include aspects like racing your friends on mats, flying out of snakes heads and having the floor open from underneath you!
Other experiences like the lazy river and the amazing wave pool are big family favourites.
Visitors won't be left hungry either, with many dining options to chose from like Chubby's Kitchen, Dana's Diner and Salma's Snack Shack for larger meals while coffee and snacks can be enjoyed at Gahwat Nasser and ice-creams and drinks at Skinny's Frozen Treats. 
With over 40 attractions to keep the whole family entertained and engaged from start to finish it's not hard deciding what your next adventure should be, and you can book it here.
For more information click here.
Ferrari world
Anyone looking for things to do in Abu Dhabi with non-stop, heart-racing fun? Ferrari World Abu Dhabi is home to over 40 record-breaking attractions and coasters to make anyone's head spin.
The worlds fastest rollar coaster, Formula Rossa.
Inside riders must wear a pair of goggles, which are mandatory to protect the eyes when riding at such high speeds.
Riders wait for lights out before being launched forward, feeling a surge of 4.8Gs. The train blasts to a speed of 240km/h in just 4.9 seconds.
Other fantastic rollar coasters include the Flying Aces, which contains the highest loop in the world, Turbo Track which shoots riders up through the roof of the theme park before a zero-gravity fall back down in reverse, Turbo Towers and Flying Wings.
The Junior Grand Prix is a brilliant experience for the kids, as they will race around the circuit in scaled-down Formula 1 cars.
In addition to the exciting rollercoasters and experiences, Ferarri World also offers things like funfair games, Formula 1 merchandise, soft play areas for children and an 'Italy section' where you will be transported to the streets of Italy.
This park offers a number of dining options like Italian and burgers as well as options for a quick snack and a coffee.
Ferrari World hosts a number of shows and events throughout the year, including mini-golf, Santa's grotto, gingerbread workshops at Christmas, and much more. 
Check out more information on Ferrari World, or book your day tickets now!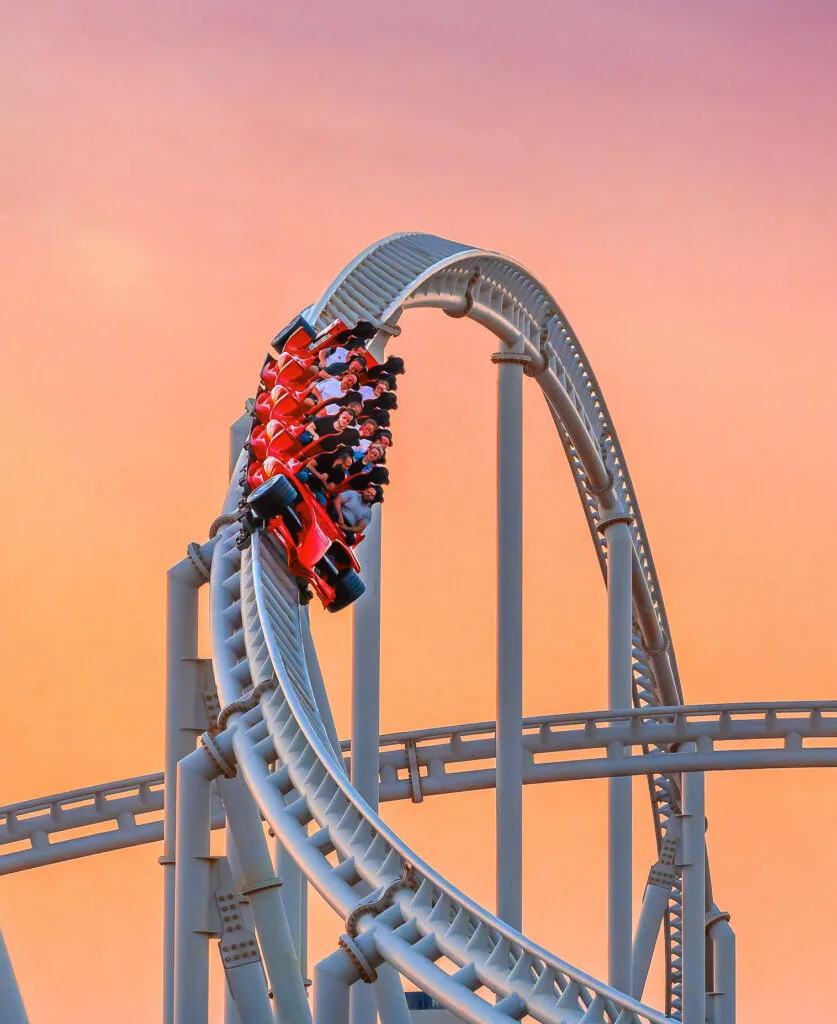 Driving Experience Yas Marina Circuit
Towards the end of every year, Formula 1 fans flock to Yas Island for the Abu Dhabi Formula 1 finale. This is a four day, world-class event.
The Abu Dhabi Grand Prix is not just popular as a result of it being the last race on the F1 calendar. 
It is also one of the most impressive, well-organised events in the world. Running from Thursday until Sunday, the circuit is transformed into a full festival. 
The event includes on-track action, F1-themed activities and competitions, tonnes of food and drinks options and areas to lounge in-between track times with entertainment throughout the day. 
Each night a concert takes place once the on-track action has finished. Over the years some of the world's biggest stars have performed during this weekend. Some familiar faces include Beyonce, Eminem, Rihanna, Kings of Leon, Lana Del Ray, Pink, Jay Z, Florence + the Machine and many more!
The Abu Dhabi Formula 1 Grand Prix is without a doubt, one of the very best things to do in Abu Dhabi.
However, during non-grand-prix times, this circuit also offers some exciting driving experiences!
THE ALL ELECTRIC PORSCHE TAYCAN TURBO
This experience involves 6 laps of the track, in an electric porche that goes from 0 – 60 in 3 seconds and can hit a top speed of 260 km/h.
For this 20 minute experience, drivers can go from 0 – 100 in 2.8 seconds and hit a top speed of 275 km/h.
This 10 minute charm meets modern technology experience allows drivers to go from 0 – 100 in 3 seconds and hit a top speed of 235 km/h.
The Aston Martin GT4 is the ultimate racing experience. During this 20 minutes, drivers hit top speeds of 300 km/h and can go from 0 – 100 in 3.8 seconds!
In this experience, racers go head to head across 5 sprints in a Polaris that goes from 0 – 100 in 3.5 seconds.
Drivers can take advantage of 15 minutes on track in the Ferrari 458 GT that goes a staggering 0 – 330 in 3.8 seconds!
Strap in, take a deep breath and prepare to race your way around the high-performance driving school. Drivers receive coaching from an expert instructor on the best techniques for navigating this challenging circuit before going out into it themself – all while trying not crash or do too poorly!
After the practice time, they provide detailed feedback about what drivers could have done better based off their observations during the session together.
To find out more about a driving experience at Yas circuit click here.
Kayak the Louvre
Enjoy a unique perspective of the Louvre Abu Dhabi while kayaking around this beautiful museum. Visitors are given instructions about how to use their gear before taking off for an hour long tour which is full of fun and informative!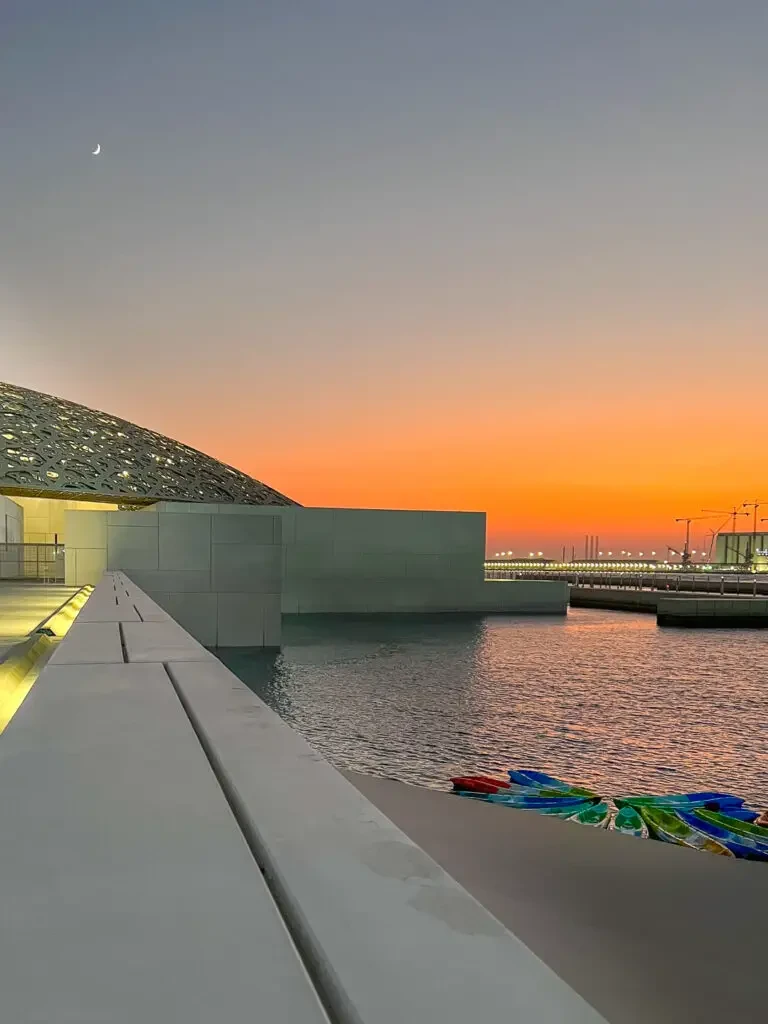 No prior experience needed – tours last 60 minutes with professional instructors who provide everyone all necessary assistance along side them so there's nothing scary.
Check out more information here.
Circuit X Ropes Park Hudayriyat
The Circuit X Hudayriyat Mar Vista at the all-new Abu Dhabi entertainment district provides 24/7 excitement, making it one of UAE's top places to go in Abu Dhabi.
Little ones can have a blast running wild at the Splash Park between the wet and dry play areas and poolside splash fountains.
For children aged 1-3 years old there are dedicated coaches who ensure constant supervision while they explore the many nooks within Pirates Playground or take part in the interactive games.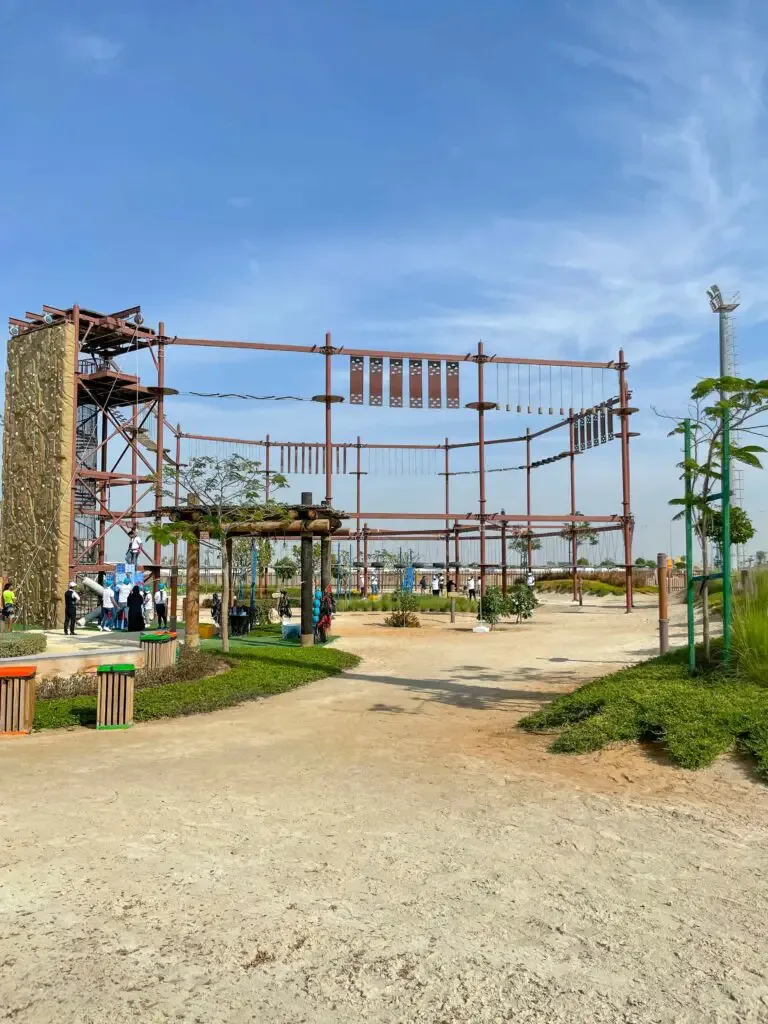 The Skate Park is a place for children and adults to have fun. It has an extensive area with obstacles to test skills, from beginner hip-hop courses to trickier ramps like the bowl or rail grinds! Minors must wear helmets while in session so make sure not to forget one.
The awesome BMX Park features a heart-pumping, thrilling experience for all biker skill levels. It has one of the largest asphalt pump tracks along with 15 different corners and ramps to keep everyone laughing when visions get blurry from speed!
Finally the Ropes Park is an adventure seekers dream. Fully enclosed with amazing views of the city and sea, it features three levels worth of challenges to leave everyone feeling like royalty or granting new heights to any age group!
Check out more information here.
Best Malls to Visit in Abu Dhabi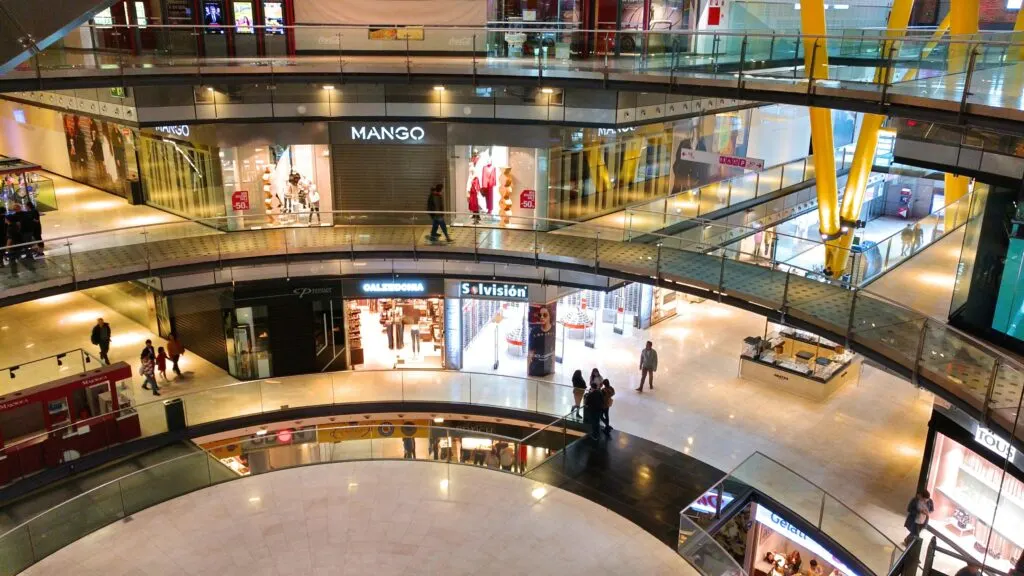 There are many reasons why people should head to the malls in Abu Dhabi. For families, these bustling centre's provide an endless array of entertainment options, from shopping and dining to movie theatres and playgrounds all contained in a comfortable climate controlled location.
Not only do they provide a safe, comfortable place for families to spend time together, they also offer a wide range of affordable activities perfect for people of all ages.
Additionally, for couples and young adults, the malls in Abu Dhabi offer a vibrant nightlife scene with countless cafes, bars and clubs.
From trendsetting rooftop hotspots to popular champagne lounges, there is something for everyone when it comes to enjoying a night out on the town.
So why not head over today and experience all these super-sized centers have to offer? With so much to see and do, visitors would never run out of fun things to do in Abu Dhabi malls!
Galleria Mall
The Galleria Al Maryah Island is a mall in the heart of Abu Dhabi with over 400 stores and 300 popular brands.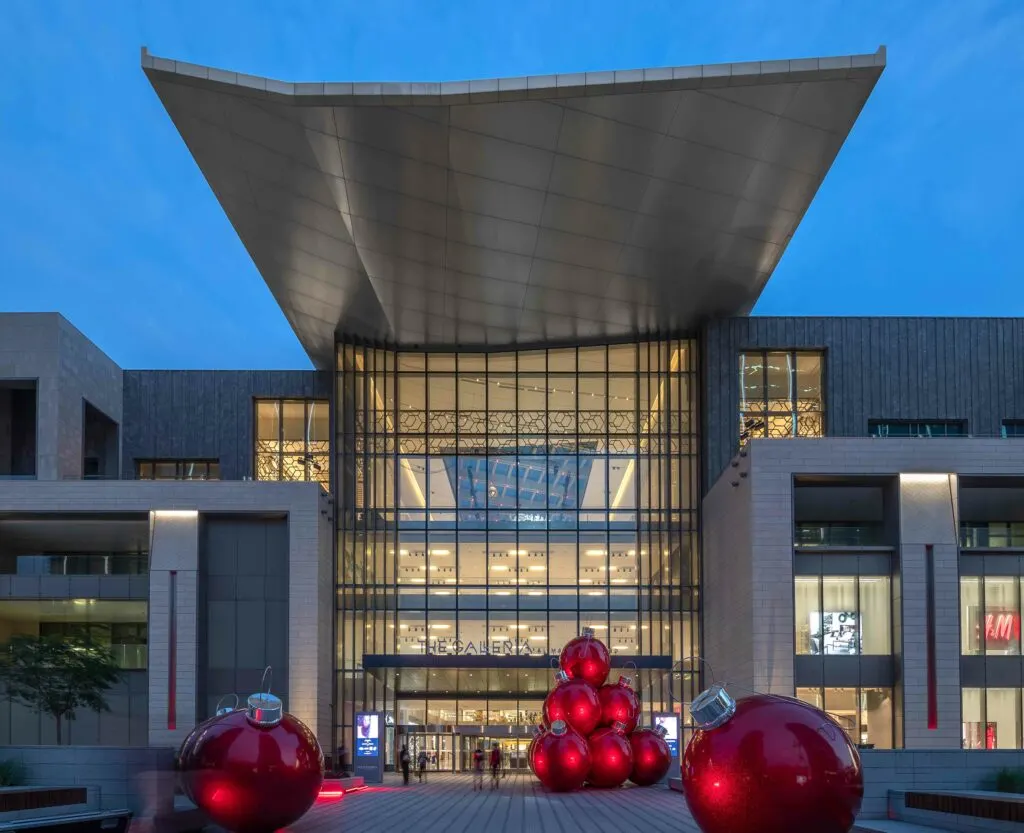 The spacious shopping complex comes complete with awe inspiring architecture, balconies for relaxing on after shopping or catching up friends from across town (or even abroad!), as well as a various array of food and dining options to choose from.
When the sun sets the nightlife in the mall comes alive!! From rooftop lounges offering views of both skyline and the desert sunset to the waterside cafes and restaurants overlooking the bay. This is the mall guests could spend all day in.
Yas Mall
Stop by Yas Mall on a trip to Abu Dhabi. The UAE's second-largest shopping center, it houses more than 360 stores and 60 restaurants!
With an impressive array of amenities for all ages including international retailers like Zara or H&M alongside local cuisine, guests are sure not going hungry here; unless maybe it is after some cotton candy…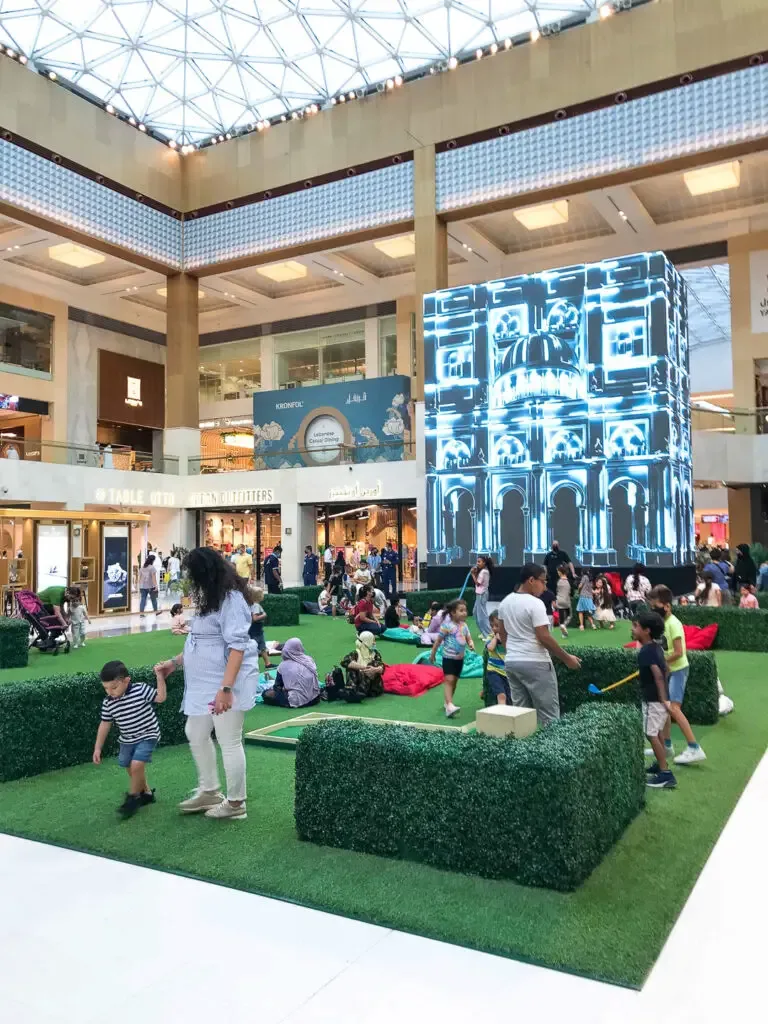 There are plenty of things to do with kids in Abu Dhabi. In fact, KidZania, an award-winning children's entertainment concept located on the ground floor of Yas Mall. A 55000 sqft mini-city combines playful activities with education using an innovative approach to make learning fun for kids aged 4 – 16 years old.
Best Sunset Spots in Abu Dhabi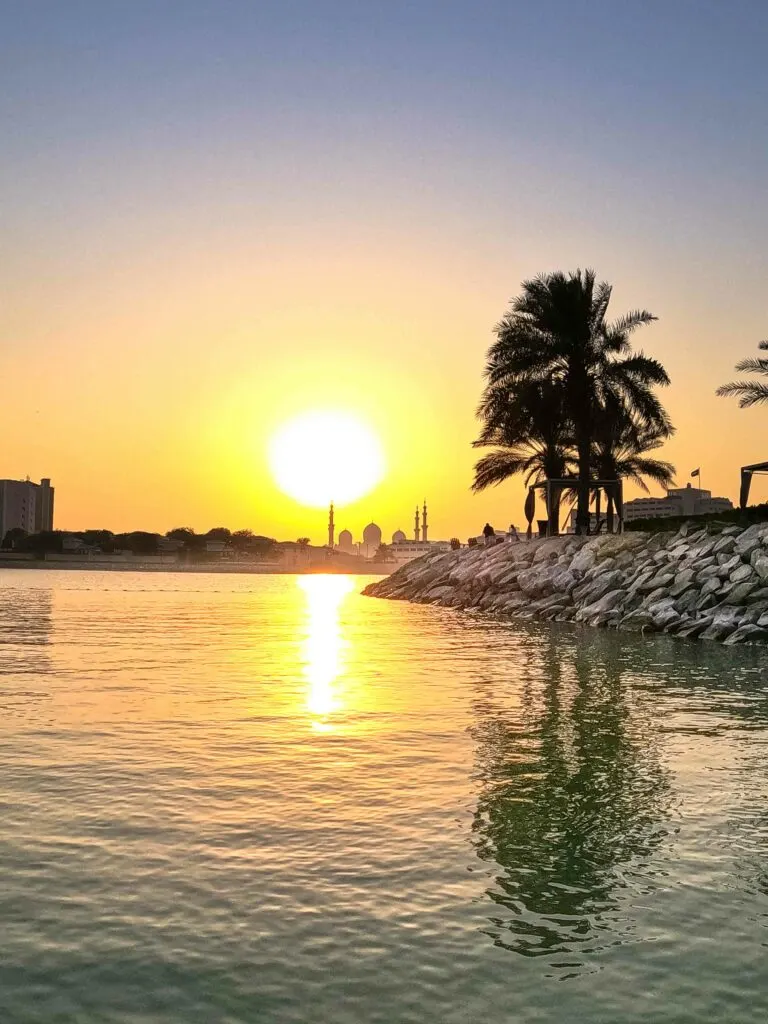 There's nothing quite like watching the sunset over the Arabian Gulf. The water turns from a deep blue to a rich golden, and the sky is stained with pink and orange.
Abu Dhabi offers plenty of beautiful locations to watch the sunset, whether looking for a romantic spot for two or a place where families can enjoy the view together. Here are just a few of the best places to watch the sunset in Abu Dhabi.
The Corniche is one of the most popular spots in Abu Dhabi to watch the sunset. The wide promenade is perfect for strolling hand in hand as guests take in the view, and there's a kids' play area for anyone looking for a family-friendly option.
Another great option for families is Yas Island Beach. This beach has shallow, calm waters which are perfect for swimming and splashing around, and there's plenty of space to set up towels and umbrellas.
For couples, head to Saadiyat Beach Club. This exclusive beach club offers stunning views of the sunset, plus there's a pool if guests want to take a dip as they watch the sun go down.
Mentioned previously in this article – Al Hudayriyat Island is also stunning during sunset.
Wherever guests choose to watch the sunset in Abu Dhabi, it is sure to be breathtaking.
Best sunrise spots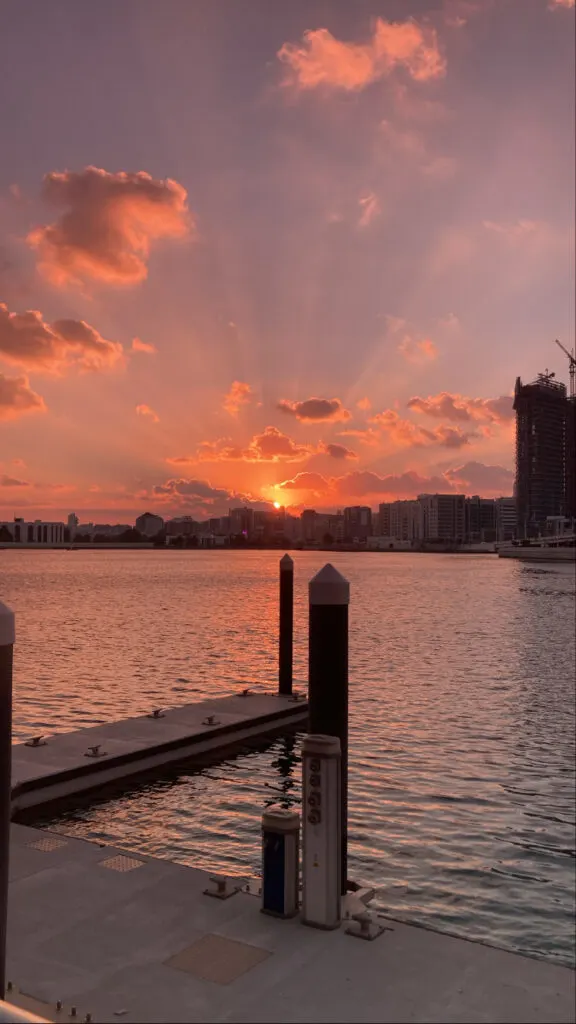 There is no better way to start the day than by watching the sun rise over the city. And there is no better place to do it than Abu Dhabi.
With its clear skies and open spaces, the city offers families and couples alike a chance to enjoy the beauty of nature. Below are just a few of the best places to watch the sunrise in Abu Dhabi.
At Sheikh Zayed Grand Mosque, visitors can watch the sun rise over the beautiful city of Abu Dhabi. The mosque is one of the largest in the world, and its impressive architecture is a sight to behold.
The Desert is also a great place to get away from the hustle and bustle of the city. Visitors are rewarded with stunning views of the sun rising over the sand dunes. Just be sure to dress warmly, as it can get cold in the desert at night.
There's nothing quite like watching the sun rise over the ocean. Abu Dhabi's many beaches offer families and couples a chance to relax and enjoy the beauty of nature.
So whether visitors are looking for a romantic spot or a place to spend some quality time with kids, make sure to check out the sunrise at the beach.
Where to Have Brunch in Abu Dhabi
Abu Dhabi is a city known for its luxury and opulence, and this is reflected in its brunch scene. Families and couples can enjoy a leisurely meal at one of the many high-end restaurants that offer lavish buffet spreads with everything from seafood to foie gras.
The atmosphere is often festive, with live music and bottomless champagne. However, brunch in Abu Dhabi is not just about the food; it is also about socializing and enjoying the company of friends.
Abu Dhabi's brunches provide the perfect opportunity to catch up with friends and family while indulging in some of the best food and drink the city has to offer.
For brunch on a budget, the Aquarium on Yas Island has a seafood brunch from 1 pm to 5 pm. Guests can get unlimited fresh fish for 199 AED, and if that's not enough there are also plenty of options for vegetarians!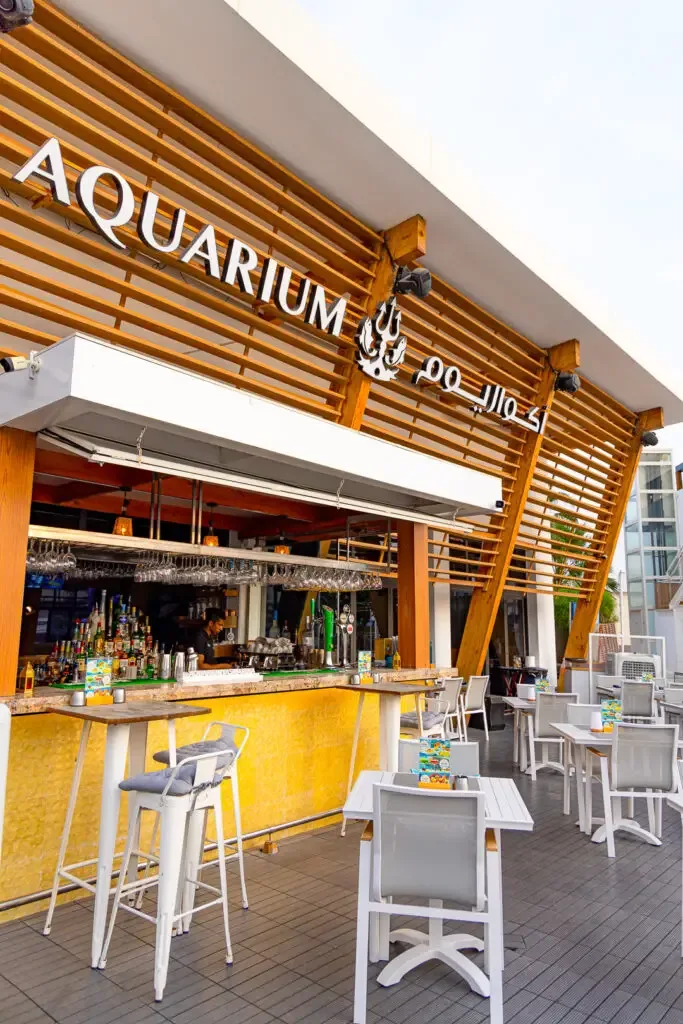 Brunch at Urban Kitchen is always a hit because it has live cooking stations. People can choose from fresh seafood, roasts and dishes made by neighbouring restaurants such as Benjarong or Namak for an average price of 270 AED per person every Saturday!
Day trip to Dubai from Abu Dhabi
It's time to start the day off in style! Guests are met at the hotel by one of the guides. Then they set off on an exploring journey to modern Dubai.
The drive to Dubai is not one to miss, as the city packs in all sorts of surprises on its way. Alongside some incredible architecture are both modern buildings and traditional Arabic styles like nothing else around!
This tour allows insight into this multi-faceted place with old traditions mixed up alongside new ideas – giving a better understanding about what makes it so unique compared other places around world.
As visitors explore the Old City of Dubai, take some time to stop and smell all those wonderful spices at their own spice market. Then continue on for a visit towards New Town where popular landmarks include The Burj Al Arab and Palm Jumeriah Tower
There are plenty more buildings both modern & historic which make this place truly shine!
After a day's sightseeing, all guests are dropped back to Abu Dhabi.
Check out the day trip to Dubai here.
Places To Stay in Abu Dhabi
There are countless reasons why visitors should stay in Abu Dhabi. Whether they are a family or a couple, there are plenty of opportunities to enjoy everything Abu Dhabi has to offer. From bustling entertainment districts and cultural attractions, Abu Dhabi has something for everyone.
For families, it has lots of green spaces where children can play. For couples, there are endless opportunities to explore the city's vibrant food scene or relax on the beach. Check out some of the best places to stay in Abu Dhabi below.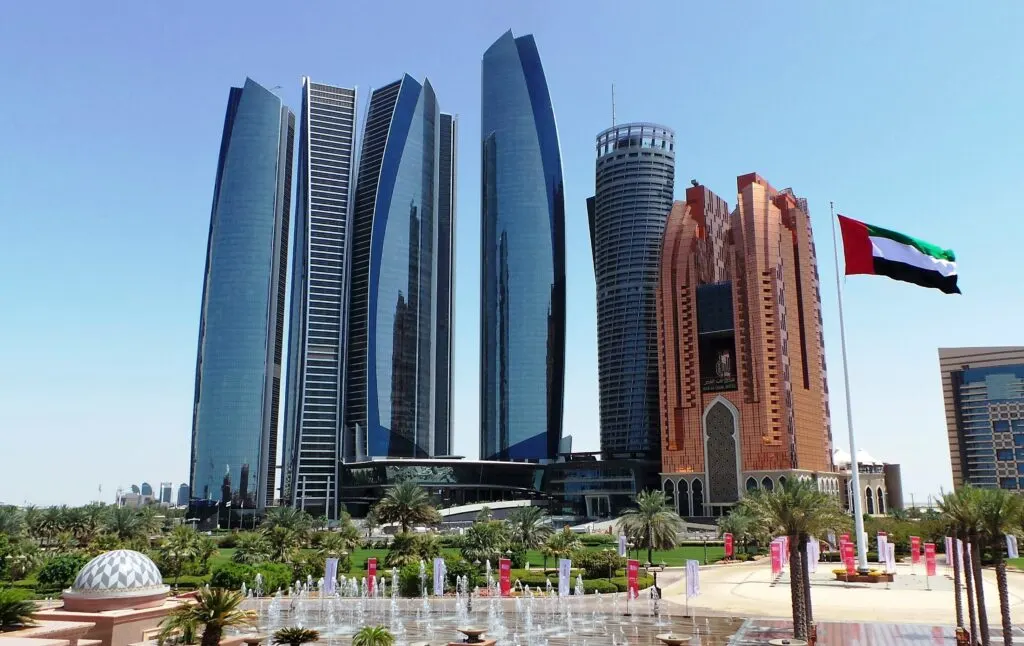 Park Hyatt Saadiyat Island
The Park Hyatt Abu Dhabi Hotel & Villas is the perfect spot for those who want to be away from it all but still have easy access to some of Dubai's best amenities.
The hotel offers 5 star accommodations with private beachfront views and includes air conditioned rooms, an outdoor pool club house complete with essential services like wifi.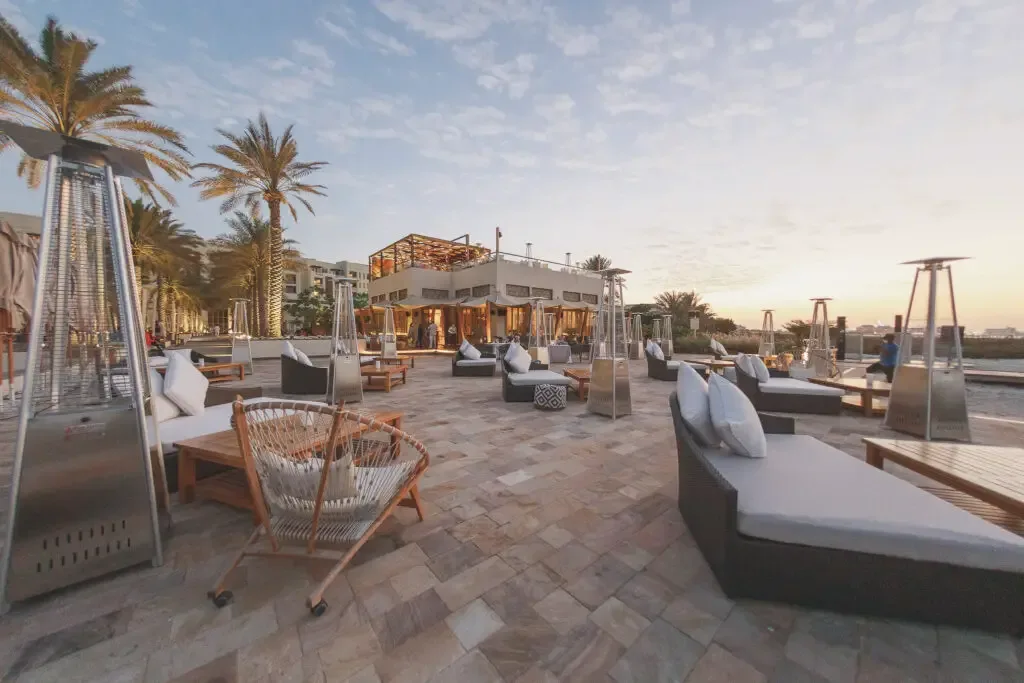 The Atarmia Spa offers a variety of massages, facials and other beauty treatments. The gym is open to both men and women while their private rooms can be used by those who want more privacy!
They even have 3 restaurants available – one with views overlooking Saadiyat Island as well as two others which overlook lush gardens fully stocked with flowers everywhere.
Click here to book a stay at the Park Hyatt.
The Abu Dhabi EDITION
Stay at the 5-star Abu Dhabi EDITION hotel and enjoy all of its amenities, such as two pools with views over the city or waterway and downtown landmarks like The Al Maktoum Bridge.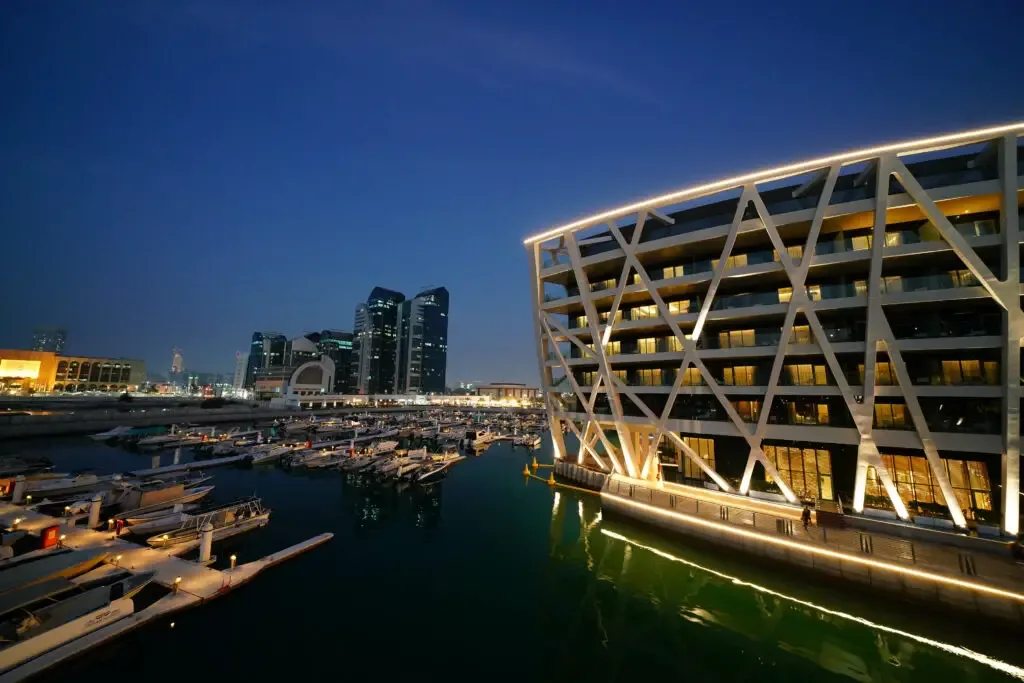 The Corniche beach and Marina Mall are within walking distance of the hotel, while Al Bateen Executive Airport is less than 10 minutes away. Abu Dhabi International airport can be accessed by car in 35 minutes.
The hotel has everything needed for an enjoyable stay. They offer guests 2 signature restaurants, a gourmet market and pool bar as well!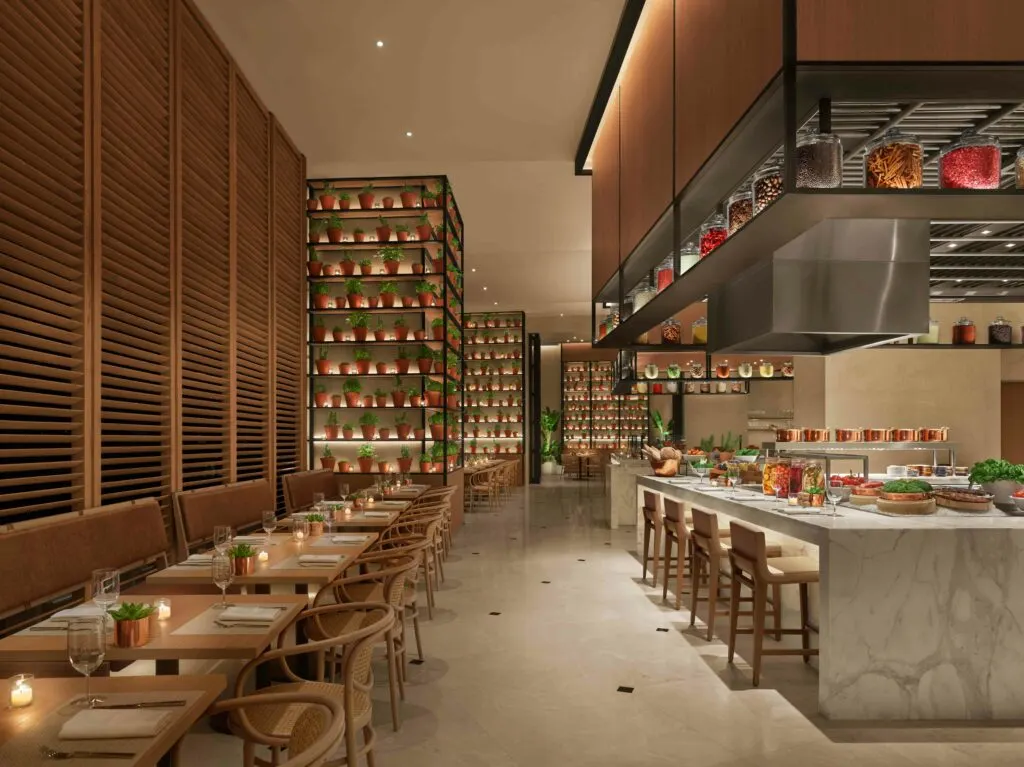 Guests can also take advantage of their state-of the art fitness centre or relax in one of the luxurious Treatment Rooms while getting pampered with 7 other treatments on site at The Spa By Design!
Check out the The Abu Dhabi EDITION here.
Zaya Nurai Island
Nurai Island Resort is the ultimate getaway for those looking to relax in pristine surroundings. This exclusive island resort sits just 12 minutes from Abu Dhabi's Saadiyat Island and 60 minutes away from downtown Dubai.
With clear waters fringed by powder white sand beaches along its boundaries, you will leave feeling relaxed yet energised at night after exploring all there has offer on this small landmass!
A contemporary villa awaits each guest who arrives here; designed so seamlessly into their natural environment it feels almost like being part of natures own architectural plan (which isn't hard considering how incredible these sites look).
With private temperature controlled pools outside coupled wth floor-to ceiling windows overlooking Arabia's Sea – it is a hotel not to be missed!
Click here for more information about Zaya Nurai Island.
W Abu Dhabi Yas Island
W Abu Dhabi's Yas Island is a unique location with an incredible design and the best accommodations in UAE. This resort offers multiple dining venues, modern rooms fitted out for comfort including mood lighting as well as free internet access – all set against stunning water views!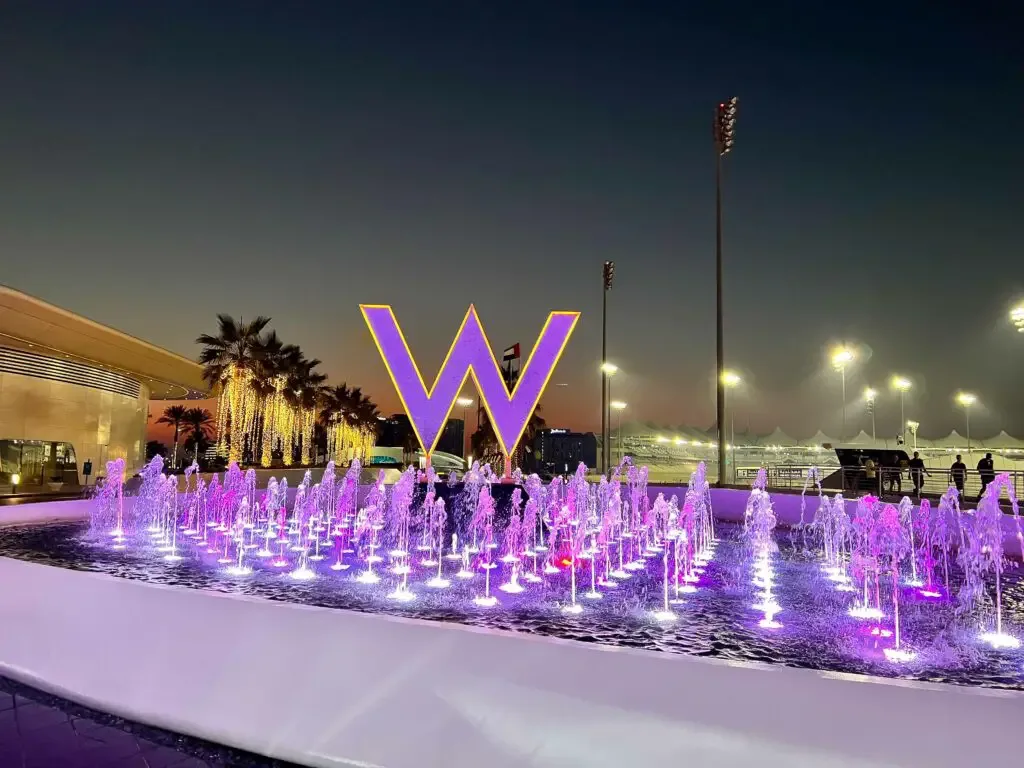 The hotel overlooks the F1 racing circuit but doesn't forget about its own entertainment offerings either. Enjoy evening shows by caribbean music stars at one club or another before retiring to the room after a long days exploring.
Check out the W Abu Dhabi here.
Anantara Eastern Mangroves
Located in the heart of Abu Dhabi, Anantara Eastern Mangroves offers a haven for guests seeking relaxation. The outdoor swimming pool with sun terrace overlooking the mangroves provides an ideal place to rejuvenate body and soul while also enjoying spectacular views from its own balcony.
There's even space allocated just below where one can sit back comfortably on their sofa bed after days spent exploring this beautiful city!
In addition all rooms come equipped ensuring no matter what time the guest may visit they'll always feel right at home!
To book a stay at the Anantara Eastern Mangroves click here.
Shisha places to Visit in Abu Dhabi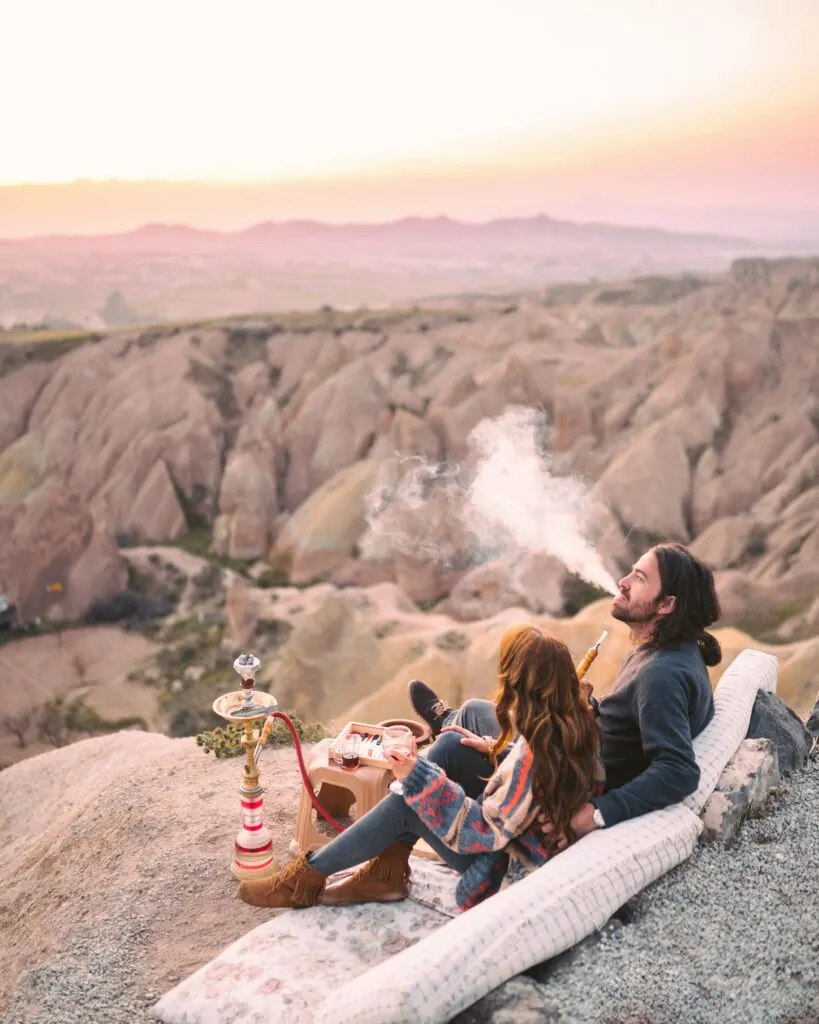 Shisha bars are popular places to visit in Abu Dhabi at night. They offer a relaxed, social atmosphere where people can enjoy traditional hookah pipes and flavoured tobacco.
The fresh fruit juices and sweet syrups used to flavor the tobacco make shisha smoking a much more pleasant experience than cigarette smoking. In addition, shisha bars usually have a wide selection of teas, coffees, and snacks available, so there is something for everyone to enjoy.
Whether guests are looking for a place to relax with friends or a romantic night out with their significant other, a shisha bar is a perfect choice.
Ornina | Yas Island
When one thinks of Abu Dhabi's most popular spots for hookah, Ornina supplies a range of shisha flavours to enjoy! This casual dining spot is an excellent area in which there are many different types and styles.
Looking for some late-night shisha? This Abu Dhabi location has extended its operating hours until 2 am on weekends!
Visitors will locate more than 12 single flavour options to choose from including mint and five dual flavours such as apples or lemons with rates starting at just 135 AED per session.
Level Lounge | Corniche
Level Lounge is a popular spot for shisha lovers to enjoy their favourite fruity flavours. Choose from strawberry, wonderful melon or even grape!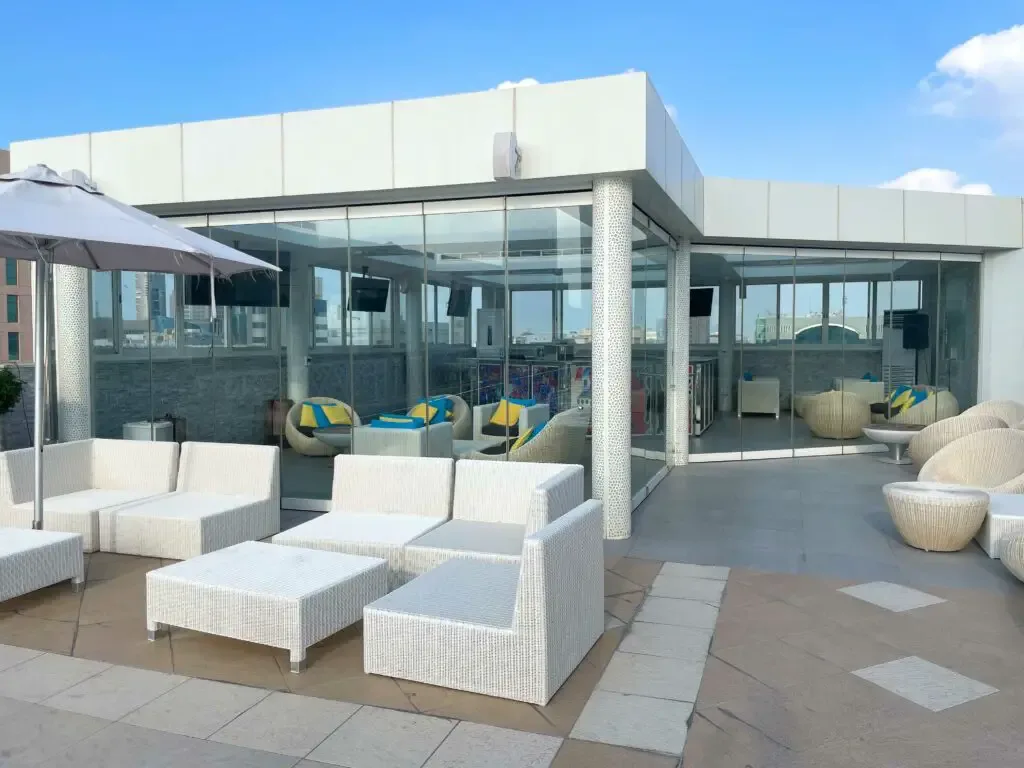 Guests can also order punchier smoking cocktails at this Roof Top Pool Bar such as the fresh fruit blends that include pineapple flavour along with environmental apples and lemons.
Stars N' Bars | Yas Island
Looking for an unusual place to have shisha, look no further than Stars N' Bars on Yas Island. This famous sporting activities bar flaunts its outside lounge with stunning views of the Marina and offers almost 15 different flavours varying from solo cups all the way up combined!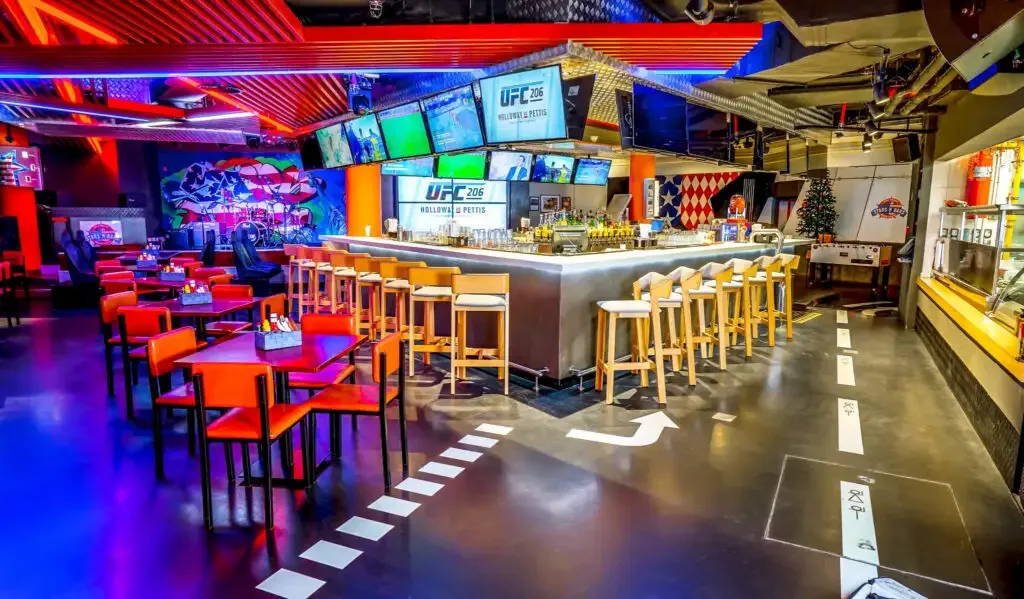 Whether it be alone or with friends (or even just one), this spot has something perfect each time – so head down today before they run outta orders!!
5 Great Cafes in Abu Dhabi
Abu Dhabi is a bustling city with plenty to see and do. However, after a long day of exploring, it can be nice to relax in a cafe with a cup of coffee or tea.
Cafes provide a welcome respite from the hustle and bustle of city life, and they offer a chance to sit back and people watch. In addition, cafes are usually family-friendly, so they are a great place to take a break with kids in tow.
For couples looking for a romantic spot to enjoy some time together, there are plenty of charming cafes to choose from. So whether guests are in the mood for a quick snack or a leisurely meal, be sure to check out one of Abu Dhabi's many cafes.
Aptitude Café | Louvre Abu Dhabi
Aptitude Café is the perfect place to enjoy coffee by the water. It features a view of one of the most famous views in Abu Dhabi….The Louvre.
With plenty of green surroundings and indoor/outdoor seating, the decor swings between both zen styles for optimal relaxation before or after seeing all there is inside this museum!
For anyone looking to grab some food, there are plenty of mouthwatering options on the menu!
Breath café | Al Dhafra
Head to Abu Dhabi's Breath café for one of the most aesthetically pleasing cafes in town. Guests feel like they've been transported back into their childhood.
The decor is stunning, with its faux grass floor and trees growing through the ceiling (and even coming out at different heights). But it doesn't stop there!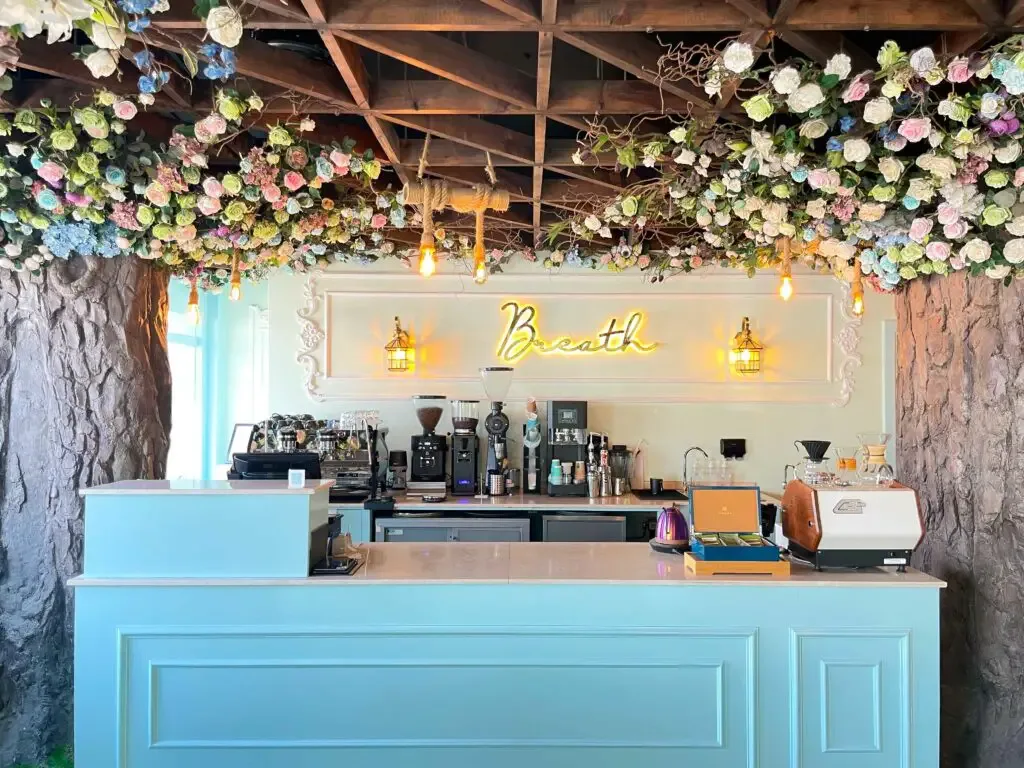 The food is delicious too and there is plenty to choose from on the menu!
Montauk Boutique Café and Restaurant | Al Bateen
At Montauk Boutique Café and Restaurant, the scenery is pretty much perfect for dining. The menu has plenty of dishes that would make any beach lover happy with their favourite food.
Choose from views of looking over the beach or indoor seating to watch the staff prepare the food and bring it to the table. No matter where guests are seated, the coffee tastes great!
Cafe Arabia | Umm Al Emarat Park
Cafe Arabia is the perfect place to get a caffeine fix, whether guests are looking for something bold or sweet. The menu features an array of different lattes and even non-coffee drinkers come back for seconds!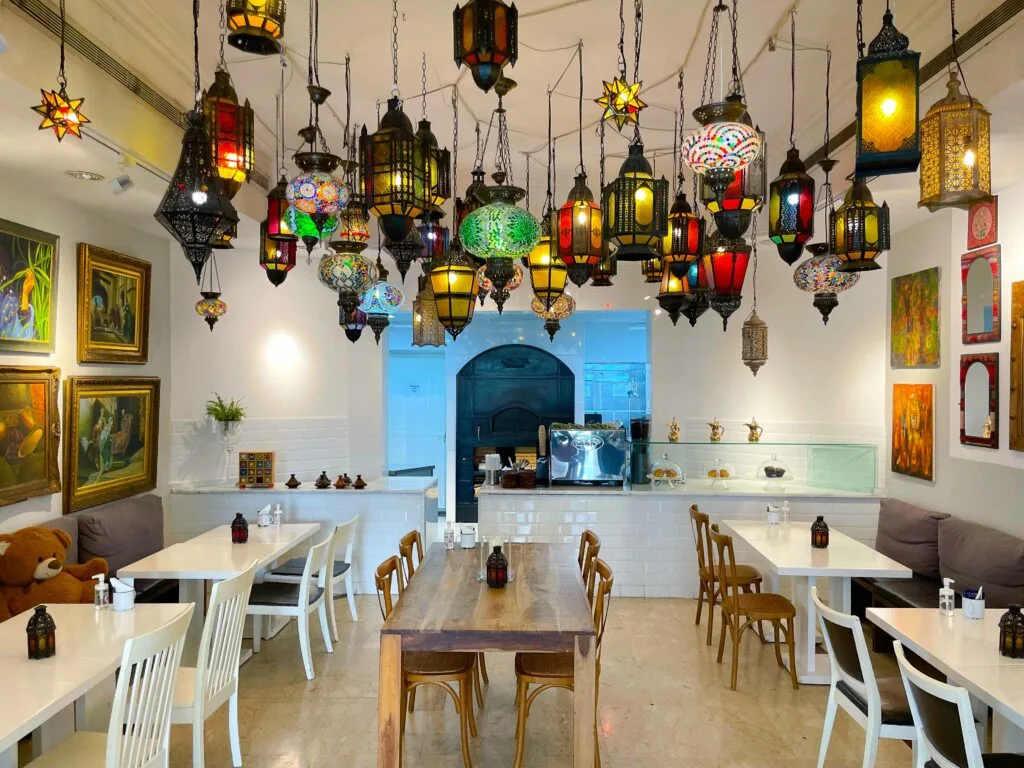 For those who prefer their drinks hot in wintertime, they offer up warm cups filled with frothy cappuccinos! In addition, there are plenty more options including Spanish ones made using condensed milk alongside other flavours such as turmeric coconut matcha tea which can be enjoyed all day.
Art House Cafe | Abu Dhabi
The Art House Cafe is a colourful, creative haven in the middle of the old city. The welcoming sculptures at the front provide just enough personality to draw guests into this creative corner shop where coffee enthusiasts will find their favourite drinks: espressos, macchiatos & Turkish coffees among others!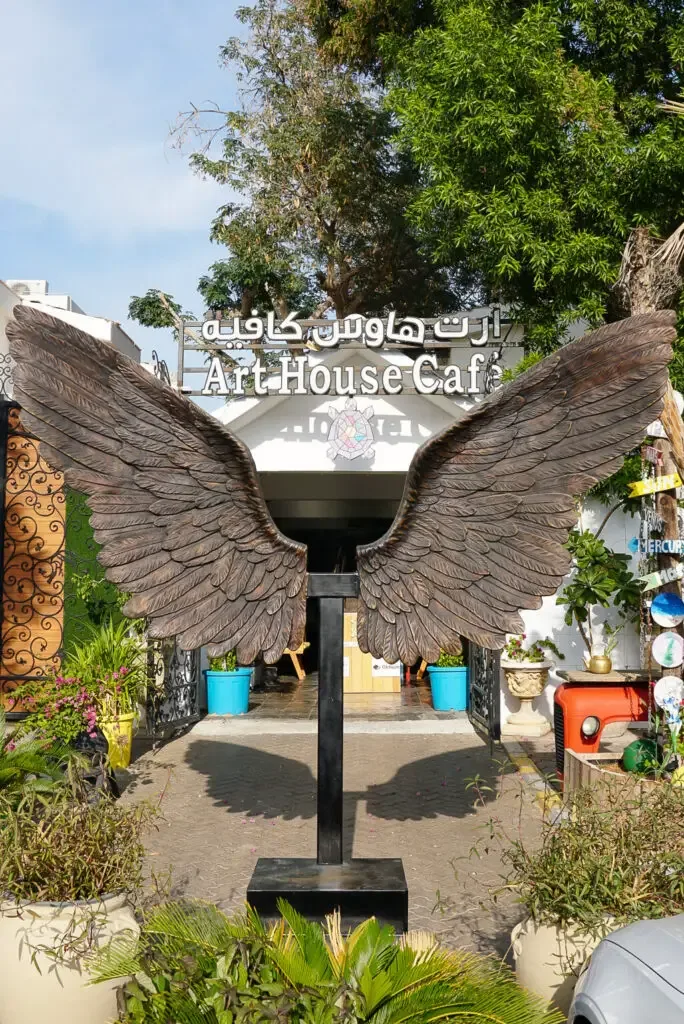 The Etihad Modern Gallery is next door and there is a large outdoor area for anyone who wants to enjoy the outdoors.
5 Great Restaurants in Abu Dhabi
When considering where to go for a special night out, Abu Dhabi offers countless options. Whether guests are looking for a romantic date spot or somewhere to take the whole family, there is sure to be a restaurant which appeals to everyone's needs and taste preferences.
With its lively atmosphere and fine dining options, families are sure to enjoy spending time at one of the many restaurants in Abu Dhabi. The city also offers plenty of options for couples, from open-air bistros with incredible views to upscale eateries with delicious menus.
Whether it's the first time in Abu Dhabi or not, this vibrant and exciting city is guaranteed to provide a memorable dining experience every single time.
Alkalime | Soul Beach
For a dose of good vibes and healthy food, head to Alkalime in Abu Dhabi. Located right on Soul Beach with stunning views for miles around as well as an excellent selection menu including vegetarian options like the cauli pizza or summerlicious salad; it is sure to delight everyone!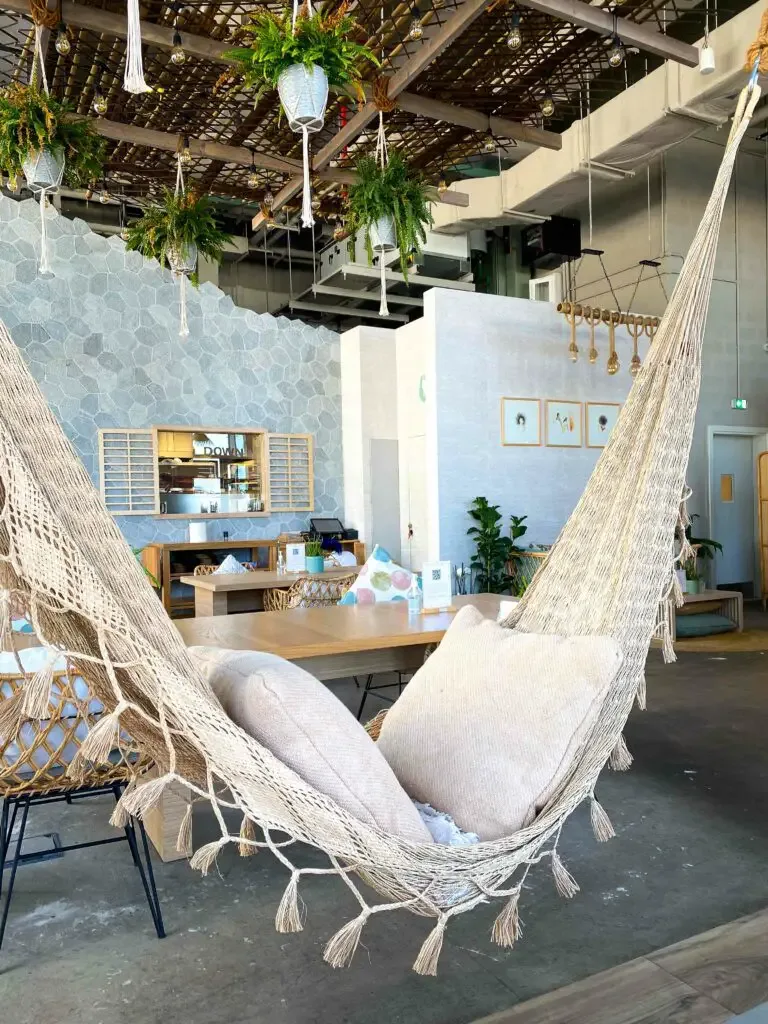 Black Tap | Saadiyat Island
With a name like Black Tap, it is certain they have some serious culinary talent behind them. The mega shakes and burgers make anyone's jaw workout in delight as soon as they arrive at the table – but it doesn't stop there!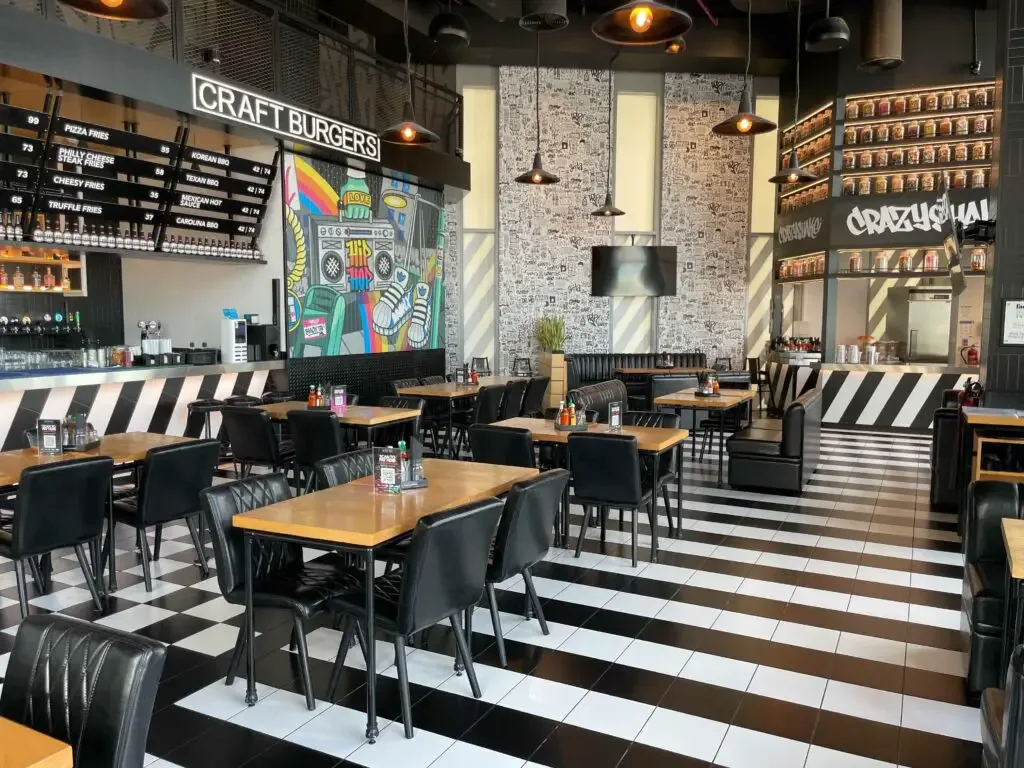 With options for both vegan deliciousness or meat-eaters alike (depending on what preference), this hotspot is making waves with its stunning views out onto Saadiyat Island's beachfront where life goes full throttle during happy hour every day until sunset.
Find out more about their offering in our best burgers in Abu Dhabi post!
Graphos Social Kitchen | Hilton Abu Dhabi Yas Island
Hospitality is a way of life in Abu Dhabi, and Graphos Social Kitchen ranks as one more place for visitors and residents to try.
The à la carte menu at this restaurant in Abu Dhabi has something for everyone. From fresh local seafood to mouth-watering roasts, there are so many different dishes it would be difficult to narrow down choices based on what's best suited to just one person!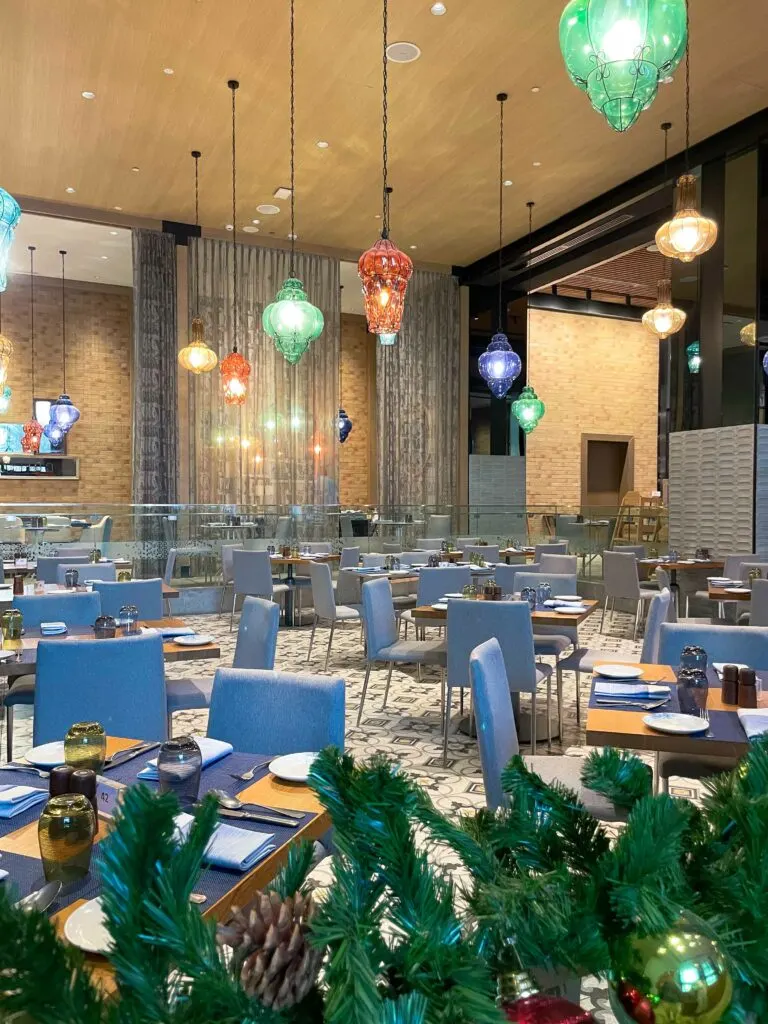 In addition, they have an amazing buffet where visitors can wander through live cooking stations or choose from individual courses instead if preferred.
Medi Terra | Al Bateen
When considering romantic places in Abu Dhabi, the first thing to come to mind is most likely Al Bateen. Medi Terra gives the other restaurants in the area a run for their money with its intimate setting overlooking the water
It is the perfect place for a date, especially if guests want something different to Emirati food! With so many good dishes on offer, the difficulty would be deciding on which dish to eat!
Mykonos | Le Méridien Village
Come to Mykonos, an island which brings the warmth of home into Abu Dhabi. Here guests can enjoy a DJ playing uplifting music and views for days from this beachside restaurant & bar at Le Méridien Village.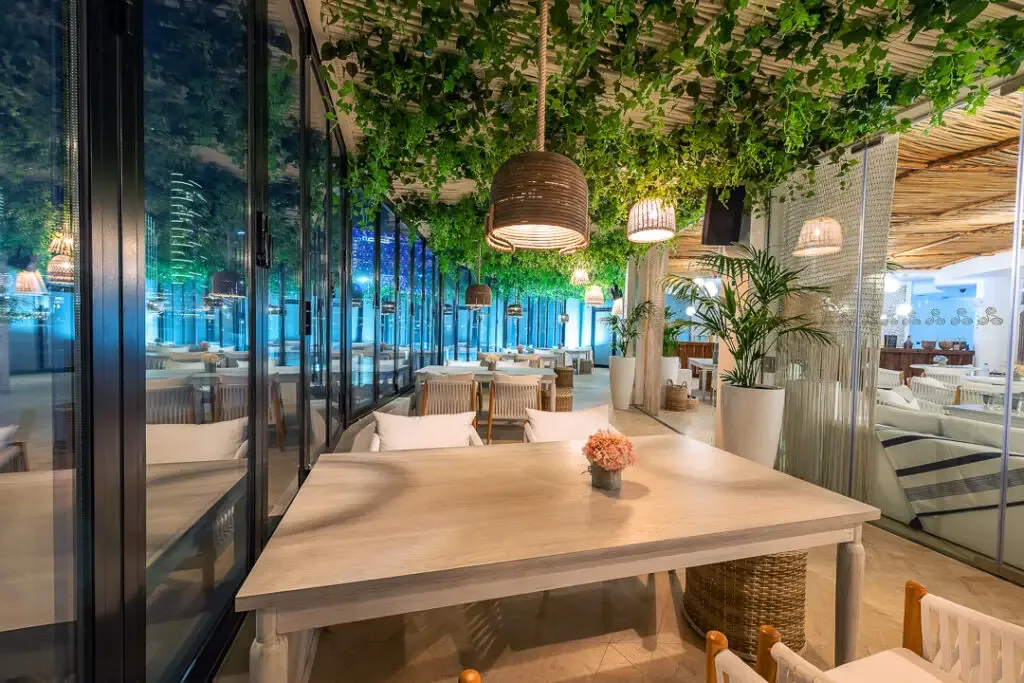 The menu has some delicious Mediterranean food and guests can enjoy sipping on cocktails made with fresh fruit juice while waiting for their food to arrive!
What to Wear in Abu Dhabi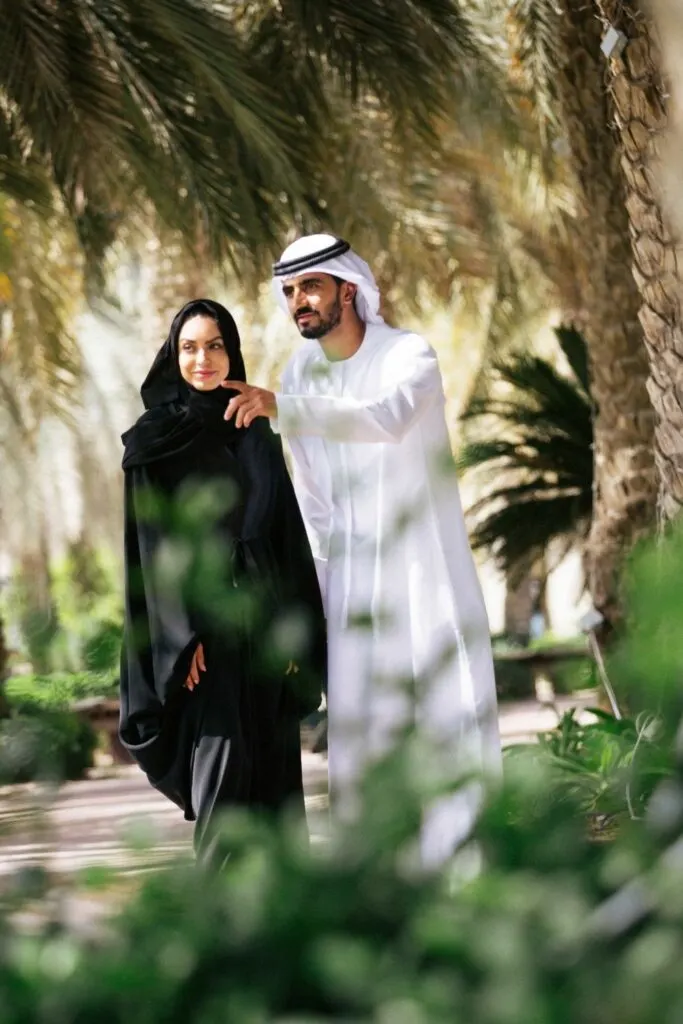 When visiting any country, it's always good to obey their laws and respect the local culture. So let's take a look at how one should dress in Abu Dhabi before booking their trip!
Even though the UAE is a Muslim country and follows Sharia Law, a tourist will not end up in prison if they aren't dressed properly.
However, if visitors are not respectful of their surroundings they may end up with several angry glances and may be asked to cover up.
The weather is good all year round with the hottest time of year from April to October. As it is hot all year round, pack light comfortable clothes to keep cool.
There may be no dress code, however, there are a few items of clothing which should be left behind. Any clothing deemed too revealing, promoting banned substances or too tight is a no-no.
Shorts and t-shirts are fine as long as they are not too short or see-through. At the beach or hotel swimming pool, swimwear is acceptable, just remember to cover up in other areas.
As it is hot outside, expect the air conditioning to be blasting anywhere indoors. A light jacket or cardigan is a good idea in case it gets a little chilly.
You can find a full guide on what to wear in Abu Dhabi here.
How to get around Abu Dhabi
There are plenty of ways to get around Abu Dhabi. While it is not the city for walking, there are plenty of options for seeing the sights.
The cheapest way to get from A to B is by bus. While the buses all have air conditioning, it can involve waiting a long time in the sweltering heat for the bus to arrive. Like anywhere else, trips need to be organized around bus timetables.
One of the most popular choices to get around the city is by taxi. In fact, there are many apps making it easier to book and pay for one. Some of the most popular apps are Uber and Abu Dhabi taxi app.
Both can be easily downloaded and available in all parts of the city. The taxi fares in the UAE are very reasonable compared to other cities around the world.
Other options include renting a car or hiring a private driver. Both are great choices for anyone wanting more independence and who want to travel around the city and the outskirts.
Spa experiences
Looking for a relaxing, rejuvenating, and fun experience? Then a trip to a spa in Abu Dhabi may be just what is needed and is one of the great indoor activities in Abu Dhabi.
As one of the top tourist destinations in the Middle East, Abu Dhabi is known for its beautiful beaches, delicious cuisine, and breathtaking scenery. With luxury spas offering everything from massage therapy and aromatherapy to facials and yoga classes, it has something for families, couples, and individuals alike.
Decide to escape city life and indulge in some pampering at one of Abu Dhabi's most luxurious spas? Choose between massages or facials among other treatments. Guest are sure to be blown away by how amazing they feel after a session with these professionals who know what makes people tick.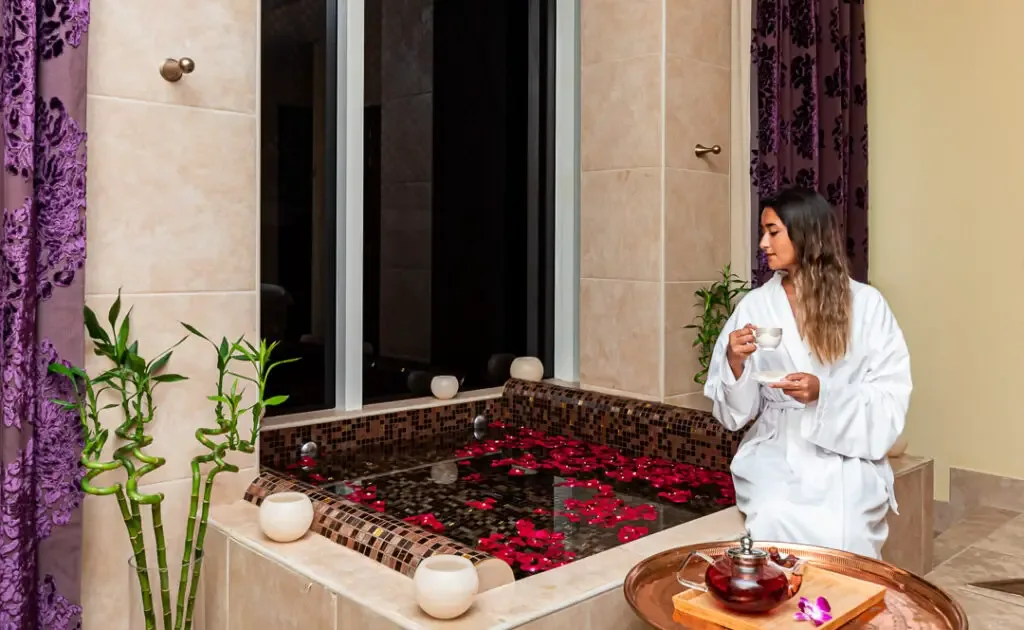 Try out their signature Thai massage or top-notch classes such as holistic therapy sessions allow relaxation without any stress whatsoever. Prices range from 600 AED.
The spa at The Abu Dhabi Edition is the place to go for luxury wellness. With seven private treatment rooms and so many treatments, there's something perfect for everyone!
Guests can enjoy hammam options or full-body massages among other things like scrubs to leave their skin feeling clean & toned. Or try one of the detoxifying wraps which help remove toxins from deep within muscle tissue.
Alternatively, the facials are designed specifically around what guests desire most: tightened pores? smoother texture?! They've got them all here waiting just on their doorstep.
Head to the luxurious and relaxing Chi The Spa at Shangri-La Hotel Qaryat Al Beri. Here it is easy to find a range of treatments including body wraps, scrubs or massages. There are also facials for skincare enthusiasts.
Guests can relax in one of the many hammams or enjoy an exclusive massage using heated salt crystal stones which help melt away stress accumulation throughout any given hour.
Prices range from 500 AED – 900 AED.
What Currency to Use in Abu Dhabi?
Abu Dhabi is one of the most popular tourist destinations in the United Arab Emirates, and its bustling financial centre attracts families and couples from around the world. Whether they are travelling for work or pleasure, it is important to understand the local currency before arriving in Abu Dhabi.
The official currency of Abu Dhabi is the dirham. This unit is subdivided into 100 fils, with coins ranging from 1 to 50 fils, and banknotes available in 10, 20, 50, 100, 200, 300 and 500 denominations. While most businesses accept credit cards and traveller's checks as well, it is always a good idea to have some cash on hand for smaller purchases or for emergencies.
One thing which sets Abu Dhabi apart from many other cities around the world is families are often given preference over single travellers when it comes to accommodations and attractions. Many hotels here offer special family packages including meals and activities for kids of all ages.
So when planning a trip to this vibrant destination with loved ones, be sure to do your research ahead of time to make the most out of the experience!
Money-saving Deals in Abu Dhabi
Looking to save money on the next trip to Abu Dhabi? Check out these great money-saving deals for families and couples.
The Entertainer App is a great choice for families and couples looking to save money on restaurants, hotels and other activities. There is a choice of three bundles to choose from including a bundle for residents and one for tourists.
Groupon is popular too and needs no introduction. It is in cities all over the world and there are many great deals to purchase online with no subscription fee needed.
Start planning a trip today!
Best tours 
There are plenty of great tours available in Abu Dhabi, but which ones are the best? It really depends on what families and couples are looking for.
For families, there are a number of great tour options to explore the city together. The Heritage Tour is a great way to learn about the history and culture of Abu Dhabi, while the Buccaneer Tour is perfect for those who want to get out on the water and enjoy some fantastic views.
Couples, meanwhile, might prefer the Sunni and Shiite Tour, which takes them to some of the most important religious sites in the city, or the Desert Safari Tour, which is a perfect way to experience the wild side of Abu Dhabi.
Whichever tour guests choose, they're sure to have a great time in Abu Dhabi.
Abu Dhabi: 4-Hour City Tour with Sheikh Zayed Mosque
Abu Dhabi is a city like no other, with a unique blend of modern and traditional architecture to take anyone's breath away. On this tour, guests get to visit some of the city's most remarkable buildings, from its stunning modern skyline to glimpses of the past.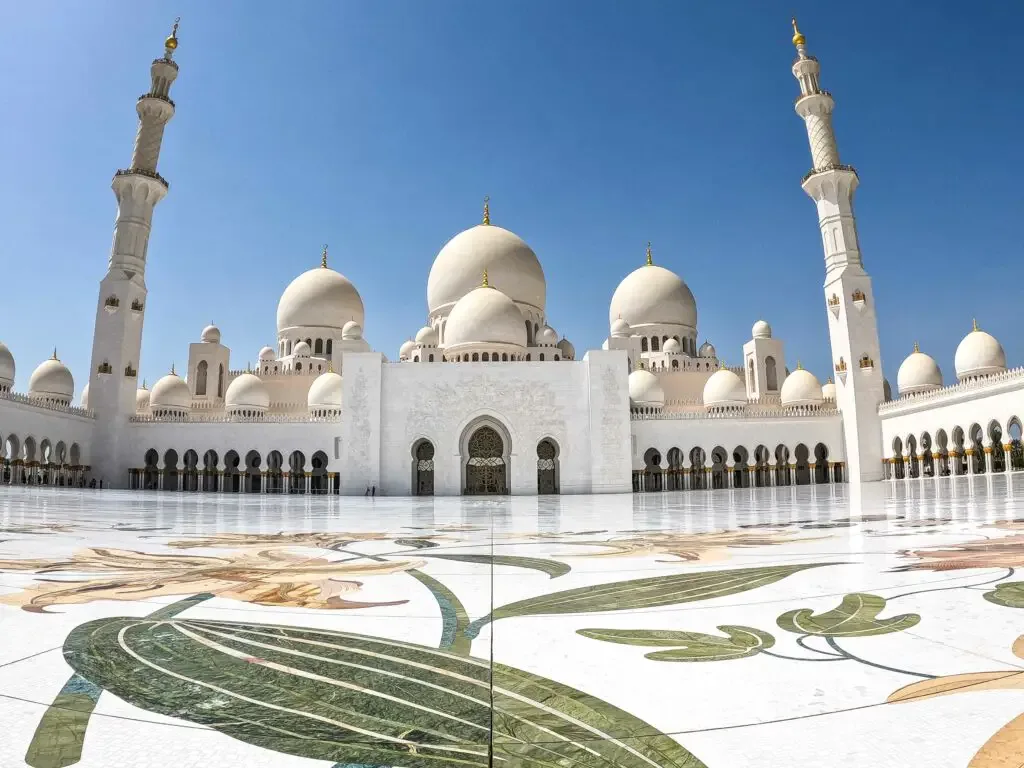 They are able to sample Abu Dhabi's unique culture and fine traditional arts, making it the perfect tour for families and couples.
So don't wait any longer, book a tour today and experience the beauty of Abu Dhabi!
Al Ain Full Day Tour with Lunch
For anyone looking for an authentic glimpse into traditional desert life, there is no better place to visit than Al Ain. This historic city is home to a wide variety of cultural sites and experiences, from the beautiful oasis views of Jebel Hafeet to the vibrant camel races and livestock markets.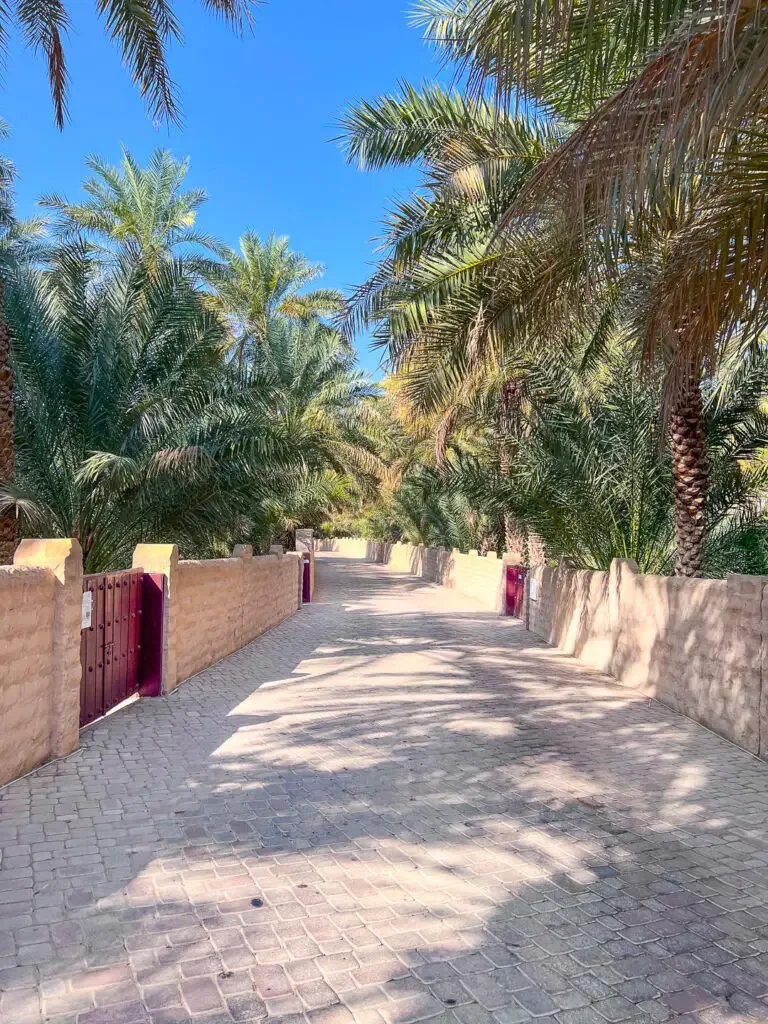 Whether travelling as a family, with a significant other, or alone, Al Ain is sure to delight and inspire. Start the adventure by visiting the famous Al Ain National Museum, to learn about the history and culture of this fascinating region.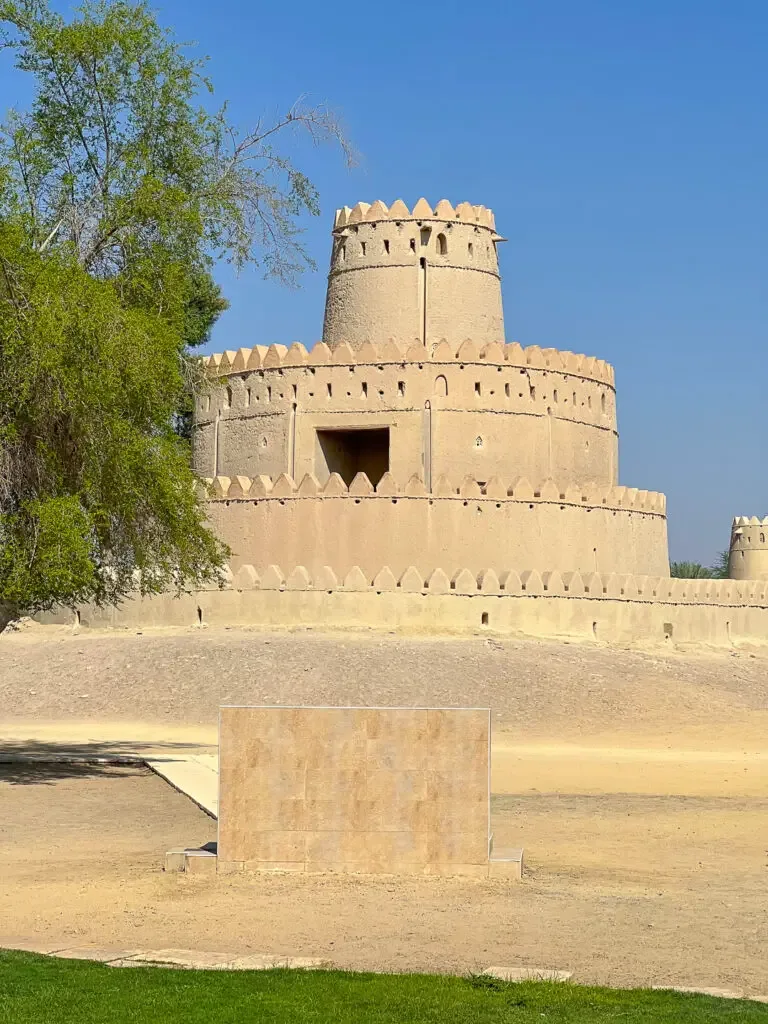 From there, take some time to explore the scenic oasis's dotted around the landscape, marvelling at their beauty and abundance. And of course, don't forget to check out one of Al Ain's many exciting sporting events, such as the legendary camel races or livestock markets.
No matter what everyones interests may be, a trip to Al Ain is sure to be unforgettable!
Book a trip today and discover this amazing city.
Tour of Mosque, Qasr Al Watan & Etihad Towers
One of the top things to do in Abu Dhabi for families or couples is visiting the stunning Sheikh Zayed Grand Mosque.
This beautiful and imposing building is an awe-inspiring example of traditional Islamic architecture, and displays exquisite craftsmanship in its soaring domes, intricate carvings, hand-knotted carpet, and impressive chandeliers.
Whether visitors are looking for a place to worship or simply want to marvel at this incredible structure, the Sheikh Zayed Grand Mosque should definitely be at the top of any list.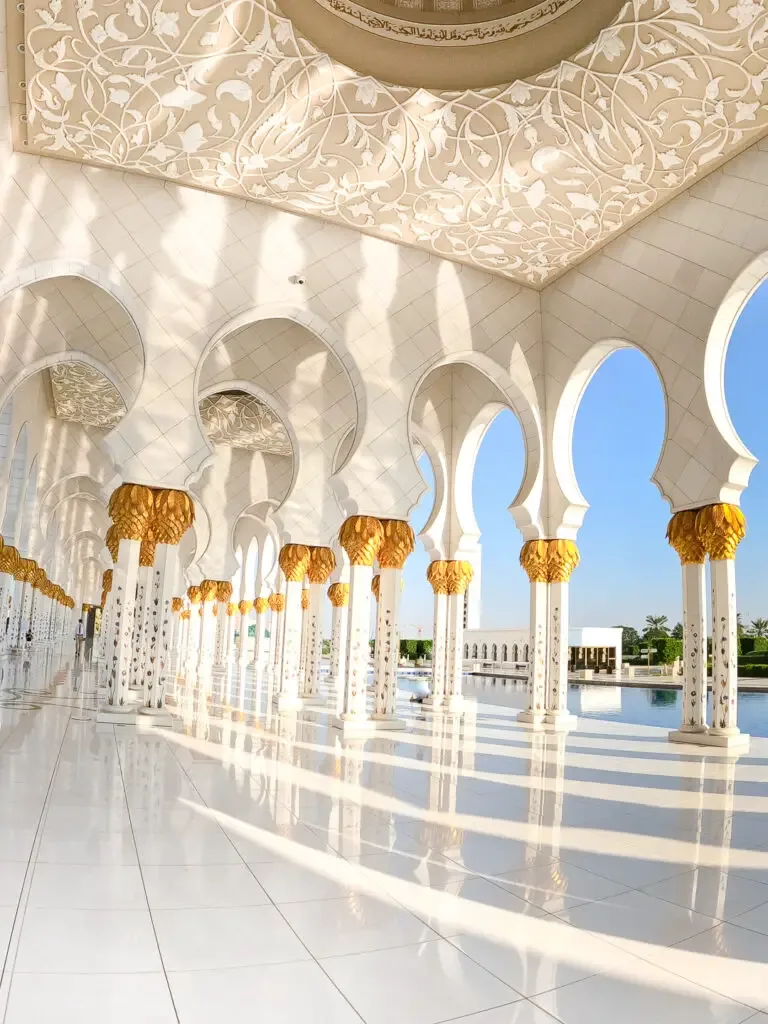 After exploring this iconic site, head over to Marina Mall for a delicious lunch break.
A visit to the Etihad Towers is next. This towering complex consists of five opulent skyscrapers offering families and couples the perfect mix of leisure dining, shopping, and entertainment. And don't forget to take in the stunning panoramic views of Abu Dhabi City from the observation deck.
Qasr Al Watan is another must-see attraction during guest's stay. This beautiful tribute to Arabic heritage and craftsmanship provides visitors with an insightful look at the governance, knowledge, and artistry have shaped the nation of UAE.
To top it all off, the tour ends with a drop-off back at the hotel or a select location in Abu Dhabi.
Click here to book a tour today!
Beach Clubs in Abu Dhabi
Abu Dhabi is well-known for its beautiful beaches, and there are many beach clubs offering a place to relax and enjoy the sun. Beach clubs typically have facilities such as swimming pools, restaurants, and bars, making them a great option for families or couples looking for fun things to do Abu Dhabi.
Most beach clubs also offer a range of activities to do in Abu Dhabi, such as water sports, sun lounging, and entertainment. As a result, a visit to a beach club is the perfect way to experience all Abu Dhabi has to offer.
The Bayshore Beach Club is the perfect place to enjoy a day at sea. Families and couples can take classes with their comprehensive dive training school or just relax on one of our luxury cabanas and hammocks while soaking up some sun, all before dinner time!
Jumeirah at Saadiyat Island Resort offers a 400m private beach and not one but three outdoor swimming pools. Indulge in the ultimate day of sun, sea and sand by lounging on the balcony or having fun at one of their swim-up bars with friends!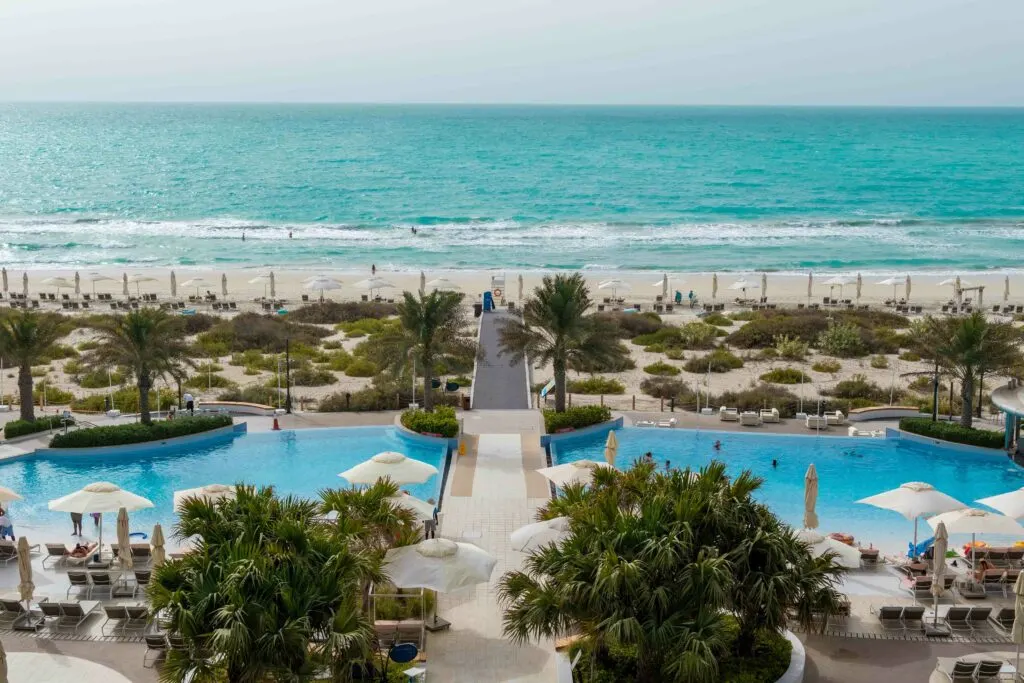 Fancy a little adventure? Kayaks are available to explore the waters while water sports include surfing as well if that's what takes their fancy today; don't forget about dolphins who may show up when out fishing.
For those who can't resist the temptation and want to get an Instagram shot on one of these famous swings, there is good news.
Zaya Nurai Island beach club is worth a visit even if it's only for its scenic views!
As well as being surrounded by water – which offers endless options in terms of sports like banana boat riding (or other nonmotorized activities)— there are also many different types of motorized vessels available too such jet skis & kayaks.
Check out our list of top beach clubs in Abu Dhabi here!
Best time to visit Abu Dhabi and What Weather to Expect
For anyone looking for a place to enjoy some sun and sand, Abu Dhabi is the perfect destination. December through February are the coolest months, making them ideal for families and couples who want to enjoy the beaches without the sweltering heat.
However, March through May are still pleasant, with temperatures averaging in the low-80s or mid 20s. From June through August, the weather is blisteringly hot, so if visitors don't mind sweating it out, this is the time to get some incredible deals on hotels and flights.
Just be sure to stay hydrated and make use of the many air-conditioned spaces throughout the city.
Annual events 
Abu Dhabi is a bustling metropolis with a rich culture and there are plenty of things to see in Abu Dhabi all year round.
One of the best things about this emirate is there is always something going on. For families, there are annual events like the Abu Dhabi International Boat Show and the Abu Dhabi Grand Prix.
For couples, there are romantic events like the Abu Dhabi Sands '(desert) Concert Series and the Abu Dhabi Film Festival. No matter what everyone's interests are, they're sure to find an annual event in Abu Dhabi that's right for everyone.
Formula 1
Abu Dhabi is set to host an F1 race this coming November, with the 2022 Abu Dhabi Grand Prix taking place over 58 laps of 5.281 kilometres at Yas Marina Circuit on Sunday afternoon.
The support races are scheduled before it begins – including one which is due to be live-streamed!
Etihad Arena-UFC, UAE warriors concerts
The excited UFC fans in the UAE can head to the Eithad Arena to see some of the best warriors in the world!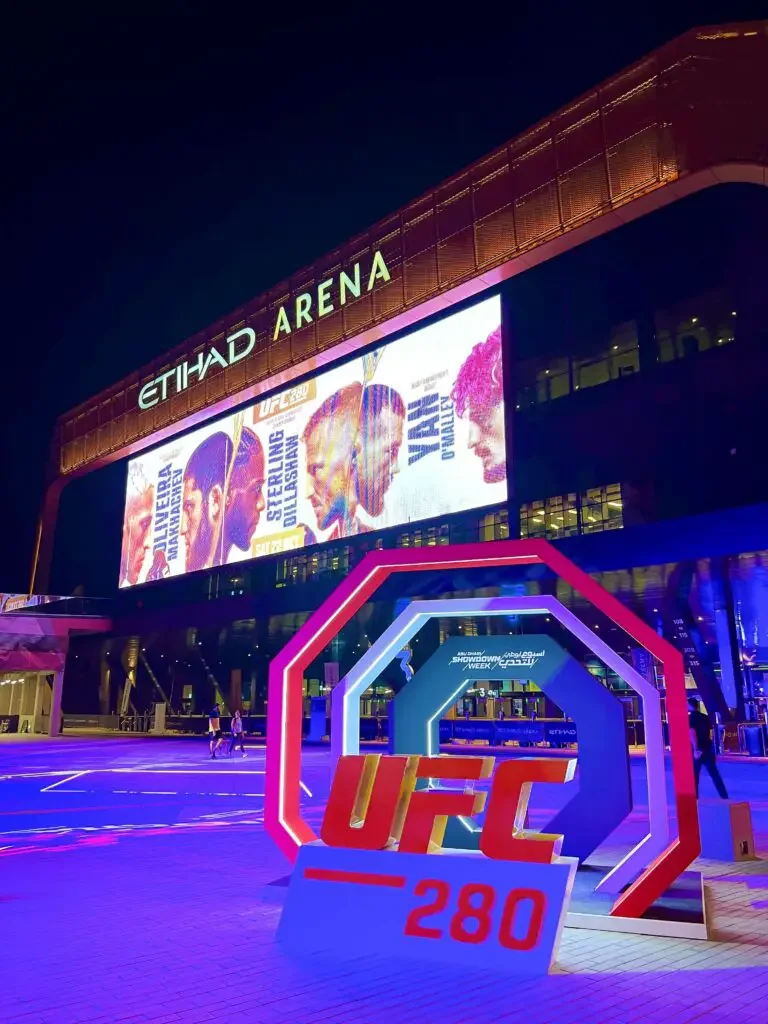 The best of mixed martial arts entertainment is on display with 5 championship belts up for grabs.
World Jisitu Championships
With its stunning beaches, world-class shopping, and endless array of activities, Abu Dhabi is the perfect destination for families and couples looking for a luxurious getaway. However, what makes Abu Dhabi truly unique is its commitment to hosting world-class sporting events.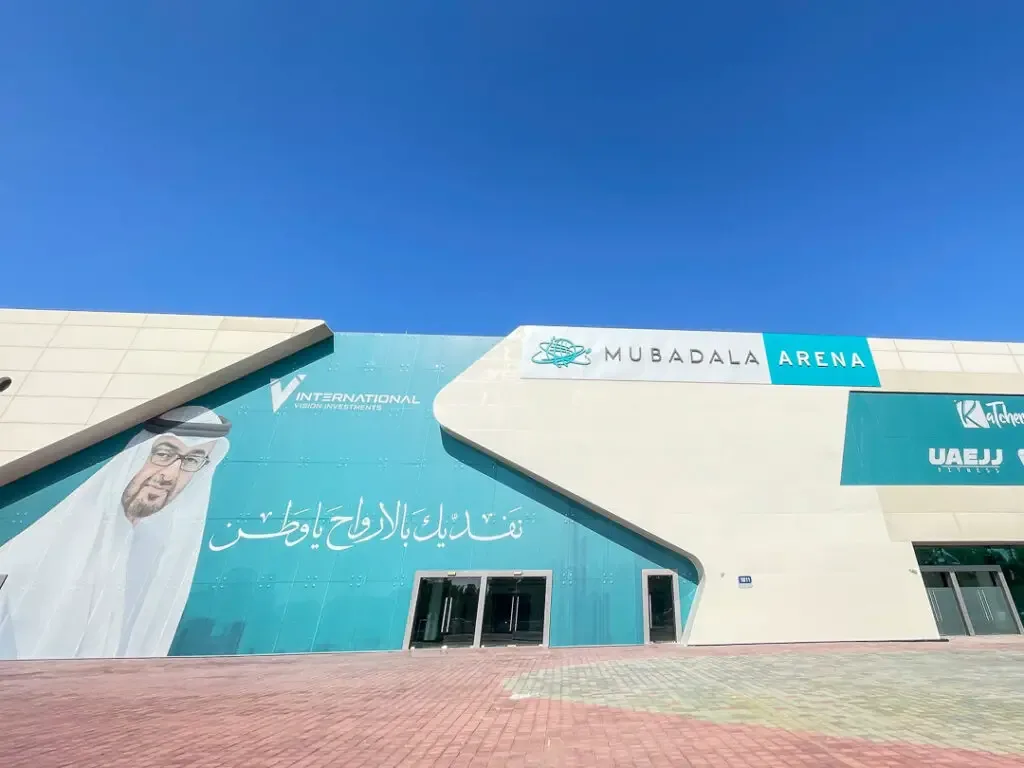 This year, the city will play host to the World Jisitu championships, one of the most prestigious events in the sport. With top athletes from around the world converging on Abu Dhabi, this is an event not to be missed.
So if visitors are looking for a place to enjoy some sun and sand while also catching some of the world's best jisitu action, head to Abu Dhabi.
Tennis Championship
Whether visitors are diehard tennis fans or just looking for fun activities in Abu Dhabi with their significant other, the Abu Dhabi Tennis Championship is the perfect event.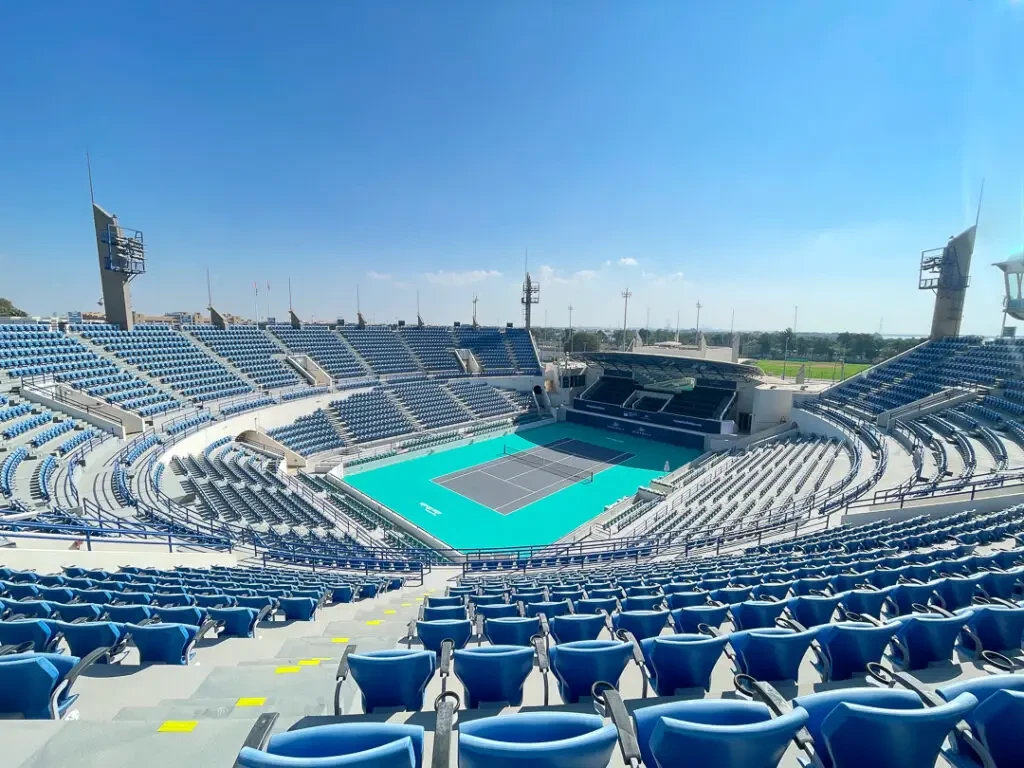 Featuring some of the top players in the world, this exciting tournament attracts families and couples from across the globe. With plenty of opportunities to cheer on their favourite players, there is no better way to spend a weekend than at the Abu Dhabi Tennis Championship.
Grab families and friends, and get ready for an action-packed game!
The Golf Tournament
Abu Dhabi is the perfect place to watch the golf tournament. Not only is it a beautiful city, it also has a lot to offer families and couples. The weather is perfect for golfing, and there are plenty of restaurants and shops to keep everyone entertained.
In addition, Abu Dhabi is a relatively safe place to visit, and it is easy to get around. Couples can enjoy a romantic weekend while families can explore all the city has to offer.
With so much to see and do, Abu Dhabi is the perfect place to watch the golf tournament.
Abu Dhabi Marathon
Abu Dhabi is known for its world-class shopping, and endless list of activities to keep tourists busy. However, the city also plays host to one of the most popular marathons in the world.
The Abu Dhabi Marathon attracts runners from all over the globe, and families and couples often travel to Abu Dhabi specifically to watch the race.
The marathon route takes runners through some of the most iconic landmarks in Abu Dhabi, including the Sheikh Zayed Grand Mosque and Yas Island.
With a prize purse of over $1 million, the Abu Dhabi Marathon is one of the most lucrative races in the world. Whether a runner or a spectator, the Abu Dhabi Marathon is an event which shouldn't be missed.
UAE National Day
National Days are a time for families and couples to get together and celebrate. They are also a time for countries to come together and celebrate their heritage. The UAE National Day is an important day for both of these reasons.
Families come together to celebrate the country's culture and history, and couples come together to show their love for the country. The UAE National Day is an important day because it brings people together and reminds them of the country's proud history.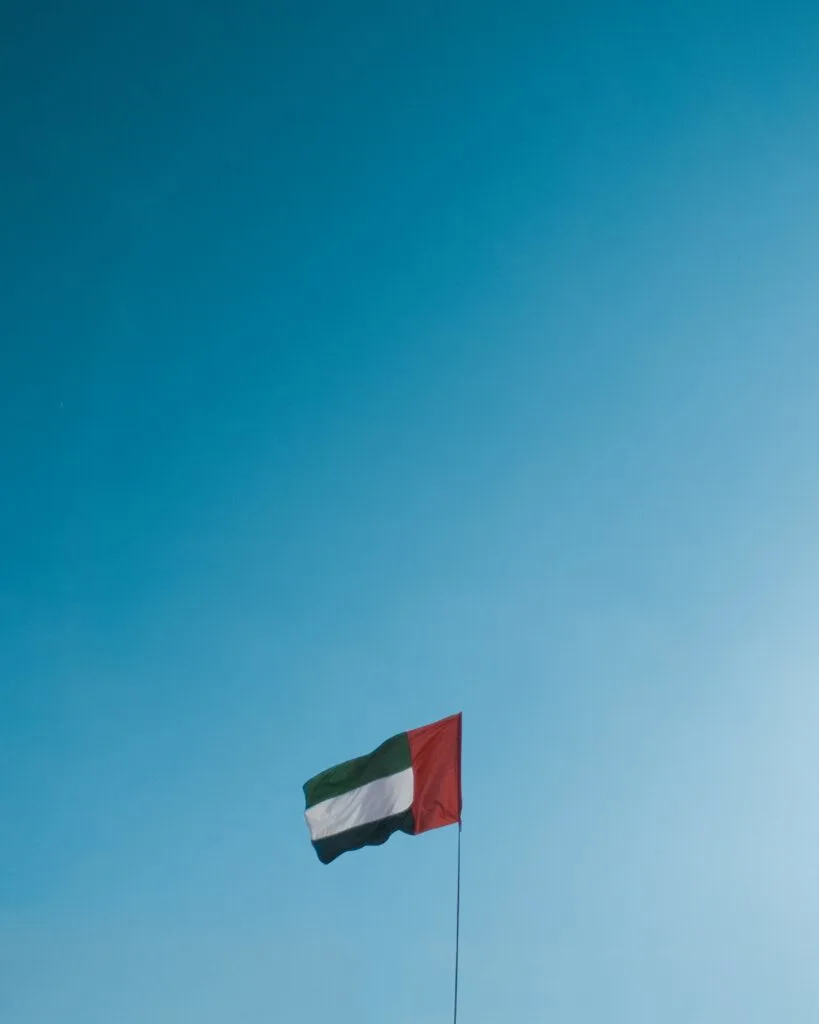 You may also be interested in,
Co Working Spaces In Abu Dhabi
Disclaimer: This post may contain affiliate links. By using them it will not cost you any extra, we will receive a small percentage of the sale.