The weather in Abu Dhabi in March is still cool enough to enjoy many of the outdoor activities the Emirate has to offer.
Temperatures are a little higher than in February and a little cooler than in April. It can occasionally be quite warm to explore in the peak of the afternoon through March for tourists coming from colder climates.
However, for the most part, it is cool enough to enjoy all the key activities such as the outdoor cultural sites, the beach, kayaking, desert safari and so on.
The weather in Abu Dhabi in March allows for outdoor events and activities which are plentiful throughout the month.
From music concerts and cultural festivals to international festivities and Mother's Day, there is plenty of special events celebrated in March in Abu Dhabi.
Read on as we uncover what to expect of the weather in Abu Dhabi in March, events throughout the month and generic things to do!
Abu Dhabi Weather In March
Abu Dhabi experiences a desert climate with hot summers and mild winters. March is considered one of the most pleasant months to visit Abu Dhabi as the weather is comfortable.
The average daily temperature in Abu Dhabi in March ranges from 22°C (72°F) to 30°C (86°F).
Highs occasionally rise to 34°C (93°F) during the day, while the low temperatures can drop to 18°C (64°F) at night.
The climate during the day is warm and sunny, while the evenings and early mornings are cooler.
Humidity levels are around 53% making the Abu Dhabi temperature in March comfortable for outdoor activities and sightseeing.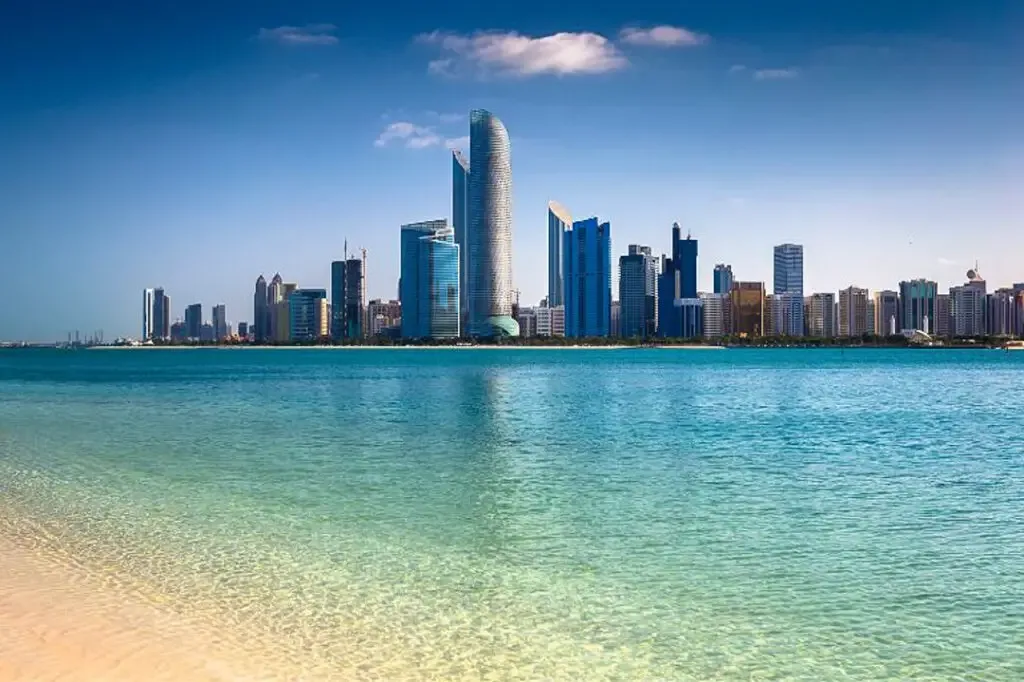 Abu Dhabi typically sees very little rainfall in March, with an average of only 10 mm throughout the month. This is due to the city's location in a desert region where rainfall is scarce.
Winds can be a factor in Abu Dhabi in March. The city experiences a wind phenomenon called 'shamals' which is a strong northwesterly wind.
Shamals can blow sand and dust into the air and reduce visibility. While shamals can occur at any time of the year, they are more prevalent in the spring months, including March.
However, the wind can help make the temperature feel a little cooler too!
March is a great time to visit Abu Dhabi as the weather has relatively comfortable temperatures, low humidity, and little rainfall.
What To Wear In Abu Dhabi in March
The weather in Abu Dhabi in March is occasionally over 30 celsius in the afternoon and has cool mornings and evenings. Having some light layers is a really good idea.
Most indoor spaces are air-conditioned and can be chilly so it is worth having a cardigan or sweater.
Not to mention Abu Dhabi is a conservative destination so having outfits that cover knees and shoulders is respectful in public places and official buildings for both men and women.
Usual swimming attire is totally fine by the hotel pool or at beach clubs.
If you intend to visit Sheikh Zayed Mosque, it is worth noting female visitors must cover full length to the ankles and wrists as well as the hair, much the same as the local attire.
Many visitors choose to buy local traditional clothing from the souvenir stores in the plaza beneath the mosque which makes for great photos with the backdrop of the mosque.
Read this detailed guide on what to wear in Abu Dhabi.
Events In Abu Dhabi in March
As Ramadan is expected to fall around the 10th of March 2024 some events that usually fall in mid-March may be moved to an earlier or later date.
Many event dates are still to be announced and we will of course keep this page updated as information comes through.
Ultra Festival
In March 2023 Ultra Festival made its debut in Abu Dhabi and was held on the 4th and 5th of March in Etihad Park on Yas Island.
It's a worldwide festival with incredible line-ups and the event saw headliners such as Adam Beyer, Amelie Lens, Sasha, John Digweed and many more.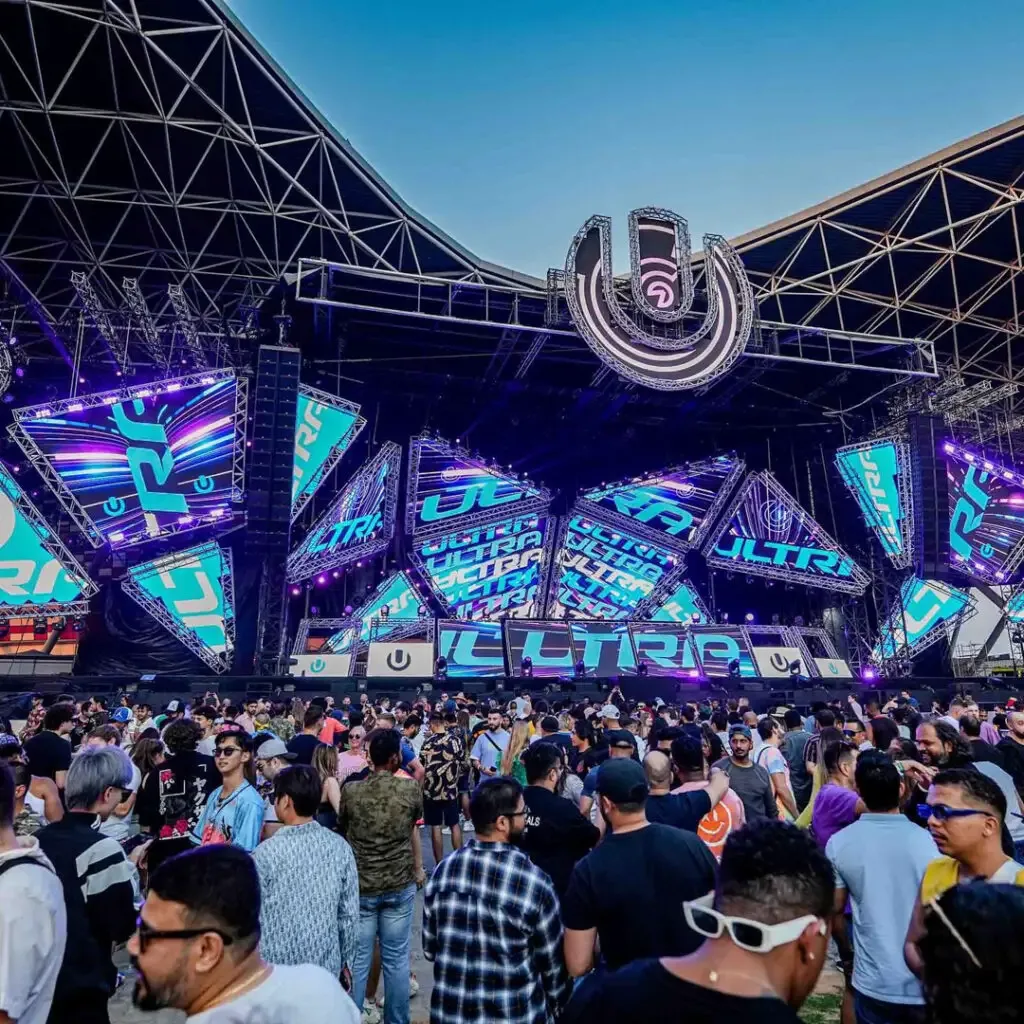 The event was a huge success and we are expecting to see Ultra Festival announce dates for 2024 very soon.
Location: Etihad Park – Yas Leisure Drive – Yas Island – Abu Dhabi – United Arab Emirates
Wireless Festival
Wireless Festival is one of Europe's biggest celebrations of urban music and pop culture. It features exclusive performances from the world's biggest stars across hip-hop, urban, rap, R&B, grime, and dance.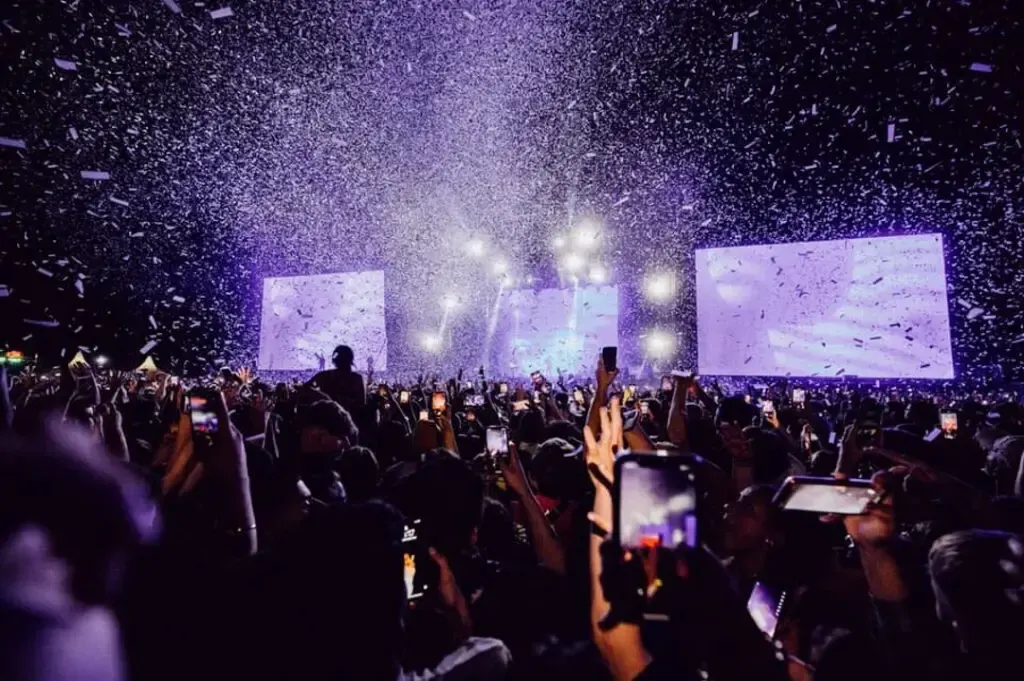 Similar to Ultra Festival, Wireless Middle East made its debut in Abu Dhabi in 2023. It took place on the 11th of March so our prediction is it may take place a little earlier in 2024 so it does not collide with the beginning of Ramadan.
However, confirmation of the event and dates is still to be announced.
Location: Etihad Park – Yas Leisure Drive – Yas Island – Abu Dhabi – United Arab Emirates
Ramadan, Expected To Start March 10th
As the UAE is a Muslim country Ramadan is the biggest religious festivity in the calendar. Ramadan is expected to start around the 10th of March in 2024 depending on the moon sightings.
Ramadan changes some hours of operation for certain businesses. However, on the whole, it has less of an impact on tourists than it did a few years ago.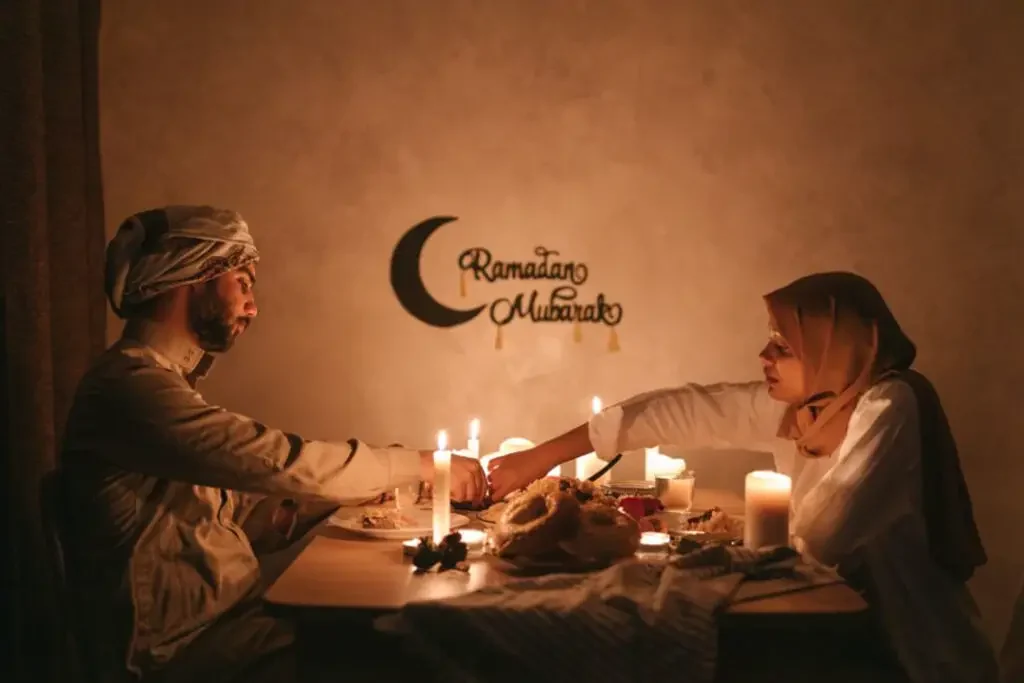 Restaurants and cafes in malls and hotels remain open. Queues at theme parks and such are much quieter and there is an opportunity to really get a feel for the culture on a visit to Abu Dhabi over Ramadan.
There is a a tradition of canon shooting to mark the end of the fast in various locations across the Emirate which is amazing to witness.
Similarly, many hotels and restaurants serve iftar ( the first meal post-fast) and suhoor (the last meal before the fast).
Attending an iftar or suhoor is an incredible experience and usually features a spread of local Arabic dishes shared in a peaceful and serene atmosphere.
Abu Dhabi Music & Arts Foundation Festival
The Abu Dhabi Music and Art Foundation held an event at Umm Al Emarat in 2023 on the 12th and 13th of March. We anticipate something similar to take place in 2024, possibly at an earlier date.
The two-day event was all about community and elevating Abu Dhabi in a cultural capacity internationally within the arts. Many performers, artist and musicians shared their work throughout the festival.
It was set in the beautiful Umm Al Emarat Park near Al Bateen which has stunning grounds with palm trees and open green space!
Sheikh Zayed Festival
Sheikh Zayed Festival is an annual event held in Abu Dhabi in honour of the late founding father of the UAE, Sheikh Zayed bin Sultan Al Nahyan.
The festival usually takes place from November through March and is a fantastic opportunity to experience Emirati culture, heritage, and traditions.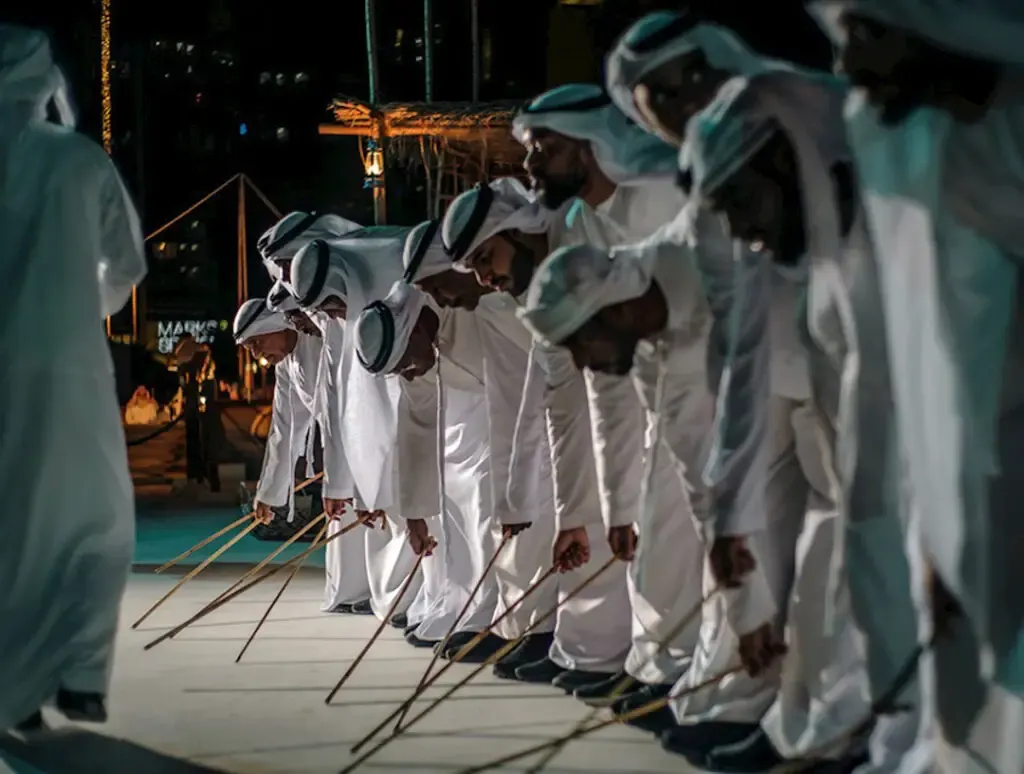 Needless to say, the event features a variety of activities, including camel races, falconry competitions, and traditional dance performances.
The purpose-built heritage village is where visitors can experience Emirati culture firsthand.
There are also food stalls selling traditional Emirati cuisine and handicraft shops to purchase souvenirs.
Not to mention, the regular evening drone shows and firework displays are a reflection of the contrast between old and modern in Abu Dhabi today.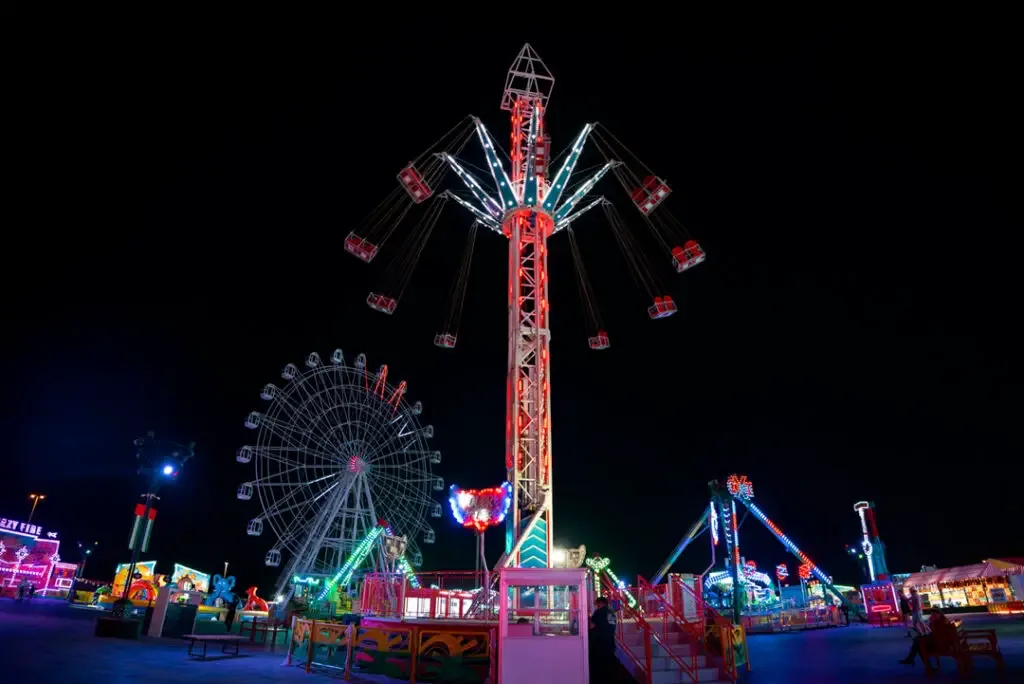 It is worth noting, the dates for the Sheikh Zayed Festival in 2024 might be slightly different due to Ramadan. In 2023, the festival closed its doors on March 18th. Dates for 2024 are to be confirmed.
Location: Al-Wathba South – Abu Dhabi – United Arab Emirates
Al Dhafra Water Festival
The Al Dhafra Water Festival is an annual event held in the Western Region of Abu Dhabi, typically in March.
The festival takes place at Al Mughirah Beach, which is about a two-hour drive from Abu Dhabi city.
It features a variety of water sports and activities, including boat races, jet ski competitions, and traditional Emirati sailing competitions called dhow races.
There are cultural activities, including traditional dance performances, music, and food stalls selling Emirati cuisine.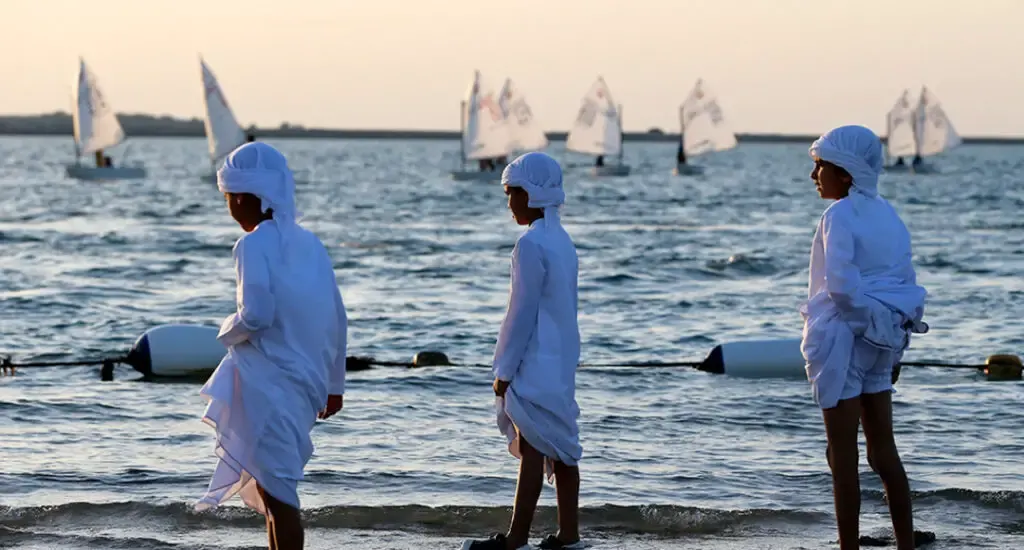 Visitors to the Al Dhafra Water Festival can enjoy the beautiful weather of March in Abu Dhabi while experiencing the unique water-based activities in the Emirate.
The festival provides a great opportunity for tourists to explore the Western Region of Abu Dhabi, which is known for its stunning natural beauty and cultural heritage.
Take a tour of the area's traditional souks, museums, and historical sites.
Dates for 2024 are yet to be announced as traditionally it would fall around the dates of Ramadan so we expect a shift to earlier in the month.
Location: 3GV9+X3 – Al Marfa – Abu Dhabi – United Arab Emirates
St Patricks Day, March 17th
St Patricks Day in Abu Dhabi is widely celebrated due to the many Irish bars in town, not to mention the large Irish ex-pat community.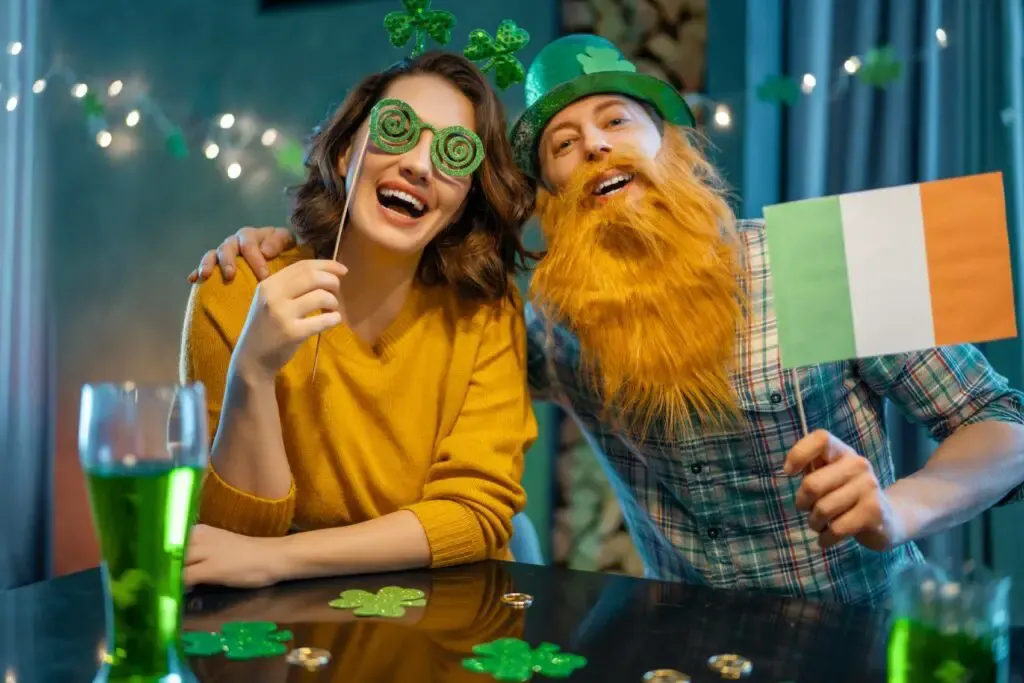 There are a number of bars where festivities take place, however, some of the most notable include the Irish Vickers and PJ O'Reillys which are always fun and full of atmosphere.
Check out this detailed post on St Patricks Day in Abu Dhabi for more information
Mothers Day, March 21st
Mother's Day in the UAE always falls on March 21st no matter if it is mid-week or not. Unlike other countries like the UK where Mother's Day changes each year.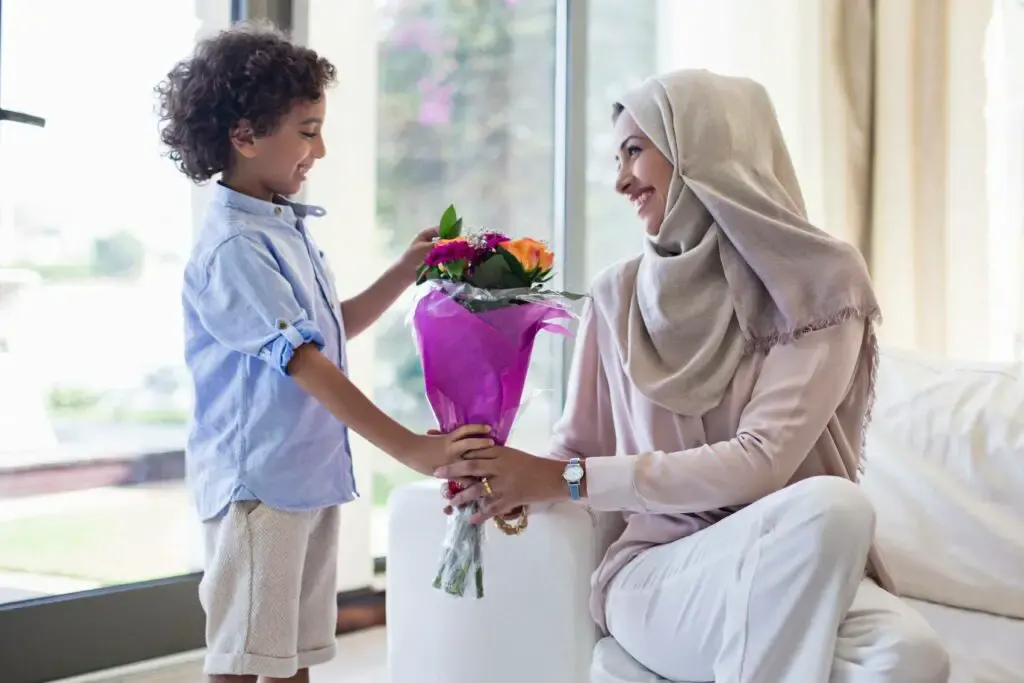 Next Mother's Day is on a Thursday, so, many hotels, restaurants and other establishments will mark the event either the weekend before or after the day in the form of brunches, spa offers and much more. Some events will also take place on the day!
Check out this detailed post on Mother's Day in Abu Dhabi for more information.
Holi Festival, March 25th
The Holi Festival is celebrated in Abu Dhabi just like Diwali since there is a large community of Hindus in Abu Dhabi.
2023 saw a huge colour beach party in Abu Dhabi at Al Raha Beach Hotel. Whilst the Abu Dhabi Golf Club saw over 12 artists and DJs play amidst the colour storm. Featuring Bollywood stars to traditional dance, it was a hugely successful event.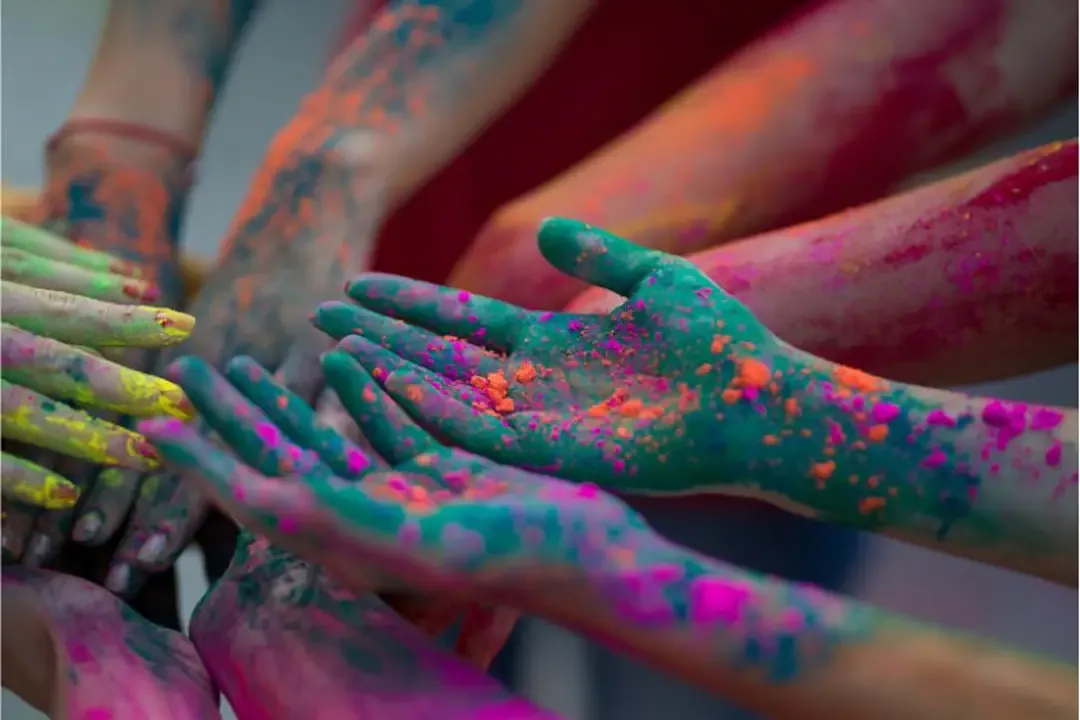 Holi Festival falls during Ramadan in 2024, so we are awaiting information and announcements for events.
Easter Sunday, March 31st
In 2024, Easter will fall on March 31st. For the last few years, Easter has been celebrated in the form of brunches, egg hunts and other Easter activities and entertainment for kids (even during Ramadan).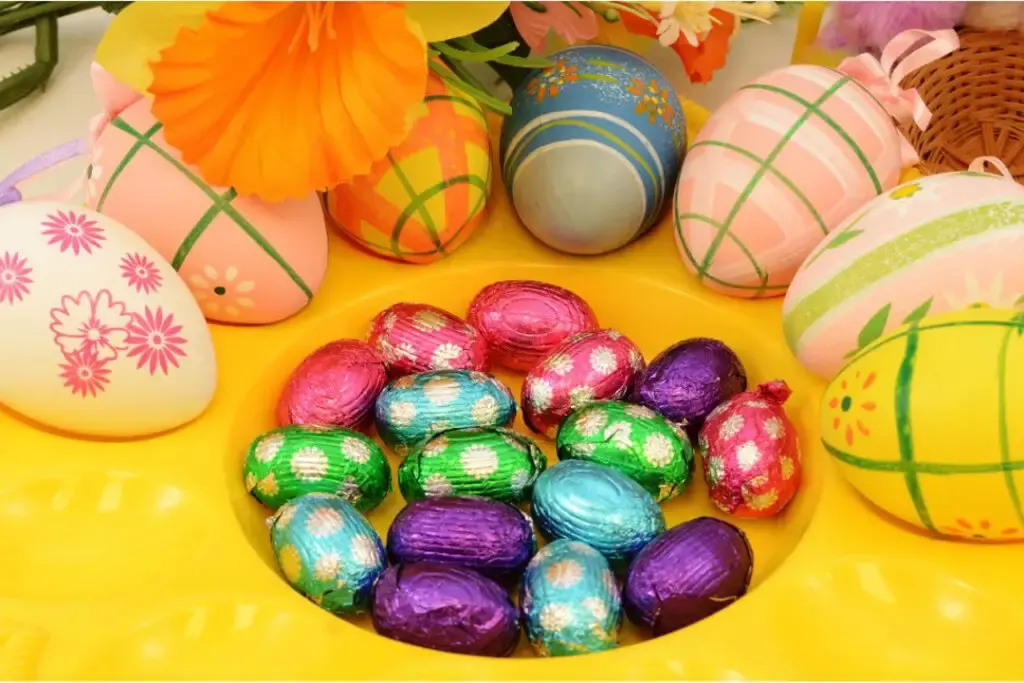 Dates and events are usually released a couple of weeks in advance which is quite typical of the Emirate.
Keep an eye on this detailed post about Easter in Abu Dhabi closer to the time.
Things To Do In Abu Dhabi In March
Now we've deep-dived all the events, let's take a look at weather-appropriate activities and things to do in March in Abu Dhabi!
Desert Safari
March is a nice time to enjoy a desert safari in Abu Dhabi before it gets too hot.
There are options for morning, evening or overnight desert safaris. However, the evening safari offers the widest range of experiences and is ideal for time-strapped visitors.
Experience activities such as dune bashing, camel riding, sandboarding, and occasionally quad biking during the safari.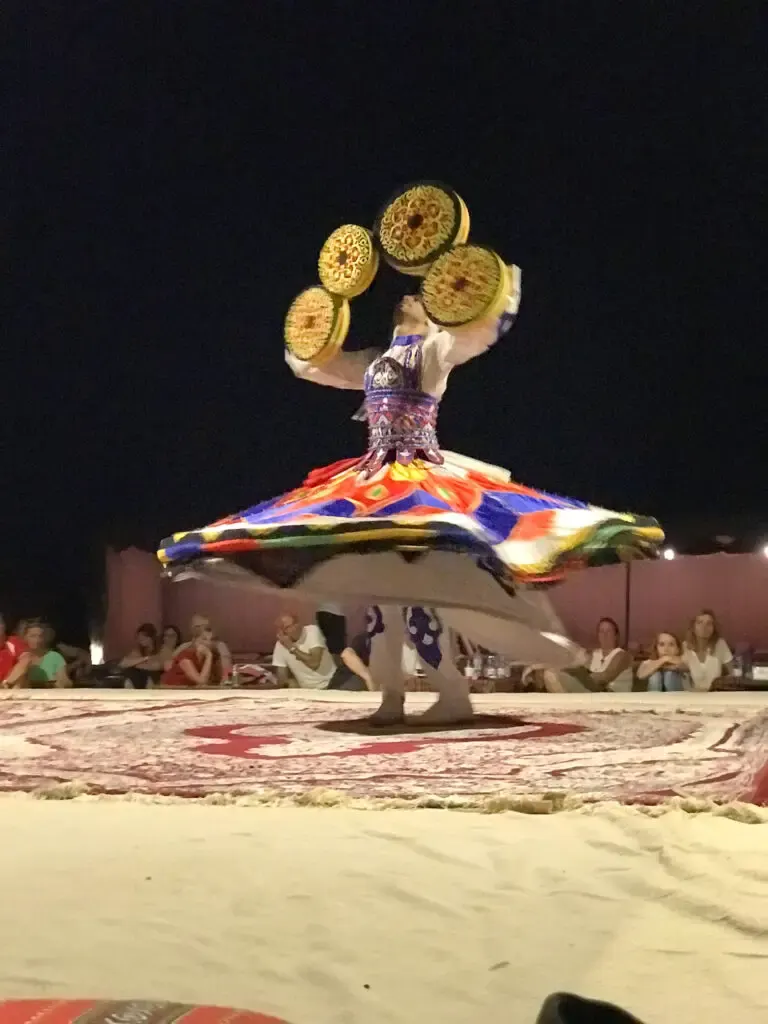 There is also an opportunity to learn about the traditional Bedouin culture and enjoy a delicious dinner under the stars at a desert camp.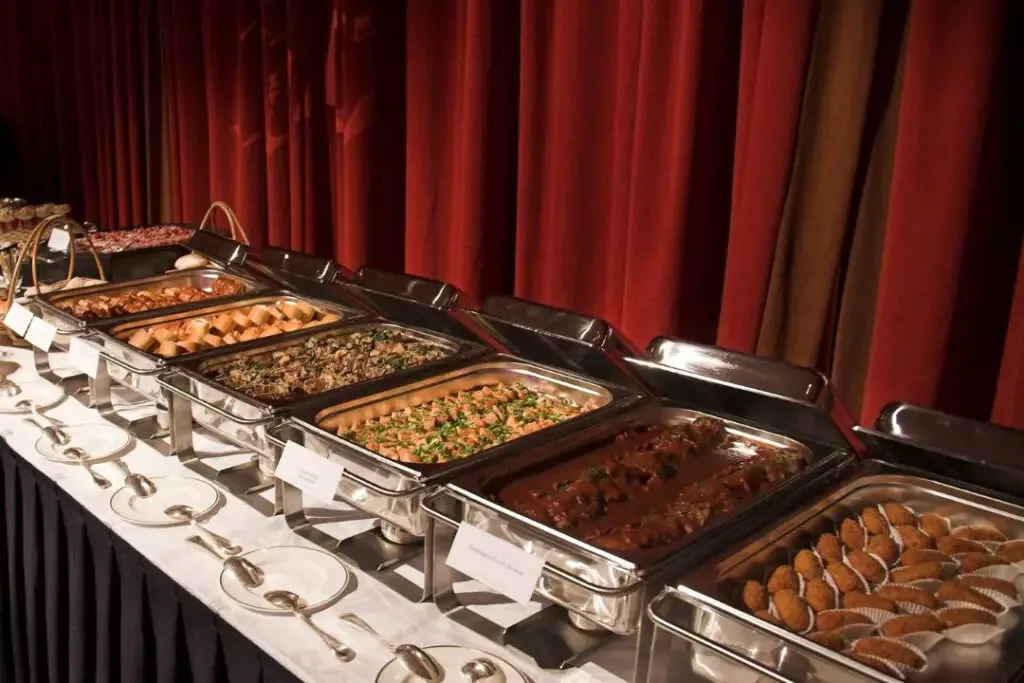 The camp offers traditional entertainment, including belly dancing, henna painting, and falconry shows, providing insight into the rich cultural heritage of the UAE.
Book a desert safari trip here.
Kayaking
Kayaking through the mangroves in Abu Dhabi is an extraordinary experience, especially during the pleasant morning or evenings in March.
It's a fantastic opportunity to explore the stunning natural beauty of the mangrove forests. The forests are home to diverse flora and fauna, offering a unique perspective of the city's natural surroundings.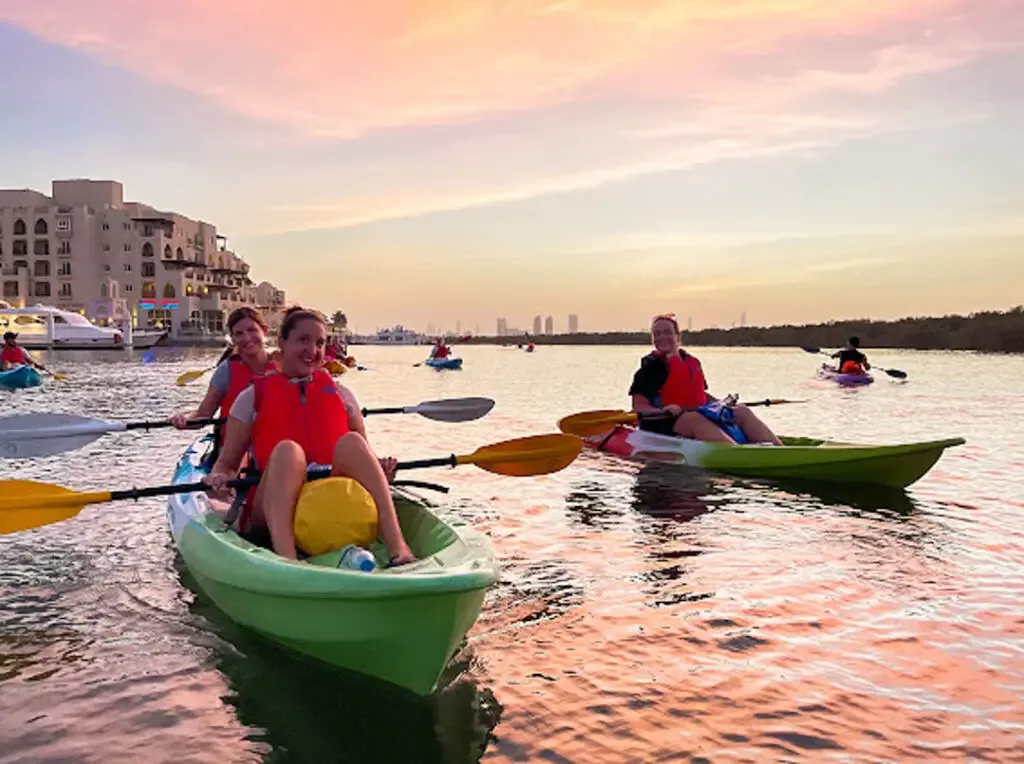 Two fantastic spots to paddle through the tranquil waterways are the Eastern Mangroves and Jubail Mangrove Park.
Eastern Mangroves is located just in front of the Anantara Hotel and has an intricate network of mangrove forests, perfect for exploring on a kayak solo or on a tour. There are also several other types of boat tours.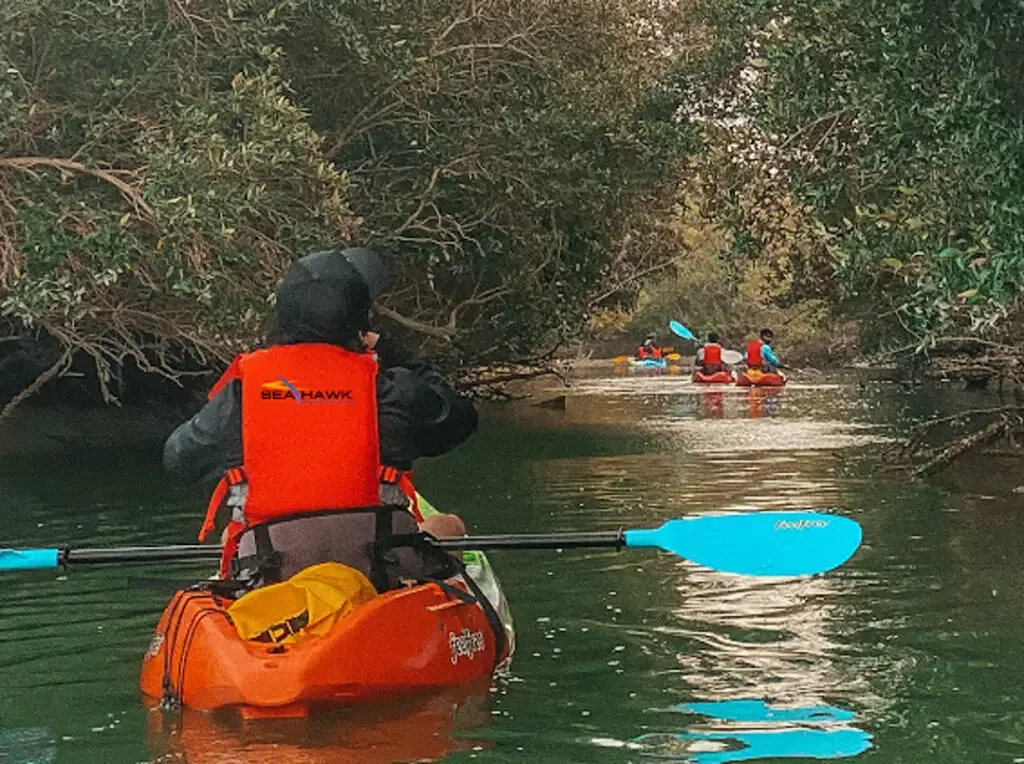 It is particularly beautiful at sunset when the sky turns orange behind the mangroves, with the city in the distance.
Although kayaking can be a little strenuous on the shoulders, it is suitable for most with a basic level of fitness.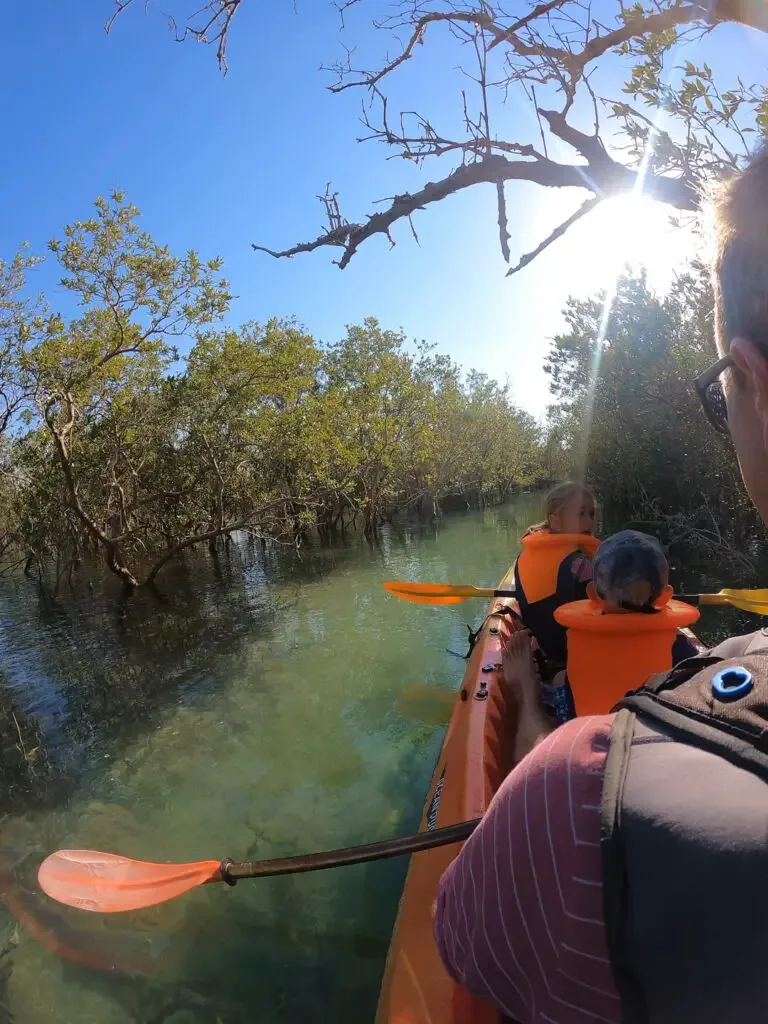 The peaceful experience offers a welcome break from the usual city attractions and provides a unique opportunity to appreciate Abu Dhabi's natural beauty.
Check out this detailed post on kayaking in Abu Dhabi.
Visit Sheikh Zayed Mosque
Abu Dhabi's Sheikh Zayed Mosque is one of the most iconic landmarks in the world. The mosque boasts stunning Islamic architecture, featuring intricate designs, domes, and minarets.
March is a nice time to visit the mosque and it is open during Ramadan. It is however closed for a short while during Iftar which is essentially sunset.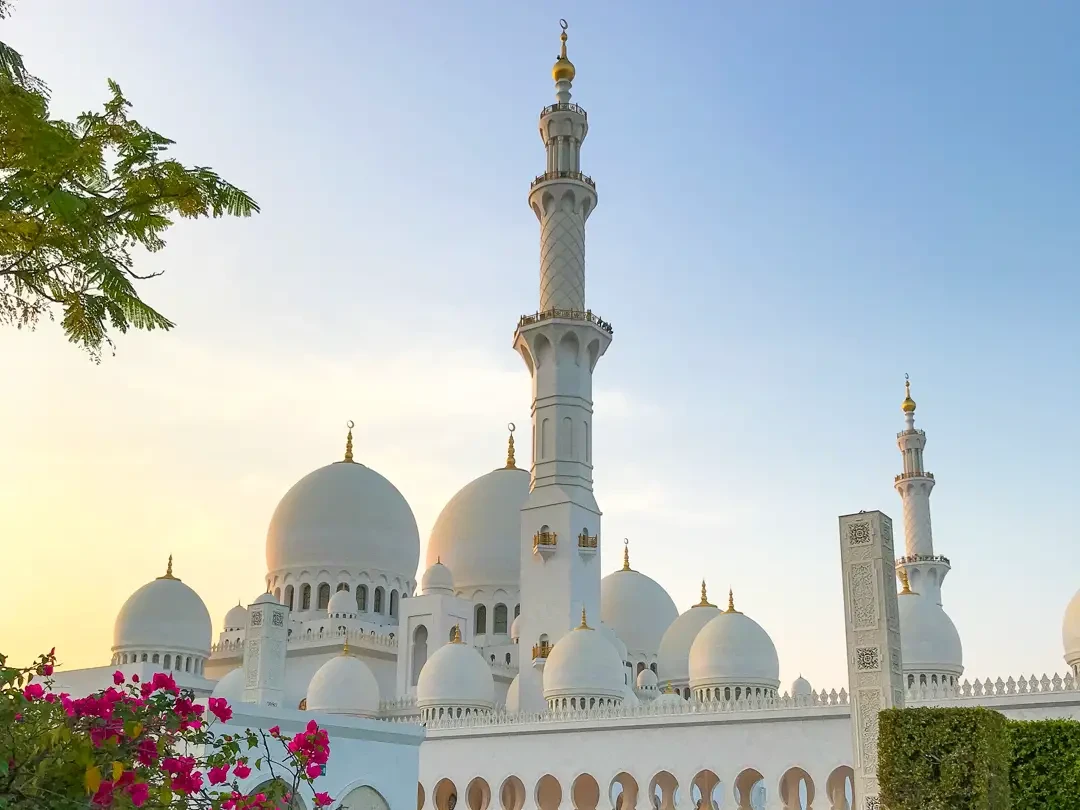 If you are visiting outside of Ramadan dates, visiting close to sunset offers a magical experience, as the sun casts a beautiful orange and pink glow on the mosque, creating a stunning backdrop for photos.
As the sun sets, the mosque's lights turn on, illuminating the building with a blue glow. Stroll around the courtyard and admire the stunning architecture before heading inside the mosque to witness the impressive interior.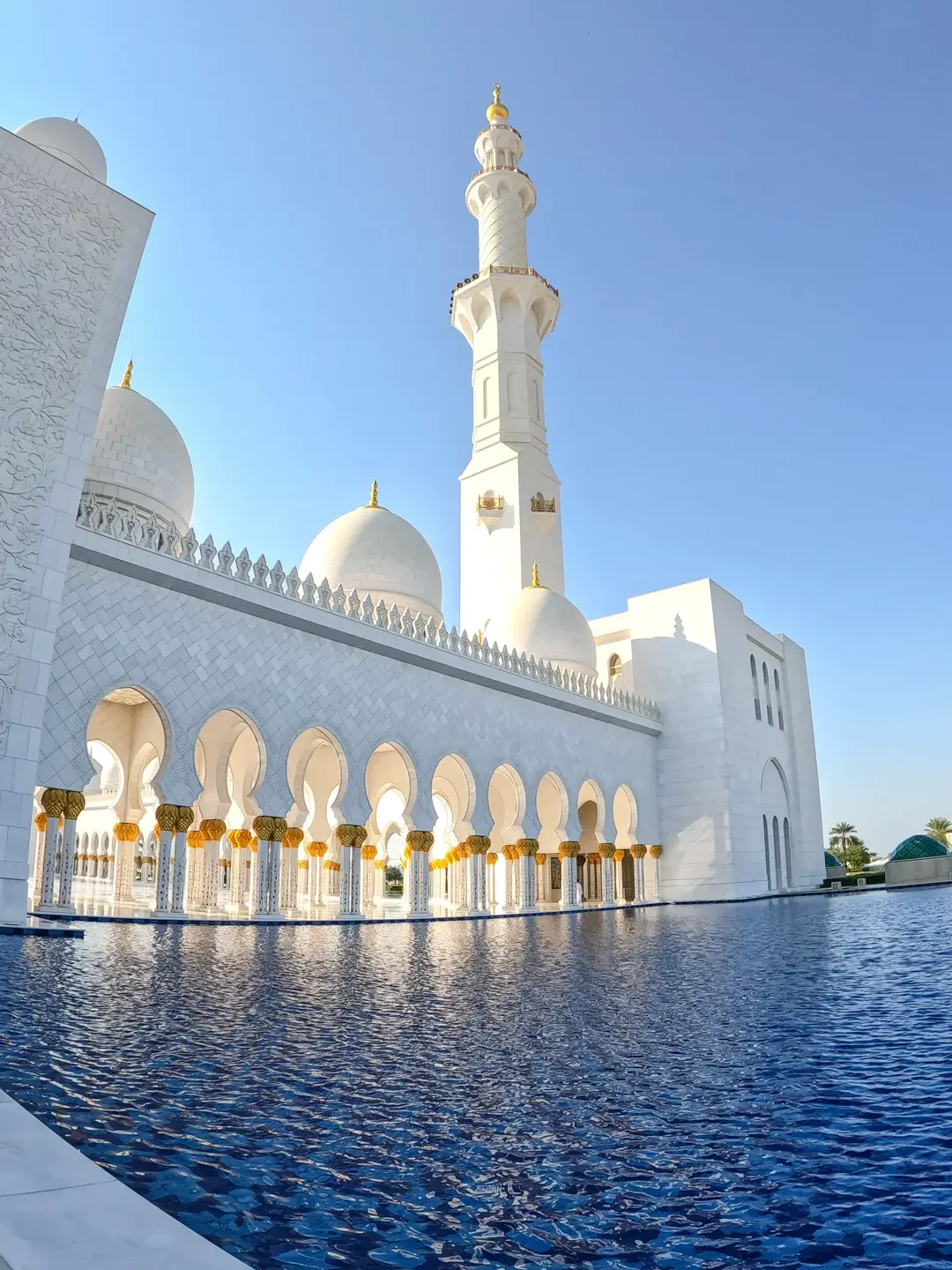 The walls, floors, and ceilings of the main prayer hall are adorned with beautiful patterns and designs.
Not to mention, the hall features the world's largest hand-knotted carpet and the largest chandelier in the world, both of which are incredible to see.
The mosque's stunning beauty and intricate details make it one of the most remarkable architectural masterpieces.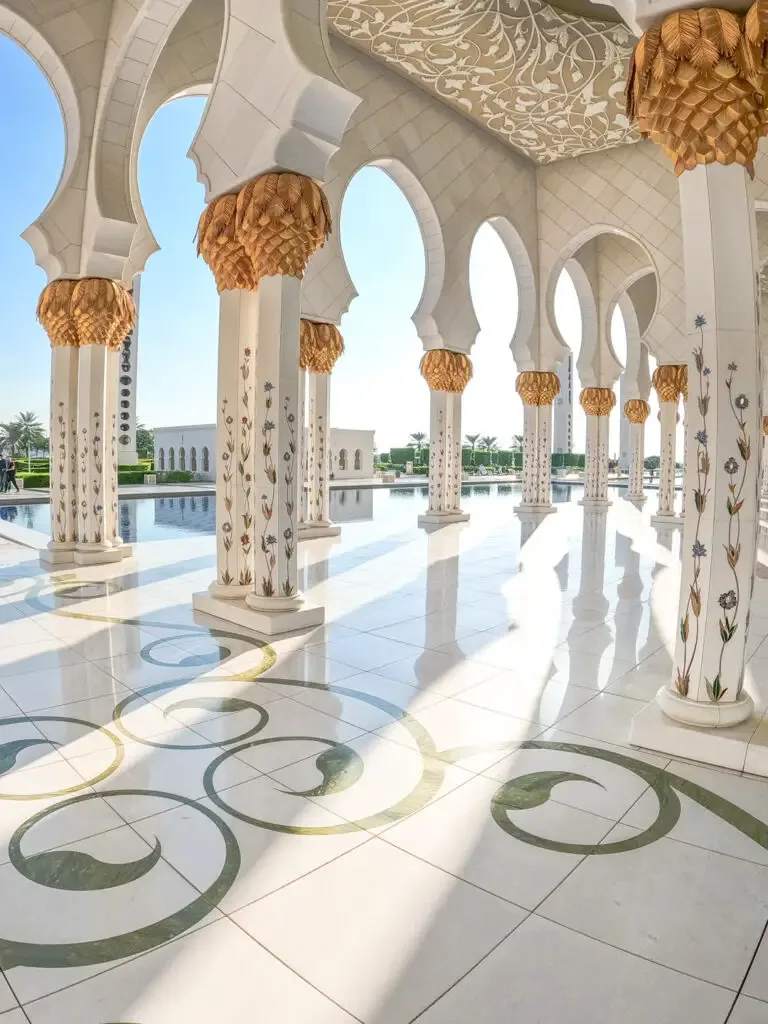 As previously mentioned, canons are fired at Iftar and this often takes place at Sheikh Zayed Mosque for those visiting during Ramadan.
Location: Sheikh Rashid Bin Saaed St, 5th St- Abu Dhabi – United Arab Emirates
Book a tour of the Grand Mosque.
Qasar Al Watan
Qasr Al Watan is a working presidential palace which opened to the public a few years ago and has become a popular tourist attraction in Abu Dhabi.
Visitors can explore the impressive architecture of the palace, which is adorned with intricate details and features a stunning dome.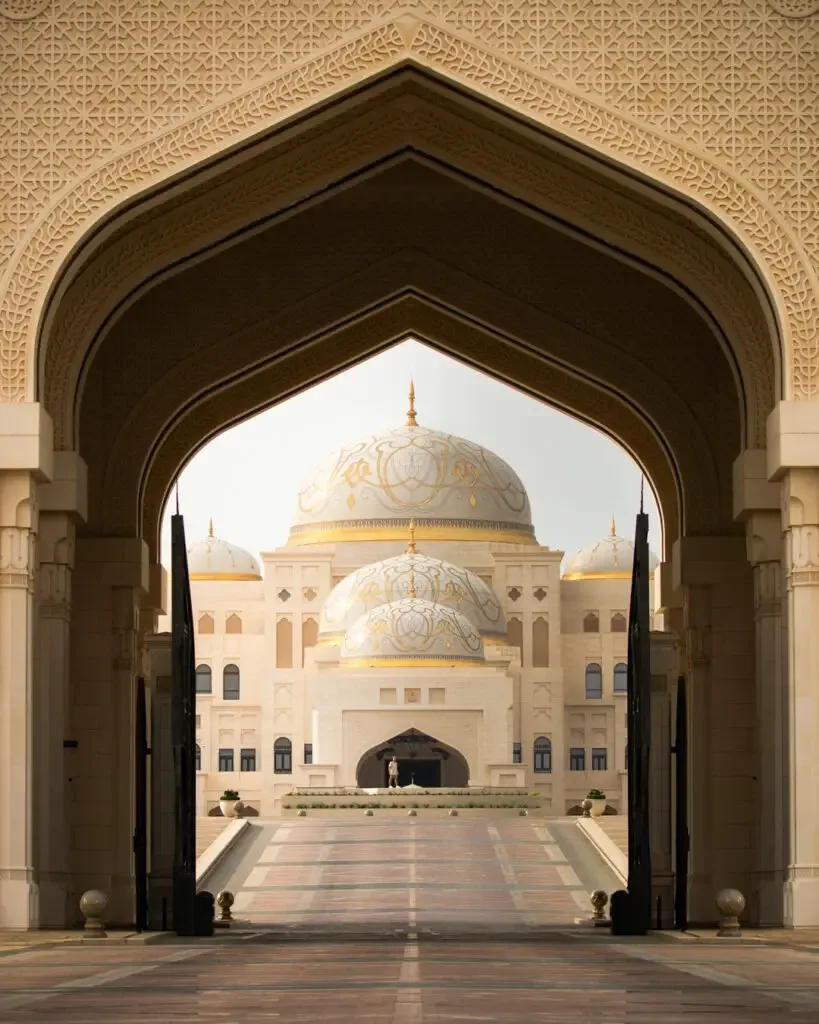 The palace houses a vast collection of artefacts and exhibits showcasing the country's history, culture, and values.
Qasr Al Watan has a beautiful library, which contains a collection of books and manuscripts on the history and culture of the UAE.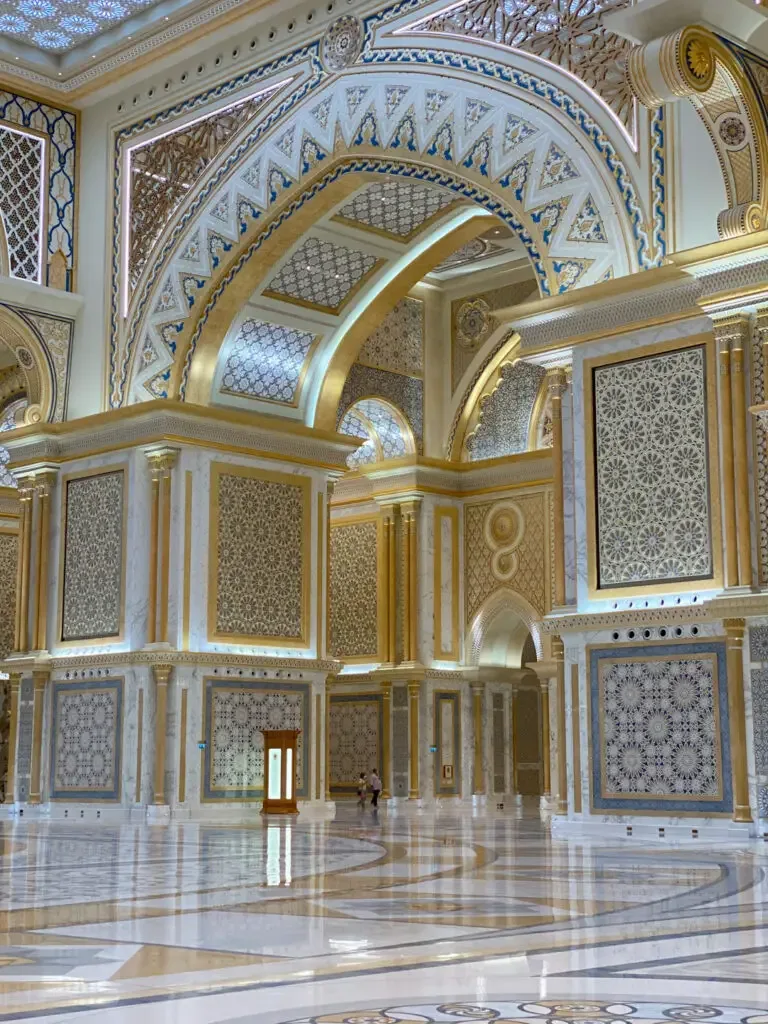 Both the interior and exterior of the building are equally impressive. March is the perfect time to enjoy the tranquil gardens with water fountains.
However, it's worth noting, during Ramadan, hours of operation may change, and the evening light show projected onto the exterior of the white granite building may be affected.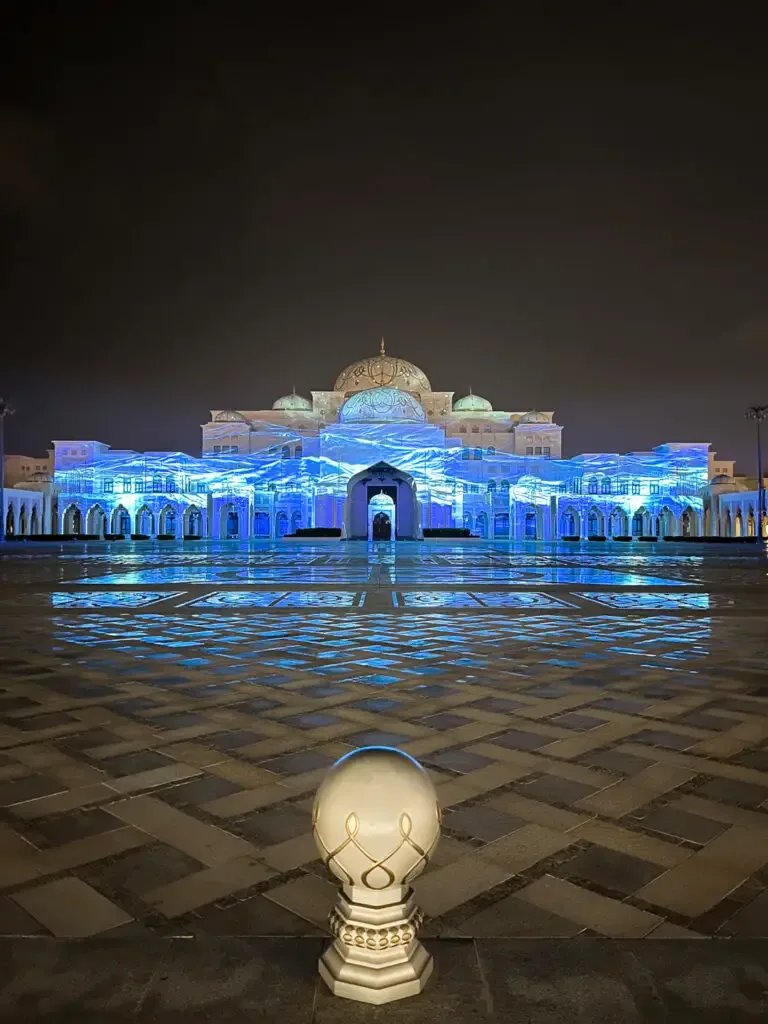 It's best to check with the palace's website for updated information before visiting.
The light show is a beautiful sight to see, making for a perfect evening activity for both adults and children.
Book tickets to Qasr Al Watan here.
Location: Al Ras Al Akhdar – Abu Dhabi – United Arab Emirates
Weekend Brunch
Weekend brunch is a popular social activity in Abu Dhabi that attracts many tourists and locals.
Choose from a wide range of restaurants and hotels offering weekend brunch, each with a unique atmosphere and menu.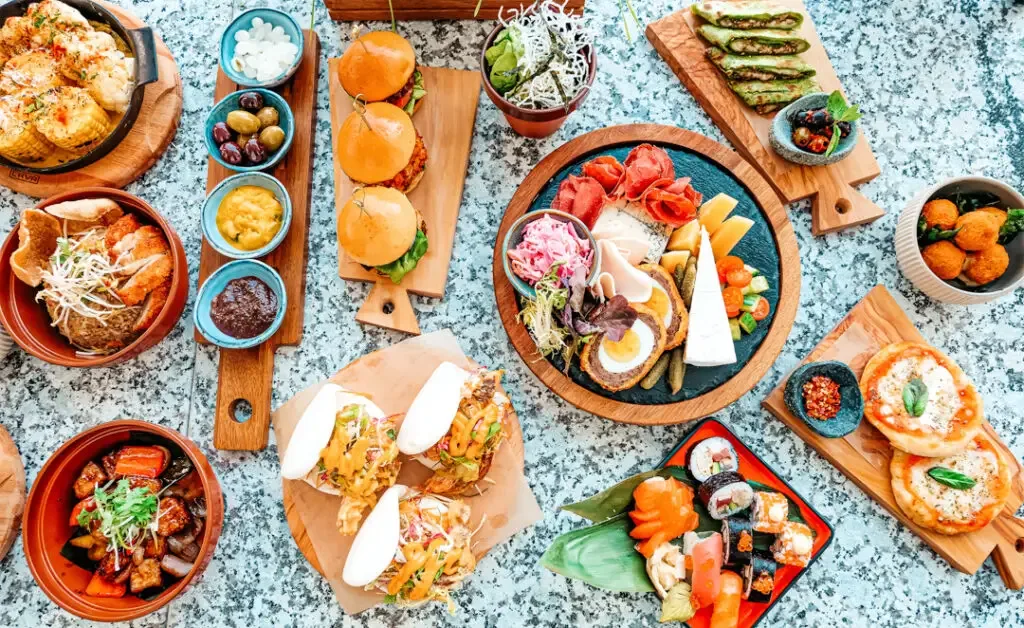 For those looking for an opulent brunch experience in Abu Dhabi, the Nahaam at Conrad Etihad Towers is highly recommended.
The luxurious restaurant has an elegant setting, live music, and breathtaking views, making it the perfect spot to indulge in a weekend meal.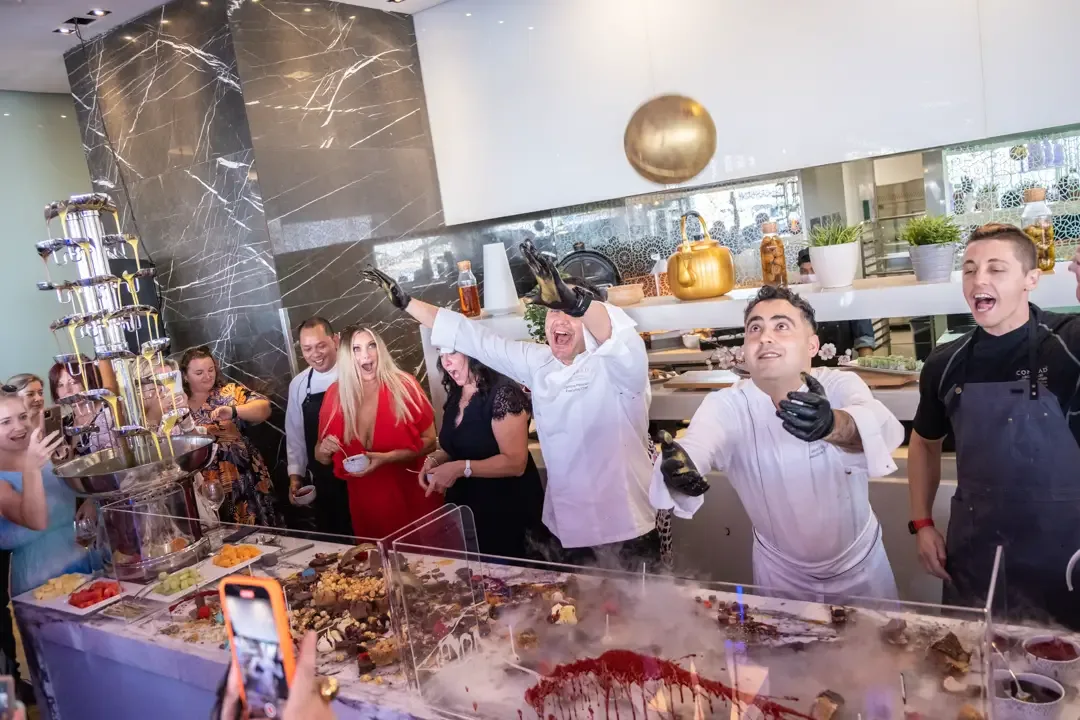 Brunches in Abu Dhabi often features international cuisine, with a diverse selection of dishes that cater to all tastes including vegan options.
From traditional Arabic delicacies to Mexican, Italian, and sushi, not to mention pizza, there is something for everyone.
Some brunches have a lively party atmosphere, while others offer a more family-friendly feel.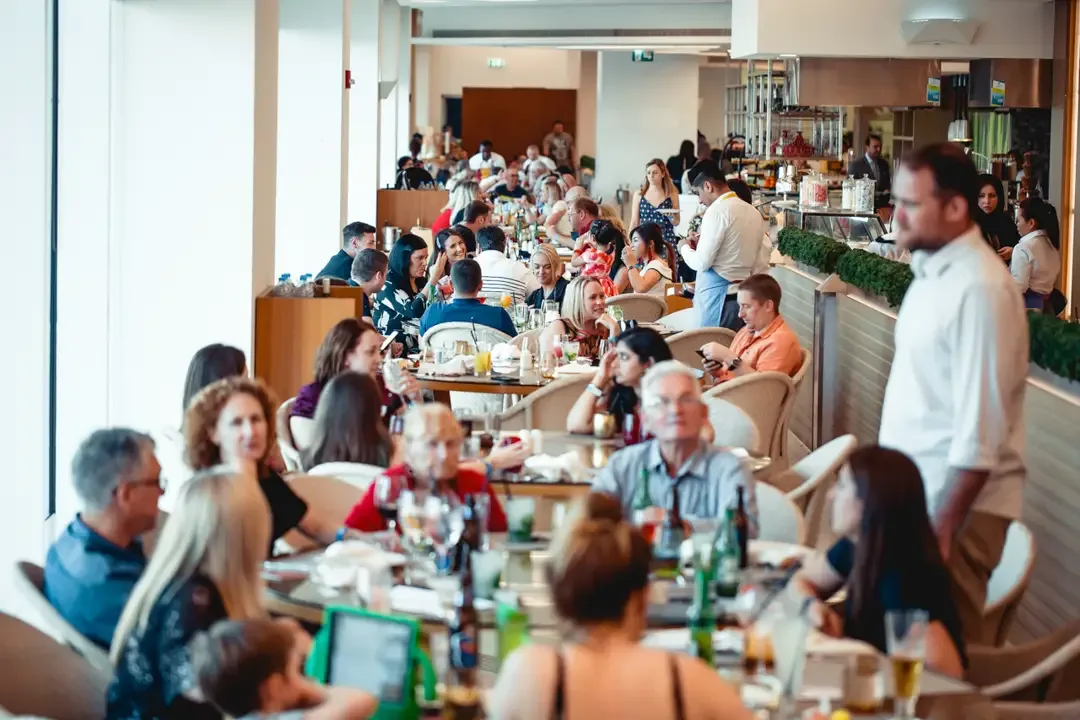 It is advised to check with the venue ahead of time, especially during Ramadan when hours of operation and menus may differ.
Check out this detailed post on the best brunches in Abu Dhabi.
Beach Day
The beaches in Abu Dhabi are a popular destination in March, with a mix of natural and man-made options. Some beaches are free to enter, while others have a fee.
Saadiyat Island is a top choice and Soul Beach is particularly beautiful with its aqua-blue water and powder-white sand.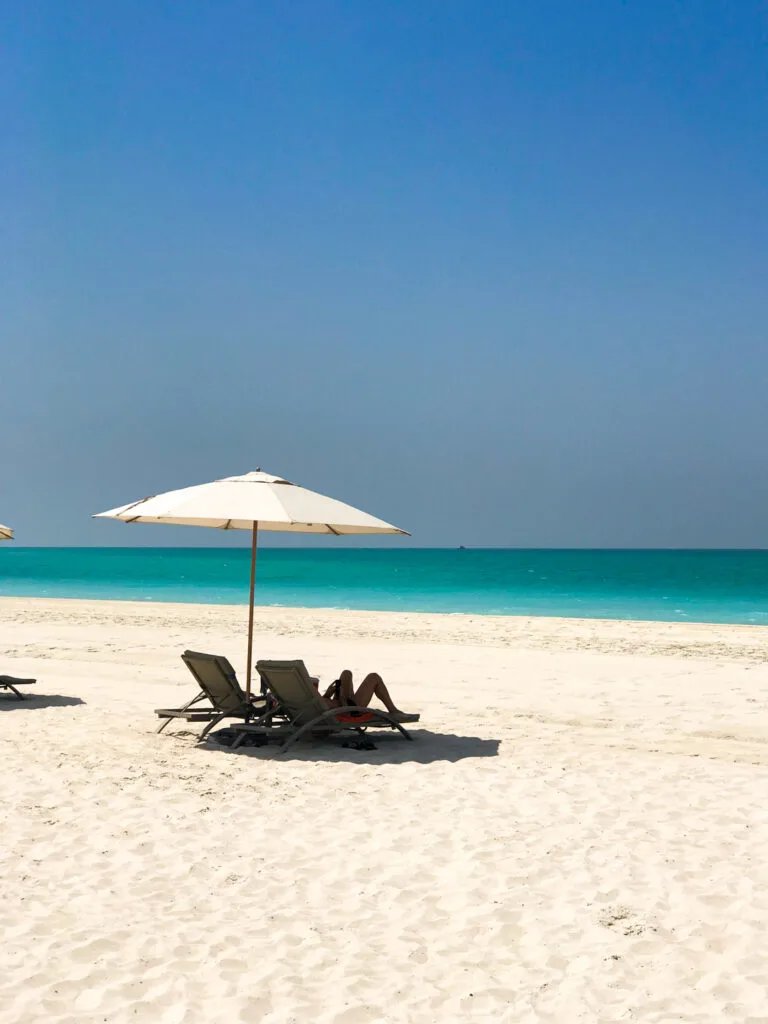 For those looking for a more luxurious beach experience, Soul Beach has sunbeds and umbrellas as part of the entry fee. Not to mention food and beverages can be delivered straight to the sun lounger.
Black Tap burgers nearby are a must-try, they have some of the best burgers in Abu Dhabi!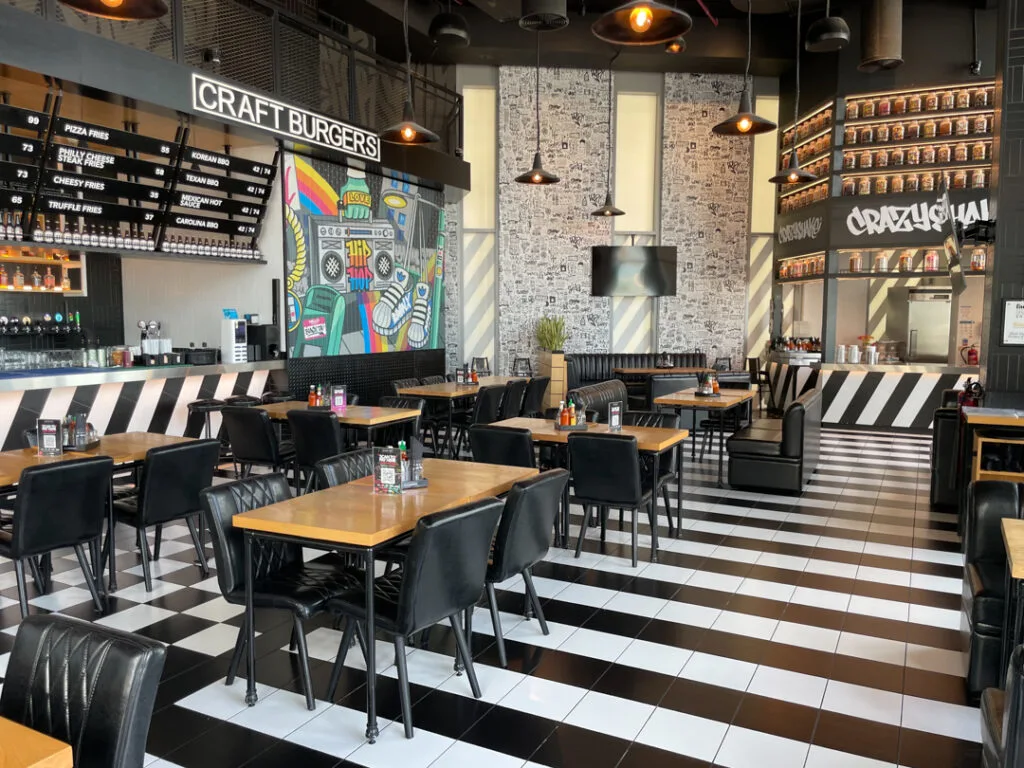 Al Hudariyat Island is another great option, offering a beautiful beach with crystal-clear waters and white sand, and free access to the public.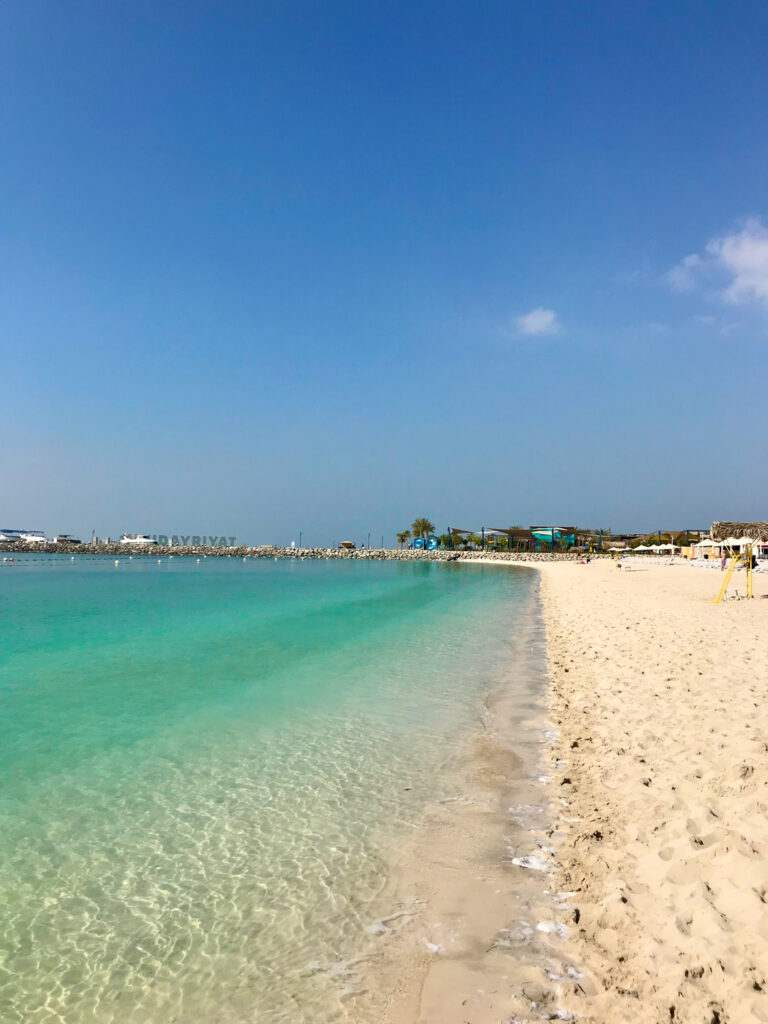 Facilities nearby include cafes, restaurants, a beachside cabana, a children's splash park, and a high rope course.
Check out this detailed post on the best beaches in Abu Dhabi.
Day Trip To Dubai
A recommendation for March visitors to Abu Dhabi is to take a day trip to Dubai to explore more of the UAE's lively side.
Dubai is just over an hour's drive from Abu Dhabi and offers stunning architecture, luxurious shopping, and a vibrant nightlife.
Explore iconic landmarks such as the Burj Khalifa, the world's tallest building, and the Dubai Fountain, which showcases a spectacular water and light show every night.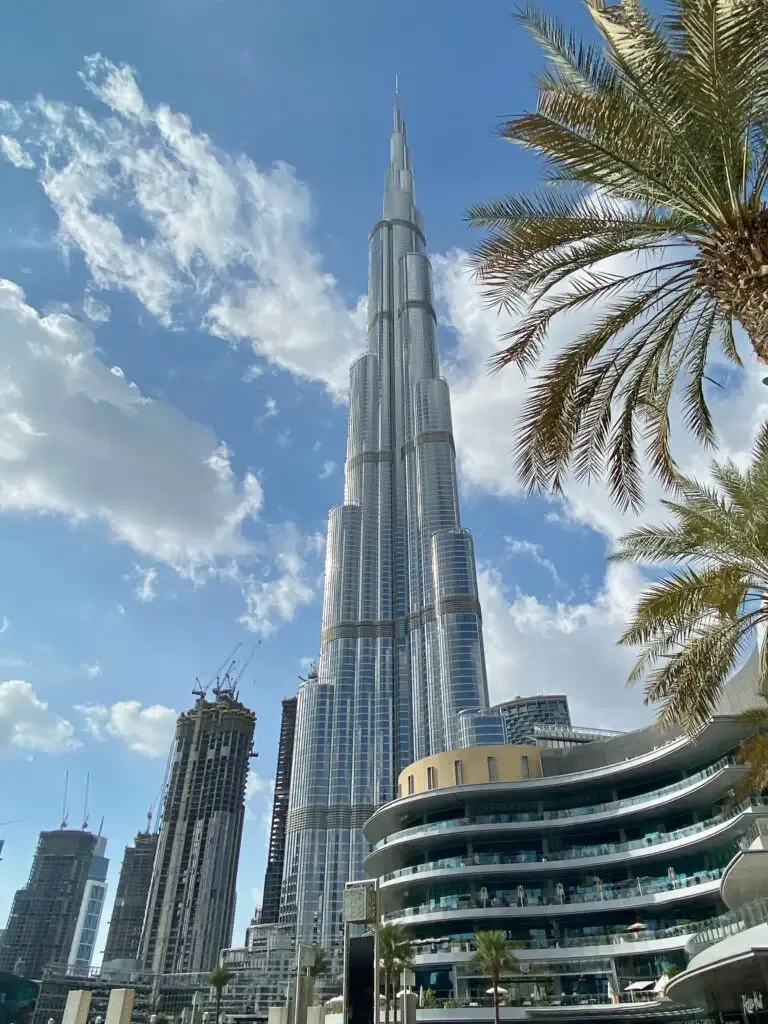 The Dubai Mall and the Mall of the Emirates are popular destinations with shoppers, featuring designer stores, high-end boutiques, and speciality shops.
Dubai is home to many cultural and historic attractions, including the Dubai Museum and the Jumeirah Mosque.
Outdoor activities such as desert safaris, hot air balloon rides, and skydiving experiences are available in Dubai.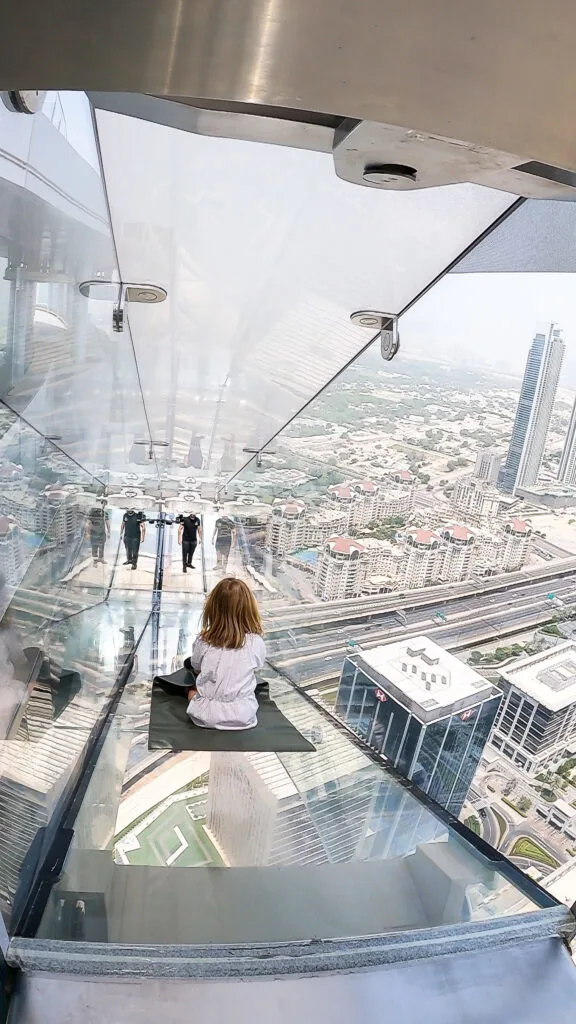 We hope you found this post about events and weather in Abu Dhabi in March helpful. Let us know if you attend any in the comments.
Disclaimer: This post about events and weather in Abu Dhabi in March contains affiliate links, by using them will not cost you any extra. We may receive a small commission to keep us writing.