Abu Dhabi is well-known for its incredible architecture. From coin-shaped buildings to skyscrapers and palaces to mosques.
Aside from striking architecture, it's a city internationally famed for its extravagant hotels, plush resorts, and stunning beaches.
The city is built to manage extreme climates with plenty of indoor activities usually in malls. Visiting the Grand Mosque is one of the top free cultural activities in the city so it sees many tourists pass through regularly.
When modern architecture and age-old traditions are combined, it results in some of the most beautiful buildings in the world.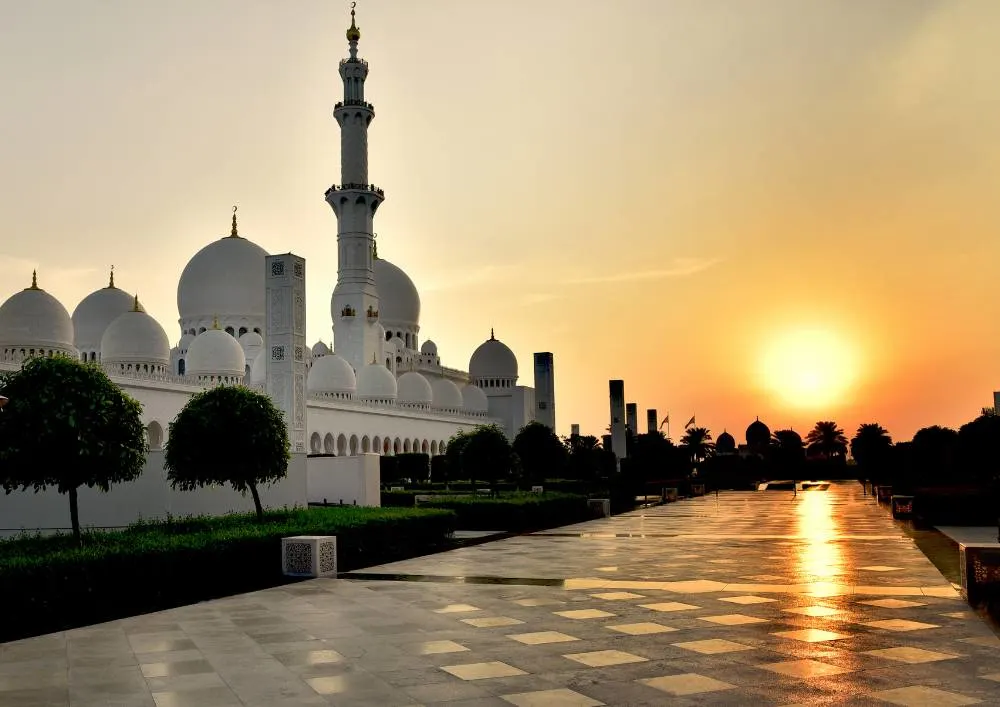 Abu Dhabi is home to some beautiful mosques, so whether you are looking to find somewhere to pray throughout the year, or during Ramadan. Or, maybe you are an architectural enthusiast, we have all the bases covered.
Abu Dhabi Mosques
1. Explore The Sheikh Zayed Grand Mosque
First on our list (goes without saying) is the Sheikh Zayed Grand Mosque, the most important and one of the biggest mosques in Abu Dhabi.
Aside from being the largest mosque in the UAE, Sheikh Zayed Grand Mosque is an architectural masterpiece.
It was built under the patronage of UAE's late President, Sheikh Zayed bin Sultan Al Nahyan, and can accommodate up to 40,100 people at a time.
Construction of the Grand Mosque, which covers an area of nearly thirty acres, took place over 13 years, from 1994 to 2007.
The architectural wonder features gems, gold, semi-precious stones, and ceramics. Not to mention more than 82 domes, four minarets, and 96 pillars made of Greek and Macedonian marble.
The hall area of the mosque holds the world's largest carpet of predominantly wool, which measures over 60k square feet and weighs around 35 tons.
A sight to behold is the seven chandeliers hanging from the dome. It's the world's second-largest chandelier inside a mosque and the third-largest chandelier in the world.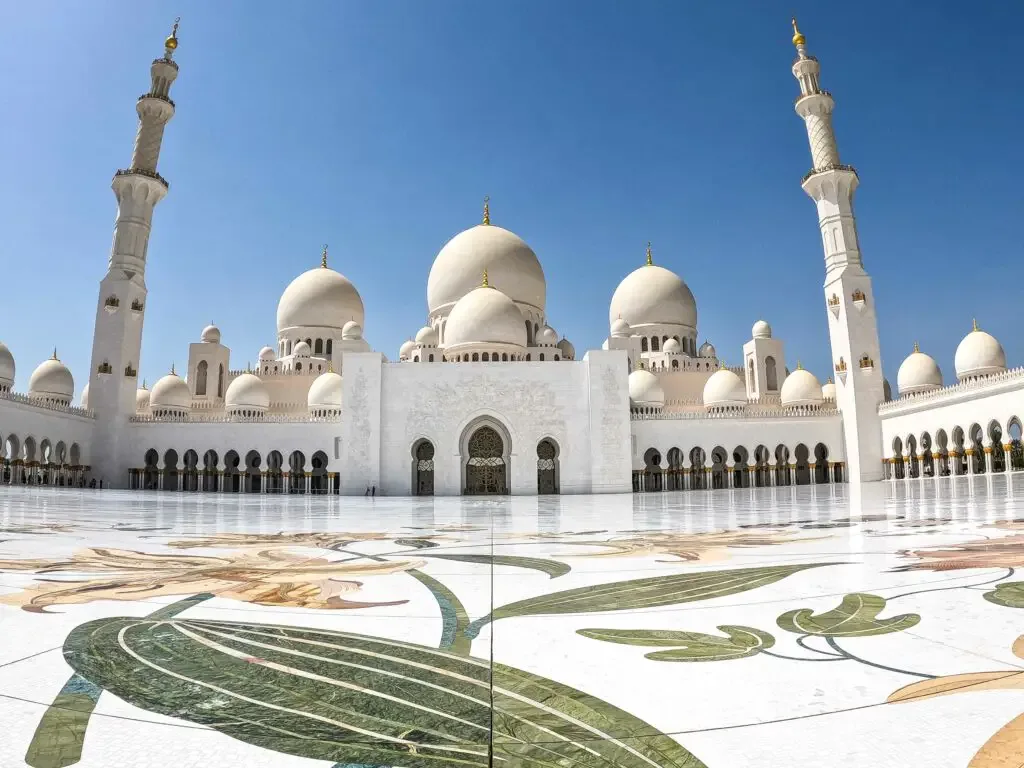 Tourists flock to the Grand Mosque to capture stunning sunset shots, particularly the minarets overlooking the flower mosaic on the courtyard spanning 180k square feet.
Another outstanding feature of the Sheikh Zayed Grand Mosque is its illumination at night. Nighttime illumination of the mosque's columns is made possible by the pools along the arcades.
Due to its lighting, the exterior marble turns bluish-grey during late evenings and nights, depending on the phases of the moon.
Aside from its aesthetics, the mosque has a profound cultural significance as people gather to pray and reflect throughout the year, especially during Ramadan.
It's a monument to consolidate local culture and acts as a centre for Islamic sciences.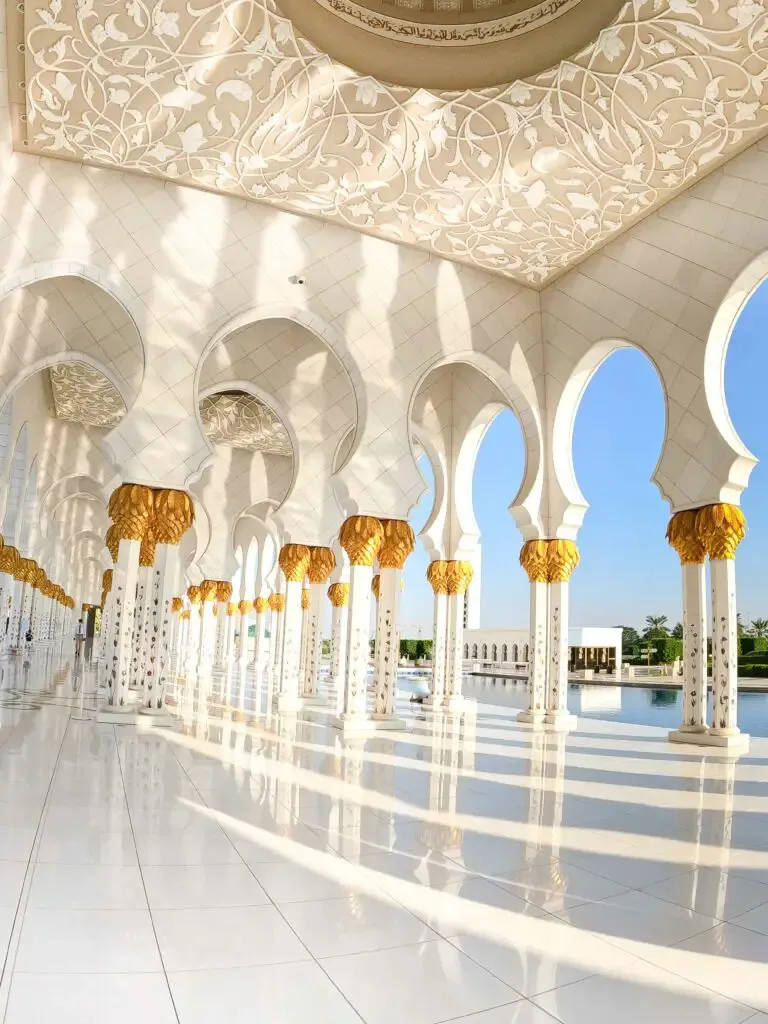 Tourists can stroll through independently, however, a Grand Mosque Abu Dhabi tour is a great option to soak up all the information.
The Grand Mosque is a tourist hot spot and is also a fully functioning place of worship for Muslims.
Tourists and worshippers alike must adhere to the dress code. For example, wearing something covering the shoulders and knees is required. Women are expected to cover their hair.
Abayas and Kandouras (traditional dress for women and men respectively) can be purchased in the tunnels beneath the mosque for as little as 50 AED at the souvenir stores.
Entry: Free
Timings: 9 AM to 10 PM (Saturday to Thursday)
Friday Timings: 9 AM to 12 PM and 3 PM to 10 PM
Location: Sheikh Rashid Bin Saeed Street – Abu Dhabi – United Arab Emirates
Wahat Al Karama
Although not technically a mosque, across the road from Sheikh Zayed Grand Mosque is Wahat Al Karama. It is a place which commemorates the fallen Emirati soldiers.
The landmark is strategically located across the highway, making it a popular photography spot.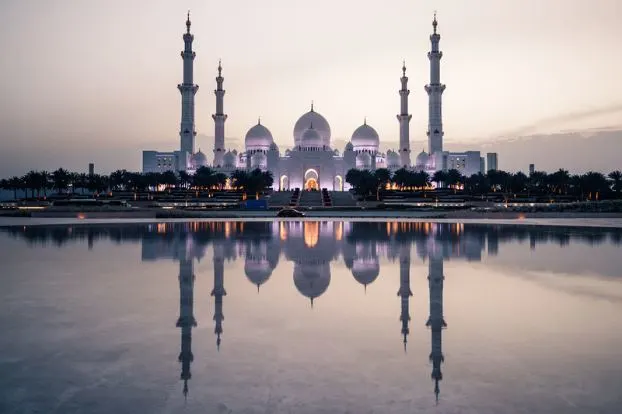 It makes for some pretty pictures of the mosque and is easily accessible without the hassle of finding parking during operational hours.
The most magical time to visit is sunset or night when the mosque reflects in the water under the starry night sky.
Entry: Free
Timings: Visitor Centre 9 AM to 7 PM
Memorial Plaza Area: 24 Hours
Location: Wahat Al Karama Street – Abu Dhabi
2. Bani Hashim Mosque
Bani Hashim Mosque is less well-known than Grand Mosque. However, it is beautiful for different reasons and many say it resembles the Al Aqsa Mosque in Jerusalem.
The mosque has recently been built, and the Imam was super welcoming despite the building not being finished.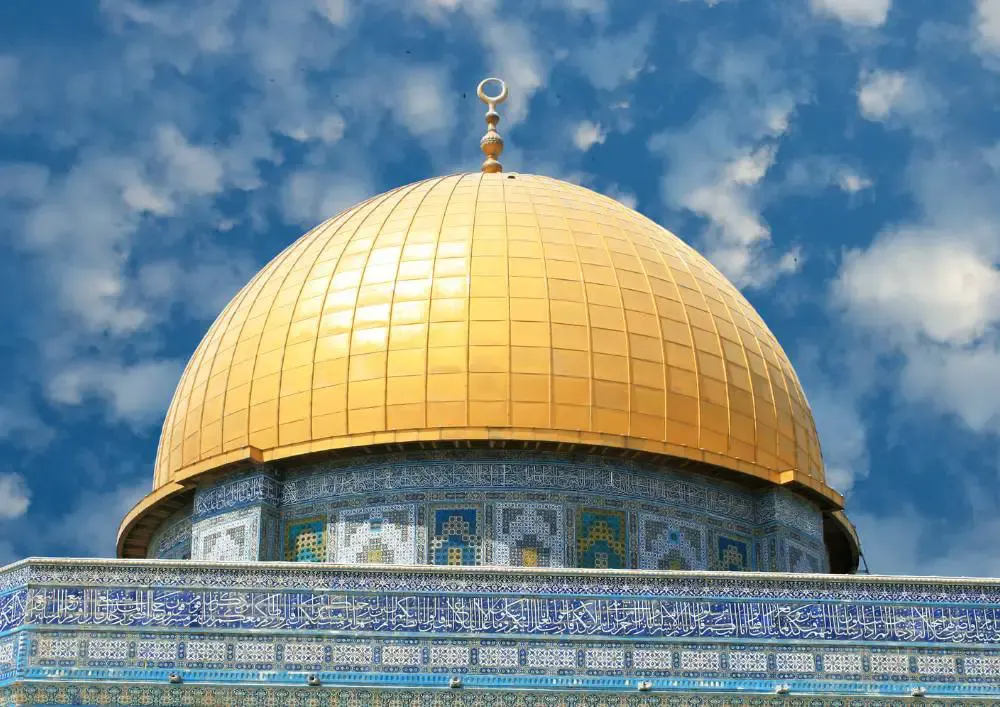 The blue and turquoise Islamic engravings and striking gold dome make it stand out making as one of the most unique mosques in the region. It is hard to believe it is a new building. It has captivated history into a stunning new masterpiece.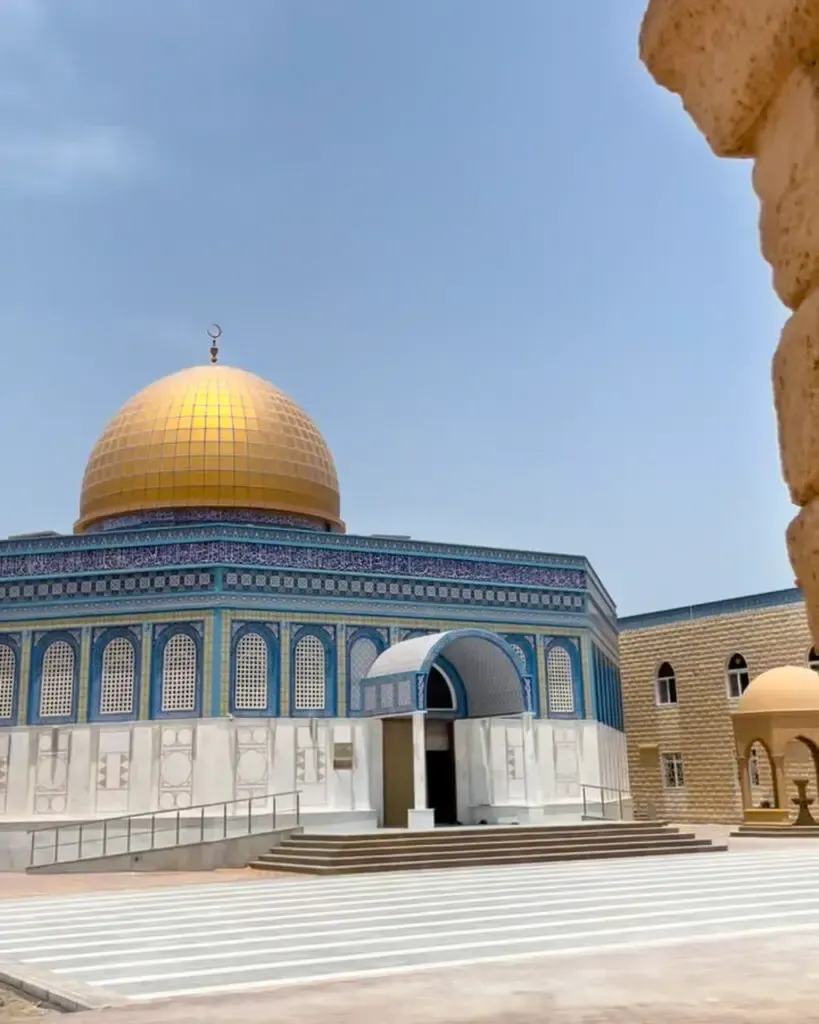 Address: CF5V+MGJ – Rabdan – Abu Dhabi – United Arab Emirates
3. Al Aziz Mosque
The Al Aziz Mosque is well known to the residents of Al Reem Island. It may not be as impressive as the Grand Mosque, but it can accommodate around 2000 worshippers at once.
Every Friday prayers see hundreds of local worshippers spill outside. Although it has a minimalistic design, this mosque in Abu Dhabi stands out with specific architectural elements.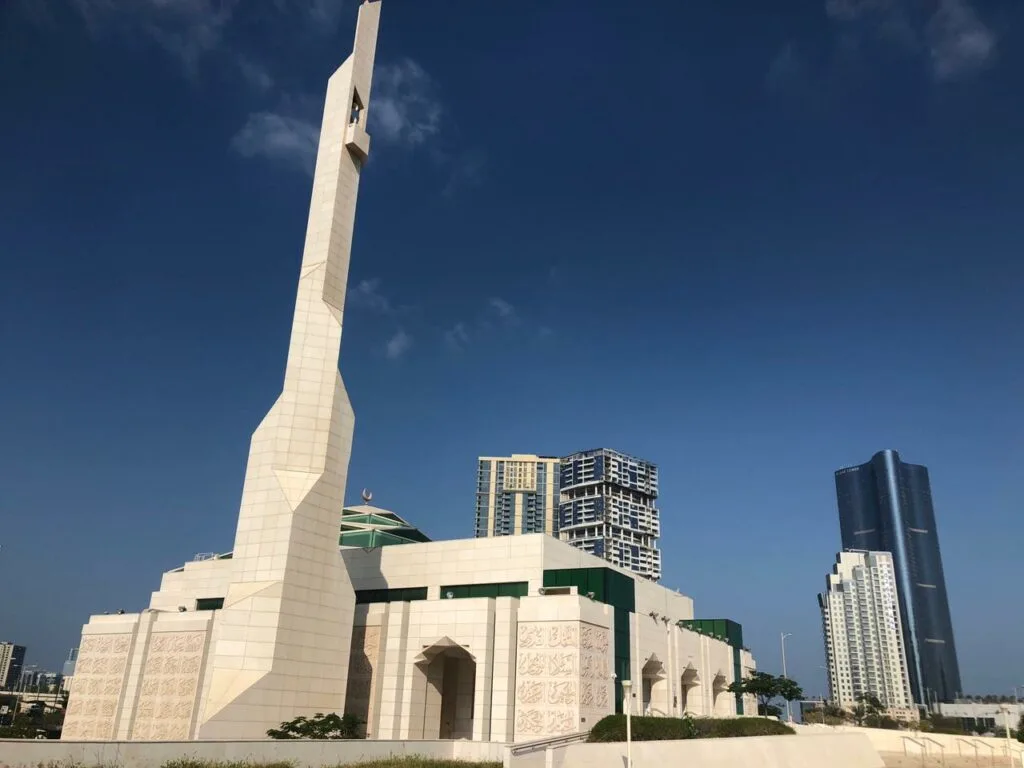 Starting with the exterior, the dome does not curve, unlike other mosques across the Emirates.
Instead, it has a geometric design with carefully constructed glass panels. The same can be seen in its interior.
With light-transmitting concrete technology, the facade creates an impressive visual in the daytime, generating shadows on the exterior.
The Arabic letters on the facade, written in different calligraphy styles, cast shadows on the exterior. During the night, the technology lights the exterior walls, providing an impressive display.
The mosque's facade displays 99 different names of God, in accordance with strict instructions from the Qur'an.
Location: Al Reem Island – Tamouh – Abu Dhabi – United Arab Emirates
4. Mohamed Bin Masood Masjid
Mohamed Bin Masood Masjid Mosque is tucked away in Al Bateen, a block away from the Marina. While many frequent the area for its cafes and boat clubs, few are aware of its existence.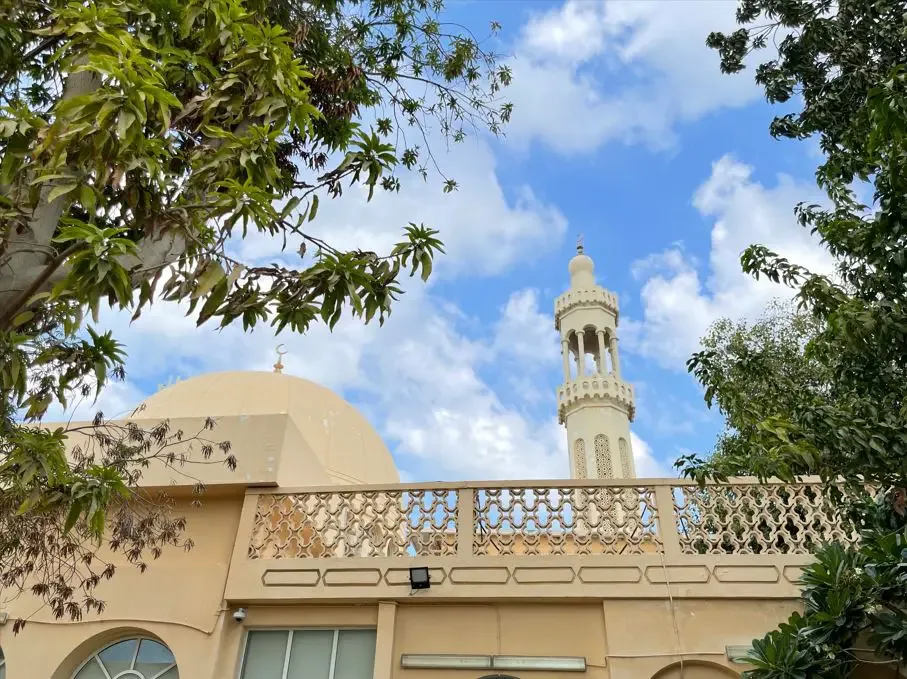 This mosque may not be a tourist attraction as such. An ideal time to visit this Mohamed Bin Masood Masjid is early morning or early evening to enjoy the sounds of nature on a walk in the surrounding garden.
Location: C9V8+HHQ – Al Bateen – Abu Dhabi – United Arab Emirates
5. Mary, The Mother Of Jesus Mosque
H.H. Sheikh Mohammed Bin Zayed Al Nahyan renamed the mosque Mohammed Bin Zayed to Mary, Mother of Jesus. In Arabic, it translates to Mariam Umm Eisa Masjid.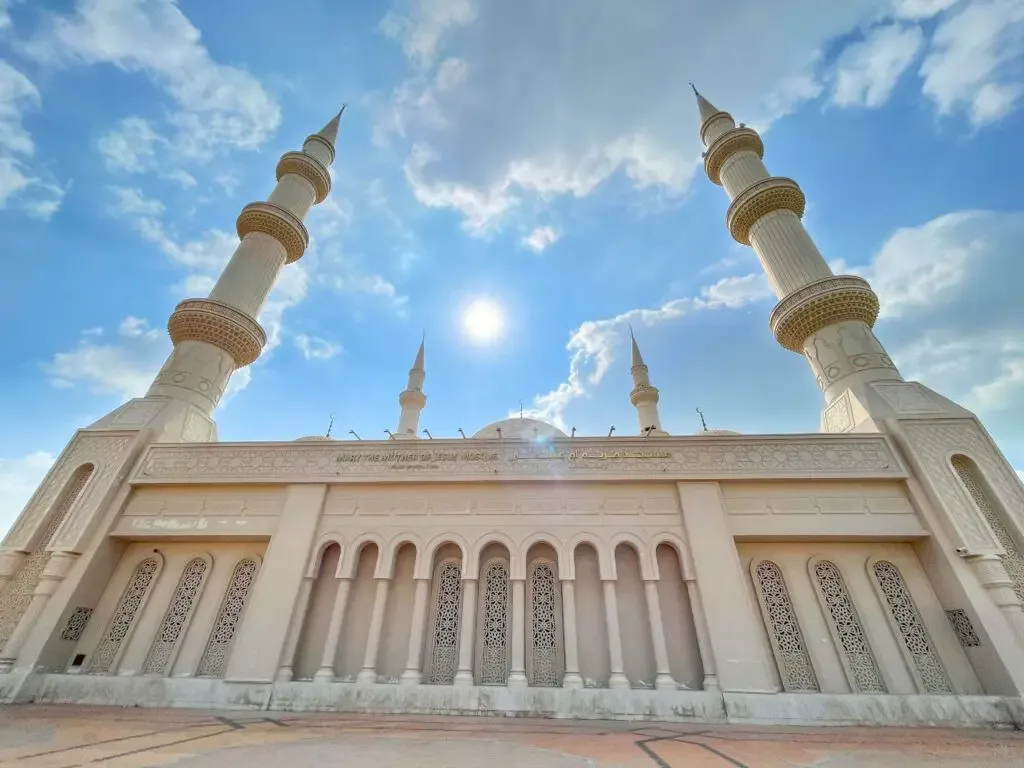 On one corner stands the mosque compound. On the other is a Christian community with numerous churches, including St. Joseph's Cathedral, Abu Dhabi, St. Andrew's Church and the Church of St. Anthony.
The initiative aims to strengthen and promote coexistence among different religions, mainly between Christianity and Islam and to promote peace among people.
With its convenient location near Downtown Abu Dhabi, we recommend visiting it at least once when around the area.
Location: C9XP+W8G – Al Mushrif – Abu Dhabi – United Arab Emirates
6. Sheikh Hamdan Bin Mohammed Al Nahyan Mosque
The Sheikh Hamdan Bin Mohammed Al Nahyan Masjid Mosque has a prime location in one of the quietest neighbourhoods in Abu Dhabi, Al Nahyan. Resident villas surround the mosque inspired by Moroccan architecture.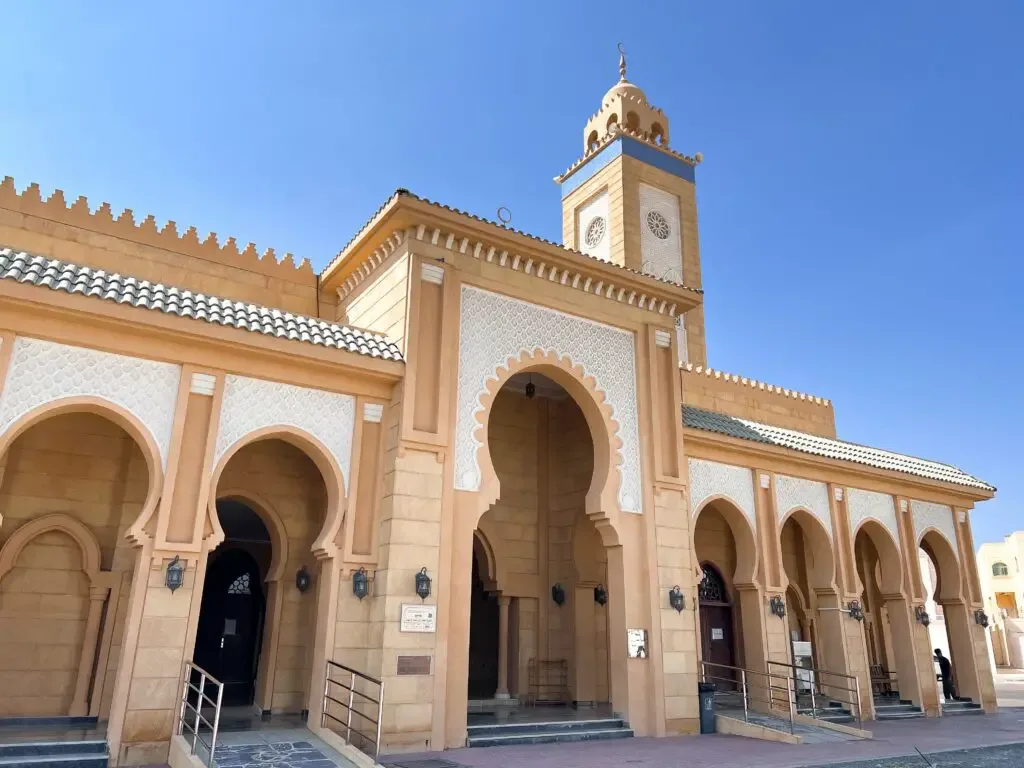 Community mosques are representative of so many others throughout Abu Dhabi. Several small shops in the area, including baqalas (convenience stores), display a sign notifying people they are off for prayers.
The flat roofs and row of arches of the mosque are distinguishing features of Moroccan mosques, which is very obvious at first glance.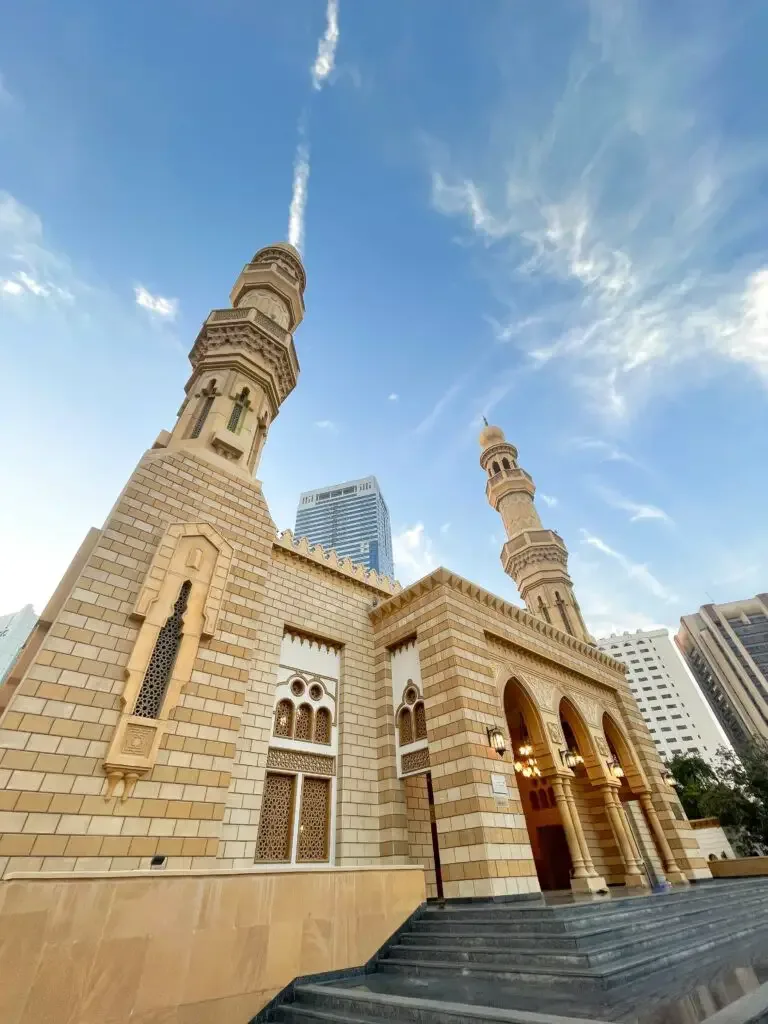 The masterpiece welcomes people of all faith. It's important to remain respectful to the worshippers and dress appropriately.
Location: F9CP+GJ3 – Al Nahyan – Abu Dhabi – United Arab Emirates
7. Masjid Al Kareem
Masjid Al Kareem, also known as Al Kareem Mosque, has a very simple facade combining modern design with Islamic traditions.
It is often frequented by those residing near Marina Village and is easily accessible by residents along the Abu Dhabi Corniche.
Once worshippers or visitors step inside, it is impossible to ignore the multi-foil arches adorning the Prayer Hall and Minaret, while different patterns festoon its walls.
In contrast, the dome is plain and minimalistic, crowned by a prominent crescent.
With its blend of tradition and modern architecture, it stands out from other mosques in Abu Dhabi.
Location: F8F8+4JG – Al Marina – Marina Village – Abu Dhabi – United Arab Emirates
8. Ateeq Bin Rashid Mosque
Nestled by apartment buildings in one of the communities along the Abu Dhabi Corniche is Ateeq Bin Rashid Mosque.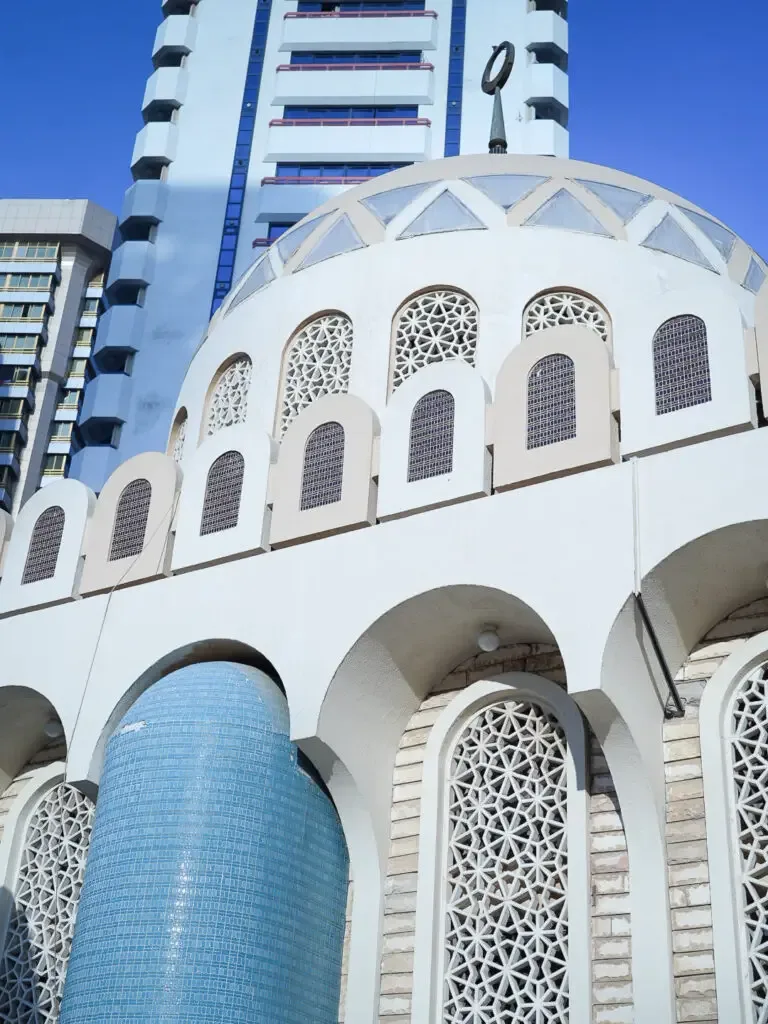 This mosque is the community's cultural meeting point, especially during the holy month of Ramadan.
Even though it has a very minimalistic yet modern design approach, it stands out for its Moroccan design-inspired minaret amongst the apartment buildings.
Location: F9R4+9VP – Al Danah – Zone 1 – Abu Dhabi – United Arab Emirates
9. Mosque Of Sheikha Fatima Bint Mubarak
Mosque Of Sheikha Fatima Bint Mubarak is another one of the fascinating mosques in Abu Dhabi. With inspiration from the Great Mosque of Samarra in Iraq, its exterior features red terracotta tiles with a spiral minaret.
It's in a part of the city in the development phase. However, the building certainly adds a modern element to the otherwise old-school suburb.
The exterior terracotta cools down the interior of the mosque to quite an extent without the need for air conditioning. Rather than a traditional concrete dome, a swirling upward cone with windows fills the prayer hall with light.
A stepped design appears on the 52-metre-tall minaret allowing people to walk around the outside. There is a strong belief the style originates from Mesopotamian ziggurats, structures that pre-dated Islam.
Location: Z15 – Mohammed Bin Zayed City – Abu Dhabi – United Arab Emirates
Wudhu Or Partial Ablution
Wudhu, or Wudu, is an act of worship and devotion to Allah. It is a way to cleanse oneself of spiritual impurities and to bring the person closer to Allah.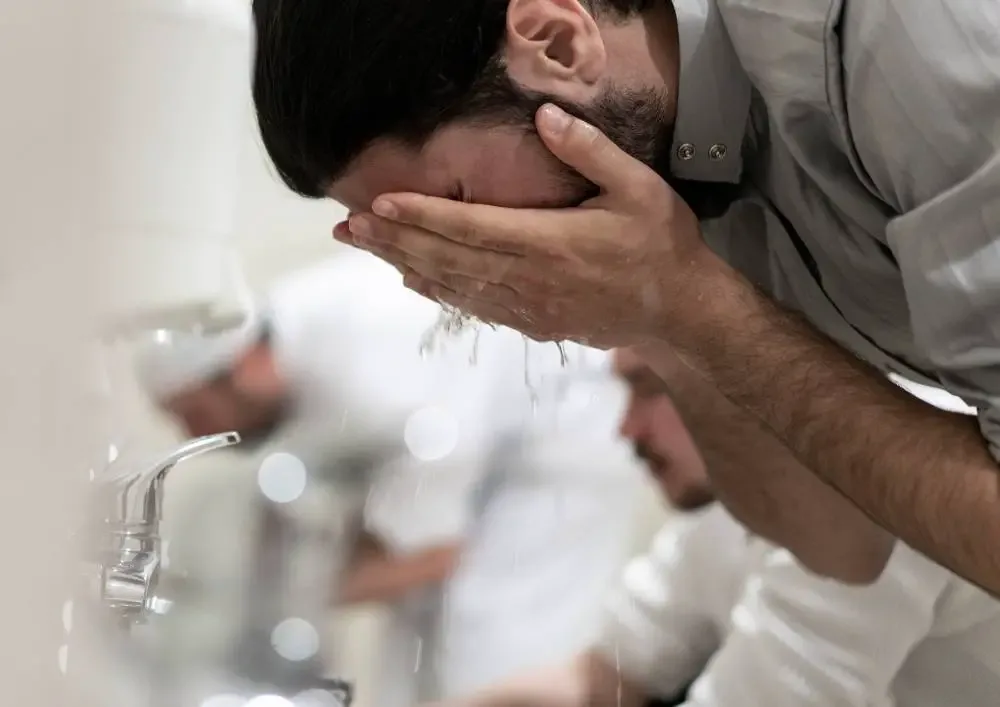 It is a simple and easy ritual very significant and necessary for any Muslim.
There is an orderly process to wash hands, arms, nostrils, mouth, ears, hair, faces and feet.
Women's Prayer Hall In Abu Dhabi Mosques
Yes. Both men and women pray in mosques, but typically in separate halls. A cultural norm that originates from centuries-old customs, which are still in practice today.
The belief is men and women should not be in close proximity during prayer to maintain modesty and respect for the sacredness of the mosque.
By having separate spaces for prayer, men and women can better concentrate on their devotions without any distractions.
Hence, allowing reflection on their relationship with God and the meaning of their faith.
A prime example of a mosque with separate prayer halls for men and women is the Sheikh Zayed Grand Mosque.
Over 40,100 worshippers can fit inside the mosque. The women's prayer area is one of two smaller prayer halls that have a capacity of 1,500.
Dress Code When Visiting Mosques In Abu Dhabi
All Muslims hold mosques in high regard as places of worship and sacredness. Mosques in Abu Dhabi and around the world require visitors to observe specific ethics and rules.
A more conservative dress code is required when visiting a mosque, especially the Grand Mosque in Abu Dhabi.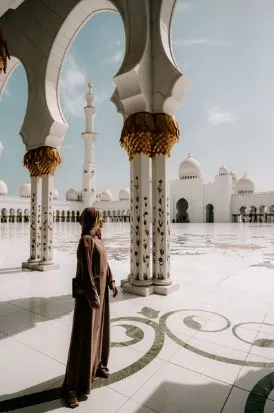 Long sleeves and trousers are appropriate clothing for men. However, men can purchase a Kandura to wear over their regular outfits as an alternative.
As women must cover their bodies and hair to enter the mosque purchasing traditional dress known as an Abaya is a good option. Alternatively, wear trousers and long sleeves and cover your hair with a scarf.
It is common for both men and women to purchase traditional clothing when they are participating in cultural activities. Shopping malls and a few mosques have options to purchase necessary clothing.
Design Elements Behind Mosques In Abu Dhabi
A study of traditional designs of mosques over time reveals a transformation in architectural designs that are quite different from the originals. Yet, despite its aesthetically pleasing appearance, the design roots remain the same.
Below are a few common attributes present in the various examples of mosque designs seen today.
Geometry
Geometry is the main characteristic of all Mosque structures, whether they are plans, elevations, or smaller building or ornamentation details. As a fundamental aspect of Islamic design, geometry relates to stability, symmetry, and space principles.
As a symbol of Unity in Multiplicity, geometry can be seen and used extensively throughout a building, from its design to its subtle ornamental details.
A fine example of this can be seen at the Sheikh Zayed Grand Mosque and the Al Aziz Mosque.
Location And Layout
For a mosque to function correctly, it must be in a prime location, with proper circulation accessible to hospitals, schools, public transportation, and convenience stores.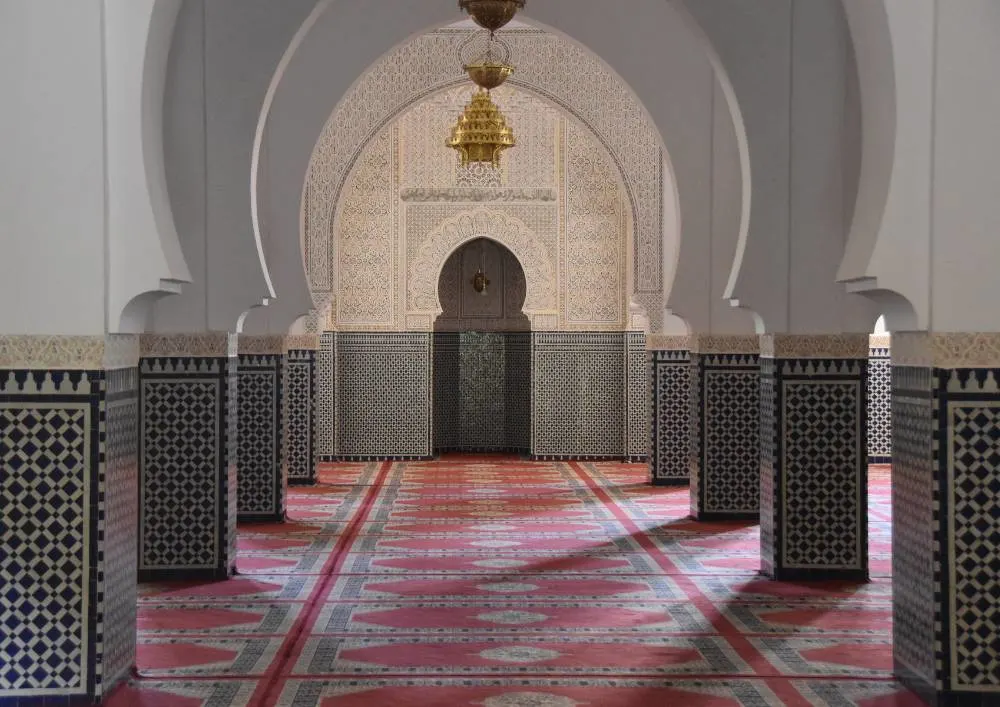 In order to ensure an effective prayer hall, it is crucial it serves as both a visual and functional focal point, providing pathways suitable for large crowds with space to walk without disturbing others.
Mosque Features
There are many similarities in the architectural design of mosques. The basic structure must include a minaret, which is a tall tower alongside the main mosque building.
A minaret is a tall tower with a crescent on top, it symbolises a lighthouse in Arabic.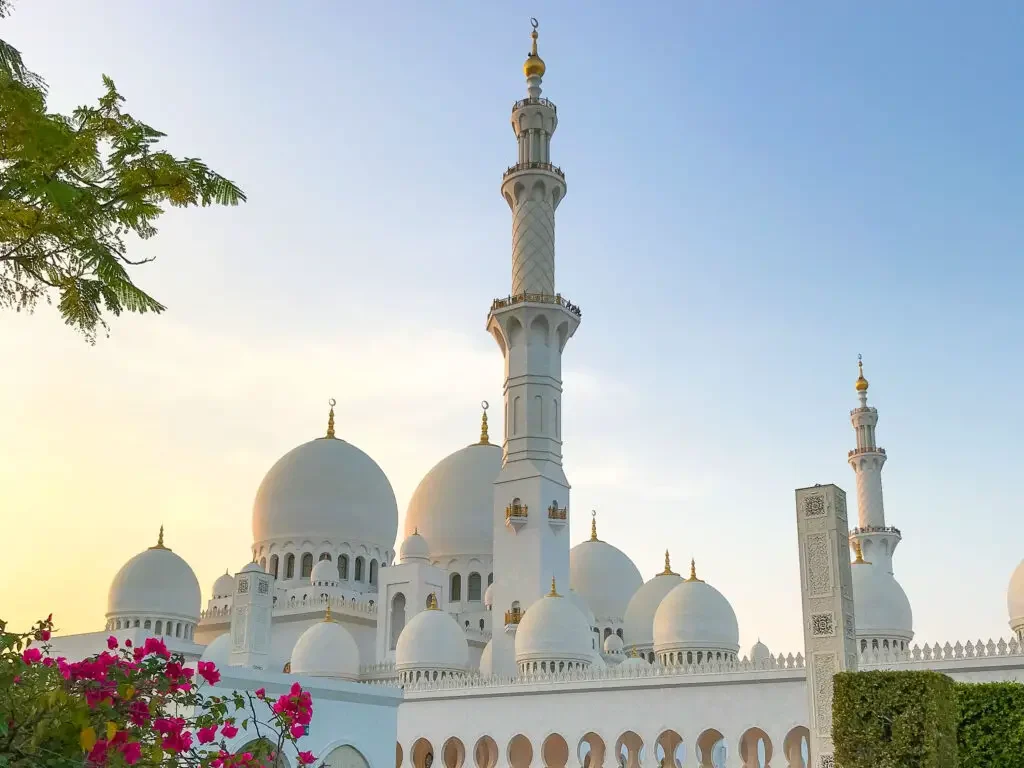 The minaret serves to identify the mosque and its sole purpose is to allow the prayer leader to call Muslims to pray throughout the area.
The dome of a mosque is also a defining characteristic. Mosques usually have domes over the main prayer hall to symbolise the vault of the heavens.
Its ceilings have intricate designs with influences from Islamic traditions and Qur'anic quotes.
Sheikh Zayed Grand Mosque is a splendid example of this, which features over 82 domes, four 106-metre tall minarets, marble overlays, precious gems, and gold decor.
Embedding Religious Features In Design
In addition to mosque features, it also has to incorporate certain religious elements, such as the Mihrab and the Minbar.
In a mosque, a Mihrab is a central point from which the Imam prays, aiming at Mecca, the birthplace of Prophet Muhammad (PBUH) and Islam's holiest city.
The Mihrab also consists of the Qibla wall. It is the main wall facing Mecca, towards which devotees pray. Depending on the geographical location of the mosque, the direction of the wall will differ.
Another religious building element is the Minbar, a platform from which the Imam prays and addresses the congregation, a step lower than the topmost platform.
Furnishing and Ornaments At Mosques In Abu Dhabi
Unlike Christian and Buddhist places of worship, mosques do not have statues of their god. Instead, the intricate Islamic writings on the walls and decor adorning the entire place reflect Allah's closeness.
Geometric patterns, mosaics and floral decors are all used in the design to achieve a sense of harmony, serenity, timelessness, and other religious principles.
Quranic texts in Arabic are visible throughout the mosque as a constant reminder of the Qur'an.
Building elements, such as columns, ceilings, walls, and windows, enhance the primary form of the structure to one of great spiritual and cultural significance.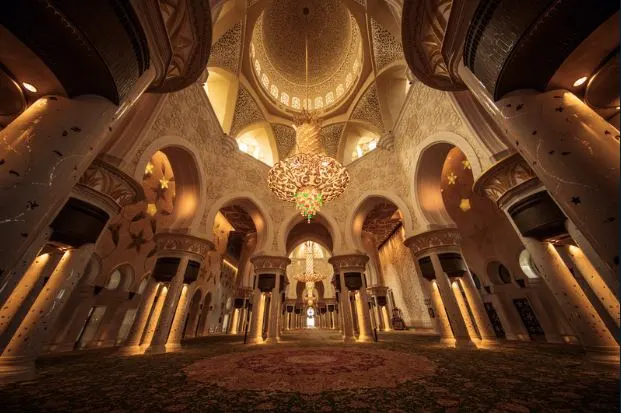 In mosques, large chandeliers often serve as central lighting to accommodate prayer times early morning or late evening, making light an instrumental part of the interior design.
In addition, God's light is spread throughout the room with chandeliers, indicating his presence.
Another element widely used in Abu Dhabi masjid (mosque) and around the world are carpeting in prayer halls on which worshippers pray, providing a clean space and cushioning.
A space for shoe shelves is another feature near the prayer halls, as worshippers cannot walk with shoes in the prayer area.
Sheikh Zayed Grand Mosque in Abu Dhabi, United Arab Emirates, exemplifies extravagant interior design.
The mosque features the largest hand-knotted carpet (60,570 square feet) on its floor, a symbol of luxury and functionality. It is also worth mentioning the dome consists of seven chandeliers.
Lighting
Mosques rely heavily on light, an essential element, aside from the chandeliers, which provide light after sunset.
As much natural light as possible is encouraged at the mosque in Abu Dhabi during the day since it serves as a connection to Allah's spirituality and beauty.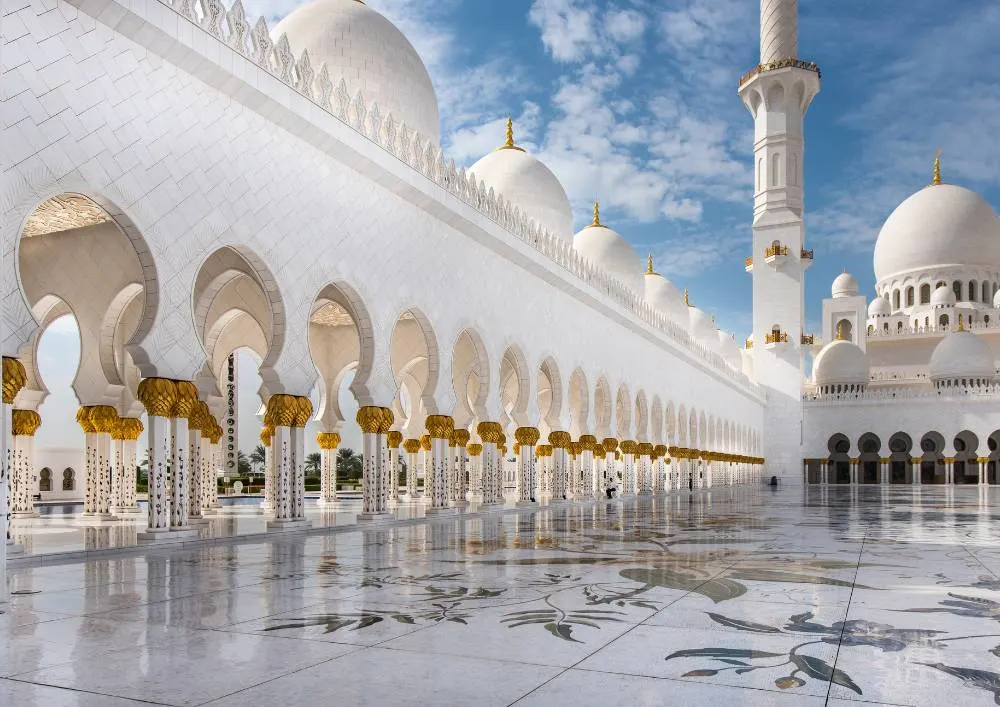 The mosques must ensure light flows through the prayer halls so worshippers can feel the connection to Allah and the spirituality of Islam.
Sustainability
Any space design, especially religious spaces such as mosques, should maintain sustainability throughout. Further considerations should include societal, geographical, and financial aspects.
In order to maintain a consistent temperature and ventilation throughout the space, many mosques use pools of water and courtyards.
Finally, the mosque's overall design should reflect the worshipper's spiritual journey. Therefore, the sacred space must evoke a sense of tranquillity while inspiring people to gather and pray.
The provision of areas for quiet reflection and relaxation is of significant importance at mosques in Abu Dhabi.
Arabic Terms Used Frequently At Mosques
Masjid: The word mosque derives from the Arabic word masjid, which means temple or place of worship.
Mihrab: The prayer niche in a mosque, at the point nearest to Mecca, towards which the congregation prays.
Minbar: Mosque pulpits, usually a short flight of stairs, where the Imams deliver sermons.
Imam: The person who leads prayers at a mosque.
Qibla: The direction Muslims face when praying toward the Kaaba in Mecca, Saudi Arabia.
Minaret: The tower that announces the call to prayer from the mosque.
Mosques In Abu Dhabi Frequently Asked Questions
Is it possible to take pictures of mosques in the UAE?
Places marked as no photography must be strictly adhered to. Feel free to ask if you need clarification.
Mosques and military installations are not appropriate places to take photos. Ask permission before taking a picture.
Are shorts allowed in mosques?
The mosque is one of the most revered places in Islam, and Muslims take this seriously. Therefore, it is imperative to dress modestly at all times.
For example, men cannot wear shorts. The shirts can be short-sleeved but fully cover the shoulders.
How should a woman dress when visiting mosques in Abu Dhabi?
Dress modestly in loose-fitting clothing covering arms and legs. Men and women should avoid shorts and sleeveless shirts.
Women should bring a scarf. While not all mosques require female visitors to cover their heads, it is a sign of respect to do so.
Is it okay to click pictures in a mosque?
Taking pictures inside a mosque is permissible, but do not point your camera at people praying or at anyone performing ablution outside the mosque.
Is it permissible for women to enter mosques?
Women are permitted to enter the mosque for the purpose of offering prayer or namaz without any restrictions.
Can women attend congregational prayers at Mosques in Abu Dhabi during Ramadan?
A majority of mosques in Abu Dhabi have prayer rooms exclusively for women.
The Abu Dhabi Grand Mosque is a good example. Some mosques are becoming more progressive and accommodating of women's needs by providing a separate section to pray in privacy and comfort.
It confirms and indicates the growing acceptance of gender equality in the Islamic world.
Is it okay to wear shoes to a mosque?
You can wear your shoes to a mosque, however, they must be taken off before entering the prayer rooms inside the mosques.
Other areas of the mosque may also be subject to this rule. There is a shoe storage area available in most mosques.
How many mosques in Abu Dhabi?
The Emirate of Abu Dhabi has about 2,305 mosques so far.
What is a minaret?
In Arabic, the term minaret means lighthouse or beacon and refers to a square, hexagonal, or circular tower with a crescent at the top, the Islamic symbol.
Map Of Mosques In Abu Dhabi
To Sum Up Mosques In Abu Dhabi
Mosques are iconic architectural masterpieces of Islamic architecture. Muslims gather in the religious buildings to reflect, pray, and commemorate the sacred Islamic religion.
Over the years, mosques have grown larger in size and number throughout the world, reflecting different styles and spanning multiple decades. Historically, mosque designs have taken various forms based on traditional Islamic principles.
The mosques in Abu Dhabi tend to see a lot of worshippers, especially during Ramadan, for the Maghrib prayers after Iftar and the Fajr prayers after Suhoor.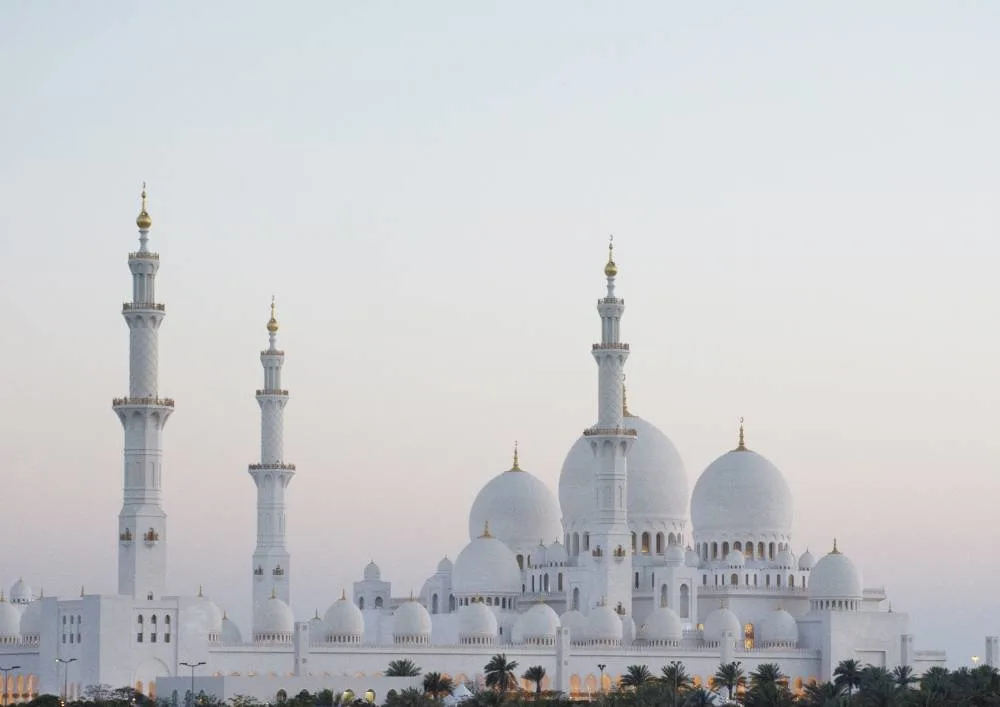 The Best Time To Visit Abu Dhabi
The tourism season kicks off around October or November when there are lots of events such as F1. December is equally as busy with events, in particular National Day.
January and February are the coolest quieter months after New Year. In March and April, the weather is still pleasant to visit.
The hotter summer months start in May when most events move inside. It is a good month to visitfor those who enjoy the arts.
Whilst June through July and August attract budget travellers as many resorts and attractions offer great deals.
September is considered a shoulder month, it is still quite hot but tolerable early morning and in the evenings.
We hope you found this article on mosques in Abu Dhabi helpful. Should there be mosques deserving mention, please feel free to contact us.
If you are planning to visit any of the mosques above, we would love to hear your thoughts and experiences by leaving us a comment below.
You may also like:
Ramadan Celebrations In Abu Dhabi
Eid Staycations across the UAE
Disclaimer: This post may contain affiliate links, by using them it will not cost you any extra, we will receive a small proportion of the sale to keep us writing!