The weather in Abu Dhabi in April is essentially the last month of tolerable outdoor weather before the desert summer.
Children in the Emirate are usually on spring break in early April. It is essentially the last month of the tourism season which starts in November or December.
This year, Ramadan falls across March and April in Abu Dhabi and is followed by Eid Al Fitr which marks the end of Ramadan. Eid Al Fitr is likely to be a four-day holiday starting from the 22nd of April.
In this post, we are going to dive into what to expect with the weather in Abu Dhabi in April, some great events throughout the month, and make sure to check out our top recommendations for things to do in the Emirate.
This April is a fantastic time to visit Abu Dhabi, there is so much going on. From cultural events to music festivals, and so much more.
Weather Abu Dhabi April
Abu Dhabi is well known for its hot and dry desert climate. April is essentially the start of the transition into the hot summer months.
Overall, the weather in Abu Dhabi in April is warm and pleasant. The average temperature in Abu Dhabi in April is 27 °C (80°F).
It can spike as high as 33 °C (91°F) and the nicest part is the evenings when it can drop as low as 20°C (68°F) making it very pleasant to be outside.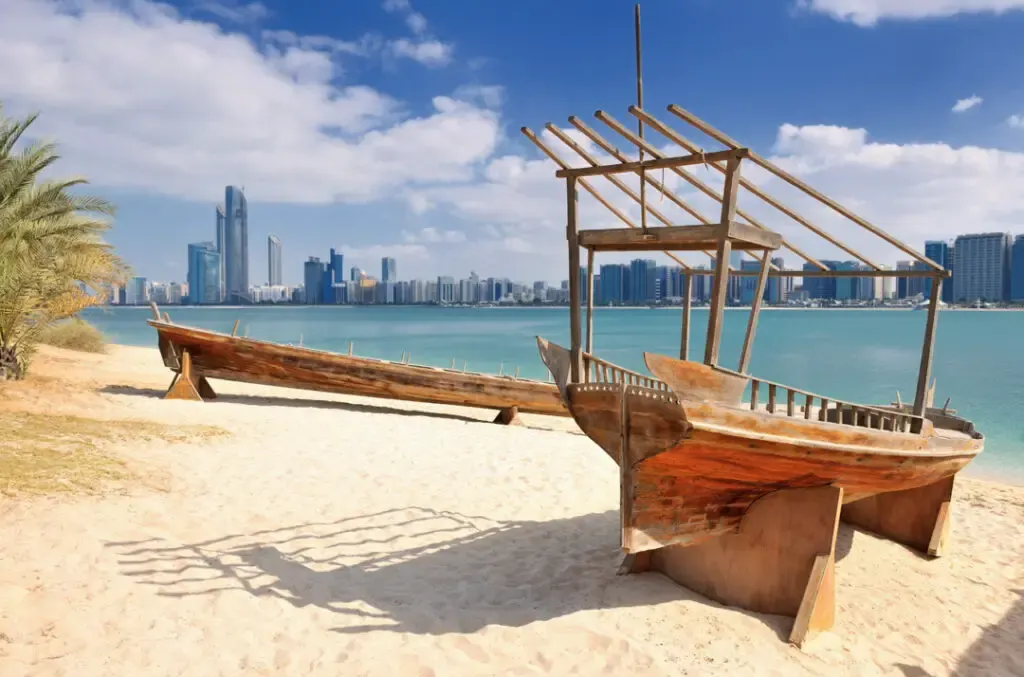 It's fair to say, weather can be unpredictable these days with climate change at play.
It's worth noting, temperatures can occasionally rise to 40°C (104°F) towards the end of the month, especially as summer draws closer. There are tonnes of indoor activities to enjoy for both adults and children if this happens!
Humidity usually sits around 60% so it doesn't necessarily make the temperatures in Abu Dhabi in April feel any worse. 60% humidity is relatively low in comparison to June through August when it averages 80%.
Humidity in April is at its highest early morning and late evening. It tails off in the day during higher temperatures.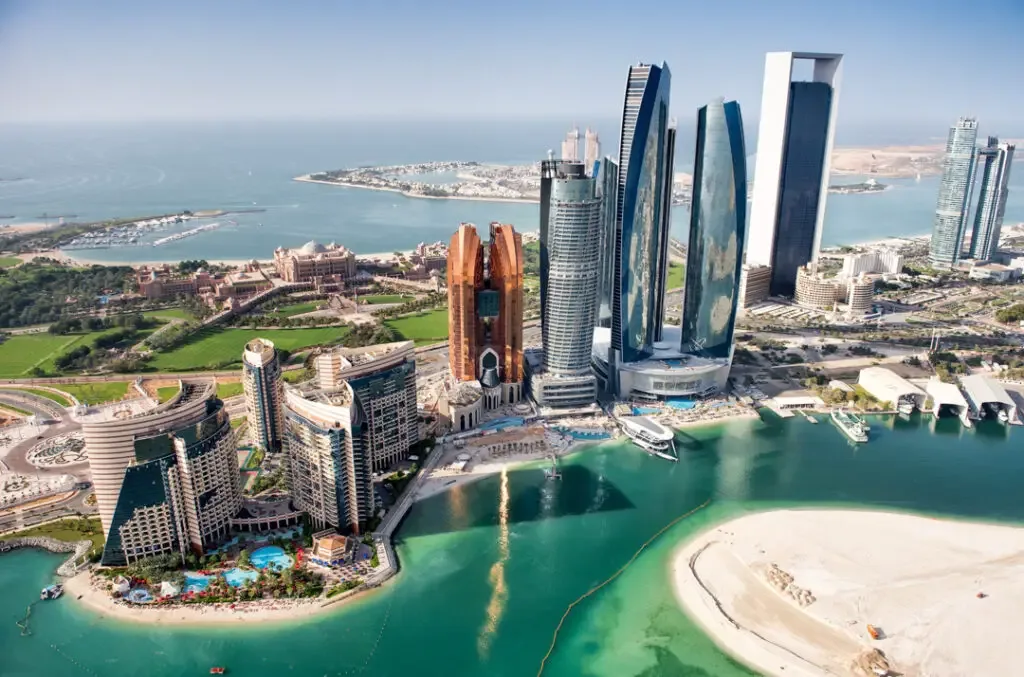 It's also worth noting, the humidity levels can be affected by the presence of shamal winds. Shamal winds are essentially northwesterly winds.
They can cause sandstorms occasionally and although they can be disruptive, the wind can offer relief from the warmer temperatures.
The most common time the Emirate experiences shamal's is during the change of season. They are more common towards the tail end of Abu Dhabi April weather.
April is one of the driest months and generally, there is very little chance of rain. The average rainfall is around 2mm throughout the whole month.
The hottest months in Abu Dhabi are June as well as July and August. Whilst the coolest are from December through to April.
January and February are the quietest time to visit.
Check out weather and events in Abu Dhabi in May.
Events In April In Abu Dhabi
There are plenty of events in April in Abu Dhabi, perfect for tourists and residents to enjoy. Read on as we explain more!
Ramadan All Month Until April 20th
Ramadan is the most significant time of the year locally in the Emirate. It is a time of giving and there is a very spiritual feeling across the Emirates.
It is a time of fasting during daylight hours, prayer, and coming together with the community.
Up until a few years ago, the Emirate saw very few tourists in the Holy Month Of Ramadan. However, nowadays things have changed significantly for non-muslims living in or visiting the Emirate.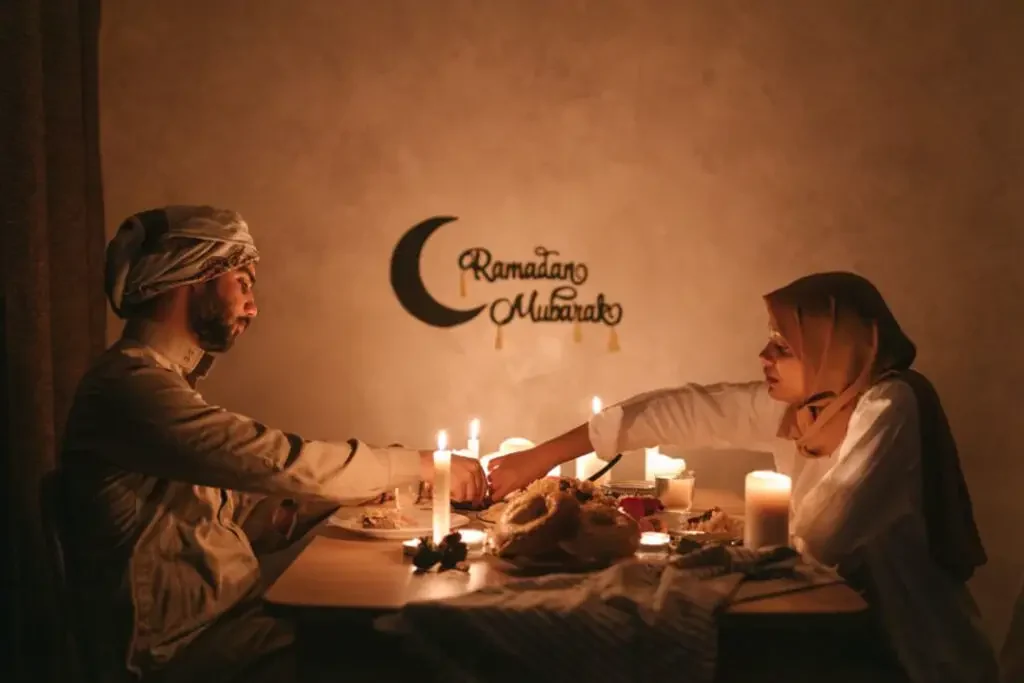 It has become an opportunity to get a feeling for the rich culture and heritage of Abu Dhabi and beyond. Many mall restaurants and hotel restaurants continue to serve food and beverages.
A few years ago, the restaurants were shrouded in black curtains. Many restaurants outside of malls and hotels do tend to close during the day until the evening.
Attractions tend to be less busy during the day making it an ideal time to visit the theme parks when there are no queues!
The main point is to remain respectful during Ramadan. Do not eat or drink in public places and remain conservative when it comes to clothing.
All businesses have different timings during Ramadan, it is best to check ahead of time.
Read this complete guide on Ramadan to learn more.
Iftars & Suhoors All Month Until April 20th
One of the best parts of Ramadan is coming together with locals, residents and tourists to mark the end of the fast, also known as Iftar.
Once the sun sets, worshippers pray and break the fast, typically with dates and water.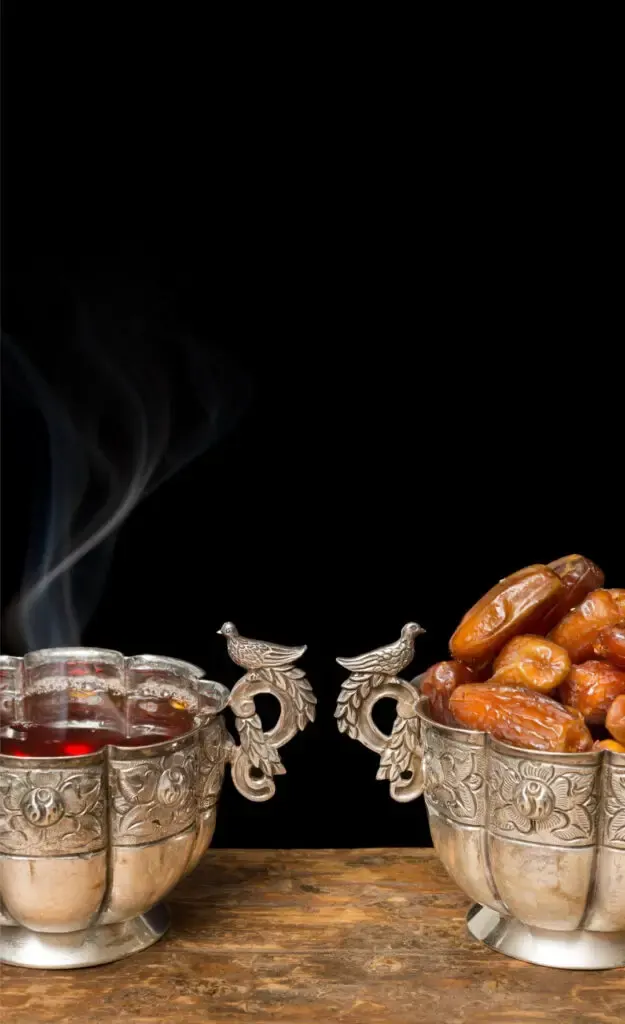 Abu Dhabi comes alive in the evening with Ramadan markets and Iftar buffets in many different hotels and restaurants across the city.
Typically the food features regional dishes such as mansaf, lamb ouzi, manakish, shawarma and sometimes international food such as sushi, Italian and Mexican.
Some regional delicacies such as fattoush, tabouleh and hummus satisfy vegan guests.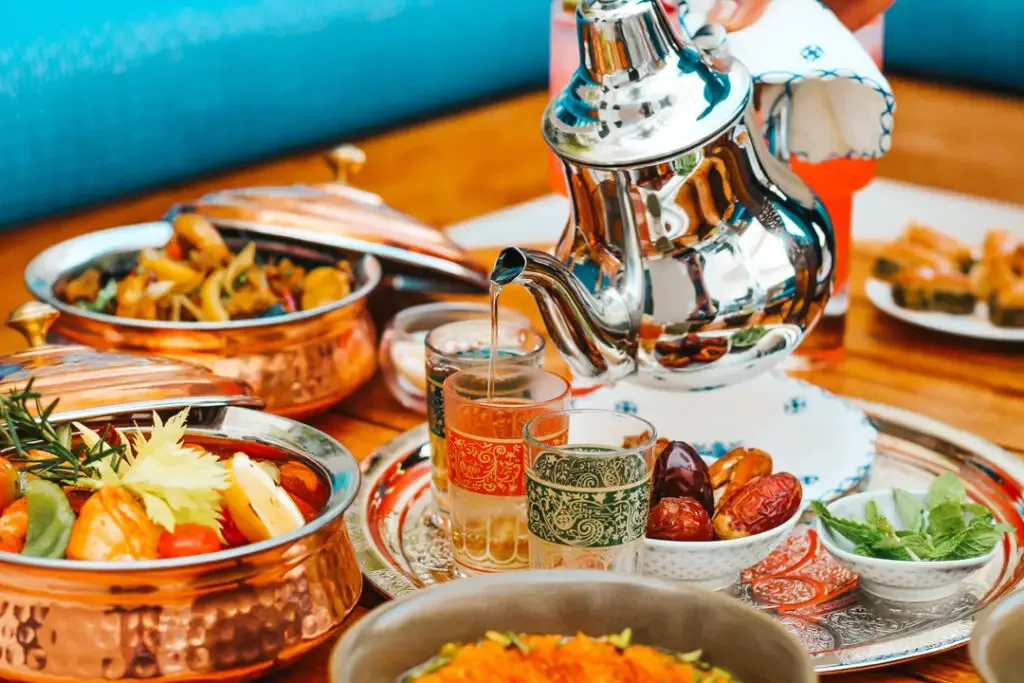 Check out the best Iftars in Abu Dhabi here.
More often than not, Iftar events at restaurants have live music and it is a lovely experience for non-Muslims to join in on the festivities.
Suhoor is the final meal before dawn. Many hotels and restaurants stay open late to serve the last meal. Typically Suhoor consists of dates, oats, rice, fish, meat, fruits, vegetables, juices, yoghurt and nuts.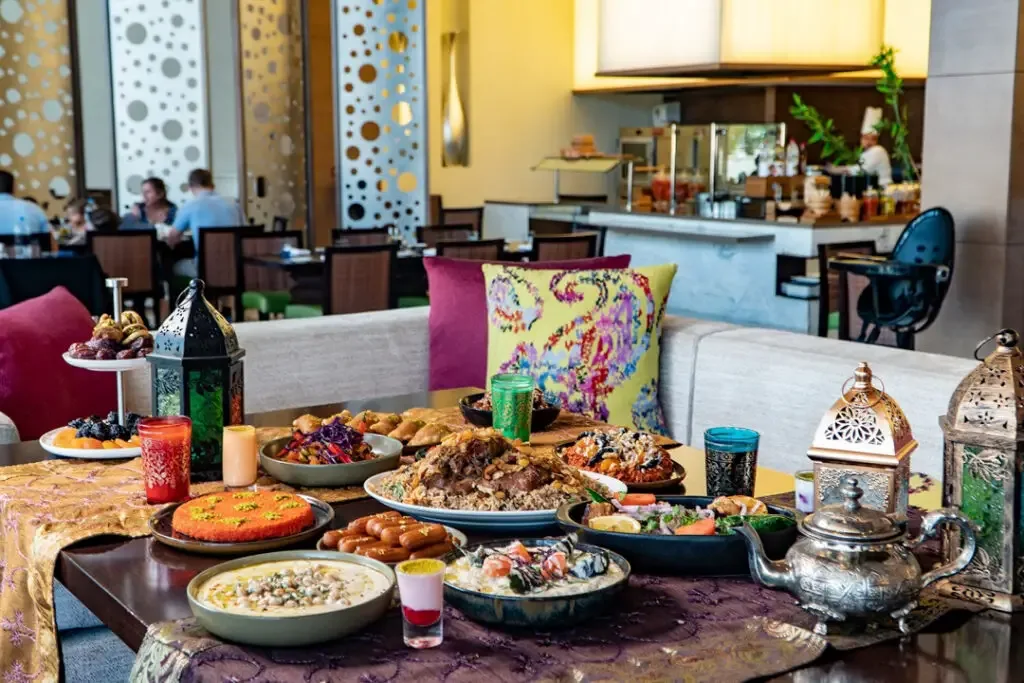 It is a magical experience eating together with family and friends in the small hours of the night.
Check out the best Suhoors in Abu Dhabi here.
Canon Shooting Throughout Ramadan

As a tradition in Abu Dhabi during Ramadan, cannon shooting marks the end of the day's fast and the beginning of Iftar.
The cultural practice dates back to the early days of Islam and was used as a way to signal the time for breaking the fast.
The cannon is typically fired at sunset, just as the call to prayer is made from the mosques, and the sound echoes across the city.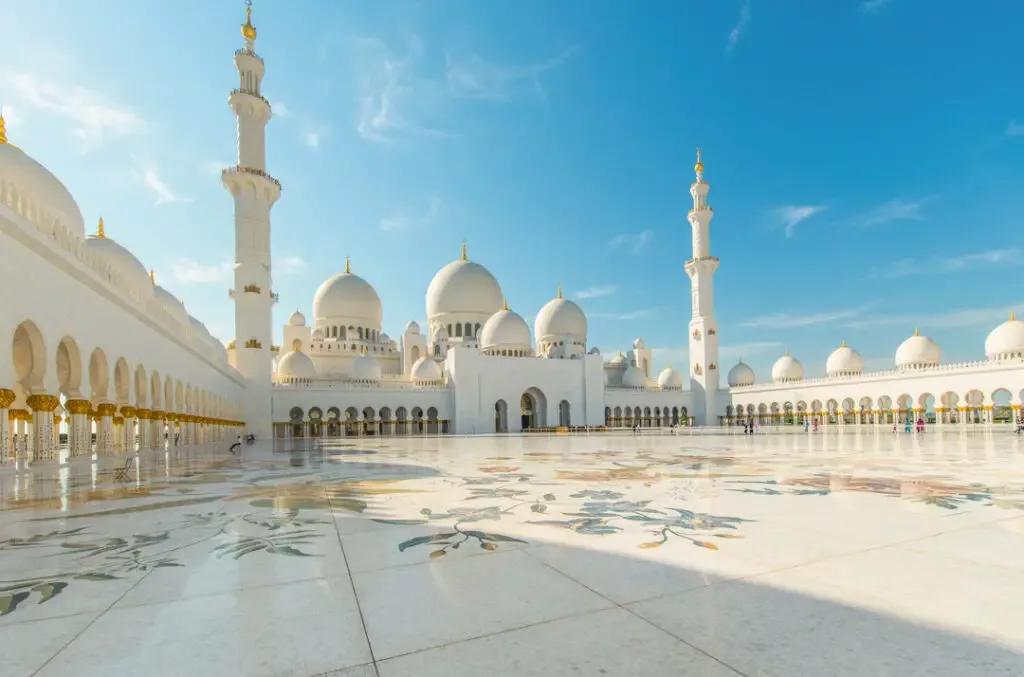 It is a symbolic and significant moment for many Muslims, and the tradition is deeply rooted in the Emirati culture.
The tradition is not widely practised in other parts of the world, however, it is a popular and unique experience to witness in Abu Dhabi during the holy month of Ramadan.
Visitors to the city may hear the loud boom of the cannon at sunset and witness the anticipation of the local community as they gather to break their fast together.
The locations for canon shooting this year are:
Easter Weekend 9th of April
In true UAE fashion, Abu Dhabi will mark Easter despite it falling within the Holy Month Of Ramadan. Many hotels run special Easter-themed brunches and Easter egg hunts for kids.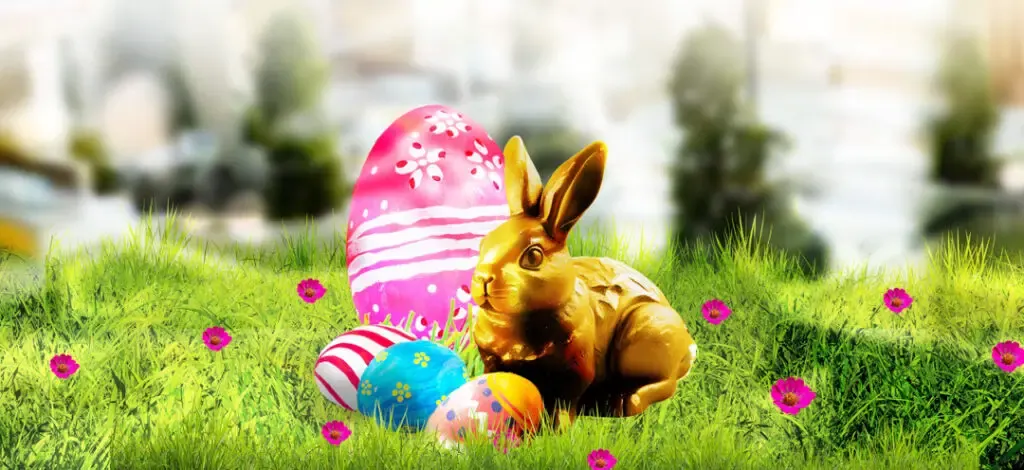 This year, Easter Sunday falls on April 9th. Emiratis always embrace international celebrations, be it Christmas, Chinese NY or Diwali. However, since Easter and Ramadan fall at the same time, it is likely to be an ex-pat and tourist-only affair.
Saadiyat Beach Club Easter Picnic – 9th Of April
Saadiyat Beach Club are holding a lovely Easter picnic on the grass this Easter Sunday. Children 4 and below dine for free. Look out to sea from the beautiful venue and watch the boats pass by!
It is set to be a fun event with lots of family activities including egg hunting, face painting, a bouncy castle and much more. The event will include a delicious Easter-themed buffet and live music.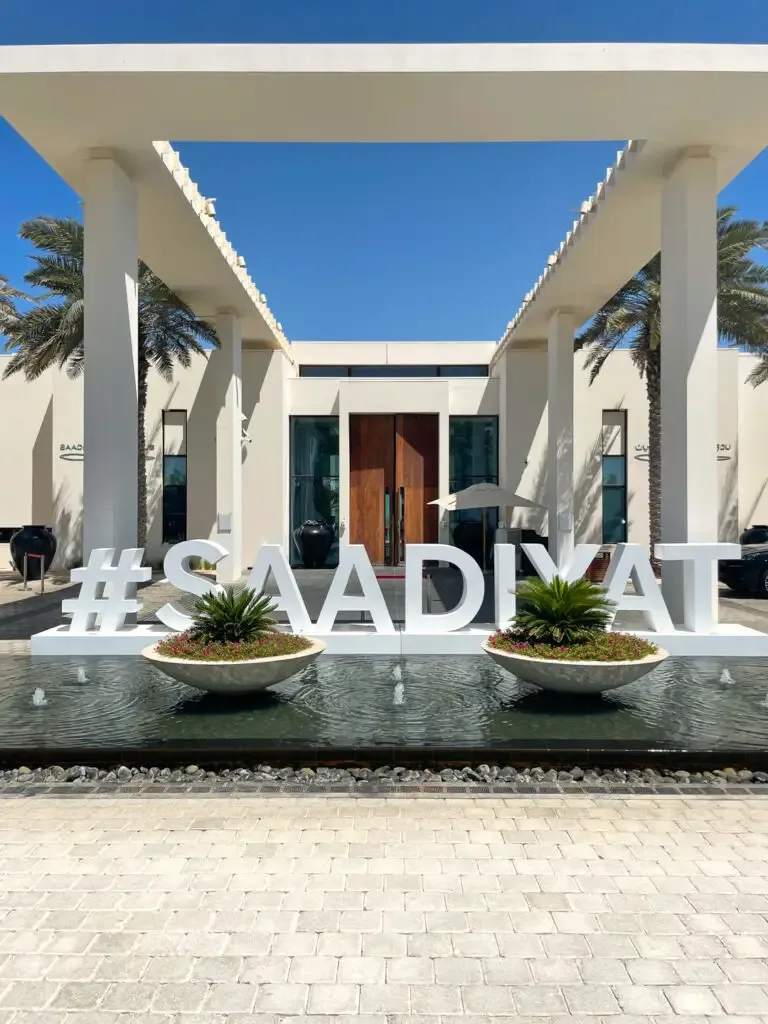 Prices differ for members and guests.
The soft drink package costs 220 AED for members and 240 AED for guests. Children 5 to 12 years old cost 140 AED.
Location: Saadiyat Island, Exit 14 – Abu Dhabi – United Arab Emirates
Easter Brunch At Hickory's – 9th of April
Hickory's Restaurant at Yas Golf Club is holding an Easter-themed brunch. Featuring a buffet with delicious food, an Easter Egg hunt, and many other activities, it is set to be a family fun event.
Cost: 175 AED for the soft drink package
285 AED to include house beverages.
89 AED for 7 to 12-year-olds.
Location: Yas Links Golf Club – Yas Island – Abu Dhabi – United Arab Emirates
Fontana Circus – 18th Of April Onwards
From the 18th of April onwards on selected days, Fontana Circus will be putting on a fabulous show at Marina Mall.
It is similar to the well-known Cirque Du Soleil, however, the show features water fountains with some incredible stunts. It is set to be a thrilling event with circus acts, music and fountains all rolled into one show!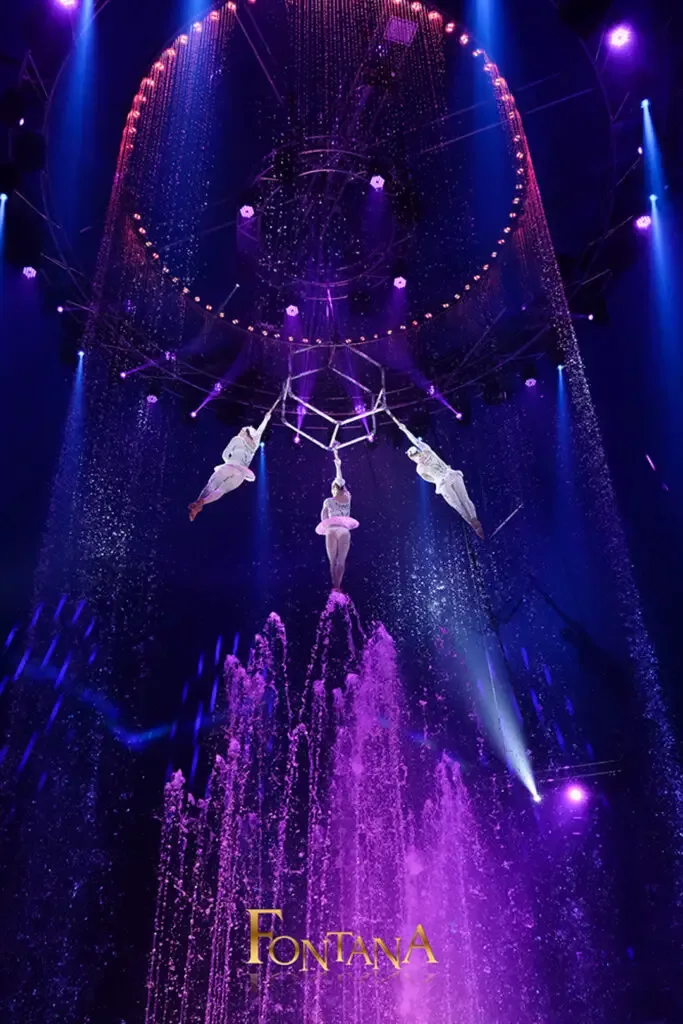 The event will take place inside a typical circus tent and will be in grandstand form providing optimal views for all attending.
Children 2 and below are free.
Purchase tickets to Fontana Water Circus here.
Location: Al Kasir – Al Marina – Abu Dhabi – United Arab Emirates
Eid Al Fitr Likely 22nd of April
Eid Al Fitr, or the 'festival of sweets' marks the end of Ramadan and is a national holiday in the UAE. Many residents take advantage of the break and book a holiday or Eid staycation with family.
Eid Al Fitr is marked with firework displays and concerts across the Emirate, much like NYE and National Day.
There will be celebrations in all corners of Abu Dhabi from Al Ain to Al Dhafra, and the city of Abu Dhabi.
So far there are a number of confirmed Eid firework displays including the Corniche, Yas Bay, Al Ain, Madinat Zayed, Hazza Stadium and Al Marfa Beach.
Eid Al Fitr Concert 22nd Of April
Intercontinental Hotel and The Department of Culture & Tourism present an evening with Haifa Wehbe and Nassif Zeytoun. The Arabic duo are set to create an incredible Eid concert in the capital.
Location: Intercontinental Hotel Abu Dhabi –  King Abdullah Bin Abdulaziz Al Saud St – Al Bateen – Abu Dhabi – United Arab Emirates
Eid Al Fitr Concert 23rd of April
The Department of Culture & Tourism Abu Dhabi, Yas Island, and Abu Dhabi Media bring Live Nation to the stage at Etihad Arena this Eid Al Fitr.
Abdel Majeed Abdallah, one of Saudia Arabia's most well-known singers will take to the stage to perform catchy hits.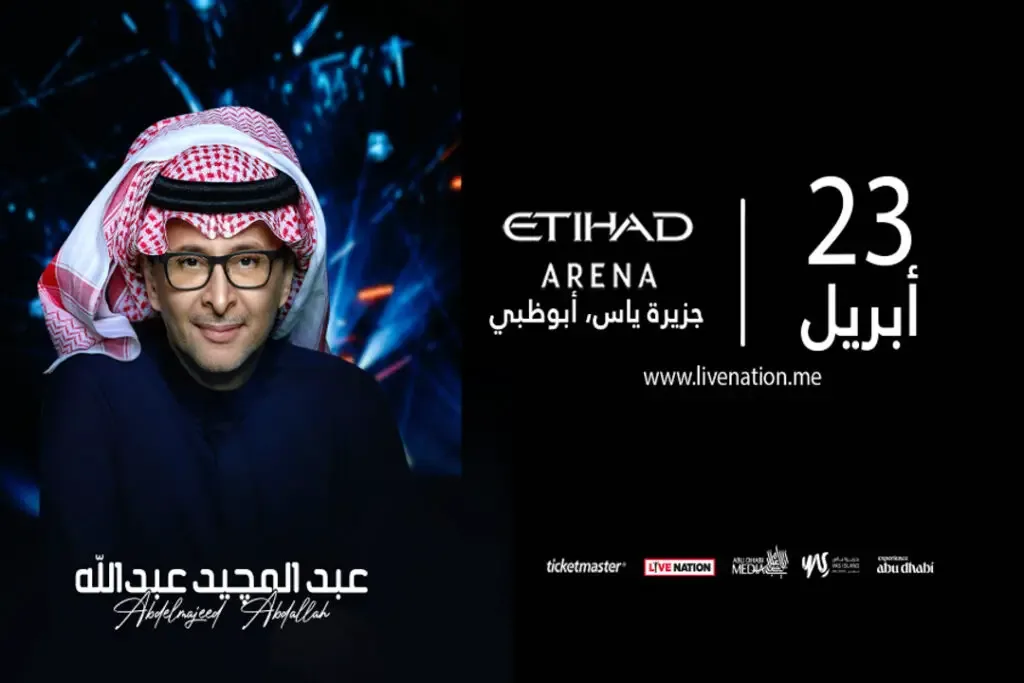 The event will be start at 8pm and go on until 11pm
Location: Etihad Arena – Yas Dr – Yas Island – Abu Dhabi – United Arab Emirates
Bred Festival Abu Dhabi – 26th Of April
BRED Abu Dhabi, in collaboration with Hypebeast, will make its debut in the capital to exhibit the latest in neo-culture.
Taking place from April 26th to the 1st of May, the Yas Bay Waterfront will be the centre of attention, showcasing a fusion of cultures from around the world.
BRED draws inspiration from the influence from music, fashion, art, and sports.
The name, which stems from the 'Born and Bred' culture and the iconic Black and Red sneakers, celebrates the urban scene in the region.
The event will feature exclusive streetwear, custom artwork, street food, basketball tournaments, gaming, and international music performances spread over five days.
At BRED Abu Dhabi, attendees can expect a five-day extravaganza filled with daily concerts, unique retailers, sports equipment and competitions, delicious cuisine, and a full celebration of neo-culture.
Book tickets to Bred Festival in Abu Dhabi here.
Location: Yas Island Yas West – Abu Dhabi – United Arab Emirate
FIQ! 26th & 29th Of April
FIQ! is a colourful and dynamic circus show with modern acrobatic talents of the Tangiers Acrobatic Troupe from Morocco.
The show combines traditional and contemporary floor acrobatics, dance, breakdancing, taekwondo, and freestyle football, all set to lively rap music and colourful visuals!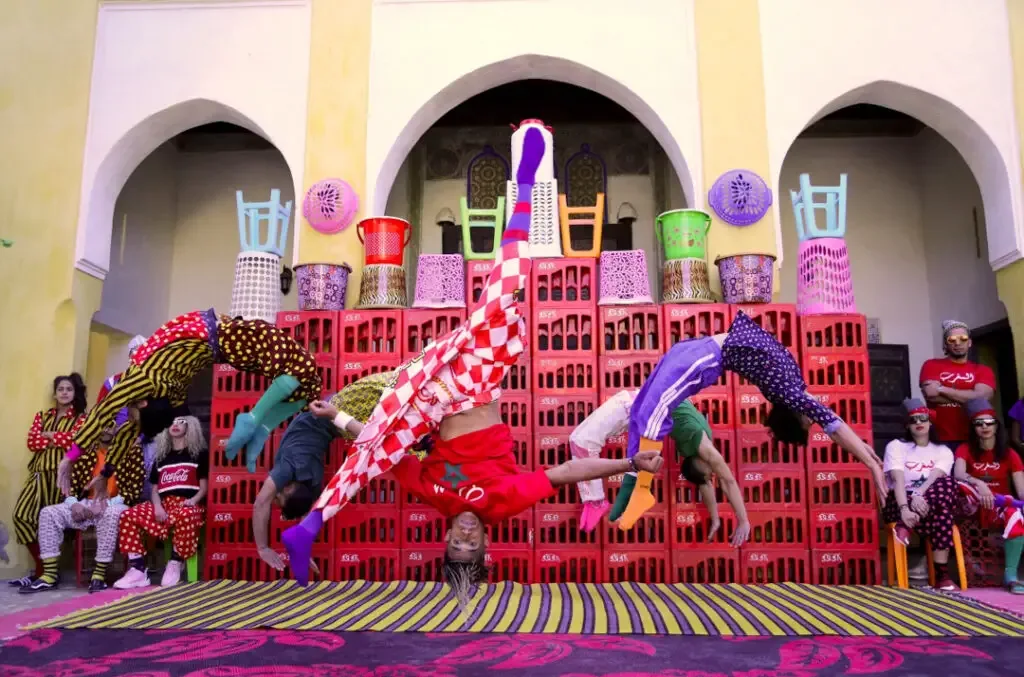 The Tangiers Acrobatic Troupe prioritizes conserving and promoting Moroccan acrobatic traditions, while also creating contemporary performances that engage and entertain audiences.
FIQ! is a must-see show with its electrifying energy and artistic flair.
Get tickets to Groupe Acrobatique De Tanger here.
Location: The Red Theater, The Arts Center at NYU Abu Dhabi
Masha And The Bear – 29th & 30th Of April
Masha and the Bear are coming to Etihad Arena in April. It is presented by Theory Eleven Entertainment in partnership with the Department of Culture and Tourism Abu Dhabi, Yas Island, and Animaccord.
The show features Masha and the Bear, and friends on a train ride through the magical forest.
With plenty of surprises and a message about the importance of friendship, the spectacular musical adventure is set to be a tonne of fun for little ones.
Buy tickets to Mash and the Bear here.
Location: Yas Dr – Yas Island – Abu Dhabi – United Arab Emirates
What To Pack For Abu Dhabi Weather In April
When visiting Abu Dhabi for a holiday in April, make sure to pack suncream, insect repellent, a sun hat and sunglasses. It is also worth bringing a light layer of clothing for the evening.
Don't forget, the United Arab Emirates is a conservative country. Dubai tends to be more liberal than Abu Dhabi.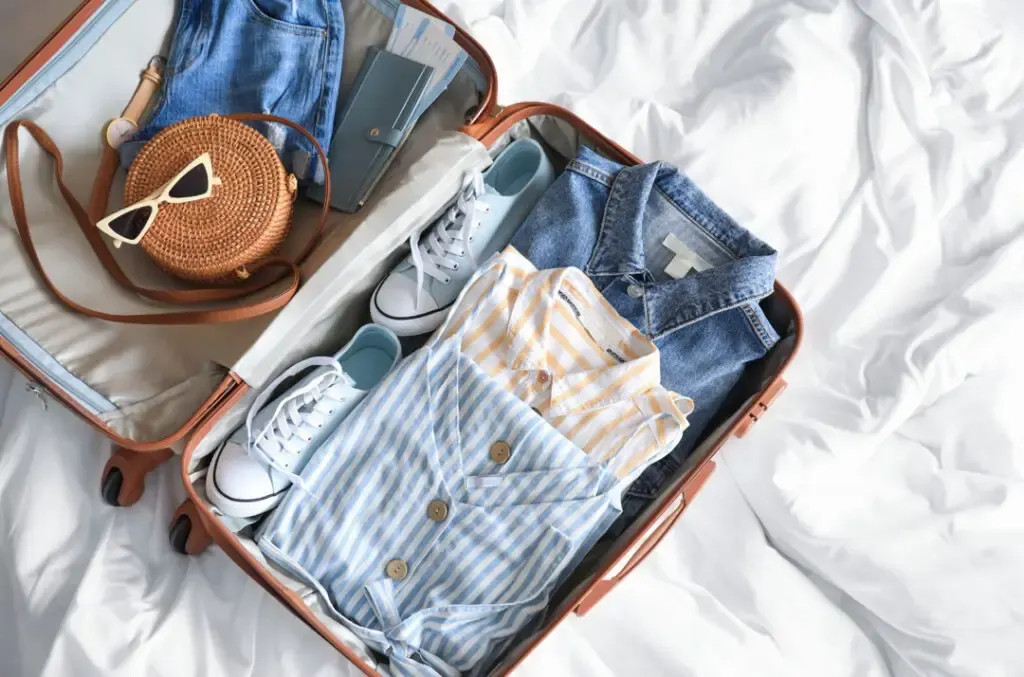 There are certain cultural landmarks and places of worship which are important to dress conservatively for both men and women.
When visiting the beach clubs and pools at the hotel swimming pools, it is more liberal. Check out this guide on what to wear in Abu Dhabi in all scenarios, be it visiting the Grand Mosque or the mall.
We hope you found this post about events and weather in Abu Dhabi helpful. Let us know if you attend any in the comments.
Disclaimer: This post about events and weather in Abu Dhabi in April contains affiliate links, by using them it will not cost you any extra. We may receive a small commission to keep us writing.