If you are looking to discover all the best abu dhabi ladies' nights, you've come to the right place!
Several restaurants and pubs in Abu Dhabi offer amazing ladies' nights and are such a great opportunity to head out with friends and have a girlie evening in Abu Dhabi.
Here is all the ladies nights Abu Dhabi throughout the week we found across the city! We found in excess of 35 incredible offers!
Tuesday Ladies Night Abu Dhabi
1. Kiss And Tell At Stratos
Taking the hospitality experience to the next level, Stratos towers over the capital and celebrates beauty in motion.
At Stratos, you can enjoy perfectly crafted cocktails and bites from the lounge or extensive grill menu.
Grab a group of friends and head to Stratos to experience a first-of-its-kind revolving restaurant in Abu Dhabi for a spectacularly fun night offering 360° views of the city.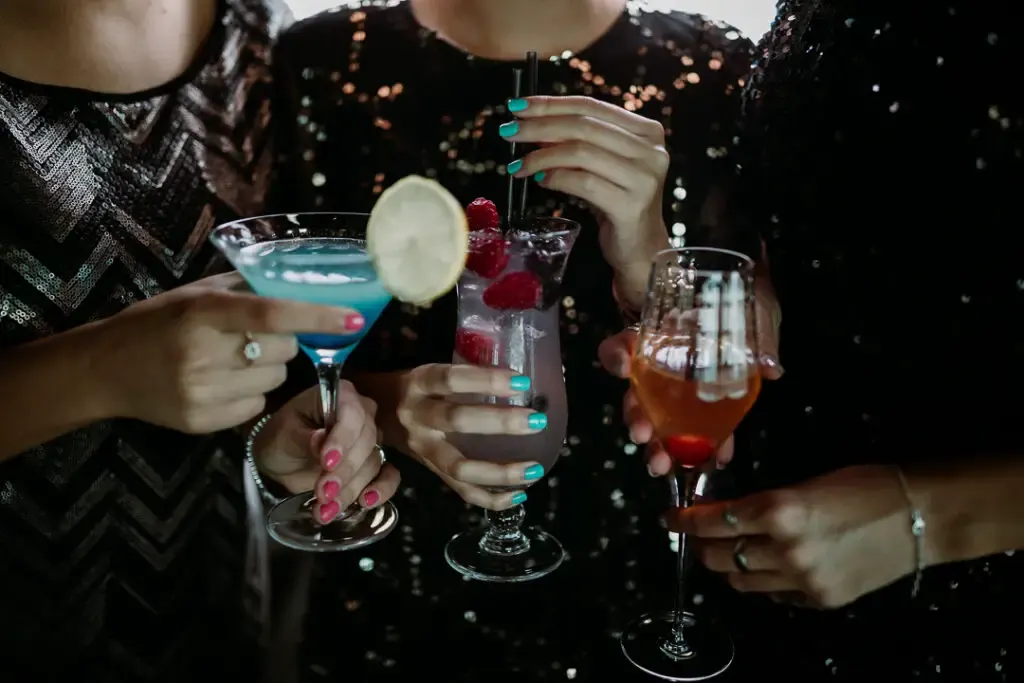 From 8pm to 11pm every Tuesday, the revolving restaurant offers free flowing selected beverages with the purchase of a lounge or a la carte item from the menu.
You can dine with your crew of ladies for 20% off the lounge menu and 50% off the a la carte menu at the Kiss and Tell Ladies Night Abu Dhabi.
Timings: 8 PM to 11 PM
Location: Khalifa Street, Le Royal Méridien, Abu Dhabi
2. Unlimited Flow At Back Yard Bistro
Backyard represents a young, contemporary and eco-friendly concept in the heart of Abu Dhabi City.
An exquisite array of international delicacies is available from their talented chefs who have created a mouthwatering menu.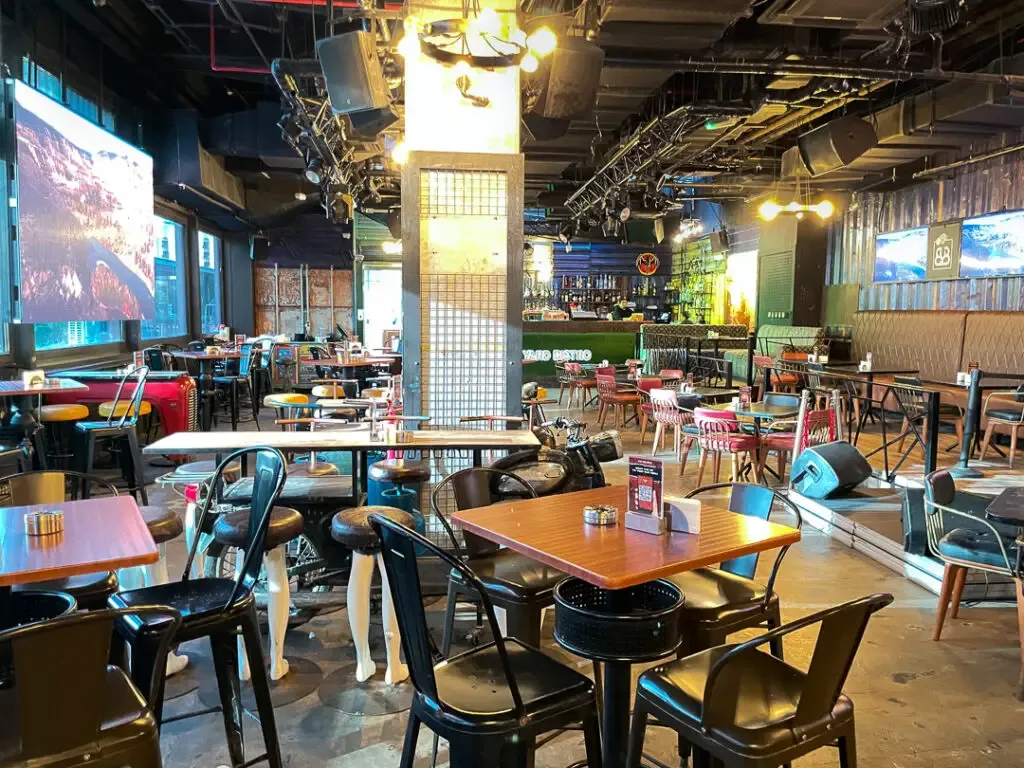 Whether you are winding down after work, or relaxing after a long day, BYB is the perfect place to hang out with the girls. The garage themed venue can be enjoyed both on a romantic date and as a place to gather with friends.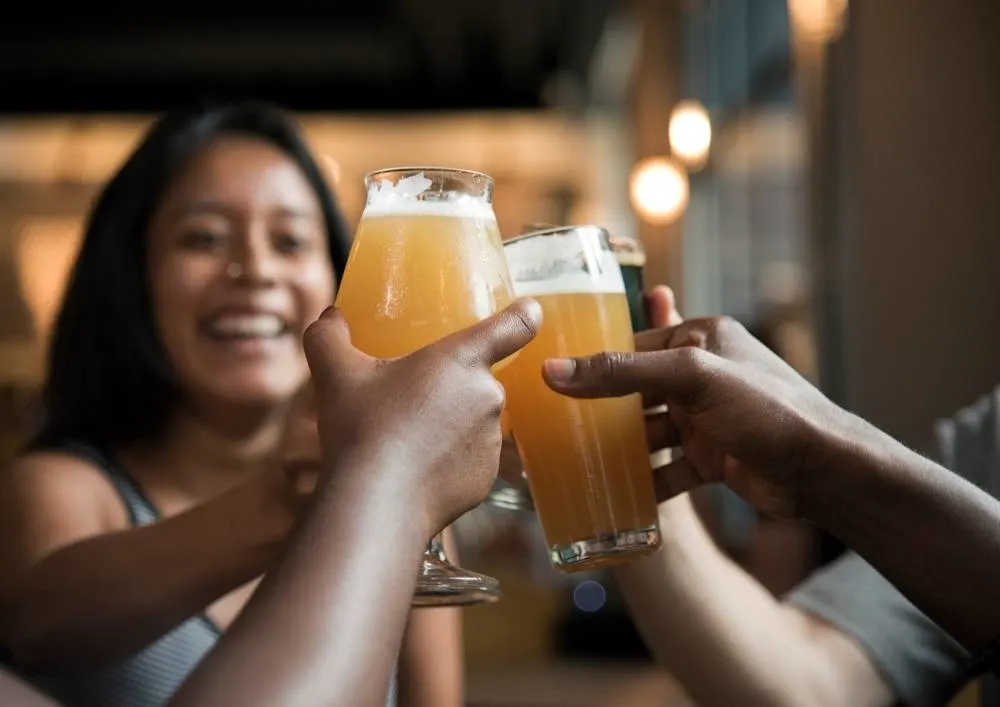 Back Yard Bistro provides 3 hours of unlimited flow @ AED 79. Filled with new and exciting prizes, Lick Tuesdays Ladies Night Abu Dhabi is definitely an unbeatable offer.
Timings: 8 PM – 11 PM
Location: Khalifa Bin Zayed The First St, The Hub, World Trade Centre, Abu Dhabi
3. Girls Night Out At Atlon Bar and Bistro
Atlon, is a new bar concept in Abu Dhabi. On Tuesdays, women can enjoy free-flowing drinks at Atlon for 3 hours and can opt to upgrade to free-flowing drinks until 1 AM for AED 49 and a special ladies' night food menu with 20% off pizzas.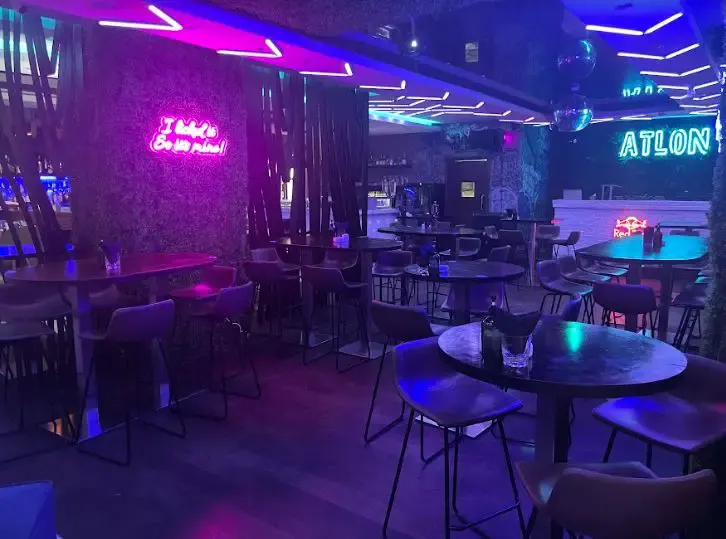 It's a night filled with good times, amazing drinks, delicious food and live music featuring American hip hop, R&B, and afro-beats while overlooking the Marina.
Timings: 7 PM – 10 PM
Location: Souq Qaryat Al Beri, Abu Dhabi
4. Tipsy Tuesdays At Lock, Stock and Barrel
With bangin' vibes, live music and finger-licks food, Lock, Stock & Barrel is the UAE's most acclaimed and loved party bar.
You can find everything you need at the ultimate social hangout. From a big night to tasty bites and live entertainment to sporting events.
With an American industrial meets urban food truck, Lock, Stock & Barrel Abu Dhabi is the perfect place for a cold one.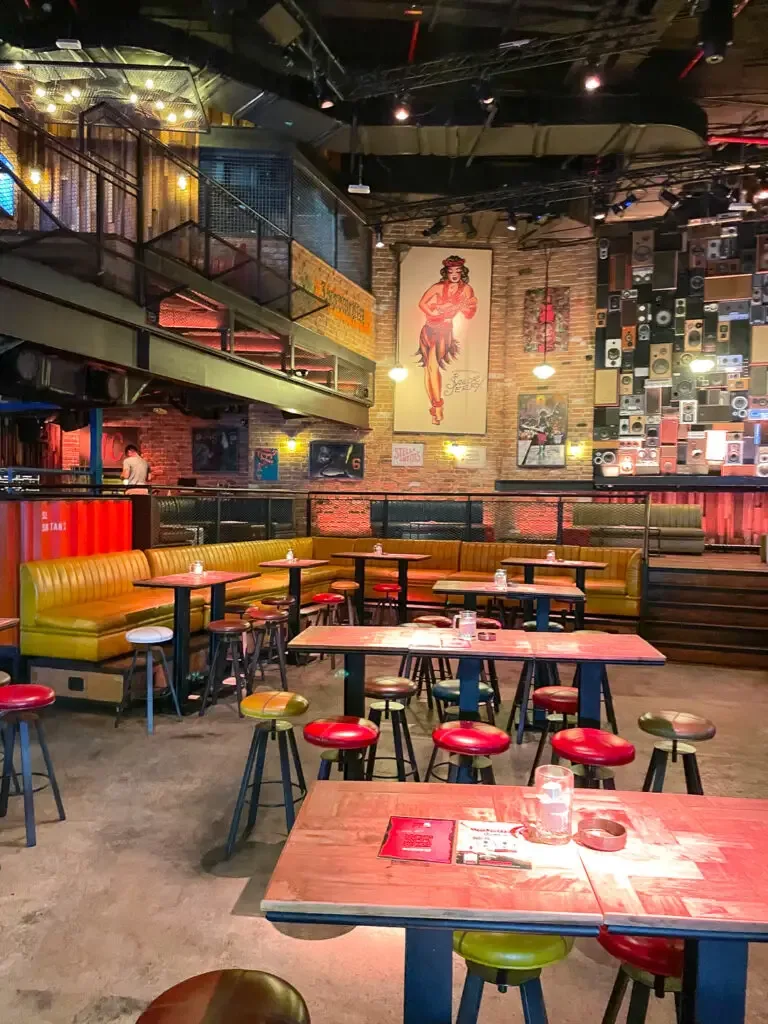 Lock, Stock and Barrel organises the ultimate ladies' special "Tipsy Tuesdays" for ladies' night Abu Dhabi. It is guaranteed fun whether you're out for a wild evening or a chilled evening with your friends.
Ladies can grab unlimited drinks and a dish for AED 150 on Tuesdays at Lock, Stock and Barrel. it has been a popular hang-out spot ever since it opened on the waterfront at Yas Bay.
Timings: 6 PM to 1 AM
Location: Yas Bay, Yas Island, Abu Dhabi
5. Bellissima At Filini Gardens
The Filini Garden is without doubt the best place in Abu Dhabi to enjoy a sunset. With stunning views over the golf greens & creek, the sophisticated Italian restaurant and lounge offers an unforgettable dining experience.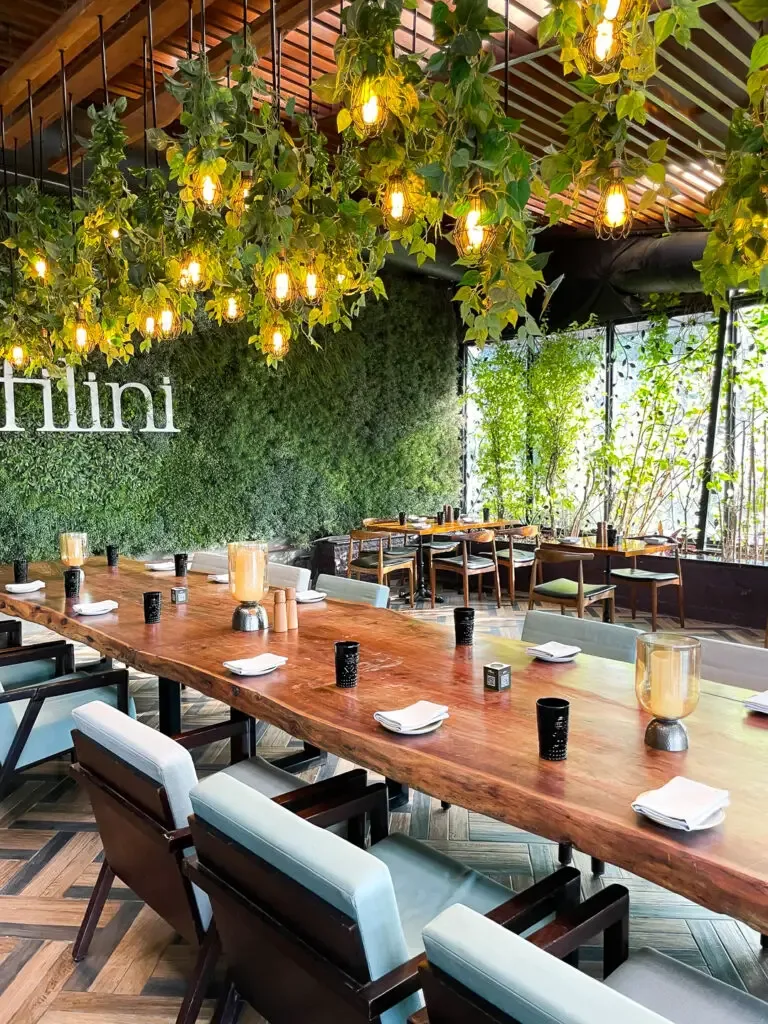 The "Bellissima" ladies night Abu Dhabi at Filini Garden sets the mood with lighting and amazing tunes by their local DJ.
This ladies night Abu Dhabi special gets you three hours of unlimited drinks for AED 69. Not to mention a half price discount on all food items.
Timings: 5 PM onwards
Location: Radisson Blue, Yas Island, Yas Plaza, Abu Dhabi
6. Heel Before Me At Glo
Glo is an open-air bar where you can enjoy the evening Arabian skies and views of the Abu Dhabi skyline.
With striking views and signature design, Wood & Fire restaurant opens up the outdoors, serving Saturday Brunch and Tuesday Ladies Nights during winter months.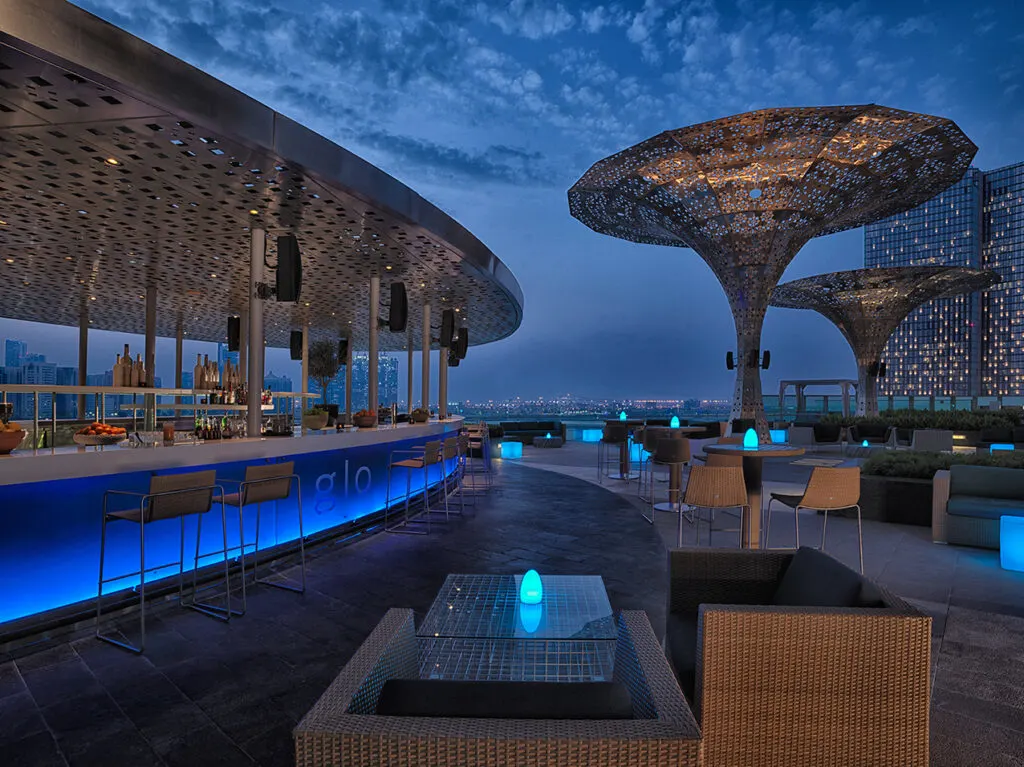 It is the place to be for ladies who want to have an evening well spent. Their special ladies' night offer "Heel Before Me".
Enjoy three complimentary glasses of refreshing cocktails and vintages while listening to laid back beats.
You are also given 20 percent discount on the food bill before 9 PM.
Timings: 6 PM – 9 PM
Location: Rosewood Abu Dhabi, Al Maryah Island, Abu Dhabi.
7. Go Geisha At Asia Asia
Asia Asia has finally opened its doors in the city of Abu Dhabi.
In a stunning location overlooking Abu Dhabi's' Yas Bay, the multi-award-winning venue gets its inspiration from the ancient spice route which is reflected throughout the lounge and restaurant.
Enjoy gourmet Pan-Asian flavours and aromas, paired with panoramic views of the glittering water on a culinary journey from the Far East to the Middle East.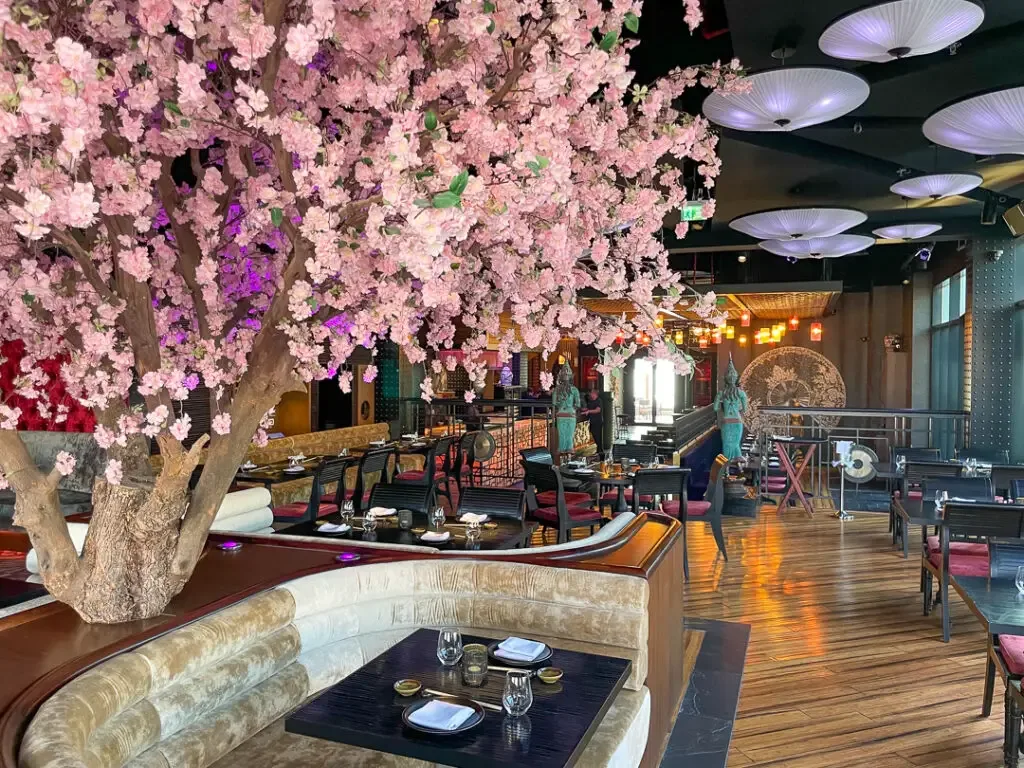 To top it all, they have added a "Go Geisha" ladies night Abu Dhabi special during the week. Ladies can now enjoy an evening with a three course set menu. Not to mention three delicious complimentary beverages all for AED 225.
Timings: 6 PM to 1 AM
Location: Ground Floor, Unit Pier 113, Yas Bay, Yas Island, Abu Dhabi
8. Tigress Tuesdays At Easy Tiger
Another hotspot in Abu Dhabi, Easy Tiger, is a great place for a few drinks and a bite to eat. There are a number of events planned on a weekly basis, including Easy Tiger Friday Day and Night Brunch.
If you are looking for a hide out in the heart of Abu Dhabi, head over to Easy Tiger on Tuesday to have a fun start to the week.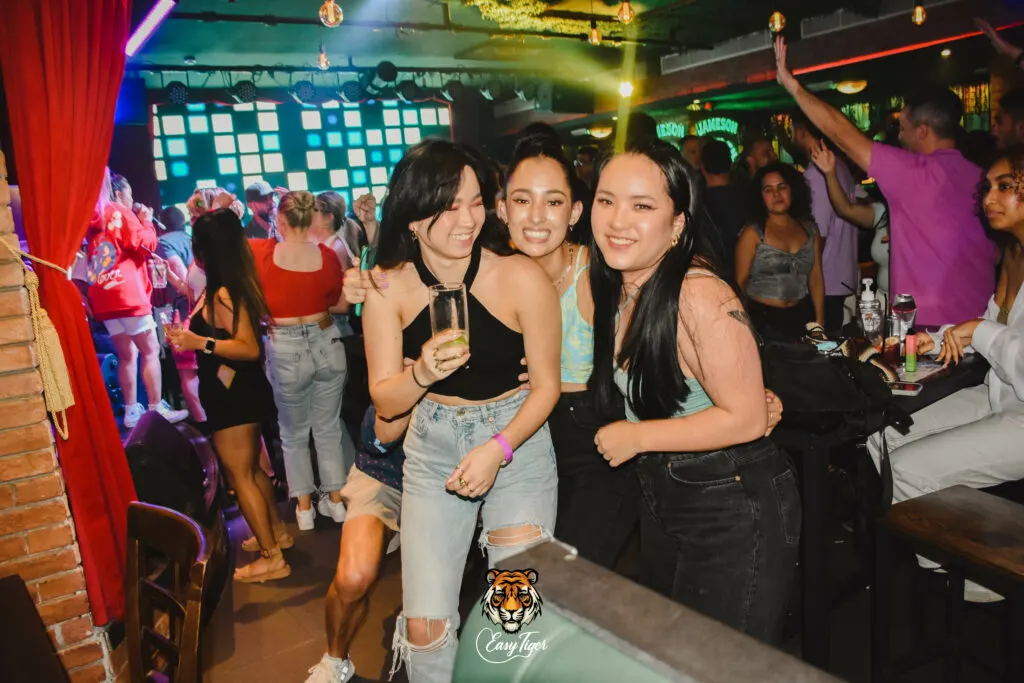 The Ladies night special at Easy Tiger offers three hours of unlimited beverages and selected cocktails and bar bites for AED 75.
It will be a night to remember while you sing along to YFY Bands' live entertainment and dance away to the beats of the in-house DJ.
Timings: 8 PM to 11 PM
Location: Al Ain Palace Hotel, Corniche Rd, Abu Dhabi
Wednesdays Ladies Night Abu Dhabi
9. Three Likkle Birds Night At Ting Irie
Ting Irie is a Jamaican restaurant with a fresh modern take on Caribbean Cuisine and food for the soul.
With the best DJs, you can jam to reggae, hip hop & dancehall. They always provide good vibes & er' TING is gonna be awesome!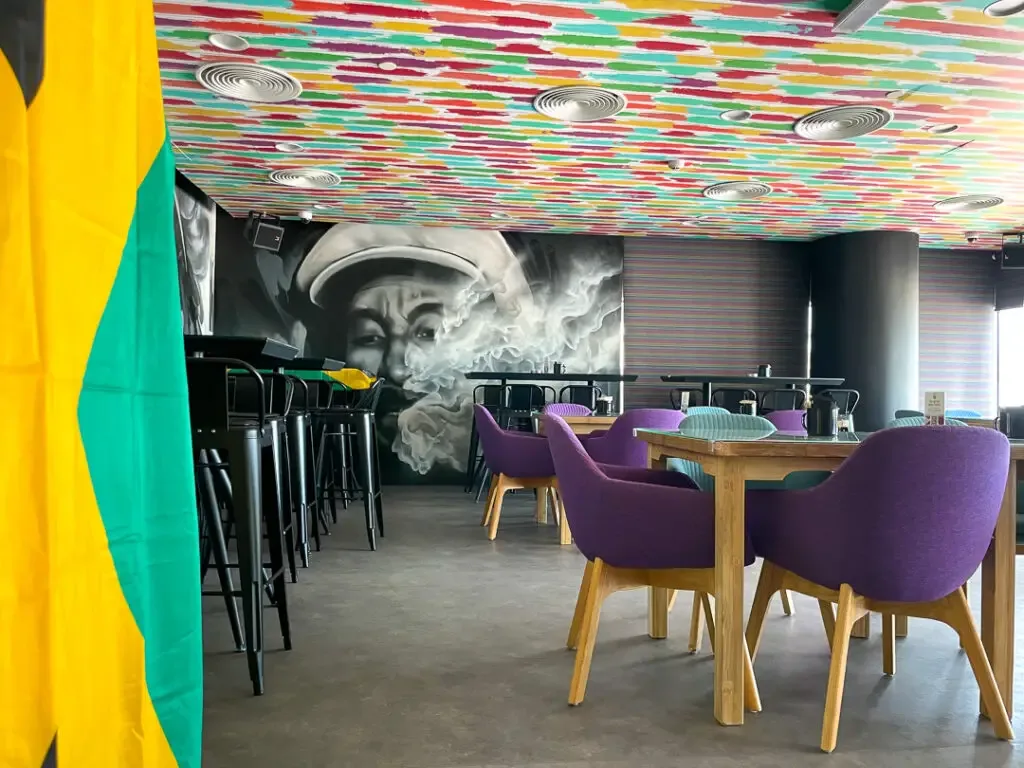 Ladies get to enjoy the "Three likkle birds" which includes two courses from a set menu and unlimited selected drinks for AED 145. All whilst the in-house DJ spins from the DJ Booth.
Timings: 7 PM – 2 AM
Location: Mamsha Al Saadiyat, Al Saadiyat Island, Cultural District, Abu Dhabi
10. Ladies Club At Stars N Bars
The concept of Stars N Bars originated on the coast of Monte Carlo in Monaco. Along with great food, you can also find sports memorabilia, 76 HDTVs, and a wide selection of draft beer.
It's not only a great place to watch a game, it's also a great to hang out with friends and family. Stars N Bars features arcade games, pinball machines and foosball tables.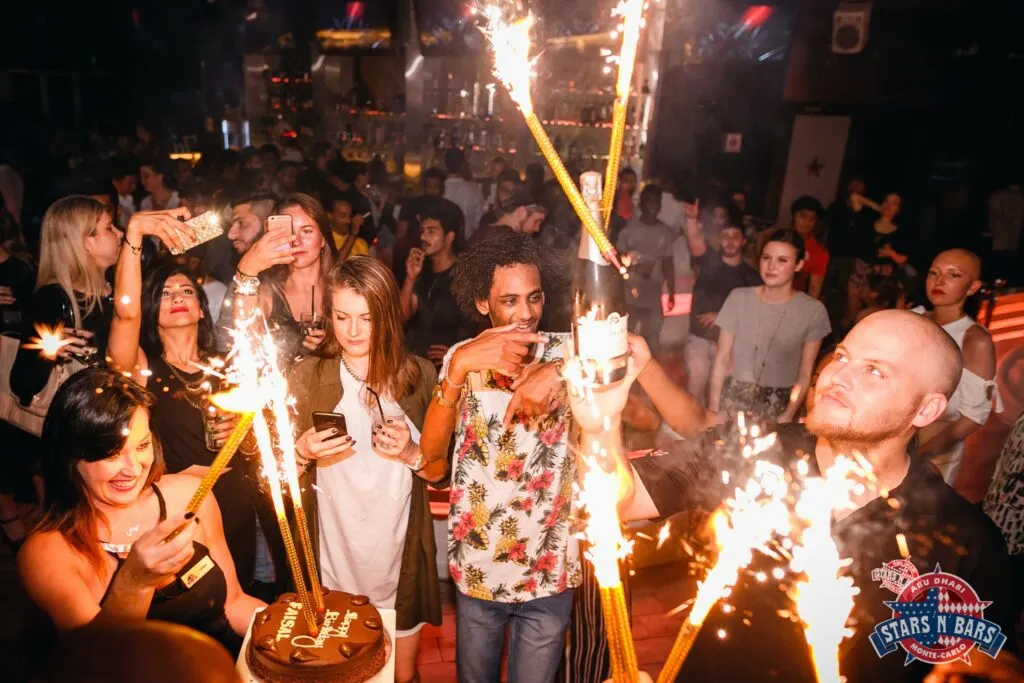 On Wednesdays, the ladies' night deal at Stars N Bars gets you five drinks for AED 69. For food, there is the option of either AED 79 for a sharing platter or a 20 percent discount on food while the in-house DJ supplies the beats from 10 PM till late.
Timings: 5 PM until late
Location: Emporium Bldg, Yas Marina Circuit, Yas Marina, Abu Dhabi
11. The Warehouse
The Warehouse Wine & Tapas bar wows guests with its urban chic interiors, irresistible menu of small plates and an exciting list of global wines to match.
It is a popular choice for those residents living near ADNEC and surrounding areas. You'll definitely want to keep this deal in mind if you're looking for a ladies night Abu Dhabi, that's truly exceptional.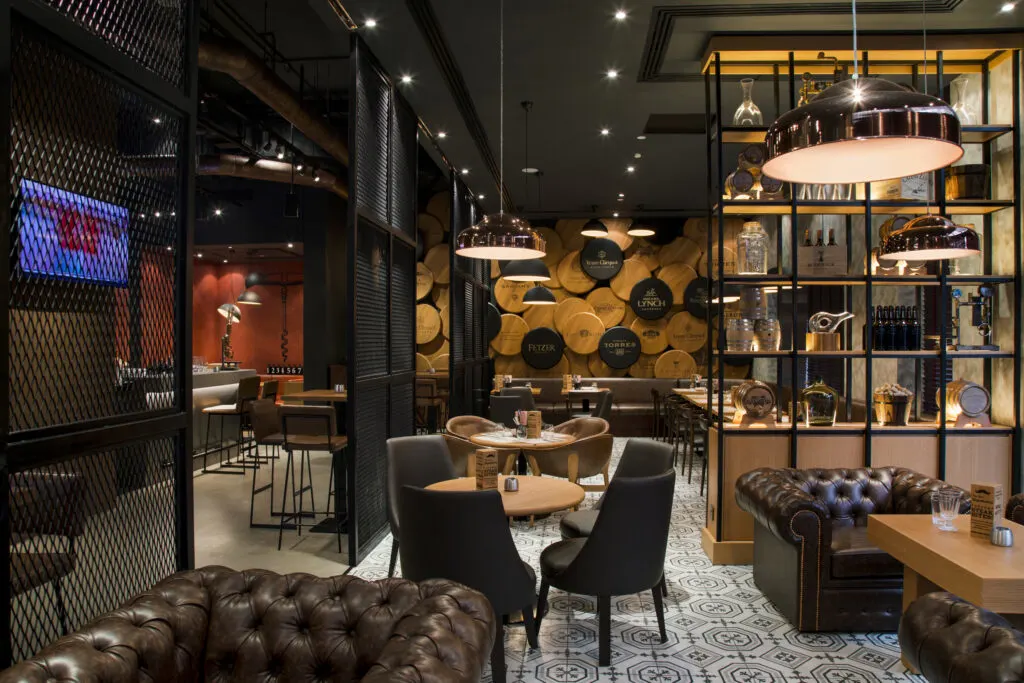 Ladies can indulge in the two-hour package deal. It includes two bites from the light bites menu, as well as unlimited house drinks for AED 110.
It is the hippest hangout in the city with exciting music and a lively atmosphere, combining Mediterranean-style dining and warehouse-inspired design.
A perfect way to wind down and catch a mid-week break in a dimly lit setting with Spanish music setting the vibes.
Timings: 2 hours from the time your order is placed
Location: Pearl Rotana, Al Rawdah, Capital Centre, Abu Dhabi
12. Loca
The name 'Loca' perfectly describes the vibe as things are bound to get a little crazy. With a menu full of Mexico's most beloved favourites being served up in an industrial-chic setting, you can't go wrong with this award-winning restaurant.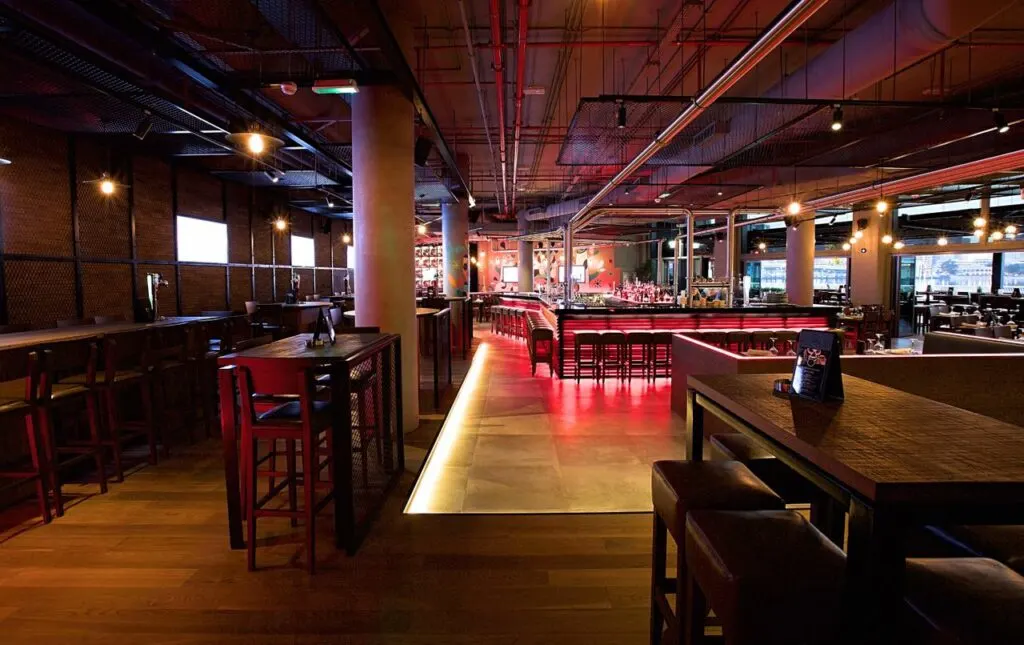 Loca has a cheeky mid-week ladies night, which makes it a perfect spot to relax and catch up with your crew.
Ladies get unlimited drinks all evening until midnight, make sure to order Locas' local favourite, the guacamole and fajitas that will compliment your drinks perfectly.
Timings: 7 PM until Midnight
Location: Al Maryah Island, Galleria Mall Waterfront, Abu Dhabi
13. Femme Fatale At Jazz and Fizz
Mood lighting and décor set the scene for an unforgettable ladies night Abu Dhabi evening at Jazz and Fizz.
Located on the 36th and 37th floors of Sofitel, Jazz & Fizz is the perfect Abu Dhabi bar to relax after a hard day of work and catch up with your friends.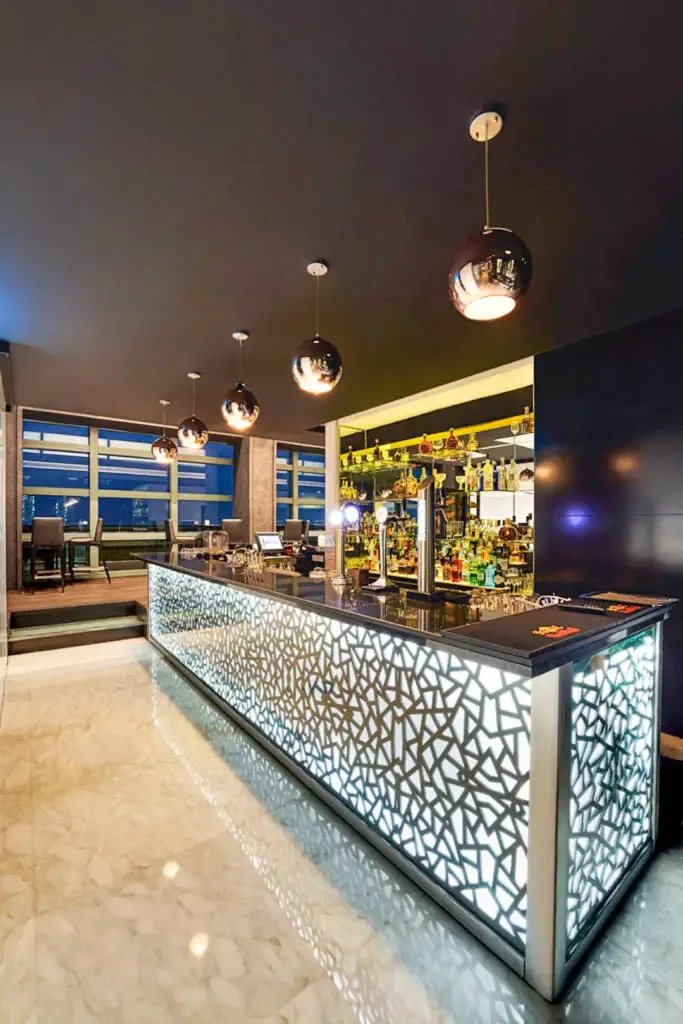 You can relax with a signature cocktail or a glass of bubbly whilst listening to jazz music and Arabic tunes. Ladies will be served three complimentary drinks and get a flat 50% off the food menu throughout the evening until midnight.
Timings: 8 PM – 12 AM
Location: Corniche Road, Sofitel, Abu Dhabi
14. Ladies Night At Hamilton's Gastropub
Located on Saadiyat Island, this gastropub and sports bar is a great place to try a variety of drinks or share a meal while taking in the lively atmosphere and cheering on your favourite sports team.
Featuring great music and modern pub style furnishings, this venue promises good times and good food.
With genuine British and American dishes to choose from, Hamilton's Gastropub it's a home away from home for expats.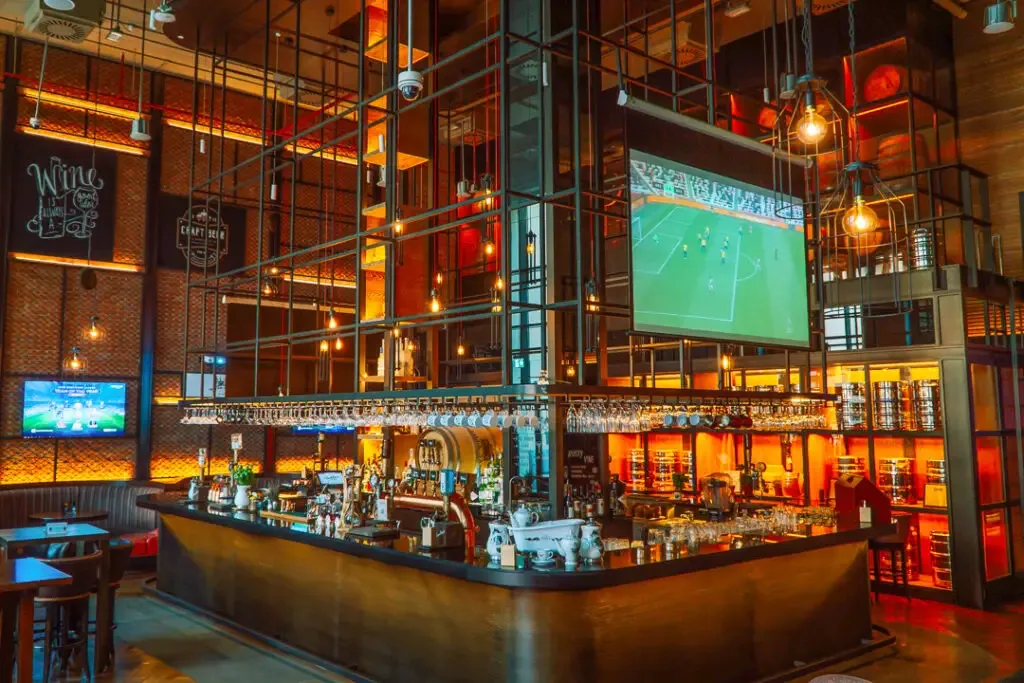 Their ladies night Abu Dhabi specials are available every Wednesday, which include unlimited house drinks and 20% off the food menu for AED 99.
Timings: 7 PM to 10 PM
Location: Al Saadiyat Island, Abu Dhabi
15. Buena Onda Ladies Night At VaKaVa
Get a taste of Latin America's fiery passion through every dish, conversation and rhythm. You've never experienced anything like VaKaVa, Pan Latin Grill and Lounge.
You can grab and taste the smokiest meat cuts as well as the zingiest ceviches. Don't forget to add a taco to share it with your friends, and say 'Salud'.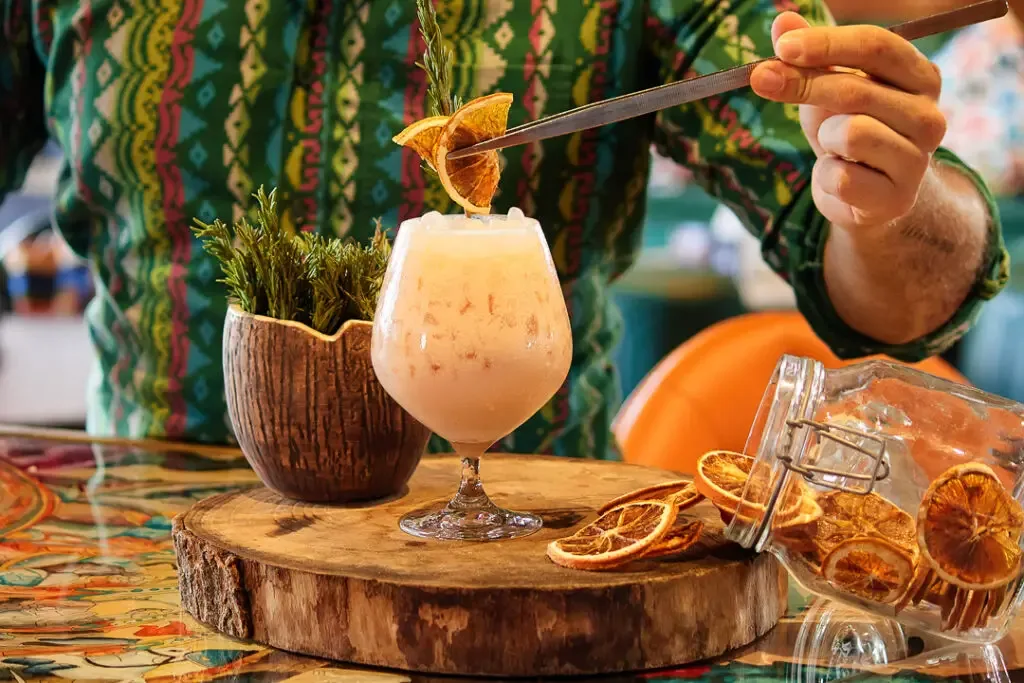 VaKaVa's Ladies' Night offers free-flowing drinks and live entertainment. Head over to this ladies night Abu Dhabi with your favourite Señoritas for a fun evening and great vibes.
AED 125 per person.
Timings: 8 PM to 10 PM
Location: Corniche (off the beach), Conrad Abu Dhabi Etihad Towers
16. Marco's Serata Della Donna
Offering timeless Italian favourites, Marco's Italian by Marco Pierre White celebrates its debut in the Middle East.
The menu offers a variety of Italian home-style dishes. From sharing platters and seafood, to succulent steaks and freshly baked pizzas.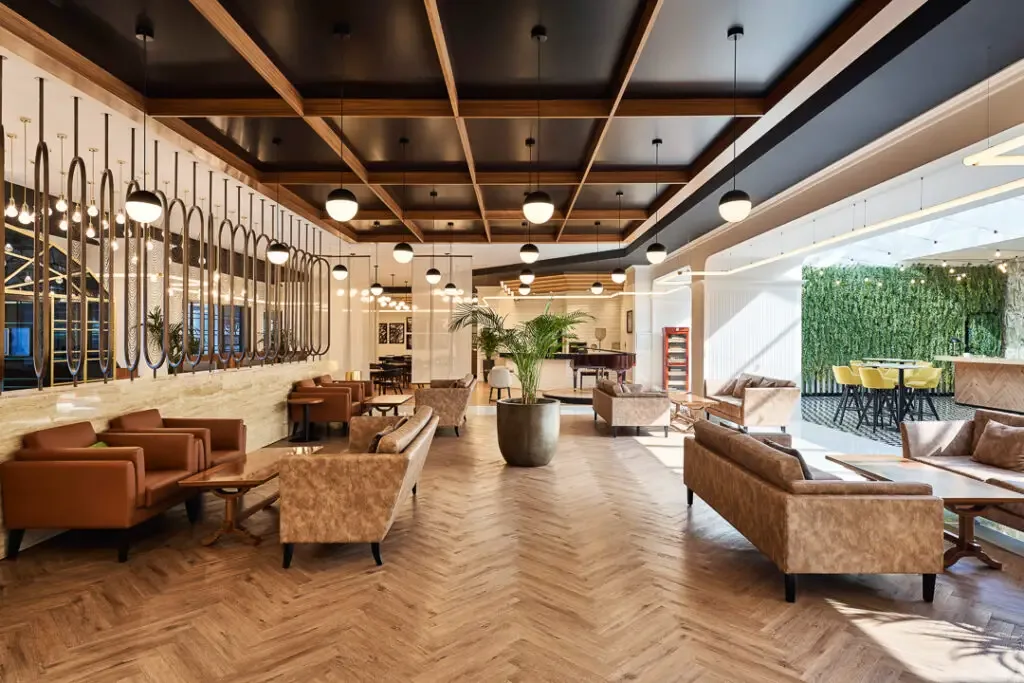 Every Wednesday, Marco's New York Italian celebrates a classy ladies night for ladies who fancy a quick catch-up during the week.
As soon as you have placed your order, you can add AED 5 and have up to five drinks delivered to your table.
Timings: 7 PM to 10 PM
Location: Fairmont Bab Al Bahr, Abu Dhabi
17. C.Mondo Ladies Night
Whether you are a sports fan or just want to hang out, C.Mondo at Centro Capital Centre Rotana, Abu Dhabi is the place to be.
The hotel bar offers cosy areas ideal for meeting new friends, chatting and mingling, or watching your favourite team on TV.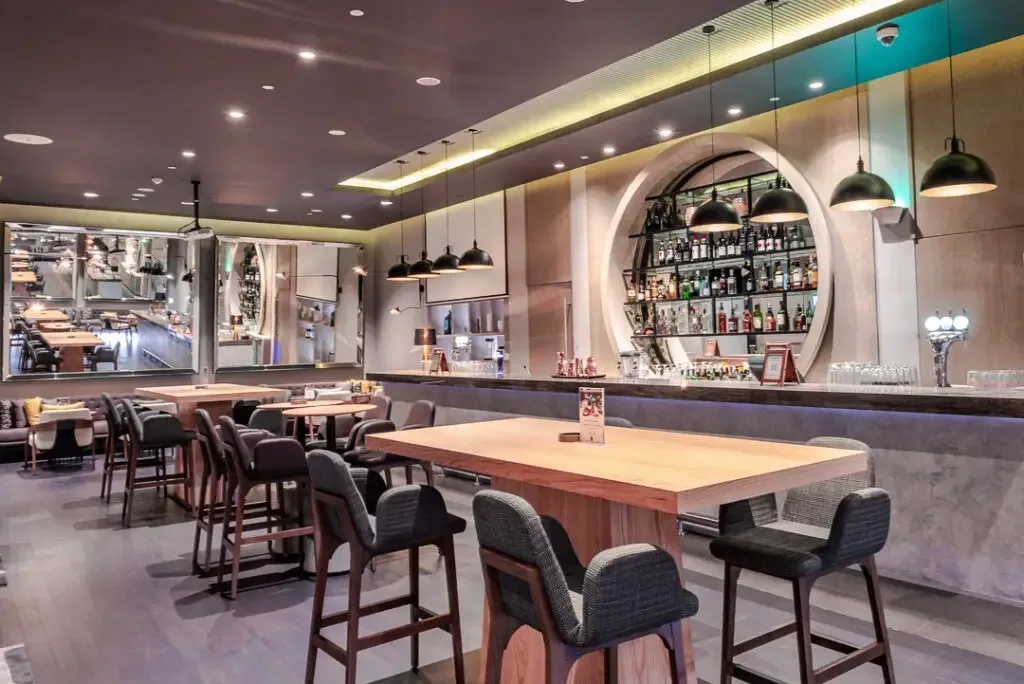 Every Wednesday, ladies can enjoy the ladies special throughout the day where you can have up to three house selected beverages and a snack for AED 99.
Timings: All day
Location: Capital Centre District, Al Khaleej Al Arabi Street, Abu Dhabi
18. Wednesdays At Iris
With its chill vibe, artisan cocktails, great views & smooth music, Iris, Yas Island is a trendy yet unconventional lounge.
The ladies night Abu Dhabi at Iris is a chic post-work hangout and popular among classy Abu Dhabi executives for tasty beverages, food, lounge music and sunset views.
The menu features contemporary cuisine combining elements of different culinary backgrounds. Dishes range from light bites such as ceviche to modern mains and delicious desserts.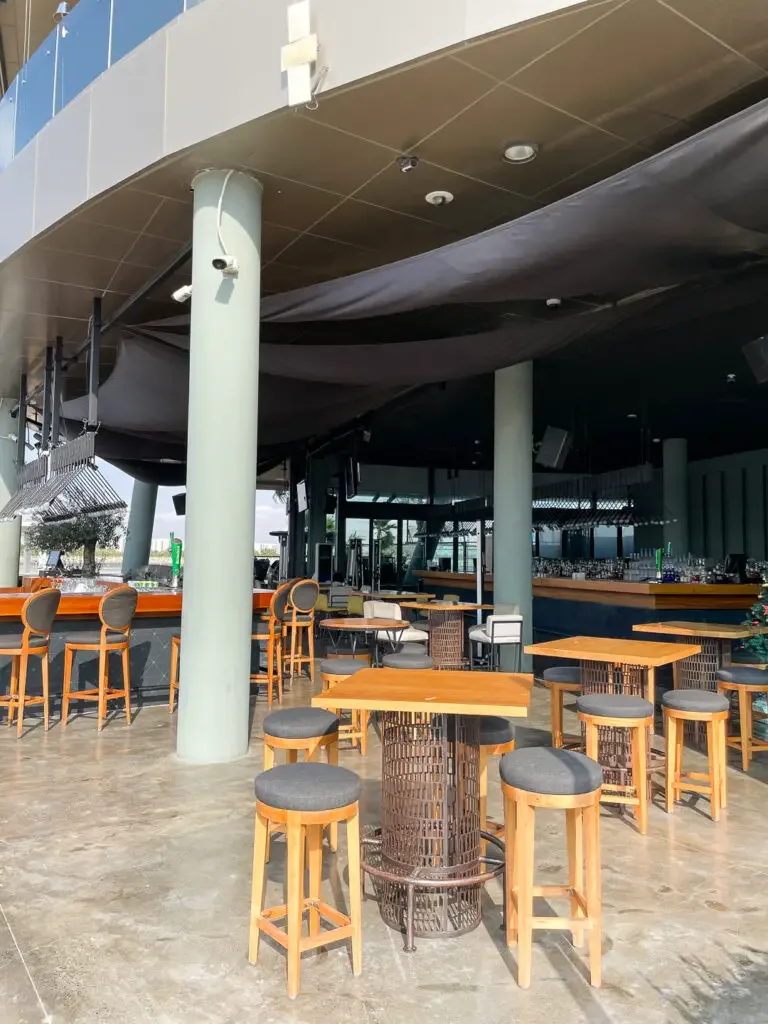 Set against the stunning backdrop of Yas Marina, this expansive outdoor area overlooks the Marina and the striking W Hotel Abu Dhabi.
Enjoy the Wednesday ladies night specials at Iris Yas Island with free flow beverages for AED 100 (8 PM to 12 AM) or free flow beverages all night at AED 150, and dance away to the tunes of RnB, soul and Hip-Hop.
Timings: 8 PM to closing
Location: Yas Marina, Yas Island, Abu Dhabi
Thursday Ladies Night Abu Dhabi
19. Frida Nights At Amerigos
Discover authentic Mexican cuisine at Amerigos, one of Abu Dhabi's most popular restaurants. In addition to a vibrant and fun atmosphere, the venue holds a number of lively theme nights throughout the year.
Get a taste of Mexico as you indulge in authentic and colourful cuisine at this great spot in Abu Dhabi.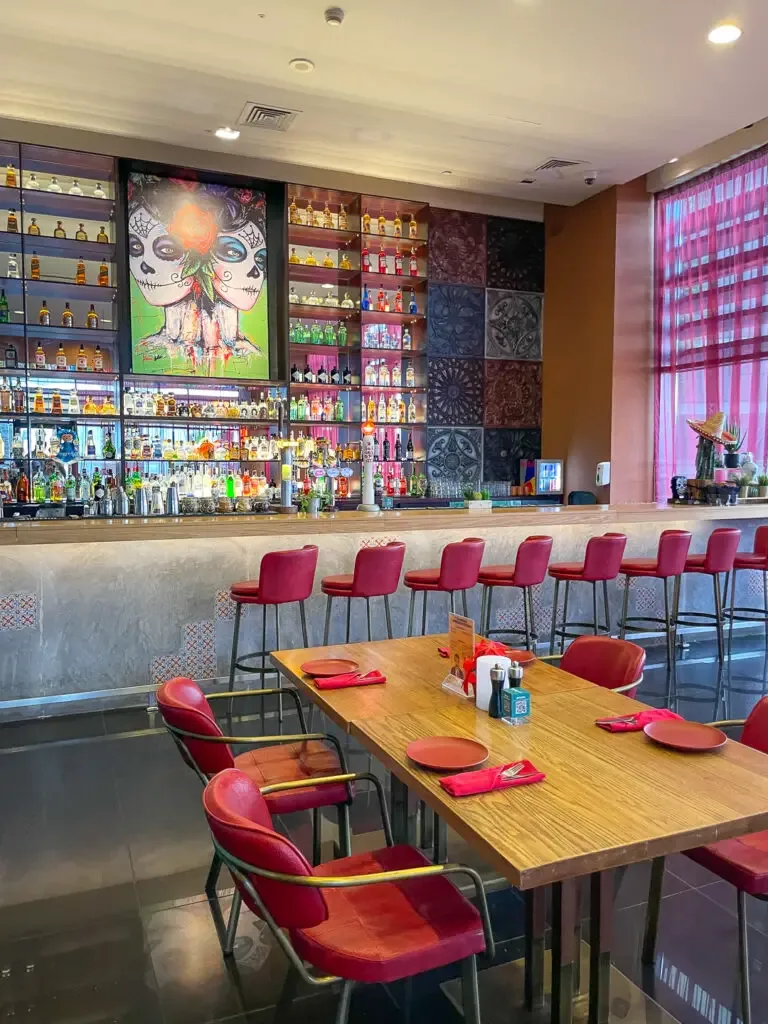 On "Frida Nights" catch up with your besties at Amerigos, Abu Dhabi with free flow margaritas for three hours and 50 percent off selected food items for AED 99 at this ladies night Abu Dhabi.
Timings: 6 PM until late
Location: G Floor,Park Inn, Yas Island, Yas Plaza, Abu Dhabi
20. Coopers Girl's Night
Park Rotana's Cooper's is the place to be if you want to watch live sports. It offers both indoor and outdoor spaces with large screens so you won't miss any of the action.
It doesn't matter whether you're a football, rugby, tennis, cricket or racing fan, they pretty much have every sport channel.
Friendly staff as well as great food & drink deals make this a great place to go every day of the week.
Every Thursday for four hours, enjoy "Cooper's Ladies Night" with DJ Diana.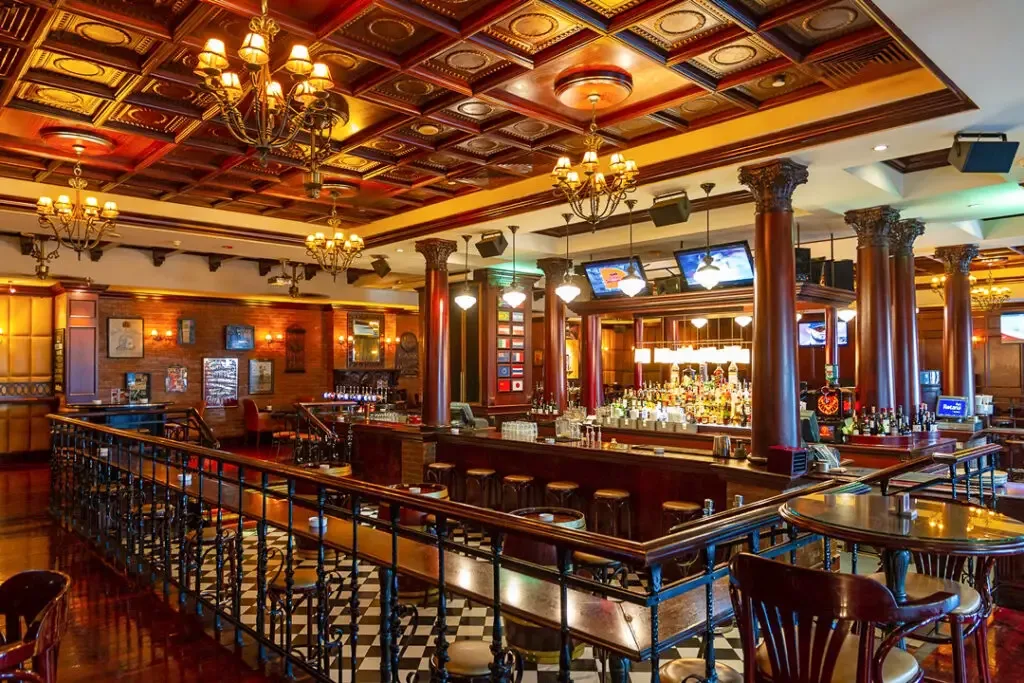 From a selection of bottled hops, spirits, house grapes and cocktails, the ladies will be able to enjoy a night out with the special offer of three drinks and Bar bites for AED 79.
Timings: 8 PM – 12 AM
Location: Park Rotana Al Salam St Easter Ring Road – Abu Dhabi
21. She is ANNEX At ANNEX Rooftop
Annex is a highly rated RnB and Hip Hop nightclub located at Al Bateen. You can experience a unique dining and entertainment experience in a multi-level social space.
Catch live, international and local DJs at the ground-floor club, an energetic nightlife and performance venue.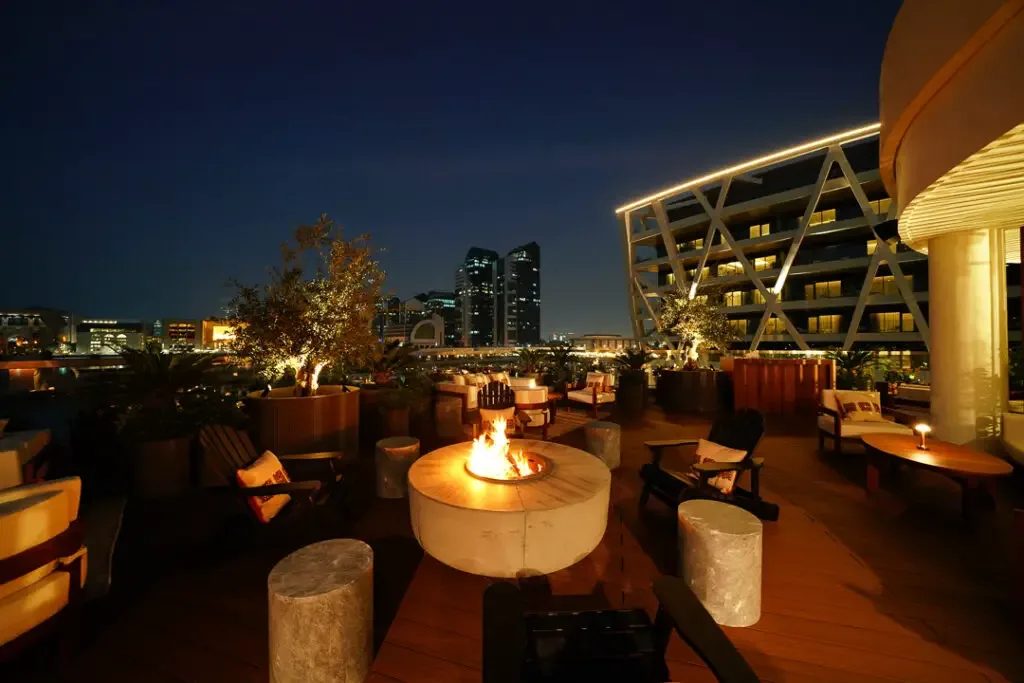 The "She is Annex" ladies night happens every Thursday, a perfect place to unwind and let loose after a long week.
Enjoy a 2-hour experience for AED100, kicking off at a time of your choosing, along with 30% off all menu items. The drinks on offer are hops, grape, malt and Italian bubbles.
Timings: 7 PM to 11 PM
Location: Al Bateen, The Edition Hotel, Abu Dhabi
22. Thursday Tokyo Ladies Night
Tokyo Grill is a traditional Izakaya offering authentic Japanese robatakayi (Japanese grilling art).
Their stunning sunset and relaxed ambience make Tokyo Grill the perfect place to eat good food with friends.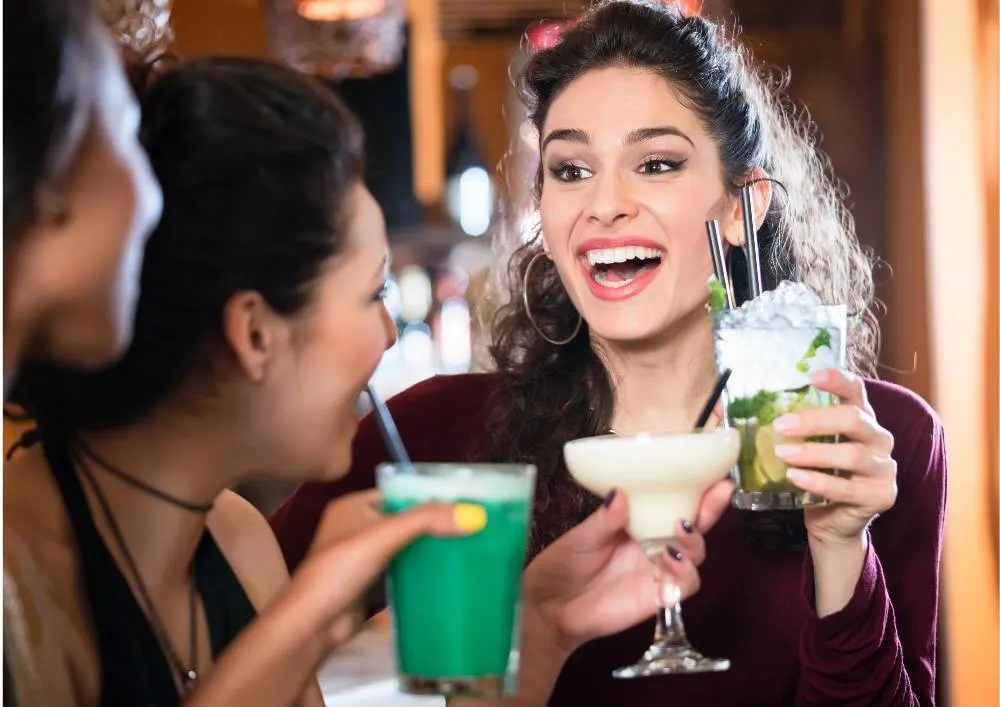 Head to the Tokyo Grill and Bar ladies night every Thursday, where you get to relish unlimited canapés and pourings for AED 65.
Enjoy the views of the breathtaking canal as you share a selection of delicious dishes.
Timings: 7 PM to 10 PM
Location: Located within The Venetian Village, The Ritz-Carlton, 3rd St, Abu Dhabi
23. Jungle Vibes At Bambu
If you are looking for a night to dance away to good music with great vibes, head over to Bambu.
This restaurant and bar takes its design elements from the Amazon rainforests, bringing the jungle indoors with great food, drink, and entertainment.
The bold flavours of tropical fare and handcrafted cocktails are thrown in for good measure.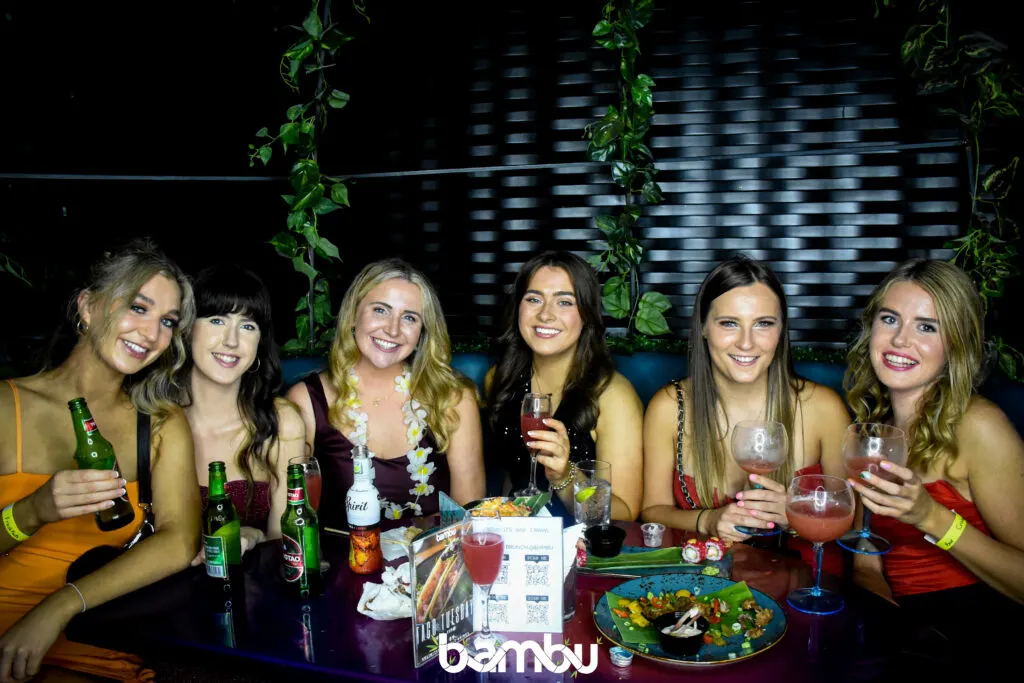 The Bambu Lady's night Abu Dhabi offers three hours of free flowing beverages and a selection of bites for AED 75.
If that's not enough, you get one complimentary drink after the ladies night special is exhausted and can vibe away to the tunes of DJ Fab until the early hours of the morning.
Timing: 9 PM until late, After party until 4 AM
Location: Cristal Hotel – 17th Floor, Adjacent to Madinat Zayed Shopping Center, Abu Dhabi
24. Margarita Thursdays At La Carnita
Designed with some of the best street style artists, La Carnita is the place to enjoy tacos, fajitas, churros, run through a mixtape whilst sipping on fresh cocktail or beer.
This Mexican restaurant has a modern flair. Originating from Toronto, it boasts good vibes guaranteeing to make sure you have a great evening.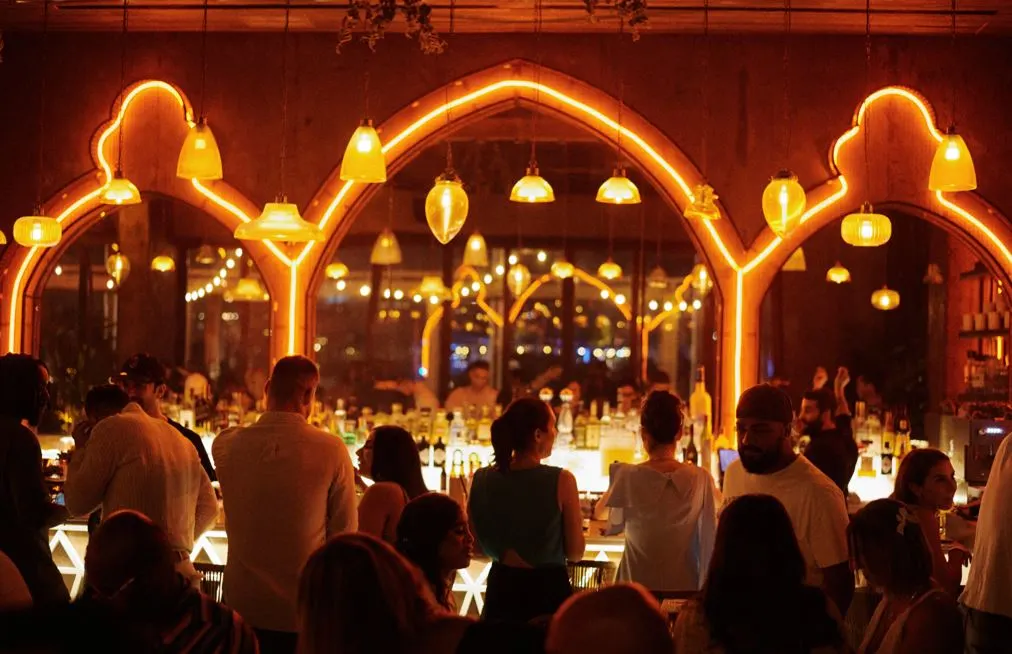 Through their love of music and art, La Carnita strives to serve up a dynamic menu and connects with the community, so gather your girls and experience La Carnitas' ladies night Abu Dhabi specials.
The venue is very instagrammable, with neon lights and a beautiful set up. Not to mention the free-flowing Margaritas every Thursday for three hours.
Timings: 8 PM to 11 PM
Location: Yas Bay, Yas Island, Abu Dhabi
25. Ladies Night At Sacci
"Sacci" is an authentic family-style Trattoria devoted to celebrating the rich heritage of Italian food and beverage.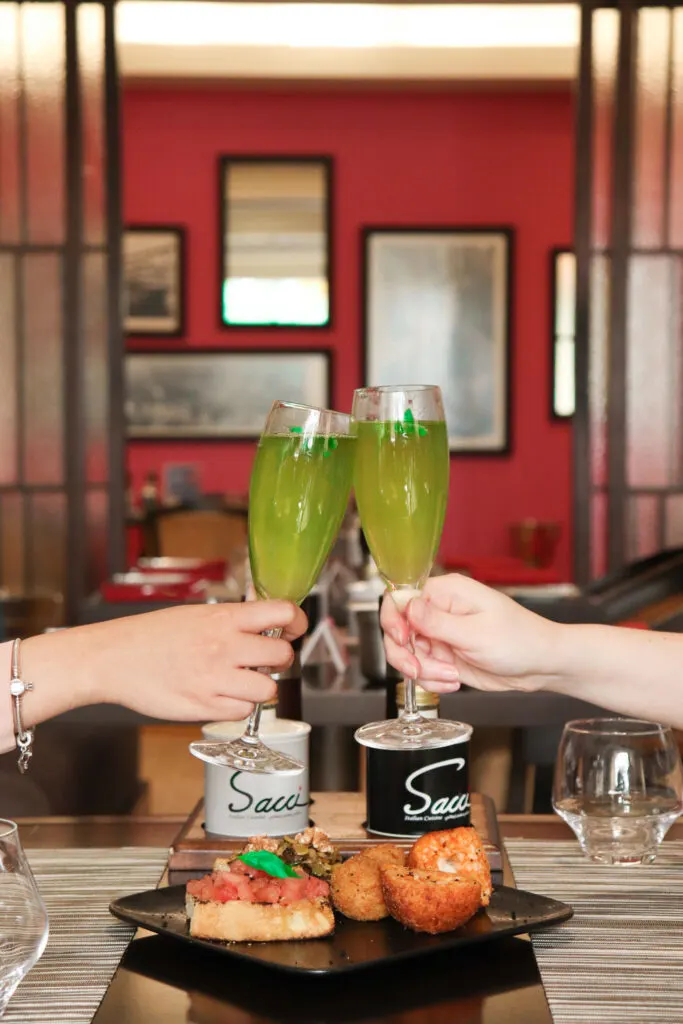 In order to experience the authentic Italian hospitality in Abu Dhabi, we would suggest to grab your girl friends and head over to Sacci on Thursday for the ladies night Abu Dhabi.
Enjoy unlimited signature Basil bubbly accompanied by Italian nibbles for AED 99 per person.
Timings: 6 PM to 9 PM
Location: The Westin Abu Dhabi Golf Resort & Spa, Abu Dhabi
26. Ladies Night At Siddharta Lounge by Buddha Bar
Siddharta Lounge is known for its vibrant ambience and picture-perfect views of Yas Bay. There is another reason for ladies to visit exclusively on Thursdays!
Known and loved for its refined sophistication and class, Siddharta Lounge by Buddha-Bar offers world-class cocktails mixed by expert mixologists.
Not to mention exquisite bites to satisfy an array of tastes, along with entertainment to tantalise all the senses.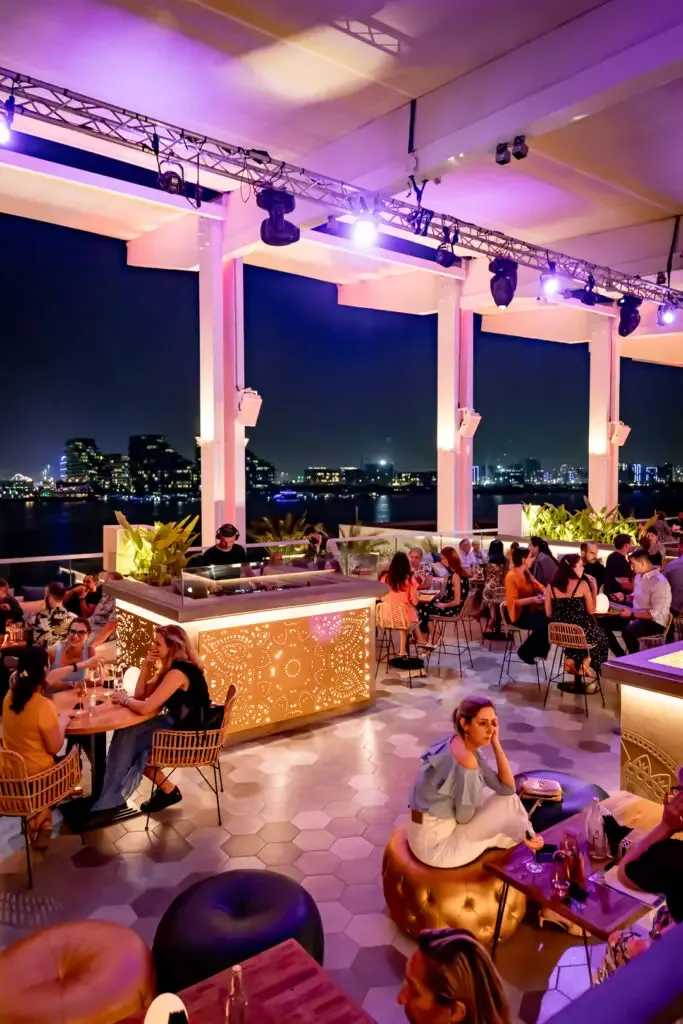 Ladies will receive a 25% discount on all plates on the Siddharta Lounge bar menu, creamy burrata salads and signature ceviches to name a few.
Ladies will receive three complimentary drinks on the house.
Timings: 8 PM to 11 PM
Location: Yas Bay, Yas Island, Abu Dhabi
27. West Bay
West Bays' beachfront bar extends out over the sands of the Corniche beach. Offering hammocks, swings, sun beds and a variety of cozy seating options, enjoy Mediterranean fusion dishes throughout the day.
With something to suit everyone's mood, it is a great place for relaxed evening with a sundowner.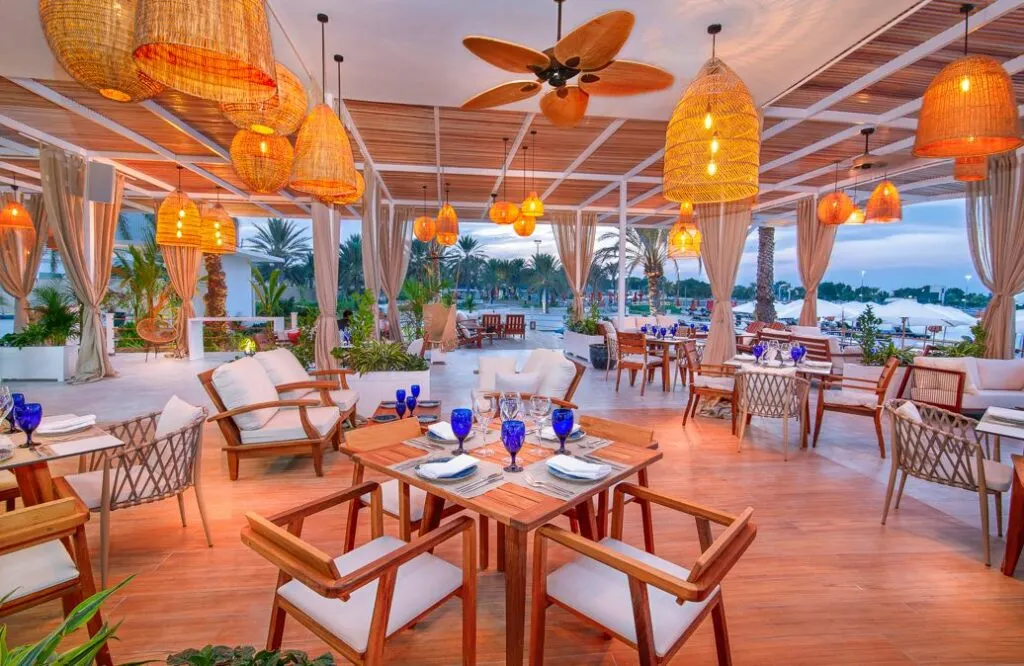 Ladies night Abu Dhabi at West Bay goes on for four hours. Ladies are treated to three house beverages, for AED 99.
Ladies also get a 30% discount on the dinner and grape menu.
Timings: 7 PM to 11 PM
Location: Corniche Rd, Al Bateen, Abu Dhabi
28. Ultimate Ladies Night At Little Soho Terrace
Enjoy a night out with friends on the Little Soho Terrace while enjoying delicious food and beverages and soaking up the atmosphere under the lights.
In the ultimate Ladies Night experience, ladies can have unlimited bites and drinks for AED 99 while the resident DJ spins the decks.
Timings: 8 PM to 11 PM
Location: Al Ain Palace Hotel – Abu Dhabi – United Arab Emirates
Friday Ladies Night Abu Dhabi
29. Spice And Gossip Nights At Stills
Stills Spice and Gossip ladies night Abu Dhabi has resident performers, DJ Drummer, Mari and Roller Skater singers.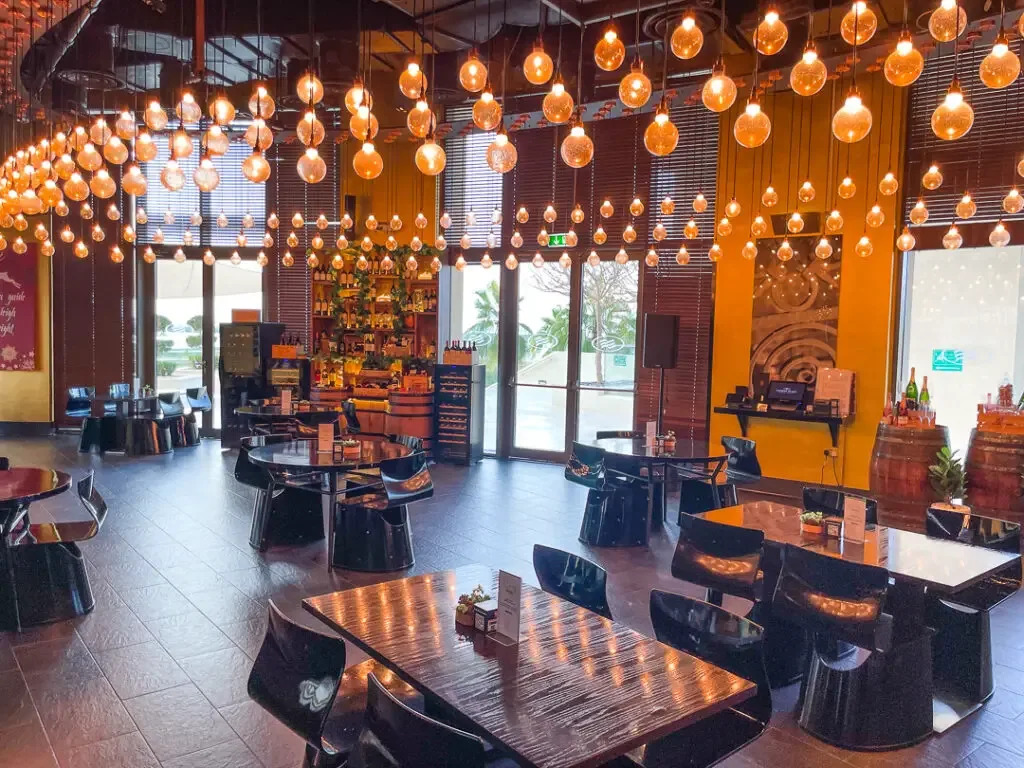 For AED 99* enjoy Tapas and unlimited beverages for three hours.
Timings: 8 PM to 11 PM
Location: Crowne Plaza Hotel, Yas Island, Yas Plaza, Abu Dhabi
30. Ladies Night At Lexx
Lexx offers refreshing beverages and signature nibbles you can enjoy with your girlfriends.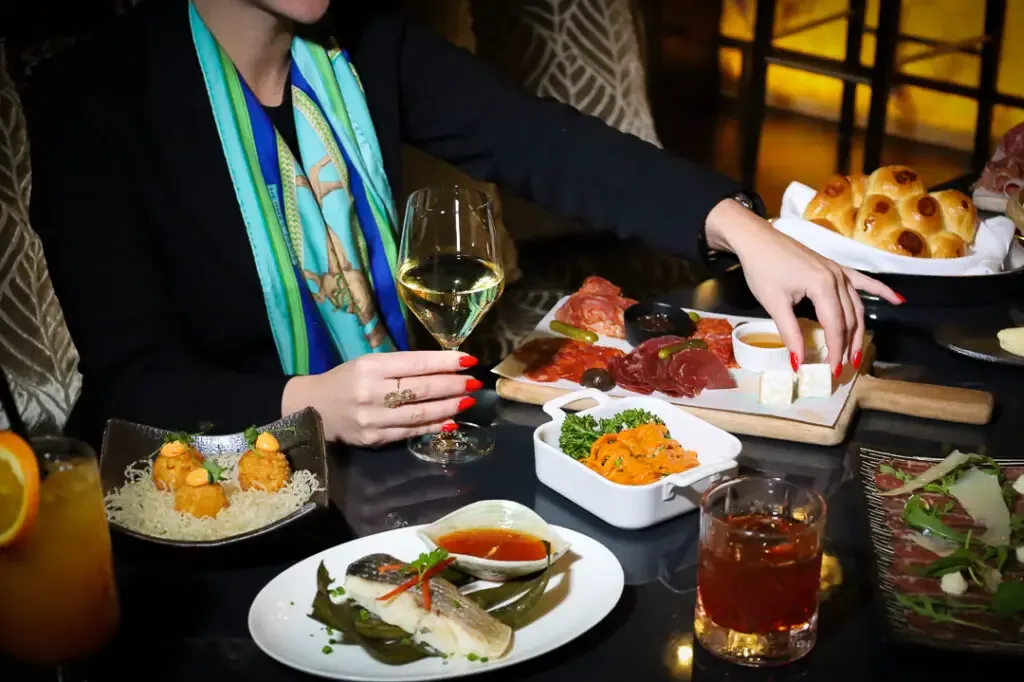 The AED 99 package includes three beverages, grapes and hops, one choice of nibbles, including brie cheese, chicken wings, crostini, breaded prawns, and bresaola.
Grab a bottle of wine for AED 85!
Timings: 8 PM to 12 AM
Location: Corniche Street, Grand Hyatt Abu Dhabi Hotel & Residences, Abu Dhabi
31. Y Queens At Y Bar
The Queens ladies night at Y Bar is something to look forward to if you are out and about on Yas Island.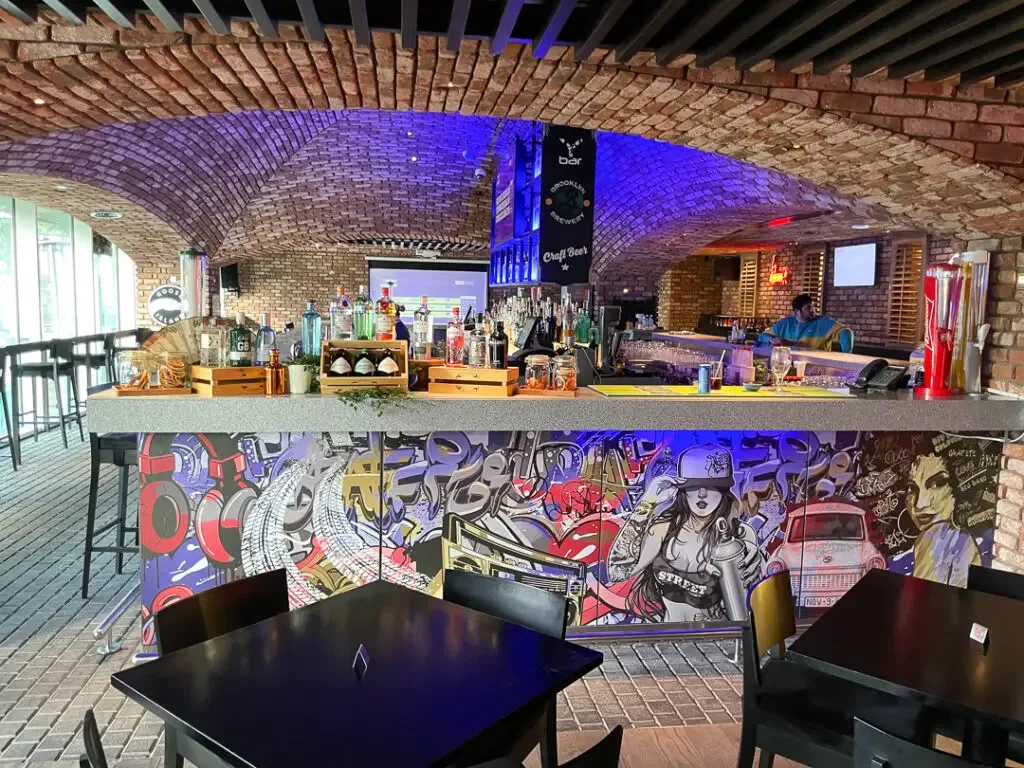 Ladies will be treated to three hours of unlimited drinks for AED 99 or AED 149 with food and beverages for three hours.
Timings: From 7 PM onwards
Location: Yas Plaza, Yas Island, Abu Dhabi
32. Broadway Diva's At Teatro
In keeping with its name, Teatro promises a theatrical dining experience. The diverse menu features hero dishes from Thai, Indian, Chinese, Japanese Sushi and Italian cuisines at their award-winning restaurant.
Chefs are on full display and entertain guests with live cooking in the show kitchen or sushi bar.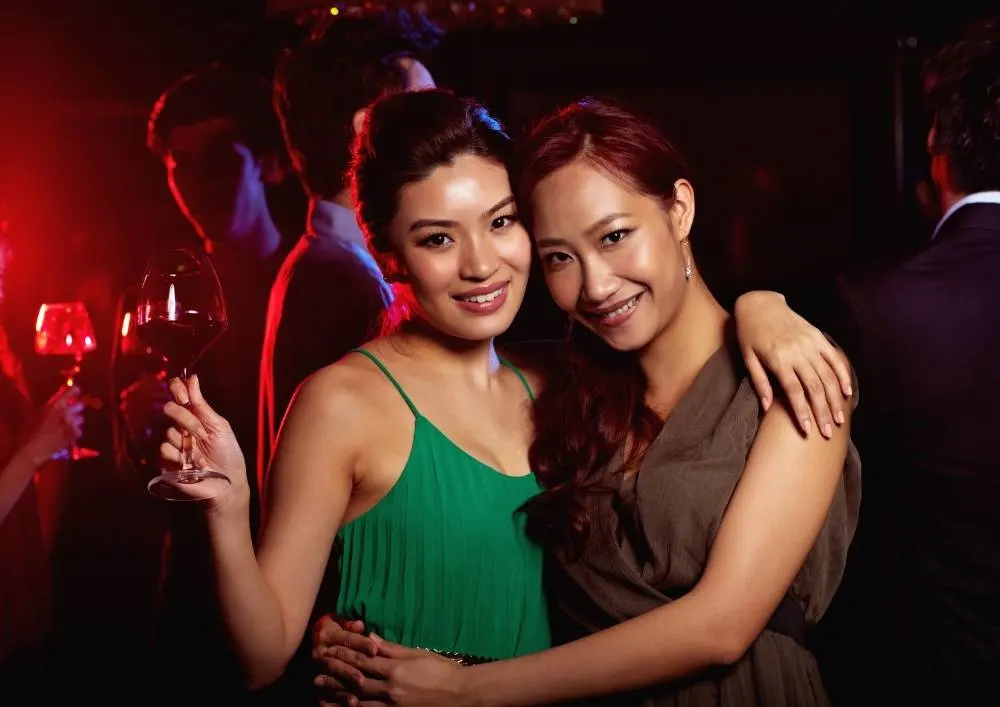 To keep up with the theatrical experience, ladies are invited to the Broadway Divas Ladies Night Abu Dhabi at Teatro Park Rotana on Friday evenings.
Enjoy two hours of free-flowing red, white & sparkling grape and house beverages for AED 99.
Get 50% off food from the exciting new Teatro menu.
Timings: 6 PM – 11 PM
Location: Park Rotana, Al Salam Street, Eastern Ring Road, Abu Dhabi
33. Sipz And Glam At W Lounge
Sipz and Glams have a free-flow beverage option. To avail of the free flow all night, ladies have to purchase one special curated drink from the bar.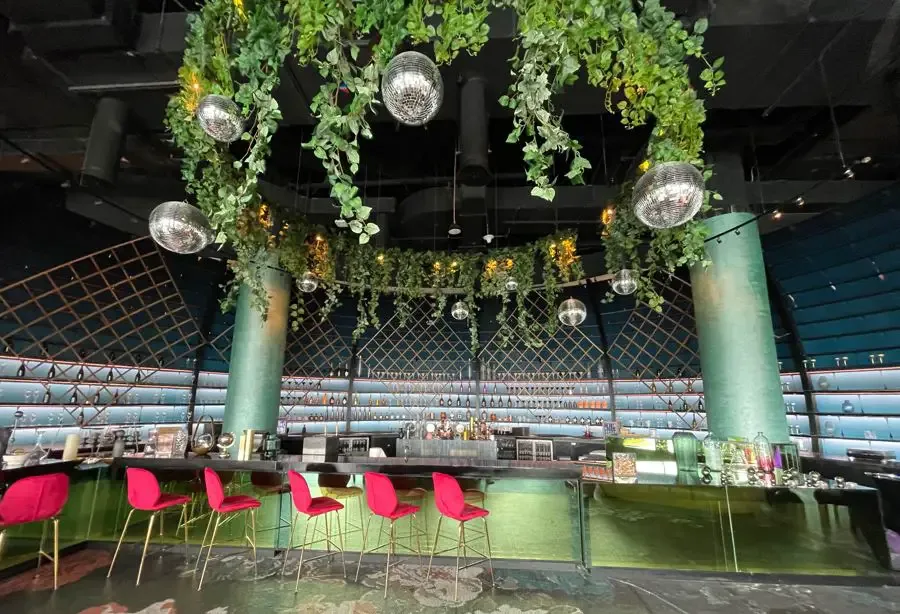 Enjoy a special 20 per cent discount on food throughout the night, making it an even more exciting experience.
Timings: 6 PM onwards
Location: W – Yas Island – Abu Dhabi – United Arab Emirates
Saturday Ladies Night Abu Dhabi
34. Jazz Night At Blue Grill
If you are a lady who loves the steak and wine combo, Blue Grill is the place for you! Enjoy premium cuts of USA, Australian, South African and New Zealand beef. All chargrilled according to your personal preference!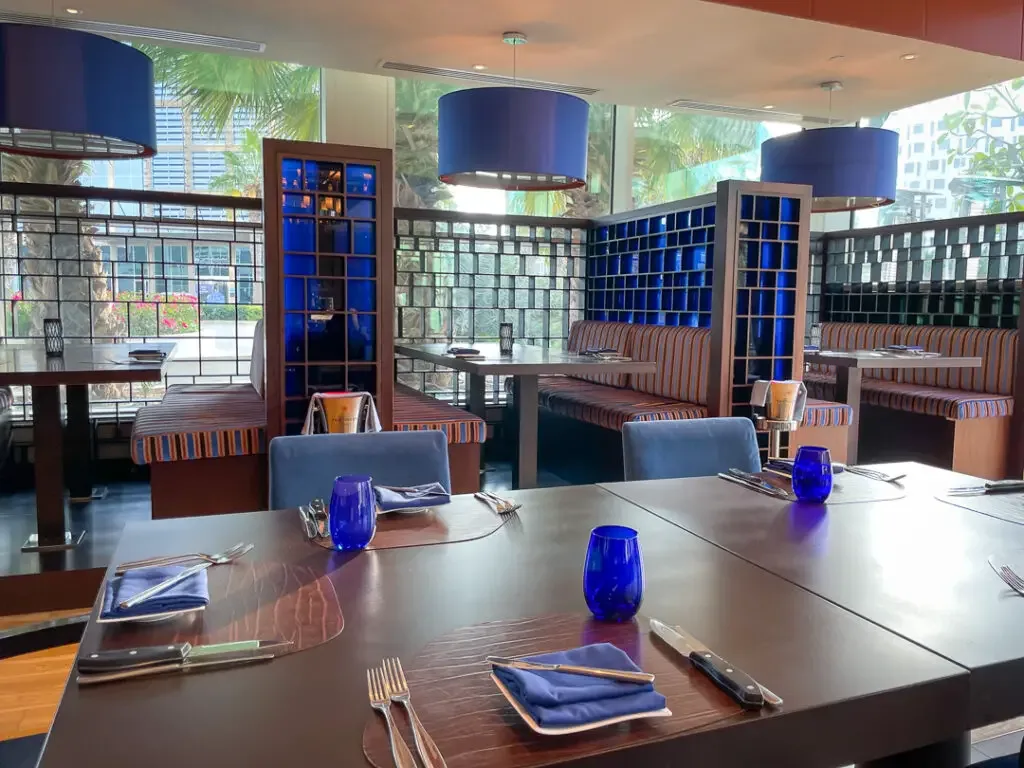 The ladies night Abu Dhabi package at Blue Grill requires to pre book a table for four. This secures a bottle of wine plus all ladies get free flowing bubbles for an hour.
All of this combined with live sax music & a sophisticated selection of wines & prime meat cuts. Blue Grill, Abu Dhabi is a good place to be on a Saturday evening.
Timings: 6 PM onwards
Location: Yas Island, Yas Plaza, Abu Dhabi
35. Mamacita Night At Barfly By Buddha Bar
When it comes to a ladies nights out in Abu Dhabi, there is no better place than Barfly.
It's Neo-Baroque mystic-lounge concept honouring its Bohemian spirit. Barfly by Buddha Bar offers patrons the luxury and comfort of an intimate restaurant.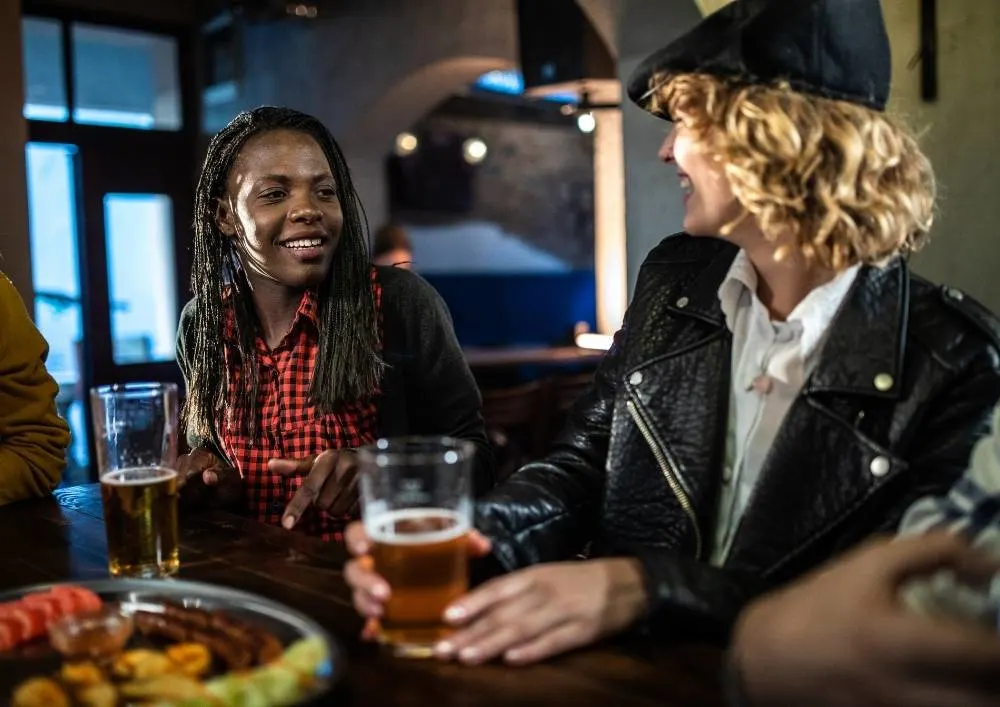 It features a relaxing afternoon lounge offering shisha and a cozy bar for late afternoon or pre-dinner drinks.
On Glamour ladies night, expect pass around canapés with free flow of selected house beverages until 12 AM for AED 99.
Timings: 9 PM – 12 AM
Location: The Venetian Village, Ritz-Carlton Grand Canal, Abu Dhabi
36. Sun Chasers At Wet Deck
The hottest rooftop pool bar in Abu Dhabi is the place to be! With panoramic views of the Grand Prix racetrack, innovative cocktails and much-hyped theme nights, WET Deck is a popular adults-only venue at the W Abu Dhabi.
Get into the party mood and lounge on VIP sun beds while listening to the resident DJs spin the latest tracks.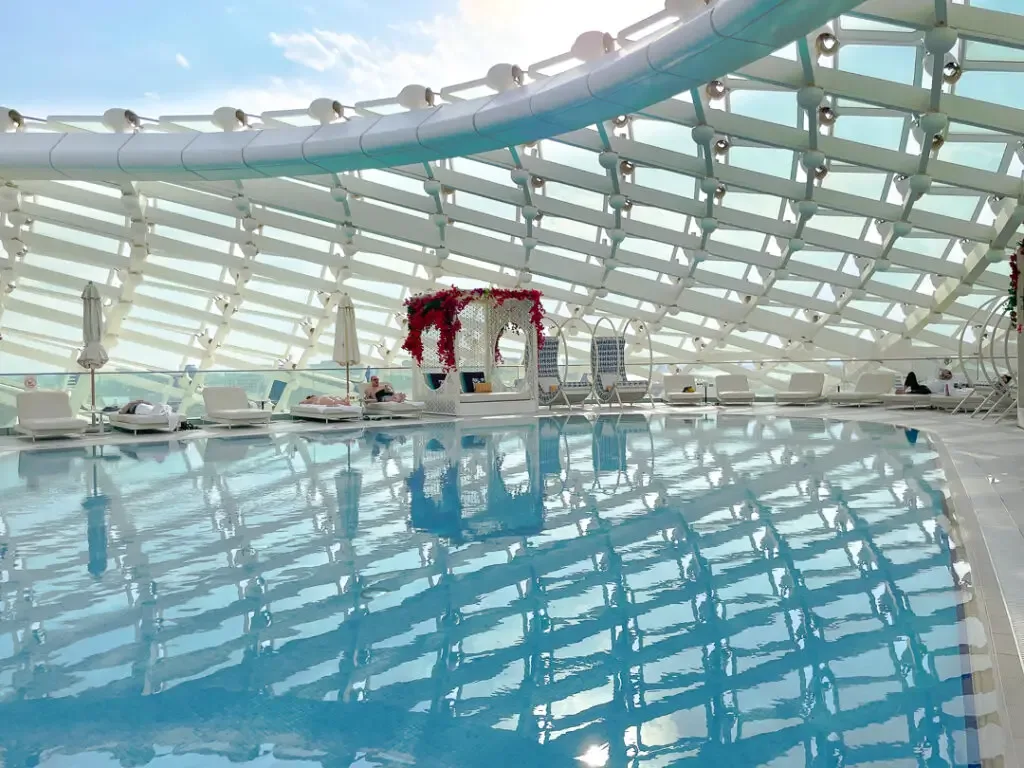 With the world-famous Formula 1 track, Yas Marina Circuit, as a backdrop, ladies can take Saturdays to the next level with free entry and two complimentary drinks.
With its fantastic atmosphere and variety of delicious drinks, Wet Deck is the ideal spot for a fun day with friends and spending a day at the pool.
Timings: 12:30 PM to 6 PM
Location: Yas Viceroy, Yas Island, Abu Dhabi
Sunday Ladies Night Abu Dhabi
37. The Brewhouse Gastropub
The Brewhouse Gastropub in Abu Dhabi offers a selection of craft hops and IPAs from around the world, including India, the United Kingdom, and the United States.
Featuring ladies night twice a week, for AED 49, enjoy three house beverages or handcrafted cocktails.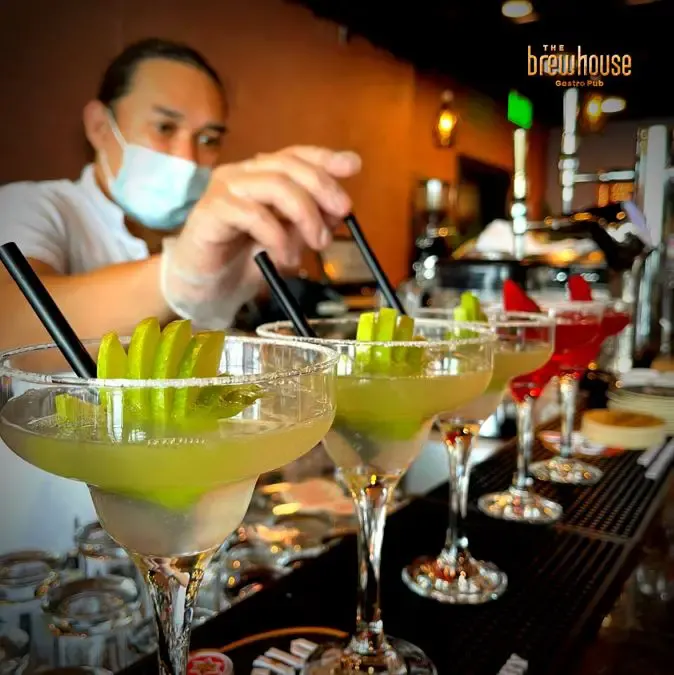 Try one of their fine wines or one of the speciality gin cocktails. Add a pop of colour to the night with their signature mocktails – perfect for those looking for something sweet and non-alcoholic!
Timings: 12 PM to 12 AM (Saturday and Sunday)
Location: Cristal Hotel – Level 17 Madinat Zayed Shopping Area – Abu Dhabi – United Arab Emirates
Monday Ladies Night Abu Dhabi
38. XOXO Ladies Night At Market Kitchen
Make plans with your girls and get ready for some quality time, good eats and unlimited rounds of drinks.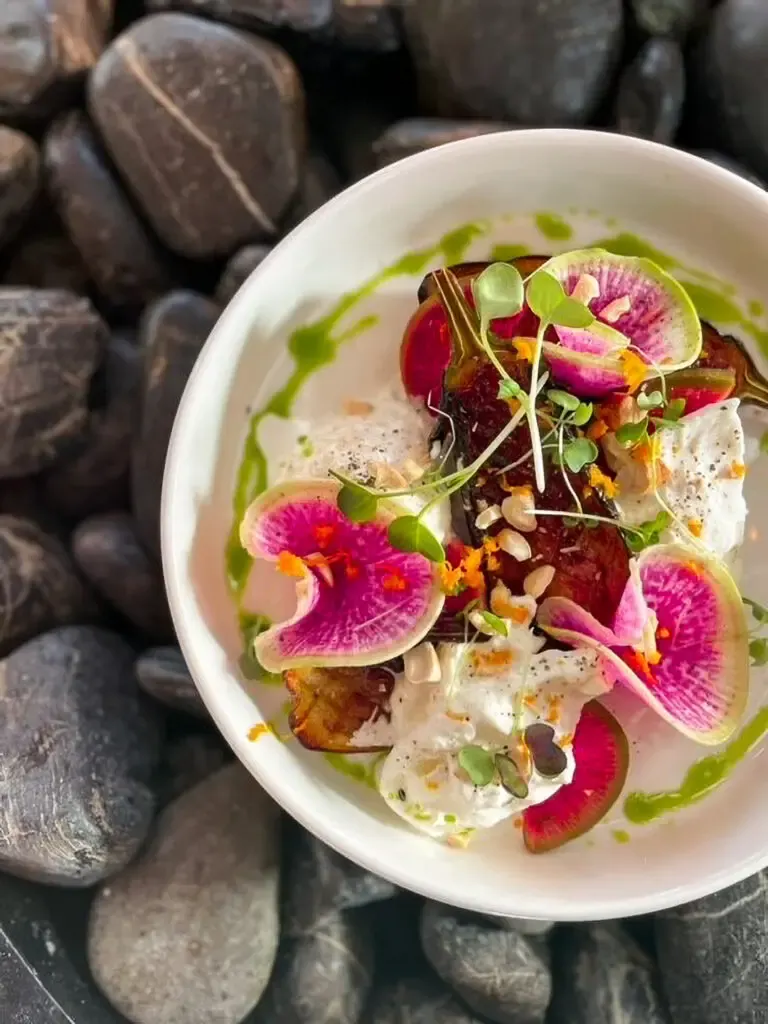 It's always a good time at Market Kitchen's XOXO Ladies Night Abu Dhabi. You get free-flowing signature mixed drinks and grape with 50 percent off main courses every Monday for three solid hours.
Timings: 7 PM to 10 PM
Location: Khalifa Street,Le Royal Meridien, Abu Dhabi
Daily Ladies Night Abu Dhabi
39. Moonflower 2.0 At PJ O'Reilly's
One of Abu Dhabi's oldest pubs, PJ' O'Reilly's offers a distinctive blend of Irish hospitality and Abu Dhabi comfort.
With a relaxing poolside environment, exciting brunches and BBQ's it is quite a popular spot amongst expats.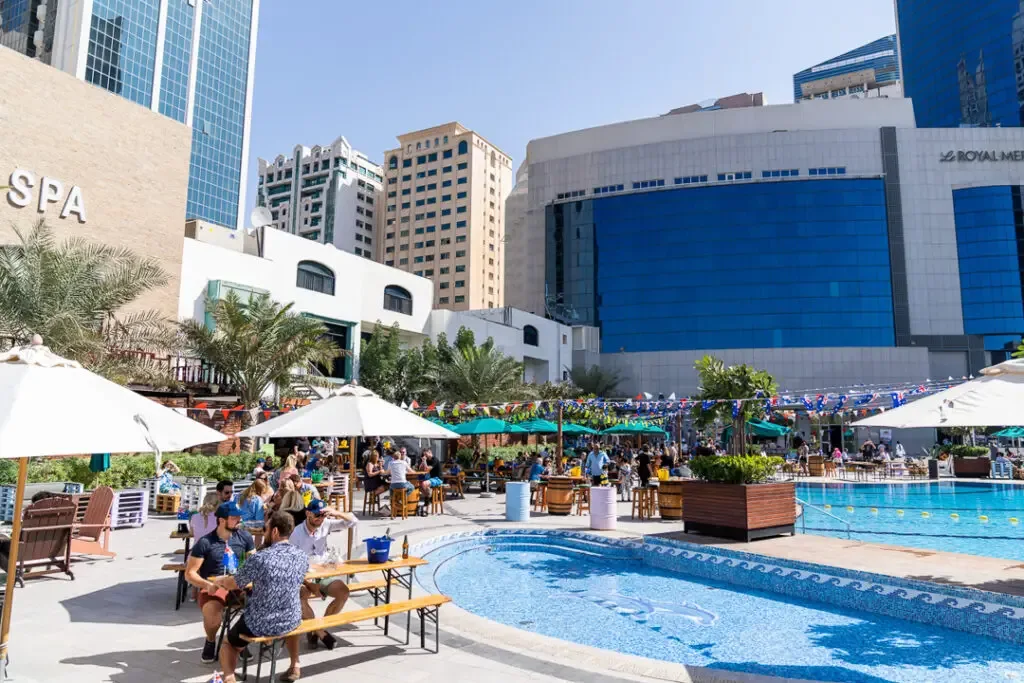 Head over to PJ O'Reilly's for a lovely evening to unwind at their Shamrock ladies night.
For AED 100, ladies get 3 hours of free flow house beverages, pub bites, live entertainment and the largest selection of cocktails in the city.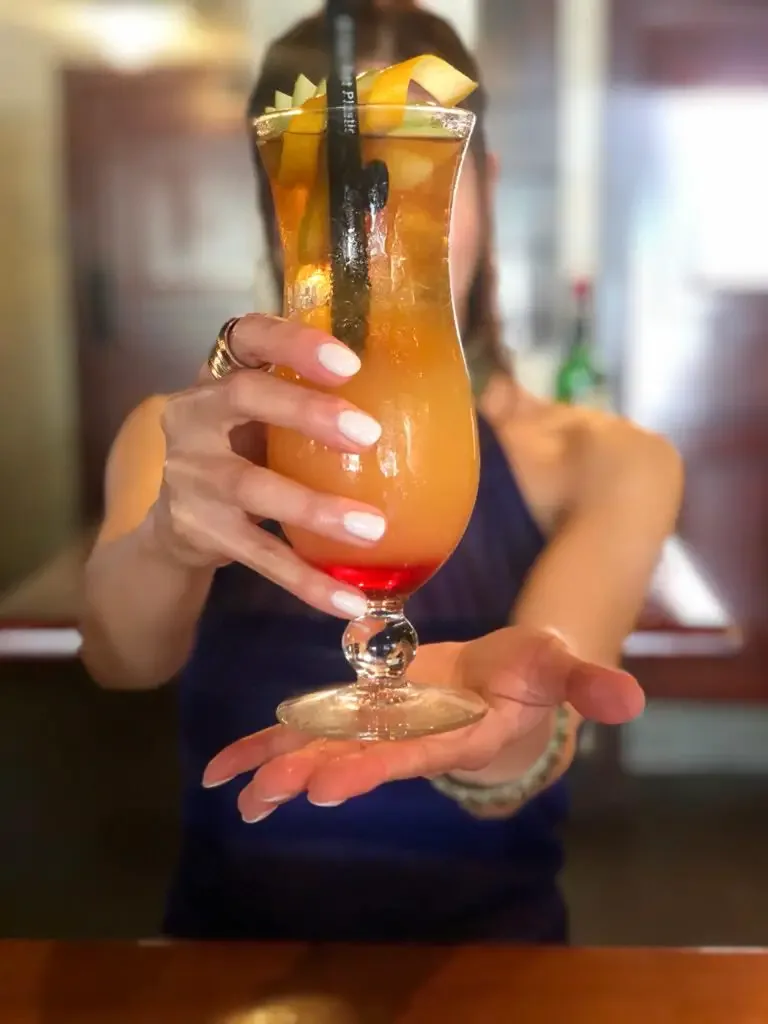 Timings: 5 PM to 10 PM (Sunday to Thursday)
Location: Le Royal Meridien, Sheikh Khalifa Street, Abu Dhabi
Ladies Night Abu Dhabi Frequently Asked Questions
What is ladies night Abu Dhabi?
A ladies' night is a promotional event, often at a bar or nightclub, where female patrons pay less than male patrons for the cover charge or drinks.
Why do bars have ladies nights?
A ladies night aims to increase attendance of female patrons at bars during the week.
Typically ladies nights are on Tuesdays, Wednesdays or Thursdays. However, due to its demand, there is a ladies night throughout the entire week in Abu Dhabi.
Can men go to ladies nights in Abu Dhabi?
Of course. Men must make sure they bring their wallets. Complimentary drinks and freebies are for ladies only!
To Sum Up Ladies Night Abu Dhabi
As you can see, there is something happening around all through the week, so you always have somewhere to be if you and your friends fancy on school day.
If you are someone who would like to just lay back and maybe go out with your girl friends for something low key, check out our coffee shop guide. If you are the sporty type check out our ladies gyms around the city.
Do you know of other popular ladies night Abu Dhabi that we may have missed? Please do let us know!
You may also like,
New Year's Eve Celebrations In Abu Dhabi
Chinese New Year Events In Abu Dhabi
Disclaimer: This post may contain affiliate links, by using them it will not cost you any extra, we will receive a small proportion of the sale to keep us writing!