A desert driving course provides you with the knowledge and skills you need to experience the thrill of going on off-road adventures in and around Abu Dhabi.
These courses are not mandatory for off-roading, however since the desert is a challenging terrain, it requires you to have a particular skill set in order to manoeuvre and keep everyone safe.
The aim of this article is to make sure you are aware of everything you need to know before successfully conquering the majestic dunes that Abu Dhabi and the surrounding Emirates has to offer.
We will also tell you the 3 best places to take a desert driving course Abu Dhabi that will amaze you.
Below are the best desert driving course Abu Dhabi has to offer.
Desert Driving Course Abu Dhabi Institutes
Rub Al Khali Desert Tourism
If you have recently purchased a SUV and looking to experience the excitement of off-road thriving, Rub AlKhali Desert Tourism have got you covered.
With over 30 years of off-roading experience, your instructor, Karim aka "the Desert Guru", will explain everything you need to know, including the do's and don'ts of desert driving.
He will spare no effort in explaining all aspects of this thrilling hobby no matter how many times you get stuck!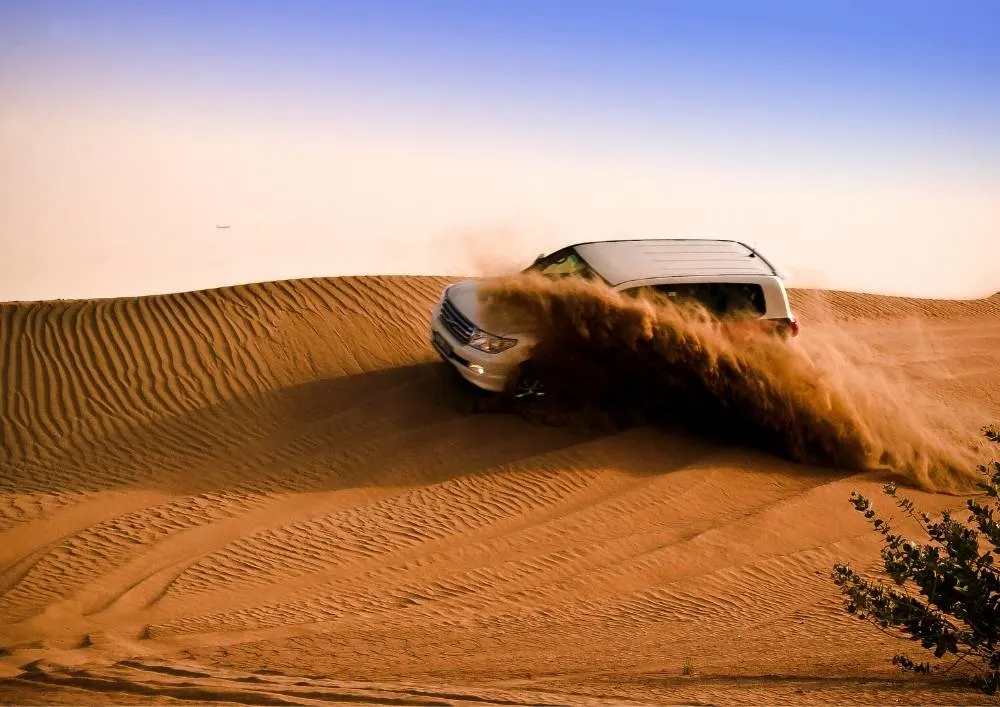 They offer 3 different levels of desert driving courses, which are as follows:
Beginner (Intro to 4×4, 4×4 preparation, safety, basic recovery)
Intermediate (convoy management, high red dunes training, route planning, emergencies)
Advanced (marshal training, advance recovery, first aid training, night drive)
Don't worry if you don't have your own 4×4! if you are 25 years and older, you can rent one. For those bringing their own vehicle, be sure to have your off-road car insurance.
For special package deals on this Desert Driving Course Abu Dhabi
Location: CRMJ+HRX New Al Falah, Abu Dhabi
Carnity
Carnity will educate you on the basics of off-roading along with tricks and techniques to make your desert driving experience safe, enjoyable, and memorable.
When you train with Carnity, rest assured you are in right hands. Their desert driving instructors come with tonnes of experience from training over hundreds of off-roaders every week.
Carnitys' off-roading marshals will equip you with the best knowledge, drive experience and skills to enjoy your 4×4 safely to explore the beauty of the desert landscape.
At Carnity's you have five 1:1 desert driving courses to choose from. They are specially tailored to newbies and intermediate levels. The courses include:
1:1 day desert driving course Abu Dhabi masterclass (newbies with zero prior off-roading experience)
1:1 night desert driving course Abu Dhabi masterclass (newbies with zero prior off-roading experience)
1:1 desert recovery champion desert driving course Abu Dhabi (fewbies with basic off-road skills)
1:1 advance desert driving course Abu Dhabi (fewbies with basic off-road skills)
1:1 advance desert leading course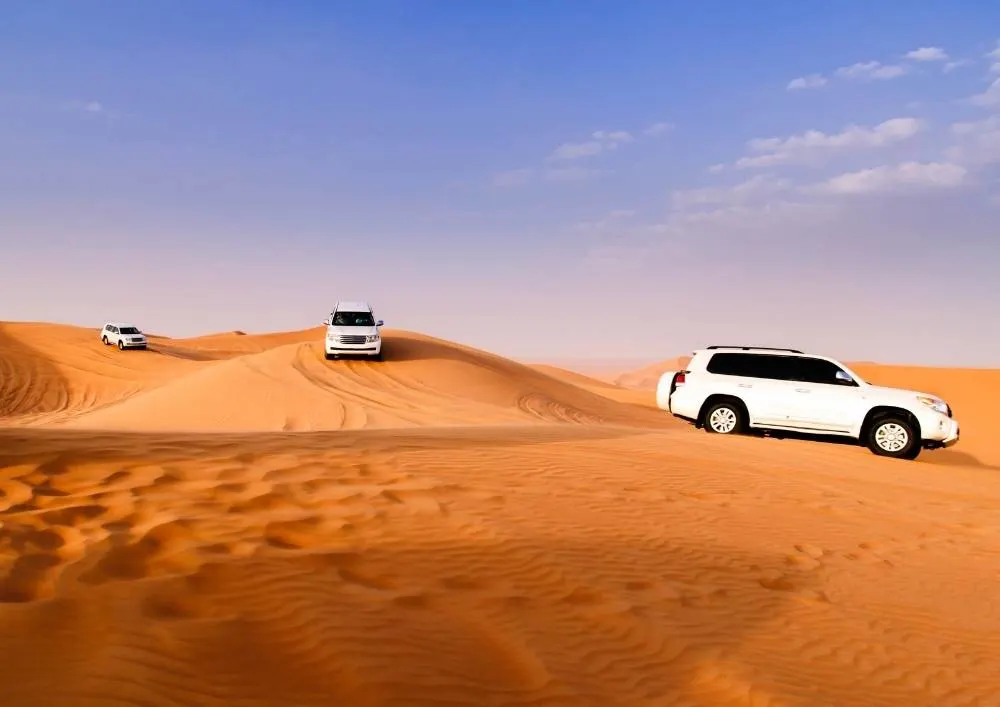 Carnity lets you train in the comfort of your own vehicle. It would need a minimum height clearance of 8 inches and a front and rear tow hook. You can also select from their fleet of highly modified 4×4s.
It is important to note these are special 1:1 courses. No friends or family are allowed in the vehicle while you are being trained.
Find out more of course details and fees
Location : Abu Dhabi (Sweihan or Al Khatim Desert)
Emirates Driving Institute
The Emirates Driving Institute is a well-renowned registered driving school based in Mussafah, Abu Dhabi. Pertaining to their desert driving course Abu Dhabi, they offer a one-day certificate and there are three types of desert driving courses to choose from.
Complete (theory and practical training) desert driving course ; highly recommended for beginners,
Essential desert driving course; for those interested only in practical training, and
Refresher desert driving course Abu Dhabi; extra training only for previously attended Complete course & Essential Course
The above desert driving courses will help you understand the basic mechanicals and fundamentals while driving a 4wD.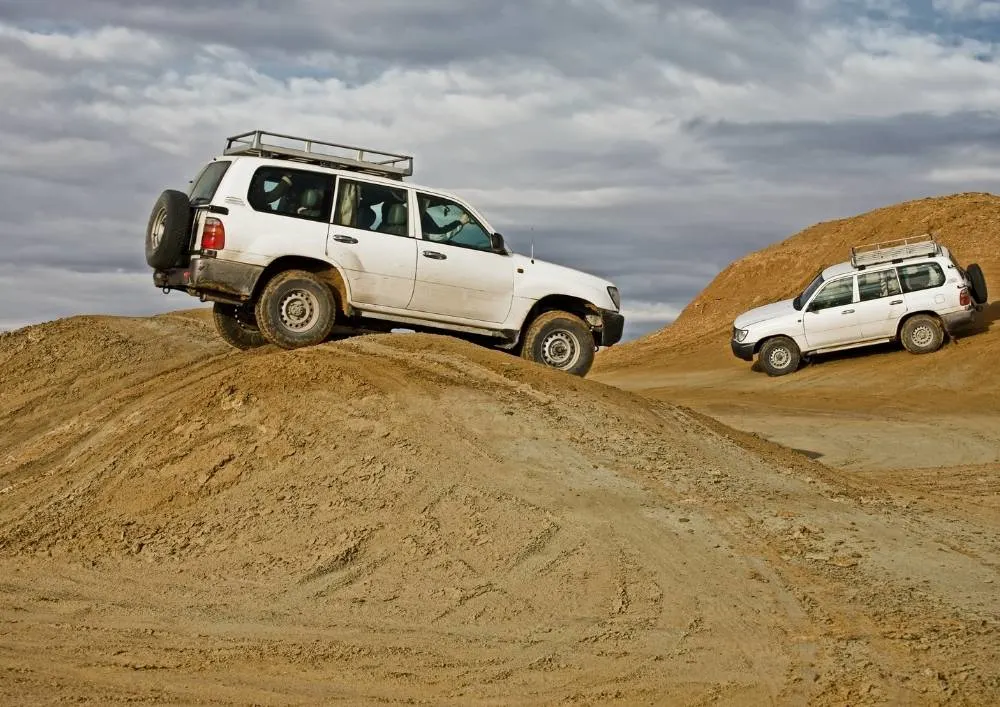 It also covers the desert topography, potential off-road situations and proven techniques to escape a difficult scenarios you may face while desert driving.
It is a mandate that you hold a valid UAE car driver's license for a minimum of six months in order to qualify for this course,
OR
An international driver's license with a validity period of six months.
Emirates Driving Institute also offers up to 50% OFF on the certificate course when you use THE ENTERTAINER voucher!
It is important to note the off-road training takes place in Al Qusais, Dubai, despite the head office being based in Abu Dhabi.
Here is some more information of desert driving course at EDI.
Location: Street no. 17 Musaffah Industrial Area – Musaffah – Abu Dhabi
Desert Drive in Abu Dhabi Routes
If you have caught the desert driving bug, you'll be glad to hear that the Department of Culture and Tourism, Abu Dhabi, has launched six new desert driving routes.
The self-drive routes pass through Abu Dhabi, Al Ain, and Al Dhafrah. Not to mention the route sees some of the country's highest dunes, abandoned cars, and remote campsites.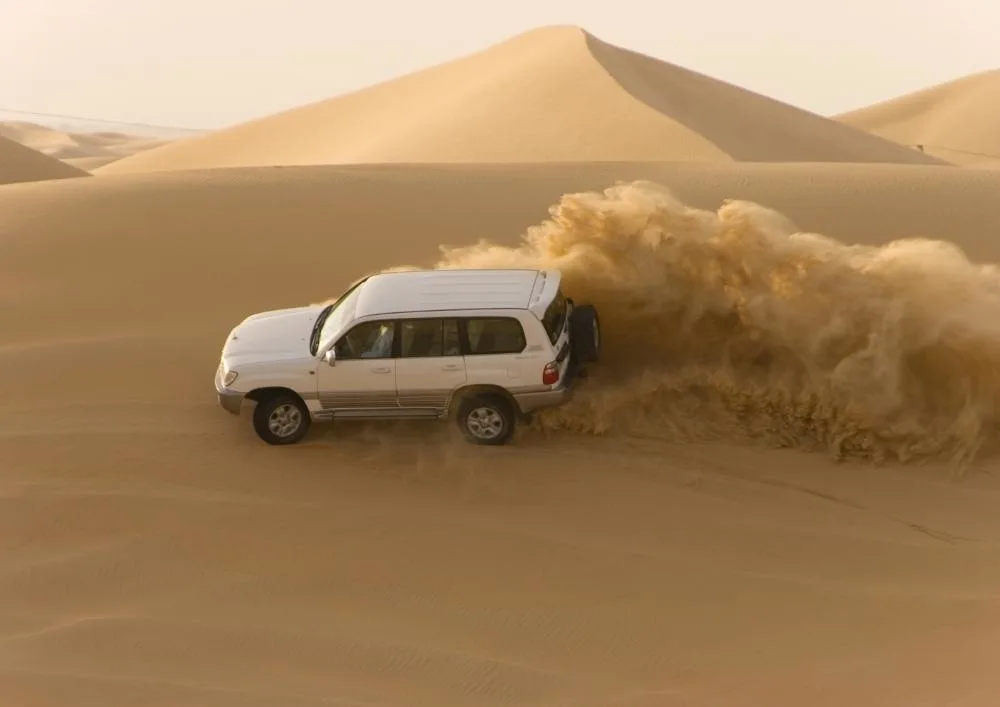 No matter your level of expertise or experience, the routes are suitable for anyone with a 4×4. Each route offers a different level of difficulty.
This allows for practice in differing desert terrain. Allowing drivers to see endless desert scapes, camels and potentially the Arabian Oryx on an off-roading adventure.
You should keep in mind changing weather can have a significant impact on desert dunes. If you find yourself wondering whether or not to conquer a specific dune, it's better to get out of your car and make the decision based on your sound judgement.
Take a moment to examine your surroundings and explore other crossing options a few metres away. Detailed directions are provided on Google Maps to ensure your safety along these routes.
Drivers unfamiliar with the desert can practice beforehand by contacting tourism operators working with DCT Abu Dhabi.
Alternatively, you can also book an off-road adventure with the operators if you don't fancy tackling desert terrain alone.
Al Remah
Al Remah is a great off-road route for beginners and experienced drivers. it takes about six to eight hours to navigate through.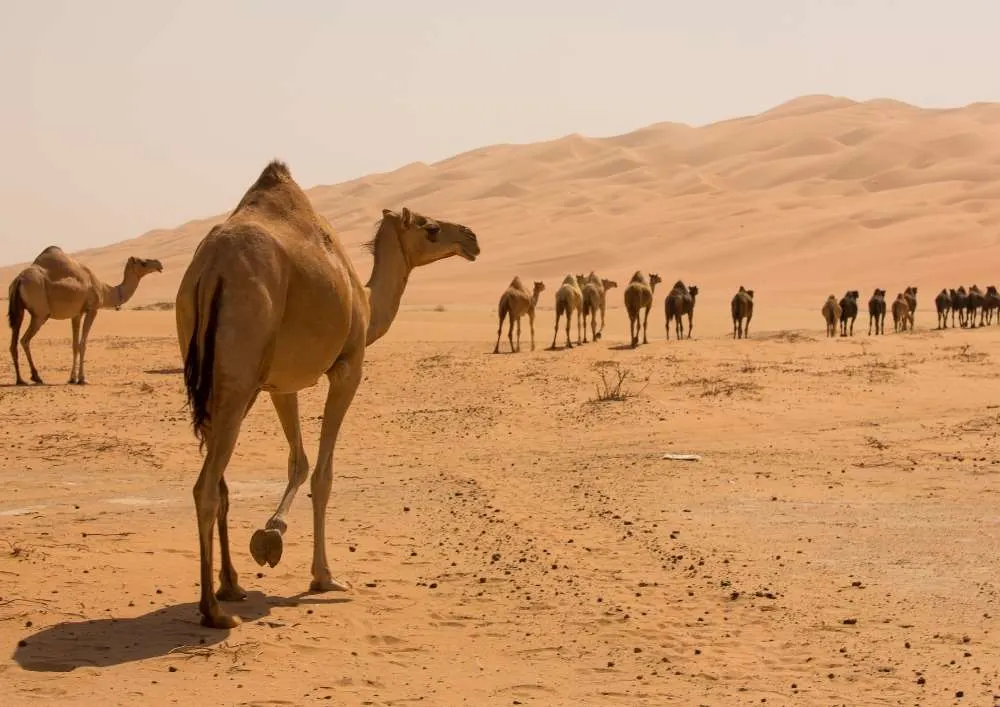 The route begins at a Camel Farm just off the Abu Dhabi-Al Ain Road and continues through the racing track towards Telal Nature Reserve.
Besides providing opportunities for dune-bashing and fun driving, the route offers opportunities to camp.
If camping isn't your cup of tea, you can always stay the night at Telal Resort.
Distance: 67 kilometres
Difficulty rating: Easy
Route coordinates: Al Remah
Al Ain to White Sands
Suitable for beginners who have recently completed their desert driving course Abu Dhabi and advanced off-road drivers, the route will take you through the dunes of Liwa. It can be conquered in about four to eight hours.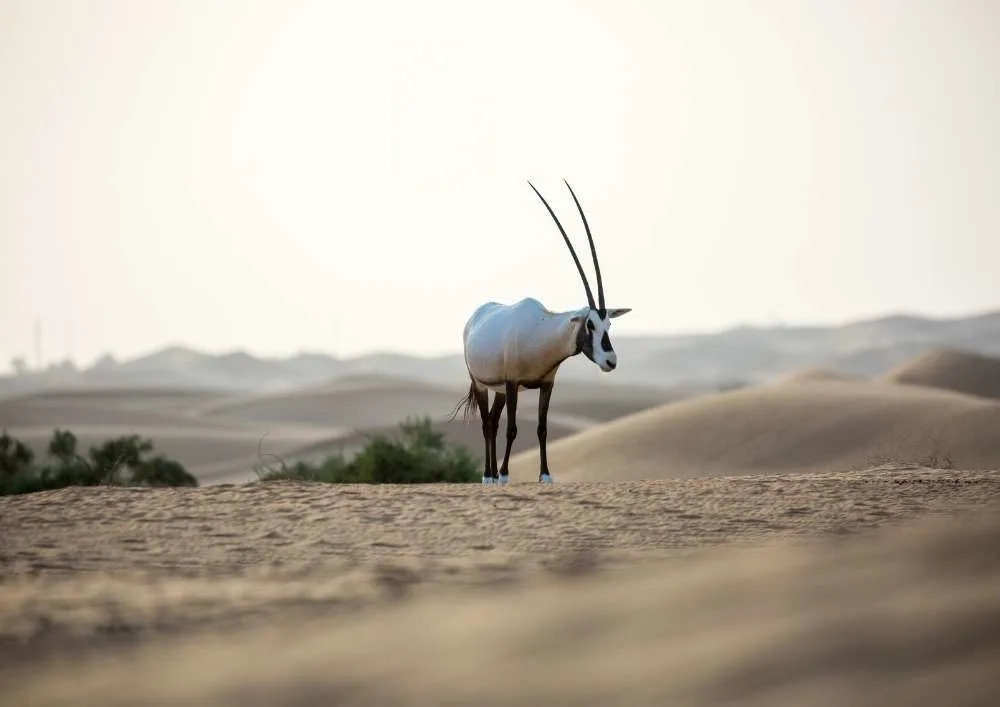 There are plenty of great remote camping spots in the central region of Abu Hiraybah area if you fancy a night under the stars. However, keep an eye out for gazelle.
Distance: 157 Kilometres
Difficulty rating: Easy
Route coordinates: Al Ain to White Sands
Hameem Loop
The Hameem Loop route may extend between 70 to 80 kilometres due to its technical terrain.
It features towering dunes, deep bowls and slip faces, hence making it the ideal path for thrill seekers.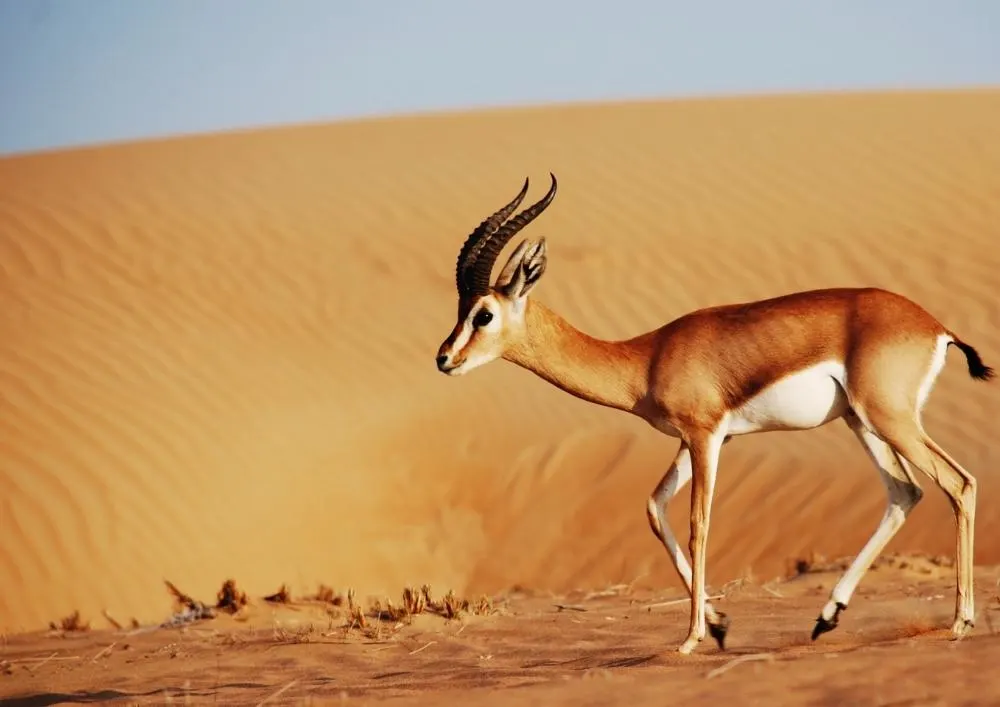 Taking over five hours to complete, thrill seekers can expect to see plenty of gazelle, camels and goats along this excursion.
Hidden in the midst of a desert landscape, you may also come across an abandoned 4×4 and a disused solar power bank.
Keep an eye out on the terrain, particularly in the second half as it can be slightly challenging and reversing your vehicle could be tricky.
Distance: 55 Kilometres
Difficulty rating: Intermediate
Route coordinates: Hameem Loop
Umm Al Oush
A route of like Umm Al Oush is not for beginners. It takes four to five hours to complete.
The Umm Al Oush route is a path filled with steep climbs, sharp drops, deep bowls and highly technical dunes.
The route starts near Al Quo'a and is perfect if you want to explore the desert with a local guide.
Umm Al Oush boasts huge dunes and bowls to play. Once you reach the top, there is no end to what you can do. All big dunes are interconnected, offering a wide ridge to ride.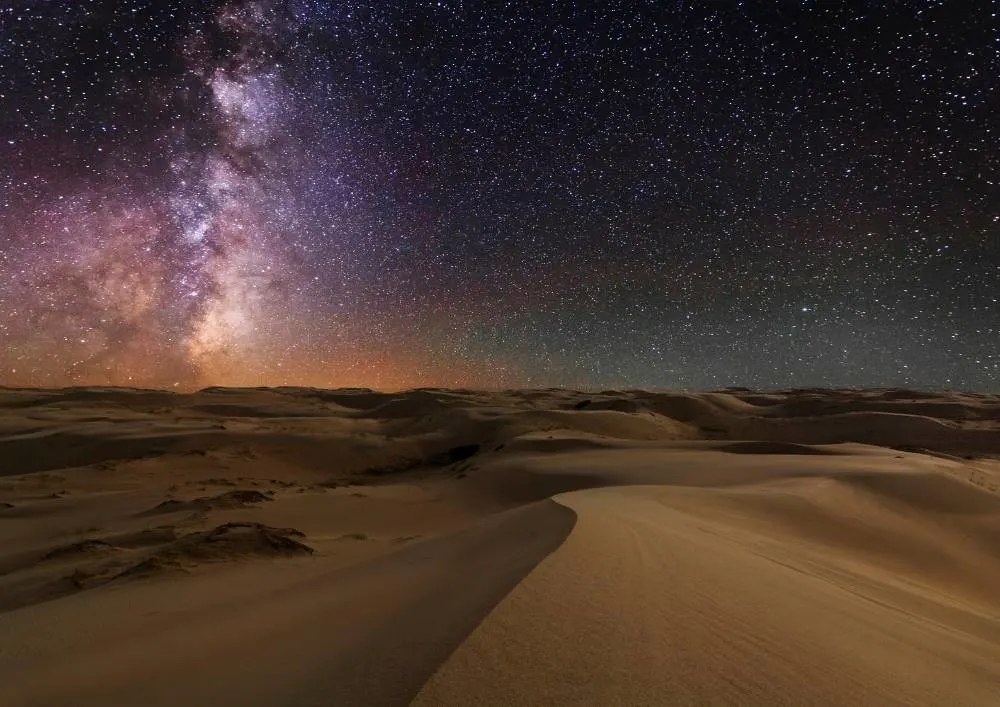 If you plan on staying the night, there are plenty of places to set up camp, and make sure you have your camera with you to capture the beautiful desert night sky.
Distance: 60 Kilometres
Difficulty rating: Intermediate/ Advanced
Location: Umm Al Oush
Liwa Crossing
For anyone who is looking for a challenge Liwa Crossing is the one to try. It is the tallest dune in the United Arab Emirates and has some very tricky crossings. Hence, the Liwa crossing route may take up to a day and a half to two days to complete.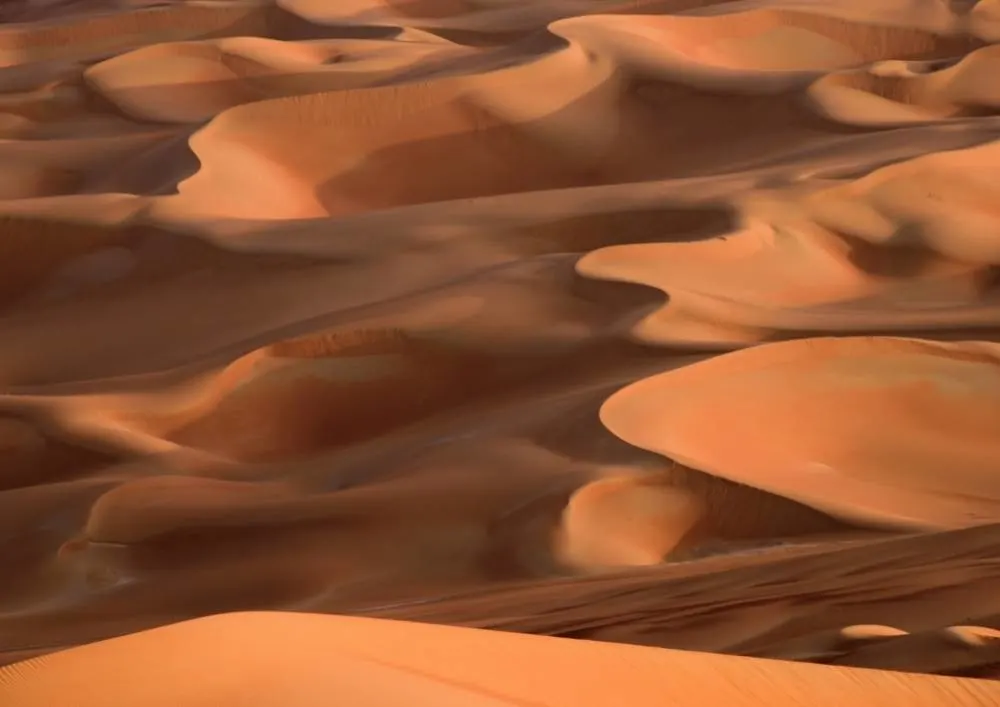 Be aware the Liwa crossing route is extremely remote, so make sure to pack everything you need and prepare for some technical driving.
Despite the challenges, the rewards are worth it. Whether it's the forests near Al Mirayr or the salt paths near Bateen Liwa, the journey is worth it for thrill seekers.
There are plenty of places to pitch a tent, including one of the amazing desert resorts, Qasr Al Sarab Resort by Anantara, if you fancy treating yourself to a night of luxury after all that driving.
Distance: 109 Kilometres
Difficulty: Advanced
Route coordinates: Liwa Crossing
Al Khazna
Al Khazna is the shortest desert trail compared to the above mentioned.If drivers have taken the route before they can complete it in about four hours.
This route is easier to tackle with a long-wheel-based vehicle that has a two inch lift kit. It features steep climbs, sharp drops, deep bowls, and highly technical dunes so prepare yourself for an adrenaline rush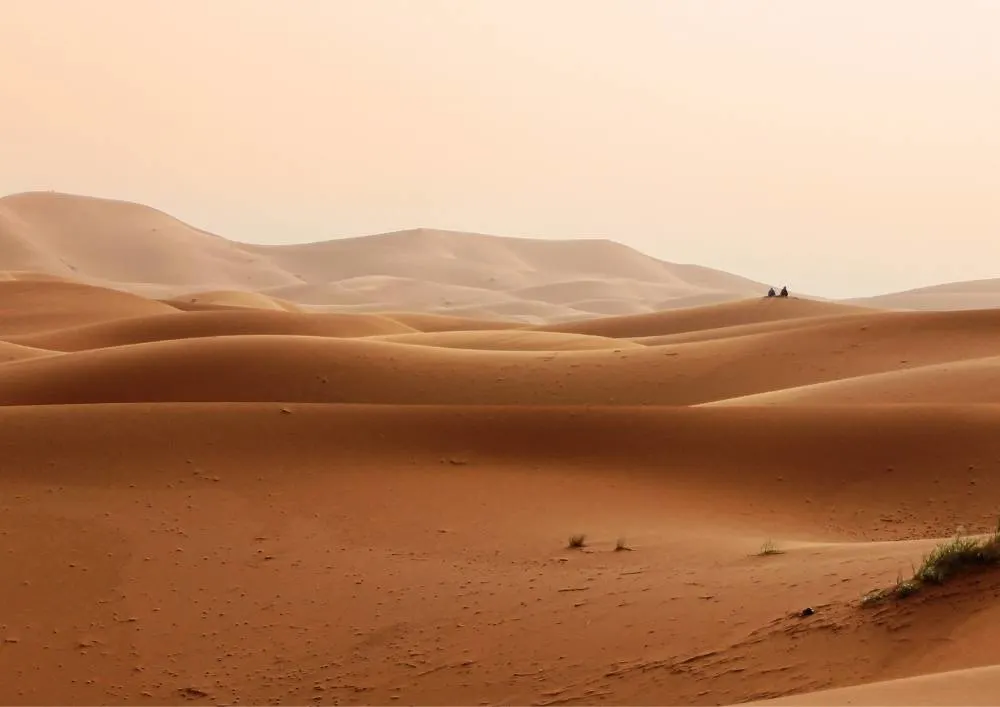 Al Khazna has so much to offer! Besides an oasis, camping area and starfish dunes, you can also enjoy the surrounding desert landscapes and epic sunsets.
As you travel through the dunes, you'll see abandoned old cars sinking into the sand. For those who want to spend the night, there is also a desert safari camp on the route.
Distance: 45 Kilometres
Difficulty: Advanced
Location: Al Khazna
The Risks Of Solo Off-Road Driving
Many vehicles frequent the desert sands for various reasons. There is, however, a crucial difference between drivers who do it professionally for work and amateurs.
The professionals are always prepared in three crucial areas: communication, route and support.
Communication
A mobile phone is essential as well as service provider. Etisalat assures states there is complete coverage over all the UAE land territory – but relying solely on one device is not all foolproof.
Always make sure to carry a radio transponder with you.
Route
In the course of driving on sand for professional reasons, drivers do not take detours. There is a fixed route they follow and their employers know it as well.
In the event they go missing, their location is usually quite easy to pinpoint. The "commercial" routes across the desert are also shared by all other vehicles.
Some are even as wide as motorways so it is quite likely other vehicles will pass by within a few hours.
Support
Most often, people lack the resources to launch an operation deep into the desert. There are some organisations who are able to do so without the need for emergency response teams.
It is always a good idea to carry the basic off-roading safety kit, even if there may be assistance available. If you need an emergency assistance, call 999.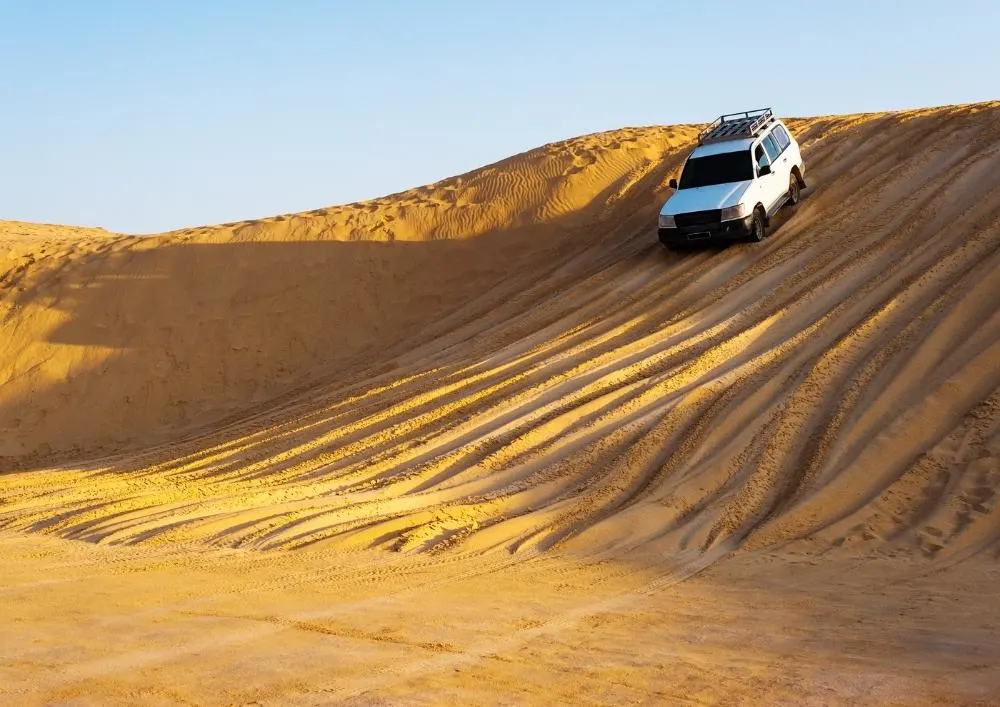 Leaving tarmac roads alone would certainly not be a good idea without your communication, route, and support figured out.
A desert rule of never going out alone should certainly be considered by weekend off-roaders who venture out in unfamiliar terrain without a clear route.
On those rare occasions you may plan to go out driving alone, it is important to have backup on all three lines:
Share your route and destination and stick to it, the reason being, someone can come get you or reach out to you in cases of an emergency.
Always make sure to keep a backup communication device handy at all times. There's more to it than just one problem that needs to be addressed.
It's when there are multiple failures occurring simultaneously, such as your 4×4 rolling over, physical injury or even losing your mobile device.
This is when training, experience, the right equipment and knowledge of local conditions are most valuable.
Whether you are a newbie to the off-roading scene or a well-versed professional, you must always be careful and take precautionary measures especially when driving on soft sand dunes with temperatures exceeding 40°C.
Desert Driving Course Abu Dhabi Frequently Asked Questions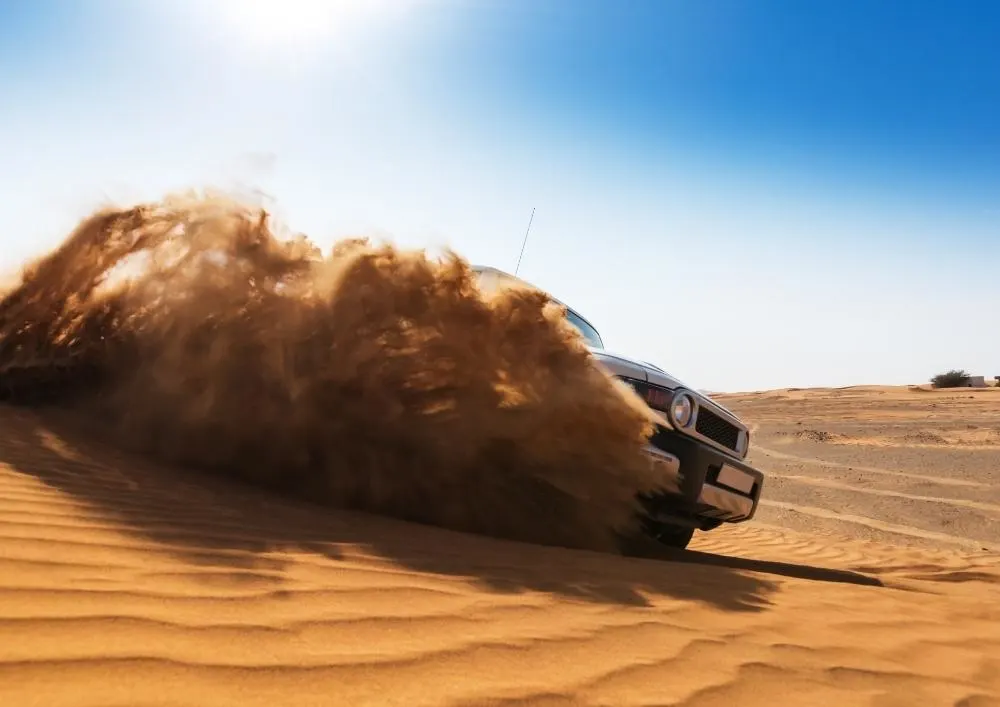 What are the eligibility requirements for undertaking a desert driving course in Abu Dhabi?
You must be a resident of UAE.
You must hold an original & valid 6 months UAE car driver's license.
Height requirement of 140cms minimum.
Do I need to own a 4WD for the desert driving course?
Participants should bring their own 4WD or be able to rent one during the duration of the desert driving course Abu Dhabi. If you are 25 years old or older, you can hire a 4WD from the course provider itself.
Check out the best car rentals deals in Abu Dhabi.
Is it possible for all-wheel drive vehicles to drive on sand dunes?
No, the AWD vehicles are not the best option to drive on sand. If you've got a full-time AWD road car, you can do a limited amount of deep sand cruising. However there is probably not a lot of ground clearance.
Can I drive to a desert in Abu Dhabi?
Yes, you can! Visiting Abu Dhabi's desert dunes is a once-in-a-lifetime experience for off-road enthusiasts, but never venture out alone.
How far is the nearest desert from Abu Dhabi?
A desert location that is closest to Abu Dhabi would be Al Remah, which is 67 kilometers in the direction of Al Ain.
To Summarise…
No matter which off-road club or institute you choose, the basics of desert driving course Abu Dhabi or anywhere else in the UAE will remain the same.
Safety will always take precedence, including proper handling of vehicles, maneuvering tricks in the desert and recovery equipment use.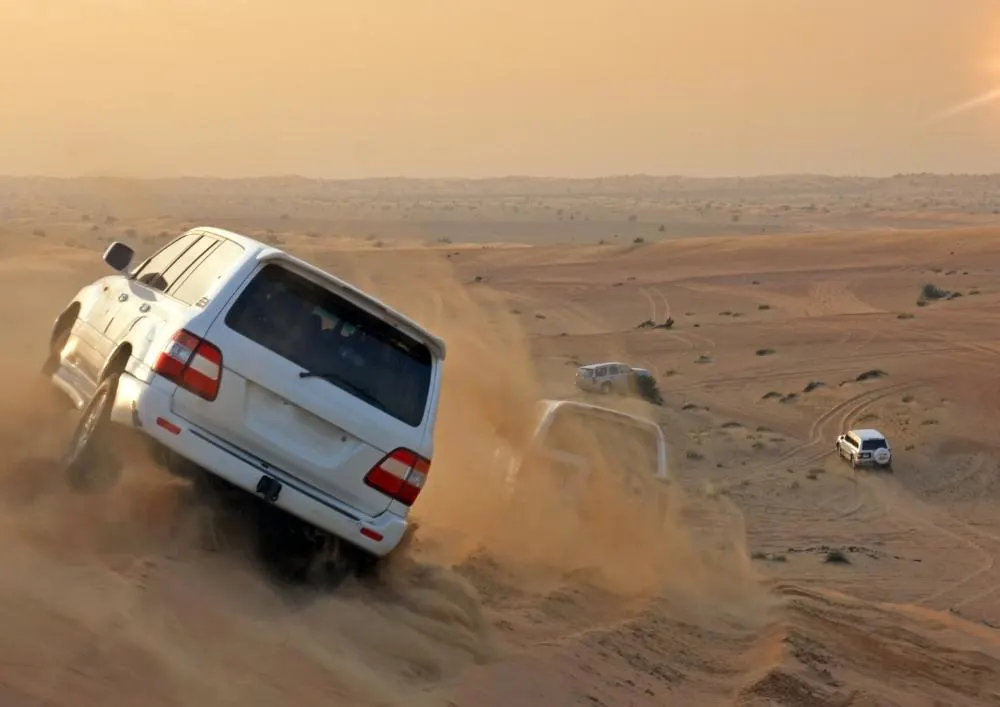 Driving in a group is advisable even after you have completed your desert driving course Abu Dhabi. Other drivers can help you in case of any incident, and also due to limited cellular service in the dunes.
If you are an Abu Dhabi resident or a tourist visiting Abu Dhabi for a short trip and would still love to experience the thrill of off-road driving in the desert, don't fret, you can always venture out and check out the handful of desert safaris that the Capital has in store for you.
Essential Tips For Driving Off-Road
Beginners and experienced off-road enthusiasts will for sure enjoy Abu Dhabi's impressive desert dunes, but a little rain checking will go a long way.
You are required to have the appropriate UAE drivers license.
Make sure your vehicle is a 4×4, capable of tackling the monstrous sand dunes.
Ensure your car is fully serviced and that it is insured for off-road use.
Make sure you have plenty of food and water, as well as a first-aid kit and a spare tire.
Understanding how to tie an effective knot on a tow hitch, as well as, know how to tow another vehicle off-road.
Always keep a checklist of the essential tools such as a shovel, recovery rope, jump starter, air compressor, tire repair kit, and a traction board.
Never go alone, make sure you're accompanied by at least three other four-wheel-drive vehicles.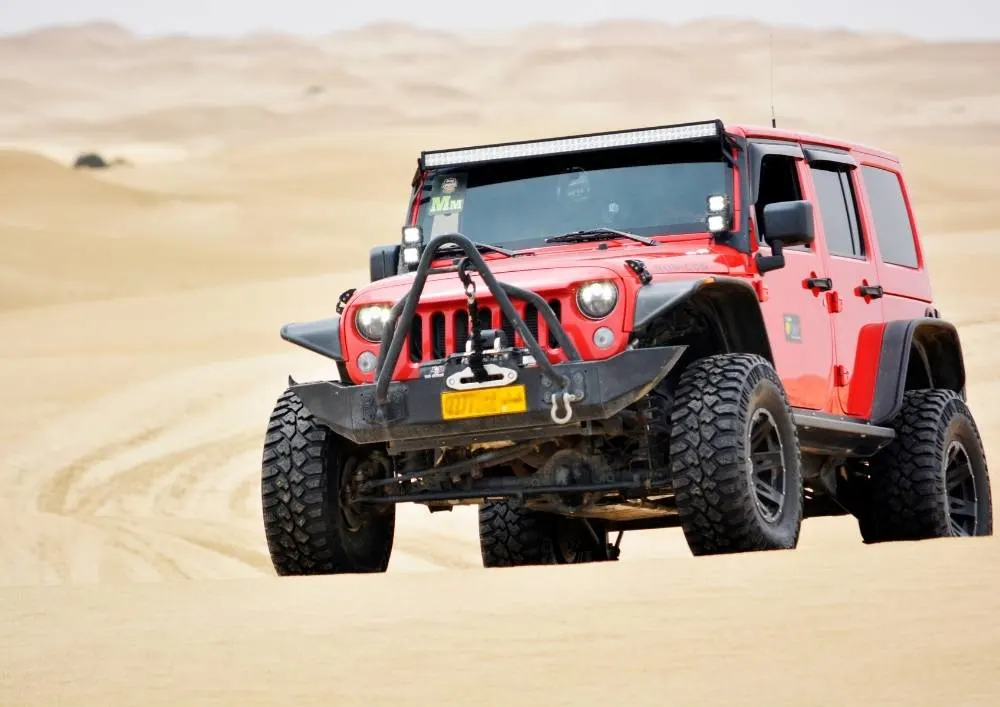 Do you know of any desert driving academies or any secret off-roading trails around in Abu Dhabi that we may have missed? Do let us know!
You may also like,
12+ Eid Staycations In The UAE
Stunning Insta Spots In Abu Dhabi
12 Top Things To Do On Yas Island
Disclaimer: This post may contain affiliate links, by using them, it does not cost you any extra, we get a teeny commission. Thank you in advance for your support.