With Etihad being a renowned carrier for travellers to long-haul destinations, many transit passengers make a quick Abu Dhabi stopover.
It is no secret Abu Dhabi and Dubai are top-rated destinations for travellers. Whilst we always recommend staying at least a few days, an Abu Dhabi stopover can be fantastic whether you plan to leave the airport or not!
With Etihad becoming an increasing competitor of Dubai's Emirates for long-haul flights, many transit passengers are looking to explore places in Abu Dhabi.
Abu Dhabi offers many things to see and do. Although the city has a skyline filled with skyscrapers, it is a relatively small city with highways allowing transit passengers quick and easy access to see just about anything.
Depending on the airline, layovers can last anywhere from an hour to 24 hours. If your layover extends over four hours, we suggest leaving the airport and exploring what Abu Dhabi has to offer.
With rich cultural heritage, luxurious hotels, extravagant architecture, fabulous beaches, and tons more, Abu Dhabi has something for everyone.
Abu Dhabi Layover
UAE Transit Visa Rules
In order to leave Abu Dhabi airport without running the risk of getting into trouble, visitors must have a transit visa in place. Don't forget to look into this before your arrival at Abu Dhabi airport.
Be sure to check in advance whether your passport requires a transit visa to leave Abu Dhabi airport. Listed below are countries that do not require a visa permit to enter the United Arab Emirates.
Citizens of Andorra, Australia, Austria, Belgium, Brunei, Bulgaria, Canada, Cyprus, Croatia, Czech Republic, Denmark, Estonia, France, Finland, Germany, Greece. Hong Kong, Hungary, Iceland, Italy.
Ireland, Japan, Lithuania, Liechtenstein, Latvia, Luxembourg, Malaysia, Malta, Monaco, The Netherlands, New Zealand. Norway, Poland, Portugal, Romania, San Marino, Singapore. Slovakia,
Slovenia, South Korea, Sweden, Spain, Switzerland, The United Kingdom, The United States of America and The Vatican State.
Citizens of India holding an ordinary passport and either a:
Visit visa or a green card issued by the United States of America (or)
A residence permit issued by the United Kingdom or the European Union
Can avail of a visa on arrival for a maximum stay of fourteen days, provided the above documents have a validity of at least six months from the date of arrival in Abu Dhabi.
Non-listed countries must apply for a UAE Transit Visa if their stopover lasts eight to 96 hours.
This can be applied through the airline which is most likely going to be Etihad. A transit visa lasts for 14 days and has a 150 AED non-refundable charge.
Since things can change at any point, we suggest looking at the official government website about visas.
Etihad Stopover In Abu Dhabi
Etihad provides Abu Dhabi stopover packages with a variety of options for different budgets. Take advantage of discounts on hotels, restaurants, and plenty of sightseeing attractions.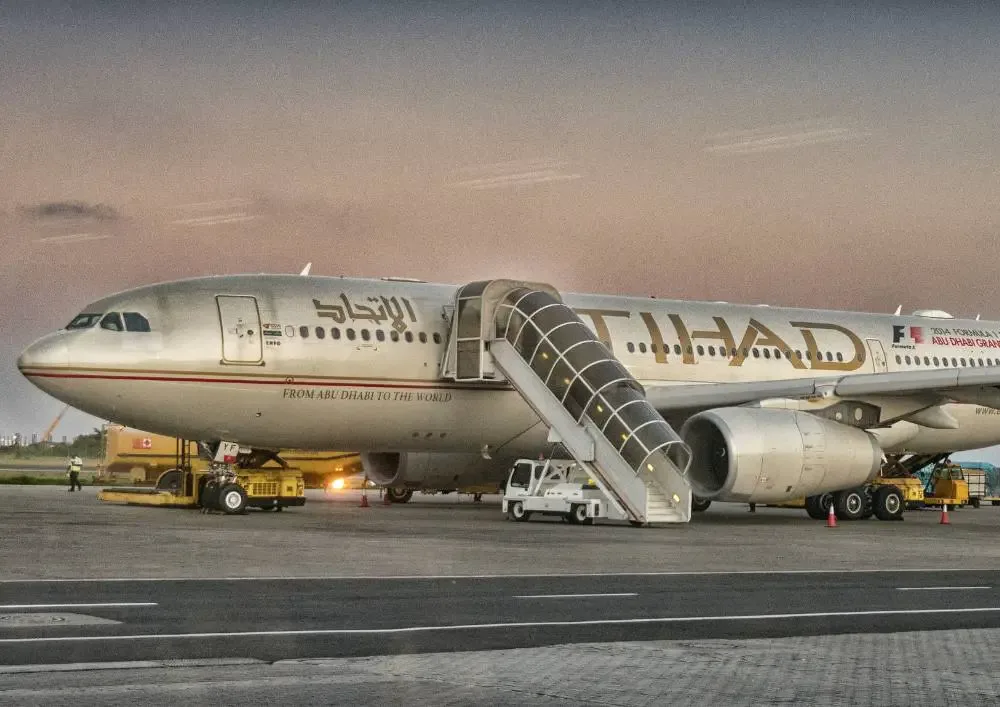 Etihad Airways offers three different options for stopovers during its international flights:
Best Of Abu Dhabi Package, passengers receive a flat 40 per cent discount on a stay at one of Abu Dhabi's premium four-star and five-star hotels for up to four nights (96 hours).
The Stopover On Us package includes free accommodation for one or two nights (24 to 48 hours) at a participating three- or four-star hotel.
Let's look at a little more detail on each of the current Etihad stopover offers.
Best Of Abu Dhabi Etihad Stopover Package
As the most inclusive of the three options, the Best Of Abu Dhabi package offers travellers a 40 per cent discount and the opportunity to stay in one of the most luxurious four or five-star hotels in Abu Dhabi.
Some of the highlights include checking in at any time, a delicious breakfast buffet and complimentary wireless Internet access throughout the stay.
Below are a few of the top Premium Hotels where guests can receive a 40% discount:
Westin Abu Dhabi Golf Resort and Spa
Anantara Eastern Mangroves Abu Dhabi Hotel
Dusit Thani Abu Dhabi
Grand Hyatt Abu Dhabi Hotel & Emirates Pearl Residences
Novotel Abu Dhabi Al Bustan
Royal M Hotel & Resort Abu Dhabi
Traders Hotel, Qaryat Al Beri, Abu Dhabi
Park Hyatt Abu Dhabi Hotel and Villas
Andaz Capital Gate Abu Dhabi
Fairmont Bab al Bahr, Abu Dhabi
InterContinental Abu Dhabi
Park Rotana Hotel Abu Dhabi
Shangri-La Qaryat Al Beri, Abu Dhabi
For more information on the list of premium hotels.
Booking in advance is necessary.
Best Of Abu Dhabi Stopover Package Eligibility
In order for passengers to be eligible for the Best Of Abu Dhabi stopover package, they must meet all of the requirements below:
A connecting flight with an Etihad operated flight
Have the option of applying for a visa on arrival or have prearranged a permit in advance to enter the UAE
Having a minimum age of 21 as a lead booker
A hotel booking from etihad.com. (Direct bookings do not qualify)
Hotel bookings at least three days (72 hours) in advance.
The Best Of Abu Dhabi package is available until December 20 for stopovers lasting two to four nights (24 to 96 hours).
Etihad Abu Dhabi Free Stopover
Stopover On Us Etihad Stopover Package
The Stopover on us package has free accommodation for one or two nights at any participating three- or four-star hotel.
Although it is quite a quick stopover there are plenty of things to see when spending one day in Abu Dhabi.
The Stopover On Us package offers a complimentary stay period of one to two nights, checking in at any time and complimentary wireless Internet access throughout the stay.
Here is a list of three- and four-star hotels offering complimentary stays for guests flying with Etihad:
Hawthorn Suites by Wyndham
Premier Inn Abu Dhabi Capital Centre
Ramada Abu Dhabi Corniche (Dry Hotel)
Traders Hotel Qaryat Al Beri
Centro Al Manhal Abu Dhabi
TRYP by Wyndham Abu Dhabi
Premier Inn Abu Dhabi International Airport
Ramada Abu Dhabi Downtown
In order to amend your stopover package, get in touch with abudhabistopover@etihad.com three working days (72 hours) in advance.
Stopover On Us Package Eligibility
Passengers must meet the following requirements to qualify for the Stopover On Us stopover package.
Eligible for a visa on arrival or pre-arrange an entry permit in advance
Book a hotel through Etihad.com. Please note that direct bookings do not qualify for this offer.
Being at least 21 years old as a lead booker
Make hotel reservations at least three days in advance (72 hours).
Taking a flight operated by Etihad as a connecting flight
The Stopover On Us package is available until December 20 for stopovers lasting one to two nights (24 to 48 hours).
Etihad Transit Connect Stopover Package
Etihad Transit Connect is the latest addition to the Etihad stopover packages. It is for the economy, first class, and business class passengers transiting between 10 and 24 hours through Abu Dhabi International Airport on Etihad Airlines.
Transit Connect offers complimentary hotel accommodation and a one-time transfer from the airport to the hotel and back.
This package is perfect for keeping stress levels down on a stopover in Abu Dhabi. The following hotels are close to Abu Dhabi International Airport and offer complimentary stays for Etihad Flyers.
Premier Inn Abu Dhabi Capital Centre Hotel, and
Premier Inn Abu Dhabi International Hotel Abu Dhabi
Passengers availing of the Transit Connect stopover package must have an active booking five days prior to arriving in Abu Dhabi.
Transit Connect Stopover Package Eligibility
Opting for the Transit Connect stopover package requires adhering to the below guidelines:
Making sure the outbound flight is complete before booking Transit Connect.
Pre-arranging an entry permit in advance or qualifying for a visa on arrival.
Being at least 21 years old as a lead booker
Minimum fares of US $500 for a one-way flight and US $750 per person for a return flight, including taxes.
Flying to and from with an Etihad connecting flight.
Not travelling between the following destinations: Amman, Bahrain, Cairo, Dammam, Doha, Istanbul, Jeddah, Khartoum, Kuwait, Lagos, Lebanon, Medina, Muscat, Nairobi, Riyadh, Seychelles and Tel Aviv.
Stopovers lasting 10 to 24 hours are eligible for the Transit Connect stopover package if bookings and travel are completed by December 31.
For more information on the Transit Connect stopover package.
How To Book Etihad Abu Dhabi Stopover Packages
The process of booking a stopover package with Etihad is as simple. Take advantage of the stopover program by:
First, book the itinerary of your choice for the multi-city flight, with the connecting airport being Abu Dhabi (AUH).
Take note of the itinerary or the reference number and select the preferred stopover package (Best of Abu Dhabi, Stopover on us or Transit Connect).
Input your name and check the availability of the preferred hotel.
For those looking to explore Abu Dhabi, the boarding pass doubles as an Extraordinary Abu Dhabi Pass.
With exclusive deals on dining, theme parks and experiences, beaches, spas and tons of activities, visitors can save up to US $800 during a five-day layover.
Click here to find out more about the participating outlets.
Free Bus Service To Explore Abu Dhabi
The A19 bus service from Abu Dhabi National Airport is available free of charge to travellers who wish to explore the main tourist attractions in Abu Dhabi, including Yas Island and the Louvre.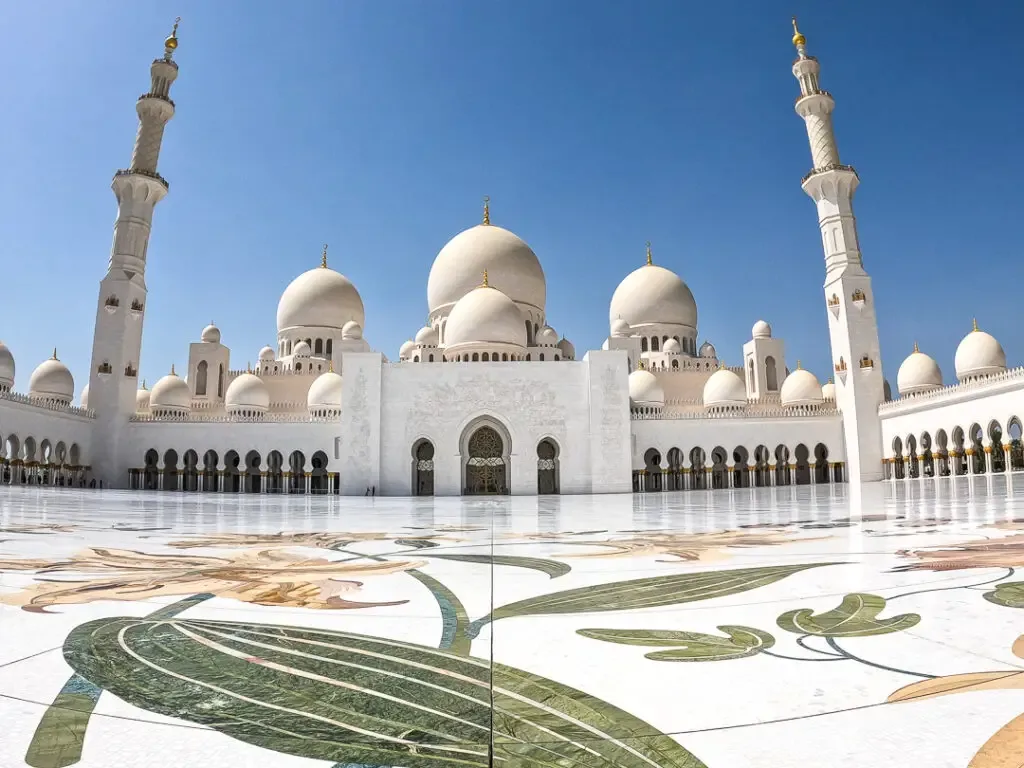 The alternate option is making use of public transport for free. Bus stops are just outside the departures area of Abu Dhabi International Airport.
For details on the A19 bus route.
Public transport can be time-consuming, so if time is of the essence, we recommend booking a private tour for a couple of hours.
For more information on things to do in Abu Dhabi for free.
Airport Luggage Storage
Luggage storage can be found in the terminal 1 arrival hall. Those wishing to store their luggage at the airport must fill in the necessary documentation, sign a disclaimer and provide a passport to avail of the service.
It is mandatory to scan and attach the baggage tag and collect a receipt before storing the bags.
After your Abu Dhabi stopover, claim your baggage by providing the officials with an Identification document (passport) and receipt. We recommend packing hand luggage with essentials to avoid the hassle.
Priority Pass Lounge Access
Priority Pass membership entitles flyers irrespective of the airline to complimentary access to approximately 1,300+ lounges in over 600 countries.
Not to mention, access to extra benefits such as spa treatments, massage rooms and sleeping areas. Each level of membership is customisable to meet different needs.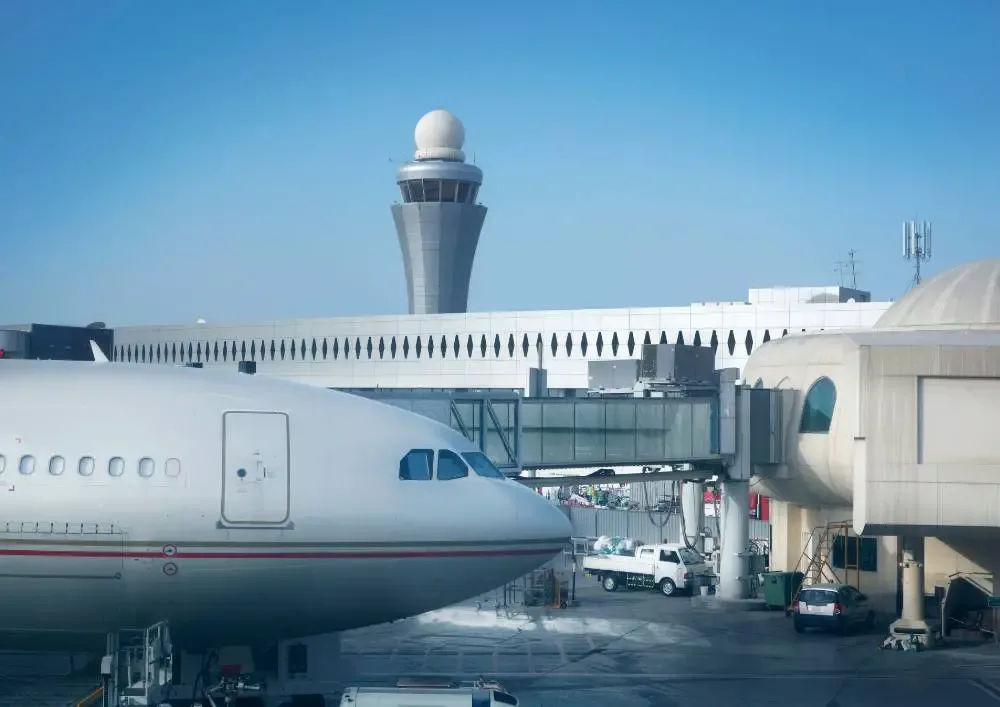 The benefits may vary depending on the credit card and membership level, however, the pass typically grants access to a wide variety of amenities.
Knowing which card offers the most value and the different levels of access can help decide which membership works best.
Priority Pass membership is not automatic. It is important to enrol online to receive certain services.
For more information on Priority Pass.
Some of the top benefits of holding a Priority Pass at Abu Dhabi International Airport include:
Limited complimentary visits and discounted prices to the Al Dhabi Lounge in Terminal 1 and Al Ghazal Lounge in Terminal 2.
Complimentary high speed internet
Airport dining, retail and spa discounts
Free membership to WithU, a premium fitness app offering a hyper-personalised training experience.
Duty-free online shopping ahead of time
Private airport transfer bookings within the Priority Pass app.
Car rental bookings with discounted rates.
Priority Pass Membership Fees
As part of the Priority Pass program, there are three tiers available. The standard pass, standard plus pass and the prestige pass.
The Standard Priority Pass membership is for the occasional traveller who wants the security of lounge access when travelling.
Cost: USD 99 plus standard entry fee of USD 35.
Guest Visit Fee: USD 35
Standard Plus Priority Pass membership is ideal for people who regularly travel for business or pleasure.
The annual fee includes ten complimentary lounge visits. After that, there is a charge of USD 35 per visit in addition to the yearly fee.
Cost: USD 329 plus a standard entry fee of USD 35 after ten free lounge visits.
Guest Visit Fee: USD 35
Prestige Priority Pass membership caters to meeting the needs of frequent travellers.
All prestige members receive complimentary access to select lounges for the duration of the membership.
Cost: USD 469
Guest Visit Fee: USD 35
For more information on lounge access with Priority Pass.
Best Things To Do During A Stopover In Abu Dhabi Airport
If you plan to leave the airport for a few hours, there are tonnes of nearby activities, cultural sites, beach clubs and restaurants within minutes of leaving the airport.
Similarly, if you plan to stay a night, keep reading to discover some fantastic hotels near the airport, perfect for a stopover in Abu Dhabi.
Spend A Day At The Beach Clubs
With more than 200 islands in Abu Dhabi, there are some stunning beaches in the Emirate. Located on the Arabian Gulf, the capital boasts stretches of pristine white sand beaches.
There are quite a few beach clubs to choose from and often they are attached to nearby hotels.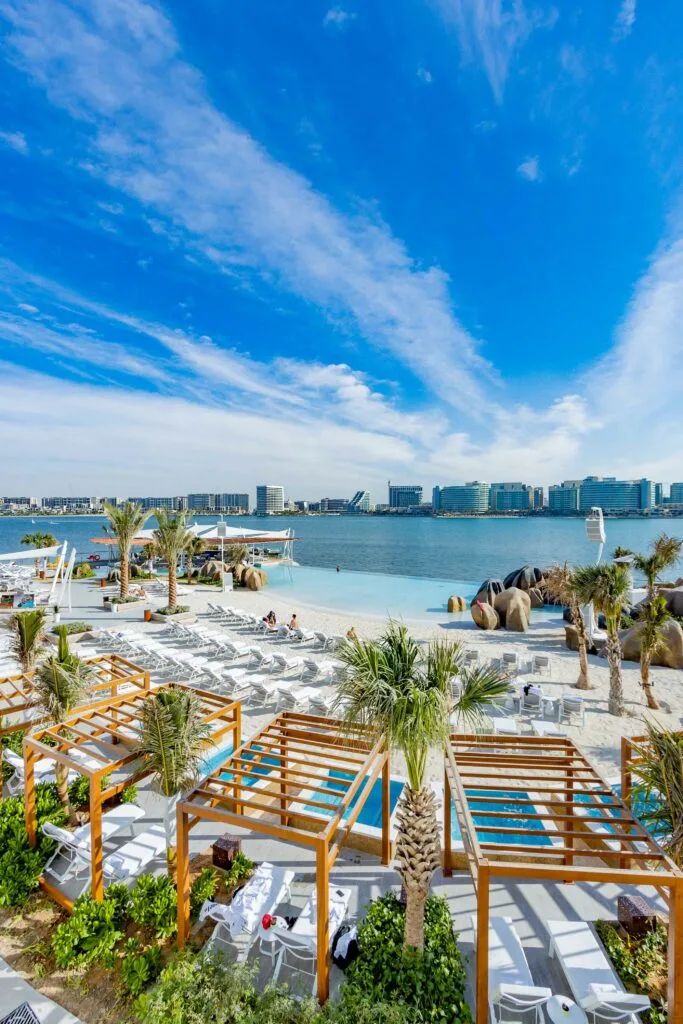 One of the closest beach clubs to the airport is Cafe Del Mar. It is a popular location for influencers and celebrities.
With great music, swimming pools and delicious food, it's perfect for those wanting some sun and maybe a little party if your layover is at night.
Although Cafe Del Mar is considered a beach club, it does not actually have a beach but the pool is amazing!
Distance to the airport: Approximately 11 minute drive to Abu Dhabi airport.
Check out this guide to Abu Dhabi beach clubs.
Explore Scenic Beaches In Abu Dhabi
Abu Dhabi is home to many private as well as public beaches. Some are free to enter, while others may require a minimal entry fee.
All UAE beaches are well maintained and safe for swimming, not just in Abu Dhabi but across all Emirates. All of the facilities are well-kept and usually have showers and changing rooms.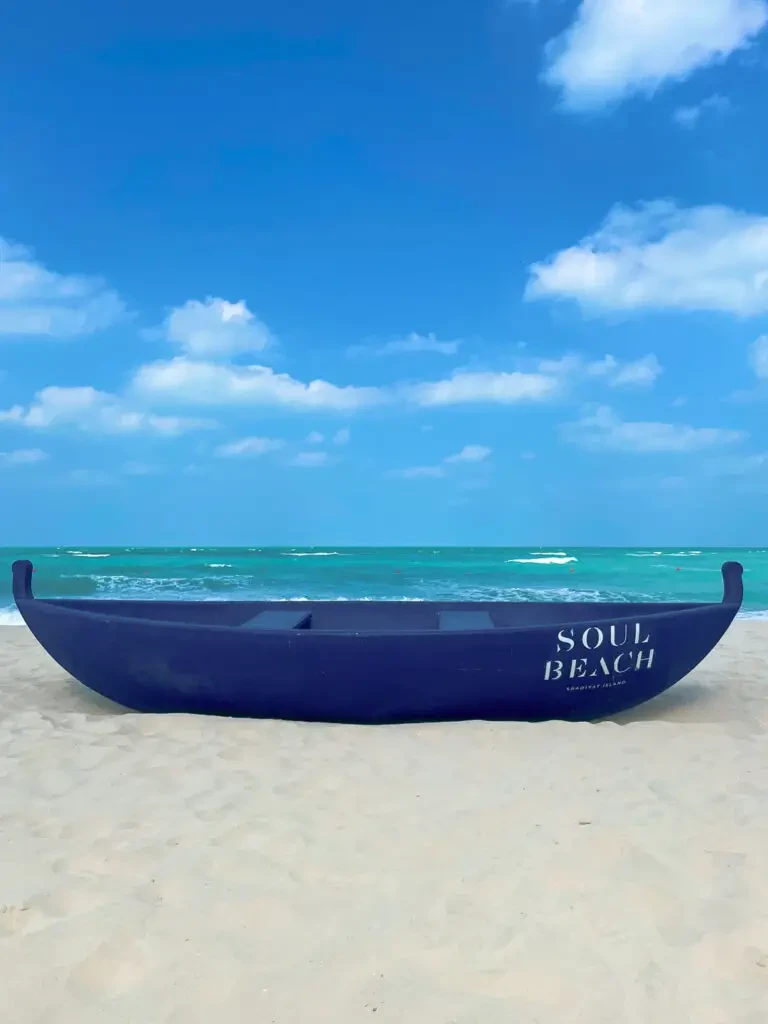 The nicest nearest beach to Abu Dhabi airport is Yas Beach. It has an entry fee of 50 AED or 25 AED for children. It is more expensive on the weekends. The fee includes a lounger and use of all the facilities.
Distance to the airport: Approximately 12-minute drive to Abu Dhabi airport.
If you prefer to visit a free beach, we suggest heading to Al Huradiyat Beach which has lots going on in the area with restaurants, food trucks, high rope obstacle courses and splash pools for kids.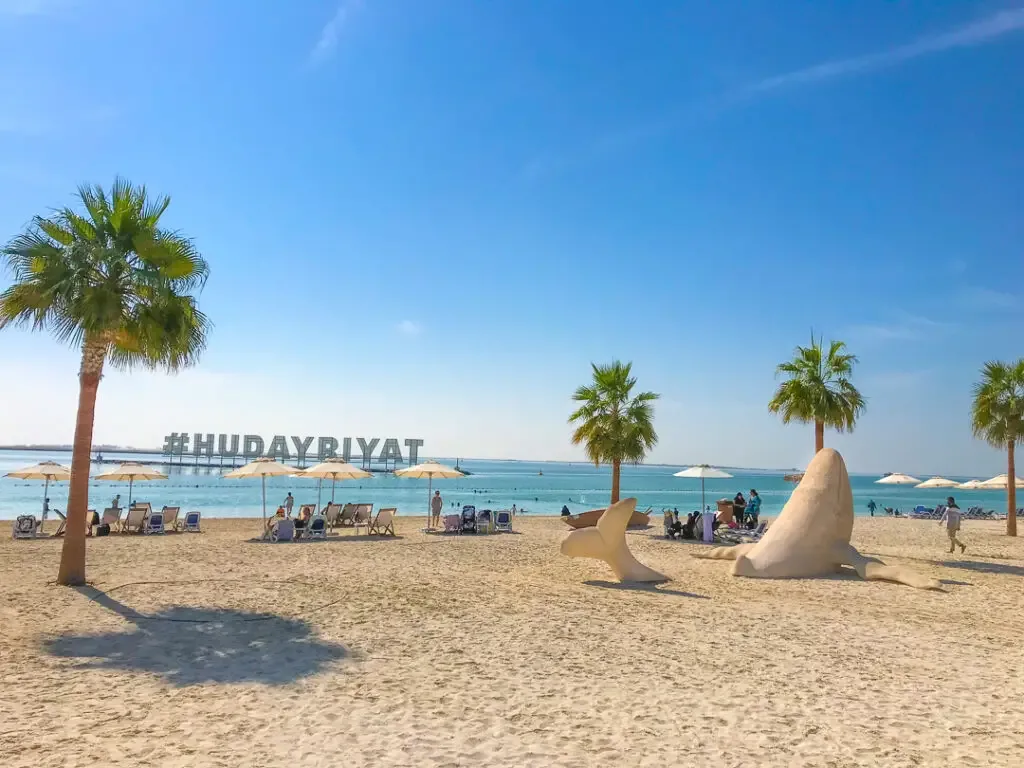 Distance to the airport: Approximately 25 minute drive to Abu Dhabi airport.
Check out this guide to Abu Dhabi beaches.
Private Tour Including A Trip To The Sheikh Zayed Grand Mosque
For those wanting to see the key attractions on a quick whistle-stop tour, a private guide is a perfect option.
If you are visiting Abu Dhabi and have 8 hours to spare, we recommend ditching the cabs and public transportation and booking a private tour.
The tour package covers the top attractions. It begins with a view of the magical Sheikh Zayed Grand Mosque, which houses the world's most stunning crystal chandelier.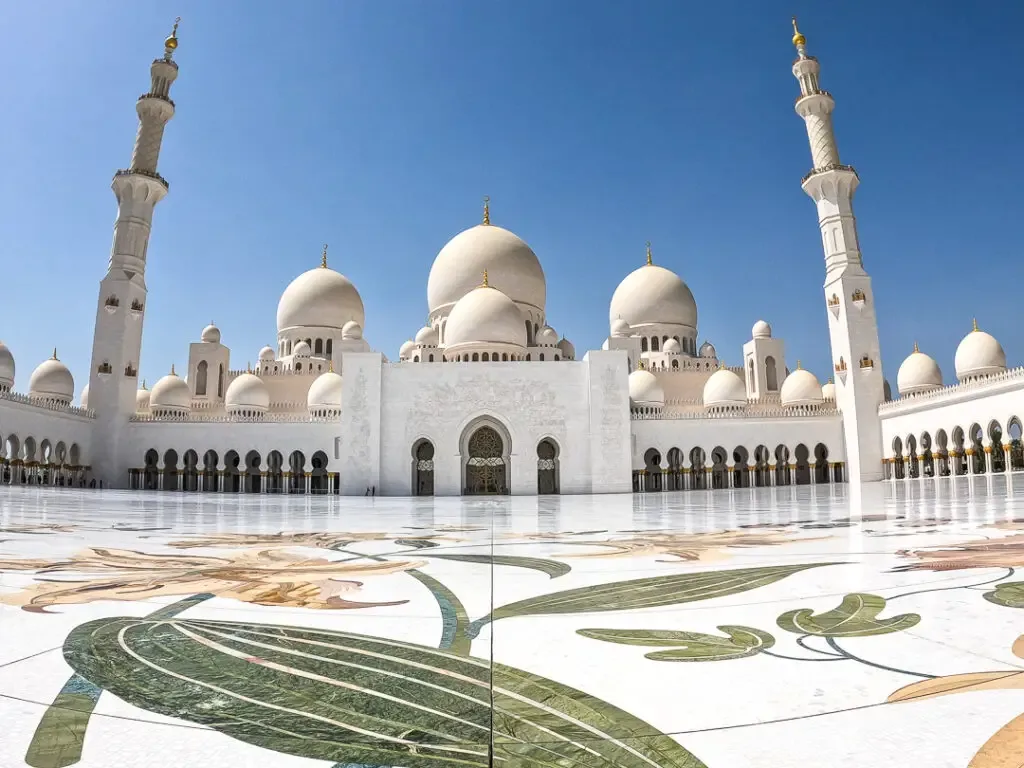 Marvel at the soaring domes and minarets as the natural light bounces off the marble. This mosque is also on our list of top Instagrammable spots in Abu Dhabi.
If you plan to go inside the mosque, it is worth checking this guide on what to wear.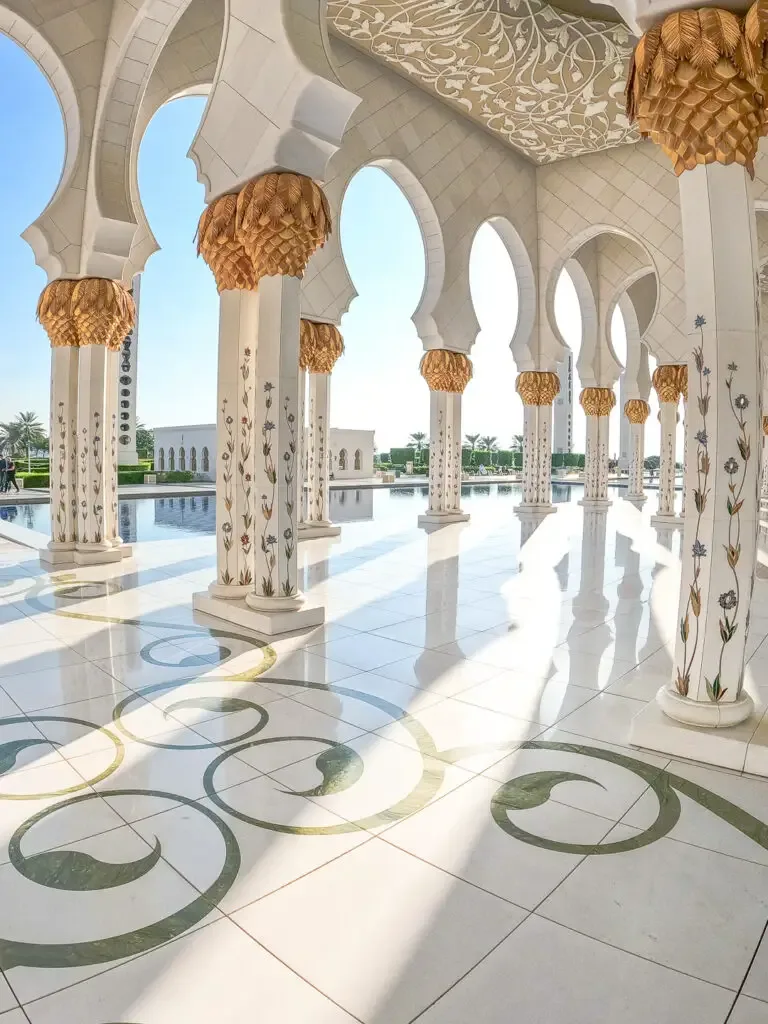 Other highlights of the tour can include traditional markets or souks and a drive along Abu Dhabi Corniche and its beaches. There is also an option to visit Heritage Village and learn about Bedouin life.
The trip will take around four hours, which is perfect since the tour guide will pick you up and drop you off at the airport.
If there is something particular you'd like to see, for example, Long Salt Lake, guides are flexible, so just ask!
Time needed: 4 hours
Book your Private Abu Dhabi Tour.
Explore Yas Island
Yas Island is very close to Abu Dhabi Airport. In fact most of the time you can see the planes about to land as they pass over Yas.
Exploring Yas Island is possible with 8 hours to spare. Whether you are a foodie or an adventure seeker, Yas Island has lots going on.
Check out our detailed guide on what to do on Yas Island.
Below is a list of the top places on Yas Island to consider on a stopover in Abu Dhabi.
Ferrari World
Ferrari World is the world's most expansive indoor theme park holding two records. It houses the world's fastest roller coaster, Formula Rossa. It also has a roller coaster with the highest loop in the world, The Flying Aces.
Once you've experienced the rollercoasters, drive one of Ferrari's digital versions of the Yas Formula 1 track in a race car simulator.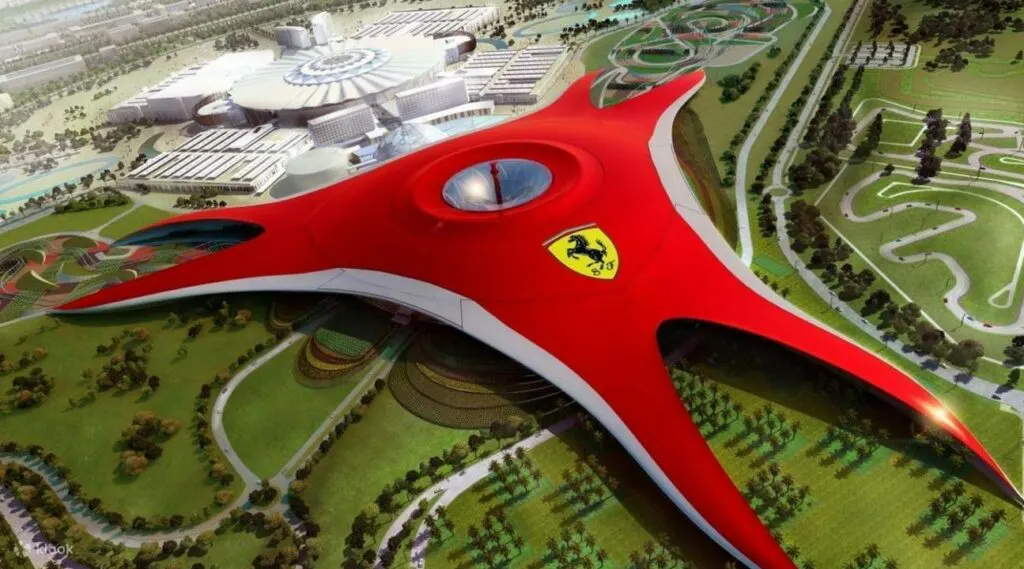 If you are stopping over in Abu Dhabi with kids, Ferrari world is a great option. If your stopover happens to be in the middle of UAE summer, Ferrari World is mostly indoors so is a great option to escape the desert heat.
There are many dining options at this indoor theme park, including Mamma Rossella, a favourite among many guests for Italian pizza, pasta, and salads. Il Podio, which serves Arabic, Indian and Western cuisine, and Officers Food Quarters, which serves burgers, Italian pizzas and sandwiches.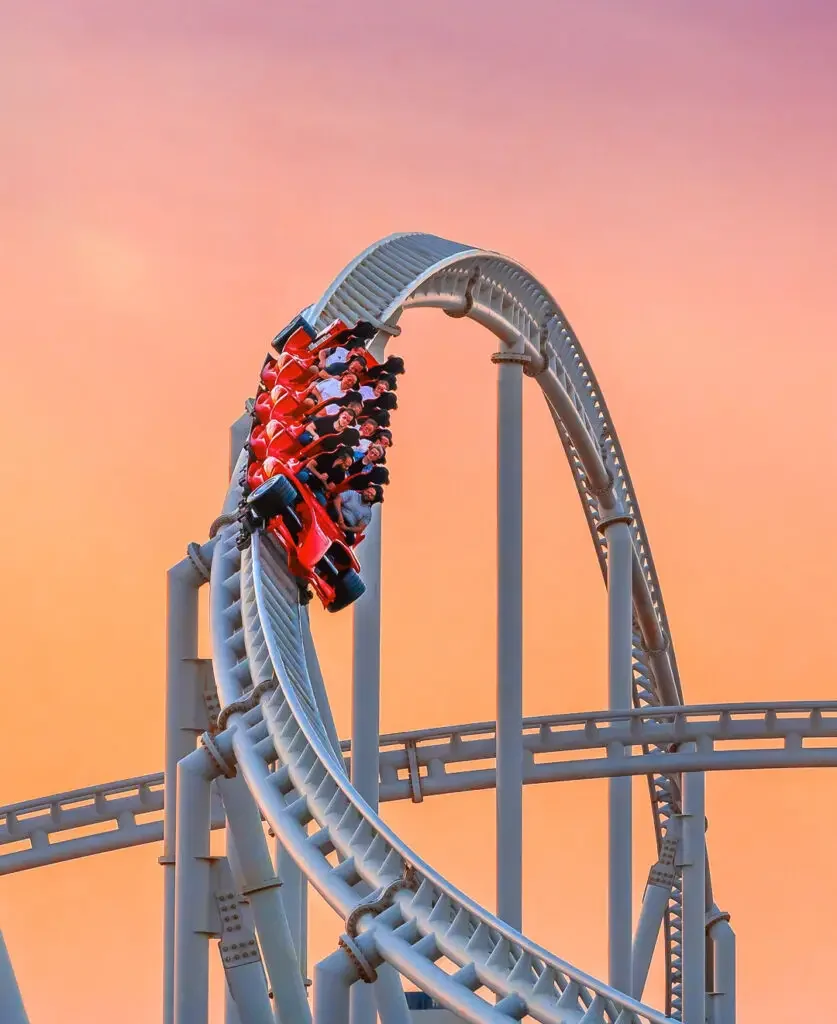 Those looking for a quick coffee, pastry, or delicious homemade gelato should visit Espresso Rossa.
Sometimes queues can be long for the top rides.
Time required: 6 hours
Distance to the airport: Approximately 12 minute drive to Abu Dhabi airport.
Yas Mall
Both locals and visitors stopping over in Abu Dhabi love Yas Mall when it comes to shopping. The mall is the largest in Abu Dhabi and the second-largest in the United Arab Emirates.
Housing over 370 shopping stores, 60 restaurants and cafes, and a 20-screen Vox Cinema. it's an ideal spot to spend a few hours before taking off on the next flight.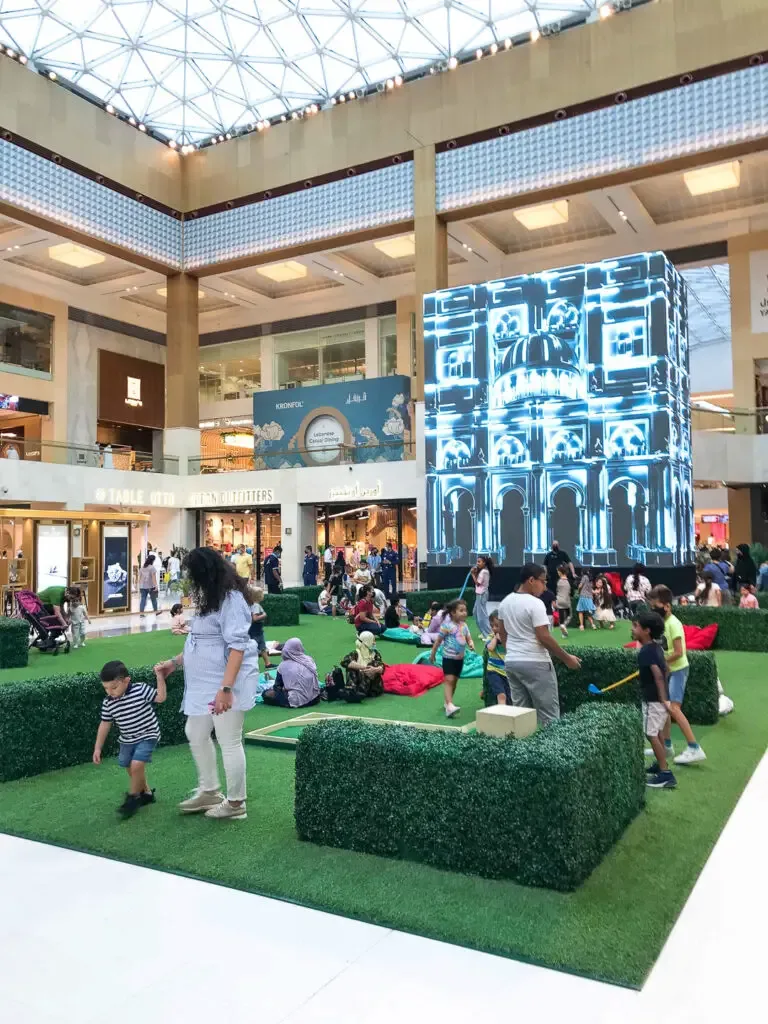 Exploring the mall is going to take, at the very least, two to three hours. Aside from the shops, there are lots of indoor activities. One of the most popular is CLYMB, the world's tallest indoor climbing wall and skydiving tunnel.
The activity requires an advance booking so it is best to be organised.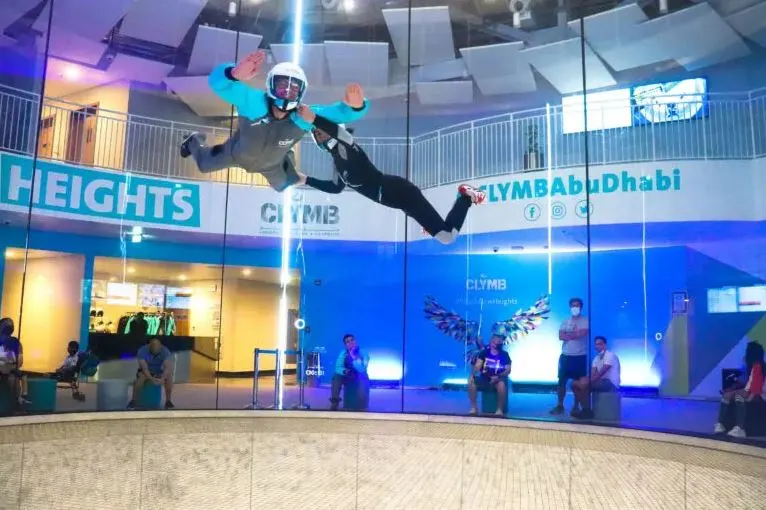 In the same area as CLYMB, there are quite a few restaurants referred to as Yas Fountains. From fast food to traditional Emirati food there are quite a few options.
Distance to the airport: Approximately 12-minute drive to Abu Dhabi airport.
Warner Bros. World
With impressive effects, guests enter into childhood favourites like Bedrock, Cartoon Junction, Gotham City, and Metropolis. A fun place to visit for both kids and adults. There are plenty of rides to suit all ages, although some have a height restriction.
Book your Warner Bros. World pass
Distance to the airport: Approximately 12-minute drive to Abu Dhabi airport.
Desert Safari
Most tourists who visit Abu Dhabi end up doing a desert safari tour. it is certainly one of the most fun things to do.
For a desert safari, you'll need very specific time availability as all of the tours depart at around 3 PM in the afternoon so the heat is not too much. The sun sets an hour after arrival and it takes about an hour to get to the camp.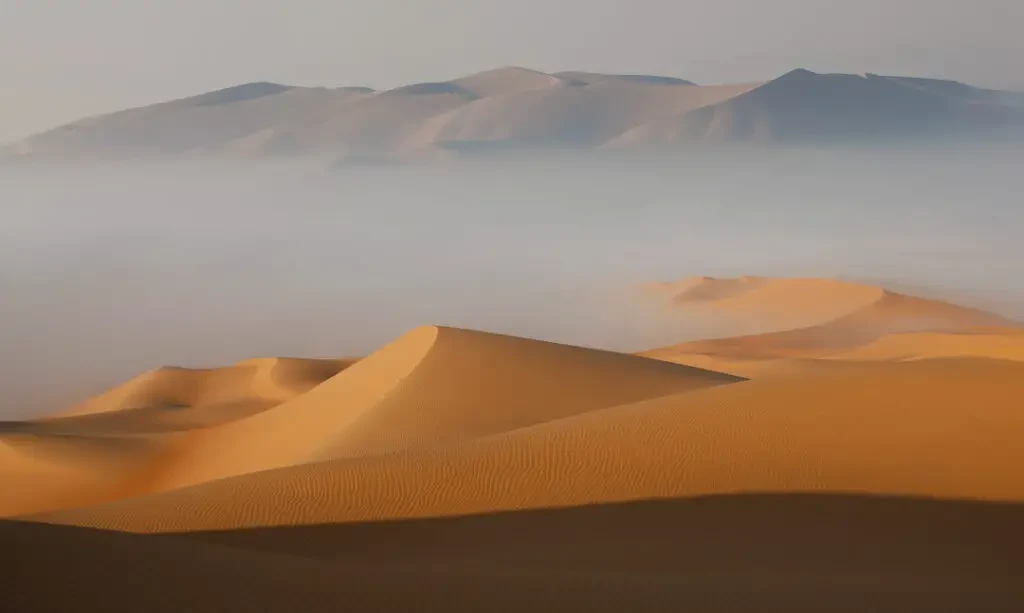 It's important to book in advance, a driver will pick you up from the airport or hotel depending on where you are. The transfer is all part of the price.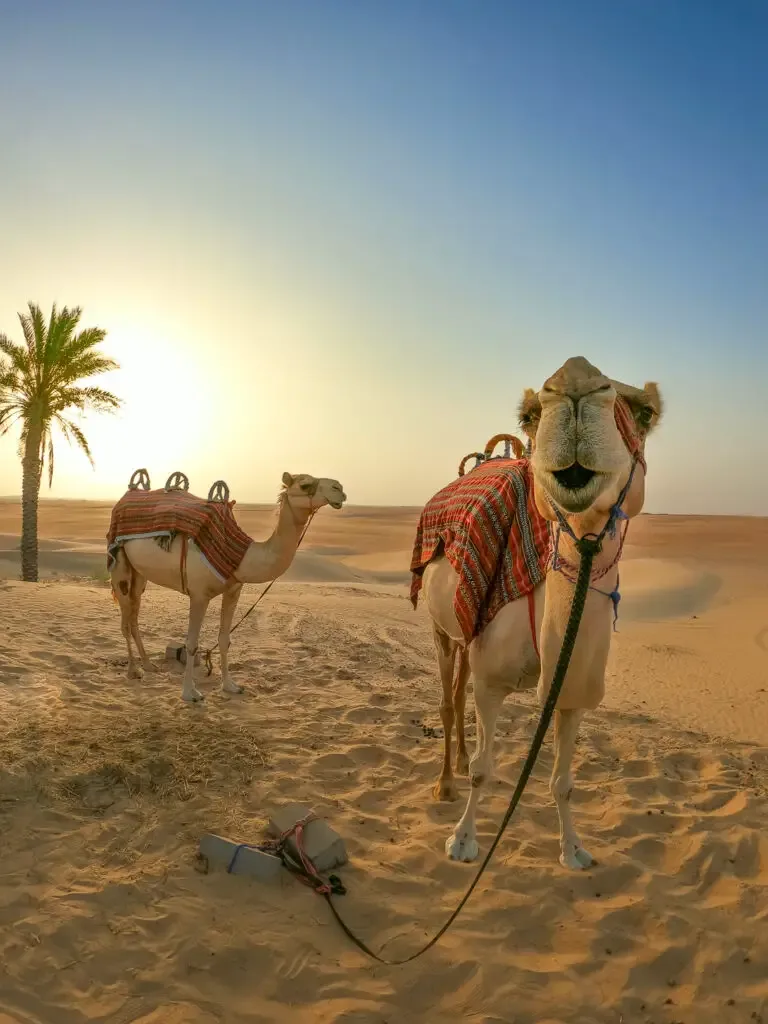 The desert tour includes optional dune bashing in a 4×4. It may not be ideal for kids or those who experience car sickness. We suggest taking armbands for motion sickness just in case.
After some dune bashing, you'll be taken to a camp where camel rides, dune boarding, henna painting, a shisha lounge and dressing up in traditional attire activities are available. If you want, head straight to camp without the dune bashing!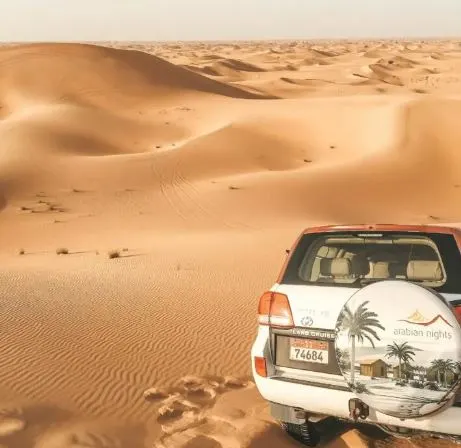 Afterwards, a traditional buffet dinner is served along with dancing and music entertainment before the evening draws to a close.
Timings: Most safari tours leave around 3 PM and return around 9 or 10 PM. Consider the local time of your arrival and the next departure if you are on a tight schedule.
Hotels Near The Airport For An Abu Dhabi Layover
Abu Dhabi is home to a variety of hotels offering unique experiences. Choose from lavish palace-style properties, desert resorts, and high-end glamping. not to mention, beachfront hotels, or hotels with private pools.
To make the most of staying at a nice hotel, stay for at least a couple of nights. Here are our top picks close to the airport.
Check out these posts if you have a more specific need like an apartment hotel or family-friendly hotel, or beach hotel or maybe hotels with waterparks.
Hilton Yas Island
Hilton Abu Dhabi has a prime location on Yas Island in close proximity to Yas Bay, Yas Mall, Ferrari World and Yas Waterworld.
With their stylish design and large windows, the hotel rooms offer breathtaking views of the pool as well as the bay.
The hotel offers range of facilities, from comfortable seating and working areas to interactive televisions and a variety of bars and restaurants with views.
Every guest booking a room at the resort gets complimentary access to one of the theme parks and Yas Waterworld.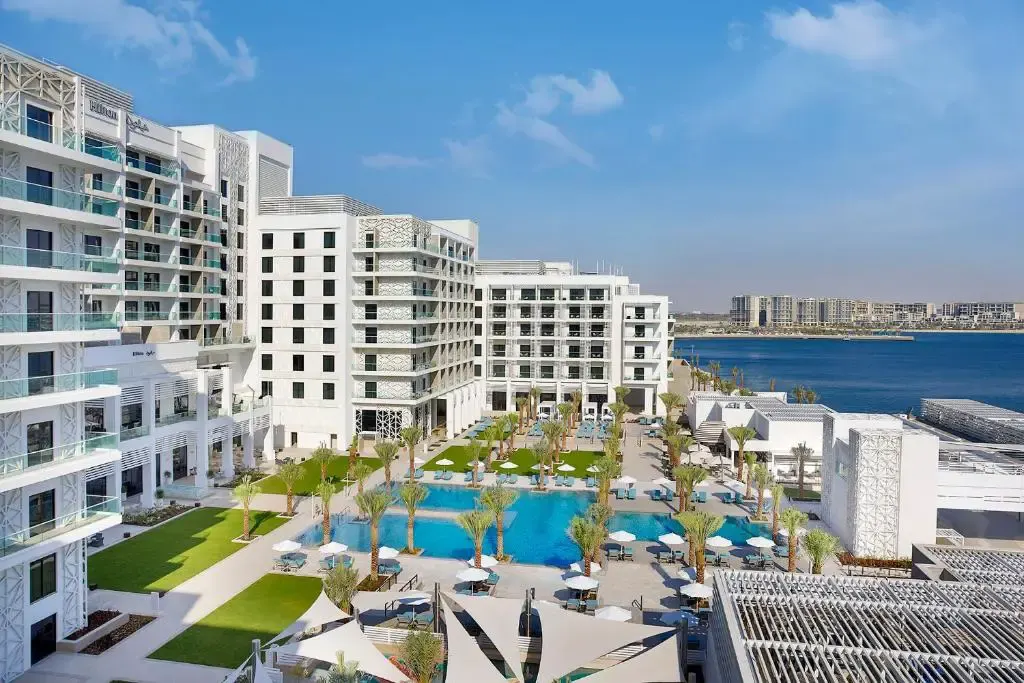 Among the top amenities are an outdoor temperature-controlled swimming pool, a fitness centre open 24 hours a day, a spa with the most luxurious treatments and a kids club with a splash pad.
Hilton offers separate facilities for women and men with a whirlpool, steam room, sauna, and relaxation room.
Hotel guests have direct access to the Yas Bay Promenade Waterfront and the Cafe Del Mar beach club.
Book your Abu Dhabi stopover at Hilton Yas Island.
Driving: Approximately 11 minutes from Abu Dhabi Airport
Location: Yas Bay – Yas Island – Abu Dhabi – United Arab Emirates
Shangri-La Qaryat Al Beri, Abu Dhabi
Aside from its breathtaking views of the water channels, Shangri-La Qaryat Al Beri has a gondola ride and a Chi spa offering massage treatments.
During a stopover in Abu Dhabi, be it families, couples or singletons looking for a luxurious retreat will love Shangri-La, Qaryat Al Beri. It's the closest luxury hotel to the airport and has a kilometre-long private beach and lush gardens.
Its prime location and a blend of Arabian architecture make it the perfect destination for travellers looking to relax in Abu Dhabi.
As a bonus, travellers can receive a 40 per cent discount when taking advantage of Etihad's Best Of Abu Dhabi stopover package when reserving this hotel.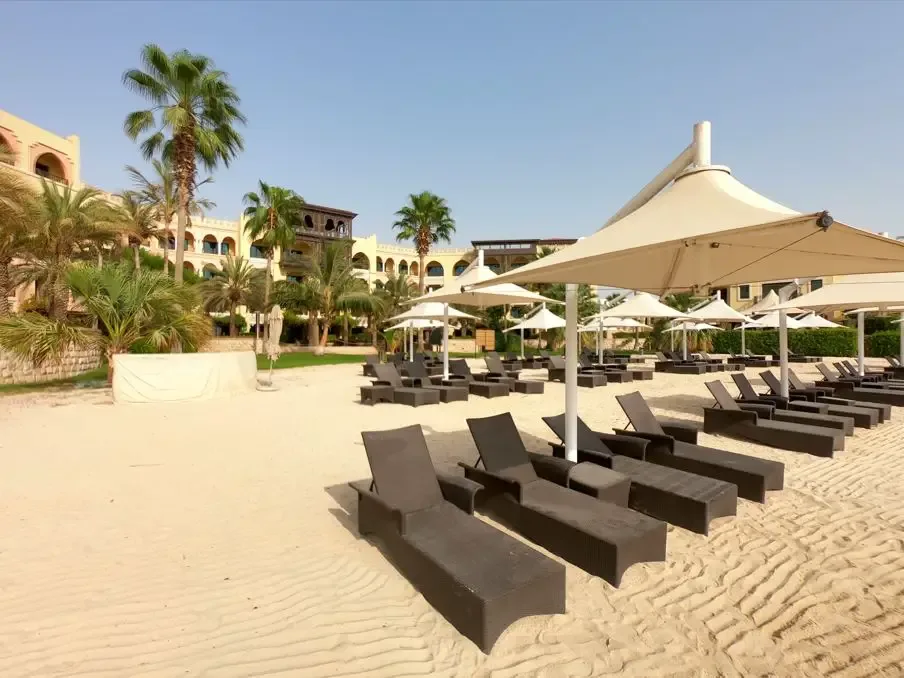 For those travelling with children, there is a choice of deluxe rooms as well as family villas and connecting rooms.
Shangri-La Circle members travelling with family can treat up to two children under the age of 7 to all-day dining venues to enjoy a complimentary buffet.
In order to navigate around the waterways to the souk, the hotel offers an abra boat ride.
The boat trip feels like Venice mixed with Arabic architecture making it a surreal experience.
A stroll through the lawns of the hotel offers mesmerizing views of the Sheikh Zayed Grand Mosque.
Book a stay at Shangri-La Qaryat Al Beri, Abu Dhabi.
Drive: Approximately 16 minutes from the airport, 15.9 km away. It is possible to encounter heavy traffic on weekdays during peak rush hours in the morning and evening.
Location: Khor Al Maqta, Qaryat al Beri – Abu Dhabi – United Arab Emirates
Al Wathba Desert Hotel
The Al Wathba, a luxury collection Hotel and Spa, is an ideal desert resort in Abu Dhabi, located just 42 minutes from the airport.
It is the nearest desert resort to the airport! The hotel is an adults-only boutique resort featuring 99 suites and one, two, or three-bedroom villas with private pools.
Among the resort's amenities are an outdoor pool and a spa. Not to mention a fitness centre, 24-hour reception, and an electric car charging station.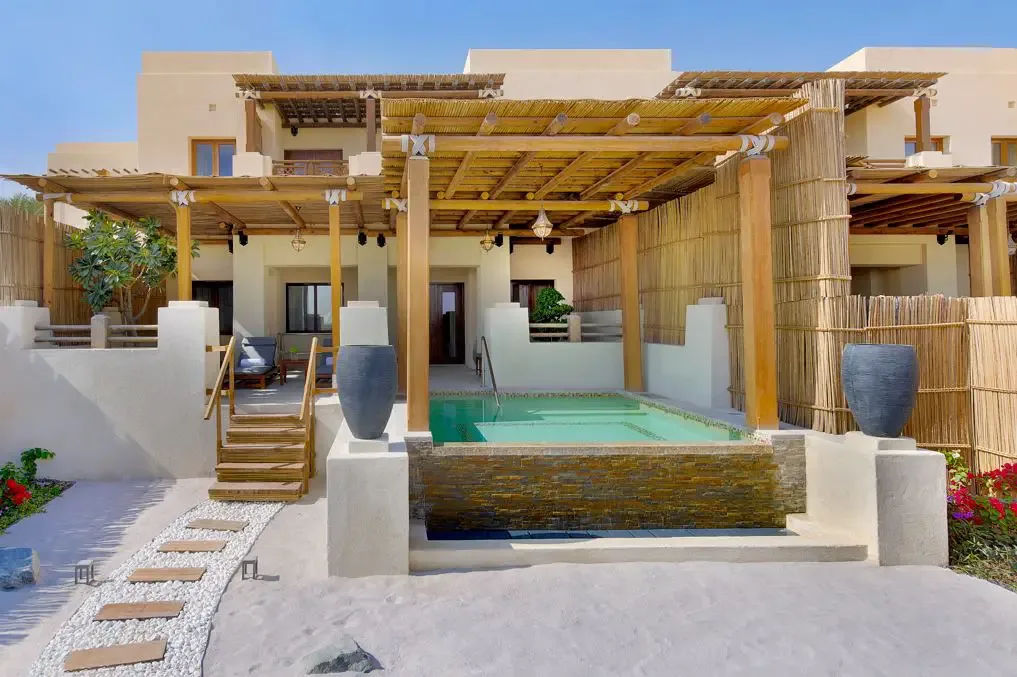 As a bonus, if you are planning to stay at the Al Wathba resort for a few days, many hidden gems around the resort are well worth exploring.
Al Wathba hill offers the most spectacular view of the area
Al Wathba wetland reserve
Fossil dunes
Al Wathba camel racing track
At the rooftop bar, relax and unwind while enjoying breathtaking desert views. The swim-up bar allows for a more casual atmosphere to enjoy drinks.
Visit Al Wathba, a Luxury Collection Hotel & Spa and book your stay today.
Drive: From Abu Dhabi International Airport, 52.8 km away, it takes about 42 minutes each way.
Location: Al Wathba South 56620 – Abu Dhabi – United Arab Emirates
Aerotel Transit Hotel
The Aerotel transit hotel in the terminal caters to passengers who would like to stay in a hotel without leaving the airport.
With a convenient location at Terminal 1, right after security control, there are 38 hotel rooms.
Each room has a private bathroom, complimentary Wi-Fi, tea/coffee-making facilities, pillow preferences, and wake-up call service.
However, the most exciting part is packages include an hour's access to Al Dhabi Lounge.
Families with little ones in tow can also stay at the Aerotel by choosing to stay in a double-square room that comes with two queen beds.
Other amenities include:
A flat-screen TV
Bathroom toiletries
Making a reservation requires guests to provide their arrival and departure flight details. However, with 24-hour check-in available there is no need to worry about the check-in counter closing time.
Book your stay at the Abu Dhabi Airport Hotel.
Location: Abu Dhabi International Airport – Terminal 1 and Terminal 3 – Abu Dhabi – United Arab Emirates
Royal M Hotel And Resort, Abu Dhabi
Abu Dhabi's Royal M Hotel & Resort is a sophisticated waterfront retreat tucked away at Al Bateen Marina, 3 km from the Abu Dhabi Corniche.
It's a little further afield than some other recommendations, however, it is just under half an hour from the airport.
The hotel's lobby features a majestic facade, which displays its modern, elegant style.
With its nautical design, contemporary architecture, and bespoke villas, it is a tranquil escape from the bustle of travelling.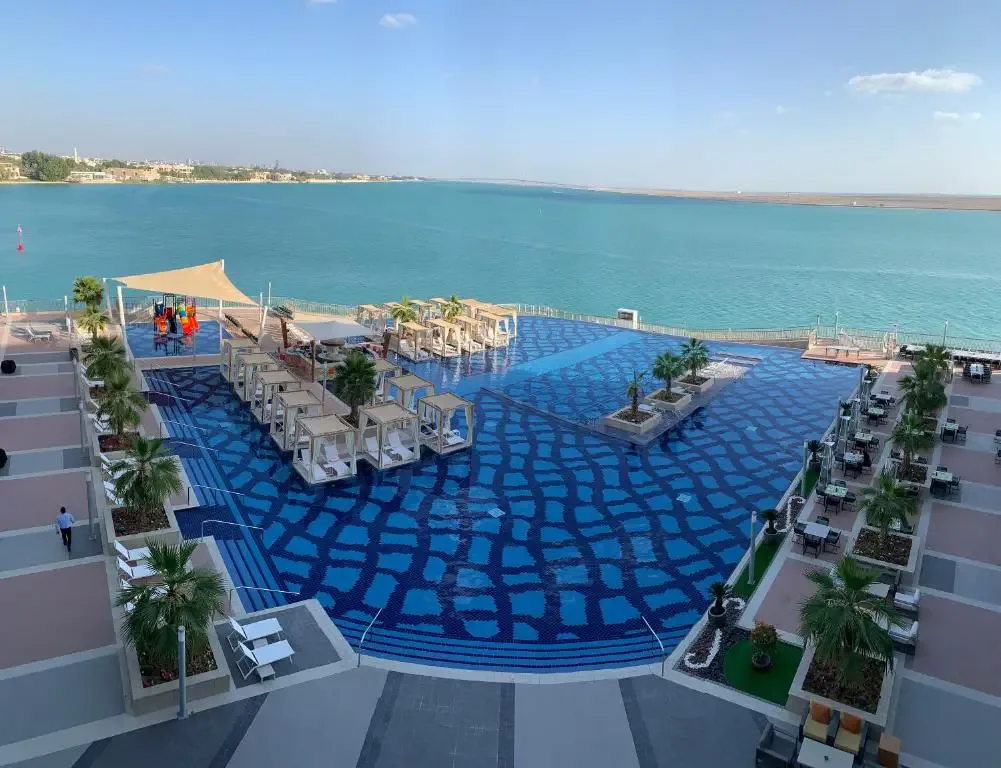 Among the resort's amenities are a 24-hour front desk, scenic views, a state-of-the-art fitness centre, a spa and a variety of royal dining options.
The accommodations range from the standard deluxe rooms to the Royal M suites and everything in between.
Grab a drink while relaxing in one of their pool cabanas and take in the breathtaking views of the marina.
Book your stopover at Royal M Hotel and Resort.
Drive: Approximately 29 minutes from the airport, 35.5 km away. A prime location, near Emirates Palace and 3 kilometres from Abu Dhabi Corniche.
Location: Al Bateen Marina – Al Quffal St – Abu Dhabi – United Arab Emirates
Staying At The Aiport On An Abu Dhabi Stopover
If time is tight or you don't want the hassle of leaving the airport, you'll be glad to know Abu Dhabi ranks as the sixth-best airport in the world.
From a fantastic selection of lounges to shopping and dining to playgrounds for the kids, there is plenty to experience.
The Abu Dhabi International Airport has three terminals. Terminal 3 caters exclusively to Etihad flight passengers, while Terminals 1 and 2 cater to other airline companies.
Each of the terminals may vary slightly, however, each provides a wide range of activities and lounges to pass the time of a layover.
Airport Lounges
If you have a prolonged wait in the airport, buying a pass for a lounge is a fantastic option. With comfortable seating, premium food and drinks, as well as showering facilities, lounges are an ideal place to rest.
Depending on your memberships, for example, priority pass, or in some cases certain airline credit cards grant access to a number of international lounges.
Equally first and business-class passengers are given automatic access. Most paid access options provide four hours in the lounge.
In comparison to noisy food courts and airport waiting areas, the lounge offers a relaxed experience.
Some of the lounges offer services to entertain the little ones. There are dedicated play spaces and an on-duty nanny available 24/7.
Although a handful of airport lounges may require pre-booking, most accept payment at reception to use the lounge facilities without having to make a reservation online.
For more information, check out this detailed guide on Abu Dhabi airport lounges.
However at a glance:
Terminal 1 has Abu Dhabi Lounge and Etihad Premium Lounge.
Terminal 3 has Etihad Premium, Etihad First Class, Etihad US and Etihad Arrivals lounge.
There is also the VIP lounge!
Royal Majlis Lounge Experience
Each of the seven Royal Majlis at Abu Dhabi's Airport VIP terminal offers passengers transiting a peaceful place to relax and rejuvenate, with Middle Eastern and European influences.
The lounge has cutting-edge entertainment systems with a wide selection of movies, television shows, and sports, as well as a library, stocked with daily newspapers and magazines.
As far as dining options are concerned, VIP guests can choose from a variety of canapés and à la carte options.
VIP terminal facilities come at an exorbitant cost, so if you're willing to pay, there is an option to do so in person by cash or card.
Call +971 2 505 2211 for additional information about facilities at the VIP terminal or drop them an email.
Abu Dhabi Airport Restaurants
At Abu Dhabi International Airport, passengers have a choice of over 24 diners across the three airport terminals.
Some of the options include coffee shops, McDonald's and bars for grownups who fancy a drink or two before boarding.
From Asian to Middle Eastern, and a vast array of European cuisines, there are plenty of choices. It's worth noting food at the airport can have a premium price.
Terminal 1 Dining Options
McDonald's
Sky Bar
Naan Indian Kitchen
Jaipur Indian Food
Trib's
Flavours
Bricco Café, and
To Go
Dining Options At Terminal 2
Cinnamon City Café & Restaurant
Dine Away At Terminal 3
Flat White Coffee Club
O'Learys Bar & Restaurant
Shawarmanji
Yum Cha
CNN Traveller Café
Costa Coffee
Cinnabon
Grab & Fly
Burger King
Lavazza Espression
Montreux Jazz Café
Camden Food Co
Crepe Delicious
Urban Food Market, and
Negroni
Play Areas For Kids At Abu Dhabi Airport
A significant portion of travellers passing through Abu Dhabi airport are families with young children.
Within Terminals 1 and 3, two airport-themed play areas entertain so kids can burn off some energy before boarding the flight.
Other children play areas or play rooms are at Etihad Premium Lounge (Terminal 1 and 3) and Etihad First Class Lounge and Spa (Terminal 3).
A total of five baby change areas can be found throughout the airport, four in Terminal 3 and one in Terminal 1.
Toilets And Showering Facilities At Abu Dhabi International Airport
Since Abu Dhabi is a stopover hub, many travellers love to wash in between flights.
There is a full range of hygienic showering facilities at departure gates 32 and 37, which the general public can use at no charge.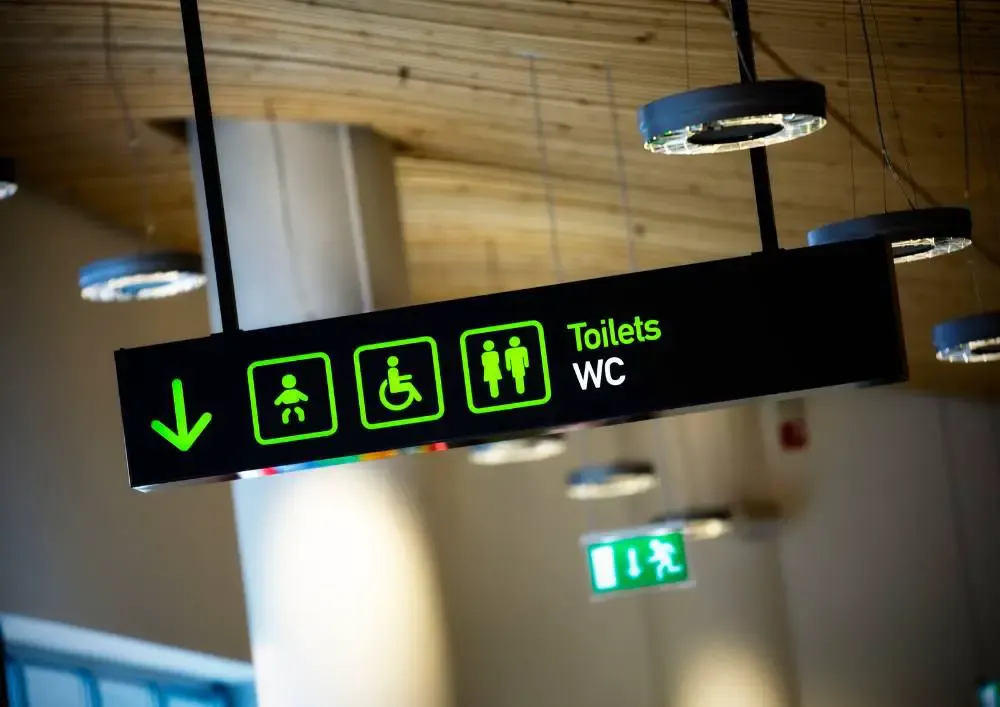 However, the lounges across the airport terminals also have showering facilities for walk-in guests or First and Business Class passengers.
The lounges come complete with washrooms, showers and private changing rooms to freshen up before or after a long flight
For more information on Abu Dhabi Airport lounges.
Spa Treatments At Abu Dhabi International Airport
TOSA is the first luxury spa to open at Abu Dhabi Airport (Terminal 1), offering travellers a chance to relax in a tranquil atmosphere before their flight.
With a range of services, from quick, seated massages to full-service spa retreats, TOSA offers something for everyone.
There are also spa treatments at the Etihad First Class Lounge and Spa in Terminal 3.
For more information on spas at Abu Dhabi International Airport lounges.
Those on a stopover in Abu Dhabi staying at the Premier Inn can use 24-hour V Elements Spa and Wellness.
Sleeping At Abu Dhabi Airport
Abu Dhabi International Airport has plenty of options to catch up on sleep while transiting.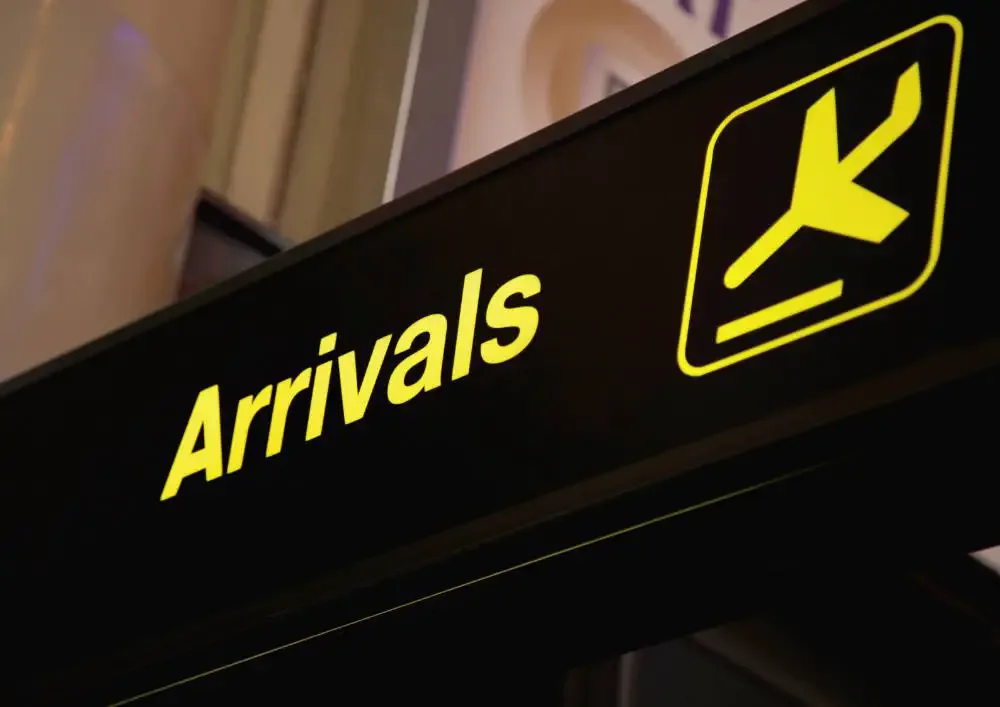 A separate sleep lounge is available at Terminal 3, which offers sleeping pods for a fee and caters exclusively to overnight stays.
The sleeping pods come equipped with comfortable beds, adjustable lighting and charging points for uninterrupted sleep – suitable for anyone who needs a few hours of shut-eye during a long layover.
There is also a 38-room transit hotel located airside in Terminal 1.
Wifi At Abu Dhabi International Airport
Abu Dhabi International Airport offers free WiFi to all its passengers, allowing them to stay connected during their time at the airport and lasts for an hour.
Moreover, there is a wireless internet connection available in the airport lounges (at a reasonable fee) as well as complimentary access to over 50 independent internet kiosks in the departures area.
Duty-Free Shopping
Stroll through one of the many shops at the Abu Dhabi Duty-Free. Whether it's chocolates, fragrances, or elegant bottles of champagne, Abu Dhabi Duty-Free has everything you might need for your travels.
From quirky camel coin banks to fridge magnets, and traditional scarves and clothing, the Arabian Souq has lots of Abu Dhabi souvenirs.
All shops accept major debit and credit cards. There are also plenty of ATMs to withdraw Dirhams which is the local currency.
Abu Dhabi Stopover Frequently Asked Questions
Are PCR tests required for transit passengers in Abu Dhabi?
Vaccinated and unvaccinated travellers are welcome in Abu Dhabi without restrictions. In Abu Dhabi, most Covid-19 limits have been lifted since November 2022, meaning negative PCR tests are no longer required to enter attractions.
Is it okay to carry liquids in my carry-on luggage?
The answer is yes. However, Liquids, aerosols, and gels must adhere to international regulations and restrictions.
These liquids include water, hair gels, toothpaste, perfumes, shampoo, hair spray, lotion and deodorants to name a few.
Can liquid medications or special foods be taken on the flight?
There are exceptions for medications and special food items during the flight. Occasionally, security staff may require you to show a prescription.
As such, it is imperative to have a valid prescription or doctor's letter for any medication you plan to bring on the flight.
In addition, you will need to have proof of the contents of any particular food items you plan to bring, such as baby formula or special diet foods.
Can I layover in Abu Dhabi without a visa?
If you stay at the airport for less than four hours, you won't need a transit visa.
Are you able to leave the airport during a layover in the UAE?
Abu Dhabi International Airport offers plenty of entertainment options for transiting passengers.
However, if a stopover exceeds eight hours, it is possible to leave the airport if your passport's country of issue does not require a transit visa. If not, we suggest attaining a UAE transit visa.
Do airport lounges offer free access?
A credit card or airline program with enough points or miles can allow passengers free or discounted entry to airport lounges.
Abu Dhabi International Airport offers a variety of premium lounges that are free for First Class and Business Class passengers.
Are there any rules for transiting through Abu Dhabi?
A transit visa is valid for 14 days from the date of arrival in Abu Dhabi. Transit between two destinations requires proof of the onward flight and a valid passport for six months.
What is the minimum stopover time to avail of Etihad stopover packages?
It is necessary to book the stopover package at least 72 hours in advance prior to flying to Abu Dhabi, and the stopover time must be no less than six hours.
To Sum Up Abu Dhabi Stopover
Abu Dhabi is a place with plenty to entertain tourists and residents all year round. It's an international hub for expats from all around the world and is one of the most sought-after destinations to travel.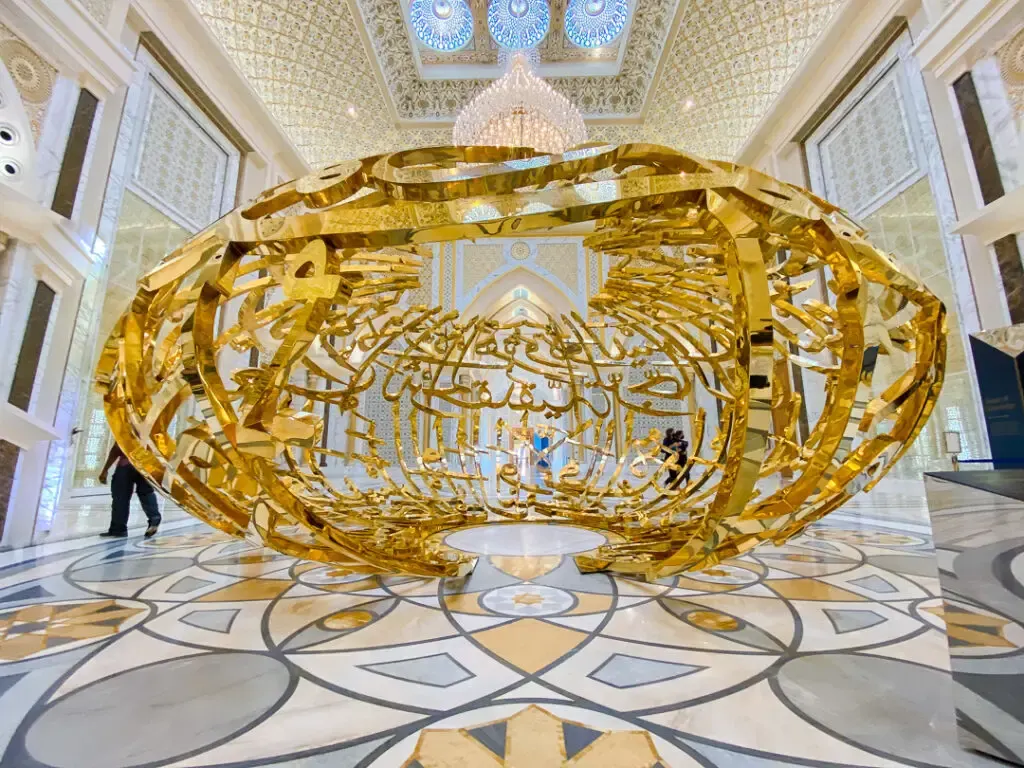 If you happen to be in Abu Dhabi over a special celebration period, it's worth checking out special events for Eid
The Best Time To Visit Abu Dhabi
The tourism season kicks off around October or November when there are lots of events such as F1. December is equally as busy with events, in particular National Day.
January and February are the coolest quieter months after New Year. In March and April, the weather is still pleasant to visit.
The hotter summer months start in May when most events move inside. It is a good month to visitfor those who enjoy the arts.
Whilst June through July and August attract budget travellers as many resorts and attractions offer great deals.
September is considered a shoulder month, it is still quite hot but tolerable early morning and in the evenings.
We hope you found this post on Abu Dhabi stopovers helpful. If you went to any of the lounges, stayed at any of the suggested hotels, or took part in the above activities, we'd love to hear from you! Leave a comment below.
You may also like:
Disclaimer: This post on Abu Dhabi stopover may contain affiliate links. Using them will not cost you anything, but we may receive a small commission if you make a purchase.