With many pricey places to visit and activities to partake in Abu Dhabi, it may seem like everything in the city is expensive.
However, the UAE capital offers a plethora of things when it comes to free places and activities.
Check out this guide on the best places to visit in Abu Dhabi for free.
Free Places to Visit in Abu Dhabi
1. Yas Marina Circuit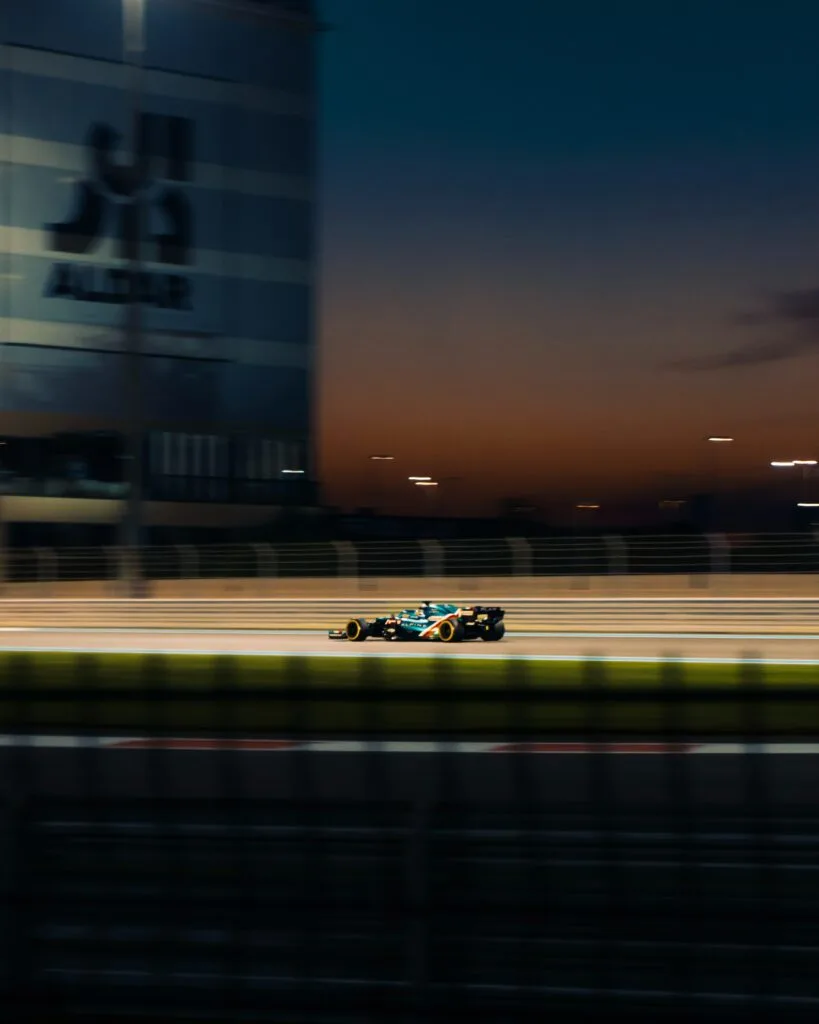 Undoubtedly one of the best places to visit in Abu Dhabi for free has to be the Yas Marina – Formula 1 circuit.
F1 fan or not, the Yas Marina Circuit offers some of the very best things to do in Abu Dhabi, many of which just so happen to be free.
Home to the final Formula 1 race of every season, there is a special atmosphere around this circuit that cannot be described.
Making the most of this epic track, Abu Dhabi Sports Council (ADSC) in association with ADNOC, invite residents and tourists to come down and exercise on the track.
To encourage people to do so, there are a number of free initiatives throughout the week.
TrainYas takes place every Monday and Wednesday evening from 6 pm – 10 pm. People are invited to walk, run or cycle around the prestigious 5.3km circuit for free.
A cycle around this track is a must and the twice-weekly event allows people to rent a bike and helmet at no cost.
This initiative is very popular among residents and tourists as many people flock to the circuit each Monday and Wednesday to enjoy the free activity.
There are 2 types of bikes available to the public, regular bikes and road bikes.
Road bikes are preferred by most as they are lighter and quicker. We, therefore, recommend getting down to the track within the first hour approximately if you would like one of these bikes.
Alternatively, the regular bikes are also good quality, you just won't feel as quick on them!
There are three different sizes of bikes to rent; small, medium and large. In terms of helmets, there are also ample size options.
If you have a bicycle of your own, you can also bring that along and use the track for free at these times.
On busier nights, if you arrive and there are no helmets left, there is also an option to rent a helmet from some of the bike shops on the circuit (at a small cost).
There are two lanes in use for cyclists on the Formula 1 track. The inside lane is for the faster cyclists while those cycling at a more relaxed pace should keep to the right.
If you would prefer to walk or run around the track, this is also free of charge. Pedestrians must stay on the outside of the track and allow cyclists to use the inside.
Those walking and running can enjoy watching the cyclists speeding around the track.
For any ladies interested in walking, running or cycling on the track surrounded by other women only, every Tuesday has been reserved for TrainYas Ladies.
This event is identical to the Monday and Wednesday offering however, only females can use the track including an all-female staff in the evening.
In addition to these evening options, Abu Dhabi Cycling Club present TrainAm, a cycling event every Tuesday, Thursday and Friday morning from 6 am – 8 am.
Start your day right with a sunrise cycle around the F1 track.
If you are interested in more of a tailored workout as opposed to a run or cycle, TrainYas also offer free Les Mills classes every Monday, Tuesday and Wednesday.
You can find the timetable for these classes here.
Les Mills fitness classes are designed for people of every ability with the aim of improving each participant's fitness.
These types of classes are hugely popular worldwide and are growing in popularity within the UAE.
There are also many other sports clubs using the track at this time. Those interested in joining a running or cycling club will likely find a couple at the Yas circuit on a Monday or Wednesday evening.
2. Go for a swim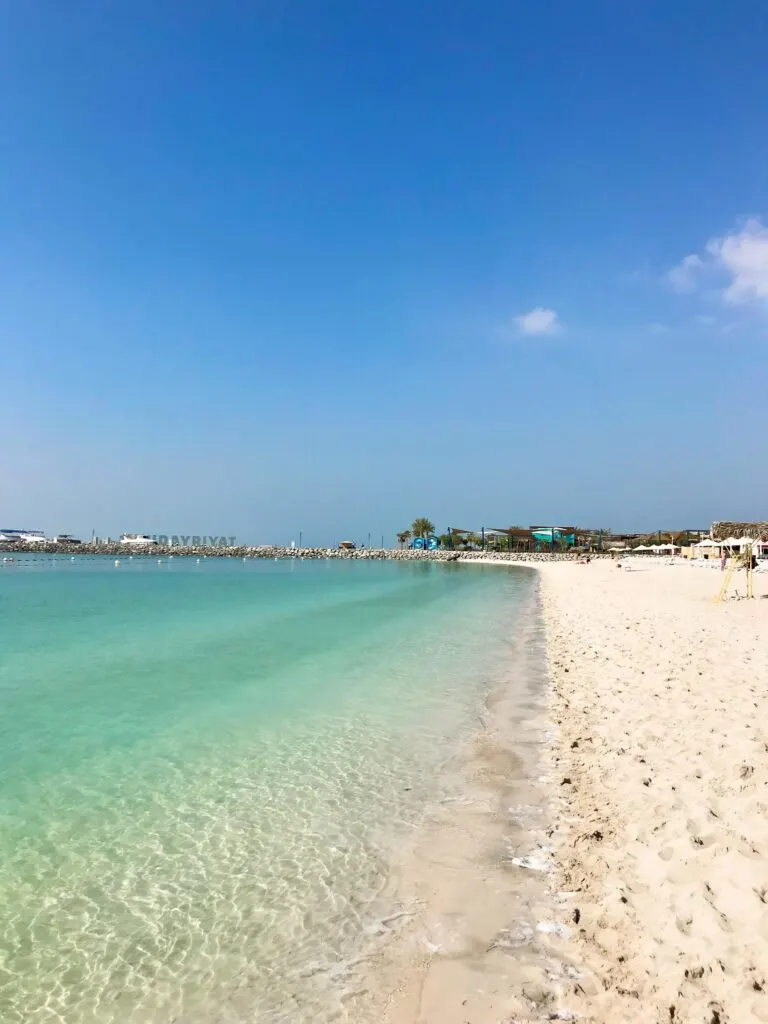 When it comes to activities in Abu Dhabi, the city offers great options for water activities such as kayaking, not to mention, wakeboarding, windsurfing and much more.
While most of these activities will require payment, swimming is a great water activity that is completely free.
In addition to lakes, rivers and the sea, the vast majority of Abu Dhabi residences include a pool.
Therefore, if you are living in Abu Dhabi and looking for a free activity, consider a day at your pool.
Similarly, if you are visiting Abu Dhabi and have friends or family living in the city, you will be allowed free access to their pool.
To make your at-home pool day more exciting, why not bring down some food and drink and have a picnic on the loungers.
Bringing a ball, rings or pool weights and floats could make your free pool day more exciting as well as playing cards or board games to have some poolside entertainment.
If you would prefer a river or sea for swimming, you can visit any of the free beaches or waterfront parks mentioned throughout this article and go for a swim in the sea or river in one of these locations.
3. Join a club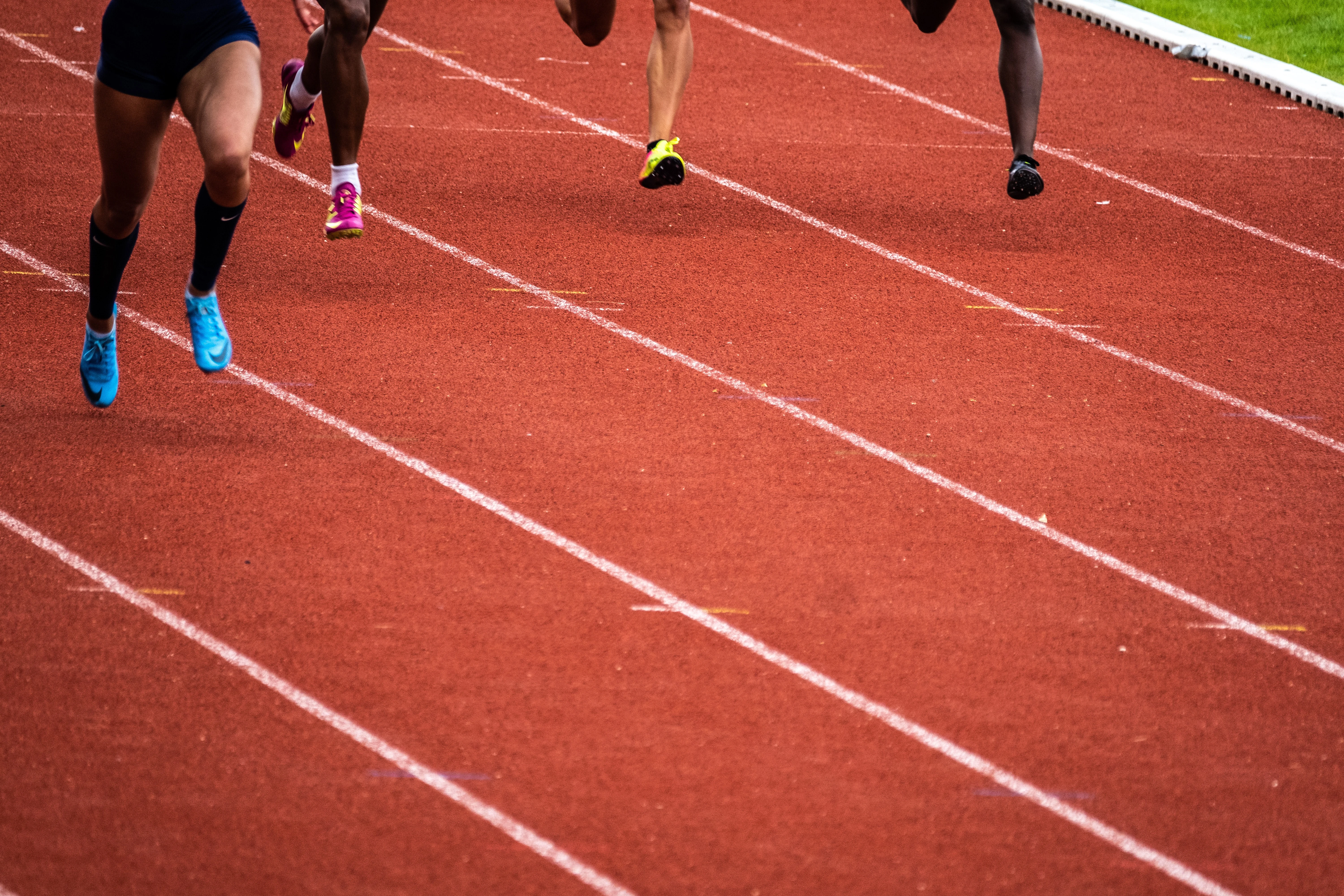 The UAE government have implemented a big push in recent years in relation to health and fitness.
Due to a number of factors such as climate and culture, the country's locals and residents often lead rather sedentary lives with much time spent eating and drinking.
This is not a good mix and has led to a less healthy society.
It has been great to see such a push for physical and mental wellness over the last number of years.
As a result of this fitness agenda, Abu Dhabi Sports Council and other government organisations have funded sports and fitness clubs around the city.
There are now many free options in terms of sports and fitness clubs widely available to the Abu Dhabi public. Many of these clubs can be found in Zayed Sports City.
Zayed Sports City is home to some of the UAE's most state-of-the-art facilities such as a full world-class football stadium, and an international tennis centre consisting of 9 outdoor courts, 3 indoor courts and an outdoor stadium seating over 5,000.
Three basketball courts, an Ice Rink almost 2,000m² in size and seating over 1200, three rugby pitches, a softball pitch and a number of 7- and 11- aside pitches.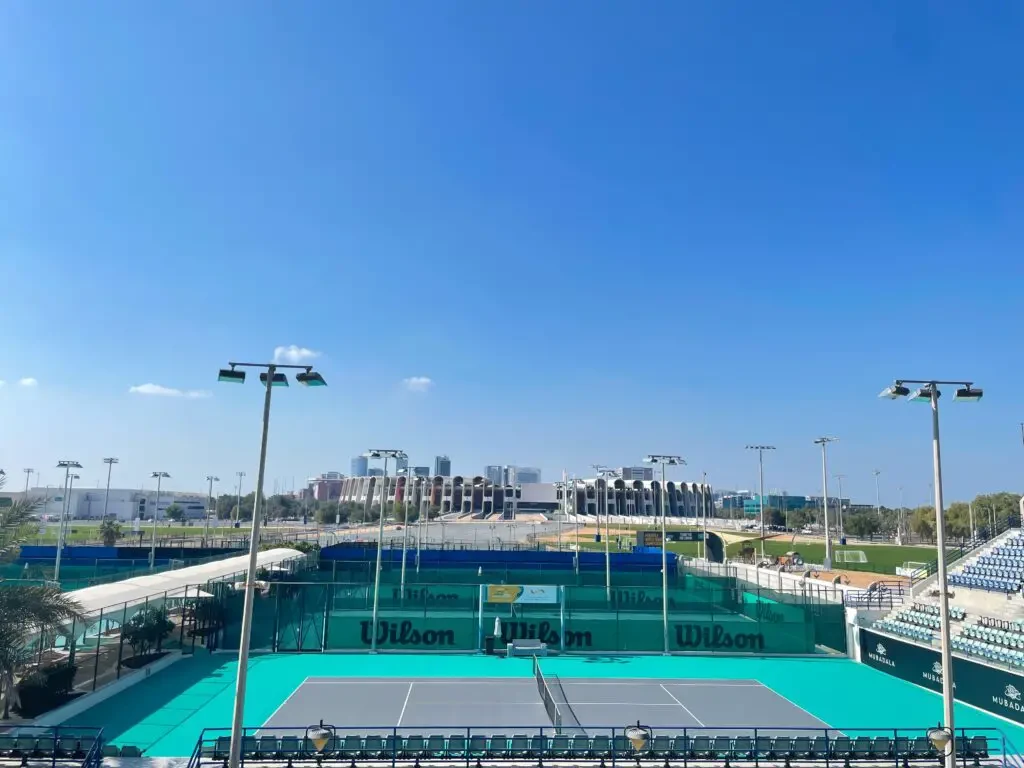 While the use of most of these facilities requires payment, there are a huge number of running, football, basketball, tennis, baseball, ice-skating, and ice hockey clubs that train here, some of which offer free training.
To find out more about these clubs, have a look at the Zayed Sports City sports page and also the ADSC federation and clubs page.
Steps Challenge
One of the many activities that take place in Zayed Sports City is the StepZSC event.
This simple yet fun concept entails walking or running up and down the steps within the Zayed Sports City stadium.
This event takes place every Monday from 5 pm – 8 pm during the months of September until May.
This is a very popular event among residents and consists of people of all levels, climbing steps, socialising, getting fit and having fun.
4. Enjoy A Day At The Park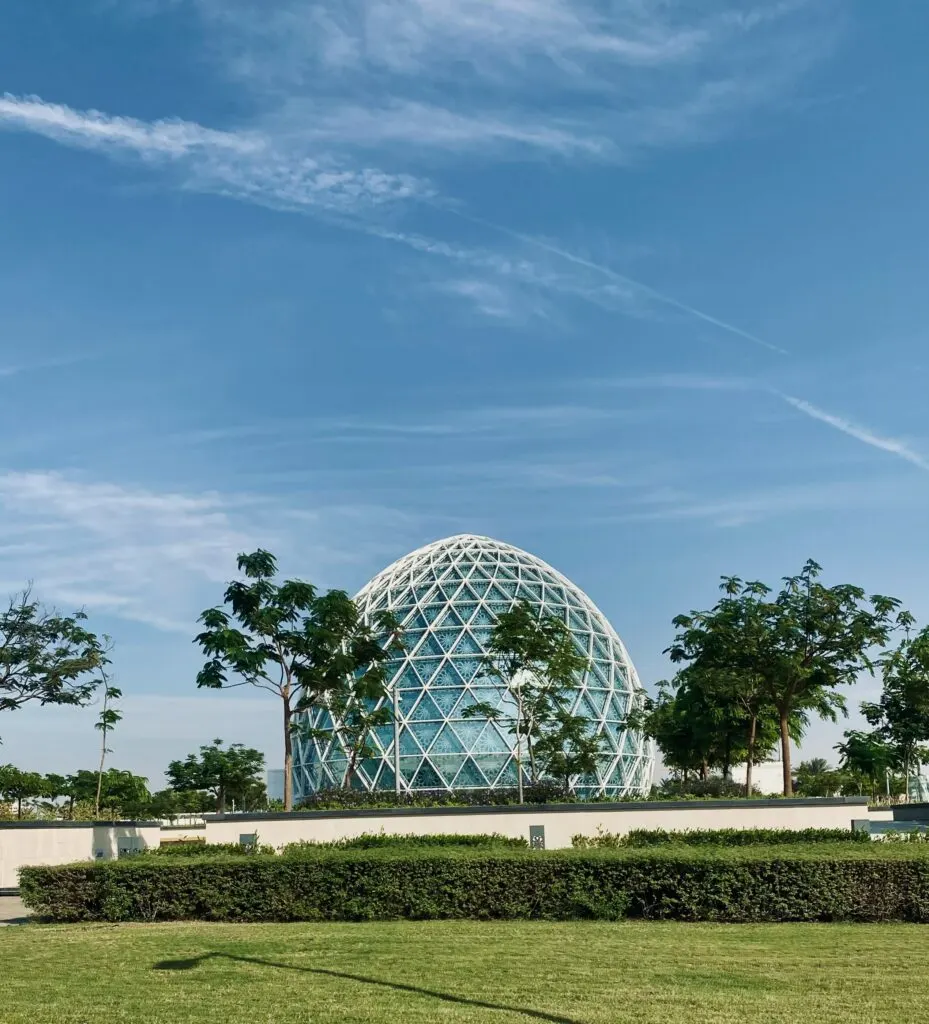 Considering Abu Dhabi and the United Arab Emirates, in general, is just one big desert, the capital city offers a lot in terms of green parks and places of nature to enjoy.
Many parks within Abu Dhabi are free to enter and offer a lot in terms of facilities.
Reem Central Park
Located on Al Reem Island, Reem Central Park is one of the nicest parks the capital city has to offer.
Free to enter and park, this gem is a must.
Spanning over 1, 300m², Reem Central Park is perfectly located along an exquisite stretch of turquoise Arabian water.
The centre of the park consists of a large water feature, a number of food, coffee and three restaurants.
The water fountain is one of the best around. During the evening, a magical show of water, music and lights takes place.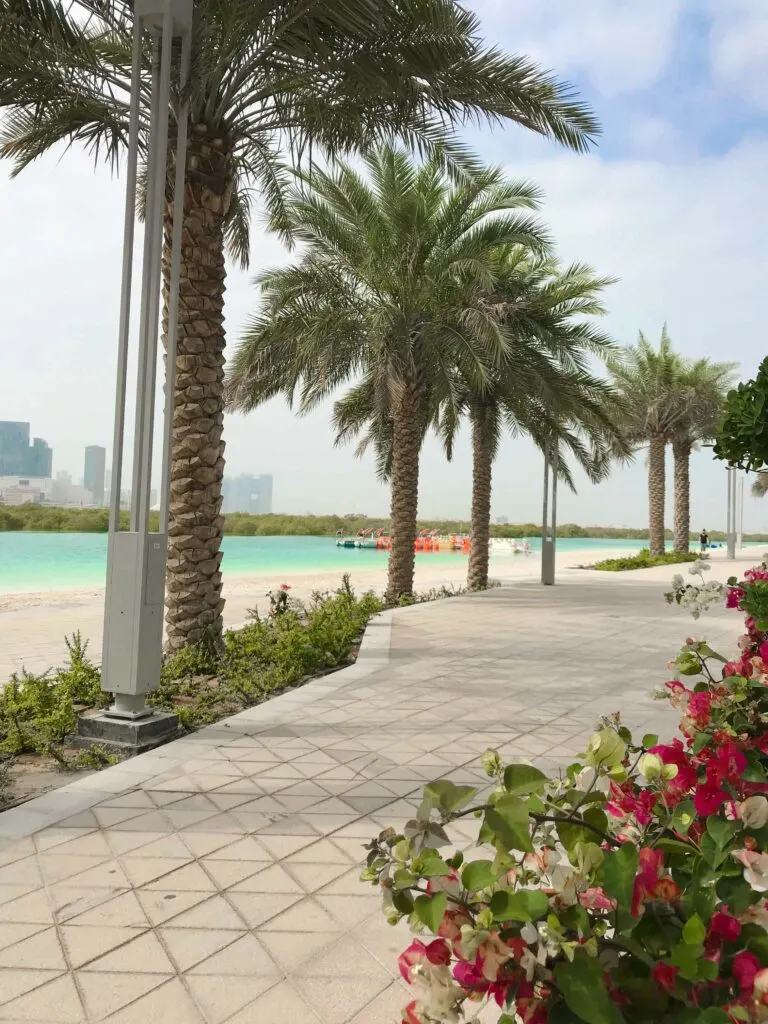 The water floods from the feature while a projector shoots lights and scenes onto the waterfall and along with music and smoke, a mesmerising story is told.
During non-show times, the water fountain is a play area for the children to enjoy and splash around.
There are many options for water sports within the park such as kayaking, wakeboarding, paddleboarding and more.
If you want to keep your visit free, there are endless options within this park.
Enjoy a walk along the water, watch the skaters do tricks in the skatepark, let the children enjoy the water fountain and one of the many playgrounds, and sunbathe on the beach or grass.
Play basketball, football or table tennis, use one of the many outdoor gym areas and why not go for a dip in the sea to finish off.
There are many routes around the park for short or long walks. Each route offers something different, be that walking along the beach, walking beside the canal, or walking through creative walls and pillars painted with interesting patterns.
Not to be forgotten, is the Kobe Bryant mural. A beautifully painted piece created in memory of the famous basketball star who lost his life in a tragic plane accident.
Reem central park has a great atmosphere every time of the day and week. There is always a nice buzz around the park be it from runners, walkers or swimmers.
The park is also a popular spot for fishing, another activity that can be enjoyed for free.
Dolphin Park
Situated towards the top of the mangroves, dolphin park gets its name from its large dolphin water feature.
In terms of uniqueness, dolphin park is one of the best places to visit in Abu Dhabi.
There is a walking and cycling path running from Anantara Eastern Mangroves Hotel all the way up to Dolphin park along the mangrove coast measuring around 4km in distance.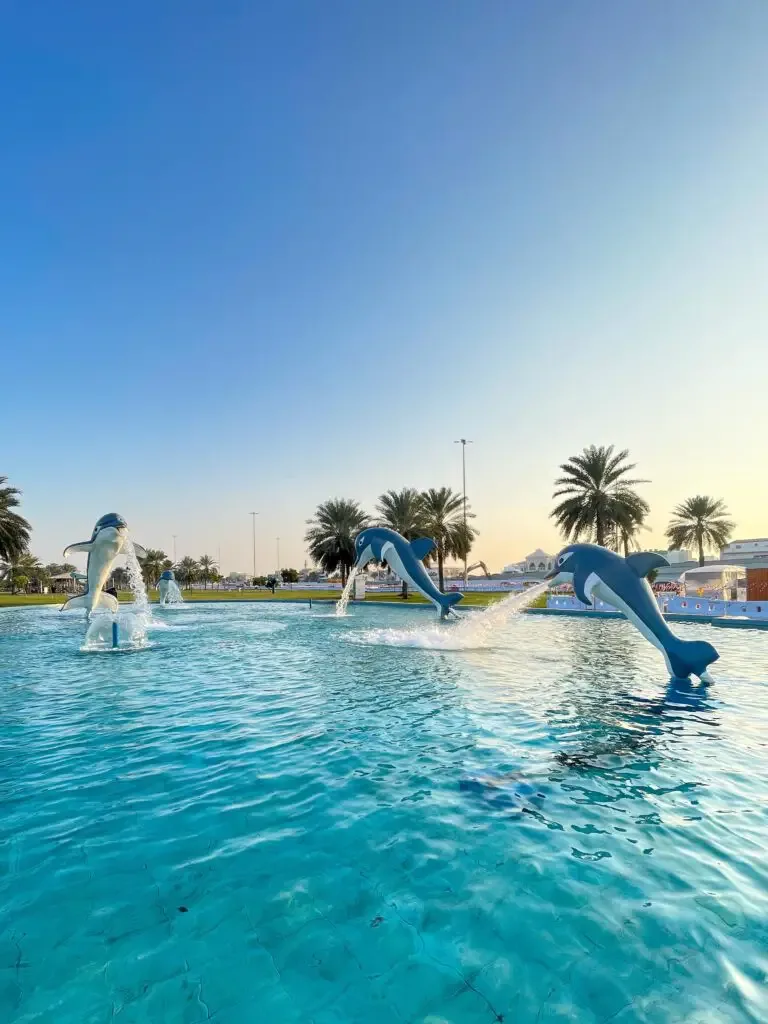 The path is littered with outdoor gym equipment, quirky dome seats to rest in and respite spots with seats. Not to mention wooden decking overlooking the mangrove coast and netted areas over the sea!
Once approach dolphin park, there are a number of food trucks with pizza and burger options and some creative seating and vibey lighting.
There are a couple of small astro pitches, basketball courts and huge open grass space.
This space is packed during the cooler evening as the park offers permanent barbeque fixtures that the public can use for free.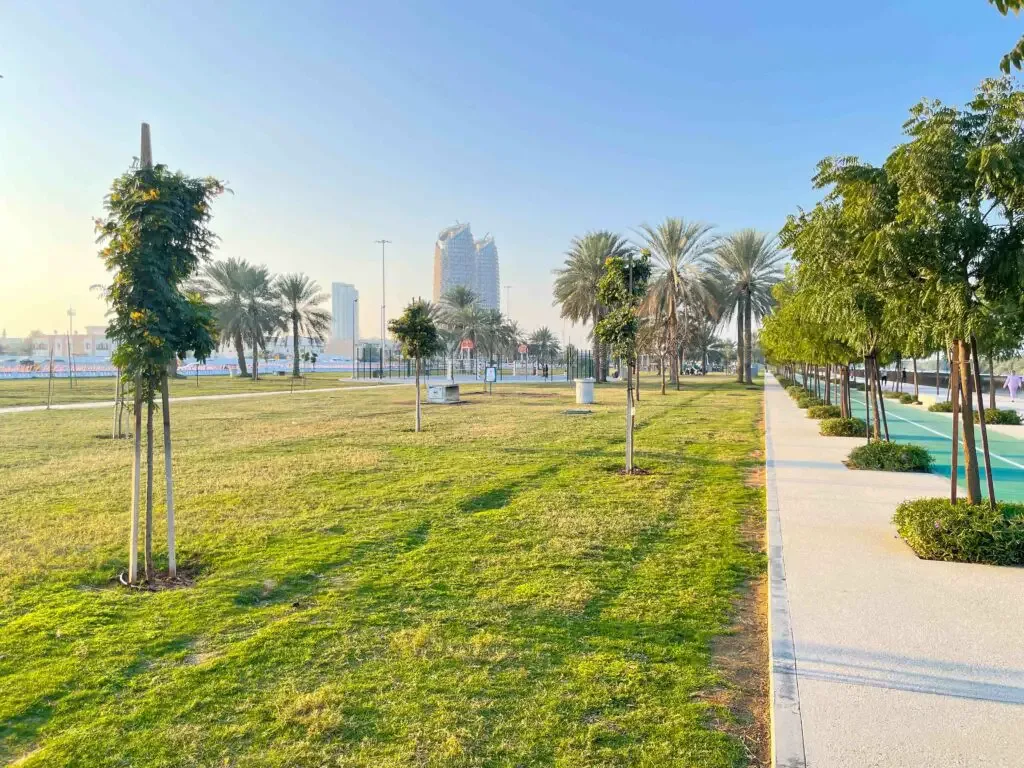 During the cooler months, this park is full of families and friends enjoying barbeques and picnics with deck chairs and blankets scattered around the grass.
There are also public toilets at the top of the park and special bins for BBQ ash and coals to be disposed of.
Mangroves National Park
The mangroves national park offers free fun for families, birdwatchers and photographers looking for an escape from the city.
The breathtaking reserve is protected by the Environment Agency Abu Dhabi (EAD).
Amazingly, the area constitutes approximately 75% of the total mangrove forest area within the UAE.
This park is a biodiversity hotspot and consists of salt marshes, mudflats and algal communities.
As well as being a great free place to visit in Abu Dhabi, the mangrove national park is also a good educational experience.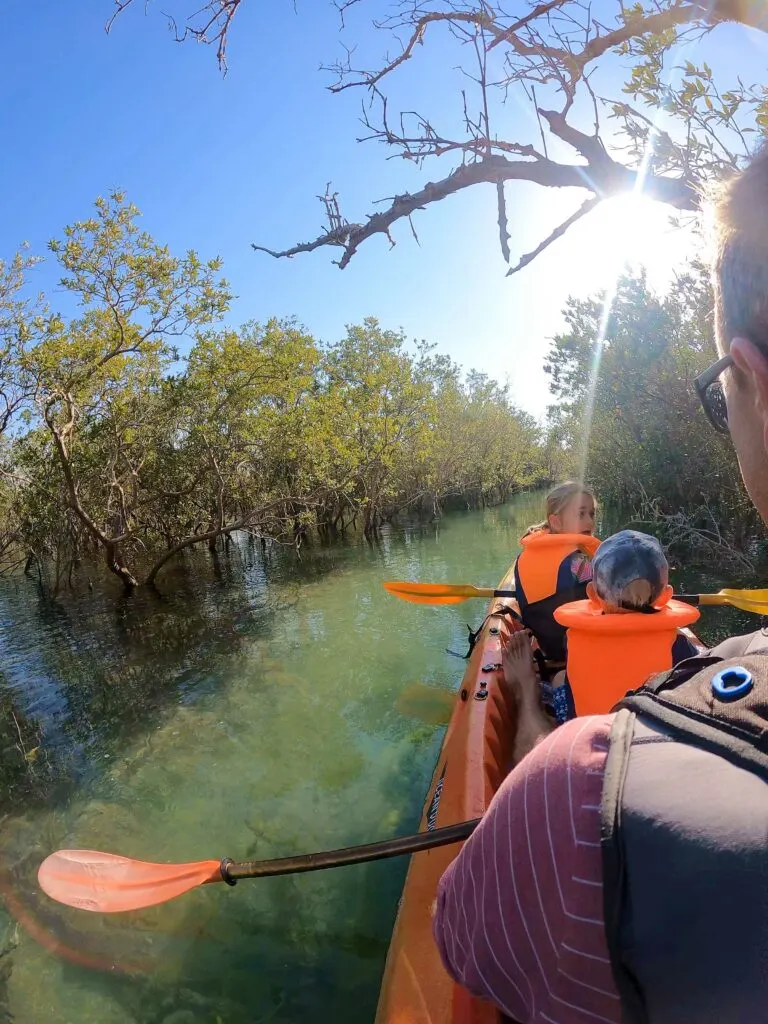 The mangrove's indigenous trees protect the region against things such as tidal surges as well as purifying the water and removing carbon dioxide from the air.
Enjoy a walk through this beautiful park and keep an eye out for some crabs, turtles, herons, flamingos, fish and dolphins!
The Corniche
Possibly one of the most well-known areas within the capital city, the Abu Dhabi Corniche stretches over 8km of manicured waterfront.
One of the most popular places to walk and cycle, this area offers a lot in terms of views, activities and happenings.
The corniche is most definitely one of the best places to visit in Abu Dhabi for free.
The spectacular Abu Dhabi skyline is on show for anyone travelling along the corniche, with Emirates Palace stealing the show.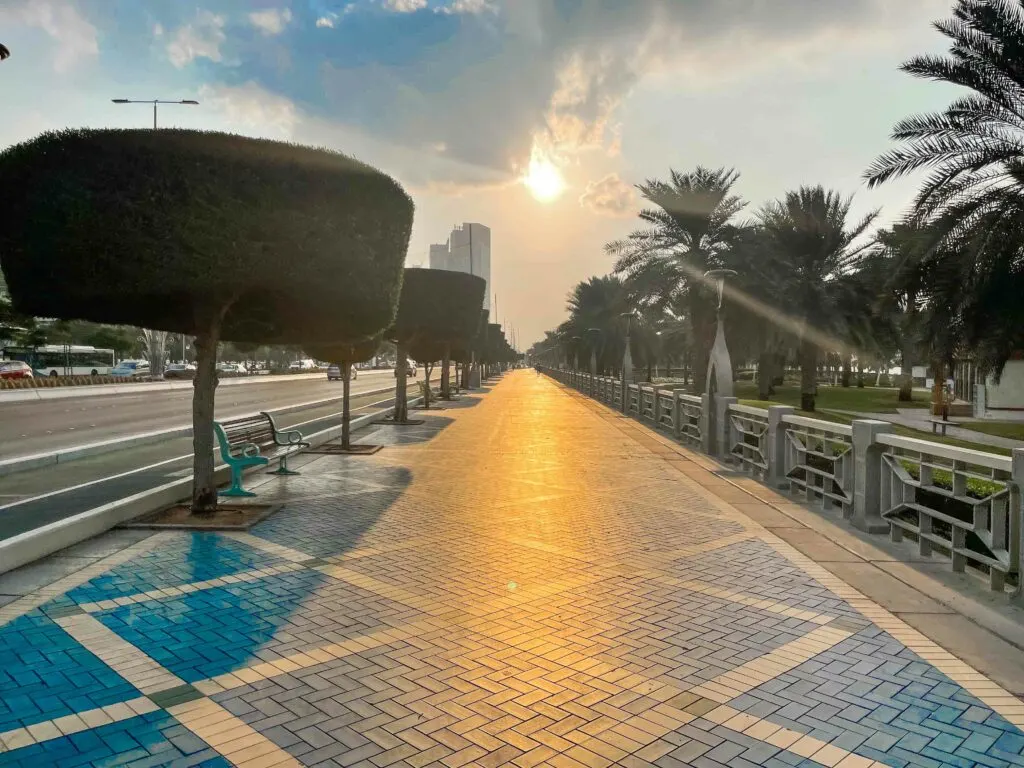 The wide walkway along the coast includes many restaurants and food trucks as well as areas of shade and even stretches of water mist, sprayed to help keep walkers, runners and cyclists cooler.
There are over 1,000 parking spaces 5 minutes in any direction making a trip to the corniche easy.
Those interested in sunbathing or a dip in the sea can do so on the corniche beach. Free to the public, this beach boasts pristine white sands and turquoise-blue waters.
Run, walk, cycle, relax, swim, read a book, play volleyball – the options are endless.
Umm Al Emarat Park
While Umm Al Emarat Park is technically not free entry and therefore cannot officially be one of the best places to visit in Abu Dhabi for free, the cost of entry is approximately 10 AED, that's the equivalent of around €2.50 or £2.
For that reason, this park was a must on our list of best places to go in Abu Dhabi for free (or almost free!).
For anyone looking for a park with a bit of extra 'something', Umm al Emarat Park is the one for you!
The park is the largest green space in the heart of the city, this oasis was created to commemorate the late Sheikh Zayed's legacy.
The park's mission is to provide a community with a wholesome and well maintained outdoor venue.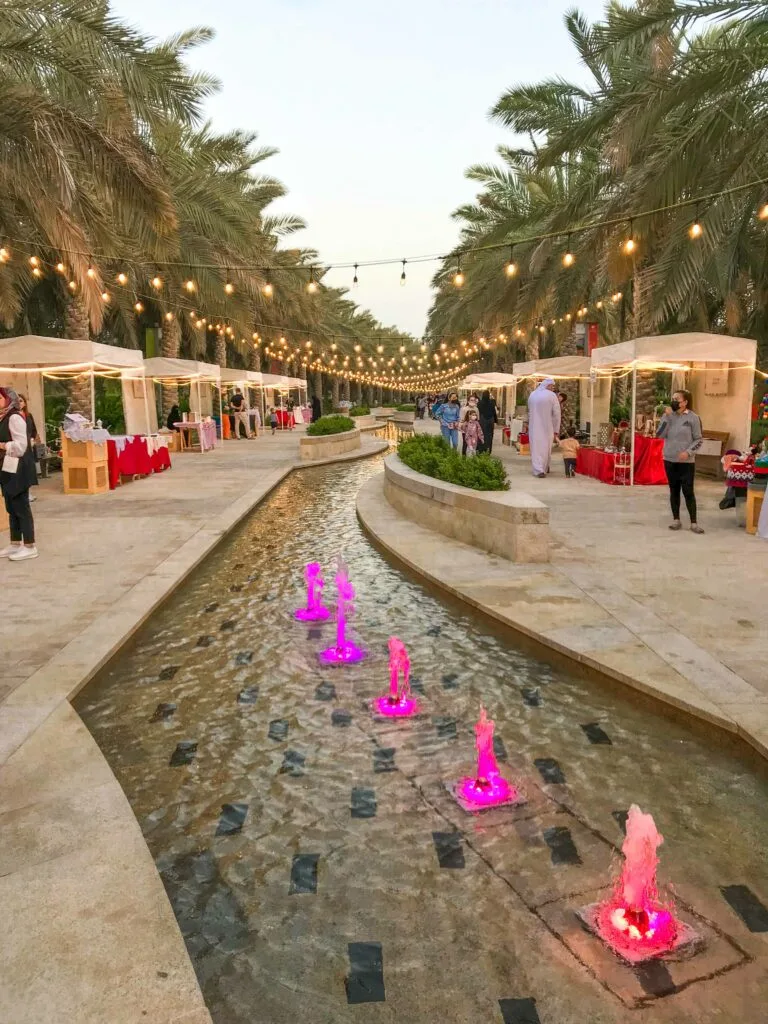 Umm al Emarat Park spreads across 179,000m², hosts more than 50 events annually and receives over 70,000 visitors each year.
The park offers a number of attractions for visitors such as the amphitheatre, a large grass area with a water feature at the foot of steps with a large arch encircling the top of the steps.
There will be people relaxing or playing games on this open grass daily as they enjoy the interactive water fountain.
Also available within the park is an animal barn and petting zoo. The area includes animals like goats, ponies, rabbits, tortoises, emus and camels.
Visitors can have a pony or camel ride however this would be at a small charge.
There are different animals within the barn during different times of the year as they are rotated throughout the year for the welfare of each animal.
A botanical garden section can also be found in Umm al Emarat Park. This garden boasts more than 200 species of plants.
Take a stroll through exotic plants such as various species of cacti. Walk over the cute bridge and admire the water ponds created using natural stone.
Next, the children's garden – filled with structures and open green space for children to explore and play as well as ice cream.
During the cooler months, a range of activities takes place, from pony rides to face painting and balloon making.
The children's garden also includes a large screen and speakers where free movie nights are often held throughout the year.
In addition to the children's garden, there is also the evening garden, wisdom garden and the great lawn.
The evening garden is set in a quiet and relaxed part of the park, allowing visitors some peace and relaxation among a green oasis.
The wisdom garden honours the legacy and environmental conservation efforts of the late Sheikh Zayed Bin Sultan Al Nahyan with a lovely mix of inscribed walls and water.
The great lawn is the largest green space in the park and is a fantastic place for games and activities with family and friends.
The main promenade is a very enjoyable walk of palm trees, water features and changing lights.
There are often market stalls along the promenade during different times of the year, selling handmade gifts and food.
Finally, the shade house. This structure can be seen from far and is an iconic feature of the park.
This shade house is a must while visiting the park. Visitors can enter the shade house and become immersed in over 40 species of thick green plants.
The house also offers 2 viewing decks, visitors can get an elevator up to each or alternatively climb the stairs to reveal the great views above.
If that isn't enough to convince you to pay the 10 AED entry fee, we don't know what will.
If you're interested in discovering the best places in Abu Dhabi in general, check out our guide here.
Mamsha
While technically not a park, Mamsha located on Saadiyat Island is one of the most stunning and best places to visit in Abu Dhabi for free.
Saadiyat Island is one of the most beautiful locations in Abu Dhabi and hosts the only natural beach in the UAE capital.
For this reason, Saadiyat is home to one of the most pristine white-sand beaches and turquoise waters and is the only place to enjoy sea waves.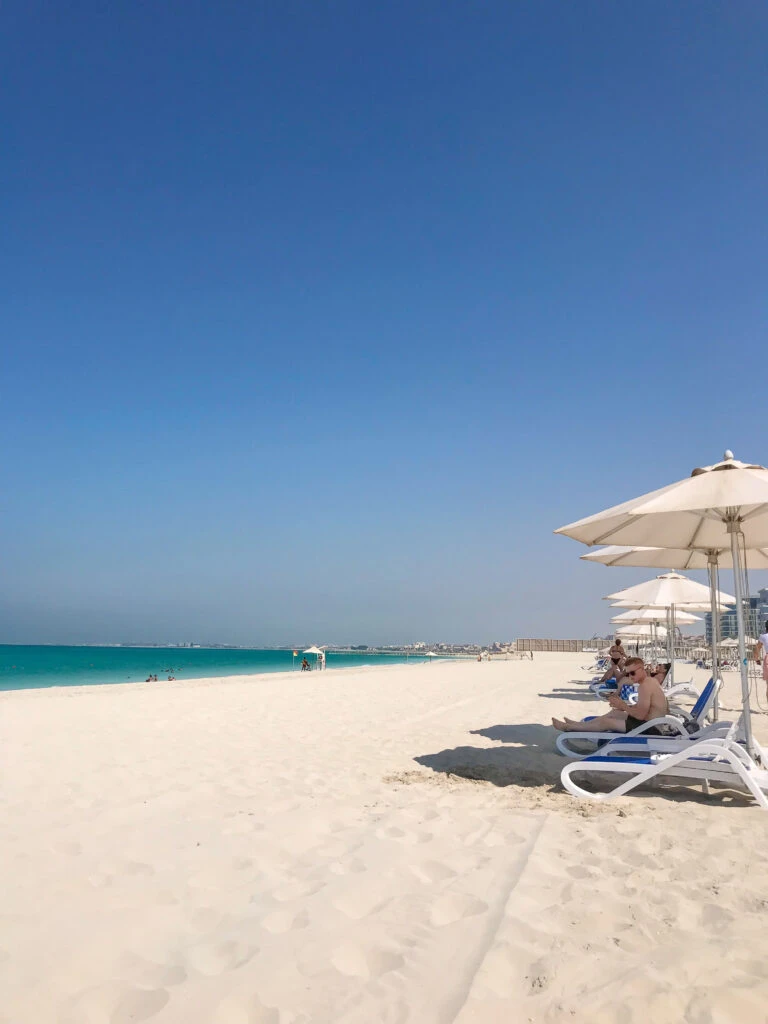 Mamsha is a residential area on the island boasting a strip of fantastic restaurants on one side and Sol beach on the other.
This is a must for anyone looking for some of the best places to visit in Abu Dhabi for free.
While the strip is relatively short in distance (approximately 1km), many residents walk up and down the area multiple times to get a decent walk in.
One thing is for sure, you will not get tired of walking along this stunning strip!
The view, the restaurants, the palm trees with twinkling lights and the soft music playing from hidden speakers make for a very enjoyable experience.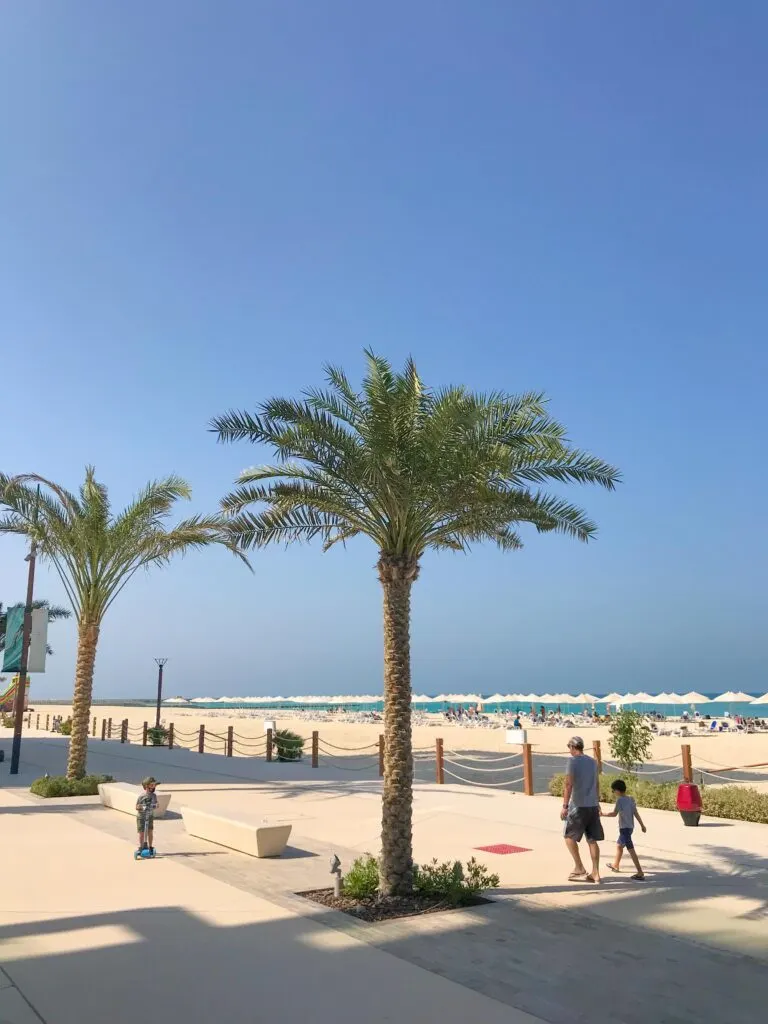 While this free experience is highly enjoyable, it is hard to resist wanting to enter Sol beach. Non-residents do have to pay to use the beach however this is at a reasonable price.
Sol Beach is one of the most stunning beaches in the UAE. Boasting the pristine white sand Saadiyat is famous for as well as the real sea waves crashing on the shore.
Similarly, looking into the many restaurant options whilst walking along the strip will likely prove fatal in keeping this visit free.
Some of the most popular restaurants in Mamsha include popular pizza place Antonia, The Steak Room, well-loved burger place Pickl, quirky and healthy food option Alkalime, Jamaican restaurant Ting Irie and of course, burger and crazy shake heaven, The Black Tap.
You can find out all that the Black Tap has to offer in our best burgers in Abu Dhabi post.
Whether you cave to the paid beach or restaurant options or not, a trip to Mamsha is high on our list of the best places to visit in Abu Dhabi for free.
5. Window Shop At The Mall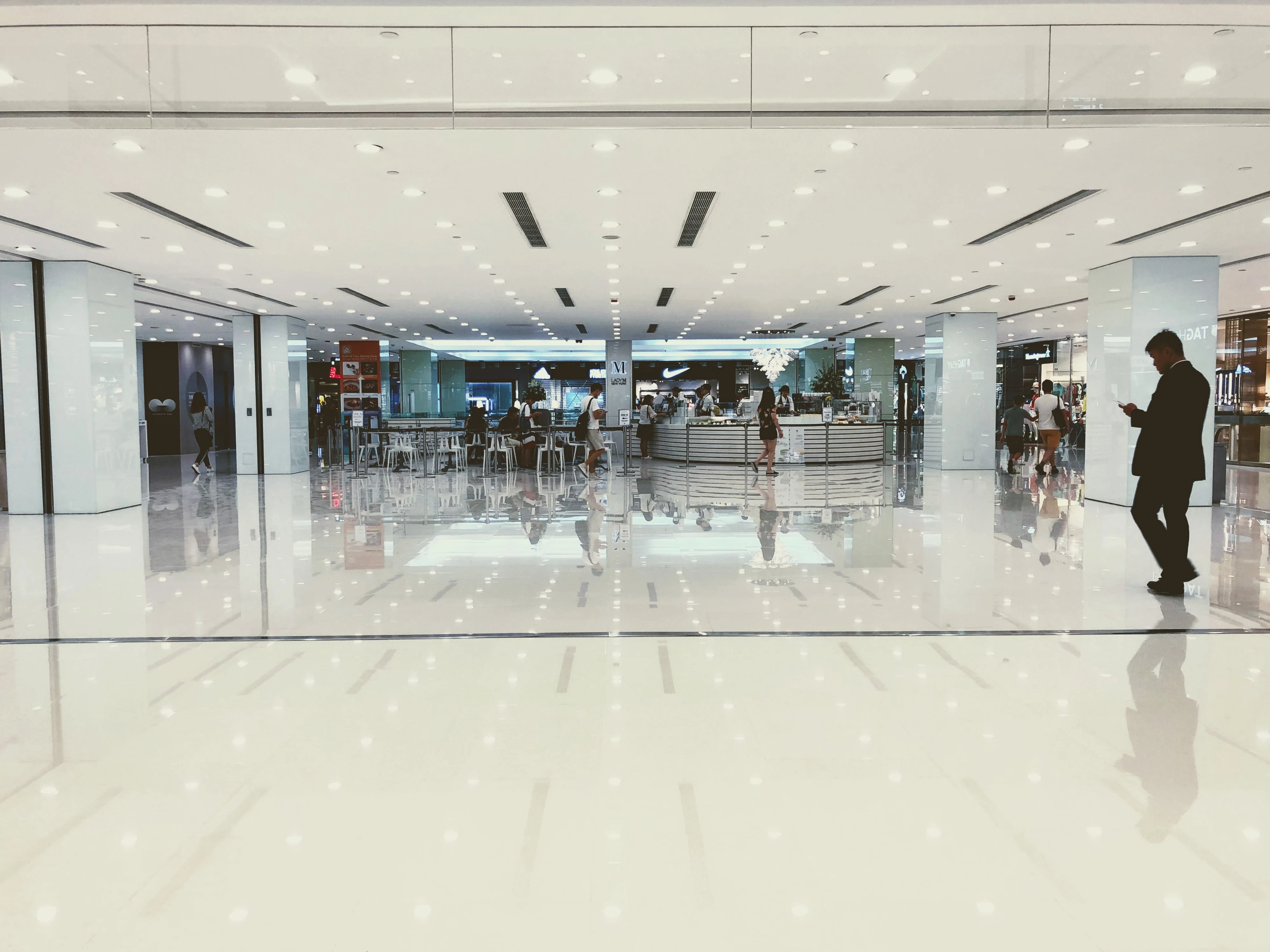 Shopping Malls are a popular pastime for UAE locals and residents. With many shopping malls hosting endless activities in addition to retail shops, they are a great place to escape the desert heat.
If you are someone who likes to browse, people watch and explore, any number of shopping malls within the city could be deemed as one of the best places to visit in Abu Dhabi for free.
All Abu Dhabi malls are free to enter and most include free parking. Each mall offers something a little different, be that in terms of interior design, the type of shops, restaurants, the general theme and feeling within the mall.
One of the most popular malls in Abu Dhabi include the Galleria and Yas Mall.
The Galleria Al Maryah Island
The Galleria is high on our list of best places to visit in Abu Dhabi for free as the feel and design of this modern mall is amazing.
There is a very clean and prosperous feel to this mall and the shops and restaurants reflect this.
The Apple Store within the mall holds regular free seminars, everything from how to take the best photos on an iPhone to kids workshops.
For those with a taste for luxury goods, one side of the mall boasts shops like Chanel, Louis Vuitton, Burberry, Cartier, Bvlgari, Christian Louboutin, Coach, Dior, Fendi, Gucci, Jimmy Choo and many more.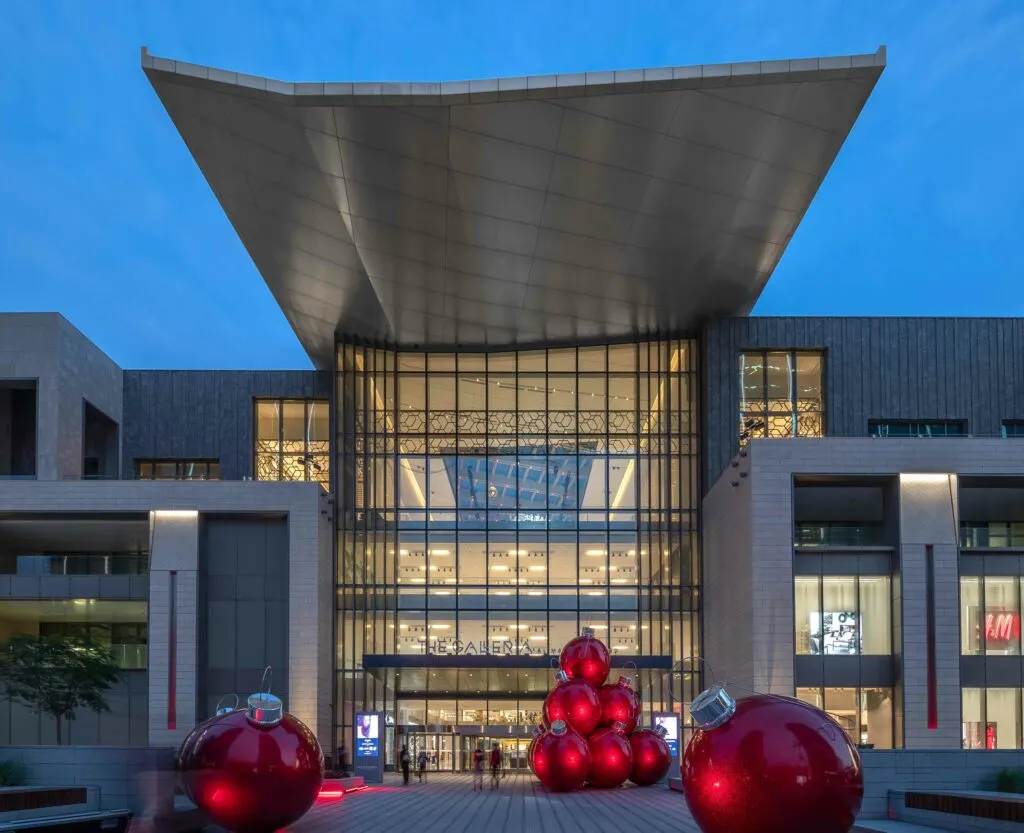 Enjoy window shopping along the endless lanes of the height of luxury fashion.
On the ground floor of this side of the mall, visitors can also step outside and enjoy the spectacular waterfront view of Abu Dhabi.
Take a short walk along the water and watch as visitors have a meal in one of the lovely restaurants with outdoor seating or marvel at the Apple Stores architecture with stunning water features.
On the other side of the mall, all the well-loved shops such as H&M, Zara, Bershka, Stradivarius and a large Virgin Megastore.
Here is somewhere people are known to spend much of their time, exploring the many interesting products in this megastore, with no need to buy the product in the end.
Another shop with a lot of potential for free amusement, is Decathlon. This sport and fitness shop has everything from tents to bicycles to weight machines to basketball nets.
Take a stroll around this store and why not try out some of the sports equipment or clothing.
The Galleria comprises of hundreds of shops, plenty of restaurants and cafes and a large Vox cinema.
Yas Mall
Yas Mall is another very popular mall among Abu Dhabi residents, while the mall isn't as modern and fresh as the Galleria, the location and reputation has helped with its continued popularity over the years.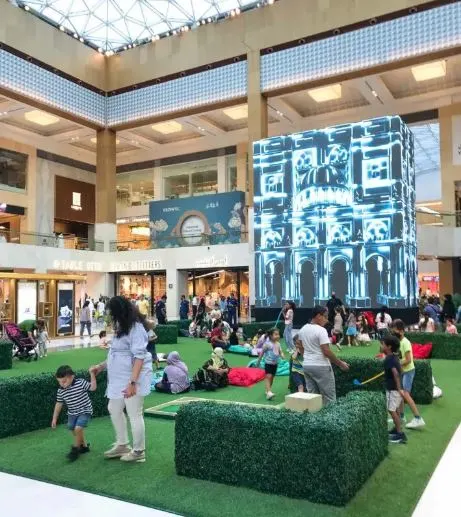 To discover more about what Yas Mall has to offer, check out our 12 great things to do on Yas Island guide.
6. Take a walk around Emirates Palace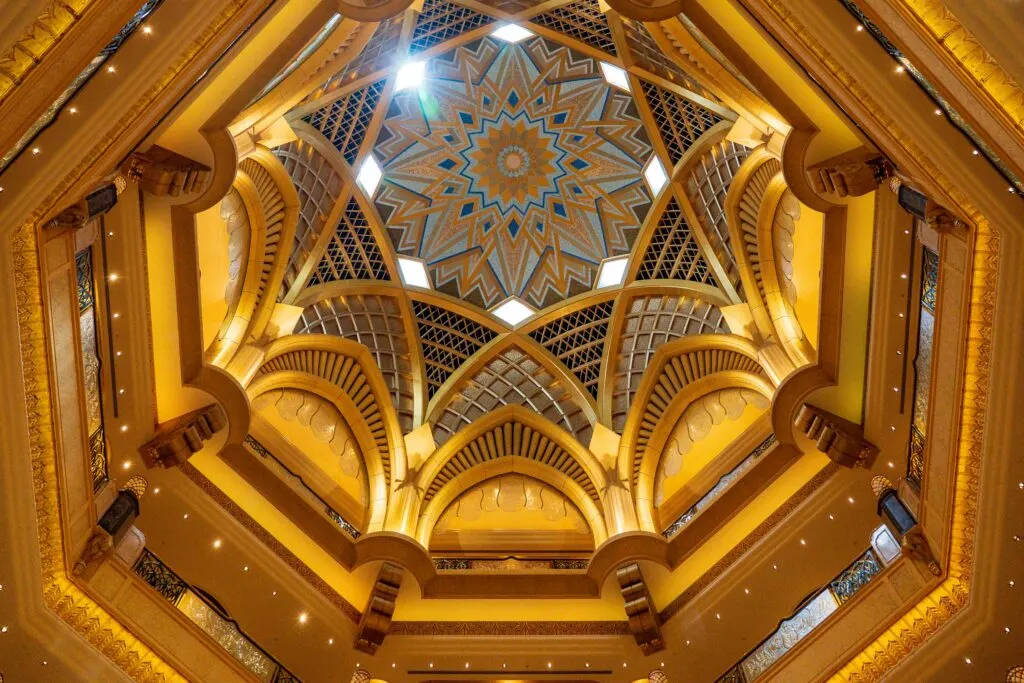 Emirates Palace is a world-famous luxury hotel, renowned for its architecture, Arabesque style and hospitality.
The main building of the hotel stretches out over a massive 1km and boasts gardens spanning over 100 hectares.
While staying at this gorgeous hotel is certainly not free, visiting the hotel grounds is and therefore, deserves a mention as one of the best places to visit in Abu Dhabi for free!
The hotel itself boasts spectacular architecture with 114 domes, the centre one reaching 72 metres in height and crafted with gold, pearls and crystals.
Admire one of the 1,002 chandeliers throughout the hotel and capture a picture in front of the two handmade wall displays portraying the palace.
While a stay in this pristine palace would be ideal, visitors can appreciate and enjoy the beauty at no cost.
If you would like to splash out and stay in this astonishing hotel, you can book a stay here.
7. Visit Al Ain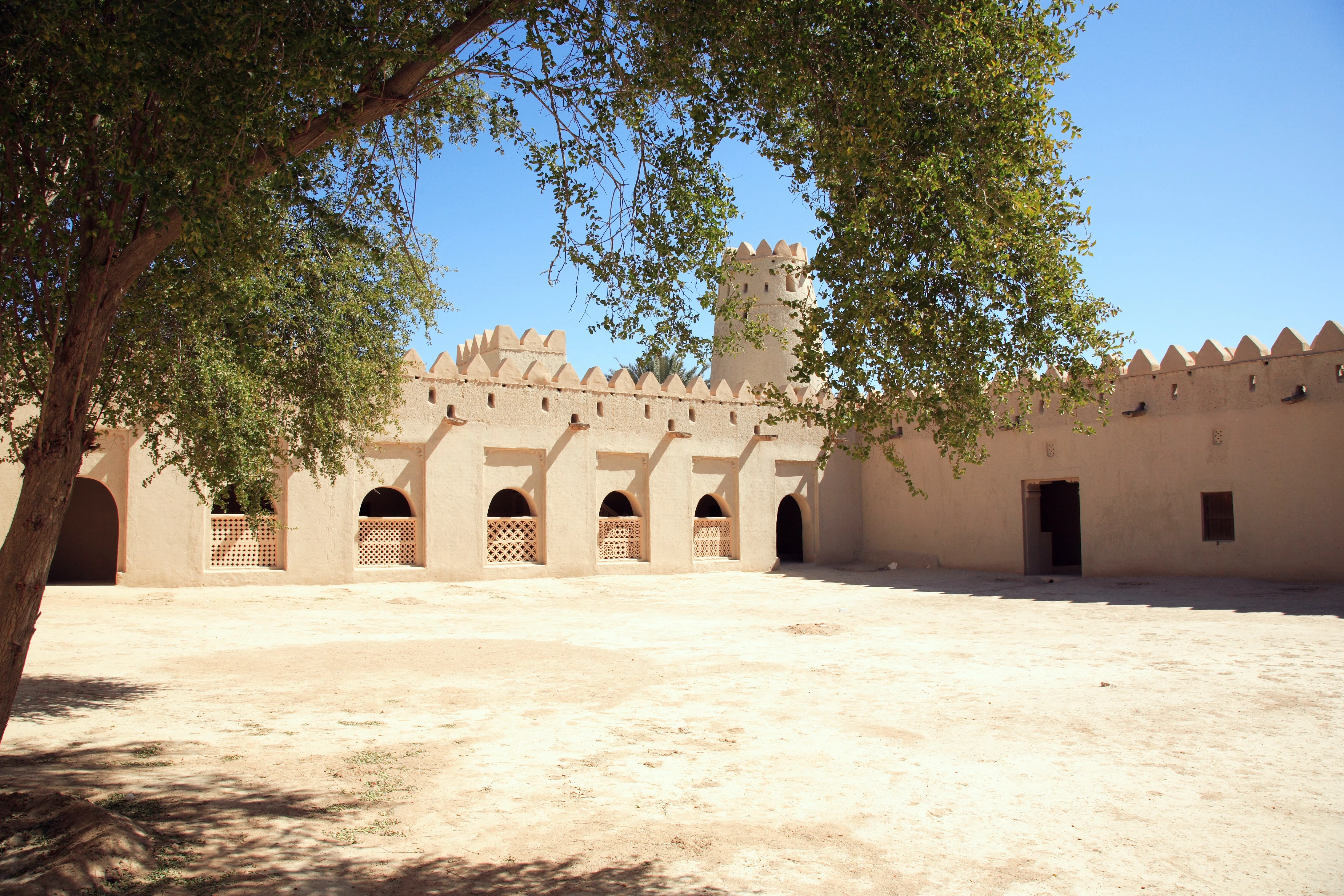 Al Ain is an inland city located in the eastern region of the capital. Known as the garden city, it boasts many beauties in terms of nature, history and culture.
As a result of the city's nature and rich history, there are a number of candidates for the best places to visit in Abu Dhabi located within Al Ain.
First up, Al Ain Oasis.
Al-Ain Oasis covers over 1,200 hectares and gives visitors a unique insight into the UAE's original inhabitants and how they began taming the desert 4,000 years ago.
Entry to the oasis is free and this location is ideal for anyone yearning to immerse themselves in nature.
There are many pathways, most shaded by the canopy of trees growing fruit such as mangos, oranges and bananas.
Visitors can get up close with things such as a traditional falaj and the ancient irrigation system that is still in use today for the local grasslands, date palms and fruit trees.
Visitors may also cycle around the oasis if they prefer.
The oasis houses Eco-Centre where visitors can experience interactive exhibitions outlining how the falaj system works and how the ecosystem is being preferved.
Explore the park, educate yourself on the history and enjoy the water supply that comes from nearby wells using the ancient falaj system delivering water from underground and mountain aquifers.
Free education and exercise, what's not to love?
Hill Archaeological Park
Hill Archaeological Park is one of the best places to visit in Abu Dhabi for free for anyone interested in history.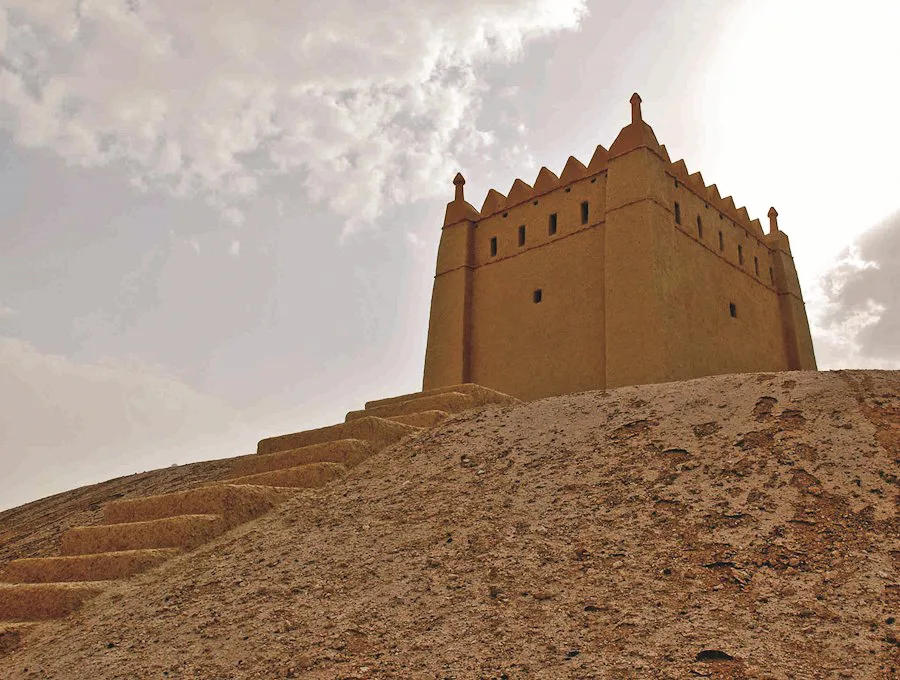 The best known archaeological site in the United Arab Emirates, this park is part of the Hill Cultural Site and part of the UNESCO World Heritage site of Al Ain.
This site contains a number of Bronze Age and Iron Age villages, burial grounds and agricultural infrastructure.
Hill Archaeological Park houses the largest collection of tombs and buildings from the Bronze Age in the UAE.
One of the most notable structures from the Bronze Age is the Grand Tomb. This tomb is more than 4,000 years old.
Close by, the Hill Site 1 can be found. Once a tower built from bricks and mud, this structure was excavated in the 1960s.
It was found that the tower had thick circular walls, several rooms and a well in the centre. Only the tower foundations can be seen today.
There is a similar structure with a well-situated at Hill 10, believed to have been a stronghold, potentially controlling trade routes throughout the region.
Visitors are free to explore the site and artefacts as well as enjoy the public garden, fountains and small children's area.
Al Jahili Fort
Al Jahili Fort is a focal point of activities in relation to the philosophy, culture and heritage of Abu Dhabi.
One of the largest forts in the UAE, Al Jahili was built in 1980 on the orders of Sheikh Zayed bin Khalifa Al Nahyan.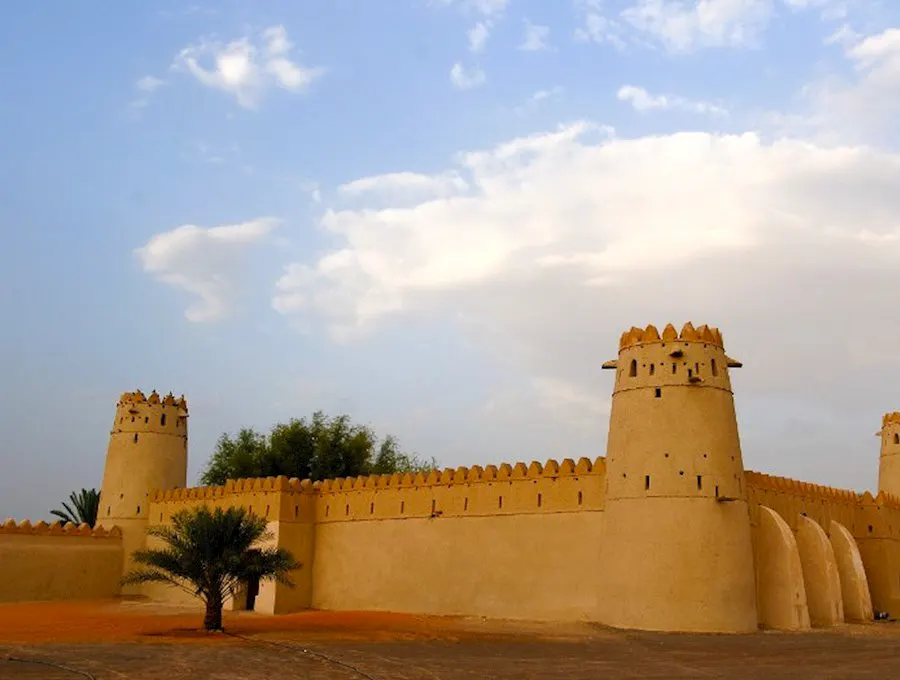 The department of Culture and Tourism – Abu Dhabi, decided to restore the fort in 2008, returning it back to its original wonder.
As a result, the fort has been transformed into a popular tourist attraction and a cultural centre within the UAE.
The fort now houses an exhibition in honour of Sir Wilfred Thesiger.
The intrepid explorer and writer, along with his Emirati and Omani companions, crossed the world's largest sand mass, the 'Empty Quarter' twice in the 1940s.
In addition, the fort houses temporary exhibition galleries and is surrounded by a beautiful park.
Visiting this ancient fort, exploring the exhibitions and enjoying the surrounding park make Al Jahili Fort one of the best places to visit in Abu Dhabi for free.
Qasr al Muwaiji
A classic example of 20th-century brick and mud architecture, this fort is on of the best places to visit in Abu Dhabi for free and is also great for photo opportunities!
The striking fort includes projecting corner towers and a large grand entrance gate.
Qasr Al Muwaiji was the birthplace of the founder of the UAE, Sheikh Zayed bin Zayed Al Nahyan and home to generations of the Nahyan family for generations.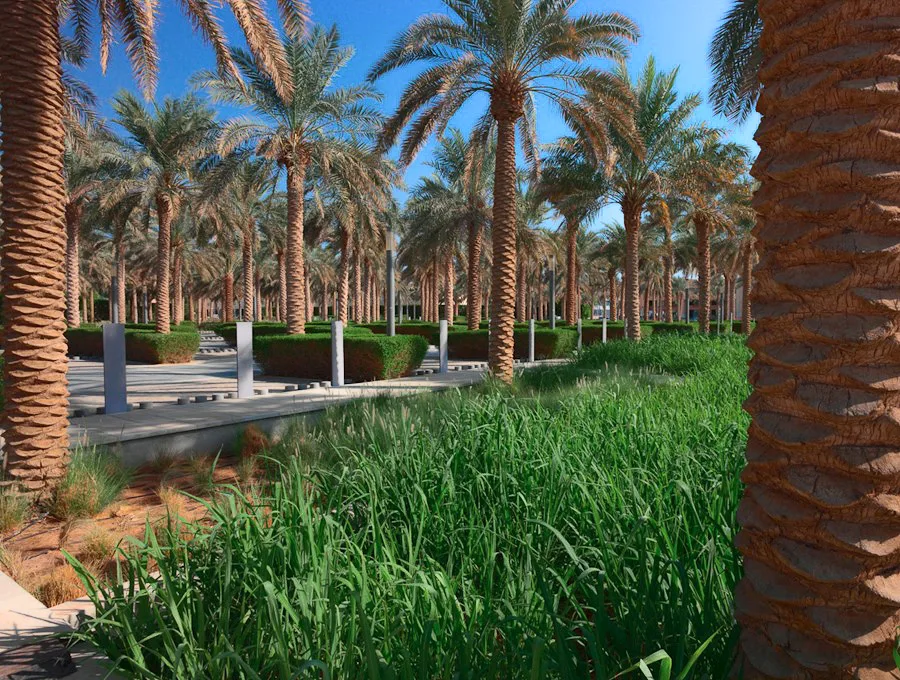 Visitors can enter this historical beauty for free and explore the modern exhibition hall that outlines the story of the fort and its inhabitants.
The exhibition is popular among residents and visitors and educated the public on the history of the ruling family, their achievements and accomplishments.
It also helps the exhibition is housed within an exquisite glass-walled space within the Qasr Al Muwaiji courtyard.
Al Ain Palace
Another free and popular location to visit is Al Ain Palace, home to the founding father of the UAE along with his family.
The palace is one of the best museums in Abu Dhabi and is an important historical site within the UAE.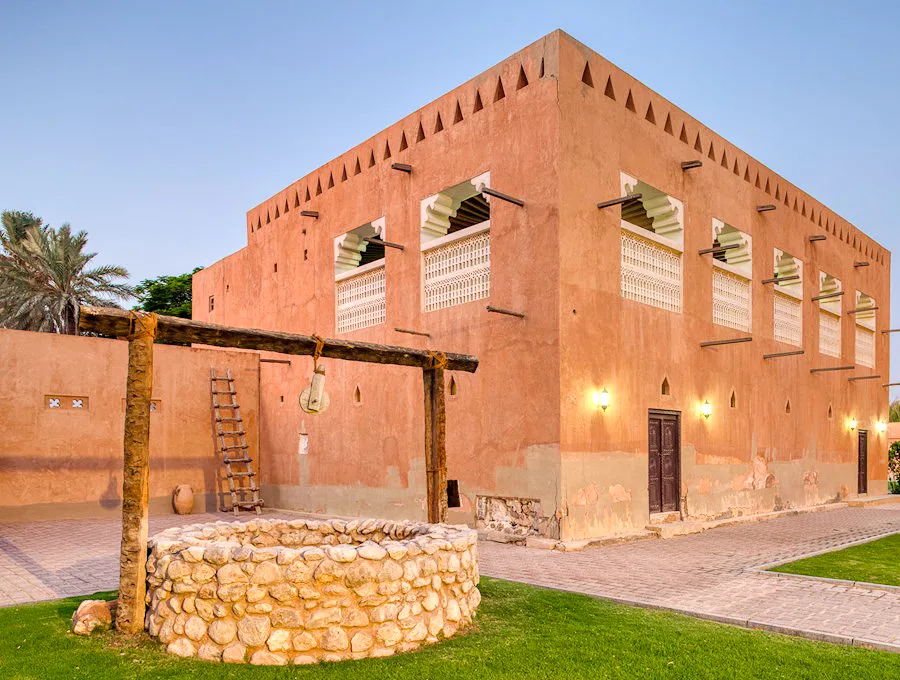 The palace and private residence offers a fascinating insight into the lives and culture of the ruling family pre-petroleum discover and for this reason, is considered one of the best places to visit in Abu Dhabi for free.
The palace was transformed into a museum in 1998 and opened to the public in 2001 as a place to celebrate the UAE's rich history, preserving the links to the present and future.
The museum showcases modern design elements mixed with traditional Emirati influences throughout the property.
A visit to the palace is both educational and entertaining for all.
Jebel Hafit
After spending a certain amount of time in Abu Dhabi, visitors begin to realise that the landscape is incredibly flat.
It is a mission to find a hill or mountain throughout the capital. As a result, Al Ain's Jebel Hafit mountain, is a very popular spot and is also one of the best places to visit in Abu Dhabi for free.
The mountain is Abu Dhabi's highest peak and the second-highest in the UAE, measuring a height of 1,249 metres.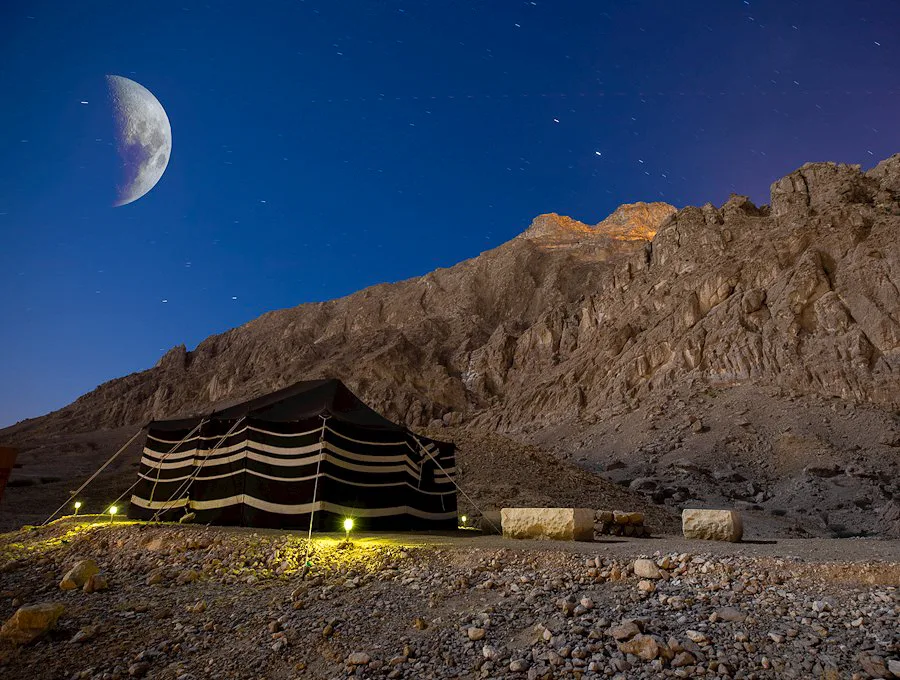 The peak can be reached by car, motorbike, bicycle or foot and the views of the garden city of Al Ain and the borders of Oman is breathtaking!
The area is primarily limestone that has been weathered over the years resulting in many fossil discoveries adding to the city's ancient history.
A very popular aspect of Jebel Hafit is the Mercure Grand Jebel Hafeet Al Ain Hotel situated on the peak of the mountain and the campsite located at its foothills.
While at the foot of the mountain, is the Jebel Hafit Desert Park which spans over nine kilometres of land. Here, visitors can hike, mountain bike, or take a camel or horse ride.
Add Jebel Hafit high on your agenda of the best places to visit in Abu Dhabi for free.
If you are planning a visit to Al Ain, you can book a stay in the Mercure Grand Jebel Hafeet Al Ain hotel at the peak of the mountain here.
8. Take a trip to Al Wathba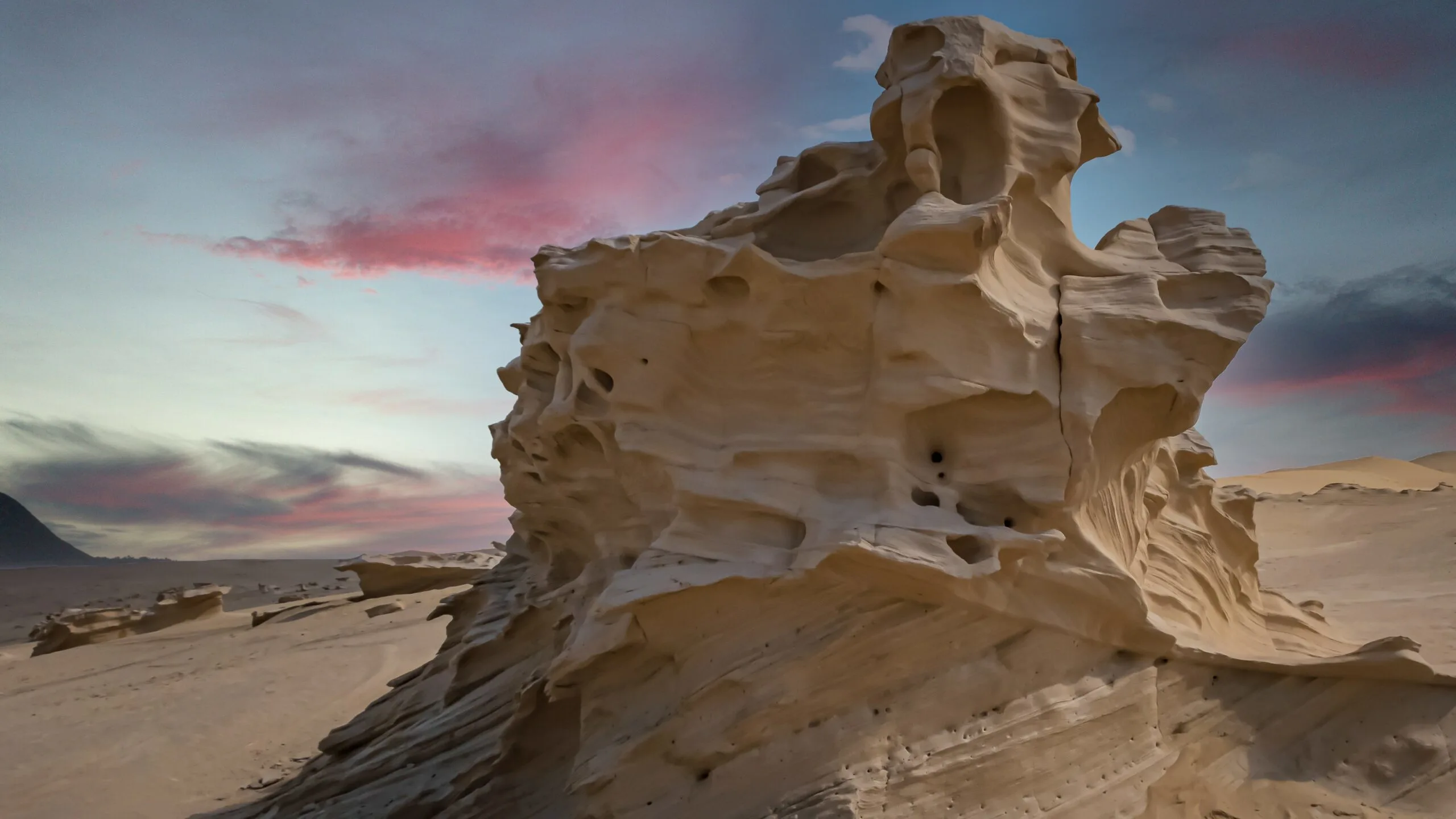 Al Wathba is a desert located approximately 40 minutes from the capital. With a number of great activities available to the public, Al Wathba is most definitely one of the best places to visit in Abu Dhabi for free.
Al Wathba Wetland Reserve.
Once a coastal salt flat, Al Wathba wetland reserve has flourished into a mix of natural and man-made lakes that enable many of Abu Dhabi's species to thrive. The reserve was the first place in the region to be protected by law.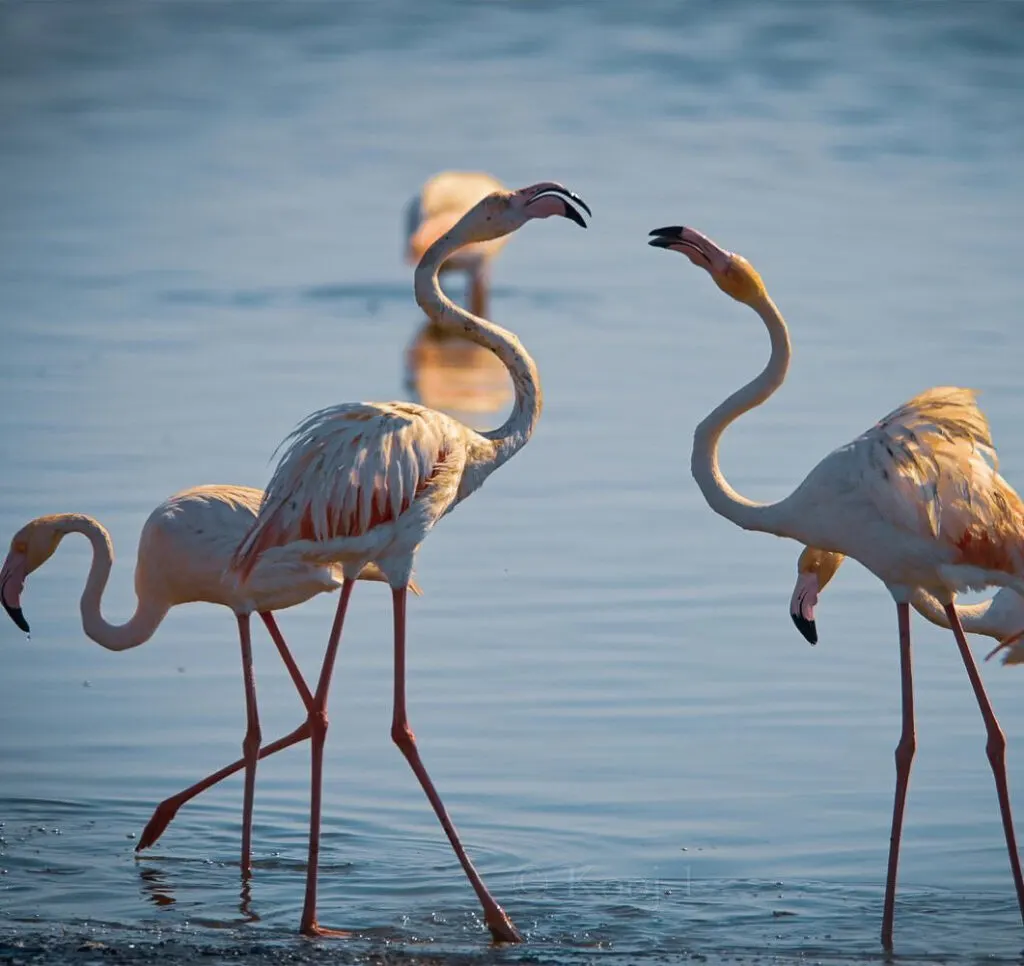 The reserve houses more than 250 species of birds, 37 plant species and a wide range of sealife.
What makes this one of the best places to visit in Abu Dhabi for free though, os the 4,000 flamingos that can be seen in the reserve during autumn and spring.
Enjoy a stroll along the self-guided walking trails, admire the fauna and flora and experience some bird-watching.
The reserve allows visitors to reconnect with nature and catch rare sightings of the various species around the wetland.
Al Wathba Long Salt Lake
Whilst visiting Al Wathba desert, make sure to pop by the Long Salt Lakes.
The bodies of water became an Instagram sensation as a result of the dreamy turquoise waters with unique salt pads reminiscent of lily pads in a pond.
Long Salt Lake is one of the best places to visit in Abu Dhabi for free for a couple of reasons.
Firstly, the lakes are highly picturesque, hence the Instagram sensation.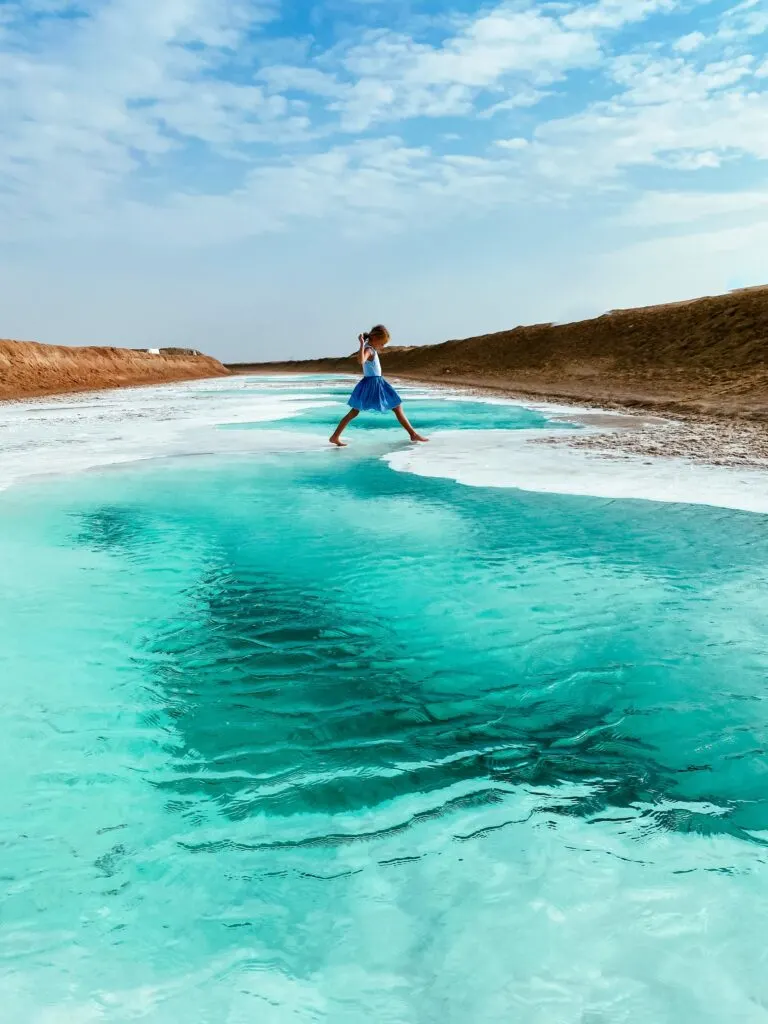 Secondly, there is some mystery around the salt lakes and their formation.
The man-made lakes feature pipes that feed into the channels. The high salt content of the ground underneath mixing with the hot climate and coastal location results in the salt flats or 'sabkha'.
The mystery, however, lies in the large dense salt pad features often seen being used as stepping stones throughout the channel.
It takes a significant period of time for these sort of structures to develop through erosion and depositing, much longer in fact, than is possible in the time these man-made lakes were created.
This picturesque, mysterious location is a must whilst close to Al Wathba.
Al Wathba Fossil Dunes
Last up on our Al Wathba list, the fossil dunes.
Created from a magical mix of sand, wind, climate and time, these fossil dunes are wonderful to observe.
It has been estimated that these particular fossil formations are over four million years old.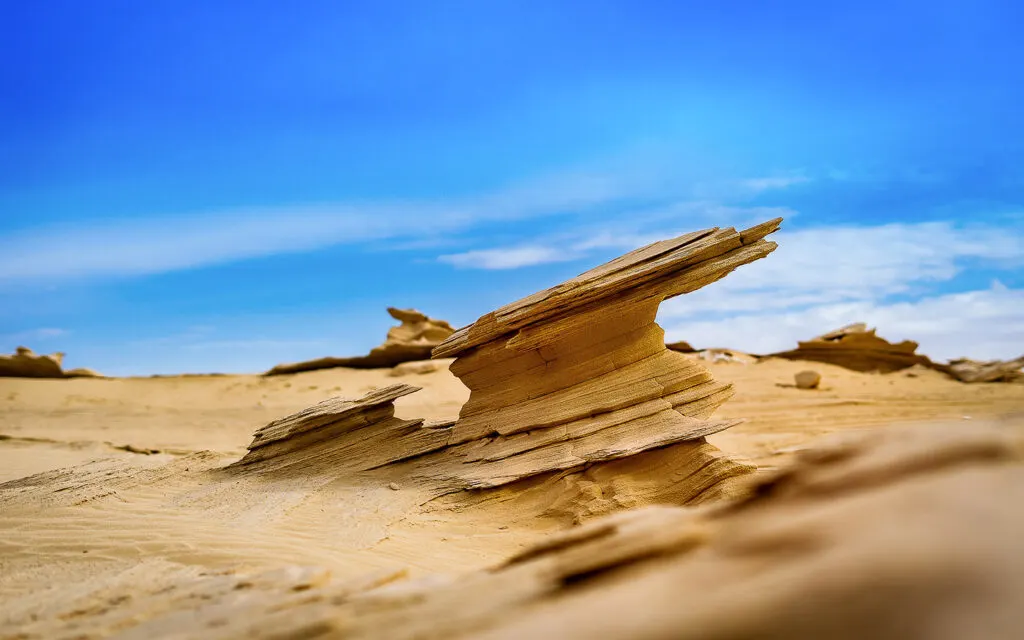 The reserve is free to visit and offers wel-lit trails spanning three kilometres in each direction.
Visitors can also enjoy music and light shows that take place during the reserve opening hours as well as a number of food and beverage trucks.
Visitors can also enter the amphitheatre and other facilities in the visitor centre including viewing areas, a gallery corner and areas to sit and rest.
After visiting all the free locations Al Wathba has to offer, why not spend the night in Al Wathba A Luxury Collection Desert Resort and Spa by booking here.
Enjoy a free beach day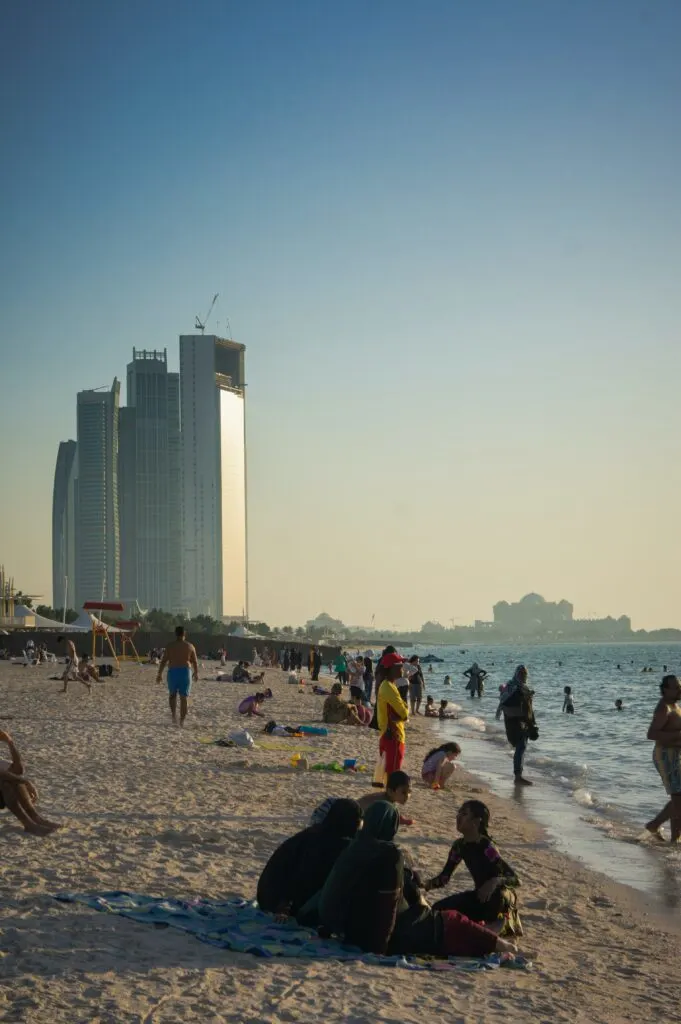 Without a doubt, some of the best places to visit in Abu Dhabi for free are public beaches. While many beaches and pools require paid entry, there are a number of beaches accessible to the public for free.
If you are interested in visiting any of the many exceptional paid beach clubs, check out our guide to the best beach clubs in Abu Dhabi.
Al Hudayriyat Island
Al Hudayriyat Island is home to some of the best places to visit in Abu Dhabi for free as well as a number of the best-paid activities.
The island is one of the best locations to hang out with friends or family and boasts a huge number of facilities including Al Hudayriyat Beach, tennis courts, football pitches, basketball courts, padel courts, and 400m athletics track, a 5km and 10km cycling track, skate park, BMX park, high ropes park and the OCR park.
Many of these facilities are available to use free of charge or at a small cost. The beach, cycling track, and various parks are available to the public for free.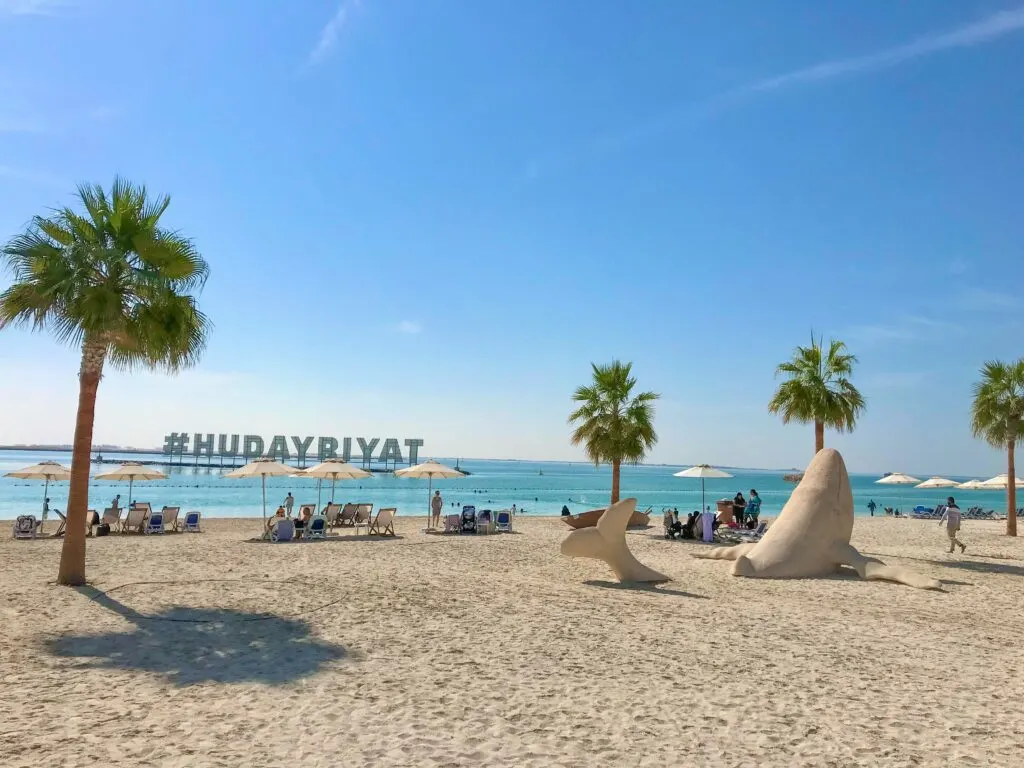 If you own a bike or if you are willing to pay a low price to rent one, the 5km and 10km bike track is a must.
The track takes cyclists around the perimeter of the island, with stunning views of the coast as well as passing many of the sports parks and finishing along the beach and back to the car park.
Bike and skateboard enthusiasts should take full advantage of the free thrilling parks designed for the most exciting tricks and flips!
Adventure enthusiasts are highly encouraged to pay the OCR a visit, this obstacle course consists of eight different obstacles and eight different fitness elements.
Now to get to the main attraction, Al Hudayriyat Beach spans over 24,000m² and includes over 600m of dedicated swimming area.
The beach is well maintained and boasts some of the most stunning views from dawn to dusk.
Many parts of the beach are divided into sections such as the couples beach, family beach, male beach and female beach.
There are great modern facilities in each section in terms of showers, changing rooms and toilets.
Offering ample sun loungers, beautifully blue waters and fantastic views, this public beach could easily be considered better than some of the private beaches across the UAE.
In the epicentre of the beach, a widely photographed Hollywood-esq sign #HUDAYRIYAT sits in the sea.
The beach is surrounded by a number of restaurants and coffee shops with a well-decorated, creative wooden path guiding visitors through the food and drinks options and out towards the beach.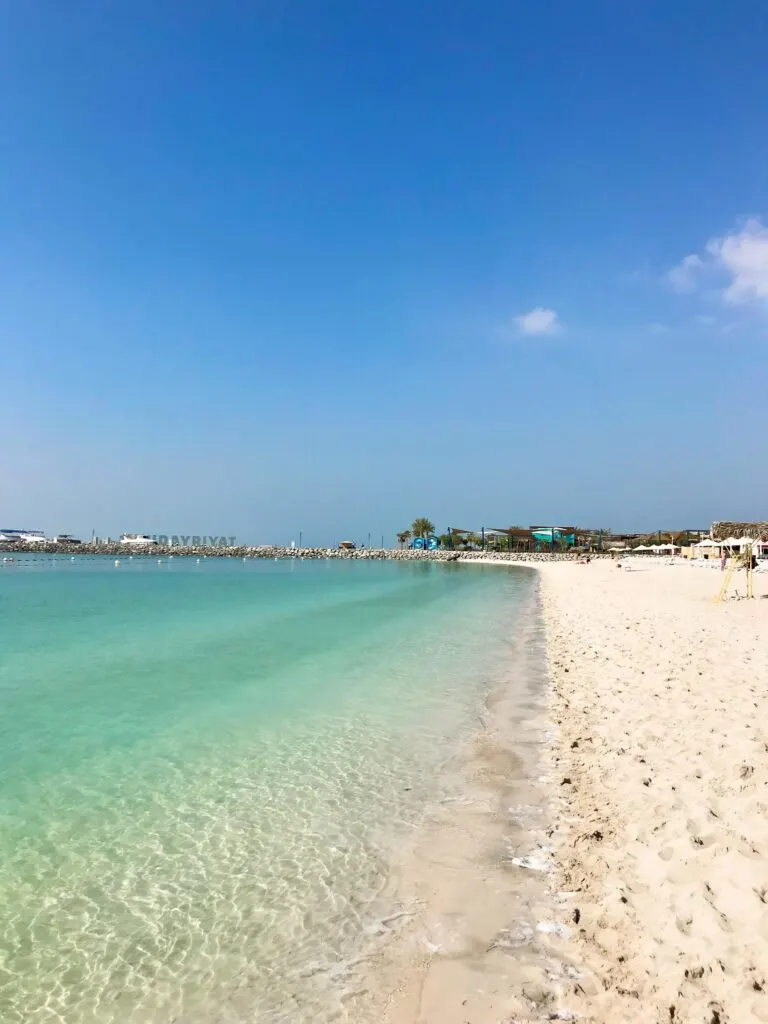 Often missed down towards the end of the beach, there are two boardwalks. One is a simple floating pavilion that juts out into the sea with a couple of seats and ambient twinkling lights.
The second is further down again and is a short boardwalk winding through a number of creative art pieces including a large sculpture of a bird and separately a seal.
The boardwalk also houses a small tipi-like sculpture and a very fun large open hand sculpture where people can stand in the centre and capture a perfect photo opportunity.
While there are more than enough free activities on the island, if you are interested in buying a bite to eat, there are many great places to choose from.
Some of the most popular restaurants include Rain, Shrimp Pot, Babu Town, Projecto Acai and Muncheeze. There are also a number of great places for coffee such as DRVN, I Love Coffee and Shot.
If you don't have time to sit down with food or drink, there are also a number of drive-thru coffee shops and restaurants on your way out of the car park.
All in all, Al Hudayriyat Island is by far one of the best places to visit in Abu Dhabi for free.
Reem Central Park
Reem Central Park has already been listed as one of the best places to visit in Abu Dhabi for free, however, we must emphasise Reem public beach within the park.
Free to use, well maintained and looking out across Reem Island, Reem beach in itself is one of the best places to visit in Abu Dhabi for free.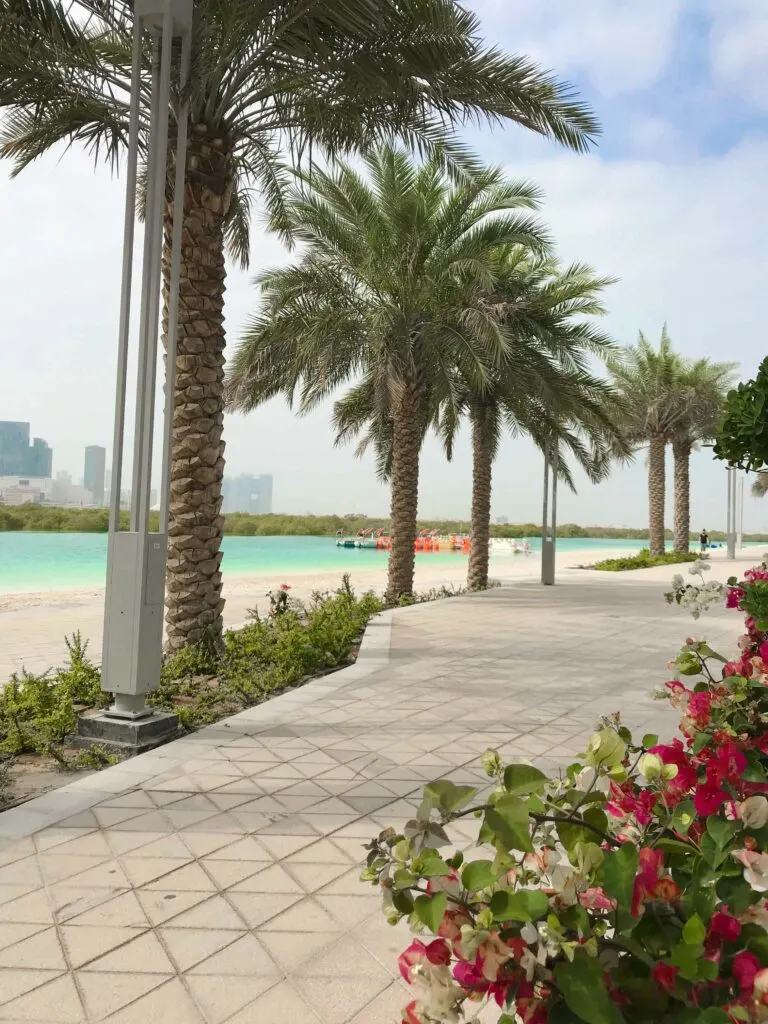 Visitors can swim in the designated areas, lounge on the sand or grass and enjoy the water fountain show afterwards or go for a stroll.
Once you are finishing up, the park also offers excellent facilities in terms of showers, changing rooms and toilets, including lockers for your belongings.
Al Bateen Beach
Another public beach worth mentioning is Al Bateen. Free to use and well maintained, this beautiful beach looks out towards Al Hudayriyat with a great view of the Hudayriyat bridge connecting the island to the rest of Abu Dhabi.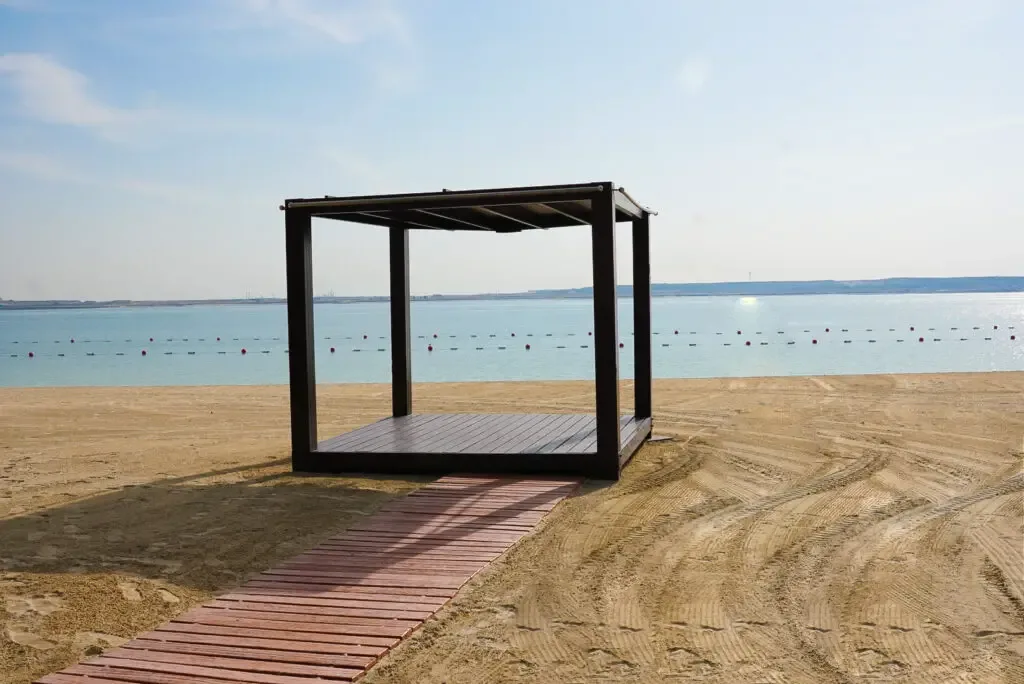 Al Bateen is very popular among locals and ex-pats alike.
9. Enjoy Some Art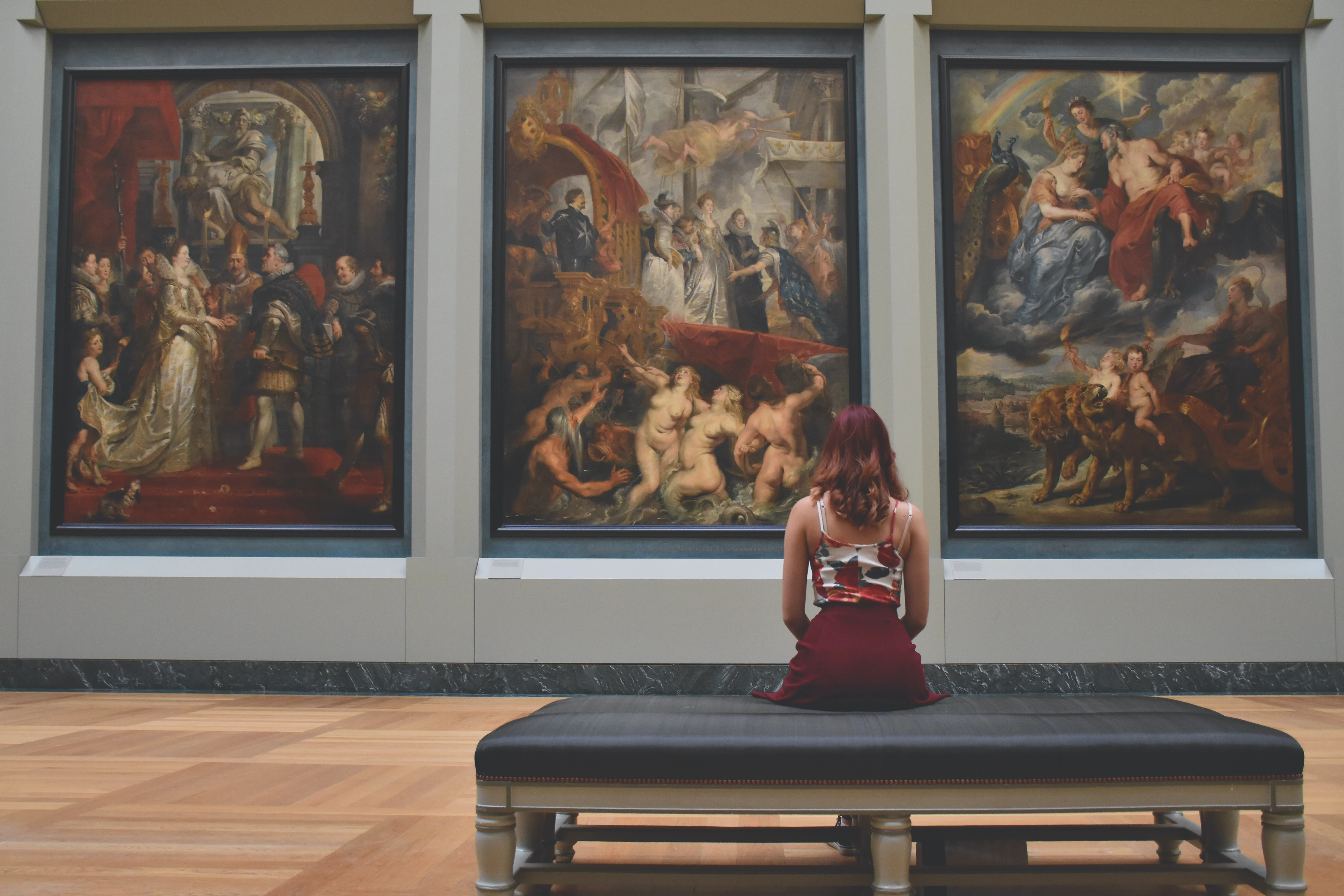 Manarat Al Saadiyat
An exhibition centre hosting year-round cultural exhibitions, film screenings, performances, workshops and drop-in studio spaces, Manarat is one of the best places to visit in Abu Dhabi for free for those interested in the art scene.
The centre explores contemporary concepts and attempts to speak to all ages, making this a great place to visit for all.
Manarat exhibitions emphasise photography and multimedia with programmes exploring film, music, animation, gaming, photography and media.
While a number of the offerings are paid, entry to the art galleries and exhibits are free.
10. Visit Sheikh Zayed Grand Mosque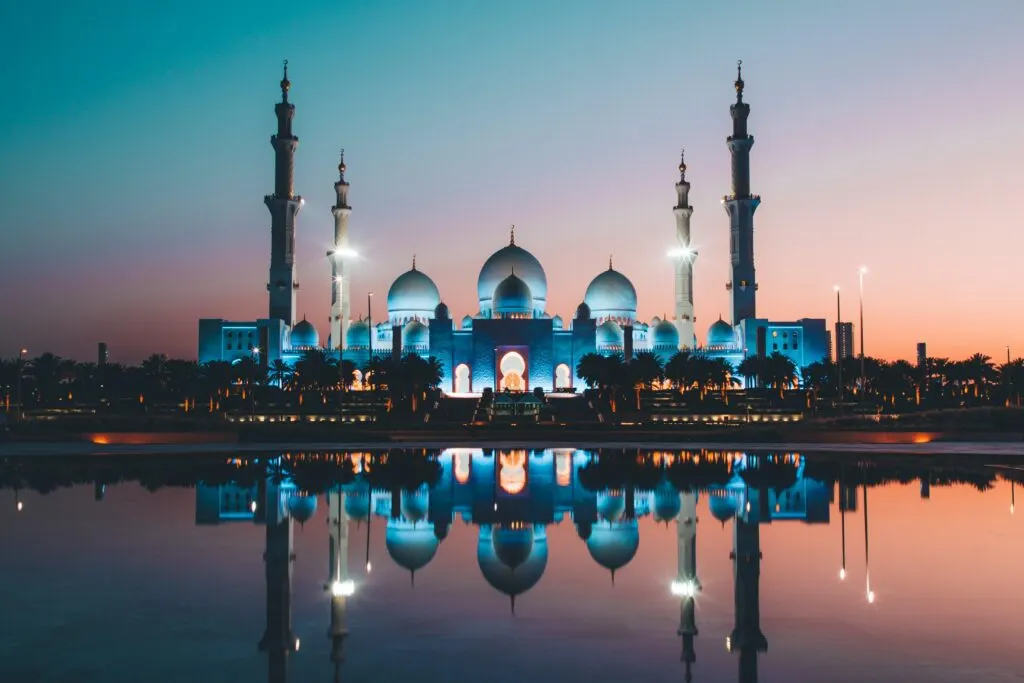 High on every visitor's agenda, Sheikh Zayed Mosque is a no-brainer when it comes to the best places to visit in Abu Dhabi for free.
Abu Dhabi's grand mosque is one of the largest in the world and is an architectural masterpiece that brings together Islamic architecture and designs beautifully.
Named after the Founder Father of the UAE, Sheikh Zayed bin Sultan Al Nahyan, the mosque was built in order to create a cultural haven to welcome and inspire people from all backgrounds.
Each visitor marvels over the 100-metre tall building that is as awe-inspiring on the inside as it is on the outside.
The mosque is free to visit and is open to non-worshipping visitors from 9 am – 10 pm Saturday – Thursday and between 9 am – 12 pm on Friday. These hours change slightly throughout the holy month of Ramadan.
Each visitor can access a digital guide and an e-manual. A guided tour is also possible and is supplied for free.
When visiting the mosque, ensure your clothing is deemed appropriate within the culture and religion of the UAE.
Both men and women must be fully covered from the neck down, meaning no t-shirts or shorts are permitted within the mosque.
Women must also cover their hair. If you are eager to keep your mosque visit completely free, ensure that you have the correct clothing.
The safest option is an abaya for women and a kandora for men.
To discover more about the mosque dress code and where you can find the appropriate clothing, check out our what to wear in Abu Dhabi guide.
If you would like to get a tour of the mosque, book here.
11. Experience Desert Camping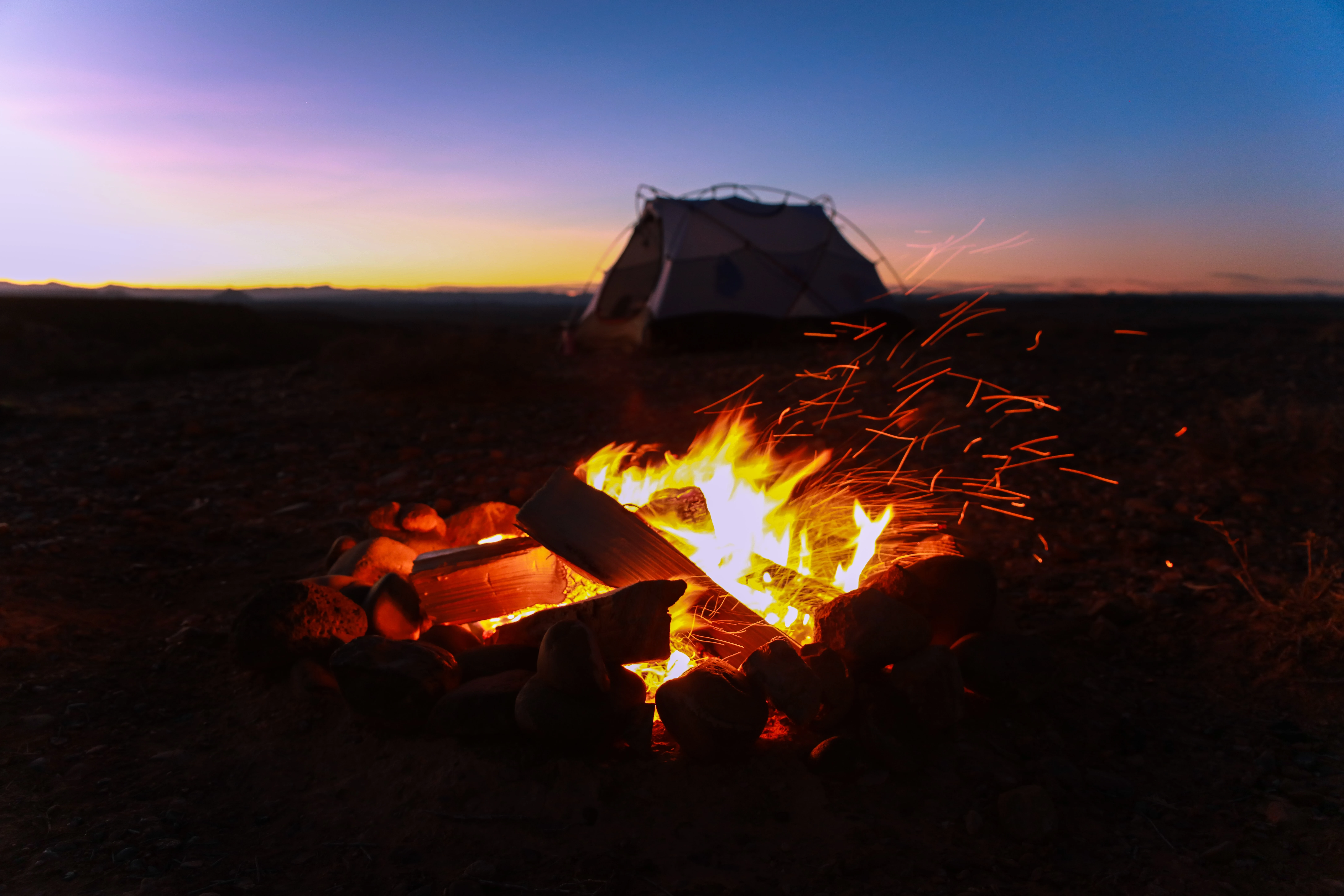 One of the best places to visit in Abu Dhabi for free in the desert, and with the UAE essentially being one large sandpit, there are plenty of places to choose from.
Experiencing camping in Abu Dhabi is entirely different to camping back in Ireland or the UK.
If you are visiting between October – April, a trip to the desert to spend the night out in nature will be an absolute treat.
In addition to desert camping, many residents will also camp on public beaches or up the limited number of mountains in Al Ain.
There are a couple of great spots in the Abu Dhabi desert that many visit to camp throughout the year. Liwa Oasis is one such destination, also known as the 'empty quarter.'
The public is free to set up camp anyway along this desert. Camping here allows you to fully escape the bust city and immerse yourself in calm and nature.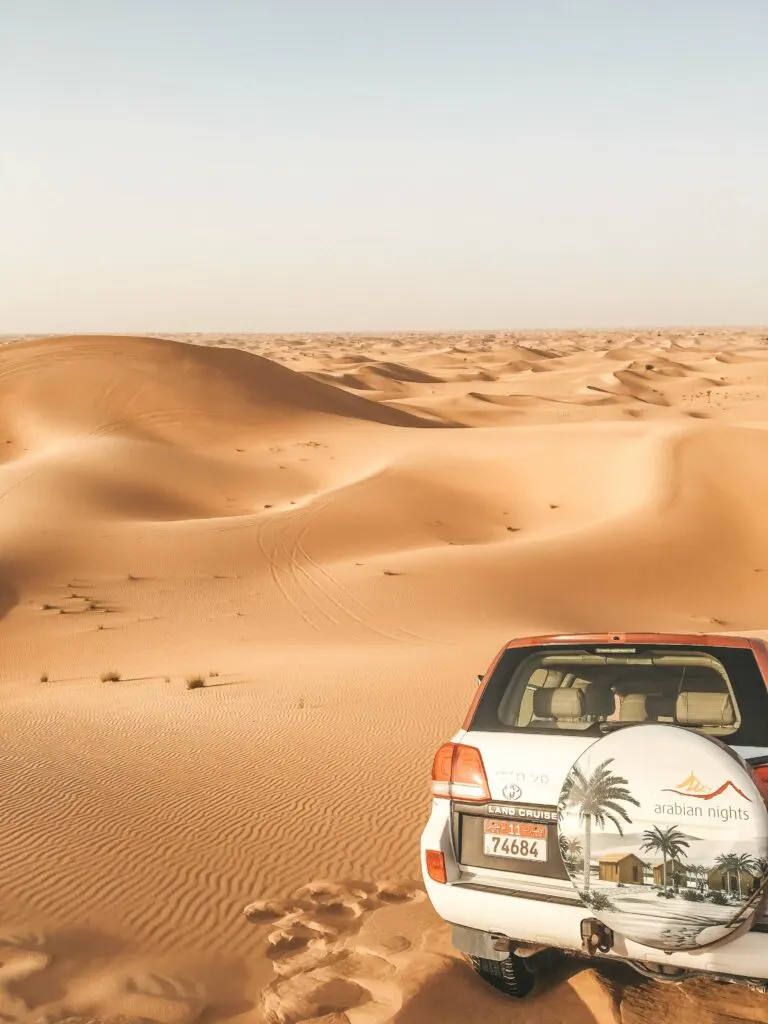 Why not take advantage of some of the rolling dunes to practice your sandboarding or dune bashing. Bear in mind, if you do not have a 4×4, do not attempt camping here!
Without a doubt, the best place to camp in Abu Dhabi is Shuweihat Island. Located as far west as you can go, getting here requires a big commitment!
If you are willing to make the journey in return for a camping adventure like no other, you will not regret it.
Once you reach your destination, you will be granted access to the serene island and will experience a beach spot superior to anything like it within the UAE.
The island boasts cliffs and caves covered with beautiful sand rock and is surrounded by glistening waterways.
With many other places suitable for desert camping in Abu Dhabi, the most important part of this free experience is to ensure you have organised appropriately and packed all of the essentials.
When camping in any part of the desert, a 4×4 is the only appropriate vehicle, if you no not have one for your camping trip, most locations will be off-limits.
In terms of packing, the most important item is of course water and plenty of it. Regardless of the time of year, ensure you have overpacked the amount of water.
Next, plan out your meals. How many nights are you staying? Do you plan to cook breakfast, lunch and dinner or bring along some pre-made meals?
We recommend having a BBQ for dinner on the night your sleep over. There is nothing more enjoyable than cooking your own BBQ in the middle of the rolling desert whilst watching the sun go down.
For this, ensure you have packed a few disposable BBQ sets, these can be purchased in most supermarkets like Carrefour or LuLus.
In addition, don't forget a lighter, some lighter fluid (very helpful if it's windy) and something to place the BBQ on.
As Abu Dhabi can be very windy, to avoid as much sand in your meal as possible, we recommend packing some portable tables or something similar to cook the food above the ground.
Next, you will of course have to pack the food you plan to cook on this BBQ and any other meals and food for the trip. A cooler box will be essential when packing food.
In terms of the obvious essentials, don't forget your tent, blow up mattress or something to sleep on, pillows, covers, deck chairs and head torches or other light sources.
In terms of clothing, depending on the time of year you may want to consider packing some layers as the evenings and nights can get quite chilly during the cooler nights.
Don't forget sanitary products such as baby wipes, tissues and something to use as a bin for waste and food.
Sunglasses, a hat and appropriate footwear is necessary all year-round.
We recommend building a campfire in your campsite. For this, ensure to pack the lighter and lighter fluid as mentioned and some form of dry, flammable sticks/wood to build the fire with.
If you are camping somewhere close to the coast or another body of water, don't forget your swimming gear and towel.
If you happen to have a 4×4 and there are only a couple of you camping, why not set up camp in the car?
Many will choose to put down the back seats in their 4×4 and place a mattress on top and sleep there.
This is particularly ideal if you have a sunroof as you will have an amazing view of the starry sky.
The desert surroundings are really something to embrace, you will witness a sunset and sunrise like never before!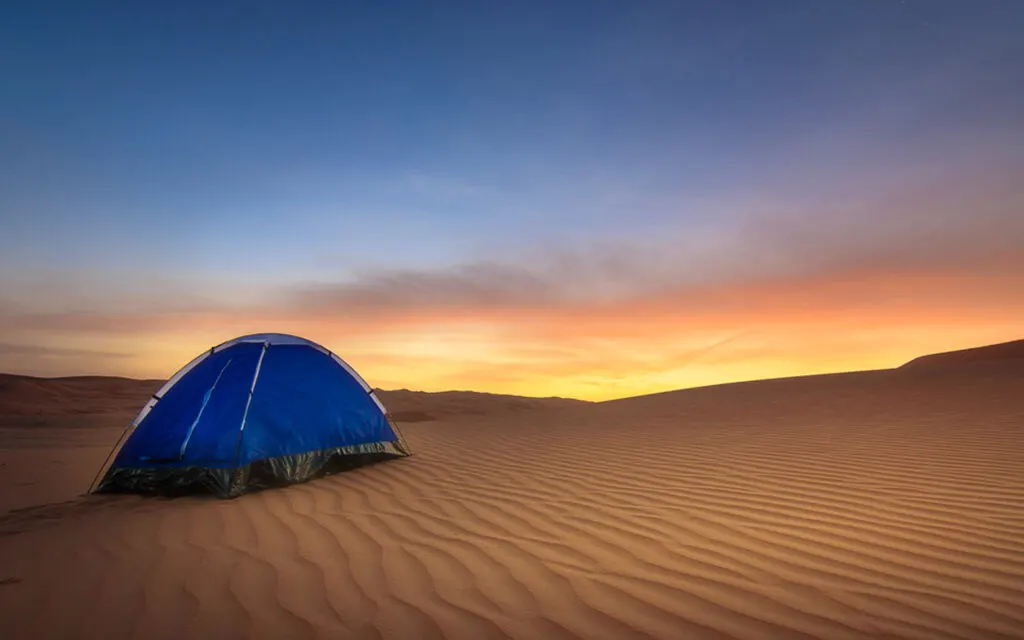 In addition, the desert sky in comparison to the city sky is astonishing. Campers can experience spectacular starry skies in the desert.
For those heading to Shuweihat Island, more preparation is required. Due to the rocky paths on the island, appropriate hiking/climbing wear is essential.
Any avid climbers will also have the opportunity to bring along their climbing gear if they wish to.
Because of the many waterways, a kayak is the best form of transport so don't forget to pack that with the essentials!
Here is a helpful packing list when camping in Abu Dhabi:
Tent (or car)
Lightweight sleeping bag
​Air bed (or something to sleep on)
Torches and spare batteries
Maps or a GPS system
Coolbox
Water (for drinking and washing)
Food and drink
Camping stove, firewood, barbecue and charcoal
Newspaper to light the fire
Matches or lighters
Insect repellent and antihistamine cream
First aid kit (including any personal medication)
Sun protection (hats, sunglasses, sun cream)
Warm clothing for cooler evenings
Toilet rolls
Rubbish bags
If you're not ready to camp in the desert solo, there are some amazing desert safari experiences on offer.
You will be brought out for a day of desert fun, followed by dinner and a show and finishing with camping under the desert sky.
You can book a desert camping experience here.
12. Stop off at the Last Exit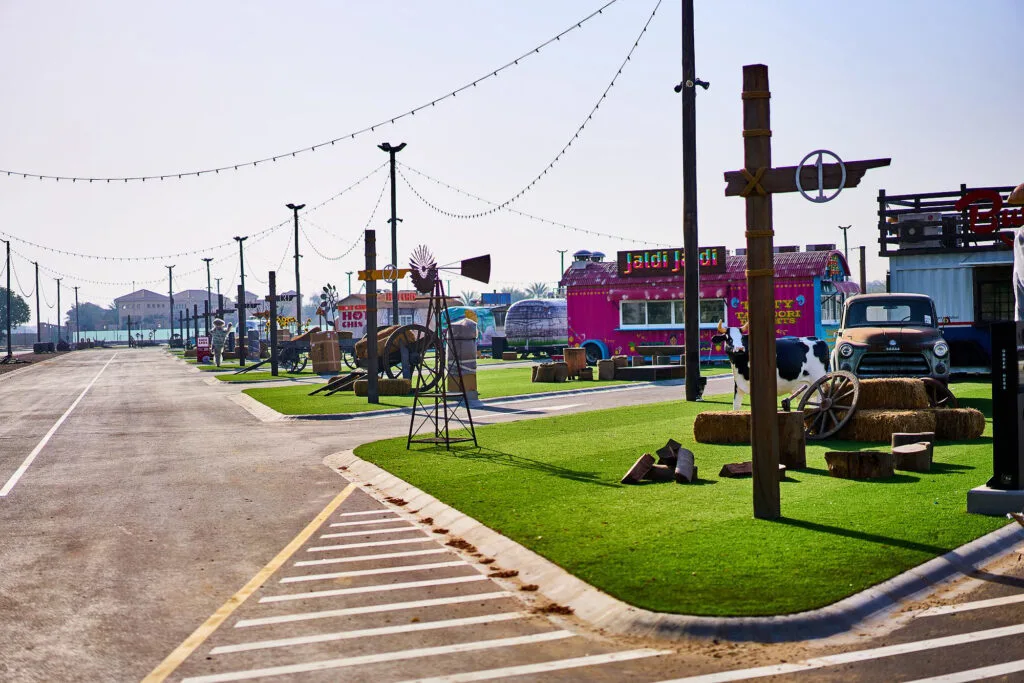 The last exit is one of the more unique locations when it comes to the best places to visit in Abu Dhabi for free.
There are actually two last exit locations, both located in between Abu Dhabi and Dubai.
Each last exit location is literally the last exit before reaching either Dubai or Abu Dhabi, therefore, there is a Last Exit Dubai bound and a Last Exit Abu Dhabi bound.
The concept of both locations is the same, a stop-off for drivers where they are transported into another world, can take a rest and have a choice of a number of food and drink trunks to enjoy.
Drop into the Last Exit Abu Dhabi bound and be fully transported into a post-apocalyptic time reminiscent of Mad Max.
The stop-off has probs like abandoned cars, monster trucks and war rings. If you want to keep this visit free, simply enjoy a sit down outside surrounded by these amazing probs or inside the post-apocalyptic building.
The food trucks may tempt you to spend some money however with options such as Starbucks, Burger Pit, Cupagahwa, pizza and much more.
All food trucks keep within the theme meaning none appear to be regular food trucks in order to fit the scenery perfectly.
If you do visit this Last Exit, make sure to use the toilets. The theme has been rolled out amazingly throughout every detail.
From having to use chains to flush the toilet to using a pedal to use the soap and tap. The attention to detail throughout this place is seriously impressive!
The Last Exit Dubai bound is also designed to perfection with a different theme, 1950s Americana.
Also not to be missed and including a wide range of food and drink trucks in addition to the fun, quirky theme.
13. Visit a Souk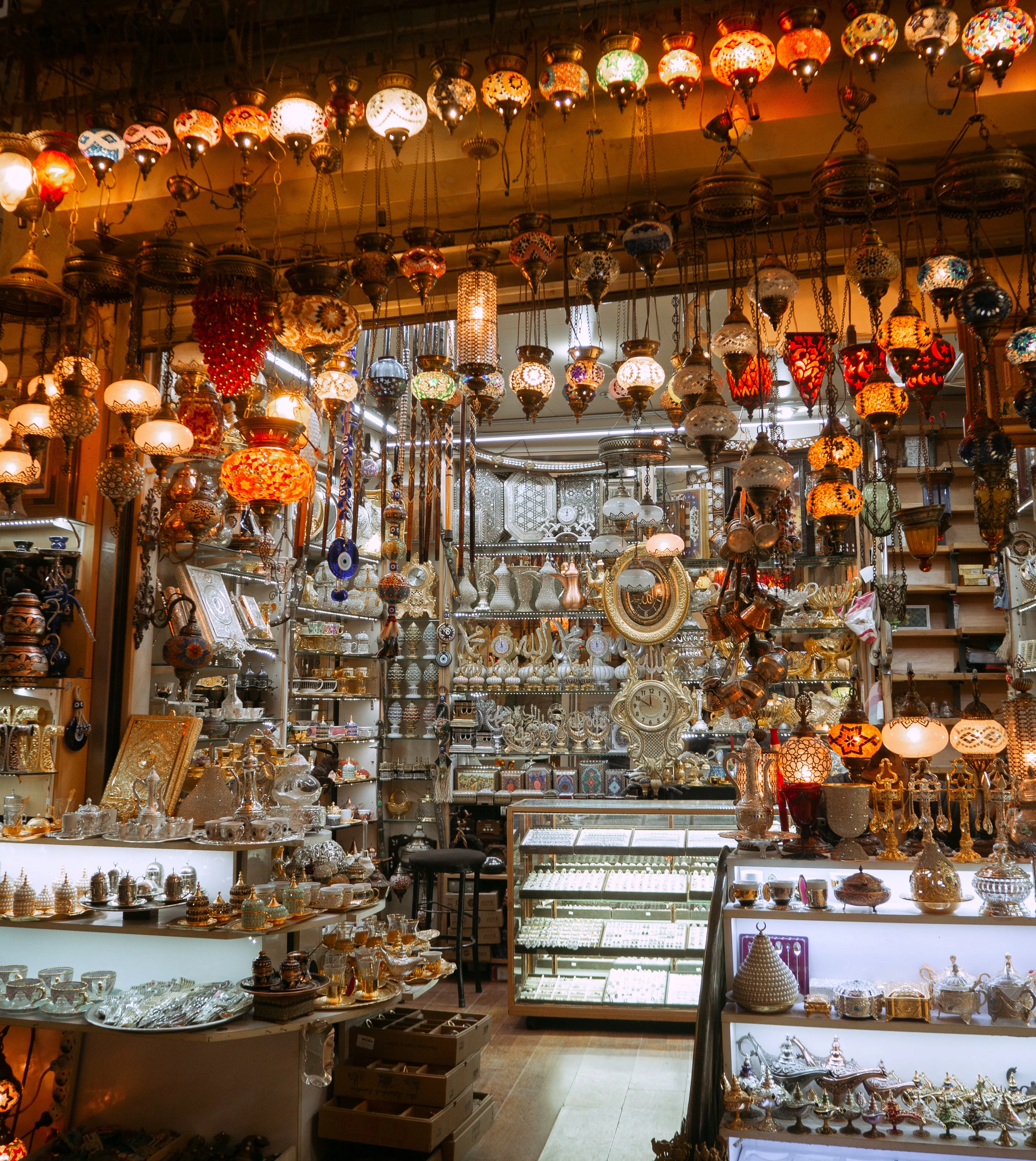 The UAE are well known for its range of souks throughout its cities. Souks are an Arabic market, much like markets in many other parts of the world.
That being said, visiting a souk is something to behold and the experience of visiting makes them one of the best places in Abu Dhabi to visit for free.
Usually most recognisable for their flashy gold, crystals and diamonds, these souks also offer a huge amount in terms of bags, clothes, perfumes, sprays, incents, carpets, scarves and even food.
Take a stroll around some of the souks in Abu Dhabi and experience all these markets have to offer. Be wary of the very eager sales-people, they can border on pushy – do not be afraid to tell them thank you but you are not interested.
With this in mind, some may take it upon themselves to put a scarf around you or attempt to place a piece of jewellery on you, in this case, be polite but do not feel pressured to purchase anything.
Simply say thank you, but no thank you!
Gold souk is a good one to try in Abu Dhabi. This market is indoors and specialises in, you guessed it, gold.
14. Read a Book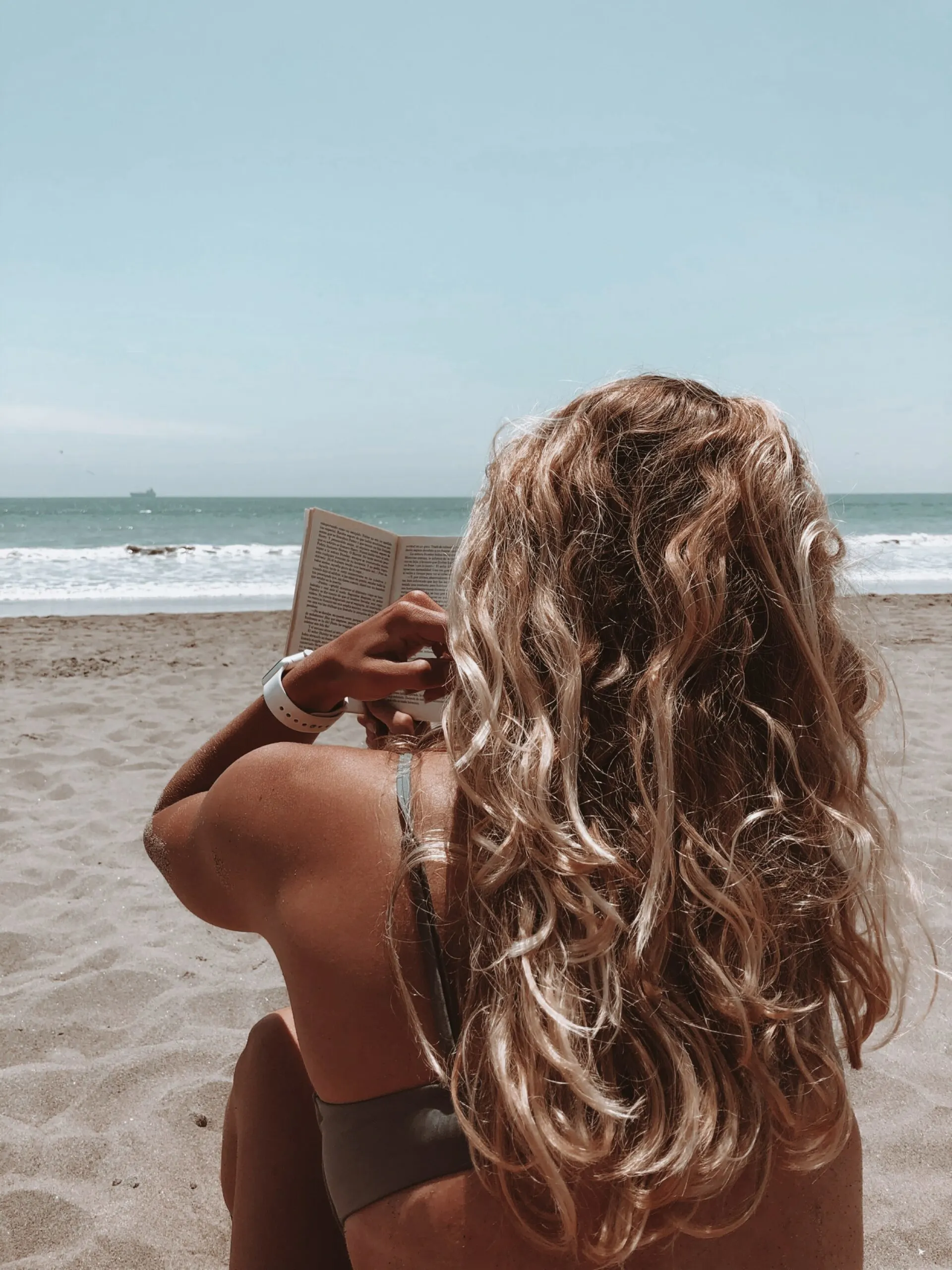 Reading a book is free entertainment wherever you go. For that reason, there are a number of locations that may be deemed the best places to visit in Abu Dhabi for free to enjoy a good book.
First up – any of the beaches or pools noted above. There is nothing better than kicking back in the sun and enjoying a good read!
Similarly, all of the parks mentioned above house benches, loungers, seats, grass areas, sand areas or any other surface to enjoy reading a book.
If i's too hot for the beaches and parks, try out a book shop or public library.
Books Kinokuniya in The Galleria Mall is a book shop with an accompanying library upstairs, where the public can enjoy some time reading.
There are also a number of libraries around the city including the Abu Dhabi children's library.
Why not head out for a family book day. Bring your current reads, and find a nice place to sit and read.
Afterwards, why not look around a library or book shop to identify your next read.
15. Go for a Drive
If you have a car, why not go for a drive in seek of the best places to visit in Abu Dhabi for free.
Explore the city by car and see if there are any roads or areas you have not visited before.
Enjoy the fantastic lights and decorations throughout the city at many times of the year such as Ramadan or Eid or Christmas or Diwali and more.
During these periods, the roads will be dripping in flashing lights and decorations, making your drive equally entertaining as it is distracting!
Even during non-celebration times, the city is always lit nicely and there is a lovely sense of happiness around the area.
Make a plan of the nicer looking areas, and seek out the best villas in the city and the flashiest cars.
Festivals and Happenings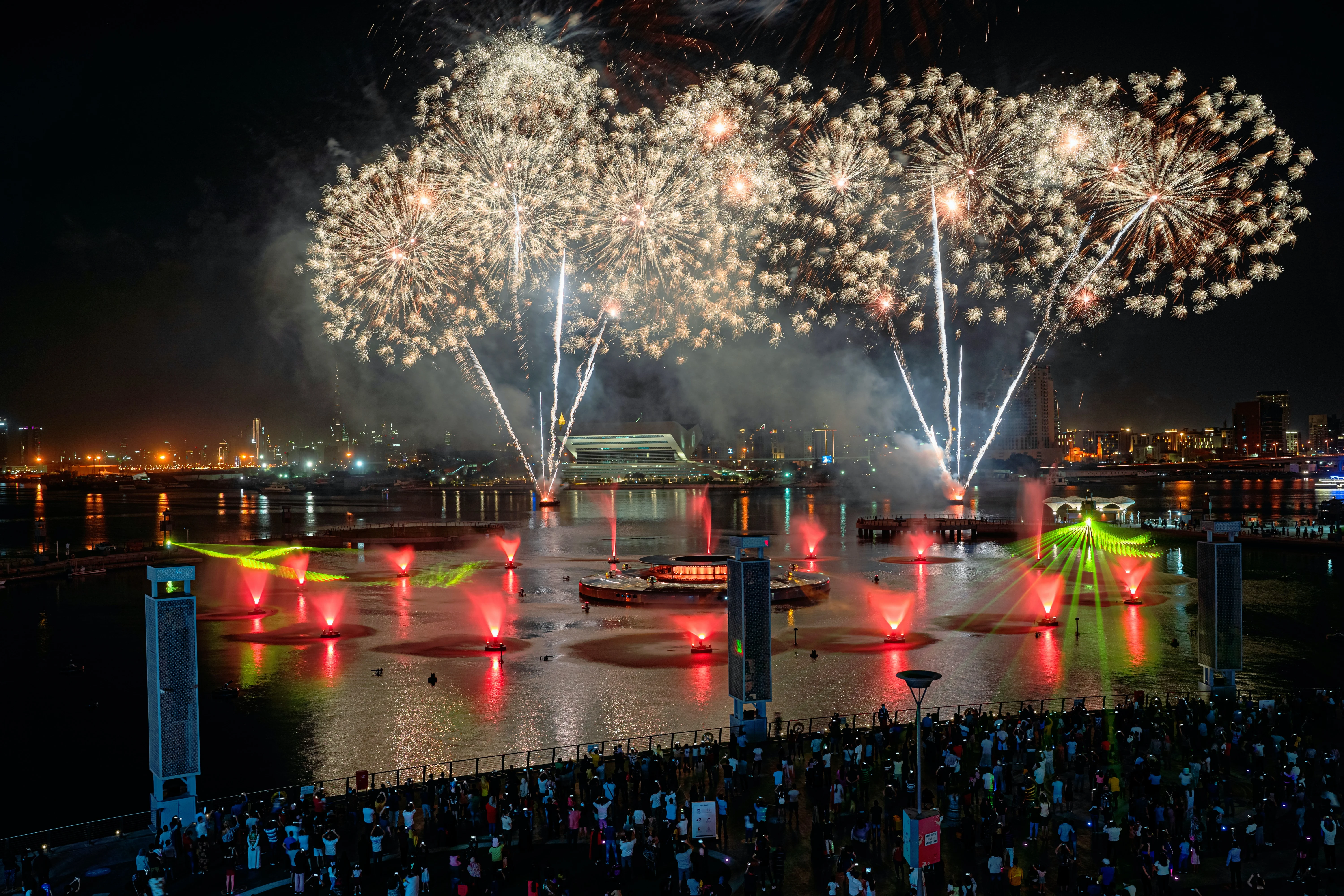 Abu Dhabi and the UAE in general, hold many celebrations throughout the year. The country has a number of special days and periods annually and they just so happen to be very good at celebrating these times.
The biggest perhaps is Eid al-Fitr. This annual festival celebrates the end of Ramadan, a month-long holy period.
During Ramadan, Muslims fast (including water) from sunrise until sunset. This is a month of family and reflection and so a lot of time is spent in prayer and in being together with family.
When the sun goes down, the meal that breaks the fast is called an Iftar. This meal is a time of celebration to be spent with family and friends.
Throughout Ramadan, there are a lot of celebrations at Iftar time around the City, be that large discounts on Iftar meals or free meal packs.
During Ramadan, people should dress slightly more conservatively, to find out more about the dress code, read our guide on what to wear in Abu Dhabi.
After the month of Ramadan, the holy festival Eid takes place for approximately 2-4 days. During this time, there are a lot of celebrations in terms of big sales and deals, festivals, events in hotels, parks and beaches and much more.
There will be many places to visit during these times for free or at least highly discounted. Keep an eye on the media platforms and Instagram to discover what is happening each year.
Abu Dhabi also celebrates Eid Al Adha, this is a slightly smaller celebration than the first Eid however there will be similar festivals and happenings available for free or for a small price.
Other special dates like Christmas, New Year, National Day and the Prophet's Birthday are also well celebrated with festivals, events and happenings across the City.
During these festive times, there will be a number of temporary happenings that may be considered as the best places to visit in Abu Dhabi for free.
During celebratory times in the UAE, in addition to festivals and events in parks and beaches, there is usually an incredible fireworks display.
Fireworks in any other country do not even compare to the display put on in this part of the world.
Particularly impressive shows to note are around National Day and during Eid. These free shows can be lengthy and they can include drone shows before the fireworks.
These drone light shows are highly impressive and peak everyone's interest before the booming, fireworks display takes everyone's breath away!
Another popular event to host during celebratory times is free outdoor cinema nights. These take place around a number of parks, beaches and hotels and are brilliant during the cooler months.
There are often great deals on popcorn or picnic boxes and generally, the admission to the show would be completely free.
So why not gather some family or friends, wear some comfy clothes, bring some snacks and enjoy an outdoor screening under the stars!
Visit Sheikh Zayed Festival
Each year, from around November until April time, the Sheikh Zayed Festival comes to Abu Dhabi.
Located close to Al Wathba desert, this festival is one of the biggest and one of the best places to visit in Abu Dhabi for free (almost).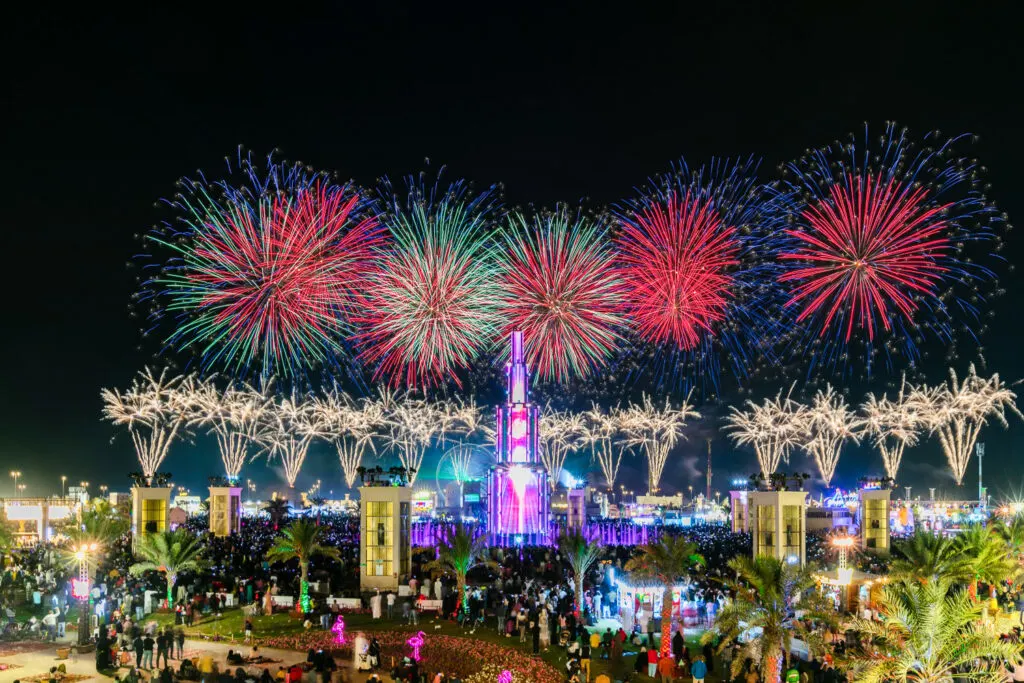 There is an entry fee of 10 AED, which is equivalent to £2 or €2.50, so we think this still counts!
This festival is an absolute treat. The grounds of an old castle/fort are used making the whole event appear very grand.
The area is filled with everything you could think of from stalls relating to different countries to dozens of jewellery markets, countless food and drink options, funfair rides and amusements, light gardens, flower gardens, and an endless number of shows including traditional dances, parades, singing, balloon stands, henna artists, huge fountain and light shows and so much more.
You could not get better value for money at this festival, it is a must-visit while living or visiting Abu Dhabi.
You might also like:
35+ Best Ladies Night In Abu Dhabi
Disclosure: We only recommend experiences or products that we have personally used or that have been highly recommended by others. If you get anything we have mentioned through the referral links, we may get a small commission with no extra cost for you.