This guide will give you some travel tips on what to wear in Abu Dhabi, the dress code and what clothes you should avoid.
Offering a great mix of culture and entertainment, many tourists are looking to the Middle East for their next trip.
The question is, if you are planning a visit to the UAE's capital city, what should be on your packing list?
What To Wear Abu Dhabi
When deciding what to wear in Abu Dhabi, it's important to consider a few things. Firstly, the time of year.
Abu Dhabi weather is generally hot and humid for the most part of the year. The United Arab Emirates is one large desert after all.
If you are planning to visit between the months of May-August, consider packing very light clothes – both in weight and colour.
During the cooler months, consider similar clothes with the addition of a light cover-up or jumper as it can get a little cooler during the evenings.
What do the Locals Wear?
If you are planning a trip here, it's important to not only know what to wear in Abu Dhabi but also to familiarise yourself with what the locals wear.
Traditional clothing is a mark of national pride within Abu Dhabi and the UAE in general. This dress is a symbol of their history, culture and religion.
Emirati Men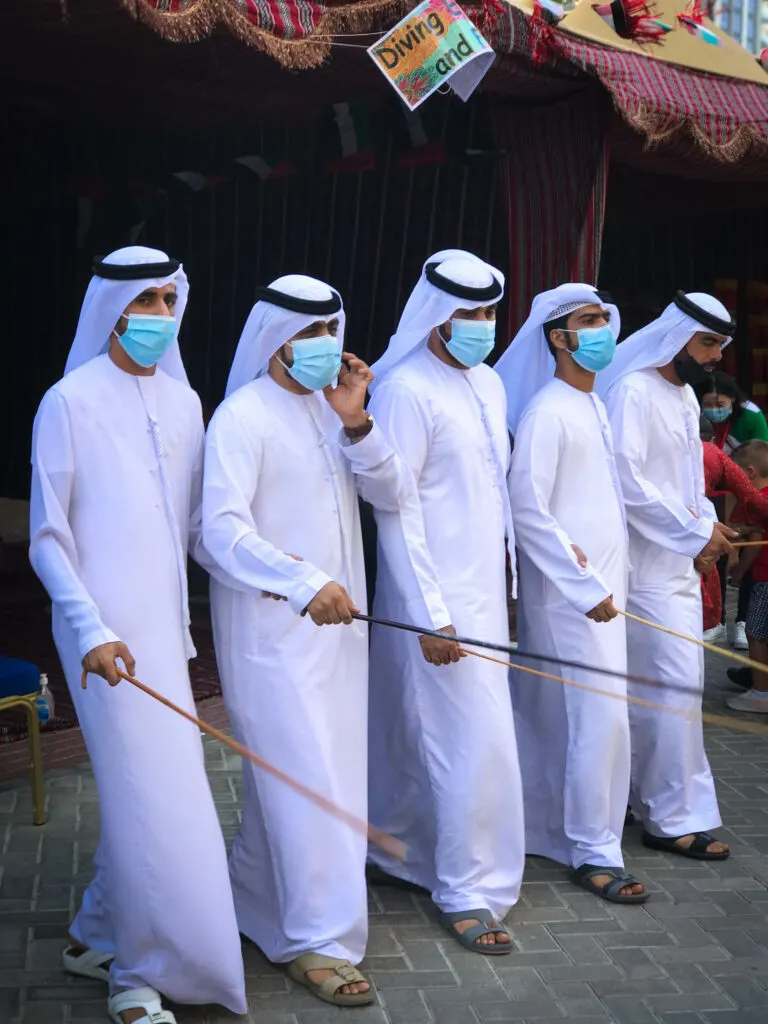 Emirati men wear a dishdasha or kandura which is a long, thin robe.
Most often, this robe is white as this is the best colour to wear in desert conditions.
Colours like brown, black, grey or blue robes are seen more in winter.
Being clean and well-groomed is very important to Emirati men and women.
It is said that Emirati men usually own over 50 kanduras which they will change throughout the day to remain fresh and clean.
These kanduras differ slightly from those worn in Saudi and Kuwait as they are collarless and their sleeves may boast subtle embroidery.
As well as the robe, locals may be seen wearing a cotton headdress referred to as a ghutrah.
This is a square piece of cloth often secured to the head with a rope-like item, the agal.
Historically, these were worn to protect the head and face from the harsh desert heat as well as the sand.
Ghutrahs are white in colour, however, you may see many locals sporting a similar red and white checked piece of cloth – a shemagh.
Shemaghs originated in other countries such as Saudi however, many men in the UAE prefer this more colourful headdress.
Younger generations will often secure the ghutrah or shemagh by tieing it instead of wearing the agal.
The faneela is a white vest often worn by locals under their kandura.
During festivals and special occasions, dress will differ slightly. Agals may be worn as well as more formal kanduras.
Finally, a bisht may be worn over the kandura on a special occasion.
This is a dark-coloured cloak decorated with gold, silver or copper.
Emirati Women
Emirati women will wear an abaya over their everyday clothes. This is a black, long, flowing gown.
This gown covers the whole body except the hands, feet and face.
Abayas are traditionally plain, nowadays however they may be embroidered with patterns or jewels.
Kaftans may also be worn. These are a female version of a kandura.
There are many glamourous, highly decorated and colourful kaftans available to buy in Abu Dhabi and you will often see non-muslims sporting this beautiful dress also.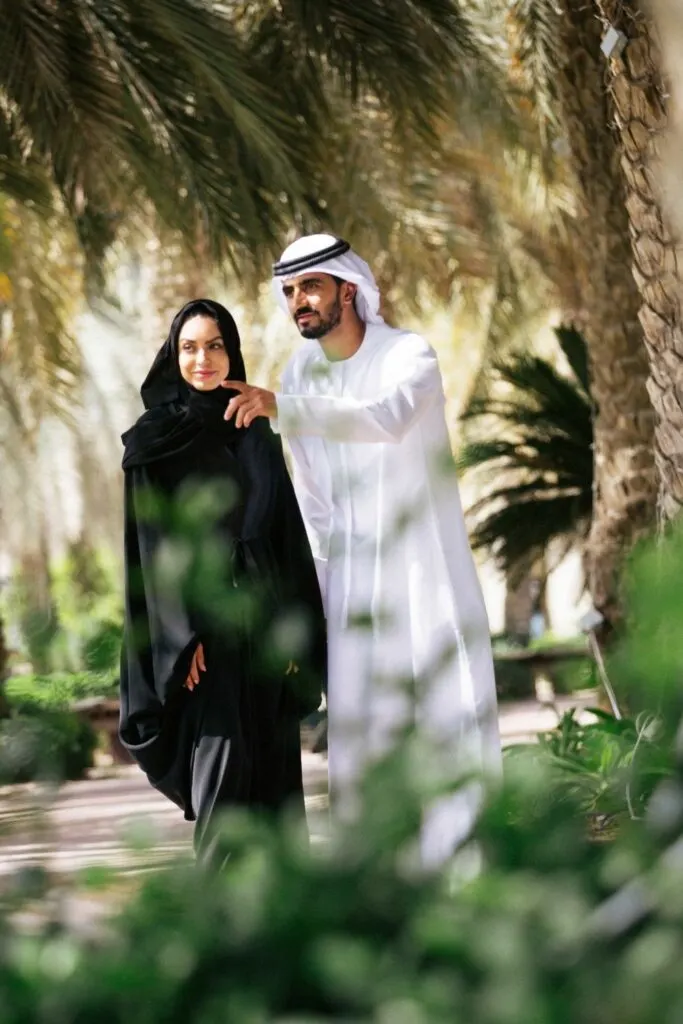 Traditionally, the kaftan would be worn instead of an abaya when in the home or surrounded by relatives.
Nowadays however, many women will wear a kaftan out in public such as in malls and restaurants.
Similar to men, most women will choose to cover their heads in accordance with religious customs.
Female headdresses are referred to as hijabs. There are a number of different types of hijabs available.
Many women will wear a shayla, this is a light scarf-like piece of clothing that will be drapped loosely over the head to cover the hair.
Gishwas are a thin material worn as a veil, they cover the entire face but are thin enough for the wearer to see through.
Niquabs are similar to gishwas with the addition of an opening cut out for the eyes.
Rarely seen in the city but sometimes still worn by older generations or on special occasions are the burqa. This looks like a mask covering the eyebrows, nose and upper lip.
Locals will also often wear henna. Traditionally, brides were decorated with henna for good luck. Henna is most often seen on the hands and feet.
There are many places tourists and visitors can also get henna around the city.
What do Female Tourists Wear in Abu Dhabi?
For females, figuring out what to wear in Abu Dhabi can be confusing. Being a Muslim country can make the dress code (particularly for women) more difficult to navigate and there can be a lot of conflicting information.
In the past, an emphasis was put on women covering their knees, midriff and shoulders.
More recently however, Abu Dhabi and Dubai have become increasingly open to international cultures and behaviours.
Today, you will see many women wearing shorts, string tops, mini dresses/skirts and cropped tops.
That being said, just because you see some visitors or residents dressed this way does not give you the go ahead to do the same.
Always err on the side of caution when it comes to what to wear in Abu Dhabi.
The most important thing it to be conscious and respectful of the local cultures and customs.
It is most certainly true the conservative dress code is relaxing, so don't feel as though you have to cover yourself from head to toe.
For most public places, shorts, t-shirts, sleeveless tops, dresses and skirts are completely acceptable, once none of these items are too revealing.
Female tourists can also wear bikinis to beaches, waterparks and swimming pools.
Shorts, shorter dresses and skirts are often worn to restaurants and pubs as well as sleeveless tops.
What to Wear in Abu Dhabi during Ramadan
Ramadan is a very important time within the UAE. Ramadan runs for a full month and dates will differ annually depending on the position of the moon.
Throughout the Holy Month, many of the Abu Dhabi population will fast from sunrise until sunset.
During this sacred time, a more conservative dress code should be adopted to show respect to the Muslim culture.
Locals may take offence to people wearing tight or revealing clothing, particularly during the holy period.
While this has relaxed quite a bit over recent years, it is best to respect the culture and traditions as much as possible.
During Ramadan, consider wearing light and loose clothes that cover the shoulders, waist and knees. Tight clinging clothes should be avoided during this time.
Long flowing dresses are recommended as they will keep you covered but cool.
If you are visiting during Ramadan, be sure to check out our guide to the best Iftars and Suhoors in Abu Dhabi.
What to Wear in Abu Dhabi's Sheikh Zayed Grand Mosque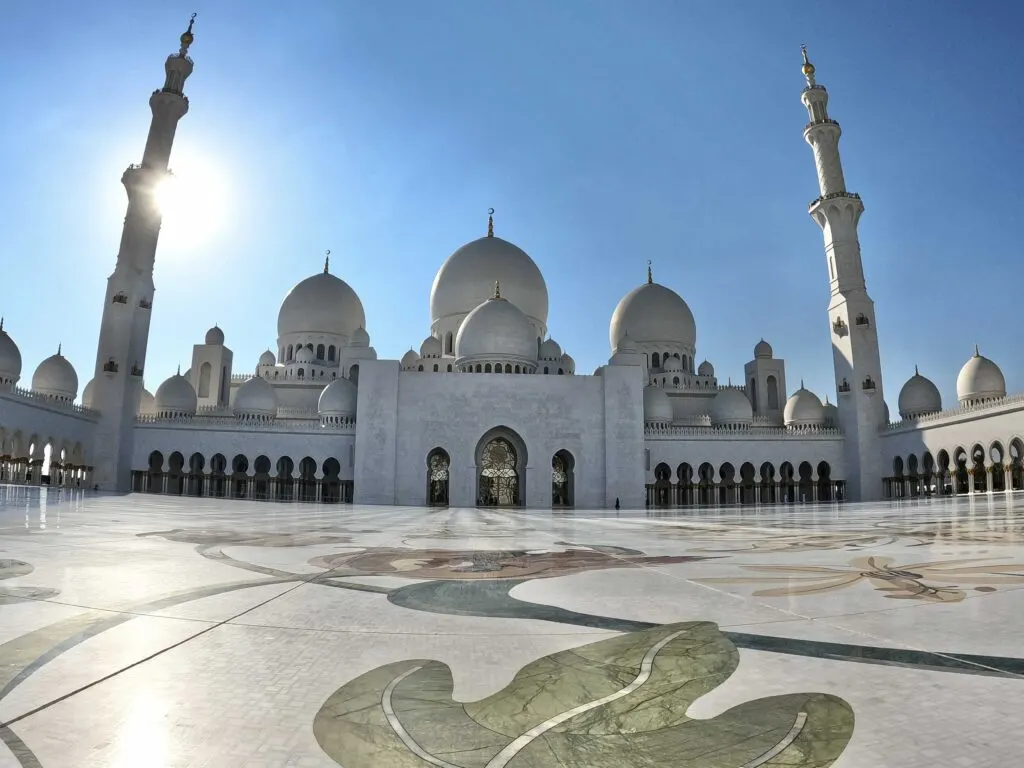 Sheikh Zayed Mosque should be on everyone's list when visiting Abu Dhabi.
It is one of the largest mosques in the world and one of the most beautifully built and designed.
The building is a stunning combination of Islamic architecture and design.
The mosque is named after the Founding Father of the UAE, Sheikh Zayed bin Sultan Al Nahyan.
He requested that the mosque be built in the UAE capital creating a cultural haven that welcomes and inspires people from all backgrounds.
The building stands at over 100 metres tall at its highest point. The addition of this enormous building to the Abu Dhabi skyline makes for an amazing view from much of the city.
If you are planning a trip to Sheikh Zayed Grand Mosque or any other holy building in Abu Dhabi, both women and men must be fully covered.
The Abu Dhabi dress code within these places of worship is much more strict than in other public places.
When visiting Sheikh Zayed Grand Mosque, men should wear trousers and long sleeves. Alternatively, men can choose to purchase a Kandura to wear over their normal clothes.
Women will likely have to purchase traditional clothing to enter the mosque as their bodies and hair must be covered.
There are a couple of options here:
1. Wear trousers and long sleeves and purchase a hijab which is worn over the hair, ears and neck.
2. Wear any type of clothing and purchase an abaya to be worn over clothes with a hood that will cover the female's hair.
Often, both men and women like to purchase traditional clothing as part of the experience.
There are ample places to purchase this clothing around the entrance of the mosque as well as in many shops in any shopping mall.
These items will differ in price but it is recommended to try a few places and purchase the best deal.
Now that you know what to wear in Abu Dhabi's Sheikh Zayed Grand Mosque, it's time to book your tour here.
What to Wear in Abu Dhabi Government Buildings
If for any reason you need to visit a government building of any kind, ensure you are obeying the dress code to avoid denied entry.
Generally, if you are visiting Abu Dhabi for a holiday you should not need to enter any of these buildings.
However, if you need anything such as getting documents attested, applying for a licence, updating an ID etc. dress appropriately.
Females must wear trousers or an ankle-length dress/skirt. You will not be allowed to enter if your legs are on show.
Similarly, cover your shoulders and waist.
For the men, t-shirts are usually fine but trousers should be worn as opposed to shorts.
If you have been denied access to any of these buildings due to the dress code, do not argue.
You will not be permitted to enter and you do not want to upset security, particularly in government buildings.
Usually, they will instruct you of the closest shop or mall where you can purchase something acceptable or simply return to your hotel or B&B to change.
What to Wear in Abu Dhabi Malls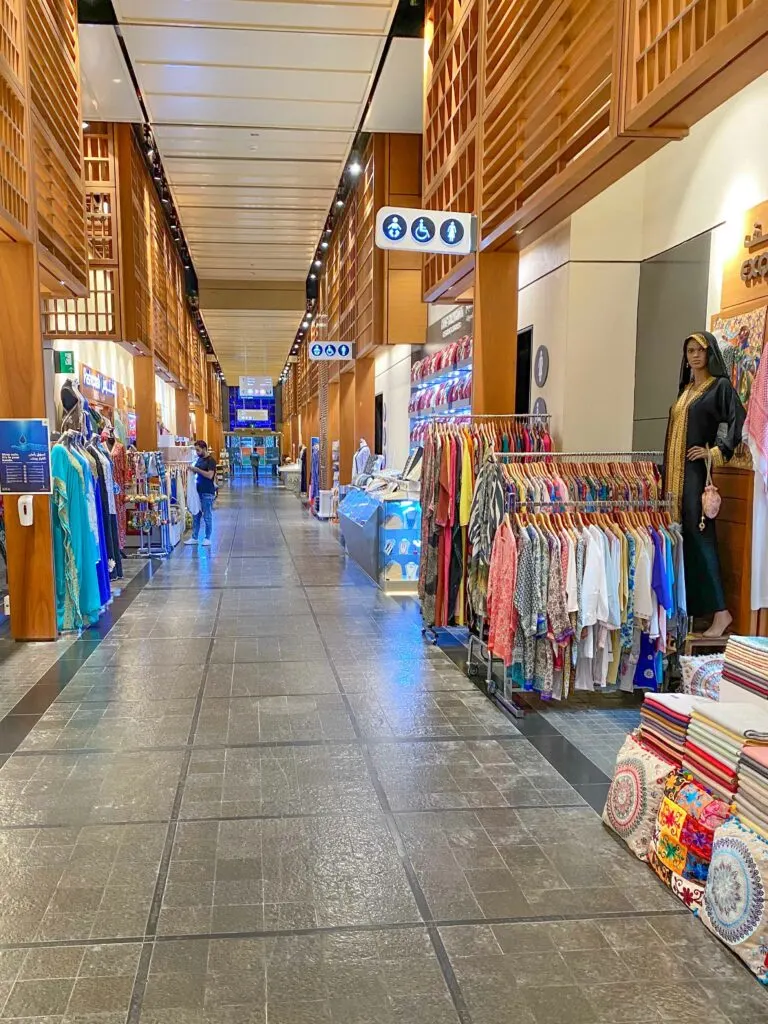 It is highly unlikely that you will be making a trip to Abu Dhabi without visiting at least one shopping mall.
Shopping malls are a large part of the UAE social scene. Residents like to meet up with friends and roam around the malls at their leisure.
At night, the malls are at their busiest. Families, couples and friends meet up to do some late night shopping, get some dinner, grab a coffee or catch a film.
Shops usually stay open until 11 pm mid-week and 12 am on weekends!
There is a great mix of nationalities and cultures in malls. It is best to bear this in mind when considering what to wear in Abu Dhabi shopping malls.
To show your respect and avoid causing offence, an outfit covering the shoulders and knees would be a good choice.
Many will wear more revealing outfits, however.
While we have emphasised the importance of loose, light clothing, always remember to bring a light jumper if you are going to visit a shopping mall.
Shopping malls in the UAE are known for a few things. Firstly, they are enormous in size and often hard to navigate.
Secondly, most appear very luxurious and extravagant.
And finally, the air-conditioning is fierce! A jumper is recommended for the mall and long trousers or even jeans are the best attire while inside.
If a visit to the cinema is on the cards, something with long sleeves and covered legs is best as the temperature is quite cold within each theatre.
What to Wear in Abu Dhabi – Desert Safari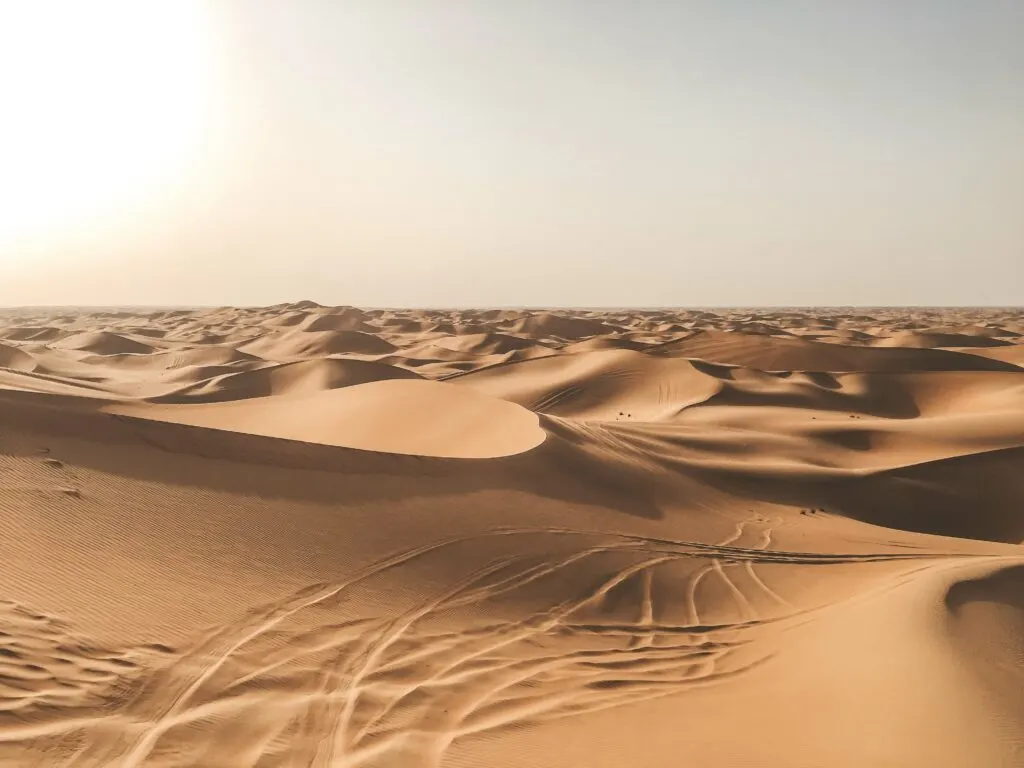 There are many desert safari tour packages on offer in Abu Dhabi. Most are very similar in price and in what the tour entails.
A desert safari is a brilliant day/night activity for people of all ages.
The safari usually consists of a drive into the desert, dune buggies or quad rides, dune bashing in a 4×4, sandboarding and camel riding followed by a BBQ and entertainment.
This is a very active day and evening in hot and humid conditions. With that in mind, loose, flowing clothes and sandals are the ideal attire for females.
While a t-shirt/jersey and shorts are ideal for men.
Hats or headscarves and sunglasses are also useful on these safaris to reduce the amount of sand blowing into your face and hair.
The barbeque and show take place in the later evening so depending on the time of year a cardigan or jumper may also be advised.
These desert safaris and overnight camping in the desert are amazing experiences while in the UAE.
What to Wear in Abu Dhabi Private vs Public Beaches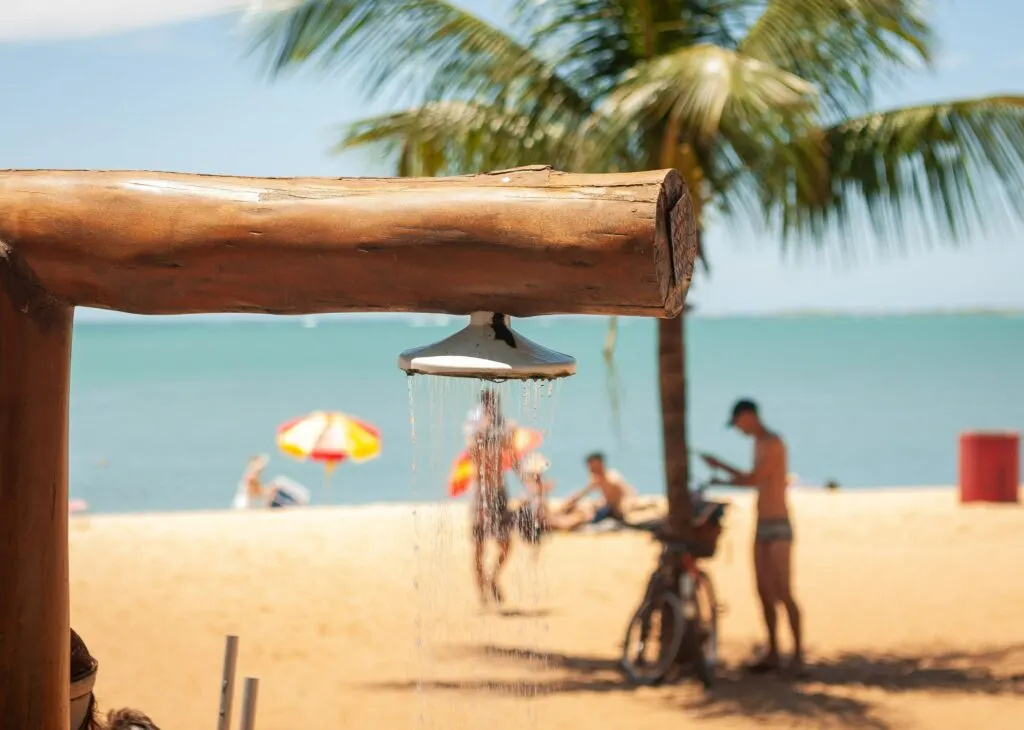 As Abu Dhabi is situated on the Arabian Gulf, there are many gorgeous beaches for visitors to experience.
Abu Dhabi offers a number of luxurious private beaches, visitors can usually buy a membership or else a day passes to use the facilities.
You can check out our guide to the best beach clubs in Abu Dhabi to find some more information on some of the best places to visit.
When it comes to these private beach clubs, generally all swimwear is appropriate.
Women can wear swimsuits or bikinis and shorts or trunks are okay for the men.
It can be nice to have a beach cover-up dress or skirt to throw over your swimwear when you are away from the water, particularly when you are getting something to eat.
A pair of sliders is a must when visiting any beach or pool for men and women.
There are also many public beaches on offer. Generally, public beaches can be accessed for free or for a much lower cost than the clubs.
Public beach facilities in Abu Dhabi are great. There are usually ample changing and showering areas that are clean and modern.
These beaches may be split into different sections such as a family area, couples area, female area and so on.
For public beaches, the dress code can be more strict. This differs depending on the beach so it is best to research this or contact the beach before visiting.
The Best Type of Clothing to Wear in Abu Dhabi
Dubai is better known for its fashion than the capital city, however, the people of Abu Dhabi are becoming more fashion-conscious.
In general, the dress code is considered more 'dressy' than in most European countries.
When considering the type of clothing to wear in Abu Dhabi, flowing dresses, skirts and trousers are popular as well as loose tops.
Cheaper artificial materials are not recommended but breathable materials are a must.
Cotton is one of the best materials to wear in the hot and humid climate, as it is light, breathable and soaks up sweat.
Linen is another popular choice for Abu Dhabi. The loosely woven fabric allows heat to escape. Because it's a bit stiffer, it doesn't stick to your body which is ideal in sweaty conditions.
Rayon is a great cheaper alternative to silk and is light and breathable for the desert heat. Making silk a good choice also.
If you are wondering what material is best for activewear when visiting Abu Dhabi, polyester or nylon works best.
What to Wear in Abu Dhabi – the kids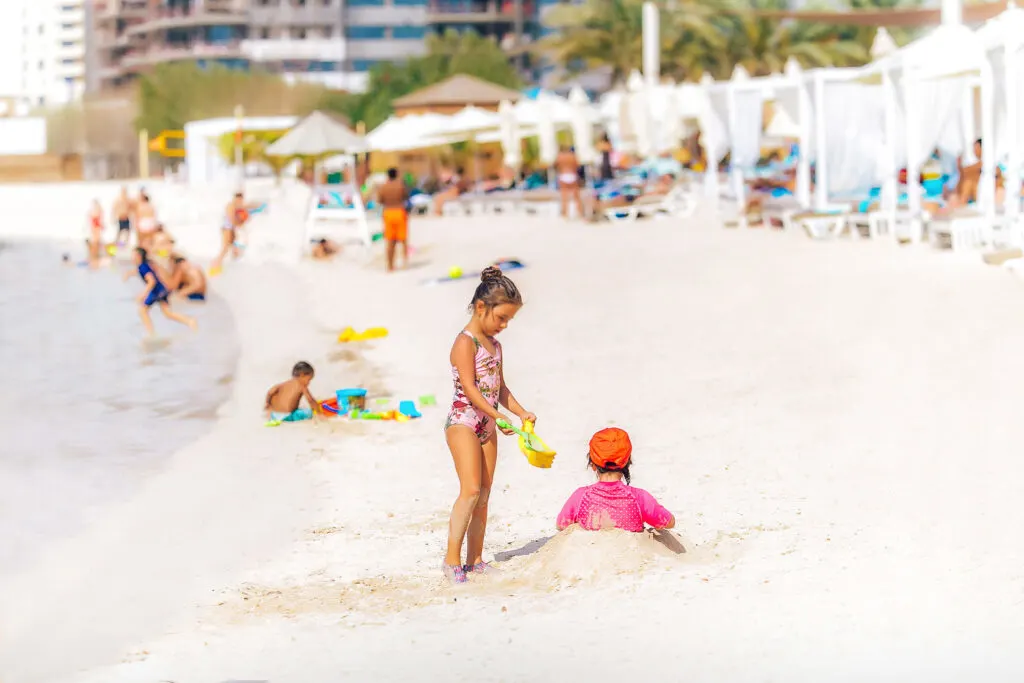 When planning a trip to Abu Dhabi with children of any age, there are a few extra things to consider.
First thing's first, the number one thing for all children to wear is… SUNCREAM.
The UV rays in Abu Dhabi are very strong all year round so frequent sun cream application is recommended.
Next on the list would be some form of hat or cap.
In terms of respecting traditions and cultures, Muslim children usually don't adopt traditional attire until they begin puberty.
For this reason, the dress code for younger children is very relaxed. Whether you opt for t-shirts and shorts or long, light flowing materials is up to you.
Similar to adults, comfortable footwear is high on the list for children. Heavier trainers or shoes may be too hot so a pair of comfy sandals would be preferred.
Don't forget a pair of sunnies for the kids. There are also many places to purchase sunglasses and hats for a good price around the city.
For older children and teenagers, as they will likely be packing for themselves, ensure their clothes are not too revealing and that they are temperature appropriate.
Activewear in Abu Dhabi
Depending on your plans and the time of year, you may have a few activities on your list for Abu Dhabi.
In terms of sport and activity, Abu Dhabi hosts a huge variety of offerings for all ages.
The UAE is home to some of the best sporting facilities in the world and in a bid to encourage residents to be healthy, often times the use of these facilities is very low cost or even free.
The type of activewear recommended will depend on the time of year and the type of activity at hand.
Abu Dhabi's location along the Arabian Gulf makes it an ideal place for water sports such as kayaking, and wakeboarding.
If you are planning to take advantage of any of the many suppliers offering these activities, you will want to know what people wear in Abu Dhabi for watersports.
For kayaking, it's best to wear your swimwear with something light over it such as a t-shirt and shorts.
If you are wakeboarding in Abu Dhabi, it's acceptable to wear swimwear alone. Some women may wear a pair of shorts over their swimsuits.
Yas Marina Circuit is a must for anyone visiting Abu Dhabi. Visitors can walk, run or cycle around the full Formula 1 circuit for free every Monday and Wednesday evening from 6 pm – 10 pm.
Visitors can use a bike and helmet for free and cycle around the 5.5km circuit at their leisure.
The track is a popular hub for many walks of life and there are a large number of locals here each night.
A T-shirt and shorts are the perfect attire for this activity, avoid cropped tops and sports bras out of respect for local traditions.
Longer cycling-style shorts are recommended for obvious reasons.
Discover more about what you can do in Yas Marina Circuit in our 12 great things to do on Yas Island piece.
Abu Dhabi also hosts brilliant facilities for tennis, padel, football, volleyball, basketball and golf just to name a few. For these activities, very light clothing and sports material is best suited.
You can book your kayaking tour here.
Relaxed wear vs Formalwear
In general, dress sense in Abu Dhabi and Dubai is considered quite fashionable.
Clothing, like many aspects of the city, is quite elegant and luxurious. And there are definitely different locations that welcome different types of dress.
There is a distinct difference between relaxed and formal wear in Abu Dhabi. Many hotels, restaurants and bars will have a slightly 'dressier' dress code.
Here is where you will catch the most glamourous locals and international influencers go all out with their outfits to capture stunning content.
In these locations, there are a few non-negotiables. Items not permitted in many of these establishments include trainers, caps, t-shirts, sports clothing, shorts, open shoes for men and flip-flops for women.
Ensure you either check the hotel/restaurant website for dress code details or ring ahead.
Abu Dhabi Fashion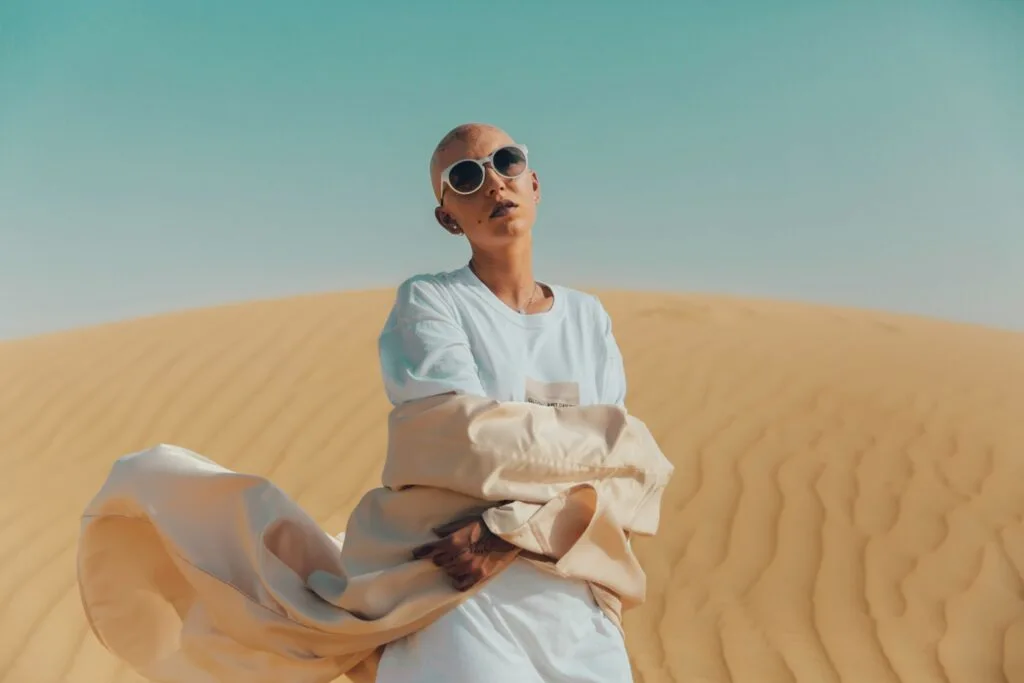 Due to the large population of high spenders in the UAE capital, Abu Dhabi is a fashion city within its own right.
When locals and ex-pats find themselves with ample money, this is often put towards villas/apartments, vehicles and then fashion!
Most Abu Dhabi malls boast high-end designer shops filled with traditional and western clothes and accessories.
For the locals, as they are restricted with their clothing in terms of wearing an abaya and hijab, they find other ways to express themselves.
Emirati women are some of the most glamorous in the world! This is quite the feat considering how little they have on show.
While abayas are generally black and quite uncreative, local women know how to accessorise.
Designer handbags are very popular among these women. Usually, the more colourful and blingy, the better!
Designer high-heel shoes are also very popular, as well as designer pumps and flats.
Flashy jewellery is very popular with many women sporting diamond rings and bracelets.
Often, the belief in these countries is the more expensive equates to the better. This results in many buying the most expensive and out-there items for appearance.
What to Wear in Abu Dhabi vs Dubai
In general, Dubai is seen as the most liberal Emirate out of all seven. The huge number of ex-pats living in Dubai is a large reason for this.
It is said that the Dubai dress code is much looser and more relaxed. Many people will be seen wearing very revealing outfits going to restaurants, beach clubs, bars and nightclubs.
More recently, this behaviour can also be seen in the capital. It is expected that with each year that goes by, these two emirates will become more and more liberal.
That being said, never forget that you are a visitor in a Muslim country – always be respectful.
To check out a full comparison of Abu Dhabi v Dubai, read our guide here.
What to Include on my Packing List?
The good thing about packing for Abu Dhabi is that most airlines offer a pretty generous baggage allowance.
With this in mind, there should be plenty of room to pack all of the essentials.
Sandals- comfortable sandals are a must in Abu Dhabi. You will want your feet to breath but you should also consider the amount of walking you will do around shopping malls, mosques and other tourist spots. One of the most popular brands of sandals for tourists visiting Abu Dhabi are Birkenstock sandals.
Sliders – a simple pair of sliders are essential for both men and women when visiting Abu Dhabi. You will want a pair when moving around the beach and pool after being in the water. Any brand of sliders will suffice.
Sun hat / cap – some form of hat is recommended for both men and women to keep the sun off your face.
Maxi dress / skirt – one of the best items of clothing women can wear in Abu Dhabi is a long, flowing dress or skirt. This is suitable for the temperature and respects the local culture.
Loose trousers – culottes or cargo-style trousers are a good choice.
Basketball jerseys – male tourists visiting or residing in Abu Dhabi will often have a number of basketball jerseys for casual days.
Light scarf or shawl – every woman should pack a scarf or shawl to carry in their bag for cooler evenings or for times when you may need to cover some more skin.
Light cardigan or jacket – as mentioned, a cardigan will be necessary during the cooler evenings as well as in some indoor areas with fierce air conditioning.
Smart shoes – men should pack one pair of smarter shoes to avoid being denied access to some of the fancier restaurants and bars.
Swimwear – bikinis or swimsuits for women and swimming shorts for men.
Swimwear cover-up – recommended for when you are moving around the beach or pool for a bite to eat or returning to your hotel room.
Sunglasses – essential for everyone, bring at least one pair. If you are planning some activities make sure one pair is slightly cheaper.
Bumbag – a bumbag or small handbag is great for moving around the city. Something to fit your scarf in would be ideal.
Non-clothing items:
Suncream – high factors are recommended all year round, a minimum of factor 30.
Lip balm – between the heat and the added sweat often resulting in dehydration, a good lip balm should be packed to ensure your lips don't dry or crack. A lip balm with SPF would work best.
Glassescase – best to pack a hard glassescase to protect those sunnies.
Mini deodorant, perfume and body spray – handy to have in your handbag for days out.
Hair tie & clips – while you may have the best of intentions of wearing your hair down curled or straightened, during the hotter months keeping your hair up and away from your face and neck is necessary.
Water bottle
Items to avoid packing:
Very tight clothing like bodycon dresses
Overly short dresses, shorts or skirts like hotpants or mini skirts
Transparent materials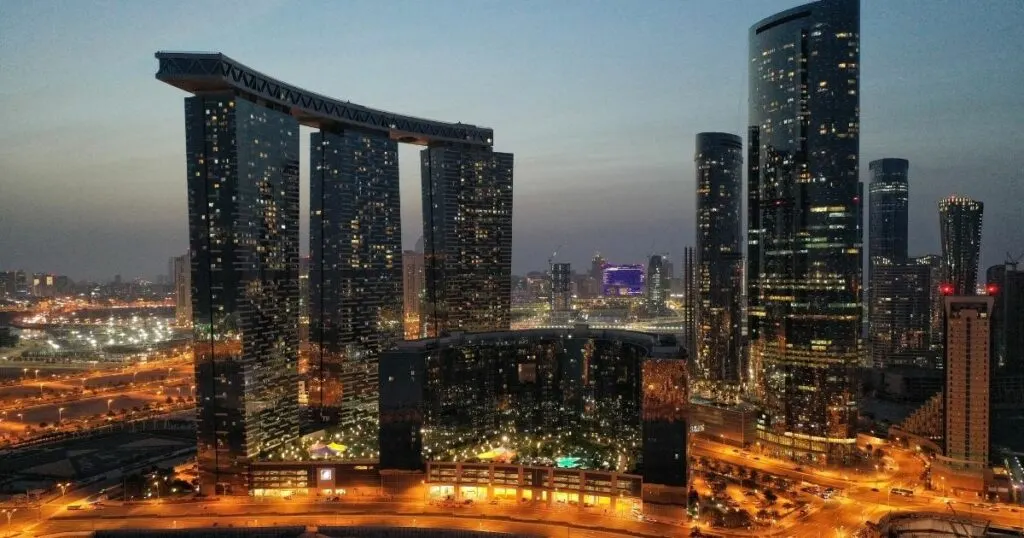 While it can be confusing to figure out what to wear in Abu Dhabi due to conflicting accounts and changing information, the are a few things to bear in mind to make things a little bit simpler.
Firstly, Abu Dhabi and Dubai are constantly becoming more progressive.
The stories you may have heard of tourists being arrested for showing their knees or shoulders are no longer an accurate account of these cities.
Generally speaking, most clothes are fully accepted in Abu Dhabi.
Secondly, always be respectful. While the country has come a long way, why appear as someone who does not respect or appreciate the local culture and customs.
It's very easy to bring a shawl and dress classy whilst visiting this beautiful city.
Now that you know what to wear, you may be interested in finding out the 50+ Best Things to do in Abu Dhabi!
You may also like,
35+ Best Ladies Night In Abu Dhabi
Disclosure: We only recommend experiences or products that we have personally used or that have been highly recommended by others. If you get anything we have mentioned through the referral links, we may get a small commission with no extra cost for you.