The weather in Abu Dhabi in December most definitely makes it one of the best months to visit the Emirate.
Not to mention, there are so many events taking place and all of the outdoor activities can be enjoyed comfortably in mild temperatures.
From cultural celebrations and festivals to sporting events, December is most certainly the most lively month of the year.
Whether you are a backpacker, a family, or a couple on honeymoon, there is something to keep everyone entertained in Abu Dhabi in December.
In this article, we cover the weather, the best things to do, and events to attend during the month of December. Not to mention some beautiful beaches and our top pick of hotels for the perfect stay in Abu Dhabi.
Weather In Abu Dhabi December
The temperature ranges from a low of 17°C to a high of 26°C, it is the perfect weather to get out and explore what this city has to offer.
As a country, the United Arab Emirates boasts all-year sunshine, with only occasional days of rain and zero chance of snow during the year.
According to some weather websites, the Emirate can experience three days of rain in December. It can certainly be a little overcast sometimes in December.
The sea is like a bath in the summer months. Some people love it, whilst others hate it. In December, the sea temperature cools down significantly, making it a more refreshing swim. The sea is around 25 c in December.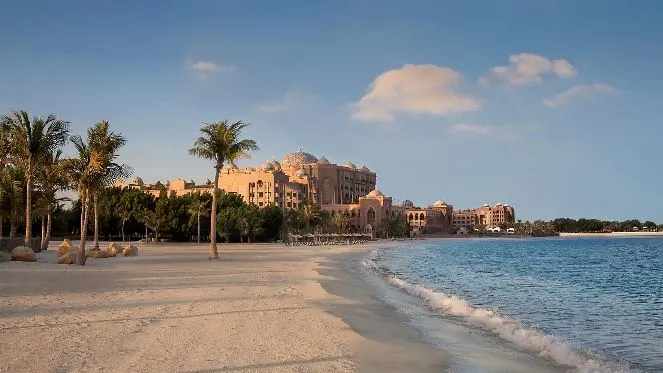 December is the most popular month for local events keeping residents in the Emirate over the holiday period and of course attracting many tourists.
For those coming from colder climates such as Europe, the weather feels warm, however, little cardigan or such may be required in the evening outside.
Interestingly locals, especially Emiratis find the December weather extremely cold. Men can be seen wearing much heavier kandouras ( local attire) and the shops are filled with puffer jackets and winter woolies.
As a resident, finding cool clothing in Abu Dhabi in December can be frustrating as many people find 20+ warm.
1. UAE National Day
Kickstarting December events in Abu Dhabi are the UAE national day celebrations. This celebration in Abu Dhabi is much larger than in other Emirates since it is the capital city.
National Day occurs on December 2, the date the six Emirates were founded and formed one country. Namely, Abu Dhabi, Sharjah, Dubai, Umm al-Quwain, Ajman, and Fujairah.
The celebrations and events generally vary from year to year, there is usually a display of fireworks as part of the celebration.
Abu Dhabi loves to be the best of the best! It is no surprise the city holds the record for the largest fireworks display in the world.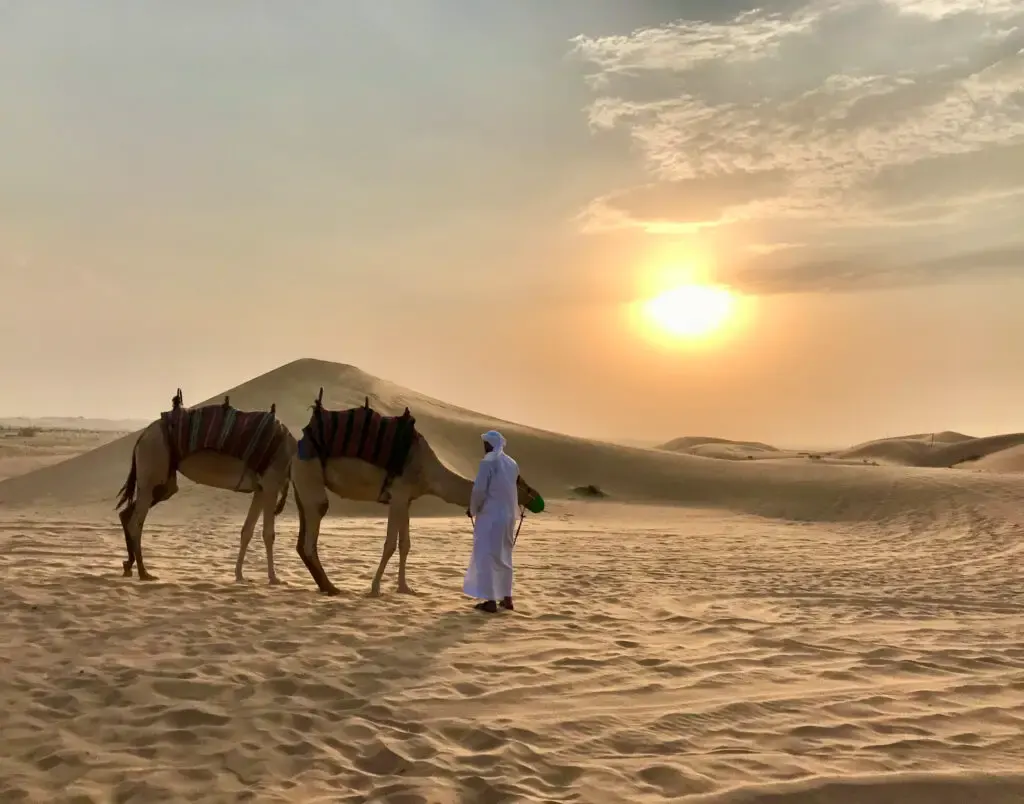 Featuring drone shows and prolonged fireworks, residents flock to the streets and to the top of skyscrapers to watch the show.
The fireworks display is free and some years there may be a show in several places around the city. Abu Dhabi's 7.2-kilometre Corniche is an iconic part of the celebrations and is one of the best spots.
If you are renting a vehicle, it is best to park nearby and walk to avoid getting stuck in traffic. The Corniche is always crazy busy on National Day.
Arriving around sunset is fantastic gram-worthy shots of the sky.
Other potential locations for fireworks may include:
Check out the extensive National Day guide to keep up to date with the events taking place. UAE flag day has some similar attributes, however, is celebrated in November. It is not considered a public holiday.
2. Sheikh Zayed Heritage Festival
Taking place in Al Wathba, a suburb near Bani Yas in Abu Dhabi, the Sheikh Zayed Heritage Festival runs from November 18 to March 18.
The festival celebrates the UAE's rich diversity of traditions as well as the legacy of Sheikh Zayed Bin Sultan Al Nahyan.
It is an excellent opportunity for those who wish to learn more about Emirati heritage and culture by engaging in art and crafts, eating, and participating in a variety of fun activities suited to all ages.
A significant highlight of Abu Dhabi's Heritage Festival is its drone show and its weekly fireworks display, also known to break records.
The festival is approximately 45 minutes out of downtown Abu Dhabi driving.
Travelling to Al Wathba during December is well worth it since there are plenty of events taking place alongside the Sheikh Zayed Heritage Festival.
Weekly Emirates Fountain performances, laser and hologram shows and Fireworks every Saturday at 10 PM.
National Day and New Year's Eve drone shows
Falconry competitions
Folkloric shows
Al Forsan Sports resort
Global civilisation pavilions
Racing and sailing boat festivals
Emirati civilisation pavilions
Glow and Flower Garden
Several large TV screens to lay back and watch sports
Traditional cooking competition
To find out more about the events and to book tickets.
Dates: November 18 to March 18
Timings: 4 PM to Midnight
Cost: AED 5 per person from ages three to sixty.
Location: Al Wathbah – Al-Wathba South – Abu Dhabi – United Arab Emirates
3. Mother Of The Nation Festival
Another family-friendly event to look forward to is the Mother Of The Nation Festival, which occurs from December 9th until the 23rd. With a possible extension into the new year.
The exciting event is a crowd-puller for people of all ages and nationalities. There are six exciting zones spread across the Abu Dhabi Corniche beach.
Live Arena
Food Hub
Inspire Space
Shopping district
Amusement park
The thrill zone
The festival highlights performances by international and local artists. Enjoy a beverage and snack while watching the live shows!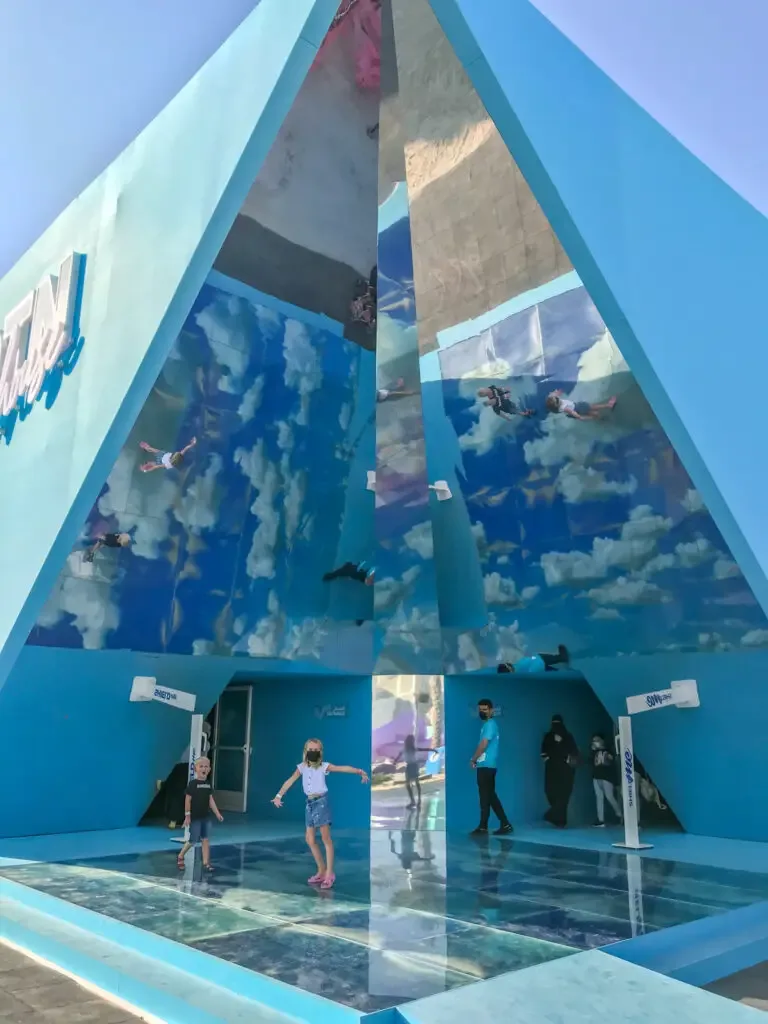 Mother Of The Nation shopping district is a hit amongst fashionistas. The district features cosmetics, travel items, clothes, flip-flops, scented candles and plenty more from local and international brands.
It is one of the few festivals located in central Abu Dhabi making it the most accessible.
For more information and to purchase tickets.
Dates: December 9 to 23
Cost: Starting from AED 30 per person (Additional charges for concerts)
Location: Corniche Street – Abu Dhabi – United Arab Emirates
4. Al Dhafra Festival
Al Dhafra Festival is an annual event where Abu Dhabi celebrates the Bedouin heritage and culture of the UAE. The festival primarily focuses on animal husbandry, featuring the finest in local cattle, falcons, dogs and camels.
Tourists visiting the festival can get a sense of the authentic Emirati culture and various traditional activities.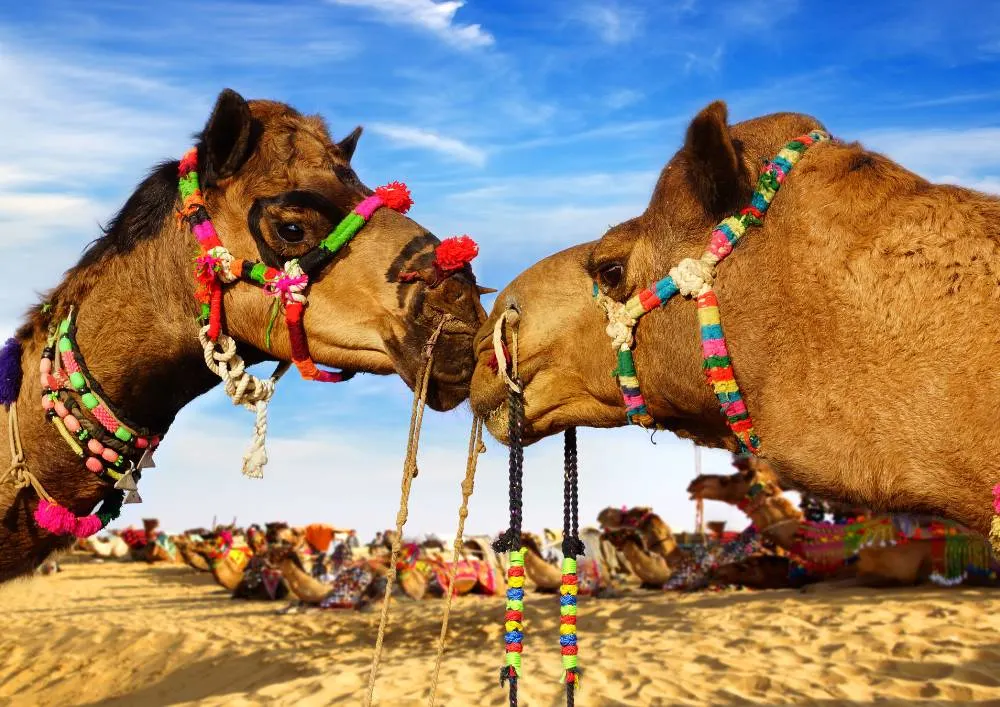 Some of the most popular activities visitors look forward to are:
Traditional souks
Saluki dog racing
Camel beauty contest
Sheep beauty contest
Arabian horse racing, and
Falconry
The stakes in the races are massive, with total prize money of approximately AED 50 million.
As a cultural event, Abu Dhabi's Al Dhafra Festival can be an enjoyable and an enriching experience for visitors.
Weekend evenings at such events always draw thousands of local people. So if you are ok with crowds, it's a great time to mingle with Emiratis. Alternatively, if you prefer to focus on the festival, visit early in the day.
Al Dhafra is a couple of hours drive out of the city, however is still considered part of Abu Dhabi.
Dates: December 17 to January 1
Timings: 10 AM to 10 PM (Closed on Sunday)
Location: GQRQ+7RX – Madinat Za'id – Abu Dhabi – United Arab Emirates
5. The Ripe Markets
The Ripe Market is another December activity worth visiting in Abu Dhabi. There are plenty of activities for all ages.
For those looking to stock up on organic products and vow to eat healthier in the new year, it's a great place to shop.
Apart from fresh food and live cooking, shoppers can browse and sample bites from a number of pop-up eateries.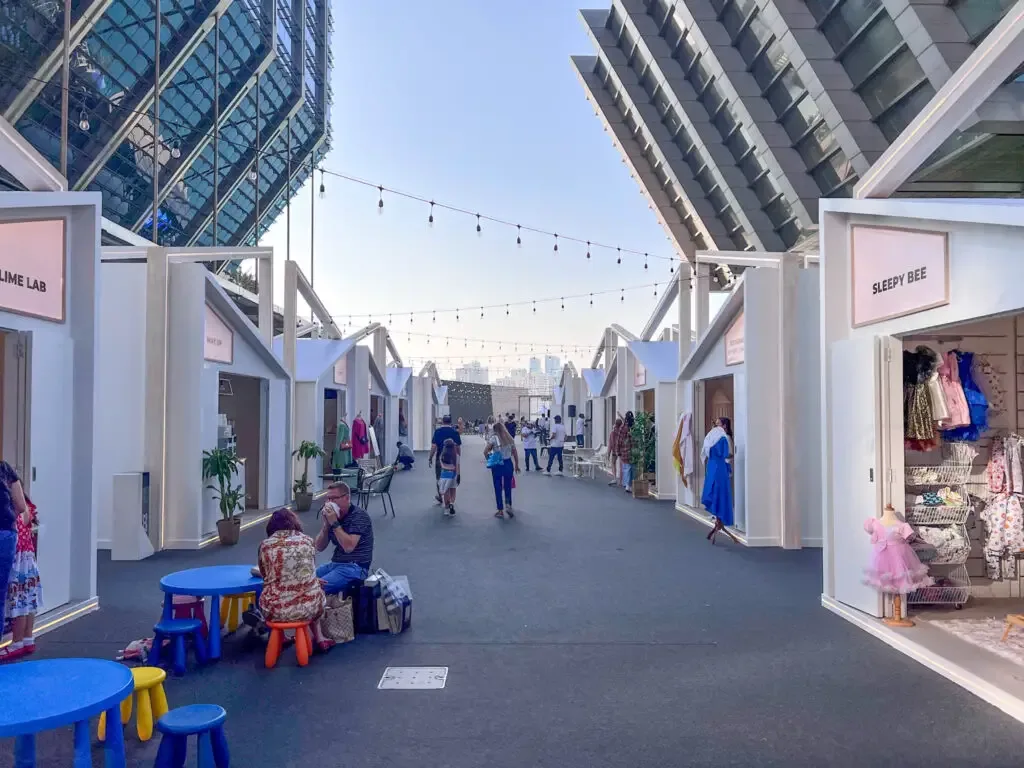 Like everywhere in Abu Dhabi some great coffee and tea are on offer from many stalls. The view from the markets over the Abu Dhabi waterways is stunning, especially at sunset. The cool weather allows visitors to explore the place at leisure.
Taking advantage of the market is a convenient way to purchase Christmas gifts since often in the latter part of December the rip market joins forces to create a Winter Wonderland.
There is another ripe market which takes place under the palm trees in Um Al Emarat Park. The location is perfect with street food vans, grassy lawns, not to mention splash park for kids and a mini farm.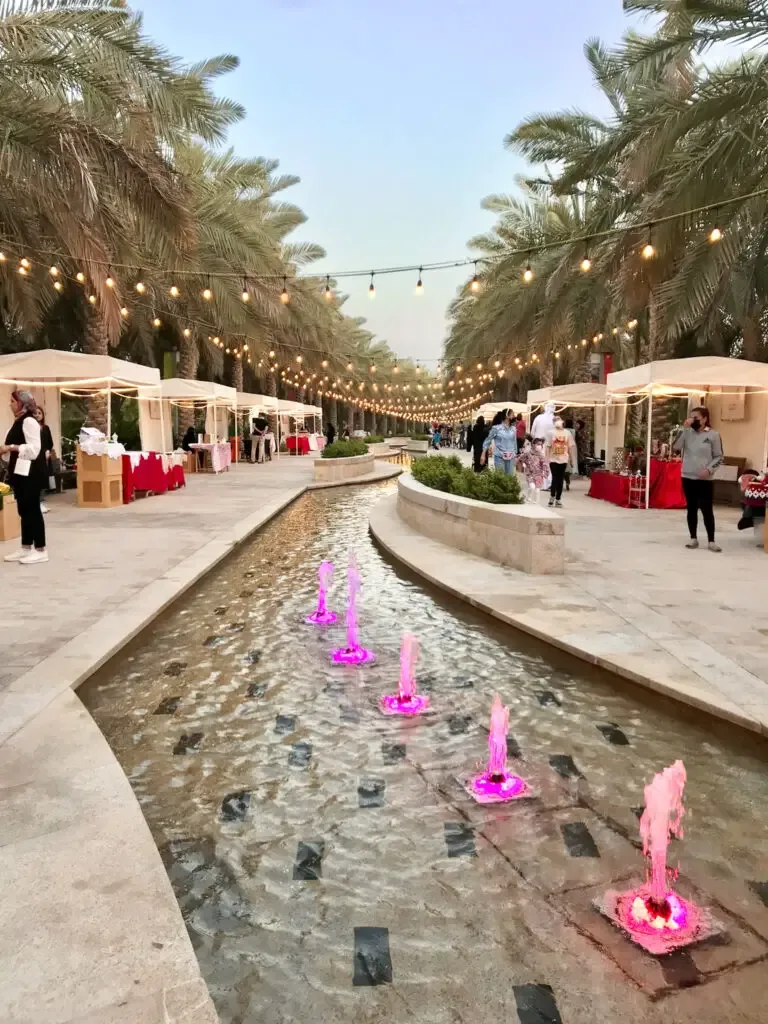 Timings: 3 PM to 10 PM (Daily)
Location: Al Maryah Island Promenade – ADGM Square – Abu Dhabi – United Arab Emirates
6. Christmas Tree Lighting & Winter Wonderland
December is an exciting month for most of the ex-pats residing in the city as they celebrate the festive season. The celebrations of Christmas in Abu Dhabi begin a few weeks before the big day itself.
Christmas tree lighting marks the beginning of the celebrations, adding to the festive atmosphere. As a city Abu Dhabi very much marks Christmas and local Emiratis can often be seen enjoying the celebrations too.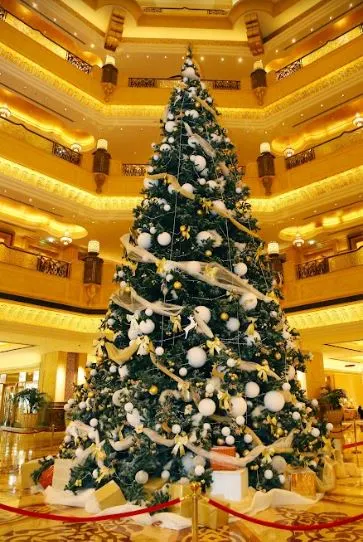 These are a few places around the capital to attend a tree lighting and explore winter wonderlands to get into the festive spirit a little early:
Tree lighting at the Sheraton
Festive tree lighting at Beach Rotana
Dustin Thani 30 ft tree
11 million dollar tree lighting at Emirates Palace
Tree lighting at Conrad Towers
Abu Dhabi Golf Club tree lighting
Yas Links tree lighting
Saadiyat Beach Club
There is Winter Wonderland on Al Maryah Island and Yas Island annually. Kids can enjoy rides, stand inside life-sized snow globes, listen to carols, see Christmas characters, and there are always festive crafts.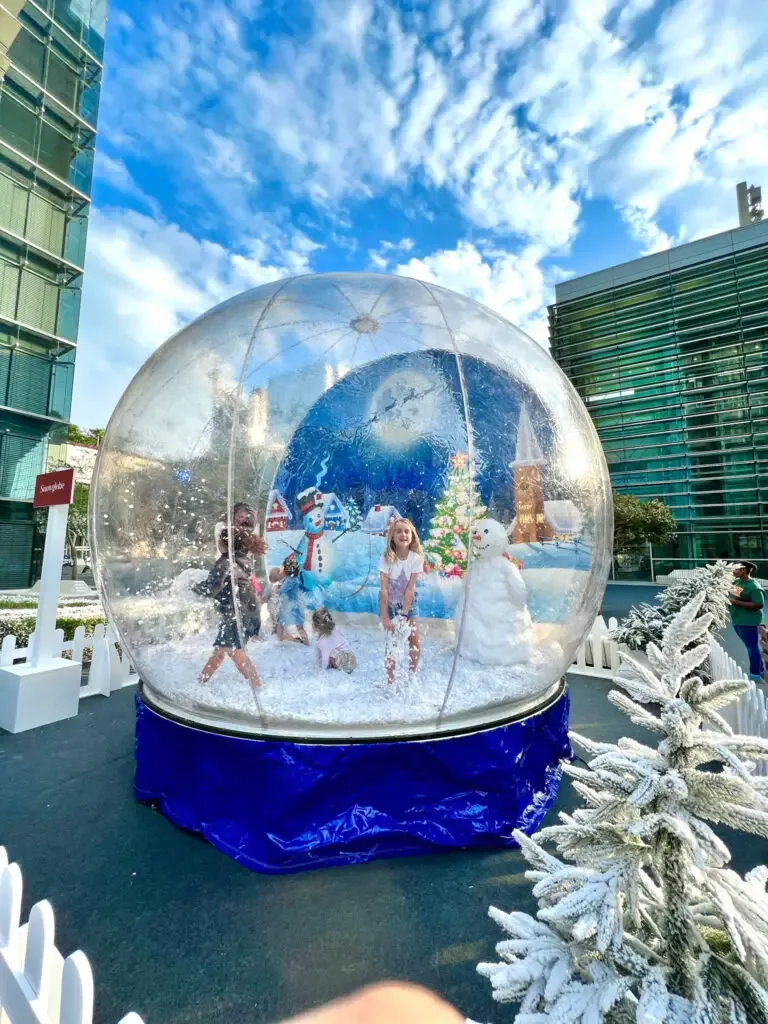 The Winter Wonderlands are always a top hit with families local, residents and tourists alike.
Check out our guide to Christmas celebrations in Abu Dhabi.
7. Abu Dhabi Marathon
The Abu Dhabi marathon is a huge event, sometimes marked with an elaborate air show! Participants at the ADNOC Abu Dhabi Marathon weave around iconic landmarks offering stunning views and cheering crowds keeping spirits high.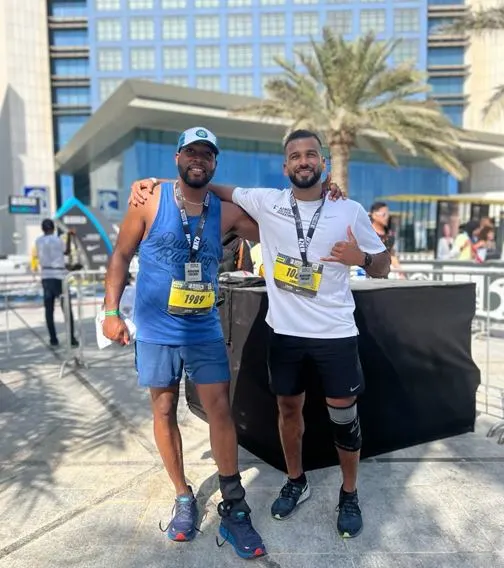 Taking part in the full marathon (42.195 km) is optional. There are also race series options such as 2.5 km, 5km, 10km and marathon relays allowing children to take part.
With the beautiful Abu Dhabi weather in December, running a marathon is an incredible bucket list item to achieve!
8. Celebrate New Year's Eve
The New Year's Eve events in Abu Dhabi are always incredible. Featuring some of the world's largest firework displays as well as fantastic parties and lavish brunches.
Abu Dhabi Corniche and Al Maryah Island are known to break records for having the largest fireworks display. Not to mention a drone show creating 3D images!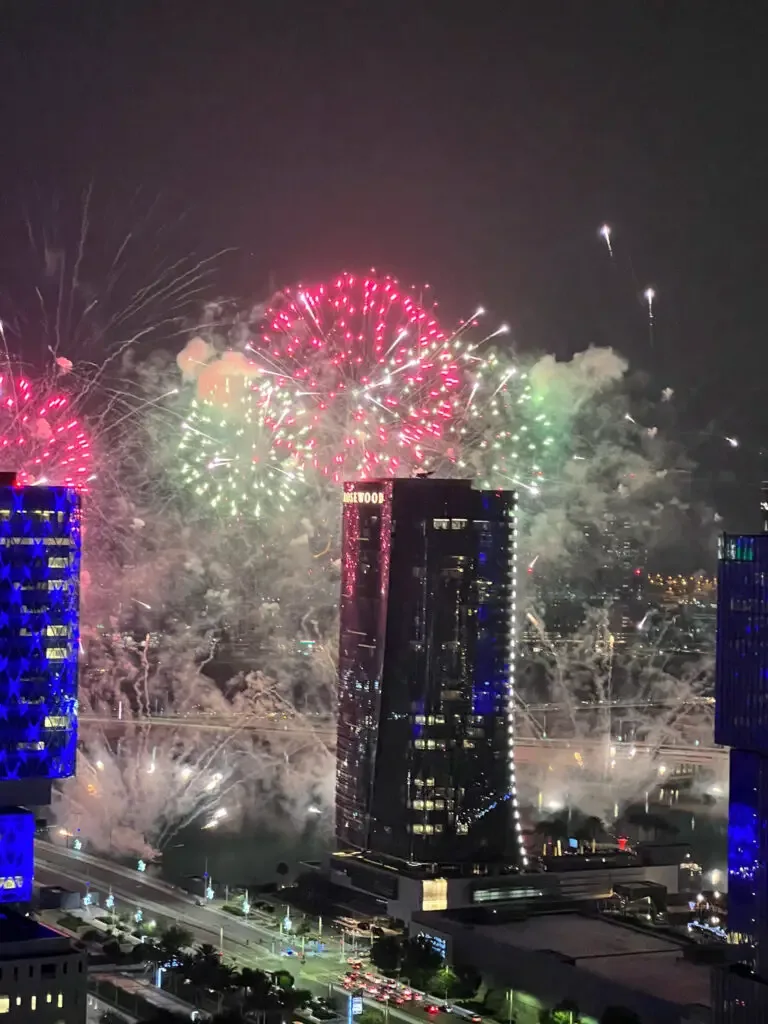 The weather over the festive period is just right for being out in the open air. As a result, hotels and restaurants offer alfresco dining are more likely to book up quicker than usual.
We recommend making reservations at least three weeks in advance. Some of the best spots for New Yeas include Yas Waterfront, Emirates Palace and Coya or Glo Bar facing Al Maryah firework display.
Refer to our guide for more information on celebrating New Year's Eve in Abu Dhabi.
Things To Do In Abu Dhabi In December
Now we've covered all of the specific seasonal events, there are still all the usual attractions to check out!
The December weather in Abu Dhabi is perfect to enjoy outdoor and indoor activities, from private sightseeing tours to exploring theme parks on Yas Island.
9. Abu Dhabi Desert Safari Experience
Desert safari in Abu Dhabi offers a unique opportunity to explore the desert up close.
Experience a unique cultural experience at the Bedouin camp. The activities available on tour provide a great way to experience the desert.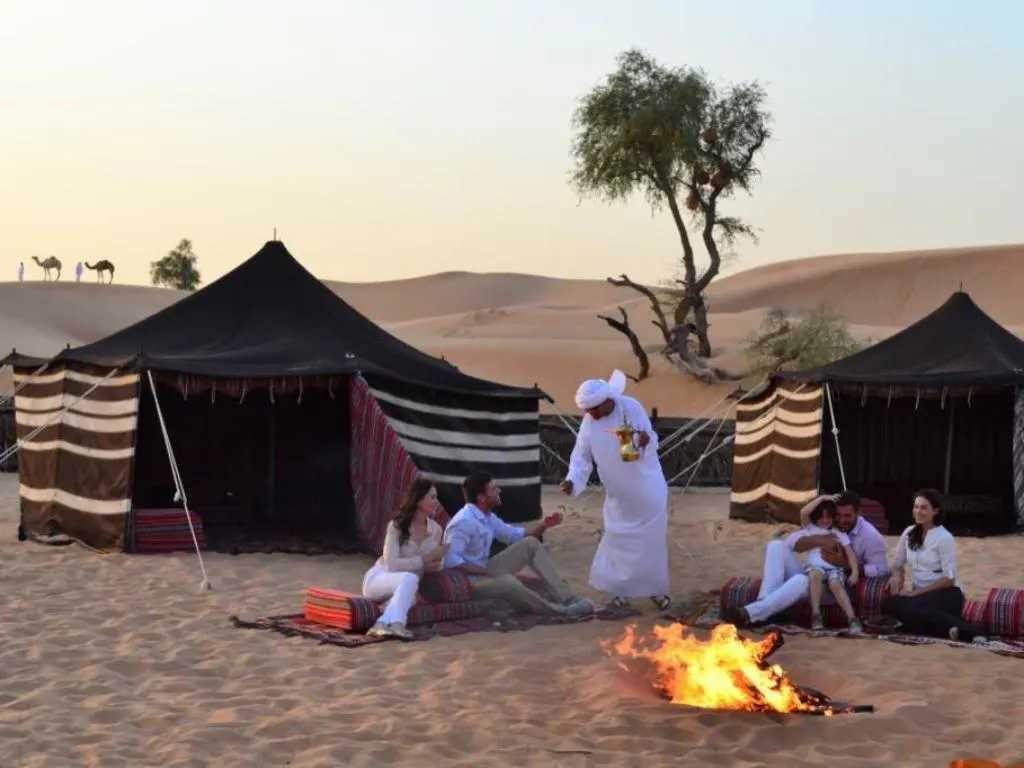 Try dune bashing, sandboarding and camel riding, and enjoy a delicious barbecue dinner with entertainment. Other activities include henna painting on the hands, trying on traditional local attire for a photo.
A section of the camp is set up as a shisha lounge for anyone wanting to try it! Round off the evening with a majestic view of the desert sunset before making your way back to the city.
All guests are picked up from their hotel in a 4×4. In some cases, the ride may be shared with others. The camp is off the highway towards Al Ain.
Book your Abu Dhabi Desert Safari Experience.
10. Vist The Grand Mosque
A must-see in Abu Dhabi is the Sheikh Zayed Grand Mosque, one of the world's largest and most impressive mosques.
It was the vision of the UAE's founder to create a cultural haven for the entire country.
On this site stands a magnificent tower, Qutr al-Marah. With 1,096 columns embedded with amethyst and jasper. It's the most iconic image of Abu Dhabi.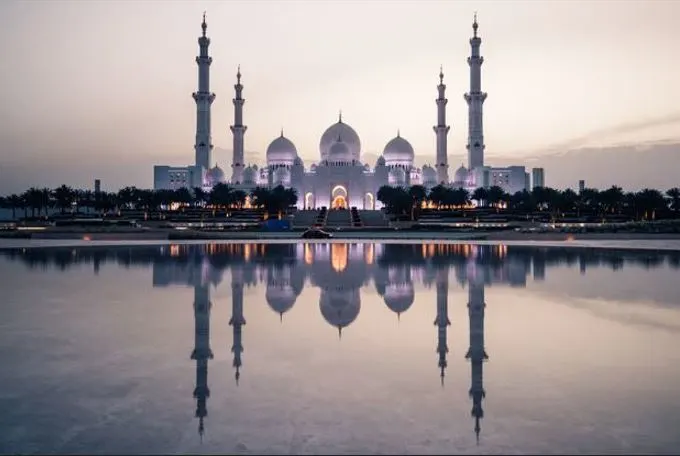 There are 82 domes made of white marble, each with a reflective pool beneath. Abu Dhabi's Grand Mosque is one of the most popular tourist attractions.
In order to capture the mosque in different lighting, it is ideal to visit just before sunset in December.
Enjoy orange and red hues, creating a beautiful contrast against the white marble of the architectural masterpiece.
It's free to visit. However, for an in-depth understanding, we recommend booking a private tour to help understand its history and significance.
Book your private Sheikh Zayed Grand Mosque tour.
Dress code for visiting Sheikh Zayed Grand Mosque
In accordance with the dress code, visitors (men and women) must adhere to specific requirements. For instance, it is customary to remove shoes and cover shoulders and knees when entering the entry gate.
The mosque has several shops, cafes, and souvenir shops on the lower ground level, where abayas (for women) and kanduras (for men) are available for sale.
Women must cover their bodies including their hair inside the grounds of the mosque. Men must cover their shoulders and knees.
Refer our detailed guide on what to wear in Abu Dhabi.
Tickets: Free Admission
Timings: 9 AM to 10 PM (Saturday to Thursday)
Friday Timings: 9 AM to 12 PM and 3 PM to 10 PM
Location: Sheikh Rashid Bin Saeed Street – 5th St – Abu Dhabi – United Arab Emirates
11. Wander Around The Louvre
Saadiyat Island, home to the Louvre Abu Dhabi, is a cultural wonder in collaboration with its French counterpart in Paris.
Besides exploring masterpieces from around the globe, take the opportunity to experience futuristic architecture inside a world-class museum. The stunning galleries feature works of art dating back thousands of years.
Visitors can learn, reflect and gain inspiration from the chronologically-ordered galleries displaying the progression of culture and humanity through time and watch the dome-shaped roof casting abstract shadows with its design.
The monumental piece of architecture has numerous water fountains and the sea quite literally flows inside the building.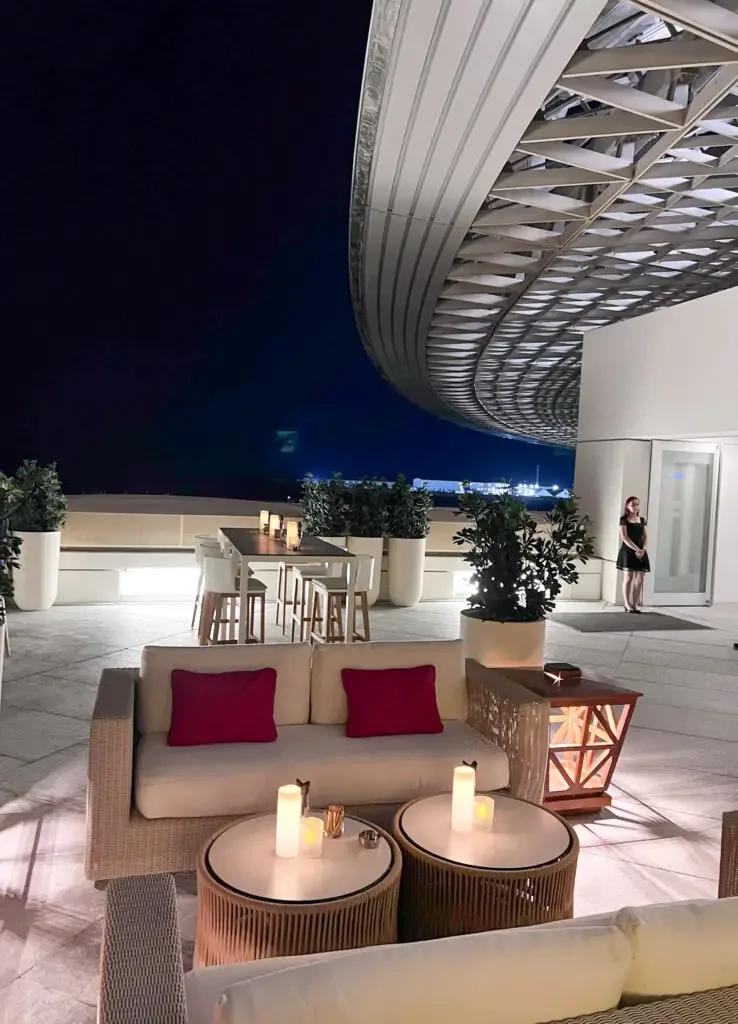 The Louvre has some great cocktail bars and restaurants. The art lounge overlooks the sea and has some great views at sunset. With guest DJs, the vibe is perfect for sundowners.
Equally, there is a kayaking option in the evenings under the moonlight. Two different but nice ways to enjoy the building.
Book your tickets to Louvre Abu Dhabi.
Louvre Timings: 10 AM to Midnight, with galleries and exhibitions closing at 6:30 PM on weekdays and 8:30 PM on weekends.
When: Tuesday to Sunday
Timings: 6 AM, 8 AM, 3:30 PM, 5 PM and 7 PM
For more information on kayaking at the Louvre.
Location: Saadiyat Island – Abu Dhabi – United Arab Emirates
12. Explore The Beaches
Abu Dhabi consists of over 200 islands with incredible coastlines and gorgeous beaches.
Due to its prime location along the Arabian Gulf, the UAE capital is home to endless stretches of white sand beaches and a few artificial ones.
With temperatures in December not exceeding 26°C, it does feel like a pleasant summer day in most countries across the globe.
The beaches are often close to hotels or within walking distance. While others are farther away and may require a drive.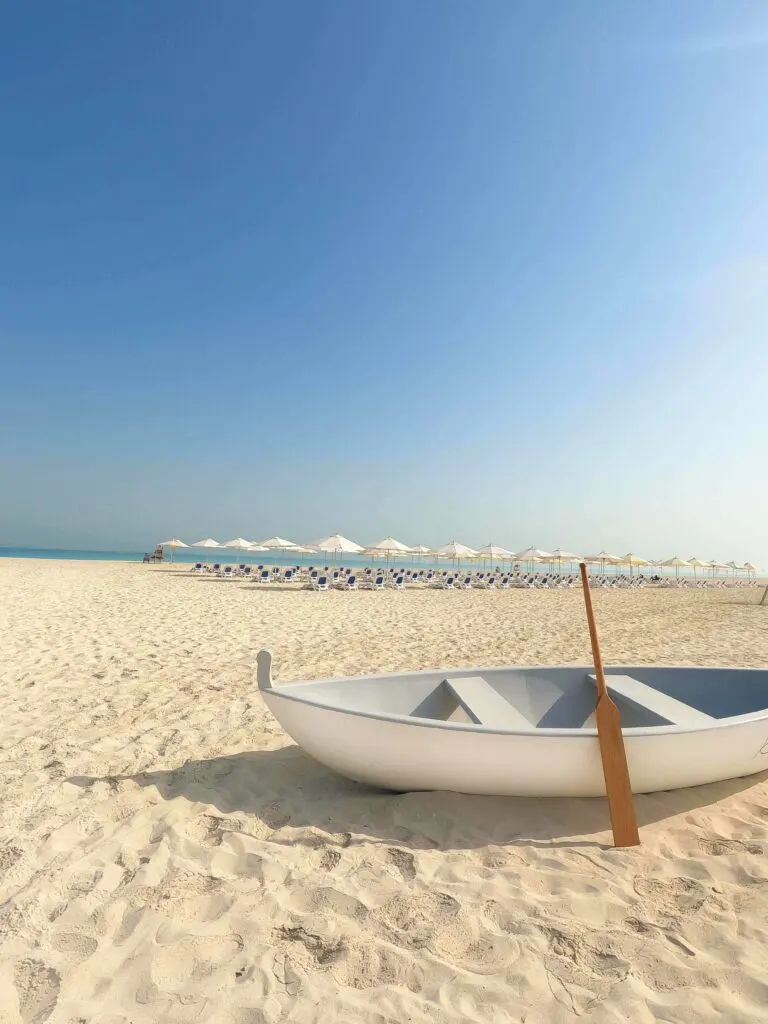 Whether you're a resident of Abu Dhabi or staying at a hotel without a beach, there are plenty of options for private and public recreation in the capital.
The public beaches in Abu Dhabi are well taken care of and come with shower booths, changing rooms and plenty of public amenities.
In order to access the hotel's private beach, visitors usually need a day pass. The fee for a day pass varies from place to place.
Discover the most picturesque Abu Dhabi beaches for a fun-filled day of swimming, wakeboarding on the waters or kicking back and relaxing!
13. Enjoy Saturday Brunch
Brunch in Abu Dhabi is an elaborate late lunch usually in the form of a lavish buffet. Many expats singletons and families alike use weekend brunches as a means of socialising.
Some offer table service with sharing platters, such as pasta, pizzas and salads. Whilst others are a set menu. However, for the most part, brunch is usually a buffet.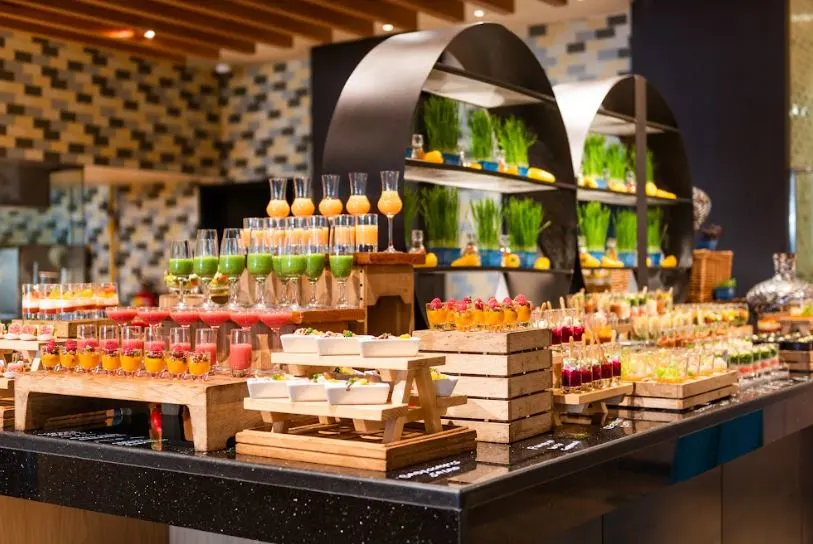 Some venues offer afternoon brunches with a wide selection of soft drinks or a house drink package as part of their menus.
Weekend brunches typically last three to five hours, with occasional weekday brunches celebrating special occasions, such as
With the cool Abu Dhabi weather in December, outdoor brunches are a popular option. Some of the best outdoor brunches include:
Get ready for a gastronomic journey featuring Pan-Asian, gourmet, vegan and Jamaican food. Not to mention Mexican and of course local Arabic cuisine too.
Check out Abu Dhabi's best brunch spots for more information.
14. Visit Long Salt Lake
For those seeking adventure or a reason to take a road trip, grab a rental and head to the Long Salt Lakes in Al Wathba.
The stunning stretch of aqua-blue water is somewhat of a geographical man-made wonder. Read more about the geography of the salt lake.
The three large salt discs appear to float on the surface of the water. So it's no surprise that it's one of the UAE's wonders since it is in the middle of the desert.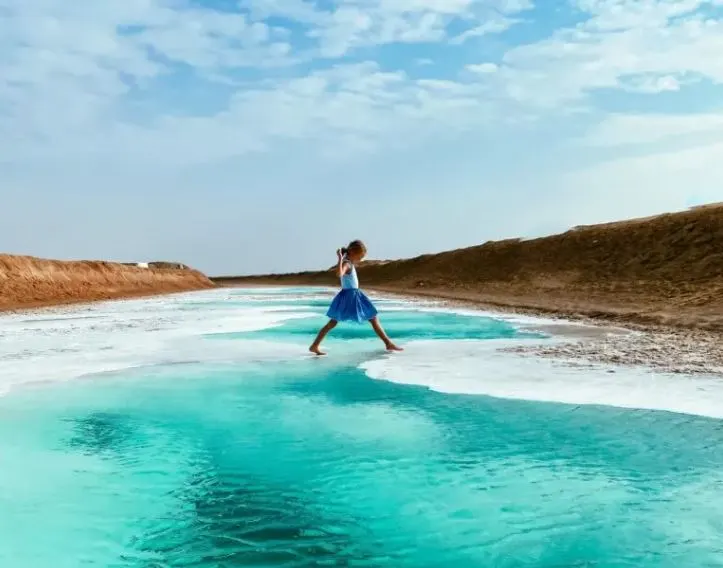 There are no specific tours to Long Salt Lake. However, there are plenty of drivers in Abu Dhabi with an SUV who will take guests to see the Long Salt Lake.
The cost is about AED 300 for a return trip. For those looking to stay in the region, book a night at Al Wathba, A Luxury Collection Hotel and Spa.
When To Visit Long Salt Lake
Long Salt Lake's water tends to evaporate during the hot summer months. Therefore, November through March is an ideal time to visit when the weather is cooler.
With tourists coming from Dubai and other Northern Emirates, the lake becomes busier as the day progresses.
In order to get the perfect gram-worthy shot, we recommend arriving just after sunrise.
Another top tip is to visit on a bright and clear day and use coordinates 24.1589° N, 54.5025° E for an exact location.
Location: 5G52+HX5 – Al Bihouth – Al Wathba South – Abu Dhabi
15. Glamp Or Camp
There is nothing better than a crackling bonfire, a flaming grill, a small gathering and the wilderness. Camping in the desert is one of the unique experiences Abu Dhabi has to offer.
There is no denying Abu Dhabi enjoys warm winters. However, visitors and residents can enjoy the natural beauty of the UAE as temperatures gradually drop from October onwards.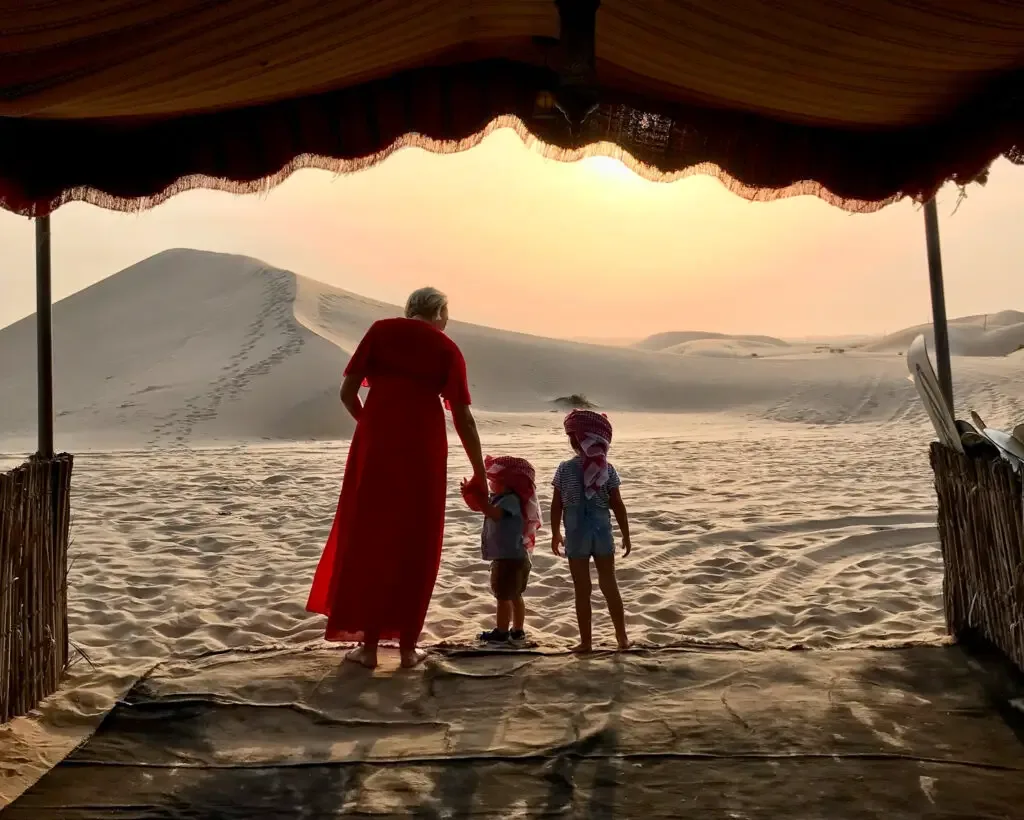 The winter months (Beginning of November to Mid March) offer the best opportunity to camp instead of doing a fancy staycation or a day at the beach club.
Abu Dhabi has a wide range of options when it comes to camping. A lot of residents tend to buy camping gear, and head out into the wilderness. Whilst others tend to organize a tour.
An organised camping tour is the best option for tourists. For overnight desert safari bookings.
Camping in the desert is one of many options. The capital offers lakes and plenty of beach camping spots too.
Some of the top spots for camping and glamping include:
Liwa Oasis
Al Wathba Lake camp
Al Dhafra Beach camping site
Mirfa beach
Arabian Nights village
Al Qua'a desert (The Milkyway Spot)
Bab Al Nojoum- Al Hudayriyat
Bab Al Nojoum- Al Mugheirah
Jabel Hafit Desert Park
A camping trip in Abu Dhabi is only complete with watching twinkling stars in the pitch darkness and roasting marshmallows over the campfire.
For more information, refer to our guide to glamping and camping in Abu Dhabi.
16. Explore Yas Island
Yas Island is Abu Dhabi's official leisure island. With a prime location just 15 minutes from Abu Dhabi International airport, tourists love exploring the area, especially during a stopover.
For local and international visitors, exploring Yas Island is often at the top of the itinerary, be it a one or four-days visit to the capital.
Among the top attractions on the entertainment and leisure island is the world's largest indoor theme park, Ferrari World.
Ferrari World
Abu Dhabi's Ferrari World is a must-visit for thrill seekers. Proudly named after one of the fastest car manufacturers in Formula 1, it is the largest indoor theme park in the world.
A great mix of rides, activities, merchandise, and food makes the indoor theme park a favourite among all ages!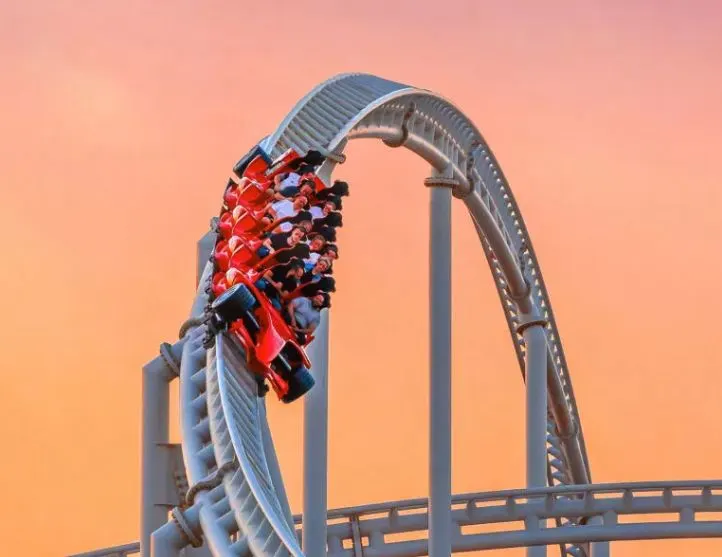 The most popular rides include:
Other rollercoasters deserving of a mention are Fiorano GT Challenge, Turbo Tower and Flying Wings.
Karting Academy and Junior Grand Prix are also enjoyable experiences for younger Ferrari enthusiasts.
The Karting Academy includes a 290-metre electronic karting circuit where racers can race for the fastest lap time.
In contrast, the Junior Grand Prix follows a similar concept but caters to children.
For Ferrari World Entrance Ticket.
Yas Waterworld
Making a splash at Yas Water World is one of the exciting things to do in December. Known as water's greatest playground, visiting the park makes for an exciting day!
With countless slides and experiences to offer, Yas Water World is one of the best places for families.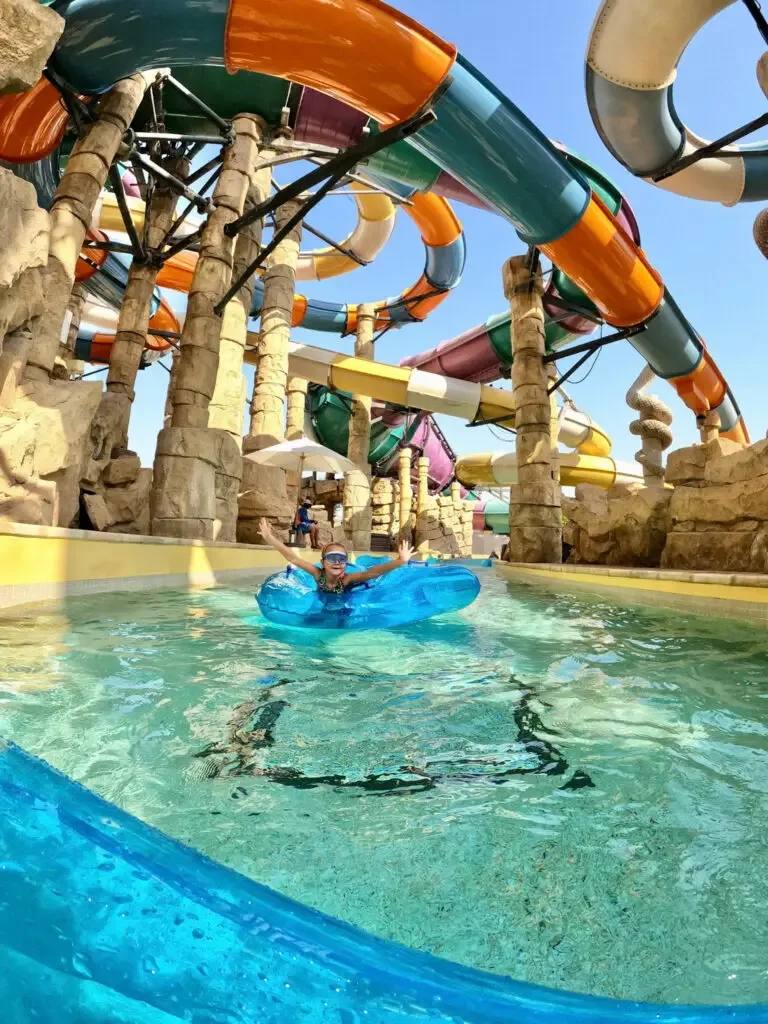 Some of the most exciting slides at the waterpark are:
Apart from the above slides, there is a lazy river, hop in the wave pool, or ride the wave at the White Water Flowrider.
The Best Time To Visit Abu Dhabi
The tourism season kicks off around October or November when there are lots of events such as F1. December is equally as busy with events, in particular National Day.
January and February are the coolest quieter months after New Year. In March and April, the weather is still pleasant to visit.
The hotter summer months start in May when most events move inside. It is a good month to visitfor those who enjoy the arts.
Whilst June through July and August attract budget travellers as many resorts and attractions offer great deals.
September is considered a shoulder month, it is still quite hot but tolerable early morning and in the evenings.
To Sum Up Events And Weather In Abu Dhabi In December
One thing to note when visiting Abu Dhabi in December is there is some event or the other happening throughout the month, especially on the weekends.
Musicals and concerts featuring international stars also occur early December following the Formula 1 races.
We hope you found this article on events and weather In Abu Dhabi In December helpful. Have you been to any of the events above? Do leave us a comment. We would love to hear your thoughts.
There are endless activities visitors can enjoy or partake in throughout the year, even during Ramadan.
From Iftars to Suhoors its is for sure a cultural experience.
You may also like:
Chinese New Year Celebrations In Abu Dhabi
Coworking Spaces In The Capital
Disclaimer: This post may contain affiliate links. By using them, it does not cost you any extra, we get a teeny commission to keep us writing. Thank you in advance for your support.