Abu Dhabi is well known for its sky scraper skyline with the back drop of beaches and sand dunes. However with a growing health conscious population, there are plenty of parks in Abu Dhabi to enjoy be it for leisure or exercise.
Some of the parks in Abu Dhabi are quite green with lawns and palm tress, whilst others have nice walkways and facilities such as BBQs, gym equipment, playgrounds and splash fountains.
Abu Dhabi parks provide a much-needed escape from the urban environment. Especially since it can be quite hard to go for a walk in the city without driving somewhere first. It is the desert after all!
There is so much happening within the parks in Abu Dhabi. From winter ripe markets, and kayaking opportunities to immersive digital art experiences and sustainability initiatives.
Not to mention cafes, restaurants and food trucks which can often be found within many of the parks in Abu Dhabi.
Needless to say parks in Abu Dhabi see most of their visitors in the evening. However they are lovely to visit early morning as well. Fitness buffs can often be seen jogging through before the sun gets too high.
The parks in Abu Dhabi, particularly those with green vegetation provide somewhat of a nature experience which is often hard to come by in the city. Especially if you live in a high rise building.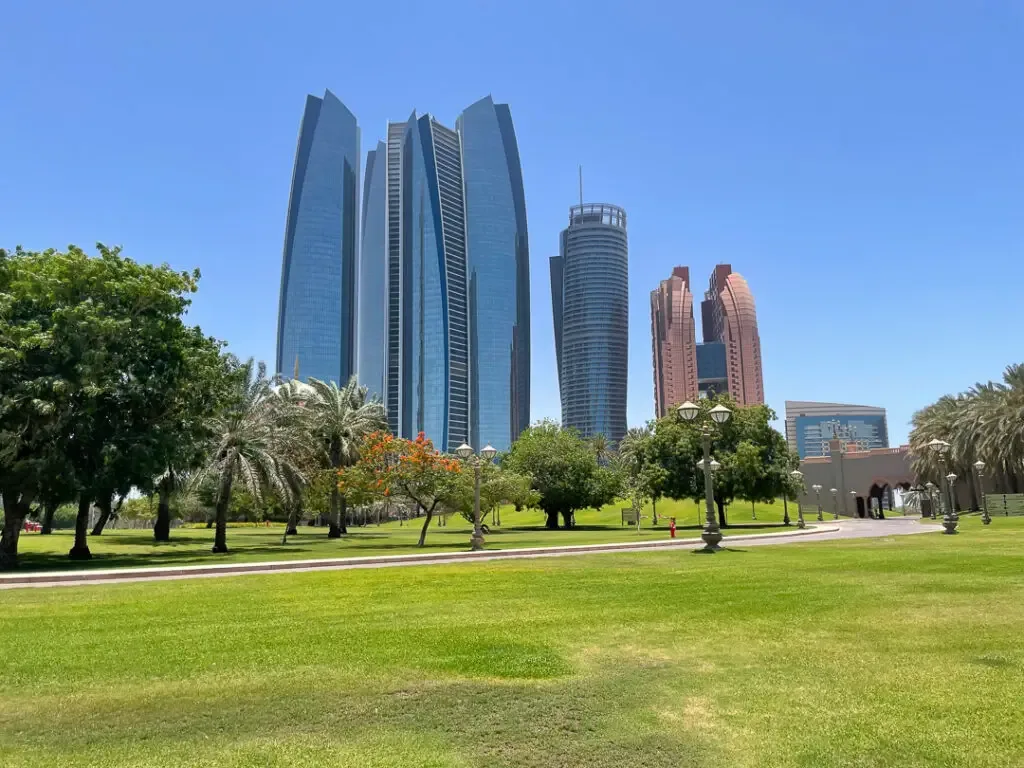 For example walking through the gates of Umm Al Emarat park, the first most noticeable sign of nature is the singing birds which is not a common sound in Abu Dhabi.
Wether you are living in the city, or just visiting and looking for a nature escape there are plenty of parks throughout the city. Even if you have lived in Abu Dhabi for a long time, you may discover something new in this post.
In this post, we cover all the best parks in Abu Dhabi to discover including a couple of hidden gems.
Abu Dhabi Parks
1. Umm Al Emarat Park
Umm Al Emarat is one of the most popular parks in Abu Dhabi. Spread across 14 hectares, there is plenty of space for a decent walk through the beautiful gardens and along palm tree lined pathways.
This park in Abu Dhabi is in a fantastic central location for residents of multiple neighbourhoods to access, in particular young families.
There are many unique features in Umm Al Emarat. For example the glass green house conservatory which is home to many different species of plant and trees. There is an elevator to a high walkway to walk amongst the tree tops.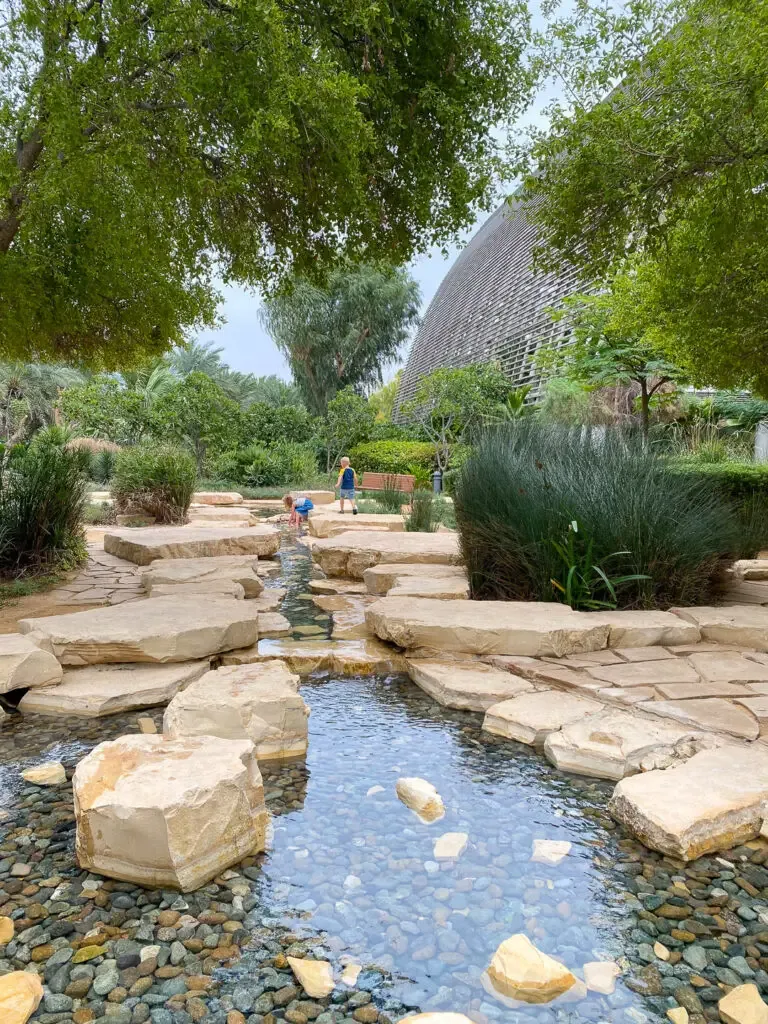 For children, there are dozens of other attractions including a petting zoo, a splash pad, a playground, not to mention the trampoline brand Bounce has facilities within the park.
The petting zoo has a couple of tortoise, rabbits, camels, ostrich, goats and ducks. Kids can buy a bunch of fresh food to feed the goats.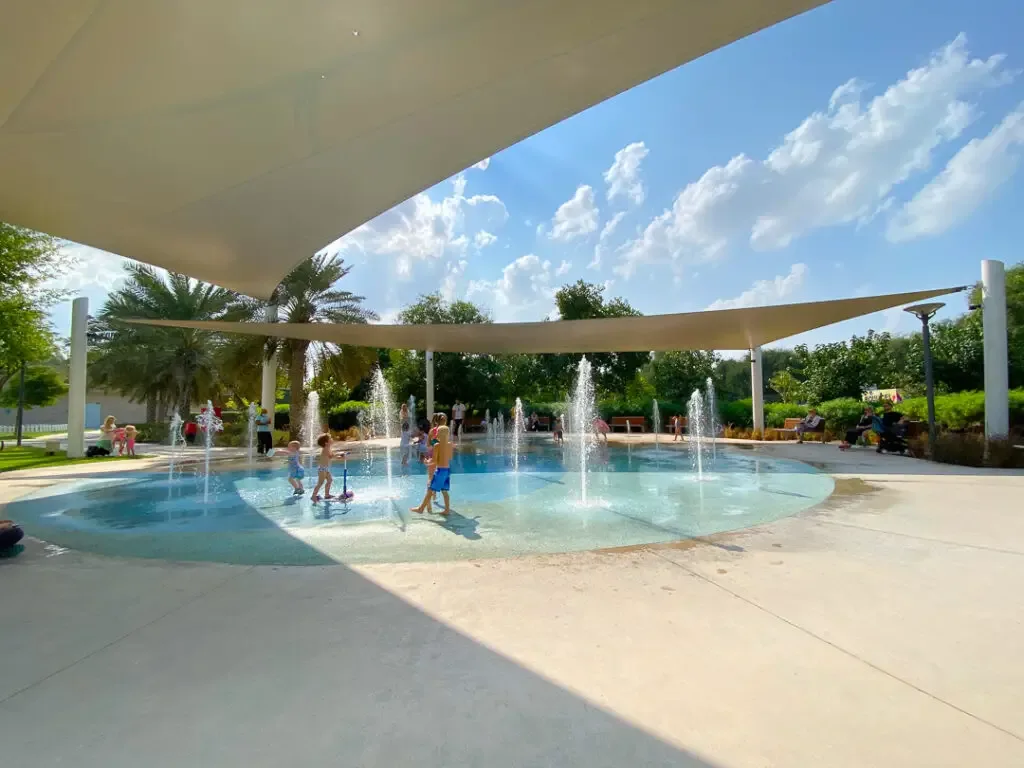 The splash pad is perfect for little ones to cool down on a warmer day. There is also another water feature with a mini waterfall which kids love playing in.
During the cooler months, Umm Al Emarat holds a ripe market on the weekend. The beautiful palm tree lined pathways fill up with stalls selling local crafts, fresh produce and baked goods. It is an ideal place to pick up souvenirs.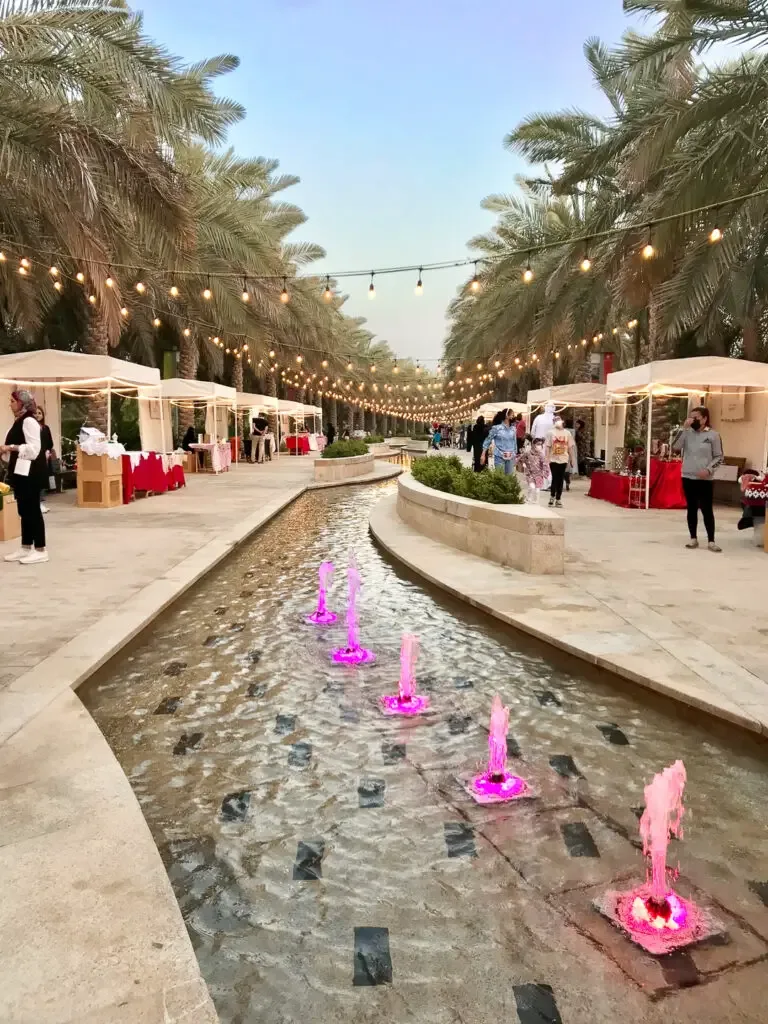 In fact, it is a fantastic place to pick up locally grown fruit and vegetables which are hard to come by in Abu Dhabi.
Food trucks line the lawn where there are plenty of picnic benches to enjoy delicious street food such as shawarma and pizza slices as well as burgers.
There is also a stall with entertainment specifically for children. From slime making to pottery painting, the ripe market is a fantastic outing for families.
There are plenty of food options throughout the week, not just on market day. Close to the entry there are a couple of great cafes, not to mention a Movenpick ice-cream stall near the children's playground.
Green For Life is a healthy option based on the other side of the park. It's the perfect pitstop for walkers half way around to grab a cold drink.
If that wasn't enough, the park quite often holds outdoor movie events and festivals such as the Abu Dhabi Reads Festival.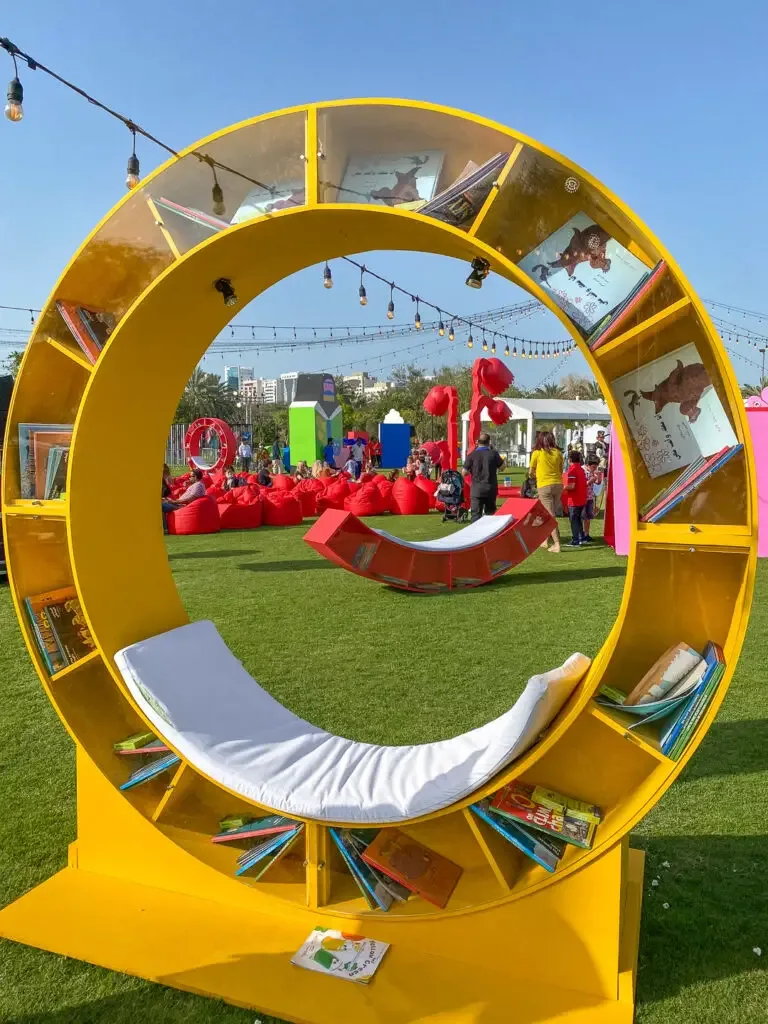 The park has beautiful lighting at night with palm trees wrapped in fairly lights and fountains illuminated in bright colours.
For a moment of peace, make sure to visit The Wisdom Garden, it is a beautiful piece of architecture dedicated to the environmental conservation efforts of the late Sheikh Zayed bin Sultan Al Nahyan.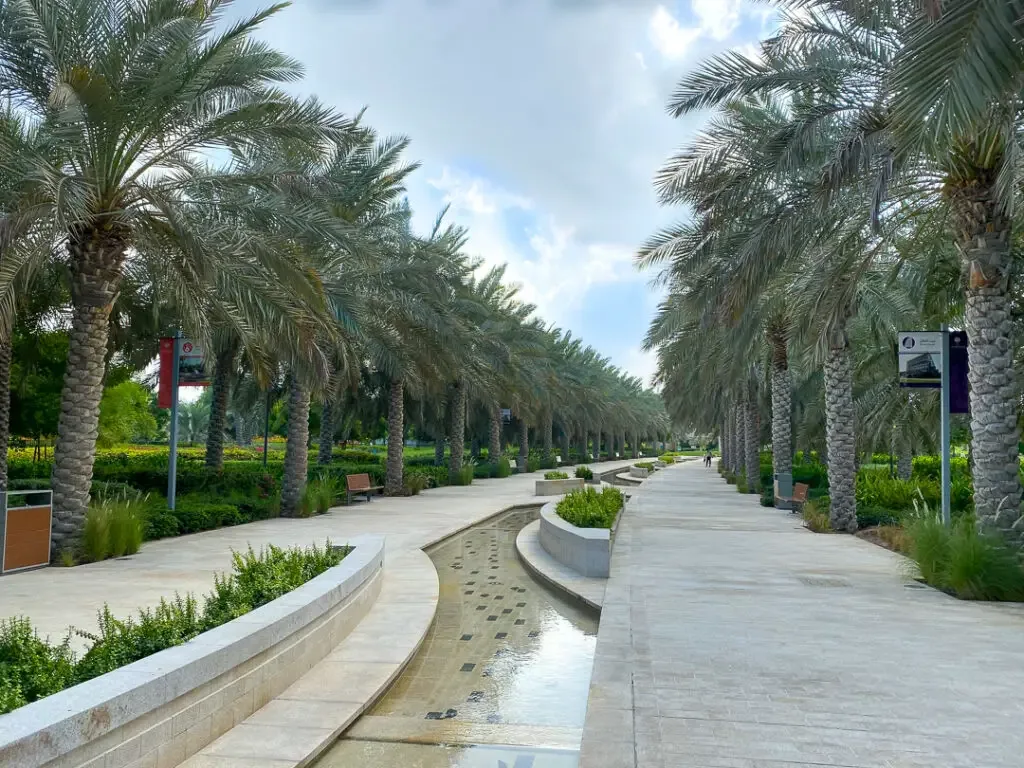 Featuring 10 marble walls with quotes and water features, it is a place of serenity within the city.
Speaking of conservation, Umm Al Emarat is powered by renewable energy and is quite committed to sustainability and environmental education.
There is a small entrance fee to the park of 5 AED per adult. There is parking outside, however during busy periods such as the weekend and evenings, the car park can get busy.
Location: 15th Street, Mushrif Area, Abu Dhabi
Opening hours: 8am to 12 am, may be variations during Ramadan.
2. Reem Central Park
Reem Central Park is based on the shoreline of Al Reem's very own mangroves. The park is surrounded by residential skyscrapers.
The park is not particularly green per say, however it has lots to enjoy. Walkways weave past cafes, water fountains, a small beach, along the canals and around the many play areas including a very large skate park.
The park is right next to a mosque and is a beautiful spot at sunset since many vantage points face directly west. The sun sets behind the mangroves and nearby Al Maryah skyscapers whilst the call to prayer can be heard in the background.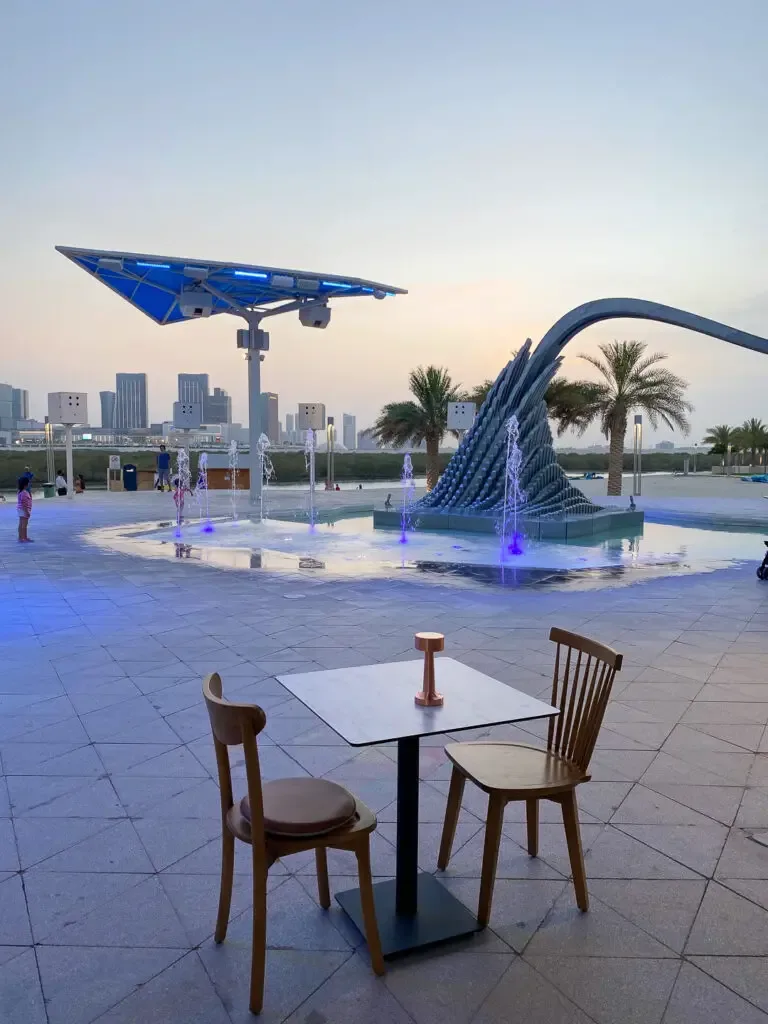 There is plenty to do in Reem Central Park including renting a kayak or a stand up paddle board from the beach area.
There is a fantastic loop through the mangroves which weaves back around to the start and takes approximately 40 minutes. It's important to stay on the advised track to avoid going out to sea.
Kids love the splash pool which is particularly unique since it comes alive with lights and animation projections onto a waterfall at different times of the evening.
A few of the cafes have outdoor seating right next to the splash park allowing parents to relax whilst the kids play.
There are also many food trucks in Reem Central Park serving up everything from burgers to ice-creams.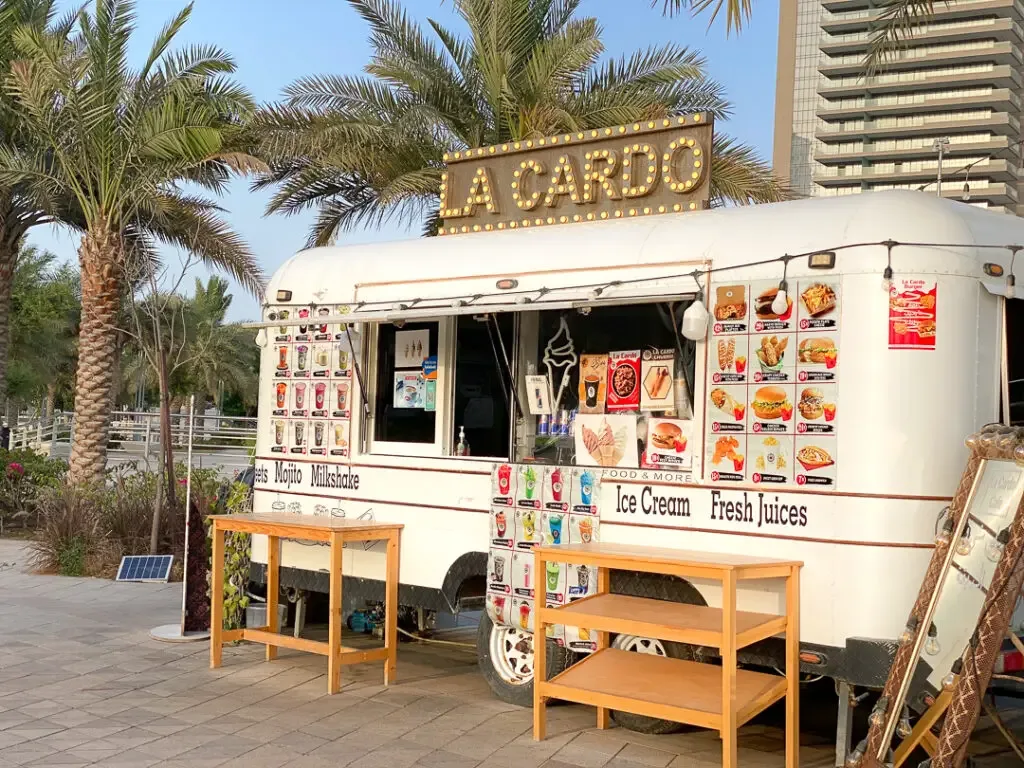 The children's play area is extensive with a huge canopy providing shade so it can be enjoyed earlier in the evening.
From climbing hills to swings, and some paid activities such as ride on electric scooters to boats on a mini lake, children love Reem Central Park.
Not to mention the very extensive skate park which is a firm favourite of skating and BMX enthusiasts.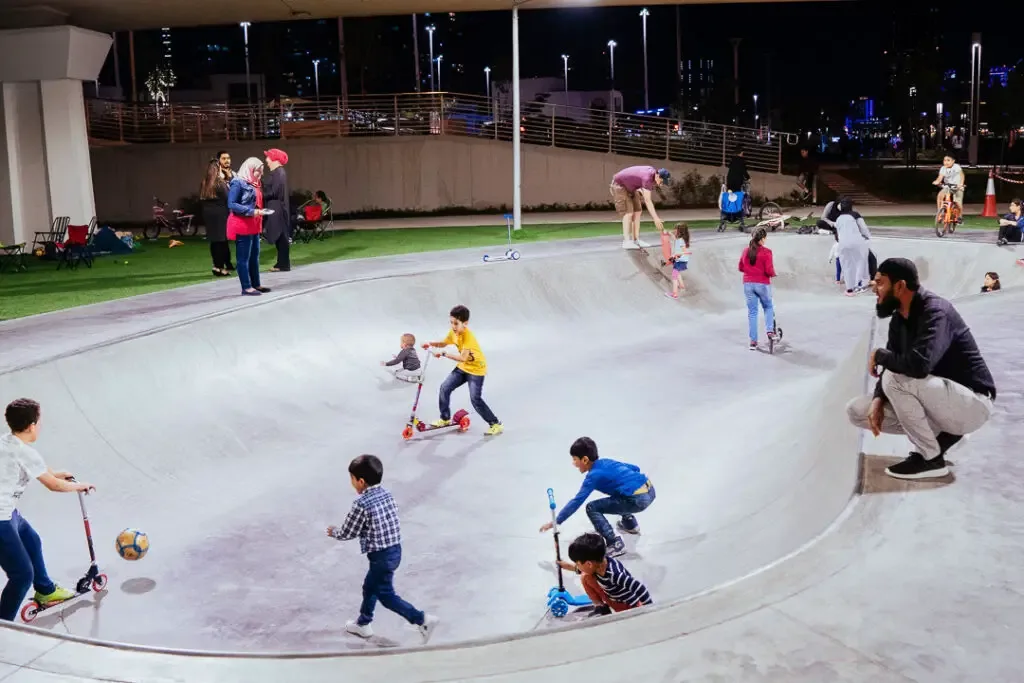 There is some parking in Reem Central Park however it does get busy in the evenings.
Location: Al Reem, Shams Abu Dhabi
Opening hours: 6 am to 11 pm daily
3. Al Fay Park
Al Fay is a relatively new park in Abu Dhabi also on Al Reem Island. It is quite unique in the sense it is surrounded by bush with walkways through what feels like a hideaway.
It feels totally different from anywhere else in the city, possibly due to the Danish company who designed it.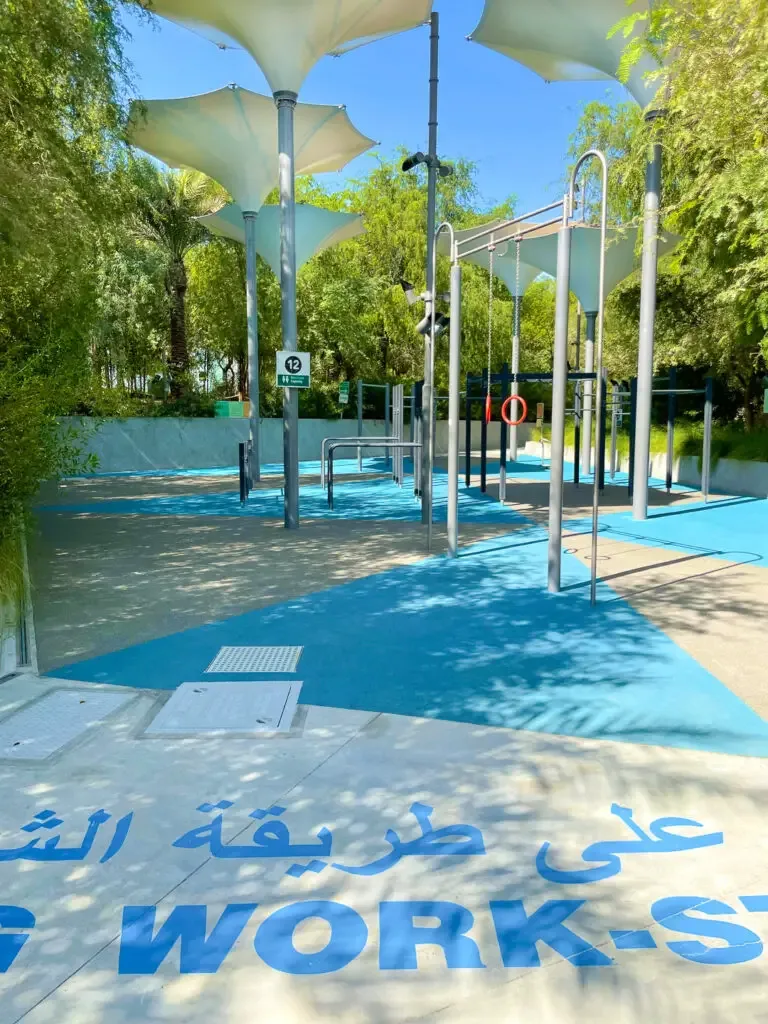 Based beneath the dominant Gate Tower of Al Reem Island, the clever design makes it feel a million miles away from the urban jungle surrounding the perimeter of the park.
Children love running through the pathways jumping from one stepping stone to the next amongst the forest since it feels quite secret and hidden.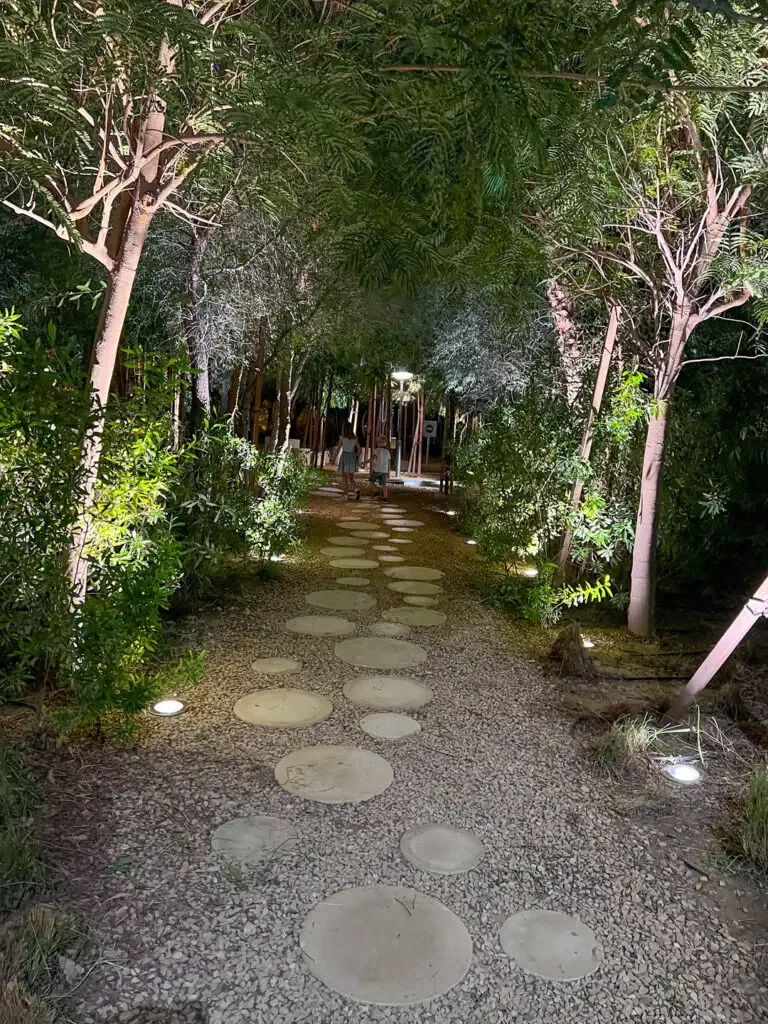 Each path leads to a different part of Al Fay Park and is lined with over 2000 native trees, plants and shrubs hardy enough to withstand the desert heat.
With a unique biodiverse microclimate in Al Fay Park, the area has lots of recreational activities and is very much a social hub for local residents of Al Reem Island.
Featuring a basketball court, table tennis, mini-golf, a skate park, a splash pad, gym equipment, climbing frame and so much more, Al Fay Park is always buzzing.
It is a lovely park to stroll through since it is so unique and feels totally different to everywhere else in Abu Dhabi.
Location: Al Matla'i St, Al Reem Island, Tamouh, Abu Dhabi
Opening hours: 7 am to 11 pm daily
4. Al Maryah Island Family Park
Al Maryah Island Family Park is a little hidden and tucked away. Nonetheless it serves many families in the neighbouring area.
Featuring a huge shaded playground with soft play, swings, climbing frames a slide and a splash area, it is perfect in the evenings surrounded by lots of shrubs and plants.
Like many parks, it is illuminated at night making it an inviting and pretty space. There are washroom facilities, jogging tracks and so much more.
Location: F9VR+59Q Al Maryah Island, Abu Dhabi
Opening hours: 24 hours
5. Al Maryah Central Walk Park
In a separate location on Al Maryah Island there is a fairly new area called Central Walk right across the road from Cleveland Clinic.
It is a super colourful space with patterned walls, light up seesaws, swings that sing, a water fountain over a giant square, and so much more.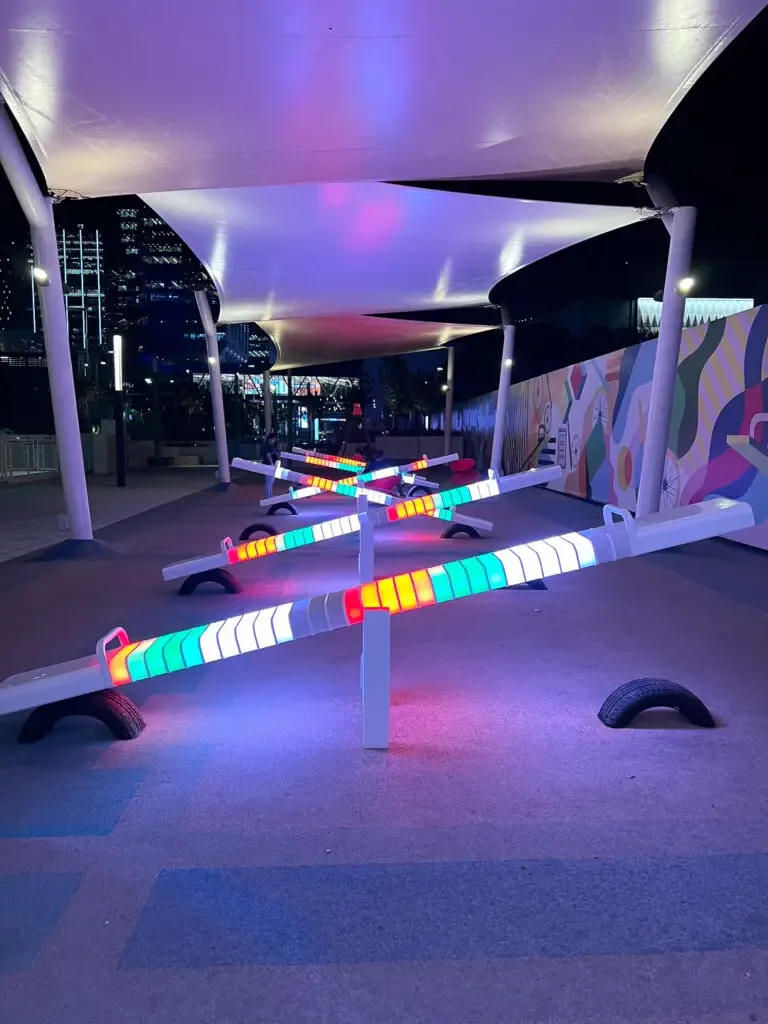 Central Walk Park is quite close to Al Maryah Island Family Park for some added fun. There is no parking although it can be accessed from Galleria Mall with a short walk one block away.
Location: Hamouda Bin Ali Dhaheri St, Al Maryah St, Abu Dhabi
Open: 24 hours
6. Jubail Mangrove Park
Jubail Mangrove Park is based between Yas Island and Saadiyat Island. The area is well known for its extensive mangroves and the park is a series of walkways weaving through the landscape above the water.
The best time to visit this park in Abu Dhabi is at full tide and preferably later in the evening since there is very little shade. The tide goes out quite far and the mangroves don't look the same without the water.
There are two routes along the board walks, one is slightly longer and clearly marked on the provided map after paying the entry fee of of 15 AED.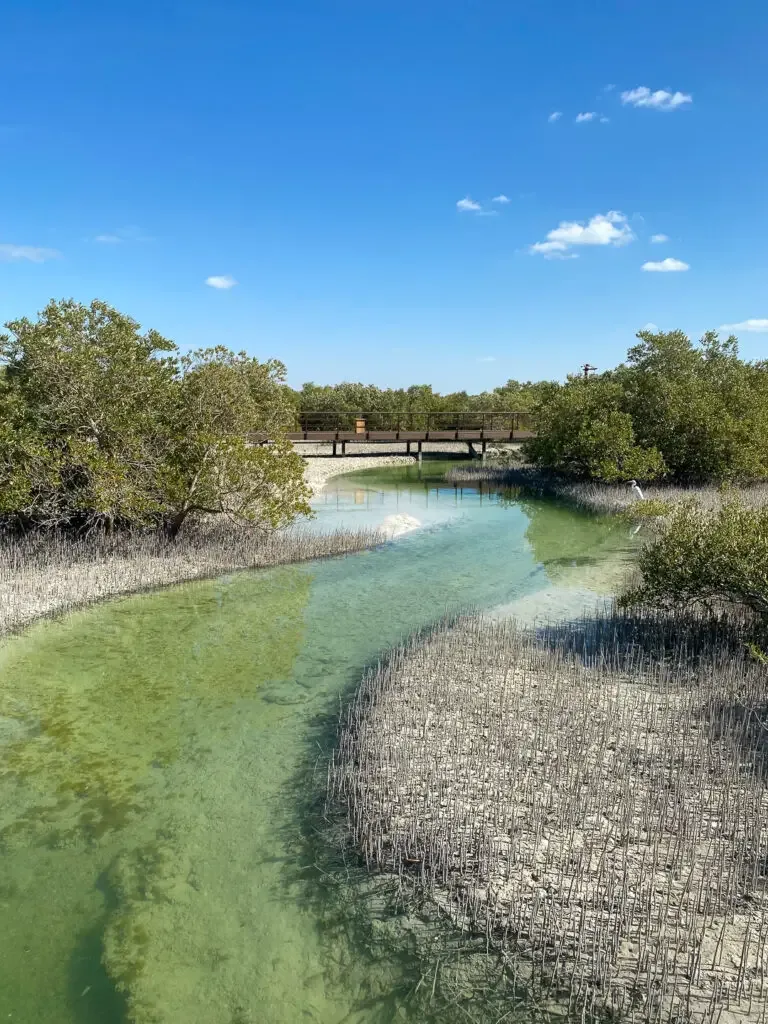 The experience is a unique opportunity to see the biodiverse ecosystem surrounding Abu Dhabi. On route around the boardwalk, there are plenty of birds, crabs and fish that are easy to spot.
In fact, there is a look out tower providing an elevated view of the mangroves, again best at full tide.
At the beginning of the trail, there is a cafe serving up light bites, smoothies and coffee. In fact Crane Cafe has really good coffee!
There is an opportunity to rent a kayak and explore the mangroves from a different perspective.
Location: Jubail Island, Abu Dhabi
Opening hours: 7am to 9pm daily
7. Dolphin Park
Dolphin Park is quite close to the Eastern Mangrove Park and is incredibly popular, particularly at weekends with residents.
This Abu Dhabi Park is quite close to the highway and has a long walkway which runs from Anantara Eastern Mangroves along the waterfront towards Al Reem Island.
Many boats pass by with some on a leisurely trip whilst others taking part in watersports such as wakeboarding.
The park features a huge water fountain with dolphins spurting water! The park has recently undergone some renovations to include new lights, a rejuvenated fountain and playground for kids.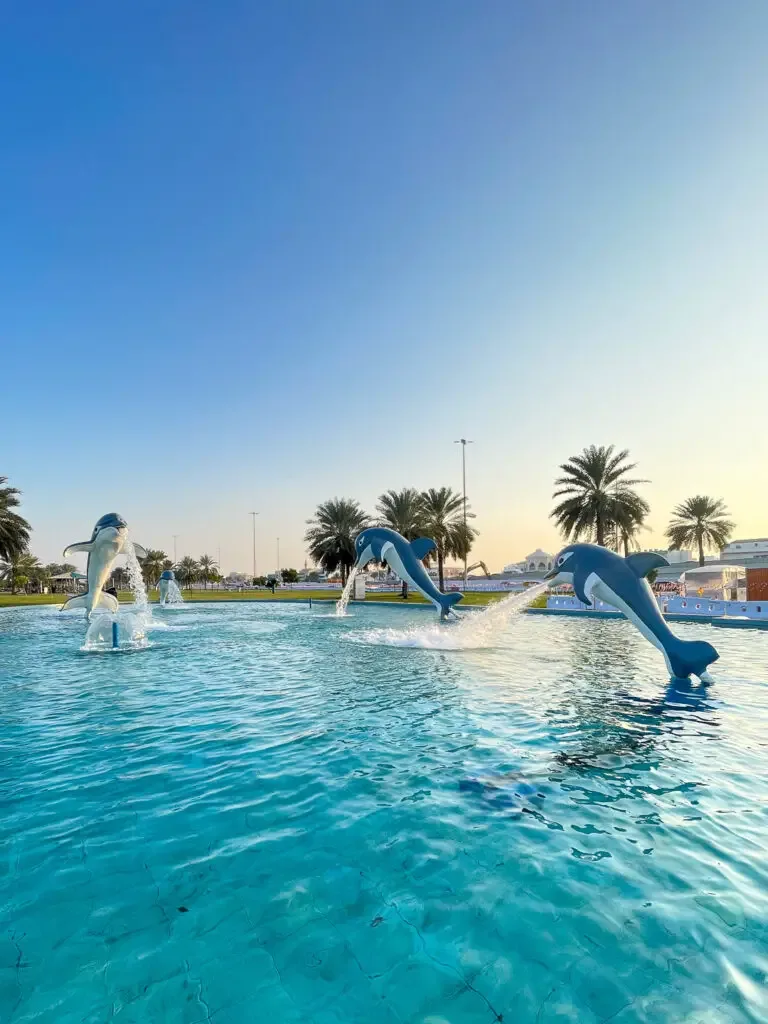 Walking along in the evening provides stunning views of the mangroves and the many boats and kayaks on the water.
Dolphin Park is one of the BBQ parks in Abu Dhabi with concrete stands to cook. The BBQ facilities tend to attract families and groups for birthdays and gatherings. There is also a basketball court and cycling pathways.
Location: Qasr Al Bahr – Eastern Mangrove – Abu Dhabi – United Arab Emirates
Opening hours: 24 hours
8. Abu Dhabi Corniche Park
Abu Dhabi Corniche Park is loved by locals and tourists alike. Based on the edge of the beach, the park has stunning views over the water on one side, and the city skyline on the other.
It is lovely at sunset since the view faces directly west. The park features a promenade which attracts walkers, joggers and cyclists. In fact, the cycle track is adjacent to the walkway keeping it safe for little ones.
There are several spots with canopy shading not to mention many eateries. The trees and vegetation lining the area is beautifully manicured with benches throughout to rest and take in the view.
Parking is usually across the highway so it can be a little annoying at times if you intend to arrive by car.
Featuring evening illuminated fountains, lawned areas and a children's playground, it is a lovely place to hangout.
The area is super popular during celebrations such as UAE National Day and NYE.
Location: Park – Corniche Rd – Al Hisn – Al Markaziyah West – Abu Dhabi – United Arab Emirates
Opening hours: 24 hours
9. Khalifa Park In Abu Dhabi
Khalifa Park is ideally located for residents of Khalifa city to enjoy. It is one of the biggest parks spanning over 500 hectares and has tonnes of attractions.
There is a mosque in the park, not to mention beautiful islamic architecture. Landscaped gardens, picnic spots and beautiful fountains make it peaceful and serene.
The park has lots of shade so it is perfect to begin enjoying it earlier in the evening.
Aside from the landscape, Khalifa Park has tonnes of facilities including a splash park for kids and a lazy river making it easier to explore the park in warmer weather with kids.
If that wasn't enough for children specifically, there is also a library and an aquarium. The aquarium is home to shark and stingray and has tonnes of educational exhibits.
Families can ride on a train around the park which plays music and makes multiple stops making it easy to see the many attractions within the park.
There are lots of dining options as well to enjoy a full day at the park, especially in the winter months, from November or December through to March.
The Adrenagy Training Club is a gym within the park which is close to gate 1 on Salam Street.
Honestly we could talk for days about Khalifa Park there is so much to do! Similar to Umm Al Emarat Park, it tends to hold festivals and events in the cooler months.
Location: Sheikh Zayed Bin Sultan St, Al Muntazah Zone 1, Abu Dhabi
Opening hours: 10am- 11pm Thursday to Saturday and 10am to 10pm every other day.
10. Delma Park In Abu Dhabi
Delma Park is one of the smaller of the parks in Abu Dhabi serving the Al Mushrif area. The park features walkways, weaving amongst activities such as a climbing pyramid for kids, a shaded playground and gym equipment.
The play area is shaded with gazebos and there are benches to relax and have a picnic. Within the park, there is also a fresh juice bar and a pastry shop perfect for a snack.
There is also a jogging track, basketball court and a splash fountain. Whilst there is parking, it can get busy as it is a small park.
Location: Al Nahyan, Abu Dhabi
Opening hours: 8 am to 11 pm daily
11. Masdar City Central Park
Masdar City Central Park is based inside the innovative and sustainable Masdar City. Eyes around the world are on Masdar City as it aims to be the first carbon neutral town in the world.
The sustainability efforts extend into the park with a large solar powered canopy which has a dual purpose of creating shade and generating energy for the area. The water is recycled using a grey water system and rain harvesting.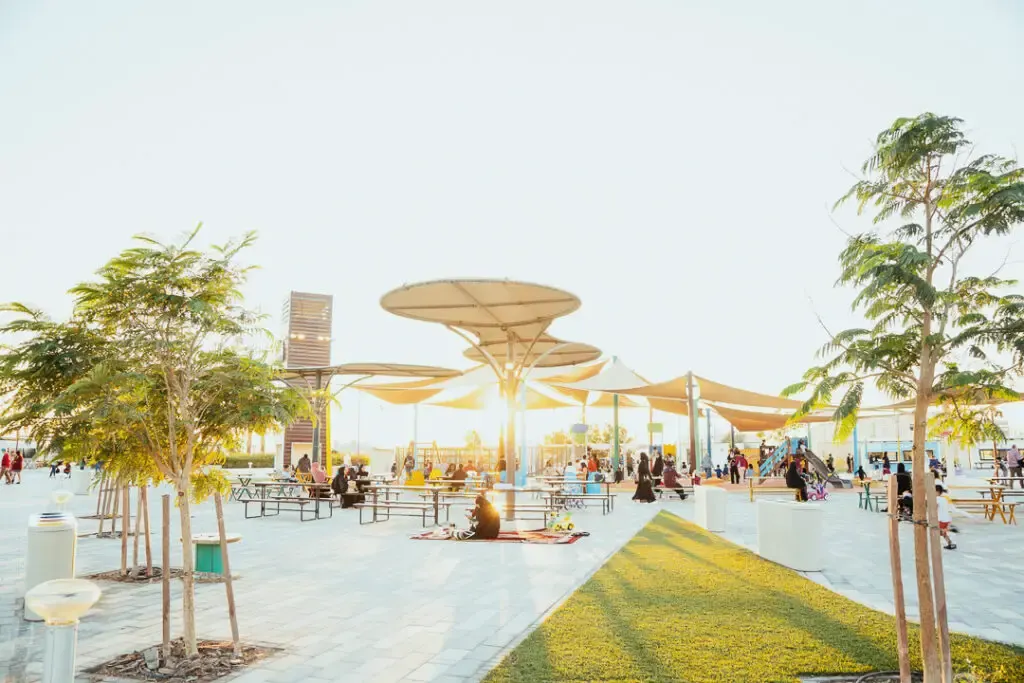 Within this park in Abu Dhabi is a children's play area, walkways, cycling lanes and a skate park. Not to mention a musical wall and an art installation with a sustainability theme.
There is lots of seating, and plenty of trees and plants in the park.
Location: CJJ8+7PH Masdar City, Abu Dhabi
12. Al Nahyan Park Abu Dhabi
Al Nahyan Park is a hit with kids due its incredible playground and is somewhat of a hidden gem.
The twisting slide is quite high so it is great for older kids. Whilst the younger ones love the swings, climbing frames and a splash area to keep cool.
The play area is predominantly shaded with a wooden gazebo and there are swing hammocks on the lawn. Not to mention quirky circular benches to relax and read a book. There are walkways and jogging tracks within this park in Abu Dhabi to get some exercise in.
There are facilities in the park such as restrooms and it is lit up in the evenings. It is just a small park with views of nearby Al Reem Island, the view looks especially nice in the evening.
Al Nahyan is one of the less well known park so it's definitely worth a visit for families.
Location: F97W+8MV – Al Mhaffah St – Al Nahyan – Abu Dhabi – United Arab Emirates
13. West Yas Community Park Abu Dhabi
West Yas Community Park serves the many residents and tourists on Yas Island. This Abu Dhabi park has a few facilities not quite as extensive as others.
Featuring an open green space, shaded outdoor gym equipment and a shaded playground, there is enough to fit in a quick workout or keep the kids entertained.
In fact there is a view of the sea which is ideal when sitting on one of the benches to relax.
Location: FHVH+8GX – Yas Island – ياس غرب – Abu Dhabi – United Arab Emirates
Whilst not in the same area as the West Yas Community Park, just a couple of blocks away is a rather extensive skate park.
It's a pretty impressive space with a huge canopy so it can be enjoyed earlier in the day. The skate park has both easy and more advanced parts to enjoy.
Skate park location: FHVP+68C – Yas Island – Yas West – Abu Dhabi – United Arab Emirates
Not too far from Yas Mall!
Opening hours: 6am to 11 pm daily
Disclaimer: This post may about the best parks in Abu Dhabi may contain affiliate links. By using them, it will not cost you any extra, we receive a small commission to keep us writing.