There are some incredible Rooftop bars in Abu Dhabi overlooking the twinkling skyline and the wonderful coast.
Rooftop bars offer a sophisticated place for people to hang out and socialize. The main attraction of a rooftop bar is the bird's eye view of the surrounding landscape, particularly at sunset or night when the city illuminates.
The ambience of a rooftop bar is often more relaxed and enjoyable than an indoor bar. Rooftop bars can provide a sense of exclusivity and sophistication as they are often booked out and in high demand.
In the evening in Abu Dhabi, rooftop bars provide an escape from the hot weather during June, July and August. The higher location can benefit from a cooling breeze, making it a refreshing escape from the heat and humidity.
A unique and memorable experience is guaranteed with a combination of great drinks, an unbeatable view of the stunning landmarks, and an enjoyable atmosphere. Let's jump into the best rooftop bars in Abu Dhabi.
Rooftop Bars Abu Dhabi
1. Glo, Rosewood
Whether it is for a sundowner, New Year's Eve party, or a firework display, Glo is a stunning venue and is probably one of the most Instagrammable places in town.
The rooftop bar has various seating arrangements around the pool area and seats with views facing out onto the waters of Al Maryah Island.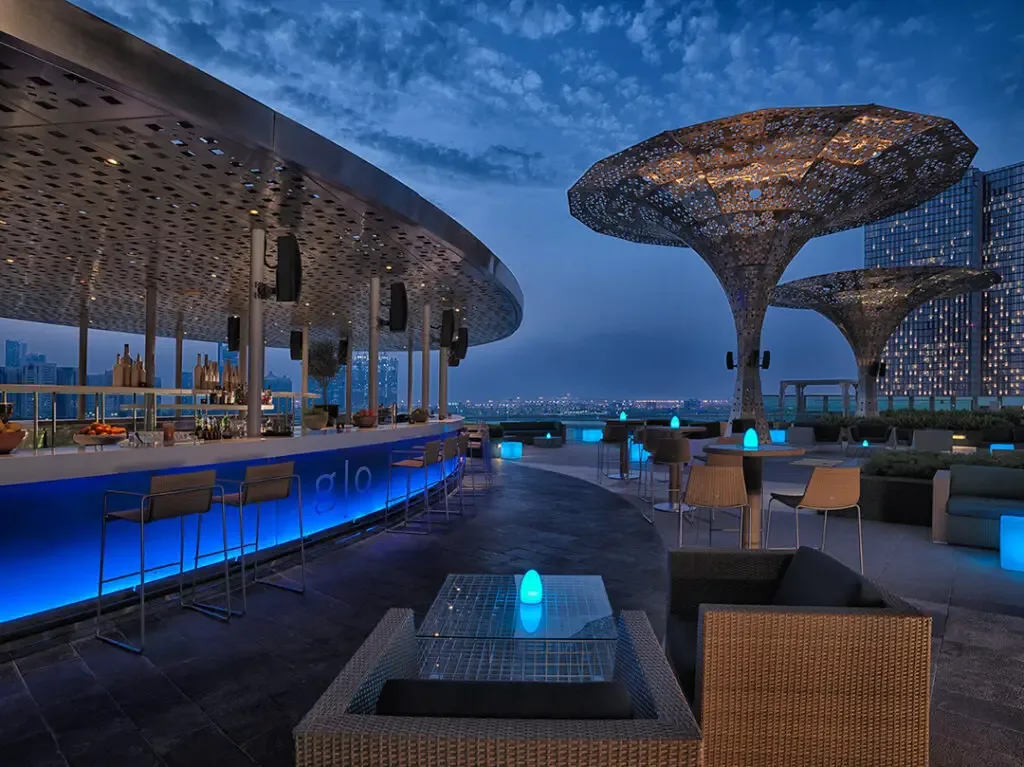 Food is served from lunchtime into the evening. The Wagyu burger is an excellent choice and a favourite amongst the team at Secret Abu Dhabi.
With Fresh salads, pasta, tacos, pizzas not to mention vegan dishes and desserts, there is an option for everyone.
Ladies can opt for an amazing rooftop experience every Tuesday from 18:00 pm to 21:00 pm. Included are three complimentary grape beverages!
A Dj and saxophonist make groovy beats on this fun-filled night. After 9 pm, food and drink have a 20% discount.
Timings: Sunday to Thursday, 12:00 pm to 01:00 am. Friday to Saturday, 12:00 to 02:00 am
Location: Rosewood Abu Dhabi Al Maryah Island- Abu Dhabi
Call: 971-28135550
2. Brick Rooftop Kitchen & Bar
Brick Rooftop Kitchen & Bar is a combination of contemporary design and lush greenery grape trellises.
Regardless of the seating, opulent views of Abu Dhabi are available around the perimeter of the 12th-floor rooftop bar. Brick advertises itself as a fun, unpretentious venue with a laid-back vibe.
The heart of the restaurant is the two brick ovens. Food is prepared in 800 degrees cedarwood, giving it the perfect smoky taste. There are lots of delicious vegan options to order at the bar.
From oven to table, there are many delightful dishes, one of the best is the tiger prawns sautéed in garlic makes an excellent starter choice.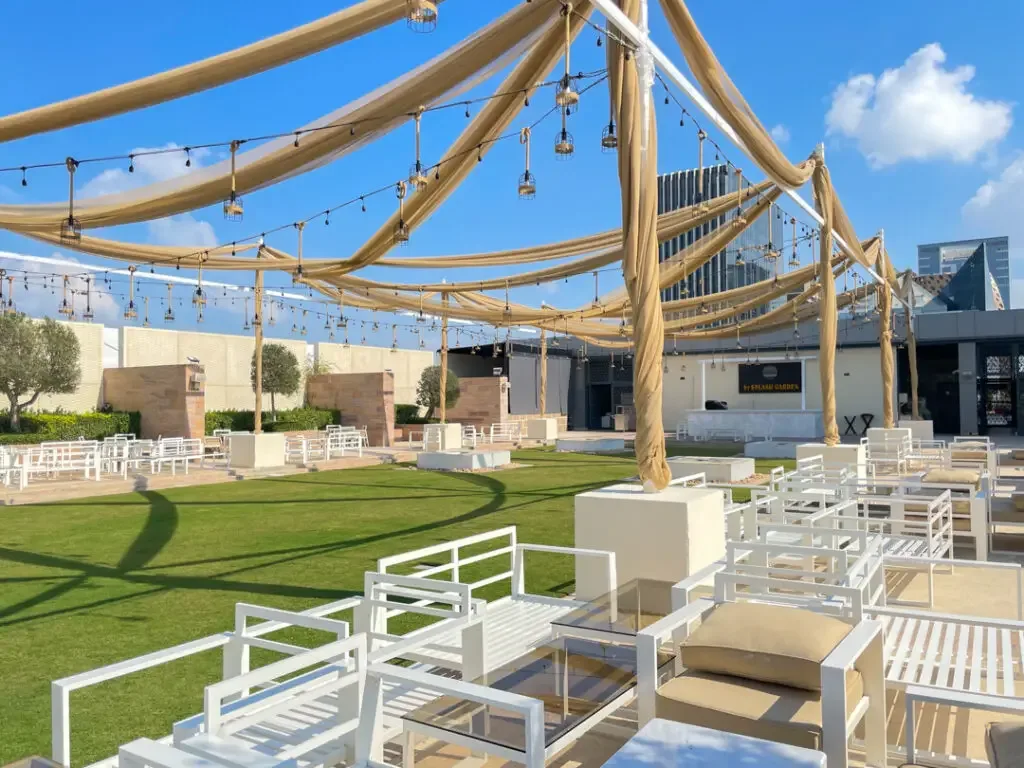 Brick whips up the delicious mixed grill and seafood platters, making a perfect sharing experience at altitude!
The rustic pizzas are baked to perfection. Slow-roasted rib eye, spicy cajun chicken wings, eggplant rollatini and cedar plank Norwegian salmon make the lineup, amongst other specialities!
Vegan katsu mushroom burgers, vegan pizza, chilli cheese baked sweet potato and raw vegan brownies are examples of plant-based options.
Beverages include brick speciality and classic cocktails, pitchers to share and much more.
The skylit brunch is the perfect opportunity to taste most of what Brick has to offer. There are not many rooftop bars in Abu Dhabi serving a delectable table service brunch. However, Brick pulls out all the stops on Fridays from 7 to 10 pm.
Starters, pizzas, platters, desserts, and many more main dishes are included in the brunch. House drink packages cost 325 AED and soft drinks cost 255 AED.
On Wednesdays, a resident singer hits the mic between 7 and 10 pm.
Timings: Monday to Sunday, 5 pm to midnight.
Call: 97126545000
Location: Abu Dhabi National Exhibition Centre- Aloft Hotel- Abu Dhabi
3. AT25-Marriot hotel
Marriot Hotel is home to the highest rooftop bar in Abu Dhabi. AT25 offers a glistening view of the downtown skyline.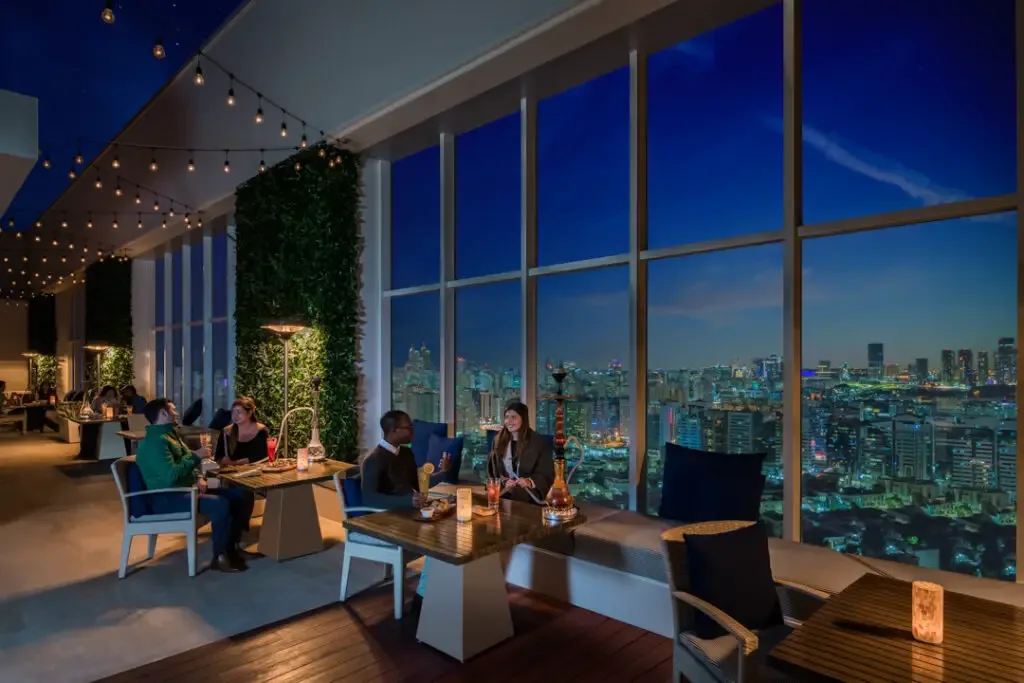 During the hotter months, AT25 hosts a rooftop pool party on Saturday. Take a dip in the metropolitan pool to cool off, savour delicious food and enjoy the beats by the resident DJ.
Sushi, beef sliders and tacos are some of the delicious options at the buffet brunch.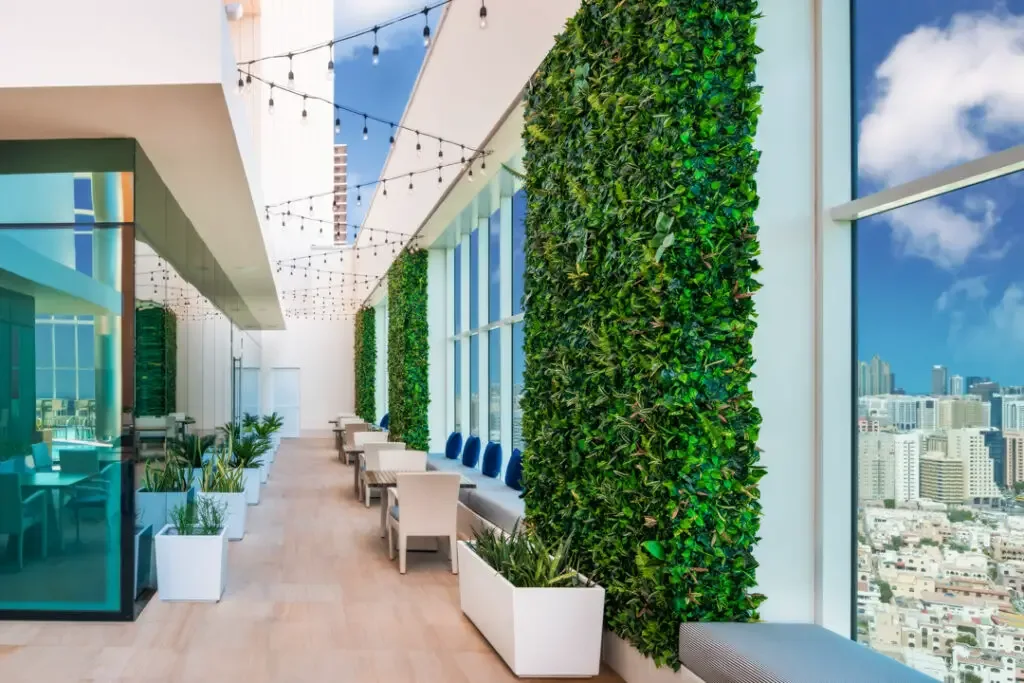 Make sure to bring a swimsuit for the full experience. The brunch is from 12 to 4 pm for 199 AED.
After 4 pm, a package with 10 selected house beverages is available for 50 AED.
Call: 02 304 7777
Timing: 1 pm to midnight
Location: Sheikh Rashid Bin Saeed Street- Al Manhal- Al Tibbiya -Marriott Hotel Downtown-Abu Dhabi
4. Azura Panoramic Lounge
Azura Panoramic Lounge is a sophisticated upmarket rooftop lounge. The three-levelled lounge offers stunning views of the Arabian Gulf. Whilst the Abu Dhabi Corniche comes to life with the lights of many iconic skyscrapers.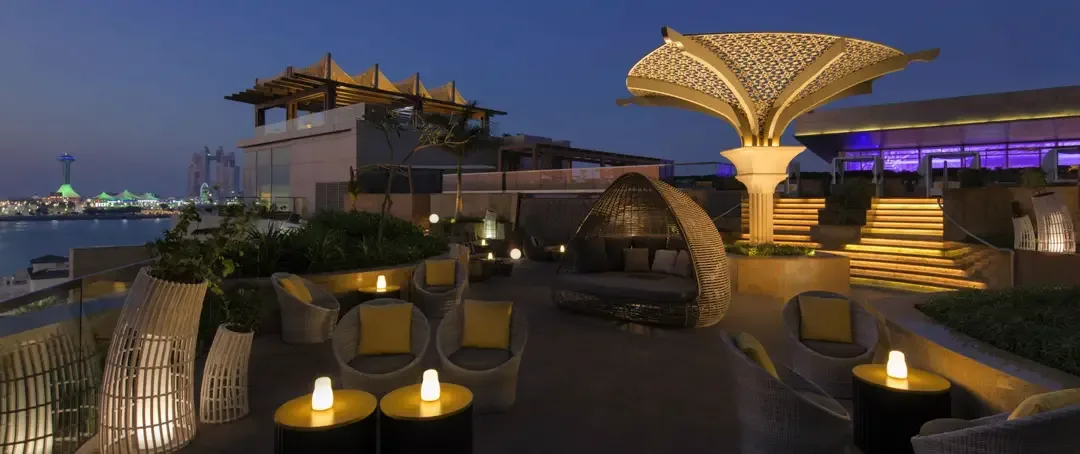 Azura has some interesting events throughout the week. Guests can avail of four juniper cocktails and a savoury dish from Tuesday to Sunday between 4 pm to 12:30 am.
Sunsets are unbeatable in the Middle East and Azura panoramic lounge is in prime position, especially with the sunset hour deal.

Selected beverages have a 50% discount as the Arabian skies turn to night. Sunset hour is available Tuesday to Sunday from 4-7 pm.
On weekends, a Dj plays awesome beats under a magnificent sunset on Saturdays from 6 to 10 pm.
5. Diablitos
Diablitos brings Latino heat to Yas Marina. The trendy roof terrace bar is well-known for its delicious Spanish and Mediterranean food. The in-house Dj knows his way around the turntable playing cool beats.
The bar has several deals throughout the week and there are many opportunities to enjoy the views of the F1 track and super yachts boats in the marina.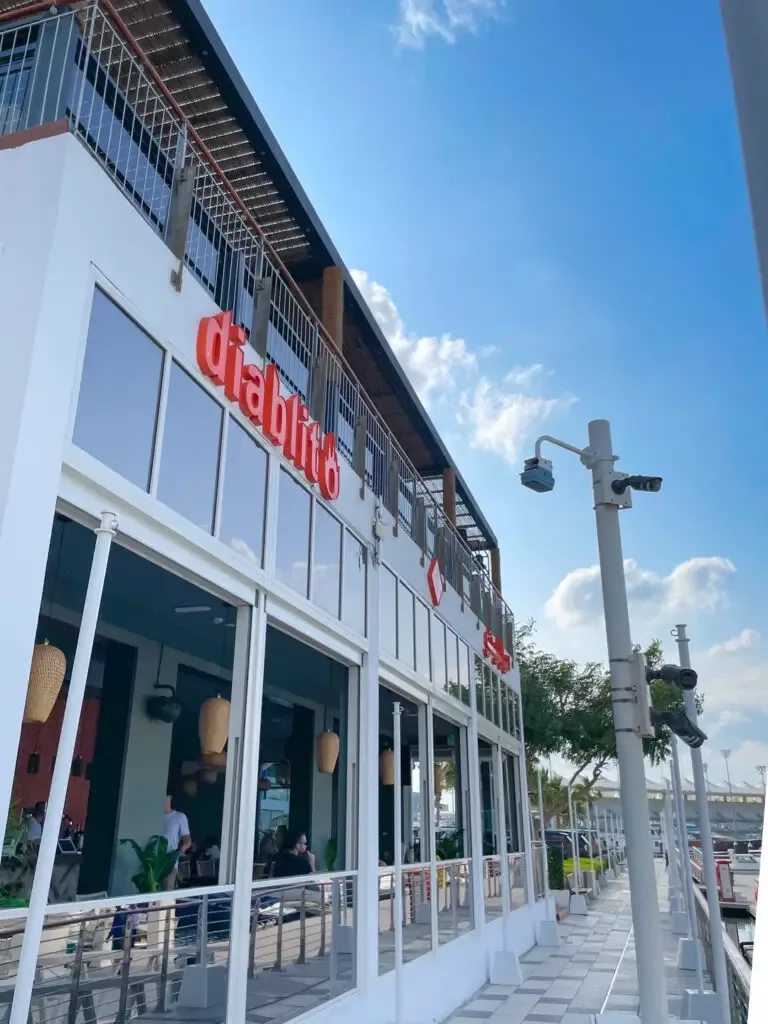 Deals
Two for one pizza and beverages make a nice happy hour deal which is available Monday to Thursday from 12 to 6 pm with lots of delicious cocktails and sangria to choose from!
The business lunch offers a quieter time to enjoy the rooftop setting. From Monday to Friday 12 to 4 pm enjoy the deal which includes one starter and one main.
Monday evenings are the perfect opportunity to have a romantic date at this rooftop bar in Abu Dhabi. Enjoy two starters, two main courses and a dessert to share with a bottle of grapes for 300 AED.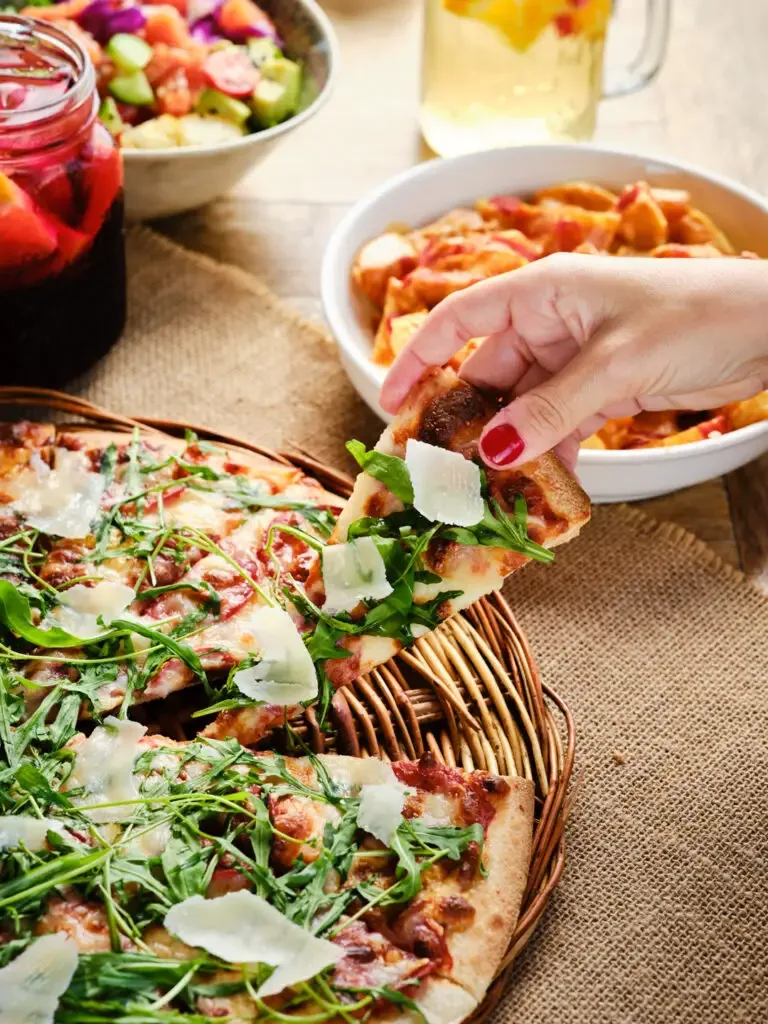 Tapas Night brings an authentic Spanish dining experience to the rooftop of Yas Marina with 50% off the tapas menu.
Wednesday is ladies' rooftop night with three hours of unlimited sparkling grape and sangria for 100 AED Not to mention, 50% off main courses!
Rooftop Bars in Abu Dhabi deals don't come much better than the Thursday Cheers deal including any pizza with three house beverages for 99 AED.
The Friday happy hour offer is 2 for 1 on selected beverages from 6 pm until late.
Brunch takes place every Friday and Saturday between 12 and 9 pm. The brunch includes four tapas dishes with a pizza or paella to share, unlimited beverages, and a dessert for 275 AED.
Another brunch option includes one tapas, one pizza and three hours of unlimited beverages for 250 AED or an option with a paella instead of a pizza for 275AED.
On Sundays enjoy 50% off nachos, pizza and selected drinks from 6 pm to midnight.
Location: Diablito Building 6A Yas Marina – Yas Island – Abu Dhabi
Timings: Sunday to Thursday, 12 pm to 12 am
Call: 97125651175
6. Rayana-Andaz
Rayana offers a cool Latin pool bar vibe at the top of the iconic Andaz Hotel. The bar has vibrant colours and is nestled into the side of the building, 19 floors above sea level!
It makes a perfect place for midafternoon, sundowner or late-night drinks.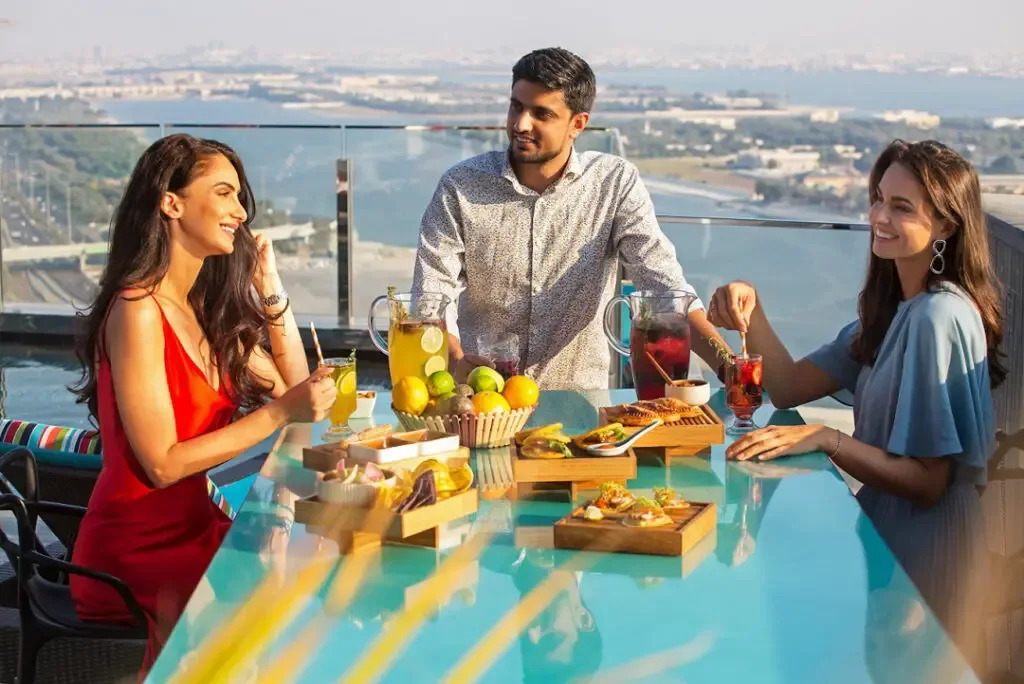 The outdoor pool deck offers unrivalled views of Abu Dhabi and the Gulf. Starting in May, Andaz has a pool party every Saturday from 4 to 8 pm in the hotter months.
The resident DJ churns out groovy beats poolside while guests enjoy cooling off.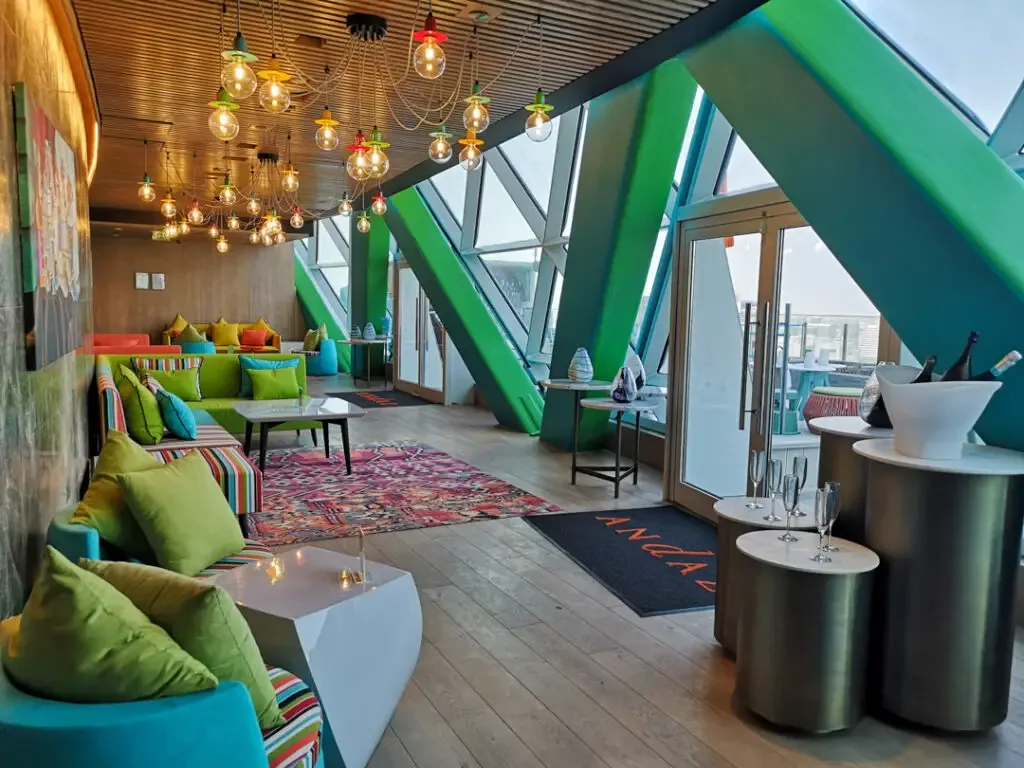 Soft drinks packages cost 149 AED and house drinks 249 AED
Timings: Friday and Saturday, 10 am to 7 pm; Sunday, 10 am to 7 pm.
Location: Andaz Capital Gate Abu Dhabi 19th Floor- Abu Dhabi.
Call: 971565448158
7. Siddhartha Lounge by Buddha Bar
Siddhartha Lounge offers gorgeous views of Yas Bay from its terrace. The brand is known for its luxury upmarket vibe and the Abu Dhabi branch is no different.
The trendy bar offers a variety of deals throughout the week. Tuesday is the lobster and katsu night. Indulge in delicious lobster and katsu for 149 AED. Ladies can enjoy free beverages and 25% off food every Thursday.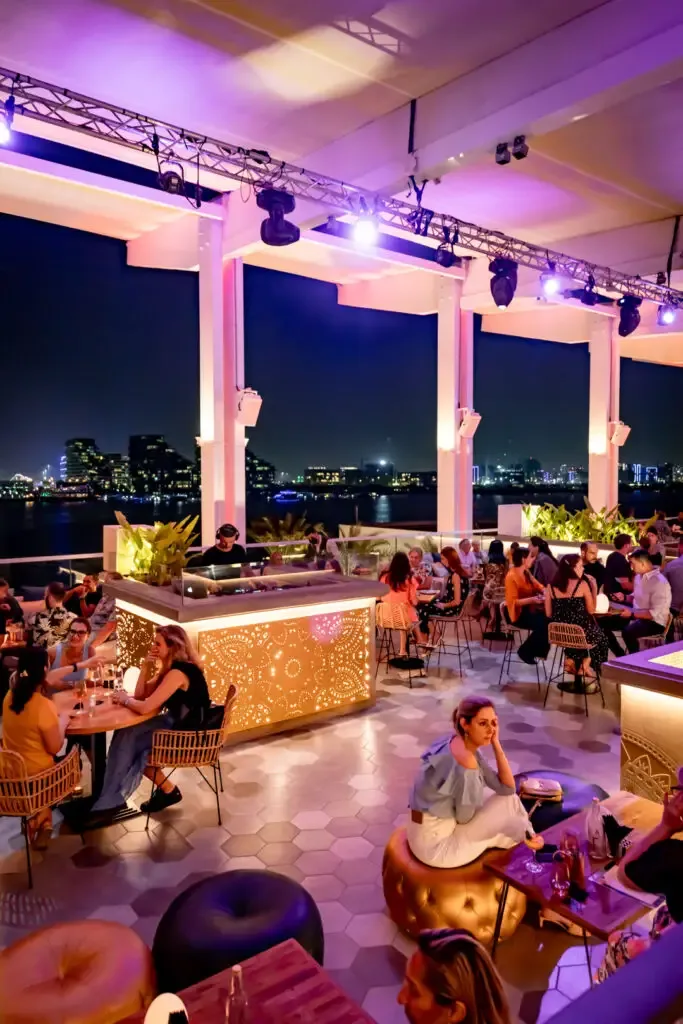 Happy hour has special-priced beverages and a canape to share at sunset. The offer is available Monday to Thursday between 5 to 7 pm.
Get the Saturday night feeling with this sharing-style set brunch menu. Seabass carpaccio, Spanish garlic shrimp, dragon rolls and patatas bravas are some of the most delicious starters.
A decadent main course section features USDA prime tenderloin, sous vido salmon, Mediterranean risotto and pollo a la brasa. Finish off with ice cream, Spanish churros and citrus cheesecake!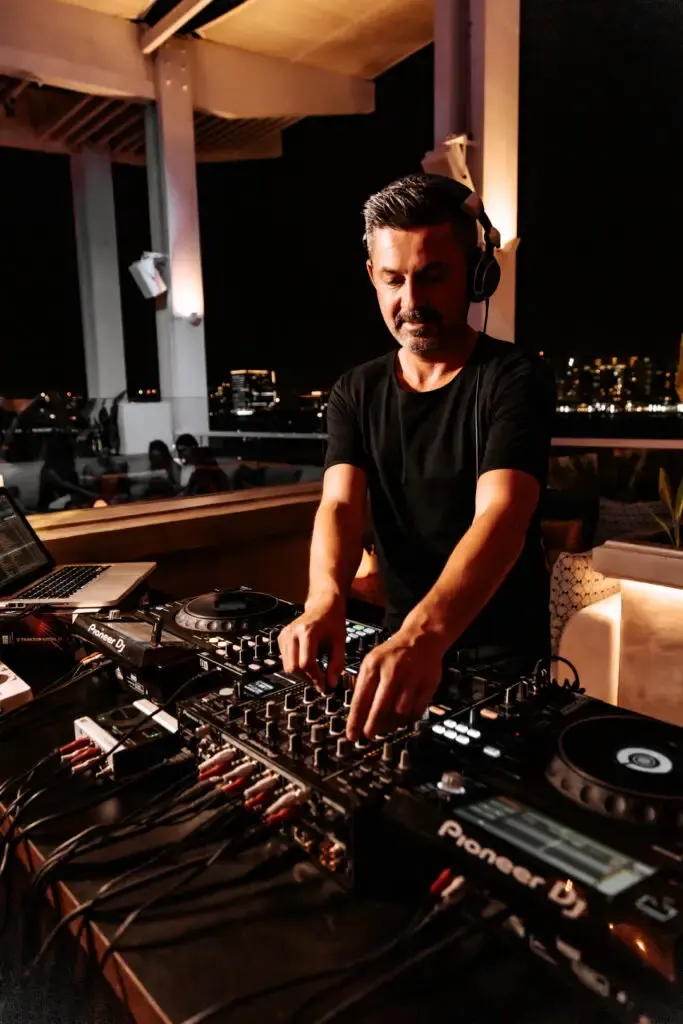 The soft drinks package costs 300 AED and the unlimited house drinks package costs 450 AED. This is an all-day brunch. Any three hours can be chosen between 1 and 11 pm.
Timings: Sunday to Friday, 5 pm to 2 am
Saturdays 1 pm to 2am
Location: Yas Bay, Yas Island, Abu Dhabi.
Phone: 971506011194
8. Grills@Chill'O
Grills@Chillos is situated on top of the Sofitel. The rooftop bar offers fantastic views of the Arabian Gulf. It is one of the best sundowner's spots in Abu Dhabi, as the sunsets over the Corniche.
The pool deck area has a fantastic outdoor seating arrangement and is the perfect place to cool off from the desert heat.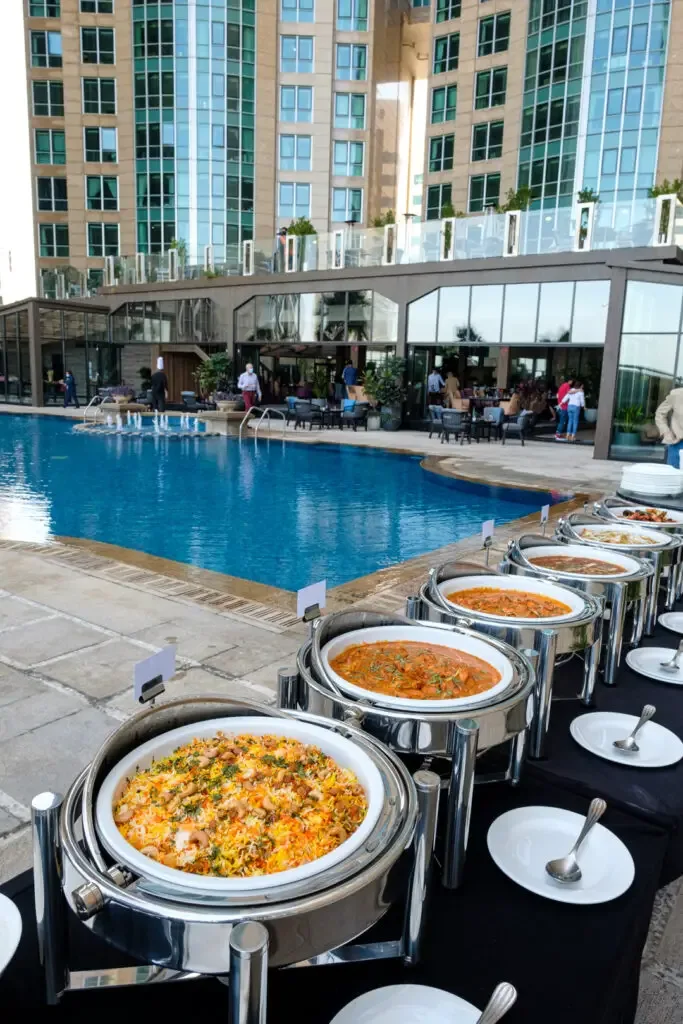 Grab some happy hour drinks with 50 % off selected beverages between 4 and 8 pm.
Between 7 and 9 pm from Tuesday to Saturday a live band performs!
The Mediterranean business lunch offers a perfect afternoon rooftop retreat. There are not many places where business lunches are available every day.
However, Sofitel has a wonderful deal from 12 to 4 pm daily for 125 AED which includes three courses.
Smoky shisha evenings are the ideal time to kick back under the Arabian night sky. For 65 AED, enjoy high-quality shisha whilst enjoying the incredible view.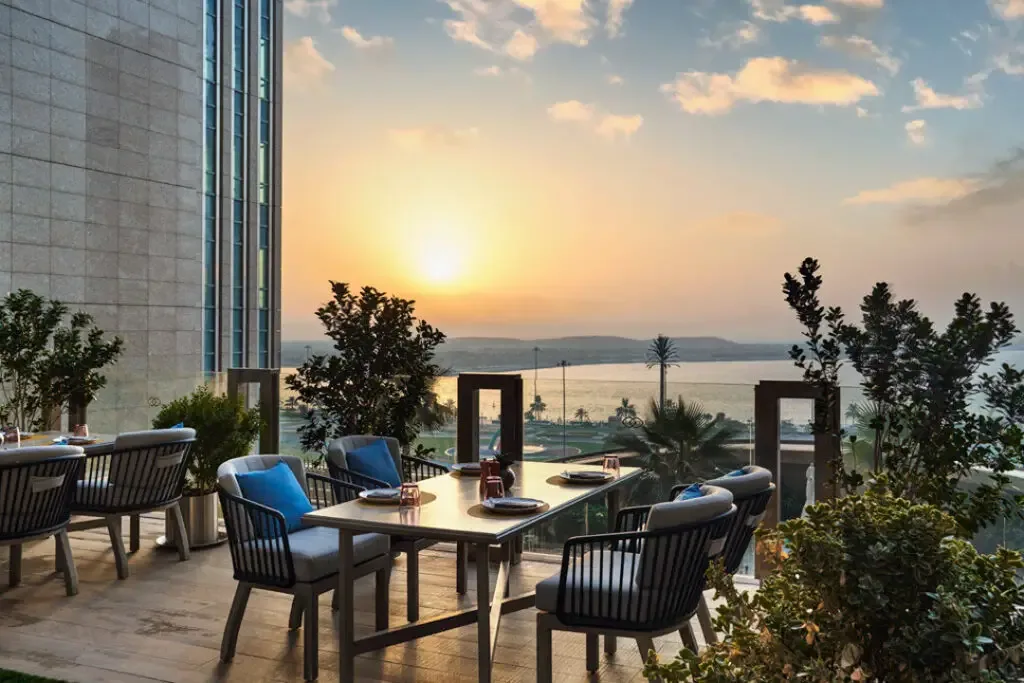 There is an option to add beverages to the experience totalling 90 AED. The deal is available daily from 6 to 8 pm.
Brunch is the flagship event every Saturday from 1 to 4 pm. at this rooftop bar in Abu Dhabi. The groovy brunch has a live duo performance poolside.
The food is an international buffet with stations such as live BBQ grill, Sunday roast, sushi, biryani, Thai Michelin food and much more.
The dessert section is delicious and one of our favourites is the red velvet dessert. The brunch costs 285 AED per person for the soft drinks package, 410 for the house beverage package and 635 AED for the French bubbly package!
Timings: 12:00 until 1 am
Location: Corniche Road, East Capital Plaza Complex-Abu Dhabi
Phone: 97128137777
9. Annex-The Edition
The Annex is one of the swankiest rooftop bars
in Abu Dhabi. In the summer months, the party moves into the lounge.
However, for the rest of the year, this lively rooftop bar offers opulent views of Al Bateen Marina.
Rooftop bars in Abu Dhabi always make for a fantastic ladies' night. Grab your girlfriends and dance the night away with free-flowing beverages and 30% off food. A resident DJ brings the party vibes with some awesome beats on the dancefloor.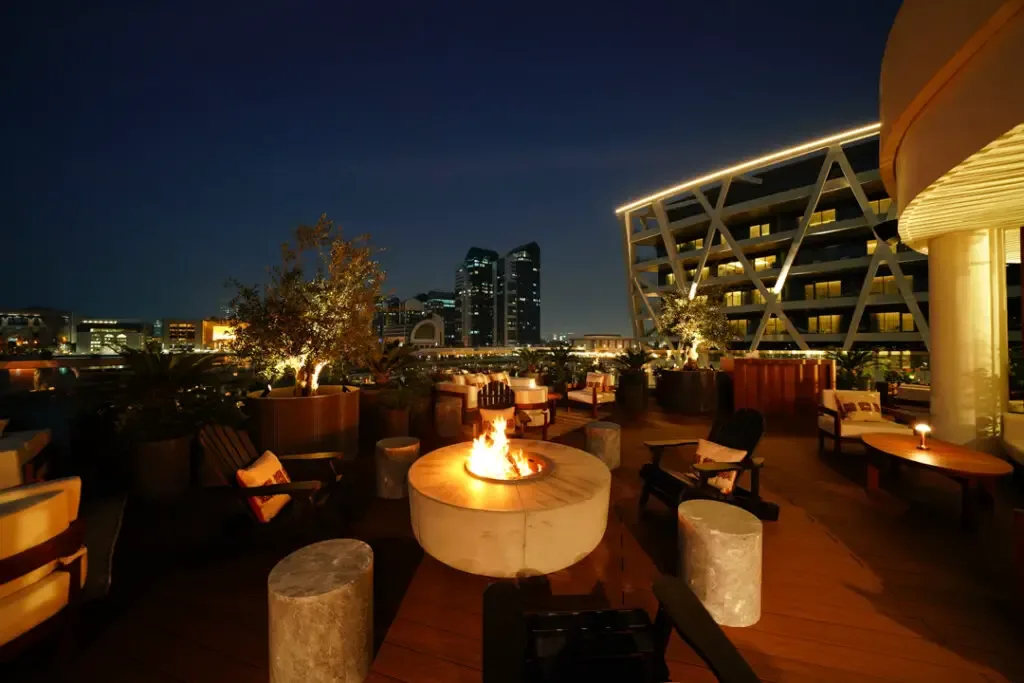 Deals
'She is Annex' is on every Thursday between 7 and 11 pm. The price is 100 AED for ladies for two hours of free-flowing beverages and 30% off the à la carte food menu. Gents cost 150 AED for the same deal.
The part vibes roll into the evening with 'Replay Fridays'. Forget about the working week and kick off the weekend with a fun rooftop party.
Soak up the good vibes with selected free-flowing house beverages and three delicious bites. The DJ steals the limelight with some awesome tunes on the dancefloor.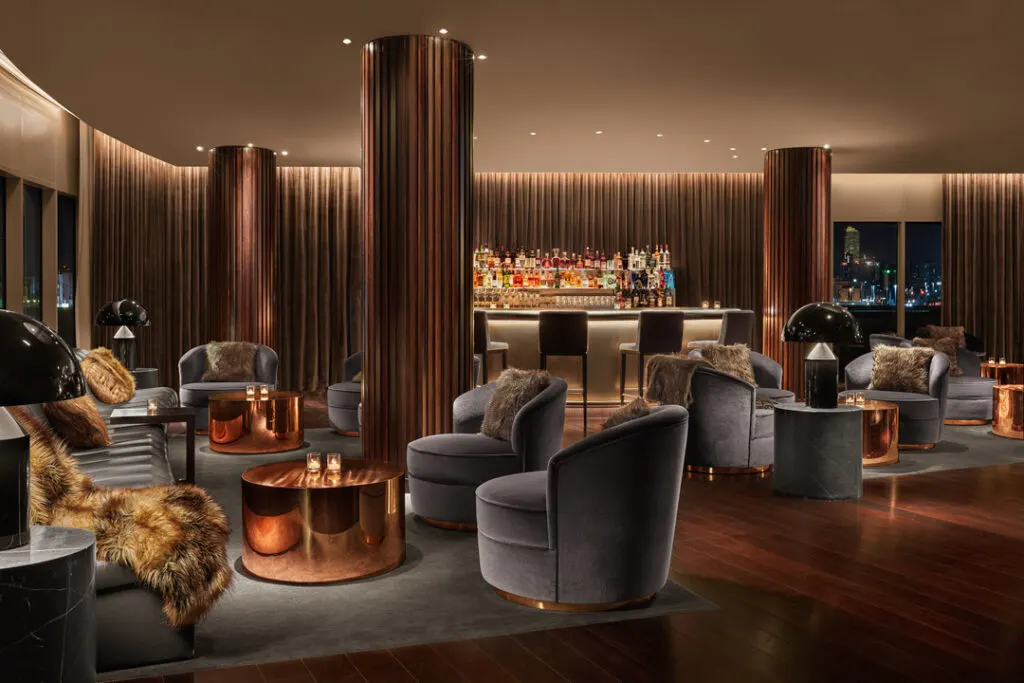 The deal is 199 AED for three hours of free-flowing beverages and three bites. Gents cost 250 AED for the same deal.
As Gun's N Roses said, 'Welcome to the jungle, let's have fun N games', that is exactly what happens every Saturday at Annex Animals' brunch. The three-story space transforms into an animal kingdom with amazing food and exclusive drinks.
Choose any three hours at this wild jungle-inspired experience between 3 and 10 pm. Soft drink packages cost 225 AED, house beverages 295 AED and bubbly packages cost 395 AED. The Annex animals brunch is every Saturday!
Timings: Wednesday to Thursday, 5 pm to 2 am
Friday to Saturday 5pm to 4 am
Sunday 5 pm to 11 pm
Call: 97122080000
Location: The Abu Dhabi Edition- Al Bateen- Abu Dhabi
10. Hakkasan
Hakkasan Restaurant received one star from Michelin Abu Dhabi in 2022 in keeping with its world-renowned reputation. One of the best parts is the restaurant which has a terrace with a rooftop feel!
The terrace overarches Emirates Palace's lush gardens and has an amazing backdrop of the Abu Dhabi skyline. The terrace is extensive in size with a section for those looking for a supreme al fresco dining experience. Not to mention the bar-style area for a more affair.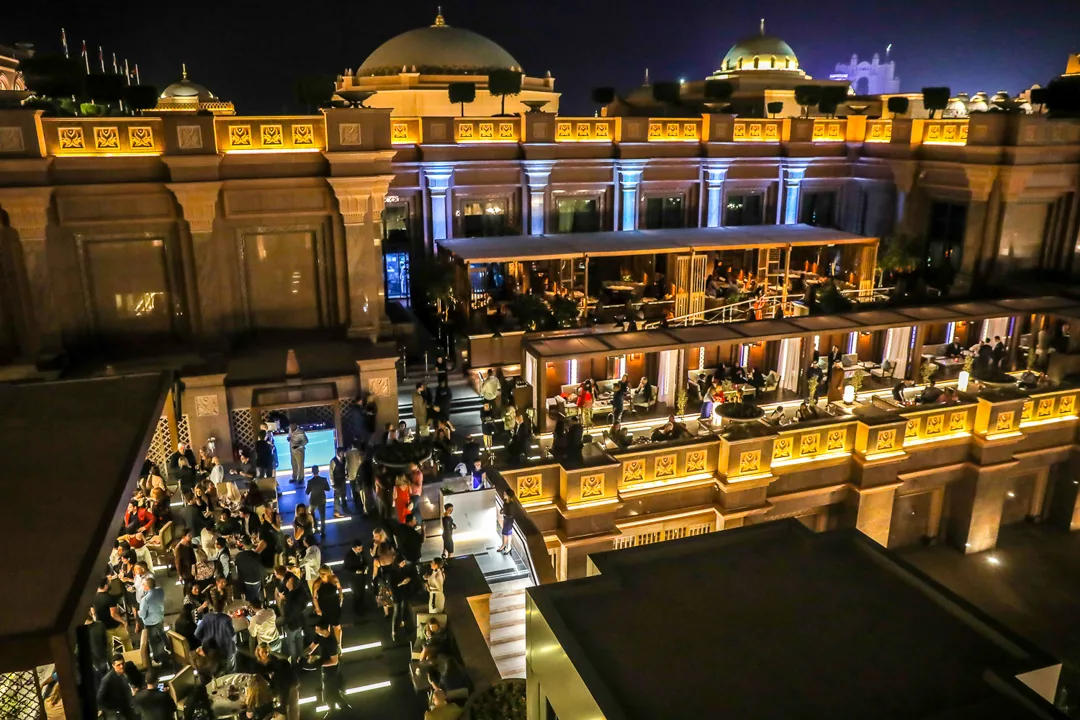 Authentic dishes such as supreme dim sum, Chinese Peking duck and stir-fried dishes are on offer. The unique cocktails are crafted by mixologists and match perfectly with the food. A fantastic experience is the signature set menu.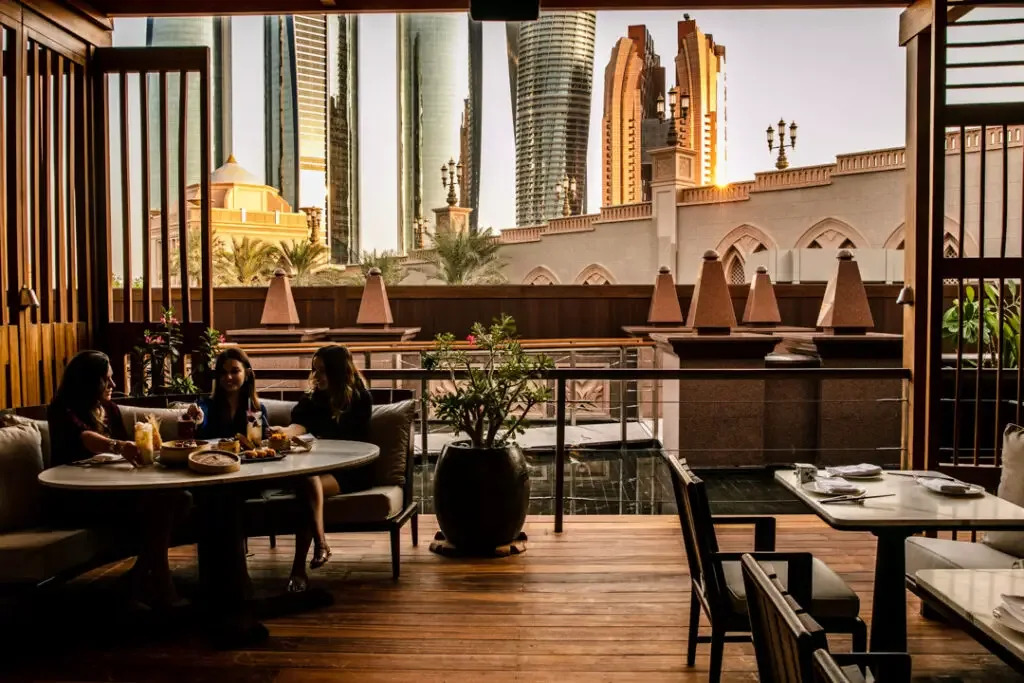 Flagship events include a Friday brunch, Saturday dim sum lunch and Hakkatini nights cocktails with classic dim sum.
Location: Emirates Palace – W Corniche Rd – Al Ras Al Akhdar – Abu Dhabi – United Arab Emirates
11. Ramsa- ERTH
Ramsa rooftop bar is a hidden gem in an old military base in Abu Dhabi which was recently turned into Erth! The bar sets the tone with a classy wine cellar built into the walls.
The interior is chic and contemporary. At the back of the venue is a rooftop terrace with an outdoor bar and a trendy seating arrangement. There is a DJ booth and occasionally there is live music.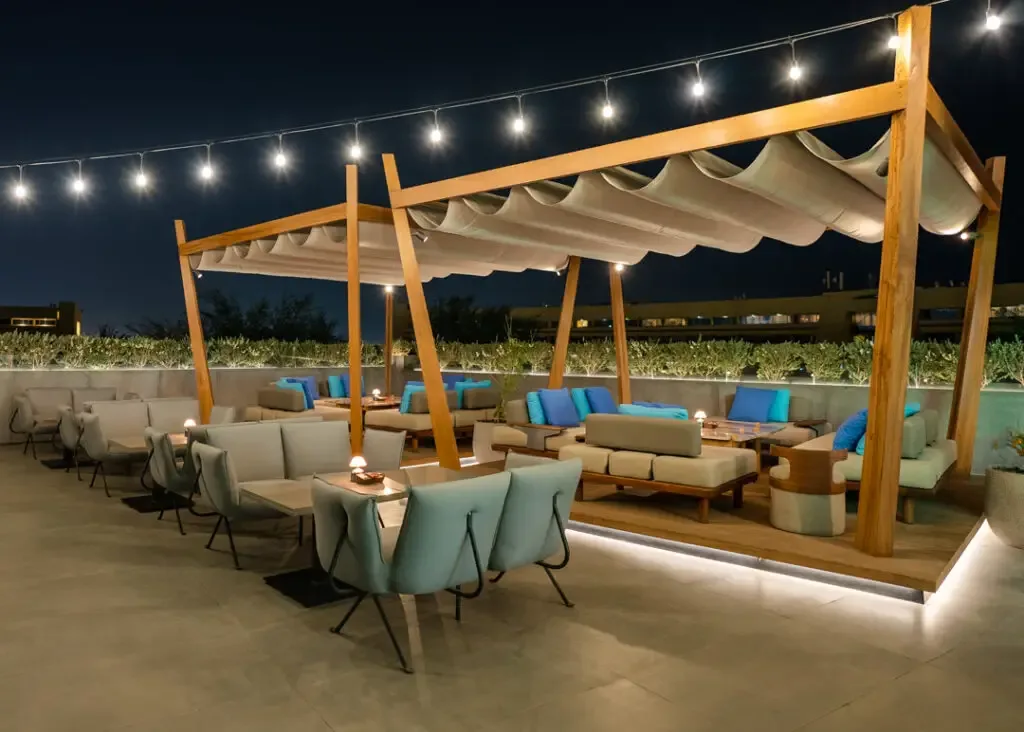 Ramsa serves street food from around the world. The globally inspired menu includes croquet, bao buns, tuna tostada, fish and chips, wagyu cheeseburgers and much more.
Kick back with premium cigars, hand-crafted beverages or a bottle of grape on this trendy rooftop terrace.
Happy hour is on every day from 5 to 10 pm. Buy 1 get 1 free on selected house beverages and get 20% off the bar food menu.
Monday is hoteliers and crew night! Get 50% off selected house drinks and 20% off food every Monday from 5 to 11 pm.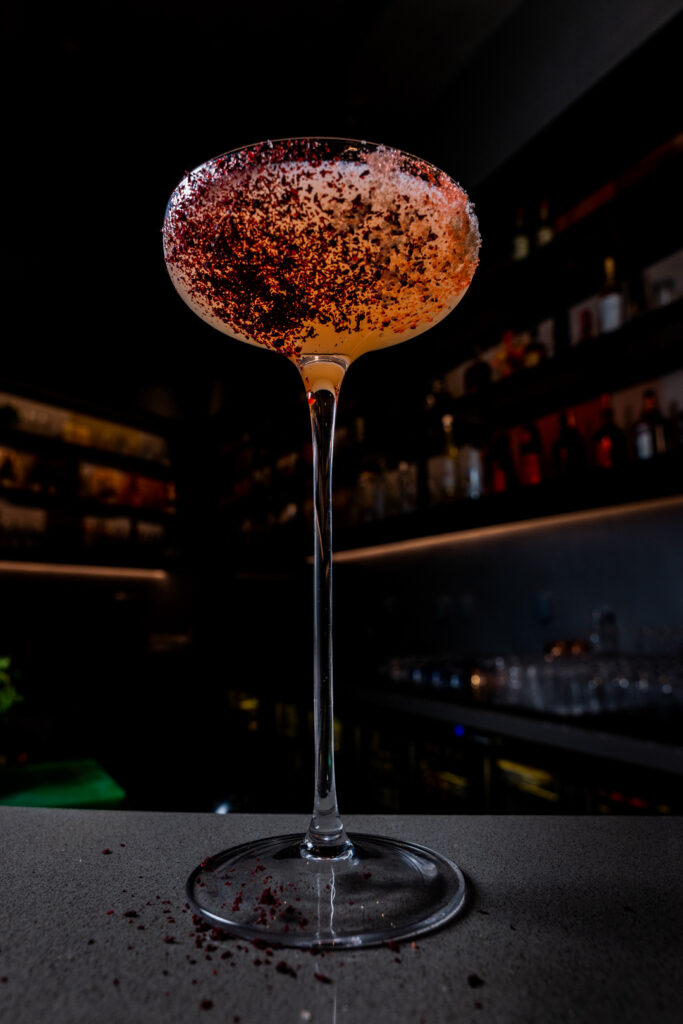 On Saturday nights, the rooftop bar ignites with Latino heat. Enjoy salsa, boleros, and bachata dancing between 7 and 11 pm. The deal costs 199 AED for unlimited bar bites and margaritas!
Timings: Monday to Thursday, 4 pm to 12:00 am
Friday to Sunday, 4 pm to 01:00 am.
Location: Khor- Erth Abu Dhabi- Al Khaleej Al Arabi Street- Abu Dhabi
Phone: 97124975832
12. Ishtar
Ishtar brings another cool vibe to the list of rooftop bars in Abu Dhabi. The South Mediterranean restaurant takes inspiration from an ancient goddess and is well known for its rooftop area.
It is a very popular spot during the F1 as it provides views of the cars zooming past on the racetrack.
Take in the wonderful view of Yas Marina and enjoy happy hours drinks every day between 4 and 7 pm. Get 50 % off selected beverages and enjoy the rooftop vibes.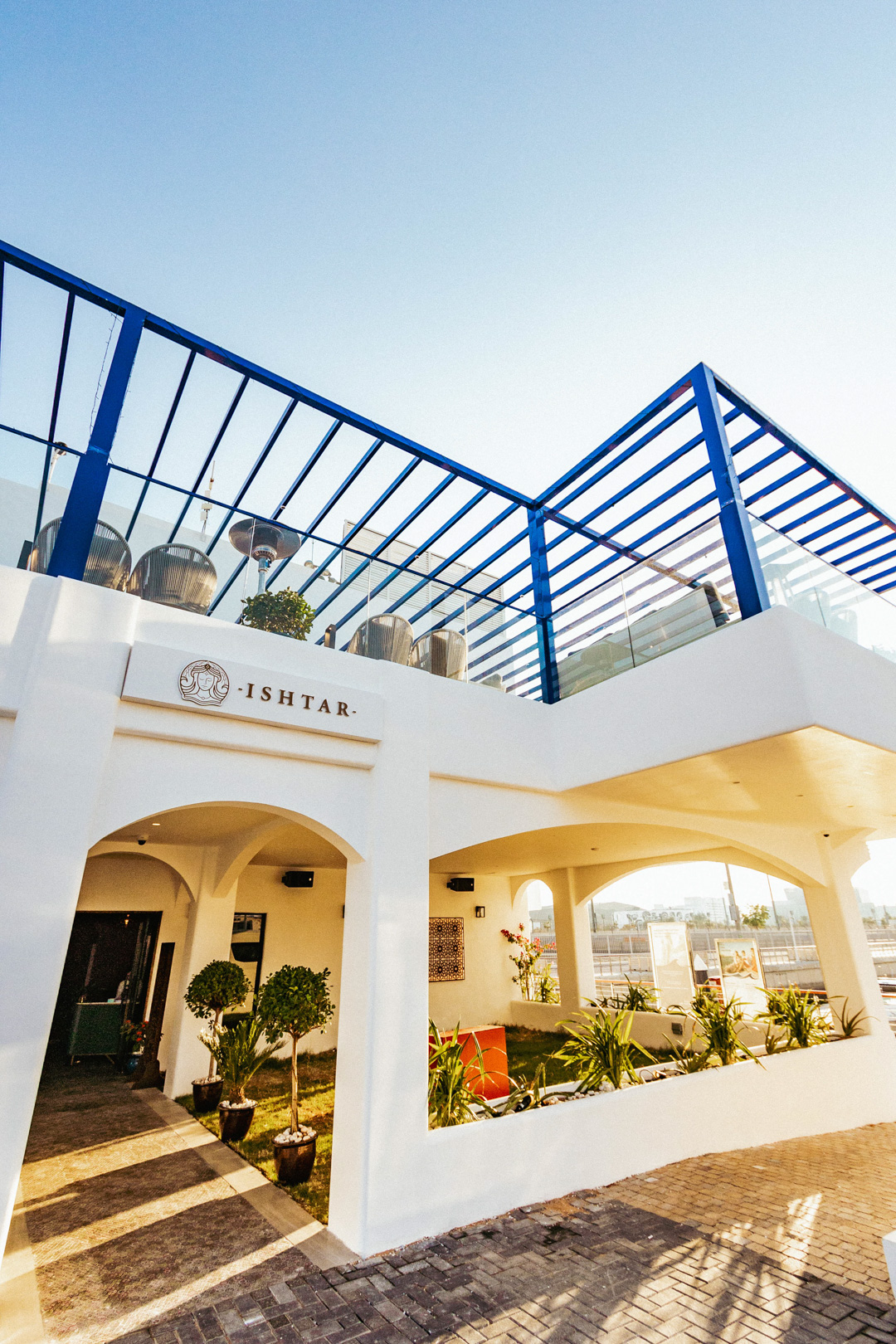 Every day, Ishtar has a belly dancer who brings authentic vibes to the dining experience.
Tuesday is ladies' night with unlimited free drinks while dining between 8 pm and 12 am.
Afternoon tea with bubbly is available from Sunday to Thursday between 4 and 6 pm. Indulge in a luxury rooftop experience for only 99 AED.
Location: Yas Marina-Yas Island-Abu Dhabi
Timings: Sunday to Thursday 4 pm to 2 am.
Friday to Saturday, 4 pm to 3 am.
Call: 971504022293
We hope you enjoyed this post about the best rooftop bars in Abu Dhabi. We sure enjoyed visiting all the locations to provide this roundup. Have you been to any of the venues? Leave a comment, we love to hear from you.