it is no secret Abu Dhabi is surrounded by a beautiful coastline. Featuring over 200 islands, miles of pristine beaches and some of the clearest water, a lovely way to explore it all is by kayaking in Abu Dhabi.
There are so many different options when it comes to kayaking Abu Dhabi's waters. From intricate mangroves with tunnelled waterways to canals, and of course sea kayaking.
Rent a kayak from one of the many outlets and follow a specific path, or take a guided tour.
There are some fantastic guided tour options, be it a special full moon evening beneath The Louvre or a themed event on special holidays such as Halloween.
It goes without saying, it is quite difficult to kayak over the summer in the peak desert hot weather. It may be possible close to sunset when the weather is most tolerable.
The best months to kayak are from November or December until around April.
January and February are slightly quieter months with beautiful weather.
Regardless of the month, the best time to go kayaking during the day is in the morning or late afternoon when the sun is not too high.
Best Kayaking Abu Dhabi
Some of the best spots to go kayaking in Abu Dhabi can be found in nature reserves, whilst others can be found in popular parks.
Many hotels, clubs and resorts offer kayaking as an activity on their private beach.
In general, it seems as though there are a few options to join a kayaking club in Dubai, however, there appear to be very few options to join a kayaking club in Abu Dhabi.
Regardless, there are plenty of great spots across Abu Dhabi to enjoy kayaking and all kinds of boat tours.
1. Eastern Mangroves Abu Dhabi Kayaking
Kayaking in the Eastern Mangroves is a fantastic way to explore the natural beauty of Abu Dhabi's coast.
Located just a short drive from the city centre, the Eastern Mangroves are a unique ecosystem and home to an incredible array of wildlife.
The mangroves are a haven for birdlife, and kayaking through the channels provides an opportunity to spot some of the region's most iconic species, including the grey heron and the little egret.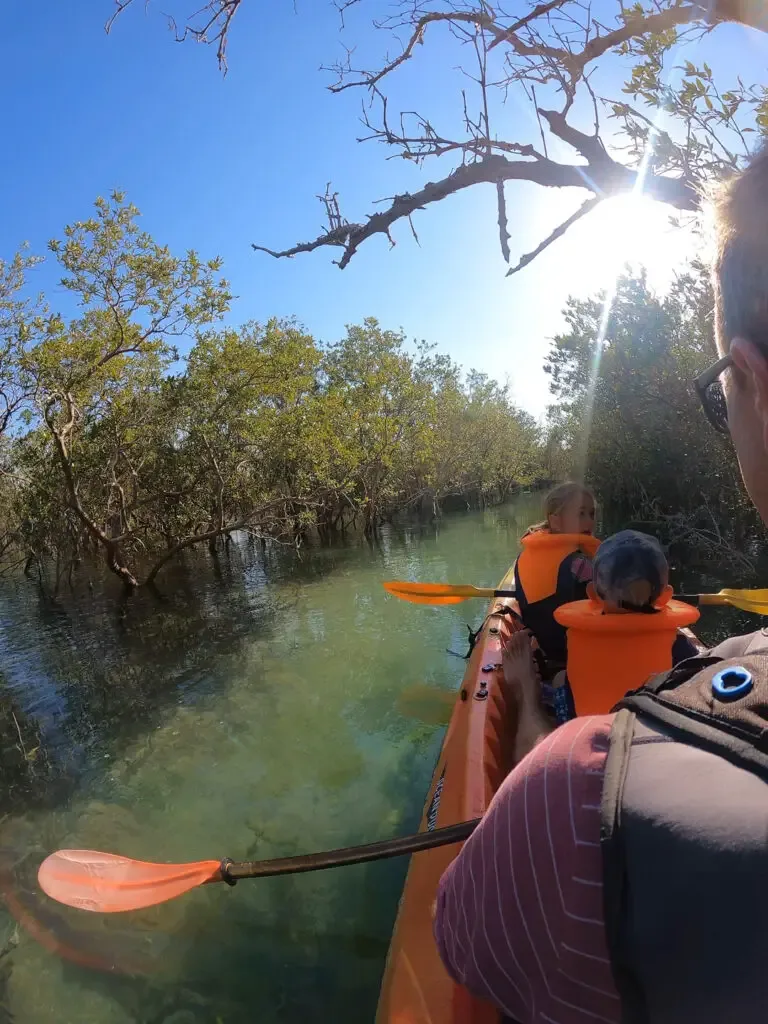 The waters are home to a variety of fish and marine life, often visible from a kayak as the waters are so clear.
Kayaking in the Eastern Mangroves is suitable for all levels of experience. There are guided tours available for those who want to learn more about the mangroves and the ecosystem.
All of the rental companies provide the necessary safety equipment with a choice of single or double kayaks, depending on the group. Of course, for families with small children and couples, the double kayak is a great choice.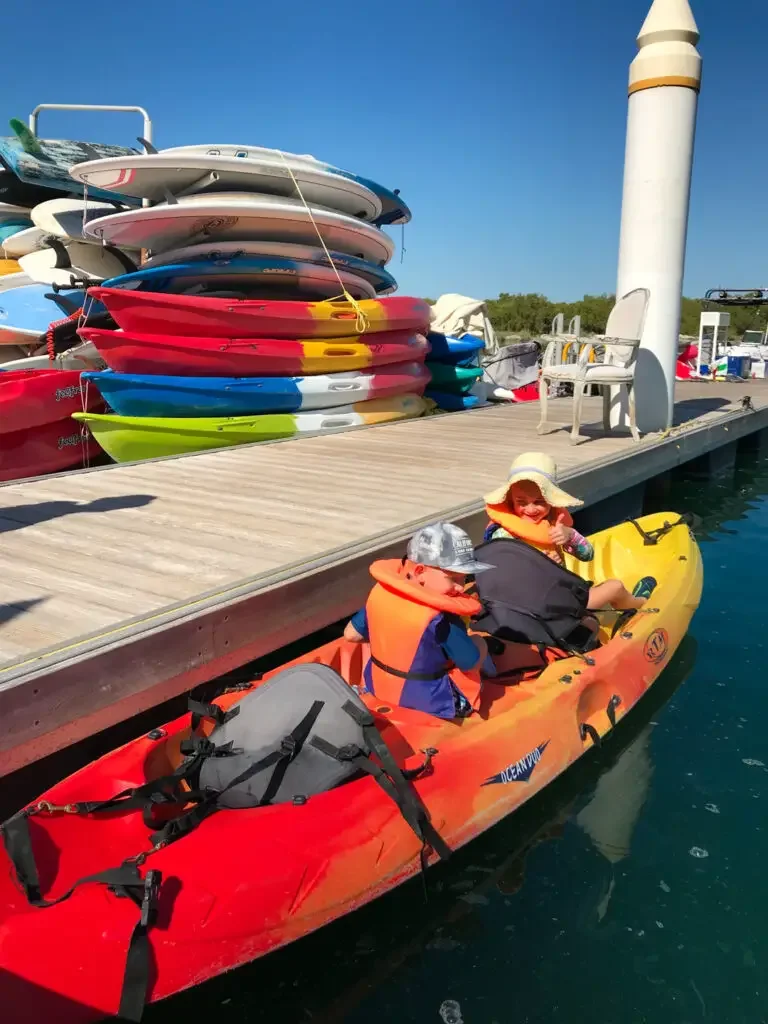 Paddling through the winding channels of the mangroves is a serene and peaceful experience. For those who opt to kayak independently without a tour guide, a clear path is explained to follow.
Along the way, there is a secret beach with a pontoon. It's a lovely spot to moor for a little while. Kids love diving off the pontoon into the water!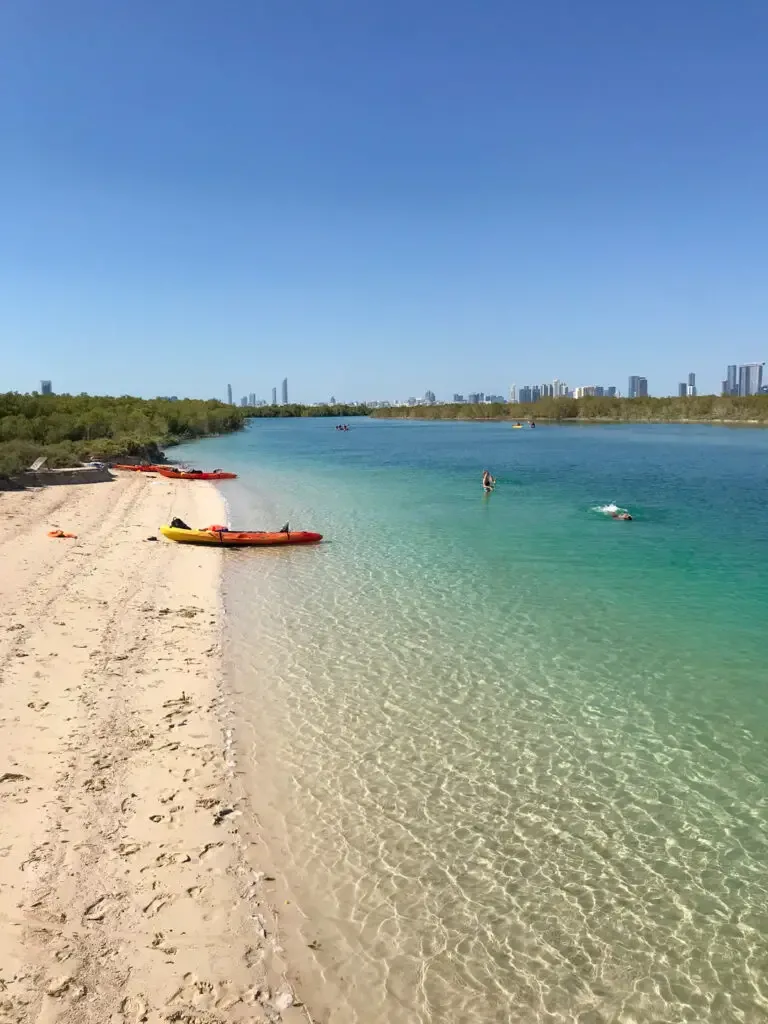 The natural beauty of the area is stunning, with the lush greenery of the mangroves contrasting against the blue waters of the sea.
Be Aware
There are often larger boats on the water on the wider waterways, they don't go through the narrower paths. It is important to give them some space as the waves generated by the boat can rock the kayak quite a bit.
The Eastern Mangroves are particularly busy on school holidays and weekend evenings. It is worth booking ahead to avoid disappointment.
The best time to go is around 4:30pm to enjoy the sunset over the cooler months.
One of the most unique kayaking experiences occasionally on offer is a 'glow night kayak'. It's a group tour navigating the mangroves with lanterns in each kayak lighting up the waterways.
The kayaking tour lasts two hours and allows children aged 7 and above.
Rentals are available at the marina at Eastern Mangroves. In the same area is a number of restaurants, perfect for a post-kayak meal or snack.
Reserve a kayak at Eastern Mangroves.
Location: Hotel & Spa by Anantara – Al Salam Street,Sheikh Zayed Street,Eastern Mangroves Near – Abu Dhabi – United Arab Emirates
2. Jubail Mangrove Park
Kayaking in Jubail Mangrove Park is a must-do activity for anyone visiting Abu Dhabi who loves nature and adventure.
The park is located between Saadiyat Island and Yas Island and is home to a stunning boardwalk which meanders through the mangroves. However, kayaking is certainly a lovely way to explore the park.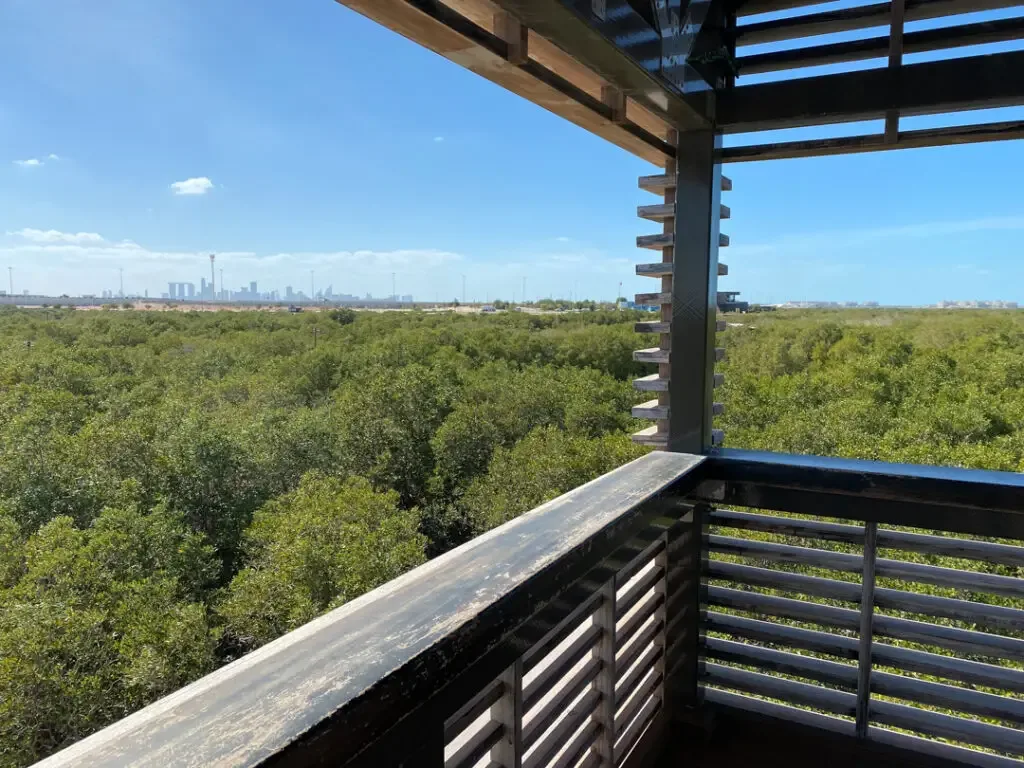 Kayaks are available just to the left of the entry to the park, very close to the car park. The route is incredibly biodiverse.
It's impossible not to see crabs, shrimp, birds, and much more along the way. The company offers all of the necessary kayaking equipment including single and double kayaks, paddles, and life jackets.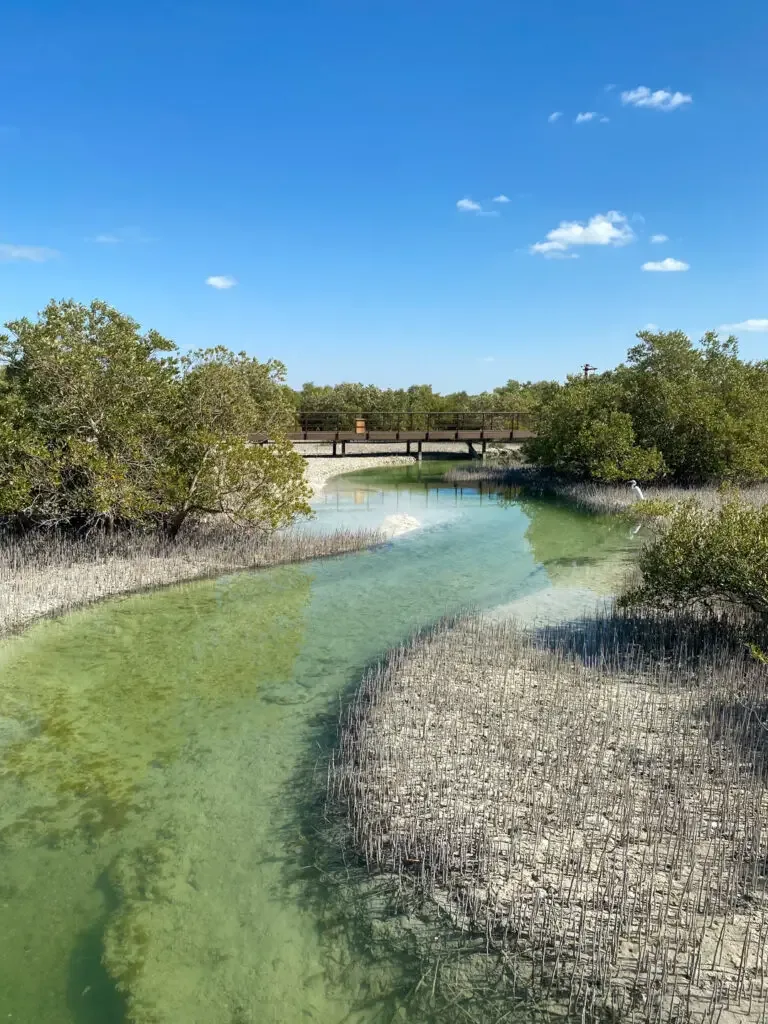 No experience is required, all skill levels, including beginners can enjoy the mangroves and guided tours are available for those who want to learn more about the park.
Kayaking through the winding channels of the mangroves is so peaceful.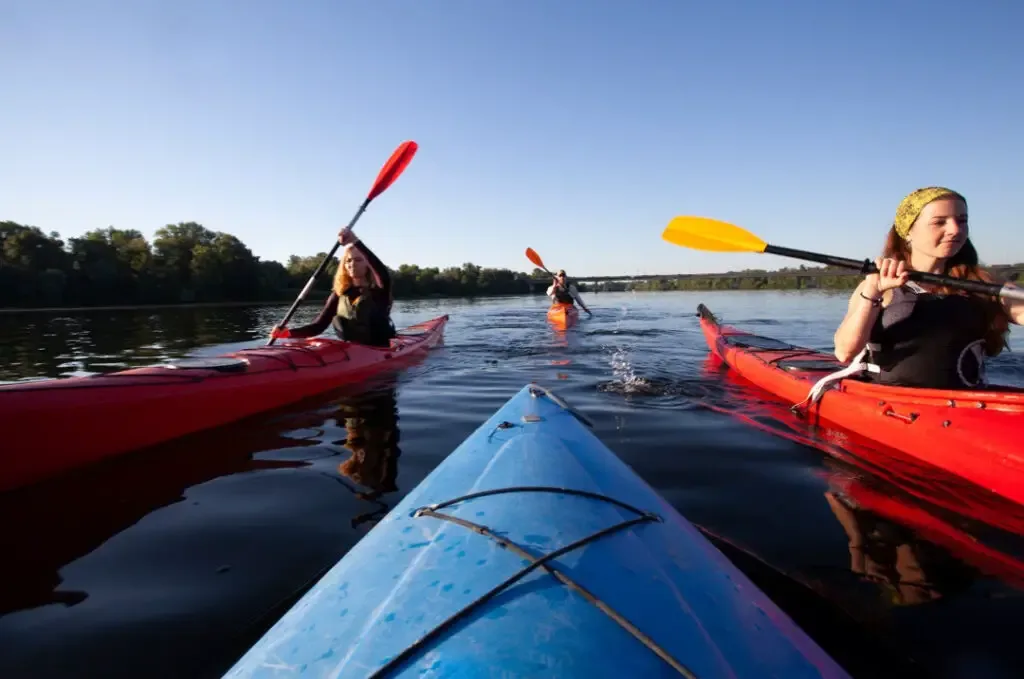 Inside the main entrance of the park, there is a lovely cafe with great coffee, smoothies and light snacks such as sandwiches, perfect for a post-kayak refuel.
Location:  Al Jubail Island – Abu Dhabi – United Arab Emirates
3. Reem Central Park
Reem Central Park offers an opportunity to go kayaking in Abu Dhabi mangroves with the contrast of natural beauty against the modern backdrop of Al Reem Island's skyscrapers.
The park is surrounded by towering buildings, the most iconic is the Gate Tower of Al Reem Island.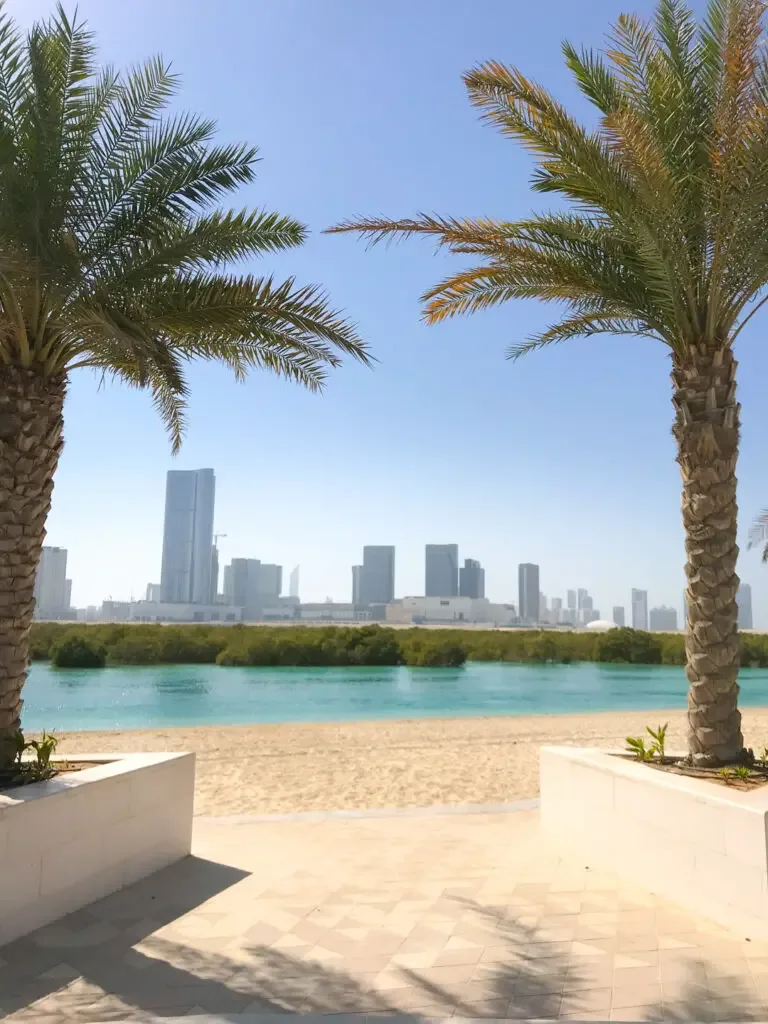 Rent a kayak from the beach area and follow the advised path through the mangroves. It takes about an hour to follow the entire path, weaving through the mangroves at a leisurely pace.
It is certainly a unique experience seeing the mangroves with the backdrop of skyscrapers and is a popular activity with residents living nearby.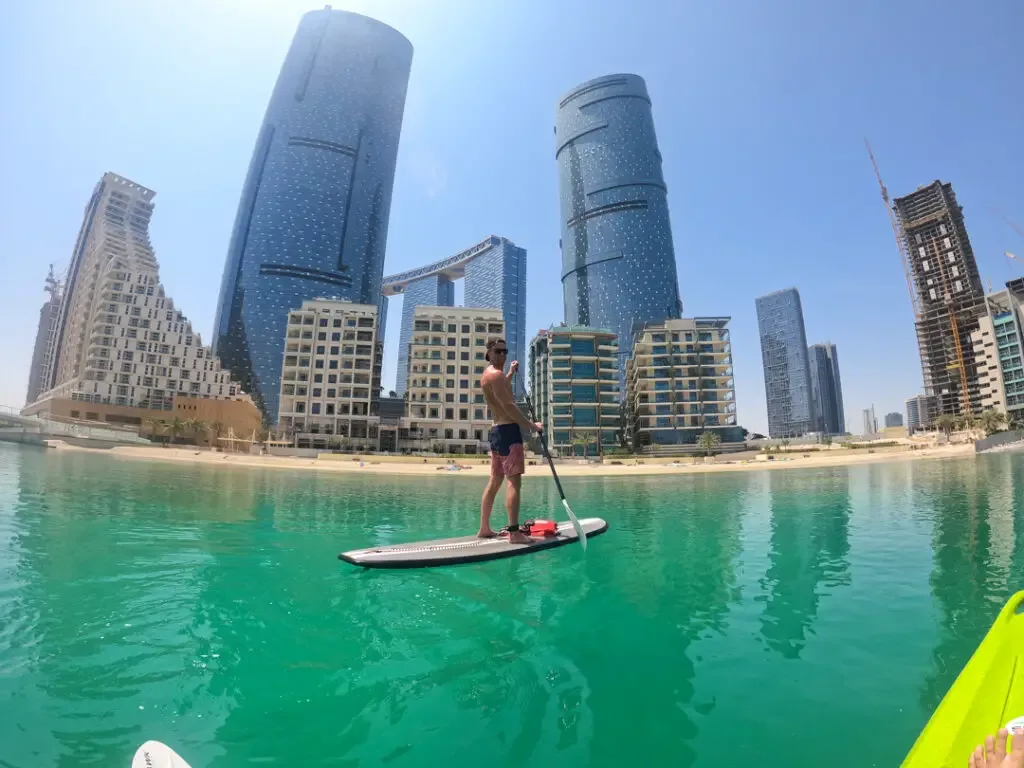 In fact, many residents leave their personal kayaks on the beach at Reem Central Park, although officially it is probably not allowed.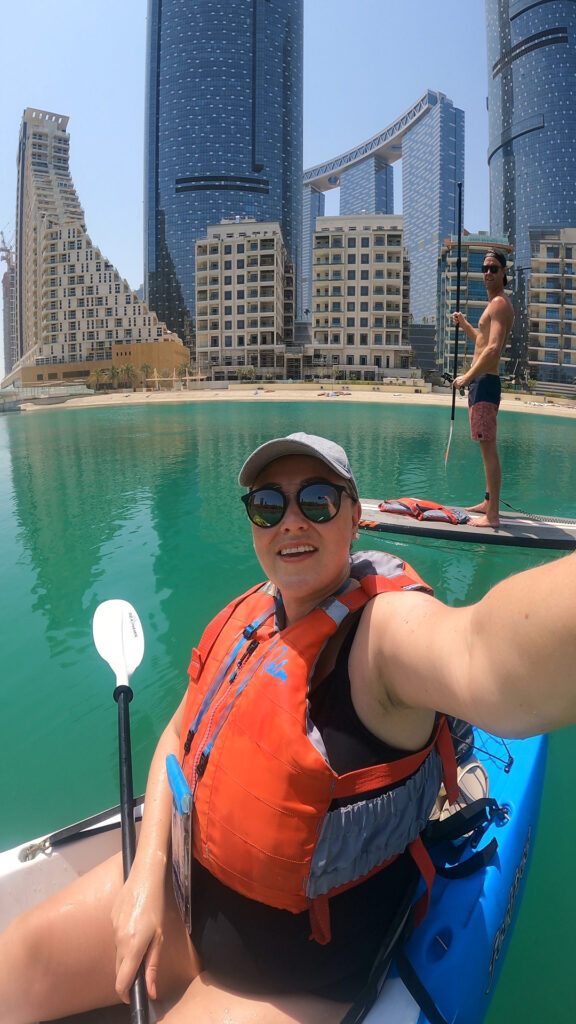 The park's calm waters make it an ideal spot for beginners to try kayaking. If you intend to rent a kayak, check the hours of operation in advance as sometimes they have shortened hours, especially over Ramadan.
Reem Central Park has lots of cafes and nice restaurants close to the beach with an array of cuisine.
Including some food trucks with great street food such as shawarma for some post-kayaking lunch!
Location: Al Reem Island – Shams Abu Dhabi – Abu Dhabi – United Arab Emirates
4. The Corniche
Abu Dhabi Marine rent kayaks out from Phase 2 Beach on the Corniche. The waters along the Corniche are stunning and again offer the unique contrast of open waters with the backdrop of the Abu Dhabi skyline.
The company rents out double kayaks in 30-minute sessions and allows children from 3+. All the necessary safety equipment is provided.
Abu Dhabi Marine also has kayak rentals at Emirates Palace for guests and beach club day pass holders.
Location: Phase 2 – Corniche Beach – Abu Dhabi
5. The Louvre Kayaking Abu Dhabi
Kayaking at the Louvre Abu Dhabi has to be one of the quirky experiences of all. The Louvre Abu Dhabi is an architectural masterpiece on the edge of the Arabian Gulf.
Aside from having many pieces of art and hundreds of artefacts, the museum also has waterways through the building fed by the Arabian Gulf.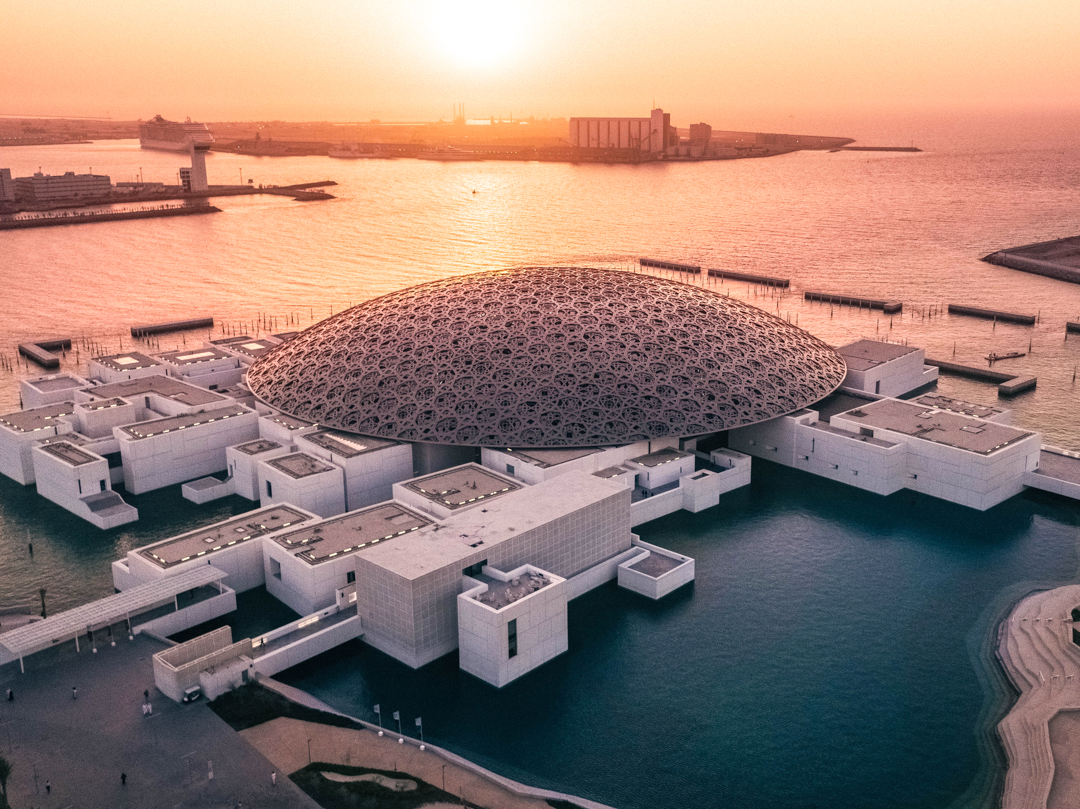 Kayakers get a unique perspective of the standout geometric dome which covers the museum.
The geometric patterns allow the sun to peak through creating beautiful patterns of light which change throughout the day.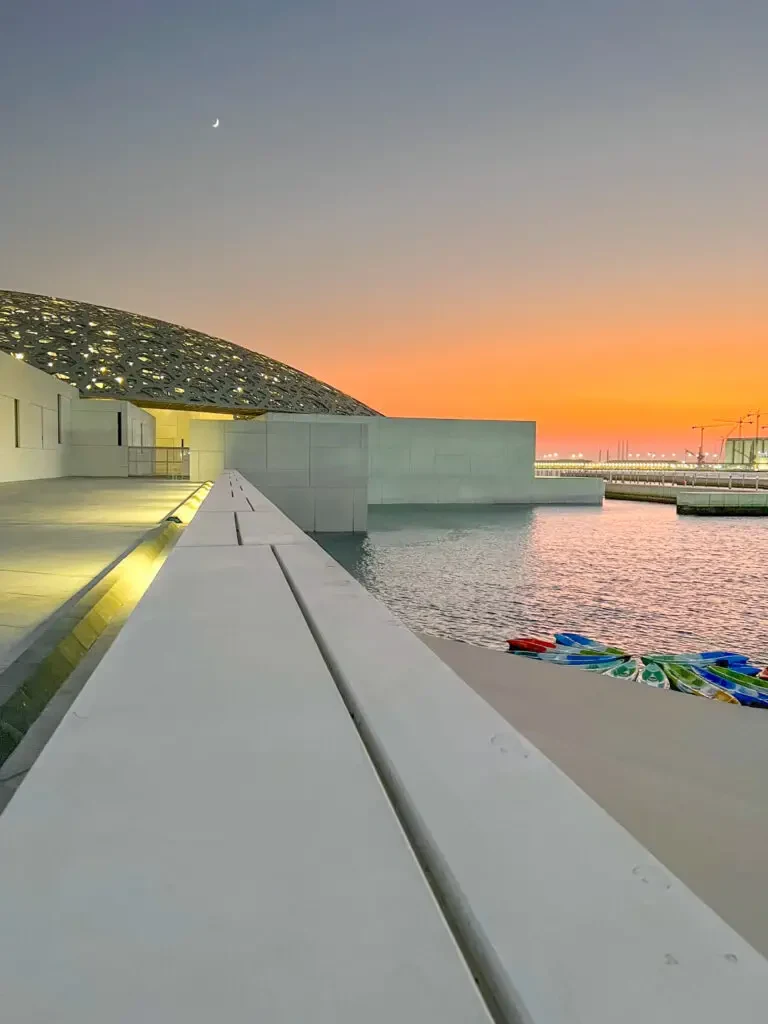 The dome is an impressive 180 metres wide and features 7850 metal stars creating the pattern. It is supported by four pillars which were designed to imitate palm trees.
Kayaking at the Louvre is fantastic whether it is night or day. In the dark, the roof twinkles. The company provide all the necessary safety equipment and tours last 60 minutes. Children, age 6+ can join in on the activity.
One of the most special times to kayak at the Louvre is during a full moon. The rental company create a special tour for full moon evenings and tickets tend to sell out fast for the activity.
The museum's waterways are illuminated by the bright light of the moon, providing a magical and surreal experience.
No kayaking experience is required, a full safety briefing is provided at the beginning of the tour.
The Louvre occasionally hold yoga classes beneath the beautiful dome.
Location: The Louvre Abu Dhabi – Saadiyat – Abu Dhabi – United Arab Emirates
6. Al Ain Adventure Kayaking
For a more adventurous kayaking experience, Al Ain Adventure is the place to go. Al Ain is an hour and a half drive from downtown Abu Dhabi, however, it is still part of the Emirate.
It's very much worth visiting Al Ain as there are so many things to do in the cute town. Al Ain Adventure is a popular destination for adventure-seekers, offering a unique kayaking experience in an artificial whitewater channel.
Al Ain Adventure has a whitewater channel which is designed to mimic the challenging conditions of natural whitewater rapids, offering an adrenaline-pumping kayaking experience.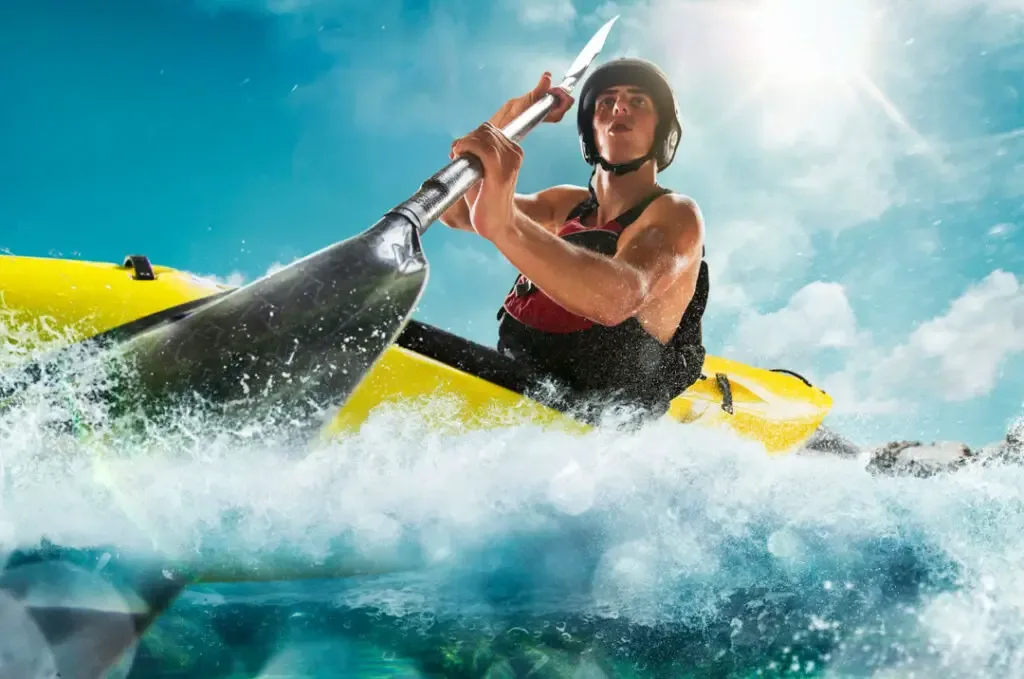 The channel is divided into different sections, each offering a unique level of difficulty, from beginner to expert. The course includes drops, eddies, and waves to test your kayaking skills and provide a thrilling adventure.
Al Ain Adventure offers both solo and double kayaking options, making it a great activity for couples, families, and groups of friends.
The facility provides all necessary kayaking equipment, including kayaks, paddles, and safety gear.
In addition to kayaking, Al Ain Adventure offers a variety of other adventure activities, including whitewater rafting, zip-lining, and rock climbing.
It's possible to spend a full day exploring the park and trying out different activities.
Location: Jebel Hafeet, P.O. Box: 88202, Al Ain, United Arab Emirates
7. Sir Bin Yas Island Kayaking
There is a watersports centre on the nature reserve, Sir Bin Yas Island which offers kayaking as an activity.
It takes around 3 hours to get to Sir Bin Yas Island from downtown Abu Dhabi so it is best to make a couple of days of it.
The area features 8km of waterways which can be explored on a kayak from Desert Islands Watersports Centre.
Similar to many other kayaking opportunities in Abu Dhabi, Sir Bin Yas has lots of mangroves protecting its coastline, perfect for spotting marine life. However, it is the land mammals which is the most unique part of kayaking around Sir Bin Yas.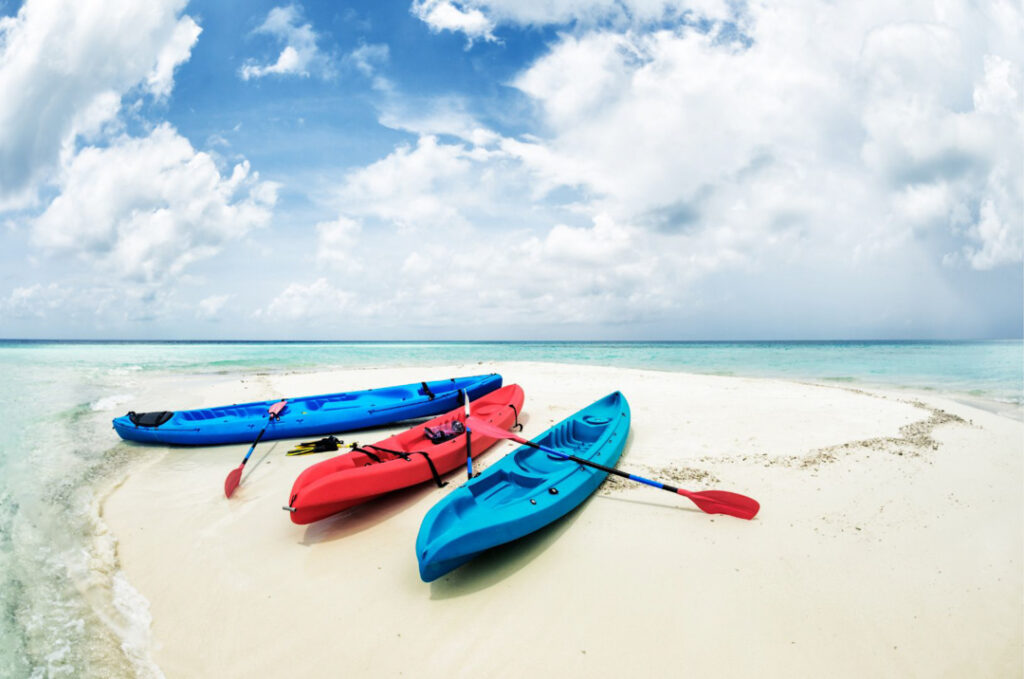 The island is home to cheetahs, gazelles, giraffes, the Arabian Oryx and deer. Whilst on the water, it is possible to spot dolphins and sea turtles.
Take a guided tour or explore independently in a single or double kayak.
In addition to kayaking, Sir Bani Yas Island offers a variety of other outdoor activities, including hiking, mountain biking, and wildlife safaris. Or simply enjoy the island's pristine beaches or luxury resorts.
Location: Watersports Centre at Desert Islands Resort & Spa by Anantara – Sir Bin Yas Island – Abu Dhabi.
8. Zaya Nurai Island Kayaking
Kayaking on Zaya Nurai Island is a truly tropical experience. Located just off the coast of Abu Dhabi, Zaya Nurai Island is a luxurious private island with a resort.
The resort welcomes overnight guests, as well as day pass visitors. There is a wide range of activities for all visitors including kayaking.
Kayaking around the island provides a stunning perspective of the island's pristine beaches and turquoise waters.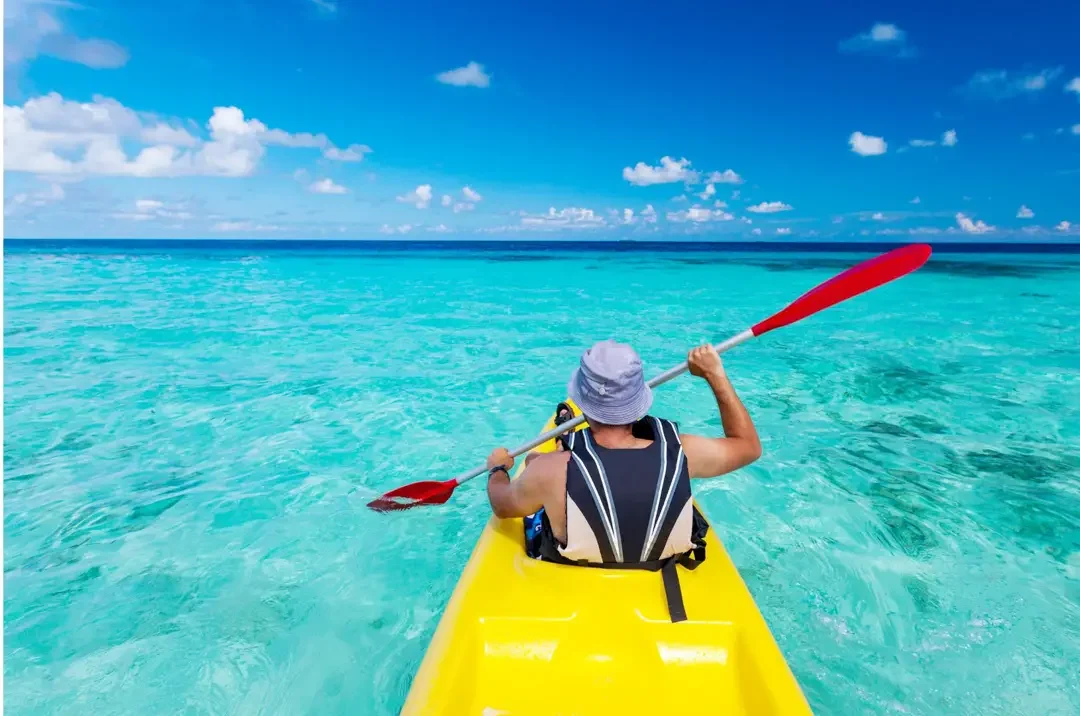 There are lots of single and double kayaks available to rent. Zaya Nurai rent kayaks for 20 minute sessions.
Not to mention there are plenty of other watersports to enjoy such as SUP, snorkelling, a banana boat ride, underwater scooter, knee board, waterskiing and wakeboarding to name a few.
It is expensive to stay on the island so a day pass is a wonderful opportunity to experience it without the huge price tag.
The only way to get to Zaya Nurai Island is by speedboat from Saadiyat Island.
Location: Nurai Island – Nourai Island – Abu Dhabi – United Arab Emirates
Owning A Kayak In Abu Dhabi
Many Abu Dhabi residents who are avid kayakers choose to invest in a kayak to have the freedom to explore the waters whenever they want.
When owning a kayak, it's essential to have the necessary equipment, including a paddle, life jacket, and waterproof bag for personal belongings.
Other essential equipment includes a whistle, a bilge pump, and a spray skirt. It's also recommended to have a first aid kit and a mobile phone in a waterproof case for any emergencies.
It's important to note, leaving a kayak on a public beach or tied to a pontoon can be risky, as it is potentially illegal and may be removed by authorities at any time.
Recent incidents have occurred where kayaks were removed from beaches in Abu Dhabi, such as on Reem Central Park Beach.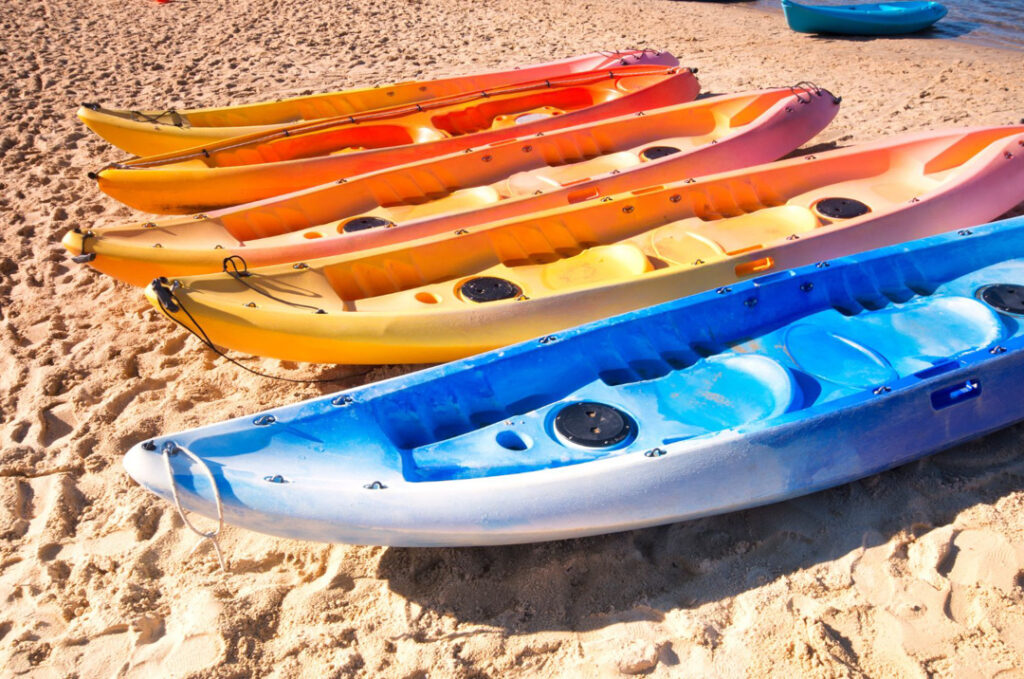 Therefore, it is advised to have a safe and secure storage solution for a kayak when it is not in use, such as storing it at home or in a secure storage facility.
Overall, owning a kayak can provide a great sense of freedom and adventure, in exploring the beautiful waters in and around Abu Dhabi.
We hope you found this post useful about kayaking in Abu Dhabi. Did we miss any great locations? Leave a comment we love to hear from you.
Disclaimer: This post about the best spots to go kayaking in Abu Dhabi may contain affiliate links. By using them, it will not cost you any extra, we may receive a small commission to keep us writing.