The weather in Abu Dhabi in November is the first sign of the cooler months that everyone in the Emirates lives for!
Needless to say, when the temperatures drop in Abu Dhabi, the city comes to life outdoors and it is usually the busiest time of year with events.
From Flag Day to the legendary F1 weekend Grand Prix and celebrations, there is plenty to enjoy in Abu Dhabi in November.
Whilst Abu Dhabi has some incredible indoor activities, it is so nice to start getting outside once again and enjoy the beaches, and the dunes not to mention the beautiful parks and al fresco dining!
Abu Dhabi Weather In November
The weather in Abu Dhabi November time is generally still warm, however, a lot more pleasant with lower humidity. It is comfortable enough to spend time outside.
December and January tends to be even cooler and more bearable for those visiting from cooler climates.
Weather in Abu Dhabi in November sees an average daytime temperature of 27°C (81°F). Whereas in the evening the temperature is approximately 18°C (64°F).
When packing for temperatures in Abu Dhabi in November it is best to bring some light layers for evenings outside. There is very little rainfall with average precipitation around 7 mm which is very low.
Very occasionally there may be a shower, however, it rarely lasts very long. Abu Dhabi is renowned for its warm seas. In fact in the summer months, swimming in the ocean can feel like a hot bath!
The sea temperature in Abu Dhabi during November is around 25°C (77°F), which is perfect for swimming and enjoying the many waterparks, pools and beaches around the Emirate.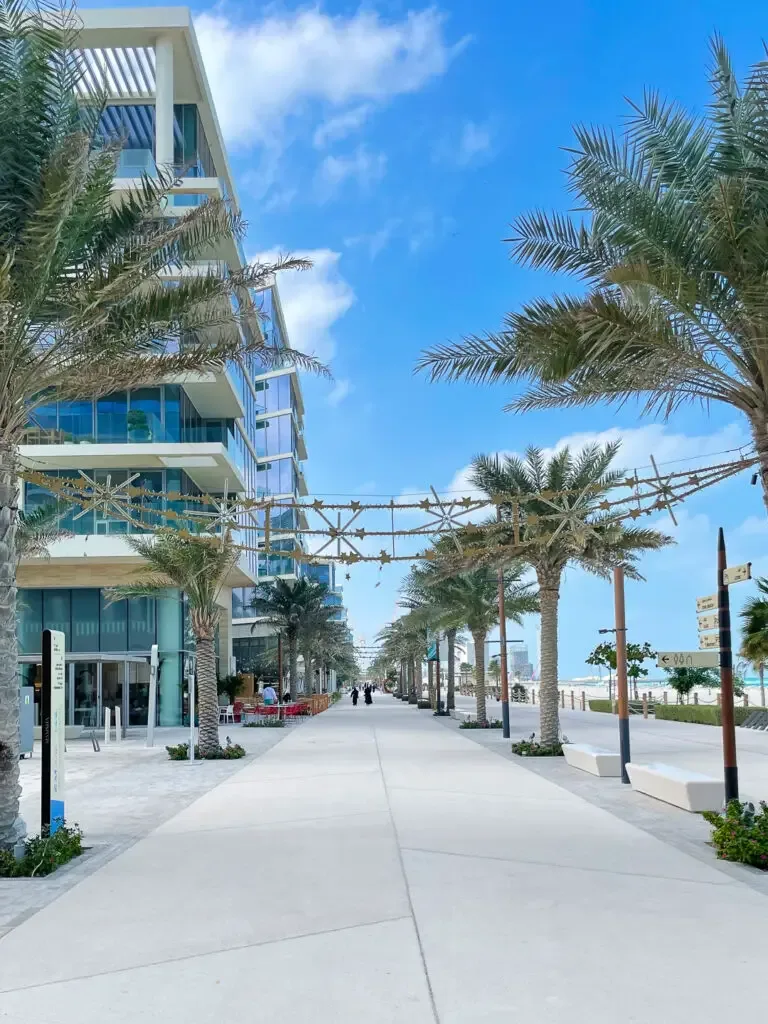 It can get a little windy at times in Abu Dhabi in November. Wind speed can reach 9 km/h (6 mph). However outdoor activities can still be enjoyed and the breeze is a nice addition to the sun.
The weather in Abu Dhabi in November makes it the perfect time to visit, not to mention the many great activities which can be enjoyed throughout the month.
Here are some key events in November to add to your diary.
Abu Dhabi November Events
Flag Day, 3rd of November 2023
Flag Day has been celebrated annually in Abu Dhabi since 2013. The day marks the accession of Sheikh Khalifa bin Zayed Al Nahyan as the President of the UAE.
Whilst it is an important day in the calendar, it is not a public holiday and is often confused with National Day which is in December and is an official holiday.
Celebrating Flag Day in the UAE typically involves raising the national flag at schools, government buildings, and private residences across the country.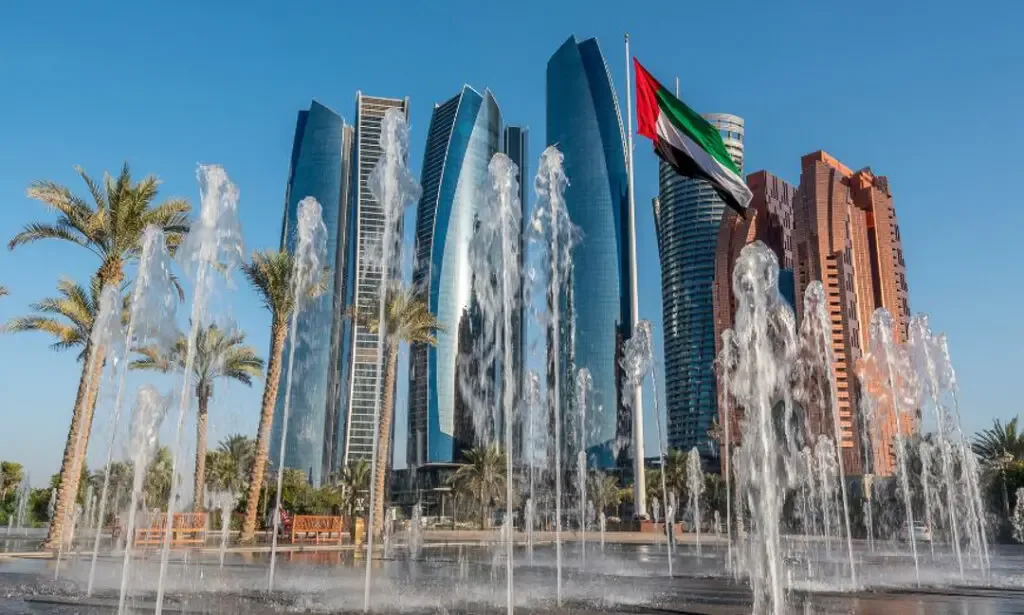 Staff and management from each organisation sing the national anthem together during the raising of a flag. Organisations may eat a celebratory lunch together to mark the occasion.
Typically many Emiratis and ex-pats alike wear a UAE flag-coloured scarf and possibly a brooch on the day. Many stores mark the occasion with UAE flag decorations.
Some of the heritage sites across the Emirate may have additional events such as parades, cultural performances, and exhibitions showcasing the UAE's history and heritage.
School children make flags, and UAE-coloured decorations and have celebrations on the day.
The colours of the UAE flag are green, white, black and red.
Guy Fawkes Night, 5th of November 2023
With so many ex-pats in the city, Abu Dhabi marks all of the international celebrations, be it Halloween, Thanksgiving, Diwali, Christmas, NYE or Chinese New Year.
Guy Fawkes Night is often referred to as bonfire night or fireworks night in the UK. It takes place on the 5th of November each year to commemorate the failed gunpowder plot of 1605.
It is not widely celebrated in Abu Dhabi since Halloween is a few days prior and is much more popular. British ex-pat hangout areas tend to mark the occasion.
In particular, The Club which is a private members club has a huge event with a bonfire on the beach, buffet stalls, and a great party atmosphere.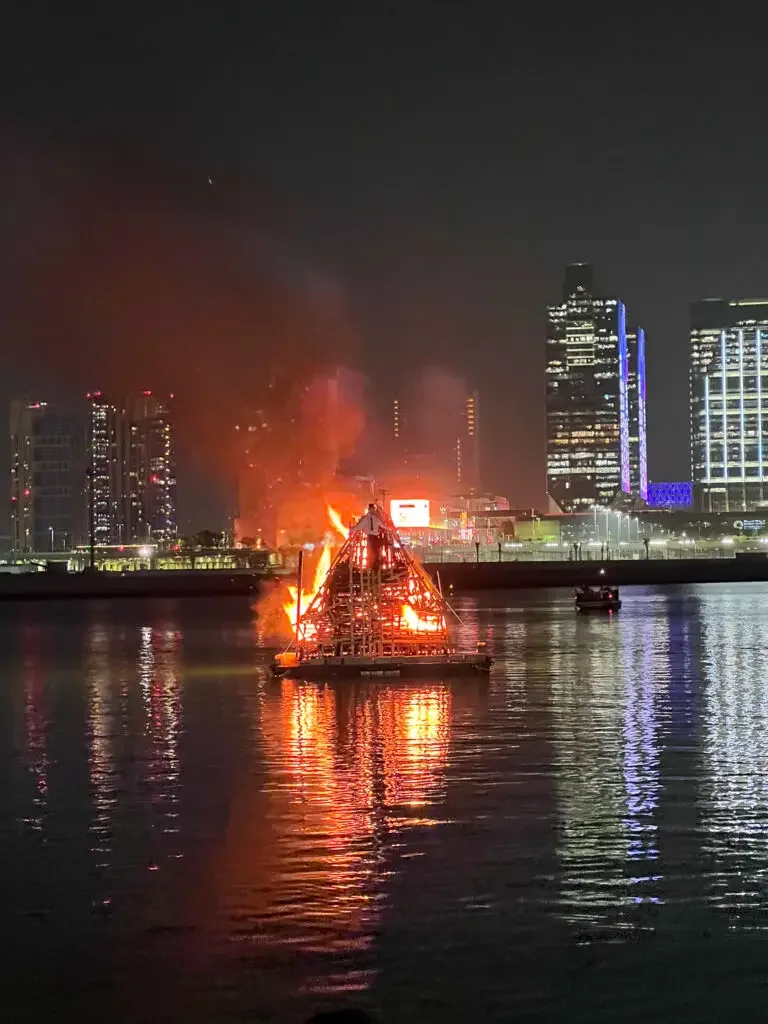 Most people know a member of The Club, so you can tag along as a guest. The member will just need to make sure they have a ticket for you!
Regardless of whether you manage to join the celebration or not, the fireworks and the bonfire can be seen from nearby Al Reem and Al Maryah Island waterfront areas facing Saadiyat quite easily.
Bike Abu Dhabi Festival, 11th of November 2023
On the 11th of November, the Emirate will host the Abu Dhabi Bike Festival. It will be the second year of the event, with elite competitors taking on a 150km track from Abu Dhabi city to Al Ain.
Interestingly the prize of 2 million AED will be up for grabs for both male and female competitors.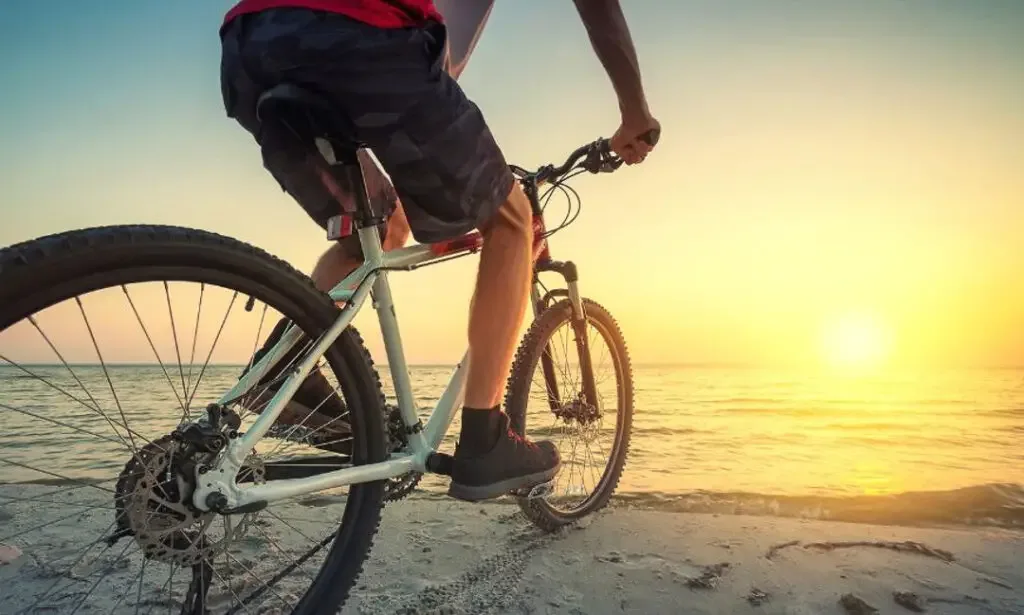 It was His Highness Sheikh Khaled bin Mohamed bin Zayed's initiative to establish Abu Dhabi as a prominent global cycling hub. Bringing such an event to Abu Dhabi allows an international audience to experience some incredible tracks.
From Yas Marina Circuit to Al Hudriyat and Jebel Hafit, out to the Al Dhafra region, the Emirate is a fantastic place for cyclists.
Diwali, 12th of November 2023
Diwali, also known as the Festival of Lights, is a significant Hindu festival celebrated all over the world, including Abu Dhabi.
Sometimes the festival falls in October, however, this year, it is in November. During Diwali, homes and businesses are decorated with lights, candles, and colourful rangoli decorations.
Traditional Indian sweets are prepared and shared with family and friends. There are quite often fireworks in Abu Dhabi to mark the celebration.
The Indian Embassy may arrange cultural events and activities to mark the occasion. Whilst many hotels arrange brunches and dinners with traditional foods related to Diwali.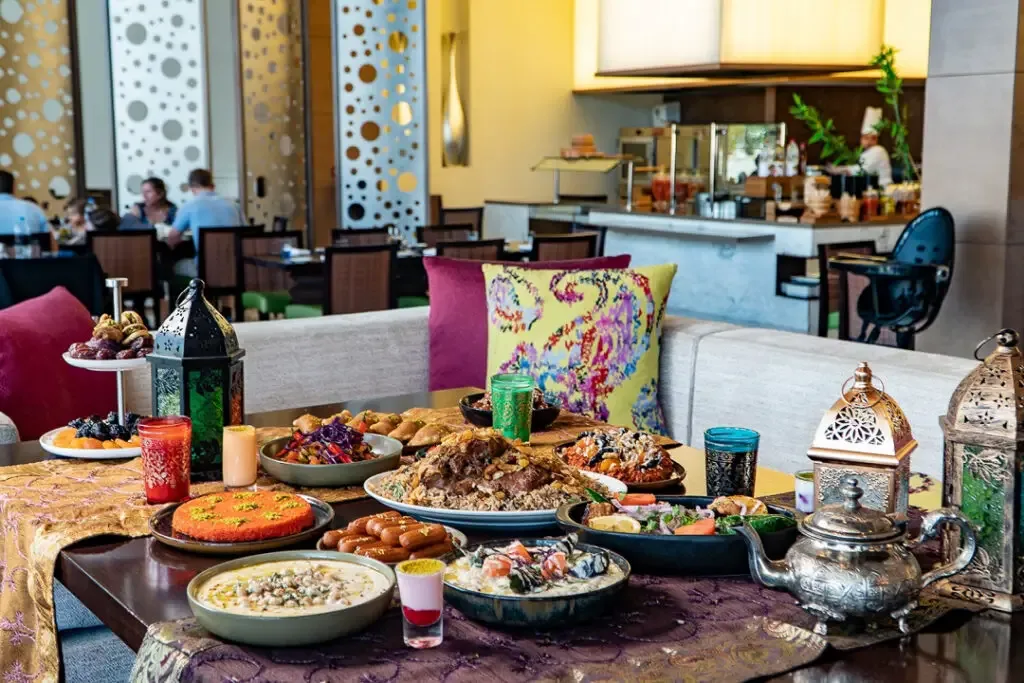 There is a significant Indian community in Abu Dhabi, so Diwali is very much celebrated.
The Festival of Lights is an important occasion for the Indian community in Abu Dhabi to come together and celebrate their culture and traditions. It is a time for family reunions and for spreading joy and happiness to all those around them.
Check out this Diwali post for specific events.
Abu Dhabi Science Festival 9-18 November 2023
The Abu Dhabi Science Festival is an annual event celebrating science, technology, engineering, and mathematics (STEM).
The festival has a lot of interactive activities, workshops, and exhibits. It is designed with little ones in mind, so the event is perfect for families.
The overall aim of the festival is to engage and create a love of science in the younger generation.
In general, the festival is held in multiple locations across Abu Dhabi, it's free and open to the public.
It is organized by the Abu Dhabi Department of Education and Knowledge (ADEK) and schools very much play a part in the event.
This year, it will be held at Khalifa Park and Al Ain Zoo. It is a fantastic opportunity to experience hands-on STEM experiments and activities.
Thanksgiving, 23rd Of November 2023
Thanksgiving is not a public holiday in the UAE, however, many hotels and restaurants in Abu Dhabi celebrate with a special, brunch or dinner event.
In fact, many establishments create Thanksgiving takeaway meals so families can prepare a turkey roast dinner at home quite easily.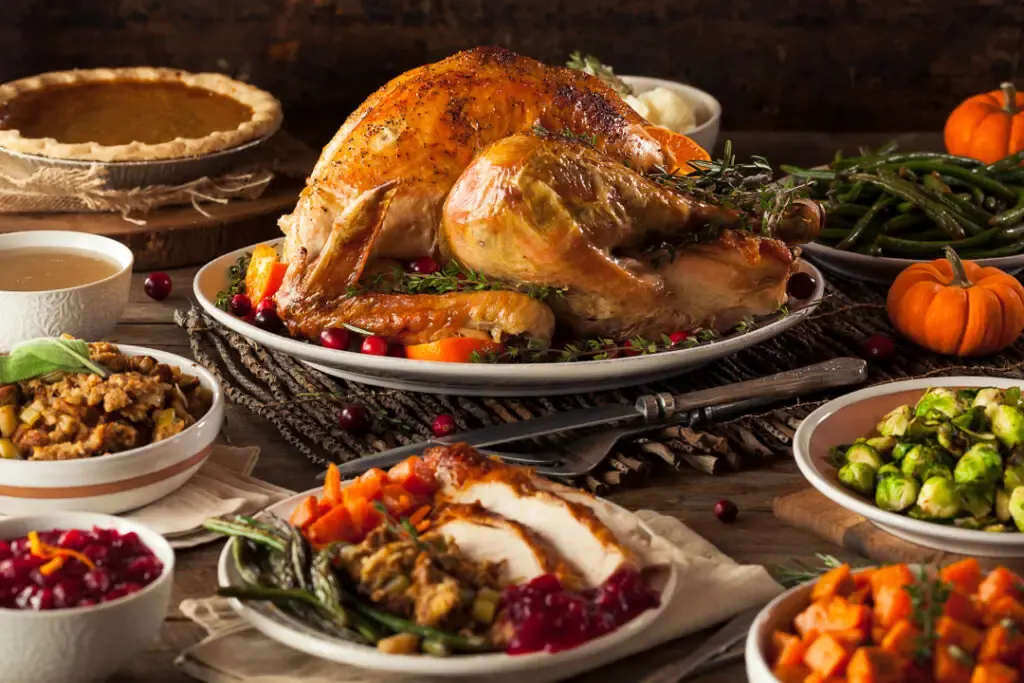 Some hotels provide alternative centrepieces such as a vegan option or a beef wellington with lots of sides!
However, the Thanksgiving brunches are super enjoyable with lots of atmosphere. Featuring traditional American dishes such as turkey, mashed potatoes, and pumpkin pie. Not to mention live entertainment and kids' activities!
The grocery stores are usually packed with festive food, especially in places like Waitrose, even though it is a British store.
Check out Thanksgiving events here.
Formula 1 Grand Prix 24th to 26th of November 2023
The F1 Abu Dhabi Grand Prix is the most highly anticipated event of the year in the Emirate. In fact, there is an entire weekend of celebrations and activities leading up to the main race which is always on a Sunday.
Whether you are living in the Emirate or just visiting Abu Dhabi, it is most certainly the weekend of the year!
Everything kicks off on Thursday when there is a pit lane walk. Fans and Grand Prix guests can meet the drivers and get an autograph. Drivers are often interviewed by journalists ahead of the race!
Friday is when things properly start heating up. The F1 drivers do practice sessions around the Yas Marina track.
The whole of Yas island comes alive with bars and restaurants, and the marina area becomes flooded with yachts of the rich and famous.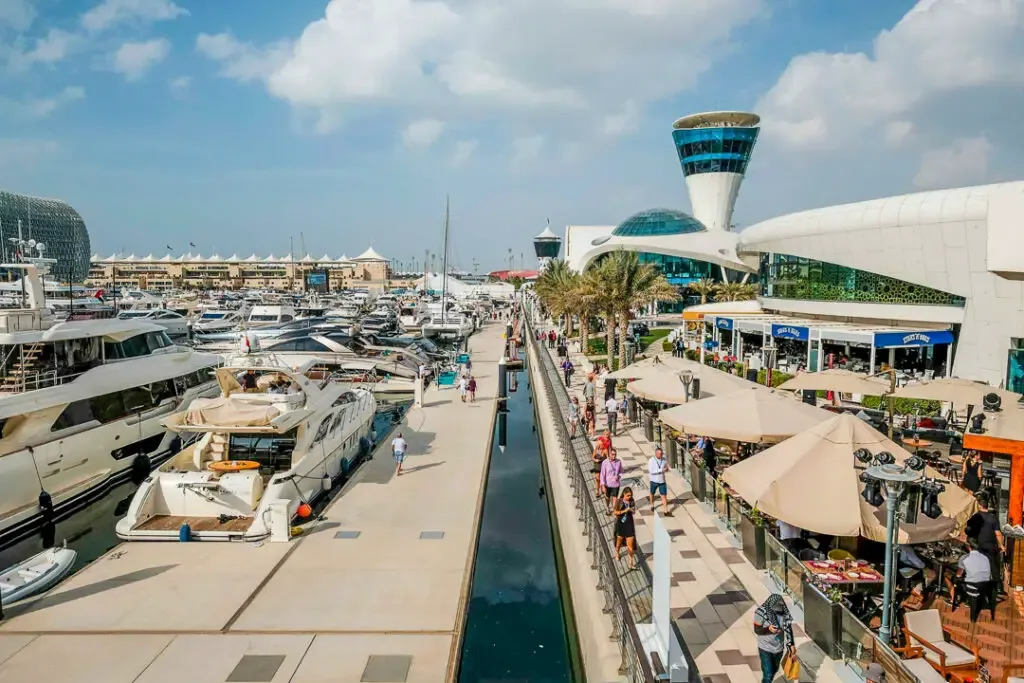 The evening sees live entertainment and activities, with one of the highlights being the Yasalam after-race concert. The F1 concerts always see some big names and international DJs.
Tickets for the entire weekend sell out months in advance, with releases as early as January.
Saturday is another day of practice sessions and qualifying races, followed by live entertainment. It's safe to say pretty much everyone in Abu Dhabi is on Yas Island over F1 weekend.
Funnily enough, it is pretty hard to get a taxi anywhere else in the city.
Sunday is the main event, with the final race taking place. The drivers zoom around the track whilst onlookers sip on drinks and enjoy the atmosphere from various locations. Be it W Hotel, royalty boxes or screens in nearby establishments.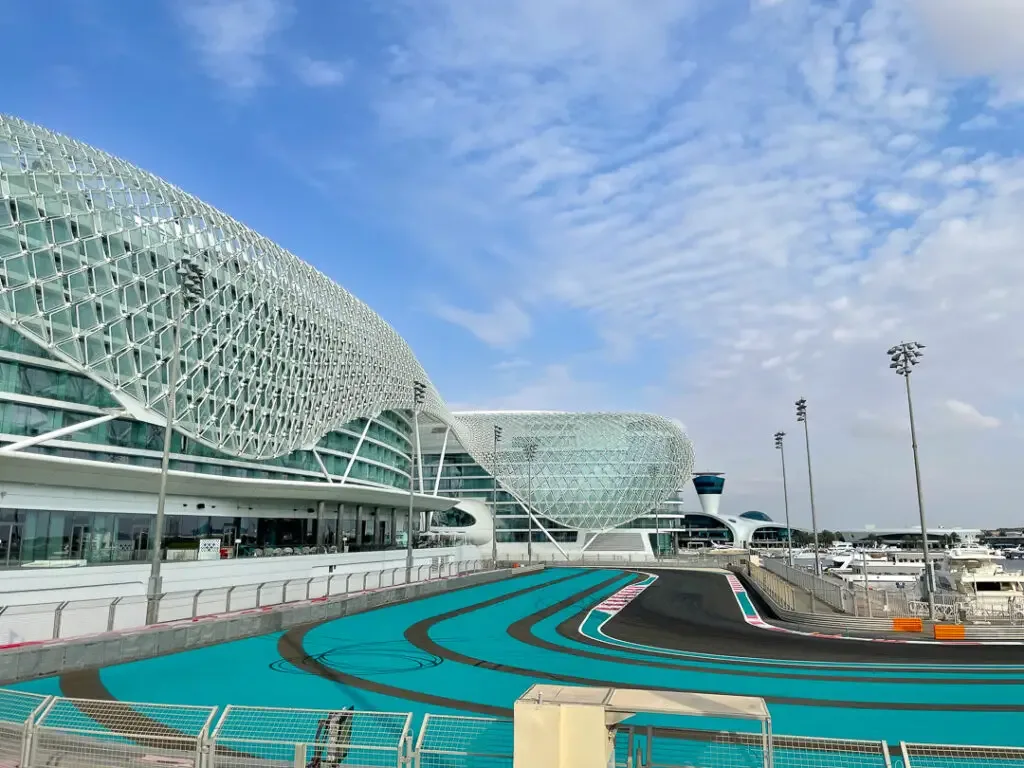 Of course, after the race, there is an award ceremony and yet another Yasalam after-race concert.
Most years, there is also an air show with a flyover above the track spitting out the colours of the UAE flag. It is one of the most photographed and memorable parts of the whole weekend.
Abu Dhabi International Boat Show 16-19 November 2023
The Abu Dhabi International Boat Show takes place annually at the Abu Dhabi National Exhibition Center.
With Abu Dhabi and UAE being home to many millionaires, it is no surprise the event showcases some of the greatest luxuries in the world, such as extravagant yachts and incredible boats.
The event attracts boat enthusiasts, industry professionals and those who can afford extravagant luxuries in life.
The show sees everything from small recreational boats to super yachts and everything in between.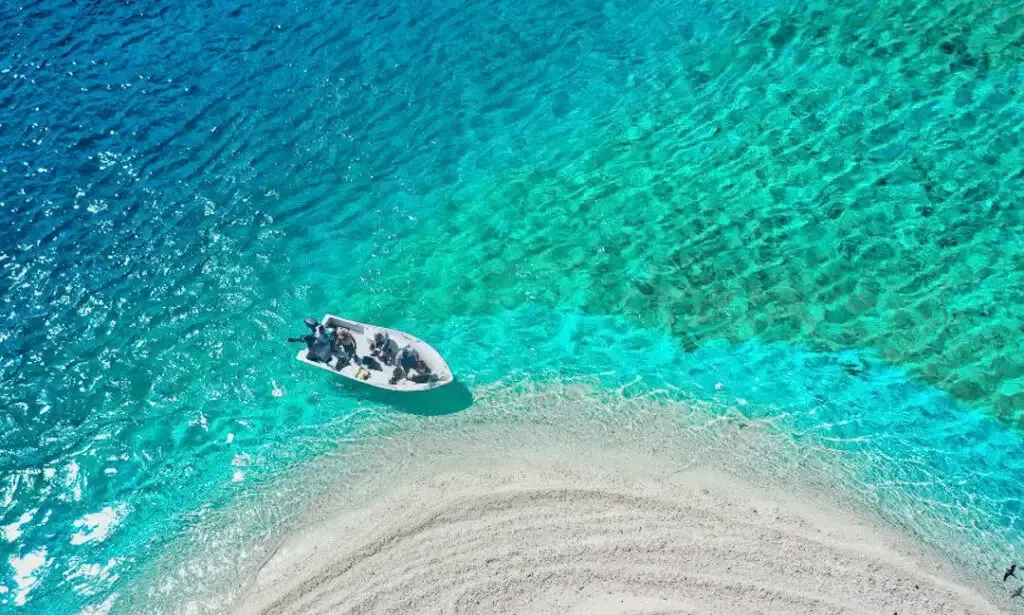 Aside from the mesmerising vessels, there is live entertainment and an interactive stall, not to mention food and beverages.
For industry enthusiasts, there are educational seminars and workshops led by experts and professionals.
The superyacht experience is one of the most popular of the show. It's an immersive experience which showcases the world's greatest luxuries.
Not to mention a range of water sports demonstrations such as wake boarding and fly boarding.
The event is a fantastic time to network with high-net-worth individuals and industry professionals.
Abu Dhabi Food Festival 27-29 November 2023
There is no doubt Abu Dhabi is a foodie haven with such a vast array of cuisine. Emiratis love trying the latest new restaurant and all things fine dining.
The Abu Dhabi Food Festival takes place every November and is an important event in the culinary calendar.
Foodies have an opportunity to see cooking demonstrations, attend seminars, sample delicious food and so much more.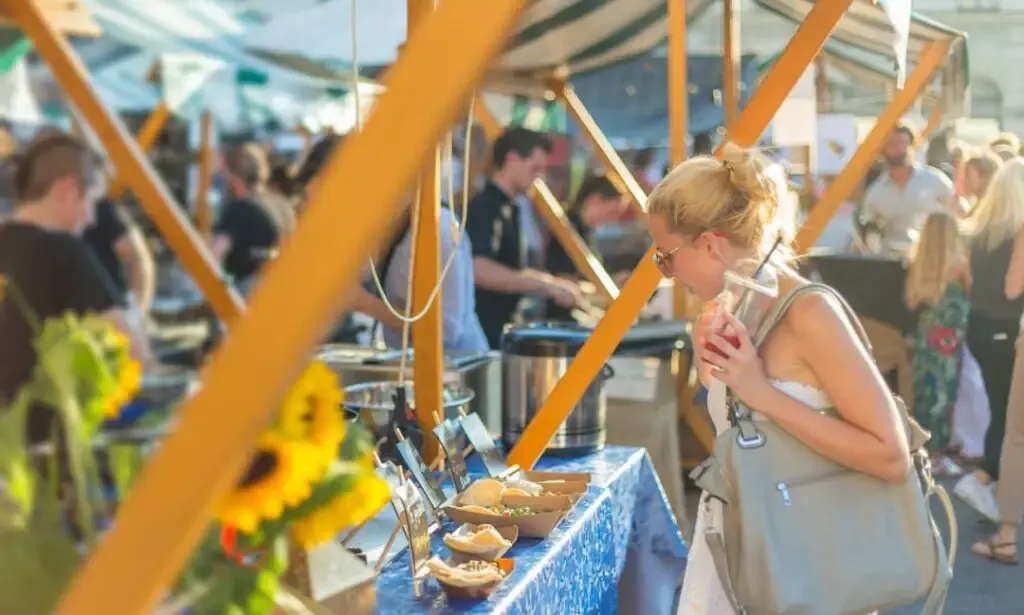 The event is held at ADNEC and attracts international visitors such as Michelin experts, famous chefs and hospitality industry professionals.
The grand tasting event is one of the highlights of the festival. Visitors can try everything from local cuisine to delicious vegan food.
Abu Dhabi Food Festival provides an opportunity to learn new cooking techniques and skills at a variety of workshops and demonstrations by international chefs.
Not to mention cooking contests and competitions provide an opportunity to win amazing kitchen utensils and more.
International Date Palm Festival 27-29 November 2023
The Abu Dhabi Date Palm Festival celebrates the importance of the date palm in Emirati culture.
This coming year, the festival is joining forces with the Abu Dhabi Food Festival for its 9th Edition.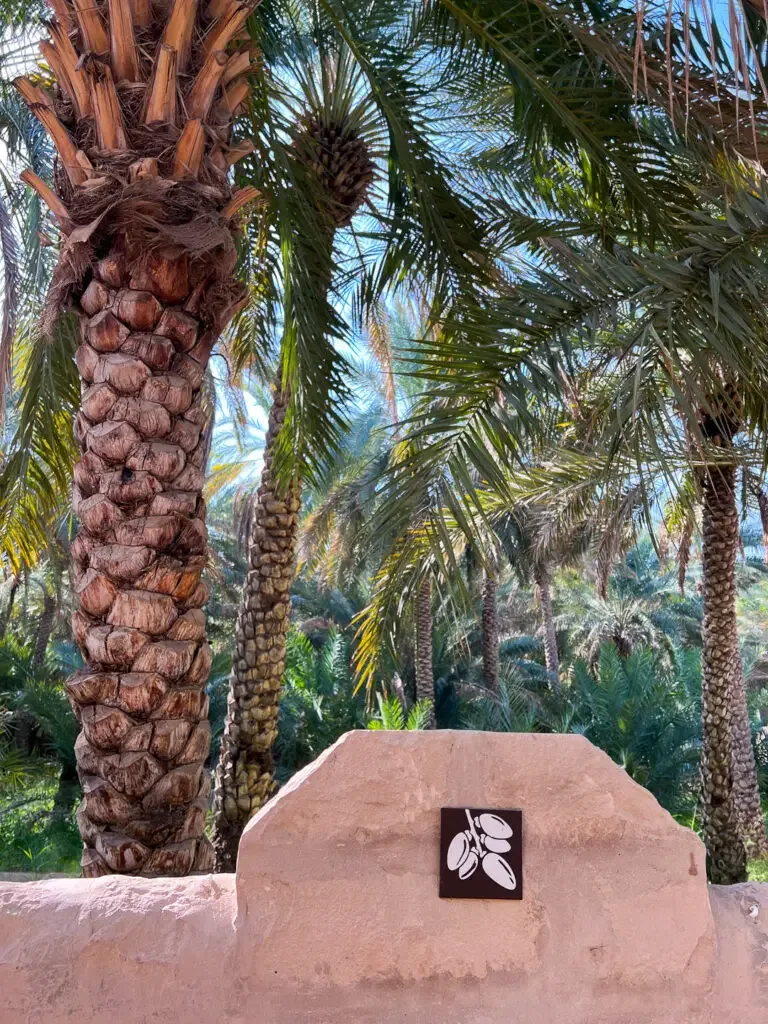 It is perfectly located in ADNEC, which is more accessible for those living in Downtown Abu Dhabi in comparison to some of the other cultural festivals.
This year, there is a focus on promoting sustainable agriculture and the conservation of the country's natural resources. Expect workshops, competitions, demonstrations and of course lots of dates.
Commemoration Day 30th of November 2023
Commemoration Day and UAE National Day are usually around the same time. The dates on which the public holiday fall are often not entirely clear. However, it does usually result in a couple of days off work.
Both the private and public sectors announce dates separately throughout the year. This can make it a little difficult to plan annual leave.
Commemoration Day marks the dedication of Emirati soldiers who lost their lives protecting the country in the Gulf War. It is also often referred to as 'Martyrs Day'.
Every year there are events and ceremonies to mark the day. Officials lay wreaths, and the country comes together in prayer to pay tribute to the Martyrs.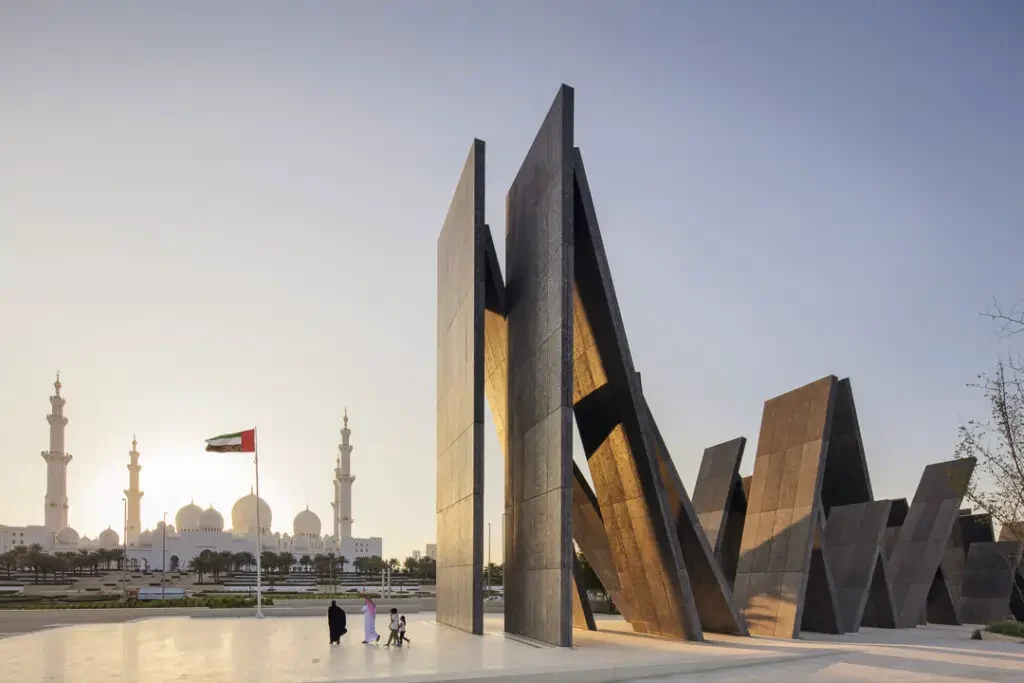 One of the most important sites in Abu Dhabi for Commemoration Day is Wahat Al Karama memorial site. It is directly across from Sheikh Zayed Mosque and is a tribute to soldiers who lost their lives.
Ceremonies and speeches take place at the memorial to honour service men and women.
Many government offices and other official buildings are closed on Commemoration Day.
That being said, it is a busy time for the Emirate as family and friends come together to make the most of the public holiday together.
Abu Dhabi Art Fair Throughout November 2023
The Abu Dhabi Art Fair takes place annually in November. There is quite a strong focus on art from the Middle East, North Africa, and South Asia.
It is a beautiful event with over 80 galleries showcasing incredible sculptures, photography, paintings and video.
Similar to other such events, there are tonnes of workshops, performances and talks from industry professionals.
The event attracts collectors, photographers, artists and people just looking for something different to do in the Emirate.
Admission to the fair is open to the public, with tickets available for purchase online or at the venue.
This year, the event will be held at Manarat Al Saadiyat, the cultural hub of Abu Dhabi and is a great opportunity to pick up souvenirs from Abu Dhabi.
Sheikh Zayed Heritage Festival – throughout November 2023
There are several cultural festivals taking place in Abu Dhabi in November. The events celebrate the culture and heritage of the UAE. One of the most popular cultural festivals is the Sheikh Zayed Heritage Festival.
It celebrates the legacy of the UAE founder, Sheikh Zayed bin Sultan Al Nahyan. Expect to experience great food, music, traditional dance shows, witness craft demonstrations and so much more.
The festival is based in Al Wathba, about 45 minutes out of town and runs for 4 months over the cooler period. Admission is 5 AED, and children under 3 go free.
Al Dhafra Festival – throughout November 2023
To this day, despite the UAE being a very modern country, there are still some incredible Bedouin communities keeping traditions and customs alive.
The Al Dhafra Festival is the perfect opportunity to learn about Bedouin culture. At the event, expect to see traditional craft workshops, camel racing, falconry and performances.
There is also a lot of local produce for sale in a souk-like set-up. The festival runs from October through to January.
The festival is based in Madinat Al Zayed, close to Liwa, which is just over two hours drive from downtown Abu Dhabi.
Music Festivals – TBC
There are music festivals throughout the year, however, two we may expect in November are Beats on The Beach and Hype at W Hotel.
Beats on the Beach is is a free outdoor music festival that takes place on the Corniche and features a mix of local and international artists. Dates and information are still to be confirmed.
Whereas Hype at W Hotel saw its first year of operation in 2022. It is a ticketed event, and nothing has been announced just yet. We will update this page as soon as we know anything.
Fantastic Things To Do In Abu Dhabi In November
Aside from all of the events to enjoy in the cooler weather in Abu Dhabi in November, there are also things like the beach, outdoor brunches and parks!
Enjoy The Beach
The weather in Abu Dhabi in November is most certainly a time to enjoy the beach for both tourists and residents.
Corniche Beach is incredibly popular, it's a 7 km long stretch featuring fantastic walkways, an incredible city skyline and crystal-clear water. There are lots of facilities to enjoy, from water sports to volleyball and everything in between.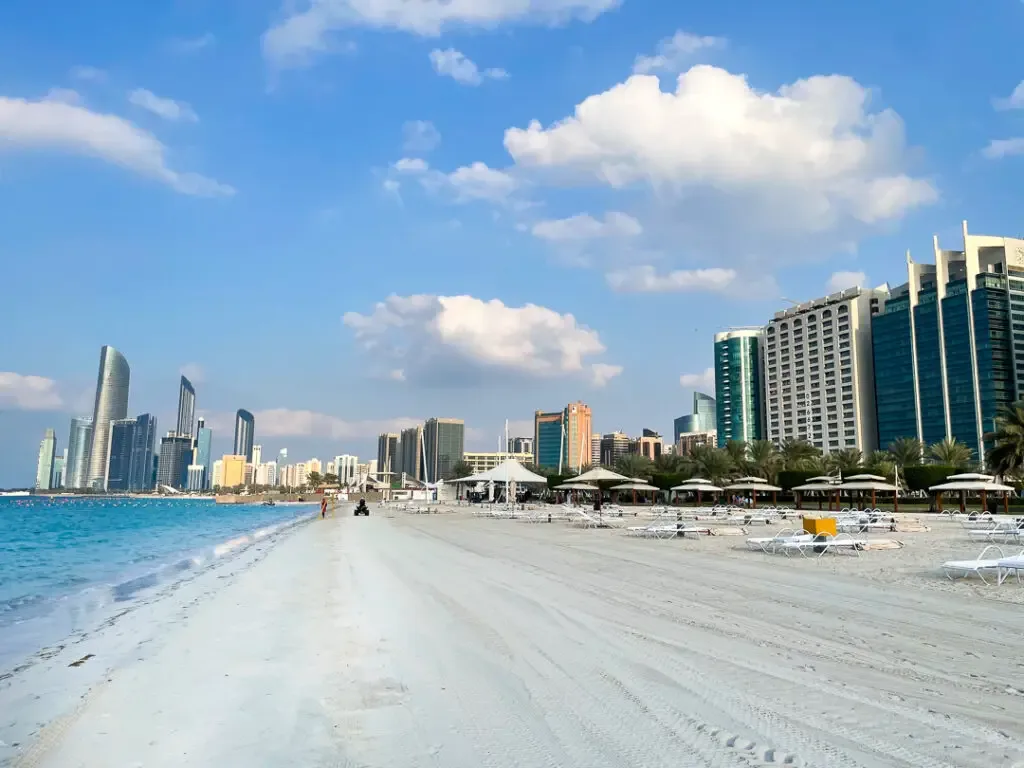 Kai Beach is another popular spot in Abu Dhabi on Saadiyat Island. The beach is natural and is an incredible aqua blue cover.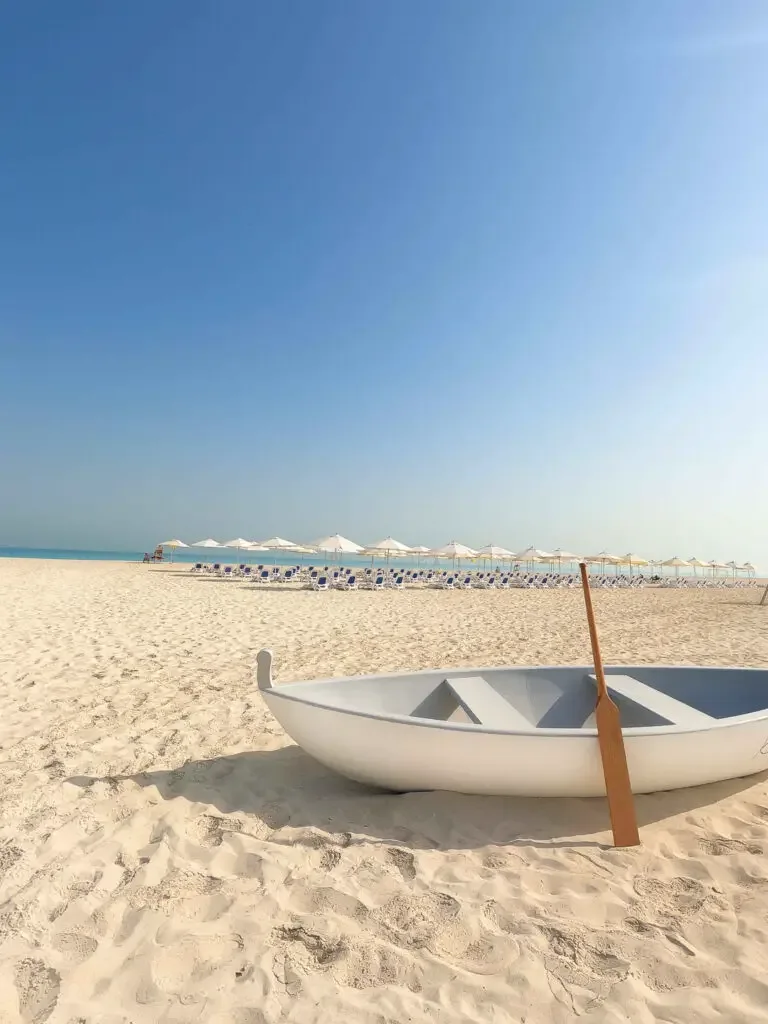 Kai Beach has some lovely boho-style facilities, from fancy snugs to a food van, it is one of the nicest places on the island to watch the sunset. They also have a ladies-only morning in the week.
Al Fresco Weekend Brunch
Abu Dhabi is known for its lavish and delicious brunches, and there are plenty of options to choose from.
If you're looking for an outdoor brunch experience, there are several options available, especially during the cooler months from November to April. Here are some of the best outdoor weekend brunches in Abu Dhabi.
The Terrace on the Corniche at St. Regis Abu Dhabi hosts an outdoor brunch on the terrace overlooking the sea. It has live cooking as well as lots of international and Arabic cuisine.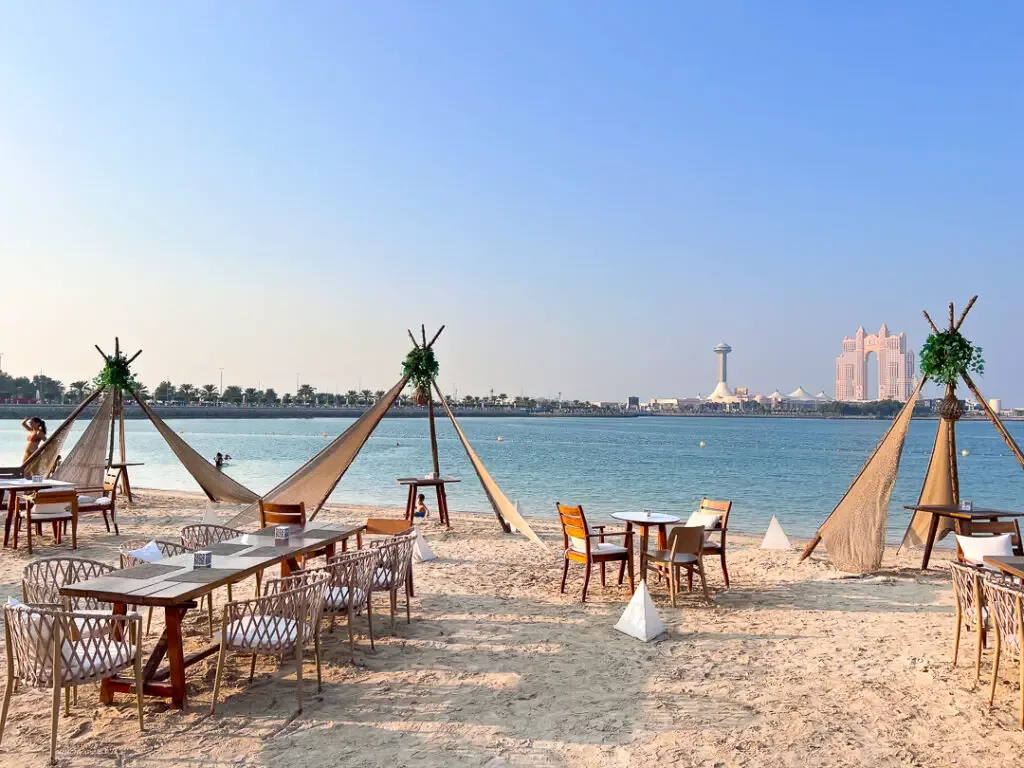 Bubbalicious at The Westin Abu Dhabi brunch location offers a stunning view of the golf course. On offer is some great seafood and sushi, and delicious international cuisine.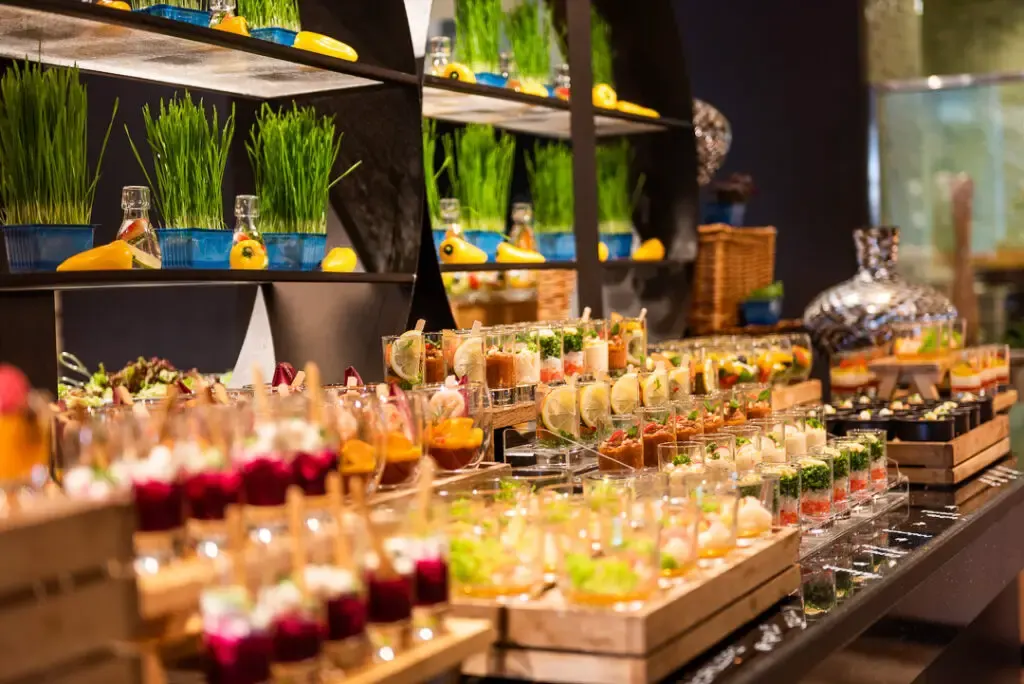 Family-style brunches tend to start at lunchtime and one in particular at the Hyatt serves sharing platters with delicious pasta, pizzas and salads. Making it a lot easier for those that don't want the hustle of a buffet.
Kayaking
The weather in Abu Dhabi in November is perfect to enjoy kayaking. There are quite a few places to try it!
The first and probably one of the most amazing is the Eastern Mangroves not far from Anantara Eastern Mangroves Hotel. There are many options aside from kayaking to take a boat trip or enjoy watersports such as wakeboarding.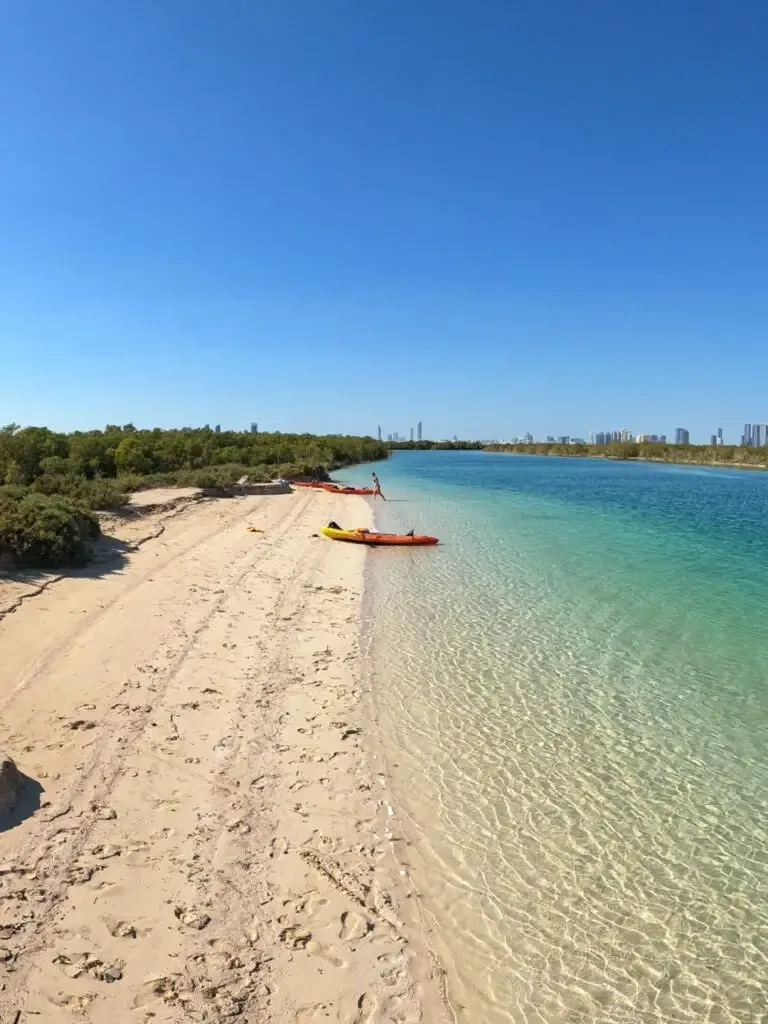 Weave in and out of incredible wildlife habitats and jump off to enjoy the isolation of a secret beach. There is a chance to see lots of different types of birds including flamingos, crab and of course fish.
There are plenty of companies renting kayaks right at the pontoon, however, it is a good idea to book on weekends and evenings as it can get busy.
Another spot, probably more popular with residents is Al Reem island. There are some beautiful green mangroves in this location as well. Pick up a kayak rental at Al Reem Park at the waterfront.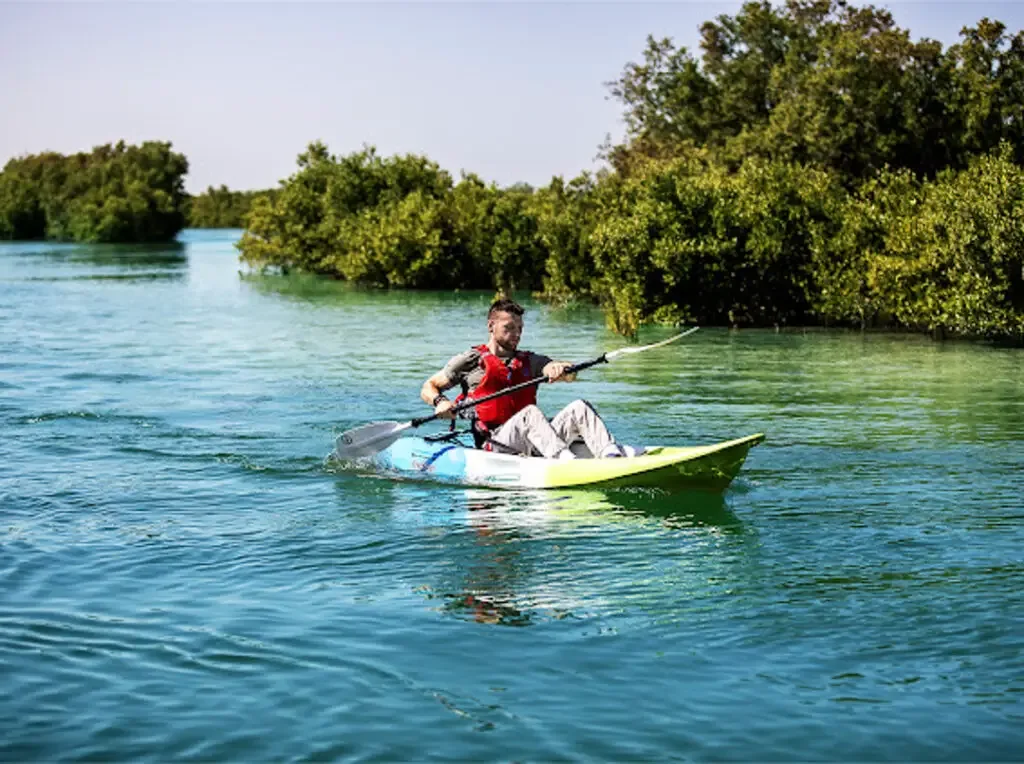 A great time to go is an hour before sunset. There is a clear loop through the mangroves which nicely leads back to the starting point.
Finally, The Louvre is another kayaking spot, it is a little different since it explores the waterways beneath an incredible architectural structure.
Go To The Park
There are lots of parks in Abu Dhabi with green space, which is sometimes rare in the Emirate. Most are very beautifully manicured with palm tree-lined pathways, food vendors and benches, perfect for late afternoon fresh air.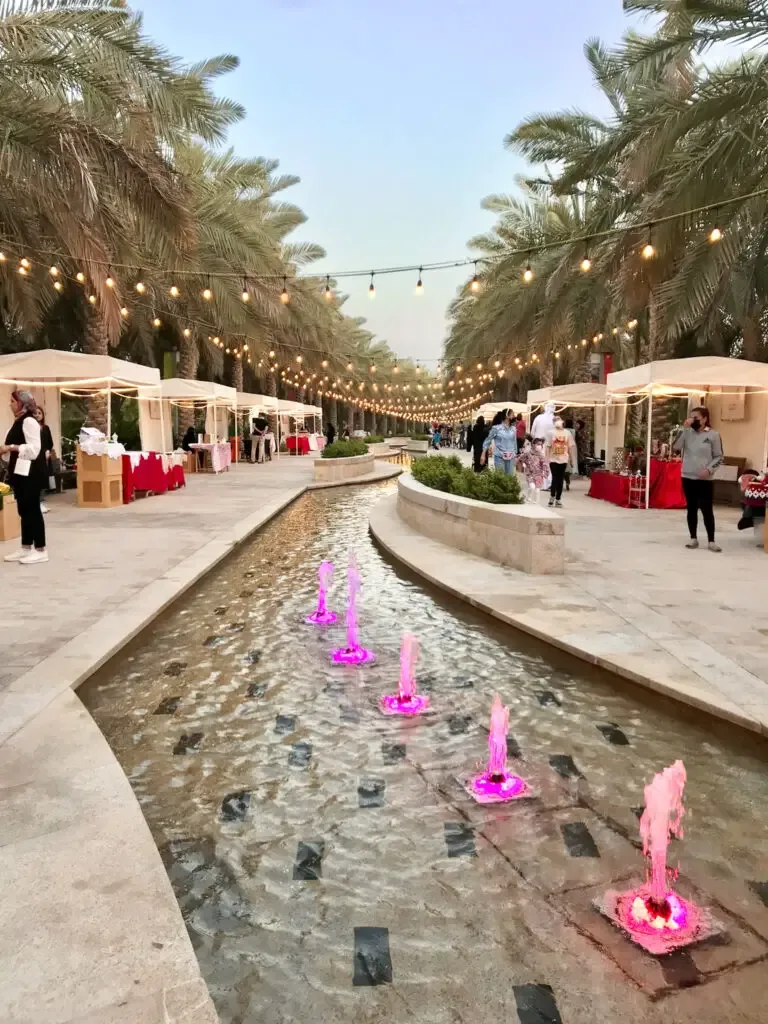 Khalifa Park serving the Khalifa City residents has a lake, gardens, fountains, and a playground. It is very close to Sheikh Zayed Grand Mosque.
Corniche Park is another popular spot with tourists and residents of the area. Facing out onto the Arabian Gulf, the promenade is lovely for an evening stroll or bike ride. There are also playgrounds and picnic areas which are very popular on weekends.
One of our favourites has to be Umm Al Emarat Park. The beautiful park features botanical gardens, a petting zoo, playgrounds, and a cultural pavilion. It also has a variety of dining options, including a café and food trucks.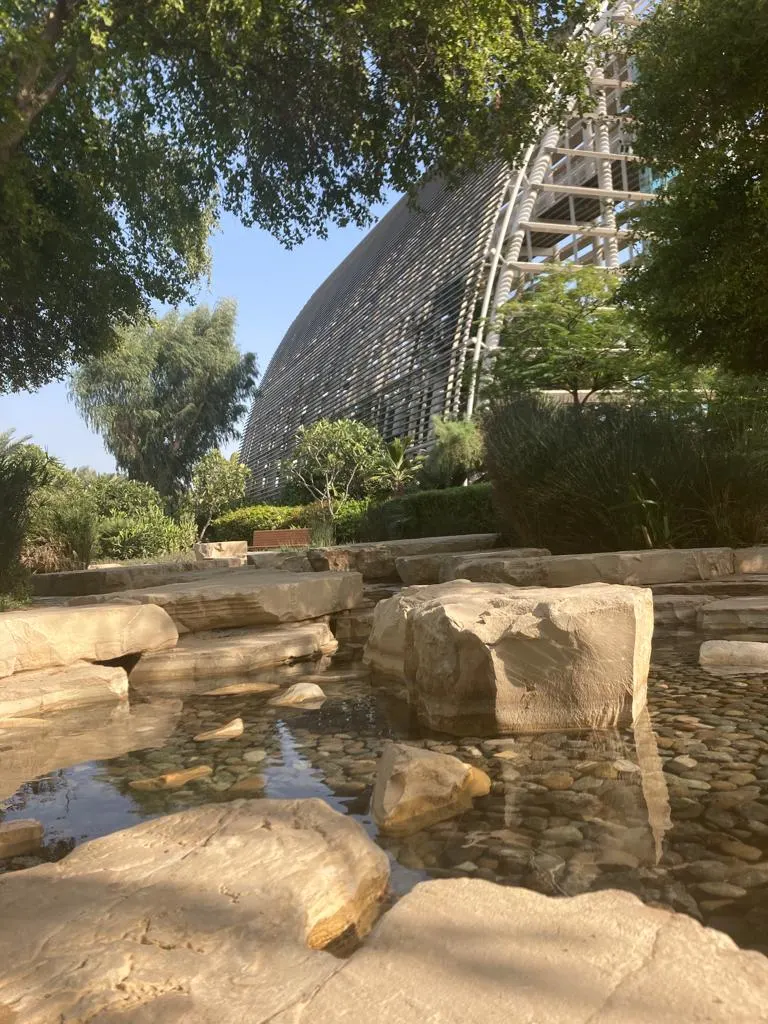 Umm Al Emarat also has a ripe market which starts back with better weather in Abu Dhabi in November.
Sheikha Fatima Park is a popular green space located in the heart of Abu Dhabi city, close to the Corniche. Surrounded by some amazing restaurants, it is in a great location for a bite to eat before strolling through the park.
Sheikha Fatima Park also has basketball and volleyball courts, a skate park, and a football field.
Al Reem Island is home to two great parks, specifically for children. Al Reem Central, features a splash pool, a huge skate park, a playground, cafes, food trucks and walkways.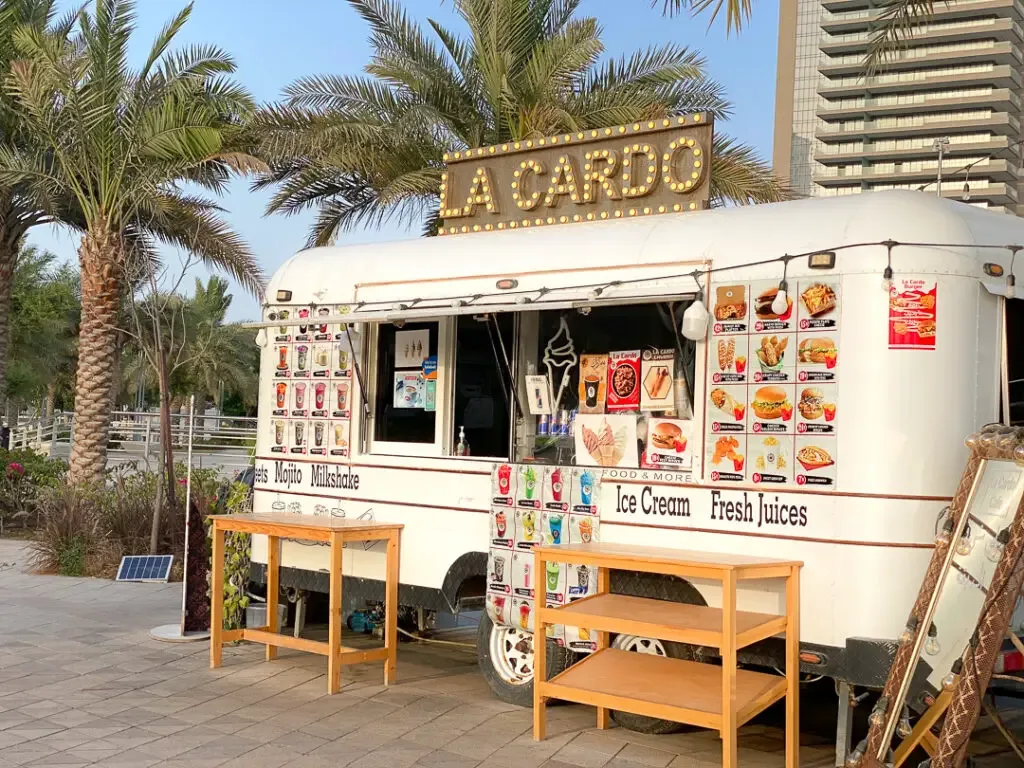 Whilst Al Fay positioned in the centre of the island focuses on sporting facilities. It has everything from volleyball to funky skate ramps, and outdoor gym equipment.
The Best Time To Visit Abu Dhabi
The tourism season kicks off around October or November when there are lots of events such as F1. December is equally as busy with events, in particular National Day.
January and February are the coolest quieter months after New Year. In March and April, the weather is still pleasant to visit.
The hotter summer months start in May when most events move inside. It is a good month to visitfor those who enjoy the arts.
Whilst June through July and August attract budget travellers as many resorts and attractions offer great deals.
September is considered a shoulder month, it is still quite hot but tolerable early morning and in the evenings.
You may also like:
Disclaimer: This post on Fun Events & Weather In Abu Dhabi In November may contain affiliate links by using them it will not cost you any extra, we will receive a small commission to keep us writing : )