Tourists and residents alike love to visit the best malls in Abu Dhabi. Malls are so much more than shopping in the Emirate, they are a way of life!
As we know the weather in Abu Dhabi is often scorching hot, especially in the desert summer heat. The Emirate and in fact all of the UAE has been constructed with life indoors to get through those difficult months.
The malls in Abu Dhabi are a place of community and socialising. Pretty much everything happens inside the mall. From conjoining hotels and theme parks to banks, gyms, pharmacies, restaurants and cafes.
Pretty much everything you need can be found inside the best malls in Abu Dhabi. Every day something new pops up in the best malls in Abu Dhabi. Be it a new activity for families or a salon.
Needless to say, the malls in Abu Dhabi are super luxurious with high-end designer stores, fine dining options, oodles of entertainment and beautiful facilities.
Abu Dhabi has some stunning landmarks in the city, and malls are no different. Quite often they are architectural masterpieces!
Malls in Abu Dhabi come alive on the weekend and especially in the evenings. Locals tend to socialise much later in the evening and stay up quite late.
This is probably a century-old tactic for dealing with the desert heat in the region. Hence many stores in malls stay open quite late, especially during Ramadan with restaurants serving Iftar and Suhoors.
The best malls in Abu Dhabi are also a place families tend to love and enjoy! From indoor trampolining to regular sports lessons such as gymnastics and soft play for toddlers. Not to mention immersive educational experiences!
There are tonnes of activities for children in pretty much every mall in Abu Dhabi. Here is a list of our top picks from across the Emirate.
Top 8 List Of Malls In Abu Dhabi
1. Galleria Mall
Galleria Mall is probably one of the nicest malls in Abu Dhabi. Based on Al Maryah Island, it is connected to Cleveland Clinic Abu Dhabi, Abu Dhabi Global Market offices, Four Seasons Abu Dhabi and Rosewood Abu Dhabi by a series of bridges and walkways.
This makes Galleria Mall very popular with tourists residing in the attached hotels and gives shoppers easy access to the fantastic bars and restaurants in the Rosewood and Four Seasons.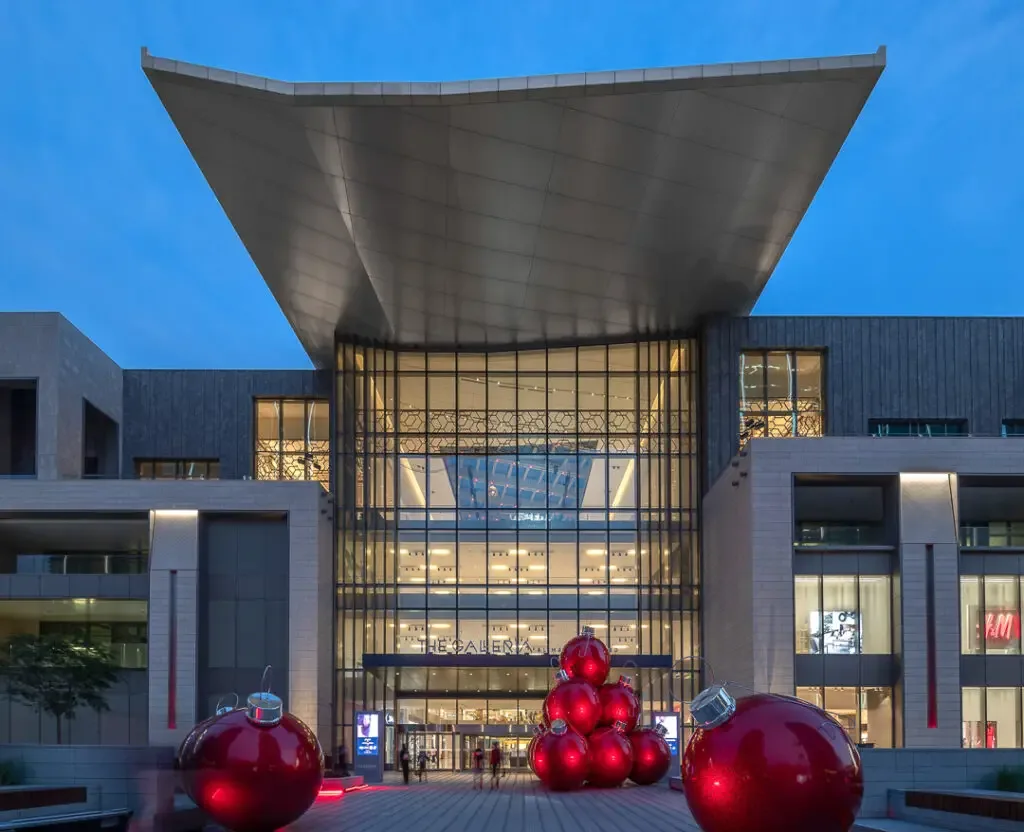 It's no surprise Galleria Mall features high-end luxury brands such as Gucci, Prada, Louis Vuitton and Burberry.
Most of the high-end designer brands can be found on the lower ground floor connecting routes to the hotels and Abu Dhabi Global Market buildings.
In the main part of the mall, based across three floors, mainstream brands such as Debenhams, Next, Zara and H&M can be found.
Galleria Mall For Families
Galleria Mall has stunning facilities with fancy washrooms and the family rooms are next level with immersive experiences for children, not to mention comfortable chairs to feed babies.
Also for families is the National Geographic Ultimate Explorer which is a VR experience on a boat rafting down the amazon. It has a series of rooms with hands-on activities and play areas.
Close to National Geographic is a cinema theatre specifically built for children with colourful interiors. Not to mention Extreme indoor trampolining, a climbing wall, a bowling alley and arcade games.
Caboodle is popular with younger families. It tends to hold mother and baby classes and has a lovely soft play area for toddlers. There are two Caboodles in Galleria Mall.
Fit 4 Fun is the latest edition of the mall's recreational activities. From gymnastic lessons to karate and indoor football to archery, there is plenty of sporting activities which local children tend to use as extracurricular activities.
On weekends, there are free sessions in the Apple Store teaching children how to make everything from emojis to using the latest artistic applications.
Galleria Mall Entertainment & Recreation
When it comes to entertainment and recreation for adults in Galleria Mall, there is so much to discover.
From free yoga classes on the rooftop to organised group walks, it is a great opportunity to get to know other residents of Abu Dhabi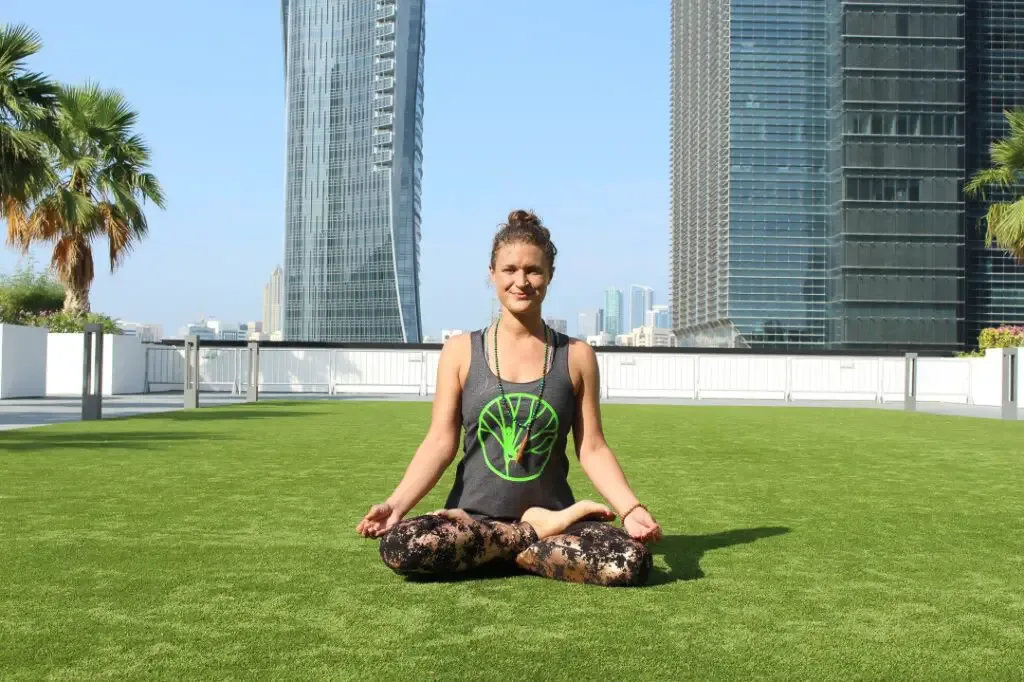 Barrys are now running regular classes throughout the day. Renowned for its red room HIIT workouts, often bigged up by celebs, it has attracted many fitness fanatics to Galleria Mall.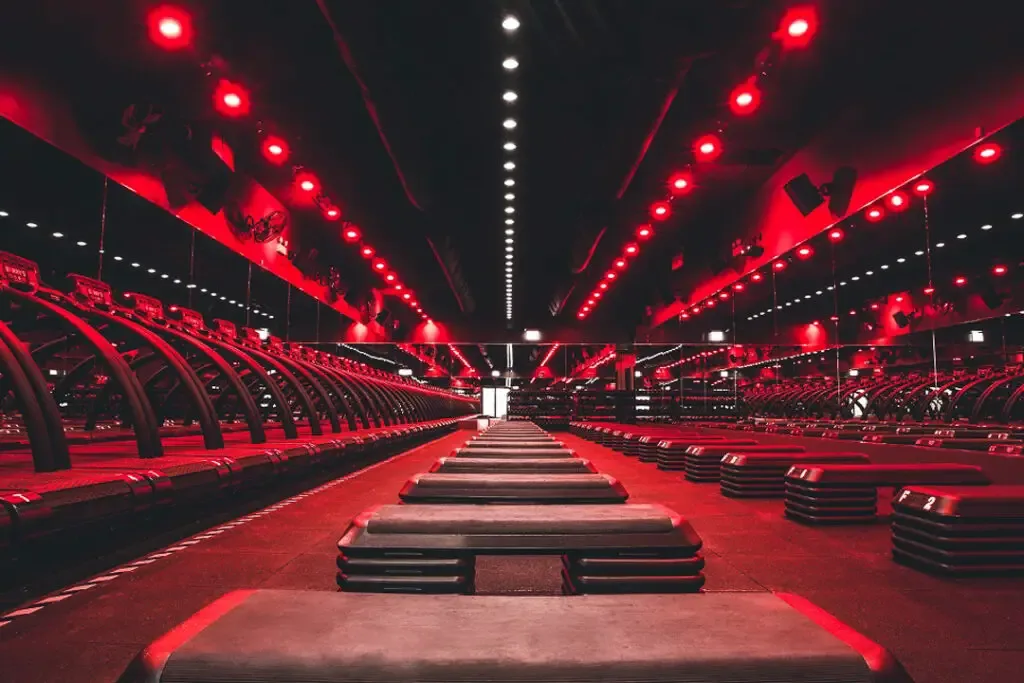 'Train' is a huge gym in Galleria Mall and features everything from a rock climbing wall to a basketball court and of course weights and running machines.
There are a number of nail spas, barbers and hair salons in the mall for all your grooming needs.
Zero Latency is a VR experience in a 3D world which may excite technology and gaming enthusiasts.
When the weather cools down, ripe markets and pop-up festivals take place just outside the mall beneath the Abu Dhabi Global Market buildings.
Be it Christmas, Halloween, Ramadan, Eid, Valentine's Day, Mother's Day or Diwali, Galleria Mall always marks special occasions with decorations and entertainment.
Galleria Mall Dining
If all of the entertainment and shops weren't enough, there are several food courts in Galleria Mall.
The biggest is the central foyer on the third floor which features a selection of fast food such shawarma and Mexican as well as Sushi, Lebanese, seafood, pan Asian and pizza to name a few.
There is a smaller food court with fewer healthy options such as Mc Donalds. Whereas the food courts on the lower ground floor en route to the connected office towers tend to have quite a lot healthier food options such as salad bars.
Aside from food courts, there are many restaurants throughout the mall. From Pauls French Bakery to Beirut Lebanese, and the famous Din Tai Fung serving up delicious dim sum.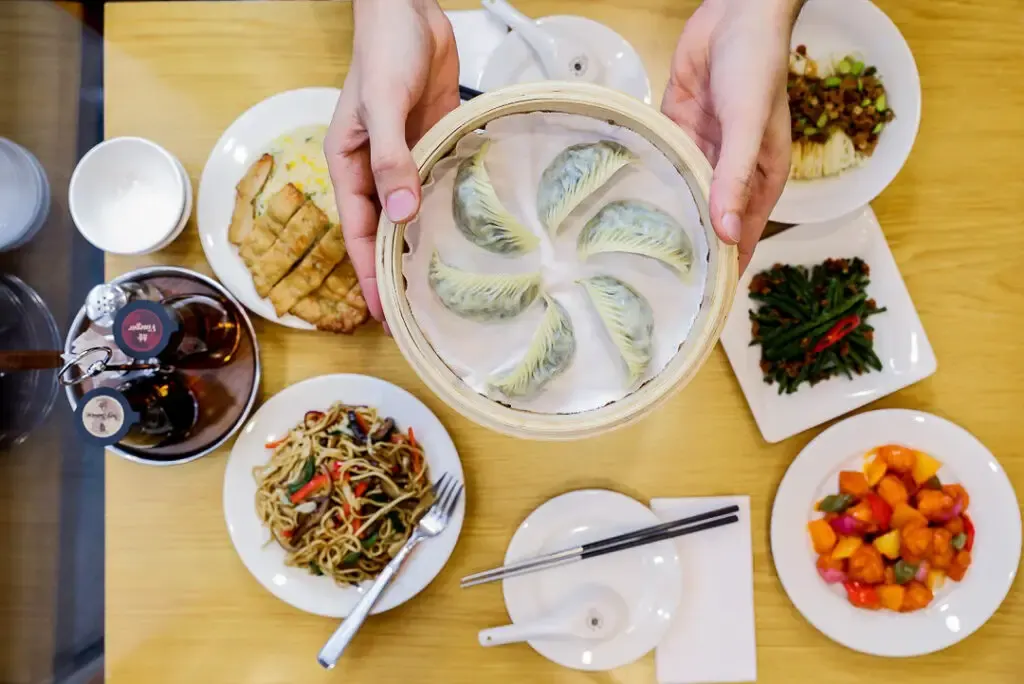 Some of the best coffee shops include Secret Garden adorned with pretty flowers and serve elaborate and unique beverages.
Forever Rose Cafe is like an optical illusion, it feels as though you are inside a cartoon sketch. Everything from the walls to the seats and table is black and white!
Overall Galleria Mall is most certainly one of the best malls in Abu Dhabi and only a fraction smaller than Yas Mall at 2.4 million square feet.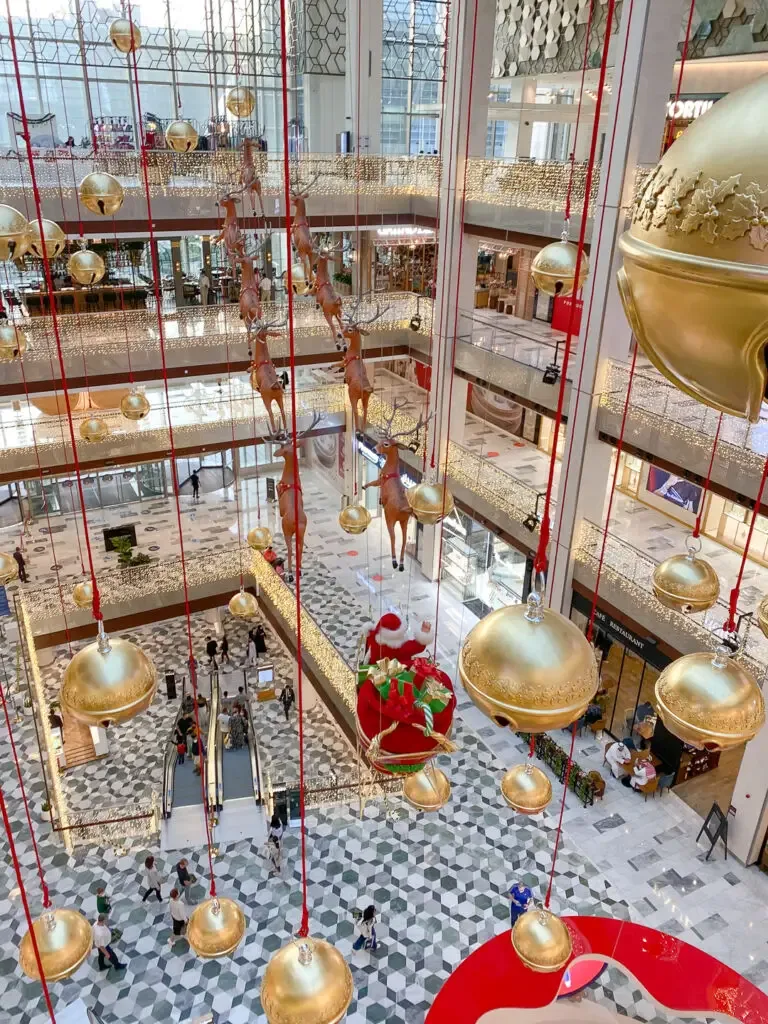 For tourists, there is plenty of options to pick up gifts or souvenirs and enjoy tax-free shopping. Keep your receipts and head to the lower ground floor with your boarding ticket to be reimbursed at a machine close to Waitrose.
Location: 107 Hamouda Bin Ali Al Dhaheri St – Al Maryah Island – Abu Dhabi Global Market Square – Abu Dhabi – United Arab Emirates
2. Yas Mall
Yas Mall has been the largest shopping mall in Abu Dhabi until quite recently when Reem Mall opened its doors.
The mall comes in at 2.5 million square feet and is interconnected with Ferrari World and has tonnes going on!
Not to mention Yas Mall has over 200 stores with recognisable brands such as H&M, Zara and Victorias Secret.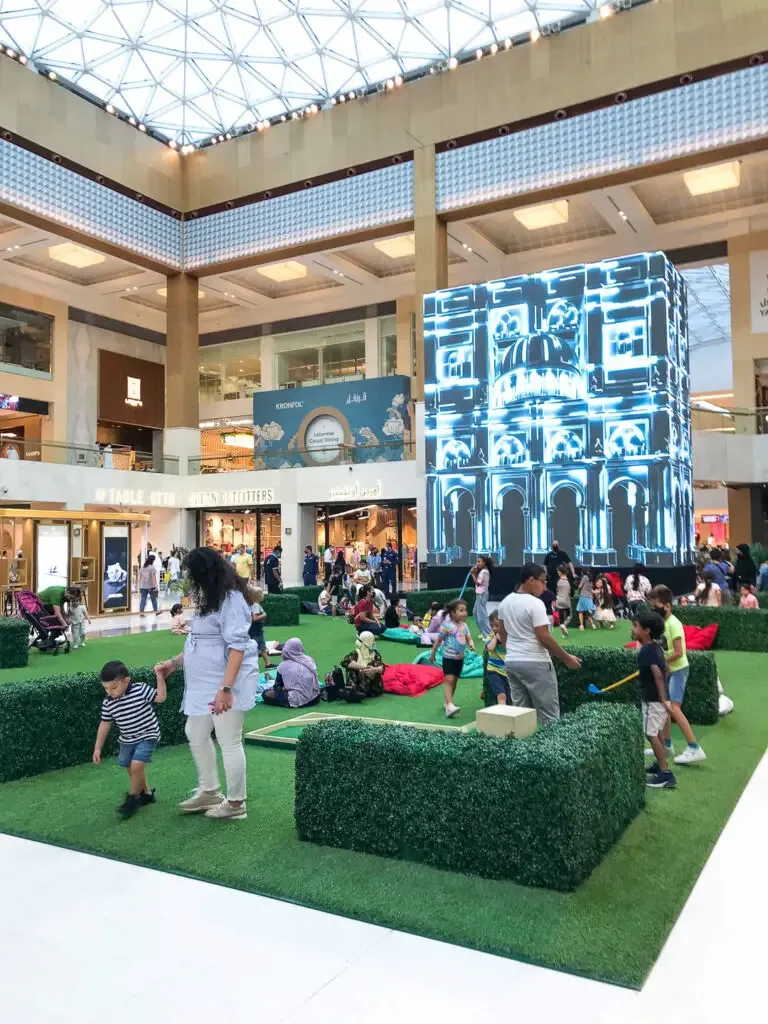 It is also based on the leisure and entertainment island of Abu Dhabi and neighbours places such as Warner Bros, Yas Waterpark, Yas Bay and F1 Yas Marina Track, and Yas Marina and tends to attract many tourists.
The Fountains is an area within the mall which acts as a foyer between Clymb, Ferrari Word and the mall. As the name says there are fountains as well which come to life in the form of a show with music in the evenings.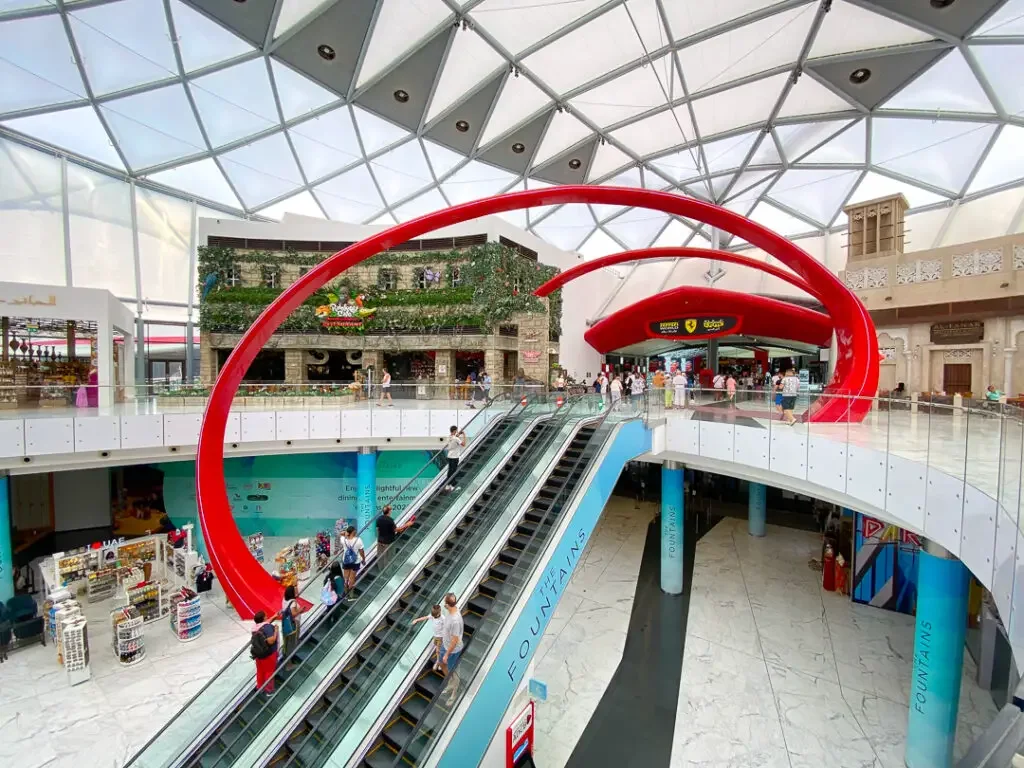 The best way to enjoy the fountains is from one of the restaurants facing out onto the fountain. Book a table for dinner and watch the show.
There are quite a few restaurants to choose from in The Fountains including Emirati traditional cuisine, Rainforest Cafe, Bosphorus, Italian Barista Cafe and Peppermill to name a few.
It's the perfect place to unwind after a day at Ferrari World.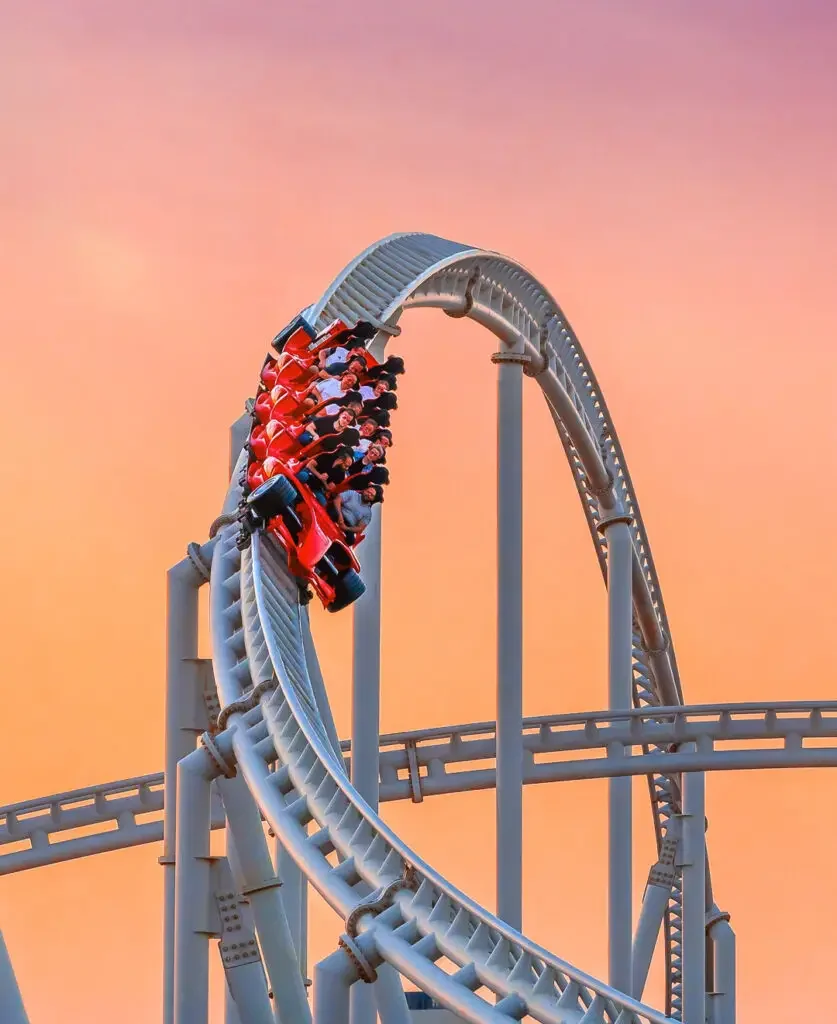 As mentioned, the area is also interconnected with CLYMB which is the highest indoor climbing wall in the world and has an indoor sky diving vault. It is an incredible experience that can be enjoyed by adults and kids alike.
There are many other food courts and restaurants throughout Yas Mall. Not to mention frequent festivals such as the winter Christmas Fair which features outdoor markets, festive rides, theatrical performances and a Santa grotto.
Location: Yas Island – ياس غرب – Abu Dhabi – United Arab Emirates
3. Abu Dhabi Mall
Abu Dhabi Mall is one of the older malls in Abu Dhabi situated in what's known as the tourist club area. Similar to Galleria Mall and Yas Mall, Abu Dhabi interlinks with Beach Rotana Hotel and office blocks through a series of walkways.
Whilst it is a really lovely mall that has everything required, it is not quite as luxurious as Galleria and Yas Mall. It is a pretty big mall spread across four floors and is a lot more budget-friendly with some of the outlet options.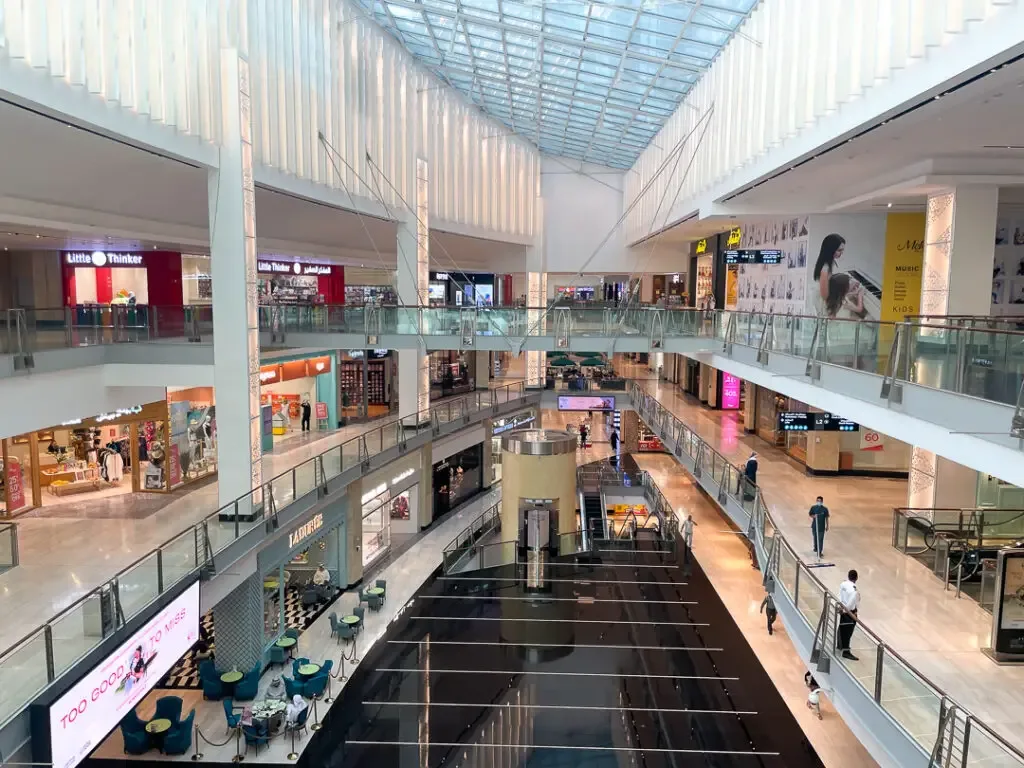 It is another mall in Abu Dhabi which has plenty for families with an Xtreme indoor trampolining, and climbing wall as well as a Fun City with small rides for younger children.
For adults, there is a Prison Island game which is a series of challenges to 'escape'. It's an ideal indoor activity for teens and adults in the summer months.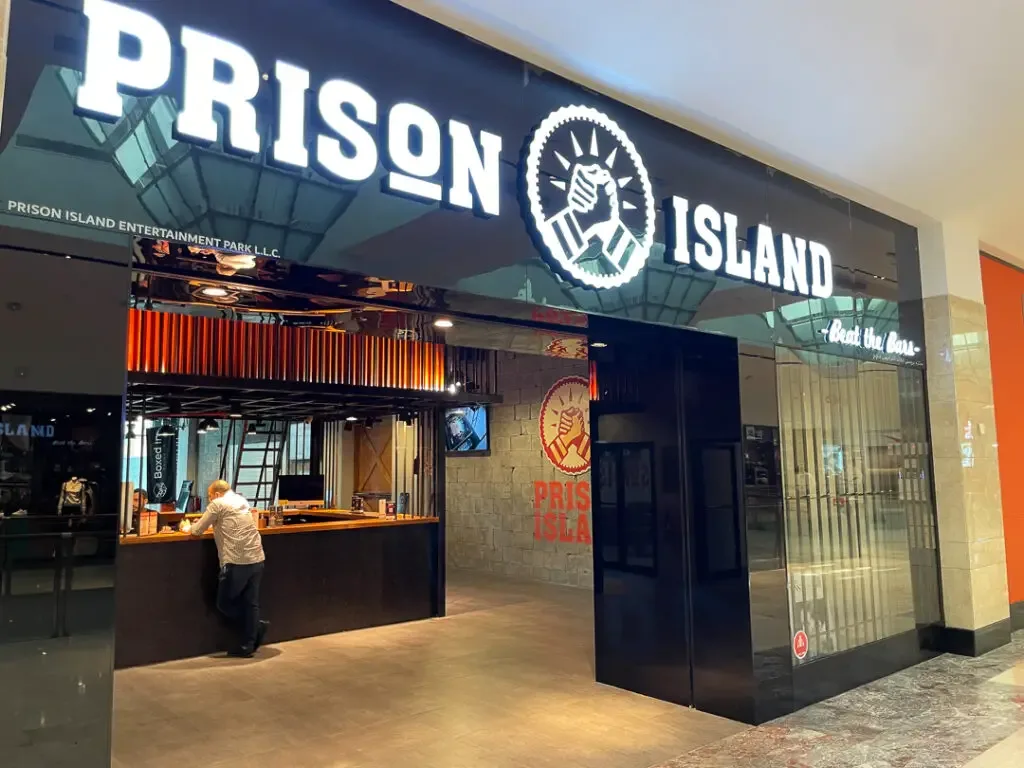 The mall offers over 200 stores, featuring everything from high-end fashion to electronics and home decor. Some of the popular brands available in Abu Dhabi Mall include Zara, Forever 21 and Mothercare.
Abu Dhabi Mall has lots of restaurants and a food court as well. Some of the best restaurant options include PF Changs, Wagamamas which has great vegan options and Bosphurus.
There are quite often cultural events and festivities held at the mall, particularly during school breaks.
One of the previous exhibits was a series of Harry Potter installations where children and adults alike got to solve a series of clues from the renowned book and film series.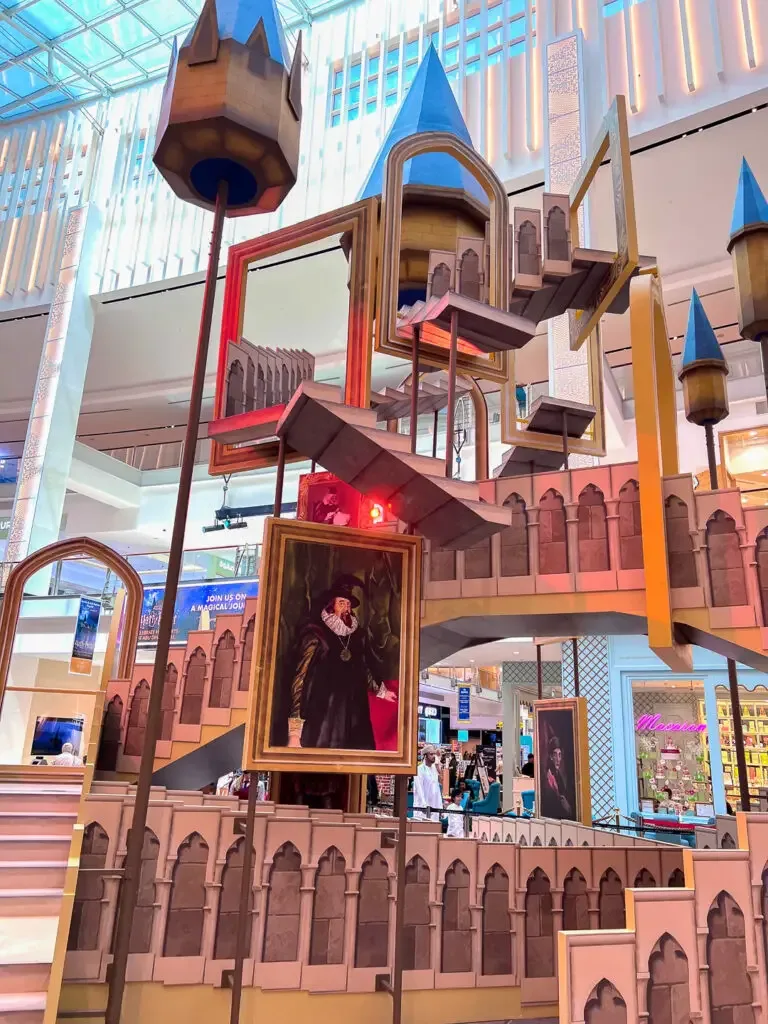 Overall Abu Dhabi Mall is a nice mall with an array of options for entertainment, dining and shopping be it budget or mid-range brands.
Location: Al Zahiyah – Abu Dhabi – United Arab Emirates
4. Reem Mall
Reem Mall has recently opened its doors and has been long awaited by residents of Abu Dhabi, particularly those living on Al Reem Island.
Initially, it started off with just Carrefour opening, however, the mall has started to open up completely now. It is one of the biggest malls in Abu Dhabi at a whopping 2.8 million square feet.
Snow Abu Dhabi is attached to the mall and is set to open soon. Snow Dubai is a good comparison since it will be very similar.
It is essentially an indoor ski mountain with dozens of rides and attractions and is going to be one of the biggest indoor ski parks in the world.
Reem Mall has taken artificial intelligence to new heights with its own clever app offering smart parking 'find my car' feature, hands-free shopping, mall navigation and so much more.
Since it is a relatively new mall, we are still waiting to see some of the brands leasing a space and look forward to updating this section very soon!
Location: Al Reem Island, Abu Dhabi, United Arab Emirates
5. WTC Mall
The World Trade Center Mall in Abu Dhabi is based along the Corniche and is interconnected with the skyscraper, Mohammad Bin Rasheed residential building which has 88 floors!
Some of the popular brands available in WTC Mall include Sephora, Victoria's Secret, Adidas, and Marks & Spencer. There is also a souk area within the mall selling spices, traditional clothing and souvenirs.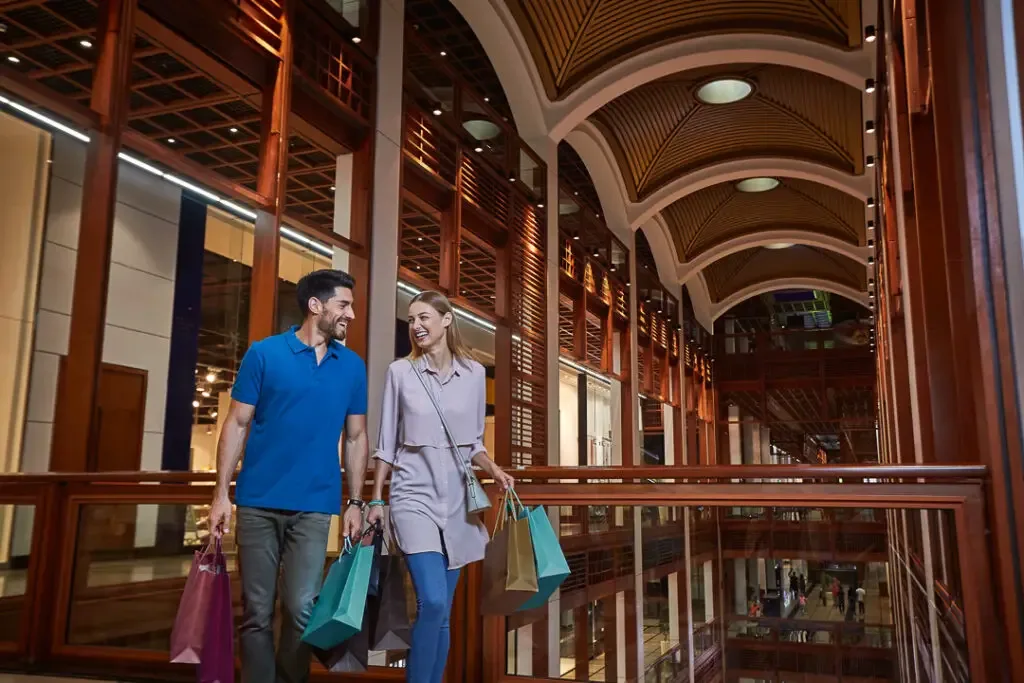 One of the latest and most popular attractions within the mall is the giant indoor slide called Velocity which takes riders from the third floor to the ground floor in a matter of seconds.
There are two slides to choose from that are not for the faint-hearted and it is certainly one of the adventurous activities in the city.
Similarly, there are plenty of dining options including an extensive food court and a number of restaurants.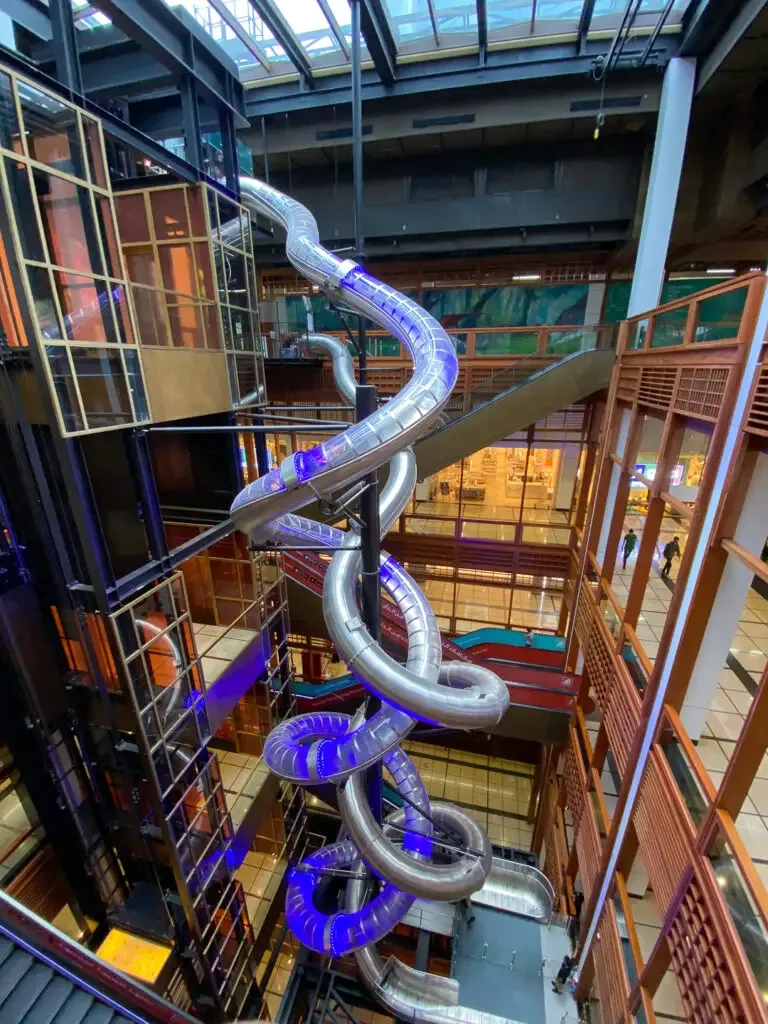 One of the city's popular Irish bars and Sports bar are accessible from within the mall. The Vickers serves up traditional food like roast dinners and celebrates St Patricks Day and is always a fun place to visit on weekends.
One of the nicest places for a late breakfast or lunch has to be Leens. Serving up everything from burgers to pancakes and salads to healthy smoothie bowls, the food is delicious!
The IMAX Cinema is popular for date nights and weekends, while the Pop-In and Play are great for young families wanting to entertain young children.
Location: Liwa St – Al Danah – Zone 1 – Abu Dhabi – United Arab Emirates
6. Marina Mall
Marina Mall is beyond the west end of the Corniche, ideally located for guests from Royal M Hotel and Rixos Marina, as well as residents of Al Bateen.
Similar to WTC Mall, it is medium-sized and not quite as big or luxurious as Yas Mall and Galleria Mall. The mall features 400 outlets spread across 5 floors.
Similar to all other malls there are tonnes of activities for children including Bounce indoor trampolining, Air Maniax which is a series of next-level bouncy castles and an amusement area to name a few.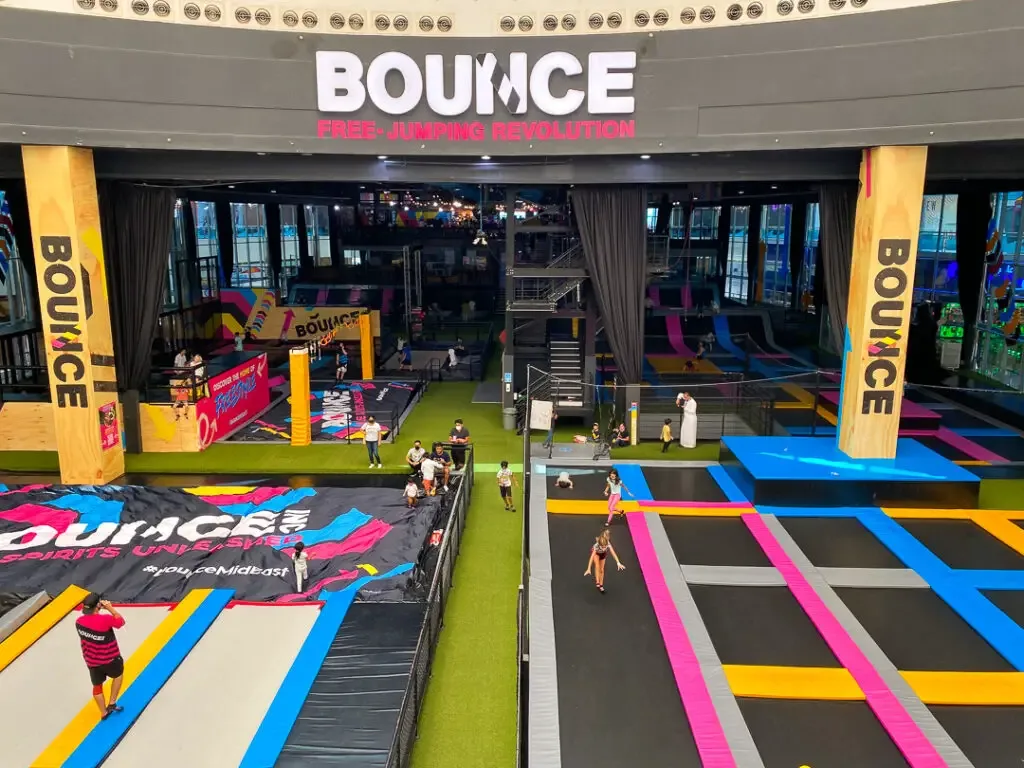 There are plenty of designer stores such as Calvin Klein, Dior and Gucci. As well as everyday brands such as H&M, Zara and The Body Shop.
Some nice places to eat include Ten 11 Coffee Boutique as well as Lauduree.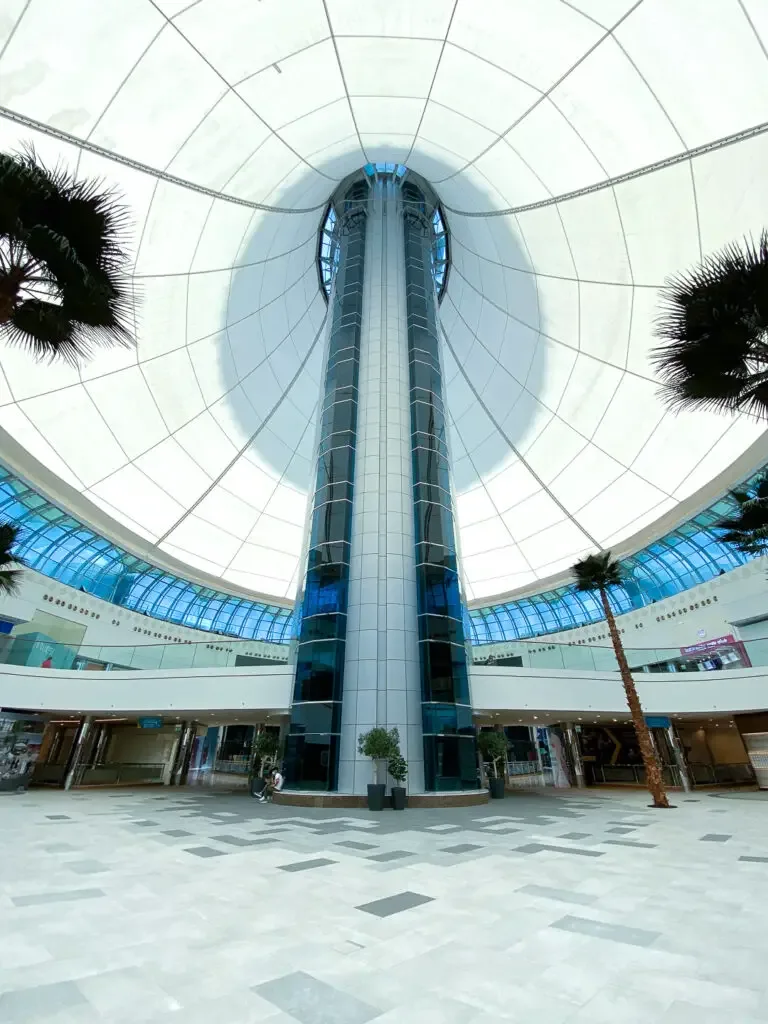 One of the latest attractions to bring the crowds to Marina Mall most certainly has to be the robot serving gelato on the ground floor foyer. Use a screen to choose the flavour and toppings. The robot does the rest!
Location: Al Marina – Abu Dhabi – United Arab Emirates
7. Mushrif Mall
Mushrif Mall is located in the centre of Abu Dhabi between the Capital Centre and Eastern Mangroves.
The mall extends into The Market which feels quite different to the main part of the mall. It is the city's largest indoor produce market. It has everything from fruit and vegetables to meat and fish.
In the main part of the mall is a special feature which can be seen from inside the glass lift. As the lift ascends, it has a view inside a tropical fish tank.
Mushrif Mall doesn't have as many luxury high-end brands, however, it does have more bargain-style stores. In particular, there are many shoe stores.
There is plenty for children including Sparkys which is an indoor amusement park featuring, soft play, rides, arcade games and bumper cars.
Red Sea Beach is another indoor play area suitable for toddlers and younger children. It is quite popular for birthday parties with its sand pit, slides, ball pit and much more.
Another hit with little ones is the hair salons. Nayomi Salon is quite girlie whilst Kidz Kutz is great for little boys.
One of the best places to eat in Mushrif Mall is Al Forno serving up delicious Italian food. Not to mention Lulus Hypermarket inside the mall is huge and ideal for grocery shopping.
Overall Mushrif Mall is quite family orientated great for every day shopping.
Location: Sheikh Rashid Bin Saeed St – Hadbat Al Za'faranah – Zone 1 – Abu Dhabi – United Arab Emirates
8. Dalma Mall
Dalma Mall is based a little further out of downtown Abu Dhabi and serves residents of the Musaffah area. It feels like quite a large mall since each floor is long straight rows of shops.
Spread across three floors, the mall has plenty of everyday stores such as Marks & Spencers, Next and Debenhams. There are a number of mid-range fashion brands, however, in general, there are no high-end luxury brands.
Similar to Mushrif Mall, Dalma Mall has lots for children including The Kids Factory which has hands-on experiments and crafts as well as indoor play, rock climbing, trampolines and obstacles.
They allow drop off which makes it super easy for parents who need to do some shopping and the centre is attached to a cafe.
Zeal Entertainment Centre is super fun with neon bowling, arcade-style games and a cafe perfect for older children and adults. There is a VR entertainment area, an online gaming zone and a shisha lounge.
Some of the best places to eat include La Brioche, The Coffee Club and Qasr Al Salateen.
Location: Al Wazn St – Abu Dhabi Industrial City – ICAD I – Abu Dhabi – United Arab Emirates
Frequently Asked Questions About Abu Dhabi Malls
What is the biggest mall in Abu Dhabi?
Reem Mall is the biggest mall in Abu Dhabi at 2.8 million square metres. Yas and Galleria Mall are close second with very similar sizes.
What is the most popular mall in UAE?
The most popular and possibly busiest mall in the UAE is probably Dubai Mall. However the most popular in Abu Dhabi is a tie between Yas Mall and Galleria Mall.
Is shopping in Abu Dhabi cheaper than Dubai?
Whilst the cost of living is definitely more expensive in Abu Dhabi, there is not much difference in shopping prices as both cities offer a mix of bargain, mid-range and luxury stores.
Which is the second biggest mall in abu dhabi?
Officially it is Yas Mall and is 2.5 million square feet.
Is shopping good in Abu Dhabi?
The shopping in Abu Dhabi is fantastic since there are so many international brands with a range of price tag stores from budget to designer.
There are plenty of times throughout the year when there are incredible deals. The best time to shop in Abu Dhabi is during Ramadan when many lines are heavily discounted.
Is shopping in Abu Dhabi expensive?
Shopping in Abu Dhabi can be expensive in very high-end luxury stores. However, there are plenty of mid-range and budget stores as well as frequent sales.
Tourists can avail of tax-free shopping by keeping receipts and claiming all taxes back before departure at one of the kiosks which can be found inside a handful of malls.
You must have your boarding pass and the receipts can be traded for cash no more than 24 hours before the flight.
The tourism season kicks off around October or November when there are lots of events such as F1. December is equally as busy with events, in particular National Day.
January and February are the coolest quieter months after New Year. In March and April, the weather is still pleasant to visit.
The hotter months start in May when most events move inside. It is a good month to visit for those who enjoy the arts.
Whilst June through July and August attract budget travellers as many resorts and attractions offer great deals.
September is considered a shoulder month, it is still quite hot but tolerable early morning and in the evenings.
Disclaimer: This post about the best malls in Abu Dhabi may contain affiliate links. By using them, it will not cost you any extra, we will receive a small commission to keep us writing.