Abu Dhabi is known for its luxurious facilities and when it comes to spas, it's no different. We have all the bases covered if you are looking for the best spas in Abu Dhabi to unwind and relax.
The best spas in Abu Dhabi can be found in various settings. Some are standalone, while others are inside hotels and resorts. Guests often book a treatment and use the facilities before or after to relax.
A great time to enjoy some of the best spas in Abu Dhabi is over the summer when the hot-desert weather makes it difficult to be outside and residents are looking for indoor activities. That's not to say spas can't be enjoyed in the cooler months.
There are some fantastic deals over the summer in the best spas in Abu Dhabi. They can often be found on Groupon or the Entertainer app. Discover the best Abu Dhabi spas to add to your bucket list!
Best Spas Abu Dhabi
1. Sense, A Rosewood Spa
Sense, A Rosewood Spa, is located (as the name suggests) at The Rosewood Abu Dhabi on Al Maryah Island. The Rosewood is in a fantastic position for those who frequent Galleria Mall since it is interconnected.
It is well-known as one of the city's finest spas, with various treatments and amenities. The spa focuses on time-honoured traditions and modern techniques.
Upon entering the spa, the journey begins from the front door with soothing sounds and scents. Guests are offered a cleansing drink and a hot towel on arrival to begin feeling utter relaxation.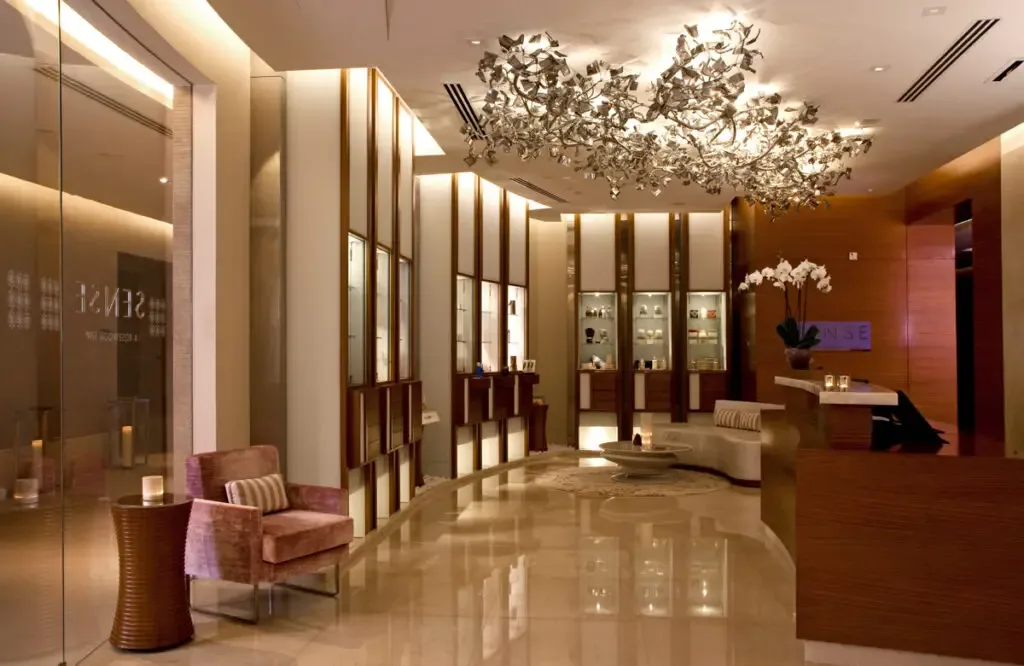 Some of the most incredible treatments include a Moroccan herbal hammam, gentlemen's tonics and couples massage.
The Moroccan hammam is a revitalizing exfoliation using eucalyptus-scented black soap from Morocco, followed by a vigorous scrub with the traditional hammam Kese mitt.
Indulge in a detoxifying body wrap infused with a blend of rhassoul clay, geranium, citrus, and mint, to draw out impurities and leave the skin feeling soft.
Finally, enjoy a full body massage using a nourishing oil infused with amber or invigorating verbena. Immerse in the unique detox ceremony!
The menu of treatments is quite extensive. There are options for gents, including everything from deep tissue massage to facials.
Similarly, the spa offers treatments specific to the region. This includes Arabian nights, a unique ceremony in a scented milk bath followed by a 90-minute massage using Arabian oils.
In terms of amenities, there are separate male and female saunas, rain showers, steam rooms and a spa pool to enjoy before or after treatments.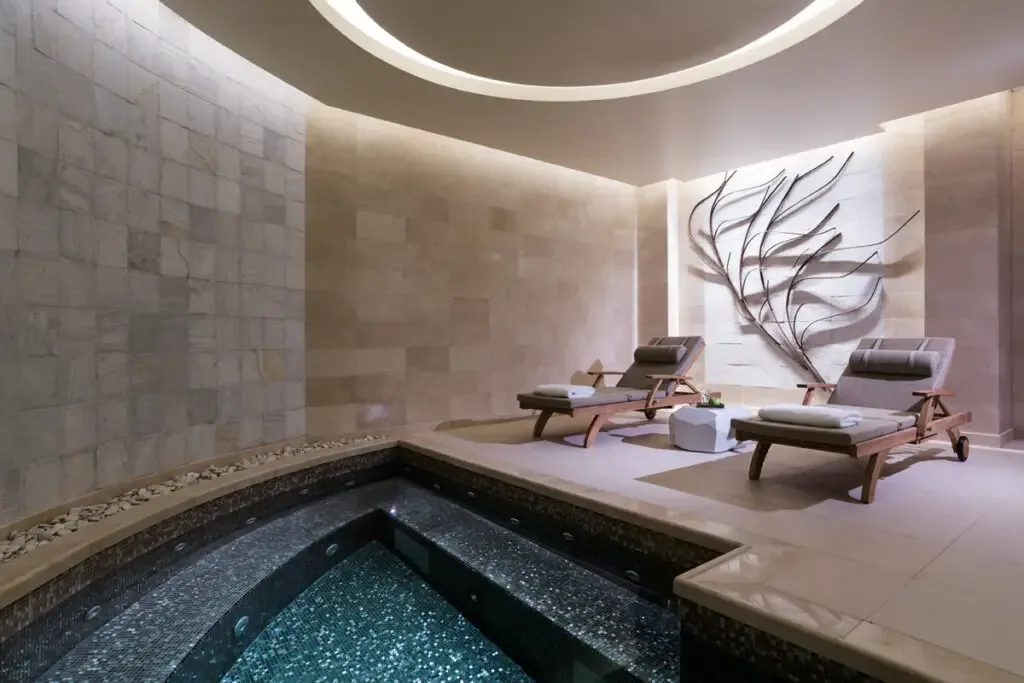 Although these facilities are separate, couples' massages are available at this spa.
Timings: 11 am to 9 pm daily
Location: Rosewood Abu Dhabi Building, Al Maryah Island – Abu Dhabi – United Arab Emirates
2. Conrad Spa By Amra, Etihad Towers
Conrad Spa Abu Dhabi Etihad Towers is a lavish oasis of relaxation with various treatments and beautiful facilities for a holistic wellness experience.
The spa's core philosophy is holistic rejuvenation for a complete mind, body and soul escapism.
Guests are welcomed into a tranquil setting purposefully designed to transport them into a realm of pure serenity.
The spa showcases 13 relaxing treatment rooms, each thoughtfully arranged to evoke an atmosphere of calmness.
From rejuvenating massages to invigorating facials, a diverse range of treatments is available, all administered by skilled therapists.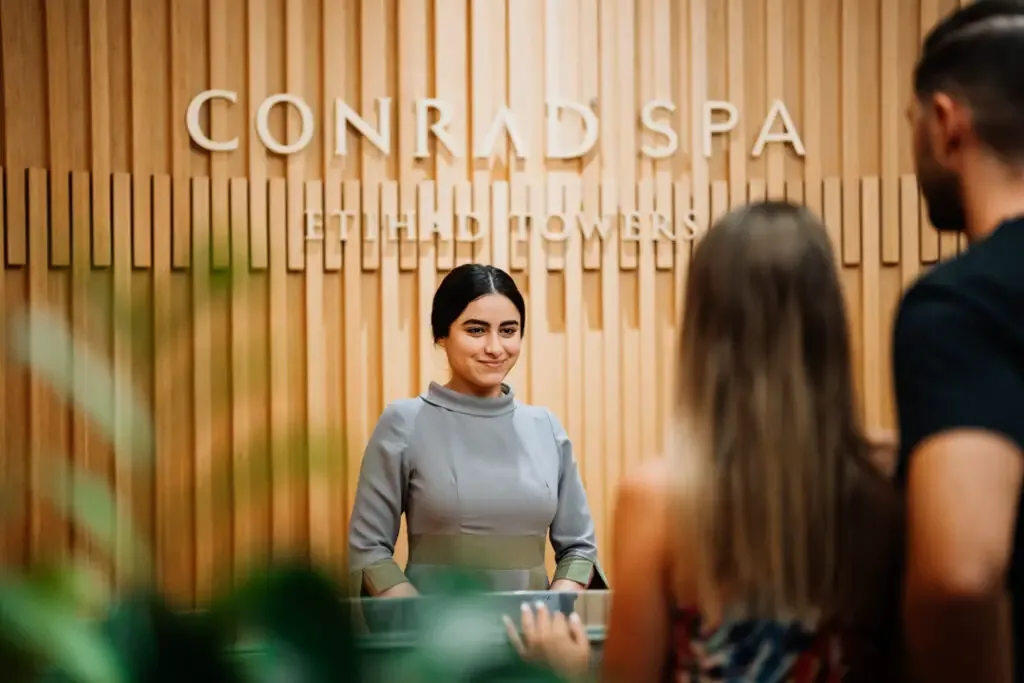 Some of the most incredible treatments include Balinese, Thai and Swedish Massage, not to mention the caci facelift and the pearl hammam, which is tailioed to individual skin care requirements.
There are plenty of other treatments to choose from!
Timings: 11 am to 10 pm daily.
Location: West – W Corniche Rd – Abu Dhabi – United Arab Emirates
3. Remede Spa at The St Regis Abu Dhabi
Remède Spa at The St. Regis Abu Dhabi is a luxurious wellness sanctuary known for its exceptional experiences.
Located within the prestigious St. Regis Abu Dhabi Hotel, the spa offers a serene environment to escape, relax and rejuvenate the body, mind, and spirit.
From the delightful offerings of champagne, truffles, and luxurious throws to the meticulously customized treatments, every detail is thoughtfully designed to create an unforgettable visit.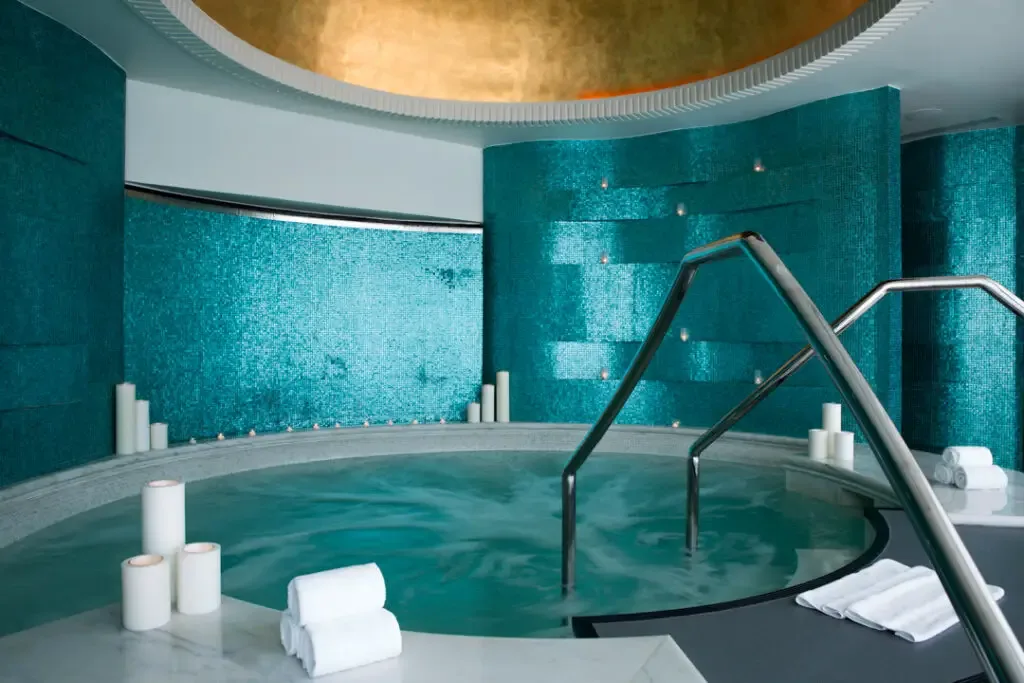 The spa is spread across 3,200 square meters and has stunning Corniche and sparkling Arabian Gulf views.
It features 11 treatment rooms and a dedicated couples' room, some of which have picturesque sea views. The staff provide fresh juice, soothing herbal tea, and dried fruits and nuts to enhance the experience.
Remède Spa offers diverse treatments, including their renowned Remède and Elemis therapies.
Guests can enjoy locally inspired treatments incorporating techniques and ingredients influenced by the region's unique characteristics and traditions.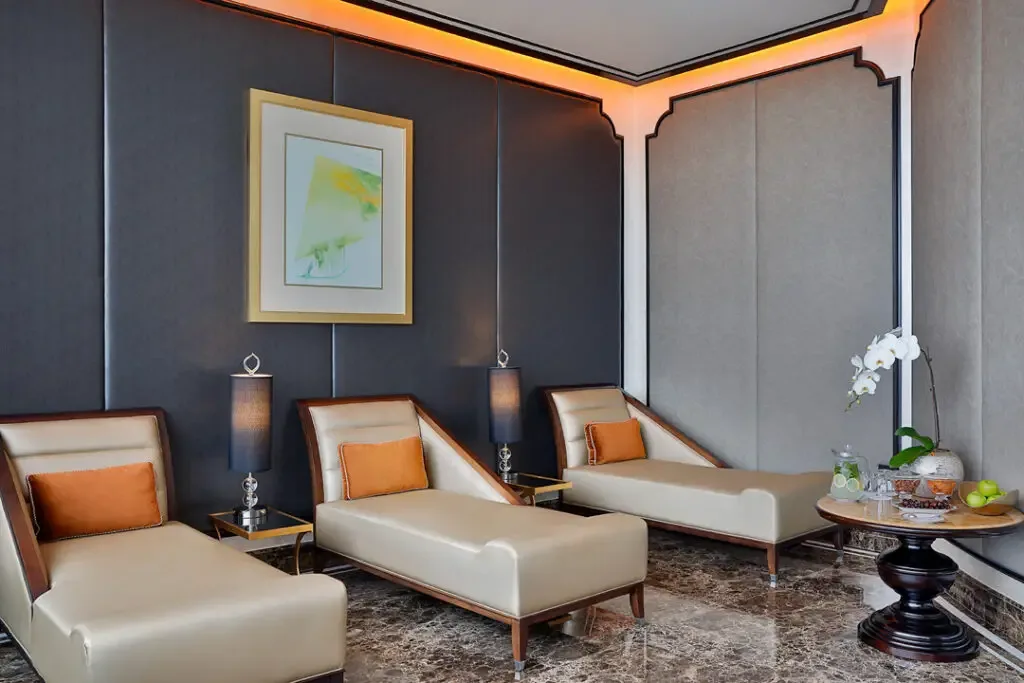 One regionally influenced treatment we recommend is the Oasis Indulgence, a body ritual inspired by Arabic traditions.
The treatment combines indigenous scents and textures to create a revitalizing experience. It begins with a desert sand and salt scrub infused with Argan Oil, which nourishes and restores moisture to the skin, leaving it supple and radiant.
Following the scrub, the next stage of the treatment is a traditional massage using a sensual oil and a warm and invigorating khemoussa pouch.
This pouch contains a blend of three types of mints, known for their beneficial effects on circulation, skin tone, and texture.
Timings: 11 am to 11 pm daily
Location: The St. Regis Abu Dhabi, Nation Tower, Corniche, Abu Dhabi.
4. Sofitel Spa
Sofitel Spa is another contender for the best spas in Abu Dhabi. This particular spa focuses on rejuvenating world traditions with the latest advancements in French cosmetology.
The blend of French spa expertise and Arabian well-being traditions is a one-of-a-kind experience.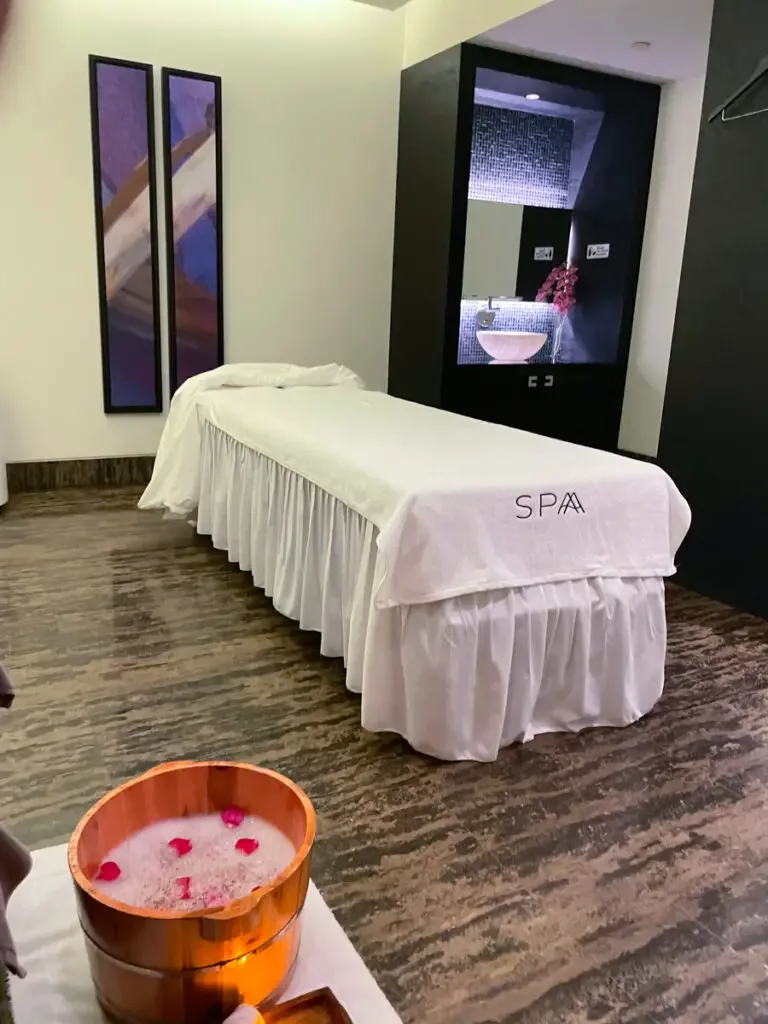 Sofitel Spa features two traditional hammam rooms, a couples massage room, single rooms, a jacuzzi, a steam room, socializing patio, a deep relaxation room and a VIP suite!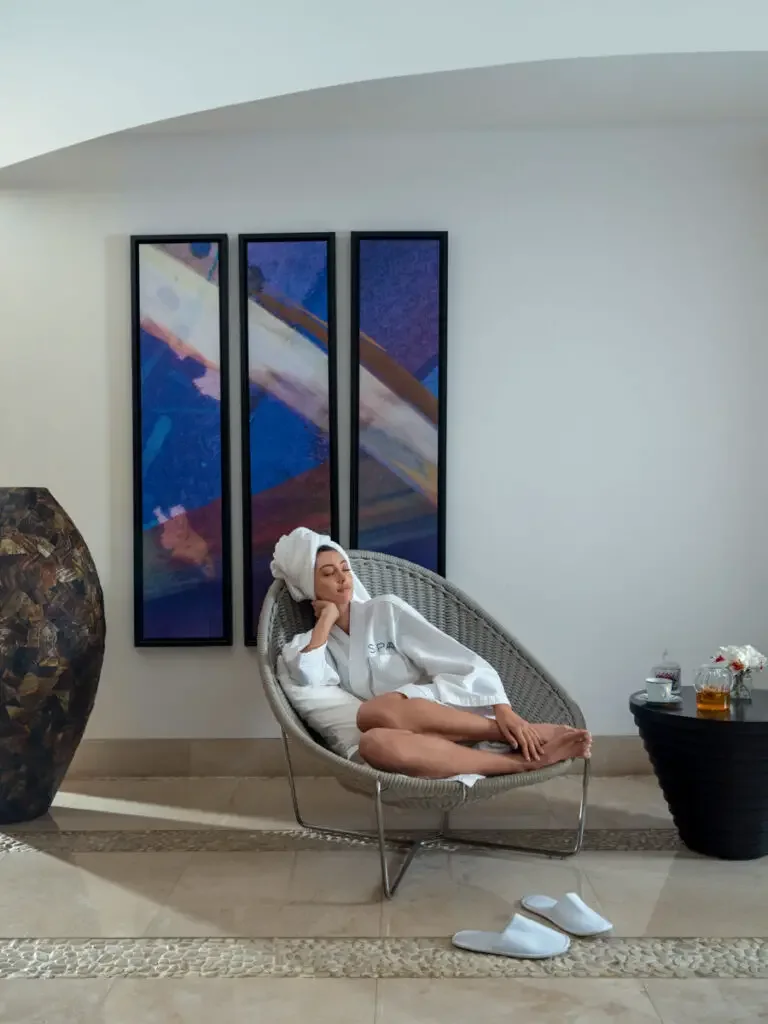 Some treatments include volcanic stone therapy, rejuvenating facials and classic massages. A pregnancy massage is also available for mums-to-be!
The milk bath and body scrub are the perfect additions to any treatment for that added feeling of rejuvenation.
Gift vouchers are also available, ideal for a Valentine's treat, Mother's Day or maybe a Christmas gift.
Timings: 9 am to 1 am daily
Location: Sofitel Abu Dhabi Corniche Hotel, Corniche East Road – Abu Dhabi – United Arab Emirates
5. The Hideaway By Emirates Palace Spa
The Hideaway is a truly iconic wellness destination located within the landmark – Emirates Palace Hotel in Abu Dhabi.
This particular spa is renowned for its grandeur, luxury, intricate design, and detail in every corner.
The interior is adorned in white-washed tones, evoking a sense of purity reminiscent of an island escape. Dreamy fragrances and beachy sounds further enhance the ambience, creating an oasis of relaxation.
Rituals and retreats are meticulously crafted to promote tranquillity and rejuvenation. Expert staff and beautiful natural ingredients make it a truly luxurious experience.
Each spa suite has a theme, some of which include St Lucia, Komodo and Santorini, to name a few.
There are a number of amenities, including a steam room, jacuzzis, hammam rooms and an ice cave!
The Quintessential Hideway is a half-day retreat with a welcoming foot ritual, an aromatherapy bath, coconut massage therapy, a manicure, and a pedicure. It's the perfect retreat for a ladies' day out.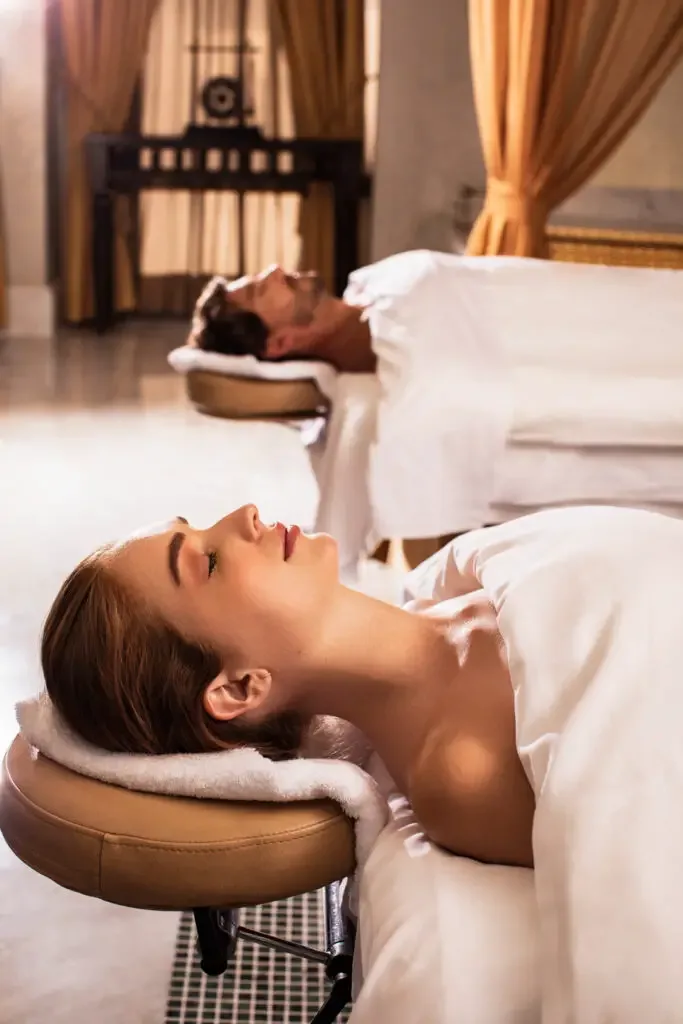 Several standalone treatments include hydro facials, full-body transformative rituals and traditional massage. Oh, and did we mention the 24 ct gold facial? Yes, you've heard it. It is not only gold leaf cappuccino served up at Emirates Palace.
In addition to the Hideaway, there are massage cabanas at Emirates Palace with sea views which make for a lovely impromptu massage for hotel guests or those visiting the beach club.
The 'sun spa' treatments focus on sand, sea, breeze and sun elements.
Ladies Only Tuesday features a wonderful package including a hydra facial, mani or pedi and a complimentary black diamond scrub touch.
Gift vouchers are available. Not to mention couples and pregnancy massage!
Timings: 10 am to 10 pm daily
Location: West Corniche Road – Al Ras Al Akhdar – Abu Dhabi – United Arab Emirates
6. Tosa Spa, Abu Dhabi Airport
Many passengers pass through Abu Dhabi airport and although it is one of the nicest airports in the world, travelling can always be stressful!
Tosa Spa is the perfect antidote to a long layover or wait in the airport. It's open 24 hours a day, so you can enjoy a massage no matter what time you are in the airport. The spa is located in Terminal 1 on the lower level after security.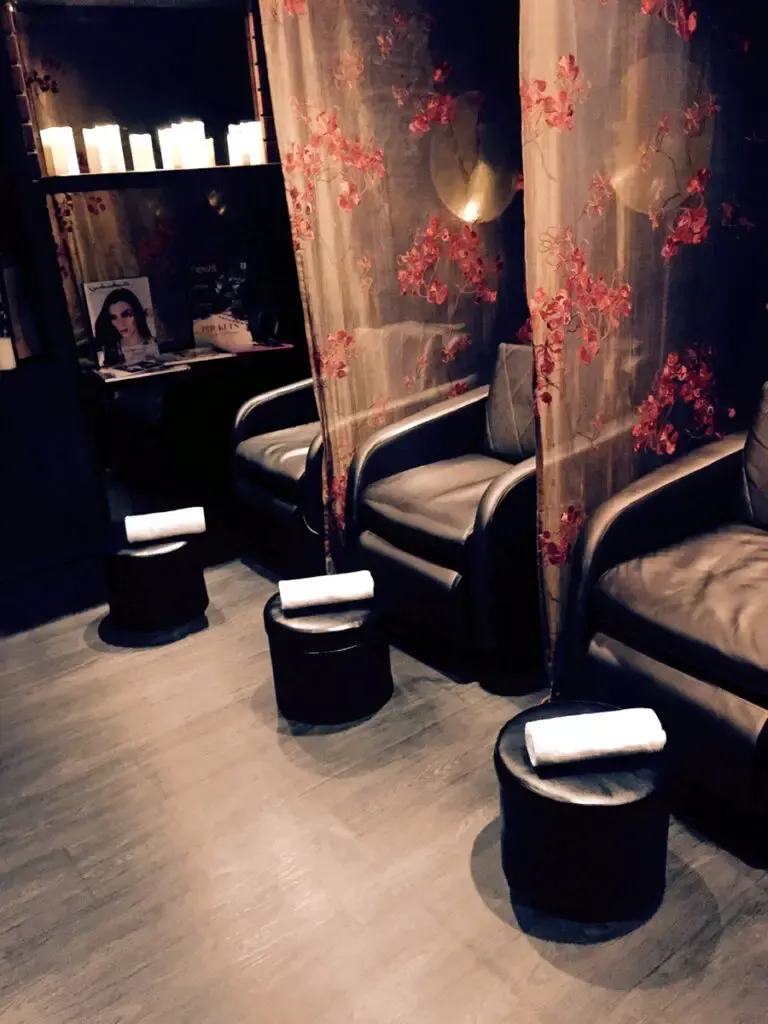 Featuring treatments like a total tosa detox which includes a cocoon-clay body wrap, full body massage and mini facial, which can last 60 or 90 minutes.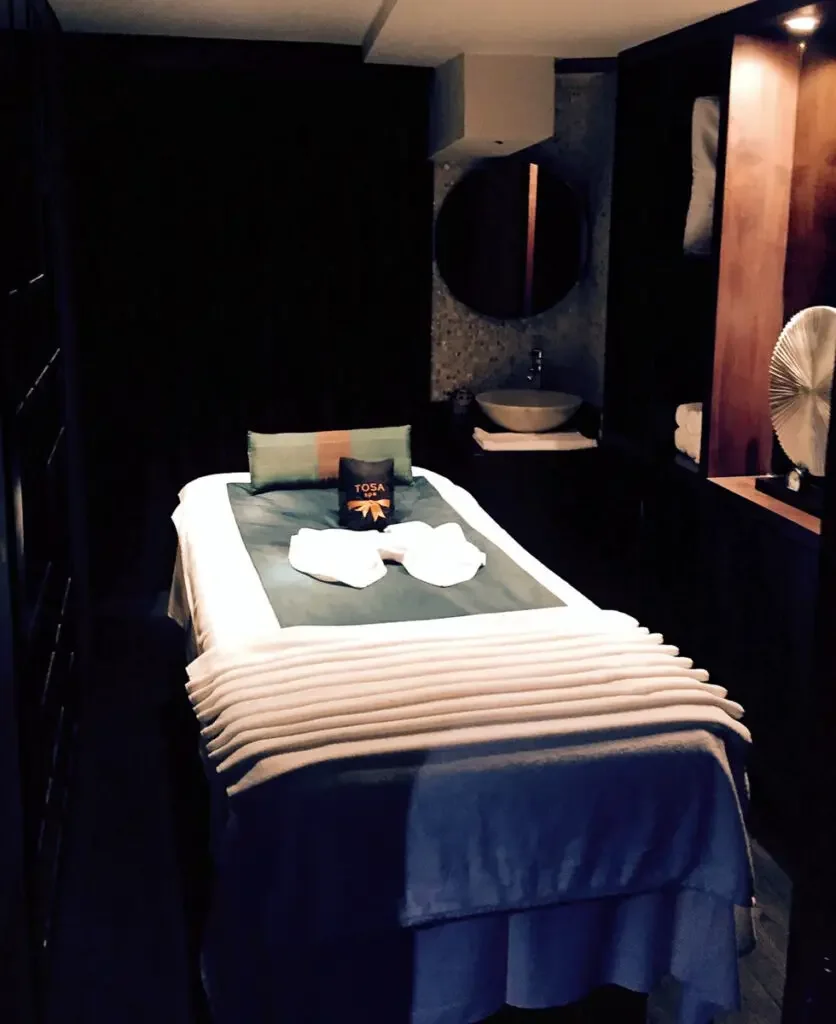 Nails and facials are other popular treatments at Tosa Spa, not to mention the Ayurvedic menu.
Location: International Departures, Terminal 1/Sky Park Plaza, Terminal 3 at Abu Dhabi International Airport, Abu Dhabi, United Arab Emirates
Further Info About Spas
The word spa derives from the Latin phrase 'Salus per aquam' and means healing through water.
Historically spas are associated with water therapies; however, over the last few decades, spas have evolved in the services on offer.
Typically spas offer a range of massages, facials, body treatments, manicures, pedicures and hair care.
When it comes to the original concept of healing through water, spas often have amenities such as steam rooms, saunas, hot tubs, and swimming pools, which enhance the relaxation experience.
Some spas also offer specialised treatments such as aromatherapy, hydrotherapy, mud baths, wraps, and alternative therapies such as acupuncture or reflexology.
Also, more and more men's spas are popping up as the 21st-century gent likes to be well-manicured, especially Emirati men!
Visiting a spa can be a way to unwind, relieve stress, improve circulation, detoxify the body, and enhance physical and mental well-being.
The atmosphere in spas is usually serene, with soft lighting, soothing music, and pleasant scents.
Many people enjoy spa treatments for their therapeutic effects and the opportunity to take a break from daily routines.
Types Of Spa Treatments
Spa treatments encompass many services tailored to promote relaxation, rejuvenation, and overall well-being. Here are some common types of spa treatments you may come across:
Massage Therapy: Massage treatments involve the manipulation of soft tissues in the body to promote relaxation, relieve muscle tension, and improve circulation. Popular massage styles include Swedish massage, deep tissue massage, aromatherapy massage, hot stone massage, and Thai massage.
Facial Treatments: Facial treatments focus on improving the health and appearance of the skin. They typically involve cleansing, exfoliation, extraction of impurities, facial massage, and applying masks, serums, and moisturizers. Some facials may incorporate specialized techniques such as microdermabrasion, chemical peels, or LED light therapy.
Body Scrubs and Wraps: These treatments involve exfoliating and hydrating the skin. Scrubs use granules or natural ingredients to remove dead skin cells, leaving the skin smooth and glowing. Body wraps typically involve applying nourishing products to the body, followed by wrapping in a warm cocoon to promote hydration and relaxation.
Holistic Therapies: Holistic spa treatments aim to address the body, mind, and spirit. These therapies may include practices such as acupuncture, reflexology, reiki, or Ayurvedic treatments. They focus on restoring balance, energy flow, and overall well-being.
Hydrotherapy: Hydrotherapy treatments use water for therapeutic purposes. They may include hydro-massage baths, steam rooms, saunas, or hydrotherapy pools. These treatments can help relax muscles, improve circulation, detoxify the body, and promote relaxation.
Beauty and Wellness Services: Spas often offer additional services such as manicures, pedicures, hair treatments, waxing, and makeup application. These services aim to enhance appearance and well-being.
Specialized Therapies: Some spas may offer specialized therapies targeting specific needs or concerns. These could include prenatal massages for expectant mothers, sports massages for athletes, detoxification programs, anti-ageing treatments, or stress relief therapies.
We hope you enjoyed reading about the best spas in Abu Dhabi. Did you visit any of the spas mentioned above? Leave a comment; we'd love to hear about your experience.
Ramadan may impact hours for businesses above.
You may also like: