The Thai restaurants in Abu Dhabi have some of the best international food in the whole Emirate.
Thai food is possibly one of the most loved cuisines with influences that go back generations. Thailand has cultivated one of the best cuisines in the world.
The most notable flavours are chilli, basil, lemongrass and many other herbs. The tastes can be sweet, sour, salty and spicy to pack a punch!
Thai restaurants in Abu Dhabi serve up all the classics. From the best pad thai to tom yum soups and papaya salads to green, red, and yellow curries.
This guide to the best Thai restaurants in Abu Dhabi features everything from Michelin-recommended to street-style food, just like the streets of Bangkok! All of these are sure to have your mouth-watering.
Hey foodies, make sure to check out the guide to:
Best Italian restaurants or Best Mexican restaurants or maybe the best sushi in Abu Dhabi!
Best Abu Dhabi Thai Restaurants
1. Silk and Spice
A Thai with Michelin experience is one that is not to be missed. Head to Silk & Spice at Sofitel, the city's favourite intimate fine-dining restaurant.
The interior features floor to ceiling windows, dark wooden dividers and incredible traditional wood carving on the wall.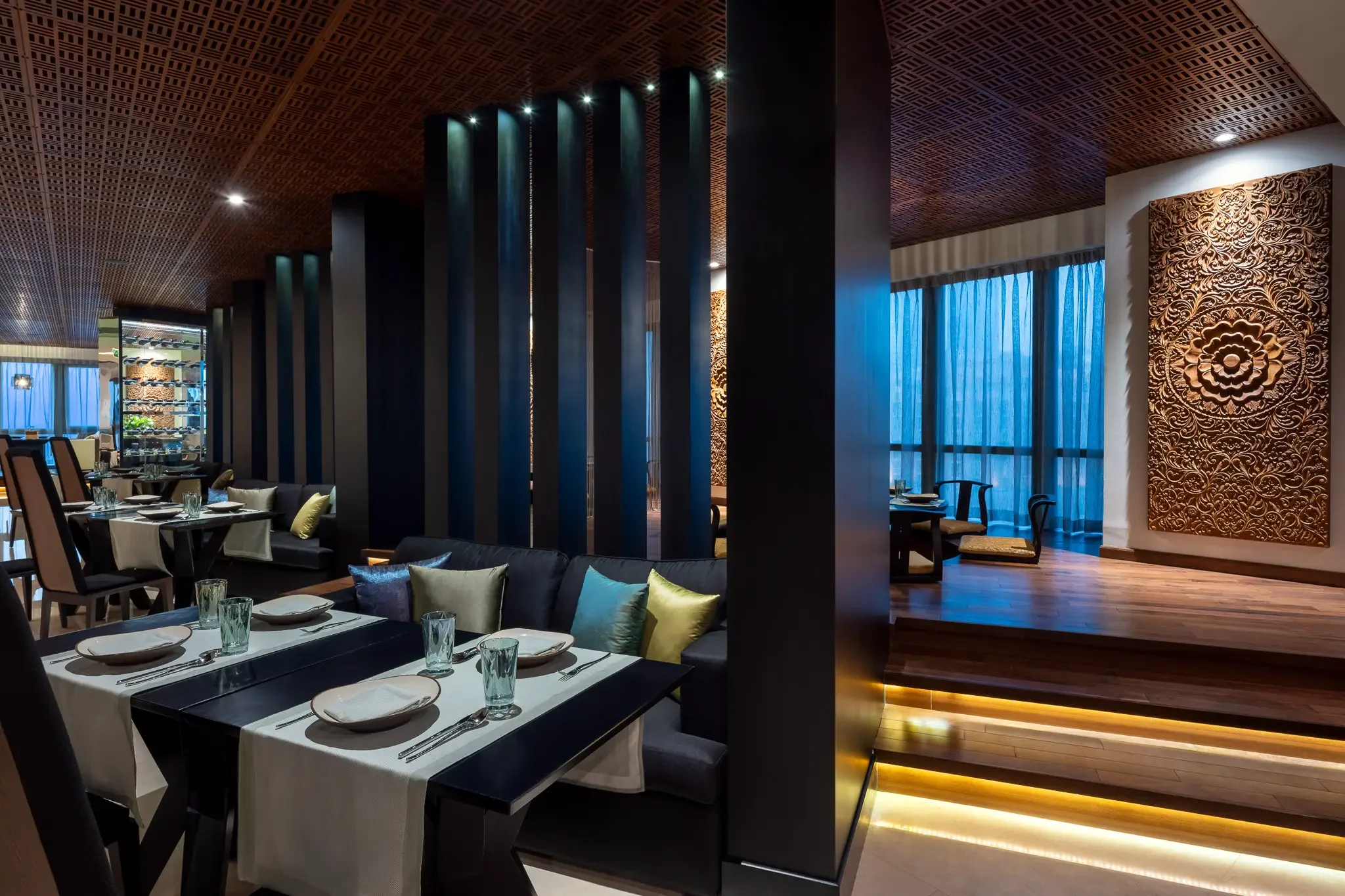 Try the signature Pad Thai with prawns and refreshing beef salad. Don't miss out on the tom yum soup.
Keep an out for the seasonal menu from the Chiang Mai region paired with Singha and an extensive selection of grapes. Throughout the week, there are some deals at this fantastic Thai restaurant in Abu Dhabi.
Teleport to the northern region of Thailand for a business lunch. Exotic flavours and aromas are served across two or three courses.
A two-course set menu with a pint of Thai hop costs 99 AED or three courses with a pint of Thai hop for 125 AED.
Take a full Thai culinary journey with the set menu option every day. Expect a delicious appetizer, main course and dessert with the lotus set menu.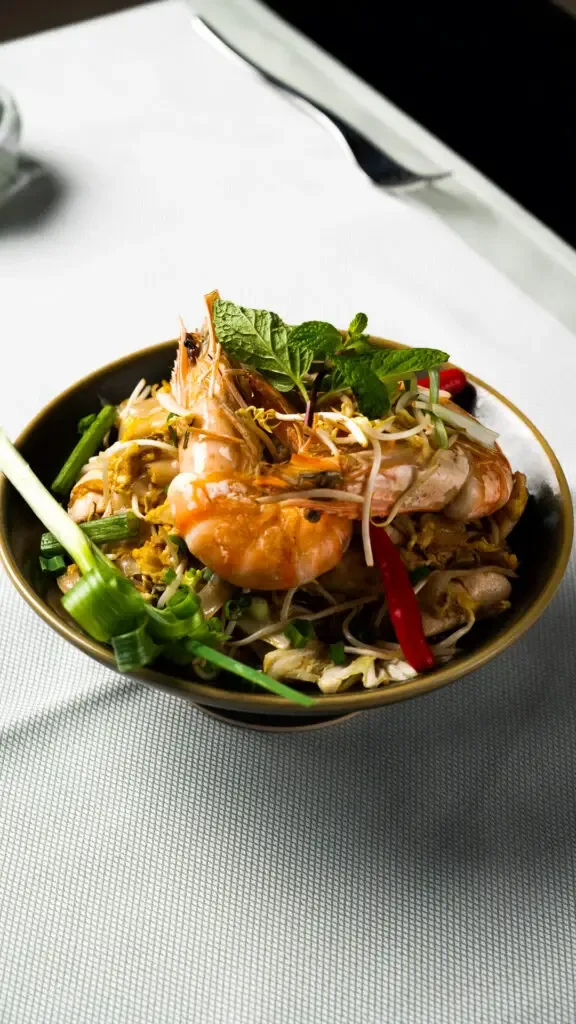 Our favourite dessert is tub tim krob and it is to die for. Featuring water chestnut in coconut milk and mango sticky rice with ice cream!
The unlimited soft drinks package starts at 195 AED or at an additional cost enjoy unlimited grapes, hops, and selected spirits. Grapes are paired by a sommelier who has carefully curated a perfect experience.
The signature menu is the most immersive option, which offers more choices on the menu. With more delicious options and an extra course of Thai soup, guests can expect to pay 245AED for appetizers, soup, a main course, and dessert.
365 AED is the cost of unlimited grapes, hops and spirits with the signature menu. Again, the sommelier has hand-selected grape pairings for each course.
Timing: Lunch 12 noon to 3 pm, 6.30 pm to 10.30 pm
Telephone: +971 28137777
Location: Sofitel Abu Dhabi Corniche, Level P6
2. Sontaya
Sontaya has been voted the most romantic restaurant in Abu Dhabi and that can only mean it is pretty special!
The upmarket Southeast Asian restaurant has a number of dishes from the region. Thai food is one of Sontaya's specialities and the menu boasts many delicious Thai dishes.
The restaurant features cabana-style seating making it a highly sought-after place for couples. Walkways meander through the beautiful pools allowing guests to dine next to the water.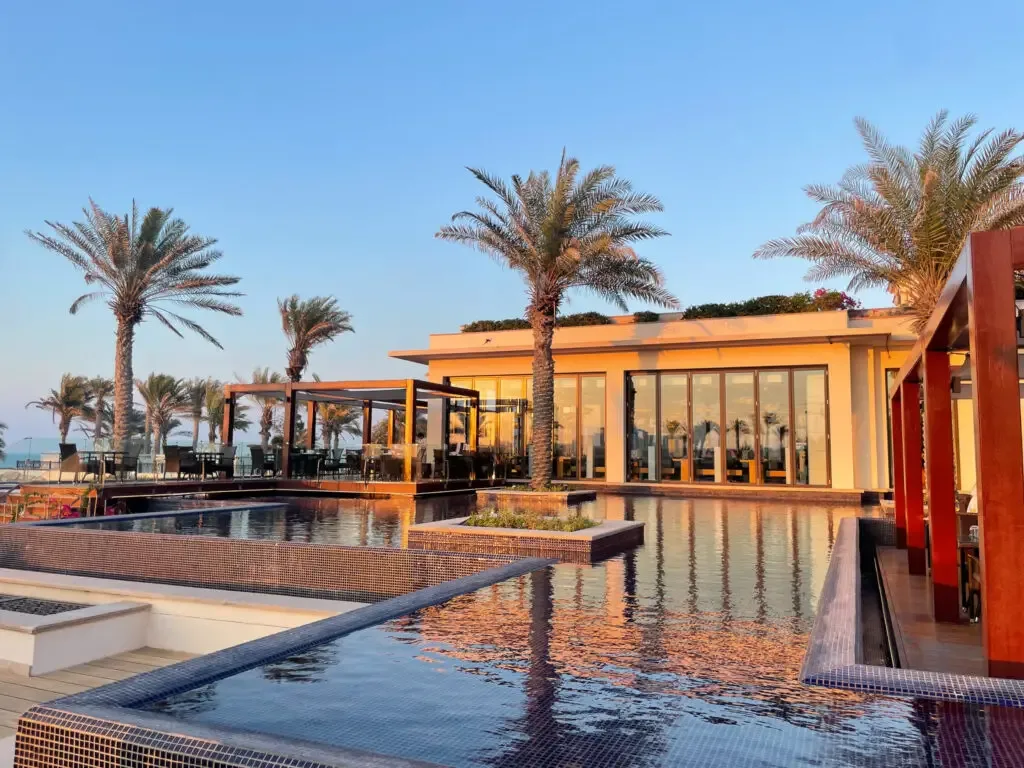 Prawn, chicken, wagyu beef and tofu are chargrilled in a delicious homemade peanut sauce for appetizers.
Spring rolls, pan-fried crab cakes, and tom yum edamame provide an array of appetizer options. Other Thai food options include papaya salad and tom yum soup.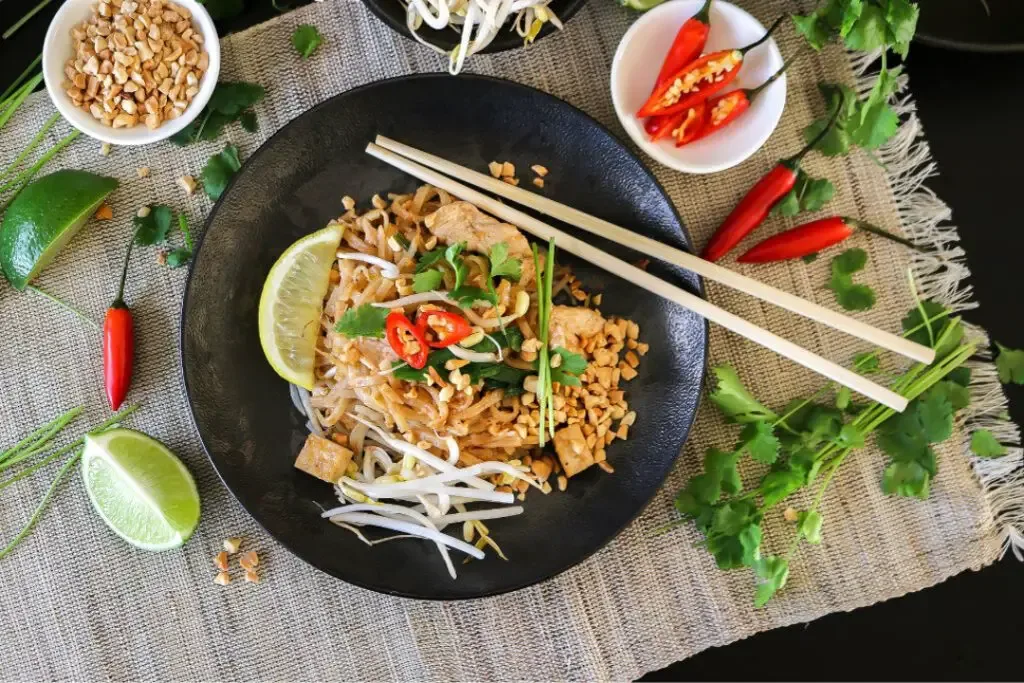 The main menu boasts excellent dishes such as yellow chicken curry, red duck curry, green prawn curry, pad Thai and much more.
Coconut-scented sticky rice, cotton candy, sweet Thai mango and pandan sauce would be the most appropriate choice to finish off a Thai meal!
Vegan and kids menus are available.
Reservation: +971 24988088
Timings: Daily 18:00 PM to 12:00 AM
Location: The St Regis Saadiyat Island Resort Abu Dhabi
3. Desert Lotus
The Desert Lotus Thai restaurant is owned and run by a Thai family giving it the most authentic touch to the food served as well the ambiance.
The restaurant offers opulent views of Al Raha extending over to Yas Bay where the water has many boats setting sail. The tall windows create a marine-style dining experience. Whilst the outside terrace has a magnificent seating arrangement overlooking the water.
The menu options are extensive, and dishes are featured from all corners of Thailand.
Vegetable spring rolls fried in perfect crispy batter, pan-fired fish cakes and nutty chicken satay are some of the delicious classic starters.
Make sure to leave room for mains and dessert as the portions are big. Tom Yum soup and Thai papaya salad are on the side of lighter options.
Stir-fried noodles, egg, tamarind sauce, bean sprouts, peanuts and scallion form the perfect pad Thai. The curry sauce is the perfect consistency across red, green, panaeng and massaman curries.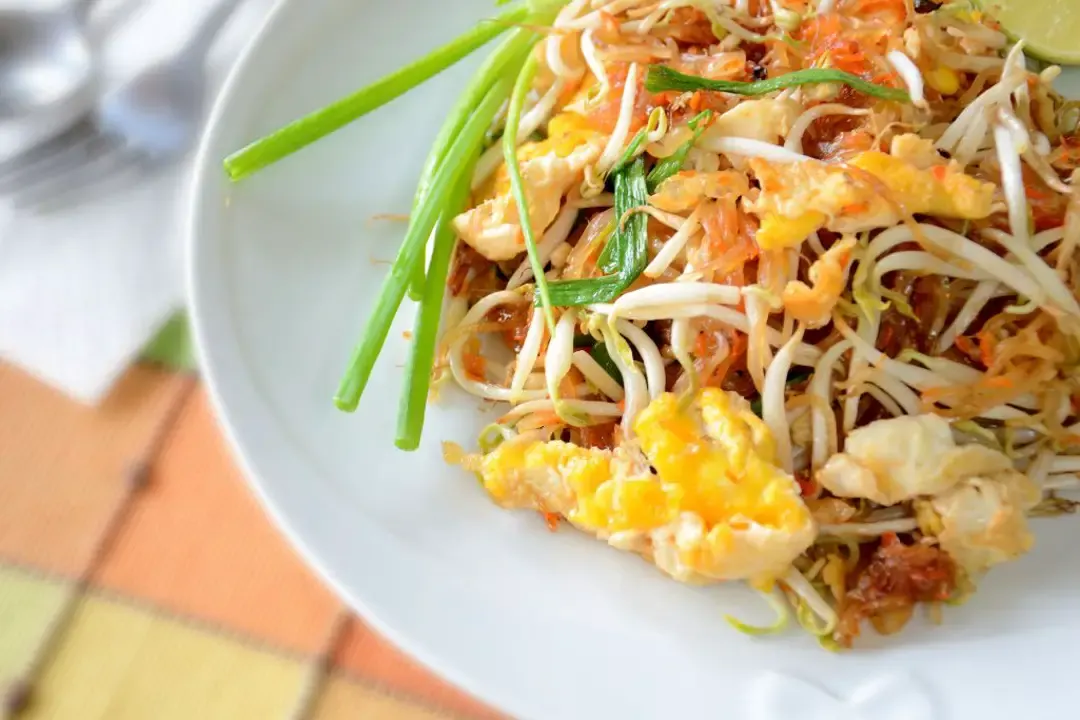 Veggie/tofu, chicken, beef, mussels, shrimp and seafood, can be added to any curry making an option for everyone's preference.
The green Thai is spicy and has a perfect blend of aromatic flavours, and any left-over sauce could be mopped up by steamed rice. Fried morning glory comes with the perfect balance of oyster sauce, garlic, and chilli.
The sweet sticky mango rice is to die for! Lap up delicious bua loy, tub tim grob and sundae mango sticky rice to finish off this tasteful Thai cuisine.
Desert Lotus provide an in-house delivery service so a just enquire about the catchment delivery area.
Timings: Sunday to Thursday, 12:00 pm to 20:00
Friday to Saturday, 12:00 pm to 23:00pm
Reservations: 971-28742263
Location: Ground floor, Al Bandar, Al Raha Beach, Abu Dhabi
4. San Thai Restaurant Abu Dhabi
San Thai is in the heart of downtown Abu Dhabi and brings authentic food to the list of Thai restaurants in Abu Dhabi.
The quaint little restaurant has a small menu with the best dishes. It brings a quality over quantity factor with the number of available dishes and the chef takes great care with each dish cultivated on this Thai menu.
Starters include crispy calamari, firecracker shrimp and sizzling tofu. Tofu, chicken, and seafood options are available in a royal tom yum or tom kha soup. Whilst spicy beef soup brings a bit of heat!
There are five types of salad, however, tam papaya salad or Thai beef salad is the most popular. Noodle dishes come with tofu/vegetables, chicken, beef or mixed seafood. Pad Thai is an obvious choice.
Basil fried rice, tom yum fried rice and pineapple rice come in generous portions. Tofu/vegetables, chicken, beef or mixed seafood can top these delicious fried rice dishes.
Red, green or yellow curry comes with jasmine rice and brings a spicy Thai kick!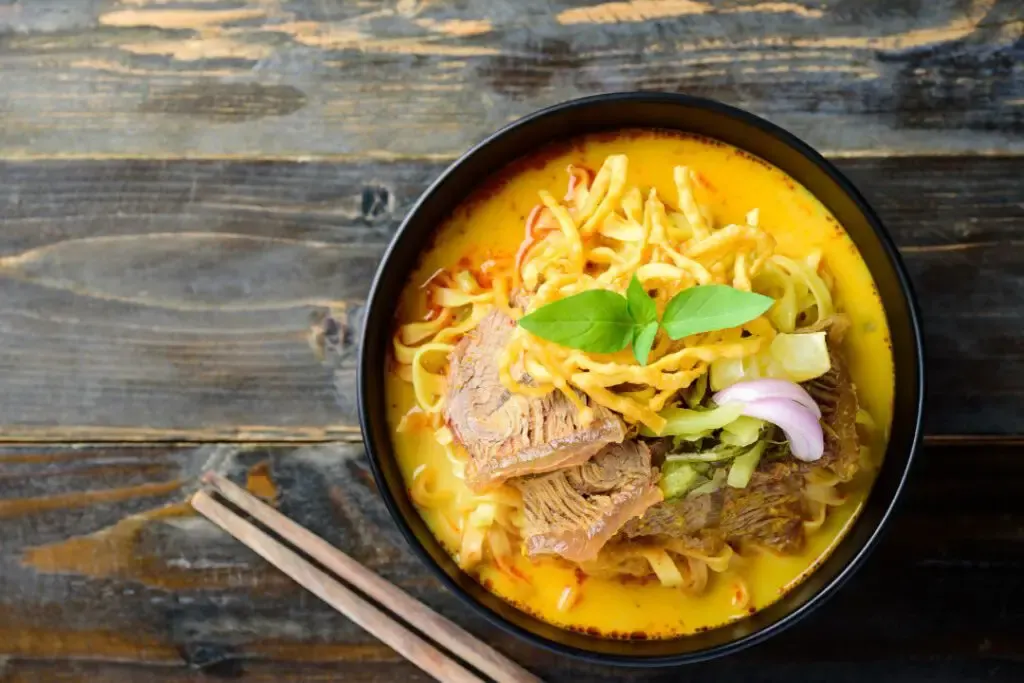 Stir-fried dishes come with jasmine rice and fried egg. Holy basil, pad khing, stir fry with red curry paste or stir fry mixed vegetables makes the wok lineup.
Get a dose of Thai seafood in the Wonder of the Sea option. Lime-garlic fish, fish with three flavours, grilled mussels or mixed seafood platter bring a wave of seafood goodness.
Mango sticky rice and bualoy are on the dessert menu.
They have a wide range of Thai drinks such as Thai iced tea, Thai Sala soda, lychee martini and much more!
Timings: 13:00 pm to 23:00 pm
Reservations: 97126752089
Location: 102 Safran St – Zone 1E10 – E10 – Abu Dhabi
5. Tuk Tuk
Tuk Tuk is a delicious Thai eatery and a favourite in the city, especially when it comes to a delivery option.
The restaurant itself is basic. However, the chefs' skills are not, and they whip up some awesome Thai food that never fails to hit the spot.
The menu has many choices, including most classic Thai dishes and some more adventurous dishes only Thai people would know about!
Tuk Tuk is a contender for the best Thai restaurant in Abu Dhabi due to its delicious red curry with chicken and eggplant, chicken spring rolls and pad Thai options.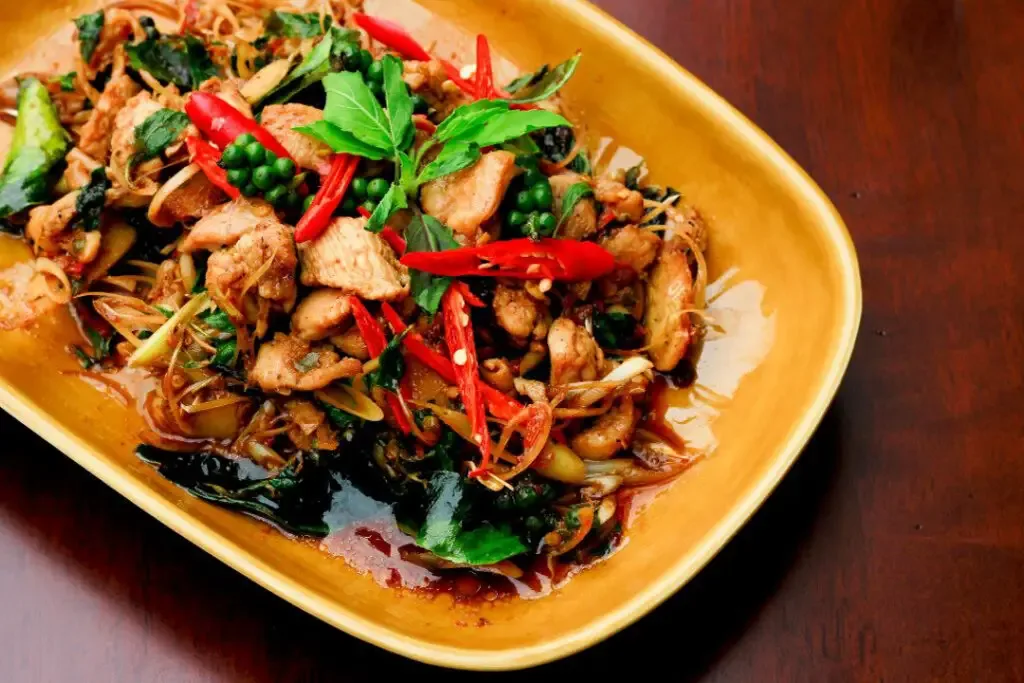 Keep costs down and taste a selection of food with the combo menu or try something more authentic, like rice topped with stir-fried beef and basil.
The seafood menu has interesting dishes like fried fish with sweet chilli sauce or steamed fish with lemon juice.
Satisfy a sweet tooth with rice balls in coconut milk, mango, and sticky rice.
Timings: 11:00 am to 23:30 pm
Reservations: 97125504418
Location: Sheikh Zayed Bin Sultan Street-Al Zahiyah- Abu Dhabi
6. Aroy Dee
Aroy Dee Thai restaurant in Abu Dhabi is popular amongst the foodies of the UAE.
The restaurant owners have been in business for three decades as they import so many of the ingredients from Thailand making truly authentic flavours.
Aroy Dee considers itself as a premium source of authentic Thai meals in the city. A second branch opened in Mushrif Mall due to their increasing popularity
Delicious starters like vegetable spring rolls, chicken satay and Thai prawn cakes appear on the menu.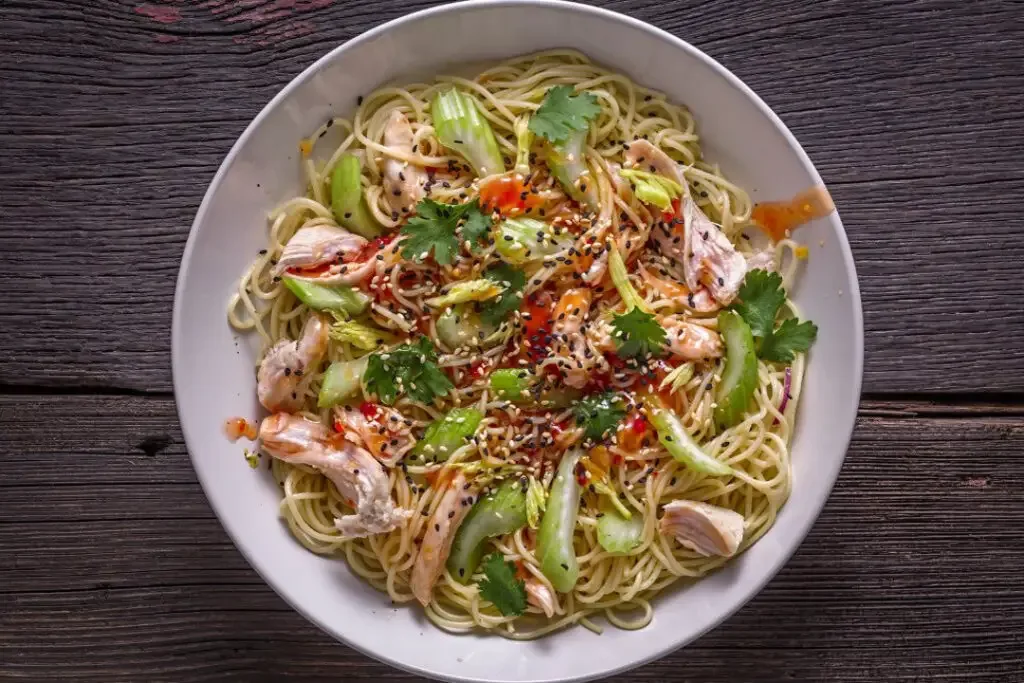 The menu is extensive with sections from different regions of Thailand. Classics like panning, massaman, and green and red curries make the lineup. The red curry with roasted duck is succulent and delicious.
Whilst the salad section offers lighter options, such as mango salad and glass noodle salad.
Stir-fry with basil leaves, or as the Thai people call it, phad kra krow is a standout meal amongst an array of main courses.
There are many stir-fried noodles, noodles in soup, and pad Thai noodles to choose from!
A Thai Muslim section offers dishes like roti with beef curry.
There are many Thai dessert and beverage options to finish off a perfect meal!
Reservations: 97126665461 – Electra Street
97128869600 – Mushrif Mall
Timings: Mushrif Mall 10 am to 22:00 pm, Electra Street 11 am to 23:00pm
Location: Mushrif Mall and Electra Street
7. Benjarong Restaurant & Lounge
Dusit Thani Hotel makes it to this list with Benjarong Restaurant. The slick and modern interior offers an upmarket dining experience.
Vegetable spring rolls, satay chicken skewers, shrimp, crab cake, or a prawn spring roll make excellent starter choices.
With so many delicious choices, it can be hard to select but don't worry, as they have a mixed platter starter where a taste of most appetisers is served.
Enjoy fresh and delicious salads such as green papaya salad, crispy fillet salad, scallop salads and much more.
Hot and steamy tom yum soup with the option of prawns, seafood, chicken or vegetables is a favourite.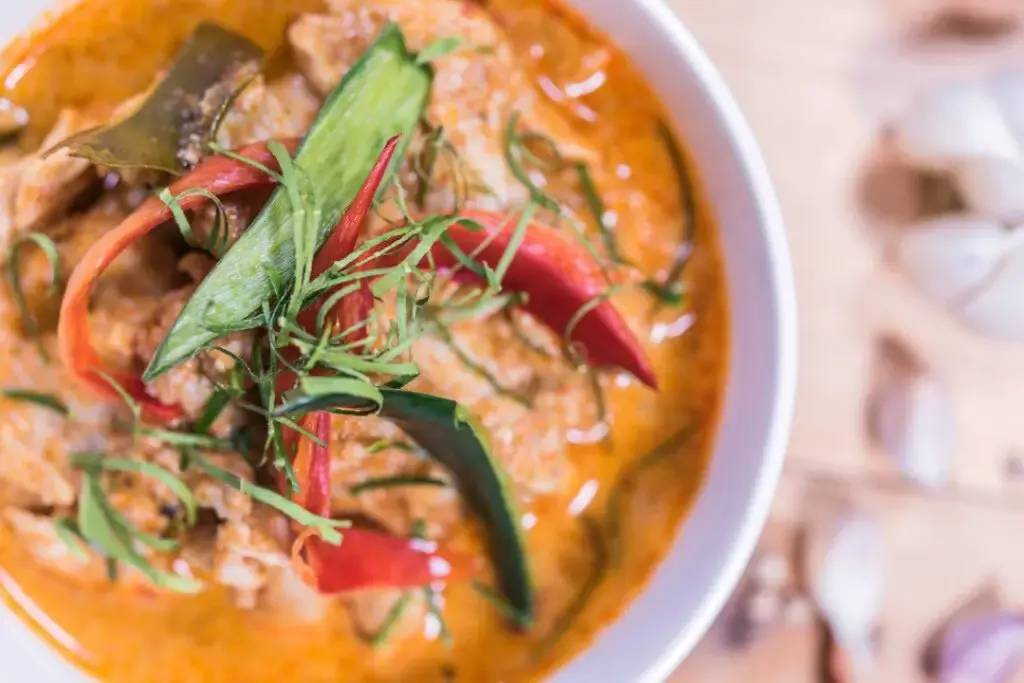 Wok fried chilli, garlic and basil with chicken or beef brings together a flavoursome phad kraprow.
The classic pad Thai comes with a prawn, chicken or vegetable with a tofu option.
The same goes for the green, red, massaman and panang curries with the extra option of beef.
Leave room for a delicious Thai dessert. Sticky mango rice with coconut cream is always a favourite. Try a sticky rice dumpling in sweet coconut soup or a deep-fried banana served with vanilla ice cream.
Timings: Sunday to Friday, 12:30 PM to 15:00 pm & 19:00 pm to 23:30 pm.
Saturdays 19:00 pm to 23:30 pm
Reservationsl: 97126988137
Location: Dusit Thani, 925 Sultan Bin Zayed The First Street – Muroor Rd – Abu Dhabi
We hope you enjoyed reading about the best Thai restaurants in Abu Dhabi. Did we miss something you've tried which was really good? Reach out in the comments we love to hear from you!
If you are a foodie like us – you may also be interested in the best pizza restaurants or best shawarma spots in Abu Dhabi or the best burgers!