The weather in Abu Dhabi in May is the first month of full-on hot temperatures. Most events take place indoors from May onwards until cooler temperatures return in October time.
Summers can feel long in Abu Dhabi, especially as schools don't break until July.
May and June are the busiest months of the desert summer as most residents tend to go on holiday from July onwards when humidity is at its highest.
Tourism season finishes in April, however, the Capital still sees a few transit passengers on a stopover from the airport.
Not to mention there are a handful of tourists on budget-friendly trips since so many resorts and hotels drop prices from May onwards in the low season.
It is fairly impossible to do much outdoor exploring with the weather in Abu Dhabi in May unless it's early morning or evening.
With that in mind, this post provides a full breakdown of what to expect weather-wise in May, fantastic events to enjoy throughout the month, and of course fun things to do.
Abu Dhabi Weather In May
In May, Abu Dhabi experiences hot and dry weather typical of the desert climate.
Temperatures in Abu Dhabi in May range from around 38°C (100°F) during the day. Whilst at night, the temperature drops to around 26°C (78°F). The average daytime temperature is around 35°C (95°F).
Abu Dhabi experiences very little rainfall in May, with an average of only 10 mm and precipitation of 1% throughout the month.
The wind speeds in May in Abu Dhabi are generally light to moderate, with an average wind speed of around 10-15 km/h (6-9 mph).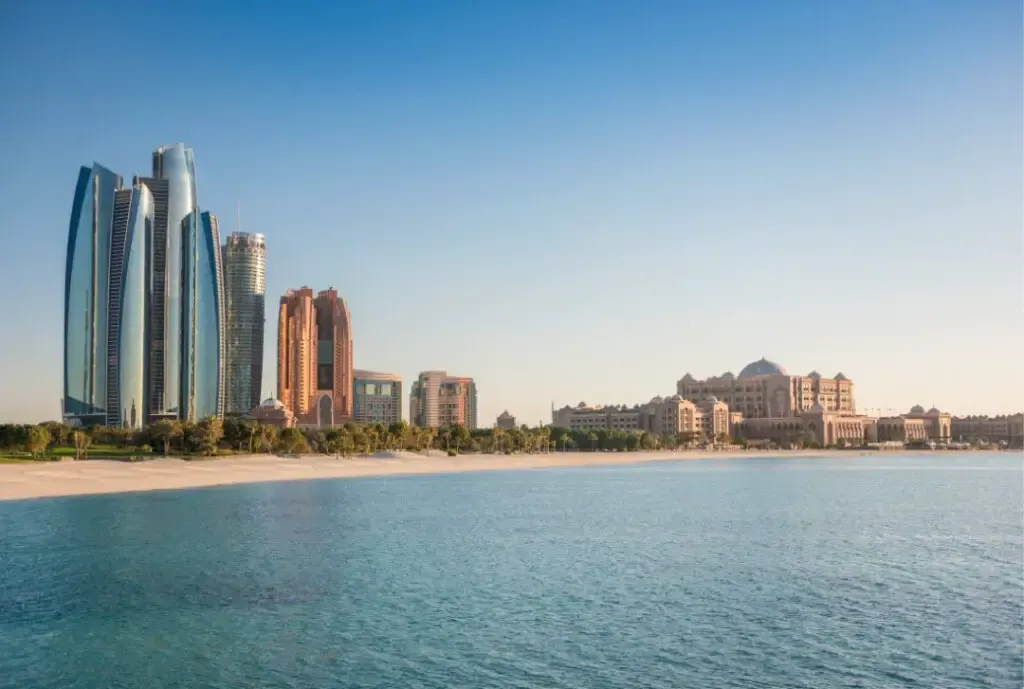 Humidity levels are also quite low in May, with an average of around 55% making it a slightly more tolerable month than June, July and August.
It is possible to be outside early morning and early evening as the sun sets. Going for a swim in the pool is doable from 3 pm onwards with plenty of sun cream.
The best months to visit Abu Dhabi are November or December through to April when the temperatures are pleasant to experience the outdoors comfortably.
January and February are some of the loveliest months as the weather is lovely and it is not quite as busy as November and December.
Abu Dhabi has a lot to offer in terms of outdoors such as beaches, desert safaris, kayaking through mangroves and visiting many beautiful landmarks and mosques.
That being said, evening exploring is possible in Abu Dhabi in May.
If you are wondering what to wear in Abu Dhabi in May, remember it is a conservative destination so light conservative clothing is best in certain places.
It can get a little chilly in malls and indoor places with AC so it is definitely worth having something warm and easy to like a cardigan or sweater.
Check out this full post on what to wear in Abu Dhabi for more guidance.
Events In Abu Dhabi In May
When it comes to events in Abu Dhabi in May, it's safe to say they are all indoors! This May, there is an exciting lineup of festivals, concerts, awards, theatre and comedy shows!
Fontana Water Circus, May 3rd Onwards
Throughout the month of May on selected days, Fontana Circus will be putting on a fabulous show at Marina Mall.
It is similar to the well-known Cirque Du Soleil, however, the show features water fountains with some incredible stunts. It is set to be a thrilling event with circus acts, music and fountains all rolled into one show!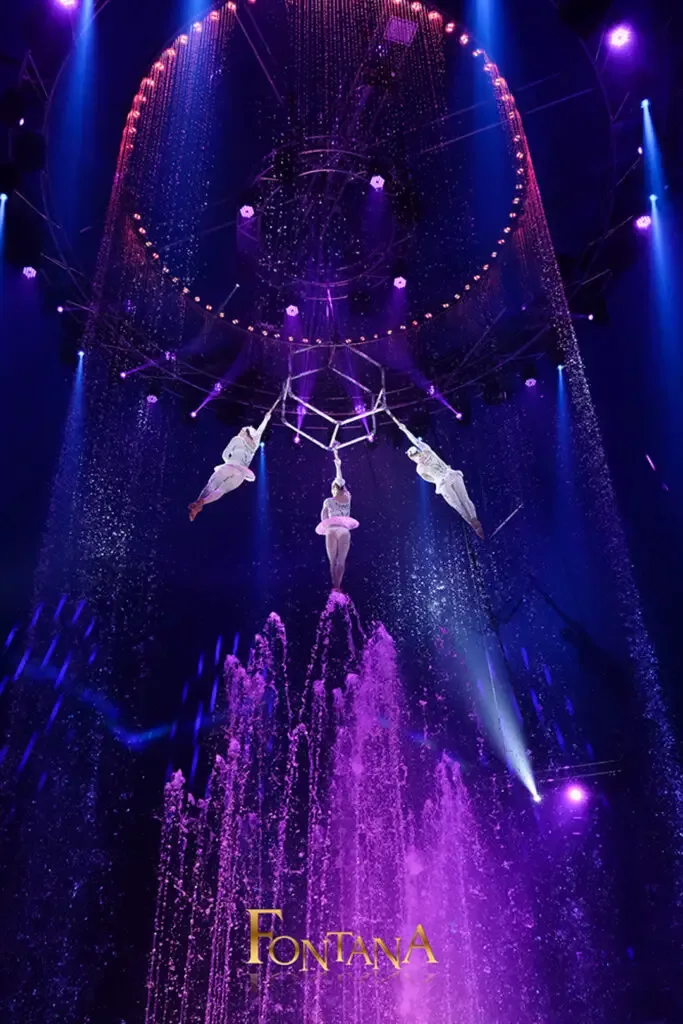 The event will take place inside a typical circus tent and will be in grandstand form providing optimal views for all attending.
Children 2 and below are free as long as they are not taking a seat.
Purchase tickets to Fontana Water Circus here.
Location: Al Kasir – Al Marina – Abu Dhabi – United Arab Emirates
Backstreet Boys, May 7th, Abu Dhabi
Backstreet Boys is certainly a blast from the past and they are hitting the stage at the Etihad Arena this May as part of their 'DNA World Tour'.
The American band that hit fame in the early 90s are likely to attract a crowd of millennials who followed the band as kids.
The show will be kicking off at 8 pm and is set to be an incredible evening of pop and RnB classics.
Not to mention Backstreet Boys are well known for their choreographed dances and will be interesting to see if they can still give it as much energy as 20 years ago!
But tickets to Backstreet Boys in Abu Dhabi here.
Location: Etihad Arena – Yas Dr – Yas Island – Abu Dhabi – United Arab Emirates
Jason Mansford Live, May 12th
British comedian, Jason Mansford is taking to Emirates Palace this May with his hilarious show.
Jason is best known for his seat on the popular UK TV show, 8 out of 10 cats, One Show and A Question Of Sport.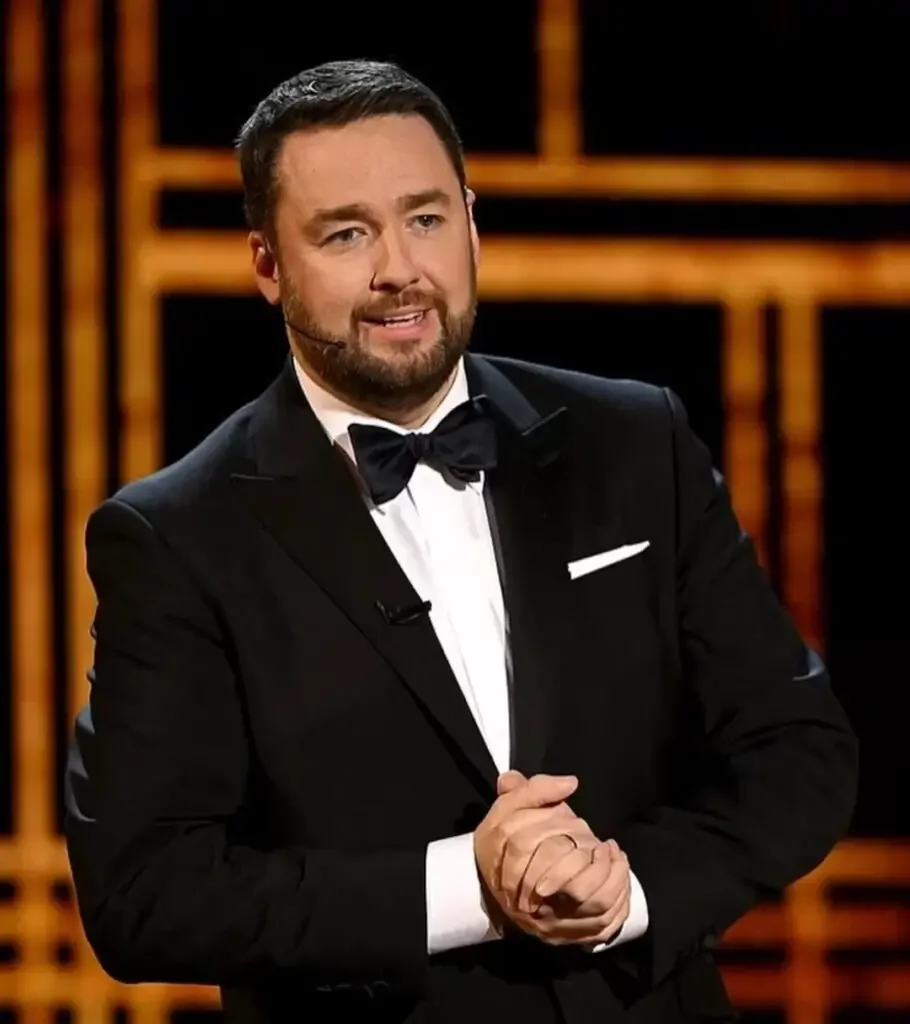 This event is likely to pull in lots of British ex-pats living in Abu Dhabi! Make an evening of it and have dinner at one of the lovely restaurants at Emirates Palace before the show which starts at 8:30 pm.
Book tickets to Jason Mansford live.
Location: Emirates Palace Mandarin Oriental Abu Dhabi, Auditorium Level 1, West Corniche Road, Abu Dhabi
Peter Pan On Ice, May 12th & 13th
It's hard to imagine anything involving ice with the weather in Abu Dhabi in May. However this May, Peter Pan on Ice is taking guests on a magical journey to Neverland at the Abu Dhabi Cultural Foundation.
For two days only, enjoy the incredible choreography and theatrical staging with recognisable Peter Pan songs.
The costumes and animation is set to be next level and sounds like a lovely event for children.
The event on the 12th will be at 6 pm and on the 13th it will be at 11 am and 5 pm which may be better times for younger kids.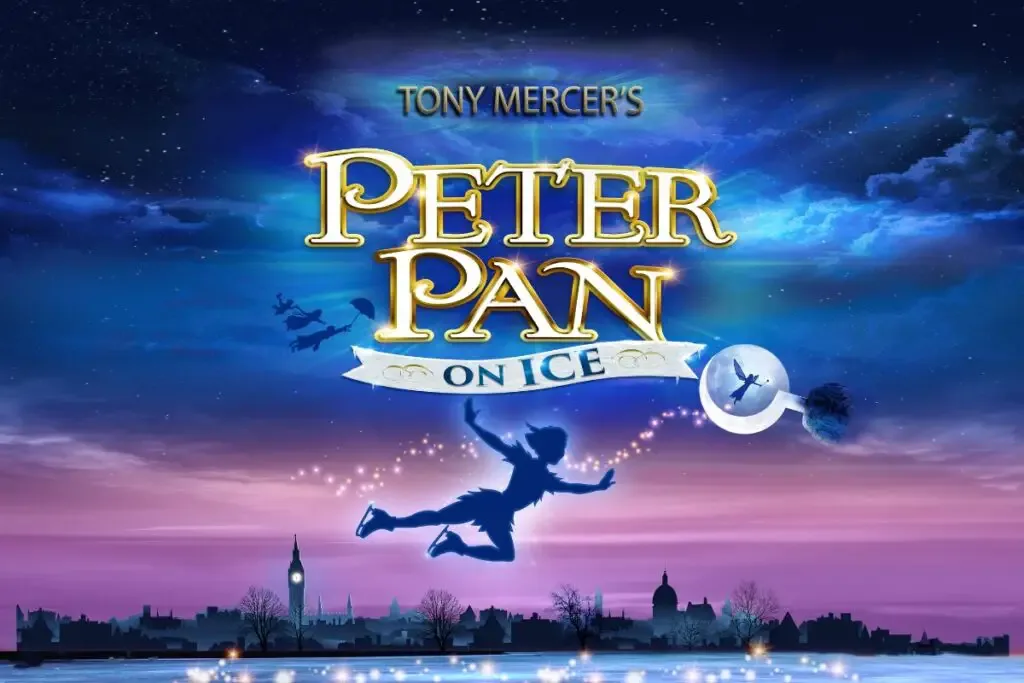 Altogether, the show goes on for 2 and a half hours with a break as Peter takes Tinker Bell to Neverland. Expect to see Captain Hook in action with his Pirates in some daredevil aerial fighting set to have guests on the edge of their seats!
Tickets range from platinum to bronze admission and can be purchased on Fever Up.
Location: Abu Dhabi Cultural Foundation – Rashid Bin Saeed Al Maktoum St(2nd St) – Al Hisn – W3 – Abu Dhabi – United Arab Emirates
Monster Jam, May 13th & 14th
Monster Jam is taking to Etihad Arena this May for an adventure-filled weekend! This is the show for motor sport enthusiasts and those kids who simply love monster trucks!
The event is suitable for kids and 2 year olds go free as long as they are not taking a seat.
Watch on as 5-tonne vehicles perform flips and tricks. Not to mention there will be a series of races, competitions and skill contests!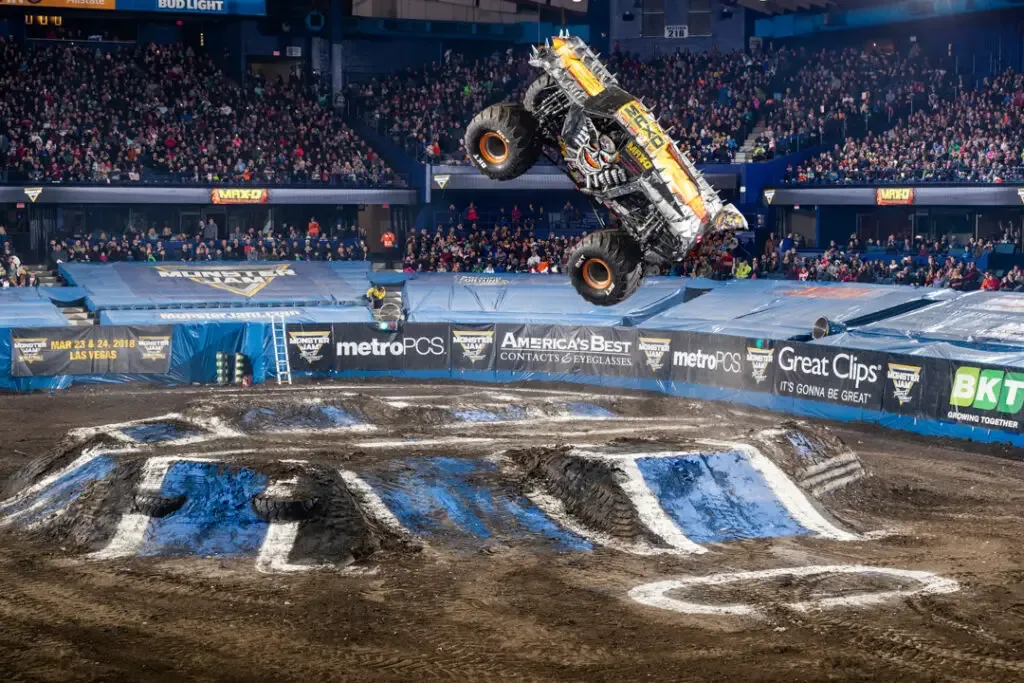 Seat options range from bronze to VIP and doors open at 1pm on both days of the event.
Get tickets to Monster Jam Abu Dhabi here.
Location: Etihad Arena – Yas Dr – Yas Island – Abu Dhabi – United Arab Emirates
Abu Dhabi International Book Fair, May 22th-29th
The Abu Dhabi International Book Fair will be held at ADNEC this May. It's essentially a trade show featuring in excess of 120,000 books on previous years.
It's an opportunity for publishers, writers, the media and agents to come together and create business opportunities. The event is free for visitors and run by the Abu Dhabi Culture & Tourism Department.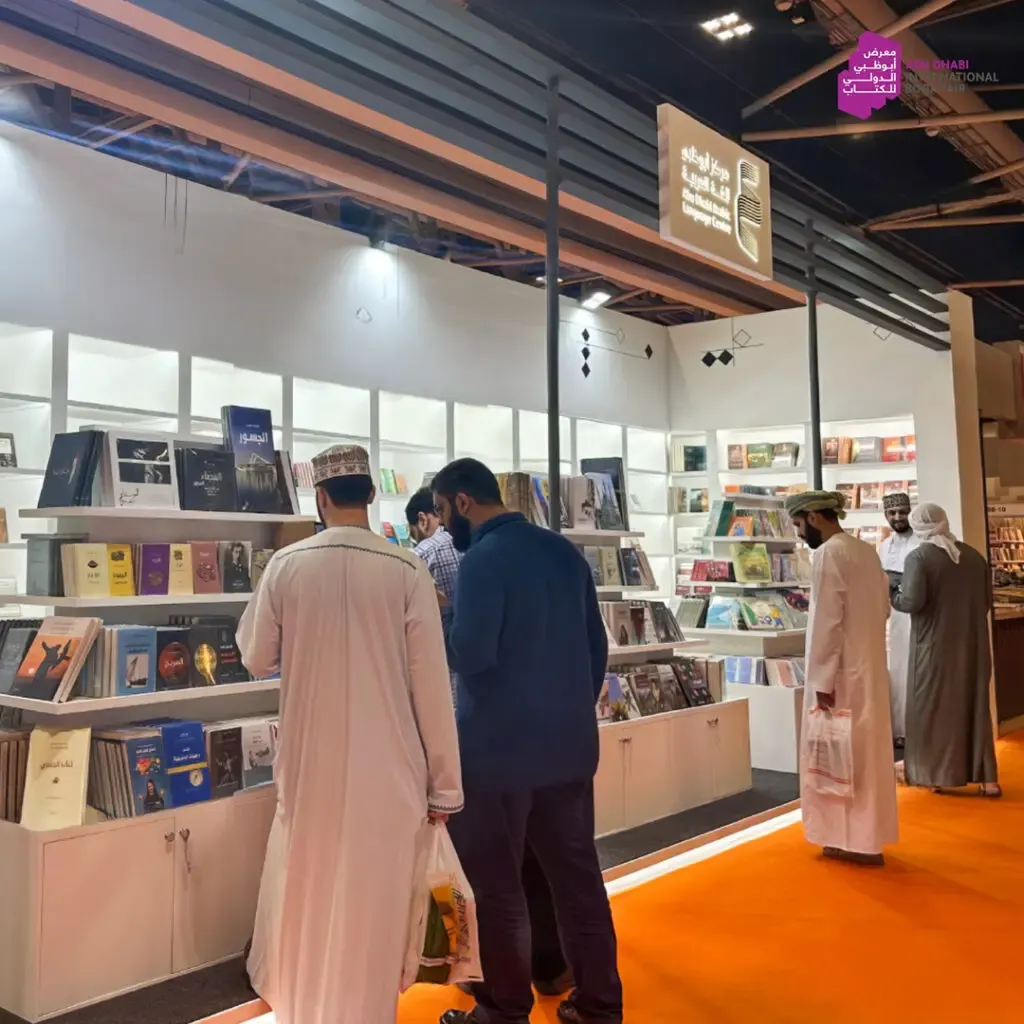 Abu Dhabi book fair is expected to attract over 150,000 visitors over the week long event.
Previous years have seen cultural events, film screenings and activities alongside the book fair making it a fun and unique day out.
There are several awards associated with the book fair which hold great significance in the MENA region.
Location: Abu Dhabi National Exhibition Centre -Al Khaleej Al Arabi St – Al Rawdah – Al Ma'arid – Abu Dhabi – United Arab Emirates
Nemr, May 26th in Abu Dhabi
Another comedy show this May is Nemr, who is a well-known Lebanese-American stand-up comedian. He will be taking to the stage at Bab Al Qasr Hotel on the Corniche for one night only.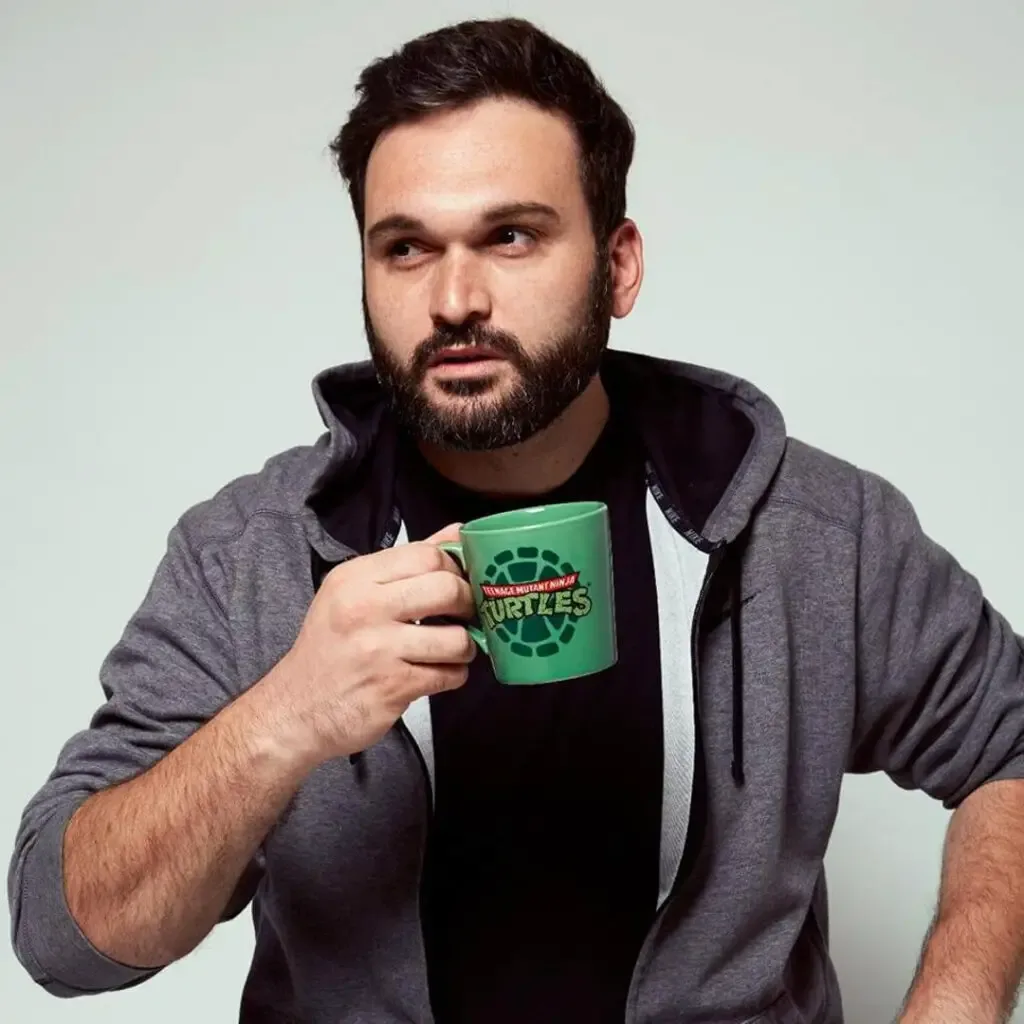 The hilarious show 'Dropping Hot' is set to be a sell-out gig based on his previous success spanning across the globe from the US to the Middle East.
Location: Bab Al Qasr – W Corniche Rd – Al Bateen – Abu Dhabi – United Arab Emirates
IIFA Awards, May 26th & 27th
Bollywood fans will be glad to know the International Indian Film Awards will be taking over Etihad Arena this may. With so many Indian ex-pats in Abu Dhabi, it is going to be a huge event.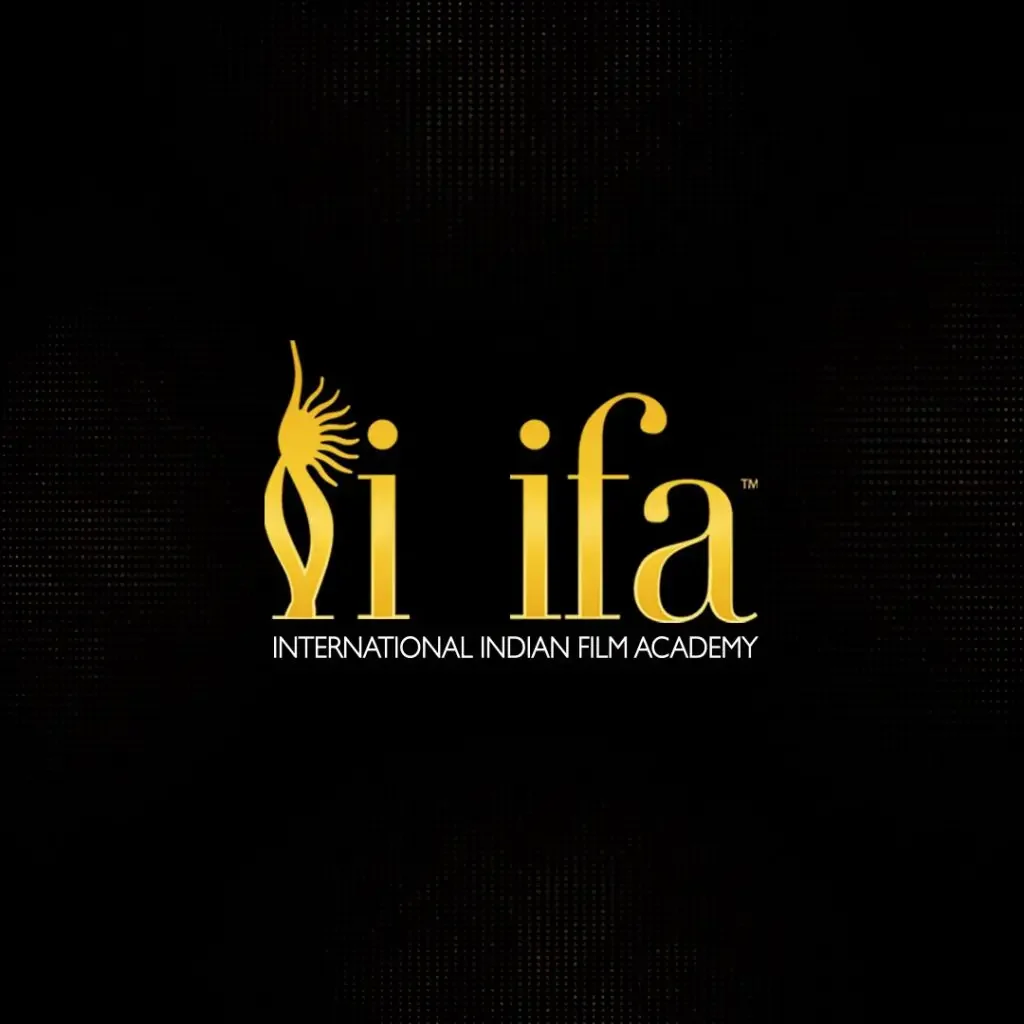 Internationally famed Indian stars will take to the stage with fantastic performances. Some tiers are already sold out so be sure to get a ticket as soon as possible to avoid missing out.
Purchase tickets to the IIFA Awards here.
Location: Etihad Arena – Yas Dr – Yas Island – Abu Dhabi – United Arab Emirates
Things To Do In Abu Dhabi In May
Now that we have covered all of the fantastic events in Abu Dhabi, lets look at some other generic things to do in Abu Dhabi in the month of May.
For a more detailed guide, check out this post on indoor activities for adults or this one on indoor activities for families.
The National Aquarium
Located in Al Qana, the National Aquarium in Abu Dhabi is an exciting attraction surrounded by a range of fantastic restaurants and cafes.
It offers an ideal escape from the weather in Abu Dhabi in May and features over 300 unique creatures across several themed zones.
Some areas feel like the rain forest with birds flying above and perching in tree branches.
Other areas feature touch pools and glowing jellyfish. The large ocean tanks housing sharks and schools of fish are probably the most impressive.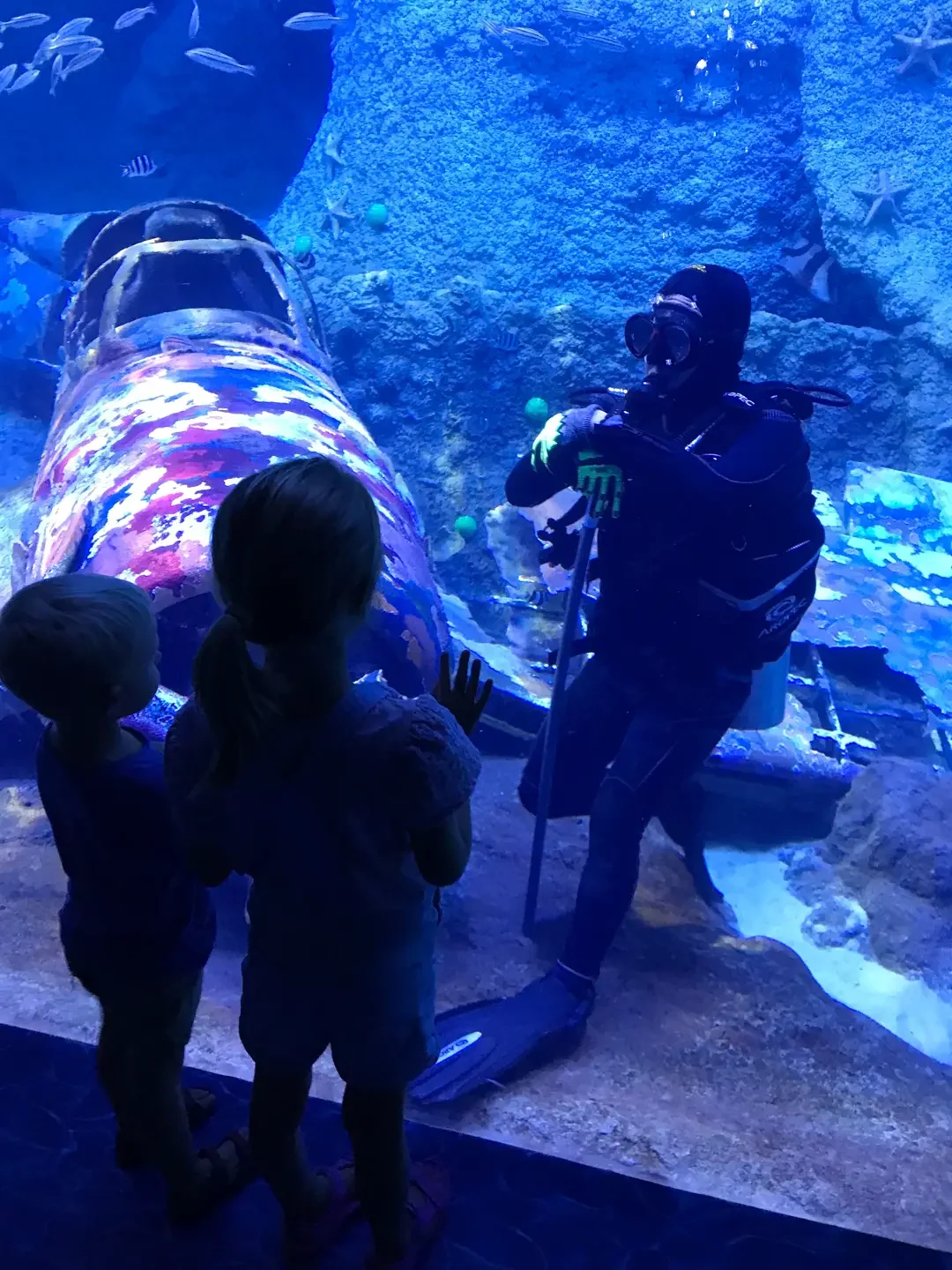 There's a uniquely British touch with a red telephone box transformed into a fish tank.
Aside from the awe-inspiring exhibits, the National Aquarium in Abu Dhabi provides plenty of educational experiences and add-ons.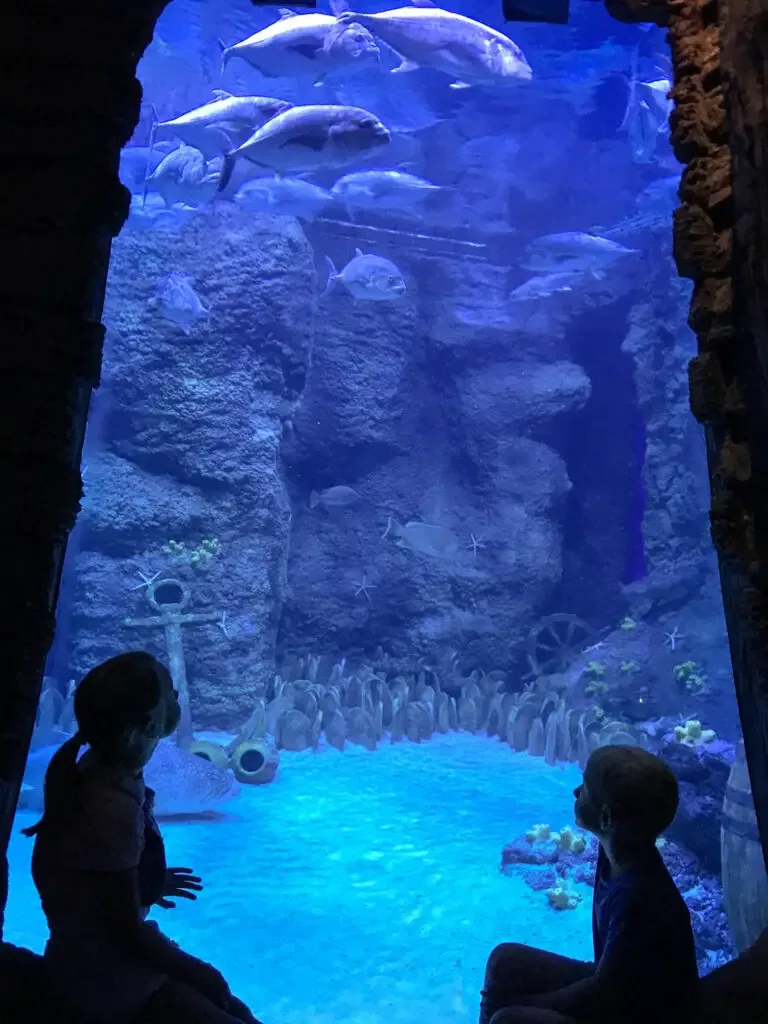 Opt for a behind-the-scenes tour to learn about the aquarium's conservation efforts, or board a glass-bottomed dhow boat to see sharks swimming beneath.
While there is a café on-site, it's recommended to head to the Al Qana waterfront restaurants for lunch where there are some really fantastic options.
Book tickets to the National Aquarium here.
Location: Al Qana – Rabdan – Abu Dhabi – United Arab Emirates
Ferrari World
With its thrilling rides, Ferrari World is the perfect place to visit during the hotter weather in Abu Dhabi in in May since most of the park is indoors.
From adrenaline-pumping roller coasters to virtual reality experiences, there's something for everyone at Ferrari World.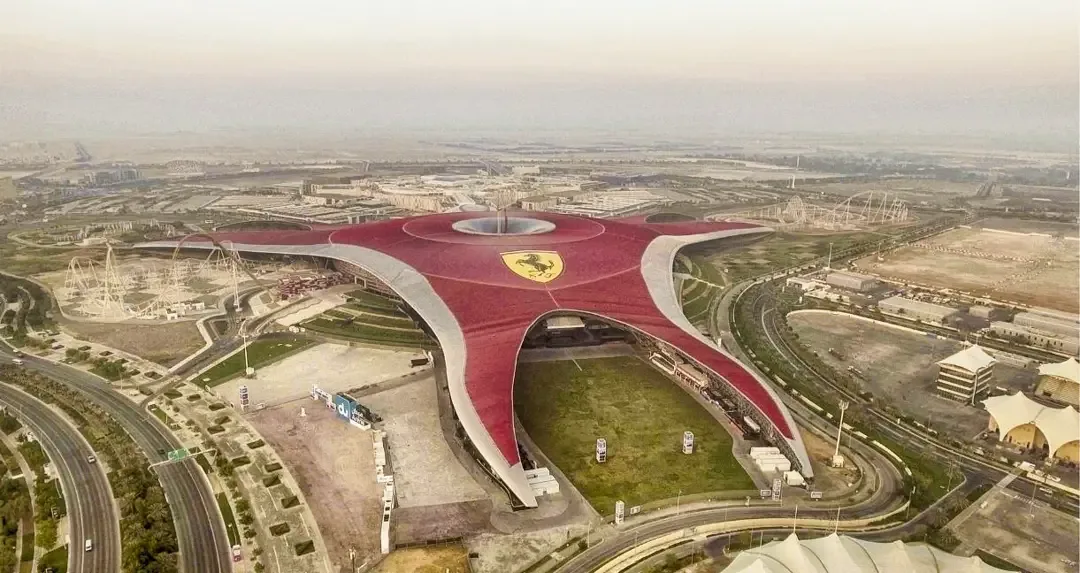 The iconic Formula Rossa is one of the most popular rides and features a top speed of 0-240 km/h in just 4.9 seconds making it the fastest rollercoaster in the world.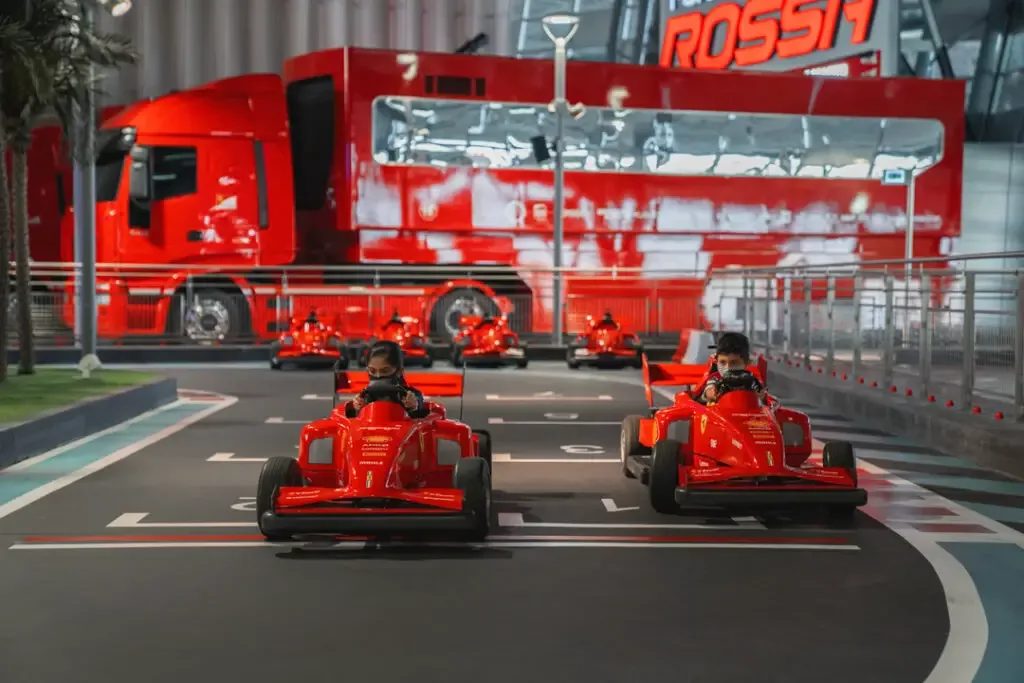 Don't forget to try the Flying Aces rollercoaster and Bell'Italia which is essentially a mini Italy and offers a completely immersive experience.
Book tickets to Ferrari World here.
Location: Yas Island – Yas Leisure Dr – Yas Island – Abu Dhabi – United Arab Emirates
CLYMB
Clymb Abu Dhabi, is situated adjacent to Ferrari World in Yas Mall. It's a popular indoor activity known for its state-of-the-art facilities featuring two record-breaking attractions.
The first one is the world's tallest indoor climbing wall, towering at an impressive 140 feet. Whilst the second is the world's tallest indoor skydiving flight chamber, measuring 32 feet in width and 82 feet in height.
Clymb Abu Dhabi's indoor climbing wall is a challenging course, but it is safe and secure for all skill levels, with experienced instructors briefing climbers.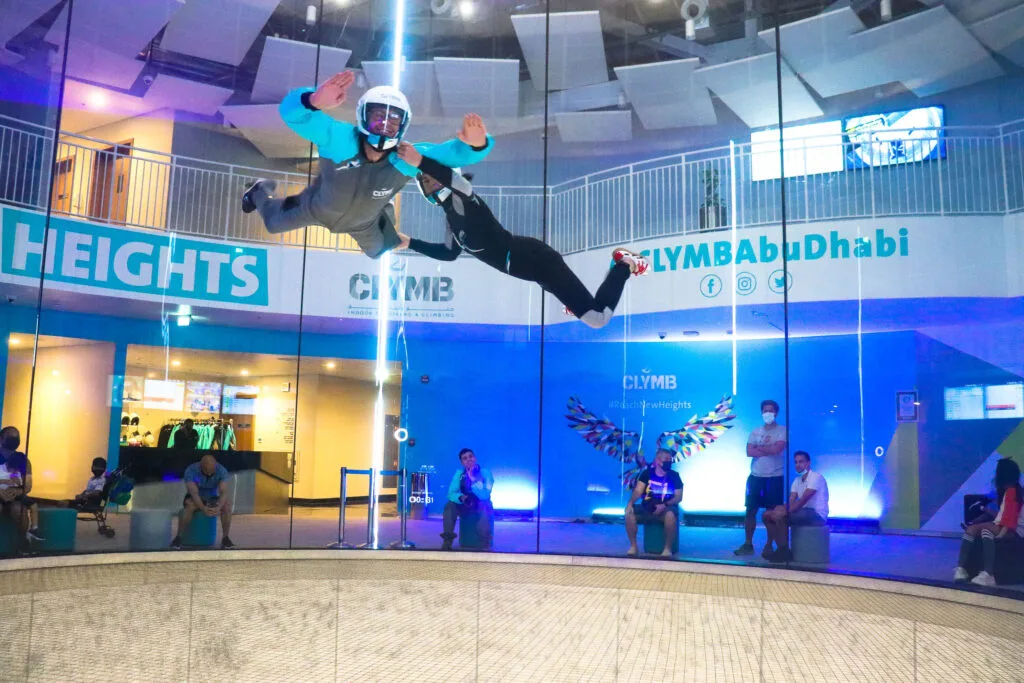 On the other hand, the indoor skydiving flight chamber offers an experience that is as close as possible to jumping out of an aeroplane. It's open to both children and adults but not suitable for individuals with neck or back injuries.
Before entering the vault, everyone is provided with a safety briefing and taught about positioning. An instructor assists each person as they are suited up in the necessary safety gear and taken into the vault one by one.
While the position can be difficult to master, those who cannot manage it can opt to hover at a lower height.
Location: Yas Dr – Yas Island – Abu Dhabi – United Arab Emirates
WB WORLD
Warner Bros World Abu Dhabi is an exciting indoor activity catering to children and adults since there are tonnes of adrenaline-fuelled rides.
WB World holds a record for being the largest indoor theme park in the world. It has six immersive areas to explore including Gotham City, Metropolis, Cartoon Junction, Bedrock, Dynamite Gulch, and Warner Bros. Plaza.
Adults can relive childhood memories as they explore the park with old-school cartoon characters and themes.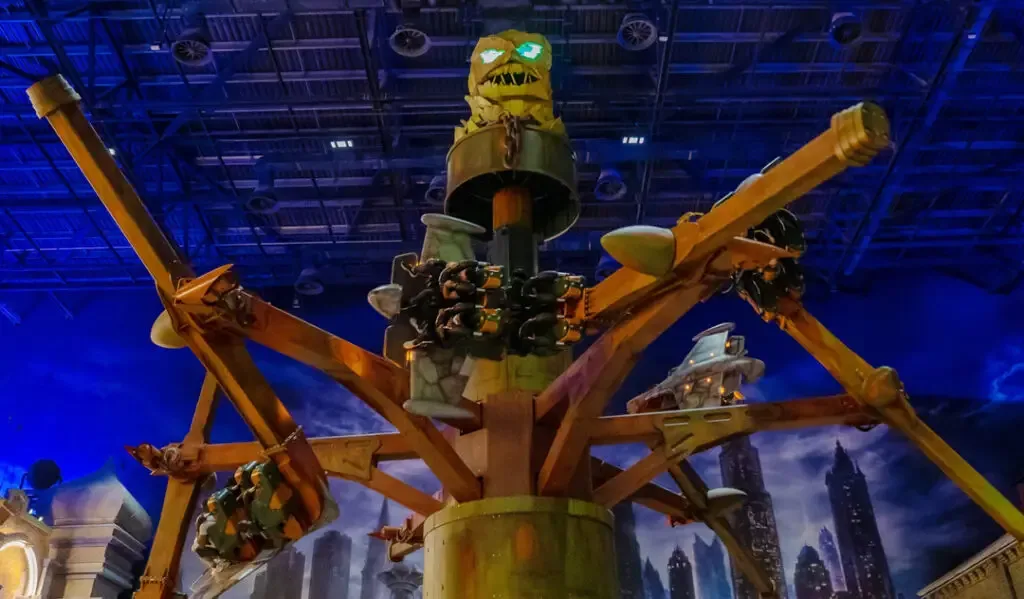 The park is fully air-conditioned, and each area has a clever sky-like ceiling to create an outdoor atmosphere.
Rides for adults, including the Batman Knight Flight roller coaster that flies through Gotham City and the Scooby-Doo Museum of Mysteries, a slightly spooky ride.
Another highlight of WB World Abu Dhabi is the Central Perk Cafe, reminiscent of the iconic Friends TV series, adding a touch of nostalgia to the experience.
For kids, popular rides include the Flintstones Bed Rock river adventure, Cartoon Junction Carousel and Daffy jet propelled pogo stick to name a few.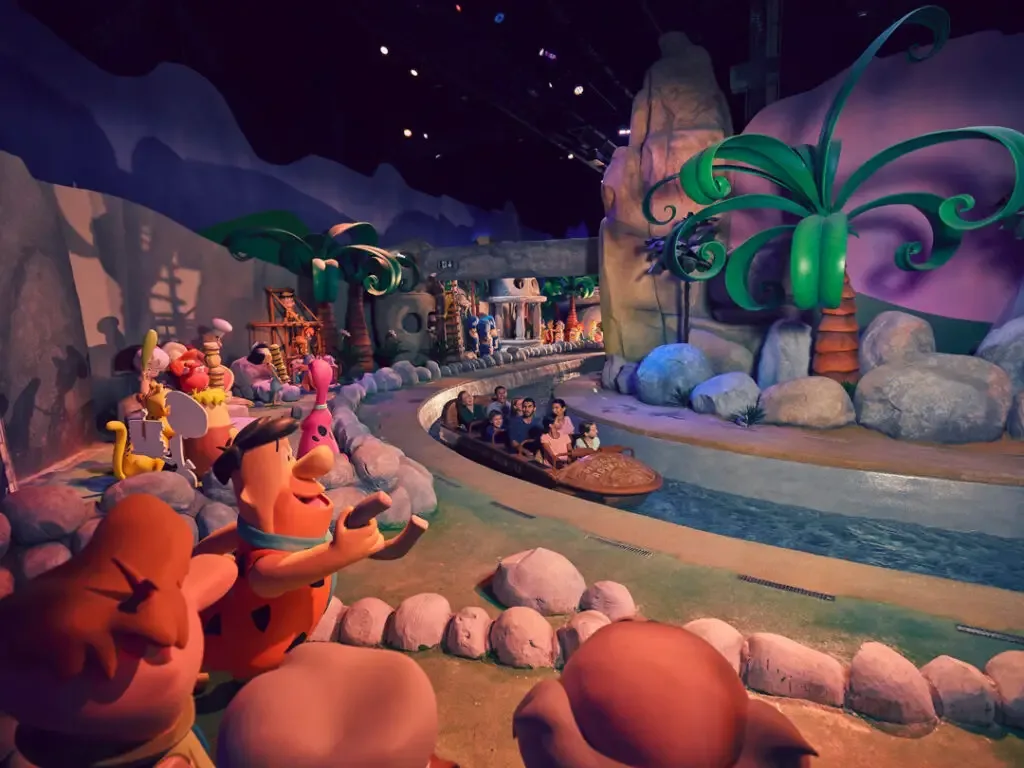 Whether you're seeking thrills or simply want to indulge in childhood memories, Warner Bros World Abu Dhabi is one of the top indoor activities.
Book tickets to WB World here.
Location: Yas Island – Abu Dhabi – United Arab Emirates
Pixoul
Pixoul is a distinctive indoor activity in Abu Dhabi catering to adults with a passion for gaming and virtual reality.
Located in Al Qana, the immersive experience provides the perfect escape from the weather in Abu Dhabi in May.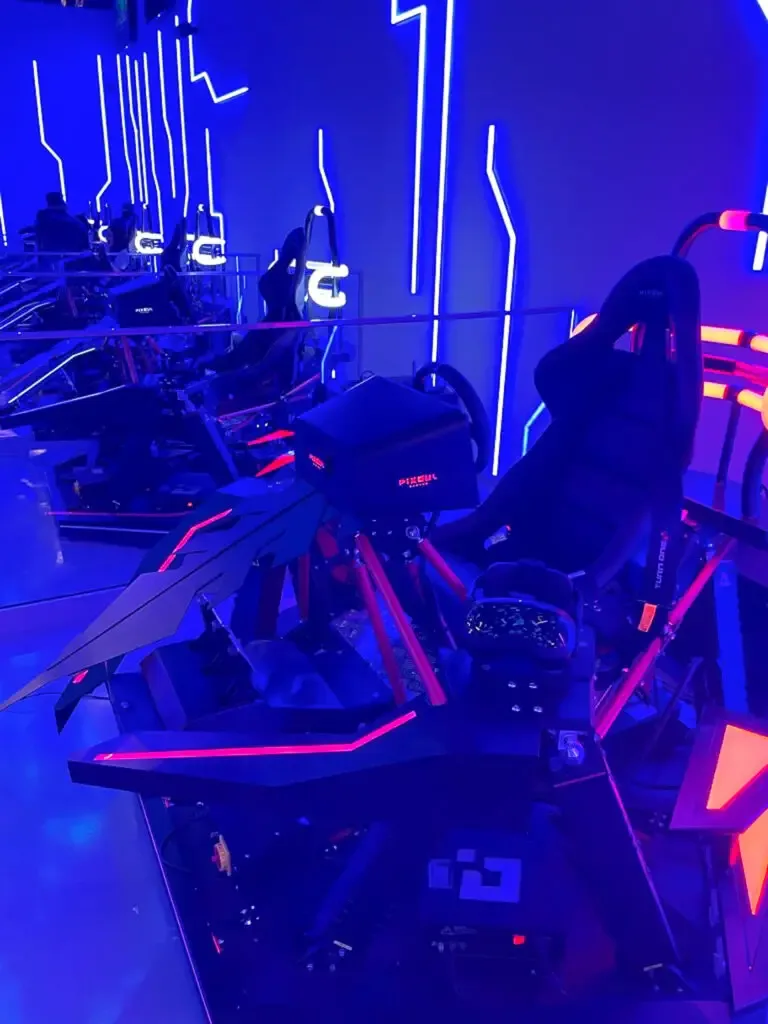 Pixoul is a futuristic world utilizing state-of-the-art virtual reality technology.
It offers many immersive experiences such as racing through futuristic cities, solving puzzles, and escaping from virtual reality rooms.
With five zones to explore, Pixoul is the largest gaming arena in the region. Pixoul aims to create a community of like-minded individuals, including professional gamers.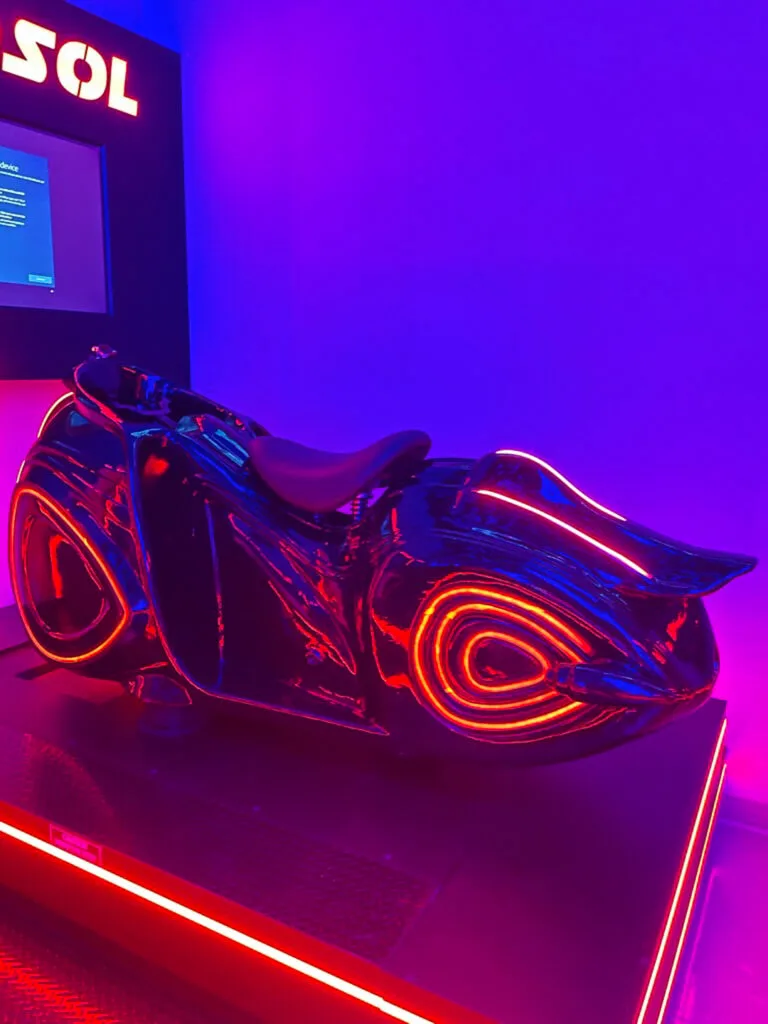 Whether you're a casual gamer or a serious player, Pixoul provides a unique and engaging environment to enjoy virtual reality experiences and connect with other gaming enthusiasts.
Location: Al Qana Walk – Rabdan – المَقطَع – Abu Dhabi – United Arab Emirates
Splatter
Splatter is a creative experience located in Al Seef Village Mall. It offers visitors the chance to unleash their inner artist through a fun and messy paint-splattering session.
Equipped with protective gear and paint guns filled with vibrant, non-toxic paint, splatter paint on the walls, canvases, and even each other!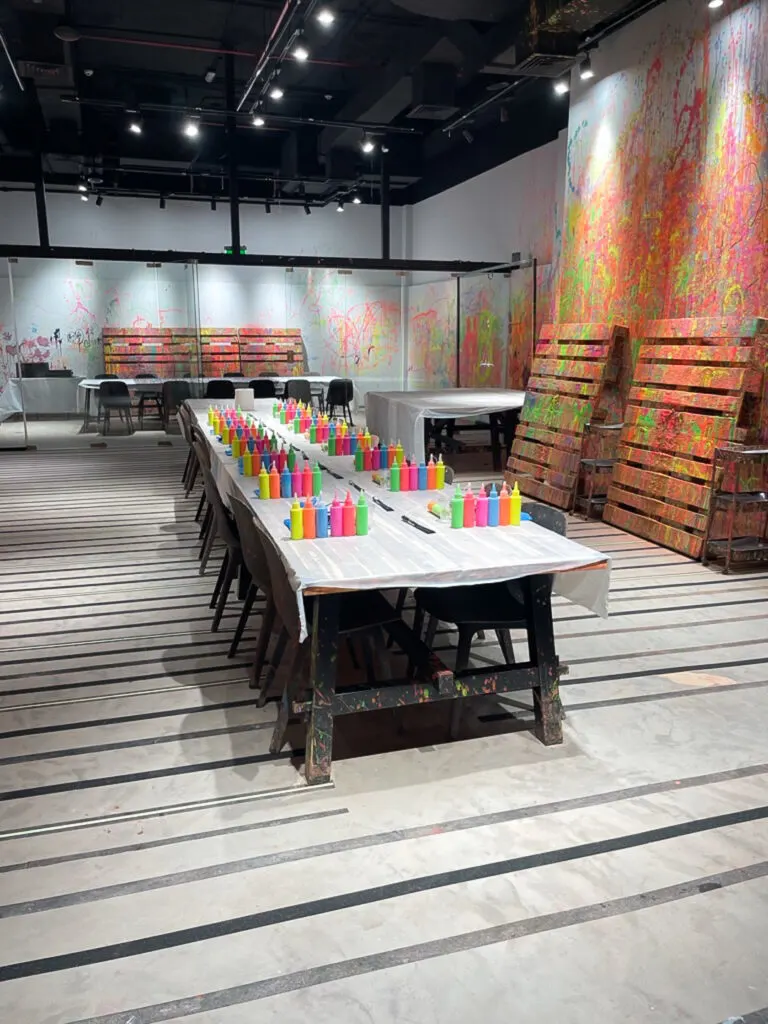 The experience is an excellent way to relieve stress and anxiety through art therapy. The friendly and helpful staff at Splatter provide everything required to make the most of the experience, including guidance on painting techniques.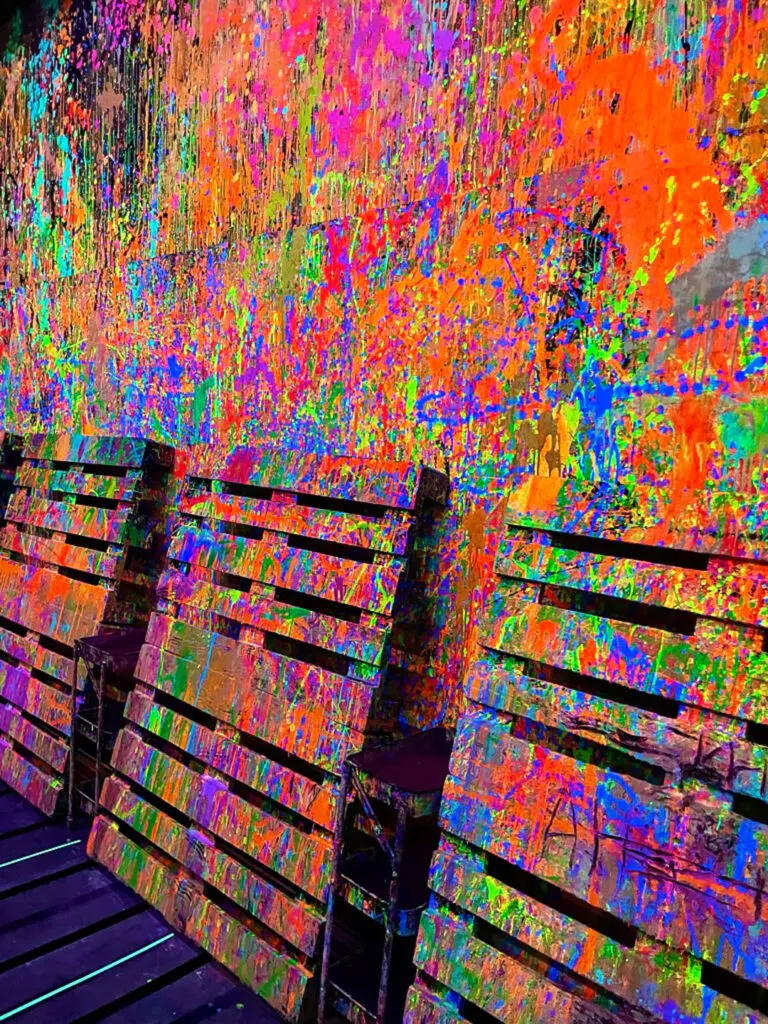 They offer different packages, ranging from basic to premium, depending on the number of people in the group and the amount of time you want to spend splattering.
Location: Al Seef Village Mall – 1st Floor – Al Salam Street – Al Muntazah – Zone 1 – Abu Dhabi – United Arab Emirates
Velocity WTC Mall
The Velocity slide located in the WTC Mall is an exciting indoor activity catering to thrill seekers of all ages.
This slide is one of the largest indoor slides in the Middle East and features two slides side by side, with one having a few extra twists than the other.
The Velocity slide starts from the third floor and twists and turns all the way down to the ground floor, making it a prominent attraction in the mall.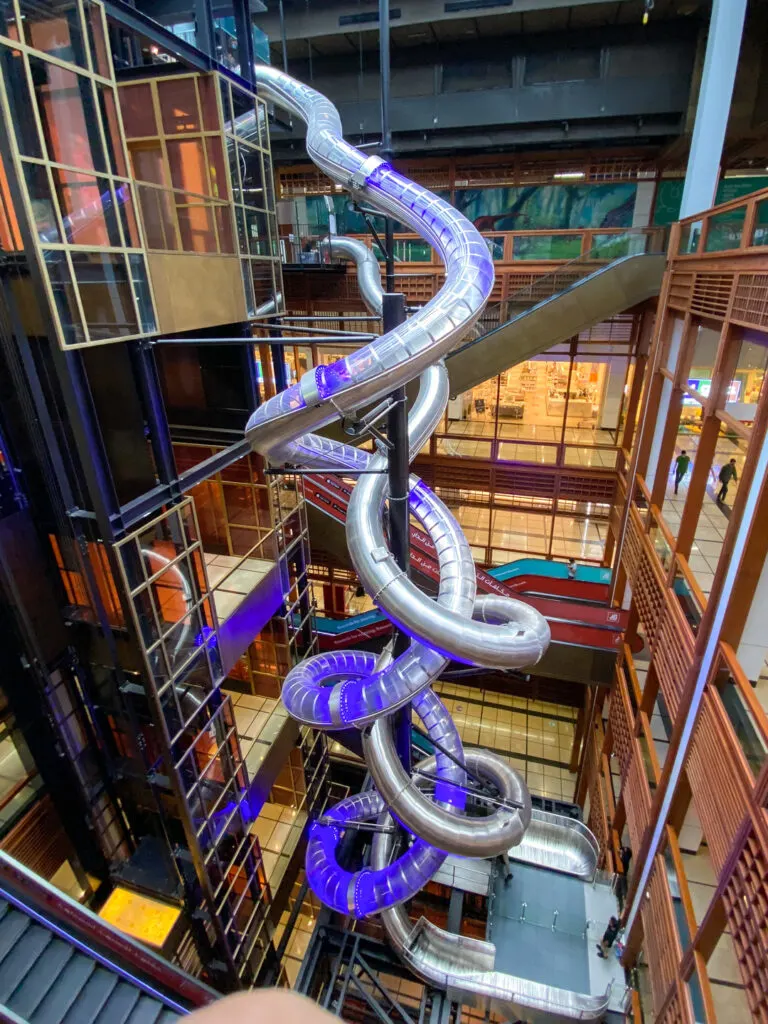 Visitors slide down in a sack, which adds to the excitement and allows them to pick up extra speed.
At a towering height of 160 metres, riders can achieve a speed of 2-3 meters per second, providing an unforgettable experience.
Collect tickets on the ground floor before heading to the top.
Location: F9Q4+CGJ – Al Danah – Zone 1 – Abu Dhabi – United Arab Emirates
Qasr Al Hosn
The 18th Century palace was originally the home of the Al Nahyan family. It has since been transformed into a museum dedicated to preserving the UAE's cultural heritage.
Qasr Al Hosn is the perfect cultural experience to enjoy with the weather in Abu Dhabi in May. Although some of the outdoor grounds are beautiful to spend time exploring, there is plenty to enjoy indoors.
Restoration of the building has resulted in a beautiful landmark that blends the past's architectural style with modern elements.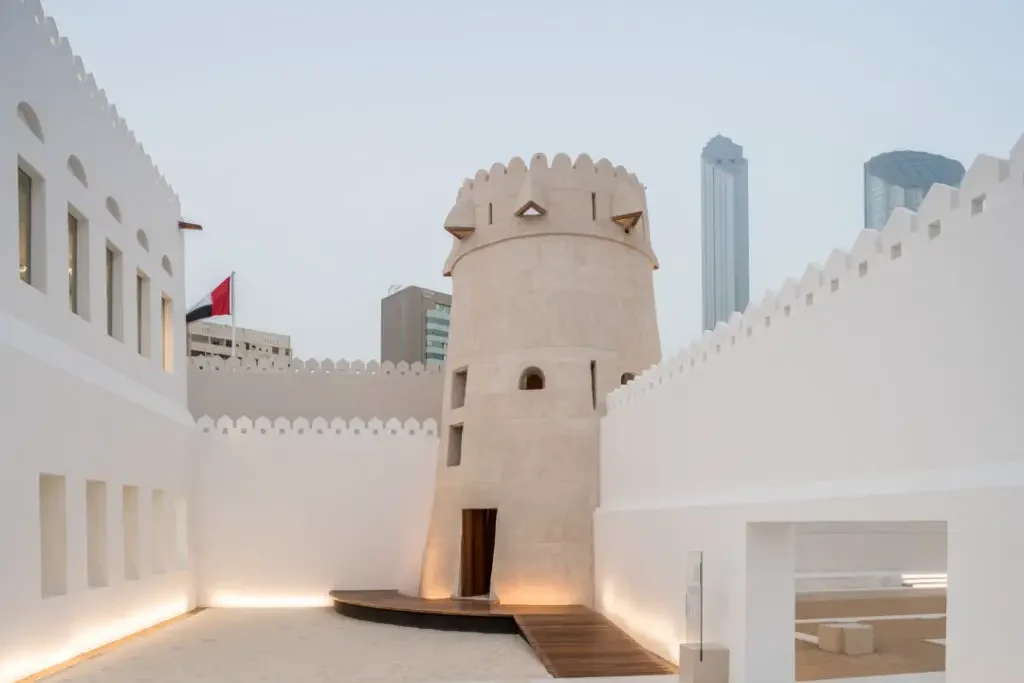 The museum features numerous exhibits, artefacts, and photographs showcasing the region's history. The building is split into two sections, the inner and outer buildings.
An old defence fortress with a stunning courtyard, towers, and bastions is what is considered the inner building. While the outer building was constructed when the Royal Family occupied Qasr Al Hosn as a palace.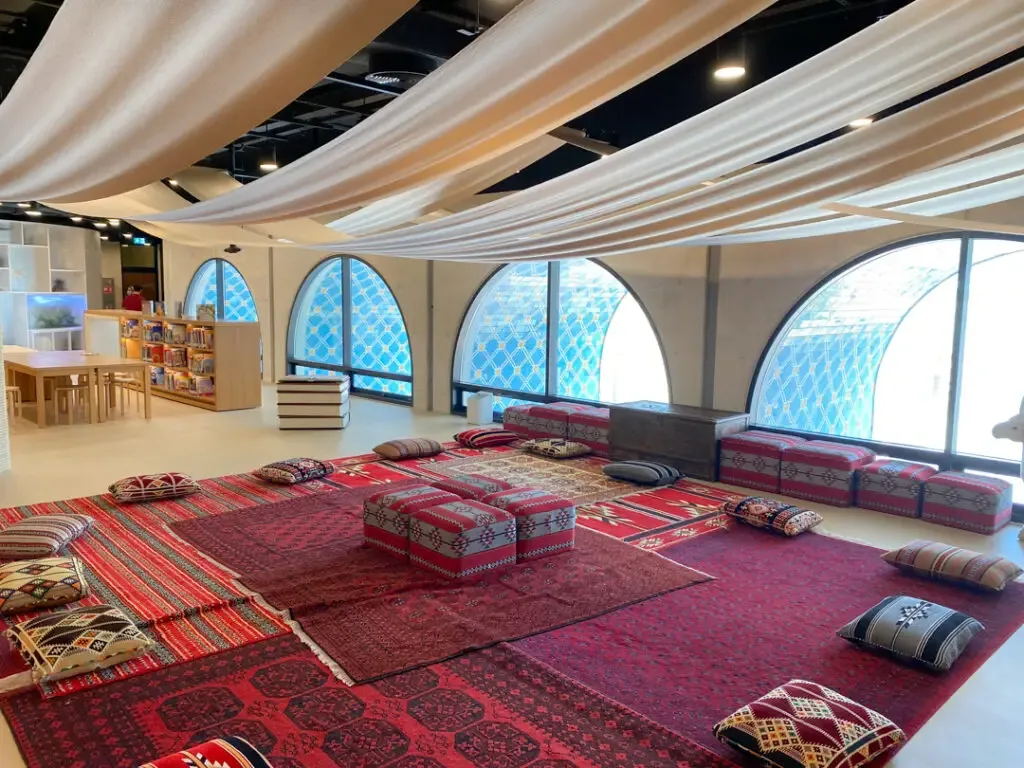 Adjacent to the palace is the Cultural Foundation, which hosts a variety of cultural and artistic events and exhibitions.
Visitors should not miss this attraction, as it often features concerts, performances, and art exhibitions.
Book tickets to Qasr Al Hosn here.
Location: Rashid Bin Saeed Al Maktoum St(2nd St) – Al Hisn – W3 – Abu Dhabi – United Arab Emirates
Qasr Al Watan
Discover the grandeur of Abu Dhabi's culture with a visit to the breathtaking Qasr Al Watan.
This architectural masterpiece is a working presidential suite and a top tourist attraction in Abu Dhabi.
While some of the beautiful grounds are located outdoors, there are plenty of indoor activities to enjoy.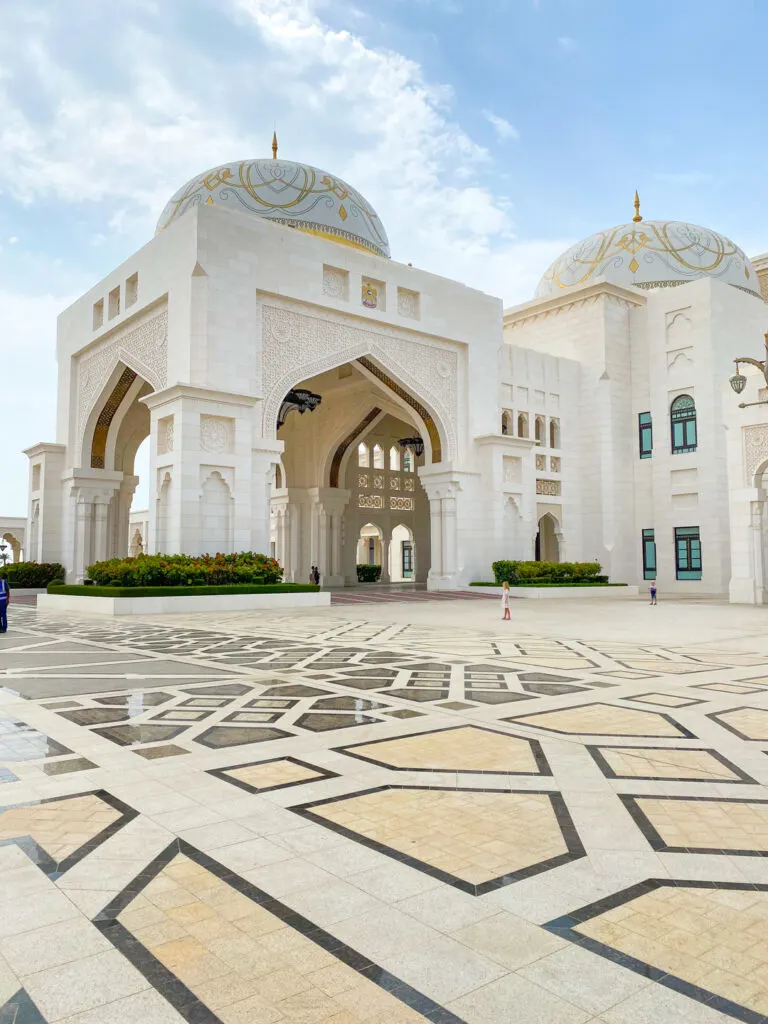 Visitors can marvel at the intricate Arabic calligraphy, stunning arches, and traditional columns made from white granite.
Inside, the palace boasts exquisite detailing on the walls, floors, and ceilings, using luxurious materials such as gold and crystals for the magnificent chandeliers and ornaments on display.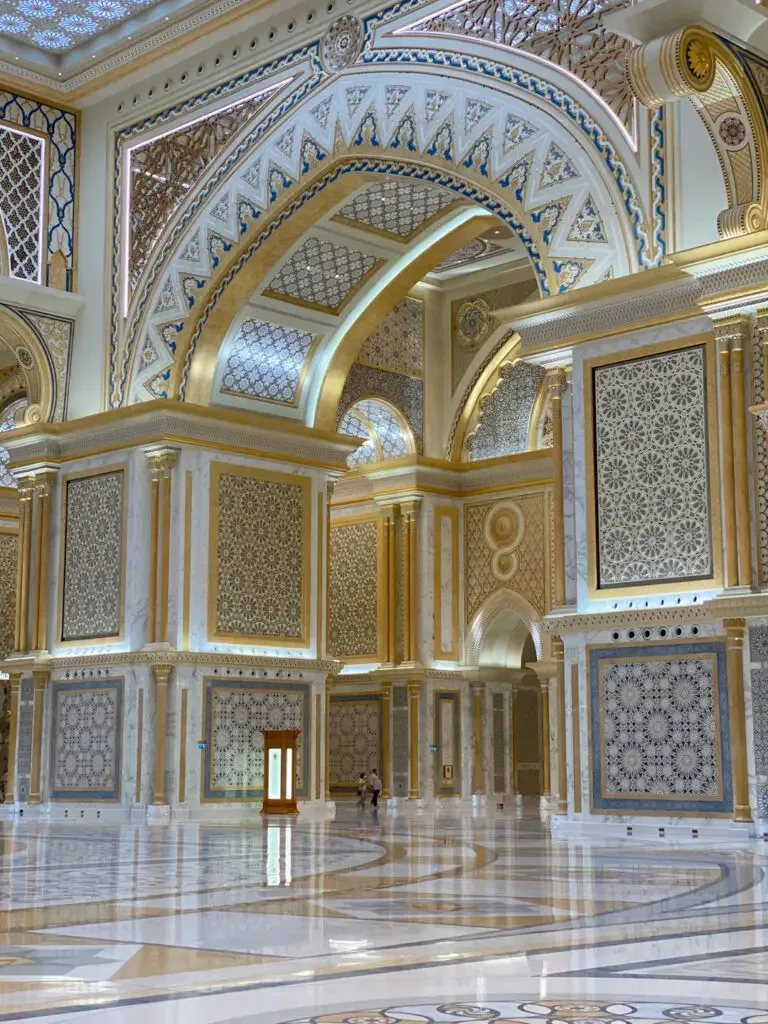 Qasr Al Watan is home to a collection of artefacts, manuscripts, and exhibits highlighting the country's cultural, scientific, and political achievements.
The library is a fascinating feature with a vast collection of books, manuscripts, and documents.
Book tickets to Qasr Al Watan here.
Location: Al Ras Al Akhdar – Abu Dhabi – United Arab Emirates
Brunch
Weekend brunches are one of the best indoor weekend activities in Abu Dhabi! Whether you're a local or a tourist, you've got to give brunch a go!
There are lots of options to choose from across the city. However, our top picks are Fairmont Bab Al Bahr, Royal M Hotel in the Marina, and Nahaam in Conrad Etihad Towers.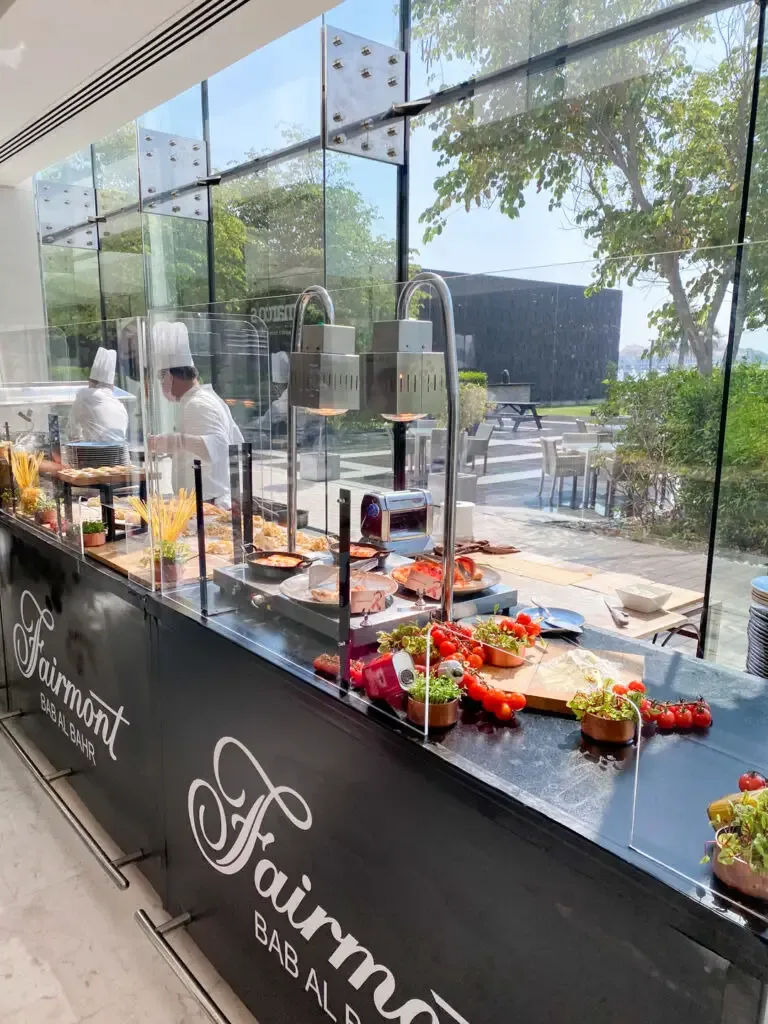 Fairmont Bab Al Bahr tends to offer quite a few vegan options alongside lots of non-vegan international cuisines.
Brunch in Abu Dhabi is usually an elaborate afternoon affair featuring a lavish buffet featuring all types of cuisine.
Everything from sushi to Mexican and Italian to Chinese can be found alongside local delicacies such as shawarma.
Some restaurants offer table-sharing platters, perfect for young families or couples. Similarly, some brunches are a family affair whilst others have a party vibe.
Family brunches usually start at lunchtime and some sharing platters at the Hyatt include pizzas, pasta and salad bowls, perfect for families.
Each brunch spot has different packages available, however, it usually comes down to brunch with either soft drinks or alcoholic beverages.
Check out this guide on the best brunches in Abu Dhabi!
Hey foodies, you may also like this guide to the best Turkish restaurants or the best Thai restaurants in Abu Dhabi!
Afternoon Tea
Afternoon tea is a popular choice when it comes to foodie indoor activities in Abu Dhabi. It's a perfect weekend affair, whether it's a romantic date or a day out with the girls.
Many hotels across the Emirate offer amazing afternoon tea options with varying styles.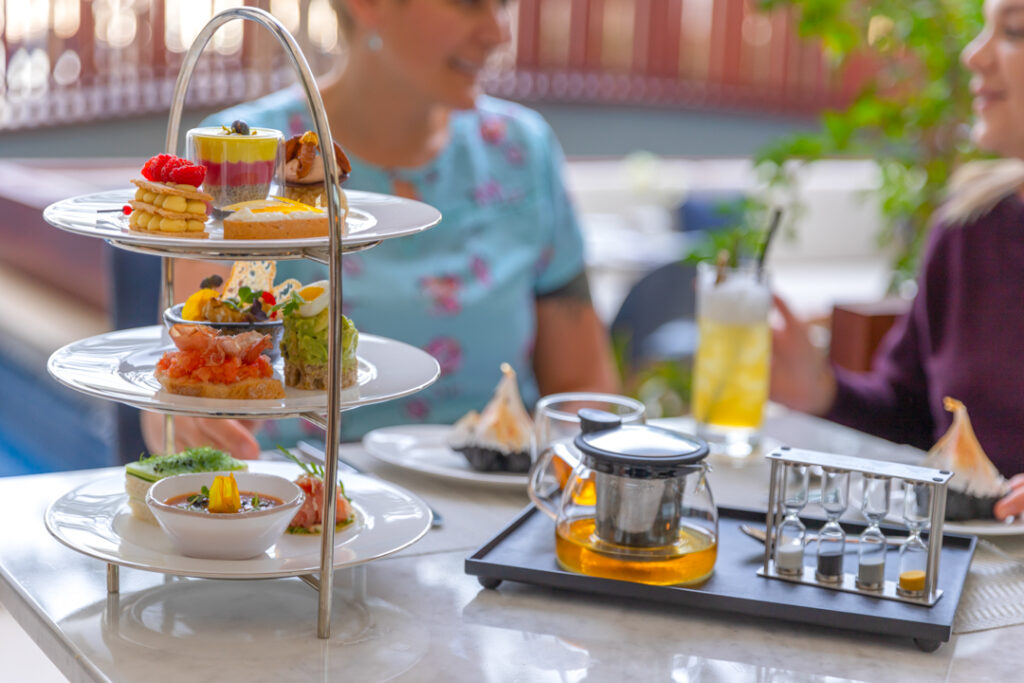 One of the most popular venues for afternoon tea in Abu Dhabi is the Emirates Palace Hotel By Mandarin Oriental.
The hotel's impressive lobby provides a luxurious setting for the afternoon tea service, which includes a selection of teas, finger sandwiches, scones, and pastries.
The St. Regis Saadiyat Island Resort is another great option for afternoon tea in Abu Dhabi. The elegant space offers a refined atmosphere for enjoying a selection of teas and delicious bites, such as quiches, tarts, and sandwiches.
Afternoon tea includes a choice of scones and cakes, along with a glass of sparkling wine.
For a more unique afternoon tea experience, Observation Deck at 300 in Etihad Towers is a fantastic choice.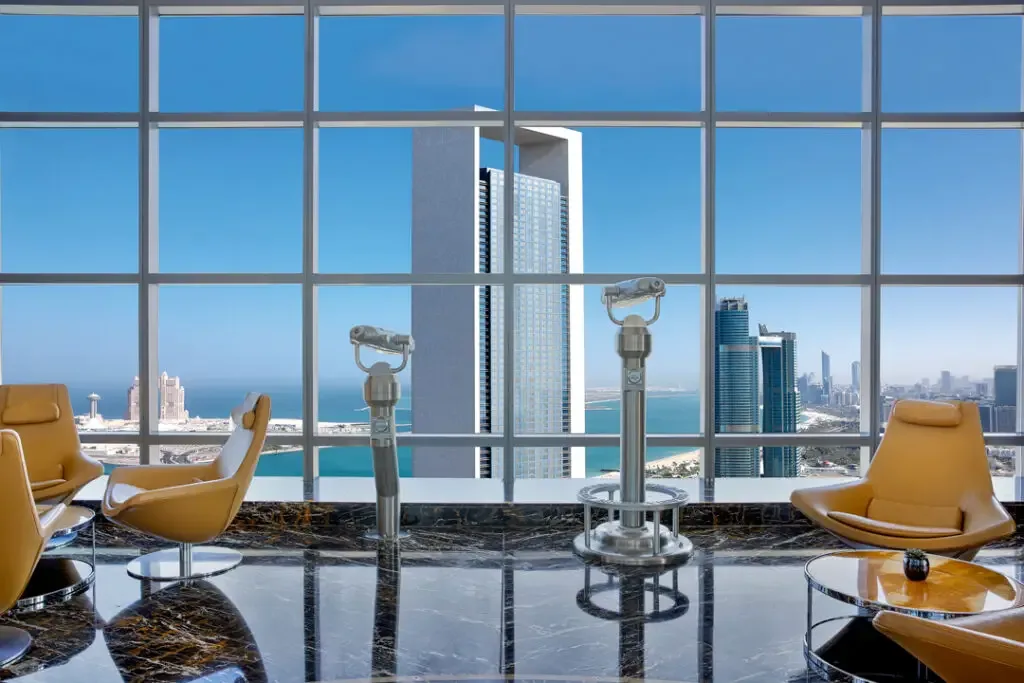 The venue offers a high tea service with breathtaking views of Abu Dhabi's skyline. The menu includes a selection of savoury bites, scones, and sweets, as well as a choice of tea or coffee.
Spa Treatment
Abu Dhabi has an abundance of spa facilities for those looking to indulge in some self-care.
One of the top picks is Sense, A Rosewood Spa, which exudes luxury with its plush suede furnishings and sparkling chandeliers.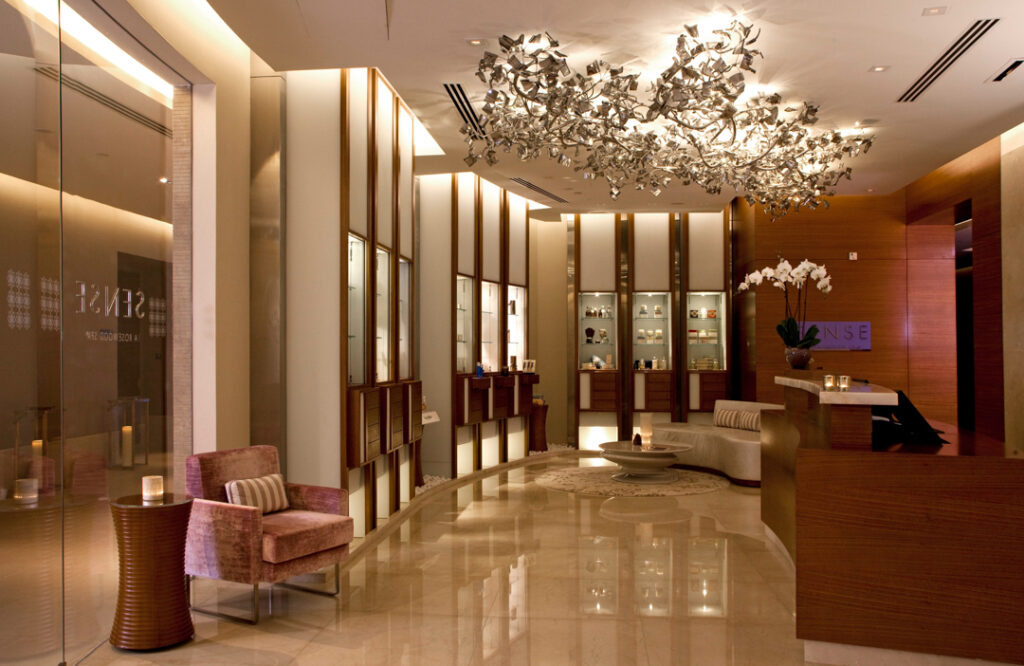 Couples can enjoy a relaxing massage, but it's worth noting, the plunge pool and steam rooms are separate for men and women.
The spa uses high-quality products, and the skilled therapists create a truly special experience.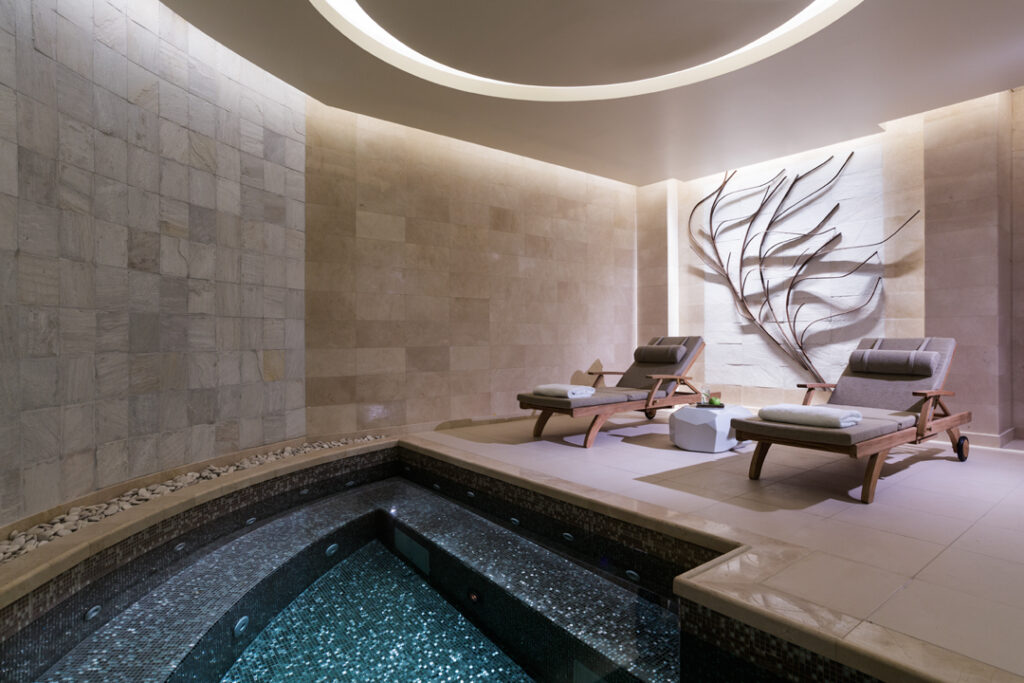 Expect signature massage oils infused with Arabic scents of oud and frankincense, as well as treatments influenced by the local surroundings, such as the desert rose or Arabian nights.
During the summer months, the spa often offers affordable deals on Groupon worth keeping an eye out for!
Ice Skating
The Zayed Sports City ice skating rink is a popular indoor activity for adults seeking refuge from the warm weather in Abu Dhabi in May.
The cooling escape welcomes all skill levels and offers lessons for those new to ice skating.
Expert instructors are on hand to teach everything from the fundamentals of skating to more advanced techniques.
The rink is host to a variety of special events and competitions throughout the year which naturally attracts talented locals.
4DX Cinema
One of the most impressive cinemas in Abu Dhabi is Vox Cinemas at Yas Mall, which has a 4DX experience. It is the perfect weekend activity with the hotter weather in Abu Dhabi in May.
4DX technology provides viewers with an immersive experience by adding motion, wind, fog, and scent effects to match what is happening on screen.
The cinema features a luxurious GOLD by Rhodes theatre where you can order gourmet food and beverage options right to your seat.
The menu is quite extensive for a cinema, featuring everything from pancakes to seafood, mac & cheese, and vegan options.
Another popular cinema in Abu Dhabi is Novo Cinemas at World Trade Center Mall, which offers advanced visual technology, including Dolby Atmos sound, laser projection, and reclining seats.
The VIP theatre is perfect for those looking for a more comfortable experience, complete with butler service!
We hope you found this post about events and weather in Abu Dhabi in May helpful. Let us know if you attend any in the comments.
Disclaimer: This post about events and weather in Abu Dhabi in May contains affiliate links, by using them will not cost you any extra. We may receive a small commission to keep us writing.