With an abundance of desert resorts, luxurious hotels and unique theme parks Abu Dhabi is becoming a very popular tourist destination.
Dubai may be considered the best destination in UAE, however, Abu Dhabi ranks among the safest and most child-friendly destinations making it a fantastic place for families.
Over the past few years, families have been flocking to experience the many fantastic attractions in Abu Dhabi.
There are so many activities for kids whatever the weather. From beautiful beaches to desert safari, there is plenty to keep them entertained.
Emiratis are all about family and this is reflected pretty much everywhere and especially in hotels. There is so much choice when it comes to incredible family hotels in Abu Dhabi.
Be it kids clubs, interconnecting rooms, apart hotels or water slides, we have all the basis covered! There is something for all types of families in Abu Dhabi.
Family Hotels In Abu Dhabi
It can be an expensive destination when it comes to accommodation. However a few key things to note is the prices drop drastically off season and during Ramadan.
No one seems to know Ramadan is in fact a great time to visit as so many of the top attractions are not busy.
Equally there are tonnes of free things to do in the city which always helps to balance the budget.
We suggest doing a few nights in the city and a couple in one of the unique desert hotels to make the most of everything Abu Dhabi has to offer. Transfers are super easy and affordable!
1. The WB Abu Dhabi
Yas Island's Warner Bros Hotel offers families the ideal location to explore the theme parks of Yas Island. As Abu Dhabi's first hotel of its kind, families can experience a world of colour and creativity.
For some parents, it's like reliving their childhood with recognizable characters, a win-win for the whole family!
Discover the cinematic artwork, playful dining options, a full-service spa, a modern fitness centre, and fun pools for the whole family.
A highlight of The WB Abu Dhabi's facilities is its Matinee Pool, which features a dive-in theatre where children can watch cartoons while enjoying fresh air and sunshine.
The floating cinema is a top activity within the hotel and is loved by residents and tourists alike. In fact, some UAE resident families regularly book a staycation with their kids at WB Abu Dhabi Hotel.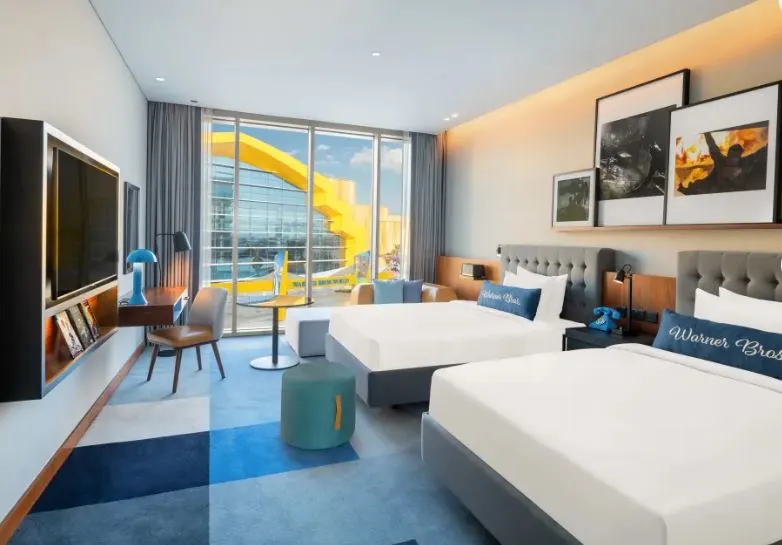 Guests can stay in stylish yet creative rooms and suites, each with unique artwork. There are floor-to-ceiling windows offering great views of the surrounding area.
The best choice for families is a two double bed artist room or the WB family connecting room.
In the two double-bed artist rooms, there is Wi-Fi, a 55-inch HDTV, as well as ample space for kids.
WB family connecting rooms feature separate rooms with double beds, two bathrooms, Wi-Fi, 55-inch HDTV, and everything else you need.
Guests staying at the WB-themed hotel receive free daily access to the three world-famous theme parks on Yas Island.
Yas Waterworld, the World's largest indoor theme park-Ferrari World, and Warner Bros. World Abu Dhabi which is literally yards from the front door of the hotel.
The F1 racetrack is quite close by where families can cycle around on a cool day. Bike rental is free!
Our comprehensive guide to Yas Island has everything you need to know.
Book your holiday at The WB Abu Dhabi, Curio Collection by Hilton
Location: Yas Bay – Yas Island – Abu Dhabi – United Arab Emirates
2. Qasr Al Sarab Desert Resort by Anantara
The Qasr Al Sarab desert hotel is one of the most luxurious family resorts in Abu Dhabi. With a unique location, 90 minutes from the city centre, right in the heart of the desert, it is the most sought-after staycation spot for residents, especially during cooler weather.
When locals love a place, you know it's going to be good. There are plenty of things to do in addition to the private pool, fitness facilities and the Anantara spa.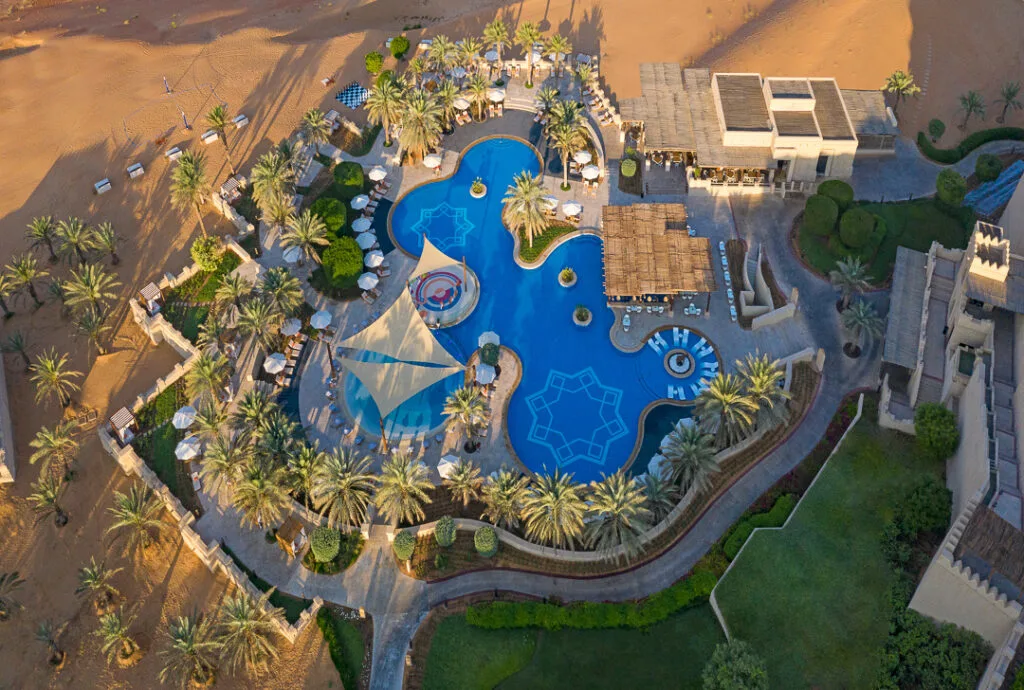 Families can participate in traditional Bedouin activities such as camel riding and falconry shows, mountain biking, horse riding, archery, and so much more.
Take advantage of the babysitting service, kids can enjoy the small children's club, which is suitable for children between the ages of 3 and 12.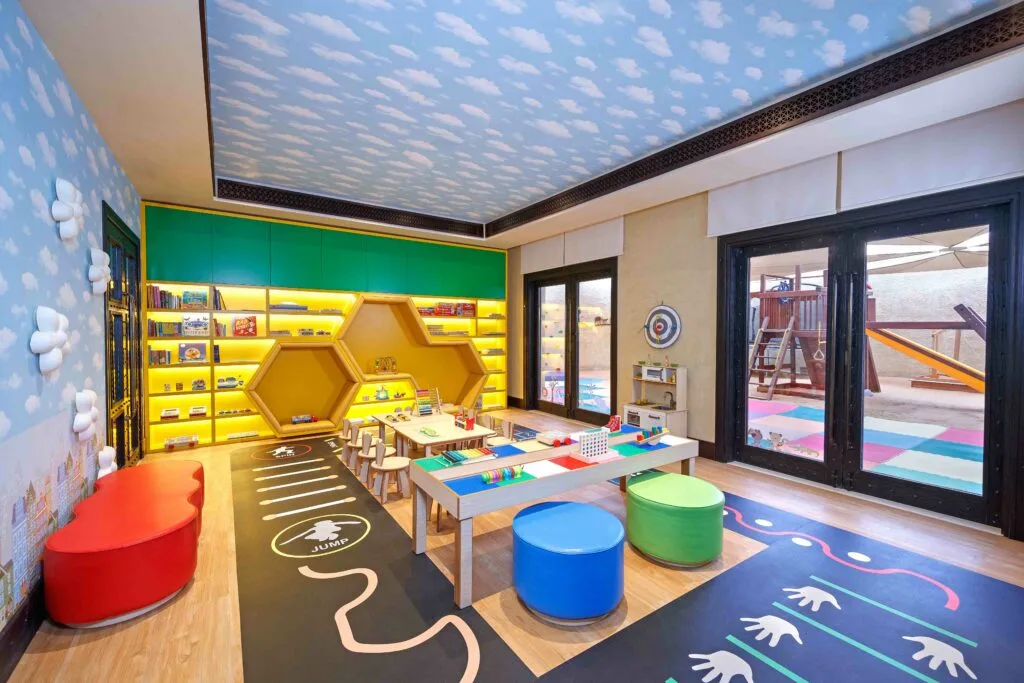 The Desert View private villas are ideal for families of four or more when it comes to space. There are one, two, or three bedroom villas.
As an alternative, choose a Deluxe Garden room, a Deluxe Balcony room, a Deluxe Terrace room, or a Family suite.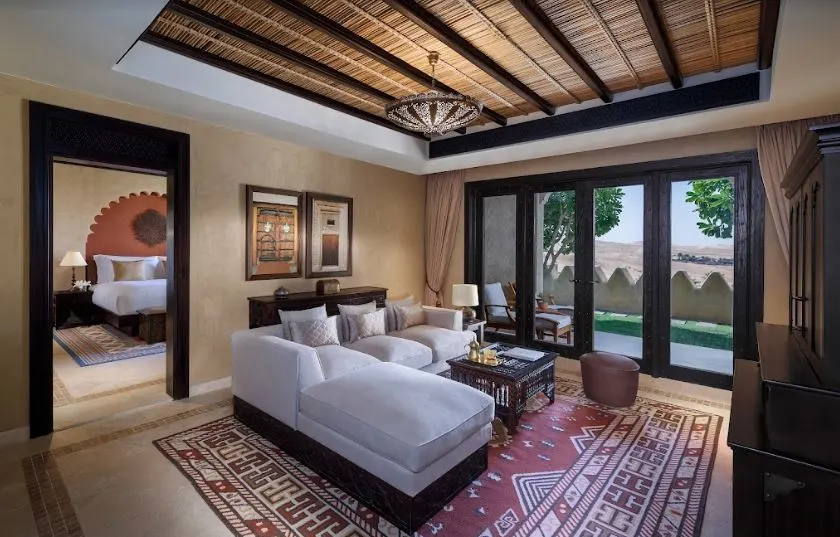 Each villa comes with a breakfast tailored to the number of guests, with free meals available to children under six.
There are a variety of culinary experiences available for the whole family, from a range of international cuisines at the resort's restaurants to Dine by Design.
This features three signature restaurants for private dining overlooking the desert. However, guests must make reservations at least 24 hours in advance.
Book your family stay at Qasr Al Sarab Desert Resort by Anantara
Location: Qasr Al Sarab Desert Resort – Al Mirayr – Abu Dhabi – United Arab Emirates
3. Emirates Palace
Emirates Palace is one of the most opulent hotels in Abu Dhabi, located 25 minutes from the international airport at the end of the infamous Corniche.
Club amenities for families include a 1.3km private beach, two fitness centres, two pools, and a range of water sports for all ages. Wakeboarding and kayaking are particularly popular activities.
If you have children ages ten and below, Emirates Palace has a mini adventure park explicitly designed for young kids.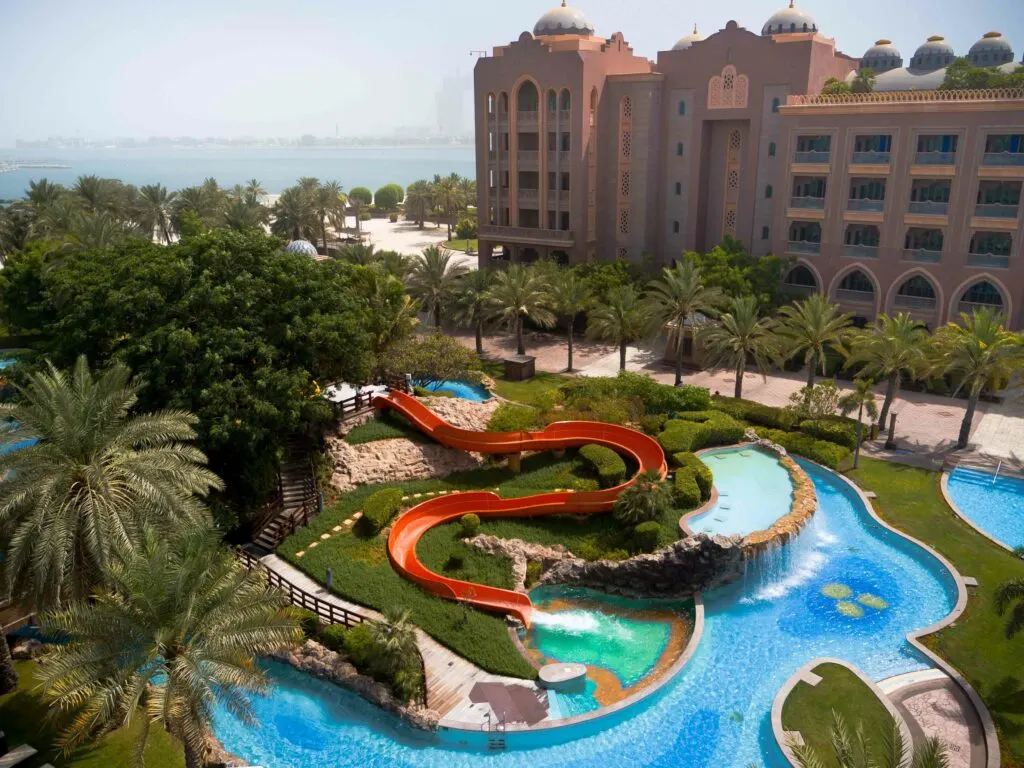 West Wing Beach Club's adventure pool includes a lazy river, a waterfall, and two massive twisty waterslides for children ages five and older.
Another favourite at Emirates Palace is the Sarab Land, where specially trained staff guide the little ones through age-appropriate activities.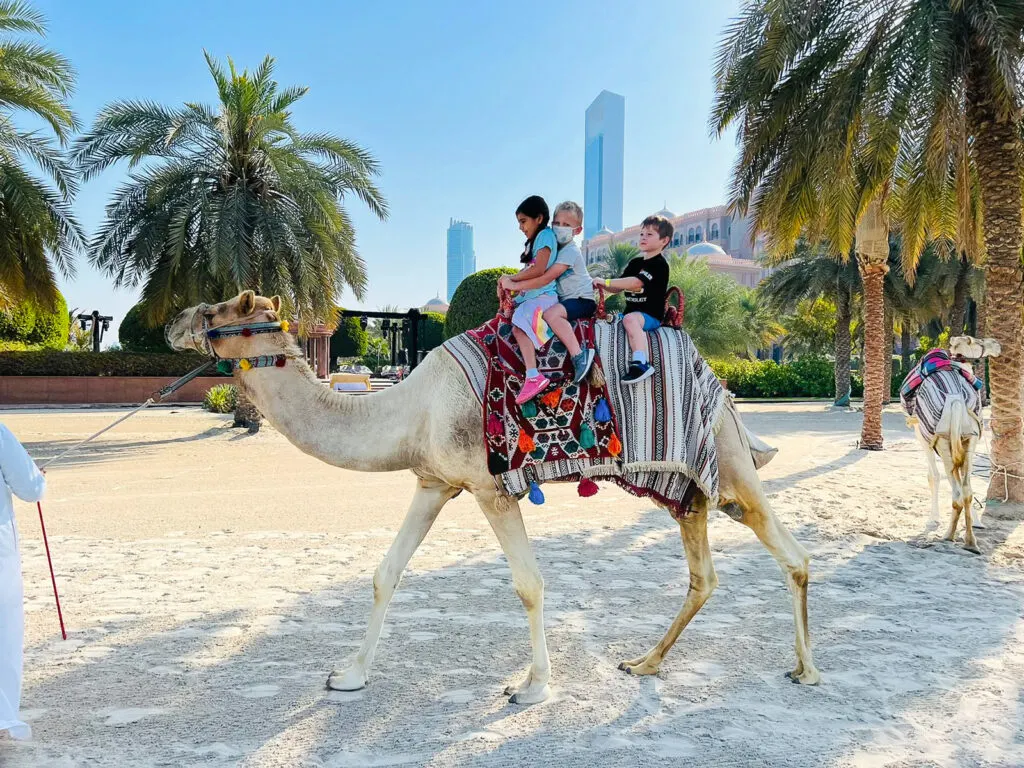 Some of the room options include sea-view suites, panoramic sea-view suites, and royal suites with jacuzzis and hot tubs.
Each of the rooms have 24/7 room service, private balconies, air conditioning, and a flat-screen TV with over 150+ channels. It's perfect when the kids need to chill with a selection of complimentary movies and free wireless internet access.
The stunning furnishings and luxurious bedding in the hotel rooms and suites make for a comfortable stay. Not to mention marble bathrooms as well as an iPad mini integrating the room control system.
When it comes to dining for lunch and dinner, families can enjoy panoramic sea views and a selection of Arab mezze, Middle Eastern and international dishes.
In Emirates Palace's 14 elegant restaurants, enjoy a wide selection of flavours, including BBQ cuisine, Indian fare, Lebanese flavours, Chinese specialities, and so much more.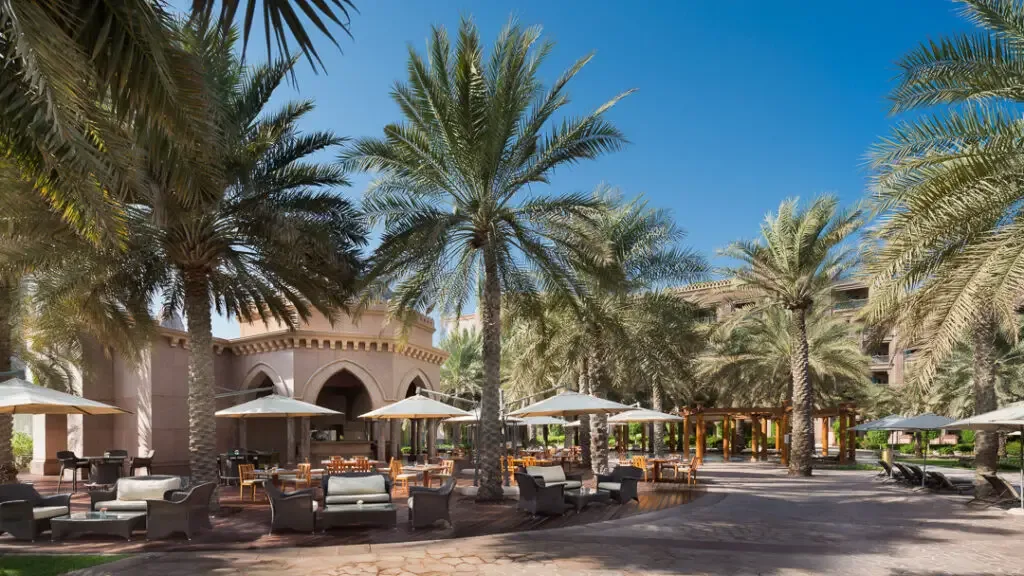 Each boasting of a unique setting and incredible views with tailored menus for children.
If you are visiting Abu Dhabi in the month of December, Emirates Palace has some lovely Christmas celebrations and is well-known for having one of the most expensive Christmas trees in the world in the lobby!
Book your family staycation at the Emirates Palace
Location: West Corniche Road – Al Ras Al Akhdar – Abu Dhabi – United Arab Emirates
4. Rixos Premium Saadiyat Island
Located on Saadiyat Island with clear blue waters overlooking the Arabian Gulf, Rixos Premium Saadiyat Island is a luxurious and unique resort offering pristine white sand beaches.
The resort's convenient location offers easy access to Yas Island. For families looking for an escape that includes sun, sand and sea, Rixos premium Saadiyat Island is a top choice.
Rixos Premium Saadiyat Island has an all-inclusive offering, perfect for adults looking to find that perfect balance of relaxation time at the beach with family fun. Having endless snacks for kids is always a win!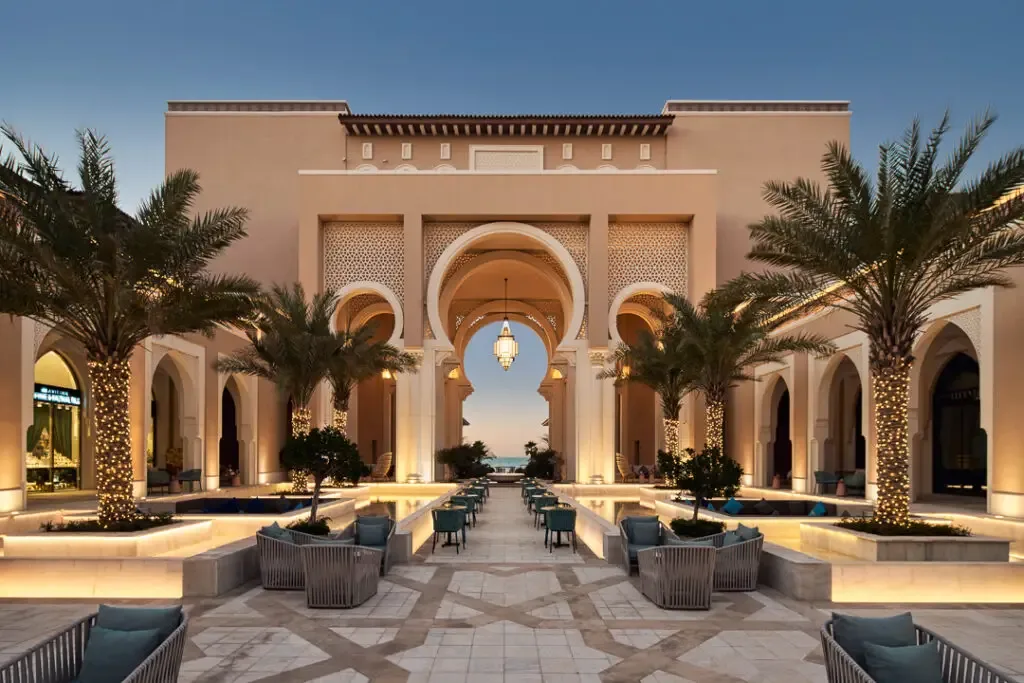 The Rixy Kids Club offers activities for children between the ages of 4 and 12. A water slide, indoor and outdoor pools, a children's theatre, a Rixi disco, and art and baking classes ensure a memorable and entertaining stay for the kids.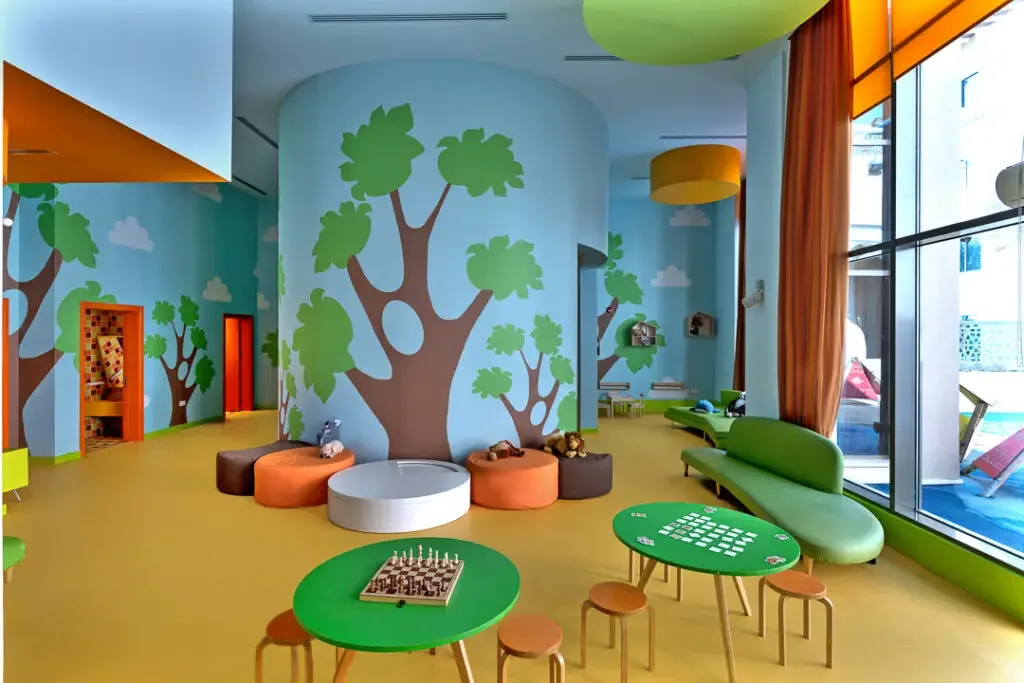 There are coloured playground areas designed for children, sports training and unique excursions.
When it comes to staying at the Rixos, families have a choice of seven types of deluxe rooms, five types of suites, and two styles of villas.
For families of four or less, the one-bedroom family suite and the one-bedroom family suite with semi-private pool access are ideal. However, larger families can also opt for the two-bedroom suites with optional semi-private pool access.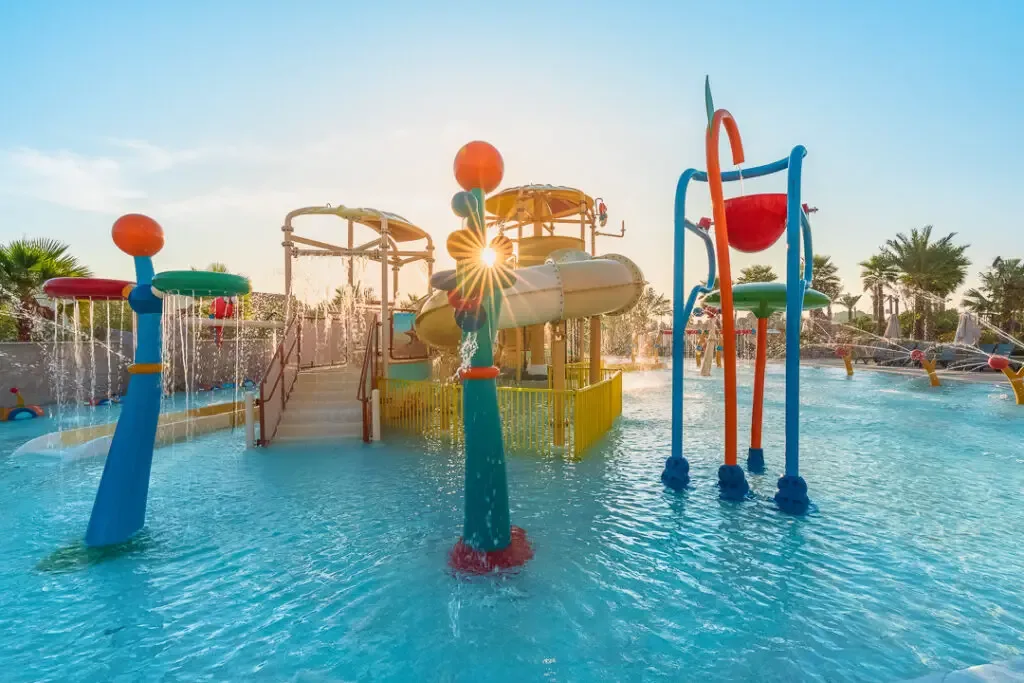 Another excellent option for treating the family is luxury poolside villas, which come with an exclusive private pool for ultimate privacy.
There are six restaurants offering international cuisine and four bars, including one with swim-up service.
Book an all-inclusive family stay at Rixos
Location: Al Saadiyat Island – Abu Dhabi – United Arab Emirates
5. Saadiyat Rotana
Saadiyat Rotana Resort & Villas offers an Arabian Gulf view from its beachfront location on Abu Dhabi's breathtaking Saadiyat Island.
Offering idyllic beaches and a luxurious five-star experience, Saadiyat Rotana Resort & Villas has a regal presence and striking modern Arabic architecture.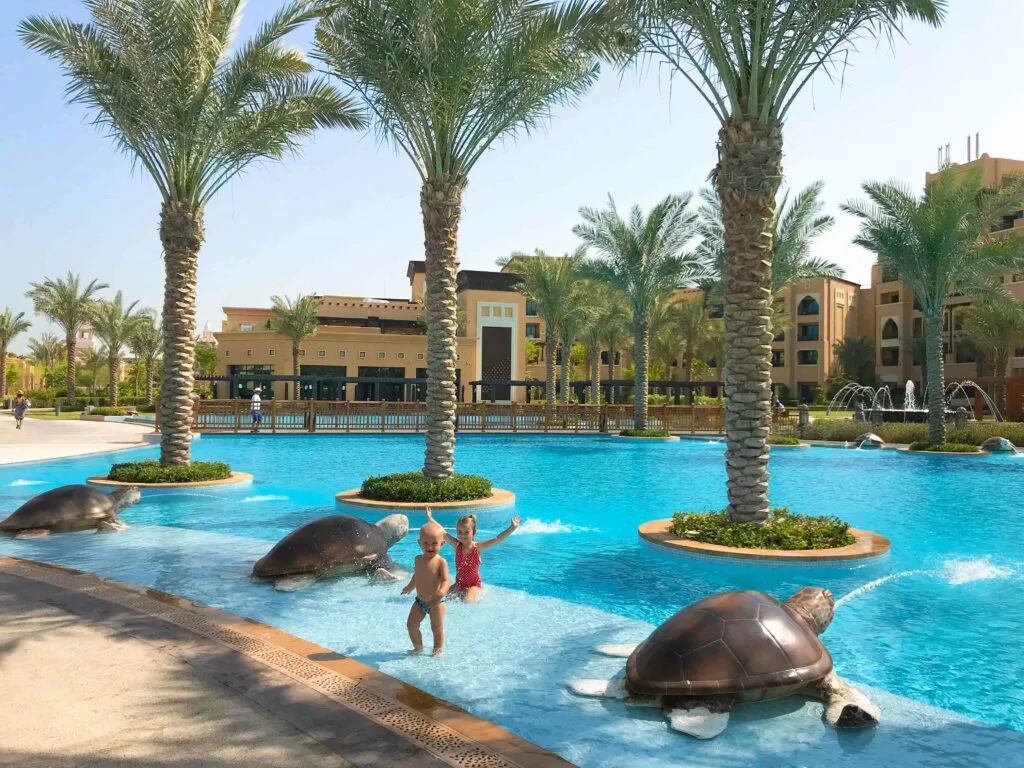 It is no wonder the resort is so popular with families with its outstanding recreational facilities. The hotel has an indoor fitness centre, a spa, paddle courts, mini golf, and a beach club for guests to enjoy.
Saadiyat Rotana's Aladdin's Cave is a hit with kids staying at the hotel. With plenty of activities led by staff, toys and games to explore, it is a really nice kids club.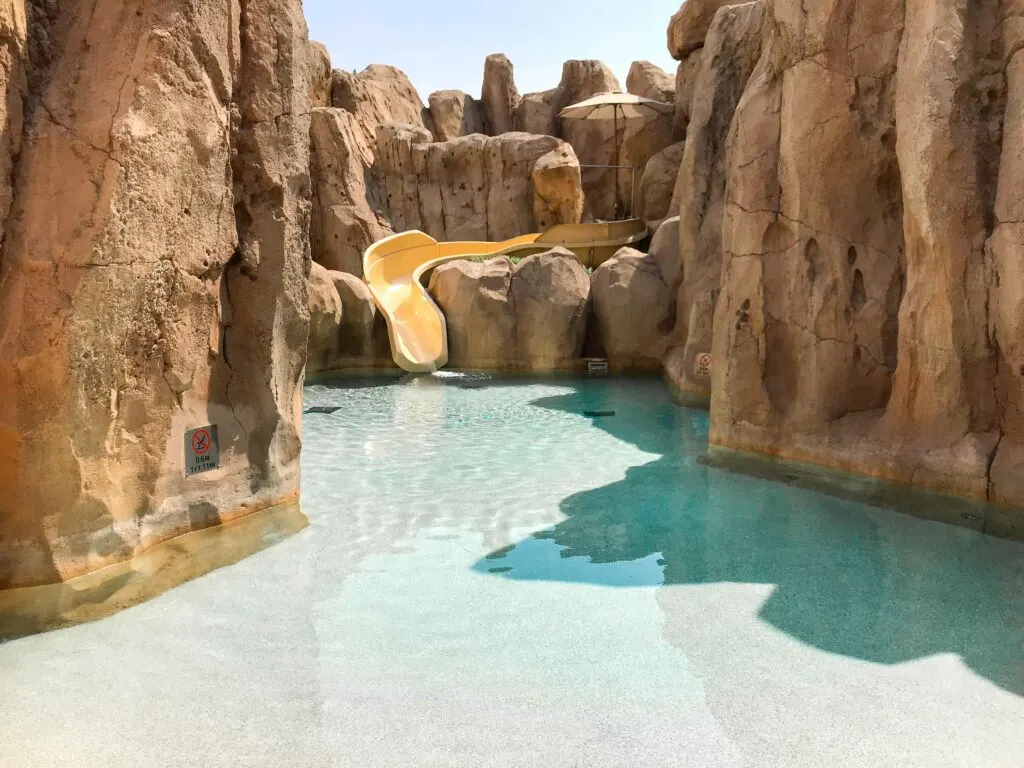 Families of four usually prefer staying at Family Connected Rooms large enough to accommodate two adults and two kids or four adults, with two interconnecting rooms, a king bed and two single beds.
Families looking to splash out a bit extra can opt for the spacious sea-view two-bedroom suites.
Another option is one-bedroom and two-bedroom villas offering a serene and relaxing environment with a private pool and beach access.
Book your family hotel stay at Saadiyat Rotana Resort & Villas
Location: Al Saadiyat Island – Abu Dhabi – United Arab Emirates
6. St. Regis Saadiyat Island
The St. Regis Saadiyat Island Resort, a 5-star luxury destination resort, sits in the middle of a pristine beach overlooking the famous Saadiyat Beach golf course.
Families love this resort for its variety of dining options, luxurious Iridium Spa, and its state-of-the-art fitness centre with a 25-meter lap pool and two tennis courts.
A Mediterranean theme runs through the seven types of family guest rooms and suites at this luxurious resort.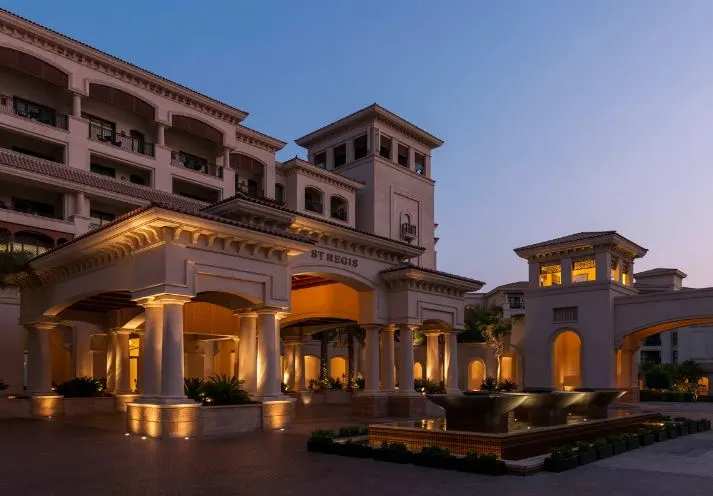 Rustic beachfront decor and expansive views of the Arabian Gulf complement the rooms beautifully.
Three and four-person families usually prefer to choose rooms with two beds or two separate rooms. For those looking for an additional bed, rollaway beds are available at the cost of AED 400 per night.
Some amenities offered in the rooms are a 55-inch HDTV, pay-per-view movies, 24/7 room service, complimentary water, butler service, robes, slippers, marble bathrooms and even limited connecting rooms, to name a few.
Wi-Fi is also available in all rooms. However, it comes at a minimal fee.
Book your family stay at St. Regis Saadiyat Island Resort
Location: Al Saadiyat Island – Abu Dhabi – United Arab Emirates
7. Al Raha Beach Hotel
Al Raha Beach Hotel is a hidden gem for families with young children, which is set inconspicuously along the Al Raha area. It's a 25-minute drive from downtown Abu Dhabi towards Yas Island.
It is in quite a good location for a layover or short trip to Abu Dhabi as its close to the airport.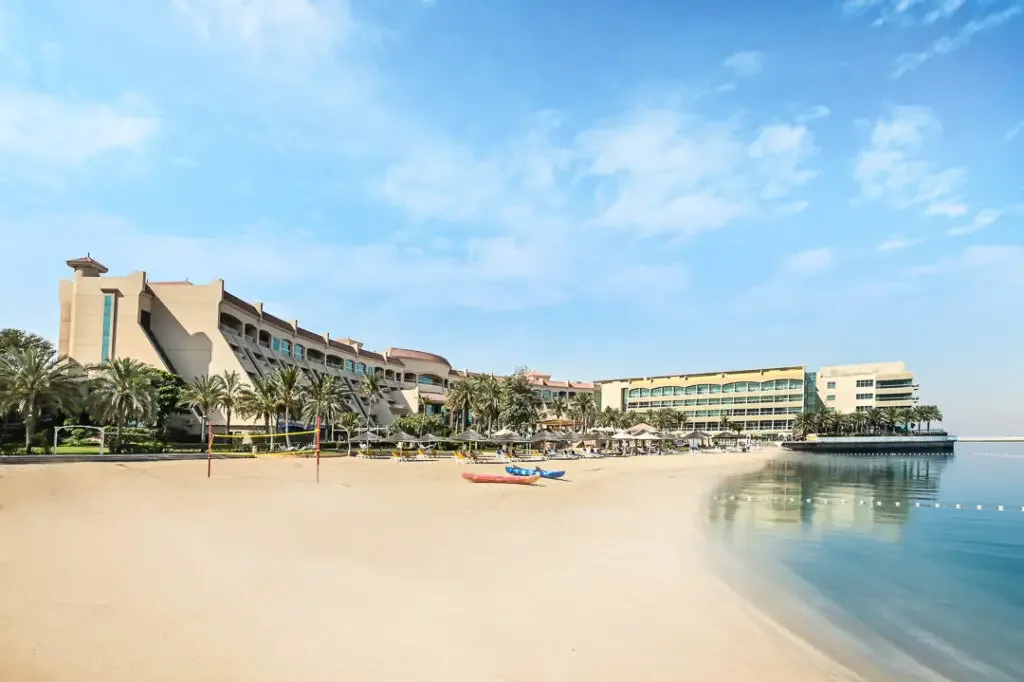 The hotel offers a 900-metre private sandy beach, making it an excellent choice for a quick getaway from the hectic city life.
Hotel amenities are extensive at this five-star property. Guests can sample a variety of international cuisine, snacks, and drinks at the hotel's bars and restaurants when looking to grab a quick bite.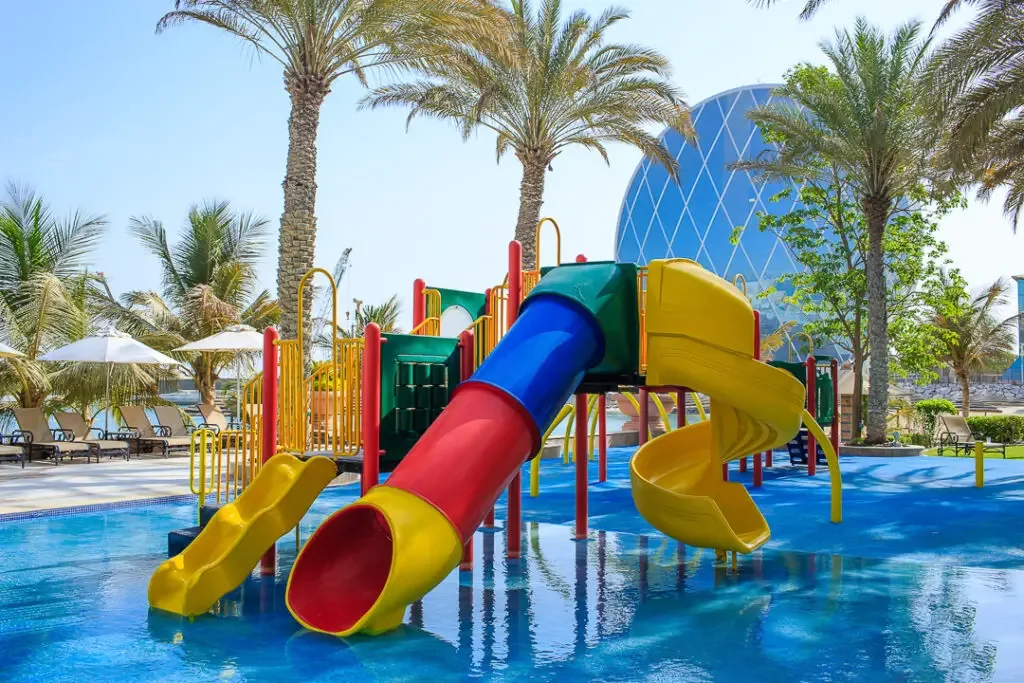 The hotel has an indoor and outdoor swimming pool, kids pool, water playground, and two squash courts.
Not to mention a lovely spa for massages, treatments, a sauna, a steam bath and a jacuzzi at the Al Raha Beach Hotel.
A wide range of accommodation options is available, from deluxe rooms to suites tucked away in the private wing of the hotel.
Family room options are plentiful too. It offers a balcony overlooking the Arabian Gulf, a soundproof living space, double rooms, cable or satellite TV, and wheelchair accessibility.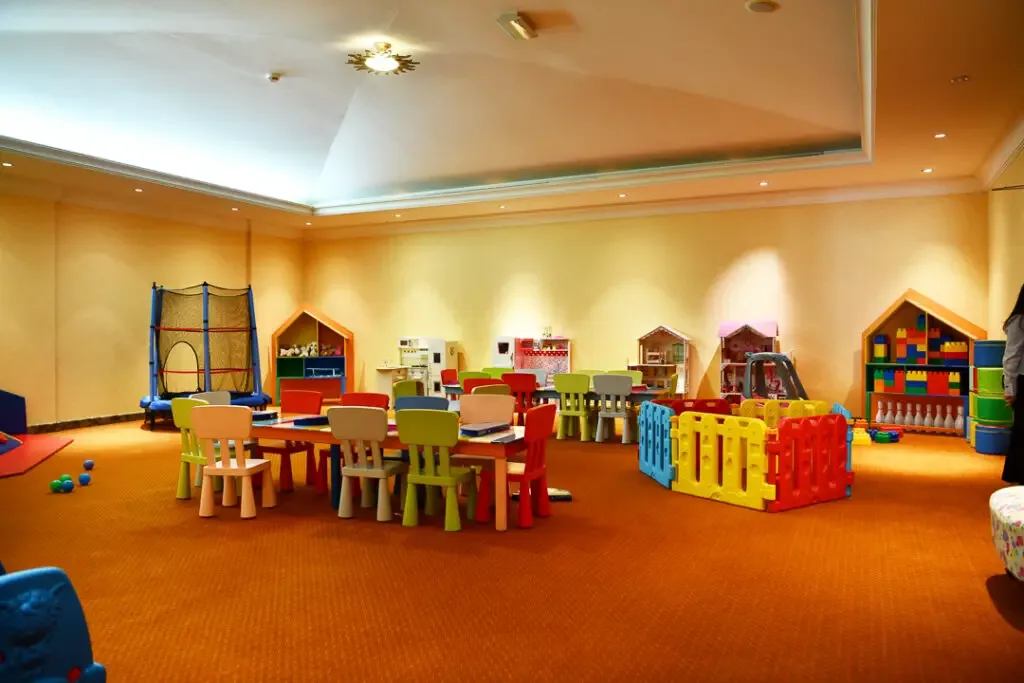 Since this hotel is quite a distance from the city, guests can take advantage of the hotel's shuttle bus service. The service will enable families to travel to the city centre and several shopping malls.
Book a family staycay at Al Raha Family Beach Hotel
Location: Channel Street, Near Al Raha Mall Al Raha Creek – Abu Dhabi – United Arab Emirates
8. The Ritz-Carlton Abu Dhabi
A world of Middle Eastern luxury can be found at The Ritz-Carlton Abu Dhabi, located 18 minutes from the International Airport.
The views from the luxury hotel are dreamy and definitely instagrammable. From sunrises over Al Maqta Creek, to sunsets over Sheikh Zayed Grand Mosque, it is a fantastic location.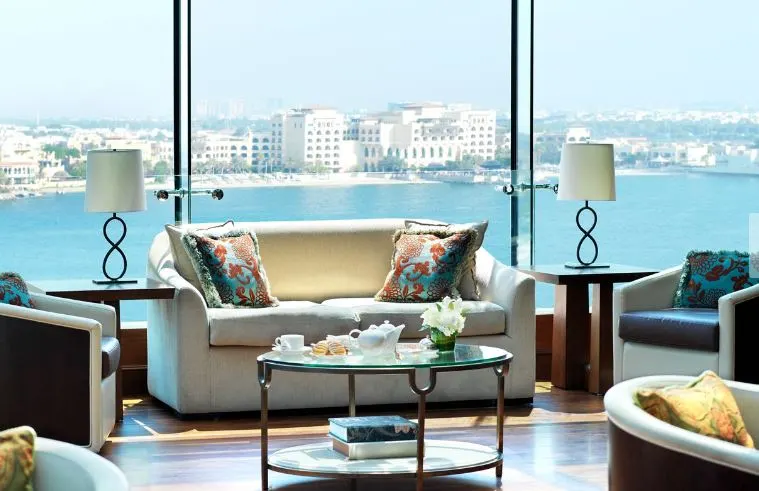 Some of the rooms can accommodate up to seven people! It has everything from family executive suites to two-bedroom Venetian suites.
Another popular choice is the Rabdan villas and the two-bedroom villas, which offer guests privacy and a private plunge pool.
Enjoy views of the pool, gardens, or the Grand Canal from all rooms. Each room has 24-hour room service, satellite TV, a Nespresso machine and a minibar.
Aside from the spa and health club facilities, the Ritz-Carlton Abu Dhabi has an outdoor pool, a fitness centre and a club level lounge offering panoramic views of the Al Maqta creek.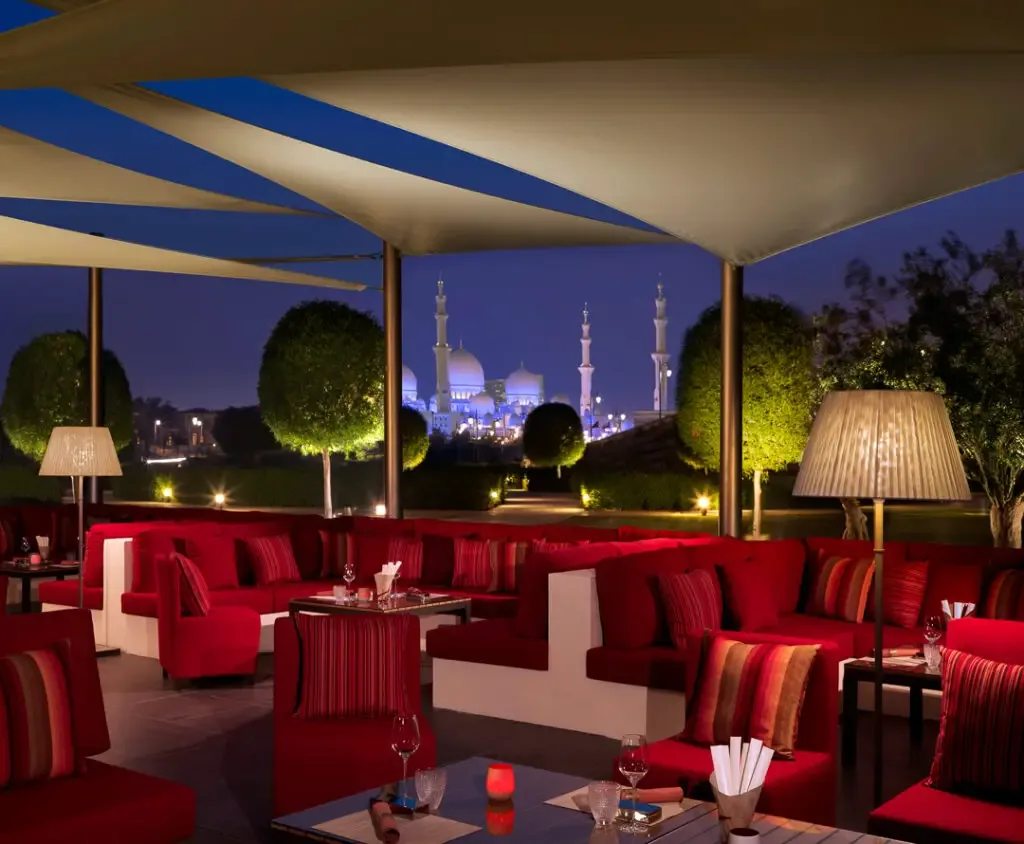 Spa facilities include massage therapy, a steam room, Hammam, and a beauty salon. For the convenience of parents, The Ritz-Carlton offers an exclusive Ritz Kids Club for children ages 4 to 12.
With a variety of activities indoor and outdoor, the Kids Club provides a wonderful opportunity for little ones to play together.
Arts-and-crafts projects and playtime are some key events throughout the day at the club. Families can select full- or half-day programs.
Book your stay at The Ritz-Carlton Abu Dhabi, Grand Canal
Location: Al Rawdah – Al Maqta' – Abu Dhabi – United Arab Emirates
9. Rosewood Hotel Abu Dhabi
At Rosewood Abu Dhabi, guests can enjoy the view of the sea or the city skyline for days. With an array of 189 lavish rooms and suites, family stay options at this hotel are top-notch.
The family rooms vary from deluxe rooms to one and two-bedrooms signature suites. Rosewood hotel has a range of luxury residences, to cater to guests' individual needs.
Some amenities include a 24-hour reception, concierge service, valet parking, housekeeping service (three times a week), 24-hour security and complimentary access to the spa, fitness centre and outdoor family pool, to name a few.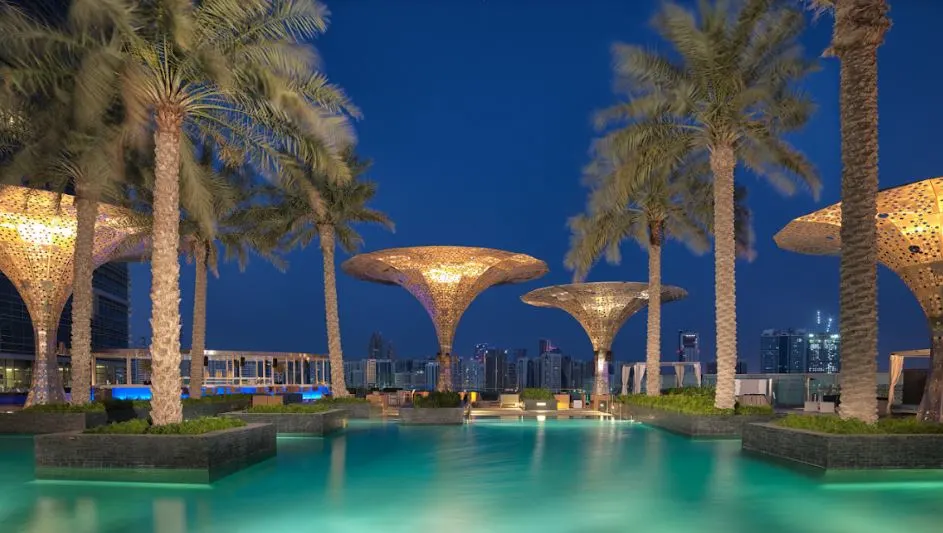 It is a perfect getaway for sophisticated holiday-makers seeking residential-style suite in a city retreat.
Another benefit of staying at the Rosewood is its convenience. Everything is under one roof, from shopping malls to movie theatres, coffee shops, and healthcare facilities.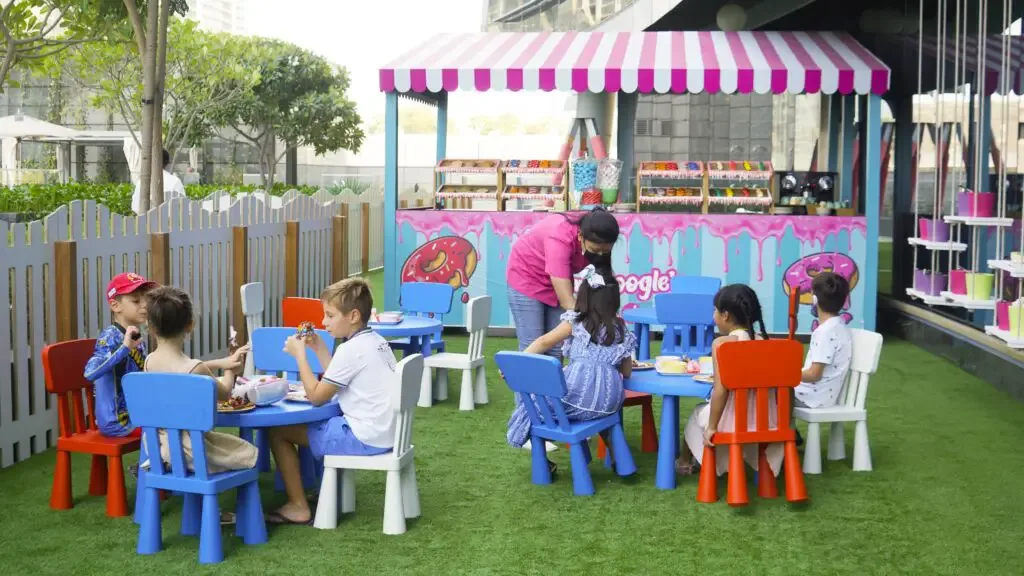 Rosewood is attached to the nicest mall in the whole city, The Galleria Mall!
Within Galleria Mall there are tonnes of things to do for kids. Check out the National Geographic Experience, Xtreme wall climbing and trampolining, gymnastics.
Apple Store kids workshops on the weekend and term dates, to name a few. The kids-specific cinema is pretty special too.
Rosewood Hotel is the vantage point when fireworks take place on special holidays such as New Year's Eve, witness the spectacular display from your balcony.
Book your family staycay at the Rosewood
Location: Al Maryah Island – Abu Dhabi – United Arab Emirates
10. Radisson Blu Hotel & Resort
Another popular hotel to stay with the family is Radisson Blu Hotel & Resort on Abu Dhabi Corniche.
The landmark Abu Dhabi hotel offers a variety of dining options and numerous event venues, including ballrooms, landscaped gardens, and spacious foyers.
The family rooms available at Radisson Blu Hotel and Resort provide great views of the city and the Arabian Gulf.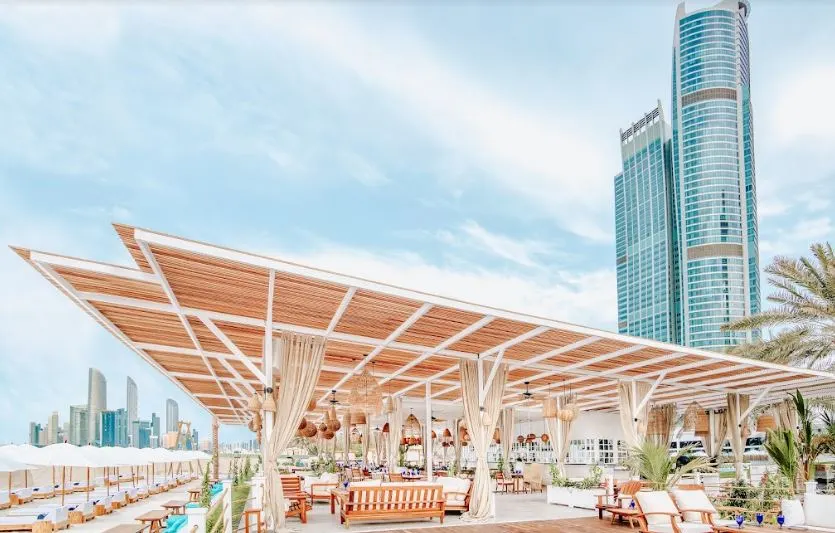 Guests have a selection of eight family rooms:
-Superior Rooms
-Premium Suites with lounge access
All of which are bright and spacious, aesthetically designed with comfort in mind.
Some of the features include marble bathrooms, high-speed Wi-Fi, robes, slippers, and a minibar.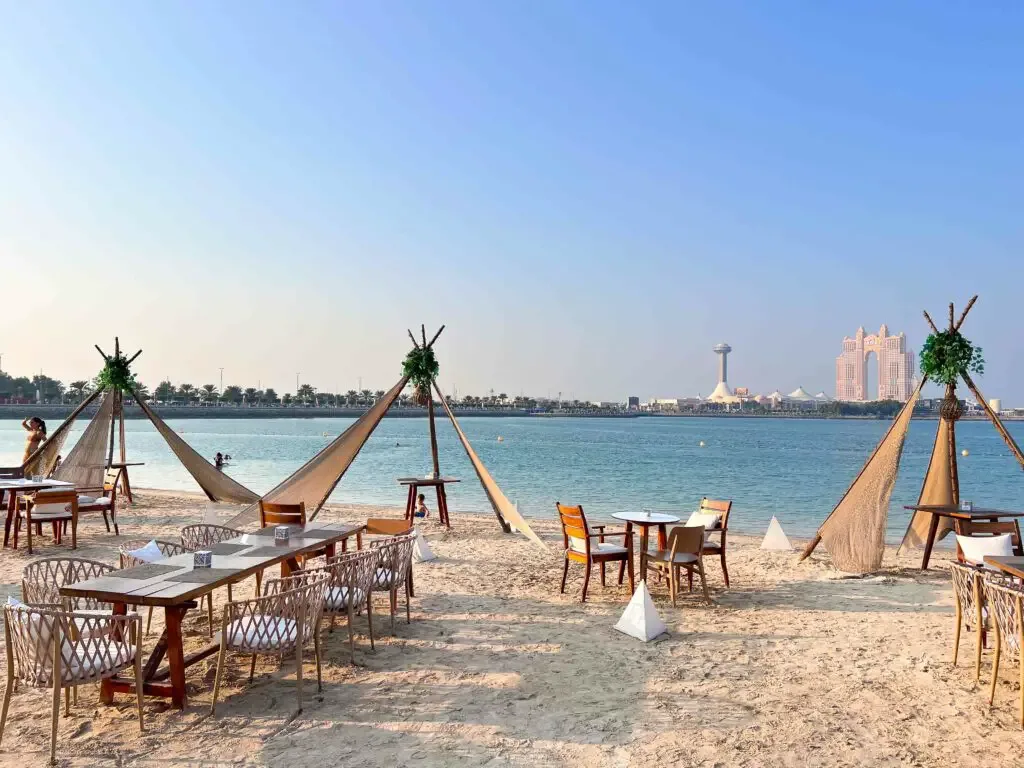 Radisson Blu residents can enjoy a state-of-the-art gym, 24 hours front desk, a full-service spa, a nail salon, three swimming pools, a pool bar, and access to the West Bay Beach Club, the first beach club in Abu Dhabi.
The West Bay Beach Club is a giant water playground for kids and adults alike. With amenities including wave pools, lazy rivers, and zip lines, this family getaway is sure to be memorable.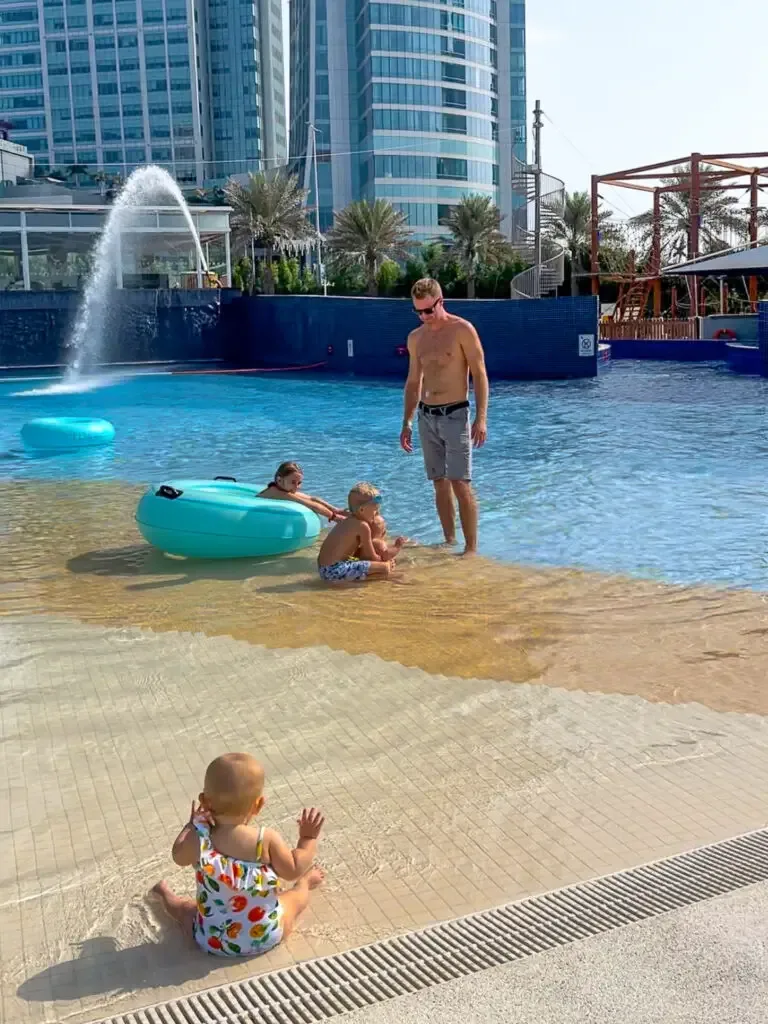 Book a stay at Radisson Blu Hotel & Resort
Location: Corniche Road – Al Bateen – Abu Dhabi – United Arab Emirates
11. Shangri-La Qaryat Al Beri
In addition to its breathtaking views of the water channels, the property has a gondola ride on a private beach and massage treatments at its Chi spa.
For families seeking an escape in Abu Dhabi at a luxurious hotel with a kilometre-long private beach and lush gardens, Shangri-La, Qaryat Al Beri is the place to stay.
This is a perfect family retreat, featuring luxurious rooms with a combination of sophistication and Arabian architecture.
There are deluxe room options, family villas and connecting rooms, so those with children will find it spacious without sacrificing privacy.
The two interconnecting deluxe rooms are ideal for families. Spacious private balconies complement the charming rooms and offer a view of Khor Al Maqta's historic waterway.
While the four-bedroom villas, feature furnished terraces and sun decks leading to a private infinity pool.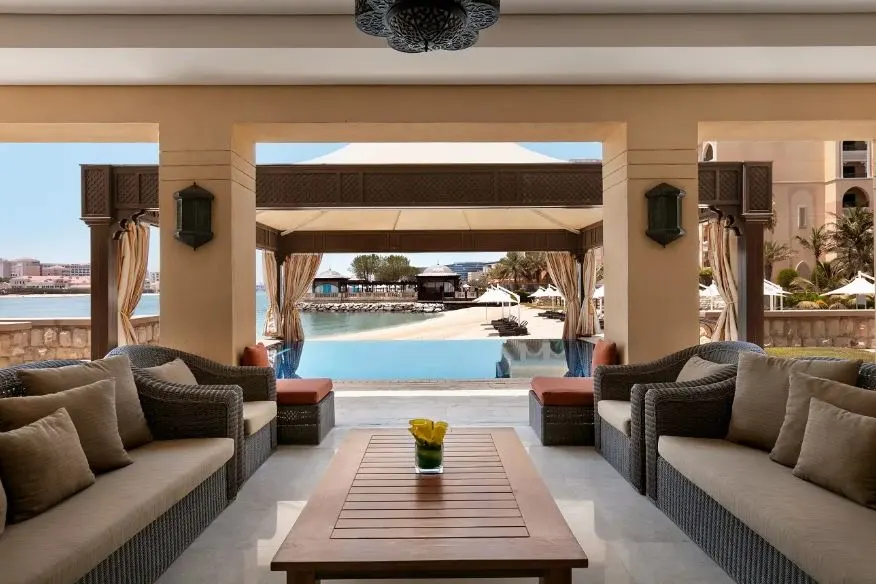 For Shangri-La Circle members travelling with their families, a paying adult can accompany up to two children (under the age of 7) to all-day dining venues to enjoy complimentary buffet meals.
The Hotel offers abra boat rides to navigate waterways to the souk which is the ideal spot to pick up souvenirs. The boat trip feels like Venice with a splash of Arabia and is super fun for little ones.
Strolling through the lawns of the gorgeous hotel offering mesmerising views of the Sheikh Zayed Grand Mosque is simply beautiful.
Book your family staycay at Shangri-La Qaryat Al Beri, Abu Dhabi
Location: Khor Al Maqta, Qaryat al Beri – Abu Dhabi – United Arab Emirates
12. Jumeirah At Saadiyat Island
Saadiyat Island boasts one of the most natural and beautiful locations in the United Arab Emirates.
On the only natural beach in Abu Dhabi, Jumeirah At Saadiyat Island Resort has a prime location, making it an ideal place to stay.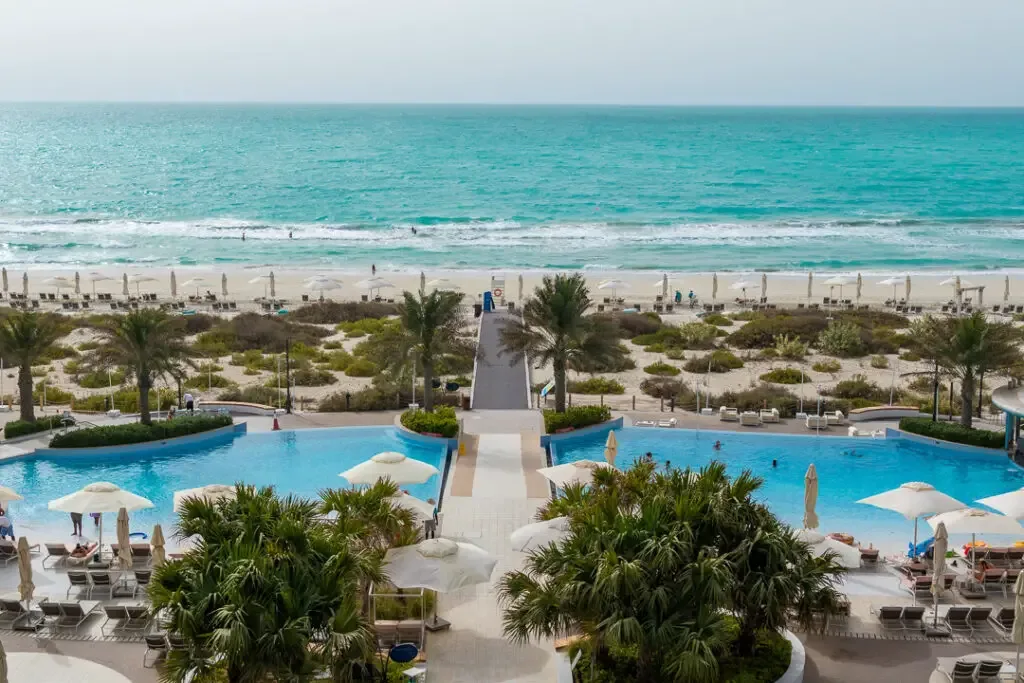 Mangrove trees, turtles, and dolphins are a few of the natural features of the area. It's a haven where nature combines with luxury.
Modern and minimalist in design, the hotel's decor features natural fabrics, glass-blown chandeliers, and warm Middle Eastern accents.
The harmonious blend of nature and luxury makes the hotel so unique and desirable, offering families a chance to relax and enjoy the beauty of the environment while indulging in modern comforts.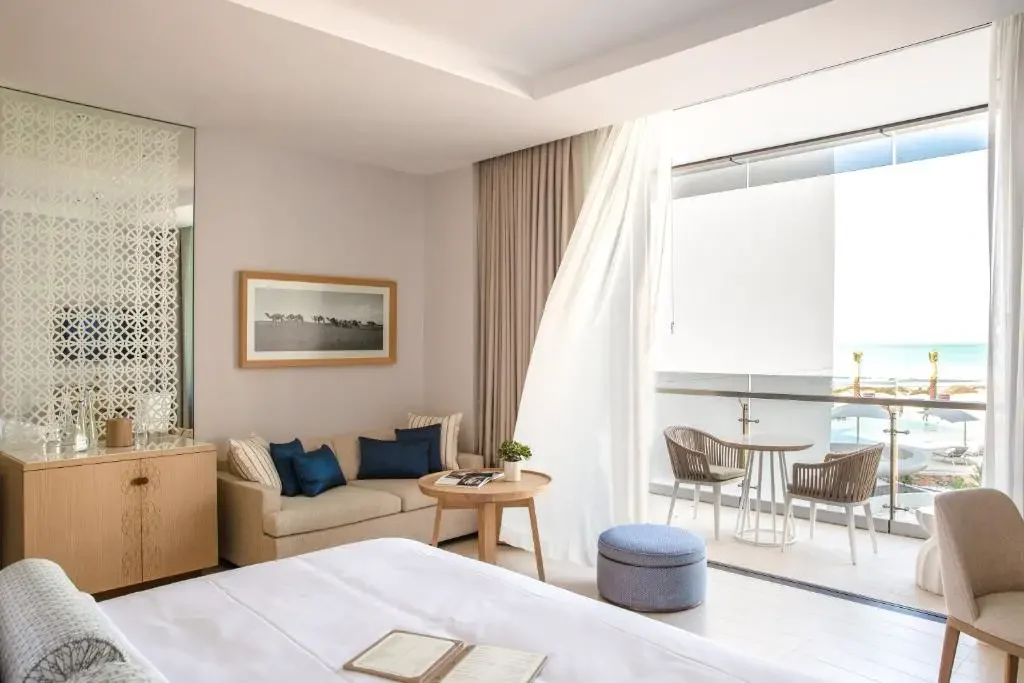 When it comes to accommodating families, Jumeirah At Saadiyat has an exclusive Two Bedroom Ocean Family Room. It provides families with plenty of space to relax and enjoy their stay together.
The outdoor seating area and floor-to-ceiling windows provide a stunning view of the ocean and sunset, while the spacious bathroom ensures everyone can enjoy their personal space.
Other room options include a two-bedroom suite, three-bedroom duplex villa and two bedroom duplex villa.
As part of Jumeirah At Saadiyat's amenities, kids and teens have access to a complimentary kids' club with a wide range of fun and engaging activities.
It includes everything from arts to crafts, dance-offs, basketball to kite flying, and table tennis to video games.
Providing such a wide range of activities encourages children to engage in activities they may not have access to on a regular basis.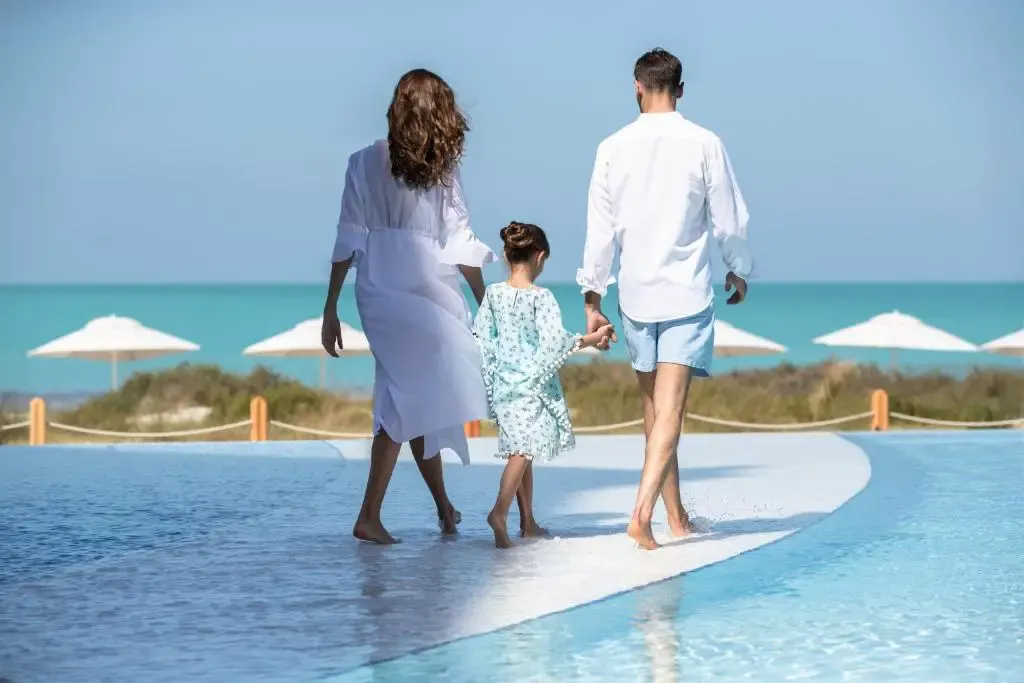 There are no memberships available at Jumeirah At Saadiyat when it comes to outdoor recreation. However, take advantage of special offers and day passes available at an additional cost.
Along with the stunning beach located right in front of the hotel, the hotel features three swimming pools, a spa, a fitness centre, and a tennis court.
On top of that, there are three restaurants beside the hotel with a variety of cuisines, including Italian, Mediterranean, International, and Emirati.
Book a family weekend getaway at Jumeirah At Saadiyat Island Resort.
13. Park Hyatt Abu Dhabi
An award-winning beach resort in Abu Dhabi, Park Hyatt Abu Dhabi Hotel and Villas offers families an array of air-conditioned family rooms, an outdoor pool, a clubhouse, complimentary WiFi, and a concierge.
Saadiyat Island is home to yet another top resort offering a panoramic view of the ocean, breathtaking sunset and a good chance of spotting dolphins on quiet afternoons.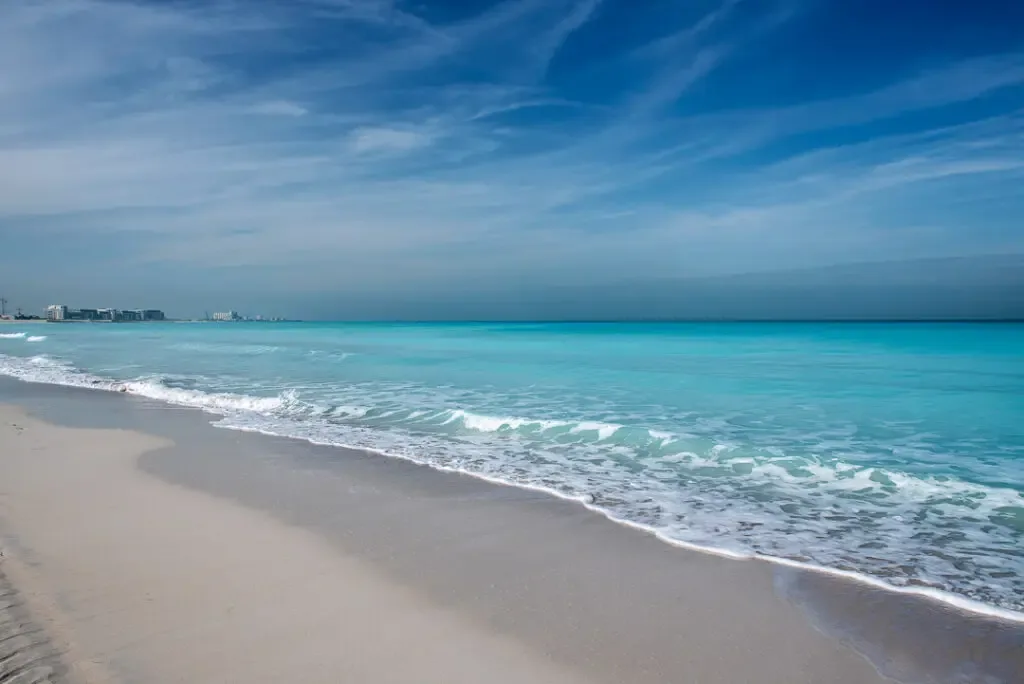 When checking into Park Hyatt with family and kids, be rest assured that the kids are in for a treat, thanks to the exclusive kids club, Camp Hyatt.
Camp Hyatt caters to kids from ages five to twelve. Activity options are plentiful including an outdoor jungle gym, movies, and games as well as a gaming console.
For older kids, Camp Hyatt offers more challenging activities, such as scavenger hunts and team-building exercises.
A range of accommodation is available to families, from two twin beds with a sea view. Or two bedroom villas (garden or beach view) and suite options.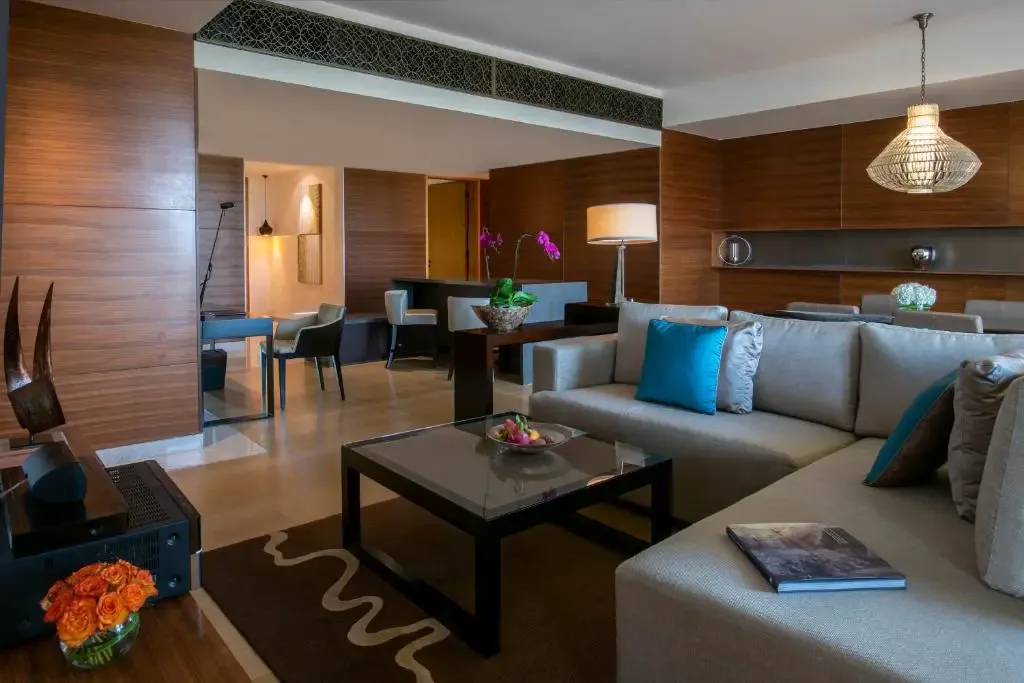 With an open-plan design and a bathtub and rain shower, each room features soft colour schemes and floor-to-ceiling windows.
Not to mention the in-house gyms for men and women who wish to work out.
After a day of relaxation on the beach, parents could have a pampering session at Armia Spa. Indulge in a soothing massage, nourishing facial, or perhaps one of their other spa treatments.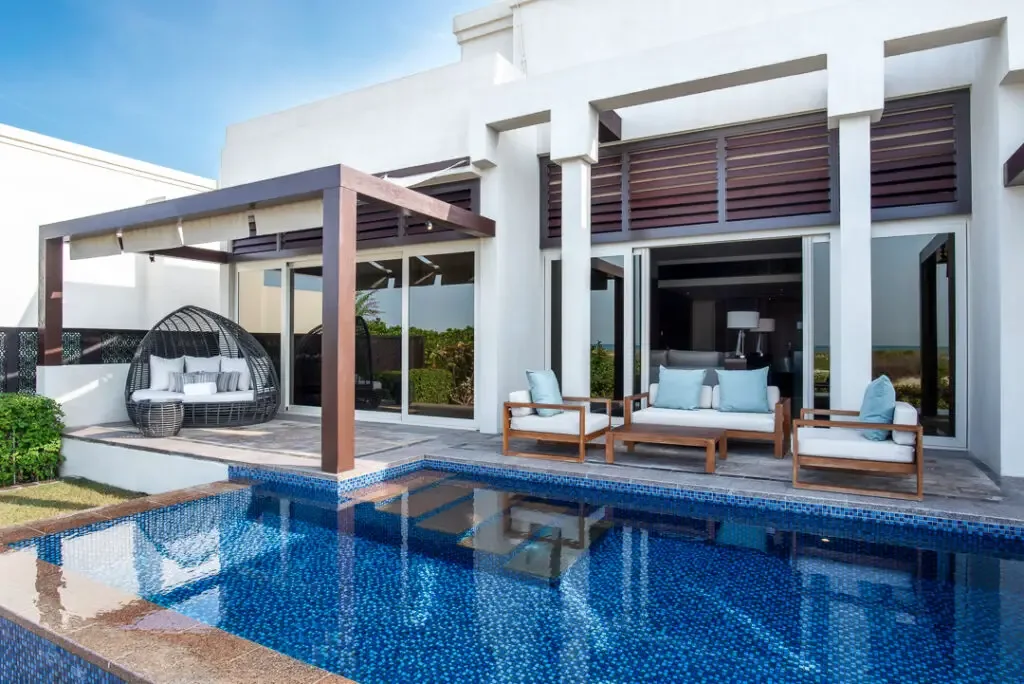 In terms of dining options, the Park Hyatt offers three different dining establishments.
Each of the restaurants at the resort offers a wide range of international cuisines, with breathtaking views stretching what seems like miles in every direction from each of them.
Enjoy a delicious twist on breakfast classics at Park Hyatt's exclusive Brunch in the Park on Saturday.
With prices starting at AED 375 per person, the all inclusive brunch offers an array of live entertainment, a kids fair, and a kid's bar.
Book a family staycay at Park Hyatt Abu Dhabi Hotel And Villas.
14. Bab Al Qasr Abu Dhabi
An icon of architecture and an exclusive address on Abu Dhabi's Corniche, Bab Al Qasr is a super impressive building.
With gold-tiled facades and an authentic interior decorated with Islamic art, you'll instantly feel that you're in the Middle East!
Bab Al Qasr has a stunning exclusive family room that stands out from other deluxe options. The options include the junior suite, two-bedroom and three-bedroom residences.
The Family Rooms feature two separate bedrooms, one with a king-size bed and the other has twin beds, each offering breathtaking views of Abu Dhabi's landmarks, including the Presidential Palace.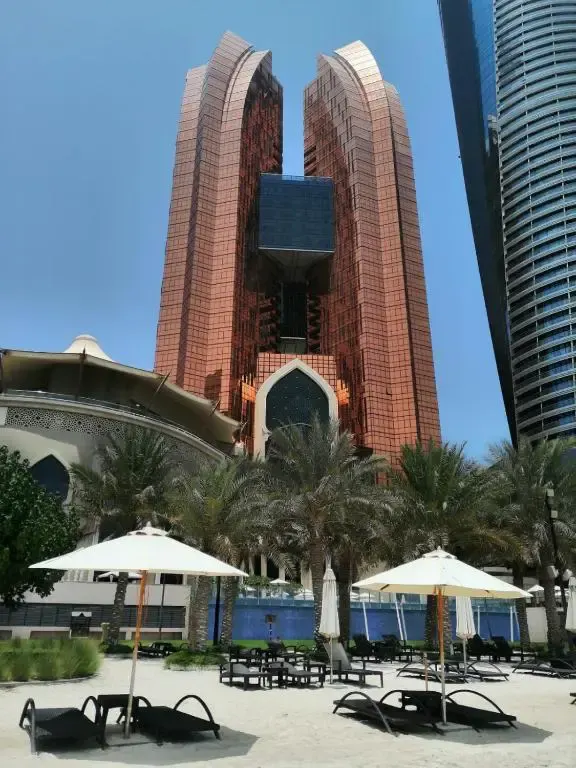 Aside from the outdoor swimming pool and bar on site, the hotel has grass lawns leading to a private beach stretching over 40 meters, allowing guests to soak up the Arabian sun while enjoying everything the hotel offers.
In the winter, the hotels' private beach can be chilly because it becomes shaded by buildings early in the afternoon. However, it is best enjoyed earlier in the day during the summer months (June to Mid September).
The hotel's prime location allows guests to walk along the Abu Dhabi Corniche, stroll to the Marina mall, less than 15 minutes away or get a car rental and explore the city.
Regarding dining, Bab Al Qasr features four restaurants serving international cuisine, a cocktail bar, and high tea.
Book a family stay at Bab Al Qasr, Abu Dhabi
Best Family Hotels Abu Dhabi Frequently Asked Questions
How can hotels be family-friendly?
There are a lot of hotels that claim to be family-friendly. Usually, this means they have family rooms or maybe a kids pool or club, or a dedicated play area.
Kids below a certain age may also stay free. Furthermore, they may receive a discounted rate or complimentary meals during their stay.
How many people can a family room accommodate?
A family room refers to a room significantly larger than a standard one. It usually comes with an extra bed or two, a couch that doubles as a bed or a connecting room.
It can accommodate 4 to 6 people.
Is Abu Dhabi a good place to travel with kids?
Abu Dhabi is the ideal family destination thanks to its amusement parks, shopping centres, and many kid-friendly activities.
Kids love the city's waterparks, theme parks, wildlife and much more. Regardless of your interests, there is something for everyone.
Is it possible for tourists to drive in Abu Dhabi?
An international driving permit and valid vehicle insurance are a requirement for visitors who choose to drive in the United Arab Emirates.
Residents of GCC countries can move around in the UAE with the driver's license they hold from their home nations.
Is renting a car from an airport cheaper than those in the city?
Rental car companies at airports usually charge a premium. On a positive note, it could be convenient and time-saving.
However, we suggest renting a family car or a private vehicle of your choice from the car rentals scattered across downtown Abu Dhabi.
Check out our post on the best monthly car rentals in Abu Dhabi.
It is handy to have a car to explore some of the spots out of town such as Al Ain or Long Salt Lake.
When would be the best time to visit Abu Dhabi?
Most visitors prefer to make a trip during the winter when the temperatures are cooler and the humidity levels are low.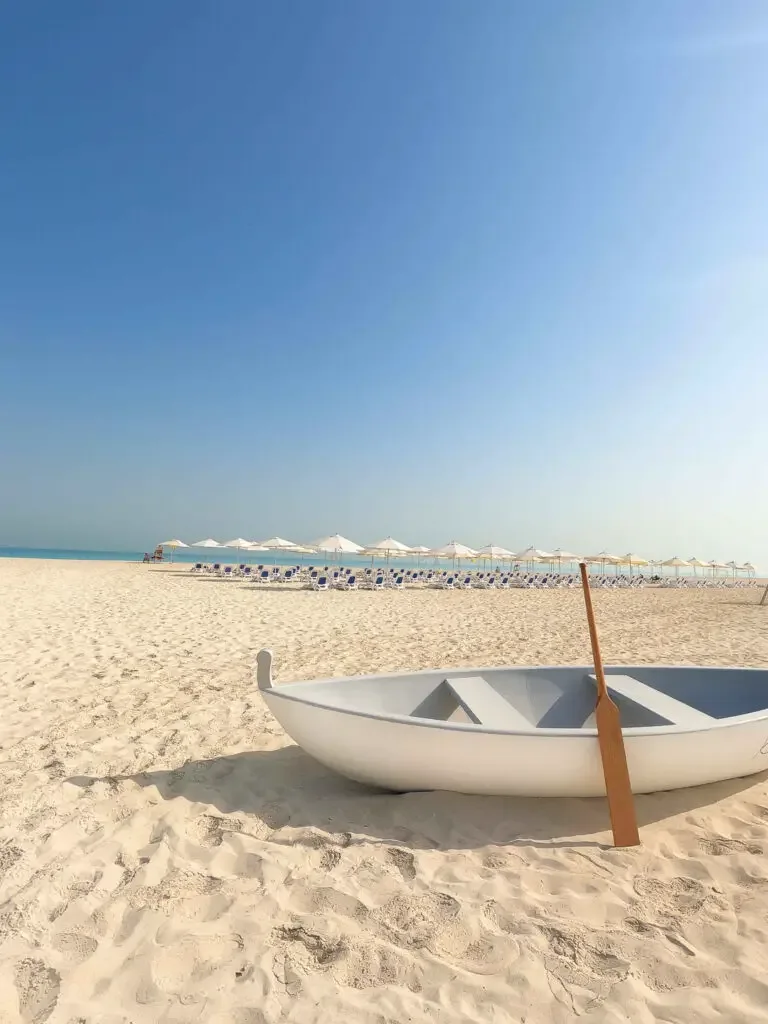 Our recommendation for those interested in the culture is to visit during the holy month of Ramadan. Ramadan offers cheaper flights and later hours at most shops and malls.
The Best Time To Visit Abu Dhabi
The tourism season kicks off around October or November
December
is equally as busy with events, in particular
National Day
.
January and February are the coolest quieter months after New Year. In March and April, the weather is still pleasant to visit.
The hotter summer months start in May when most events move inside. It is a good month to visitfor those who enjoy the arts.
Whilst June through July and August attract budget travellers as many resorts and attractions offer great deals.
September is considered a shoulder month, it is still quite hot but tolerable early morning and in the evenings.
To Sum Up Best Family Hotels Abu Dhabi
There are so many reasons to visit Abu Dhabi with kids aside from the incredible family friendly hotels.
The options are endless, from quirky coffee shops to exploring the desert, regardless of whether you are staying for a day or longer.
If you are interested in something a little quirky and different, check out our camping and glamping post.
Combining a period of time in the desert as well as the central part of Abu Dhabi is a fantastic way to plan a trip.
Factors such as the UAE's National Day, public holidays, Eid breaks, and the season may influence prices.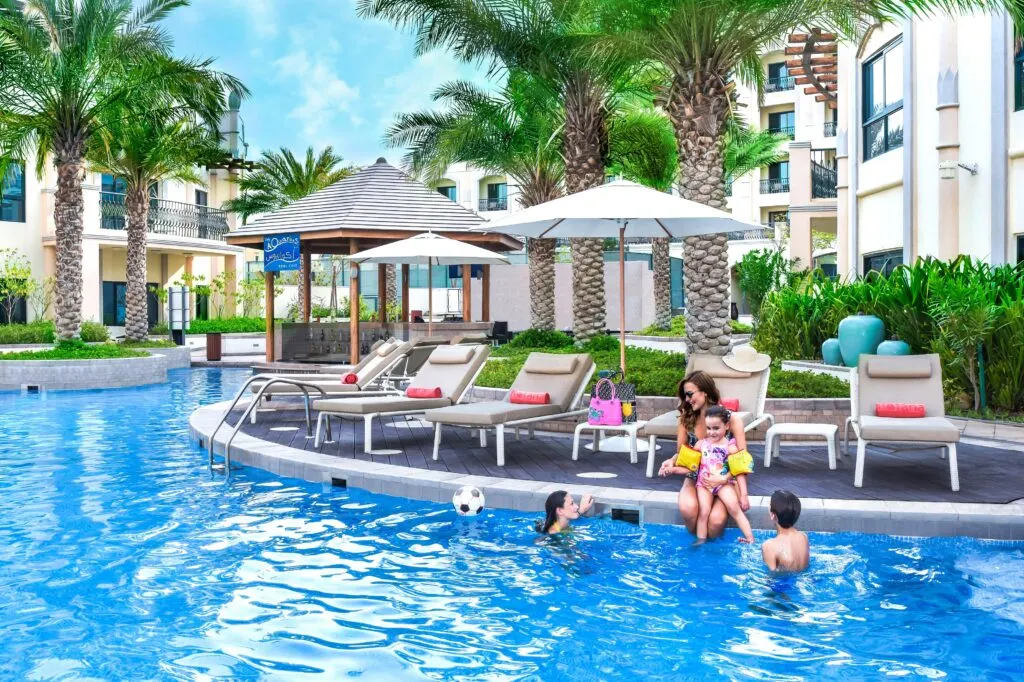 Hopefully this post on family friendly hotels in Abu Dhabi has been helpful. Is one of the above hotels on your itinerary, or are you planning on visiting one soon? Please comment below about the hotel, we love to hear from you.
You may also like:
Best Coworking Spaces In Abu Dhabi
Saturday Brunches In The Capital
Disclaimer: This post on Best Family Hotels In Abu Dhabi contains affiliate links, by using them it will not cost you any extra, we will receive a small proportion of the sale to keep us writing!