Al Ain is a unique city around an hour and a half east of downtown Abu Dhabi. Although it is a considerable distance from the centre of Abu Dhabi, it is actually part of the same Emirate. There are tonnes of beautiful places to visit in Al Ain.
Driving into Al Ain there are distinct differences, it is a charming city with quirky features. The traffic lights and street lamps look straight out of medieval Europe which is very different to other parts of the UAE.
Al Ain is the largest inland city and is surrounded by desert as well as rugged mountains shared with neighbouring Oman. The city is known to be traditional with a splash of modernity for good measure!
Jebel Hafeet dominates the skyline from many aspects of Al Ain, the tallest mountain range in the UAE. It stands at 1240 metres tall and has utterly stunning views from atop!
Seeing rocky mountains is quite unique in UAE since so much of the land is desert.
Al Ain is often referred to as the garden of the UAE predominately due to the Al Ain Oasis which is a UNESCO World Heritage Site. It is a haven for palm trees with an ancient irrigation channel which is over 3000 years old.
Despite the fact Al Ain is deep within the UAE desert, there are a number of green areas since it has many parks and gardens.
Al Ain is most well known for its well-preserved culture and heritage dating back to prehistoric times. There are many museums to experience the history of the region.
Aside from the green spaces, mountains and historical sites, there are tonnes of souks and markets to pick up crafts, spices and textiles.
Al Ain is a beautiful city well worth a visit be it for a staycation or on a UAE itinerary. The city provides an opportunity to experience Emirati culture, unique landscapes and places of historical significance.
In this post, we look at the top three places to stay and the most incredible places to visit in Al Ain. Also covered is when is the best time to visit, how to get to Al Ain and interesting facts about the city!
If you don't have lots of time to stay, book a full-day tour of Al Ain to see all the highlights.
Where To Stay In Al Ain
Telal Resort Al Ain
Telal Resort is a luxurious desert retreat amongst the sand dunes a little outside the city. It has become somewhat of an Instagram sensation in recent years and featured on so many of the countries' marketing materials.
Telal Resort owns its very own oasis in the desert, which is a very unique site and is only accessible to guests.
It has Bedouin-inspired accommodations, ranging from luxury tents with private pools to extravagant villas overlooking the dunes. Every element of design encompasses Emirati life and architecture in a luxurious way.
All of the rooms, suites and villas are equipped with AC, WiFi, a flat-screen TV and stunning terraces with comfortable furnishings and a fire pit overlooking the desert. Watching the sunset from the terrace is one of the nicest experiences.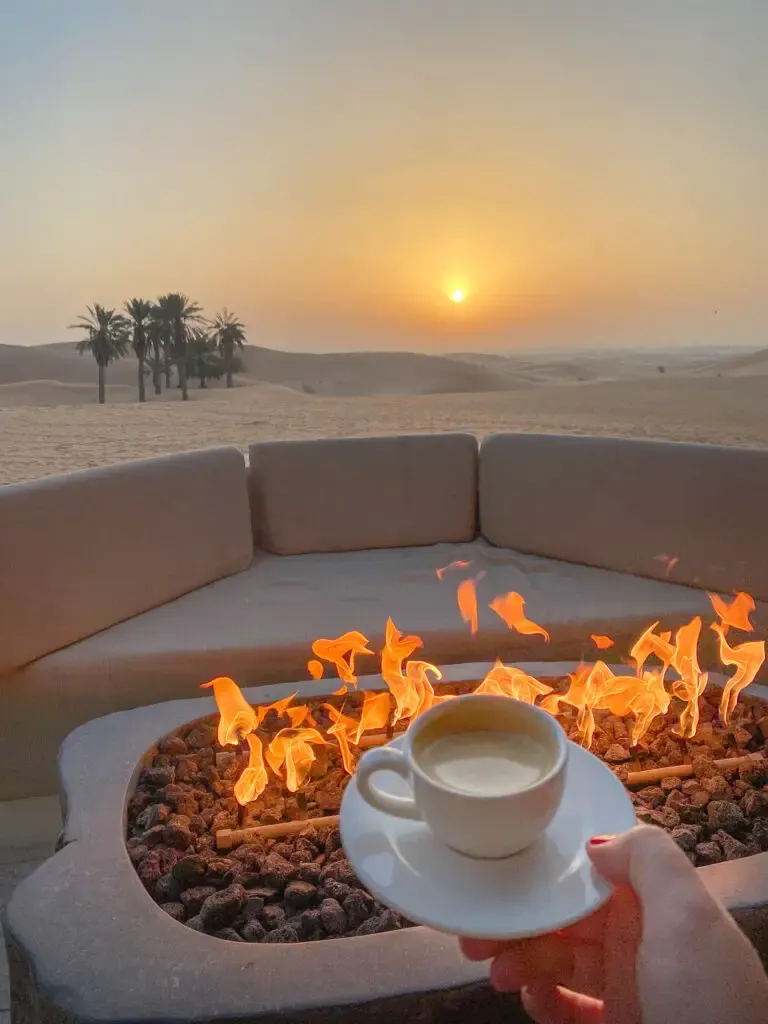 The resort has an upmarket restaurant featuring international and Emirati cuisine and is based inside a luxurious bedouin tent.
Resort Facilities & Amenities
There are a couple of other unique features including the cold plunge pool in the centre of the resort. Surrounded by stunning meticulously designed arches with Arabic detail, it feels like a soothing sanctuary!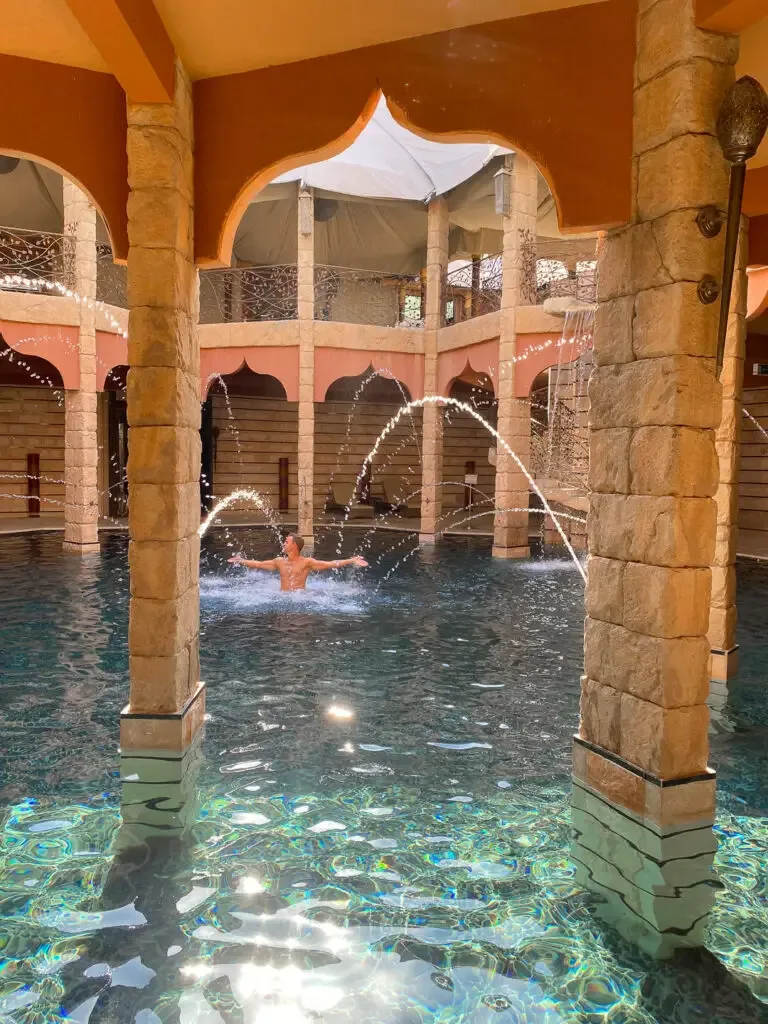 The outdoor pool is cleverly designed to look like it is part of the landscape with rock boulders and palm trees in the middle. The backdrop is sand dunes as far as the eye can see! There is also a spa and fitness centre on-site.
The resort is ideal for honeymooners, a romantic weekend or a simple staycay. Telal Resort has its very own heritage site on the grounds of the property and demonstrates Emirati life in more detail. It features a village, traditional houses and a souk.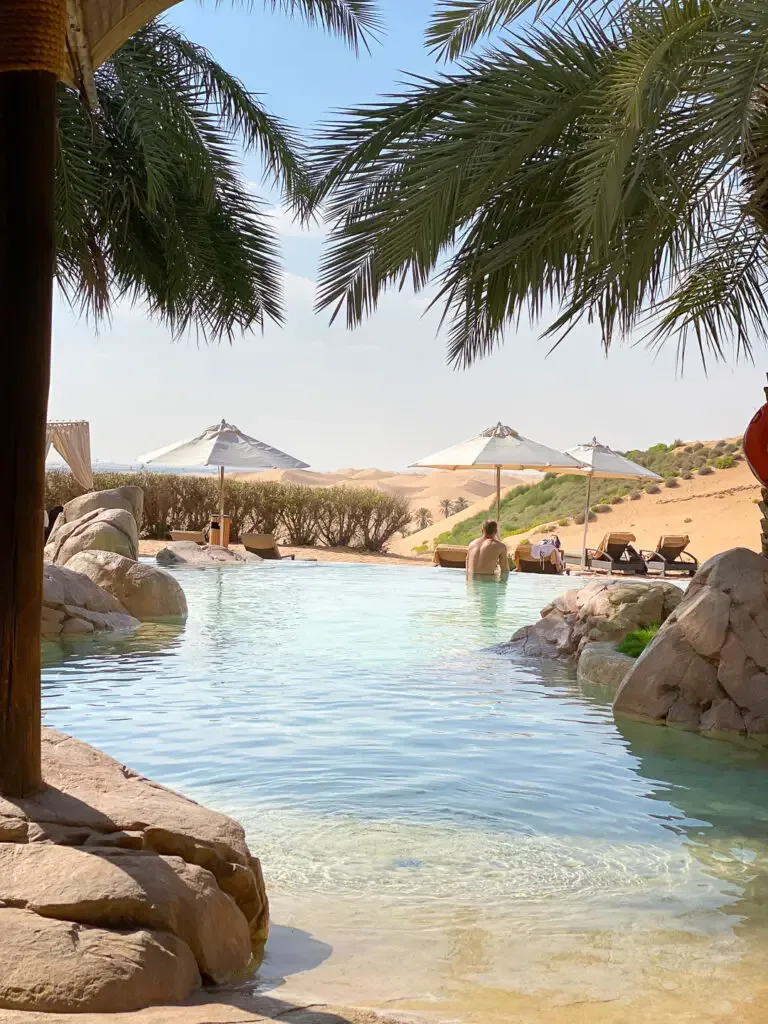 The heritage site allows guests to experience the culture in an immersive way. Aside from the heritage centre, there is also a zip-line onsite and an opportunity for tonnes of excursions, including camel riding, desert walks, dune bashing and falconry displays.
Telal Resort is a little out of town, so allowing a day during the trip to see the best places to visit in Al Ain is probably best.
Book a stay at Telal Resort here.
Pura Eco Retreat, Jebel Hafeet Park
Another fantastic and unique place to stay is Pura Eco Retreat, Jebel Hafeet Park. It is right at the foot of the Jebel Hafeet mountains and a little closer to downtown Al Ain.
The views surrounding the resort are stunning, and the accommodation is unique with dome-shaped glamping tents. Some of which allow for stargazing at night.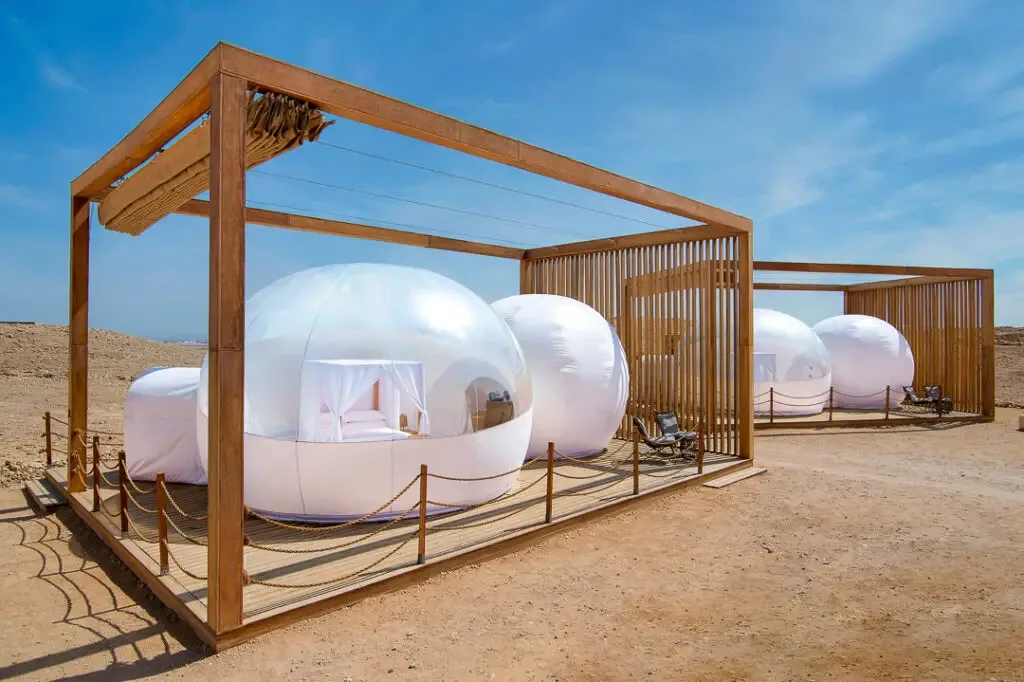 The resort has BBQ facilities and offers bike rentals to explore the area. Not to mention a highly-rated continental breakfast!
The restaurant, Hafit Foothills Lounge also serves lunch and dinner and can cater to kids as well as different diets.
Book a stay at Pura Eco Retreat.
Ayla Grand
For those wanting to be based in the centre of Al Ain, Ayla Grand Hotel is the perfect option. It is also great for families since the hotel offers serviced apartments with up to three bedrooms!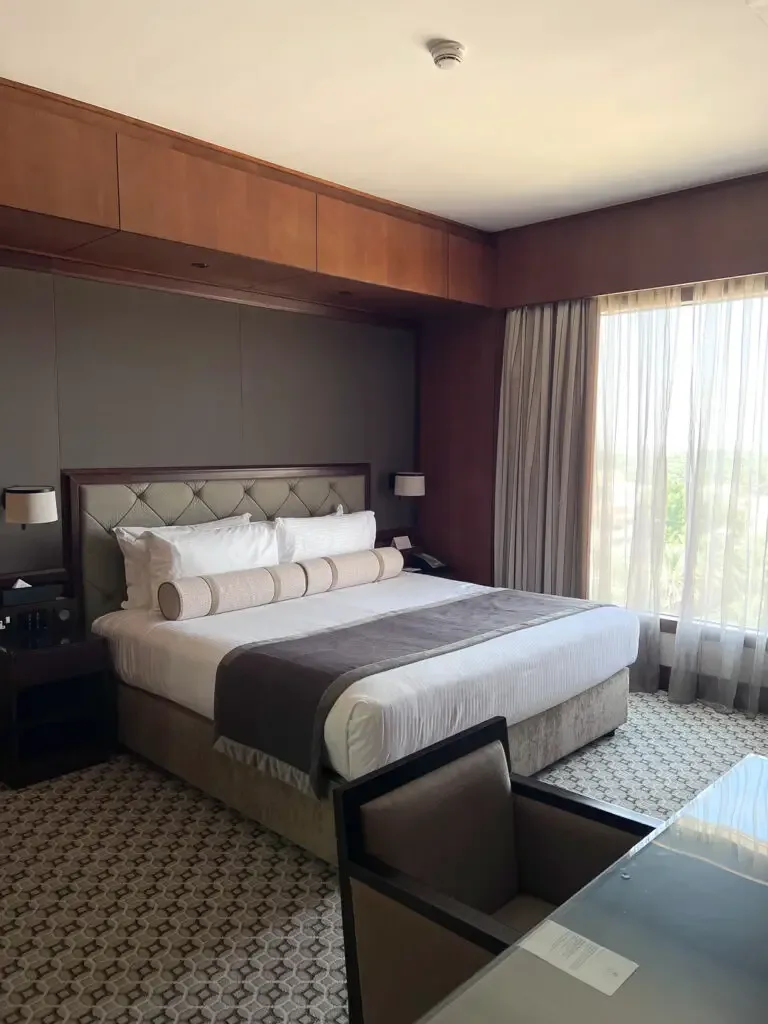 It is very close to Al Ain Mall in fact, it is within walking distance! Ayla Grand has a lot of fantastic facilities, including a rooftop pool, fitness centre and spa.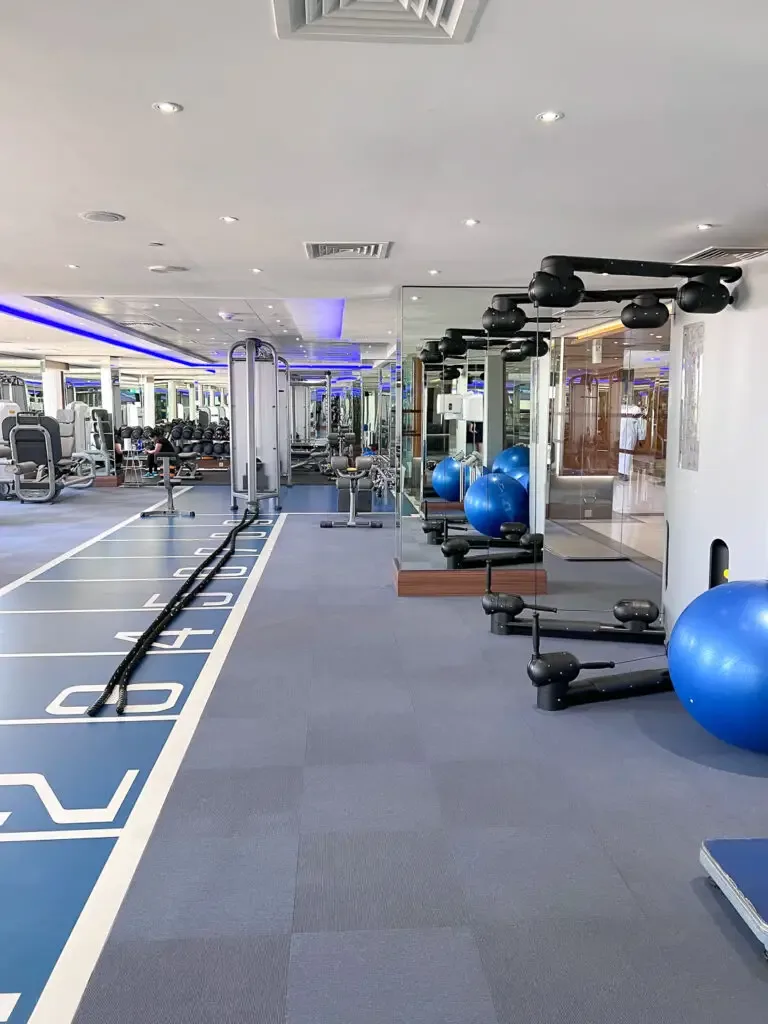 Aside from serviced apartments, the hotel also has deluxe rooms and suites. The hotel is 5-star and although it is luxury, it is a little less modern than other places in central Abu Dhabi.
The rooms are comfortably furnished and feature a flat-screen TV and high-speed internet.
Ayla Grand Hotel also has a few dining options. They serve a buffet breakfast, lunch and dinner in the restaurant on the ground floor lobby.
There is also a restaurant on top of the hotel next to the pool, which is a perfect hangout in the evenings. In fact, many locals come to eat dinner and smoke shisha outdoors.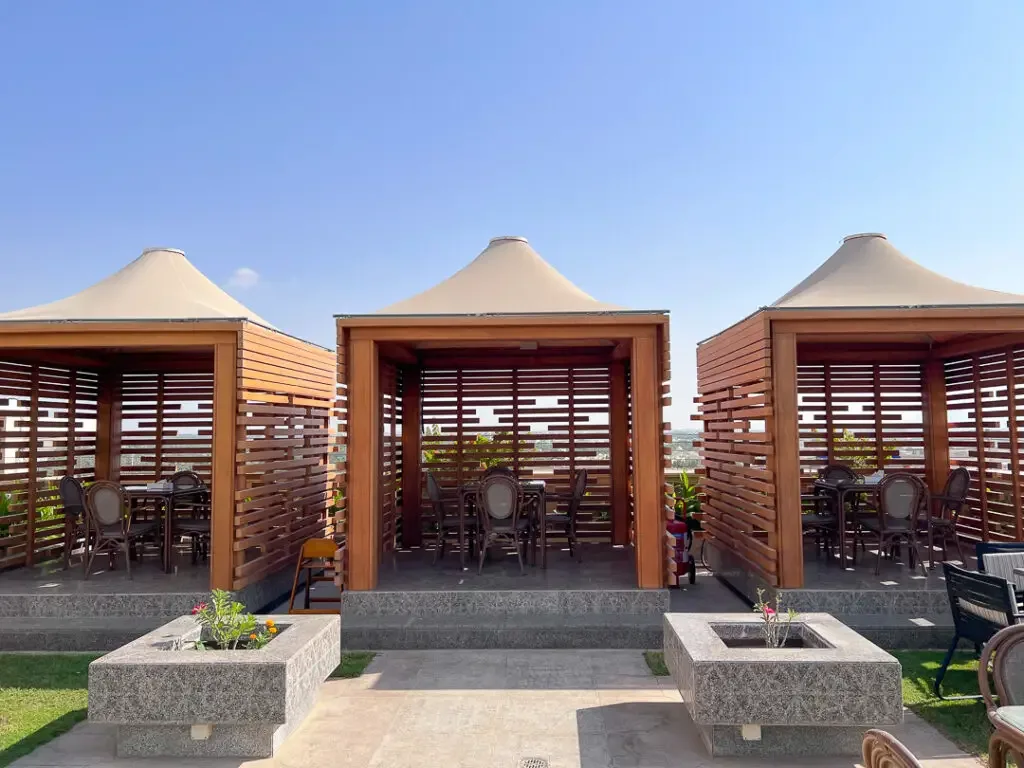 The hotel is perfectly located to enjoy local attractions such as the Al Ain Oasis and the Jebel Hafeet mountain.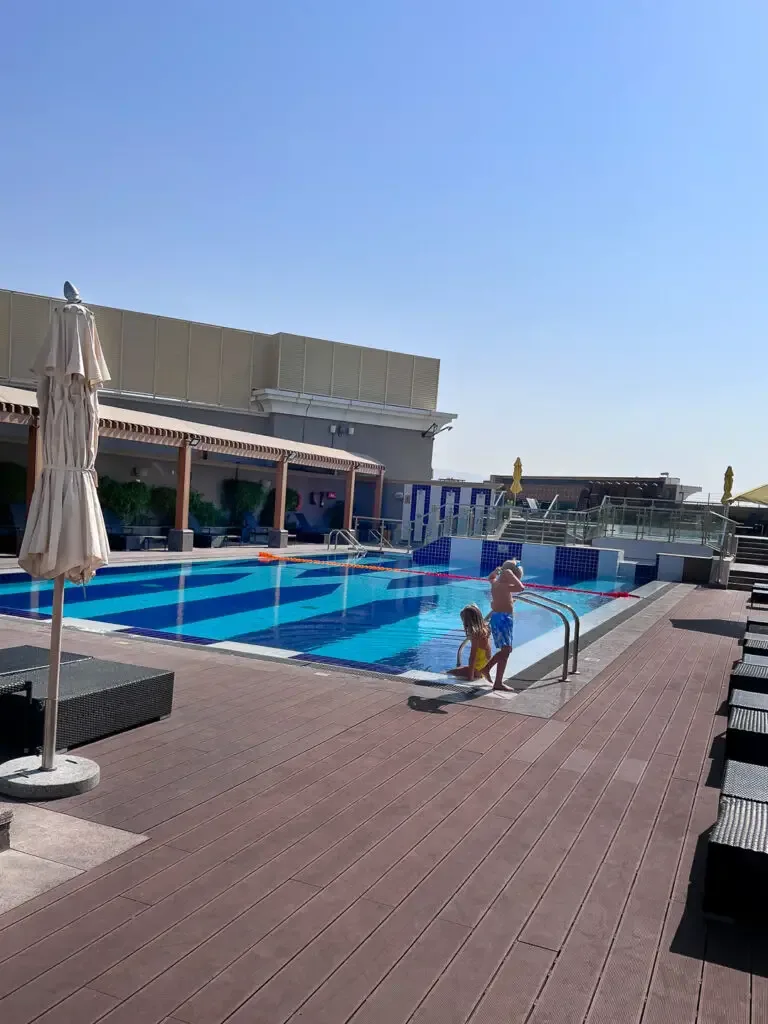 There is free parking onsite, although the car park does get busy. It is a pretty easy spot to pick up a taxi since it is a central location.
Book a stay at Ayla Grand here.
Things To Do In Al Ain
Al Ain Oasis
Al Ain Oasis has to be one of the most special places in the whole Emirate and the top place to visit in Al Ain.
The lush green oasis is spread over 1200 hectares of land and is home to over 147,000 date palms. It is one of the largest working oasis in the world.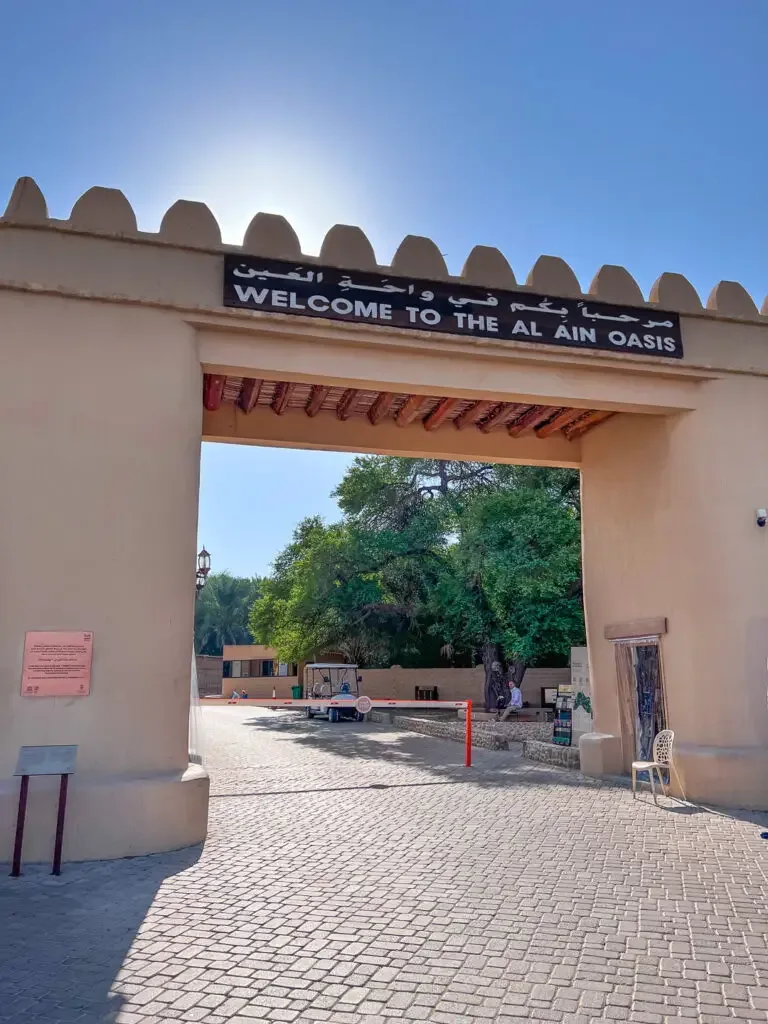 The site is also a UNESCO World Heritage Site since it dates back over 3000 years. It is rich agricultural history and culture.
Visiting early morning is the best time to enjoy the walk in a cooler temperature. It is possible to get a guide from the entry.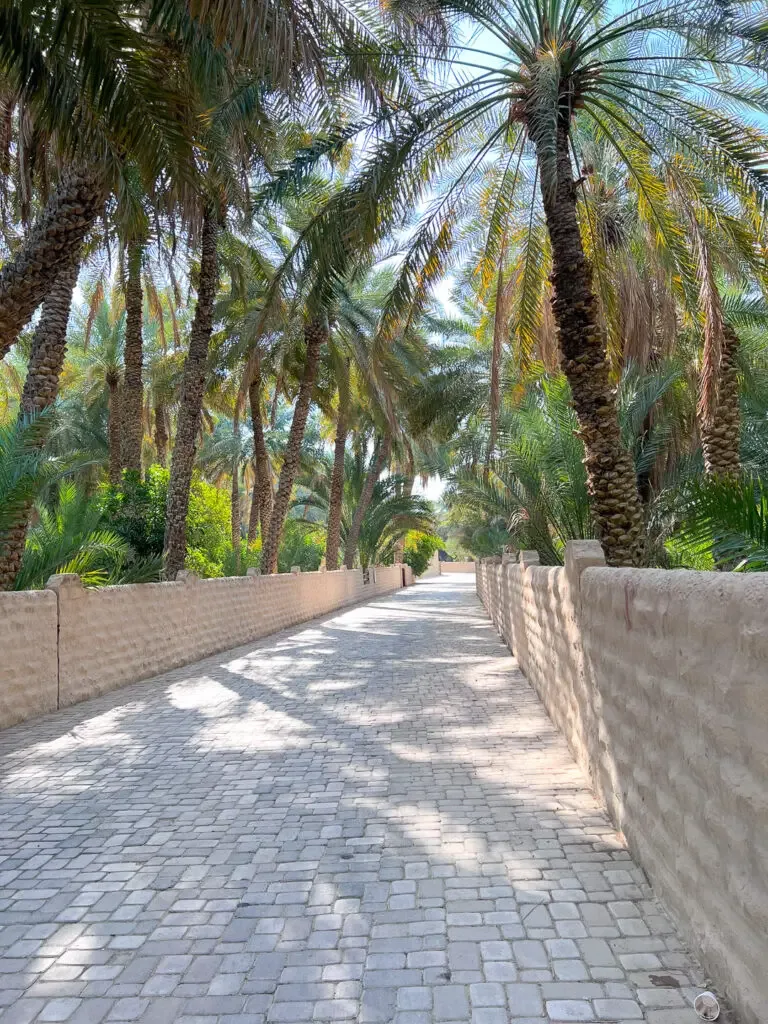 Not to mention many visitors choose to rent a surrey which is 4 seater cart that is peddled similar to a bike.
The surrey offers some shade and is perfect for little families, with two little seats for small kids at the front. Alternatively, walking is just as enjoyable!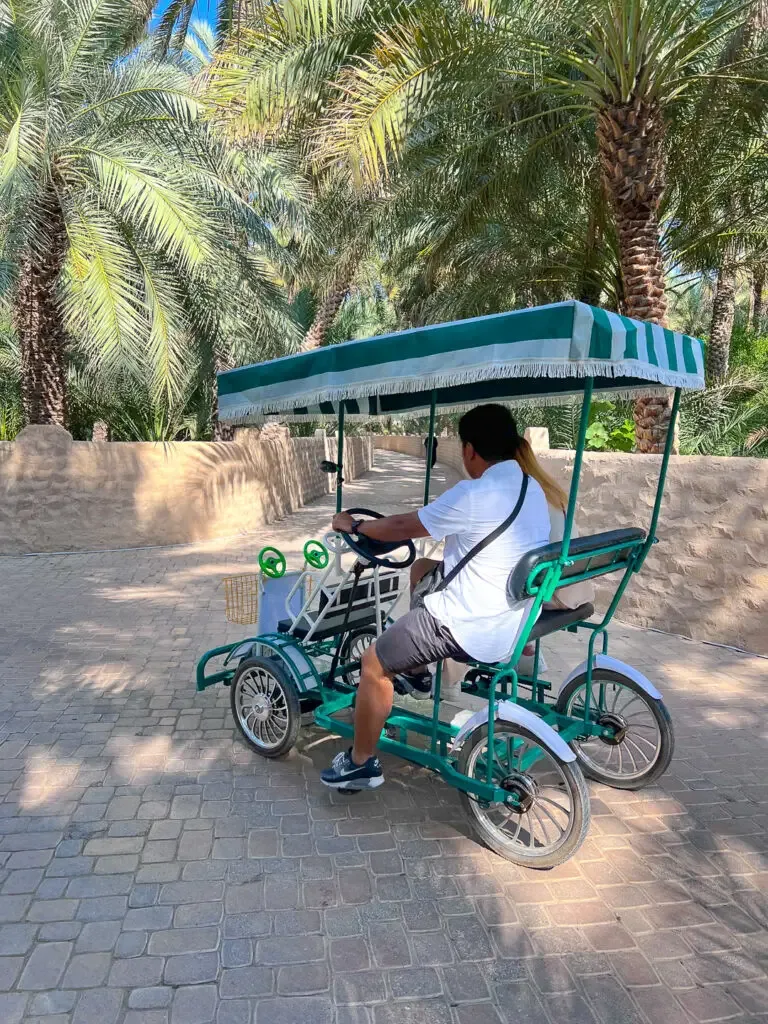 A map is provided to visitors to explore the many walled walkways lined with palm trees. The whole environment is so unique and super beautiful and so incredibly well maintained.
It is possible to walk into the palm tree field and see the irrigation system flowing through.
One of the lovely parts of the experience is seeing dates being harvested. Men on traditional bikes have baskets full of dates for sale. We picked up a box to take home, and they were so delicious and affordable for a massive portion.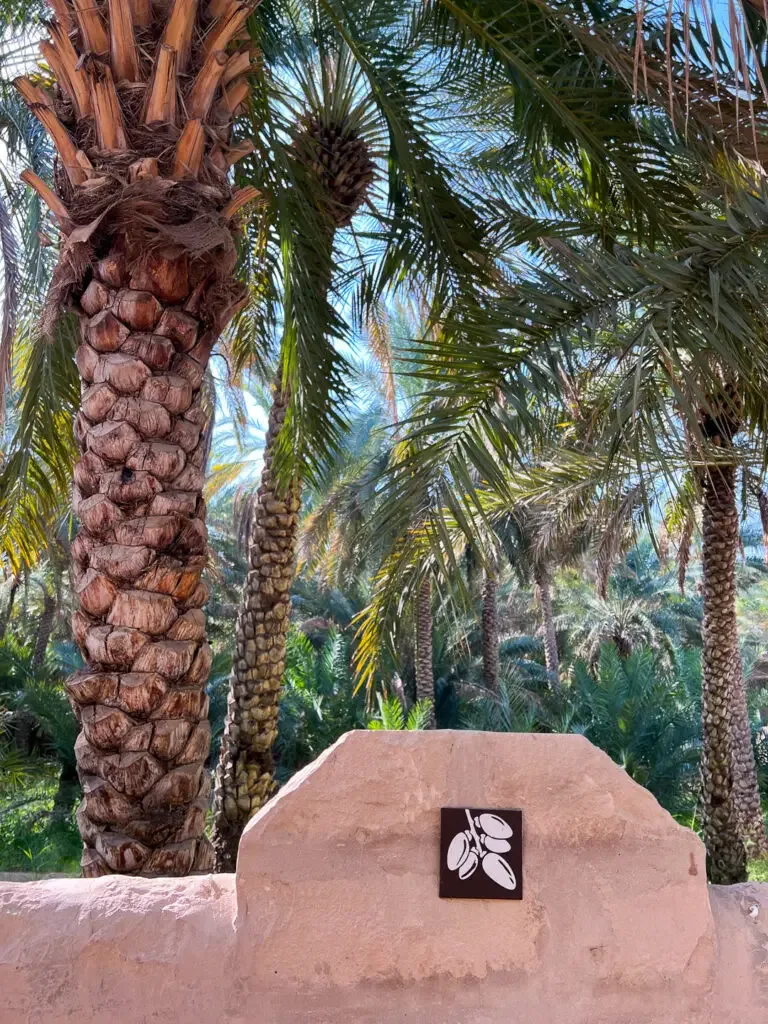 There is also a craft store close to the exit where local women weave traditional textiles. It is another fantastic authentic experience when it comes to places to visit in Al Ain and a great place to pick up souvenirs.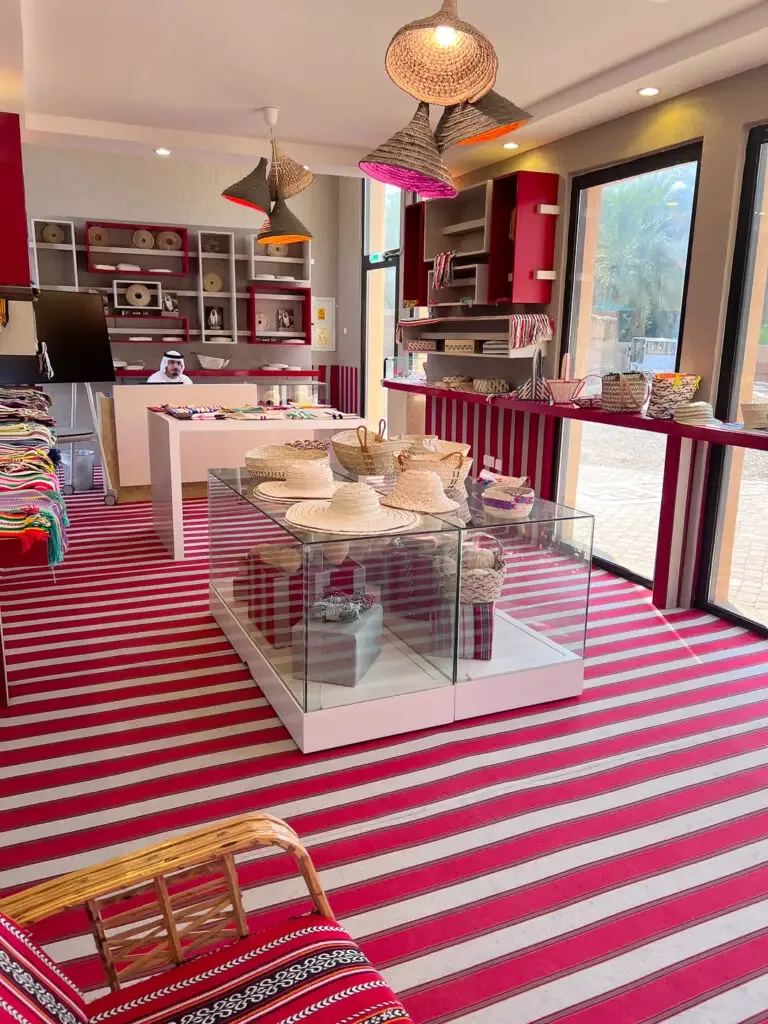 Location: Al Tuhaf St – Central District – Abu Dhabi – United Arab Emirates
Opening hours: 9 am – 5:30 pm daily, Ramadan may impact hours.
Al Jahili Fort
Al Jahili Fort is a historic landmark located in the heart of Al Ain. It was built in the 19th century and used by the ruling family of the time. It should definitely be included on any itinerary when it comes to places to visit in Al Ain.
Over recent years, the fort was restored and turned into a museum to preserve the culture and heritage of the region.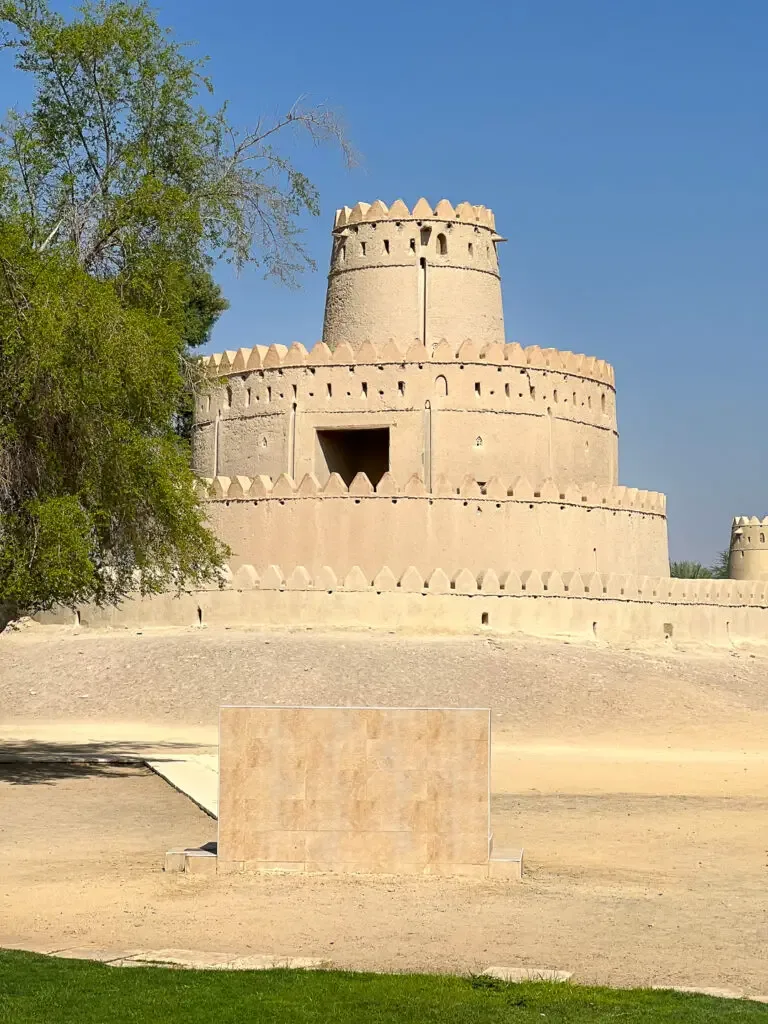 There are many different exhibits featuring Bedouin culture and the work of British explorer Wilfred Thesiger.
The fort tends to be used for exhibitions in the area throughout the year. Everything from concerts to festivals. It features a nice cafe, courtyard and garden to enjoy on any visit.
Location: Mohammed Bin Khalifa Al Nahyan St – Al Jahili – Abu Dhabi – United Arab Emirates
Opening Hours: 9 am to 7 pm daily, Ramadan may impact hours.
Al Ain Palace Museum
Al Ain Palace Museum is located in the centre of the city and is the former home of the founder of the UAE. It is perfect for exploring in the warm summer months as it is indoors.
The rooms within the palace have been preserved to showcase the life of the most important person in UAE history. The museum provides insight into the design and furnishings of a royal home.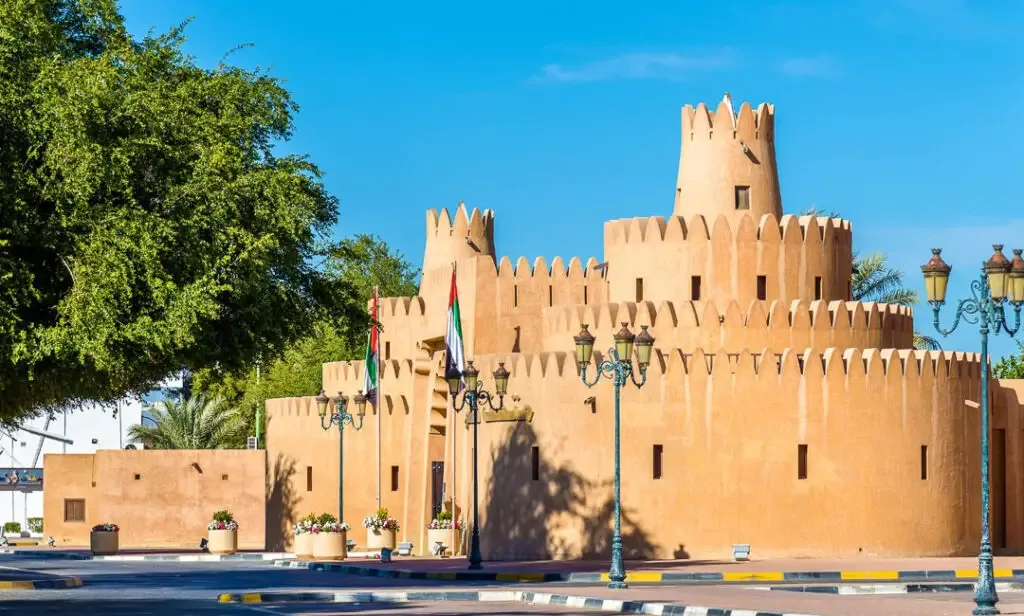 Similar to many places across Al Ain, the museum has traditional art and crafts, including weaving and pottery from across the region. There are often live craft demonstrations and plenty of traditional souvenirs on offer to purchase.
The museum is right next to the Al Ain Oasis, so it is ideal to visit both together.
Location: Hessa Bint Mohamed St – Central District – Al Mutawaa – Abu Dhabi – United Arab Emirates
Opening hours: 9 am to 7 pm daily, Ramadan may vary hours.
Green Mubazzarah
The Green Mubazzarah is a popular spot with both locals and tourists. It is one of the many parks in the region and is right at the foot of Jebel Hafeet Mountain.
Featuring hot springs, pretty walkways, picnic spots and lawned areas to relax, it is best enjoyed in the cooler months, which start in November through December right up until about March.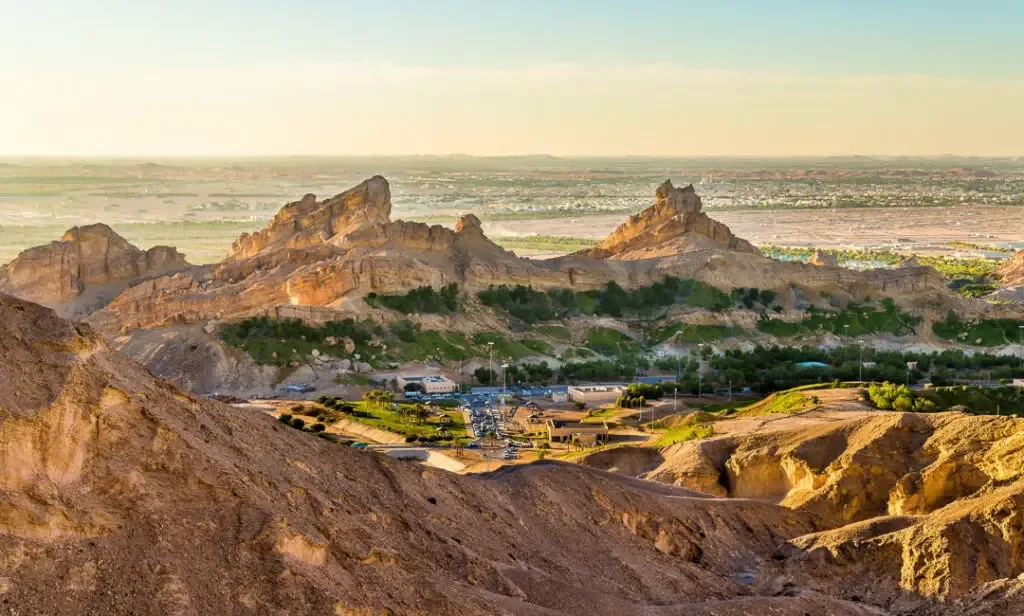 Visitors love relaxing in the hot springs, whilst others enjoy walking or cycling to enjoy the views.
The springs are dense in minerals and are fed from an underground source.
It is quite common for local families to have a bbq or get together in Green Mubazzarah. Especially close to the playground in the evenings when it becomes cooler, mums and dads gather with their children.
Green Mubazzarah is certainly one of the most relaxing places to visit in Al Ain.
Location: 4P4X+2M3 – Mbazzarah Al Khadra – Abu Dhabi – United Arab Emirates
Opening hours: 24 hours
Jebel Hafeet
Jebel Hafeet is the highest mountain in the country and is super easy to access from Al Ain. The mountain is loved by locals and tourists and can be busy, particularly on weekends.
The mountain looks otherworldly, like something on Mars! The rock formations are stunning, and the winding road leading to the top provides some of the most spectacular views in the whole country.
Cycling enthusiasts often bike to the top, especially in the cooler months. In fact, the bike festival in Abu Dhabi includes Jebel Hafeet in its 150 km track.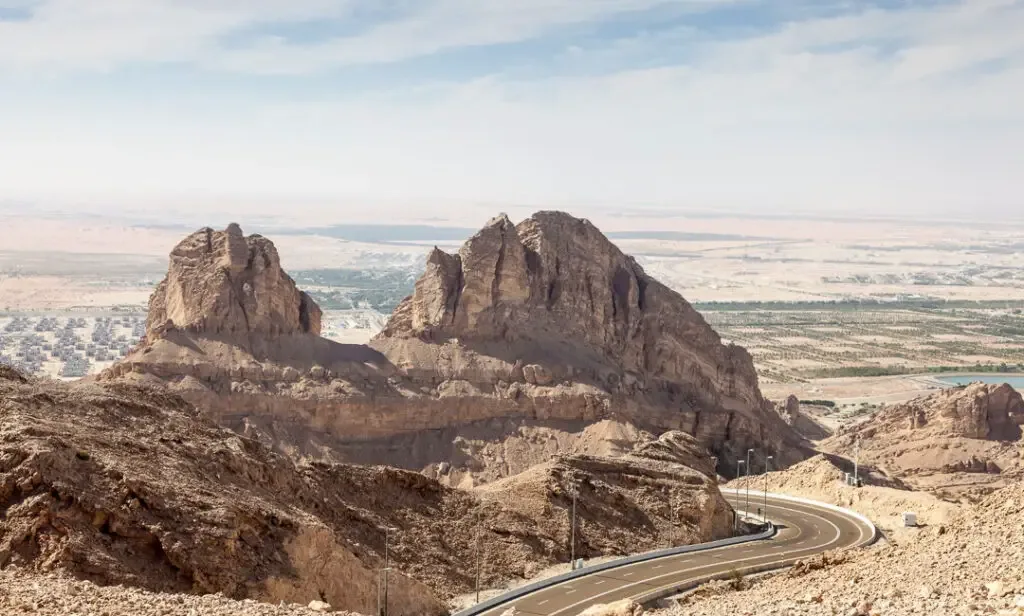 The best time to visit the mountain is most certainly an hour or two before sunset. Head to Mercure Hotel Garden restaurant to enjoy a drink and watch the lights of Al Ain come on beneath the orange sky!
The road below is just about manageable to see, which gives an idea of how high Jebel Hafeet is!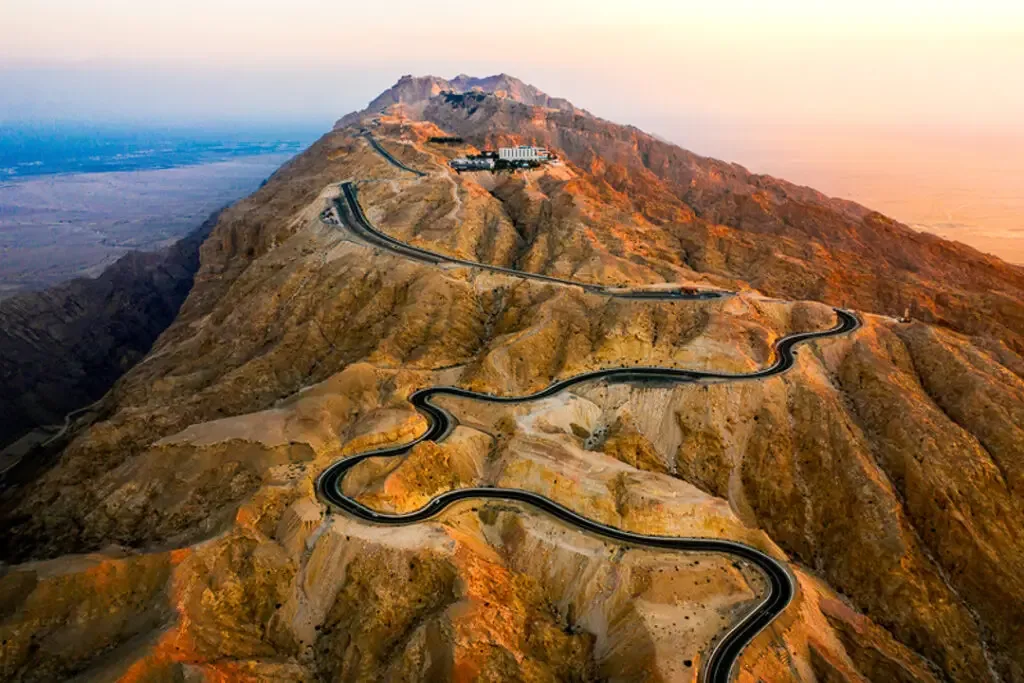 The winding road to the top is not for the faint-hearted, and if you tend to get car sick, it is probably a good idea to wear sick bands.
Mercure Hotel has another Middle Eastern restaurant which feels like it hangs over the cliff edge and is the perfect place to have dinner after the sun has set.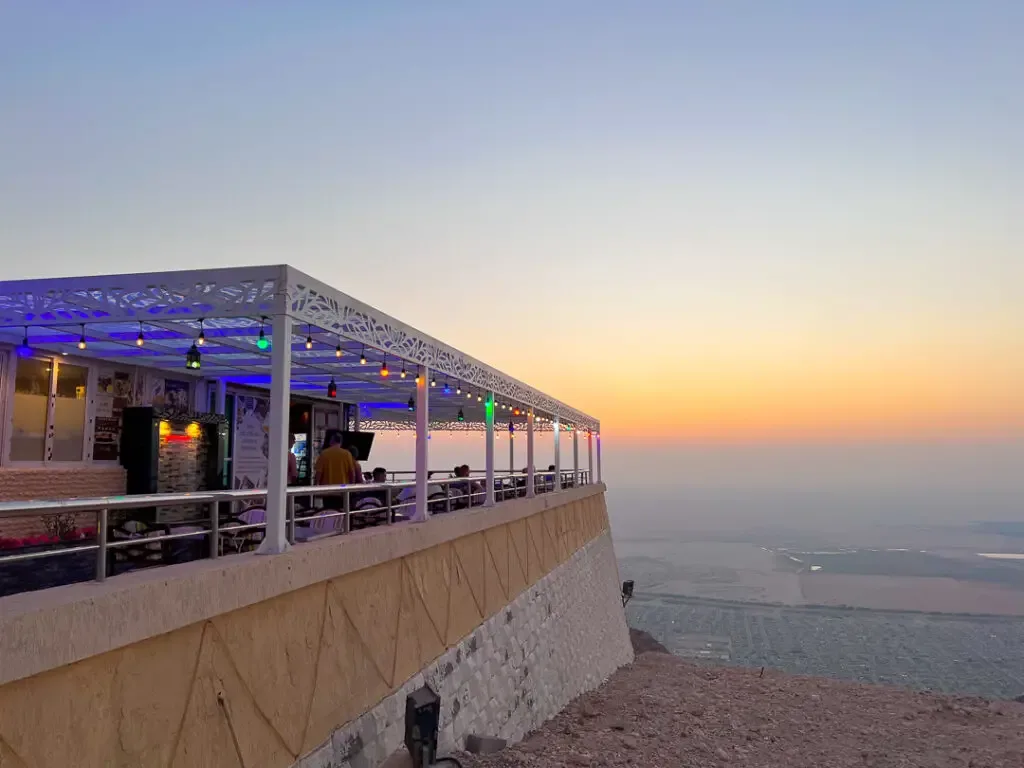 If you are feeling particularly energetic, there are hiking trails to the top!
Beehive Tombs
The Beehive Tombs is another incredible historical site based in the Al Hili Archaeological Park. The tombs were built in the Bronze Age over 5000 years ago.
There are over 500 tombs which were constructed with stones without the use of mortar.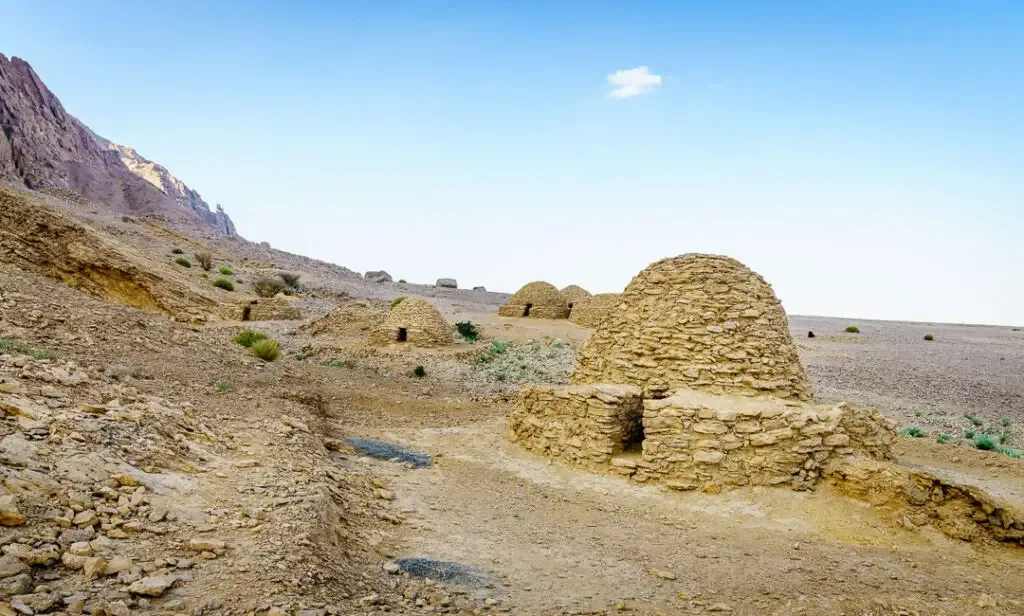 The tombs are about 2-3 metres wide with a narrow passageway. Each tomb is thought to have the remains of between two and five people.
Seeing the hives with the rocky mountainous terrain as far as the eye can see is other worldy site and makes it one of the unique places to visit in Al Ain.
Location: Mezyad St, Al Ain, Abu Dhabi
Opening hours: 24 hours
Al Ain Safari Drive
Another tourist attraction in Al Ain that took Instagram by storm is the Al Ain Zoo safari drive. It is not what it seems as the drive is not inside the main part of the zoo.
It is enclosed land which is a huge space where animals roam freely around. Amongst the animals in the safari section are giraffe, ostrich, antelope, oryx and gazelle.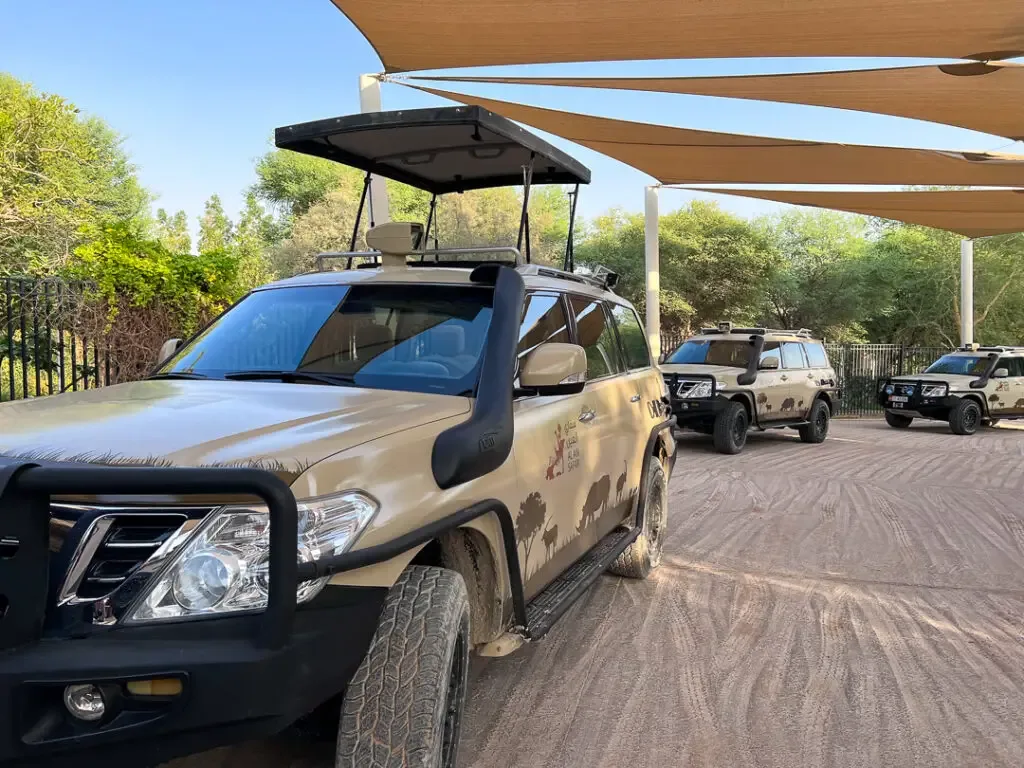 Guests booking a safari trip automatically get tickets to the main zoo so both areas can be enjoyed.
The 4×4 taking guests on a safari drive is super comfortable and can seat up to 7 people. It has an open top allowing giraffes to come right up the vehicle.
It is such a fantastic experience for both children and adults. The safari guide provides carrots to feed the giraffe, it is a once-in-a-lifetime opportunity!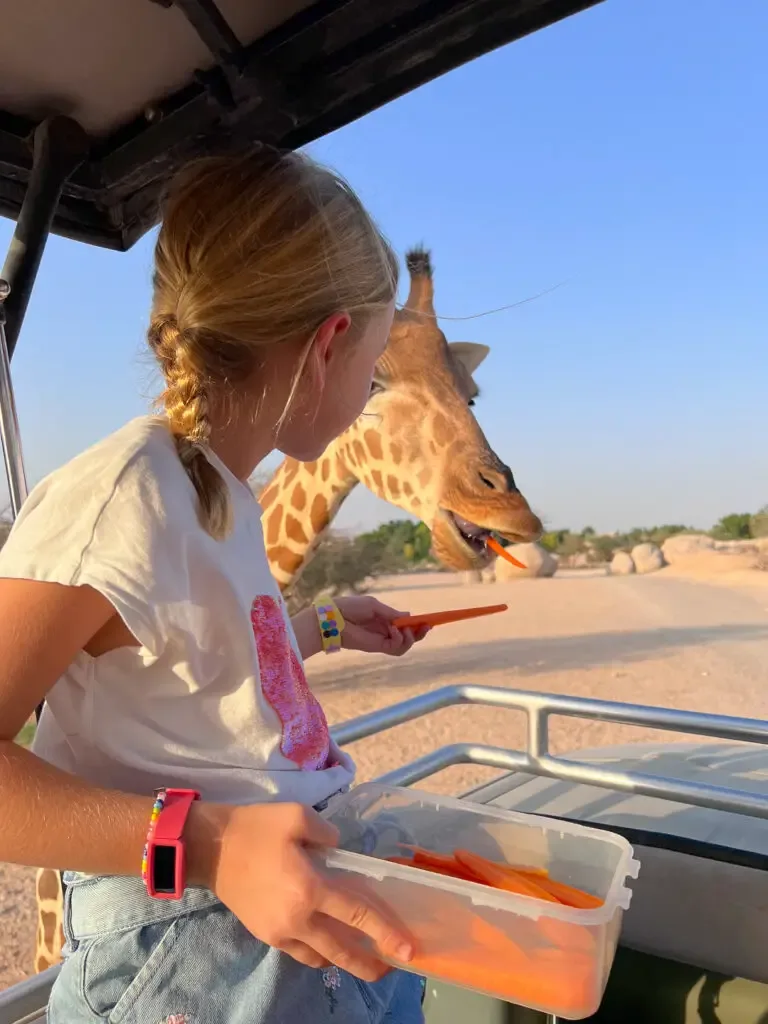 There is also an opportunity to eat breakfast with the lions, however, this must be booked quite far in advance!
The tour is an educational experience since the guide provides lots of interesting facts and information. It is certainly one of the most fun places to visit in Al Ain.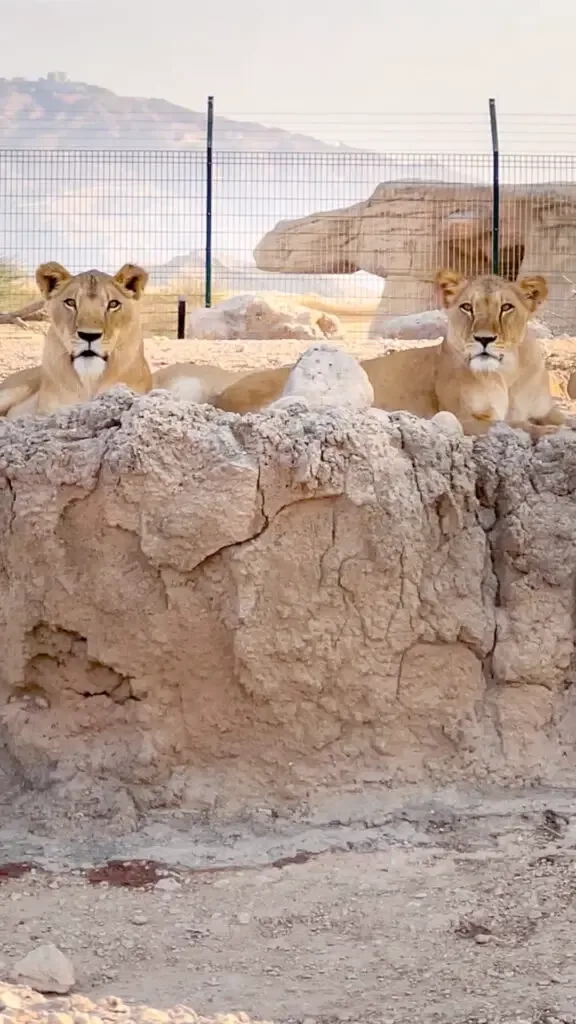 Safari drives have specific time slots and must be booked in advance. It is important to arrive on time to avoid any disappointment.
There are much bigger safari vehicles ideal for school trips or large tours.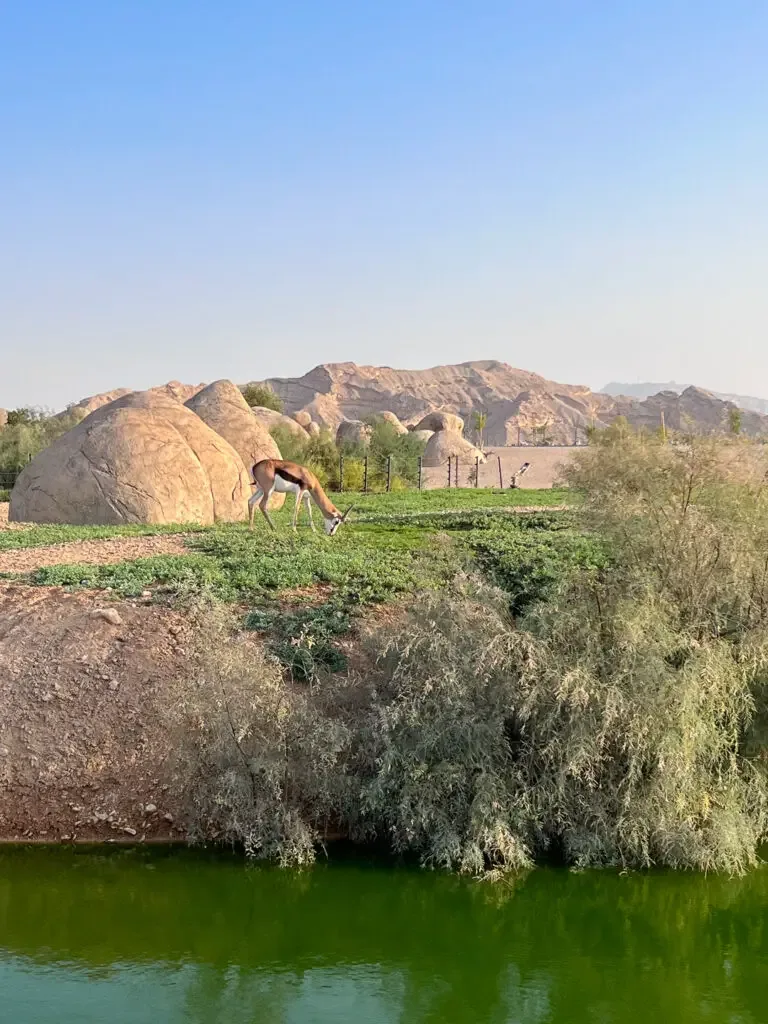 Location: Nahyan The First St – Shiab Al Ashkhar – Abu Dhabi – United Arab Emirates
Opening hours: 9 am to 8 pm daily, hours may be impacted during Ramadan.
Al Ain Zoo
The Al Ain Zoo is home to over 4,000 animals from more than 180 species, many of which are endangered.
The zoo is split into four sections including the African Savannah, the Arabian Oryx, the Big Cats, and the Reptile House making it one of the most popular Al Ain attractions. It is quite a large area and can be tiring to walk around, especially on a warm day.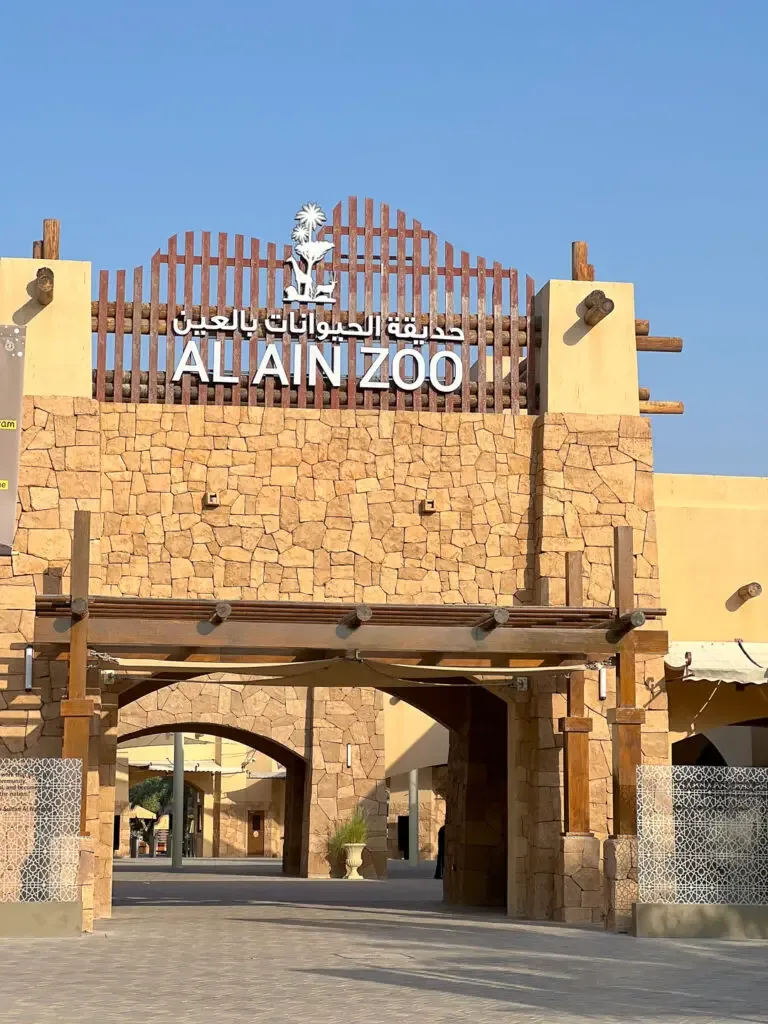 It is a good idea to book a golf cart in advance, especially if you'd like to visit each area.
There are many opportunities to watch exhibits such as an incredible bird show not to mention an elephant encounter.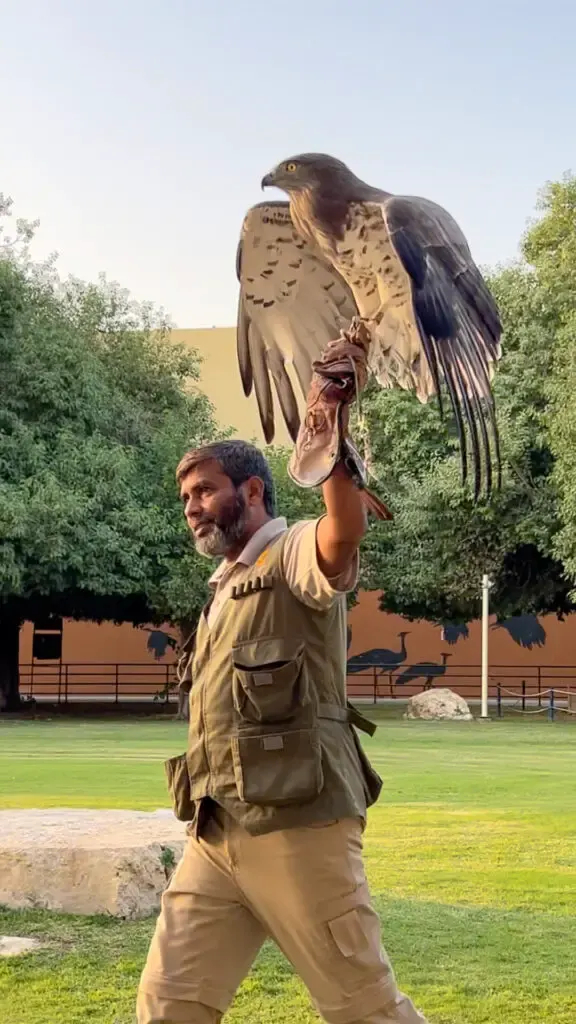 Aside from seeing the animals, there is also a lovely shaded playground for kids, a zipline and a petting zoo. The zoo also has several restaurants and cafes.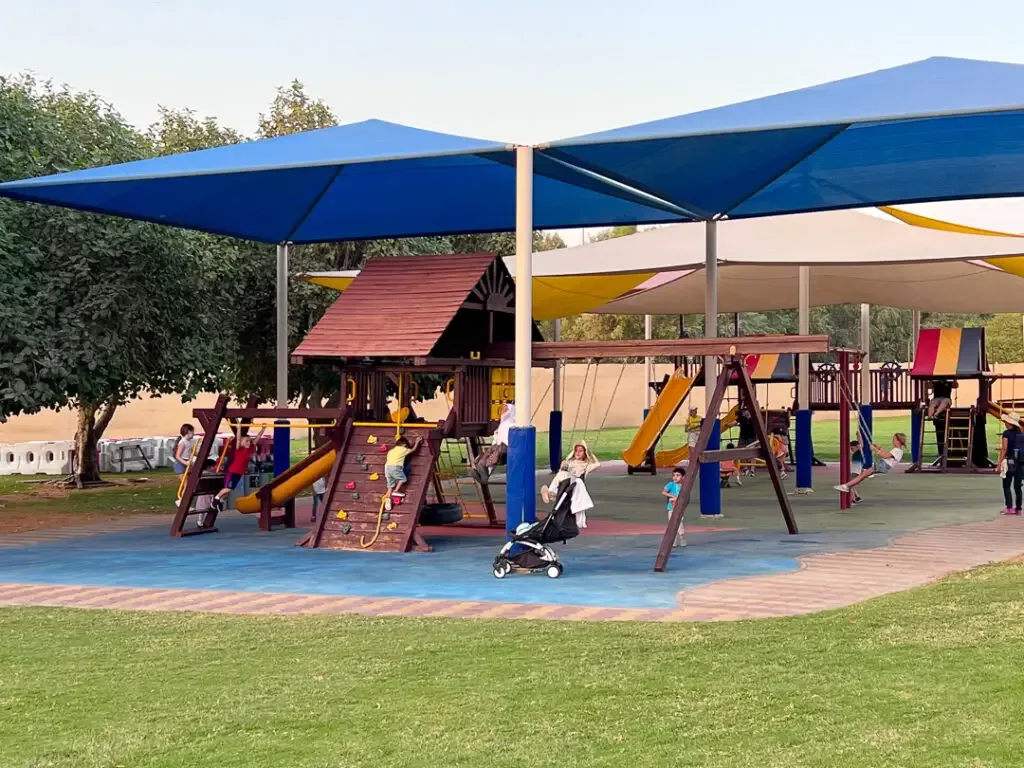 A great time to visit is late afternoon to avoid the sun. We found a fantastic Al Ain tour which includes zoo entry.
Location: Nahyan The First St – Shiab Al Ashkhar – Abu Dhabi – United Arab Emirates
Opening hours: 9 am to 8 pm daily, hours may be impacted during Ramadan.
Al Ain Adventure
Al Ain Adventure is at the base of the Jebel Hafeet and is an amazing waterpark in the city. It is not what you'd expect with slides. Instead, it is what seems like a river to enjoy rapids on a raft or kayak.
There is also a wave pool to try surfing, not to mention the high rope obstacle course which is not for the faint-hearted. There is also a zip-line and multiple pools for both adults and kids.
It is a fantastic location to cool down on a warm day and enjoy adventurous activities with the backdrop of Jebel Hafeet. There are tonnes of dining options including a snack bar, restaurant and cafe.
Location: Mbazzarah Al Khadra – Abu Dhabi – United Arab Emirates
Opening hours: 10 am to 6 pm daily, hours may change during Ramadan.
.
Al Ain Desert Safari
Al Ain is perfectly located to enjoy an afternoon and evening on the sand dunes. In fact, many safari tours departing downtown Abu Dhabi travel quite close to Al Ain.
A typical afternoon and evening on a desert safari involve being collected by a 4×4 vehicle by a tour guide. On route to the camp, expect some crazy driving over the dunes.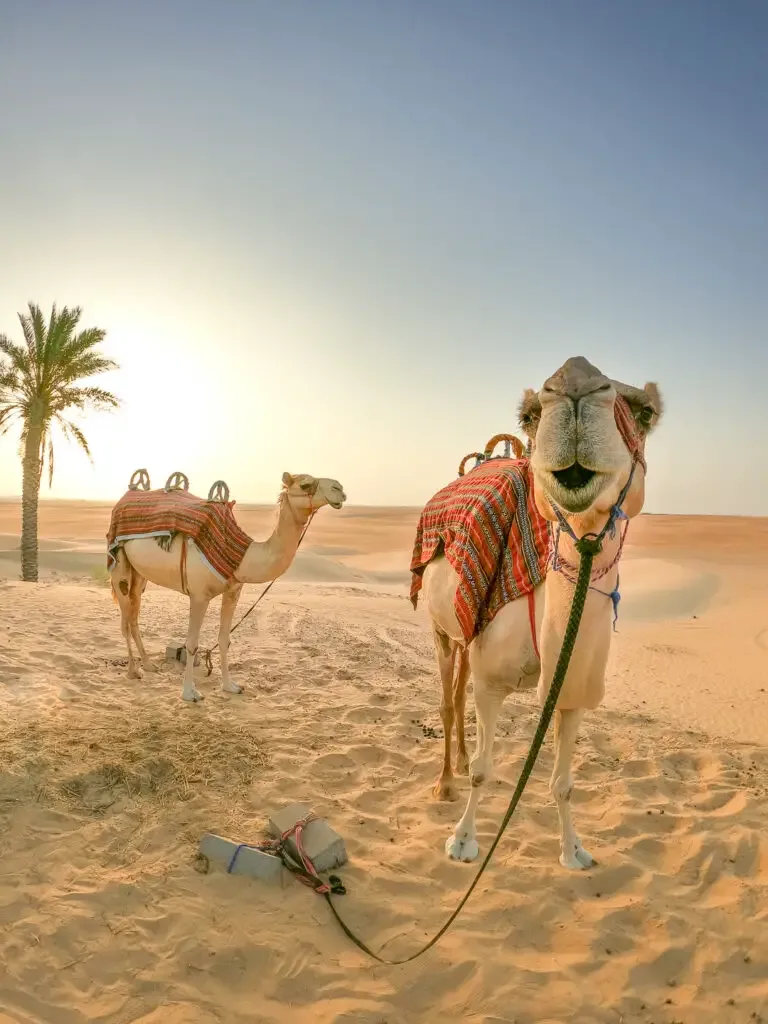 It is a very thrilling experience. Also on offer are camel rides, sand boarding, henna painting, a shisha lounge and some incredible sunset views!
The sunset in the desert is like no other as the sand turns orange-gold in the dimming light. As the sun sets, dinner is served at a Bedouin-style campsite. Serving up traditional food, it is a full Arabic experience.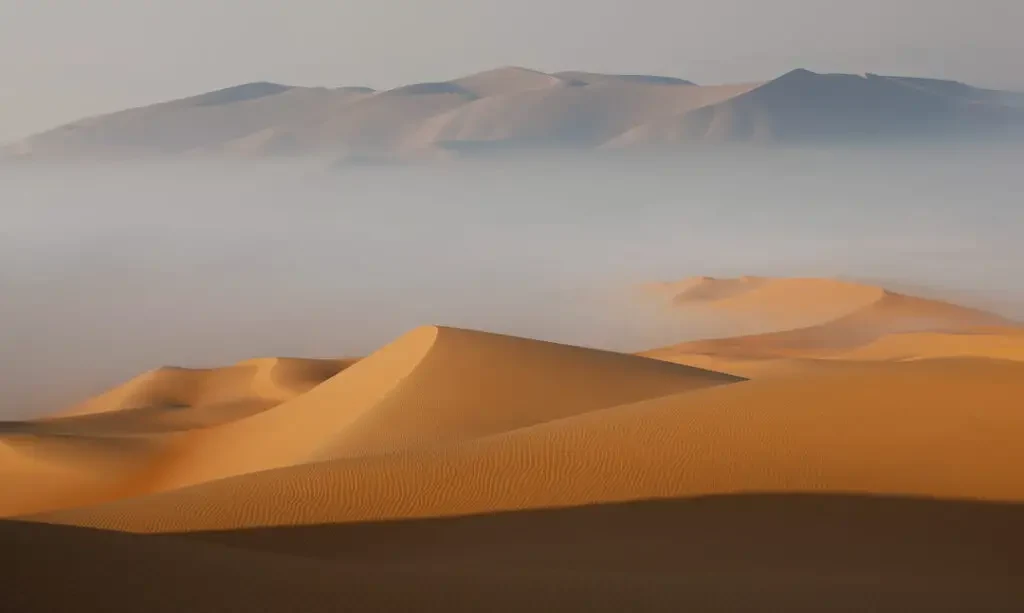 Once the night has kicked in and the desert is finished, belly dancers and performers provide amazing entertainment under the starry sky. In fact, some evenings all the lights are turned out completely so the night sky can be observed.
Book a desert safari in Al Ain here.
Hazza Bin Zayed Football Stadium
Al Ain is home to the fantastic Hazza Bin Zayed Stadium which is a landmark building in the city. The Al Ain team actually do quite well within the region in terms of football and the stadium is a place of community with local footy enthusiasts.
There are quite often games held at Hazza Bin Zayed Stadium. With seating for over 25,000 spectators, it is the perfect experience for football lovers visiting the region. The architecture of the stadium is super impressive and futuristic.
The stadium has hosted quite a few international cups attracting football tourists to the area. There are a few places to pick up a bite to eat or some Al Ain merchandise which could make a good souvenir.
Pick up tickets to a football game at Hazza Bin Zayed Stadium.
Malls in Al Ain
Like most places be it Abu Dhabi or Dubai, Al Ain has several malls. Many residents spend a lot of their time in malls in the warmer months as they are a place not only with shops but also entertainment and many restaurants.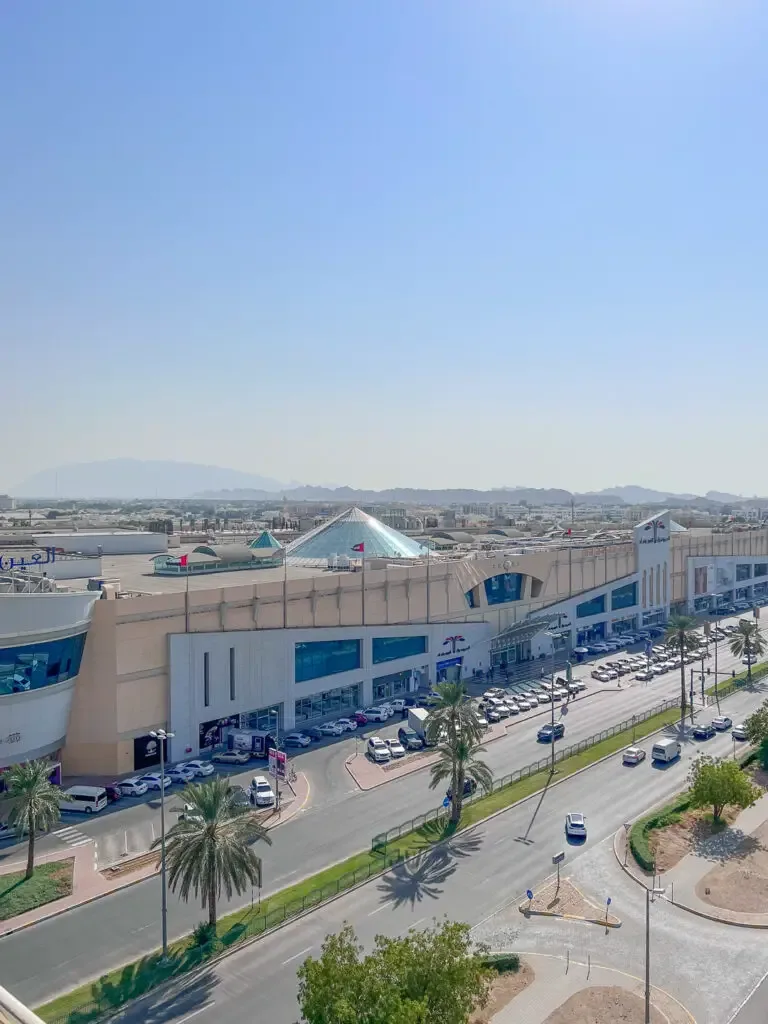 There are approximately four malls within the region of Al Ain. One of the biggest is Bawadi Mall on the outskirts of the city. It has over 400 stores, a theme park, a cinema and lots of food options.
For a mall more centrally located, Al Jimi Mall is not quite as big, however, has pretty much everything you need. From a cinema to a bowling alley and a food court to more than 120 stores.
Best Restaurants In Al Ain
There are many restaurants for foodies to add to the list of places to visit in Al Ain.
Firstly and probably the most important mention is Al Fanar Restaurant & Cafe since it serves up local Emirati cuisine. Another Emirati restaurant is Hili Rayhaan by Rotana.
There are plenty of international options, including Sizzling Wok, which serves up great dim sum and noodles.
It is not uncommon for great restaurants to be inside hotels across the country. Zest Restaurant in Al Ain Rotana is quite nice and serves an array of cuisines.
With a large expat community, it is no surprise to find good Indian food at Kairali, which also happens to serve vegetarian dishes.
For something a little classy try the french restaurant, Le Belvedere based in the Mercure Hotel at the top of Jebel Hafeet, the views are stunning!
Getting To Al Ain
Al Ain is located approximately 150 km from downtown Abu Dhabi and around 160 km from Dubai.
The easiest way to get to Al Ain is to drive. If you don't have your own car, check out this post about renting a car. Since it is a motorway from both cities, it takes between 1.5 and 2 hours, depending on traffic.
Another option is to take a bus from Abu Dhabi, They run every 30 minutes, and the journey takes approximately two hours. It is quite an affordable way to see places to visit in Al Ain. Take bus X90, it costs 25 AED.
Al Ain does have an international airport which is connected with some international destinations such as India and Egypt.
Another possibly more pricey option is to book a private transfer. We anticipate this costing around 350 AED. Getting around Al Ain by taxi is affordable and easy!
Best Time To Visit Al Ain
The best time to visit Al Ain is between November, December, January, February or March. The weather is cooler and more comfortable. Summer in Al Ain sees even higher temperatures than downtown Abu Dhabi.
Temperatures range from 20-30 degree celsius, which makes outdoor activities tolerable. Visiting in summer is difficult, especially to see the natural outdoor beauty.
However, often in the summer months, there are fantastic hotel deals for a relaxing stay. In such cases, maybe evenings could be used to do some minimal exploring, such as driving to the top of Jebel Hafeet.
There are far fewer people around in summer, which is great if you prefer peace and quiet.
Interesting Facts About Al Ain
Despite Al Ain being in the middle of the desert, it is known as the garden city due to its green vegetation.
Al Ain is one of the oldest cities in the world, with archaeological evidence from the bronze age.
The Al Ain oasis is the largest in the country and is recognised as UNESCO World Heritage Site.
The home of the UAE Founder still exists today in its original state, namely Al Ain Palace Museum.
Jebel Hafeet is part of the tallest mountain range in the UAE.
Al Ain is home to several natural hot springs, which are believed to have therapeutic properties due to their high mineral content.
Al Ain attracts an array of sporting enthusiasts, including hikers and cyclists who attempt Jebel Hafeet. It also attracts international football fans to games at its very own stadium.
Al Ain is best known for its preserved culture and heritage, which is evident throughout the city, where it is easy to find traditional crafts such as pottery and woven products in the many souks and museums.
Frequently Asked Questions About Al Ain
Is it worth visiting Al Ain?
There are so many places to visit in Al Ain, which are so vastly different to neighbouring cities, making it a unique location. The experience of such historic sights and the strong focus on cultural preservation makes it a truly memorable experience.
There is something for everyone in Al Ain, from adventure parks to mountains and lush green parks to historical ruins.
What is Al Ain best known for?
Al Ain is best known for Jebel Hafeet Mountain and for preserving the cultural identity of the country so well. It is also well known for its greenery, which is surprising considering the city is in the middle of the desert.
Is Al Ain safe?
Al Ain is incredibly safe, as is all of UAE. The crime rates are low across the board. As with any destination, it is advised to exercise caution in isolated places late at night.
Is there a beach in Al Ain?
Al Ain does not have a beach, as it is inland. The nearest beaches are in Abu Dhabi.
Is the Al Ain Province in the UAE an Oasis?
Whilst Al Ain itself is not an oasis per se, the Al Ain Oasis described above is a fully functioning oasis.
Which city is better, Abu Dhabi versus Al Ain?
Abu Dhabi and Al Ain could not be more different. Abu Dhabi is a cosmopolitan metropolis with skyscrapers dominating the sky. Not to mention the contrasting beaches and mangrove coastline.
Whereas Al Ain is much smaller with a focus on culture. It is inland and much greener due to the many gardens and the Al Ain Oasis.
Disclaimer: This post about the best places to visit in Al Ain may contain affiliate links, using them will not cost you any extra. However, we will receive a small proportion of the sale to keep us writing!