The weather in Abu Dhabi in July is the peak of the desert summer with scorching temperatures. July is essentially the low season as schools finish up and a lot of residents leave the country to visit home or go on holiday.
All events in Abu Dhabi in July are indoors. The Department of Culture and Tourism tend to team up with a variety of partners in the summer months to keep residents and the handful of tourists entertained.
Interestingly, July is a fantastic time for frugal travellers to get excellent prices on luxury hotels and plenty of deals on attractions as well as discounts at restaurants as long as they are happy with the indoors.
In fact, Visit Abu Dhabi Tourism Board created a summer pass last year so tourists could enter lots of indoor theme parks at a discounted rate.
Many airport transit passengers come to Abu Dhabi on a stopover and may wonder what to expect when it comes to things to do and the weather in Abu Dhabi in July.
Let's jump into all you need to know about the best things to do, events and weather in Abu Dhabi in July.
Abu Dhabi Weather July
Abu Dhabi experiences a hot desert climate especially in July as it is one of the hottest months alongside August.
The average daytime temperature in Abu Dhabi in July is around 41°C (106°F). While the highs can reach up to 45°C (113°F) or even higher. The average low is around 30°C (86°F) at night.
Winds in Abu Dhabi in July are light, with average speeds of around 10 km/h, mostly northerly. The city receives an average rainfall of only 2 mm during the month, making it mostly dry.
Humidity levels can be high, with an average of around 65%, which can make the heat feel more intense and uncomfortable.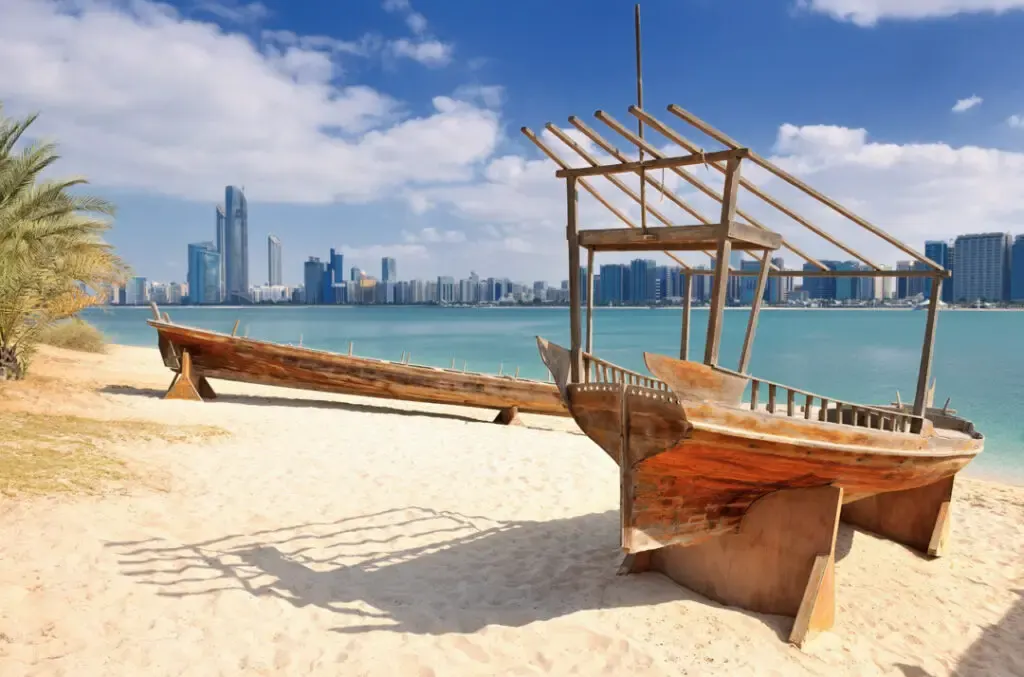 Whilst it's fairly impossible to explore outdoors, a late afternoon or early evening swim is totally possible. Many swimming pools have parasol shading which may allow an earlier swim.
May and June are only slightly cooler months and August is even hotter by a degree or two.
The best months to travel to Abu Dhabi to make the most of the outdoors in from October or November through April.
Both January and February have lovely weather and are slightly quieter. By March, alot of the cultural festivals draw to a close.
September is considered shoulder season and is generally not busy with tourists as it remains quite hot to explore the outdoors.
What To Wear In Abu Dhabi in July
The UAE is a conservative country and Abu Dhabi is certainly more so than neighbouring Dubai.
It's important to cover knees and shoulders in public places like malls and official buildings such as Qasr Al Watan as well as other cultural sites. This applies to both men and women.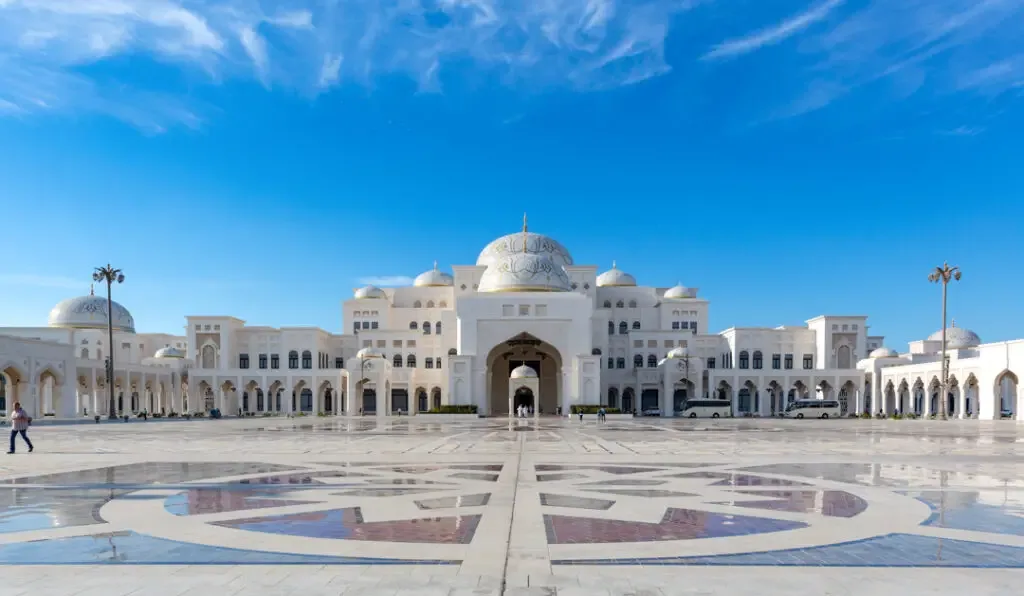 Hotels and beach clubs tend to have a more relaxed dress code, and regular swimwear is acceptable at the pool. It is recommended ladies carry a sarong when walking around these areas.
Due to the hot weather in Abu Dhabi in July, visitors are likely to spend most of their time indoors. It is worth noting indoor areas, including malls are often air-conditioned and can be quite chilly. Therefore, bringing some light layers is a good idea.
Check out this post for more detailed information on what to wear in Abu Dhabi.
Events In Abu Dhabi In July
Fontana Circus, July 1st & 2nd
Fontana is a unique and exciting water circus show set to take place in July at Marina Mall in Abu Dhabi.
The show will be held inside a large circus tent and will feature a variety of acts and performances, typical of a traditional circus, but with an innovative twist – incorporating water into the show!
The performers are expected to showcase a range of acrobatics, aerial stunts, and balancing acts.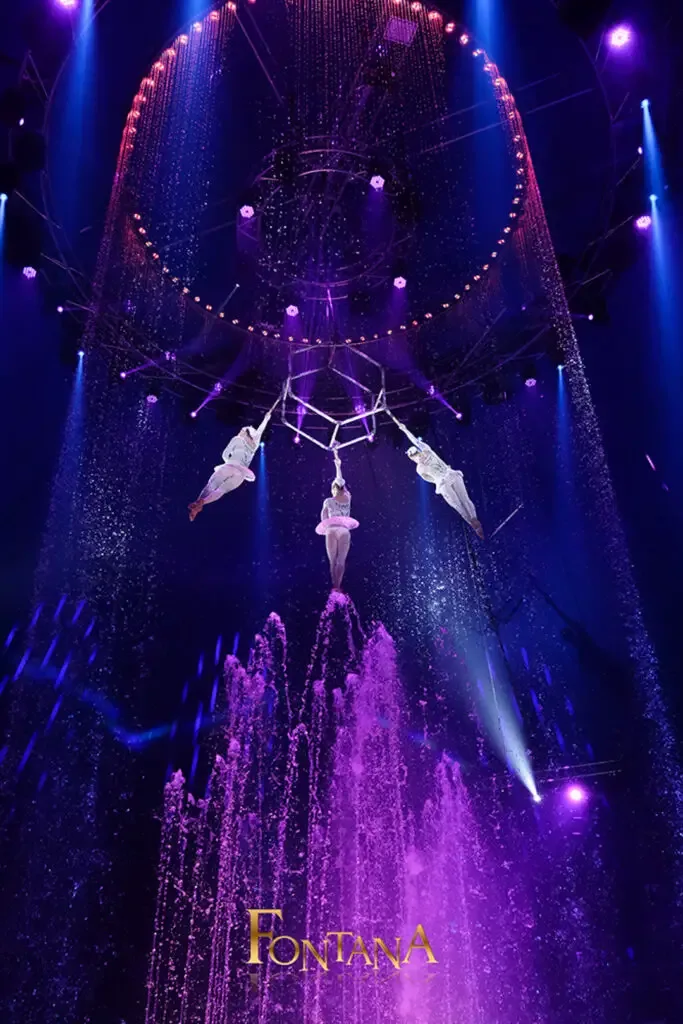 Expect everything from contortion to high-wire performances, set against the backdrop of a water fountain display.
Families with children 2 and below are free. 
Purchase tickets to Fontana Water Circus here.
Location: Al Kasir – Al Marina – Abu Dhabi – United Arab Emirate
Kids Summer Camps, July 7th Onwards
Whilst lots of residents tend to go on vacation in July, there are quite a few families who make the most of the incredible array of summer camps on offer in Abu Dhabi.
Emirates Palace, The National Aquarium and Emirates Zoo are some of the most prominent businesses which run some incredible camps for children over the summer.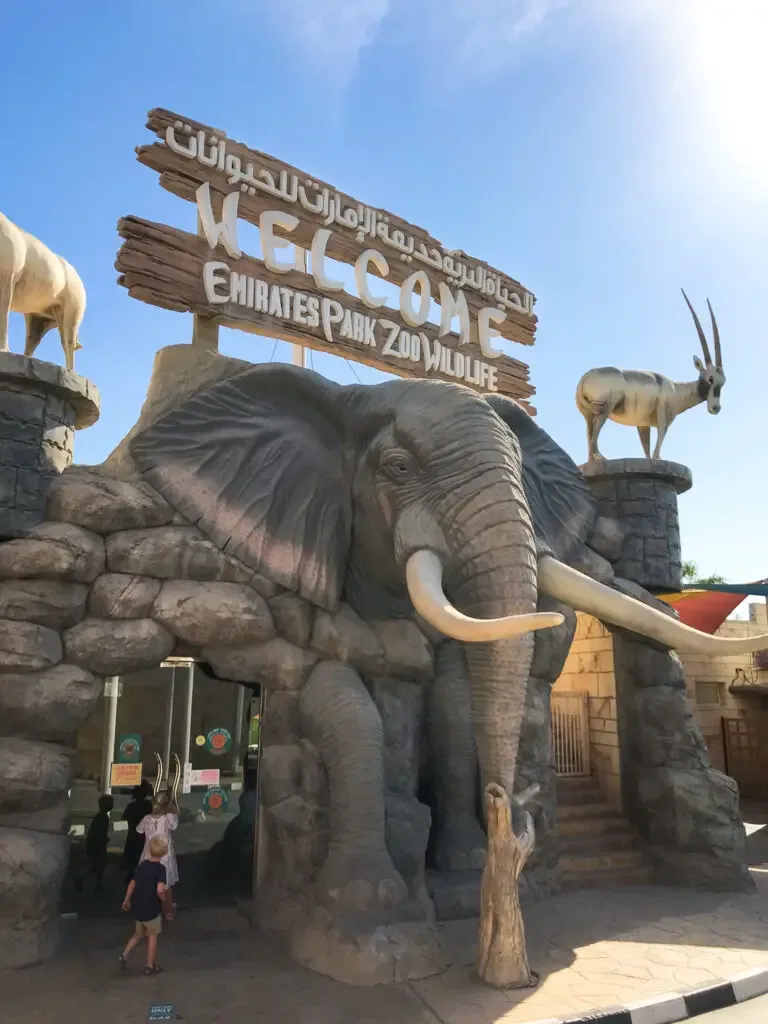 Some camps are multi-activities, whilst others are solely focused on a particular sport or craft. There are tens of options across Abu Dhabi.
Check out this post with a full breakdown of all of the best summer camps in Abu Dhabi.
Things To Do In Abu Dhabi In July
The Emirate is built for life to be enjoyable during the hot desert summer months. Check out this post on indoor activities for kids or this one with some fantastic indoor options for adults.
However, here is a few ideas of things to do during the hot weather in Abu Dhabi in July.
Yas Waterworld
Yas Waterworld is the perfect evening activity providing an opportunity to be outdoors whilst keeping cool in the Abu Dhabi weather in July.
In previous years, Yas Waterworld has put on a neon evening show making it even more fun! Nothing has been announced for this summer but we are excited to see if it's on again this year!
Previously, the evening was filled with neon water performances, glow body paint and fun neon characters walking around after dark.
Nonetheless, there are plenty of fun rides and slides to enjoy at the waterpark. no matter if the neon show is on or not.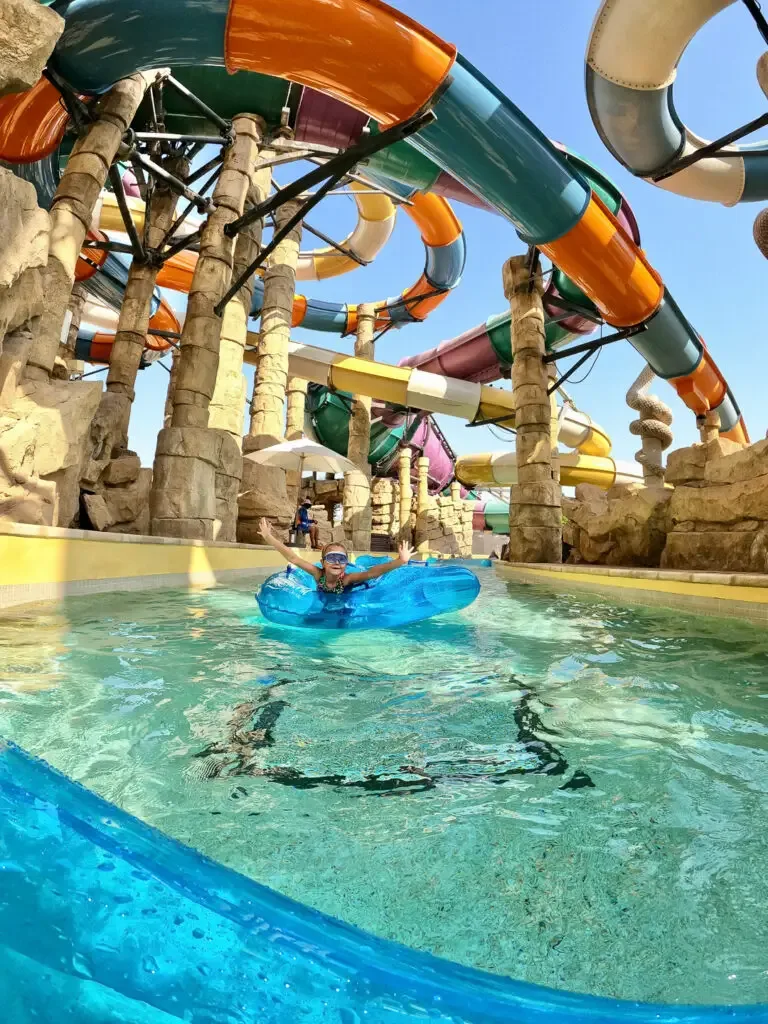 There are more than 40 rides and attractions, including five unique experiences. Some of the most highly sought-after rides in the park are the Bandit Bomber, Liwa Loop, and Slithers Slides.
The park has various dining options, serving more than just typical fast food found in most theme parks.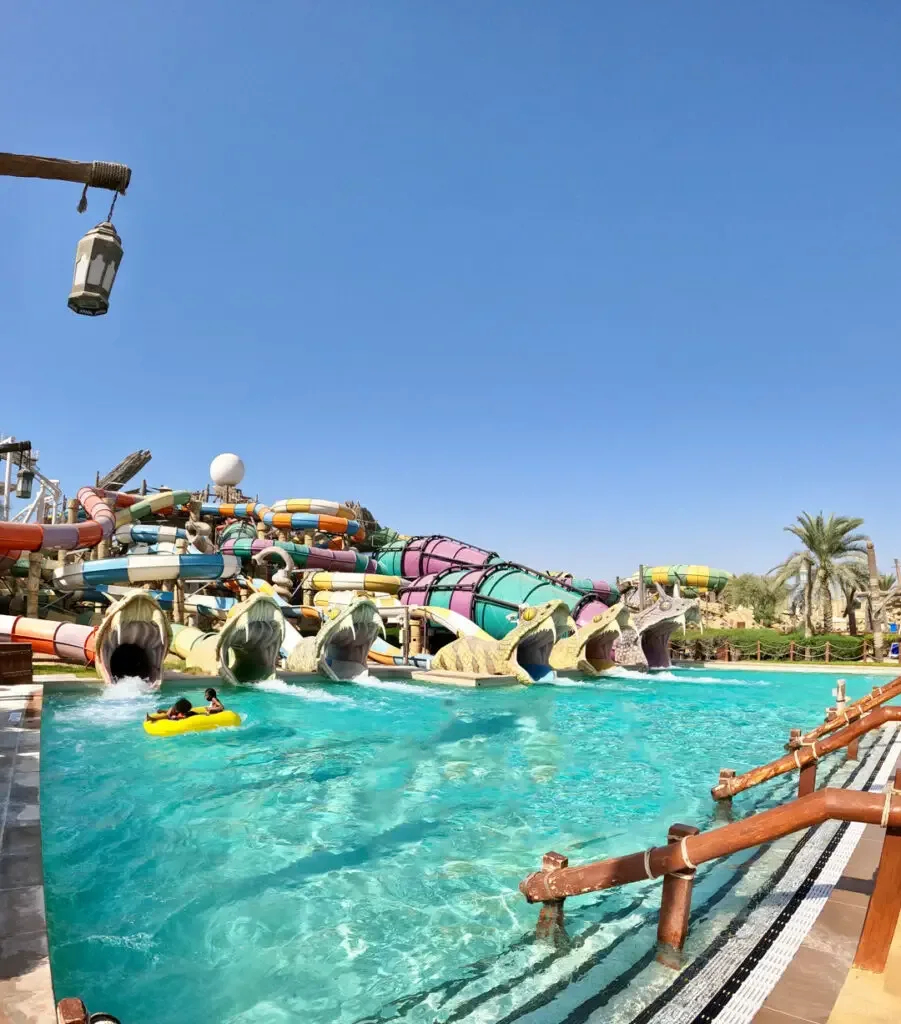 For example, the fruit stall serves up giant wedges of watermelon or fresh coconuts.
Book tickets to Yas Waterworld here.
Location: Yas Island – Abu Dhabi – United Arab Emirates
Ferrari World
Ferrari World Abu Dhabi is a must-visit attraction any time of year. However, conveniently most of the theme park is indoors and connected to Yas Mall via a foyer making it ideal in July.
The park features tens of rides, however, the star attraction is undoubtedly the Formula Rossa, the world's fastest roller coaster which reaches speeds of up to 240 km/hr.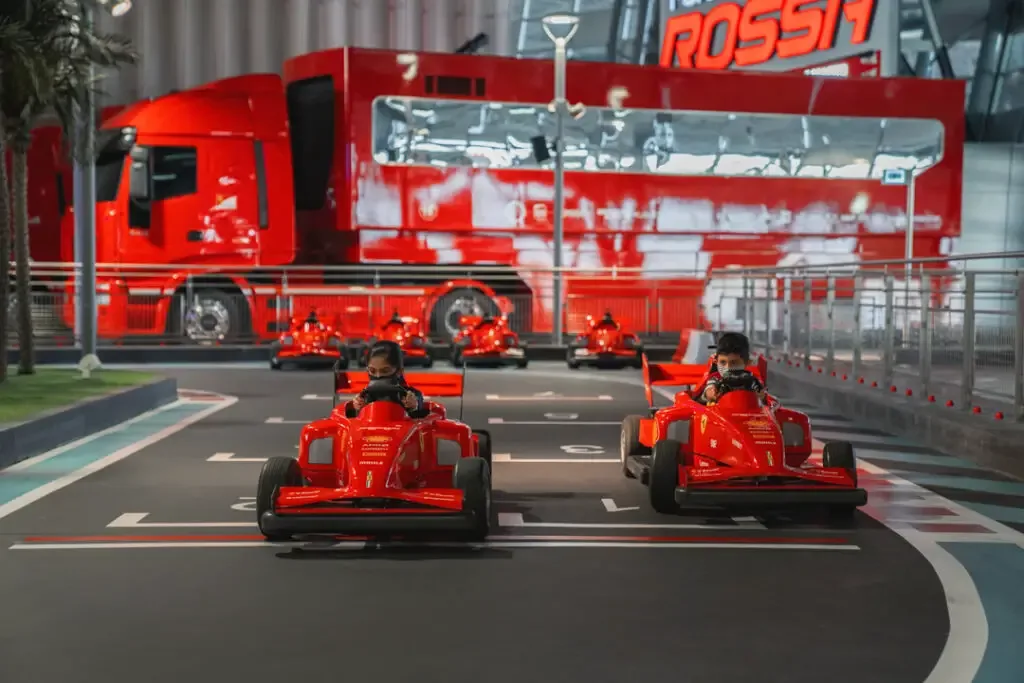 For those who want to experience the thrill of driving, the Karting Academy is the ideal activity. Professional driving lessons and a virtual reality F1 race provide a unique opportunity to feel like a Formula 1 racer.
Other exciting rides at the park include the Turbo Track, Flying Aces, and the Fiorano GT Challenge.
Book tickets to Ferrari World here. 
Location: Yas Island – Yas Leisure Dr – Yas Island – Abu Dhabi – United Arab Emirates
WB World
Warner Bros World Abu Dhabi is the largest indoor theme park in the world with six immersive areas.
There is plenty to explore for both adults and kids in the fully air-conditioned theme park. Each area is designed to simulate an outdoor environment complete with a sky-like ceiling.
Adults can relive childhood memories in Gotham City, Metropolis, Cartoon Junction, Bedrock, Dynamite Gulch, and Warner Bros. Plaza.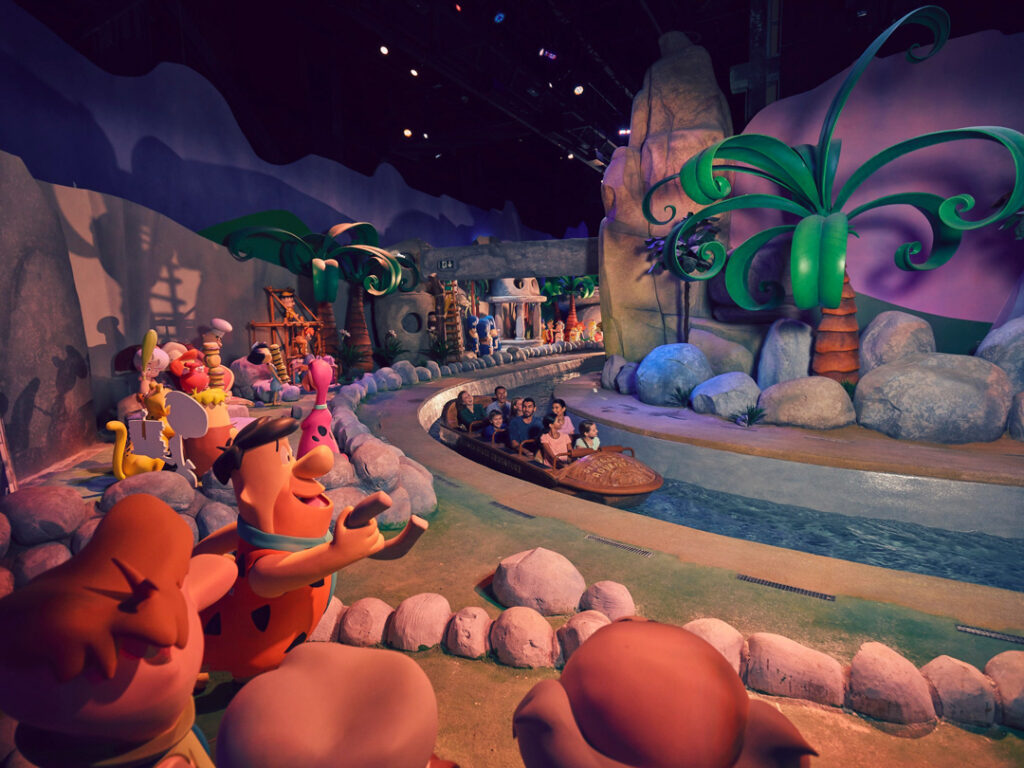 For thrill-seeking rides, the Batman Knight Flight roller coaster in Gotham City is the best choice. Whilst the Scooby Doo Museum of Mysteries ride adds a slightly spooky touch.
Flintstones Bedrock river adventure on a 'boat', Tom & Jerry Swiss Cheese Spin, and Fast & Furr-ous rides is perfect for little ones.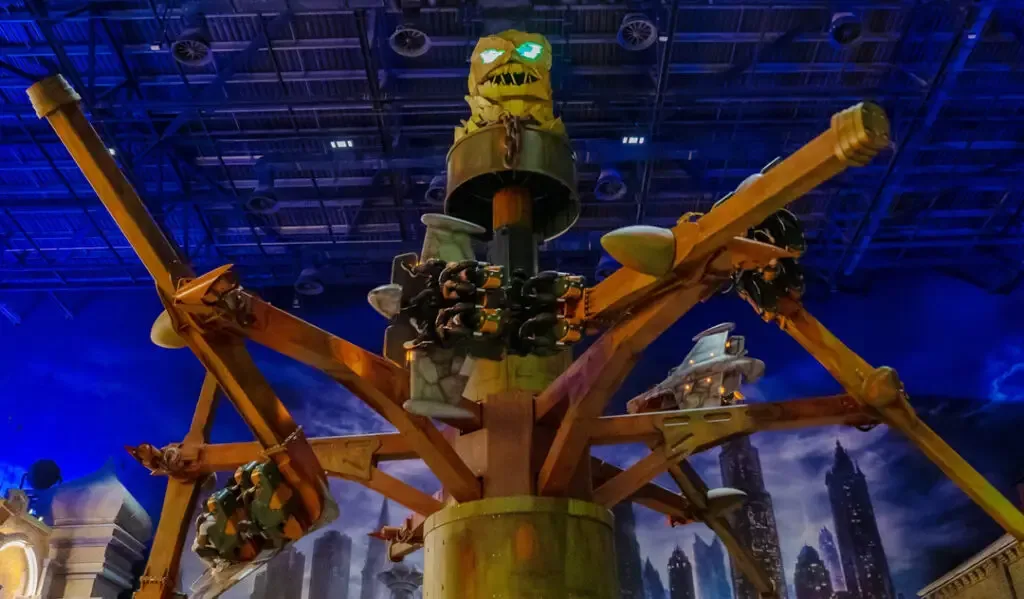 Don't forget to visit the Central Perk Cafe, inspired by the iconic Friends TV series, for a blast from the past.
With so much to see and do, Warner Bros World Abu Dhabi is the perfect destination to escape the weather in Abu Dhabi in July.
Book tickets to WB World here.
Location: Yas Island – Abu Dhabi – United Arab Emirates
The National Aquarium
Discover the wonders of the sea at the National Aquarium in Abu Dhabi, located in the Al Qana district. The attraction has over 300 fascinating creatures from all over the world.
Marvel at the birds flying freely overhead in some of the zones, making it feel like the Amazon forest.
Explore touch pools, glowing jellyfish, and huge ocean tanks with sharks and schools of fish in other areas.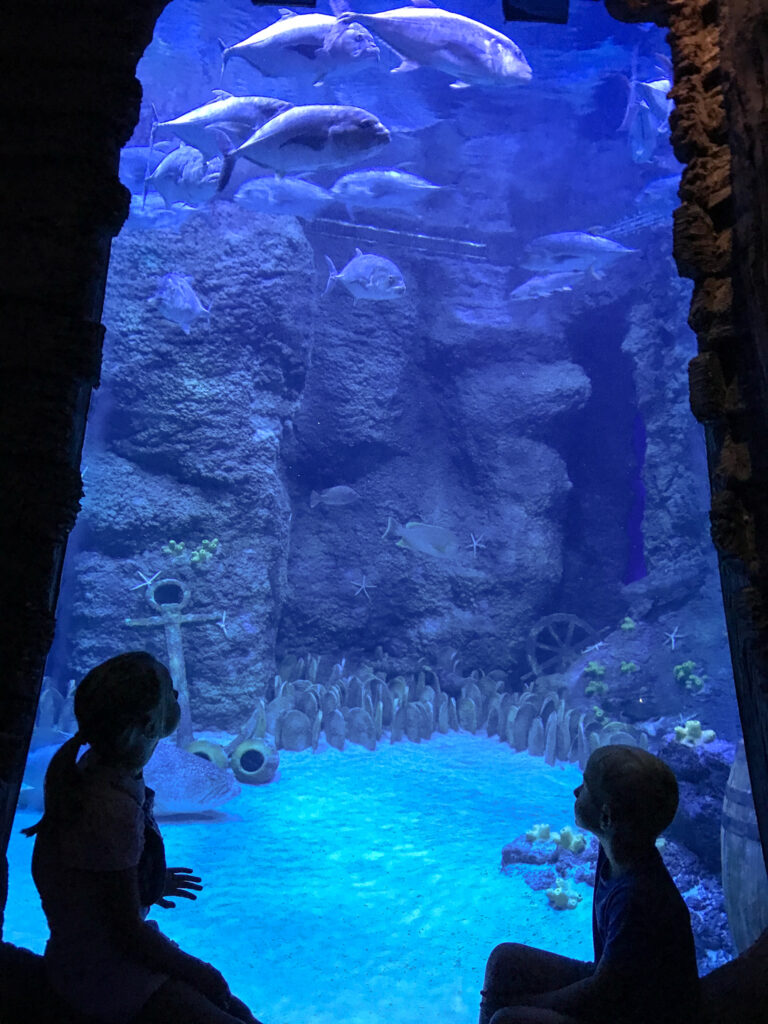 The 180-degree glass tunnel walkway through the largest tank offers a unique perspective of marine life and is one of the highlights of the aquarium.
There are plenty of educational experiences and add-ons, including a behind-the-scenes tour to learn about the aquarium's conservation efforts. Take a glass bottom dhow boat ride and watch as the sharks swim beneath.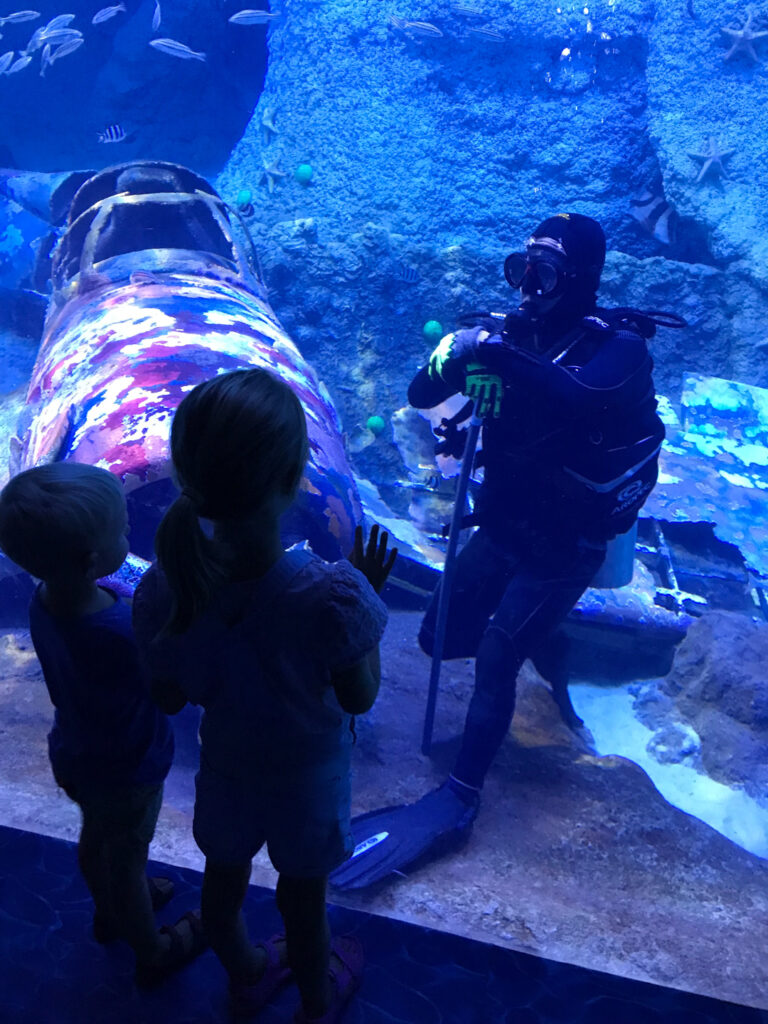 There is a cute cafe on site serving basic sandwiches and beverages. However, if you can brave the heat for a two-minute walk to the Al Qana waterfront it is worth a visit to some of the nicest spots for lunch in the city.
Book tickets to the National Aquarium here. 
Location: Al Qana – Rabdan – Abu Dhabi – United Arab Emirates
Qasr Al Hosn
Qasr Al Hosn is the ideal attraction for those looking for a cultural experience in Abu Dhabi.
Located in the heart of the city, the 18th-century building was once a palace for the Al Nahyan family and has since been converted into a museum, preserving the UAE's culture and heritage.
Restoration of the building resulted in a stunning landmark with a unique blend of past architecture and modern clean lines.
Qasr Al Hosn has an inner and outer section, with the former being an old defence fortress with a magnificent courtyard, towers, and bastions. The latter was added when the Royal Family occupied Qasr Al Hosn as a palace.
The museum features several exhibits, artefacts, and photographs showcasing the history of the region.
Adjacent to the palace is the Cultural Foundation which is worth a visit. It is home to a variety of cultural and artistic events and exhibitions.
The library and bookshop are also lovely places to walk through. Take in the rich history and culture of Abu Dhabi at Qasr Al Hosn and the Cultural Foundation.
If culture is your thing, head to Al Ain where there are many museums.
Book tickets to Qasr Al Hosn here.
Location: Rashid Bin Saeed Al Maktoum St(2nd St) – Al Hisn – W3 – Abu Dhabi – United Arab Emirates
Qasr Al Watan
Qasr Al Watan is a stunning architectural landmark in Abu Dhabi. Aside from being a tourist attraction, the building is also a working presidential suite.
The exterior of the building has a white granite facade with intricate Arabic calligraphy, traditional columns, beautiful arches, and stunning domes.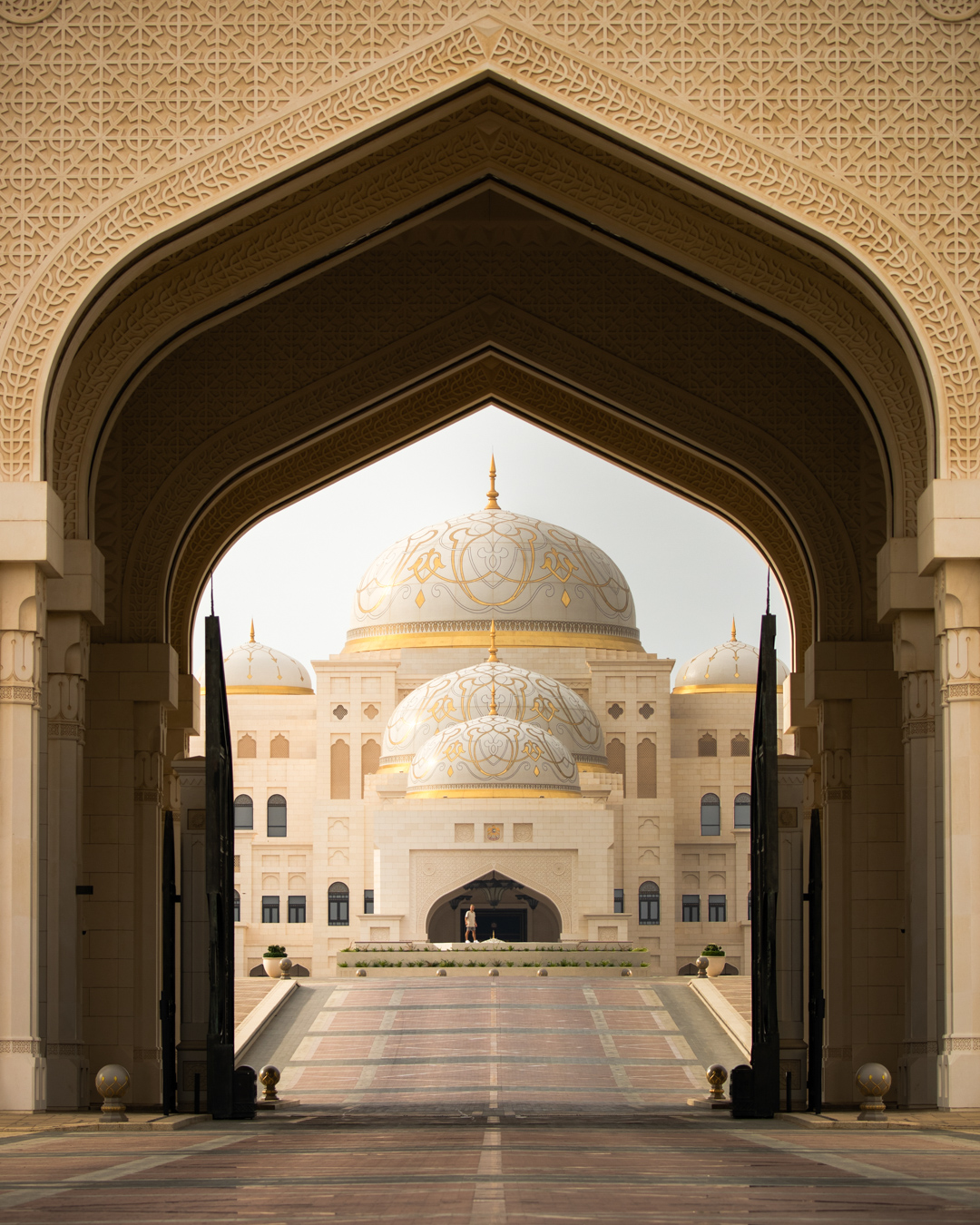 The interior is equally impressive, with detailed patterns covering the walls, floors, and ceilings. Ornate chandeliers featuring gold and crystals are also on display.
Qasr Al Watan houses a range of fascinating exhibits and artefacts. Not to mention a library, which houses a collection of books, manuscripts, and documents.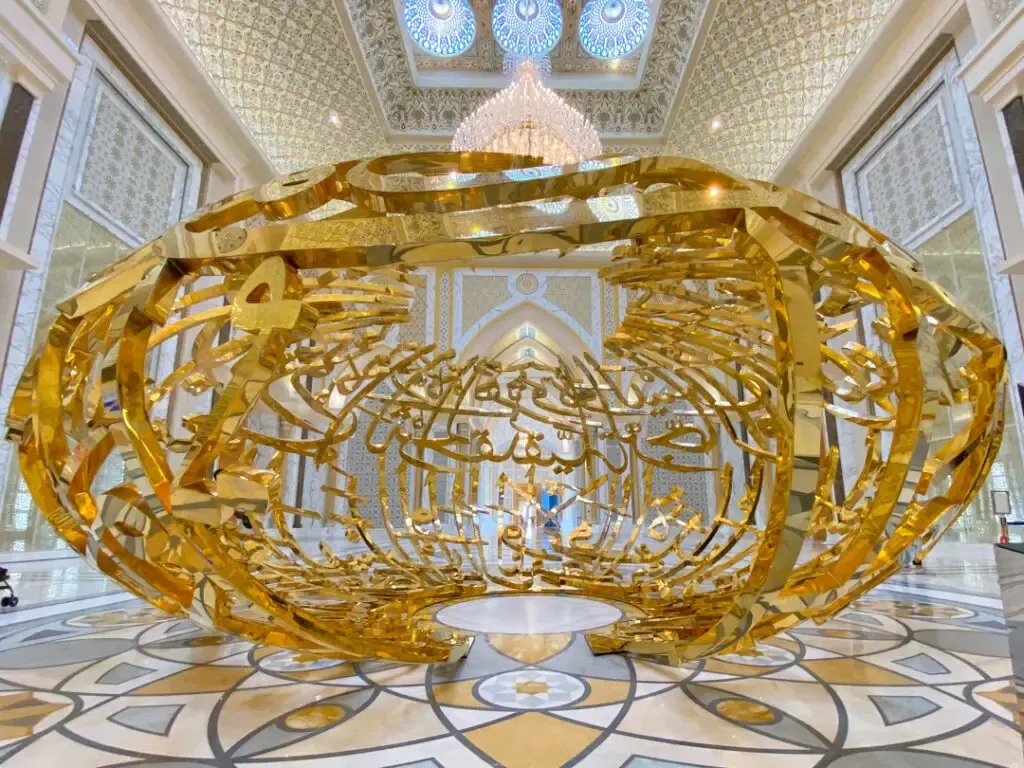 Qasr Al Watan car park is quite close to the front door and once past the ticketing desk an AC coach bus takes visitors to the building.
Whilst the exterior is beautiful to explore, the interior is more than enough in the hot weather in Abu Dhabi in July.
Book tickets to Qasr Al Watan here. 
Location: Al Ras Al Akhdar – Abu Dhabi – United Arab Emirates
Explore The Foodie Scene
Abu Dhabi is a haven for foodies with a wide variety of options for all tastes and budgets. From fine dining to street food and Instagram-worthy cafes, there is so much to explore.
The city is well known for its array of international cuisine from sushi to Mexican and Italian to Chinese.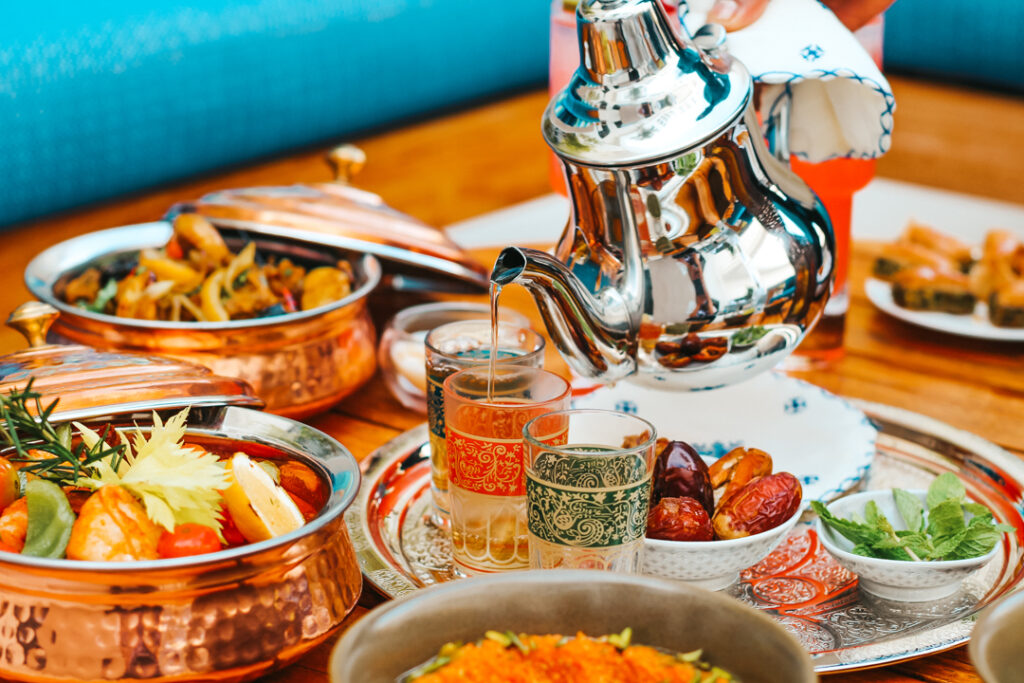 Of course, there is plenty of Arabic food to try with Lebanese being some of the best regional foods.
One of the must-try experiences in Abu Dhabi is brunch, which is typically served at the weekend and often includes a buffet of international cuisine, live cooking stations, and unlimited drinks.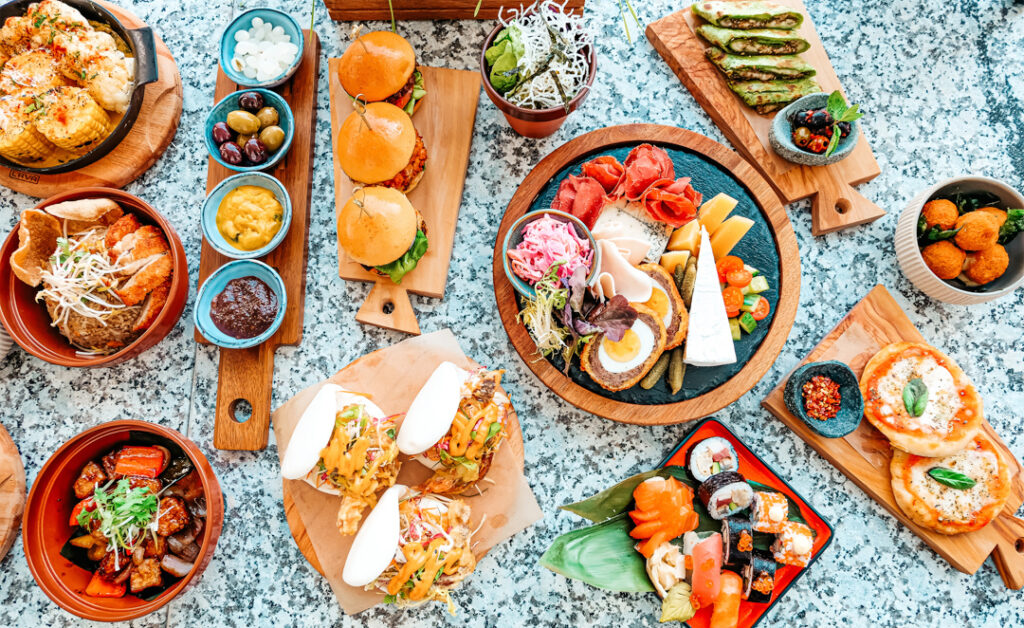 Some brunches have table service with sharing platters such as pizzas and pasta for the group which is ideal for families. family brunches tend to start at lunchtime.
Whilst other restaurant brunches have a party vibe and could be an all-day or evening event.
Some of our top recommendations for brunch include Nahaam at Conrad Etihad Towers. Another is Fairmont Bab Al Bahr which has some of the best vegan options as well as plenty of other cuisines.
Afternoon Tea
Afternoon tea is popular for foodies looking for indoor activities during the hot weather in Abu Dhabi in July. It's the perfect afternoon out with girlfriends or on a date.
The experience generally includes a cute spread of sweet and savoury treats along with tea or coffee. Whilst some offer a glass of bubbles to make it a little more special.
One of the best places for afternoon tea in Abu Dhabi is the Lobby Lounge at the Emirates Palace, which offers a luxurious setting and a wide selection of teas and pastries.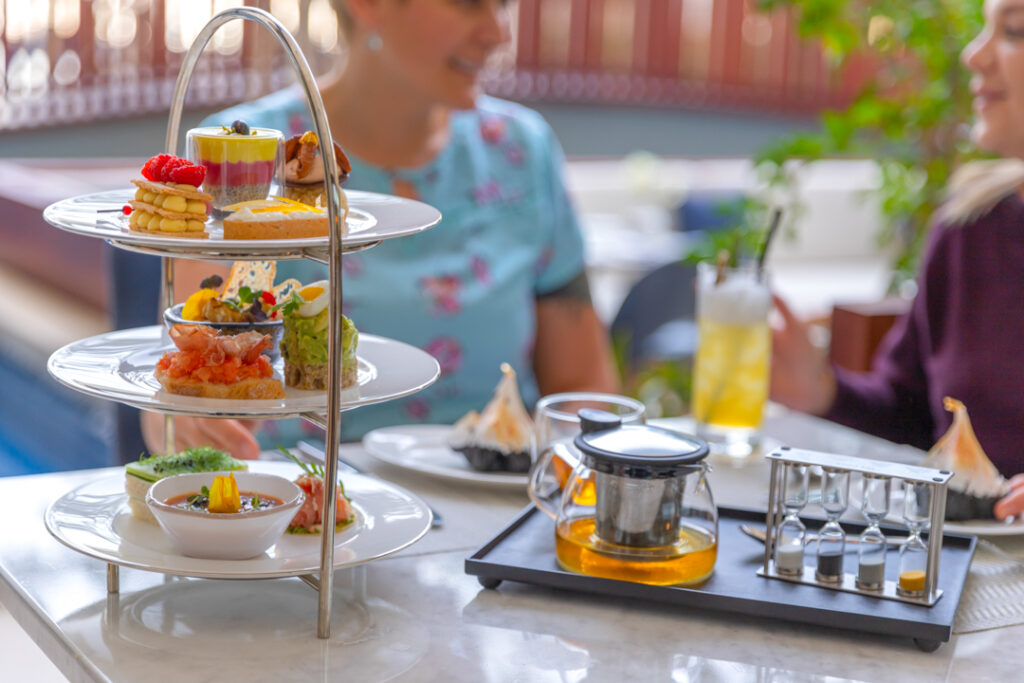 The Observation Deck at 300 in Etihad Towers is another popular spot for afternoon tea, offering stunning views of the city skyline along with a selection of sweet and savoury bites.
We hope you found this post about events, things to do and the weather in Abu Dhabi in July helpful. Let us know if you attend any in the comments. 
Disclaimer: This post about events and weather in Abu Dhabi in July contains affiliate links, by using them it will not cost you any extra. We may receive a small commission to keep us writing.