As a leading destination for luxury hotels and resorts, Abu Dhabi is home to many different hotels that offer unique experiences. We have rounded up the most amazing desert hotels in Abu Dhabi.
The Abu Dhabi Emirate has several desert resorts, some of which are quite luxurious. However, there are also budget-friendly options for those who want to experience the beauty of the Arabian Desert without breaking the bank.
If you're looking for an unforgettable getaway from life in the city, or just want a break from the hustle and bustle at home, consider checking out one of these six amazing desert resorts in Abu Dhabi for your next adventure.
If you are a just visiting Abu Dhabi, make sure to check out our 1 day and 4 day Abu Dhabi itinerary.
Best Desert Hotels in Abu Dhabi
1) Qasr Al Sarab Desert Resort by Anantara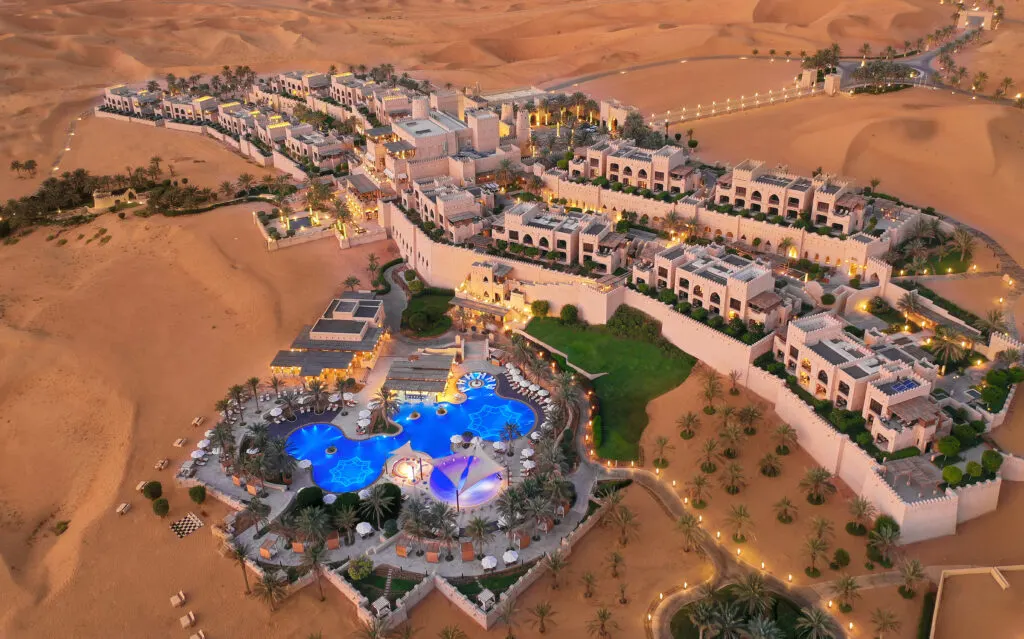 Abu Dhabi is home to some of the world's most luxury hotels however none are more appealing than Anantara's Qasr Al Sarab Resort. A 90 minutes drive from the city, It is one of the most popular desert hotels in Abu Dhabi.
Qasr Al Sarab stands out like a mirage that invites you on an adventure-filled luxurious getaway.
You will have plenty of opportunities to explore the desert. Besides camel rides and treks into the sunset, dune drives and sand boarding.
Check out Qasr Al Sarab Desert Resort by Anantara.
Villas with one, two, or three bedrooms are available to guests. Breakfast is suited to the number of occupants staying in the villa.
Children under the age of six eat for free. A Turkish steam bath, outdoor tennis courts, and complimentary Wi-Fi are all included.
This Desert hotel offers accommodation in a luxurious Bedouin-style Camp Nujum if you prefer to stay away from your hotel room.
A concierge, babysitting and 24-hour reception are available at Qasr Al Sarab.
Booking your stay in advance will help you save up to 15% along with a complimentary breakfast for two.
International Food is served at the resort's restaurants and guests can relax with a drink in the bar.
In addition to mainstream dining, guests can choose from a variety of tailored dining experiences at Qasr Al Sarab.
Three signature restaurants are available for a private dining experience overlooking the desert in Dine by Design, however, you must reserve at least 24 hours ahead of time.
For more information on deals at Qasr Al Sarab Desert Resort by Anantara, Abu Dhabi
Location: The Empty Quarters, near Liwa, Abu Dhabi, United Arab Emirates
2) Al Wathba, A luxury collection Hotel and Spa
Located just 49 kilometres from the Sheikh Zayed Grand Mosque in Abu Dhabi, Al Wathba, A luxury collection desert resort and spa is the ultimate desert hotel in Abu Dhabi which is by far the definition of luxury.
This boutique resort has 99 suites and a choice of one/two or three bedroom villas with private pools which are available to guests who must be at least 18 years of age.
Complimentary Wi-Fi, an outdoor pool. spa, fitness centre, A 24-hour reception and even an electric car charging station are some of the amenities offered by this sustainable luxurious resort.
If you plan on spending a few days at this amazing resort, you could also check out a number of hidden gems around Al Wathba.
Al Wathba wetland reserves
Fossil dunes
Al Wathba hill which is huge man-made hill where you will enjoy the most magnificent views of the area.
Al Wathba camel racing track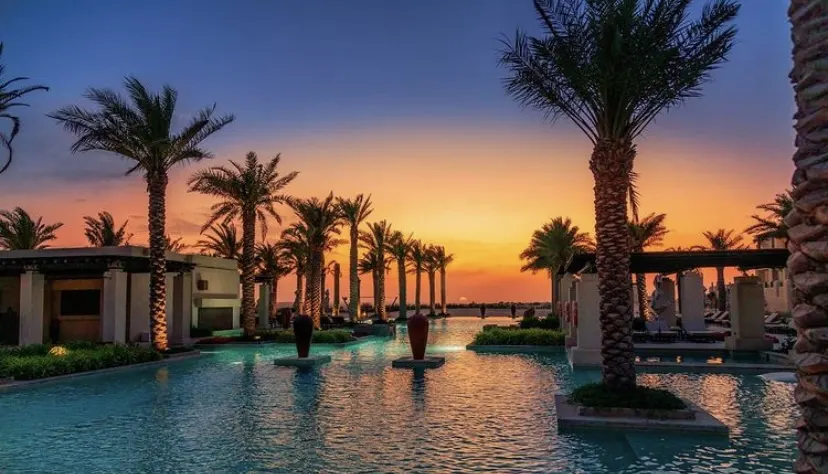 International cuisines are served at their finest restaurants at Al Wathba with infinite views of the desert and a swim-up bar.
For more information on deals at Al Wathba, a luxury collection desert resort and spa, Abu Dhabi
Location : Al Wathba South, Abu Dhabi, United Arab Emirates
3) Desert Islands Resort and Spa by Anantara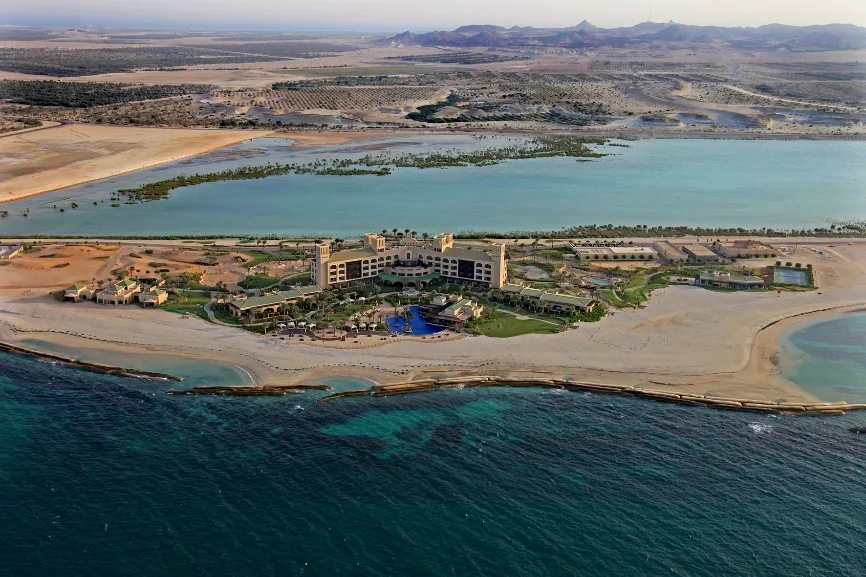 An "Off the Grid" Island of Adventures combined with luxury is what Desert Islands Resort & Spa is all about.
Located 181 kilometres from Abu Dhabi city and a 20-minute boat ride, on one of the largest natural islands on the Eastern coast- Sir Bani Yas Island.
Guests can choose from 64 rooms, suites or villas and can opt for views of the Garden or Arabian Gulf with private balconies.
Guests at the Desert Island Resort can play tennis or relax in the Anantara Spa, which offers saunas and hot tubs.
Resort amenities include a children's club and a store selling international books, clothing, and local fabrics.
There are several activities guests can take part in, including a nature and wildlife drive, kayaking, open water diving, mountain biking, horseback riding, a peaceful nature walk, and a monastery tour at night.
Free transport is provided to all guests of Desert Island to enjoy complete access to the facilities of their sister Abu Dhabi Resorts at Al Sahel. African inspired and Al Yamm with Barasti styled set up.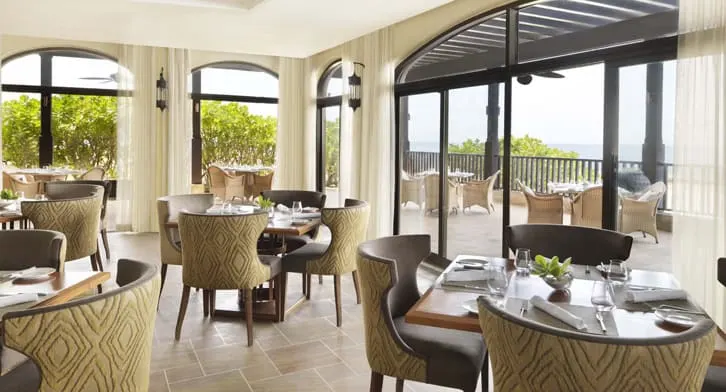 Guests can choose from 4 of their fine dining restaurants serving fresh seafood with a Middle Eastern and African touch and a complimentary 4×4 transfer to either of the restaurants at Desert Islands Resort and Spa by Anantara.
For more information on offers at Desert Islands Resort and Spa by Anantara, Abu Dhabi.
Location : Al Ruwais, Sir Bani Yas Island, Abu Dhabi, United Arab Emirates
4) Arabian Nights Village, Abu Dhabi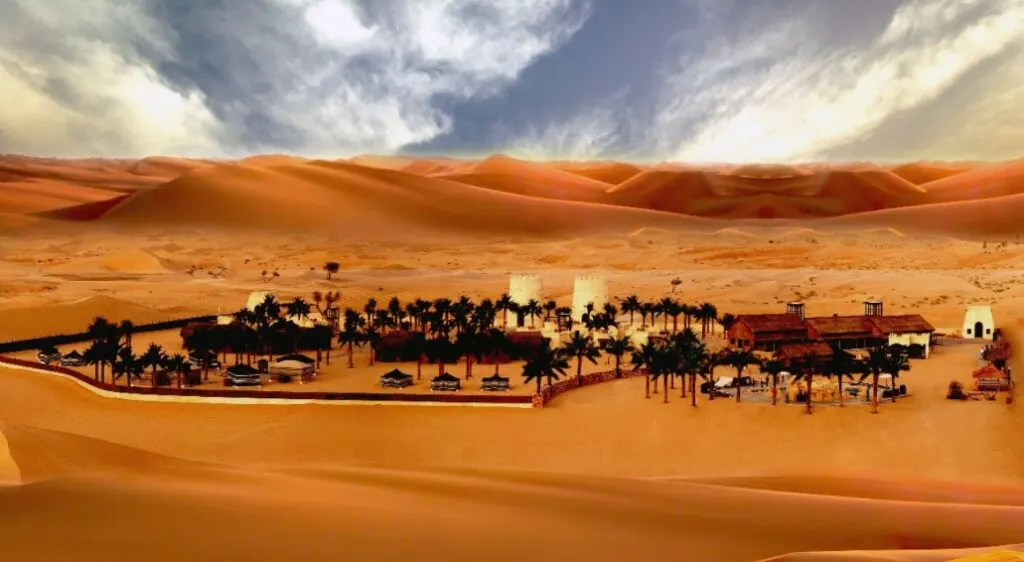 126 kilometres, 90 minutes from Abu Dhabi, lies the Arabian Nights Village, a unique resort nestled among imposing dunes and verdant palm oasis.
If you prefer, you can make your own way out to the desert or you can opt to be picked up by a SUV at your Abu Dhabi location and driven to the resort.
The road is rough at times, and you might encounter a herd of camels and even spot a few Arabian oryx along the way, but that's all part of the adventure.
Although driving there isn't for the faint of hearted, it's definitely worth it.
Arabian Nights Village, Abu Dhabi is a Bedouin-styled village and is one of the top desert hotels in Abu Dhabi that offers an amazing experience.
With a choice of Bedouin inspired rooms, suites and tents to choose from that are warmly furnished with colorful carpets, cushions and blankets for a comfortable stay.
It is definitely a great place to relax and unwind. Also, Children below the age of 7 stay for free.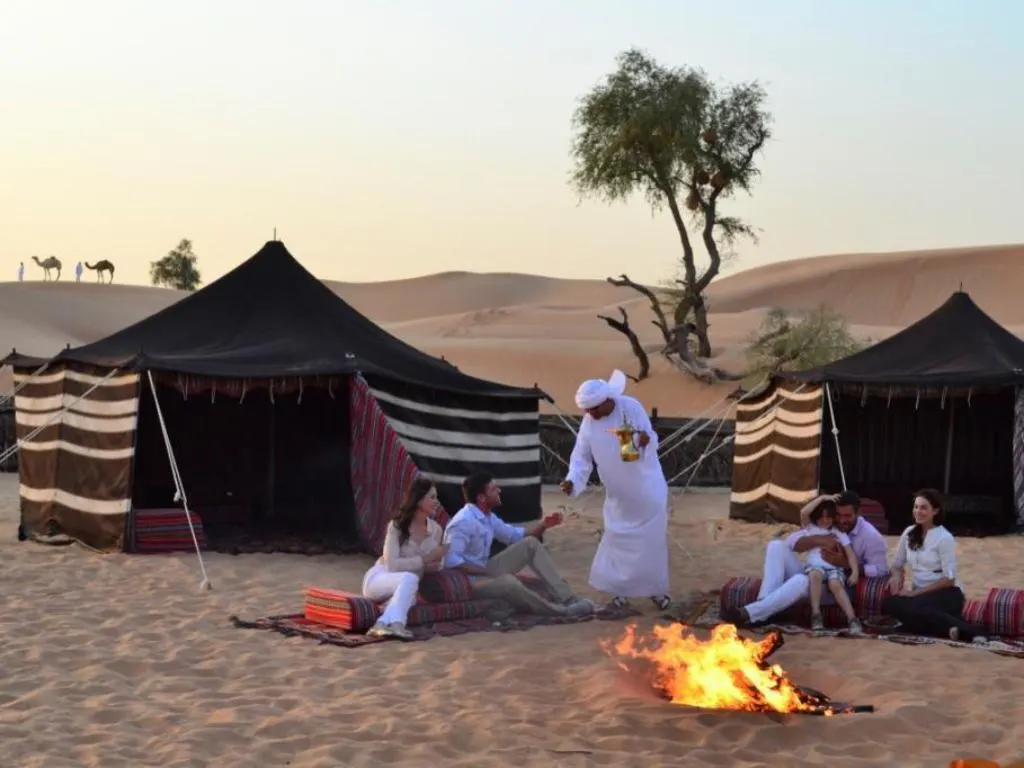 While marvelling at the Milky Way galaxy under the starry night, guests can also enjoy a delicious Emirati inspired barbecue dinner in which they can eat delicious food and interact with locals.
For overnight guests, breakfast is also served in the restaurant in the morning.
In addition to a beautiful pool area, there's also space for playing games within the resort. Sand boards are available for free from the hotel, which makes for the perfect adventure activity.
In addition to your package, resort guests can take a breathtaking dawn camel trek for an additional fee.
Alternatively, dune bashing and quad biking can be arranged. For the ladies, the opportunity to get an authentic henna tattoo shouldn't be missed.
Valet services and a tour package which includes a visit to the heritage village followed by a falcon show is highly recommended.
Location : Razeen area of Al Khatim, Abu Dhabi, United Arab Emirates
5) Tilal Liwa Hotel, Abu Dhabi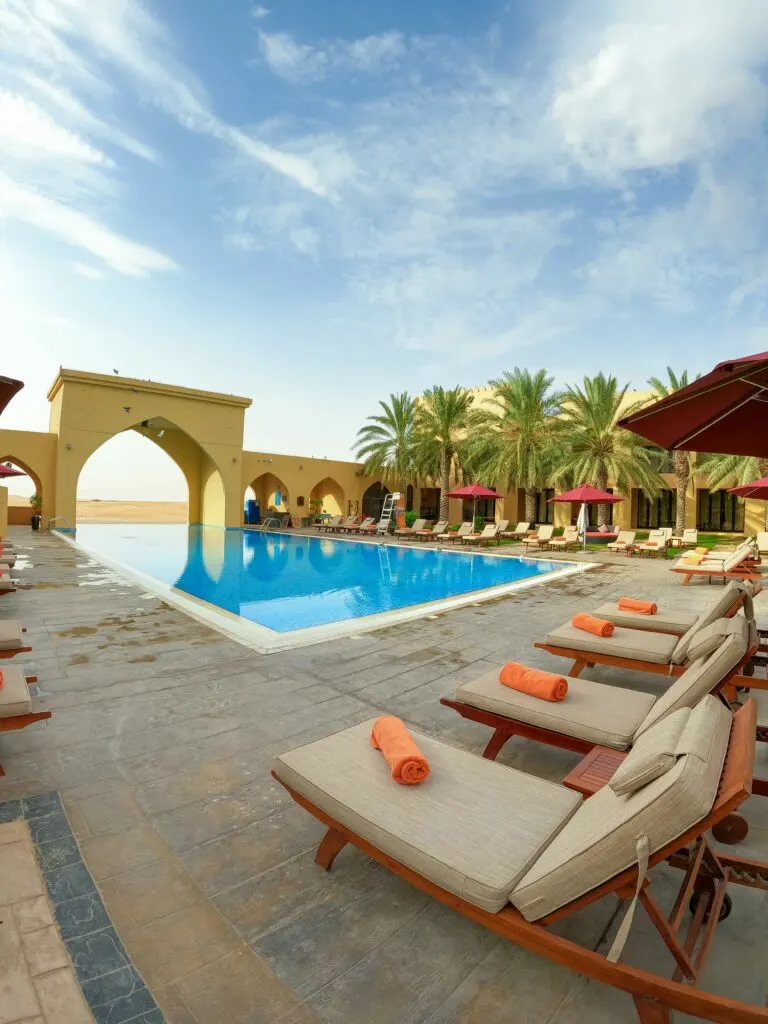 Tilal Liwa is a secluded desert hideaway, located in the Liwa Desert. At 118 kilometres away from Abu Dhabi city, It's still a part of the Abu Dhabi Emirate in the United Arab Emirates.
Tilal Liwa is more of a traditional hotel offering unique accommodation, dining, spa and wellness facilities as well as an extensive range of sporting activities including camel riding, sand dune driving and quad biking to guests.
You can also visit the Moreeb sand dune, standing at 300 meters tall, makes it the tallest sand dune in the world, definitely leaving you awestruck.
If you're looking for a specific cuisine you won't be disappointed. The resort has an in-house restaurant with a variety of international and Arabic options as well as a poolside restaurant serving Lebanese and Italian cuisine. There is a cafe for light bites, coffee and tea, as well as a bar.
This award-winning desert hotel in Abu Dhabi is a perfect place to relax and pamper yourself as you gaze at the vast expanse of sand dunes.
For latest offers at Tilal Liwa Hotel, Abu Dhabi
Location: Madinat Zayed, Zayed City, Abu Dhabi, United Arab Emirates
Located in the Emirates of Abu Dhabi, about an hour and a half away from the city square.
6) Telal Resort Al Ain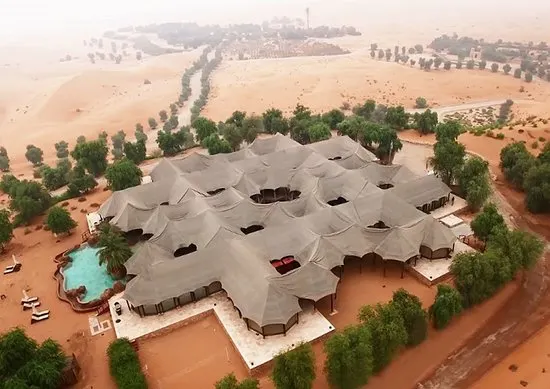 Telal Resort is truly a luxury amongst the dune, this resort is culture rich, and being just an hour drive away from Abu Dhabi and a short distance from Al Ain, it makes for a perfect weekend getaway in the desert.
Suites and Bedouin-themed villas feature free WiFi, flat-screen TVs, and direct desert access from the private terrace. With modern state-of-the-art technology, the air conditioner and lights can also be controlled via an iPad in the villa.
With a range of rooms, suites and one/two bedroom villas gives guests a unique opportunity to learn about UAE's unique heritage and traditions.
There are variety of activities to keep in-house and non-in-house guests active; from Desert safaris to pools to spas.
Also, within this hidden treasure,there lies an instagrammable secret oasis which is accessible only to Telal resorts guests. If that isn't enough, there is also the green Mubazzarah hot springs just 35 minutes away by car.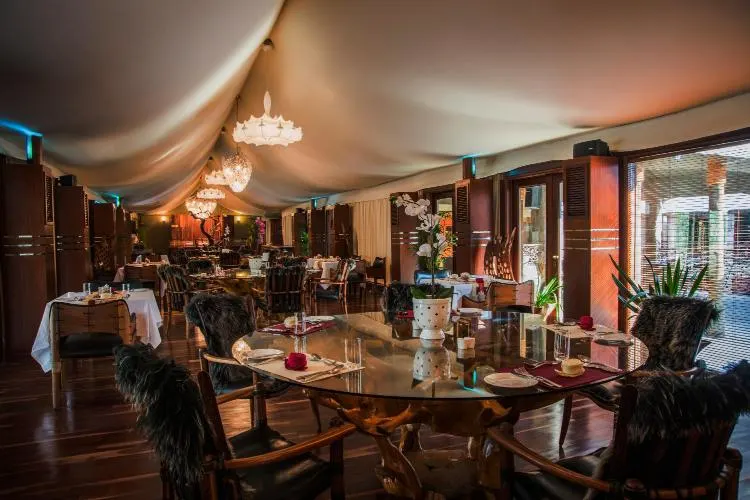 Telal Resort is a haven for staycationers with dietary restrictions. Desert Gate, the resort's only restaurant, offers breakfast, lunch, and dinner buffets.
This Emirati restaurant caters to special diets upon request, as well as a fitness centre and minimarket on-site to buy food or supplies if needed!
Book a stay at Telal Resort here.
Location : Remah, Al Ain, Abu Dhabi, United Arab Emirates
We also recommend exploring Al Ain's tourist attractions located 45 minutes away while you're there.
Al Ain, also called "the Oasis City", is a great weekend getaway from the big cities, or you can visit some of the highlights in one day if you're travelling through.
Things To Do And Places To Visit In Al Ain
Al Jahili Fort
Al Ain Oasis
Al Ain National Museum
Al Ain Zoo
Green Mubazzarah hot springs
Jabel Hafit
Al Jahili Fort
Al Jahili Fort gives visitors a glimpse of the UAE's desert history and military past. It is one of the UAE's more well-known landmarks. Jahili fort has also served as a summer residence for the Royal Family in the past.
Al Ain Oasis
This oasis is located in the middle of Al Ain, 90 minutes from the capital. Al Ain Oasis in Abu Dhabi is the perfect place to immerse yourself in nature and stroll around the oasis is a stunning experience. It is only accessible for guests of Telal or via tour.
Al Ain National Museum
You can see archaeological artefacts dating back to the Stone, Bronze, and Iron Ages at the Al Ain National Museum near the Al Ain Oasis.
Featuring three pillars – Archaeology, Ethnography, and Gifts – Al Ain National Museum offers a unique opportunity to discover local traditions and cultures.
Al Ain Zoo
Established in 1968 by late Sheikh Zayed bin Sultan Al Nahyan. Locally and globally, Al Ain zoo is a major tourism attraction due to its versatility and importance.
Al Ain Zoo is one of the best environmental, recreational, and educational destinations you can head to in the United Arab Emirates with more than 4,000 animals from 200 species living within the zoo's four-kilometer landscape.
Green Mubazzarah Hot Springs
Located at the foot of Jebel Hafeet, the second highest mountain in the United Arab Emirates.
The Green Mubazzarah hot spring is embraced by lush green landscape amid tall hills dotted with dry and hard rocks. Visiting this naturally heated water source is on many visitors' to-do lists.
Jabel Hafit
The skyline-dominating peak stands at 1,249 meters, making it Abu Dhabi's highest peak .
Jabel Hafit Mountain is a part of the Al Hajar mountain range, which guards the borders of Oman.
It has stood the test of time and fossil discoveries made there contribute to the city of Al Ains' ancient past.
In the foothills of Jebel Hafit is the family-friendly Jebel Hafit Desert Park.
In this magnificent natural setting, you can camp, hike, mountain bike, ride a horse or camel, and discover fascinating archaeological and historical remains from ancient civilizations in the area.
Jebel Hafit Desert Park is a vital component of Al Ain's World Heritage Site, the UAE's first World Heritage Site recognized by UNESCO.
Frequently Asked Questions About Desert Hotels in Abu Dhabi
What desert resort is close to stay at from Abu Dhabi International airport?
The average travel time to desert resorts in Abu Dhabi from the international airport is 50 minutes to 90 minutes. We recommend booking/calling the resort. It is best to have an advance booking to avoid any disappointment.
Al Wathba Desert Resort is one of the closest to the airport.
What time of the year is it recommended to stay at the Arabian Nights village?
The season opening for Arabian Nights village is early September. We suggest to go and spend a weekend to reset and absorb what the place has to offer preferably during the cooler months from October to early March.
How can I travel to Sir Bani Yas Island?
While travelling by car, you can follow the E11 highway directly from Abu Dhabi or Dubai as the roads are clearly marked. A 20 minute ferry ride also forms a part of the adventure.
In case you are visiting Abu Dhabi for a couple of days or if you live in Abu Dhabi and are looking to rent a car, you may want to look at the best car rental in places in Abu Dhabi.
Is camping allowed in UAE?
Yes, camping is allowed in UAE. However it's vital to plan ahead and prioritise safety before making the journey.
Abu Dhabi Travel Tips
You need the right visa to enter the country
The UAE has a variety of visa requirements based on your nationality. Consult your travel agent or nearest UAE embassy before travelling.
Citizens of the GCC do not need a visa to enter the country.
If you are a citizen of one of the following countries, you will be issued a free-of-charge visit visa upon entry: the United Kingdom, countries of the European Union, United States, Australia, New Zealand, Japan, Brunei, Singapore, Malaysia and Hong Kong.
Citizens of other countries will have to apply for a visa at their nearest UAE embassy. It may be possible for your airline to assist you in some cases. Upon arrival at the airport, visitors will be required to undergo an eye scan.
Safety
This is one of the safest cities in the world with the lowest crime rate. It is safe to explore the Emirate of Abu Dhabi at any time, day or night, as there are no major tourist traps.
However, it is always wise to take a few precautions for general safety.
In case of Emergencies
The Abu Dhabi Police emergency phone number is 999. You can call 999 for police assistance, ambulance services, or any other emergency, and all calls are free.
In Summary Of Desert Hotels in Abu Dhabi
Abu Dhabi is a fantastic travel destination. The desert hotels in Abu Dhabi are just one of the many reasons why you should visit.
This Emirate offers a diverse range of experiences and activities that are sure to please everyone in your group.
From its beaches, parks, museums and shopping centres, there's no shortage of things to do in Abu Dhabi.
Whether you're travelling with friends or family, we hope this article has given you some ideas on which desert resort to pick when visiting the Emirate!
You may also like:
Co-Working Spaces In Abu Dhabi
Disclaimer: This post may contain affiliate links. By using them it will not cost you any extra, we will receive a small percentage of the sale which helps us to keep on writing useful content.