Abu Dhabi is well known for its array of international cuisine and no cosmopolitan city is complete without an Italian. There are tens of incredible Italian restaurants in Abu Dhabi however, we've narrowed it down to the top 7 in the city!
Whether you are looking for the freshest pizza, pasta, risotto, seafood or cured meats, we have it covered.
From business lunches to à la carte, and brunch to deals, there are plenty of Italian options whatever the occasion.
Italian is a cuisine rich in history and flavour with the freshest ingredients. Throughout Italy, be it North, South or Sicily, each region has its speciality dish. We are lucky to be able to find many regional cuisines in Abu Dhabi.
Michelin recommends a number of Italian restaurants in Abu Dhabi in their guide. One Italian restaurant in Abu Dhabi received one star in the first year of Michelin's arrival which is a testament to the city's fine dining scene.
Read on to discover the best Italian restaurants in Abu Dhabi.
Italian Food Abu Dhabi
1. Talea by Antonio Guida
Behind every great restaurant is a great chef. Chef Antonio Guida brings his amazing food from Milan to the tables in Emirates Palace.
The interpretation of Cuicina di Famiglia gives Talea a top spot among the best Italian restaurants in Abu Dhabi.
Antonio proudly serves family-style dishes inherited from his ancestors. We all know Italian Nonnas are renowned for making the best food with love.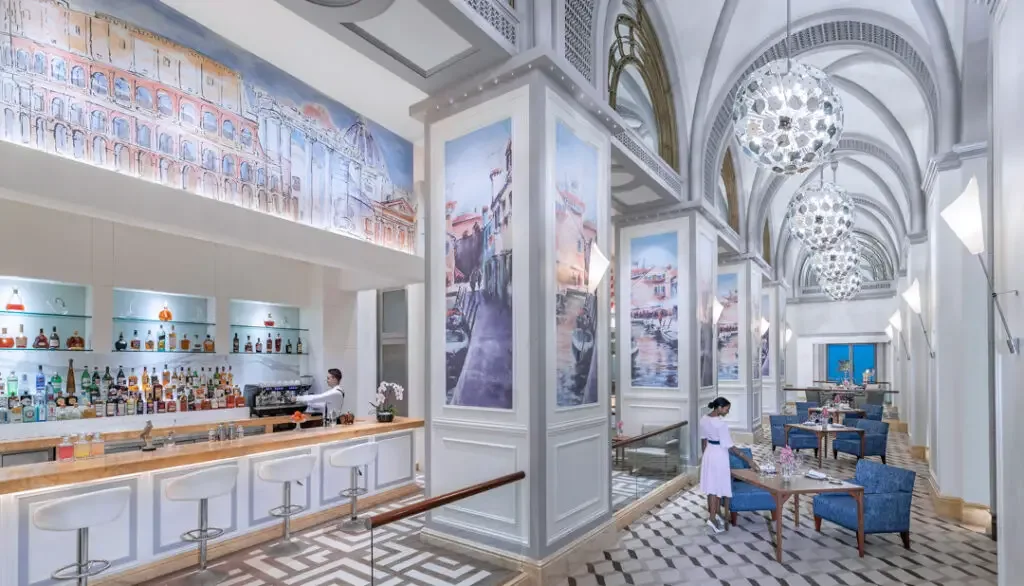 An á la Carte menu is on offer, and occasionally, a tasting menu provides a journey of the culinary delicacies in Italy.
The restaurant's décor is grand, with high ceilings, spherical crystal chandlers and Venetian paintings, giving it a contemporary Italian ambience. Not to mention it was voted the best Italian restaurant in Abu Dhabi in 2022.
Call: +971 2 690 7999
Costs: Mains start from AED 85 per dish
Timings: Lunch is served from 12:30 PM to 3 PM
Dinner is served between 6:30 PM and 11 PM
Private dining is also available.
Location: Emirates Palace, Al Ras Al Akhdar – Abu Dhabi – United Arab Emirates
2. Villa Toscana
Touted as the best Italian in Abu Dhabi, Villa Toscana in St.Regis on the Corniche brings a region of Italy with a history of rich culinary flavours and dishes.
The elegant Villa-styled restaurant oozes a warm and hospitable atmosphere. The walls have murals of the Tuscan countryside, providing a glimpse into the origin of the cuisine.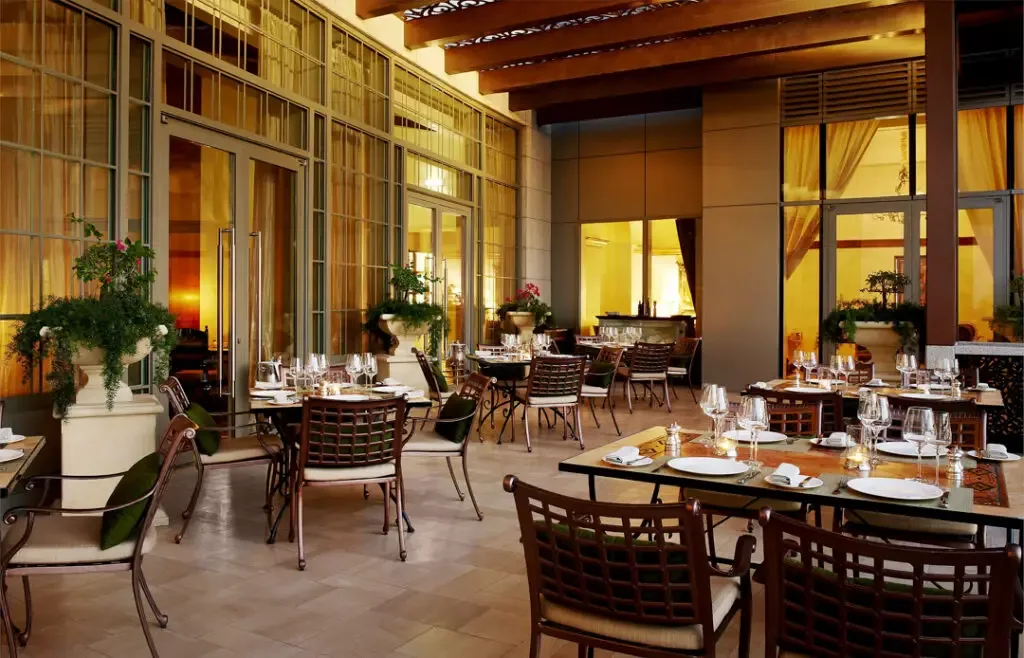 A large wooden structure similar to a grapevine trellis shelters the outdoor patio, giving it a sophisticated Tuscan look.
An example of flavoursome Italian dishes consists of tempura di calamari, gnocchi, rigatoni, risotto, pizza, and charcoaled Tuscan meats. Make sure to leave room for the tiramisu!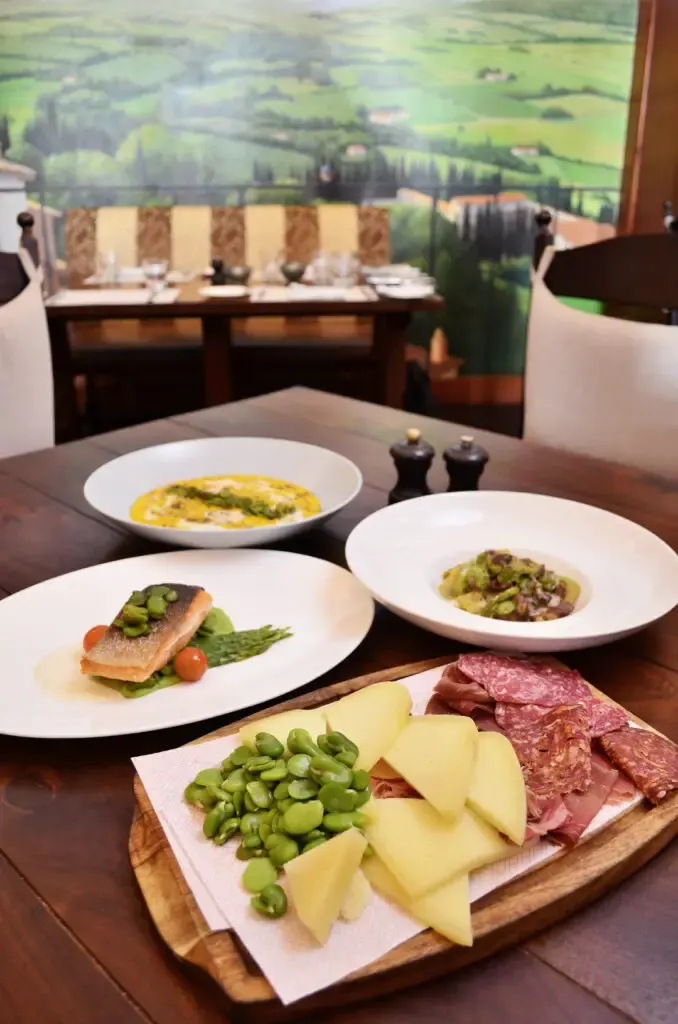 On weekdays, experience authentic Italian at the business lunch. The two offers are:
Antipasti and deserts AED 120
or
Antipasti with a main and deserts AED 145.
For reservations, call +971 2 694 4553 or Email
Espresso Business Lunch: 12 PM to 3 PM (Monday to Friday)
A la Carte Lunch: 12 PM to 3 PM (Saturday and Sunday)
Dinner: 7 PM to 11 PM (Daily)
Location: Nation Towers – The St. Regis Abu Dhabi – W Corniche Rd – Abu Dhabi – United Arab Emirates
3. Cipriani Italian Restaurant
Many great inventors have emerged out of Venice and touched the world with genius creations.
Giuseppe Cipriani Sr began his journey with the world-famous Harry's bar, the birthplace of the Bellini cocktail and carpaccio alla Cipriani.
World-class hospitality stems from Mr Cipriani's mission to 'serve others as you would want to be served yourself, which is embodied in the service of the Abu Dhabi branch in Yas Bay.
The interior design resembles the hallmarks of a Venetian boat creating a perfect Italian restaurant experience. The large windows and outside terrace give a panoramic view of the iconic Yas Marina.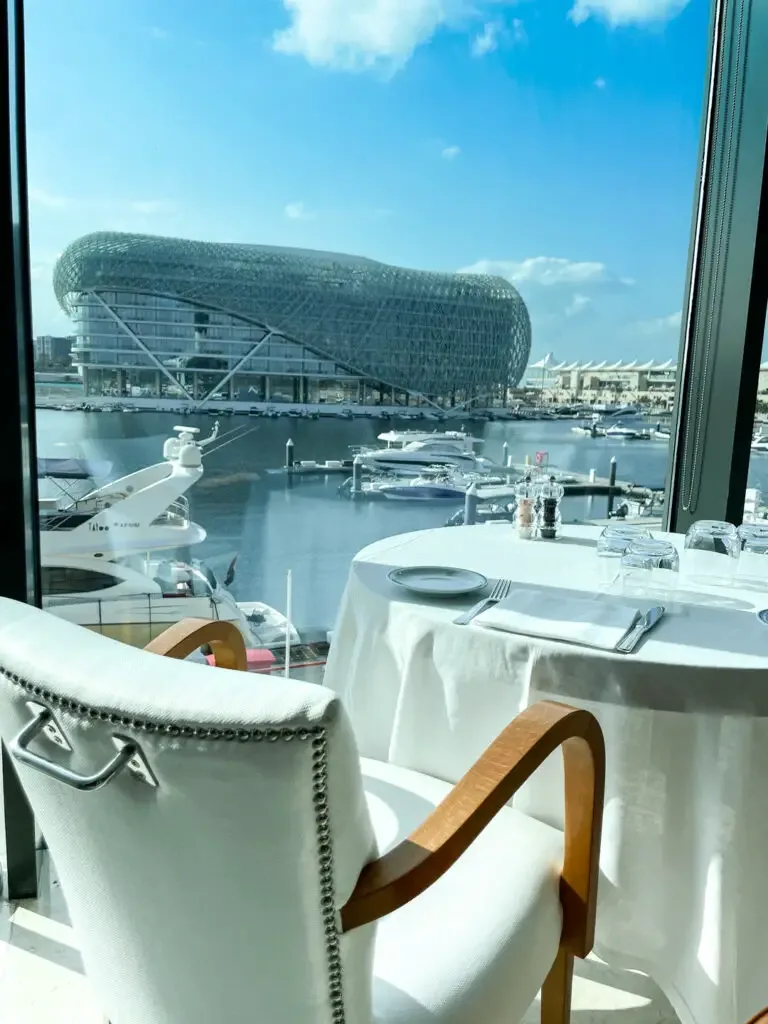 The menu encompasses signature risotto and pasta dishes. Expect many other classic Italian dishes.
For more information and reservations, call +971 2 657 5400
Costs: Enquire with the restaurant due to seasonal demand
Timings: 6 PM to 11:15 PM (Monday to Sunday)
Location: Yas Marina, Yas Island – Abu Dhabi – United Arab Emirates
4. Café Milano Italian
Cafe Milano at the Four Seasons offers a premium and authentic Italian experience.
The restaurant overlooks the Al Maryah Islands waterfront promenade. It's the perfect spot to enjoy annual celebrations such as National Day and NYE.
In the cooler months, the restaurant is ventilated by the cool winds of the Arabian gulf when the shutters are open.
If you ask the staff what is the top recommendation, they will often suggest the chitarrucci kikton, a tasty pasta dish cooked with delicate seafood, fresh tomato, parsley and lemon zest.
On weekdays, the restaurant enjoys a delicious Italian business lunch. On offer is a starter and main with the option to upgrade at an additional cost.
Italian food can be enjoyed on Saturdays with the premium brunch. The dishes are prepared by Chef Delfino Chiarello and his team.
For reservations and more information, call +971 2 333 2444.
Business Lunch Specials: AED 220 for a Starter + Main
or
AED 250 for a Starter + Main + Dessert
Timings: 12 PM to 5 PM (Monday to Friday)
Saturday Brunch Specials:
AED 295 for the soft drinks package.
AED 395 for the house drinks package
and
AED 95 for the kid's brunch.
Timings: 12 PM to 4 PM (Saturday)
General Timings: 12 PM to 12 AM (Monday to Sunday)
Location: Four Seasons Hotel Abu Dhabi – Al Maryah Island – Abu Dhabi – United Arab Emirates
5. Verso Italian Restaurant
Verso has a vibrant and contemporary interior with an outdoor terrace offering great Italian food in Abu Dhabi.
Should a more casual experience be sought after, the pool bar menu is a good option. With the outdoor terrace next to the hotel pool, guests can grab a quick pizza, Nicosia salad, calamari and much more.
For a more formal dining experience, the verso menu has several great dishes with antipasti, starters, soups, fresh homemade pasta, Napoletana pizza, classic main courses and desserts.
On Sundays, there is the La Famigila brunch. It's a table service brunch perfect for families who find the hustle of a buffet difficult. To start, antipasti dishes, calamari, oysters, prawn cocktail, fresh bread and salad are served.
The chefs proudly make perfect dough bases in the open kitchen constructing delicious margaritas and veg pizzas.
Pumpkin risotto prepared in a parmesan wheel with gorgonzola and bresaola makes a perfect duo in a creamy texture. If that wasn't enough, the chef prepares the dish table side.
Rigatoni pasta with pecorino cheese and black pepper does not leave much room for the main course!
Stuffed lamb legs with Tuscan potatoes, branzino fish with celeriac puree and spinach. Chicken escalope with mushroom is another top recommendation from the menu.
Finish with a cheese platter and supreme tiramisu!
Throughout the afternoon, there is kid's entertainment with face painting, balloon making and a popcorn-making station.
The price for Sunday afternoon brunch is 180 AED per person between 13:00 pm to 16:00 pm.
Location: Grand Hyatt Abu Dhabi Hotel, West Corniche Road, Al Bateen, Abu Dhabi
Timings: Monday to Sunday, 12:00 pm to 23:00 pm
Call: 971-25101234
6. Marcos New York Italian
Marco Pierre White is a world-renowned chef and he picked the Fairmont in Abu Dhabi as his first location in the Middle East. Marcos has a deserving place on the list of best Italian restaurants in Abu Dhabi.
He has cultivated traditional Italian dishes with American favourites to bring a twist to the cuisine. The colourful interior gives a contemporary look to the suave and sophisticated venue.
They offer American beef burgers and New Orleans steaks. However, we are here for Italian food.
The headline choices are Italian sharing platters, supreme seafood, pasta and freshly made pizzas. Italian menus don't come much better than that!
Pizzas are made with a fresh sourdough base. The standout pizza is the meat feast pizza with salami, ragu alla bolognese, beef bacon, roast chicken, tomato, mozzarella and red chillies.
Spicy shrimp and crab penne topped with pomodoro tomatoes with coriander make for a simplistic but very rich flavoured dish.
Offers At Marcos
The restaurant has curated many fun nights coined as 'Marcos special nights'. A live pianist brings a classy vibe to the venue each night.
On Tuesdays, it is Marco's Pizza E Birra night. Enjoy unlimited mixed-flavour pizzas and beer from 19:00 pm to 21:00 pm for 119 AED per person.
Wednesdays make for a healthy but social outing for those watching their figure. Every Wednesday, unlimited low-calorie cocktails and burrata salad is served between 19:00 pm to 22:00 pm for 119 AED per person.
Sunday is a fun day at Marco's Aperitivo Della Domenica night. On offer is a platter of antipasti with unlimited prosecco on tap every Sunday from 17:00 pm to 20:00 PM
Location: Fairmont Bab Al Bahr- Abu Dhabi
Timings: Monday to Sunday, 12:00 pm to 16:00 pm and 18:00 pm to 23:00 pm.
The Fairmont brunch is every Saturday from 13:00 PM to 16:00 PM
Call: 971-26543238
7. Dinos Bistro Italian Restaurant
Another one of the best Italian restaurants in Abu Dhabi is Dino's in the Pearl Rotana. The multi-award-winning restaurant is known for its casual but authentic setting serving delicious fresh Italian food.
Start off with classics like calamari fritti, bruschetta caprese, seared scallops in crispy veal pancetta or a carpaccio of wagyu beef. Hot starters like seafood soup or Italian minestrone go down a treat.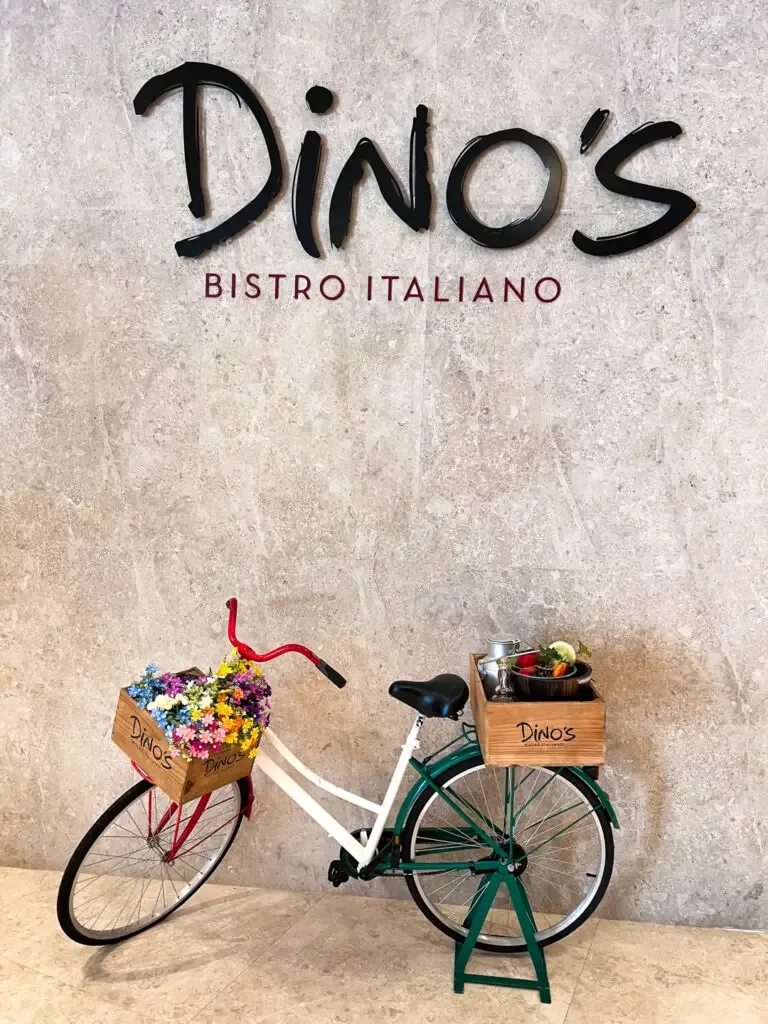 From spaghetti carbonara to bolognese, hand rolled pasta to gnocchi al ragu, not to mention lasagna and stuffed ravioli, Dino's has it all .
If that doesn't sound like enough of a carb lover's dream, the pizza section is equally as impressive. A rich pomodoro sauce meets a perfect rolled-out dough base on Dino's signature pizza, topped with beef carpaccio, black truffles and rocket.
Other classic options like margherita, pepperoni, quattro formaggi and Hawaiian are available.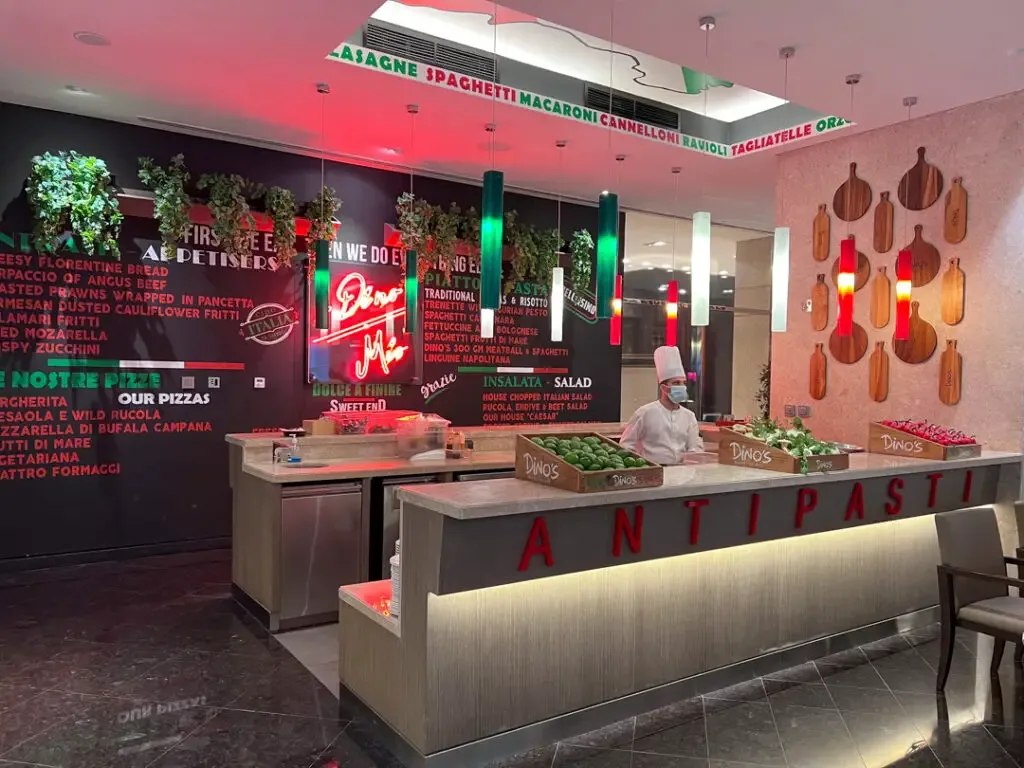 There are many fresh salads for those looking to avoid a heavy-carb meal. Cheese and meat boards make the perfect sharing experience.
For a meatier affair, Australian wagyu beef, veal ossobuco and parmesan-crumbled lamb chops are great choices. Poultry and seafood dishes are on offer as well.
You couldn't go to Dino's and not try the signature tiramisu. The desert corner has gelato, ice chocolate cake, lemon tart, mascarpone with lemon-rum syrup and a Nutella cheesecake.
Dino's certainly knows how to deliver heaven's delight at dessert time. There are a few opportunities to brunch at Dino's over the weekend.
Offers At Dinos
The Friday evening brunch is the perfect social outing and costs 190 AED, which includes a cheese and antipasti section.
Saturdays and Sundays, the brunch starts at 12:00 pm and costs 180 AED, children between six to twelve cost 90 AED and kids below five are free.
As this is a table service brunch, it makes it an easy day out for parents. Fresh pizzas, pasta dishes, salads and various other classics are cooked on request.
Aperitivo hour is on from Monday to Thursday between 18:00 PM to 19:30 PM.
Two glasses of prosecco and a burrata bruschetta are included. Every additional drink costs 20AED during the happy hour.
As Pearl Rotana is in the Capital Centre and a neighbour of ADNEC, it is no surprise they have a business lunch offer.
From Monday to Friday, 12:00 pm to 15:30 pm, two courses from the à la carte can be ordered for 105 AED or three courses for 125 AED.
Location: Pearl Rotana, Al Khaleej Al Arabi Street, Capital Centre-Abu Dhabi
Timings: Monday to Friday, 12:00 pm to 15:30 pm & 18:00 pm to 23:00 pm
Saturdays 12:00 pm to 16:00 pm & 18:00 pm to 23:00 pm
Call: 971-23075551
Have you found this post about the top 7 Italian restaurants in Abu Dhabi? Have you been to any? Leave a note, we love to hear about your experience.
You may also like:
Disclaimer: This post may contain affiliate links, by using them it will not cost you any extra, we will receive a small commission to keep us writing.