The weather in Abu Dhabi in August is the hottest month of the entire year. It's typical of a scorching desert climate in the summer months and fairly impossible to spend more than a few minutes outdoors.
With that in mind, residents and tourists make the most of all of the incredible indoor activities and events during the hot weather in Abu Dhabi in August.
The schools break up for summer in July and most return in mid to late August. Many families and residents tend to go on holidays overseas during the summer break. So, Abu Dhabi is typically quiet in the first half of August.
For those who remain in Abu Dhabi, and the few passing by on a stopover from the airport, August is a great month to make the most of low-season prices. Some luxury hotels, resorts and attractions offer discounts.
In fact, June through September is the ideal time for frugal travellers who don't mind being indoors, especially theme park lovers looking for discounted entry.
Read on as we share the best things to do, events and what to expect from the weather in Abu Dhabi in August.
Abu Dhabi Weather in August
Temperatures in Abu Dhabi in August are extremely hot and dry with an average high of 42°C (108°F).
It can even go up to 50°C (122°F) on some days. The low reaches around 30°C (86°F) at night, which is still very hot.
Humidity levels in Abu Dhabi are quite high, with an average of 60% in the morning and 50% in the afternoon. This makes the temperature in Abu Dhabi in August feel even hotter.
The combination of high temperatures and humidity can make the weather feel extremely uncomfortable, especially for those who are not accustomed to such conditions.
In terms of rainfall and precipitation, August is one of the driest months in Abu Dhabi, with an average of only 2 mm of rainfall.
The chances of rain is very low, and the weather is generally clear and sunny throughout the month.
However, there may be occasional dust storms, which are known as 'shamals' in Arabic. The storms can cause low visibility and create problems for those with respiratory issues.
Shamals are more common in the spring and early summer, but they can occur in August as well.
How does August in Abu Dhabi compare to other months?
Compared to July and September, August is typically the hottest and driest month in Abu Dhabi.
July has slightly lower temperatures, with an average high of 40°C (104°F) and an average low of 29°C (84°F), but the humidity is higher.
September is still hot, with an average high of 39°C (102°F) and an average low of 28°C (82°F), but the humidity begins to decrease, making it more bearable.
October is the first significant change in the hot weather after the long desert summer.
Overall, August is not the most pleasant month to visit Abu Dhabi, and those who do should take precautions to stay hydrated and avoid prolonged exposure to the sun.
The best time to visit is from November through April when temperatures are at their lowest and the outdoor attractions can be enjoyed.
Some of the cultural festivals tend to finish up my March running right through the tourism season including January and of course February.
What To Wear In Abu Dhabi In August
Abu Dhabi is known for being a conservative city, especially when compared to its neighbour, Dubai.
It is important to keep in mind, public places such as malls, official buildings, and cultural sites require individuals to cover their knees and shoulders. This dress code applies to both men and women.
However, when it comes to hotels and beach clubs, dress codes tend to be more relaxed. Regular swimwear is acceptable at the pool. It is advisable for women to carry a sarong while walking around these areas.
Given the hot weather in August, residents and tourists are likey to spend most of their time indoors.
It's worth noting indoor areas such as malls are air-conditioned and can be quite chilly. Therefore, it's recommended to bring light layers for added comfort.
For more detailed information check out this post on what to wear in Abu Dhabi.
Best Places To Stay In Abu Dhabi In August
The best hotels to stay at in Abu Dhabi in August are those interconnected with a mall. This provides a lot of freedom and reduces the need to take a taxi everywhere.
Malls in Abu Dhabi have pretty much everything you could possibly need. From gyms to cinemas and theatres to fine dining restaurants and cafes. Fortunately, there are three hotels in Abu Dhabi connected to a mall.
Rosewood Abu Dhabi
The Rosewood Abu Dhabi is a luxurious 5-star hotel with direct access to Galleria Mall.
The hotel features a stunning pool which can be enjoyed in the latter part of the afternoon in the month of August. It is right next to the rooftop bar which features sculptures like something straight out of Avatar.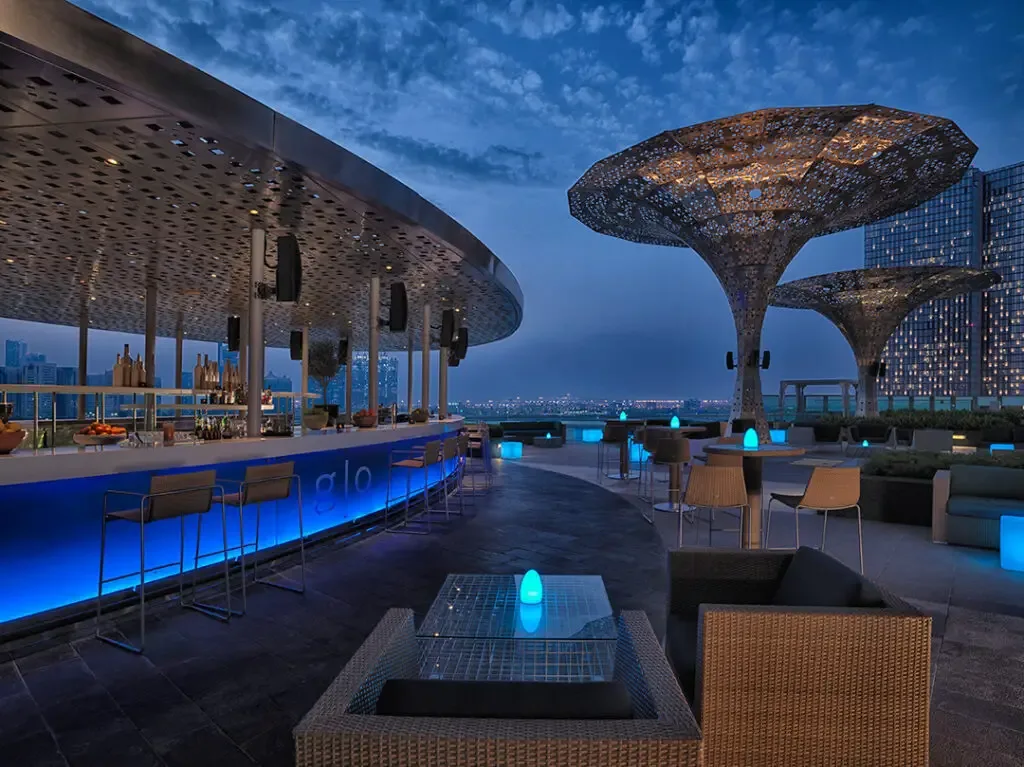 Rosewood Abu Dhabi has a Chinese restaurant and a hidden bar, serving delicious cocktails in a cosy setting. The hotel also serves a fantastic roast dinner on weekends, which is not to be missed.
The beautiful spa is furnished with plush suede and adorned with sparkling crystal chandeliers.
With its luxurious amenities and convenient location, the Rosewood is the perfect choice for travellers who are visiting Abu Dhabi in August.
Book a stay at The Rosewood Abu Dhabi.
Four Seasons Abu Dhabi
Four Seasons is another 5-star hotel with direct access to Galleria Mall. Wander between the two buildings and enjoy browsing the high-end designer stores and restaurants along the way.
The hotel is situated on the Al Maryah Islands waterfront promenade, providing stunning views and easy access to all of the activities and attractions in the area.
During the summer months, the Four Seasons Abu Dhabi is a fantastic place to stay, thanks to its beautiful swimming pool and excellent restaurants. Roberto's Italian is a favourite among locals and visitors alike.
Book a stay at Four Seasons Abu Dhabi.
Beach Rotana
Abu Dhabi Mall is another spot which has its very own interconnected hotel. Beach Rotana is a luxurious 5-star hotel with a variety of accommodations ranging from a standard room to a serviced apartment.
The hotel has a beautiful pool and a private beach with a view of the city, both of which can be enjoyed in the evening or at around sunset in August.
There are several restaurants on-site and of course tens of dining options in the mall which is accessible via a walkway.
Not to mention the state-of-the-art fitness centre in the hotel, perfect for those looking to stay active on a trip.
Book a stay at Beach Rotana here.
Events In Abu Dhabi In August
There are currently very few listed events this August in Abu Dhabi. We will of course update this post if we get any information. Here is what we know so far:
Kids Summer Camps
Abu Dhabi offers a range of summer camps for families looking to keep the little ones entertained during school break in August.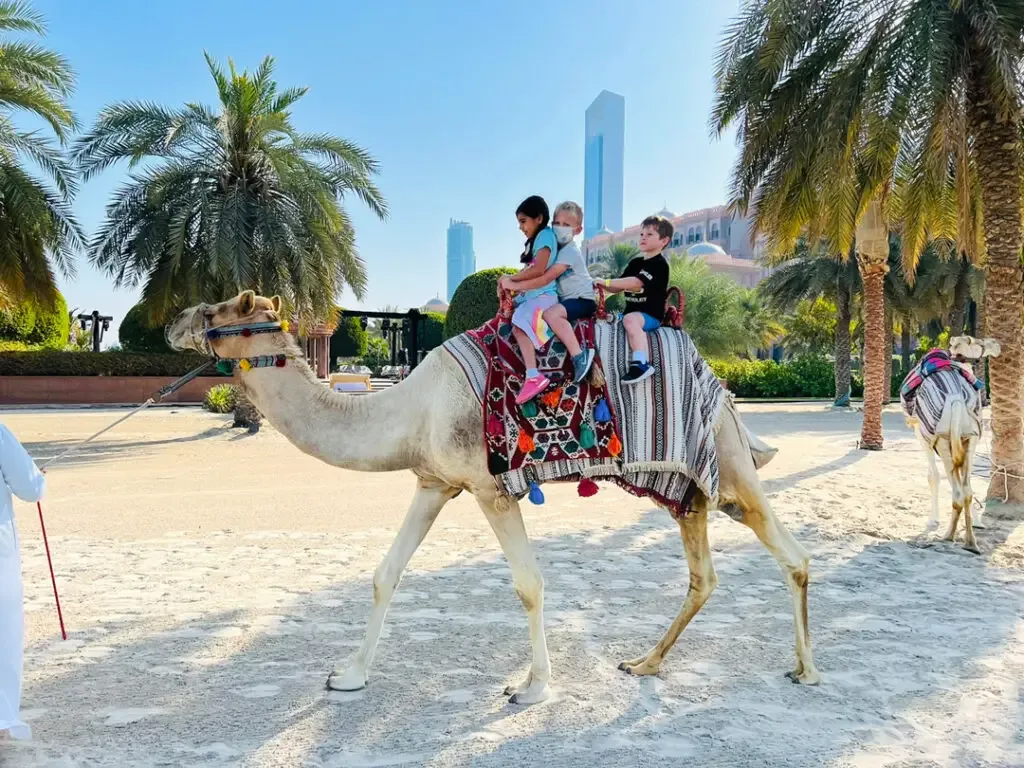 Hotels and attractions such as Emirates Palace, The National Aquarium and Emirates Zoo host a variety of camps catering to different interests. From multi-activity programs to specialised sports or crafts, the camps are so fantastic for kids.
Check out this detailed post on summer camps in Abu Dhabi for more information.
Things To Do In Abu Dhabi In August
WB World
Visiting Warner Bros. World is a fun way to escape the hot weather in Abu Dhabi in August. The indoor theme park offers a range of attractions, shows, and interactive experiences based on iconic characters.
It is the largest indoor theme park in the world and is perfect for adults and children.
WB World features six unique areas including Gotham City, Metropolis, Cartoon Junction, Bedrock, Dynamite Gulch and Warner Bros. Plaza.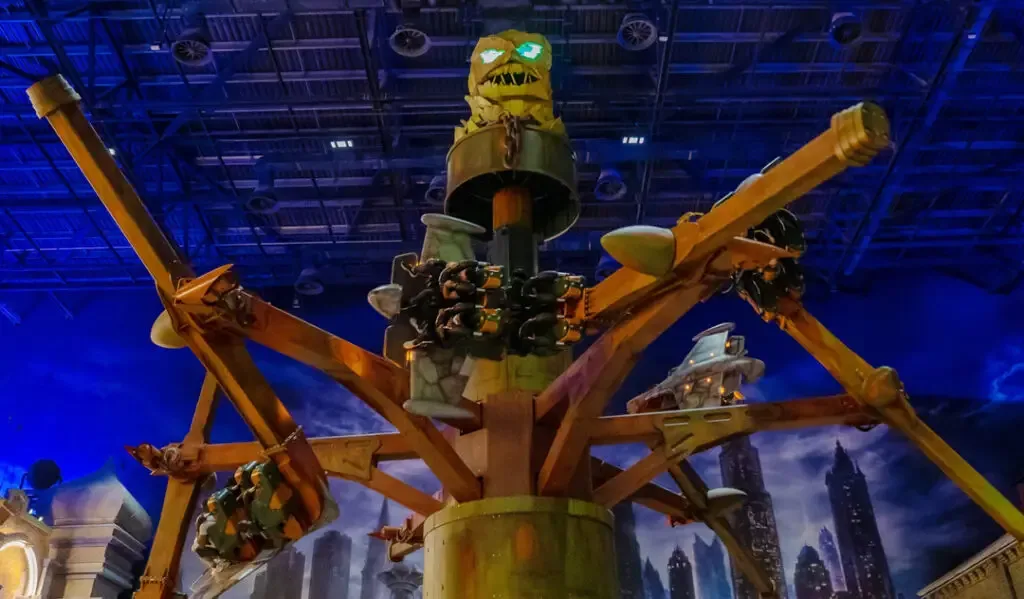 Many adults are drawn to the park as it allows them to relive their childhood memories and experience old-school cartoon and movie characters.
The Batman Knight Flight roller coaster takes riders on a thrilling journey through Gotham City. It is a top choice for adults seeking an adrenaline rush. Whilst the Scooby Doo Museum of Mysteries ride is popular for those looking for a slightly spooky experience.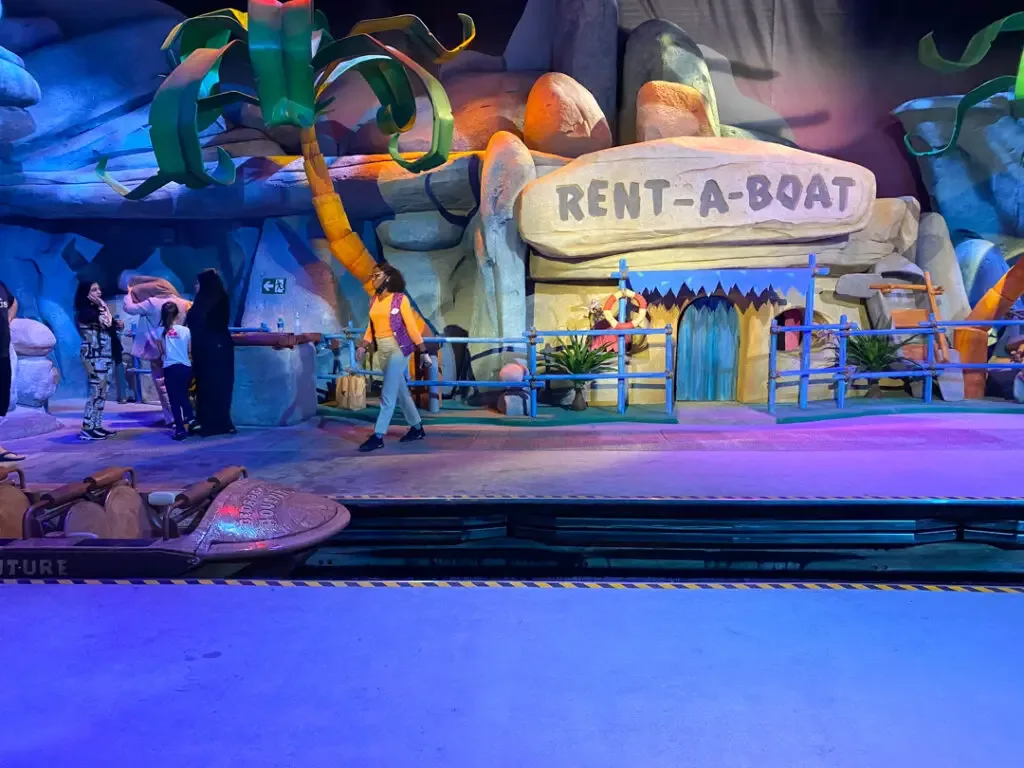 Rides for little ones include the Flintstones Bedrock river cruise, Fast and Furry-ous, The Jetsons Cosmic Orbiter and The Tom and Jerry Swiss Cheese Spin to name a few.
Book tickets to WB World here.
Location: Yas Island – Abu Dhabi – United Arab Emirates
Yas Waterworld
Yas Waterworld is open after sunset, providing an opportunity to be outdoors and keep cool with the hot weather in Abu Dhabi in August.
The waterpark features an array of attractions including adrenaline-fuelled water slides, a rollercoaster and a lazy river.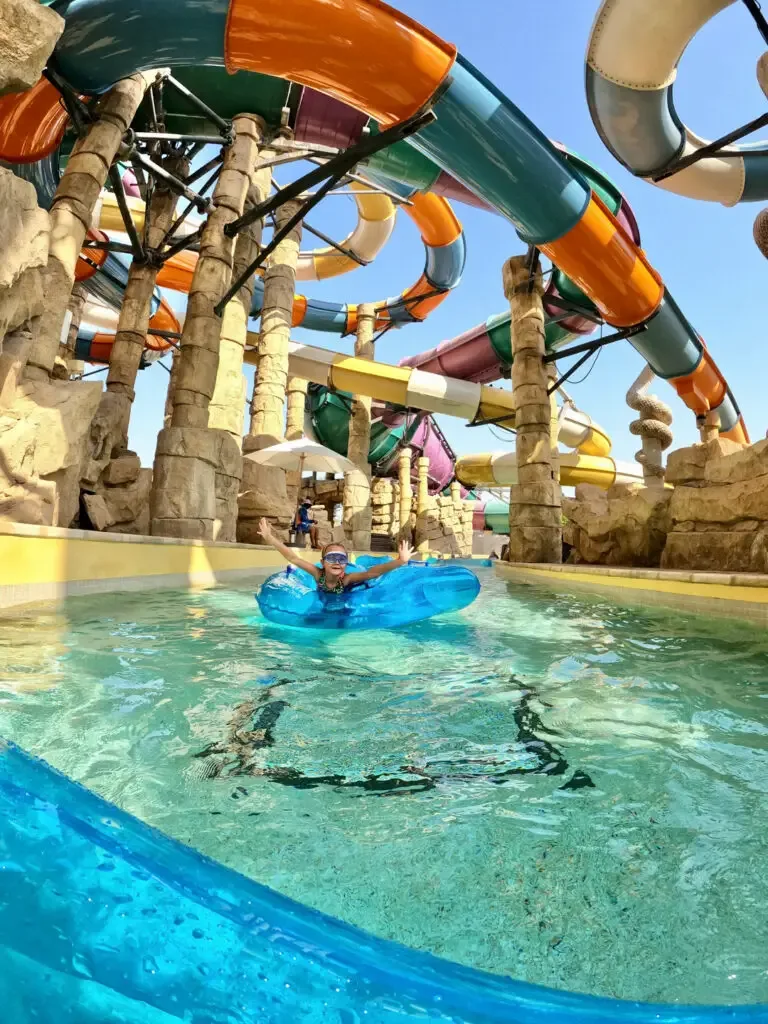 Try the Bandit Bomber rollercoaster or the Falcon Falaj water coaster. Another few popular choices include the Jebel Drop, the Rush Rider and the Amwaj Wave pool.
There are splash pools for kids featuring a pirate ship and many places to grab a bite to eat wether you fancy fresh fruit or a burger.
Book tickets to Yas Waterworld here.
Location: Yas Island – Abu Dhabi – United Arab Emirates.
Ferrari World
Ferrari World is a world-renowned theme park and is a great option for those looking for indoor entertainment in the sweltering weather in Abu Dhabi in August.
Located on Yas Island, Ferrari World features thrilling rides and attractions, as well as restaurants and shops inspired by the iconic Italian car brand.
The park offers a variety of rides including the fastest roller coaster in the world, the Formula Rossa, which reaches speeds of up to 240 km/h.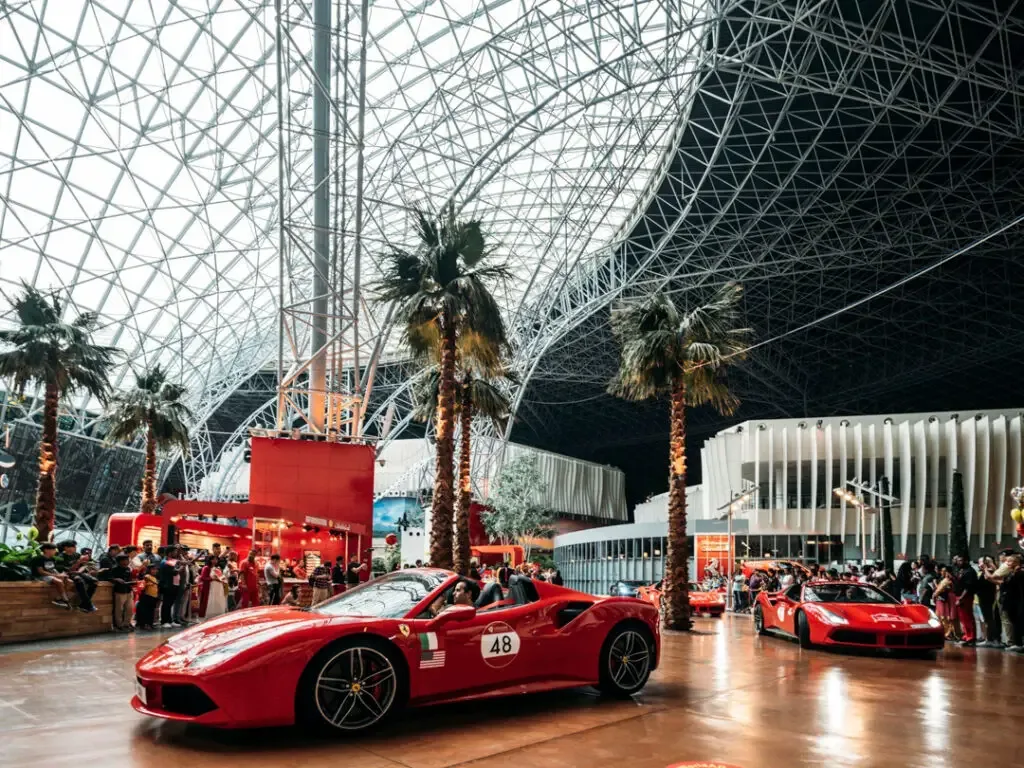 Visitors can experience a zero-gravity ride, a high-speed carousel, and a racing simulator.
Ferrari World offers a range of experiences such as the Ferrari Gallery, which showcases the brand's history and heritage, as well as a pit stop challenge and a virtual reality experience.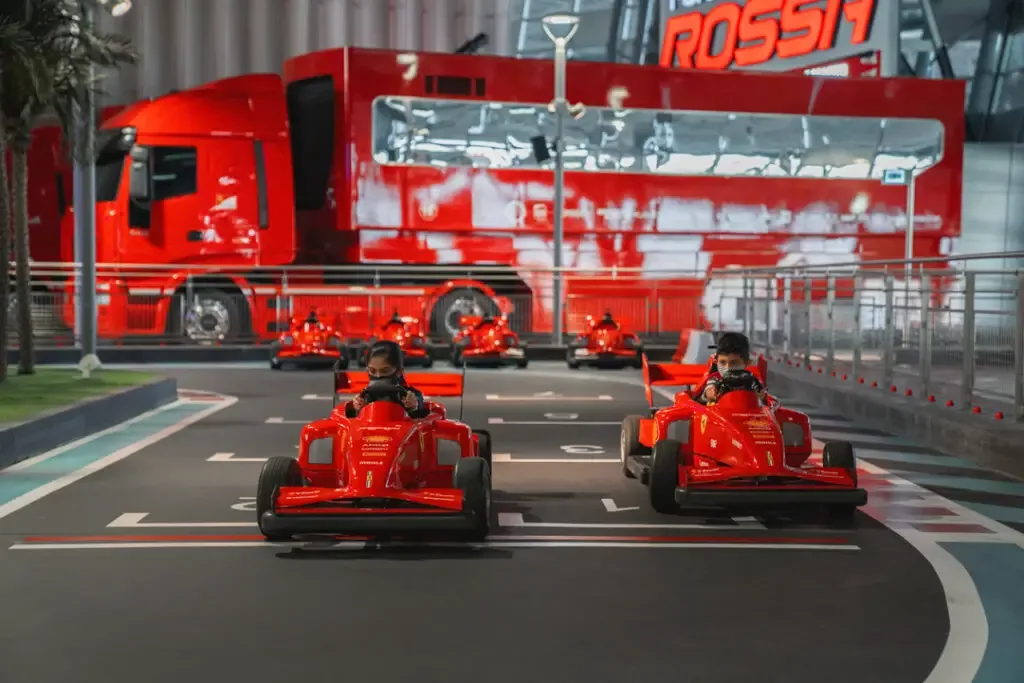 With so much to see and do, Ferrari World is a great option for families or anyone looking for an adrenalin fuelled indoor activity in Abu Dhabi.
Book tickets to Ferrari World here.
Location: Yas Island – Abu Dhabi – United Arab Emirates.
4Dx Cinema
Located in Yas Mall, the 4DX Cinema is a perfect indoor activity for those looking for a unique and immersive movie experience.
The cinema features motion seats that move in synchronisation with the on-screen action, as well as special effects like wind, water, scents, and lighting to create a fully immersive experience.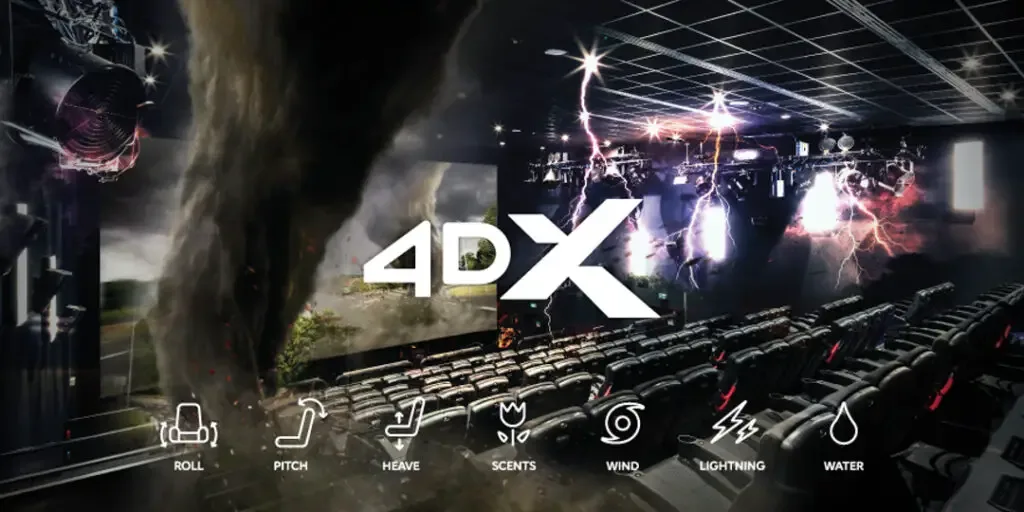 The 4DX technology is available for a wide range of movies, from Hollywood blockbusters to regional hits.
With the added effects and motion seats, it's a great way to get lost in a movie and forget about the outside heat. 4Dx cinema is definitely one of the most unique indoor activities in Abu Dhabi for a hot summers day.
Location: Yas Island – Abu Dhabi – United Arab Emirates.
Qasr Al Hosn
Qasr Al Hosn is a historic landmark and one of the oldest buildings in the Emirate. It's the ideal place to get a feel for the culture in the hot weather in Abu Dhabi in August.
It once served as the royal palace and has since been converted into a museum and cultural centre.
Explore the historic rooms and exhibitions, which showcase the history and culture of the UAE.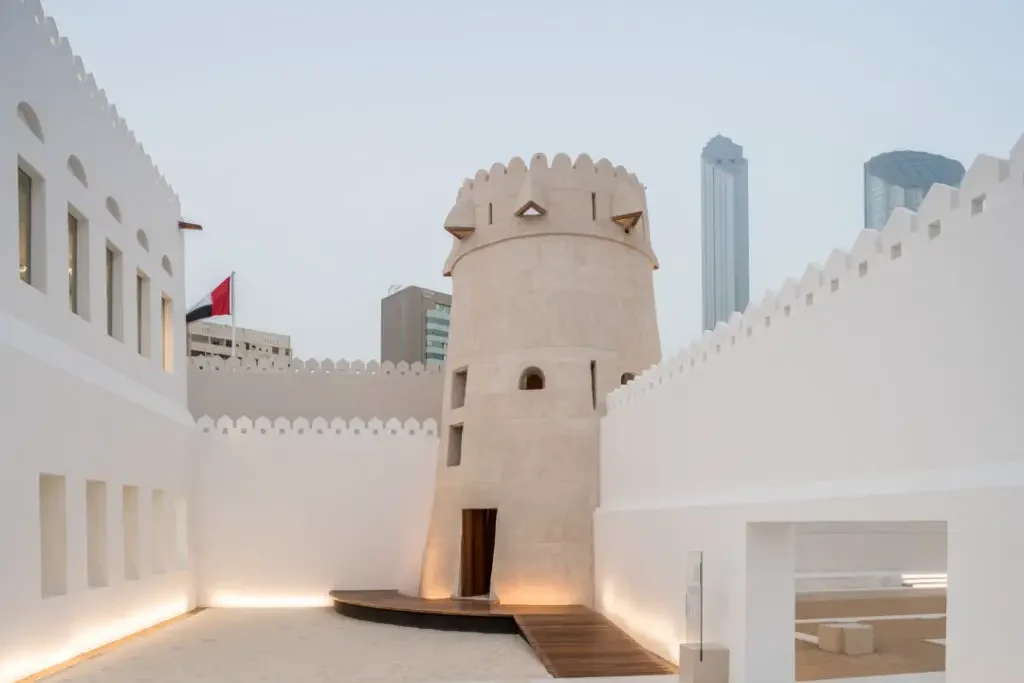 The stunning architecture, intricate details, and beautiful courtyards are a must-see for those interested in the heritage of Abu Dhabi.
Qasr Al Hosn provides a unique opportunity to learn about the traditions of Emirati life and how it has evolved over time.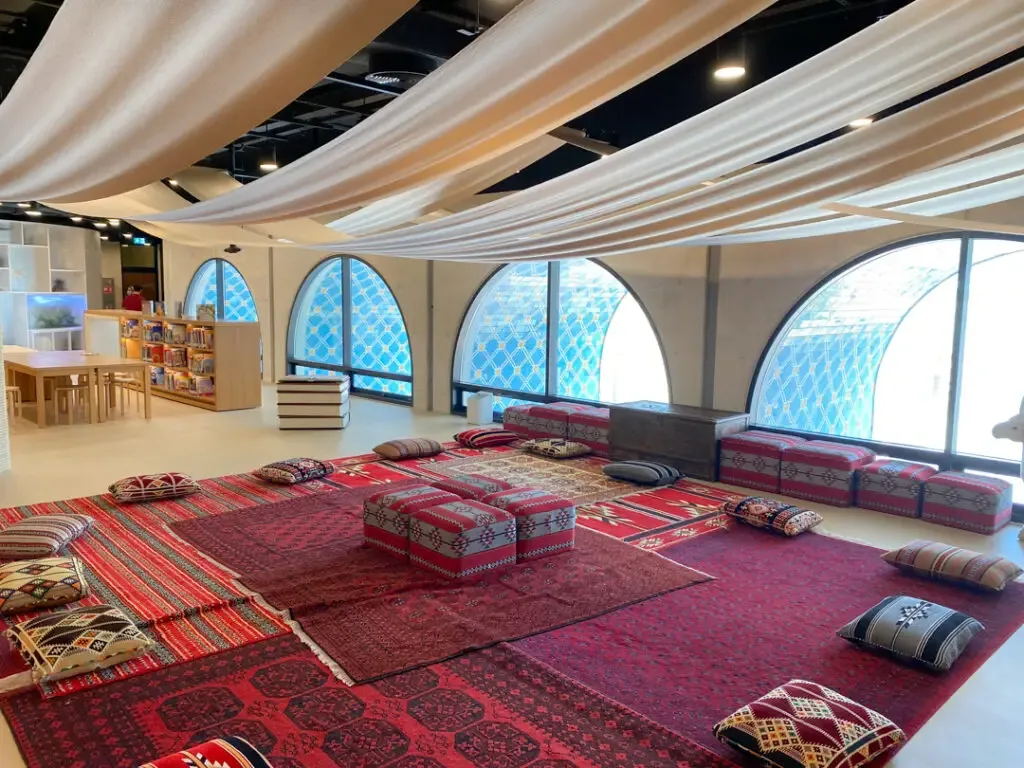 The museum has interactive exhibits and events, such as workshops and lectures, which are perfect for families and visitors of all ages. It's the ideal place to pick up a souvenir from Abu Dhabi too!
Book tickets to Qasr Al Hosn here.
Location: Rashid Bin Saeed Al Maktoum St(2nd St) – Al Hisn – W3 – Abu Dhabi – United Arab Emirates
Qasr Al Watan
Visiting Qasr Al Watan in August is a great way to beat the heat and enjoy a unique cultural experience in Abu Dhabi.
As an indoor attraction, visitors can explore the palace's stunning architecture, intricate designs, and historical artefacts without worrying about the scorching temperatures outside.
Wander through the vast corridors and rooms, marvelling at the intricate details of the mosaics and Islamic designs adorning the walls and ceilings.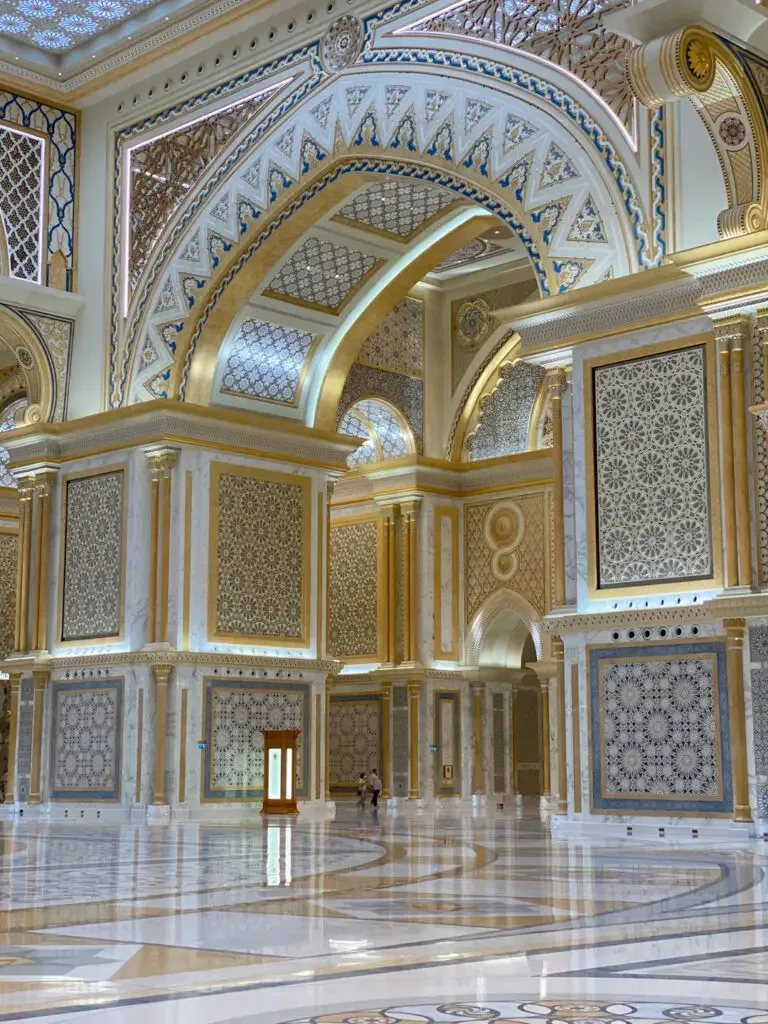 The palace houses an impressive collection of historical artefacts, including ancient manuscripts.
Qasr Al Watan has interactive exhibits, multimedia presentations, and guided tours.
The outside of the building is beautiful to explore during the cooler months. However, in August it is simply too hot and the sun reflects intensely off the white granite facade of the building which can make it very difficult to see.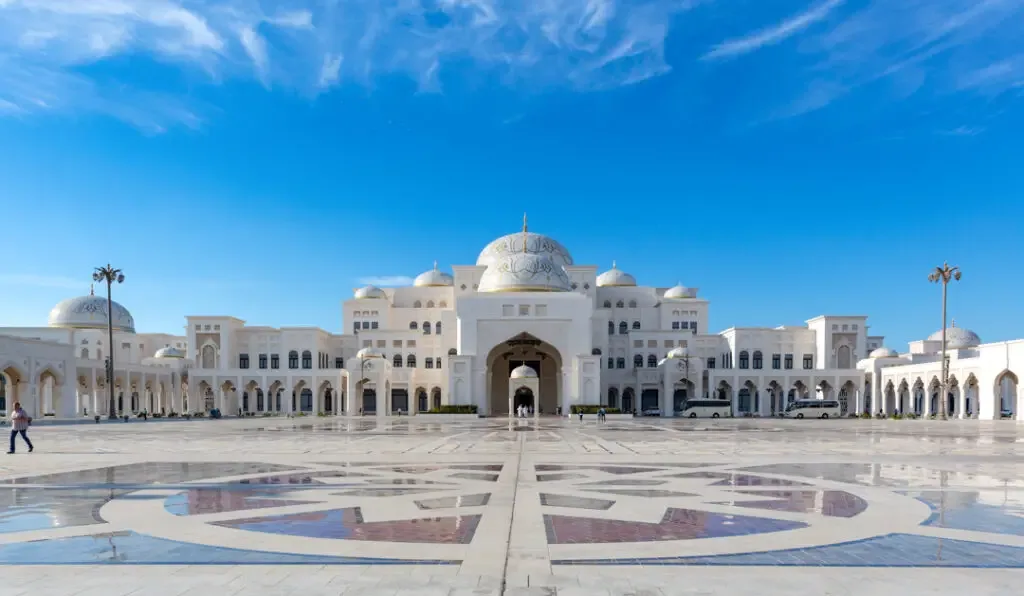 Luckily there is plenty to see inside the building during the hot weather in Abu Dhabi in August.
Book tickets to Qasr Al Watan here.
Location: Al Ras Al Akhdar – Abu Dhabi – United Arab Emirates
Enjoy The Foodie Scene
Abu Dhabi is renowned for its diverse and dynamic food scene, and there's no better time to explore it than during the hot summer months of August.
With so many indoor options ranging from lavish brunches to elegant afternoon teas and fine dining experiences, there's something for every taste and budget.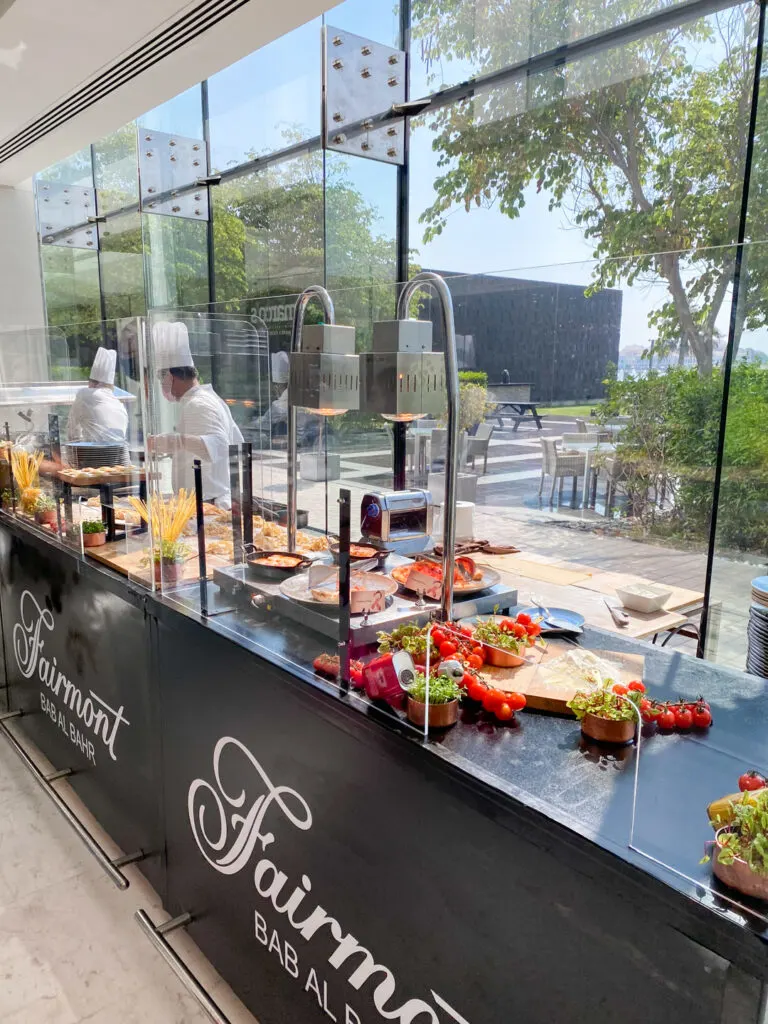 Brunch is a must-try activity in Abu Dhabi, and many of the city's top hotels and restaurants offer elaborate brunch buffets.
For the most part, each package includes soft drinks. However, it is usually possible to include alcohol at an additional cost.
The live cooking stations tend to have a wide variety of international cuisine and can feature everything from pan Asian and Sushi to Mexican and Arabic cuisine to vegan food making it an elaborate affair.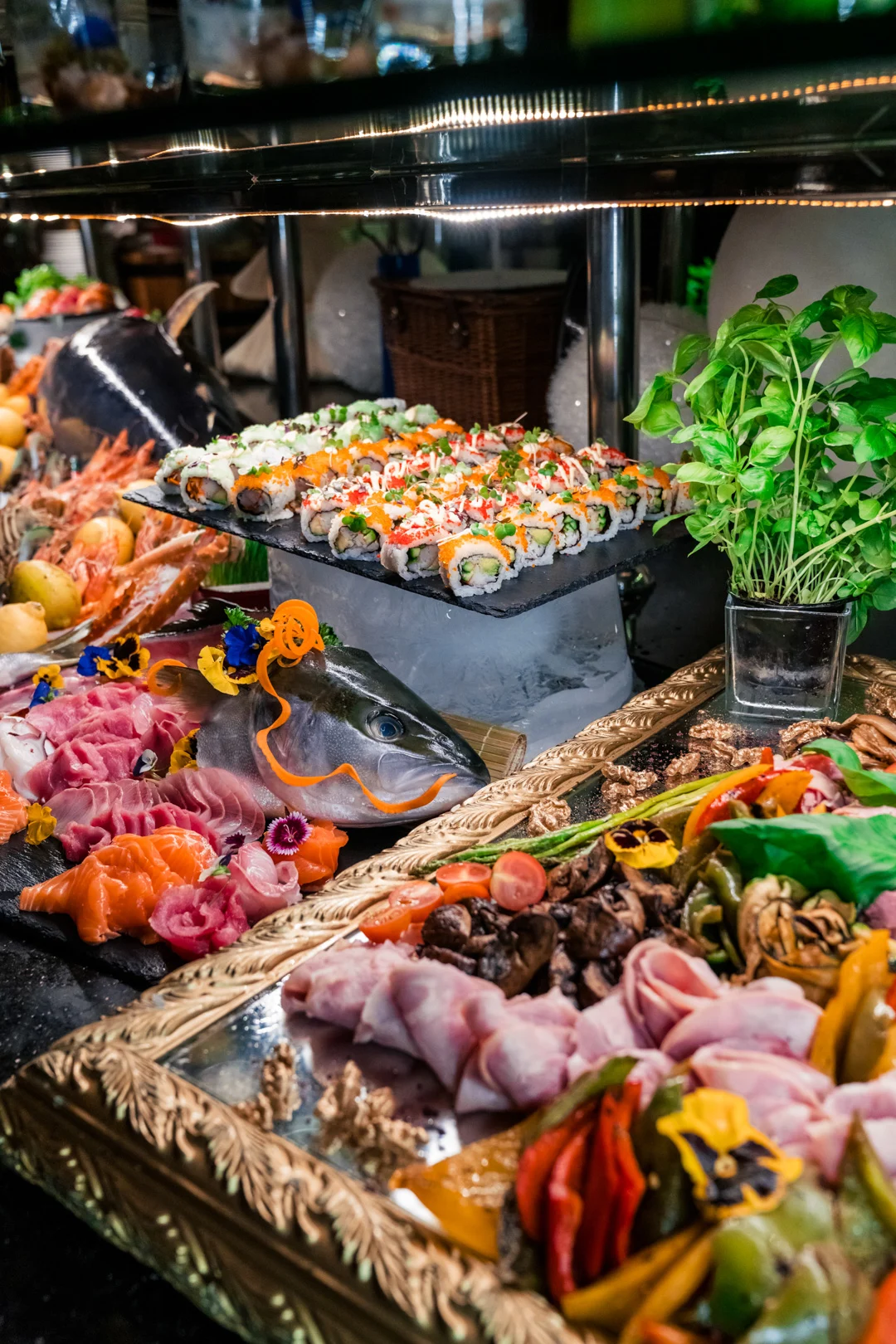 Popular brunch spots include Nahaam, Conrad Etihad Towers and Royal M Hotel. For something truly unique, the Emirates Palace offers a decadent champagne brunch fit for royalty.
Hyatt Abu Dhabi does a specific family brunch on a Sunday with sharing platters including charcuterie, pizzas and pasta.
Check out this detailed guide on the best brunches in Abu Dhabi for more information.
Foodies may also love our guide on the Best Turkish restaurants.
Afternoon Tea
Afternoon tea is another popular option for foodies visiting Abu Dhabi. Many hotels and restaurants offer elegant services.
Most feature a selection of finger sandwiches, scones & pastries, accompanied by a range of fine teas. In some cases, bubbles are also on offer to make it a special experience, especially for a date or a day out with the girls.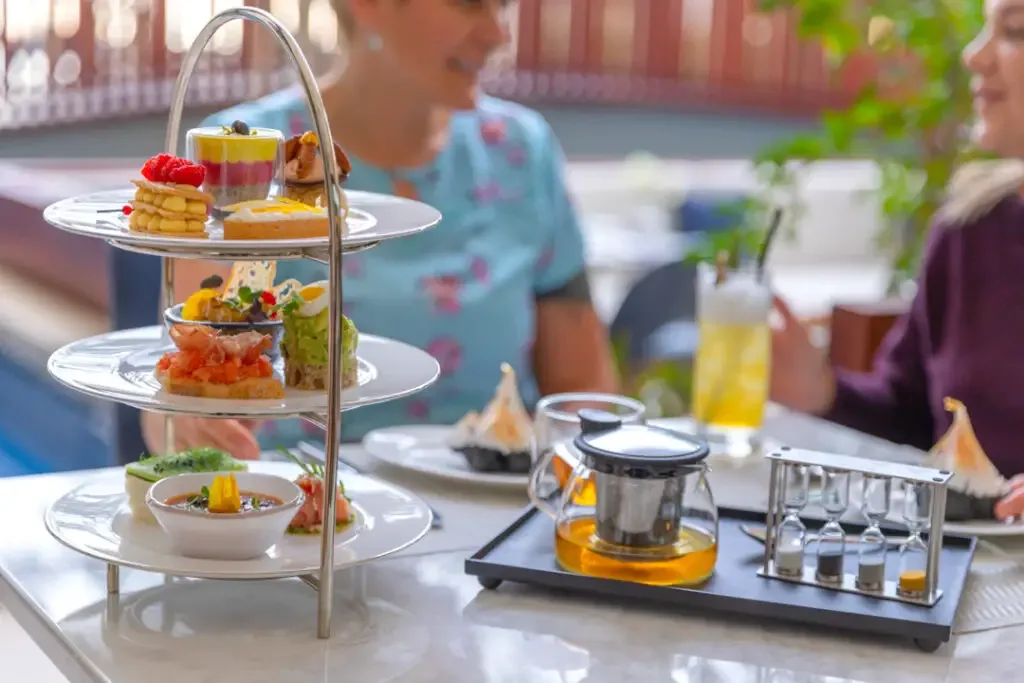 Emirates Palace and Jumeirah Saadiyat are just a couple of places where you can indulge in a luxurious afternoon tea experience.
We hope you found this post about events and weather in Abu Dhabi and August helpful. Let us know if you attend any in the comments.
Disclaimer: This post about events and weather in Abu Dhabi in August contains affiliate links, by using them it will not cost you any extra. We may receive a small commission to keep us writing.