Looking for the best Abu Dhabi beaches? We've got everything covered, whether you are looking for well-maintained beaches with an entry fee or those which are free.
Geographically, Abu Dhabi comprises of over 200 islands providing endless incredible coastline and stunning beaches.
Due to its prime location along the Arabian Gulf, the UAE capital boasts endless stretches of pristine natural white sand beaches and a few man-made beaches too. As a result, visitors can enjoy plenty of sun, sea, and sand all year long.
Some of the beaches are often within walking distance or attached to hotels whilst others require a drive out of town.
Best Beach Abu Dhabi
Whether you are a resident of Abu Dhabi or staying at a hotel without a beach, the capital has plenty of public options. Some are free to enter.
All UAE beaches, not only Abu Dhabi, are well maintained. Some have shower booths and changing rooms which are again very well maintained.
Accessing hotel private beaches often requires a day pass, which varies from place to place. Some hotel weekend brunches include pool and beach access so it is a good way of using the facilities.
The following are the best Abu Dhabi beaches you might want to visit for a day of swimming and beach bumming!
Public Beaches In Abu Dhabi
Generally, public beaches in Abu Dhabi are free to enter, however, in some cases, the family section or ladies only require a fee.
Similarly, there is a handful which provides free loungers as part of the fee to enter. Here is a list of the best public beaches in Abu Dhabi.
1. Corniche Beach, Abu Dhabi
The Corniche beach runs 2 kilometres long from the edges of Al Maryah all the way to Emirates Palace. It is quite an iconic beach within the city which sees many celebrations over National Day and New Year's Eve in particular.
Corniche Beach is accessible through a series of gates. Families and children are able to enter through gates 1, 2, and 3, while individuals and groups are permitted through gates 4,5 and 6.
There is a charge for families of 10 AED per adult and 5 AED for children above 5. Entering through the other gates has a different vibe, so 1-3 is ideal for families with such a small fee, it's worth it.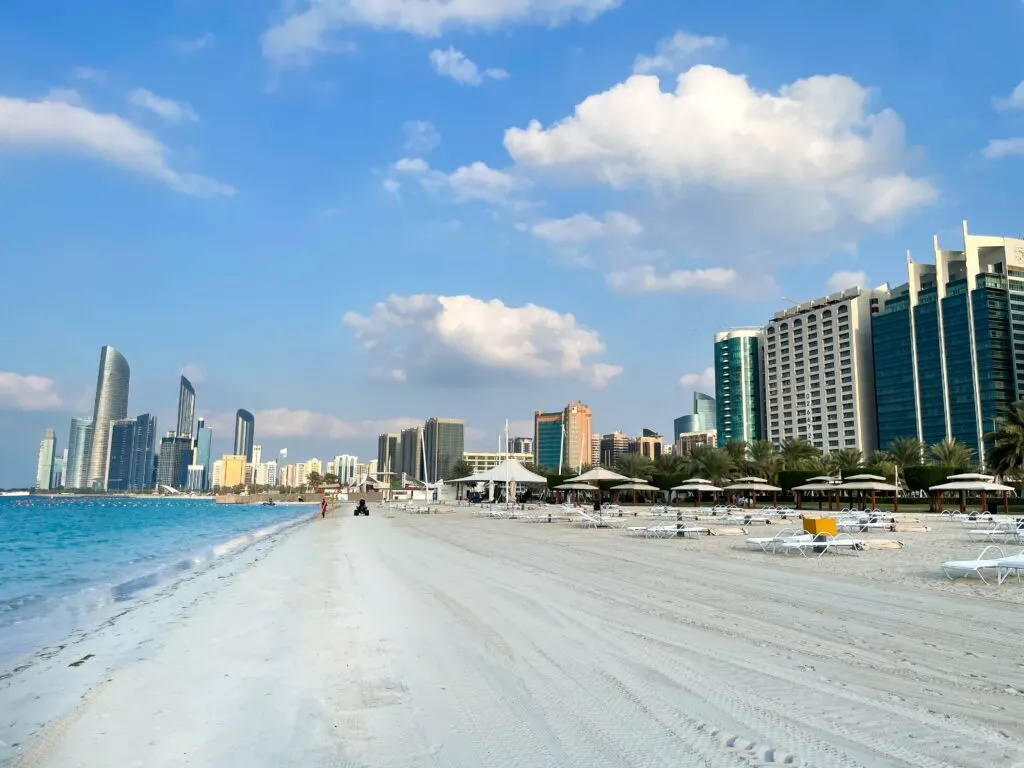 Spending a day on the Corniche during the cooler months of October to March is blissful. The public beach features winding pathways, park benches, and an area dedicated to food trucks, pop-up restaurants and cafes.
Public libraries, prayer rooms for men and women, ATMs, jogging and cycling tracks, basketball courts and vending machines are among the many other facilities.
There is a lifeguard on duty until sunset. Lots of people can be seen playing beach volleyball and football on the free side of the beach during peak times.
The family section has plenty of activities for the little ones to run around and still have a blast.
Beach Timings: 7 AM to 12 AM
7 AM to sunset (for swimming)
Cost: Al Sahil Beach is free, accessible from Gate 4
AED 10 per adult
AED 5 per child
AED 25 per sun lounger
Location: Abu Dhabi Corniche – United Arab Emirates
2. Yas Beach, Abu Dhabi
The idyllic Yas Beach is the perfect escape from the city and ranks among the top beaches in Abu Dhabi.
A pleasant beach with compact white sand, natural mangroves and clear waters, it's an ideal place to relax and is quite popular with residents living on Yas Island.
Yas Plaza guests often visit the beach since it is in close proximity to so many leisure activities. The best part is it's free to enter with a voucher provided by their respective hotels.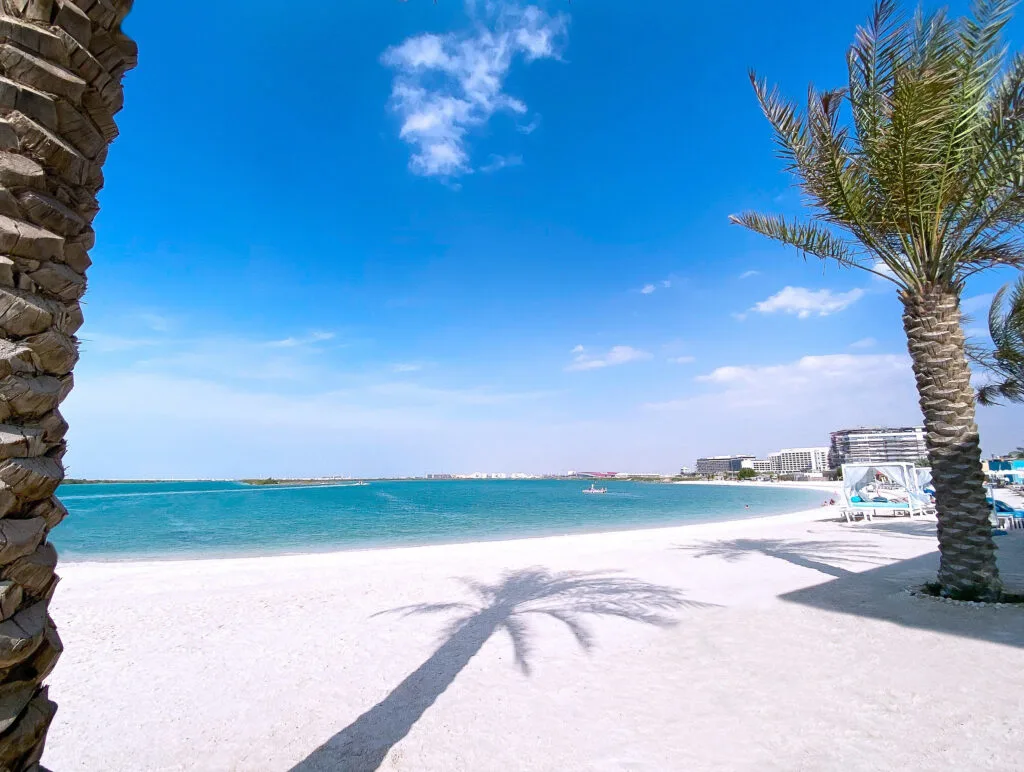 An elegant infinity pool, private beach chalets, cabanas and a seaside bar make it ideal for beach days with the whole family or a casual afternoon with friends.
The chalet is a perfect choice, especially during the peak of summer. It comes equipped with air conditioning, a TV, a comfortable couch, a minibar, a safe, and a restroom with a shower.
There are no limits to the fun at Yas Beach, from mangrove adventures to adrenaline-pumping sports. Yas Beach has something for everyone!
For more information on Yas Beach
Beach Timings: 10 AM to 7 PM
Cost: AED 60 on weekdays
AED 120 on weekends and public holidays
Free access for guests at selected Yas Island hotels
Location: FJ23+HR2 – Al Rahah – Al Muneera – Abu Dhabi – United Arab Emirates
3. Al Bateen Public Beach, Abu Dhabi
Al Bateen is a secluded family-friendly beach providing peace and quiet, the perfect ingredients for a tranquil afternoon.
Kayaks and paddleboards are among the many aqua-activities available on this serene 800 metres stretch of beach. Due to its relatively calm waters, the area is also a great place to fish.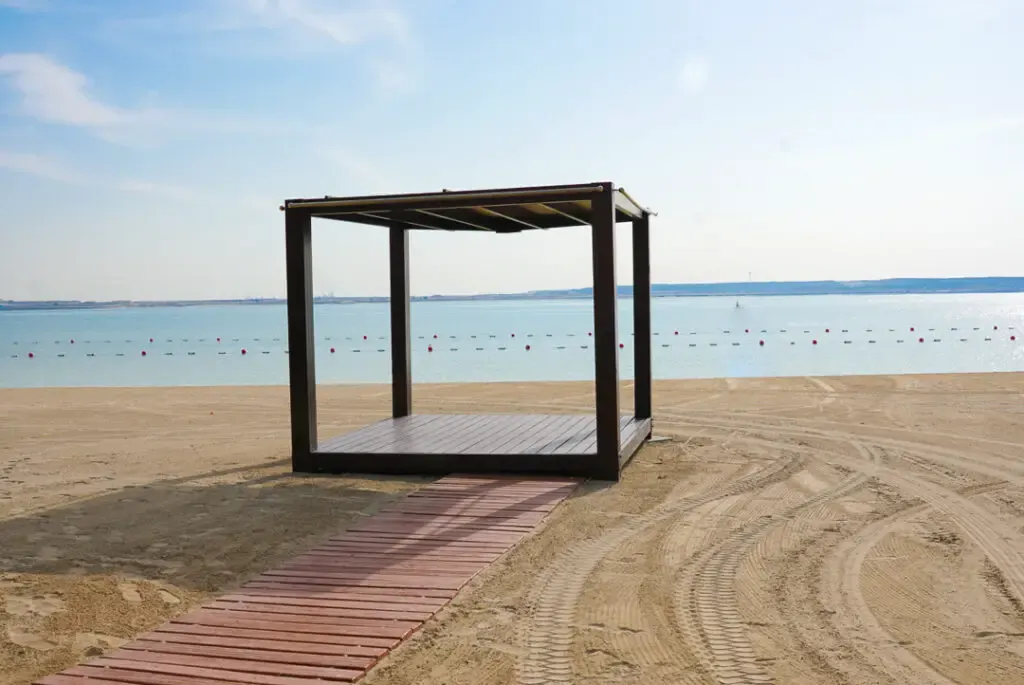 The shoreline is a scenic stretch of golden-hued sand with great views of Hudariyat Bridge and Island. With no obstructions in the way, the sunset makes for Instagram-worthy pictures.
The facilities on Al Bateen beach include sun loungers with optional beach umbrellas, clean and well-maintained changing areas and restrooms, cafes and lifeguards ensuring your safety.
Towards the end, the beach is a ladies-only section and has a small entrance fee.
Beach Timings: 8 AM to sunset
Ladies' section: 10 AM to 10 PM (renovations underway)
Cost: Free access to the public beach
Location: Khalifa Al Mubarak St – Al Qurm – Qasr Al Shatie – Abu Dhabi – United Arab Emirates
4. Hudayriyat MarVista Beach, Abu Dhabi
More than 600 metres of dedicated swimming zones are available at Al Hudayriyat MarVista Beach, which has an area of nearly 24,000m².
As the most exciting sports and cultural destination in the Emirates, it offers various restaurants, juice bars, leisure, and dedicated fitness facilities.
The community destination was once home to pearl divers and draws inspiration from the beautiful surrounding nature while promoting a healthy and active lifestyle.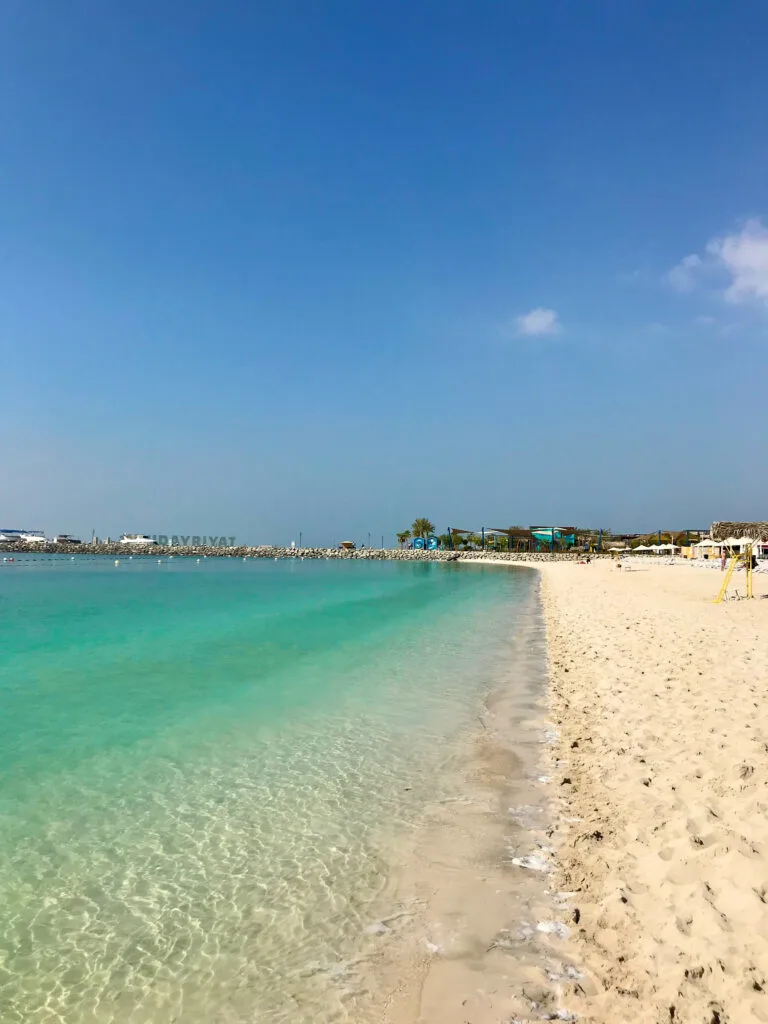 Some amenities on the beach include changing rooms, toilets and shower areas which are modern and well-maintained.
The public beach could easily rival private beaches across the UAE with ample sun loungers, a beautiful blue sea, and stunning views.
The beach's centrepiece is a Hollywood-style sign for #HUDAYRIYAT and makes frequent appearances in photographs.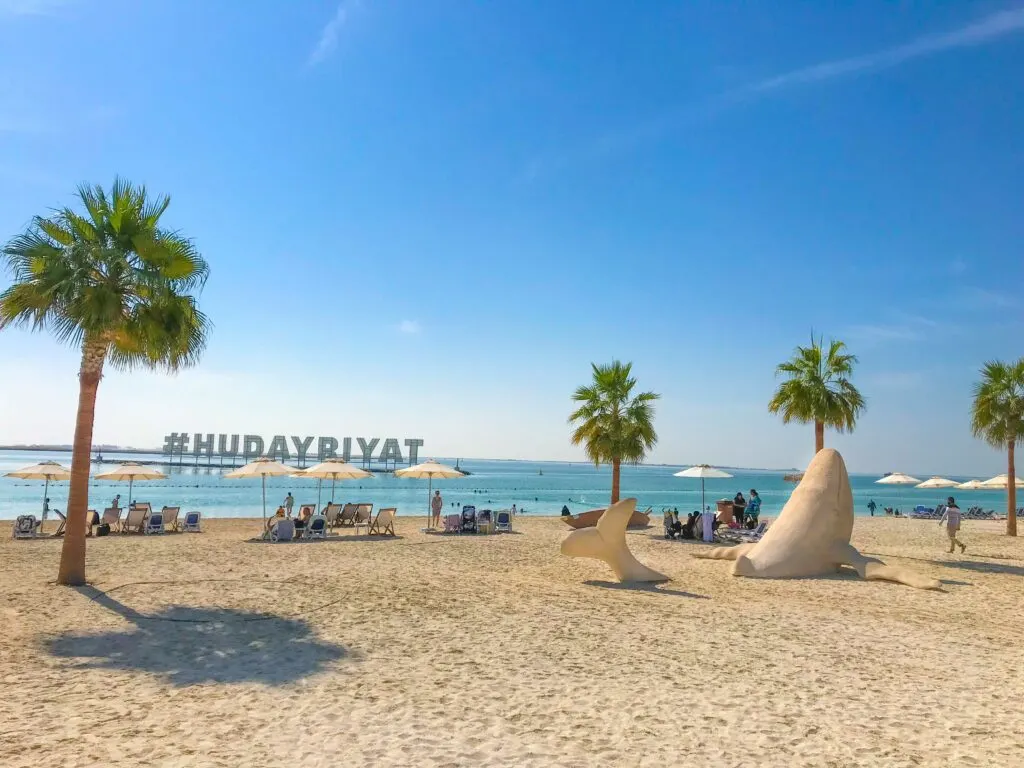 Often overlooked, there are two boardwalks at the beach end. The first is a simple floating pavilion over the water with a few seats and an animated light display.
Another short boardwalk winds further through several creative art pieces. This includes a giant sculpture of a bird and a seal.
Other highlights of Hudayriyat MarVista include a circuitX, an OCR park, three cycling trails and a running path, as well as four football, volleyball, basketball, and tennis courts.
For more information on Hadayriyat MarVista Beach
Timings: 8 AM to 7 PM
Cost: Free access to public
Location: C87X+9G2 – Al Hudayriat Island – Abu Dhabi – United Arab Emirates
5. Mirfa Beach
Another excellent coastal spot is Al Mirfa Beach in Abu Dhabi. A 90-minute scenic drive from downtown Abu Dhabi to Al Dhafra leads to a long stretch of white sand and sea.
While few are aware of this hidden gem, it offers a serene getaway for visitors. It's also an excellent place to beach camp overnight.
The Mirfa beach hotel is nearby, making it very convenient for families with children. There are separate changing rooms for women and men, outdoor showers, park benches, and cabanas.
However, before winding up for the day, we suggest taking a stroll along the beach to take in the breathtaking sunset.
Visitors can try paddleboarding, kayaking or kite surfing, to name a few from the list of adventure water sports the beach offers. Mirfa Beach also offers great fishing opportunities! This region holds the annual Al Gharbia Watersport Festival in April.
Timings: Open 24/7
Cost: Free public access
Location: 3GWP+27V – Al Marfa – Abu Dhabi – United Arab Emirates
Private Beaches In Abu Dhabi
Private beaches in Abu Dhabi are in plenty and easily outnumber public beaches. They are often managed by hotels or beach clubs.
6. Kai Beach At Saadiyat
In Hawaiian culture, Kai means sea and in Japanese, the term refers to a shell. The picturesque white sand beach brings natural elements of hospitality to the luxurious barefoot experience.
Kai beach was previously known as Saadiyat public beach but now operates under the management of Saadiyat Beach Club.
Kai's guests enjoy turquoise waters, food, drinks, and shisha service throughout the day, enhanced by a colourful boho atmosphere.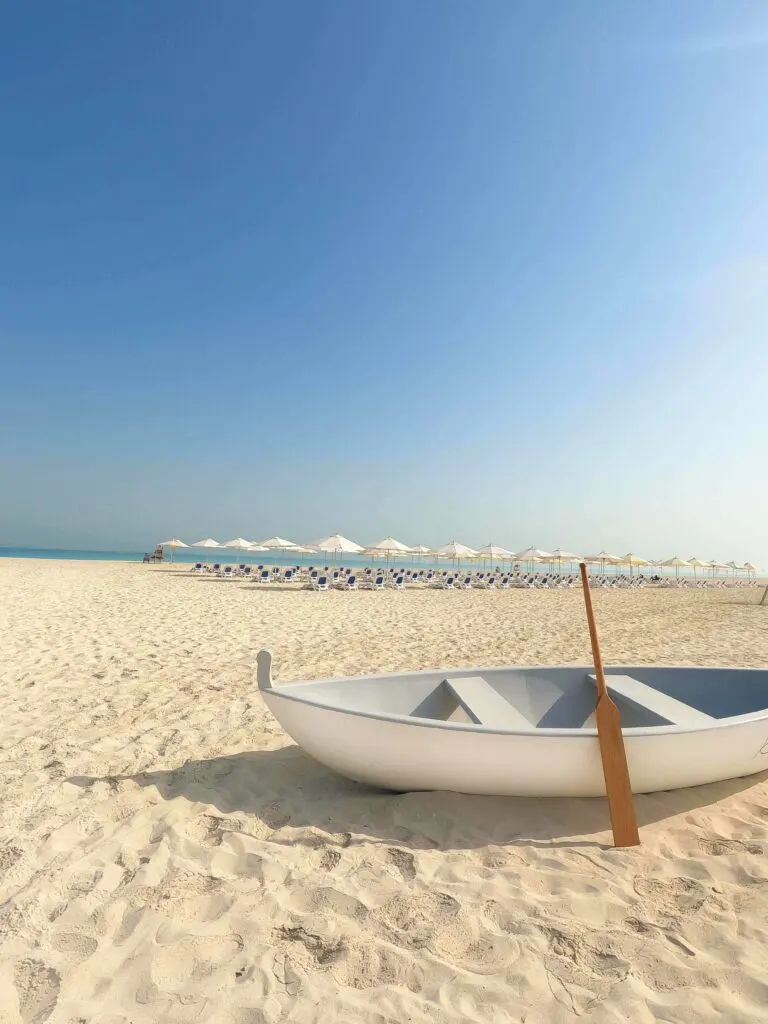 Some amenities include modern changing rooms and shower facilities, sun-loungers, and an array of food trucks, cafes and restaurants along the entire stretch of the beach.
For more information, call +971 50 283 5795.
Timings: 7 AM to sunset (Monday to Sunday)
Weekday Day Pass: AED 85 for adults and AED 40 per child (Ages 6 to 12)
Children of ages five and below enter for free.
Weekend and public holidays Day Pass: AED 105 for adults and AED 60 per child (Ages 6 to 12)
Children of ages five and below enter for free.
Friday: Access for ladies only, AED 85 per adult (Males kids under the ages of 2 are only permitted)
Location: Al Saadiyat Island – Abu Dhabi – United Arab Emirates
7. Nurai Island
Nurai Island makes the perfect beach getaway for those who want to escape the hectic pace of the city.
The boutique private island resort promises barefoot luxury, earning it a spot on our guide to the best beaches in Abu Dhabi.
A speed boat from Saadiyat Island takes guests to Nurai Island Resort in 12 minutes, and there is a service from downtown Dubai which takes 60 minutes.
Overnight guests can expect to stay in an impressive beach villa designed to blend harmoniously into the natural environment.
For those visiting Nurai Beach on a day pass, there are some fantastic facilities, including the highly coveted Nurai Spa experience.
Its white sand beaches and lush greenery make Nurai the ideal place to relax, enjoy brunch or outdoor sports. Visitors can play beach volleyball, badminton, basketball, or football with other guests.
All-day passes are inclusive of a boat transfer to the powder-white sand island getaway with pristine blue waters. Guests must note, prior bookings is essential.
For more details and information, please call +971 2 617 2222
Boat Timings: 7:30 AM 12:30 AM (No boat rides to the island after 10 PM)
Island Timings: 7:30 AM to 10 PM (Monday to Sunday)
Cost: AED 750 per Adult (AED 550 redeemable on F&B, spa and activities)
Location: Nourai Island – Abu Dhabi – United Arab Emirates
8. Bayshore At InterContinental
The InterContinental hotel is strategically located right on the waterfront overlooking Etihad Towers and the Marina.
With convenient access to the city's top attractions, such as the Louvre, the Sheikh Zayed Grand Mosque, and Emirates Palace, the hotel is in a great location. The resort offers access to its private beach as part of the accommodation.
Abu Dhabi's Bayshore Beach Club is very popular and one of the oldest in the capital.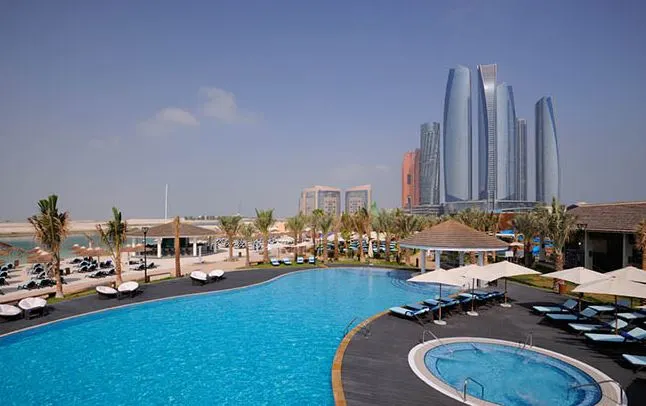 If we had to describe Bayshore in four words, an urban oasis of tranquillity suits it well, and it does not disappoint. There is a sense of calm around its private, secluded beach and tropical gardens.
The upscale private beach club offers private cabanas, an infinity pool, modern changing rooms, beach volleyball, badminton, kayaking, paddle boarding, and various adventure water sports.
For information on membership, call +971 2 697 2317.
Book a stay at the InterContinental Abu Dhabi
Timings: Beach access until sunset
Cost: AED 150 for adults (Weekday and Weekend)
AED 50 per child on weekdays
AED 60 per child on weekends
Location: InterContinental Abu Dhabi – Abu Dhabi – United Arab Emirates
9. Emirates Palace Private Beach
The city's most luxurious beach hotel, Emirates Palace, has a prime location along the Abu Dhabi Corniche.
With two fitness centres, two pools, and a variety of water sports available at the beach club, as well as a 1.3 km private beach, the facilities are top-notch, combining incredible views of the vast sea.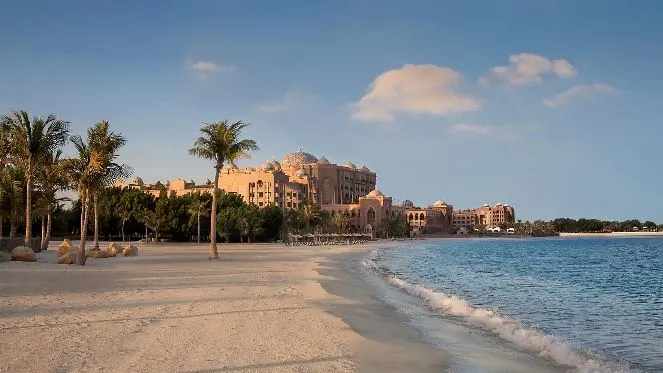 Emirates Palace guests and beach club members can enjoy:
An all-day beach club pass
Priority access to all Emirates Palace recreational facilities and activities
The hotel has a cycling track that circles the entire property. Those looking to spend the day at Emirates Palace's private beach must purchase a day pass.
Adult weekday pass: From AED 320 per person (AED 100 redeemable on food and drinks)
Children's weekday pass: AED 160 per kid (AED 50 redeemable on food and drinks)
Adult weekend pass: From AED 425 per person
Children's weekend pass: AED 210
For more information on day passes and beach club memberships, please call +971 2 690 8888
Book a stay at the Emirates Palace
Timings: Beach access until sunset
Location: West Corniche Road – Al Ras Al Akhdar – Abu Dhabi – United Arab Emirates
10. Soul Beach, Saadiyat
You can't go wrong with Soul Beach at Mamsha Al Saadiyat if you're searching for the best beaches in Abu Dhabi.
With a kilometre of powder-like white sand and azure waters, Soul Beach is popular with tourists and residents alike.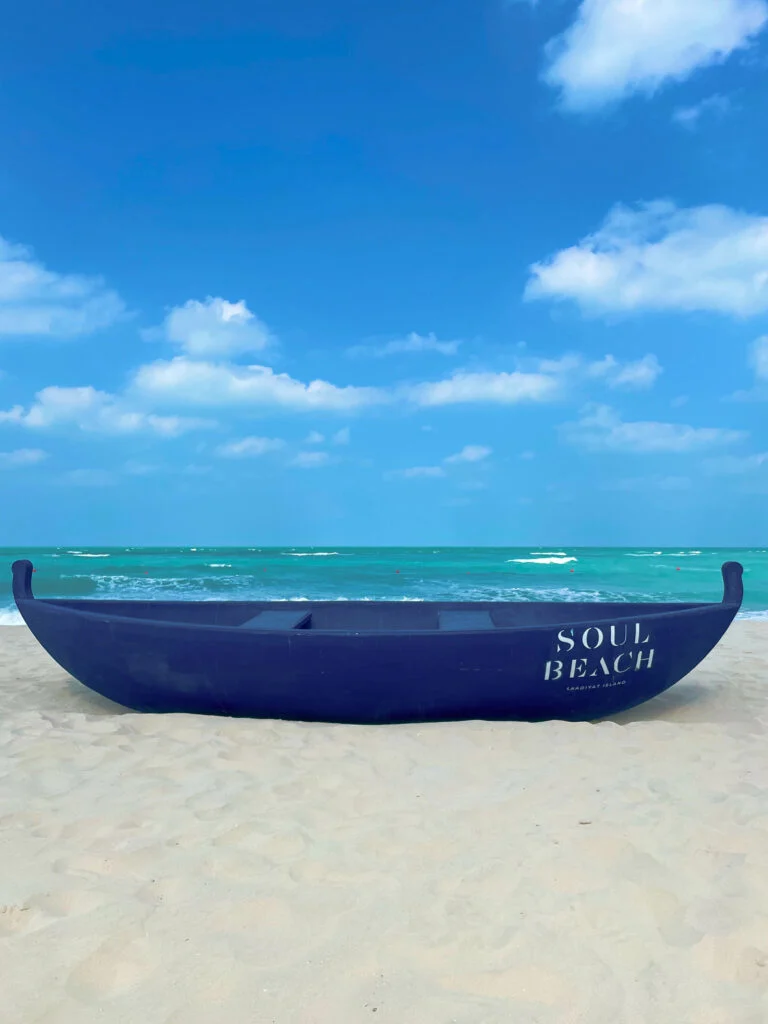 Featuring over 400 sun-loungers with optional beach umbrellas, it's the perfect spot to spend the day relaxing or having a mini beach party with friends.
At Soul Beach, the restaurant comes to you, so when you find the perfect lounger scan the QR code to get food and drink orders in!
However, if you would like to sit at the restaurant while grabbing a bite, an array of healthy food restaurant options can be found along the boardwalk.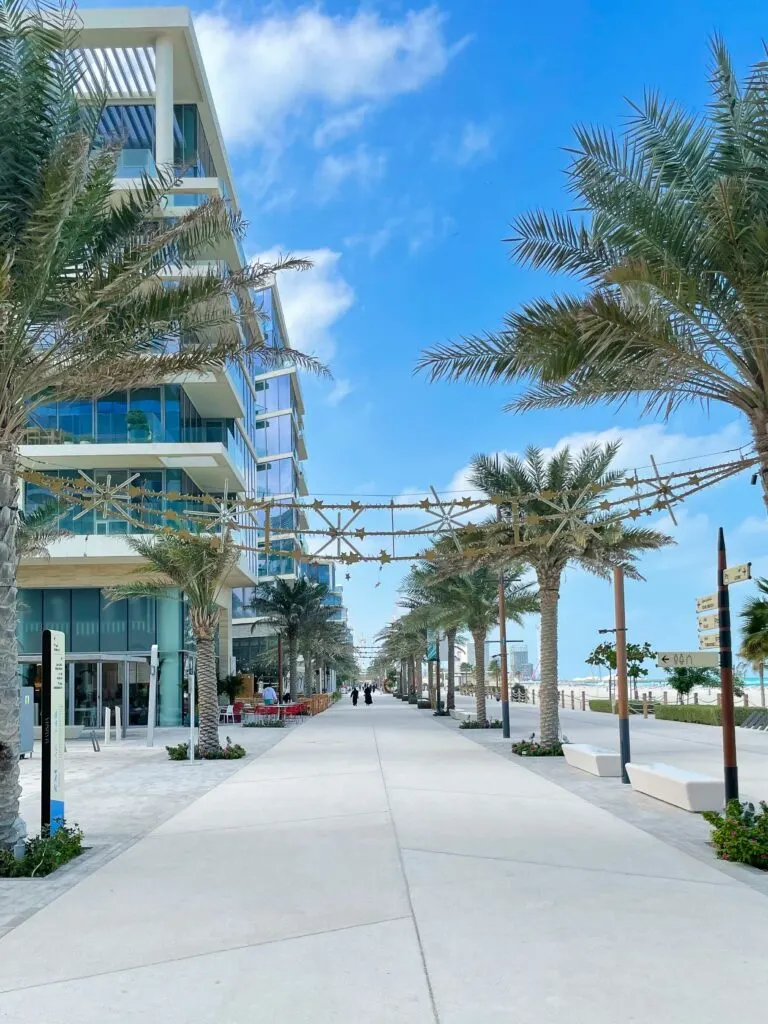 During sunset, the rays christen the sands creating a golden hue, making for the perfect Instagram photo.
Call Soul Beach at +971 50 929 0936 for more information
Timings: 7 AM to sunset
Cost on weekdays: AED 50 for adults and AED 25 for children (Ages 6 to 15)
Cost on weekends and public holidays: AED 75 for adults and AED 40 for children (Ages 6 to 15)
Location: Soul Beach, Mamsha Al Saadiyat – Al Saadiyat Island – Abu Dhabi – United Arab Emirates
11. Al Maya Island & Resort
A sanctuary away from urban life, Al Maya Island And Resort requires a boat transfer about ten minutes from the city.
There's no doubt that any destination requiring a boat ride deserves a spot on the best Abu Dhabi beach.
In addition to a gorgeous soft sand beach, other facilities include a horizon swimming pool, jacuzzi, and kid's pool. It's such a nice resort for a day out or special celebration.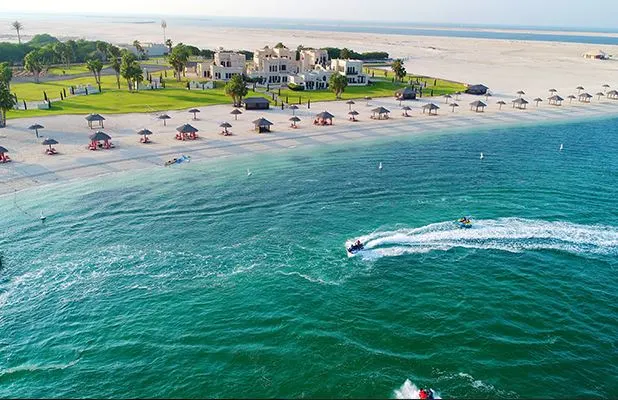 A wide range of beach sports is available at Al Maya Island, including beach volleyball, wakeboarding, kitesurfing, banana boat rides, and kayaking.
If you are visiting for the day, keep an eye out for the gazelles. Make sure to stay for the magnificent sunset views before returning to shore.
While there are no memberships available, day passes are fantastic value. Everything from the boat trip across, to the beach activities and sunset before returning is pretty perfect.
For more information, feel free to reach out to Al Maya Island & Resort by calling + 971 2 667 7777.
Book a stay at Al Maya Island & Resort
Day Pass Timings: 10 AM to 8 PM
Pool and Beach Day Pass: AED 250 per person (AED 100 food and drink voucher)
Location: Al Maya Island – Abu Dhabi – United Arab Emirates
Location for boat transfers: F838+H8Q – Al Ras Al Akhdar – Abu Dhabi – United Arab Emirates
12. Beach Rotana
The Beach Rotana offers something for everyone and is in a prime location with direct access to Abu Dhabi Mall.
With a 120-metre private beachfront overlooking Al Maryah Island, it's a great place to watch Abu Dhabi's celebrations of international cultural festivals and fireworks during national day holidays and new years eve.
Although the beachfront area at Beach Rotana is small, its overflowing garden area, which houses a variety of amenities, makes up for the lack of sand.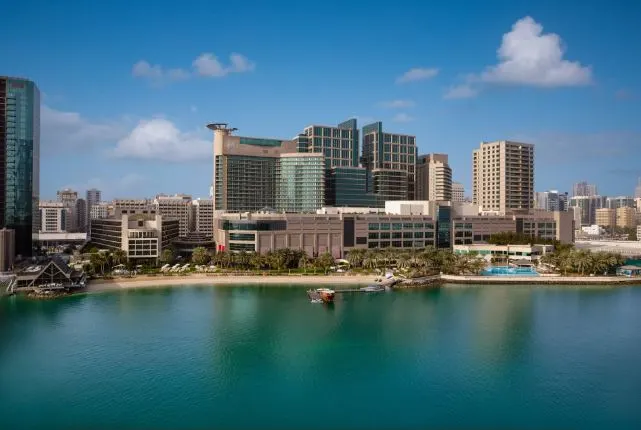 Residents of the hotel have access to a variety of amenities. A day pass, however, is available for visitors who wish to spend a few hours.
Visitors to this resort receive access to fitness facilities, an infinity pool, a kids' pool, and their pristine private beach.
For more information on memberships and day passes, call +971 2 697 9000
Beach opening hours: 7 AM to 6:30 PM
Beach and pool day pass: AED 120 per person / AED 220 per couple (Monday to Friday)
AED 180 per person / AED 300 per couple (Saturday and Sunday)
Location: 10th Street – Al Zahiyah Area – Abu Dhabi – United Arab Emirates
13. Jumeirah At Saadiyat Island
Saadiyat is one of the most picturesque and natural locations in the United Arab Emirates, and Jumeirah has a winning combination with its idyllic beachfront location.
Hotel guests can choose from three outdoor pools lined with sun-loungers or the private beach.
While the hotel does not offer memberships, guests and visitors can take advantage of special offers and day passes.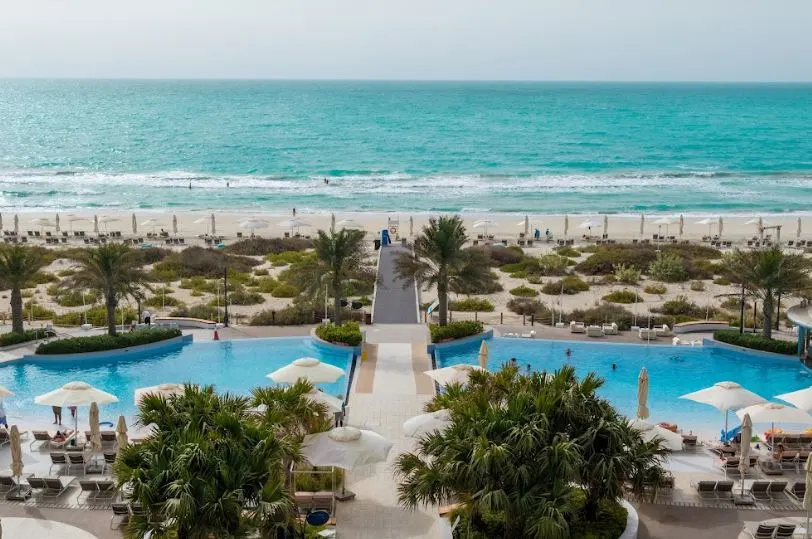 Access to the pool and beach area is subject to availability for day visitors. Hence, we recommend making a reservation in advance.
The beach's natural features include mangroves, turtle nesting grounds, and humpback dolphins who love making splashes in the distance, perfect for nature lovers to relax and enjoy the view.
For more information on Jumeirah At Saadiyat day passes, please call +971 2 811 4444
Book a stay at Jumeirah At Saadiyat Island
Beach Timings: 7 AM to sunset
Location: Al Saadiyat Island – Abu Dhabi – United Arab Emirates
14. The Club Abu Dhabi
Originally known as the British Club, a small group of British expatriates established The Club in 1962. Residents may not know about the private beach as it is only accessible to members.
The Club does not offer day passes, however, if you know a member they can take you as a guest.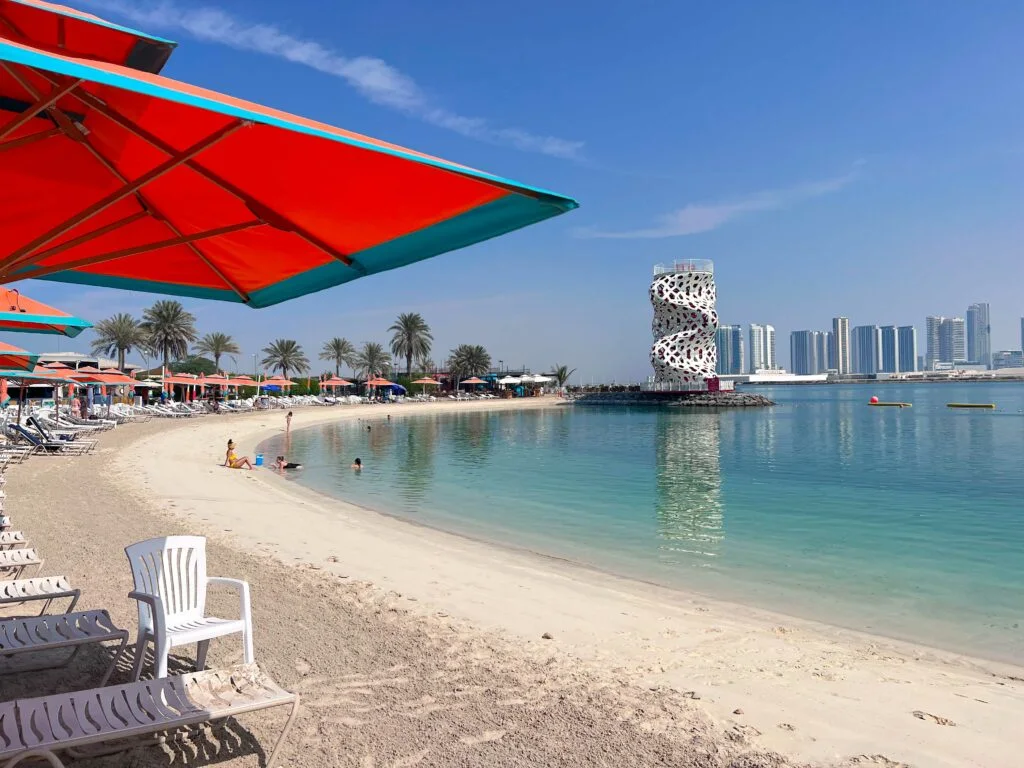 In addition to a private beach for families and adults, The Club offers a 25-meter temperature-controlled pool and a beach hut-style restaurant.
During the day, it is usually quiet, so remote workers can work by the beach or cafe, the perfect coworking space.
The beach is shallow and perfect for kids. It also features a unique lookout tower to see the view across to Al Reem Island.
For more information on memberships, please call The Club at +971 2 673 1111
Location: Mina Saadiyat – Abu Dhabi – United Arab Emirates
Abu Dhabi Beaches Dress Code
The general rule is all kinds of swimwear are appropriate for private beach clubs. Shorts and trunks are acceptable for men and swimsuits or bikinis for women.
A beach cover-up dress or skirt can be helpful when you are away from the water. For example, when grabbing a bite to eat. Any beach or pool visit requires a pair of sliders for men and women.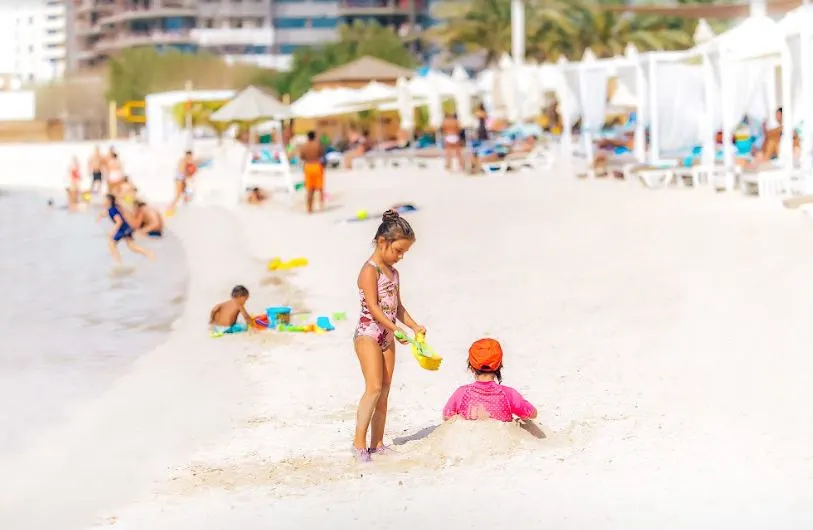 You may have noticed public beaches are free to enter, attracting many more people than private beaches or beach clubs.
Even though there may be different areas on public beaches, such as a couple's area, a female's area, etc, the dress code still applies.
It is possible to have a strict dress code on public beaches. In order to determine the rules of each beach, it is advisable to contact them directly before visiting.
The Best Time To Visit Abu Dhabi
The tourism season kicks off around October or November when there are lots of events such as F1. December is equally as busy with events, in particular National Day.
Christmas is a busy period in Abu Dhabi and is widely celebrated at Christmas markets. Manny hotels have Christmas tree-lighting events.
January and February are the coolest quieter months after New Year. In March and April, the weather is still pleasant to visit.
The hotter summer months start in May when most events move inside. It is a good month to visitfor those who enjoy the arts.
Whilst June through July and August attract budget travellers as many resorts and attractions offer great deals.
September is considered a shoulder month, it is still quite hot but tolerable early morning and in the evenings.
To Conclude Best Abu Dhabi Beaches
It is no surprise Abu Dhabi's beaches are one of the city's most popular tourist attractions from October to April. it's a great place to visit if you want a quick winter getaway.
Among Abu Dhabi's top attractions are a number of theme parks, world-class museums, the magnificent Sheikh Zayed Grand Mosque and many activities for the little ones and grownups alike.
As much as we can, we keep our Posts updated with current prices. However, contacting the private beaches and beach clubs before booking is advisable, as prices may vary during peak season.
If there are any beaches you feel are worth visiting, do let us know by leaving a comment below.
You may also like:
Saturday Brunches In The Capital
Daily Ladies' nights in Abu Dhabi
Disclaimer: This post on best Abu Dhabi beaches may contain affiliate links; using them will not cost you anything, but we may receive a small percentage if you make a purchase.