If you are going to the UAE on holiday and find yourself with 4 days in Abu Dhabi, or if you live here and are welcoming friends or family over for a 4-day stay, we have created a guide to the best way to spend 4 days in Abu Dhabi!
4 Days in Abu Dhabi
Day 1
The first day is set to be a busy one. On day 1, head to Yas Island to experience two of the theme parks in the 'entertainment district'.
BREAKFAST
First up, breakfast. If you are staying in a hotel enjoy the breakfast option included in your booking.
Those staying in a self-catering setting, if you are trying to save money and eat at home, we recommend a visit to Waitrose, Spinneys or Carrefour to buy some bread, cereal, eggs or anything else you're feeling.
If you want something similar to UK/Ireland, a visit to Waitrose or M&S is your best option.
La Brioche offers a great breakfast deal if you'd like to eat out with family and/or friends. Diners can choose from a number of eggs benedict variations, omelette options or sweet dishes like pancakes or French toast.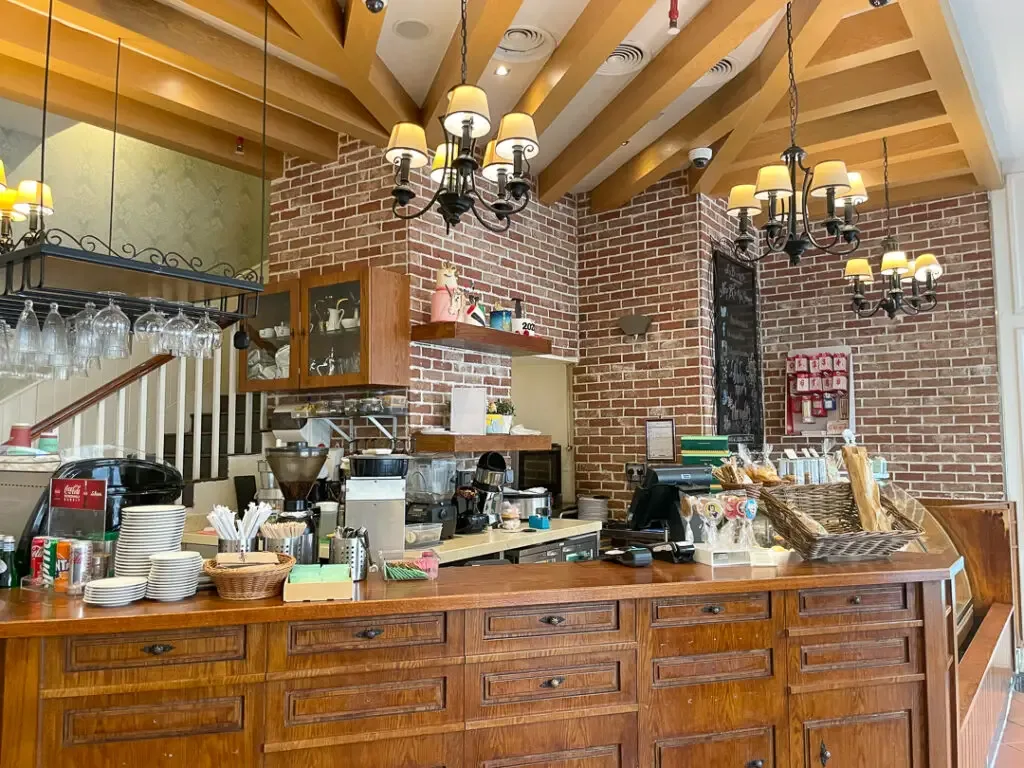 Once you have chosen your dish from these options, you can also choose a hot tea or coffee to accompany your meal.
The deal includes a glass of freshly squeezed orange juice and beginning your meal with a selection of warm bread with pots of butter, jams, marmalades and honey to accompany.
The bread, tea/coffee, orange juice and main meal cost 65 AED, the equivalent of around £14 or €16.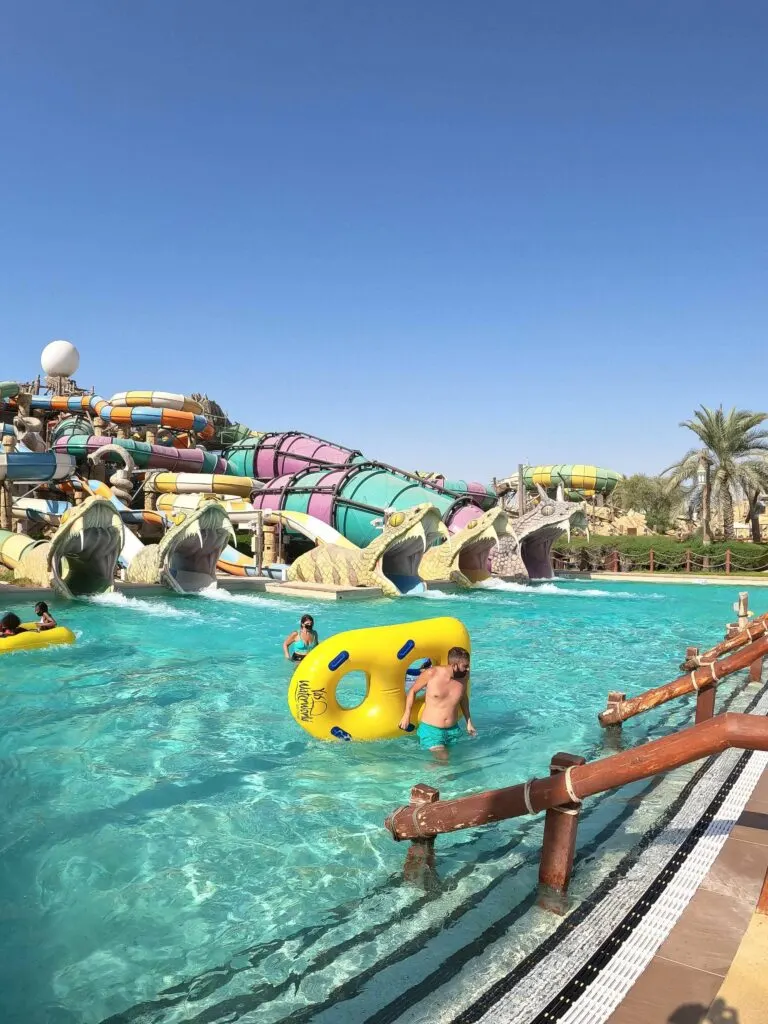 YAS WATERWORLD
Once you have been sufficiently fed, pack the swimming gear and make your way to Yas Island and head for 'water's greatest playground Yas Water World.
When preparing to visit this waterpark, normal swimwear is acceptable and can be worn under your clothes or else packed so you can get changed in the changing rooms.
It's a good idea to bring a towel if you have one, if not, they should be able to supply one for you.
For anyone with sensitive eyes or contacts, pack a pair of goggles as most of the slides will involve some underwater action or water splashing into your face at the very least.
Wear or pack your sliders and/or flip-flops and don't forget your sunglasses, hat and plenty of waterproof sunscreen of course!
Conveniently, there are ample cubbies at the bottom or close to the beginning of each slide/activity where visitors can leave their flip-flops, sunglasses and hat while they go on each slide.
This waterpark offers countless slides and experiences and is one for people of every age.
Some of the most hair-raising slides include:
Hamlool's Hump, this slide takes a lot of climbing to get to the top but once you are there, you will feel airborne as you fly down a steep drop followed by three large humps.
Jebel Drop, situated right beside Hamlool's Humps, is a waterslide with a view. You won't get much time to enjoy this however as you are launched down a monstrous drop.
Slithers Slide will be a favourite among groups and families. Take a single or double ring and make your way to one of the six different slither slides.
Each offers riders something a little different be it speed, bumps, spins, turns or flashing lights and all slides end with the ring being propelled from one of the snakeheads and into the pool underneath.
The Liwa Loop is not for the faint-hearted. For this slide, you will enter into a tube where you will stand with your arms and legs crossed before the floor opens beneath and you plummet down a vertical fall before looping through to the bottom of the slide. This is one for the thrill-seekers!
Another favourite, SEBAG. Six lanes, one winner! Riders can race down this slide on mats, pick up speed with a good start and fly over the hump to be the first to the finish.
In addition to the slides, there are lots of experiences in this waterpark like the lazy river, wave pool and one of the best children's waterpark areas around.
There are ample options to enjoy some food and drink before heading back to the water. Chubby's Kitchen, Dana's Diner and Salma's Snack Shack are options for larger meals while coffee and snacks can be enjoyed at Gahwat Nasser and ice-creams and drinks at Skinny's Frozen Treats.
Book a day in Yas Water World.
Once you have eaten lunch or had your fill of the waterpark, you can use any of the many facilities to dry off and get changed before exiting the park through the gift shop.
While you could easily spend the full day here, you have other places to visit during your 4 days in Abu Dhabi. Next, let's head to Warner Bros World.
WARNER BRO'S WORLD
Once you exit Yas Waterworld, simply cross the car park where you will find Warner Bros World in all its glory.
Warner Bros World will be particularly popular if you are visiting with kids. It's great fun for all ages, however!
The world's biggest indoor theme park, this day out is a family favourite.
Designed with some of the most impressive effects, you will be transported into childhood favourite lands like Bedrock, Cartoon Junction, Gotham City and Metropolis.
While there are a number of thrilling rollercoasters, the main attractions have to be some of the 3, 4 and 5D experiences, meet and greets with favourites like Tom and Jerry or Batman and the out-of-this-world interior and merchandise.
Some of the Warner Bros themed rides include Fast and Furry-ous, The Flinstone Bedrock River Adventure, Tom and Jerry Swiss Cheese Spin and Scooby-Doo Museum of Mysteries.
3, 4 and 5D experiences not to be missed include Superman 360 – Battle for Metropolis, Green Lantern – Galactic Odyssey and Justice Leagues – Warworld Attacks.
Warner Bros World offers many dining options from Hollywood-style theatre themed The Starlight to the Bedrock pre-historic eatery Mammoth Munchies.
These dining options will satisfy cravings as well as entertain the whole family with brilliant themed interiors and dishes.
Book your trip to Warner Bros World.
If you're visiting with kids and looking for more indoor activities during the hotter months, check out our guide to the best indoor activities for kids.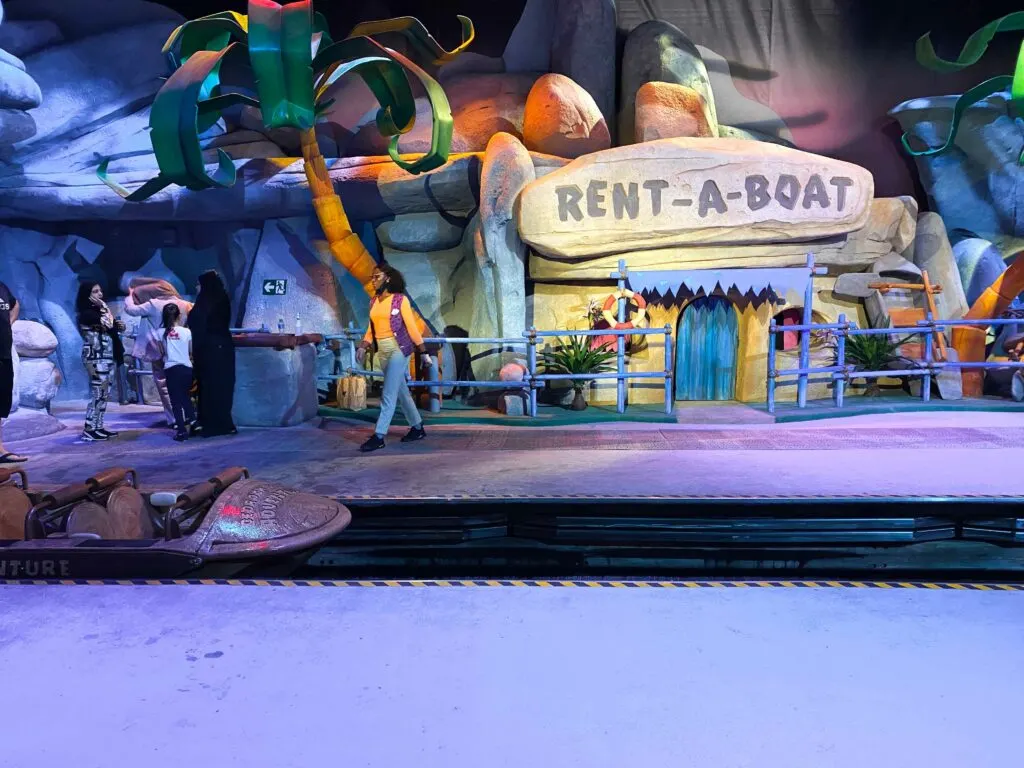 DINNER
If you opted to eat dinner in one of the many options in WB world then why not end the day with a stroll along Yas Bay before heading home to rest.
Alternatively, there are many amazing food options along Yas Bay including Asia Asia, Cafe Del Mar, Lock Stock & Barrel or Central.
If you are looking for a bit of entertainment while you eat, Central is a good choice. Offering burgers, beats and bowling, this hangout is very popular among residents and tourists alike.
Central takes inspiration from the streets of the Big Apple, introducing an edgy culture to Yas Bay.
A visit here will satisfy your food and entertainment cravings all in one place. Offering mouthwatering food, a state-of-the-art arcade and a bowling alley making Central one of the best places for families, dates and friends!
Day 2
SHEIKH ZAYED GRAND MOSQUE
Today, once again start your day with a breakfast of your choice. In addition to the recommendations from day 1, there are also many options for breakfast deliveries.
These can be ordered off the Talabat mobile app.
Once fed, it's time to head to one of the most spectacular buildings in the Middle East, Sheikh Zayed Grand Mosque.
High on every visitor's agenda, Sheikh Zayed Mosque is a no brainer when it comes to places to visit, especially if you have 4 days in Abu Dhabi. Also, visiting the mosque is completely free!
Abu Dhabi's grand mosque is one of the largest in the world and is an architectural masterpiece that brings together Islamic architecture and designs beautifully.
Named after the Founder Father of the UAE, Sheikh Zayed bin Sultan Al Nahyan, the mosque was built in order to create a cultural haven to welcome and inspire people from all backgrounds.
Each visitor marvels over the 100-metre tall building that is as awe-inspiring on the inside as it is on the outside.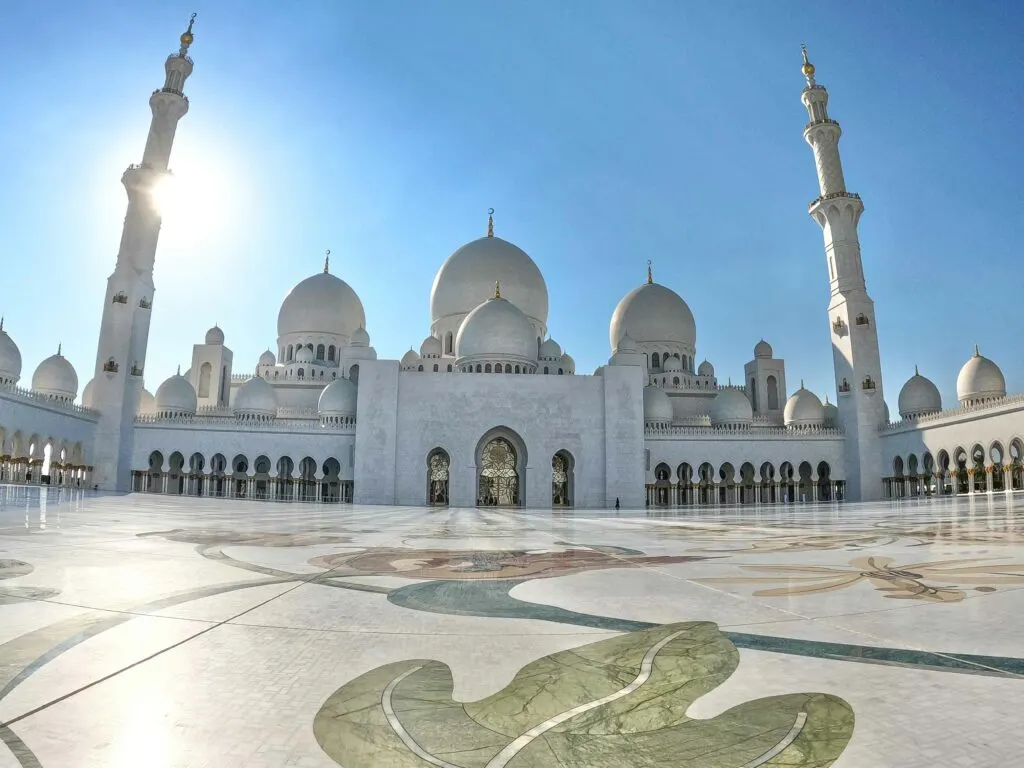 The mosque is free to visit and is open to non-worshipping visitors from 9 am – 10 pm Saturday – Thursday and between 9 am – 12 pm on Friday. These hours change slightly throughout the holy month of Ramadan.
Each visitor can access a digital guide and an e-manual. A guided tour is also possible and is supplied for free.
When visiting the mosque, ensure your clothing is deemed appropriate within the culture and religion of the UAE.
Both men and women must be fully covered from the neck down, meaning no t-shirts or shorts are permitted within the mosque.
Women must also cover their hair. If you are eager to keep your mosque visit completely free, ensure that you have the correct clothing.
The safest option is an abaya for women and a kandora for men.
To discover more about the mosque dress code and where you can find the appropriate clothing, check out our what to wear in Abu Dhabi guide.
Book a tour of the Mosque here.
DESERT SAFARI
Next, one of the most exciting activities you can do during your 4 days in Abu Dhabi, a desert safari!
Take a journey to the Middle East on a desert safari where guests can visit some of Earth's most exotic animals. The first stop is at a camel farm, these well-adjusted desert dwellers have been around since before recorded history!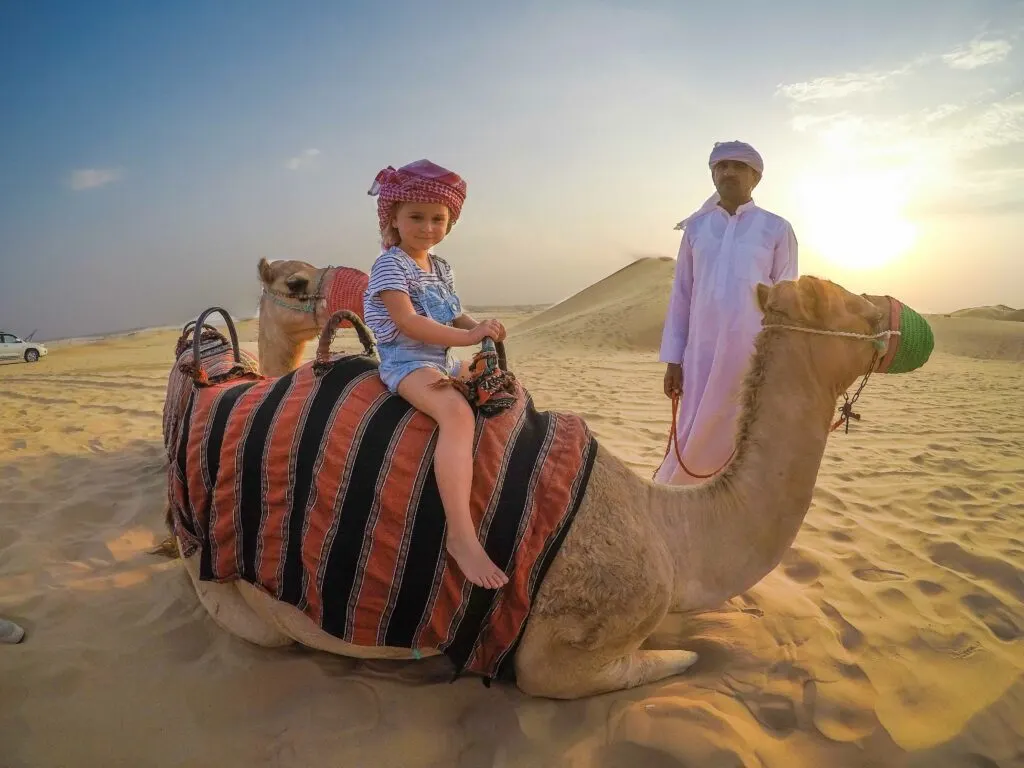 Guests can also usually drive 2-4 seater sand buggies around a designated area of the desert. This is usually at an additional charge however we certainly recommend doing this.
Take it in turns to ride around with family or friends or, if there are enough of you, have a race!
Usually, there will be a few market-type stalls or shops around the camel and buggy area. Here you can purchase things like traditional scarves and other clothing.
Similar to spending time in a traditional Arabian market or souk, the salespeople may be eager to put these items on you in an attempt to get you to purchase. Don't be afraid to tell them you are not interested in purchasing!
Next, it's off into the 4WD for some thrilling dune bashing, make sure to hold on tight as guests are driven up and down the mountainous sand dunes on the way towards the desert camp.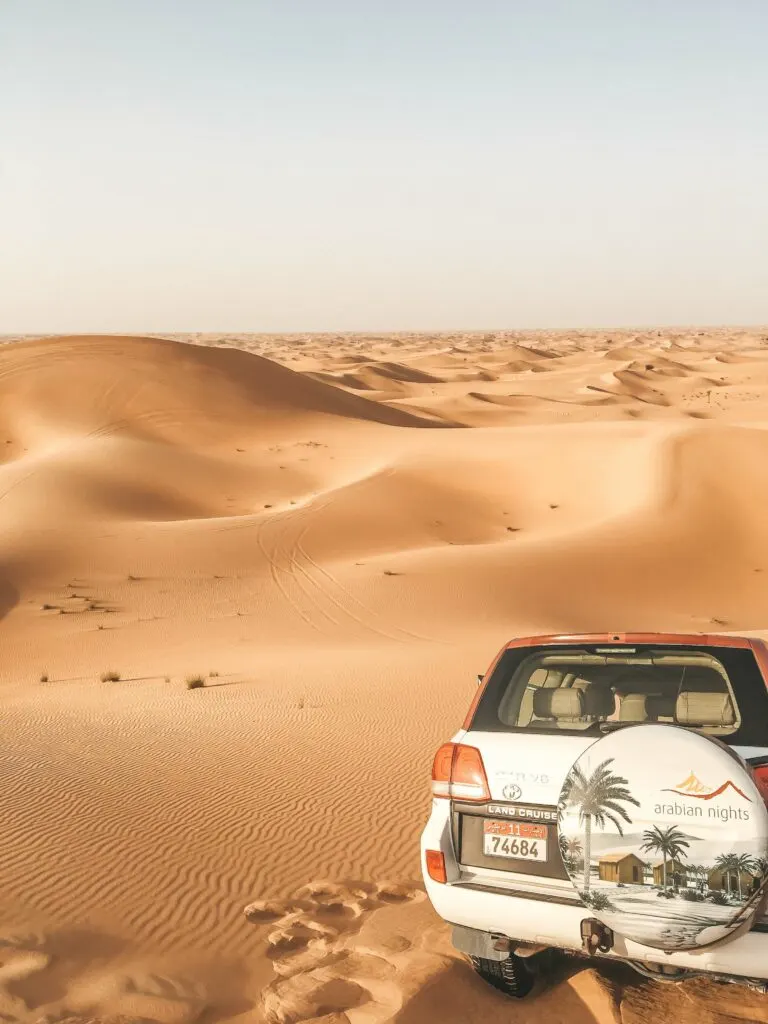 There is nothing quite as thrilling as desert bashing on one of these safari experiences.
You may be able to stop for a break from the exhilarating bashing to walk up some dunes and get some beautiful sunset pictures with your party.
Once you have had some time in the dunes, you will be driven to the campsite where you will eat and be entertained.
The campsite areas are very traditional with makeshift stalls and tents around a large stage.
Guests will be treated to a seated BBQ buffet dinner whilst enjoying a show, usually some dancing and music.
There will also be some camels and buggies or quads around the site which visitors can take advantage of at a small extra cost.
Then you will either be driven back to an agreed location or if you are staying the night you will be shown to your tent where you can sleep under the desert stars.
If you do stay the night, you will also be treated to breakfast the following morning before being driven back to an agreed location.
We recommend eating lunch before heading on your desert safari so that you can last until dinner time.
Check out the Desert Safari here.
Day 3
FERRARI WORLD
Once you have had your breakfast, day 3 it's time to head back to Yas Island for some more fun!
If you are going to spend 4 days in Abu Dhabi, Ferrari World will be high on your agenda.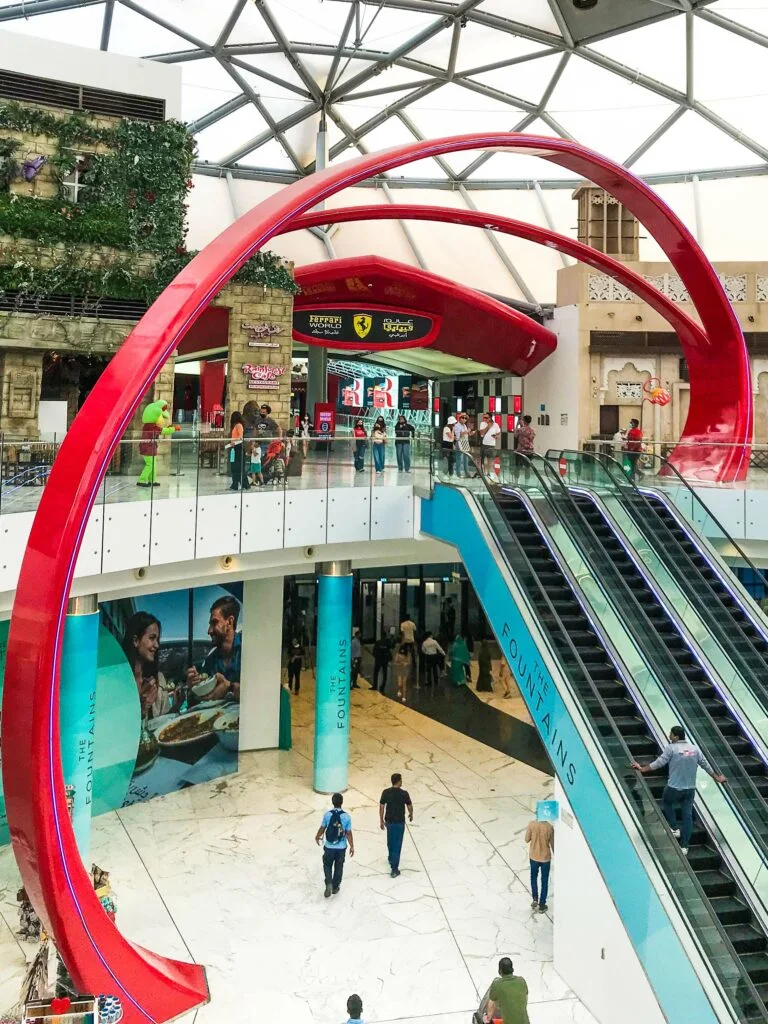 Named after one of the fastest car manufacturers in Formula 1, the park is filled with thrilling rides in a Ferrari themed paradise.
This theme park offers a great mix of rides, activities, merchandise and food that proves popular among people of every age!
The first rollercoaster that deserves a mention is Formula Rossa. Remaining true to the Ferrari theme, Formula Rossa is the fastest rollercoaster in the world!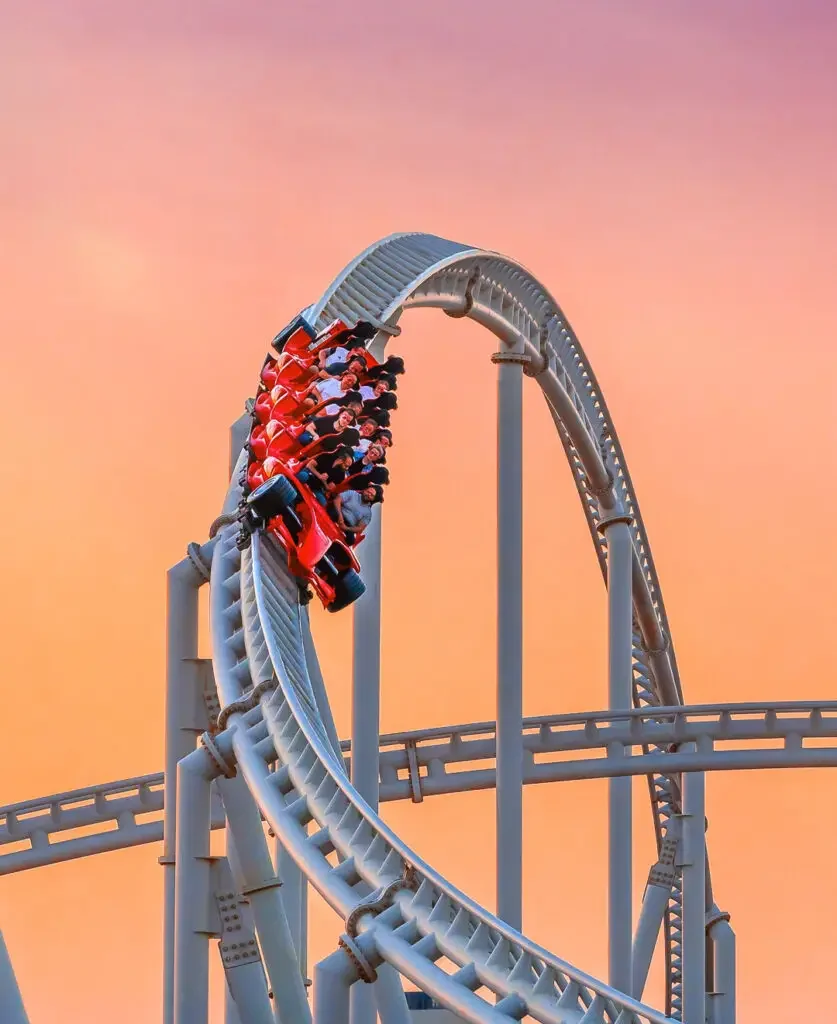 Inside riders will enter the train before putting on a seatbelt followed by a larger restraint and finally a pair of goggles, which are mandatory to protect the eyes when riding at such high speeds.
The train will leave and will stop just outside at the Formula 1 traffic lights where you will wait for lights out before being launched forward, feeling a surge of 4.8Gs.
The train blasts to a speed of 240km/h in just 4.9 seconds.
Next, the Flying Aces. This thrilling rollercoaster contains the highest loop in the world.
The military bi-plane themed ride begins with a 53-degree incline followed by an immediate plummet once you reach the top.
Followed by twists and turns and the world's highest loop, this coaster is sure to get your heart racing!
Third on the rollercoaster list is the Turbo Track. While this is a very short ride in terms of time, the lingering thrill is anything but.
Riders enter the train three across and back-to-back.
This coaster shoots you up through the roof where it will appear that you will run out of track, followed by a zero-gravity fall back down in reverse.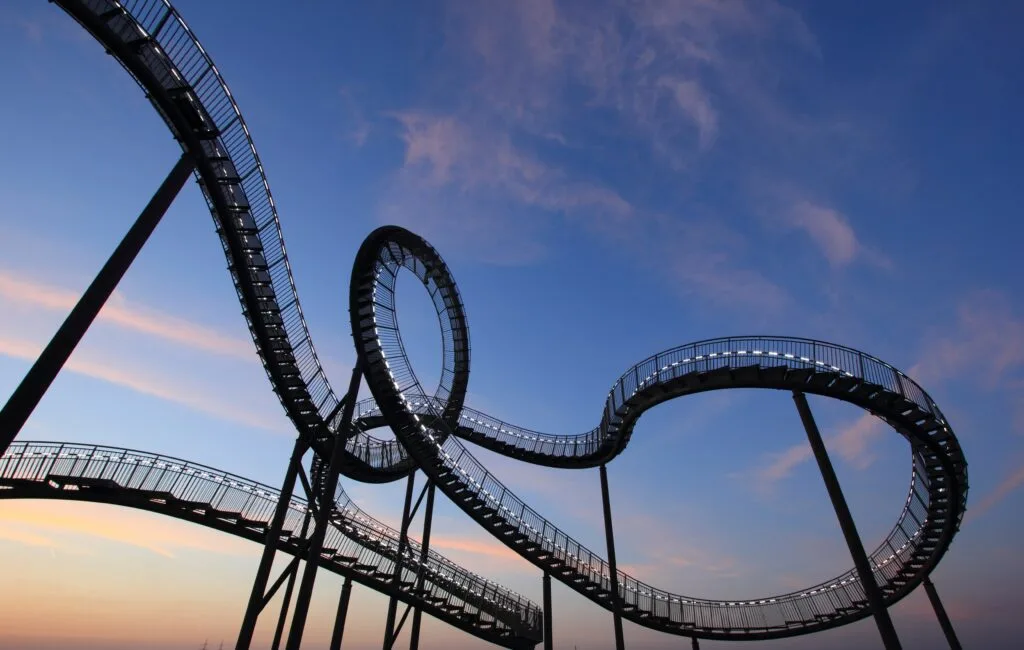 Other rollercoasters worth mentioning include Fiorano GT Challenge, Turbo Tower and Flying Wings.
The Karting Academy and Junior Grand Prix are also great experiences, the karting academy comprises of a 290-metre electronic karting circuit where people can race for the best lap time.
The Junior Grand Prix is a similar concept for younger guests, allowing children to race around a circuit in scaled-down F1 cars.
In addition to the exciting rollercoasters and experiences, Ferarri World also offers things like funfair games, Formula 1 merchandise, soft play areas for children and an 'Italy section' where you will be transported to the streets of Italy.
This park offers a number of dining options including Mamma Rossela, a favourite among many where guests can enjoy Italian pizza, pasta and salads, Il Podio, offering Arabic, Indian and Western grills and the Officers Food Quarters, serving burgers, pizzas and sandwiches.
Those looking for a quick coffee and pastry or some delicious house-made gelato should visit Espresso Rossa.
Ferrari World hosts a number of shows and events throughout the year, including mini-golf, Santa's grotto, gingerbread workshops at Christmas, and much more.
Book your trip to Ferrari World.
If you have more time in Yas Island any day, check out our guide of the best things to do on Yas Island.
BRUNCH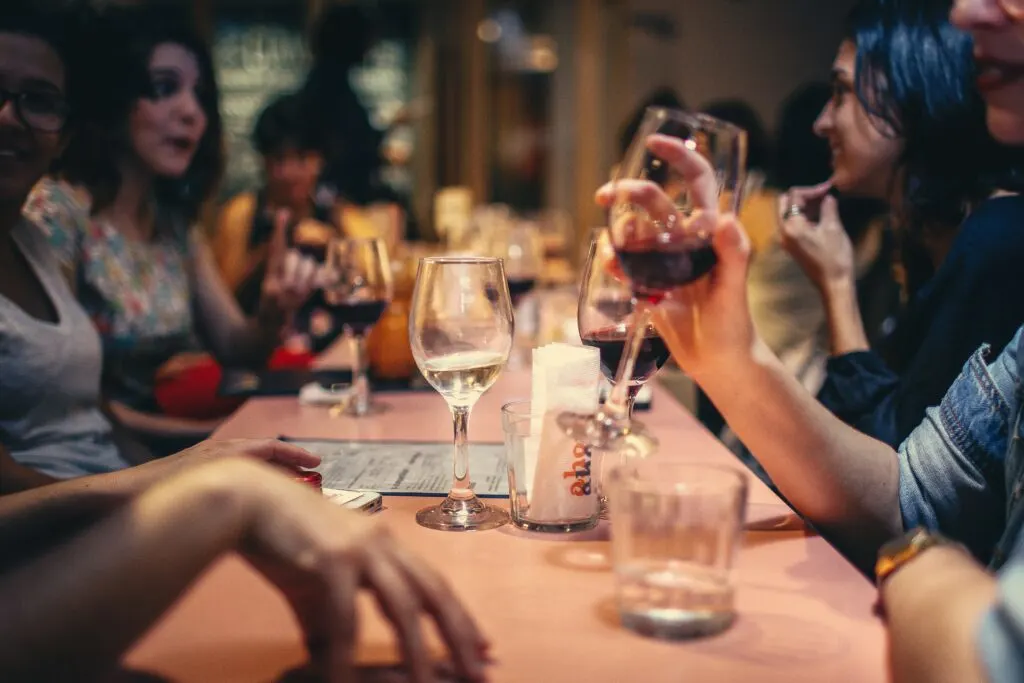 You can not come to the UAE and not experience a brunch! Very different to the civilised breakfast/lunch concept in most of Europe, an Abu Dhabi or Dubai brunch usually consists of a package where visitors receive unlimited food and drinks over a set number of hours.
Usually, there are a few options in each establishment; a soft drink package, a house drinks package and a more fancy 'bubbly' package. In general, the house drinks package should suffice, this usually includes beers, spirits and wines.
The usual time for an Abu Dhabi brunch is 12 pm/1 pm – 4 pm/5 pm. Brunches are great for a number of reasons but this earlier timing is definitely a good call if you are travelling or don't want to be too hungover the following day.
There are unlimited brunch options across Abu Dhabi and Dubai, but we have narrowed it down to a few options to schedule into your 4 days in Abu Dhabi.
Option 1 – Asia Asia
Better known for it's sister brunch in Dubai, Asia Asia has come to Abu Dhabi and is in the beautiful setting of Yas Bay. The Asia Asia 'Spice Route' Brunch takes place every Saturday from 2pm – 5pm.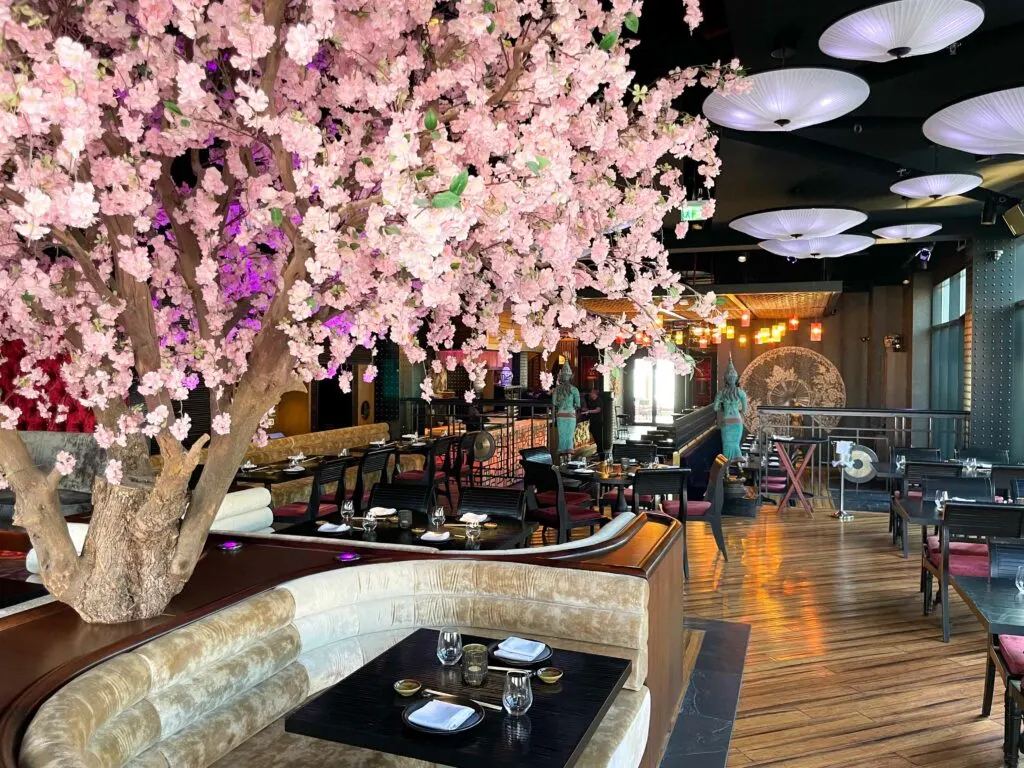 The brunch consists of a delicious 4 course menu and unlimited drinks. Packages start at AED250 (approx £55) for the soft drinks option.
The menu consists of Pan Asian cuisine with options such as sushi platters, thai curries, tempura, skewers, wagyu steak and teriyaki salmon.
Option 2 – B.I.G Brunch in Garage
Garage is a very popular restaurant in the W hotel overlooking the Yas Marina Formula 1 Circuit. Their B.I.G Brunch takes place from 1 pm – 4 pm every Saturday.
This is the more traditional Abu Dhabi brunch format where guests can help themselves to an unlimited buffet. There are 5 culinary hubs, 11 drink taps, loads of bites, a Mezze spread and Asian flavours to name a few.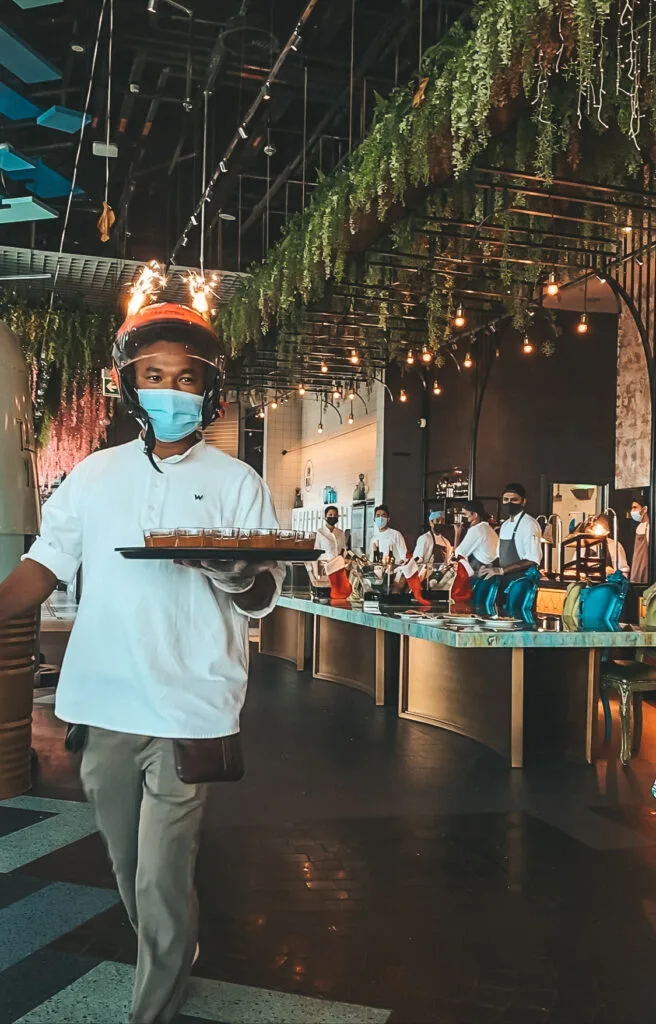 The B.I.G Brunch packages starts at AED 275 (just under £60 or €70) for the soft drinks option.
Option 3 – Buddha Bar Beach Abu Dhabi
Located inside the St. Regis Saadiyat Island Hotel, Buddha Bar Beach is one of the pricier options, but we can assure you it is worth it!
Their Nikkei Brunch takes place every Saturday from 7 pm – 10 pm. The dishes offer flavours of Japan and Peru with a specially created menu with over 20 artistic dishes!
The Nikkei Brunch starts at AED 375 (£80 or €95) for the soft drinks package.
If you feel like staying out for the night, many of the brunch options also offer a post-brunch offering such as unlimited drinks for a further 3 hours for a set price.
Many beach clubs also offer brunch deals. So if you are interested in experiencing a beach club day and a brunch in one you can check out places like:
Saadiyat Beach Club
Fairmont
Cafe Del Mar
Bear in mind that brunch options are generally only available on a Saturday, so if day 3 doesn't fall on a Saturday for you, simply swap out the Brunch option for one of the other afternoon/evening options.
Day 4
BEACH CLUB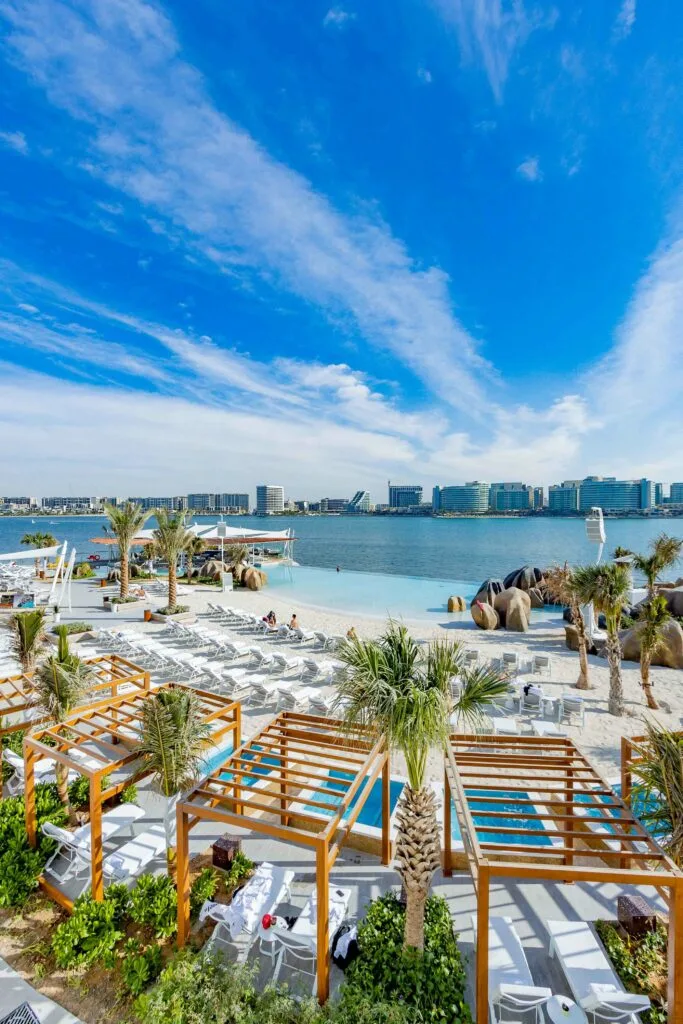 For your last day, take some time to relax and take in the last of the Middle Eastern sunshine!
After some breakfast, make a choice of a beach club and head there. There are countless options of beach clubs around Abu Dhabi.
We have narrowed it down to a few great options for anyone spending 4 days in Abu Dhabi.
We are recommending a few beach/pool days below, however, you can find a much larger list of the best beach clubs in Abu Dhabi here.
Saadiyat Beach Club
Saadiyat Island is one of the most beautiful locations in Abu Dhabi. Saadiyat Island hosts the only natural beach in Abu Dhabi.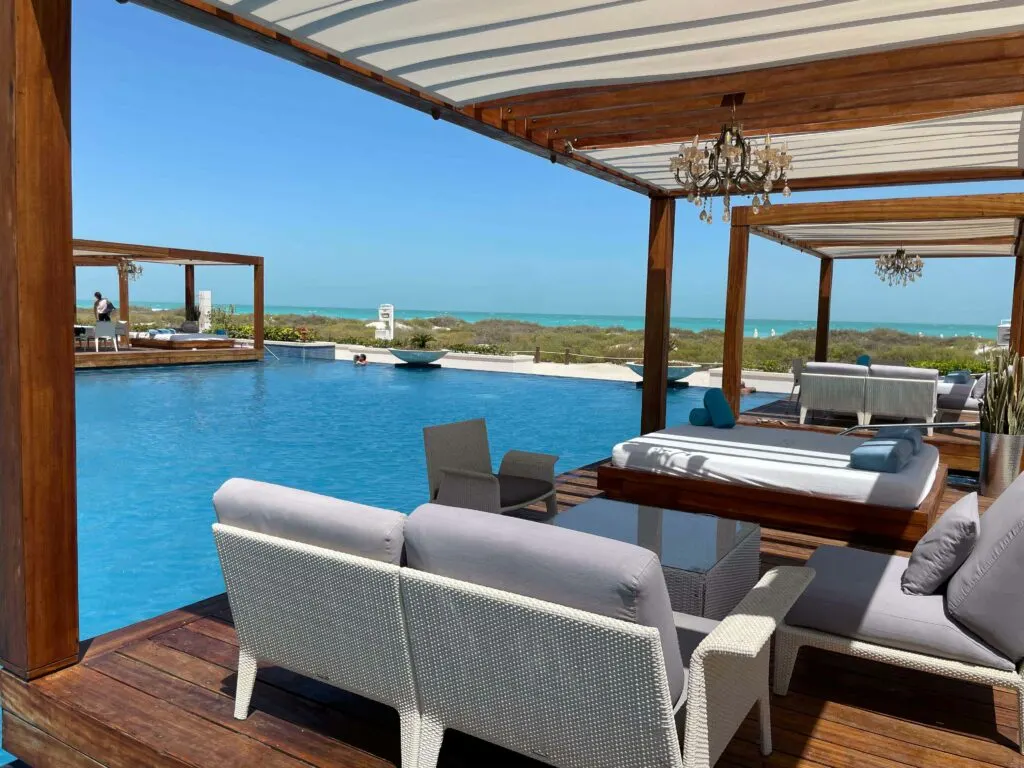 For this reason, Saadiyat is home to one of the most pristine white-sand beaches and turquoise waters and is the only place to enjoy sea waves.
Saadiyat Beach Club oozes luxury and exclusivity. This club is the perfect location for daytime relaxation and sunset vibes.
Visitors will appreciate the club's facilities, views and top hospitality.
For anyone looking to enjoy a piece of heaven for the day, there are a few options for day passes. These can be found on their website.
Visitors should not overlook the additional spa access. The Spa facilities in this beach club are amazing.
Saadiyat Beach Club, Saadiyat Island, Abu Dhabi, saadiyatbeachclub.ae (02 656 3500)
Zaya Nurai
Nurai Island is a piece of paradise like nowhere else. The island has been named 'the Maldives of the UAE' and for good reason!
Boasting shimmering, turquoise water and tropical flora boutiques, the private island is a 15-minute boat ride from Abu Dhabi.
While on the more expensive side, a visit to this paradise is once-in-a-lifetime. Day pass prices can be found on their website but they are usually north of 600 AED, however this amount is fully redeemable on food and drink.
The prices include pool and beach access as well as the boat transfer to and from the island.
As a side note, those who can afford to stay in the stunning accommodation should take full advantage!
Book your stay at Nurai Island.
Nurai Island, Abu Dhabi, (02 506 6222)
Al Maya Island
Another island requiring boat transfer, Al Maya Island offers a sanctuary away from city life. The Island can be reached in 10 minutes by boat.
Any destination that requires access by boat deserves a visit if you are spending 4 days in Abu Dhabi!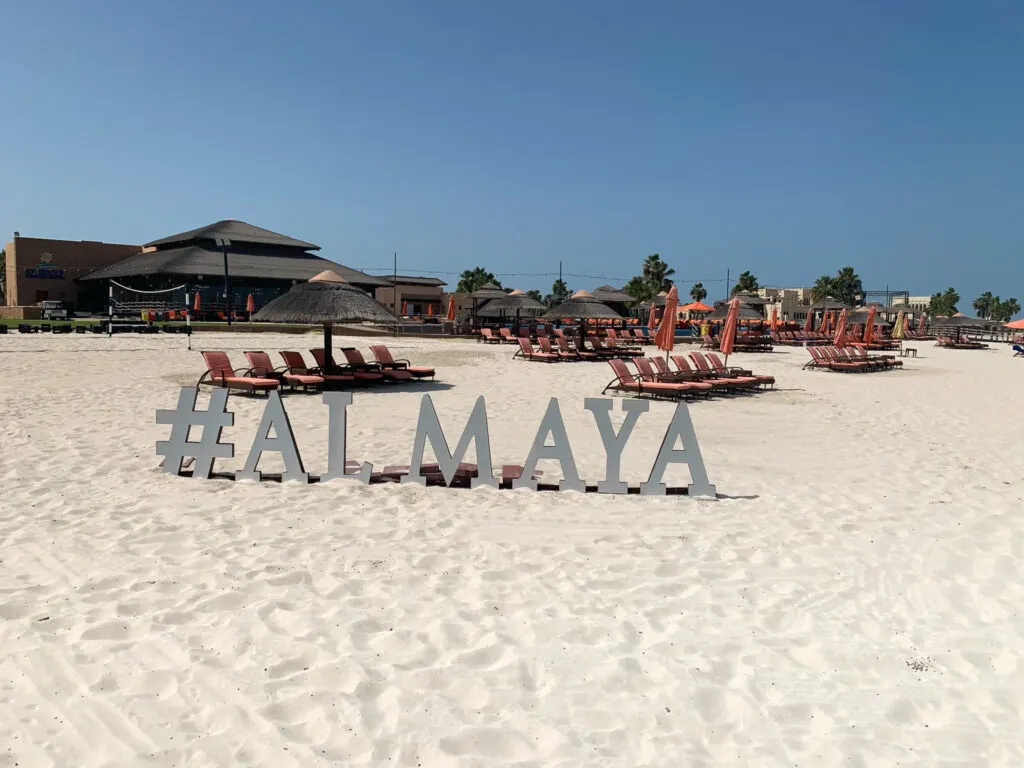 This island overlooks sea views and facilities include a soft sandy beach, horizon swimming pool, jacuzzi and kid's pool.
Guests can enjoy wakeboarding, kitesurfing, banana boat rides and kayaking.
It has to be said the day passes are great value for such an adventure, these can be found on their website, usually, a good amount of the price is also redeemable on food and drink.
Al Maya Island Resort (02 667 7777).
Yas Beach Club
Yas Beach is a beautifully serene escape from the hustle and bustle of the City.
Boasting white sands, natural mangrove surroundings and clear waters, Yas Beach is a truly tranquil getaway.
Situated along Yas Bay, Yas Beach is one for the whole family. Visitors can choose to relax at the beach or the pool.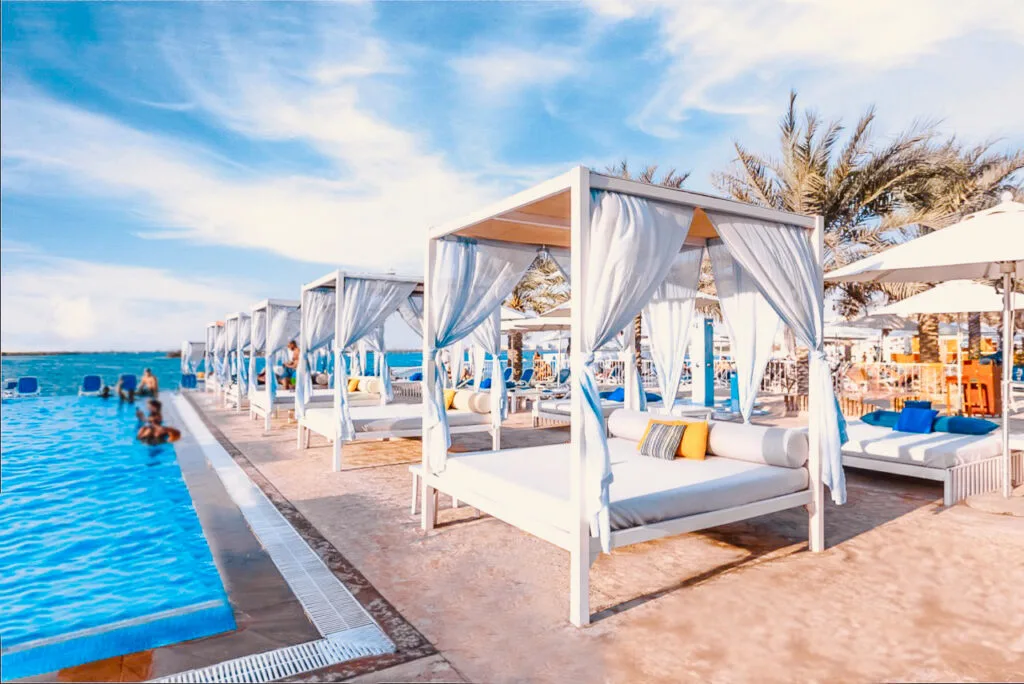 If you are considering a visit to Yas beach or Cafe Del Mar, discover what else you should do while on Yas Island in our things to do on Yas Island article.
Daypass options vary, depending on the day and your desired location.
Yas Beach also offers visitors daily chalet rates for anyone who wants to cool off indoors.
Each chalet is equipped with a TV, comfortable sofa, air conditioning, minibar, safe and a restroom with a shower.
Cafe Del Mar
Situated along the buzzing Yas Bay, Café Del Mar offers a fresh, vibrant destination for all.
Boasting a stunning infinity pool extending over the Yas coastline, this is one of the best beach clubs in Abu Dhabi for photo opportunities.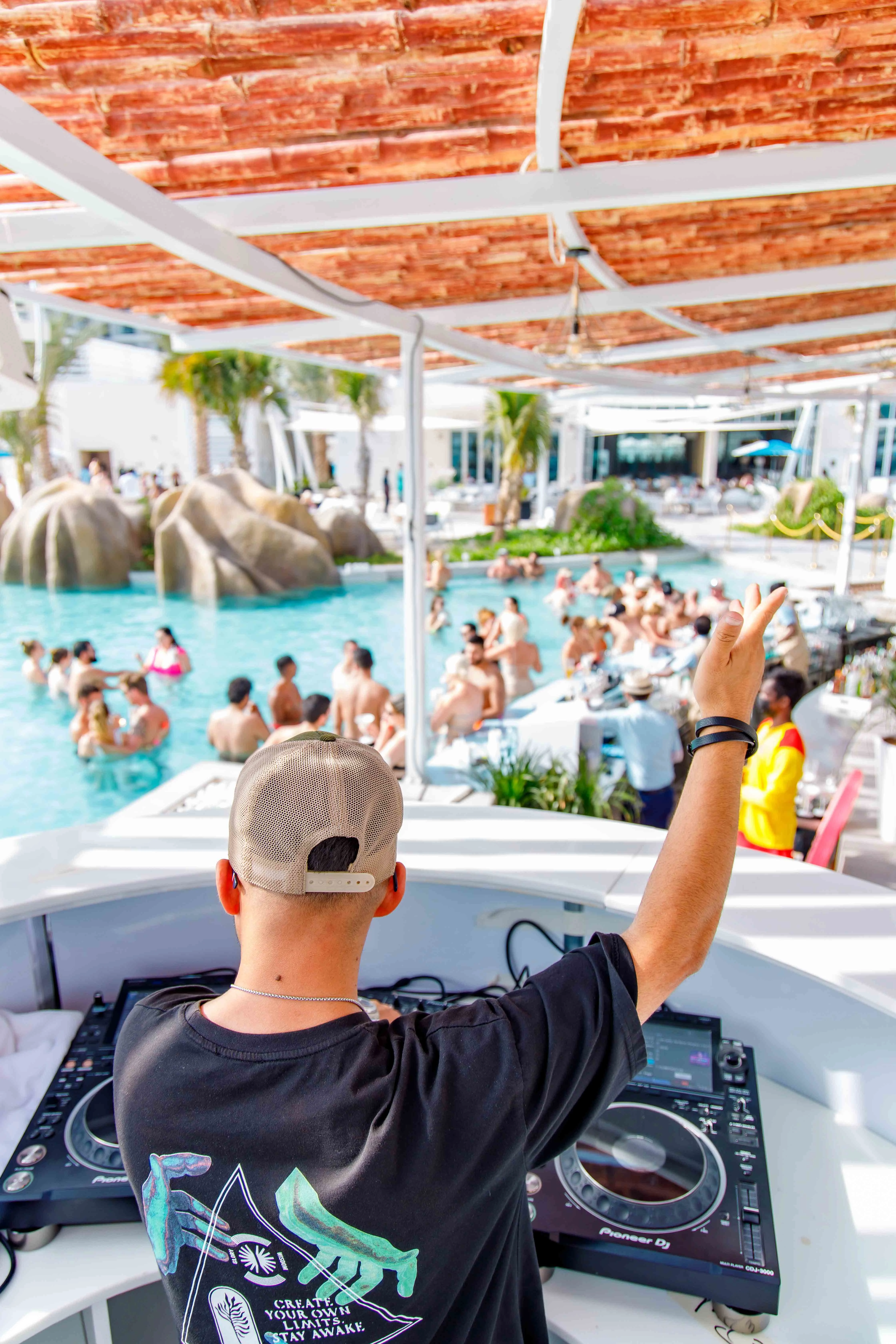 Strictly speaking, Café Del Mar may be considered more of a restaurant and pool as opposed to a beach club given it doesn't offer direct access to the sea.
However, all areas are covered in sand and the infinity pool is designed at an angle to give the illusion of walking into the sea.
Residents consider this cool spot one of the best beach clubs in Abu Dhabi.
Fairmont Bab Al Bahr
Fairmont is one of the best beach clubs in Abu Dhabi for teachers!
This stunning hotel offers day passes for the large pool and beach. The pool includes a swim-up bar and hot plunge pool, which is lovely during the evenings in the cooler months.
There is ample space on the beach for loungers and there are a number of cabanas available at no extra price that are used on a first-come-first-served basis.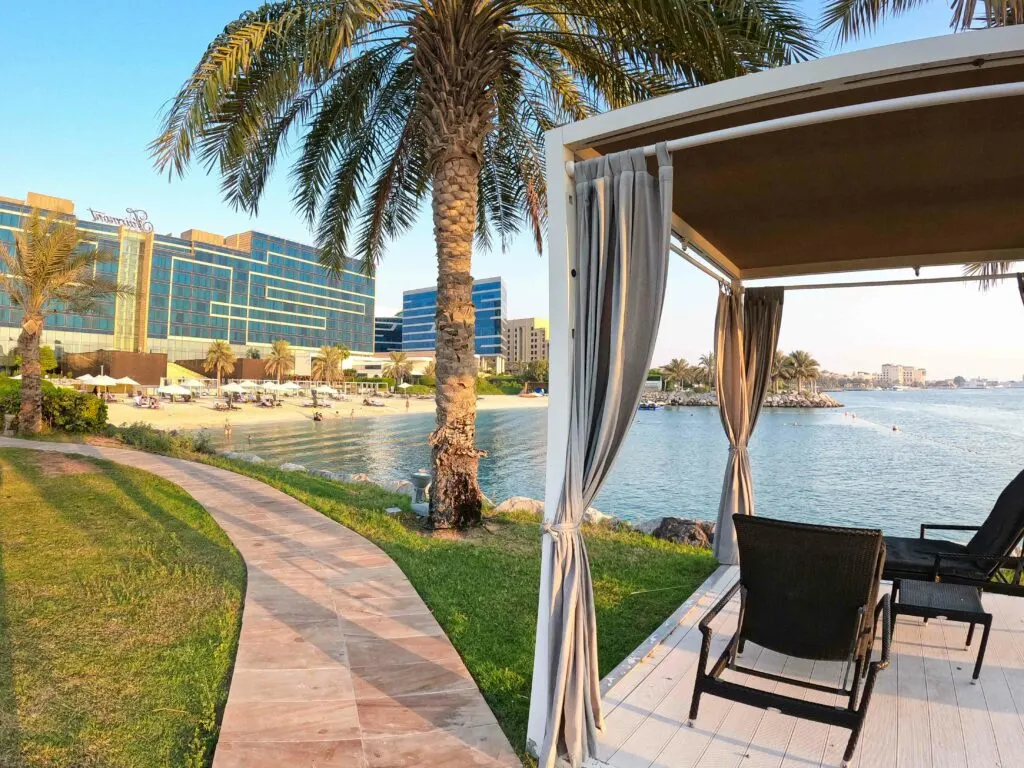 The beachfront offers a gorgeous view of the Sheikh Zayed Grand Mosque across the water.
Day passes are very reasonable and if you are a teacher or are visiting a teacher you can avail of 50% off the day pass price.
Teachers can also avail of 50% off of food and drink as long as they have proof of their school ID.
Book a stay at Fairmont Bab Al Bahr.
PARK
If you are looking for a more active or money-friendly end to your 4 days in Abu Dhabi, we highly recommend visiting one of the many beautiful public parks.
There are a number of parks to chose from however a couple of our favourites include Umm al Emarat Park and Reem Central Park.
Umm al Emarat
Umm Al Emarat Park is a gem within the capital city and is well worth a visit during your 4 days in Abu Dhabi.
For anyone looking for a park with a bit of extra 'something', Umm al Emarat Park is the one for you!
The park is the largest green space in the heart of the city, this oasis was created to commemorate the late Sheikh Zayed's legacy.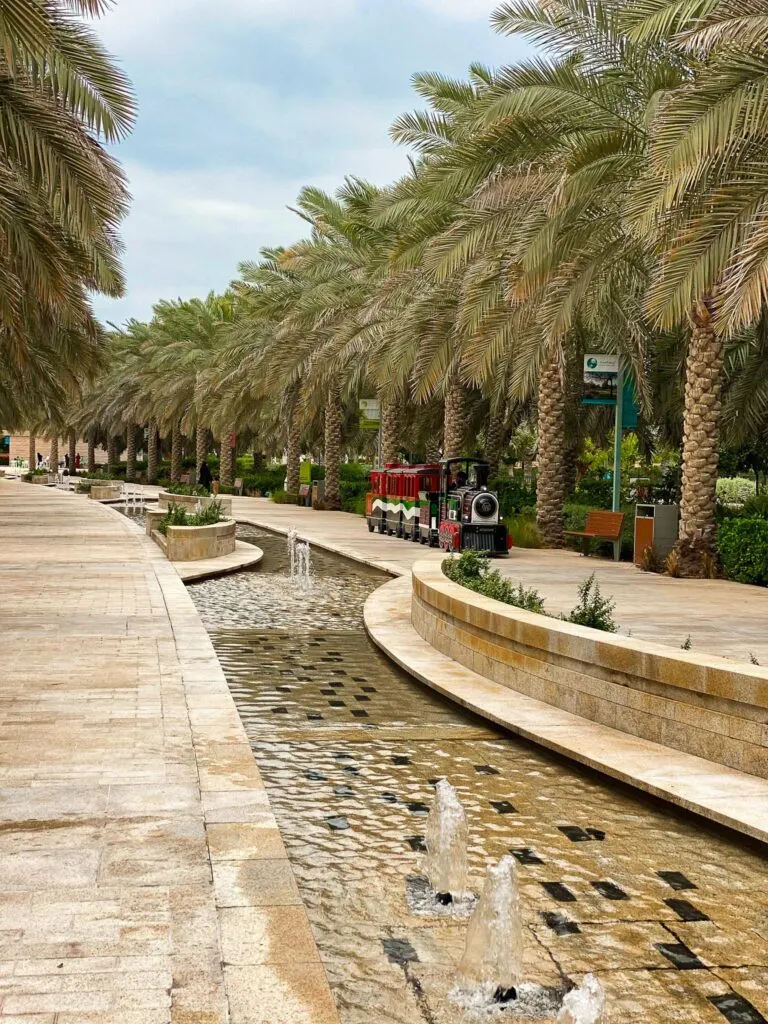 The park's mission is to provide a community with a wholesome and well-maintained outdoor venue.
Umm al Emarat Park spreads across 179,000m², hosts more than 50 events annually and receives over 70,000 visitors each year.
The park offers a number of attractions for visitors such as the amphitheatre, a large grass area with a water feature at the foot of steps with a large arch encircling the top of the steps.
There will be people relaxing or playing games on this open grass daily as they enjoy the interactive water fountain.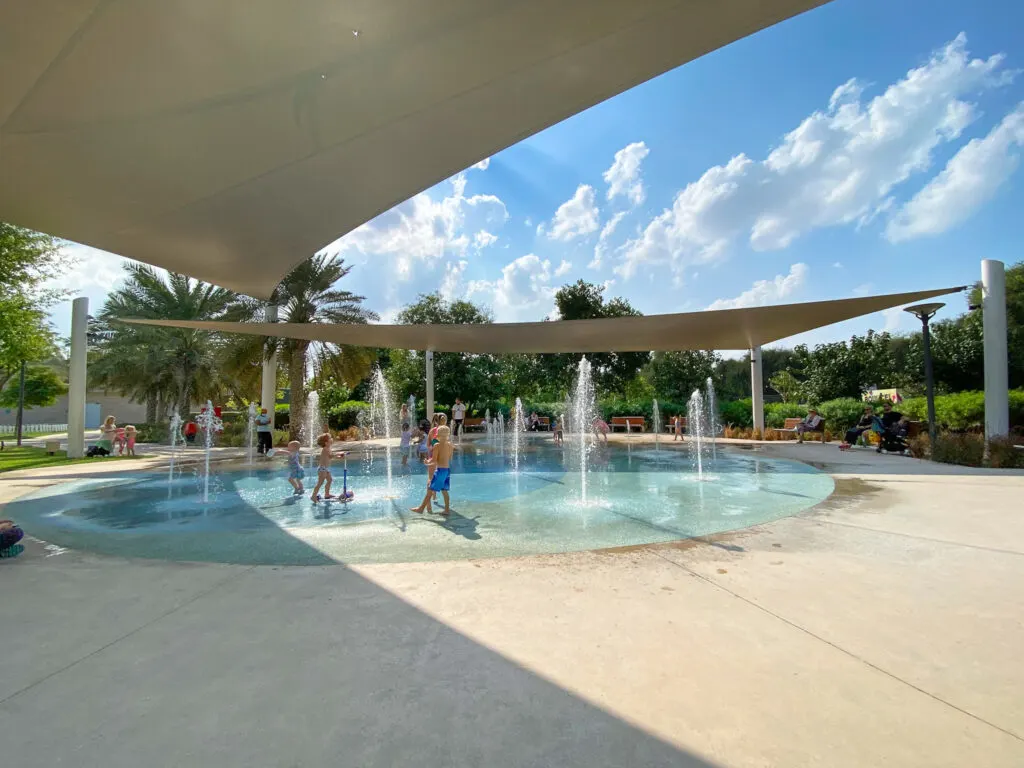 Also available within the park is an animal barn and petting zoo. The area includes animals like goats, ponies, rabbits, tortoises, emus and camels.
Visitors can have a pony or camel ride however this would be at a small charge.
There are different animals within the barn during different times of the year as they are rotated throughout the year for the welfare of each animal.
A botanical garden section can also be found in Umm al Emarat Park. This garden boasts more than 200 species of plants.
Take a stroll through exotic plants such as various species of cacti. Walk over the cute bridge and admire the water ponds created using natural stone.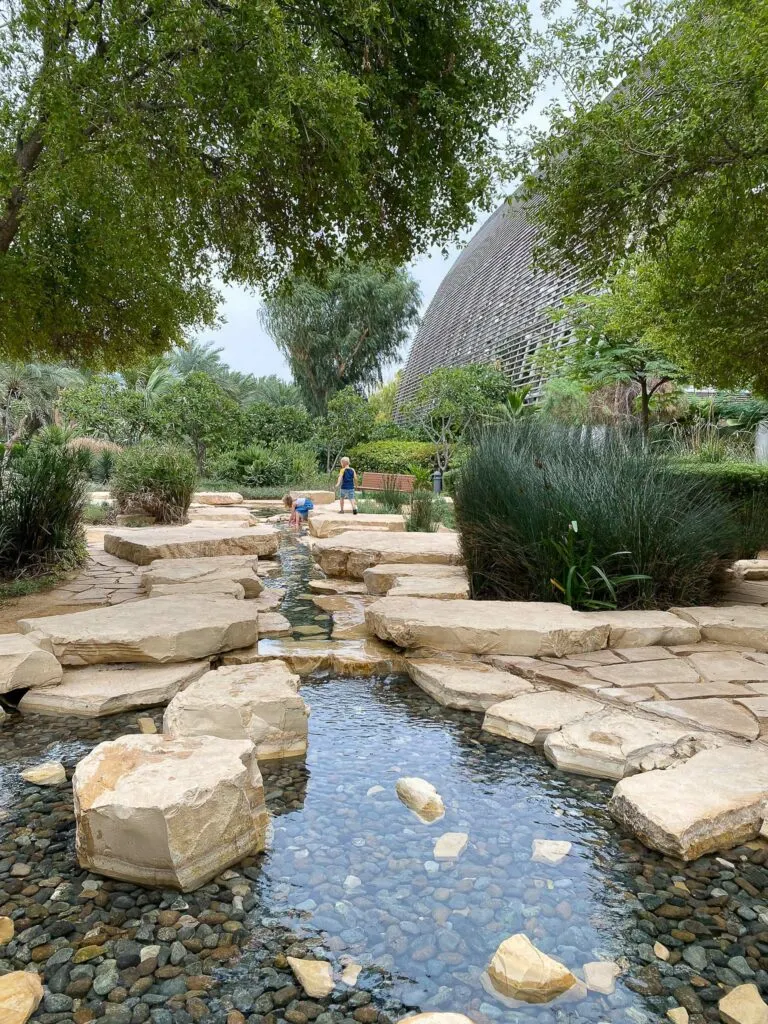 Next, the children's garden – filled with structures and open green space for children to explore and play as well as ice cream.
During the cooler months, a range of activities take place here, from pony rides to face painting and balloon making.
The children's garden also includes a large screen and speakers where free movie nights are often held throughout the year.
In addition to the children's garden, there is also the evening garden, wisdom garden and the great lawn.
The evening garden is set in a quiet and relaxed part of the park, allowing visitors some peace and relaxation among a green oasis.
The wisdom garden honours the legacy and environmental conservation efforts of the late Sheikh Zayed Bin Sultan Al Nahyan with a lovely mix of inscribed walls and water.
The great lawn is the largest green space in the park and is a fantastic place for games and activities with family and friends.
The main promenade is a very enjoyable walk of palm trees, water features and changing lights.
There are often market stalls along the promenade during different times of the year, selling handmade gifts and food.
Finally, the shade house. This structure can be seen from far and is an iconic feature of the park.
This shade house is a must while visiting the park. Visitors can enter the shade house and become immersed in over 40 species of thick green plants.
The house also offers 2 viewing decks, visitors can get an elevator up to each or alternatively climb the stairs to reveal the great views above.
If you're interested in discovering the best places in Abu Dhabi in general, check out our guide here.
Reem Central Park
Located on Al Reem Island, Reem Central Park is one of the nicest parks Abu Dhabi has to offer.
Free to enter and park, this oasis is a must if you have time during your 4 days in Abu Dhabi!
Spanning over 1, 300m², Reem Central Park is perfectly located along an exquisite stretch of turquoise Arabian water.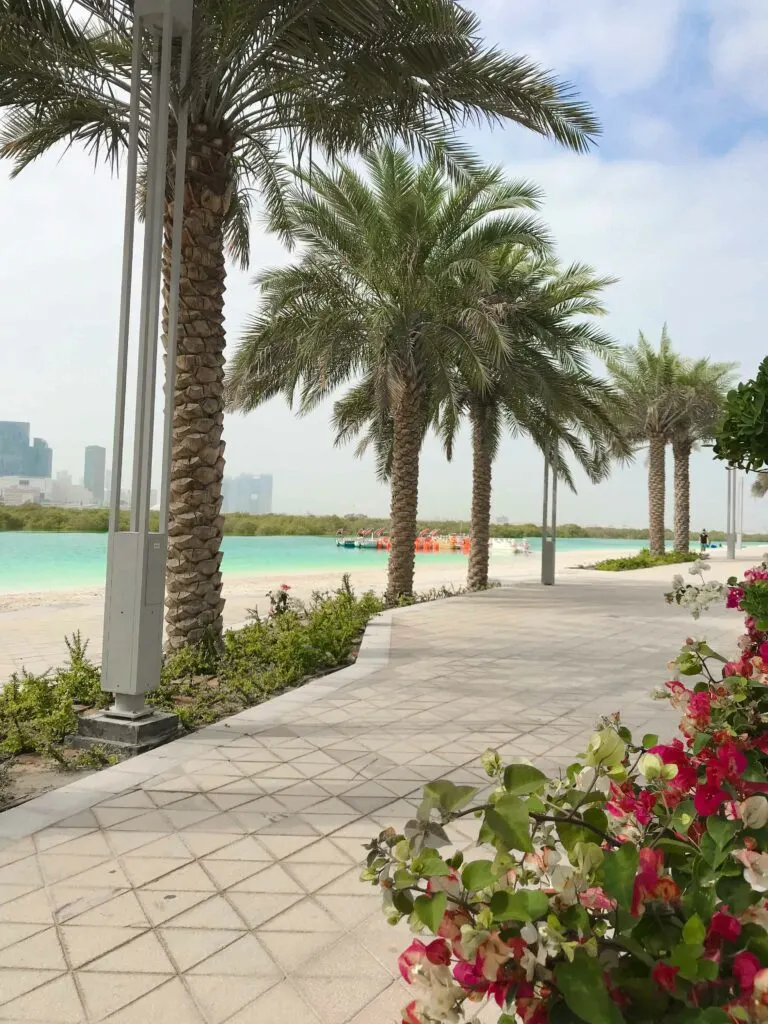 The centre of the park consists of a large water feature, a number of food, coffee and three restaurants.
The water fountain is one of the best around. During the evening, a magical show of water, music and lights takes place.
The water floods from the feature while a projector shoots lights and scenes onto the waterfall and along with music and smoke, a mesmerising story is told.
During non-show times, the water fountain is a play area for the children to enjoy and splash around.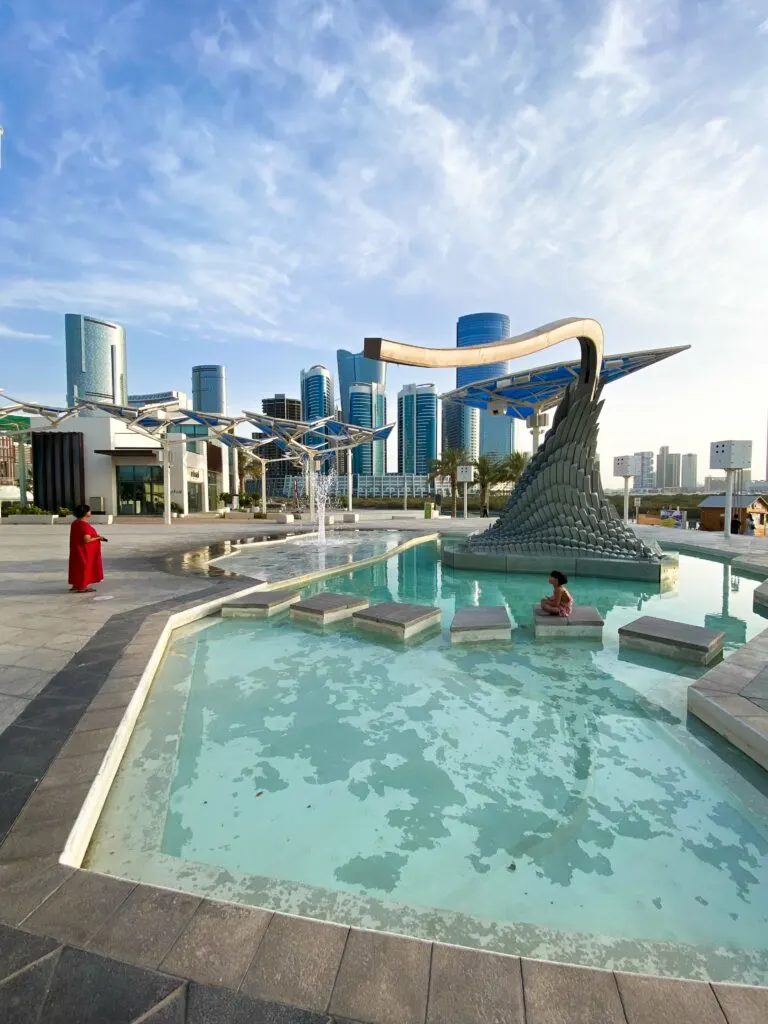 There are many options for water sports within the park such as kayaking, wakeboarding, paddleboarding and more.
If you want to keep your visit free, there are endless options within this park.
Enjoy a walk along the water, watch the skaters do tricks in the skatepark, let the children enjoy the water fountain and one of the many playgrounds, and sunbathe on the beach or grass.
Play basketball, football or table tennis, use one of the many outdoor gym areas and why not go for a dip in the sea to finish off.
There are many routes around the park for short or long walks. Each route offers something different, be that walking along the beach, walking beside the canal, or walking through creative walls and pillars painted with interesting patterns.
Not to be forgotten, is the Kobe Bryant mural. A beautifully painted piece created in memory of the famous basketball star who lost his life in a tragic helicopter accident.
Reem central park has a great atmosphere every time of the day and week. There is always a nice buzz around the park be it from runners, walkers or swimmers.
The park is also a popular spot for fishing, another activity that can be enjoyed for free.
MALL
It's likely that you will spend what is the remainder of your 4 days in Abu Dhabi at one of the beach clubs or parks, however, if you have time to fit anything else in, why not visit one of Abu Dhabi's fantastic malls?
Shopping Malls are a popular pastime for UAE locals and residents. With many shopping malls hosting endless activities in addition to retail shops, they are a great place to escape the desert heat.
If you are someone who likes to browse, people watch and explore, any number of shopping malls within the city will be a great option for you.
All Abu Dhabi malls are free to enter and most include free parking. Each mall offers something a little different, be that in terms of interior design, the type of shops, restaurants, the general theme and feeling within the mall.
Among the most popular malls in Abu Dhabi are the Galleria and Yas Mall.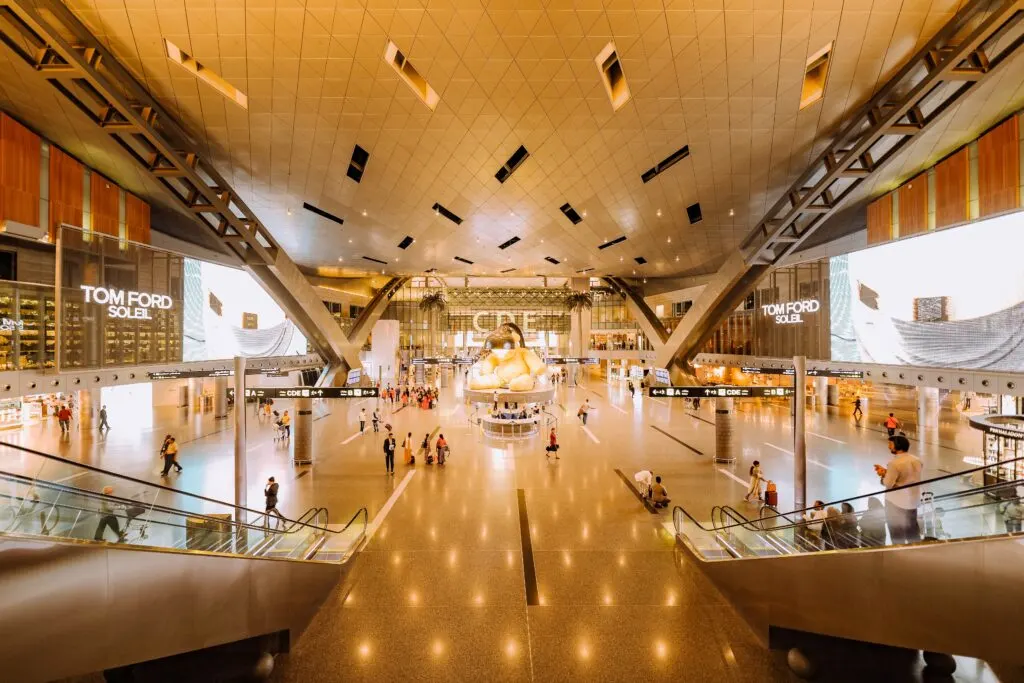 The Galleria
The Galleria should be on your list of things to do with 4 days in Abu Dhabi, the feel and design of this modern mall is amazing.
There is a very clean and prosperous feel to this mall and the shops and restaurants reflect this.
For those with a taste for luxury goods, one side of the mall boasts shops like Chanel, Louis Vuitton, Burberry, Cartier, Bvlgari, Christian Louboutin, Coach, Dior, Fendi, Gucci, Jimmy Choo and many more.
Enjoy window shopping along the endless lanes of the height of luxury fashion.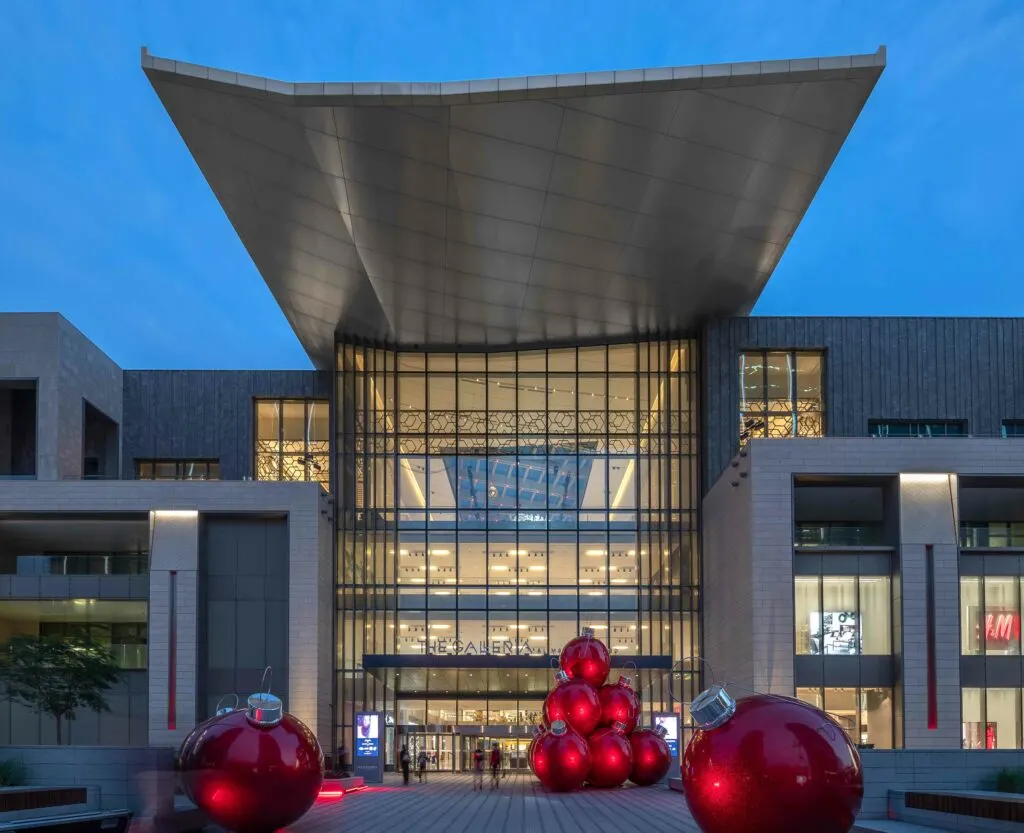 On the ground floor of this side of the mall, visitors can also step outside and enjoy the spectacular waterfront view of Abu Dhabi.
Take a short walk along the water and watch as visitors have a meal in one of the lovely instagrammable restaurants with outdoor seating or marvel at the Apple Stores architecture with stunning water features.
The Apple Store also holds regular free seminars, everything from how to take the best photos on an iPhone to kids workshops.
On the other side of the mall, all the well-loved shops such as H&M, Zara, Bershka, Stradivarius and a large Virgin Megastore.
Here is somewhere people are known to spend much of their time, exploring the many interesting products in this megastore, with no need to buy the product in the end.
Another shop with a lot of potential for free amusement, Decathlon. This sport and fitness shop has everything from tents to bicycles to weight machines to basketball nets.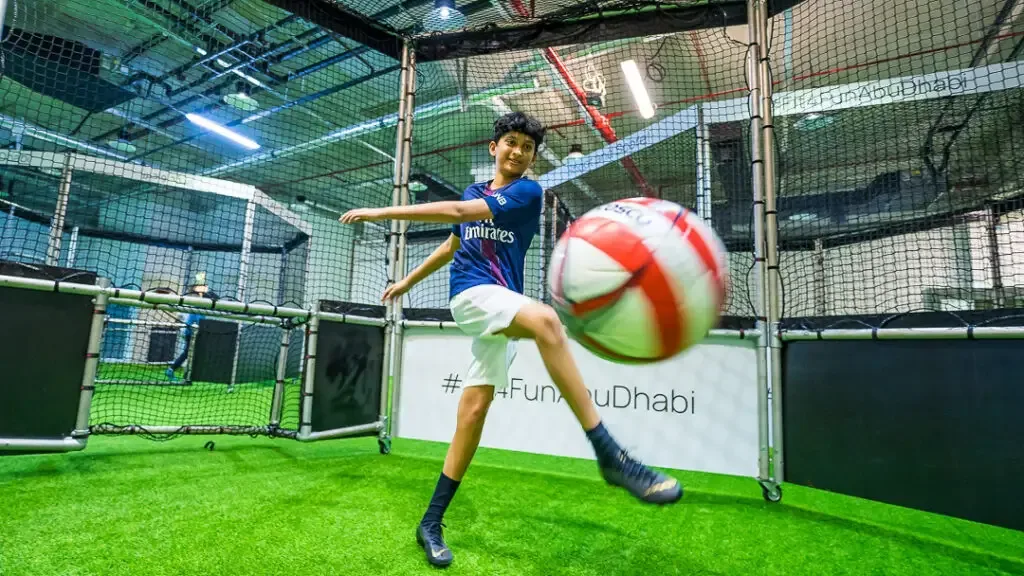 Take a stroll around this store and why not try out some of the sports equipment or clothing.
The Galleria comprises of hundreds of shops, plenty of restaurants and cafes and a large Vox cinema.
Yas Mall
Yas Mall is another very popular mall among Abu Dhabi residents, while the mall isn't as modern and fresh as the Galleria, the location and reputation has helped with its continued popularity over the years.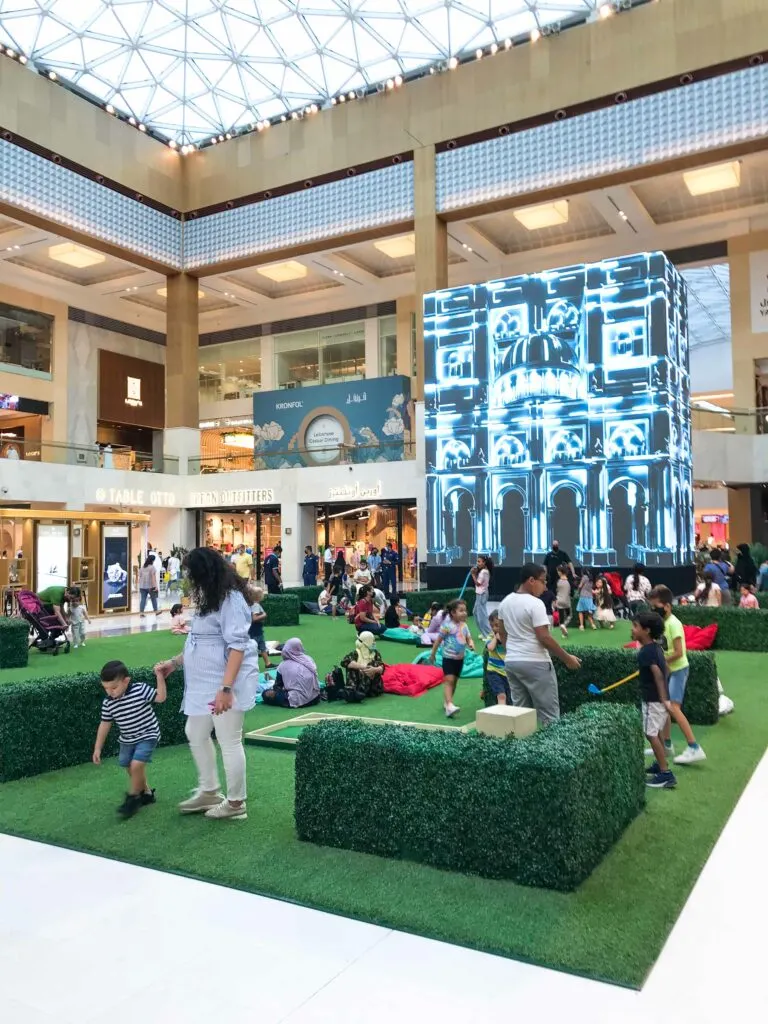 To discover more about what Yas Mall has to offer, check out our 12 great things to do on Yas Island guide.
We have now come to the end of your 4 days in Abu Dhabi, hopefully, this has been helpful in planning your trip! If you have time to fit in more fun, make sure to check out our guide on everything to do in Abu Dhabi.
Or, if you are looking for some pocket-friendly options during your visit, we have a guide to all of the best things to do for free in Abu Dhabi!
If you are undecided between Abu Dhabi and Dubai, see our comparison guide here.
You may also like,
10+ Monthly Car Rentals In Abu Dhabi
Co Working Spaces In Abu Dhabi
Disclosure: We only recommend experiences or products that we have personally used or that have been highly recommended by others. If you get anything we have mentioned through the referral links, we may get a small commission with no extra cost for you.