With the temperature heating up, many families will start worrying about entertaining the kids over the summer months. Thankfully, there are endless indoor activities in Abu Dhabi for kids and adults alike!
Indoor Activities Abu Dhabi
KIDZANIA
Kidzania is a world where learning and play collide in one indoor area created for kids. The experience is described as an interactive city run by kids!
The area is 7,000 metres squared in size and has been created to look like an exact replica of a city. All activities have been designed to engage children allowing them to learn and grow whilst having fun and playing!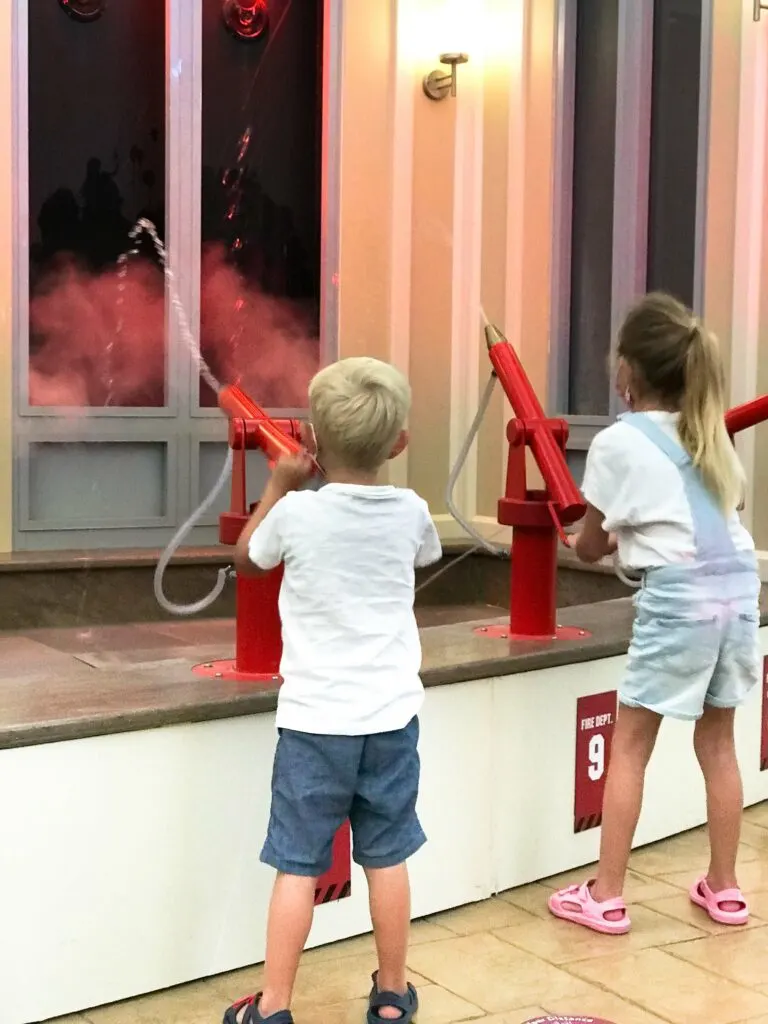 There are over 70 'real-life' activities for kids from 4 to 16 years old. There is a large emphasis on role-playing within the city and it aims to teach children about real world activities and tasks allowing the kids to learn about teamwork, social skills and creativity!
Allowing kids to play in this way is highly productive and it is something kids absolutely love!
Children can go to 'university' and get a degree in their chosen subject. Something that is fun but also gets them thinking about their interests and passions early in life. There are creative activities within the university like drawing and painting.
In the city's entertainment area, kids can learn to act, perform and DJ. With regular performances from children in the DJ corner and the Kidzania Reel Cinema. There is also a media section where kids can play roles such as a news reporter, cameraman or floor manager.
For food and drink, kids can get involved in creating their own food in the city restaurants. The city is taking a healthy approach to McDonald's happy meals and Pizza Express and allows the kids to help create these healthy meals to enjoy.
When it comes to health, the Kidzania City are interested in finding new ways to prevent disease and infection. Kids can become a scientist and help with this goal.
Next, children are invited to the dentist, where they will learn healthy habits for good oral health before heading to the main hospital, where they can learn how to look after newborns and patients and help promote the importance of eye health!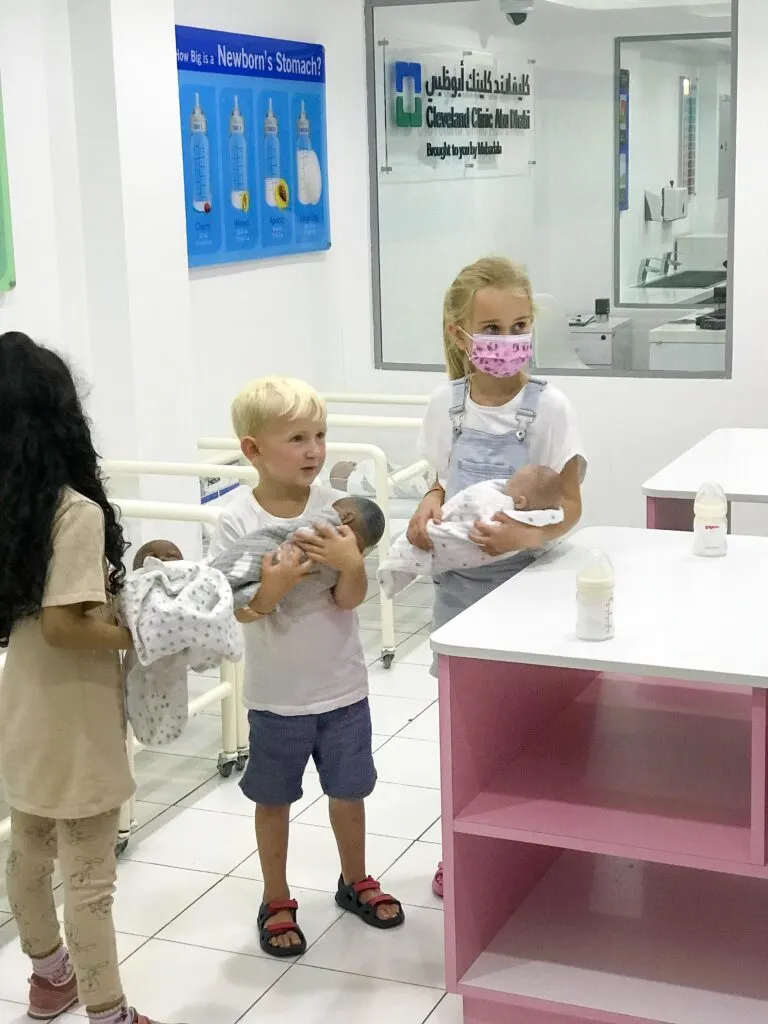 In return for the kid's jobs across various occupations, they are paid their salary in Kidzos. They can spend this money around the city in restaurants and retail shops, where they can purchase souvenirs and face painting.
Some occupations within the city include working in the city's local hotel, allowing kids to learn about hospitality and helping customers.
There is also a police station where kids can learn how to help keep people safe and follow the law. Other jobs include driving instructors, firefighters, construction workers and engineers.
On the arrival of any child in the city, they will be given a boarding pass and they will be able to organise other transport such as a bus or getting their own driver's licence for a car!
Finally, there are lots of normal games to play with your new friends after your day at work, like foosball or billiards in the games room, or why not race through the obstacle course at Kidzania titans!
Kidzania is hugely popular with children and adults alike and is a great day out over the hotter months.
A mixture of games and learning for your kids, what's not to love? You can book a day pass here.
WARNER BROS WORLD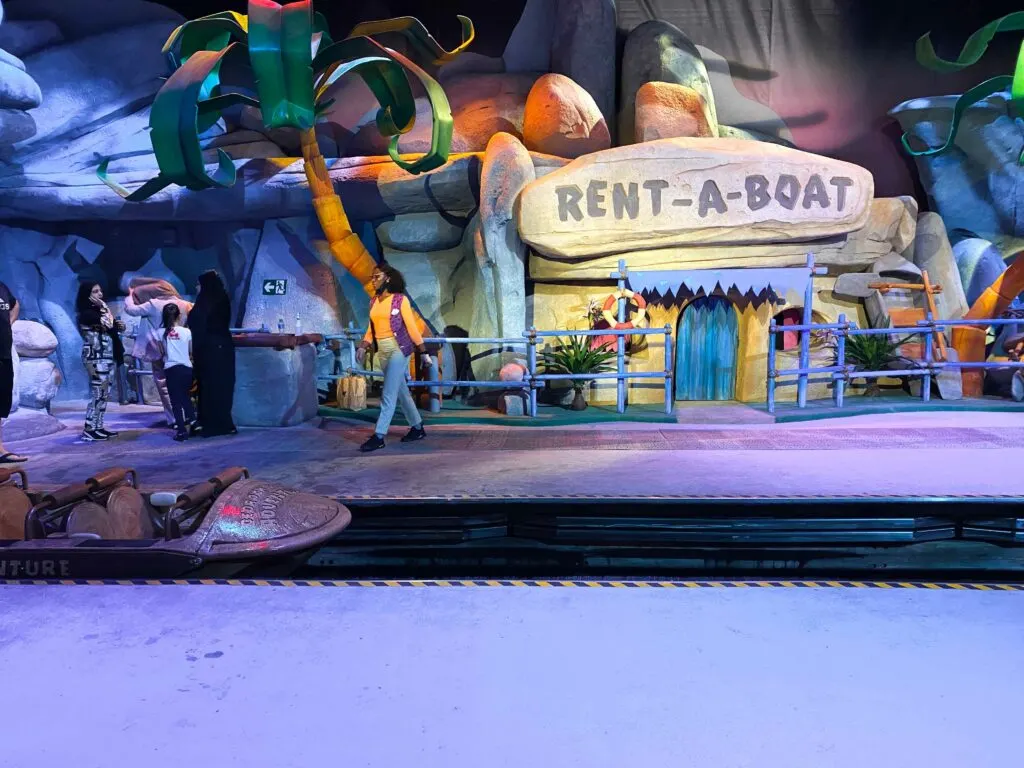 Arguably one of the best indoor activities in Abu Dhabi, particularly for the kids, has to be Warner Bro's World!
Being the world's largest indoor theme park is just one of the reasons that make this day out a family favourite.
Warner Bro's World is located on Yas Island, right beside Yas Waterworld and not far from Ferrari World and Yas Mall.
The second you enter WB World, you will be impressed. Once you have tickets, you can head straight in where you will arrive in the centre of the theme park.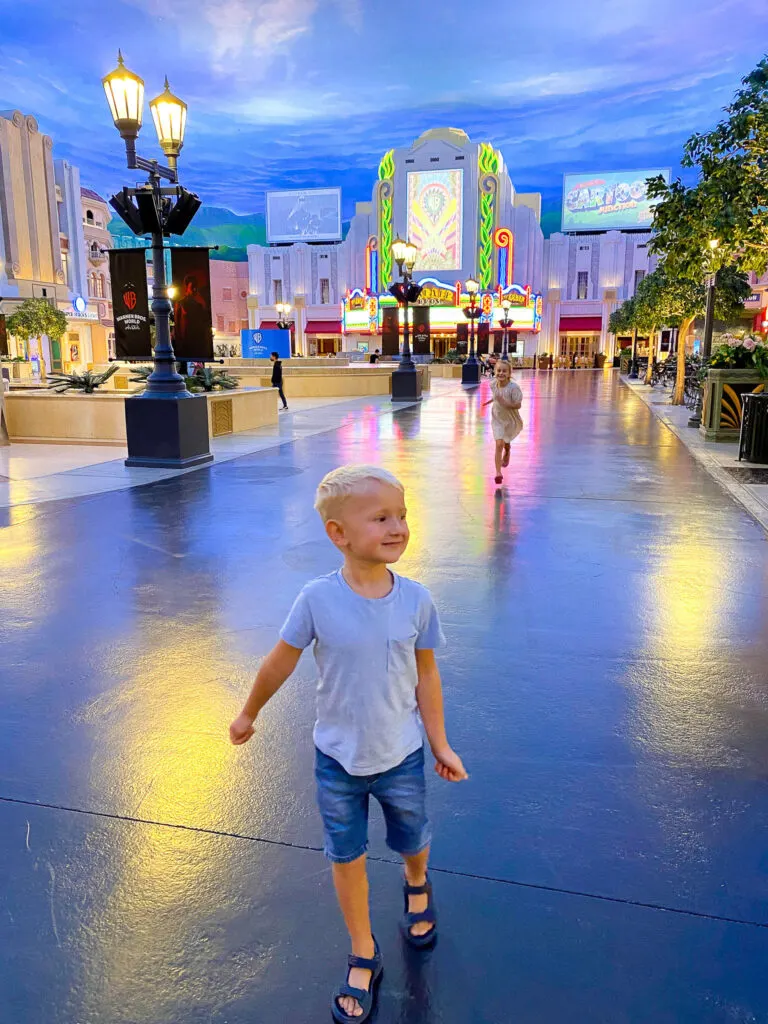 This is perhaps the most impressive area of the whole park in terms of production. You will be transported into favourite childhood lands like Bedrock, Cartoon Junction, Gotham City and Metropolis. 
While there are several thrilling rollercoasters, the main attractions have to be some of the 3, 4 and 5D experiences, meet and greets with favourites like Tom and Jerry or Batman and the out-of-this-world interior and merchandise. 
Some of the Warner Bros-themed rides include Fast and Furry-ous, The Flinstone Bedrock River Adventure, Tom and Jerry Swiss Cheese Spin and Scooby-Doo Museum of Mysteries. 
3, 4 and 5D experiences not to be missed include Superman 360 – Battle for Metropolis, Green Lantern – Galactic Odyssey and Justice Leagues – Warworld Attacks. 
Warner Bros World offers many dining options, from Hollywood-style theatre themed The Starlight to the Bedrock pre-historic eatery Mammoth Munchies. 
These dining options will satisfy cravings and entertain the whole family with brilliant themed interiors and dishes. 
Book your trip to Warner Bros World
CLYMB ABU DHABI
One of the top things to do on Yas Island has to be a visit to CLYMB Abu Dhabi. Located beside Yas Mall, this adventure hub is not to be missed!
CLYMB Abu Dhabi aims to revolutionise indoor skydiving and climbing, which does not disappoint.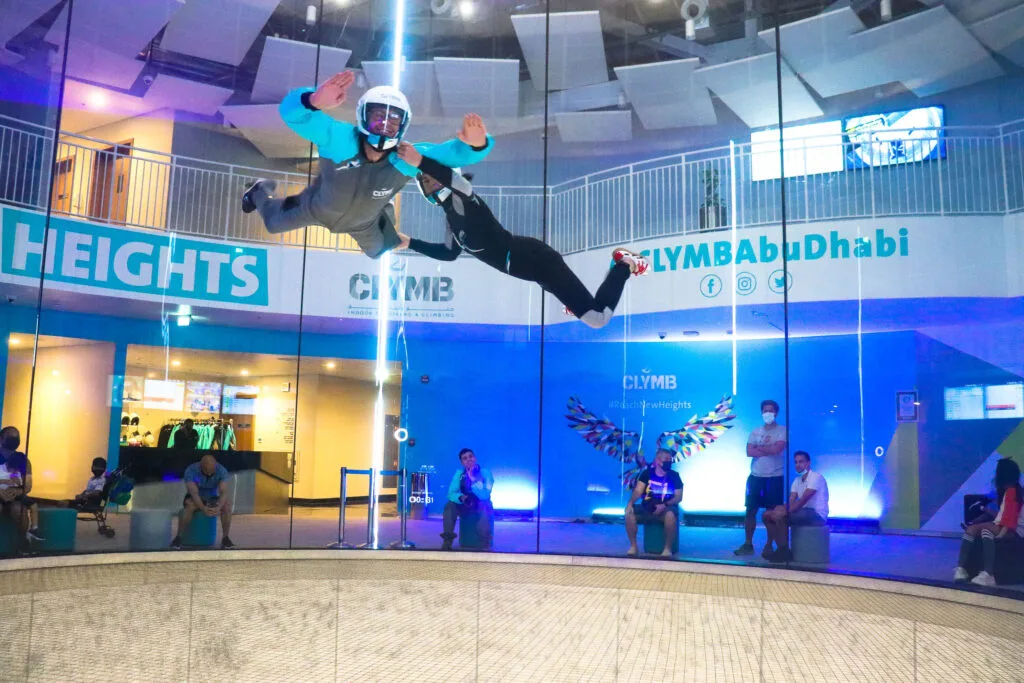 Housing the biggest indoor skydiving flight chamber in the world as well as the region's tallest indoor climbing wall, CLYMB Abu Dhabi is one for the adrenaline junkies. 
The indoor skydive is one for the bucket list! This state-of-the-art flight chamber has revolutionised indoor skydiving.
The largest chamber in the world is 32 feet in width and 104 feet in height resulting in indoor skydive experiences like never before! 
The expert instructors will guide you through an indoor skydive experience helping you to develop your flying skills and teaching you the different flying positions as you progress.
This experience is available for beginners all the way up to expert flyers, as the instructors will guide you based on your level and comfort. 
Gear up for the region's largest indoor climbing wall, measuring an enormous 138 feet in height. 
Climb your way to the top to say you have conquered the region's highest!
Appropriate for beginners and experienced climbers, choose from 5 different walls ranging in height and get yourself ready to conquer the Summit.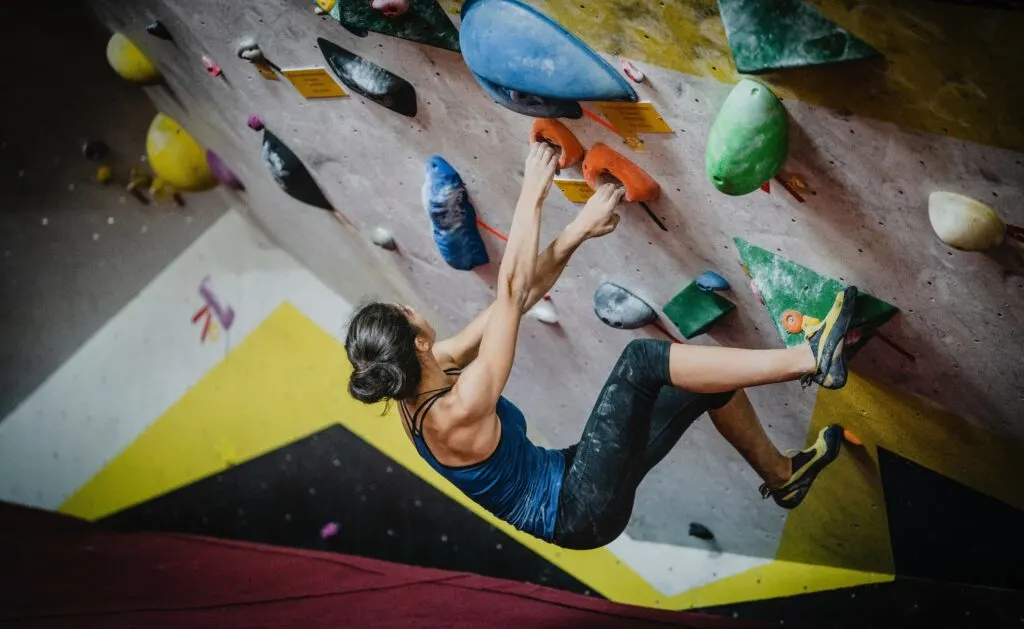 FERRARI WORLD
Named after one of the fastest car manufacturers in Formula 1, the park is filled with thrilling rides in a Ferrari-themed paradise. 
This theme park offers a great mix of rides, activities, merchandise and food that proves popular among people of every age!
The first rollercoaster that deserves a mention is Formula Rossa. Remaining true to the Ferrari theme, Formula Rossa is the fastest rollercoaster in the world!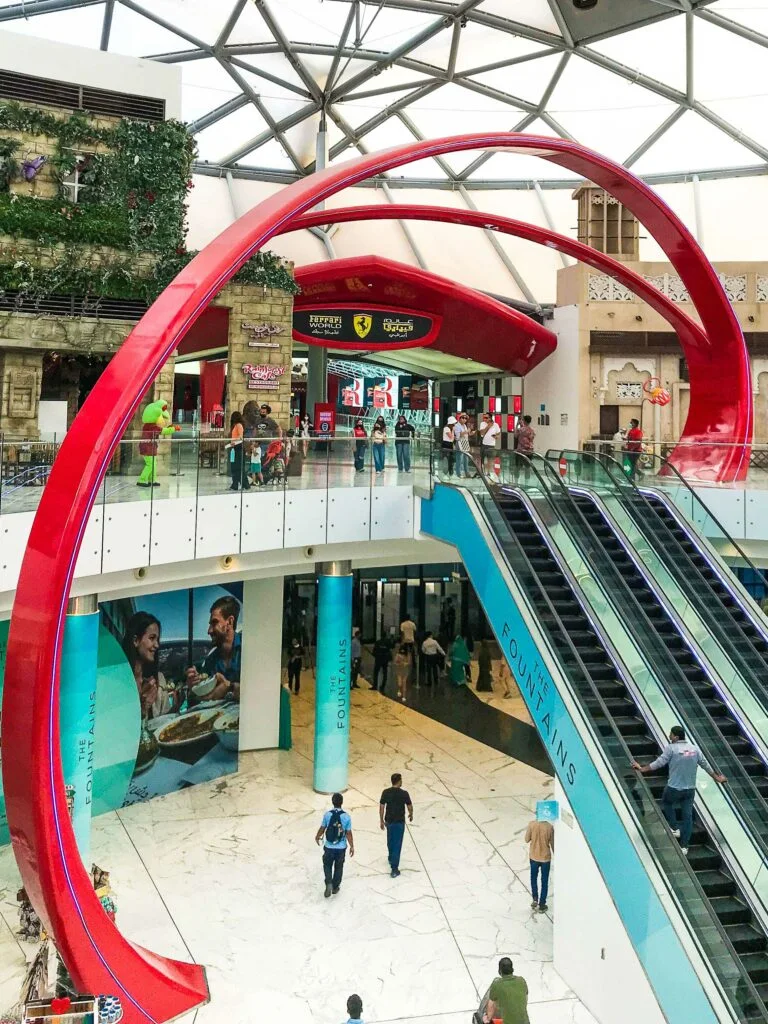 Inside, riders will enter the train before putting on a seatbelt, followed by a larger restraint and finally a pair of goggles, which are mandatory to protect the eyes when riding at such high speeds.
The train will leave and stop just outside at the Formula 1 traffic lights, where you will wait for lights out before being launched forward, feeling a surge of 4.8Gs.
The train blasts to a speed of 240km/h in just 4.9 seconds.
Next, the Flying Aces. This thrilling rollercoaster contains the highest loop in the world. 
The military bi-plane-themed ride begins with a 53-degree incline followed by an immediate plummet once you reach the top. 
Followed by twists and turns and the world's highest loop, this coaster is sure to get your heart racing! 
Third on the rollercoaster list is the Turbo Track. While this is a very short ride in terms of time, the lingering thrill is anything but. 
Riders enter the train three across and back-to-back.
This coaster shoots you up through the roof, where it will appear that you will run out of track, followed by a zero-gravity fall back down in reverse.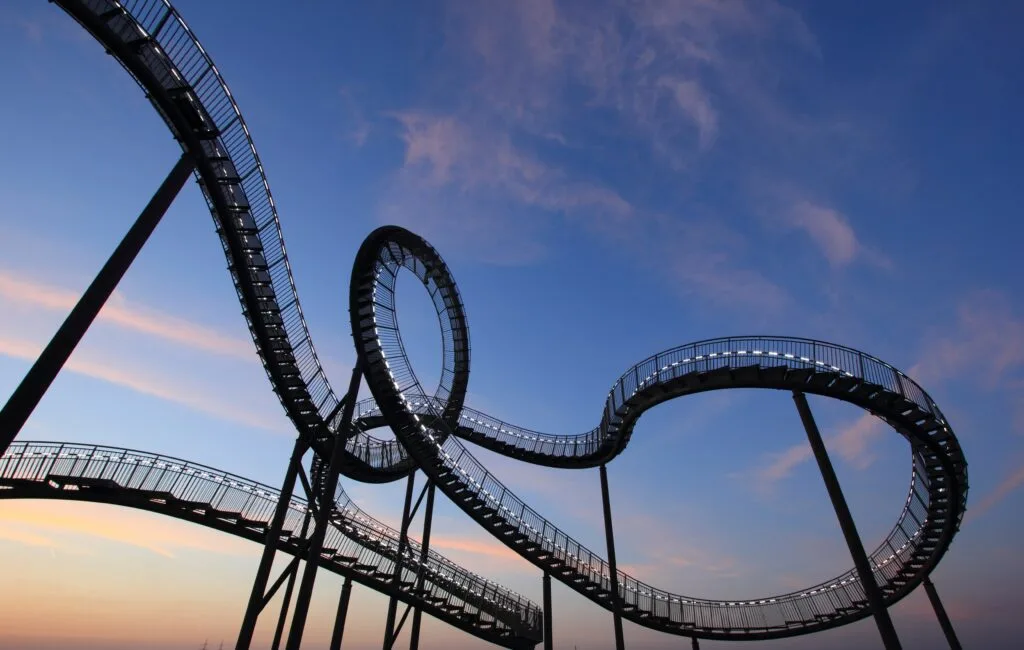 Other rollercoasters worth mentioning include Fiorano GT Challenge, Turbo Tower and Flying Wings. 
The Karting Academy and Junior Grand Prix are also great experiences. The karting academy comprises of a 290-metre electronic karting circuit where people can race for the best lap time. 
The Junior Grand Prix is a similar concept for younger guests, allowing children to race around a circuit in scaled-down F1 cars. 
In addition to the exciting rollercoasters and experiences, Ferarri World also offers funfair games, Formula 1 merchandise, soft play areas for children and an 'Italy section' where you will be transported to the streets of Italy.
This park offers many dining options, including Mamma Rossela, a favourite among many, where guests can enjoy Italian pizza, pasta and salads. Il Podio, offers Arabic, Indian and Western grills and the Officers Food Quarters, serve burgers, pizzas and sandwiches.
Those looking for a quick coffee and pastry or some delicious house-made gelato should visit Espresso Rossa. 
Ferrari World hosts a number of shows and events throughout the year, including mini-golf, Santa's grotto, gingerbread workshops at Christmas, and much more. 
You can book your trip to Ferrari World here
LEGO POP-IN & PLAY
Another popular indoor activity in Abu Dhabi for kids has to be Yas Mall. There are ample places for children to play and explore within the centre.
Firstly, Lego pop-in & play, you can find this shop on the first floor in section KL – 004.
Lego seems to be one of those companies that never go out of fashion. They grow and innovate with the times and have remained a child-favourite for countless years!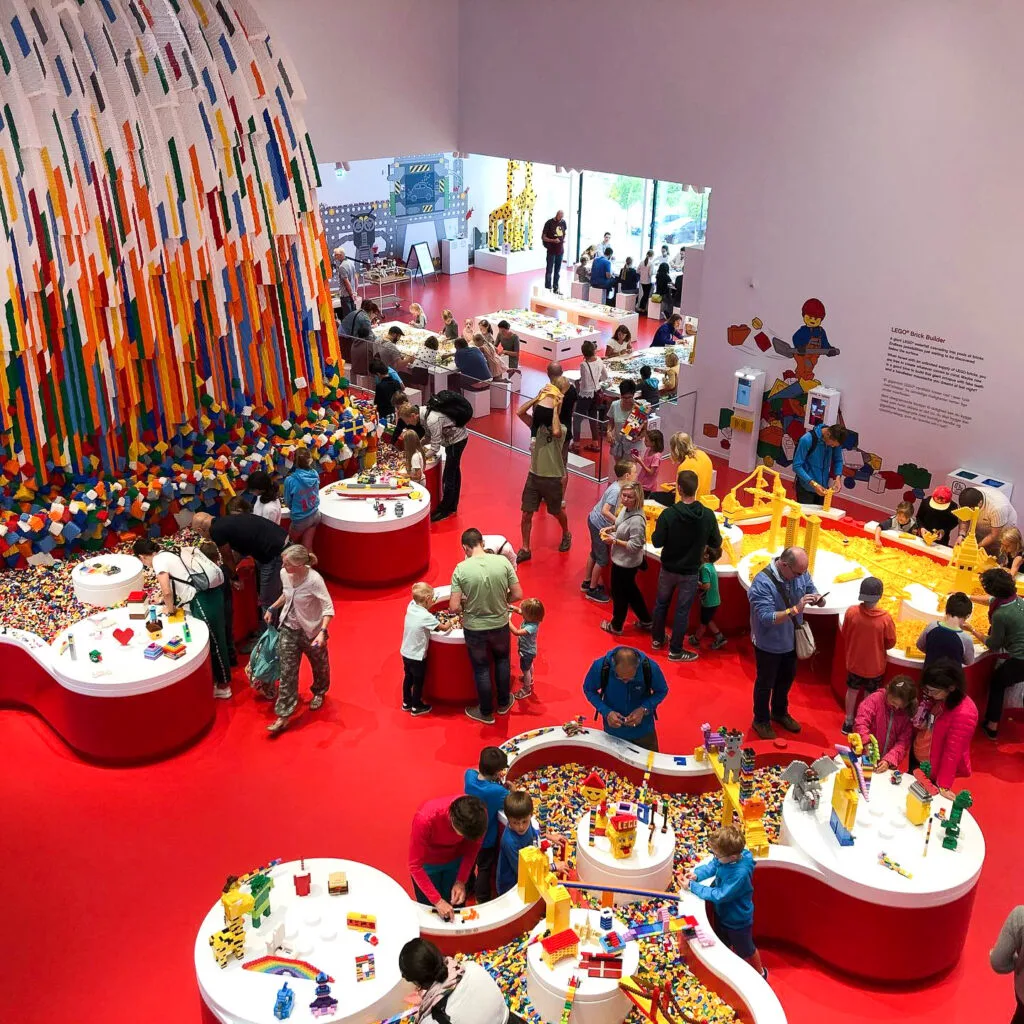 This lego shop is a great indoor activity for the kids. Kids and parents can visit the shop and explore all of the lego products.
This shop also allows customers to take some time to play with the products before buying. Meaning kids will spend hours in here building lego people, buildings and worlds across different these.
It's also great that children can interact with others while creating their masterpieces. Perhaps they'll even make some new friends!
FUN WORKS
Another Yas Mall gem for indoor activities in Abu Dhabi has to be Fun Works.
Inside this jam-packed play area spreading across two floors is another indoor activity based on fun learning.
Fun Works pride themselves on offering state-of-the-art unique equipment and activities. Each activity has been created around fostering positive parent-child connections.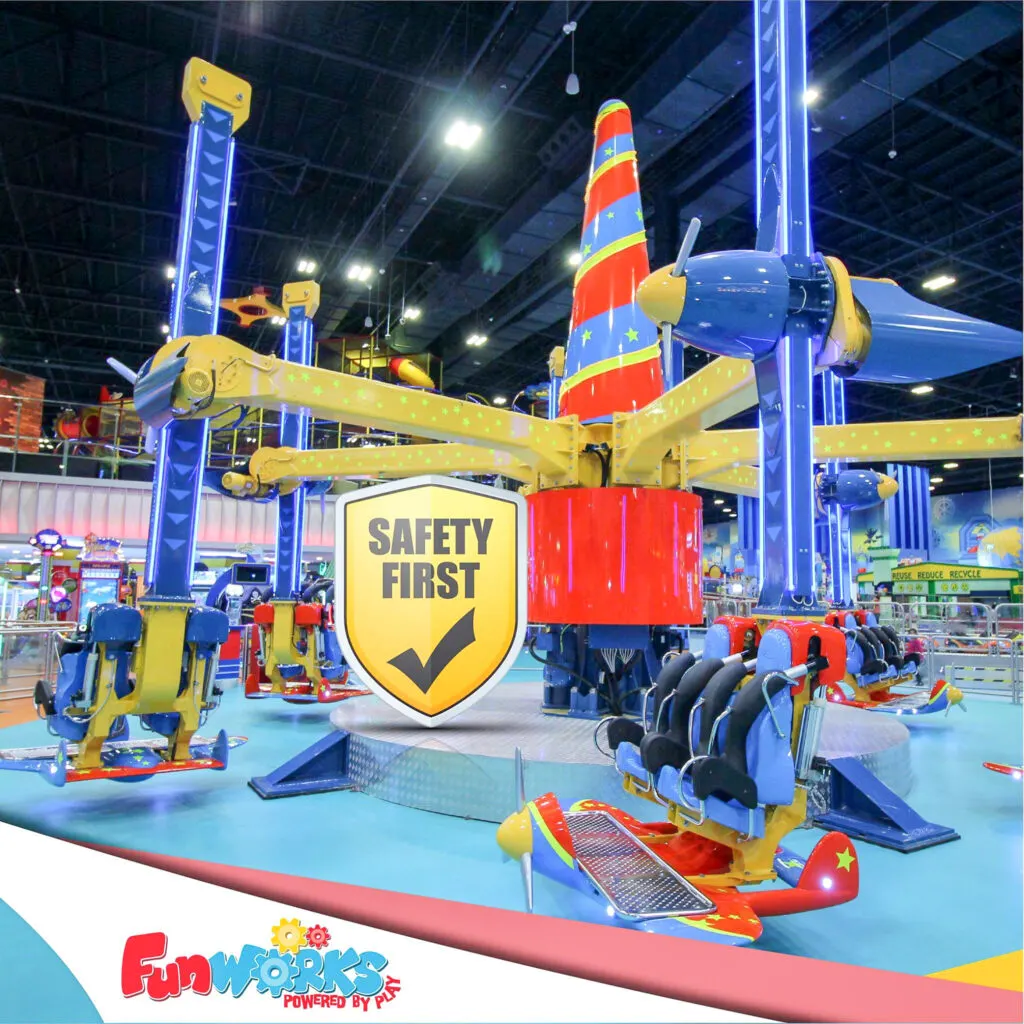 Within this dreamland for kids, there are rides, a huge soft-play area, learning workshops, toddler playgrounds video games and much more.
Kids can win tickets in some of the more traditional arcade games, which they can then trade for gifts like toys, teddys or even bikes.
There are funfair rides for kids and toddlers, play areas that focus on improving motor skills and exercise and creative soft play areas for all.
To find out more things to do in Yas, read our guide on the best things to do on Yas Island.
The Galleria Mall
The Galleria is high on our list of indoor activities in Abu Dhabi.
There is an immaculate and prosperous feel to this mall and the shops and restaurants reflect this.
The Apple Store within the mall holds regular free seminars, everything from how to take the best photos on an iPhone to kids workshops.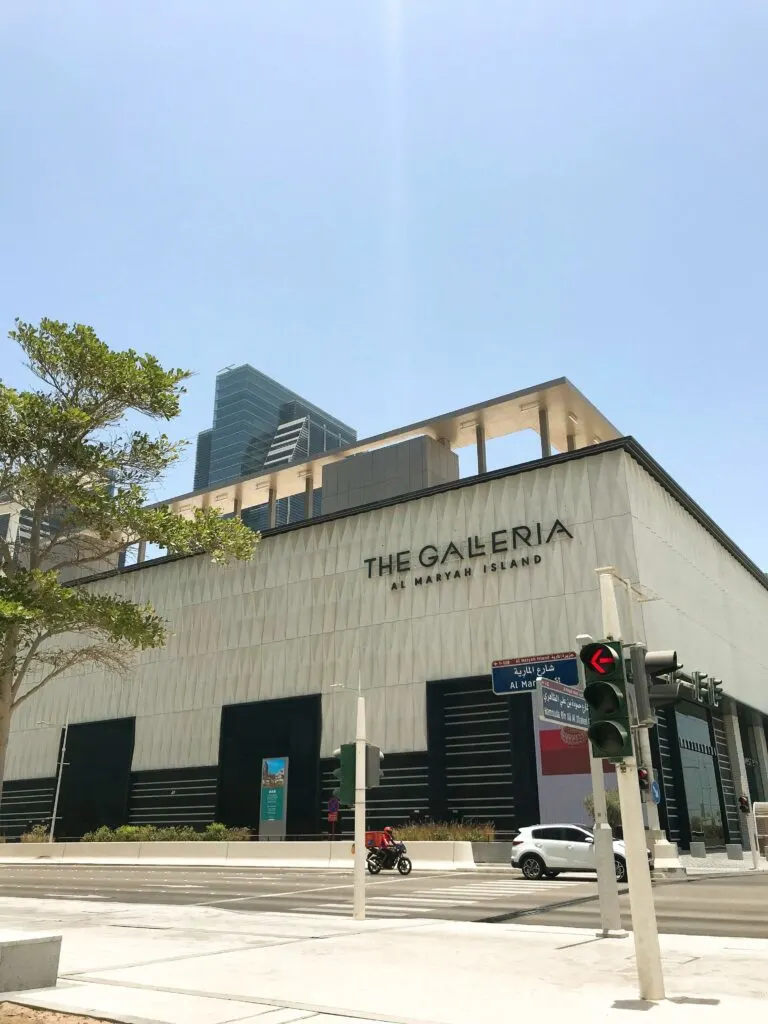 For those with a taste for luxury goods, one side of the mall boasts shops like Chanel, Louis Vuitton, Burberry, Cartier, Bvlgari, Christian Louboutin, Coach, Dior, Fendi, Gucci, Jimmy Choo and many more.
Enjoy window shopping along the endless lanes in the height of luxury fashion.
On the ground floor of this side of the mall, visitors can also step outside and enjoy the spectacular waterfront view of Abu Dhabi. 
Take a short walk along the water and watch as visitors have a meal in one of the lovely restaurants with outdoor seating or marvel at the Apple Stores architecture with stunning water features. 
On the other side of the mall are all the well-loved shops such as H&M, Zara, Bershka, Stradivarius and a large Virgin Megastore.
Here is somewhere people are known to spend much of their time exploring the many exciting products in this megastore, with no need to buy the product in the end.
Another shop with a lot of potential for free amusement is Decathlon. This sport and fitness shop has everything from camping tents to bicycles to weight machines to basketball nets. 
Take a stroll around this store and why not try out some of the sports equipment or clothing. 
The Galleria comprises of hundreds of shops, plenty of restaurants and cafes and a large Vox cinema.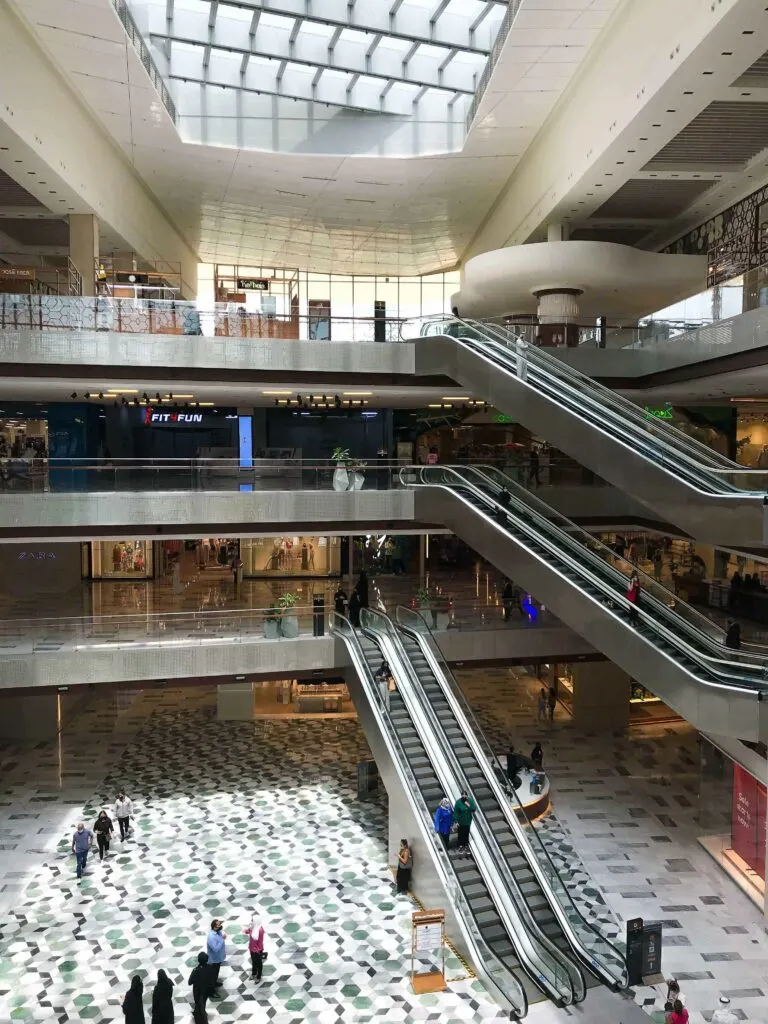 NATIONAL GEOGRAPHIC
First of the many options of indoor activities in Abu Dhabi based in the Galleria is the National Geographic Ultimate Explorer.
This is the first of its kind in the region, but we expect growth with its vast popularity and success on Al Maryah Island.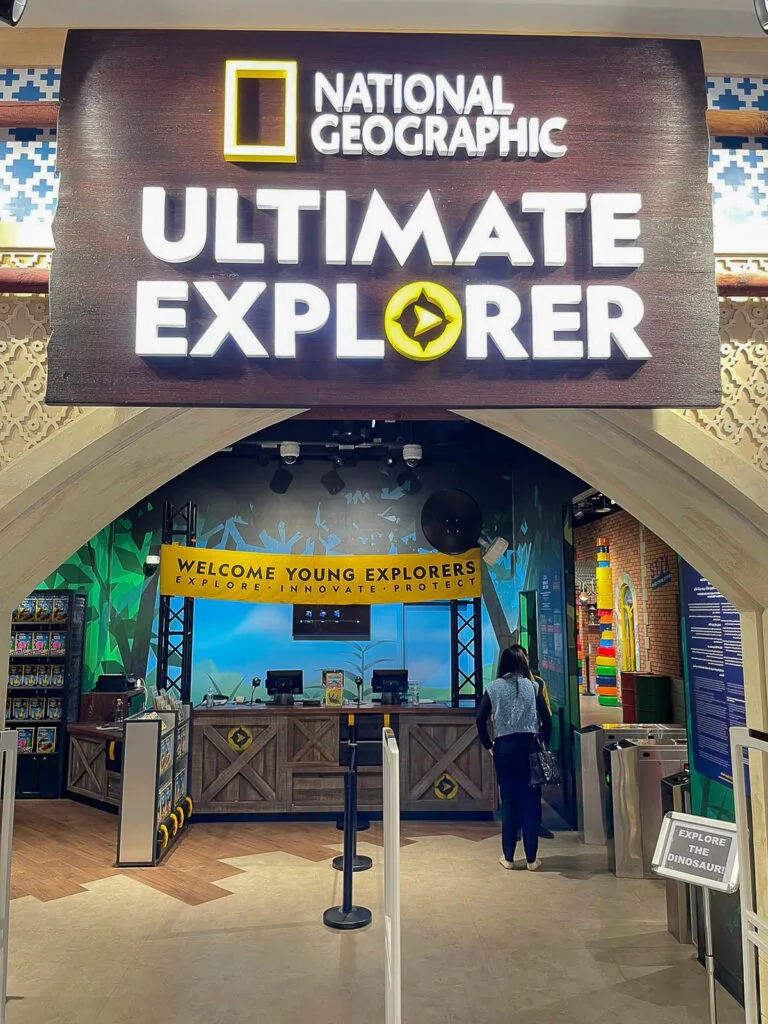 The idea behind this fascinatingly creative indoor experience is to inspire the next generation of scientists, engineers, thinkers and explorers!
The experience is a blend of augmented reality, virtual reality and 3D technology to create a fully immersive play-based learning experience for children between 5-12.
This immersive family experience allows visitors to visit space in their shuttle, chat to a panda, programme a robot based on Mars and much more.
The experience offers something for each age group and interest with activities such as:
Upcycling – here, kids can get creative and create something new by reusing materials within a painting or sculpture or anything they can think of. They can bring this home afterwards.
Mission Mars – kids can use their programming skills to control a robot that is drilling on Mars. They must figure out the controls and direct the robot correctly before making it safely back to base before the mission is over.
Space Jump – the older kids can explore space within the AR experience. There are two options to choose from, floating in space or driving a rover on Mars!
Wild River Recon – another AR experience, is based in the rainforest! Children can experience exploring the rainforest in search of exotic animals that they can take pictures of with their AR equipment.
Canopy Climbers – this activity is most popular among the younger kids. It helps develop motor skills while also using their brain as they climb and explore this rainforest play area.
Terra Studio – this experience involves sand play like no other. The lights projecting down onto the sand pit simulate rain, volcanos and earthquakes. Here, kids create their mountains, volcanos and other environmental wonders and they can watch as the rain falls or their very own volcano erupts before them!
Crittercam live – in this experience, kids can live their dream of talking to animals! Within this theatre, children can use a Zoocoder to have an interactive conversation with a giant panda!
If all that isn't enough to convince you that this will be a big win for the kids, we don't know what is!
There are, of course, plenty of places to get food before or after this experience and the National Geographic also has a gift shop to explore after your visit.
XTREME ZONE
Another action-packed indoor activity in Abu Dhabi for kids is Xtreme Zone. Also conveniently situated in the Galleria Mall, this indoor activity is suitable for kids of all ages.
There are a couple of Xtreme Zones in the city, but this location is recommended!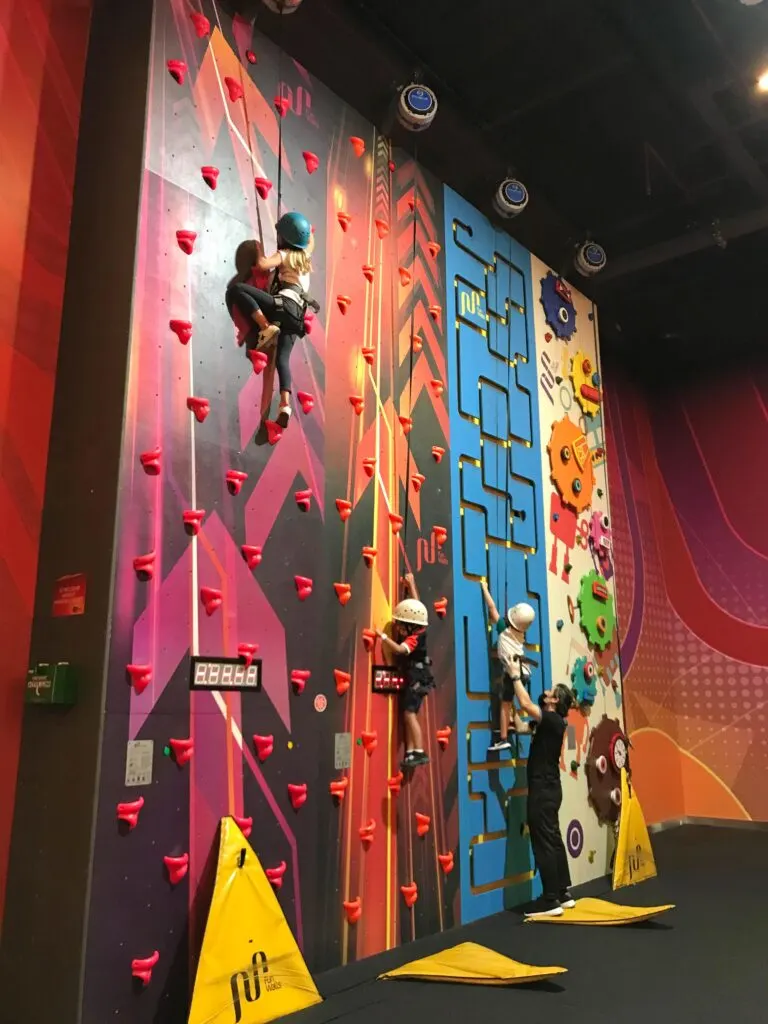 Offering a host of activities for the whole family, Xtreme Zone has things like arcade games, challenging climbing walls, a trampoline park and let's not forget, billiards and blowing so the whole family can get involved.
If you want to entertain the younger ones while having a break for yourself, the soft play area has a cafe where you can enjoy a beverage and watch from a distance.
If your kids are old enough to be left in the care of the Xtreme Staff, there are options to leave the kids while you can go and enjoy some shopping or a movie in the mall.
FIT 4 FUN
Another Galleria Mall favourite, Fit 4 Fun. Over the last couple of years, the UAE has implemented several activations and initiatives in an attempt to make the country healthier.
As a result of the climate and culture, UAE residents have not been very successful in terms of physical and mental health.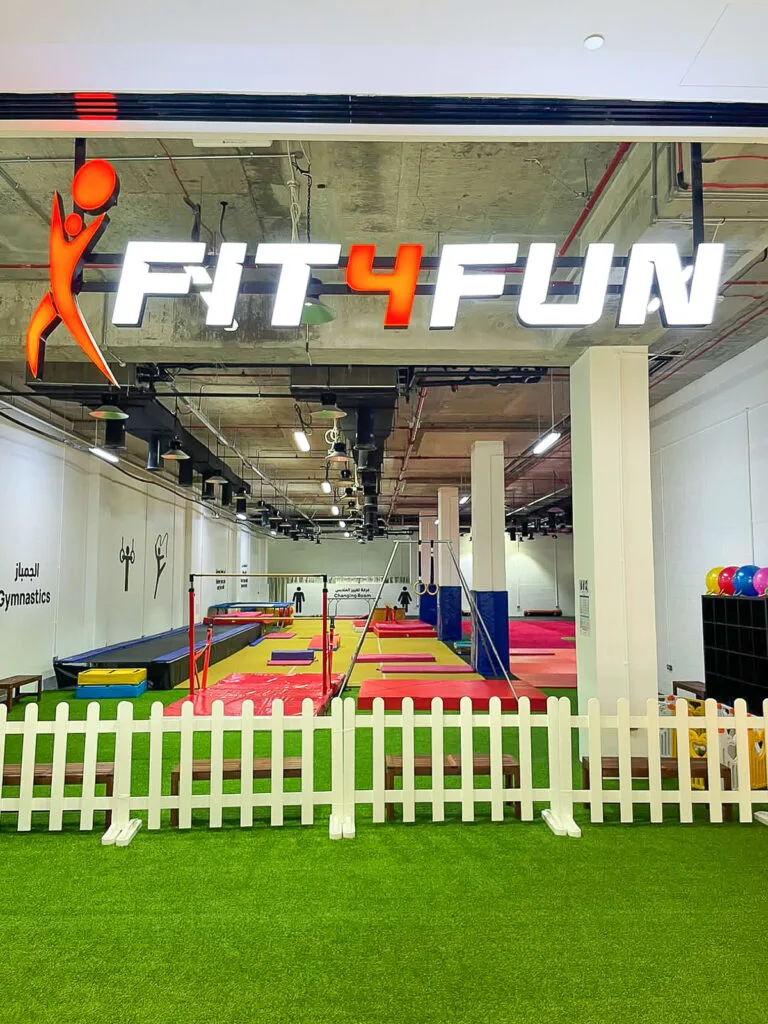 To encourage residents to improve their health, many health and fitness activities and initiatives have been implemented across the country.
Abu Dhabi has done exceptionally well with this and many of these sports, activities and clubs have successfully encouraged the health and wellness of the capital's residents.
Fit 4 Fun is yet another great initiative. Developed mainly for children but suitable for all, Fit 4 Fun has taken over a large space in the Galleria and offers lots of activities to help keep the kids fit and healthy while the weather is hot!
There are all kinds of activities, including:
Cage football
'Ice' skating
Cage cricket
Teoball – a combination of tennis and football. Opponents hit the ball back and forth on a curved table using any part of their body except their arms and hands.
Mini golf
Gymnastics
Archery tag – a combination of archery and paintball. Opponents use the non-dangerous bow and arrow to hit a member of the other team.
Table tennis
Karate
Judo
Kick-boxing
Fit 4 Fun also offers children's camps over the holidays, which is a great way to entertain the kids while they're off school.
CABDOODLE
Last on the Galleria Mall list, Cabdoodle. This indoor play area is a favourite among the Abu Dhabi community!
There are countless play options for children in Cabdoodle, as well as different options for parents.
The Stay & Play options allow children to use the play area. Here there are things like dress-up, arts & crafts and free play with tonnes of toy items.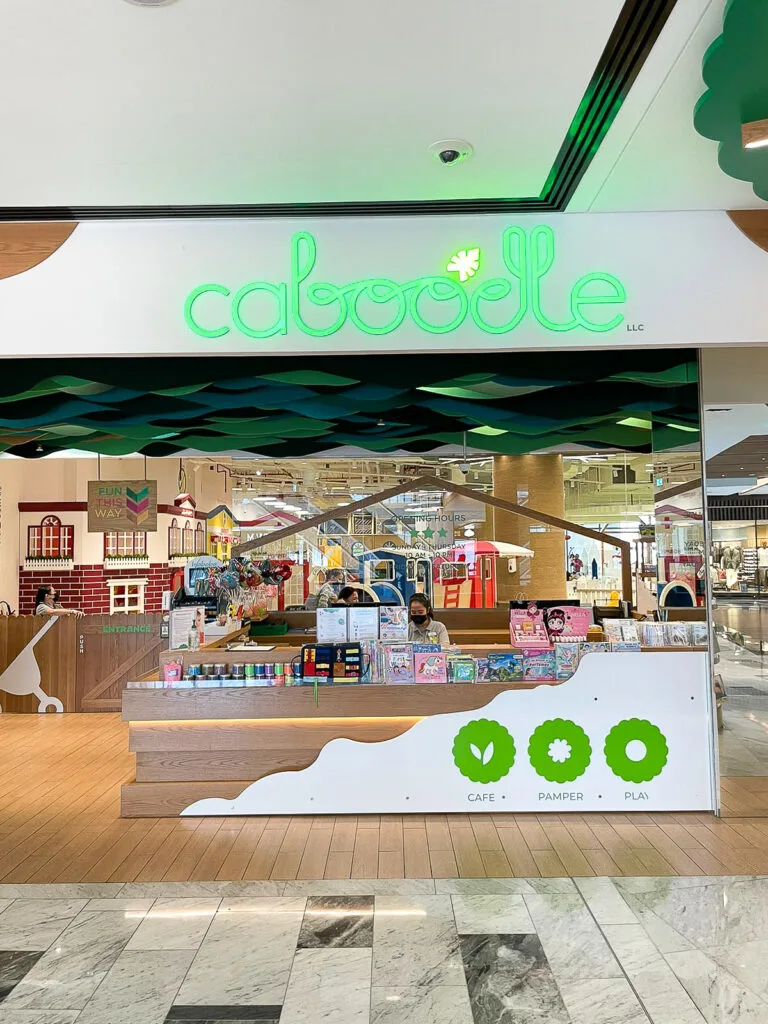 For the Stay & Play option, a parent or caregiver must always accompany the child.
For parents hoping to get some shopping done, there is a Drop 'N Shop option that provides 1-on-1 babysitting within the caboodle play areas.
For any parents looking for a long-term deal, monthly memberships allow you to join the caboodle club.
The great news is that Caboodle offers Spring, Easter and Summer Camps for the kids while they are on their school holidays.
The camps are usually 4 hours long and include activities such as drama, gardening, free play, storytelling, fabric painting, sensory play, building blocks, science experiments, cookie decorating, obstacle courses, mascot meet & greet, music & movement and much more!
These camps are indeed one of the best indoor activities in Abu Dhabi for the kids!
There are also plenty of other activities and class offerings throughout the year like Music Monkeys, Earth Day Crafting, Ramadan Gifting, Easter crafts and other seasonal activities.
Marina Mall
Another great activity centre for the kids is Bounce Abu Dhabi. Named 'the home of freestyle' this indoor trampoline centre will be a winner for kids of most ages!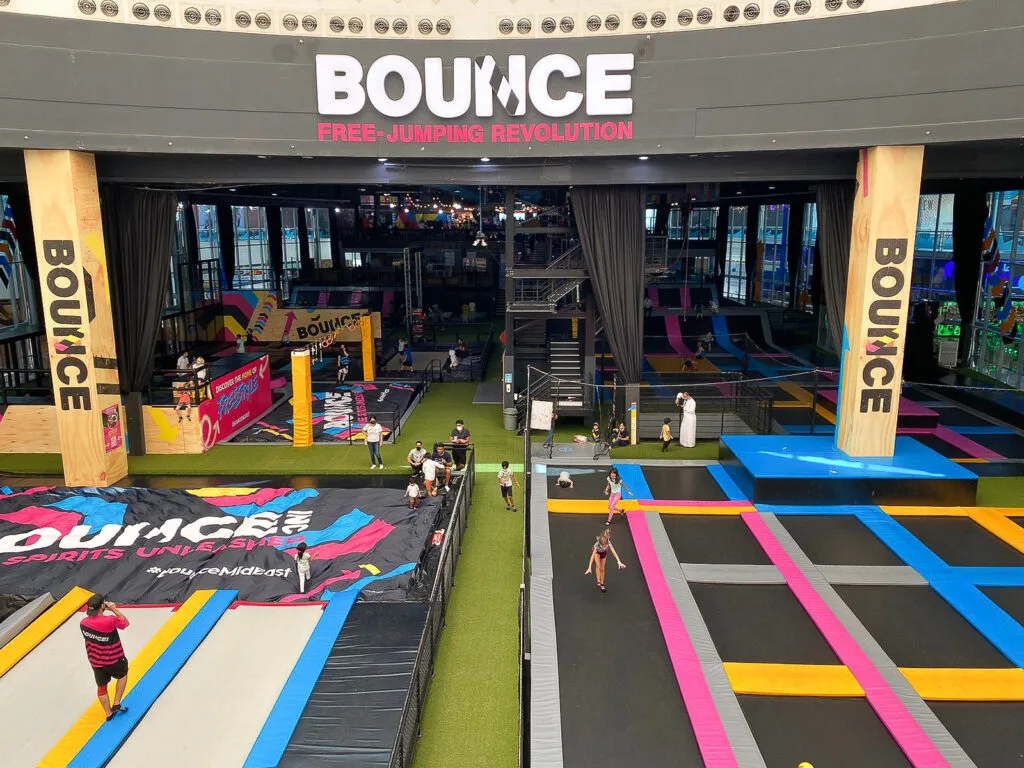 There are trampolines, airbags and adventure challenge features, making it one big playground for kids!
Bounce is located in Marina Mall in the heart of the city. There are different areas for children under 110cm and over. There are also different prices depending on which section you choose and how long you stay.
World Trade Centre Mall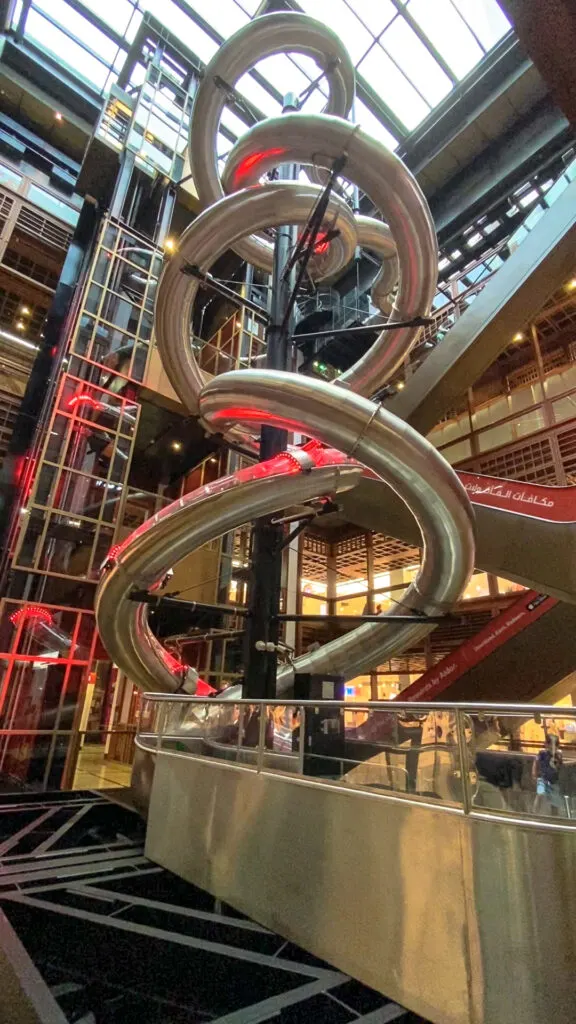 Velocity is an experience like no other. This silver slide can be seen while visitors wander through the World Trade Center Mall! It can accommodate larger groups and even offer bespoke packages for special occasions such as weddings or birthdays.
Why not experience the 68-metre and 54-metre slides gaining speeds of up to 2–3 mph. The megastructure has a transparent section so everyone can see what is happening along the journey while zooming down four floors at speed!
This is one that will be popular among the kids however, it has been known to be equally so with adults looking for something fun within the mall.
Would you be tempted to try it out?
Find out more about Velocity here
If you are unsure about the dress code in Malls or anywhere else in Abu Dhabi, you can find our guide on what to wear in Abu Dhabi here.
THE NATIONAL AQUARIUM
Without a doubt, one of the best indoor activities in Abu Dhabi for kids and parents alike has to be The National Aquarium. The National Aquarium opened in late 2021 in Abu Dhabi and has grown in popularity ever since.
This aquarium is the largest in the Middle East and is home to over 46,000 different animals! The National Aquarium assure the public that all of these 46,000 animals are cared for accordingly by the 80+ marine experts employed there.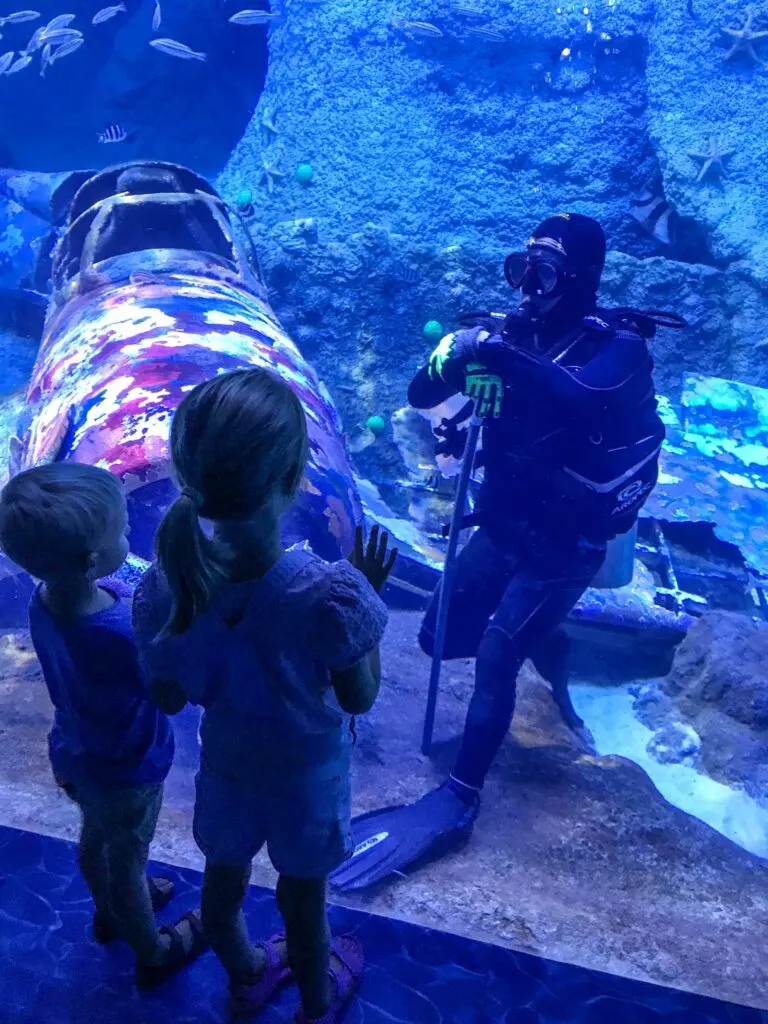 Interestingly, the aim of the National Aquarium is not just to educate and inspire people about marine life. Their ambition is actually to become the largest and one of the most innovative rehabilitation schemes for sea life.
This aims to protect and rehabilitate marine life in Abu Dhabi and the surrounding areas. They have already created a vehicle that has been designed to undergo animal rescues so that the National Aquarium can respond to animal emergencies.
Once collected, the injured animal is brought to the Aquarium, where it will undergo an assessment, treatment, rehab and be released once well enough.
When visiting this spectacular Aquarium, bear in mind that the experience has been split into ten key areas:
UAE's Natural Treasures
To pay respect to the rich history of Arabian pearl fishing, visitors can witness how oysters and pearls are naturally formed on the coasts of the Eastern Arabian Peninsula.
Pearl fishing was a large part of Arabic history and was the main reason the UAE came to enjoy fortunes.
Red Sea Wreck
In this section, visitors are brought through a large shipwreck. This is fascinating to explore both because of the wreck and what remains and the hundreds of fish and coral that can be found in the Arabian Red Sea.
The design of this section resembles the wood that would be used on ships and the windows into the marine-life look like windows on a boat. These details make the entire exploration even more enjoyable.
One of the best creatures found in this section has to be the seahorses.
Atlantic Cave
Again, the grand design of this section makes you feel as though you are in an underground cave. The cave-like walls are full of natural stalactites and stalagmites.
This section allows visitors to feel as though they are in a deep cave anywhere across the world, with unique formations that have been created through plate tectonics and erosion over thousands and thousands of years!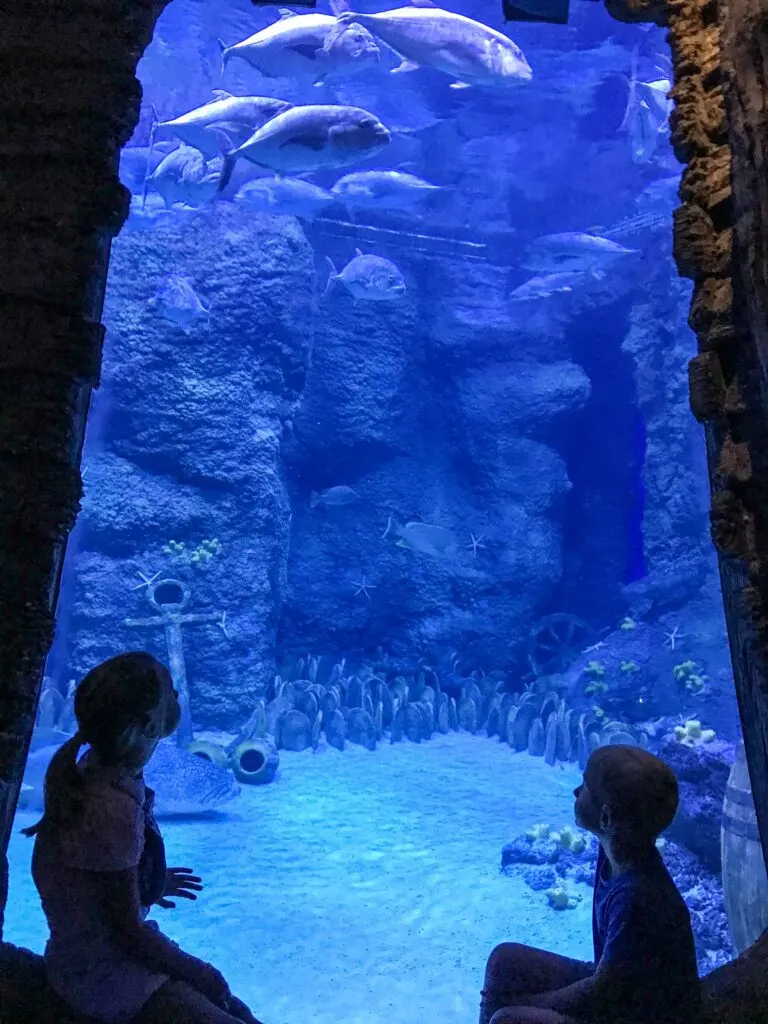 The creatures around this area cleverly hide and swim through the nooks and crannies as they try to find safe habitats to breed in.
The Sub
In this section, visitors are transported to what feels like a submarine, fully submerged under the sea. Here you can find some of the less well-recognised creatures, many with hard shells which are difficult to distinguish as creatures at all!
In this section lies the Nautilus. A large marina mollusc, related to the squid, octopus and cuttlefish. You will see this large shell-looking creature in one of the tanks in the centre.
You will have to get lucky to catch the Nautilus pop up from its hard exterior shell!
Ring of Fire
The Ring of Fire is the longest chain of volcanoes in the world, located on the outskirts of the Pacific Ocean.
This section is fascinating and educational as there is a short video describing where the Ring of Fire can be found and what happens there.
There is also an interactive sand area where visitors can mould their sand to create the Ring of Fire with the help of the projectors overhead. Then watch as the volcanoes erupt right in front of you!
Interestingly, while volcanic eruptions can be catastrophic for humans and animals, they do serve a purpose in enriching the earth with nutrients and components.
Exploring the marine life in these sections becomes even more interesting when you learn how they must adapt to the ever-changing environment within this Ring of Fire.
Ocean Magic
This section is beautifully curated by showcasing the marine life in beautiful settings to show their versatility and adaptation skills.
In this section, there are beautiful lights and UV that showcase the fascinating creatures that light up or glow under water.
Also, it is here that lies one of the most popular exhibits of the whole Aquarium, the Mini Cooper, filled with swimming fish!
See if you can spot more sea horses here and one of the most fascinating creatures, cousin to the seahorse, a stick-like creature that bobs in and out of the seafloor!
Many of the creatures in this section have had to adapt and behave accordingly so that they can protect themselves in this dangerous part of the sea!
Frozen Ocean
This section is a very popular as visitors emerge from the deep sea and arrive in the 'giant ice cap'. Visitors will experience Arctic sea birds like puffins and penguins here as well as various types of fish that live in these icy conditions.
These icy areas are not only home to the wildlife in these areas. This section also plays a significant role in maintaining planet temperatures to ensure other parts of the world are suitable for animals to breed and thrive.
The Flooded Forrest
This section will be another family favourite. Stepping into the Rainforest, visitors will get to explore a range of animals, from snakes, fish and birds.
A popular resident in this area is the 'Super Snake'. A resident in the UAE for 14 years, the Super Snake weighs 115kg, is 7 metres long, takes 12 people to carry, is an excellent swimmer and has a preferred diet of ducks and rabbits!
Here visitors can also come very close to Toucans, Flamingos, Parrots and lots of other rainforest creatures!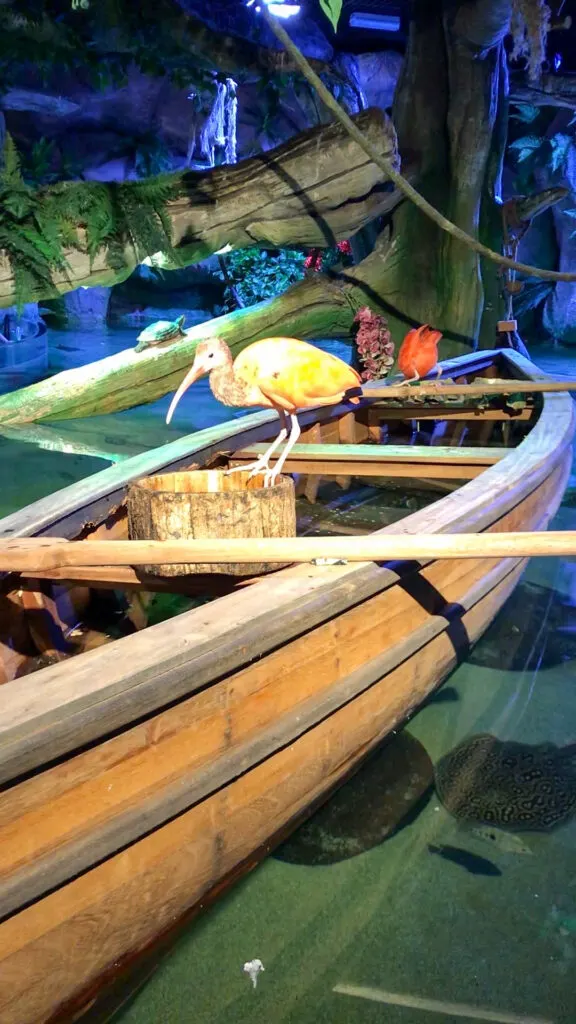 The birds aren't in cages which makes this section all the more enjoyable as they can fly over you and you can get close while watching them eat, drink and bathe.
It is only fitting that this area is so popular among guests as the Rainforest plays such a vital role in our ecosystem.
Interestingly, the Rainforest is home to over 50% of the world's biodiversity, yet it only covers 2% of the Earth's surface!
Bu Tinah Island
Another highly popular section of the Aquarium and a much-snapped area, where visitors walk through a corridor with 180-degree views of the Aquarium. This section is fascinating as you feel surrounded by large fish, sharks and sting rays swimming over and beside you!
Behind the scenes
There are a couple of add-on experiences that visitors can avail of during their Aquarium trip. Visitors can go 'Beyond the glass' where they can get closer to the action and also cross the glass bridge with wildlife swimming below.
Visitors can also choose the Bu Tinah Dhow experience, where they will be taken on a boat tour through the aquarium to get closer to the action. The boat also has a glass bottom!
There are a few other options worth mentioning, like the Junior Marine Biologist, where kids aged 5 – 15 can experience what it's like to be a marine biologist with a hands-on workshop.
There is also an option for visitors to scuba dive in the National Aquarium. To find the prices, check out their website.
You can purchase your day ticket to the Aquarium here. For any of the add-on experiences, ask on arrival.
Toy / Electronic Shops
When the weather starts to heat up and you're frantically searching for an indoor activity in Abu Dhabi, why not simply visit one of the many interactive toys and electronic shops around the city.
Kiddy Zone – Mushrif Mall
Swimming with branded toys, electronic games and outdoor play items.
Lego Pop in & Play – Yas Mall
As previously mentioned in this article, this shop allows kids to hang out in-store while they test out all of the lego products by building and engaging with other kids in-store.
Toys R Us – The Galleria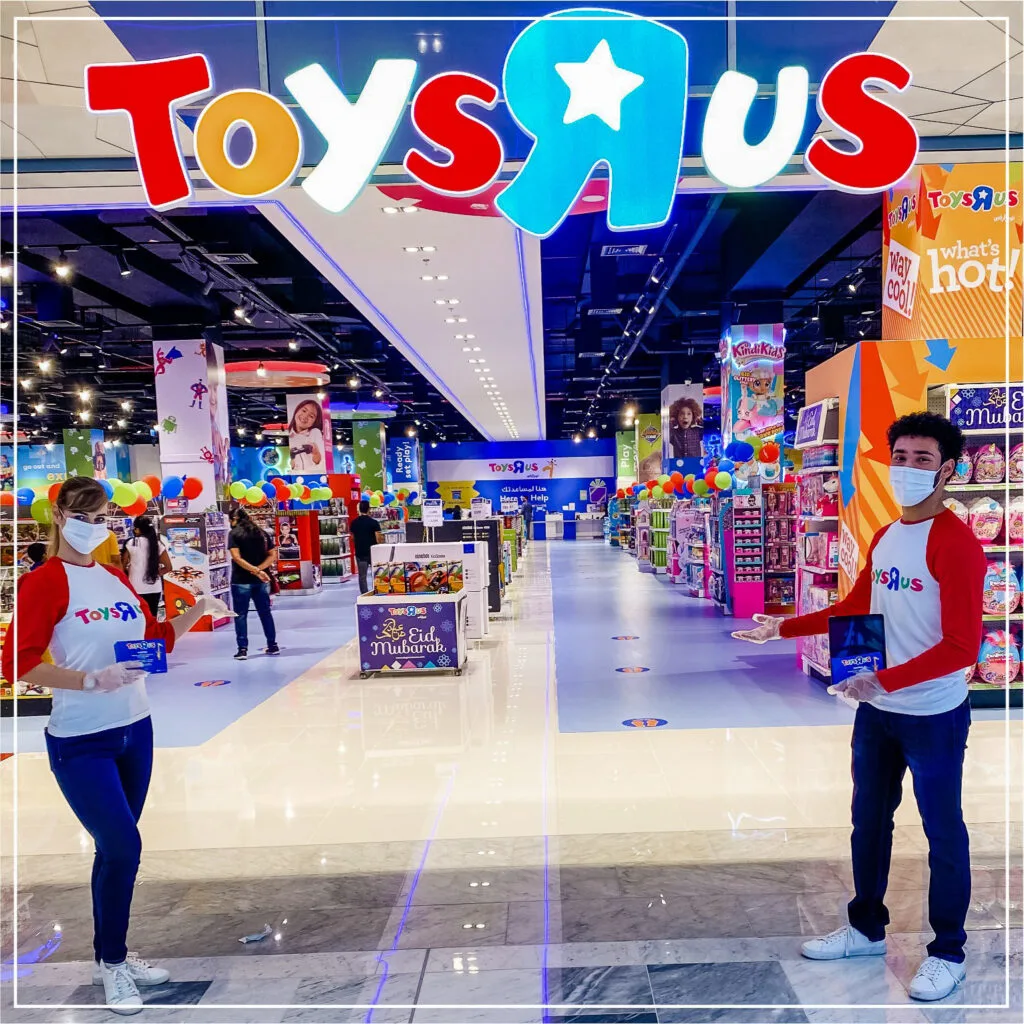 Another massive toy shop with all of the latest popular toys, electronics, indoor and outdoor play items.
Virgin Megastore – The Galleria, Yas Mall
Most will be familiar with the giant Virgin Megastores around the UAE and globally. These are a win-win as there will be just as much entertainment for the adults as the kids.
AIR MANIAX
A 30,000-square-foot heaven for kids, Air Maniax, should be high up on your list of indoor activities in Abu Dhabi!
This enormous indoor play zone has countless experiences for kids such as:
The Inflatable Arena – a 15,000-square-foot inflatable zone for kids and adults! Why not join the kids in this bouncy obstacle arena and have some family fun.
Warrior Assault – this section is for contenders looking to test their balance, speed and agility across various demanding activities. Suitable for individuals or for people to compete against each other.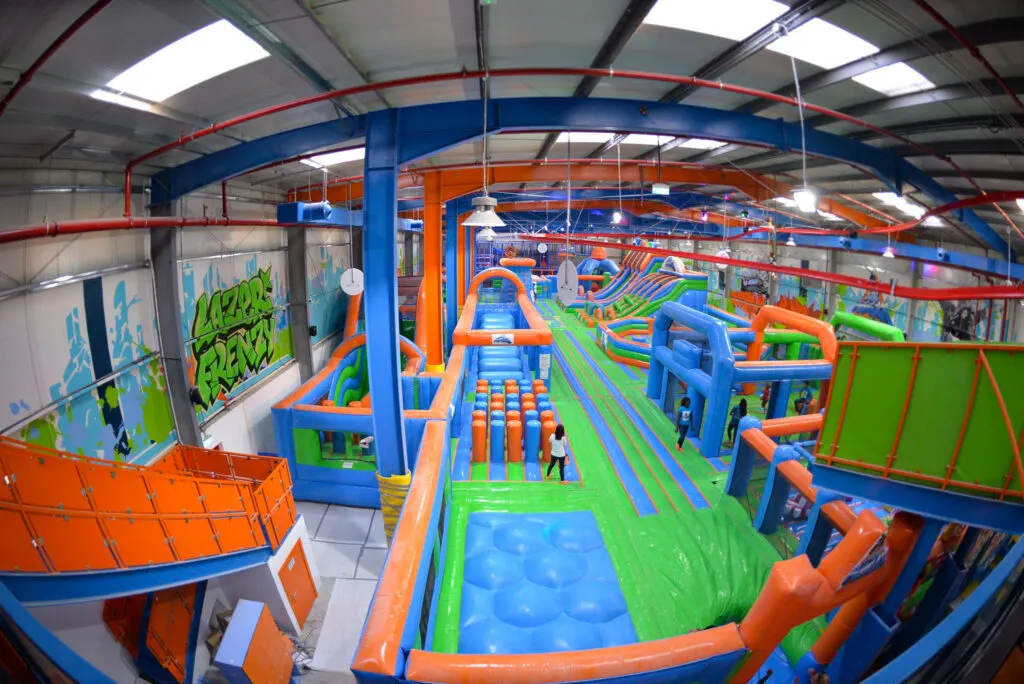 Mini Warrior Assault – this means even the younger kids won't miss out on the action. This section is created for kids under 95cm so the toddlers can run, jump, slide and climb around the thrilling assault course.
The best Air Maniax in Abu Dhabi is located in Marina Mall.
LITTLE WORLD
Little World is another possibility for indoor fun with the kids. Once again, there is a strong emphasis on education mixed with play in this indoor activity.
There are many discovery zones to explore, such as the indoor playground, the backyard, creation station, magical treehouse, stage theatre, water explorations, the little village, kinetic exhibits and much more. All discover zones are immersive areas for children to play and learn!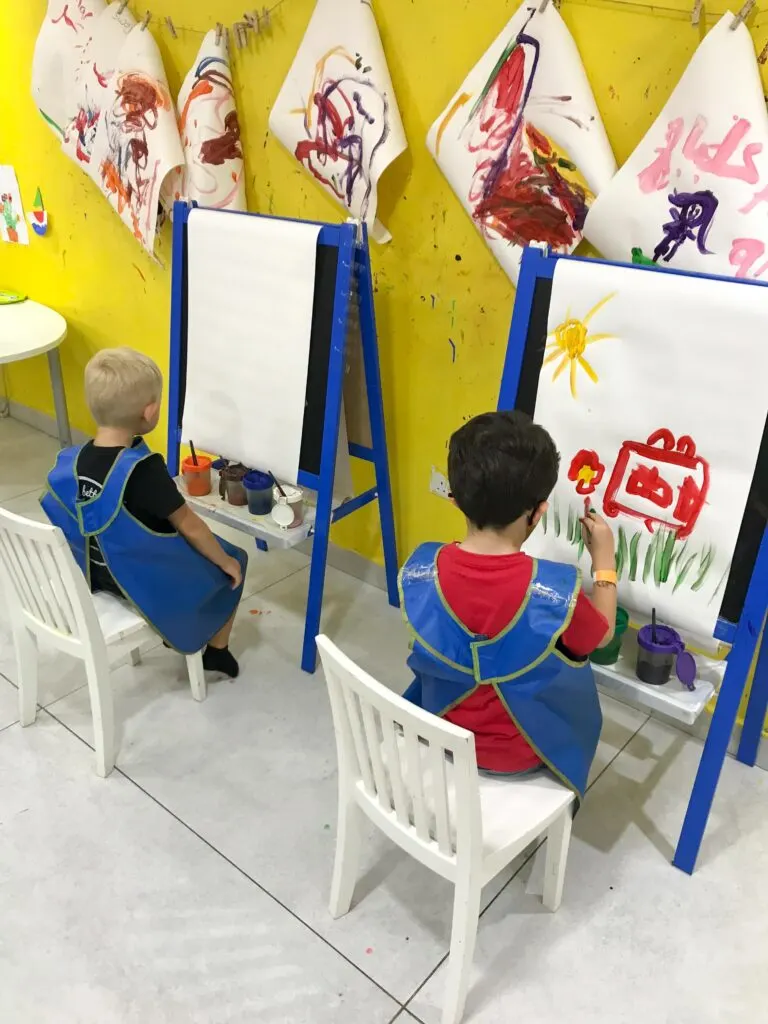 Other areas include the touch tank, a tank filled with sea creatures where children can learn and pick up the creatures carefully and explore them.
In the Tech Lab, kids can join in all sorts of practical science experiments. Little World is also home to the Black Box Theatre, allowing children to engage with live performances of fantasy, comedy and costumes.
ABU DHABI CHILDREN'S LIBRARY
The Abu Dhabi Children's Library is a beautifully developed space allowing children to immerse themselves in books and imagination.
There are several wonderfully creative zones like Book Mountain. Here visitors can read, sketch or watch a movie.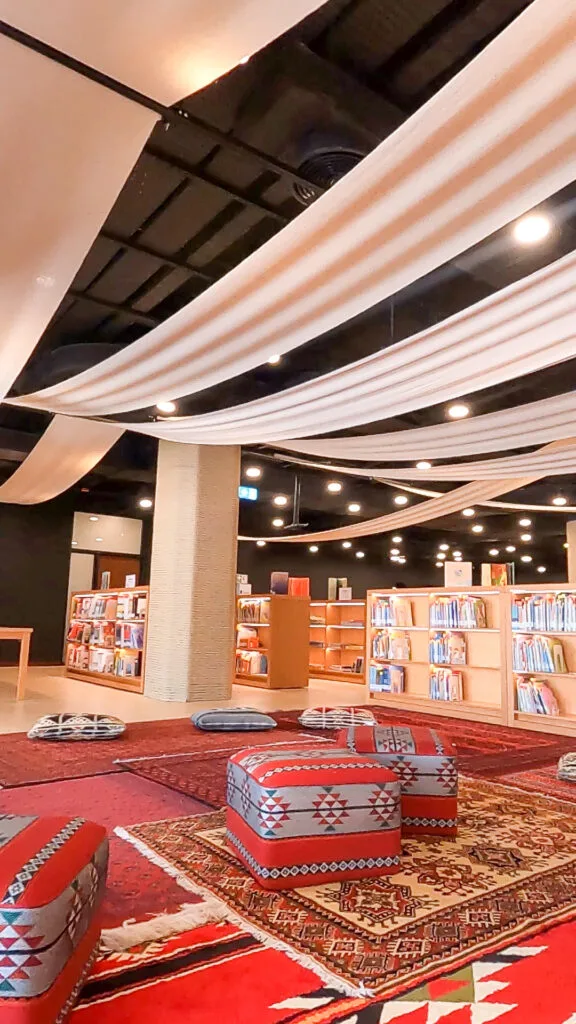 The Dunes invites children to learn about the UAE desert history, allowing children to ride the camels and listen to stories of the Emirate's history.
The Creature Space invites kids to learn about animals and nature by becoming immersed in animals and nature.
The Toddlers Area allows the younger ones and parents to hang out and take part in early childhood stories and learning.
The Art Workshop is a brilliant space where children can be even more creative through arts and crafts.
The Falaj is comprises of a book 'stream' where children can pick a book and read from the tree house.
Finally, there are some reading nooks where individuals or a couple of children can relax and read in the comfort of their own little area.
Once the weather starts to cool down again, we have a comprehensive guide of all of the best things to do in Abu Dhabi here.
Or, if you are trying to save money at any stage, discover all of the best things to do in Abu Dhabi for free here.
You may also be interested in,
Disclosure: We only recommend experiences or products that we have personally used or that have been highly recommended by others. If you get anything we have mentioned through the referral links, we may get a small commission with no extra cost for you.