Brunching on the weekend has been a long standing tradition in the UAE! However, if you are not familiar with brunch in the Emirates, it is quite different in comparison to other countries.
It usually consists of an elaborate late lunch in the form of a lavish buffet. Although some restaurants do table service and a set menu. It can also be an evening brunch and generally comes as part of a package with either soft drinks or liquor.
Many of the hotels & restaurants around the UAE and of course Abu Dhabi do weekend brunches. Some have family vibes whilst others have more of a party feel!
In January 2022, UAE changed their weekend from Friday and Saturday to Saturday and Sunday. Hence there have been a lot of changes in brunches in the capital, so, it is worth checking out this list of the most up-to-date brunches on a Saturday for 2023.
Whether it's Pan-Asian cuisine, gourmet fare, vegan dishes, Jamaican food, not to mention pool access, or something completely different, here is our list of the best brunches on a Saturday in Abu Dhabi!
Best Saturday Brunch Abu Dhabi
1.VaKaVa
Get a taste of Latin America's fiery passion through every dish, conversation and rhythm.
The beloved gastronomic treasure, VaKaVa, renowned for its irresistible Latin American cuisine, is set to make a highly awaited return from September 14th to December 2nd.
Following its prestigious recognition as a Michelin Selected establishment in 2023, VaKaVa is ready to welcome guests once more!
Under the guidance of Chef Eber, the culinary team pledges to take diners on an enchanting expedition through the flavors of Latin America. As they gear up to introduce an exciting new venture in 2024, Conrad Abu Dhabi Etihad Towers is committed to redefining the art of dining.
With eye-catching artwork and décor as well as colorful drinks served in test tubes, the walk to your seat is almost worth a visit alone.
The adult-only sharing-style brunch is bursting with flavour every Saturday afternoon, through a mix of traditional and modern Latin dishes.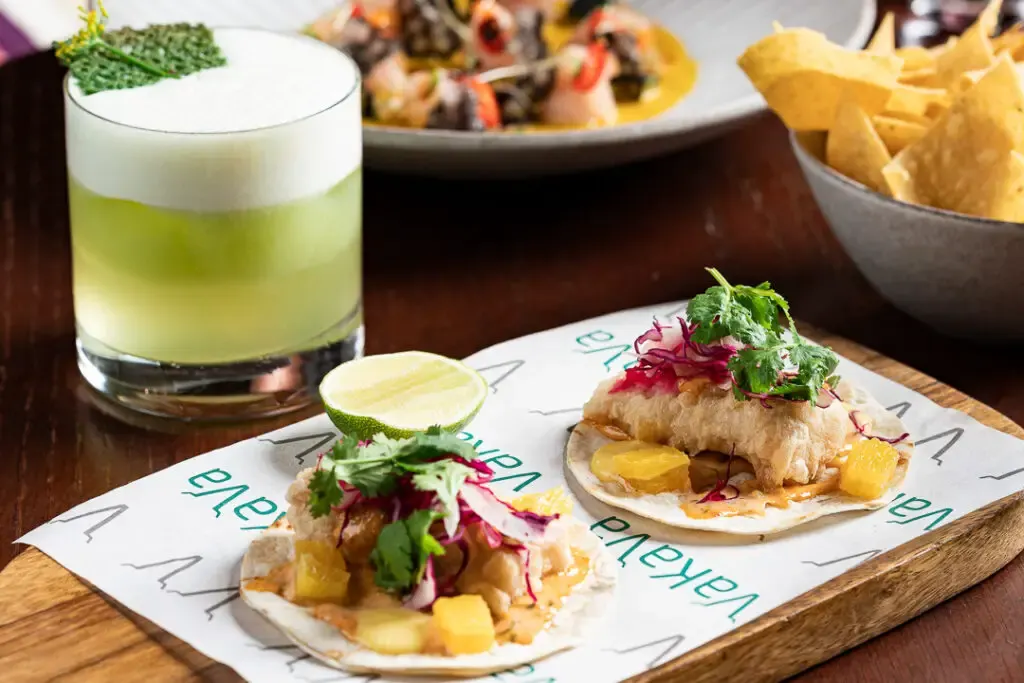 There will be familiar recipes as well as rare recipe gems, harvested from the land of fire and spice delivered straight from the kitchen to your table which always make like easier.
The experience here is truly a legit Hispanic love language above all else.
Price: AED 295 Soft Beverages Package
AED 495 House Beverages Package
Timings: 2 PM to 7 PM
Location: West Corniche, Level P1, Conrad Etihad Towers, Al Bateen, Abu Dhabi.
2.Brunch Ensoeillé-Sofitel Abu Dhabi Corniche
Brunch Ensoeillé is French for brunch in the sun. The Saturday brunch is situated perfectly on the rooftop of Sofitel next to the pool. At the Grills @ Chill'O restaurant, the talented chefs work at live cooking stations serving various delicious international and regional food.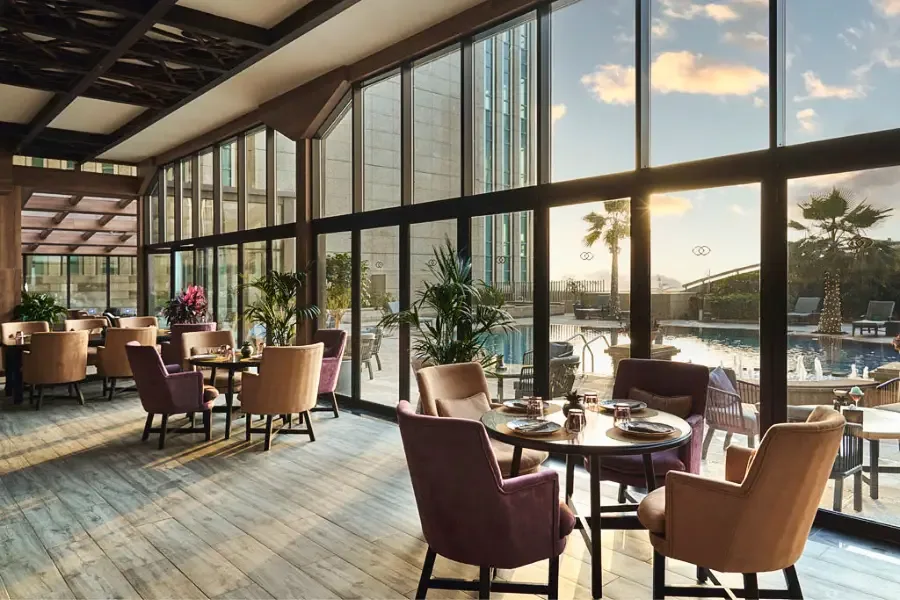 Kick-off this amazing brunch with welcome drinks and delicious appetisers. Fresh oysters and crustaceans make a divine seafood selection. Prepare for the bar staff to whip up crafted beverages so they can be enjoyed with epic views of the Corniche.
A highlight has to be the flame-grilled barbecue section, where succulent meat and fresh seafood sizzle away on the grill. The meat and seafood are a melt in the mouth texture. Our favourite was the kofta-styled meat.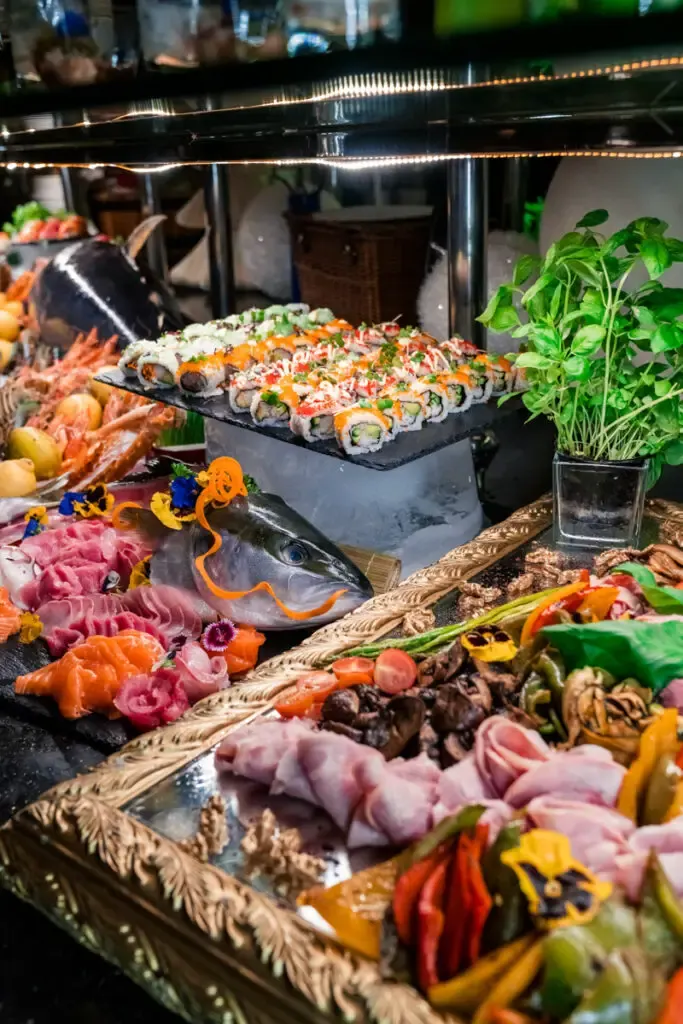 There is so much to choose from at this buffet-styled brunch, including sushi, Michelin Thai food, roast carvery, a giant paella, an epic cheese section, delicious desserts and so much more.
Brunch is complemented by live music, while little ones can make use of the kids play area, ensuring parents have a relaxing afternoon. Pool access is also available.
Price: From AED 285 inclusive of soft beverage package
Add 125 for free flow of house beverages – inclusive of sparkling grape
Add AED 350 for free flow of Pommery bubbles.
Timings: 1 PM to 4 PM
Location: Corniche Road East Capital Plaza Complex, Sofitel, Abu Dhabi
3.CuiScene
The CuiScene offers an unmatched culinary experience in Abu Dhabi. Guests can choose from an extensive buffet featuring dishes from Europe, Asia and the Middle East.
For Saturday's Brunch, CuiScene brings together the best of their 3 restaurants into one brunch, featuring succulent steaks from Marco Pierre White Steakhouse & Grill, Italian favourites from Marco's Italian, live-cooking stations & international favourites.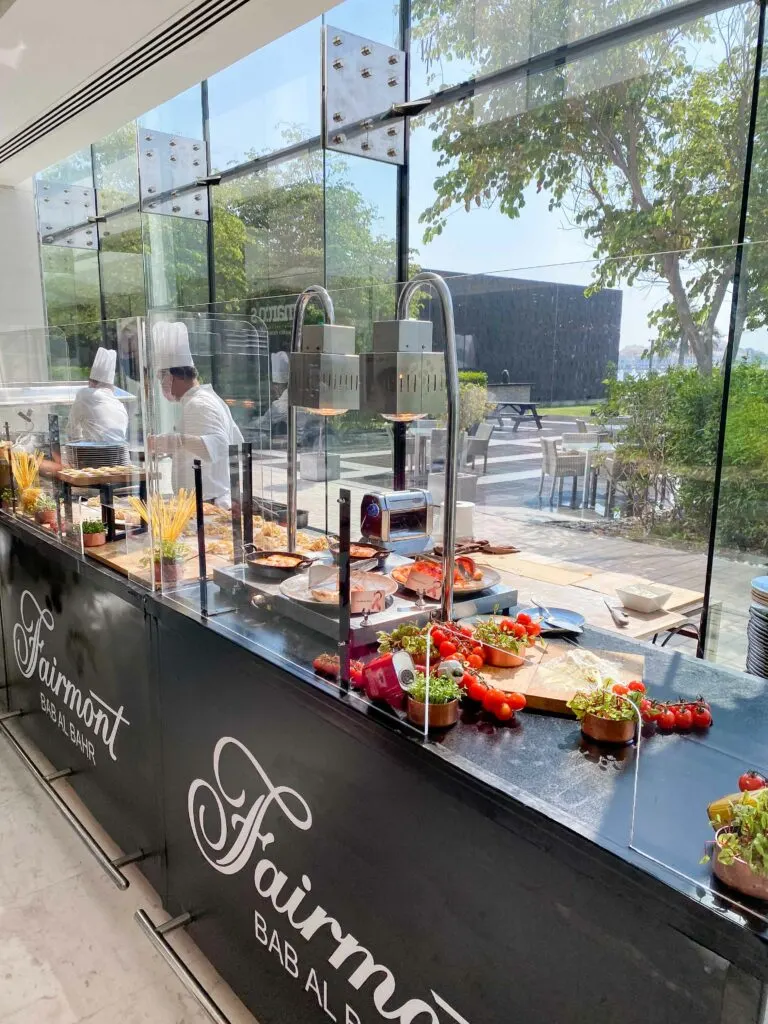 A wide variety of flavours is available to suit everyone's tastes.
Indulge in the experience for AED 295, which includes soft beverages, pool privileges, and beach admission. Enhance your experience by opting for house beverages for an additional AED 125, or treat yourself to French bubbles for just AED 300 more.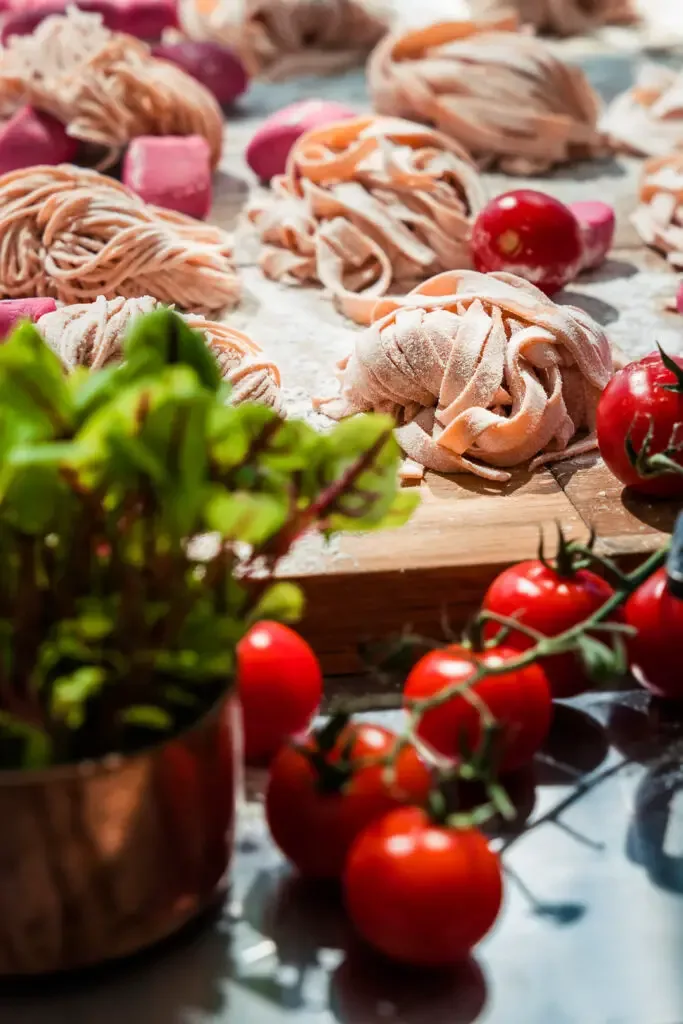 Fairmont Bab Al Bahr brunch deals can often be found on Groupon which includes pool access. Watch the sunset over the Sheikh Zayed Grand Mosque from the mini beach after an incredible brunch.
Timings: 1 PM to 4 PM
Location: Fairmont Bab Al Bahr, Al Maqta, Abu Dhabi
4.Summer Brunch At Nahaam
The renowned Nahaam Saturday brunch now presents a brand-new, exclusive menu where an array of delectable delights is brought directly to your table in a relaxed, shared-style presentation.
This luxurious culinary experience ensures that every guest is pampered with an abundance of choices, featuring an extensive menu comprising outstanding appetizers, hearty main courses, and indulgent desserts.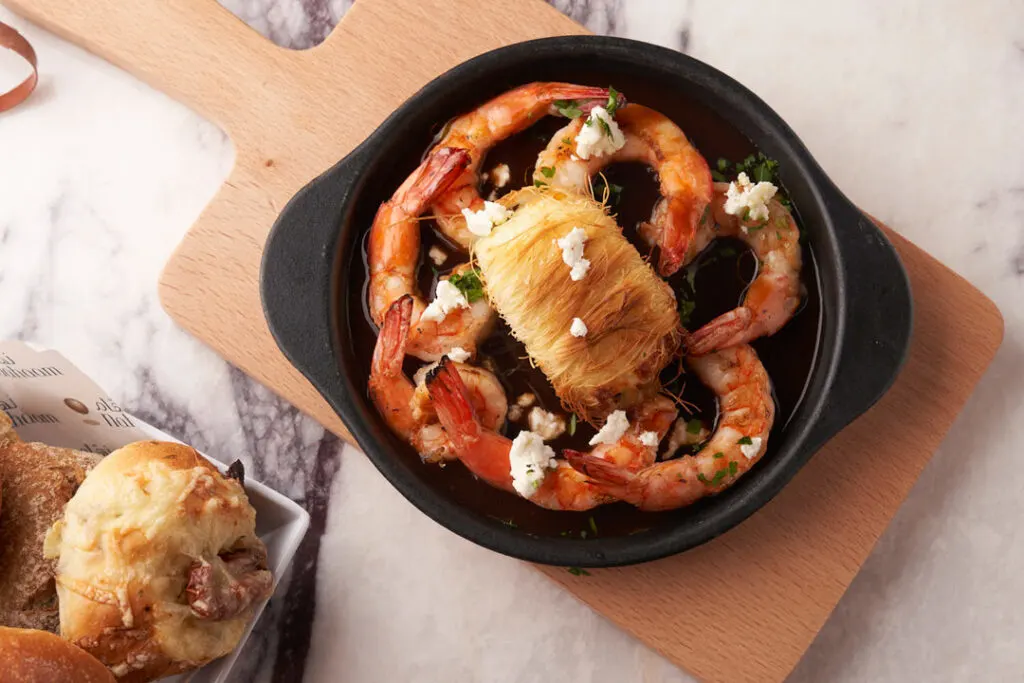 Throughout the leisurely afternoon, guests can enjoy continuous beverage service, with each course complemented by a thoughtfully curated selection of premium spirits, fine wines, mixers, and soft drinks.
All of this is accompanied by fantastic live entertainment, making it an unforgettable celebration of gastronomy and entertainment.
Price: AED 250 Soft Beverages Package
AED 375 House Beverages Package
AED 550 for the Ultimate Bubbly Experience
AED 125 for children aged six to 12.
Timings: 12:30 PM to 4 PM
Location: Conrad Etihad Towers, Al Bateen, Abu Dhabi
5.The Anantara Brunch
Anantara Eastern Mangroves combines global cuisine scene into the one venue. Located in Anantara's 'Ingredients' restaurant, guests can savor an exceptional Saturday Brunch, where you can delight in a captivating selection of global flavors, with an array of appetizers, salads, tender meats, fresh seafood, and succulent Asian cuisine.
Complete with bottomless beverages. Immerse yourself in the lively ambiance, further enriched by live entertainment, crafting an enduring and memorable sensory banquet.
There is a choice of seating options, including air-conditioned indoor seating and breezy Al Fresco dining which is perfect when the temperature drops.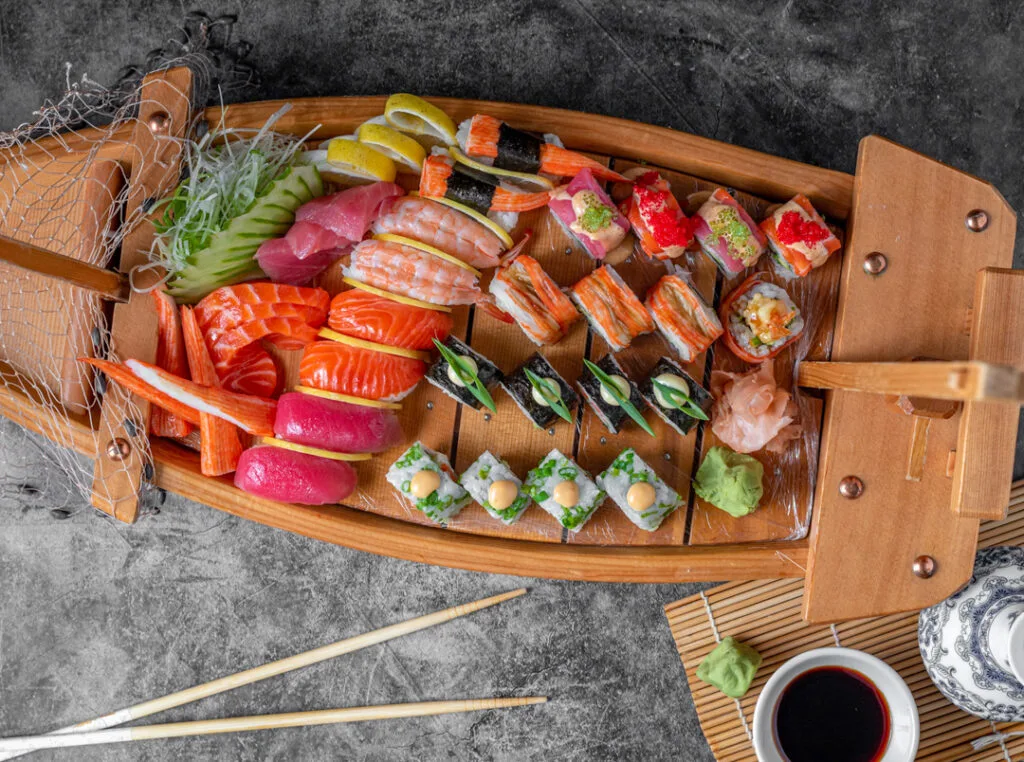 Price: AED 295 per person, including soft beverages
AED 445 per person, for house beverages
AED 650 per person, including French Champagne
In some cases, the Anantara Brunch includes pool access to make the most of the visit. The pool overlooks the Mangroves where many kayakers pass through, perfect at sunset.
Timings: 1 PM to 4:30 PM
Location: Al Salam Street, Zone 1, Eastern Mangrove, Abu Dhabi
6.Siddharta Lounge By Buddha Bar
Siddharta Lounge is known for its vibrant ambience and picture-perfect views of Yas Bay.
Known and loved for its sophistication, Siddharta Lounge by Buddha-Bar offers world-class cocktails by expert mixologists, a sharing set menu plus unlimited bevvies.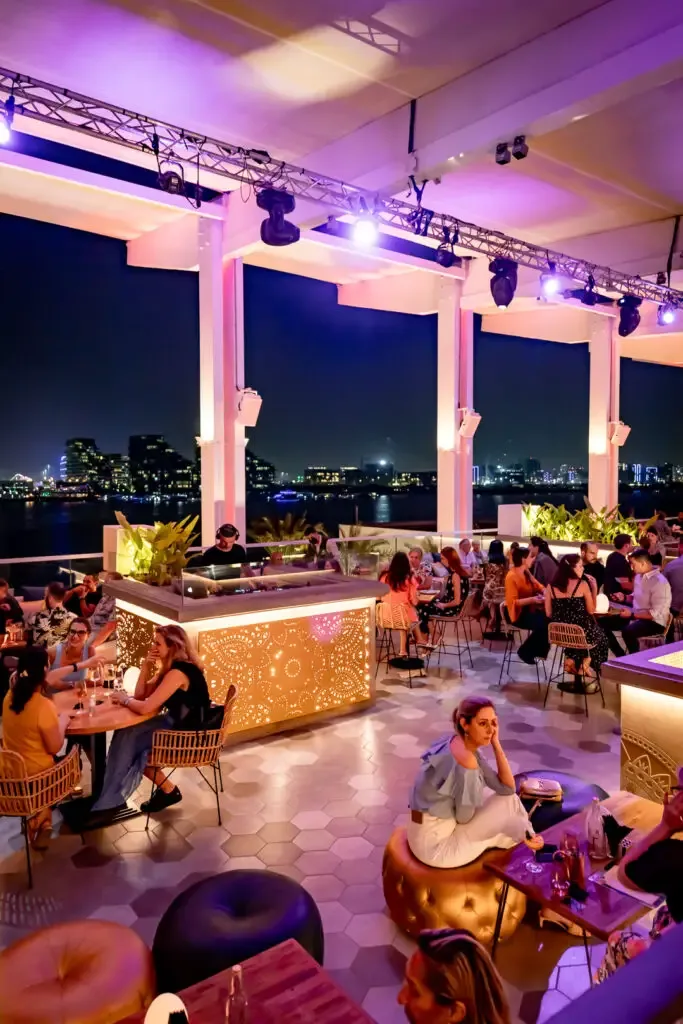 While the live DJ spins the tracks, you can enjoy the best music in a dynamic atmosphere and dance the night away on the rooftop bar. It's one of the best party style Saturday brunch Abu Dhabi has to offer.
Price: AED 300 for soft beverages package
AED 450 for house beverages package
Timings: 7 PM to 11 PM
Location: Yas Bay, Yas Island, Abu Dhabi
7.Taste of Teatro Evening Brunch
Park Rotana located next to Khalifa Park and 15 minutes away from Yas Island offers their evening brunch every Saturday.
Teatro presents an enticing opportunity to savor its renowned signature dishes, expertly crafted by Chef Antonio and his culinary team.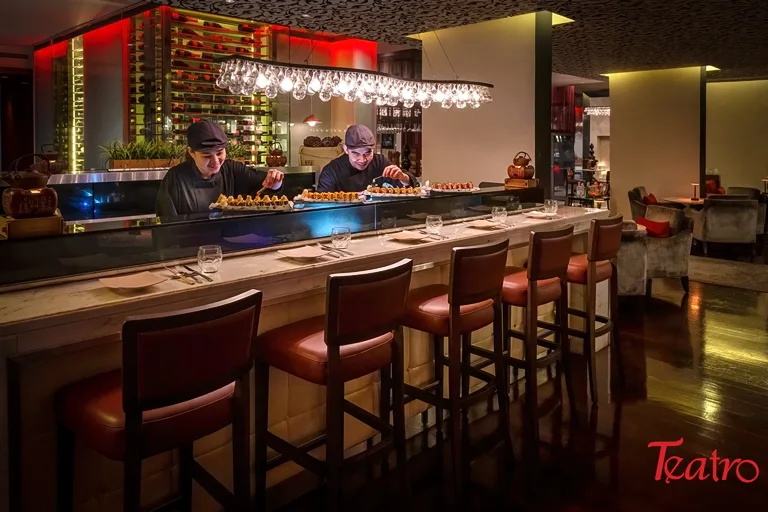 Immerse yourself in the Taste of Teatro Evening Brunch for:
AED 195 with soft beverages
AED 295 with selected beverages and cocktails
AED 120 for kids aged 6 to 12
Timings : 6pm – 11pm
Location: Park Rotana, Abu Dhabi
8.Asado Libre Brunch; A Taste of Argentina
Back by popular demand, the Asado Libre Brunch, is making a comeback in a winter edition at Maté Restaurant, located at the Park Hyatt Abu Dhabi.
This brunch, designed for sharing, delivers an authentic Argentinian culinary journey, showcasing an array of delectable dishes such as juicy meats like the tomahawk steak.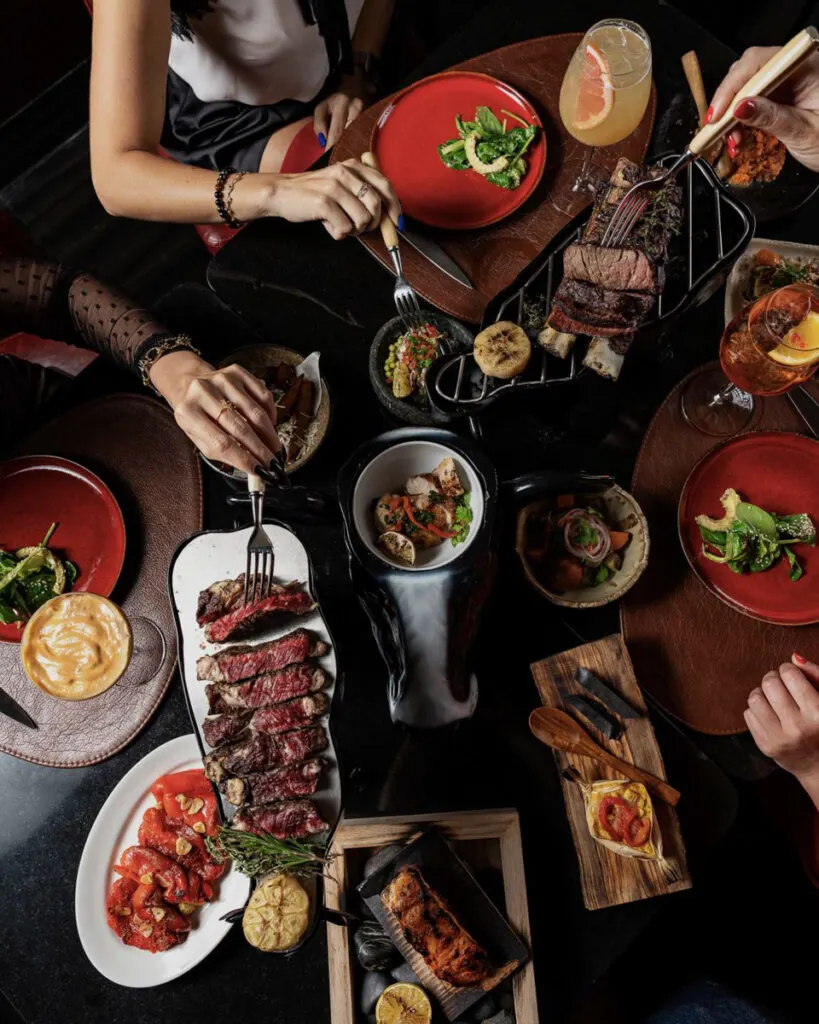 Traditional items like humitas and empanadas, and delightful desserts like tarta de queso, among others. For this winter edition, outdoor seating will also be available at Maté!
Immerse yourself in an ambiance brimming with lively energy, accompanied by live Latin music performances, all while indulging in the rich and savoury flavours of Argentina.
Asado Libre Brunch packages:
AED 375 Including Non-Alcoholic Cocktails
AED 475 Including An Array of Cocktails, Spirits, Wines and Beers
AED 690 Including Champagne
Every Saturday, from 1:00 pm to 4:00 pm
Location : Park Hyatt Abu Dhabi Hotel And Villas
9.Brunch at the Park – Park Hyatt Abu Dhabi Family Brunch
Commencing on the 7th October 2023, The Café Restaurant at Park Hyatt Abu Dhabi is excited once again to host the delightful 'Brunch at the Park.'
This enjoyable gathering guarantees a fun-filled time for children, as they can engage in entertaining activities at Camp Hyatt (kids club), while parents savour a delectable buffet-style feast complemented by live cooking stations.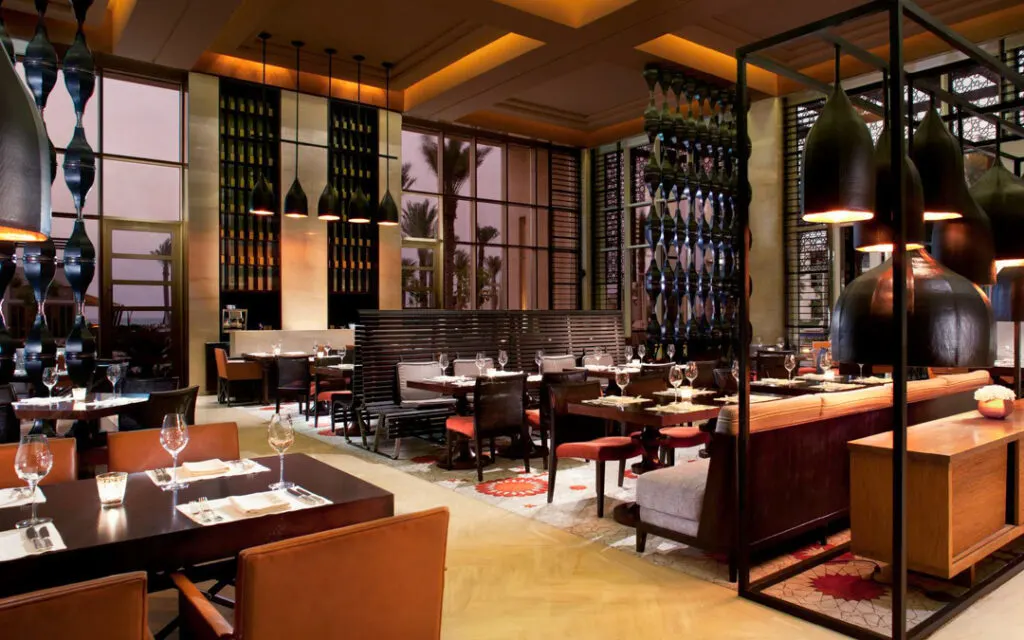 Indulge in a culinary masterpiece with breakfast classics, live oyster shucking, a cheese room, burger gelato, and more. The brunch highlights the culinary team's finest creations for an unforgettable experience.
As parents unwind, kids can enjoy activities like baker's clay, yoga, football, aqua fun, and mascot appearances. Reserve in advance for a fantastic family day out.
Brunch at the Park packages:
AED 395 Including Non-Alcoholic Cocktails
AED 495 Including An Array of Cocktails, Spirits, Wines and Beers
AED 720 Including Champagne & All of the Above
Young guests aged 6-11 dine at 50% off
Kids below 6 years dine for free
Timings : 1pm – 4pm
10.Royal M Brunch
The sophisticated waterfront retreat, Royal M Hotel and Resort, offers the ultimate brunch package for guests, its buy 1-get 1 offer on Saturday Mezze Brunch remains unmatched in the Capital.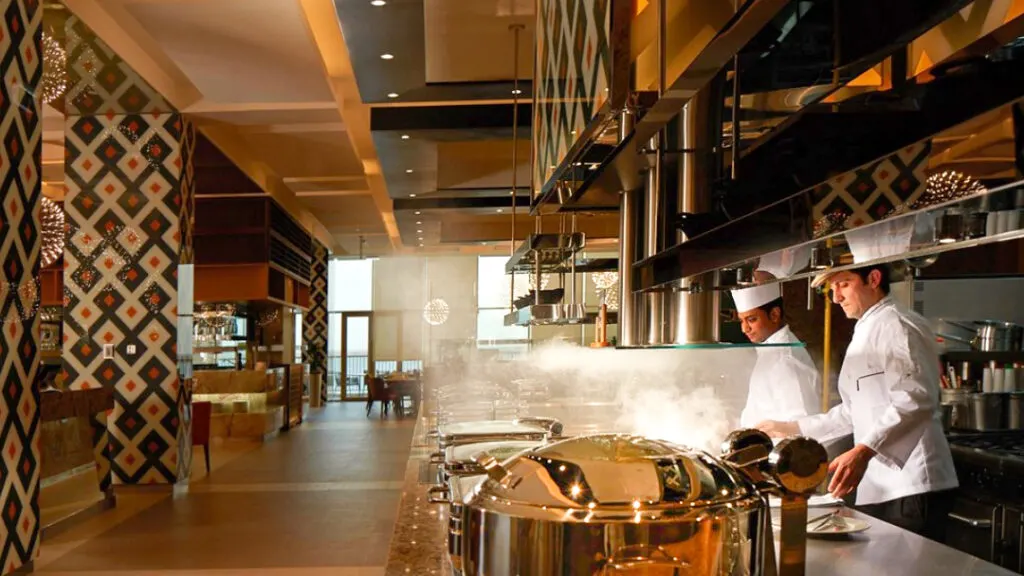 The restaurant is home to live cooking stations, grills, sushi and seafood, Arabic dishes, desserts and so much more, allowing guests to sample unique flavours from all around the world, happening every Saturday!
For adults and children, all brunch packages include discounted access to the pool for AED 80 and AED 60, respectively.
Price: AED 299 – Inclusive of unlimited soft drinks
AED 419 for unlimited selected house beverages
AED 599 for the unlimited selected bubbles package
AED 140 for kids aged 6-12
When purchasing a Royal M voucher via Groupon for example, it often includes pool access.
With some incredible loungers around the expansive pool, it is a stunning location to unwind after brunch. The pool overlooks the exit from the nearby marina. Boats can be seen passing by every once in a while.
Timings: 12:30 PM to 4 PM
Location: Al Bateen Marina, Royal M Hotel, Abu Dhabi
11.Greek Seafood Brunch At Mykonos
To spice up Saturday afternoons, Mykonos presents the ultimate Greek Seafood Brunch!
Delight in a seafood feast featuring the freshest catches, prepared with utmost passion, grilled to perfection, and served with the warm and welcoming hospitality of the Mykonos restaurant, overlooking the beach.
Upon your arrival, a refreshing welcome drink awaits, followed by a sharing platter of appetizers presented at your table. You'll then have the opportunity to select your main courses and desserts from the extensive buffet spread. Additionally, live cooking options are available for your culinary enjoyment.
If you opt for the Enhanced Soft Package, complimentary arak is included for your pleasure.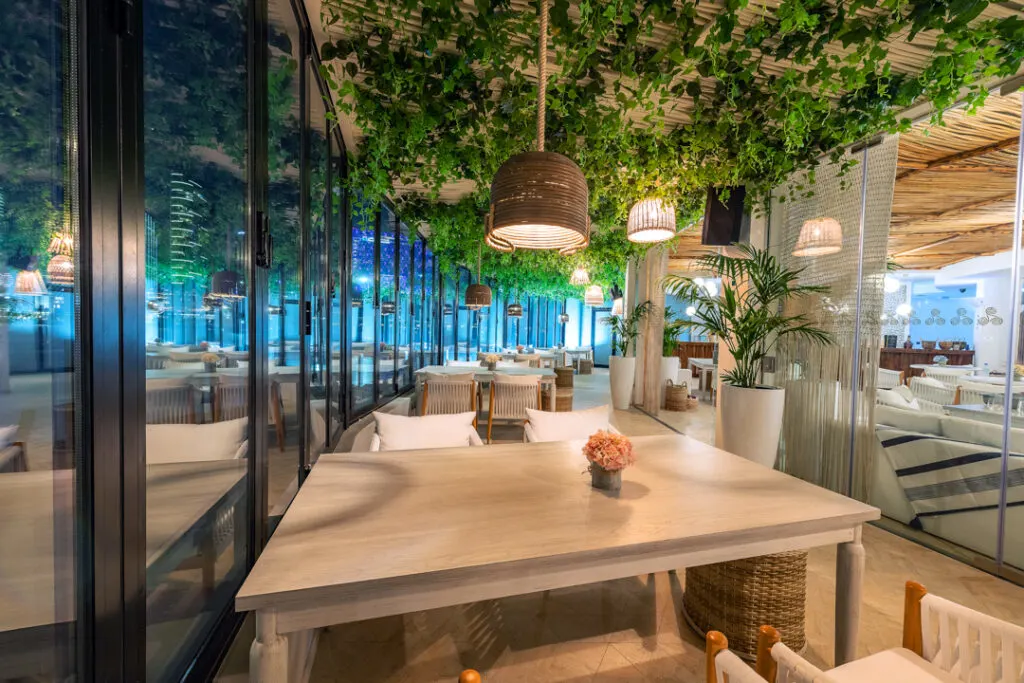 As part of the brunch menu offerings, diners can get a healthy helping of salads, soups, pasta dishes, omelettes, and Greek-style burgers, as well as traditional Greek desserts like baklava and kataifi.
Moreover, there are a number of modern twists on classic Greek dishes, such as feta and honey tarts, meze platters, and Greek-style pizzas.
For a truly indulgent experience, customers can enjoy freshly prepared crepes on the spot.
Price: AED 199 for the soft drinks package
AED 299 for the house drinks package, all-inclusive
Timings: 1 PM to 4 PM
Location: Le Meridien – Al Zahiyah – Abu Dhabi – United Arab Emirates
12.Butcher and Still
Featuring leather banquettes, rich wooden floors, an array of specially selected prime cuts of American beef and Prohibition-era cocktails, Butcher and Still evokes a 1920's Chicago steakhouse vibe.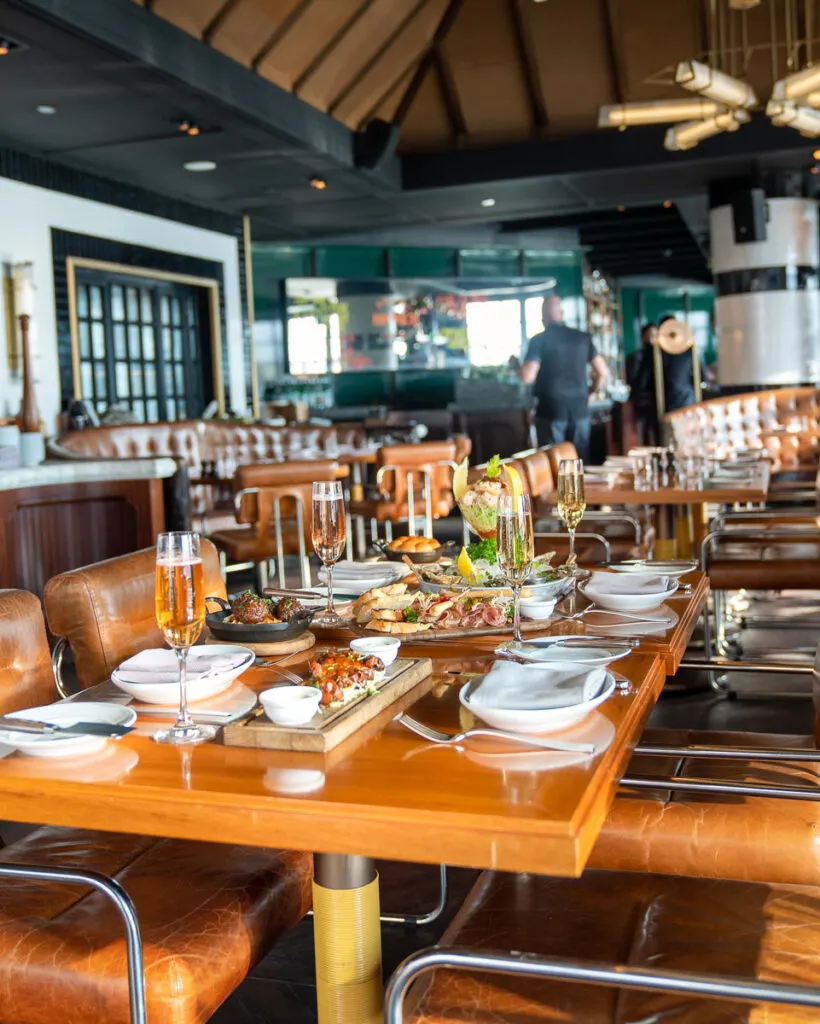 The selection of food from their brunch menu is irresistible. Everything from sushi to sliders and sizzling cuts, to a fantastic atmosphere.
Make sure to save space for the dessert you can always hit the gym later!
Price: From AED 310
Timings: 1 PM to 4 PM
Location: Four Season Hotel, Al Maryah Island, Abu Dhabi
13.The Foundry Summer Street Brunch
The Foundry offers a delicious buffet and a set menu business lunch. In the evenings, it transforms into a stylish and intimate steakhouse serving the finest cuts of meat.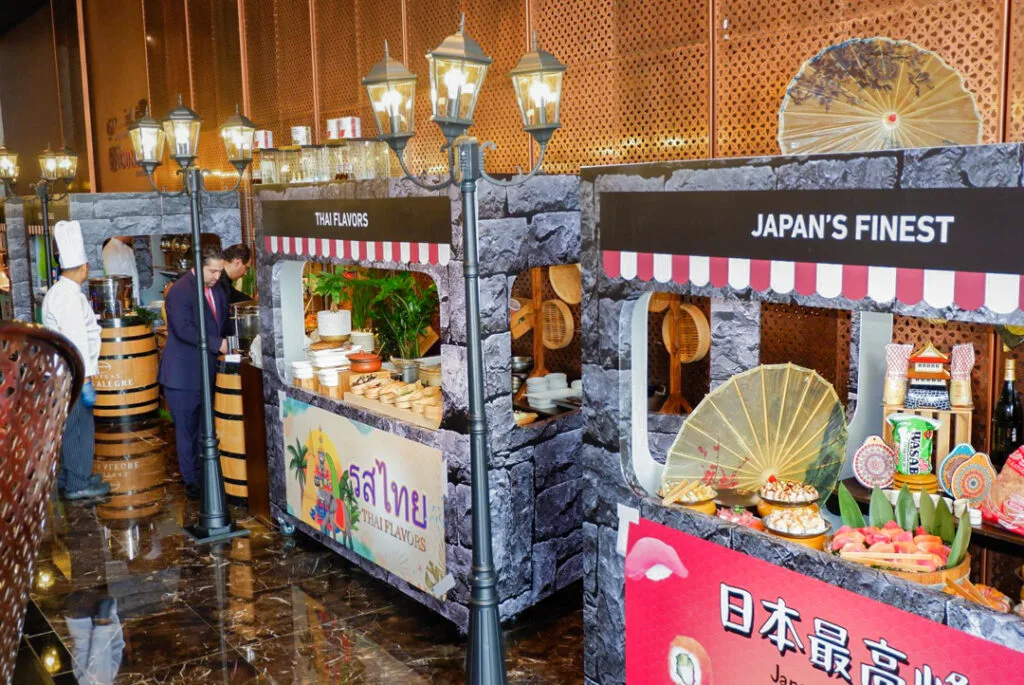 For a globetrotting adventure without the need for your passport! The Foundry invites you on a gastronomic voyage, featuring a diverse range of dishes hailing from Thailand, Japan, the UK, France, Spain, and more.
With the addition of carefully crafted beverages and the musical talents of Mike Paterson, we've assembled all the essential elements for a fantastic Saturday afternoon.
It is a multi-award-winning restaurant and the ambience at The Foundry is elegant and romantic as well as suitable for business.
A useful tip for attending brunch is to arrive hungry and feast on steakhouse classics and indulgent chef creations.
Sushi, tacos, bakery fresh breads, pastries, oysters, lobsters and much more. There are multiple option when it comes to drink packages.
Price: AED 215 for soft drinks package
AED 325 for the house drinks package
AED 385 for the premium wine package
AED 585 for the champagne package
Free for kids under 12 years old
Timings: 1:00 PM to 6:00 PM
Location: Al Meena St – Al Zahiyah, Southern Sun Hotel, Abu Dhabi
14.Aqua's Garden Brunch
Located at one of the most Instagrammable locations in the city, Aqua offers the best views of the waterfront from both its restaurant and terrace.
Aqua's Garden Brunch is poolside and is a vibrant Al Fresco affair. A supervised Kid's Club allows parents to spend some quality time together whilst the little ones are entertained.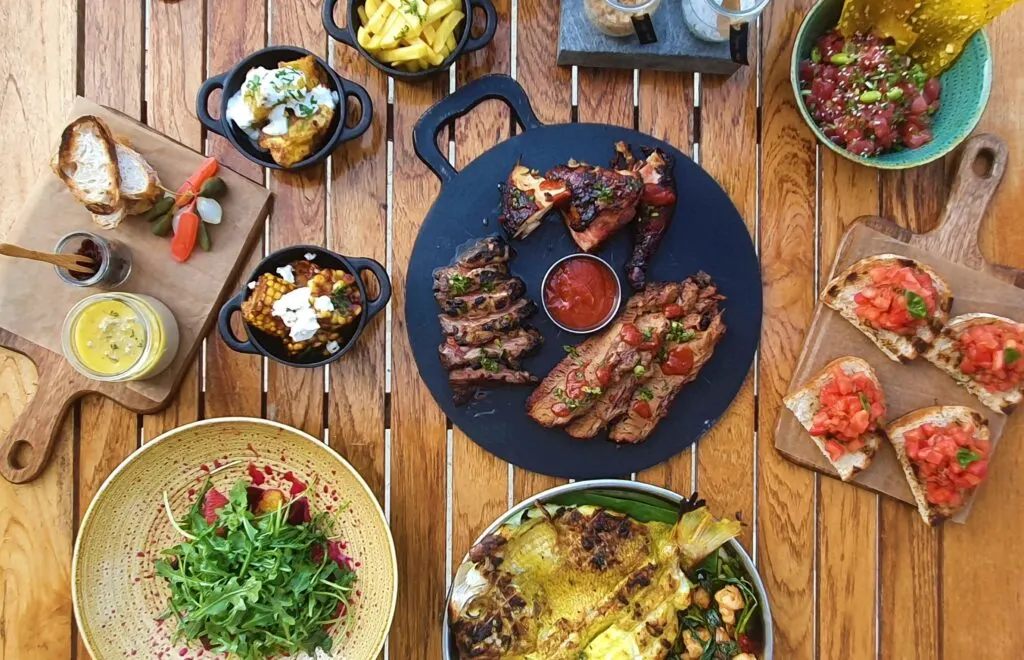 The ambiance is enhanced by the famous saxophone performance. With the Garden Brunch, guests can share a variety of delicacies including a Pani Puri trolley, fresh salads, cheeses and cold cuts.
As for the main dishes, there is a dedicated pie, tuna, cold seafood, sushi and oyster counter. They also have an array of authentic Italian and Asian cuisines to indulge in! The decadent desserts accompanied by coffee are pretty good too!
Price: AED 255 for food only
AED 355 for the House Beverages package
AED 455 for the Champagne package
Timings: 12:30 PM to 4:30 PM
Location: Rosewood Abu Dhabi, Al Maryah Island, Abu Dhabi
15.PJ O'Reilly's Picnic Brunch
Returning every Saturday from the 30th September, one of Abu Dhabi's oldest pubs, PJ' O'Reilly's offers a BBQ Brunch with a distinctive blend of Irish hospitality.
With a relaxing poolside environment and BBQ, it is quite a popular spot amongst expats for ladies night and Saturday brunch Abu Dhabi!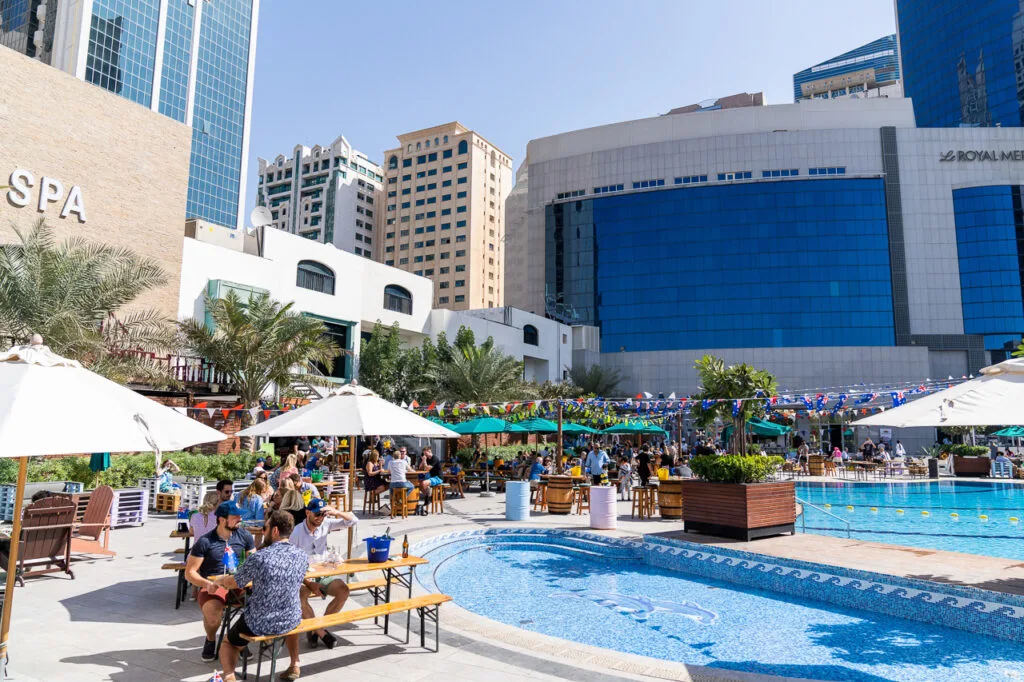 Come and indulge in this barbecue brunch featuring a lively open flame fire pit, tantalizing meat platters designed for sharing, an assortment of bread, potato, and salad options, and refreshing spiked teas and lemonades.
Ignite your afternoon with a live performance by Sweet Chili Jam on the Jameson stage. For an extra dose of relaxation, you can also opt for a pool pass priced at AED 50 per person.
Price: AED 199 Soft Beverage Package
AED 225 House Beverage Package (House wines, beers, house spirits, sparkling, access to
alcohol dispense bar)
AED 275 Premium Beverage Package (House wines, beers, premium spirits, Guinness)
Timings: 1 PM to 5 PM (Longest Brunch in the City)
After-brunch packages
Saturdays 5pm to 8pm with the below packages available:
AED125 After-Brunch House Package (house wines, beers & house spirits, sparkling)
*Only guests who attend brunch can avail the after-brunch package
After-brunch entertainment: DJ Sonya Mac 5-8PM | Phil performing live from 8-11 PM
Location: Le Royal Meridien, Sheikh Khalifa Street, Abu Dhabi
16.Garden Brunch At Rixos Saadiyat Island
Head to Rixos Saadiyat's Saturday Garden Brunch for the ultimate outdoor dining brunch.
With live entertainment and a diverse international buffet, including live stations, it's one of Abu Dhabi's newest brunch affairs.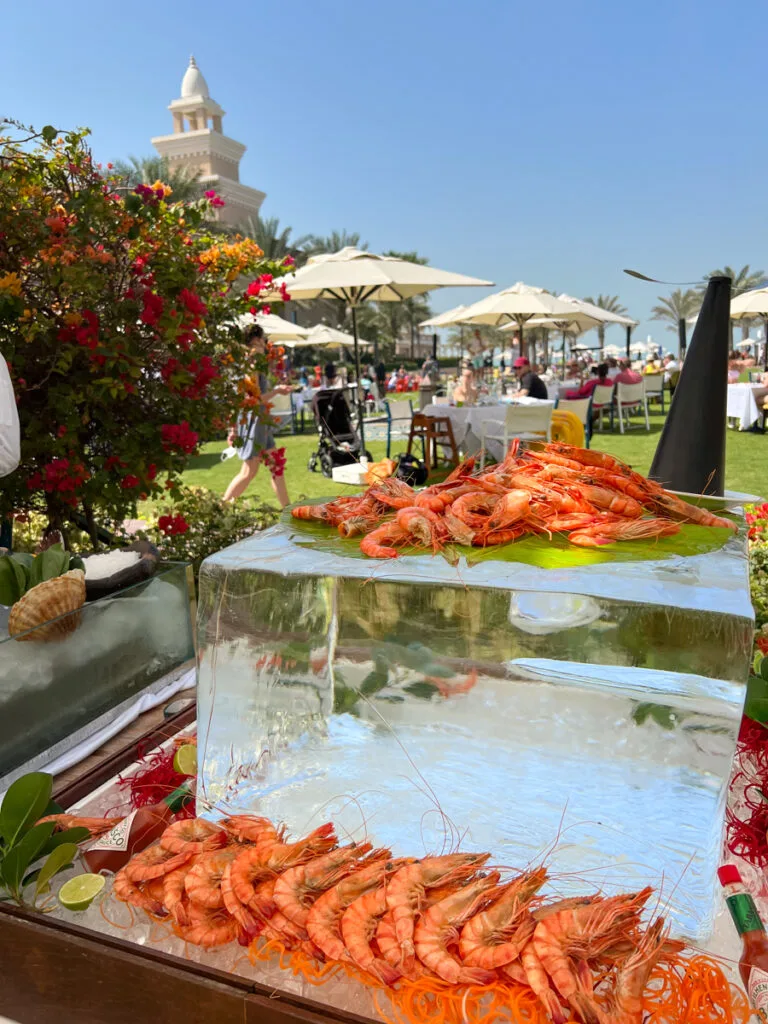 Choose from a wide selection of drinks and beverages & enjoy the live cooking. Whilst kids have an opportunity to participate in fun activities in the picturesque outdoor garden.
For information, call +971 2 492 2222.
Price: AED 525 per person
Children between ages 5 to 11 get a 50% discount
Up to two children under the age of four dine for free
Timings: 1 PM to 4:30 PM
Location: Al Saadiyat Island – Abu Dhabi – United Arab Emirates
17.Coya Abu Dhabi
COYA Abu Dhabi is set to carry on with its beloved and lively Saturday Brunch, promising guests unforgettable afternoons brimming with Peruvian delicacies, free-flowing mixed beverages, and captivating live performances.
With the backdrop of Abu Dhabi's city skyline, this not-to-be-missed celebration offers the perfect opportunity to fully embrace the summer season in style.
Guests can enjoy creative light bites and main courses while enjoying panoramic views of downtown Abu Dhabi from the terrace. The cozy dining area with colourful interior is the perfect fun brunch hangout.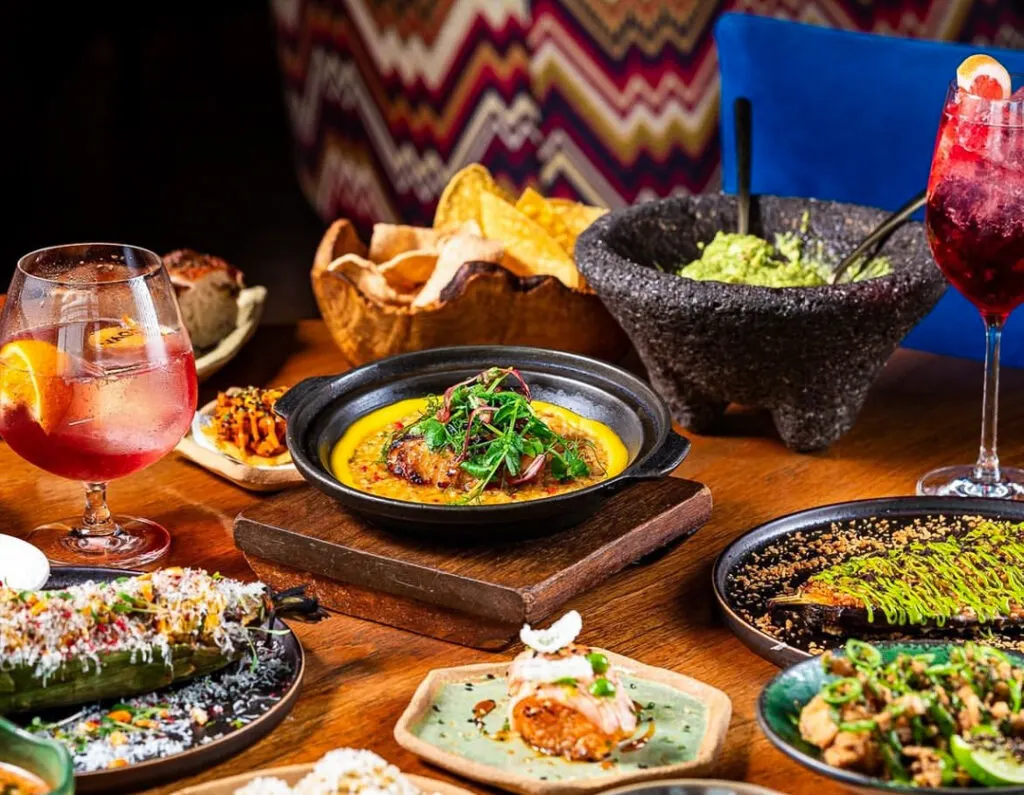 Saturday Brunchers can enjoy ceviches, maki rolls, beef ribs, miso salmon, vegetarian quinoa with ricotta cheese and pumpkin iron pot. It's a three-and-a-half-hour Saturday brunch Abu Dhabi experience.
Price: Soft beverage Package starts @ AED 398
Premium Package @ AED 548
Children aged 4-12 years old AED 180
Timings: 12:30 PM to 5 PM
Location: Four Seasons Hotel, The Galleria Mall , Abu Dhabi
18.ANNEX Rhythms Brunch
ANNEX is a highly rated RnB and Hip Hop nightclub located at Al Bateen. You can experience a unique dining and entertainment experience in a multi-level social space.
Featuring an international and local DJ on the ground-floor, it's an energetic nightlife and performance venue.
For those who would like to start the night early, try out the Abu Dhabi Editions Rhythms Brunch.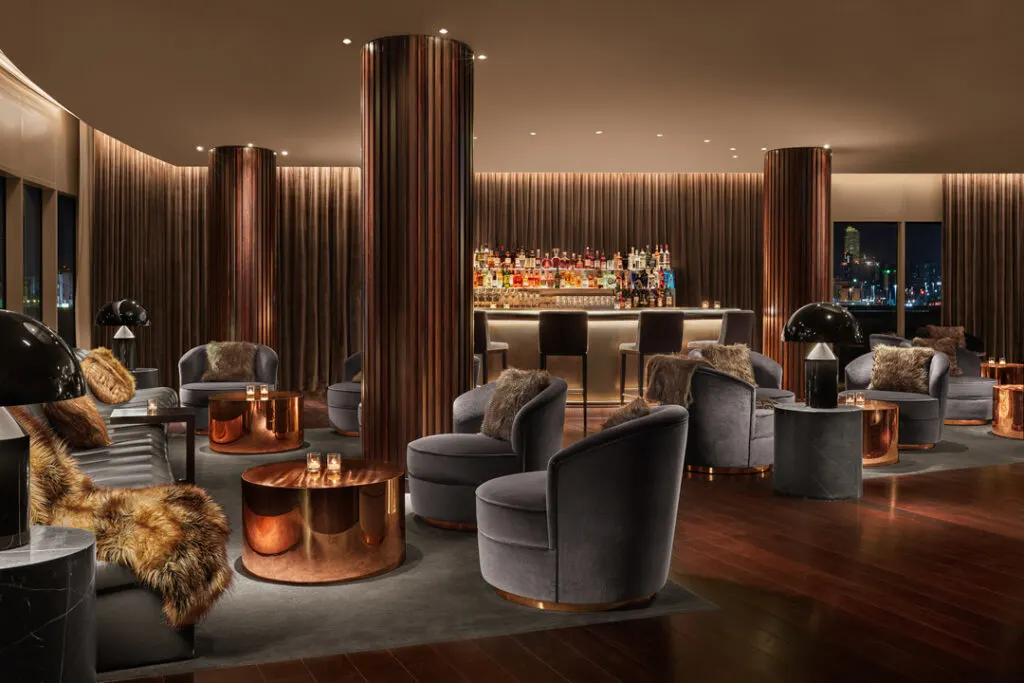 Every Saturday evening, the enchanting Lounge extends a warm invitation to you and your friends for a three-hour experience, commencing at 7 pm, filled with delectable bites and a selection of free-flowing drinks, meticulously crafted by the city's finest mixologists.
As you indulge in this vibrant atmosphere, live singer Jessica will serenade you with a blend of contemporary hits and timeless melodies, while DJ Kadd sets the stage on fire with the hottest hip-hop beats and urban tunes, all within Abu Dhabi's most stylish lounge.
Price: Discounted rate of AED 195 for ladies
AED 250 for the Gentleman
AED 345 for the French bubbly package
Timings: 7 PM – 10 PM
Location: The Abu Dhabi EDITION, Al Bateen, Abu Dhabi
19.West Bay
Brunching on the Corniche has all the vacation vibes with views of the turquoise ocean at West Bay.
The well-loved Saturday Brunch at Radisson Blu Hotel & Resort Abu Dhabi on the Corniche in West Bay has recently undergone a comprehensive transformation, and it's now even more impressive than before.
It's a family-style affair at the West Bay featuring renowned Japanese sushi expertly crafted in front of your eyes, mouthwatering Mexican quesadillas featuring char-grilled corn cobs, and authentic Spanish paella prepared live.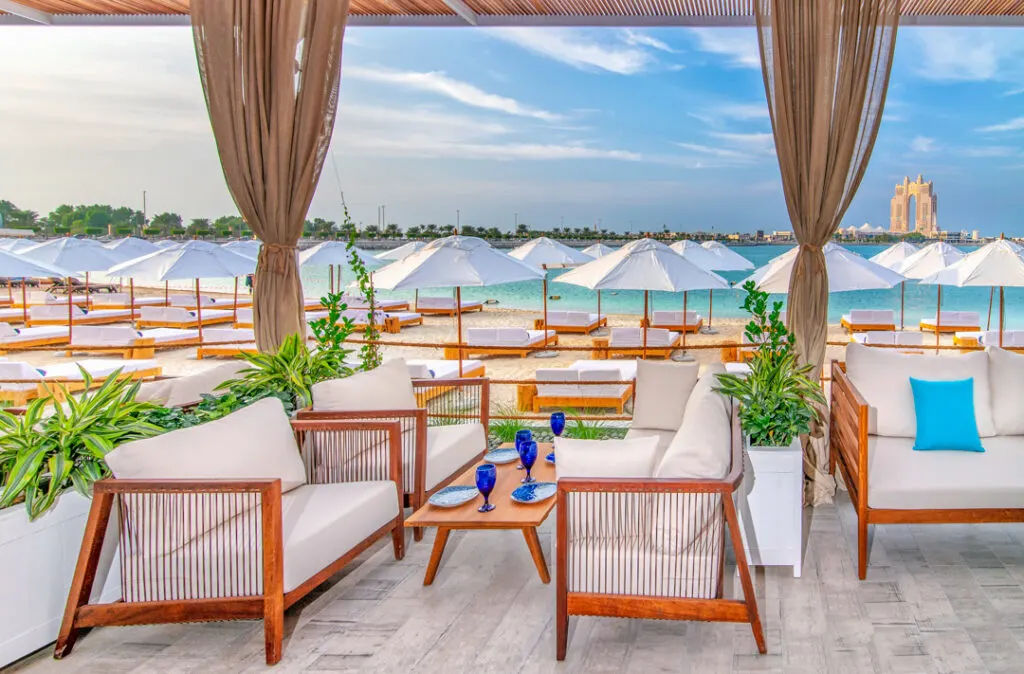 Price: Soft beverage package @ AED 199
House beverage package with resort access @ AED 299
West Bay is in a fantastic beachfront location. The sunset over the Corniche is the ideal place to wind down the evening after a hearty brunch.
Timings: 1 PM to 4 PM
Location: Corniche Rd, Al Bateen, Abu Dhabi
20.Brunch In Garage (B.I.G)
Featuring one of Abu Dhabi's biggest brunches, B.I.G – Brunch In Garage has to be one of our favourite Saturday brunch in Abu Dhabi. Experience an extravagant weekend filled with Booming Beats and Delectable Delights.
Delve into a Mezze extravaganza alongside the tantalizing flavors of Asia. Savor premium meat cuts from our exquisite Vault selection while enjoying a wide array of beverages on the house.
Garage has a choice from 5 different international cuisines. Among the live cooking stations, you'll find salmon sashimi, American Way from Nikkei House and Jing Jiang chicken rolls from Steam Table.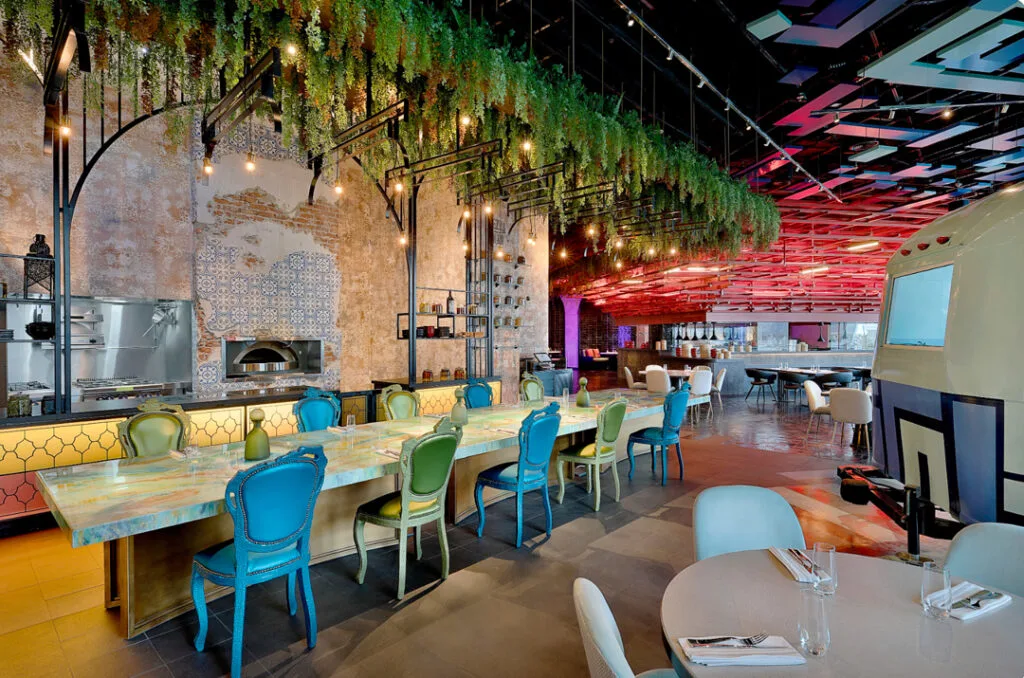 The pulled beef BBQ burger is pretty good while sipping a beverage from the Tap On Wheels cart.
For desert, head to the tart van for frosted fantasies and tantalising confectioneries. You get to enjoy all of this whilst overlooking the Formula 1 track on Yas Island.
Price: AED 320 Dry Package
AED 420 House Package
AED 589 Sparkling Package
Timings: 1 PM to 4 PM
Location: W Abu Dhabi, Yas Island, Abu Dhabi
21.B-Lounge Saturday Brunch
Drawing inspiration from Sevilla, the B-Lounge Saturday brunch offers an exquisite Spanish dining experience right by the beach.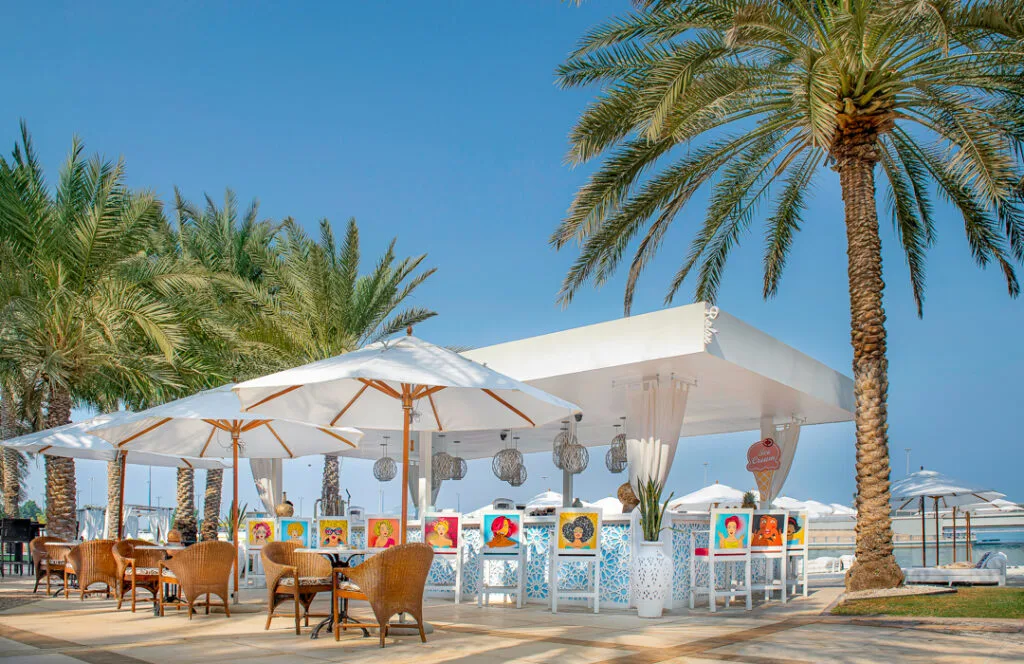 Your afternoon begins with a selection of fresh salads, gazpacho, and croquetas prepared before your very eyes at live cooking stations. Following this, you can indulge in your preferred paella—whether it's a meat, seafood, or vegetable variation—all while savoring delightful Spanish cocktails.
AED 185 for the soft drinks package
AED 285 for the house beverages and Spanish mixed drinks package
Every Sat 12.30pm-3.30pm.
Sheraton Abu Dhabi Hotel & Resort, Al Zahiya
22.Island Daze Brunch At Ting Irie
Ting Irie is known for its laid-back beachside brunches. If Jamaican food or Reggae music is your 'Ting, this spot is the best place to be for Saturday Brunch Abu Dhabi.
Sink your teeth into some delicious jerk chicken and lobster rolls with a couple of bevvies.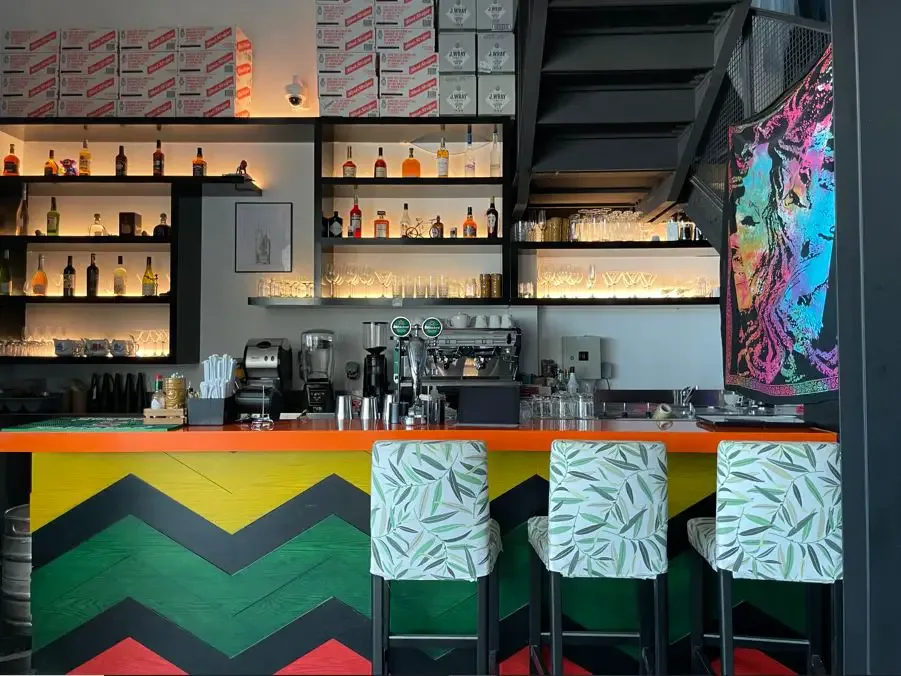 Island Daze brunch transports guests to a whole other world with DJ King Koopa on the decks, you'll be dancing before the sun sets.
Price: AED 115 for soft beverages package
AED 225 for the house beverages package
Ting Irie faces out onto the infamous Soul Beach on Saadiyat Island. Seating upstairs provides a prime view.
Timings: 1 PM to 5 PM
Location: Mamsha Al Saadiyat, Al Saadiyat Island, Cultural District, Abu Dhabi
23.La Luna evening Brunch
Explore the La Luna Evening Brunch hosted at UVA Wine Bar & Lounge at Marriott Al Forsan. As Saturday night draws near, make your way to UVA and take advantage of a fantastic offer every Saturday from 4 pm to 8 pm, priced at AED 249.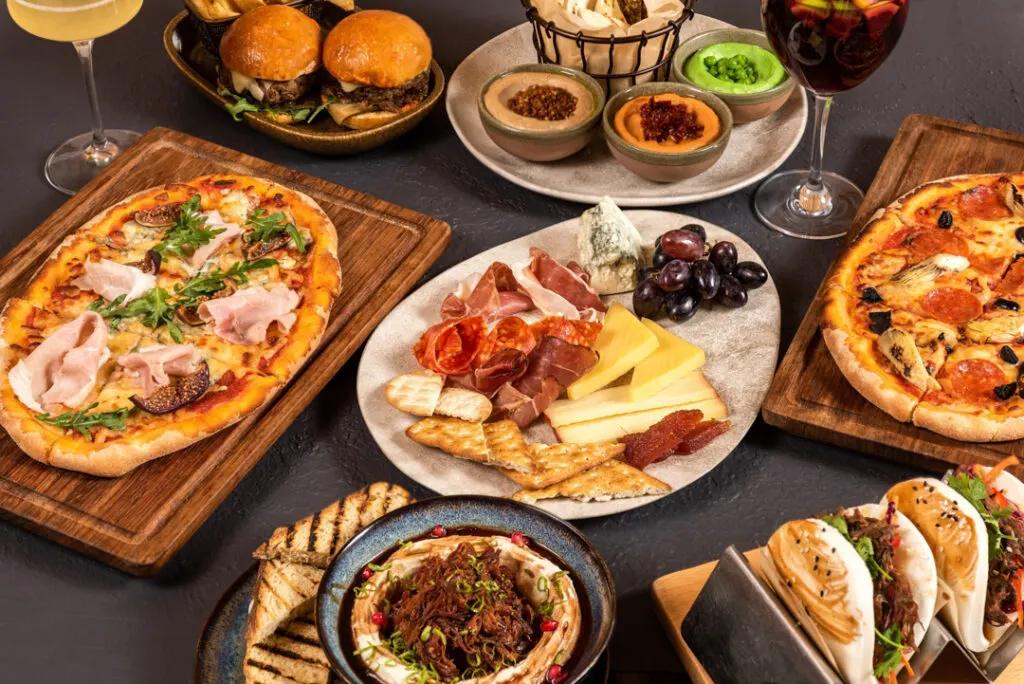 This package includes three hours of unlimited selected beverages and allows you to choose three dishes from the table brunch food menu. It's the ultimate destination for your Saturday evening!
Price: AED 249 for the soft beverages package
Timings: 4 PM to 8 PM
Location: Marriott Al Forsan, Khalifa City-A, Abu Dhabi
24.White Brunch At Jumeirah At Saadiyat
Explore a truly international affair as each live cooking station takes you on a journey to different regions around the world. White Brunch honours Eastern and Western food traditions on Saadiyat Island.
At the White Brunch, you can enjoy a culinary experience that combines the traditional Italian flavors with an Arabic twist. Along with smoked cuts, as you admire the deep blue hue of the Gulf of Arabia and enjoy live music.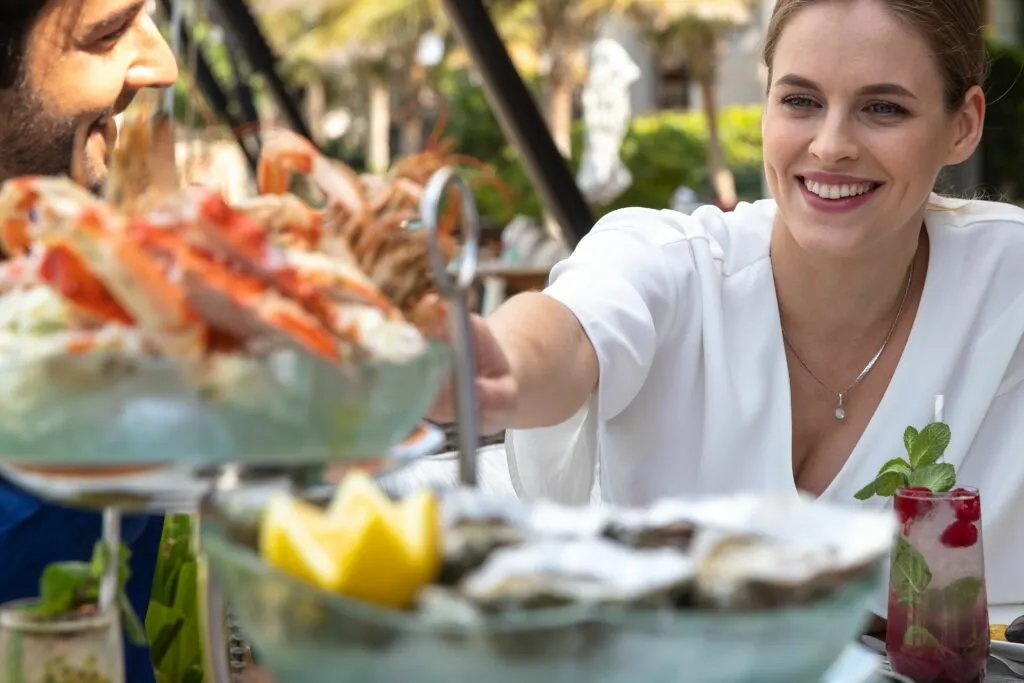 Experience the unobstructed views of the Arabian Gulf and pristine white sands of Saadiyat Island, whether you choose to dine indoors or alfresco.
After you wind down from brunch, visit the Pool Bar for a sundowner with their resident DJ from 5:30 PM to 7:30 PM.
Price: AED 600 inclusive of premium bubbly
AED 475 inclusive of house beverages
AED 350 inclusive of soft beverages
50% off for kids aged 6 – 11
Complimentary (0 – 6 years old)
Timings: 1 PM to 4 PM
Location: Ground Floor, Jumeirah at Al Saadiyat Island, Abu Dhabi
25.Lock, Stock And Barrel
There is no better party bar in Abu Dhabi than Lock Stock & Barrel, offering banging vibes, live music, and finger-licking food.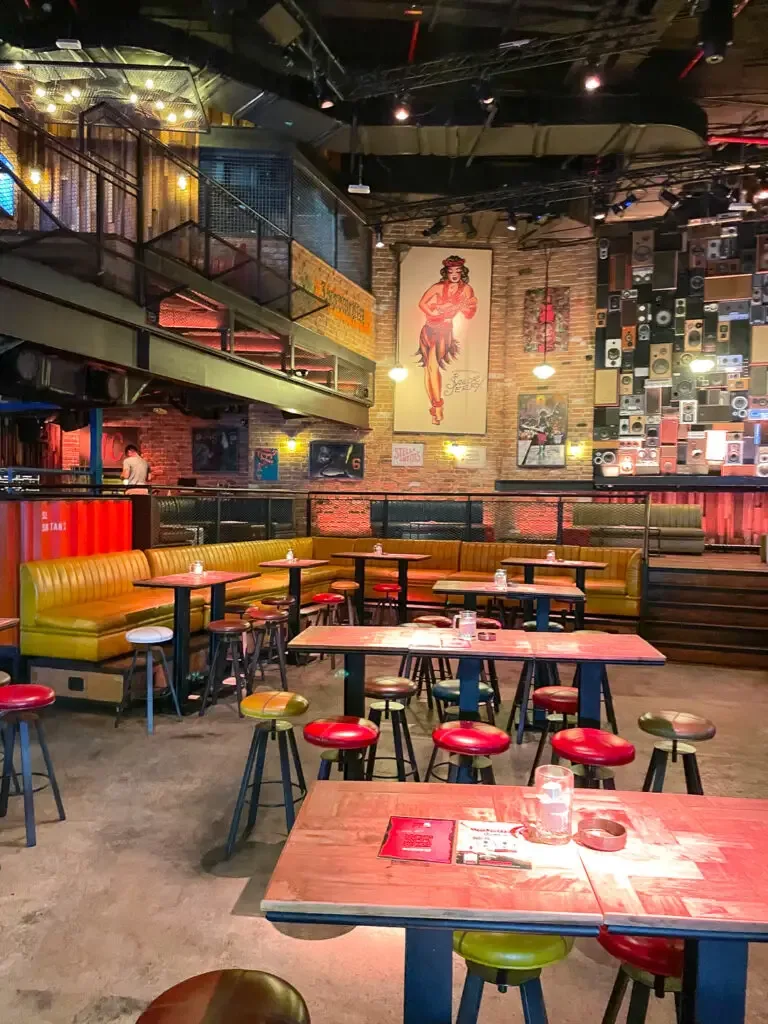 With its lively atmosphere, generous portions, and wide range of activities to keep everyone entertained, Lock Stock & Barrel is a fun place to be on a Saturday afternoon.
Price: AED 200 for the soft drinks package
AED 250 for house beverages
Timings: 1 PM to 4 PM
Location: Yas Bay Promenade – Yas Island – Abu Dhabi – United Arab Emirates
Saturday Brunch Abu Dhabi – FAQS
How much do brunches cost in Abu Dhabi?
Prices range from AED 150 up to AED 600 depending on the package and venue. The most expensive options tend to be some of the biggest brunches.
What are house beverages?
House beverages include grape beverages, hop-based beverages, spirits, cocktails, and mocktails.
What should I wear for Brunch in Abu Dhabi?
Where brunch is concerned, feel free to get fancy. High heels, smart shirts, crisp blazers and sassy dresses are all perfectly acceptable attire.
To Sum Up Saturday Brunch Abu Dhabi
The brunch scene in AD is legendary, so no matter when you go, you're bound to have a great time.
Abu Dhabi has plenty to offer and there's so much to do whether you live in the city or just visiting for a few days. No matter what, a weekend brunch has got to be tried!
The brunch scene in AD is legendary, so no matter when you go, you're bound to have a great time.
If you would like to just lay back and chill, spend a day at the beach or maybe even head to the nearest coffee shop.
There are gyms and ladies-only gyms to visit to burn off the brunch calories!
If you are visiting Abu Dhabi for a day or more you should consider a car rental and explore Abu Dhabi beyond the city. Be sure to check our desert getaway post.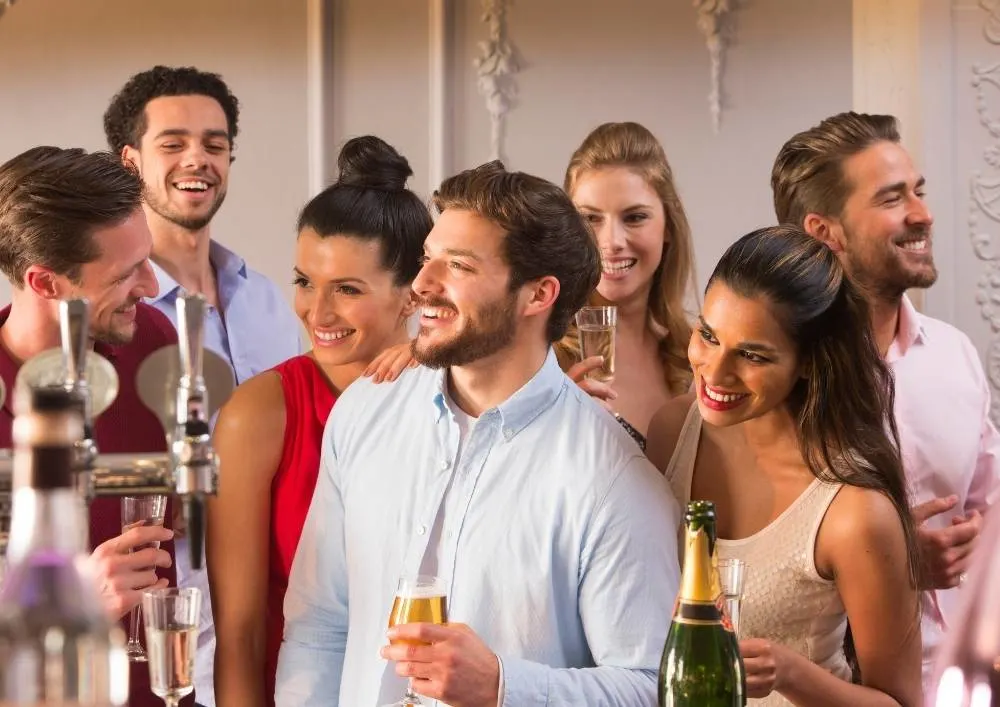 Do you know of other popular Saturday Brunch Abu Dhabi places that we may have missed? Please do let us know!
Disclaimer: Some of this post may contain affiliate links. If you use them, we will receive a small percentage of the sale to help us continue to write!