Serving coffee is a key hospitality traditions in the Arab world, especially in the United Arab Emirates. Traditions are deeply rooted in the regions heritage.
Coffee is a symbol of generosity that characterises the Emirati community and is often served with dates, another important element of the Arab culture. As a result, the UAE and Abu Dhabis' coffee culture has become intrinsic to the way of life here.
Coffee shops have become one of the most popular hangouts for friends, families and colleagues. The establishments are a great place to catch up with people, enjoy some alone time or work online.
The Best Coffee Shops in Abu Dhabi
International brands are readily available across the Emirate and more recently, the city's speciality coffee market has exploded! Many local businesses are ensuring they get their share of the market.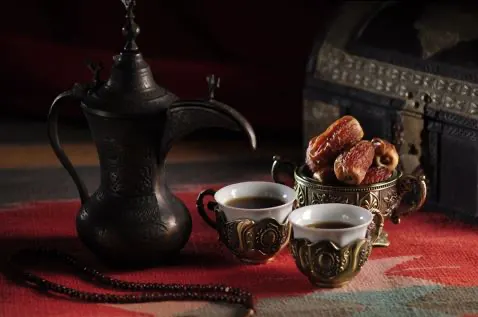 Abu Dhabi coffee establishments are not afraid to be daring and creative with their coffee offerings like rose coffee, pistachio lattes and thick ibrik coffee that has been brewed in hot sand!
1. Café Arabia
Located opposite Umm Al Emarat Park, Cafe Arabia is very popular among locals and visitors.
The interior of Cafe Arabia is beautifully decorated with many Arabesque features and comfortable seating.
The Arabesque lanterns mixed with modern wall art and culturally inspired bookshelves make a great mix, and everyone will find something they love!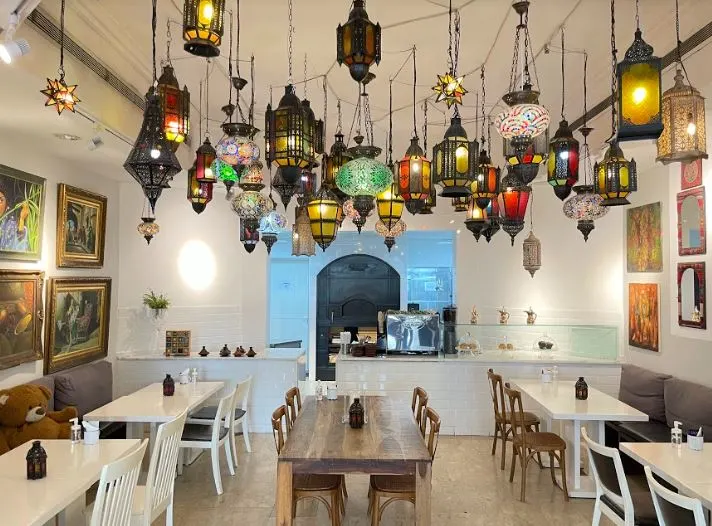 There is also an open-air rooftop lounge looking out towards the park. Cafe Arabia puts a strong emphasis on lattes. Customers can choose anything from, Spanish to turmeric and coconut to matcha!
They offer a range of Karak teas and regional favourites such as the Egyptian Karkade.
In addition to the wonderful tea and coffee blends, visitors can enjoy a bite to eat, including all-day breakfast, with the must-try pancakes! The Palestinian shakshuka is the top recommended breakfast and a great way to start the day with a delicious coffee.
If you're feeling very hungry, there are a number of starters, salads and mains to choose from, like pasta, Mexican style tacos or burgers, desserts, yum!
If you fancy a walk in Umm Al Emarat Park afterwards, early morning and late evenings are a lovely time to stroll around.
Timing: 8am – 11pm
Location: Al Karamah, Abu Dhabi
2. Drvn
Located in both Dubai and Abu Dhabi, DRVN is a sign of the times when it comes to coffee shops and cafes.
This coffee shop incorporates an interesting mix of architecture and design. Not to mention the classic cars to the concept quite literally in the cafe.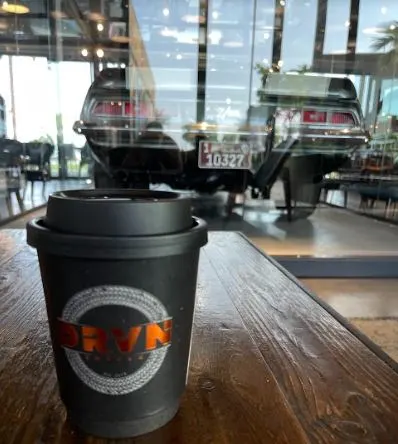 Customers can take advantage of the sleek, modern and very instagrammable coffee shop that doesn't compromise on quality and taste. DRVN brew their coffee in-house, making every drink authentically unique.
DRVN is also well known for its Authentic Neapolitan Pizza which is particularly good!
Timing: 8am – 12am
Location: Al Hudayriat, Abu Dhabi
3. Sanderson's
Sanderson's is famous for its friendly welcoming staff and Mediterranean vibes. Sergio Lopez is behind the coffee shop concept. Some people may know him as being one-half of the foodie duo 'Tom & Serg.'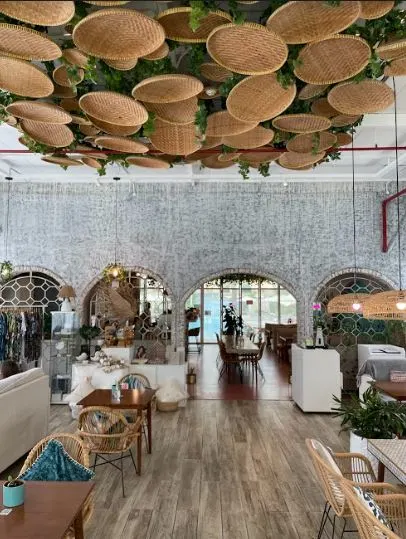 The Tom & Serge cafe opened in Dubai with great success as a hip and cool all-day breakfast establishment. Sanderson's has since followed in its footsteps with locations in Abu Dhabi and Dubai.
Visitors can enjoy the usual Americanos and cappuccinos made by Gold Box Roastery in Dubai. Sanderson's also offers colourful lattes and flavours like red velvet, matcha and chai masala!
Customers can also choose from an array of speciality kombuchas as well as smoothies and juices.
You can enjoy breakfast, lunch and dinner including exciting weekly specials. If you are in the Al Seef area, check out one of the best coffee shops in Abu Dhabi, Sanderson's.
Timing: 8am – 10pm
Location: Al seef village, Abu Dhabi
4. Local
One of the most fascinating and best coffee shops in Abu Dhabi has to be Local. This coffee house concept incorporates coffee, a barber and retail products all in one location.
It doesn't matter if you want a haircut, a fresh brew or a cool new pair of sneakers, Local is very hipster-friendly.
Local offer a 'sneaker laundry' that could do with a glow up and they will be returned as good as new!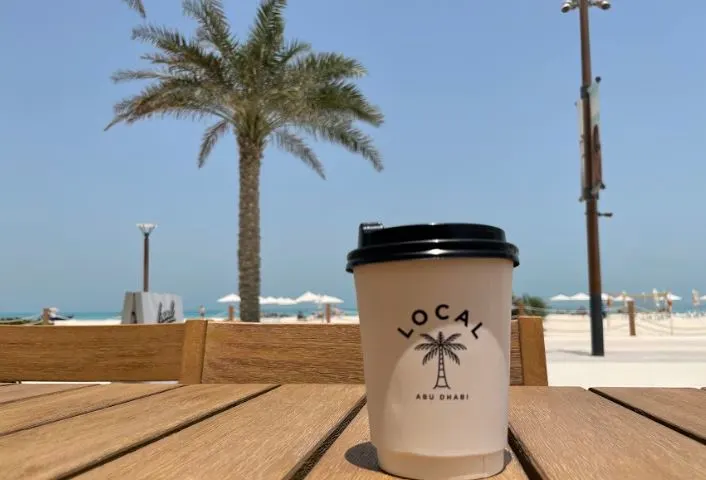 Located on the breathtaking Mamsha in Saadiyat, along with a few others mentioned in the same area, it is definitely winning when it comes to the best location!
Saadiyat Island is one of the most beautiful locations in Abu Dhabi and hosts the only natural beach in the UAE capital.
For this reason, Saadiyat is home to the most pristine white-sand beaches and turquoise waters and is the only place to enjoy sea waves.
Mamsha is a residential area on the island boasting a strip of fantastic restaurants on one side and Sol Beach on the other.
While the strip is relatively short in distance (approximately 1km), many residents walk up and down the area multiple times to get a decent walk-in.
One thing is for sure, you will not get tired of walking along this stunning strip!
The view, the restaurants, the palm trees with twinkling lights and the soft music playing from hidden speakers make for a delightful experience.
It is hard to resist wanting to enter Sol beach. Non-residents do have to pay to use the beach, however, it is reasonably priced.
Some of the most popular restaurants in Mamsha include pizza place Antonia, The Steak Room, well-loved burger place Pickl, quirky and healthy food option Alkaline, Jamaican restaurant Ting Irie and of course, burger and crazy shake Heaven, The Black Tap.
You can find what Black Tap has to offer in our best burgers in Abu Dhabi post.
Timing: 8am – 11pm
Location: Multiple locations across Abu Dhabi
5. Ten11 Café
Ten11 café has a number of locations around the UAE including the branch in Mamsha, Saadiyat. The franchise considers itself a boutique restaurant, However they offer speciality coffee and a variety of cafe-like dishes and deserts.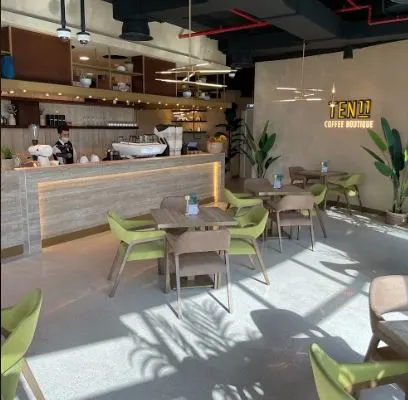 The top three most popular beverages have to be their Spanish latte, saffron latte and rose latte. Make sure to try one of these when you visit!
Timing: 7am – 12am
Location: Multiple locations across Abu Dhabi
6. Alkalime
Alkalime defines itself as a healthy homegrown restaurant. While the meals here are absolutely delicious and well worth trying, the attention they give to their coffee has to be appreciated.
The selection of lattes, frappuccino's and everything in between is excellent. The quality and taste is impeccable.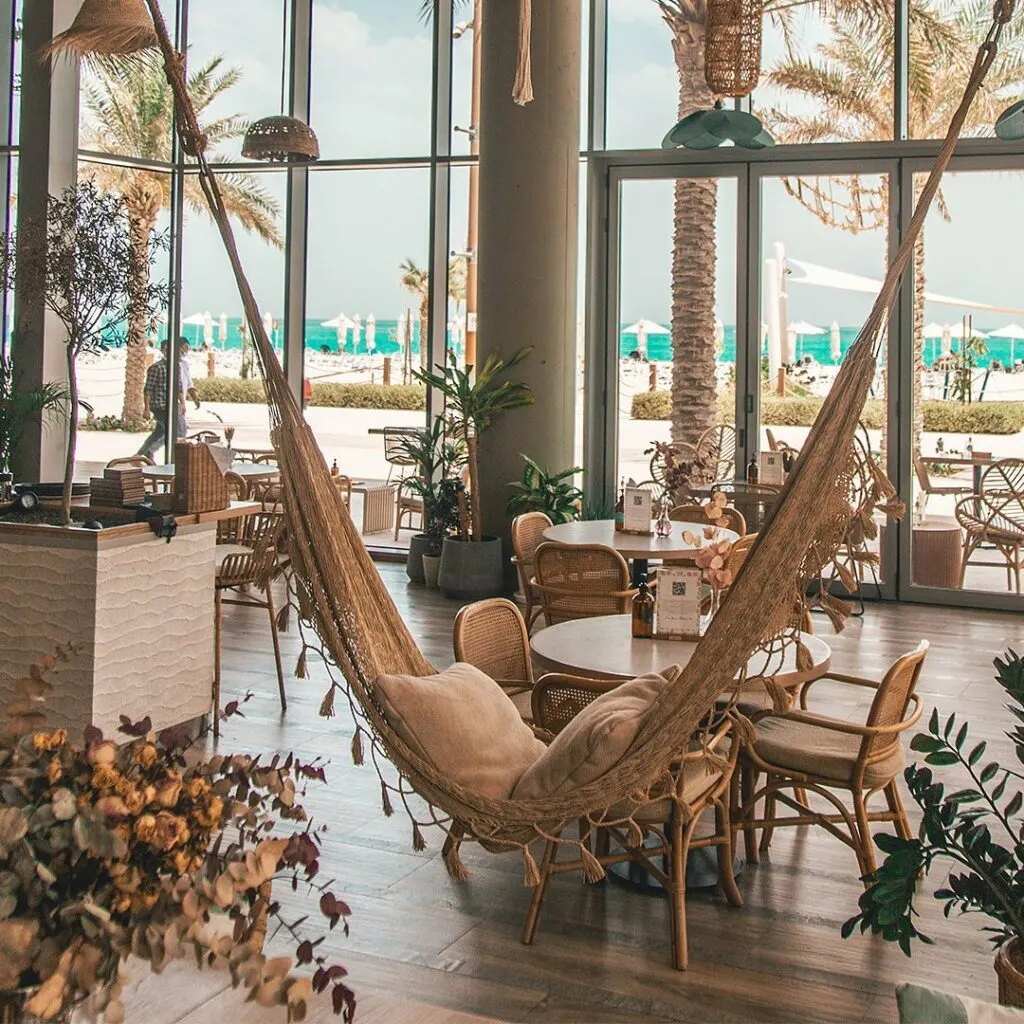 There is a great atmosphere within this coffee shop. A perfect calming and happy space to spend time whether you are working online or meeting friends.
Alkalime offers so much as well as food and beverage services concerning wellness and workshops throughout the year.
Previously, they have hosted a morning yoga class followed by breakfast, a ceramics painting workshop with a drink and 'Café Conversations' where customers enjoy a drink and speak to natives from different countries of languages they would like to learn.
To sum it up, Alkalime is a very innovative and positive establishment and one of the best coffee shops in Abu Dhabi!
Timing: 9am – 9pm
Location: Mamsha Al Saadiyat, Cultural district, Abu Dhabi
7. % Arabica
This coffee shop originated in Tokyo, where the founder was born into a family who loved to travel and experience new cultures.
During her college days in California, her love for coffee was born! Much of her college time was spent in Starbucks in Venice Beach, studying.
Once she graduated, she continued to travel because of employment in a trading company.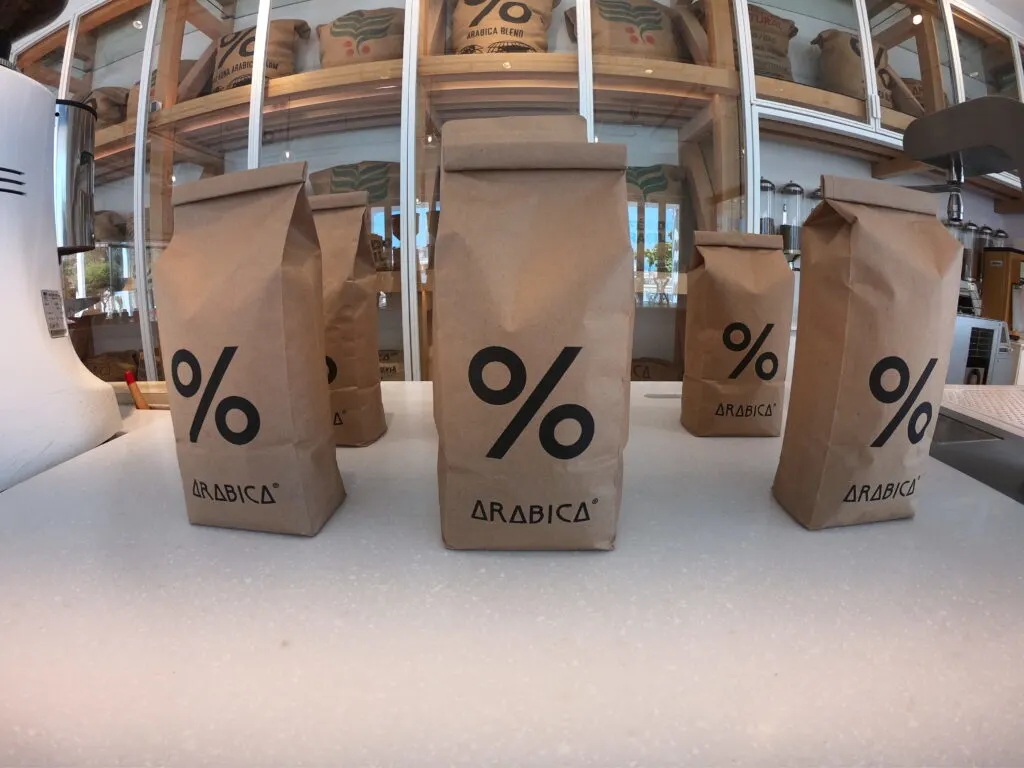 The first % Arabica shop was opened in 2014 in Kyoto, Japan, with a vision to grow and expand into other lands with the mission 'See the World Through Coffee'.
There are four % Arabica locations across Abu Dhabi in most corners of the city.
Timing: 7am – 1am
Location: Multiple locations across Abu Dhabi
8. Rain Café
Rain café is a very popular chain of cafés for UAE residents. All 5 locations around Abu Dhabi incorporate the fresh and bright energy of the brand very well.
The cafe was created to share the relaxing feeling of the sight and sound of raindrops!
Rain founder Mohamed Al Shehhi wanted a place for customers to enjoy the serenity, calmness and peace both raindrops and coffee bring.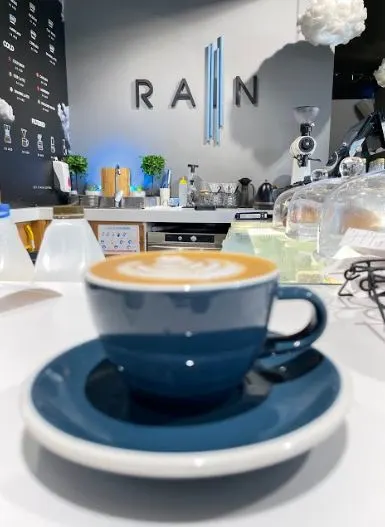 Rain offers a range of some great food as well as coffee and other beverages easily making it one of the best coffee shops in Abu Dhabi.
Some favourites include all kinds of lattes and cappuccinos, cakes, acai bowls, juices and smoothies.
Timing: 8am – 12am
Location: Multiple locations across Abu Dhabi
9. Aptitude Café
Aptitude Cafe is located in the famous Louvre on Saadiyat Island. This location, of course, makes for some of the best views in the city.
Aptitude has recently been renovated to allow for more seating, a fresher space and a larger kitchen.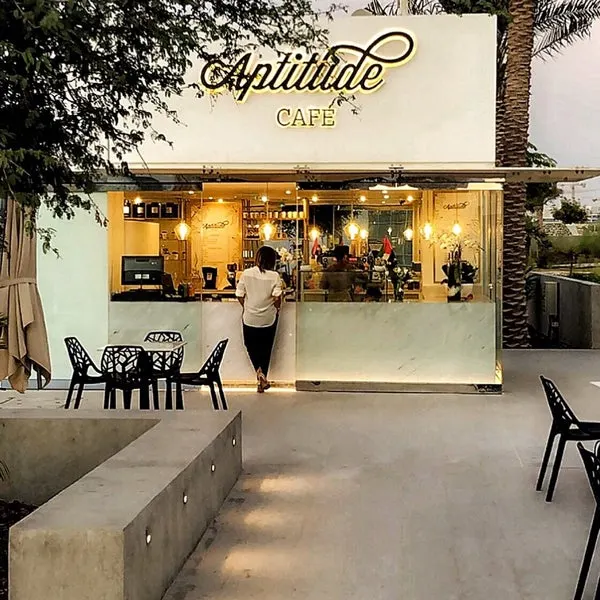 Customers can enjoy breakfast, hot dishes, pastries and irresistible coffees! The interior fits in with the artistic surroundings making it an enjoyable place to visit for a cup of coffee and pastry.
Aptitude also hosts a number of events like pizza nights and live music events.
Timing: 9am – 10pm
Location: Louvre, Abu Dhabi
10. The Echo Café
Echo café was the first coffee shop in the region to have custom-made ceramic cups. It was obviously quite successful as it was later introduced by many of the other best coffee shops in Abu Dhabi.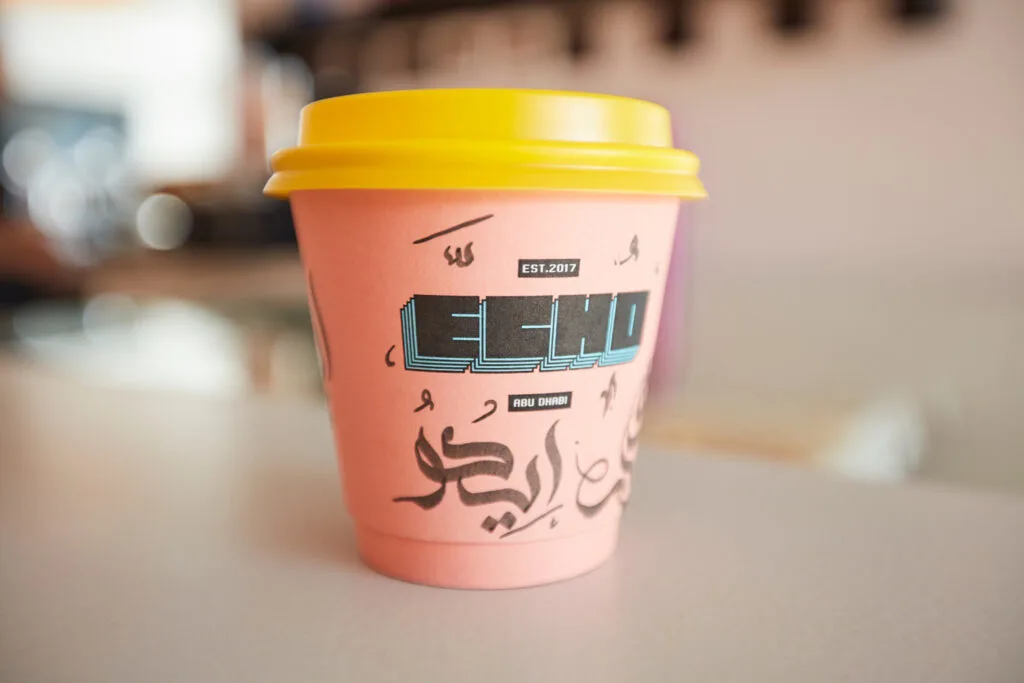 Echo offers all types of black and white coffee, cold brews like iced lattes, nitro coffee, espresso tonic, matcha lattes, hot chocolates and golden lattes!
A large emphasis is put on the Echo branding, which is definitely something customers will enjoy along with their excellent quality brew.
If you're feeling a little hungry there are options like feta, almond and cheese croissants, double chocolate and chocolate chip cookies, peanut butter squares, lamington and peanut milk chocolate eclairs and pistachio white chocolate eclairs, yum!
Timing: 7am – 10pm
Location: Rowdhat, Abu Dhabi
11. The Espresso Lab
A prevalent one for the list and an establishment considered one of the best coffee shops in Abu Dhabi, is The Espresso Lab.
When it comes to the Espresso Lab, the management aims to introduce new initiatives and activities using the latest technology in the speciality coffee industry.
For this coffee shop to remain so popular, it has based the company on innovation, adaptation and rapid evolution. Customers can find seasonal speciality coffee. Espresso Lab coffee is sold to other coffee shops as well as retail.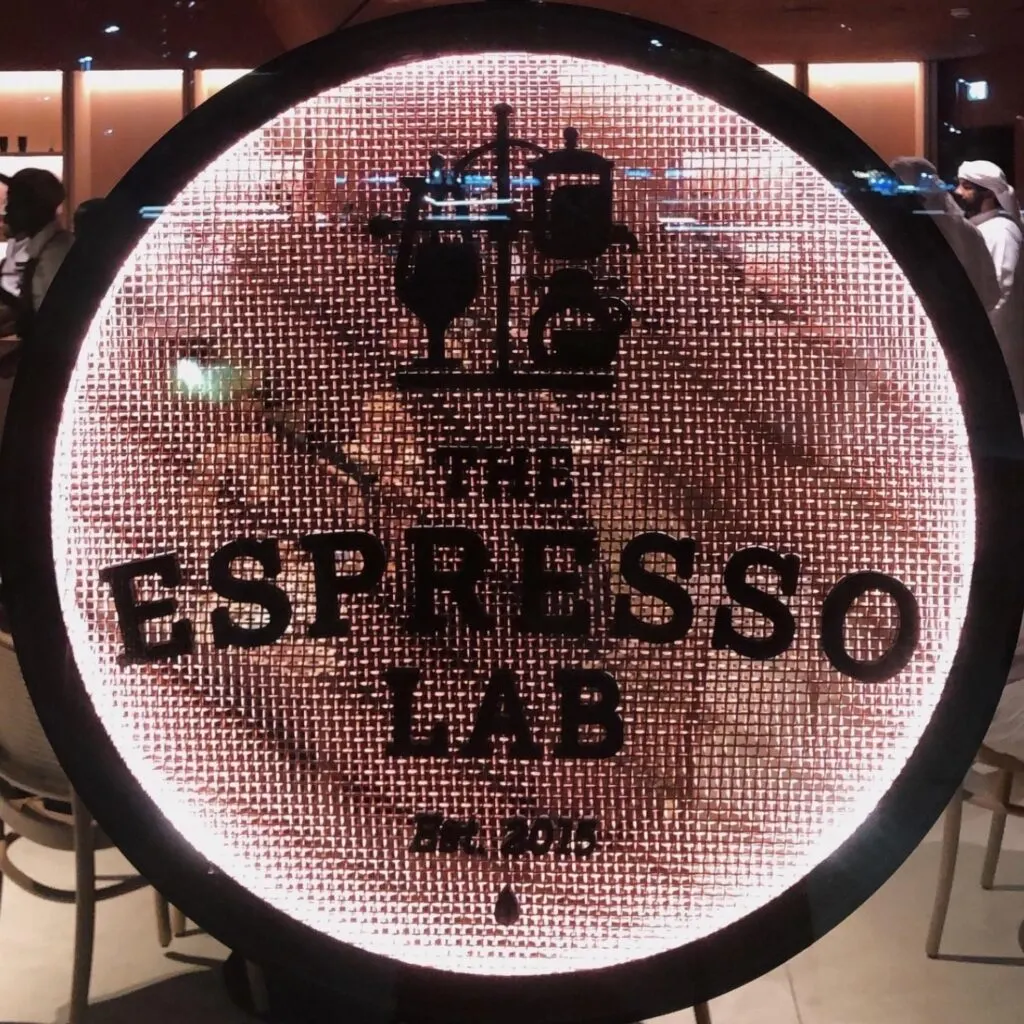 When it comes to the coffee offering for customers in Abu Dhabi, the prime focus is on the best quality coffee.
Espresso Lab offers Espresso with milk in nine ways, Tel, cold drip, Affogato, Fika, Catuai, Catalyst, Long black, Filter coffee and Cascara.
In terms of quality it is at the top of the list of best coffee shops in Abu Dhabi!
Timing: 7am – 11pm
Location: Qasr Al-Hosn, Abu Dhabi
12. Maison Samira Maatouk
The Samira Maatouk Group is based in the United Arab Emirates. However, their origins can be traced back to 1949 in Beirut, Lebanon, where the Chairman's father opened his first coffee business.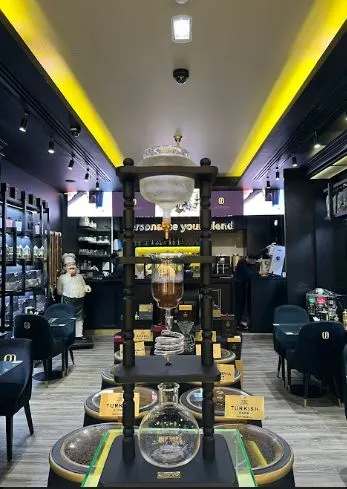 They roast the coffee in their own facility in Abu Dhabi. Equally, they make unique blends based on the customer's preferences.
Originally famed for Arabic, Turkish, espresso and filter coffees, they have broadened their product portfolio to tea, luxury confectionery and branded coffee machines.
Timing: 10am – 10pm (Sunday to Thursday); 10am – 12am (Friday – Saturday)
Location: Multiple locations across Abu Dhabi
13. Tashas Café
Tasha's Café originated in South Africa! With over 6 exclusive outlets in the United Arab Emirates, Tasha's is a well known name among the locals and expats when it comes to cafés in Abu Dhabi.
The easy-going elegance and warm hospitality makes you feel right at home.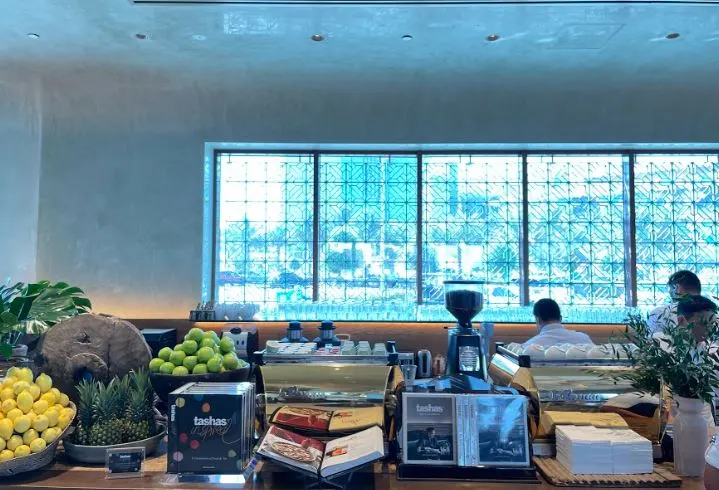 The menu comprises of an array of European inspired comfort foods and a healthy breakfast menu.
All the food is made with fresh ingredients daily perfect with a cup of freshly brewed coffee
With over 14 variants of hot and cold coffee options to choose from, you are sure to get a good start to the day at Tasha's Cafe.
Timing: 8am – 12am
Location: Al Bateen, Abu Dhabi
14. Blacksmith Coffee Company
Blacksmith Coffee Company has a simple, minimalistic yet classy approach to design and coffee which sets it apart from other coffee shops in Abu Dhabi.
The coffee beans are locally sourced, roasted and brewed to serve customers a fresh cup of full or medium bodied coffee.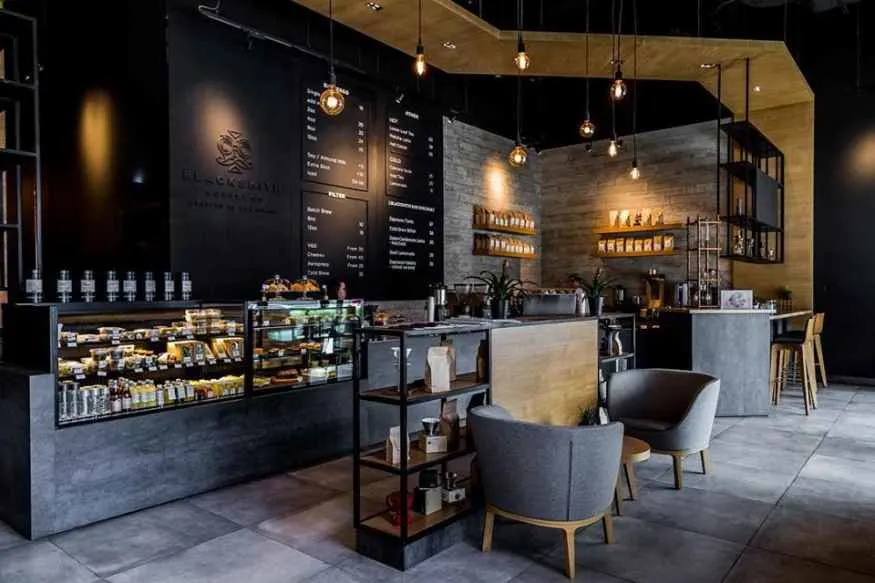 Timing: 7am – 10pm
Location: NYU Abu Dhabi, Saadiyat Island, Abu Dhabi
15. Pentagon Specialty Coffee
With over 26 varieties, Pentagon Specialty Coffee is a haven for all things caffeine, making it easily one of the most popular coffee shops in Abu Dhabi.
If you have a sweet tooth customers are in for a thrill, this place will have you hooked. You can satisfy your tea cravings with their assortment of speciality Iced teas, softies and shakes.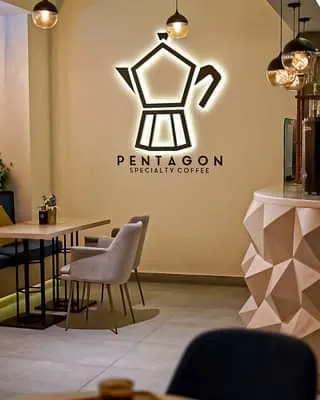 The All-day breakfast made with the freshest ingredients will have you craving for more.
Timing: 12pm – 12am
Location: Al Falah street, Abu Dhabi
16. Joud Café
Whether you are working remotely or just looking to relax and sip your coffee, Joud café is a fantastic spot.
The informal yet homely ambience makes it a perfect, comfortable place to catch up with your family, friends and even work colleagues.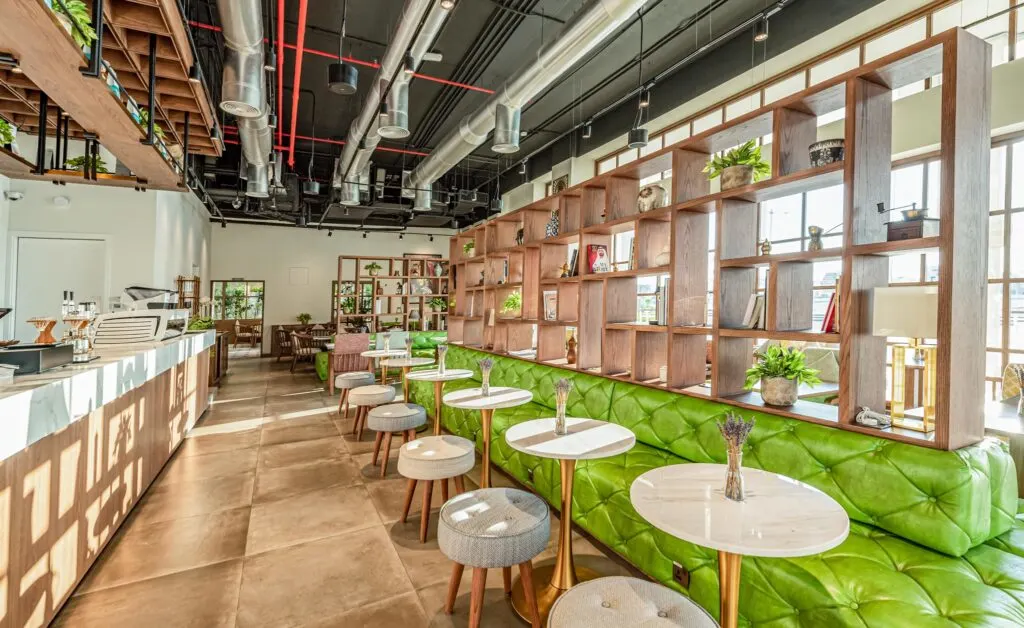 Joud Café serves an all day breakfast along with 22 variants of coffee giving customers a reason to come back and try something different each. Joud's easily makes it to the list of best coffee shops in Abu Dhabi.
Timing: 8am – 11pm
Location: Multiple locations across Abu Dhabi
17. White Café
Set in the midst of high rise buildings and surrounded by surfboards, White café is sure to bring the ocean vibes.
This cozy little coffee shop in Abu Dhabi teleports you to a place of peace and quiet allowing customers to catch a break from their busy schedule.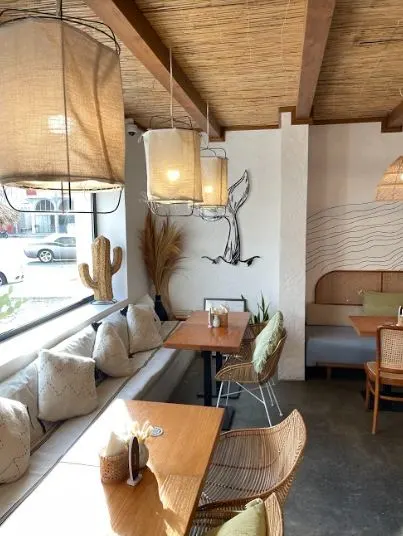 Aside from the coffee, they have a scrumptious breakfast menu which is worth checking out.
Timing: 6:30am – 11pm (Monday to Wednesday); 6:30am – 12am (Thursday to Sunday)
Location: Oz specialty coffee, Zone 1, E20-02, Abu Dhabi
18. Art House Café
With sustainability at its heart, Art house café is one of quirkiest coffee shops in Abu Dhabi. This cozy little café in the city is adorned with art from recycled products and upcycled furniture.
It is clearly a hidden gem making it to the list of best coffee shops in Abu Dhabi.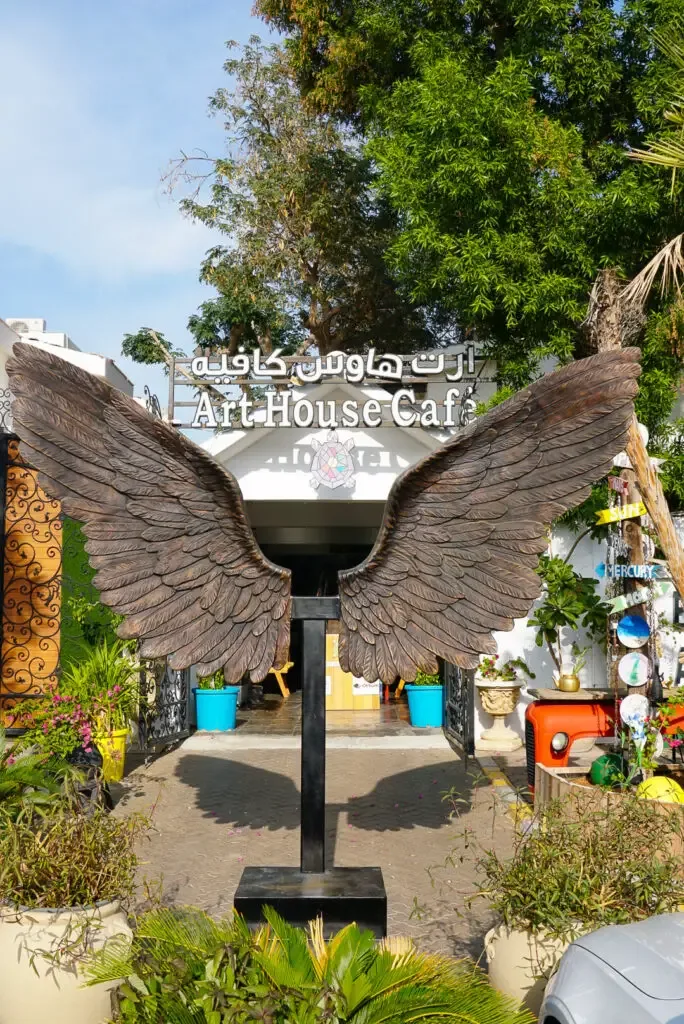 Art House cafés has a menu of delicious breakfast and a La Carte options! With over 20 variants of tea and coffee you will not be disappointed.
There are plenty of activities that you or the kids could participate in at this vibrant café. Paint a plate, brick or face. This fun, energetic yet relaxed ambience will have you revisiting for sure.
Timing: 9am – 10:30pm
Location: Al Bateen, Abu Dhabi
Coffee Explained
While it is great to find out the best coffee shops in Abu Dhabi, becoming familiar with different types of coffee may also be beneficial.
Firstly, there are generally two types of coffee beans:
Arabica
Most definitely the more popular of the two, Arabica beans are preferred by many coffee enthusiasts because of their flavour.
Arabica beans are typically used for black coffee, which has a more complex, sweeter taste. Interestingly, Arabica does not contain as much caffeine as Robusta does.
Robusta
In spite of the popularity of Arabica, Robusta is more affordable and stronger. Because of its bitter flavour, you'll typically see Robusta used for espresso drinks and in instant coffee mixes.
For days where you find yourself really struggling or if you need to feel awake and energised quickly, Robusta beans will work much better than Arabica.
Types of Coffee
With the popularity of coffee increasing over recent years, so has the number of drinks available to customers.
It can be confusing when you are met with a coffee menu. Some of the most popular coffee drinks include:
Black
Black coffee is as simple and straightforward as one can get. This beverage consists of ground coffee beans steeped in hot water and served warm.
Fancy places or people may refer to it by its proper name, cafe noir. As nothing is added to this drink, the quality of the coffee is particularly important!
Latte
Lattes are considered the most popular coffee drink. This drink comprises a shot of espresso and steamed milk with a touch of foam.
Lattes can be ordered plain, or they can include a flavour shot of anything from caramel, pumpkin spice, pistachio and rose. The best coffee shops in Abu Dhabi generally have a long list of latte flavours!
Cappuccino
Cappuccinos are very similar to lattes. However, they are made with more foam than steamed milk. Often, people will add a sprinkle of cocoa or cinnamon on top.
Similarly, many places will offer different flavour shots for cappuccinos and some may also use cream instead of milk.
Americano
An Americano Is essentially a black coffee, there is very little taste difference between the two.
When making the americano, an espresso shot is diluted in hot water.
Espresso
Espresso shots are the foundation of most coffee drinks. They can be enjoyed solo. Usually served per shot! A double shot of espresso is called a doppio!
Cortado
One of the more recent popular beverages – is a cortado. This consists of a shot of espresso with a 'perfect' measure of a warm steamed milk to balance out the acidity of the espresso. This is the Yin and Yang of coffee.
Red Eye
Potentially one for the more experienced coffee drinkers, the red-eye is a full cup of hot coffee with the addition of an espresso shot mixed in!
Galão
Originally from Portugal, this hot coffee drink is closely related to latte and cappuccino. The only difference is that it contains around twice as much foamed milk, making it a lighter drink than the other two.
Lungo
A lungo is a long-pull espresso. The longer the pull of espresso, the more caffeine in the drink.
Macchiato
Macchiatos are also espresso-based drinks with a small amount of foam on top. It's considered the happy medium between a cappuccino and a doppio.
Mocha
The well-loved mix of coffee and dark chocolate. Mochas are espressos mixed with dark chocolate and steamed milk and foam. A very popular one for the chocolate lovers!
Ristretto
A ristretto is a shot of espresso. In comparison to a typical espresso shot or doppio, it uses less hot water, which creates a sweeter taste.
Flat White
The flat white is an Aussie-born drink. As the name implies, a flat white is basically a cappuccino without any foam or sprinkle of chocolate or anything else.
This drink is an espresso with steamed milk.
Affogato
A favourite for anyone looking to sneak in an extra treat. An affogato is usually 1 or 2 espresso shots served over a scoop of vanilla ice cream.
It can also be served with different flavour ice creams and is extra enjoyable served over a brownie or other chocolate-based dessert!
Café au Lait
Café au lait consists of a splash of warm milk over coffee. It is considered the minimalist of the coffee family.
Irish
A great one for including some alcohol, an Irish coffee consists of black coffee mixed with Irish cream syrup and often sugar topped with whipped cream!
Popular in colder climates, coffee and the Irish cream syrup will warm anyone up.
Besides the above coffees, there are a number of types of iced coffees as well.
They are particularly relevant when exploring the best coffee shops in Abu Dhabi, as often, you may be too hot to enjoy a warm beverage but are still craving a coffee pick-me-up!
Types of Iced Coffee
Iced Coffee
Plain iced coffee is simply coffee with ice and usually a dash of milk, cream or sweetener.
Iced Espresso
Iced Espressos, similar to iced coffees, can be served solo or with a splash of milk, cream or sweetener. There are usually speciality iced espresso drinks like americanos, mochas, macchiatos, lattes and flat whites.
Cold Brew
The cold brew is quite popular at the moment and the trendiest of the iced coffee family.
Cold-brew coffees are made by steeping coffee beans for 6-36 hours, depending on the desired strength.
When the coffee has finished steeping, cold milk or cream can be added.
Frappuccino
This is a blended iced coffee drink that's topped with whipped cream and syrup. There are lots of different ways of creating Frappuccino's and similarly, lots of different flavours available.
Nitro
As if a cold brew wasn't trendy enough by itself, Nitro is a cold brew with the addition of nitrogen bubbles! It results in a cold brew with a frothy milkshake-like consistency. (It's poured via a nitro tap, too.)
Mazagran
Mazagran is a fascinating mix of black coffee served over crushed ice! It usually consists of iced espresso, lemon and sugar.
While it's been great to discover some of the best coffee shops in Abu Dhabi, drinking coffee can be an expensive game!
If you are an ardent coffee drinker and notice your coffee runs are resulting in disappearing money, why not look into making your own coffee at home.
History
Modern society is reliant on coffee houses. Given how long coffee has been a widely consumed beverage worldwide, it is often assumed that coffee houses have always been around.
While they have persisted through history for hundreds of years, they certainly weren't always as prevalent — or legal — as they are today.
Below, we're going to be discussing the fascinating history of coffee houses, how and where they originated, and how they developed into what they are today.
The First Coffee House
Historians have found the earliest record of a coffee house dates back to 1475, when a shop called Kiva Han opened in Istanbul, later named Constantinople.
Turkish coffee, which is still in demand today, was likely served at Kiva Han. It wasn't until much later filtered coffee was served.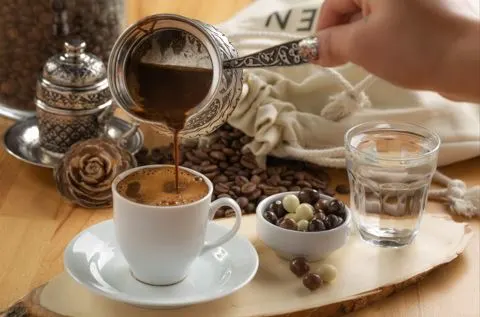 It was not long before coffee houses became well known as places of political discussion due to the rapid development of coffee culture.
It was not until the early 1500s that coffee shops were outlawed by Islamic leaders, because they believed the gathering places encouraged disruption of the country's ruling system.
Coffee Houses Take Europe by Storm
The Turkish invasion of Europe led to the opening of the first coffee house in Europe in 1529. Having lived in Turkey and knowing the potential of coffee, Franz Georg Kolschitzky introduced the concept of a coffee house to Europe.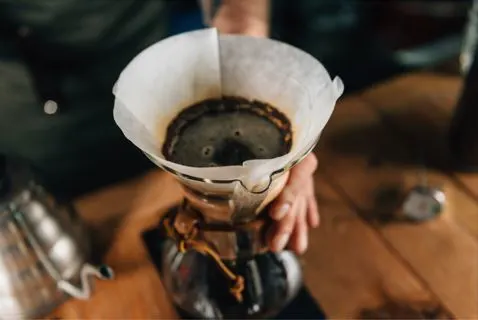 To make coffee more palatable and less bitter, Kolschitzky also introduced filtering and the addition of milk or cream and sugar.
It is evident that coffee houses sprang up all over Europe and there is evidence suggesting that they continued to be used as places for political discussions.
Despite their popularity across the continent, they weren't introduced to England until the mid-1600s.
Coffee Houses Land in England
1652 marked the opening of the first British coffee house. Though the concept took nearly 200 years to reach England, it became widespread and outrageously popular in a much shorter period of time.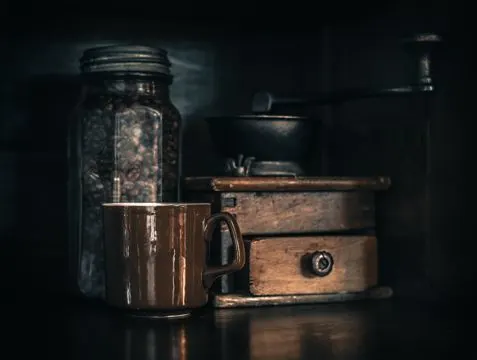 It's believed the idea of a coffee house in England was thanks to trading practices with Turkey and not with the surrounding European countries. Much of the world has Turkey to thank for coffee houses!
English coffee houses were not only places to discuss politics, but also places to discuss business and trading opportunities.
These shops also attracted intellectuals (like Bach, who wrote a song in honour of coffee) who would speak and debate about religion, philosophy, and other topics.
Their coffee houses were referred to as "penny universities" as coffees costed a penny each and the space was full of highbrow, educated discussion.
The London Stock Exchange Was Born
It is noteworthy that, one such coffee house owned by Edward Lloyd established in 1668 is now the site of Edward's then-budding business: the insurance company Lloyds of London!
Jonathan's Coffee House, which was also established in the late 1600s, was a place to hold business meetings and later became the location of the London Stock Exchange.
There was a rapid spread of coffee houses among major cities in Italy, Germany, and France in the late 1600s, and their demand grew just as rapidly in each of these countries as in England.
Soon, coffee houses were springing up in every metropolitan area across Europe.
Americans Adopt the Coffee House
Finally, coffee houses spread to the Americas relatively early in their colonisation. They carried much of the similar culture, level of sophistication and knowledge as it was in England. The places were a popular meeting place for many professionals in the business world.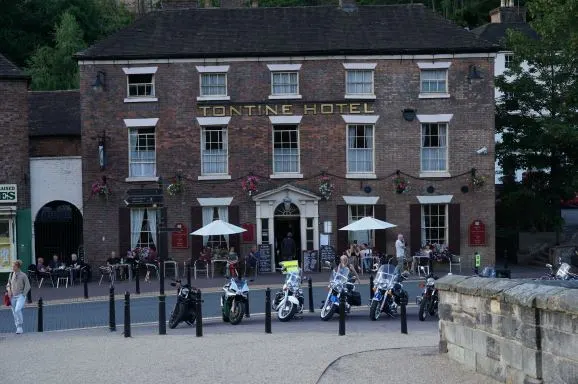 The Tontine Coffee House (seen above), which opened in New York in the very late 1700s, had such a large number of business people frequenting it became the site of the New York Stock Exchange.
Espresso Joins the Menu
In 1946, Giovanni Achille Gaggia, the founder of the Gaggia company and its now-famous espresso machines, invented a safe and affordable espresso machine to make a delicious, robust, and creamy espresso.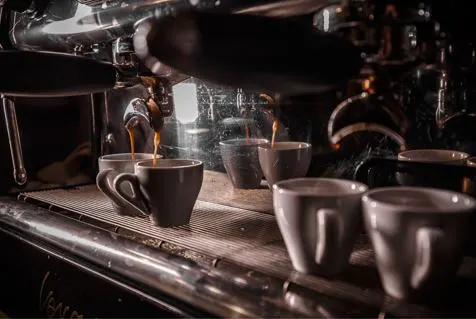 Soon after, the Gaggia company was established, and its commercial espresso machines spread across Europe and America.
Throughout the world, coffee houses began selling espresso alongside their brewed coffee in the mid-1900s, giving rise to today's concept of a coffee house.
Modern Coffee Houses
There isn't much difference between coffee houses today and hundreds of years ago. They often serve baked goods, teas, fresh juices, and other delicacies. Customers still gather to enjoy delicious coffee and talk about important matters like the news, business, and current events.
We've added classroom work and some light conversation to the mix, as well as all sorts of electronics, but the concept remains largely unaltered.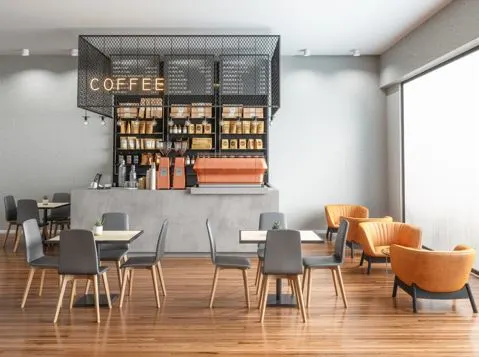 It is unsurprising that the coffee industry has grown to be a big business as well, with major chains like Starbucks, Tim Hortons, and Peet's opening thousands of locations worldwide.
Wrapping Up
It may seem modern to think of coffee houses, but they have been around for centuries! There have been coffee shops since the 1400s, serving as a place for discussion, business, and of course, delicious coffee.
Although things have become a bit more digital and perhaps more profit-driven, there hasn't been much change in the way we use and think about coffee houses.
What is the difference between coffee shops and cafés?
Generally speaking, the difference comes down to the coffee itself. Coffee shops tend to emphasise as this is the establishment's primary focus.
In coffee shops, there should be a number of brewing methods and a selection of tea offerings.
When it comes to Cafés, the focus is less so on the coffee and more emphasis on the food, which is encouraged to be enjoyed with a hot beverage.
Interestingly, there are no rules surrounding the terms of Coffee Shop and Cafés. Each establishment can choose which to be associated with as they wish (within reason).
You may also like:
Abu Dhabi Hotels With Private Pools
12+ Eid Staycations Around The UAE
12 Top Things To Do On Yas Island
Disclaimer: This post may contain affiliate links, by using them, it will not cost you any extra, we will receive a small commission at no extra cost.