If you are looking for the best sports bars in Abu Dhabi we have all the bases covered. The city is well-known for its association with a number of sports and has attracted top organizations, teams, and players to compete in the desert nation.
Abu Dhabi has hosted FIFA world club cups, UFC, world title boxing fights, PGA championship, tennis tournaments, formula one racing, and the cricket 2020 World Cup.
Sports bars generally have an electric atmosphere with a fun social aspect as it is an opportunity for people to connect with a shared interests.
There is a great sense of togetherness, with fans taking the side of their favourite team or simply being neutral.
The viewing experience in sports bars is always as good as it can be with multiple large screens broadcasting a whole host of sports.
Bar food and drinks go hand in hand with the experience. Popular items include, pizza, wings, burgers, nachos and much more.
The next best thing to attending a sporting event is immersing in the atmosphere of a sports bar on game day. Sports bars in Abu Dhabi often have promotional deals tied to certain events.
Engage in giveaways, competitions and contests at sporting events and soak up the fun-loving atmosphere.
With so much going on, we've done the leg work pulling all of the Sports bars in Abu Dhabi events, screens and deals into one article!
Sports Bars Abu Dhabi
1. The Championship Lounge-Abu Dhabi Golf Club
Abu Dhabi Golf Club are renowned for hosting sporting events and is one of the top golf clubs in Abu Dhabi. The championship lounge is the perfect place to catch some sports action or grab a drink for a catch-up.
With the backdrop of the pristine golf course, it is a great place to watch a game. Particularly in the evening time as the sun sets over the Arabian Gulf.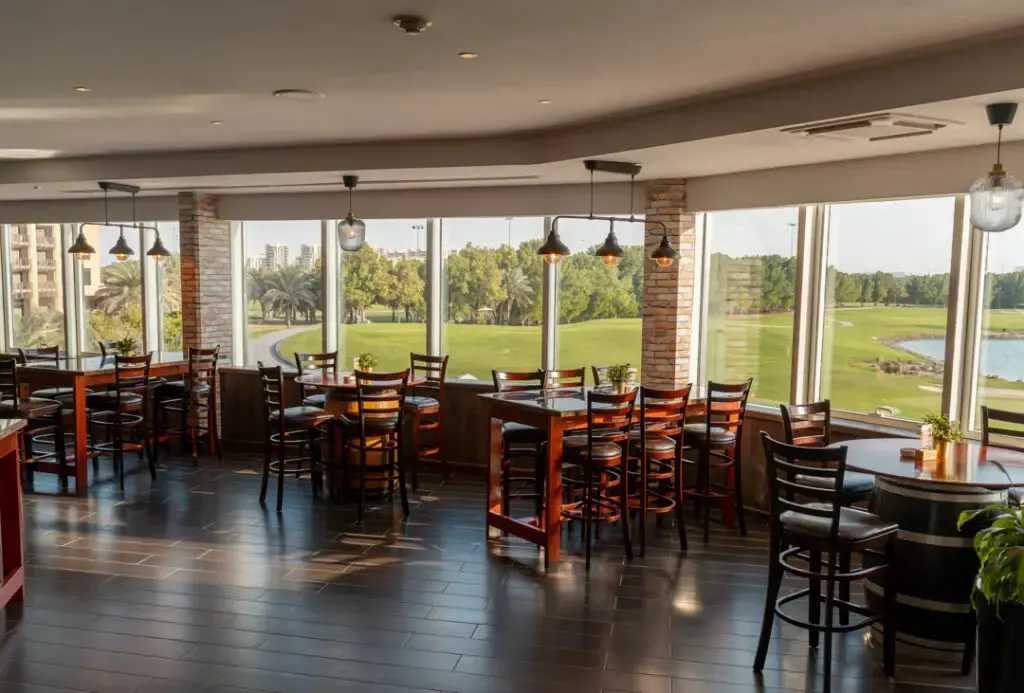 Check out the special dining offers along with international hops or beverages. A 'man versus food' challenge goes under the banner of the seven-minute challenge.
Finish a full platter of hot wings or burgers within seven minutes, and it's free or pay the 'penalty' of 135AED. The seven-minute challenge is available daily between 3 pm to 11 pm.
The Aperitivo platter is every Tuesday and Wednesday from 3 pm to 11 pm. Included is two glasses of grape with cold cuts, cheeses, and dried fruits for 149AED.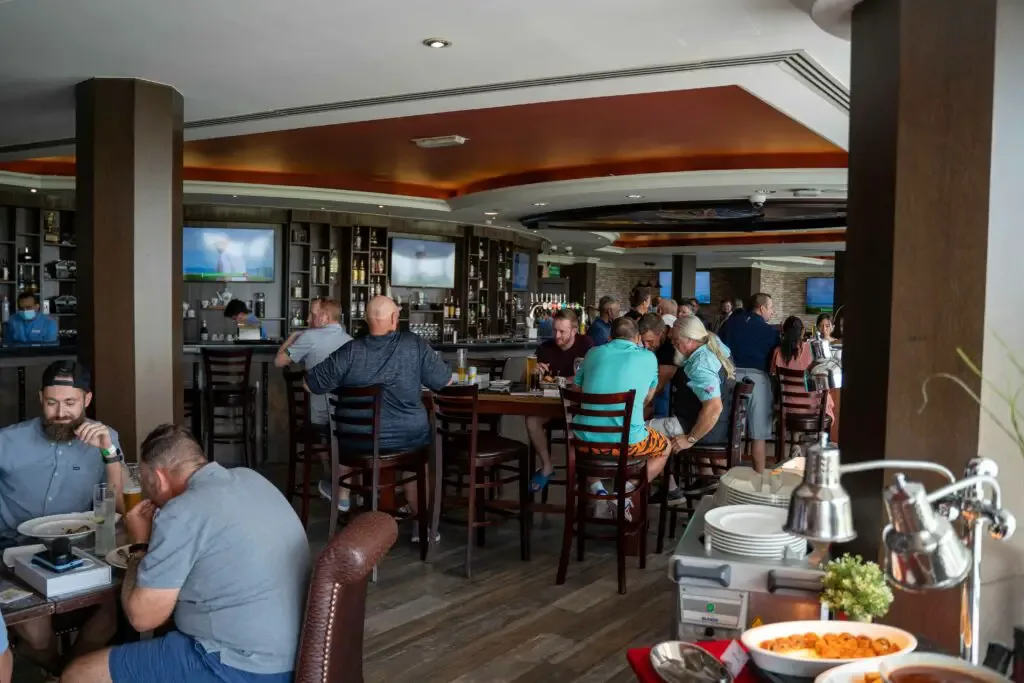 Japan meets the championship lounge with sushi Fridays. Grab a sushi platter and two premium beverages for 219AED every Friday between 3 pm to 11 pm.
Sunday is a day champions eat breakfast at the Sunday breakfast buffet. Grab a full international breakfast which includes bacon, coffee, tea, and juices.
Make sure to bring a third musketeer to avail the buy two get one free offer. Available every Sunday from 10 am to 2 pm.
Location: Abu Dhabi Golf Club Khalifa City A- Abu Dhabi
Timings: Monday to Friday, 3 pm to 11 pm
Saturday to Sunday, 12 pm to 12 am
Phone: 971-288535555
2. Loca
Next up, for the best sports bars in Abu Dhabi, is the popular Mexican restaurant Loca on the Al Maryah Island waterfront promenade.
Loca has eight TV screens and a giant projector to broadcast all sports.
Sports fans can book a table on the terrace or a booth indoors to watch the players battle it out.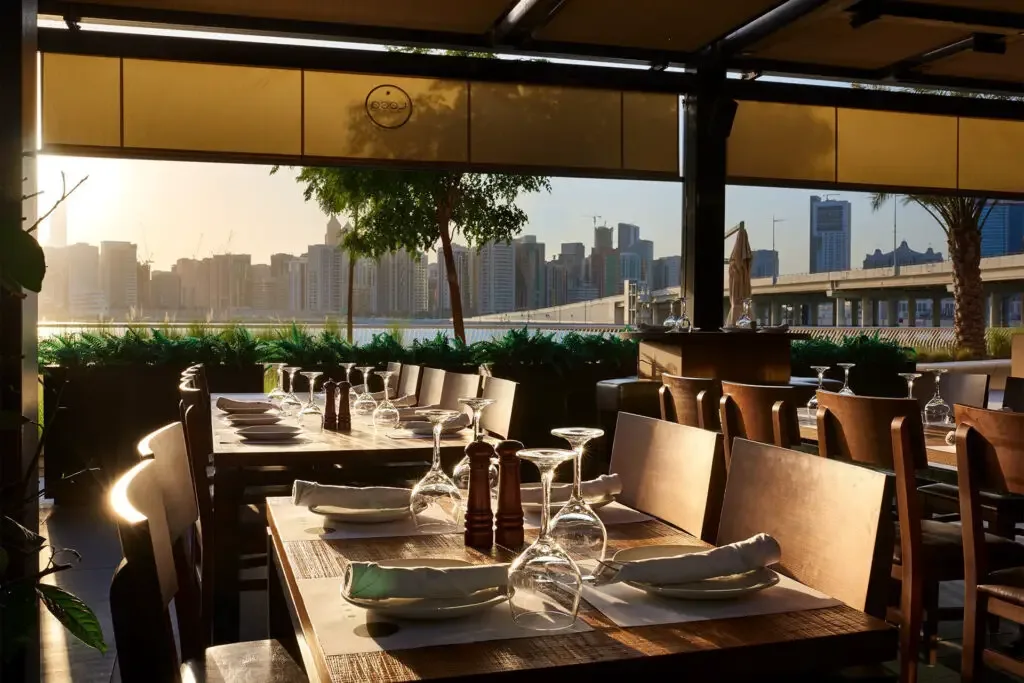 On Tuesday nights, a Mexican brunch goes down and costs 195 AED for food plus unlimited bottled hops and margaritas.
The soft drinks packages cost 125 AED and it runs from 7 pm to 10 pm
Grab your gals on Wednesday night at Locas ladies' night which offers unlimited margaritas from 7 pm onwards.
Finish off the working week with unlimited tacos and two margaritas or bottled hops every Friday for 165AED.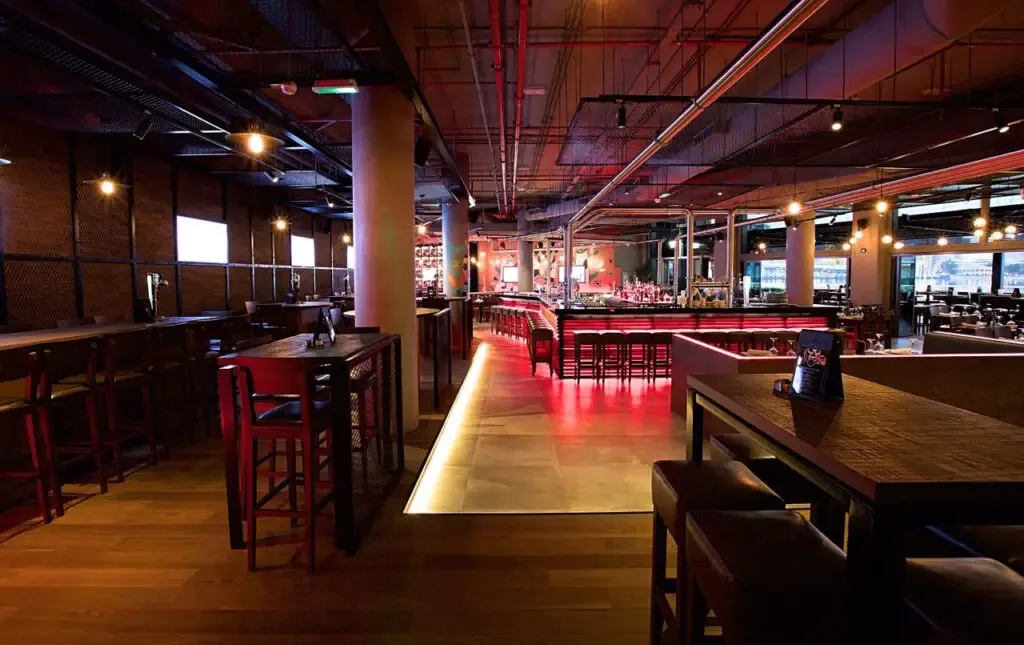 The unlimited taco deal leads into the 80's & 90's night from 8:30 pm. DJ Eldar Stuff brings a blast from the past with groovy beats at one of the best sports bars in Abu Dhabi.
Loca Saturday brunch is the flagship event of the week. Soft drink packages cost 155 AED and beverages cost 245 AED. The event is between 12 pm to 5 pm, with the option to extend the stay between 5 pm to 7 pm for beverages only.
Loca, brings the week to a close on Sundays with 'get your guac on'. Choose from beef, chicken, shrimp or vegan fajita with two hops or grape for 129 AED.
From Monday to Thursday, a business lunch deal is available between 12 pm to 4 pm for 95 AED.
Location: Galleria Mall Abu Dhabi
Timings: Monday to Sunday 12:00 pm to 02:00 am
Call: 971-25823639
3. The Irish Vickers
The Irish Vickers, is hailed as a super-pub with its enormous space! This Irish bar is well equipped to host the ultimate sports bar in Abu Dhabi events. There are thirty-five big screens throughout the venue.
With a capacity of 500 people, the pub is known to host major parties and fly in some household names to perform for a fun-loving crowd.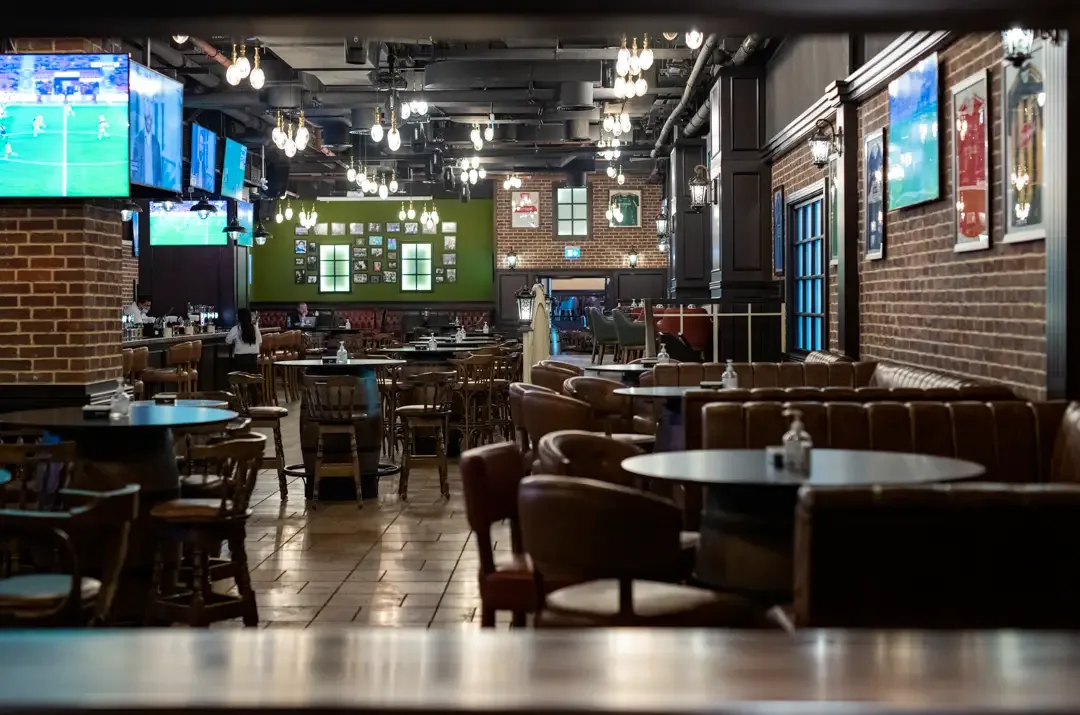 The two separate sections in the superpub can make for an active or passive sports experience.
One section has a two-lane bowling alley, pool tables, dart boards and a golf simulator.
On the other side is an epic viewing of all the favourite sporting events. An iconic Ha'penny Bridge sits centre stage where guests can see live bands perform with a top-notch sound system.
The super pub is a spacious venue with barrel-high tabletops red brick interior, giving it a modern twist whilst maintaining authenticity through Irish heritage.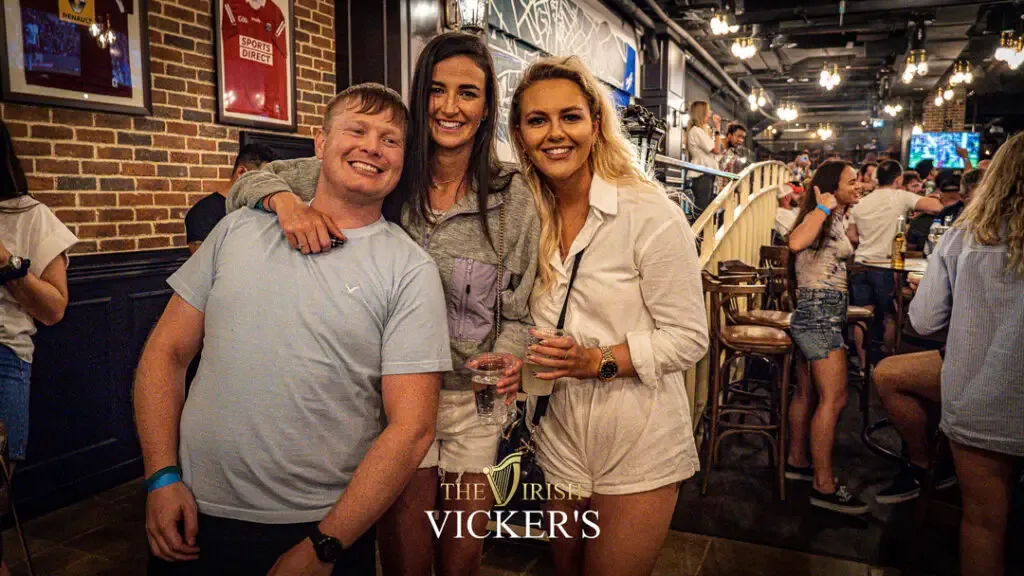 Favourite sports at the Irish Vickers include Gaelic football, hurling, rugby, soccer and many more sports, making it a perfect venue to tune in on all the action.
Large groups can opt for a more VIP experience and book a private room with a large screen. The Snug has capacity for twenty people. Sit back and relax as drinks are served efficiently with a private bartender.
Weekly Deals
The Monday club offer is 99 AED for 4 hours of selected beverages. There is also an all-day happy hour with live music.
Delve into some sports action and opt for five house drinks and a game of bowling for 99 AED, available Monday to Thursday.
Unlimited BBQ treats, a bucket of 5 hops or a bottle of grape is available at Taste of Tuesdays for 99AED. Jam away to this great deal between 7 pm to 4 am as DJ Joe bangs out the beats.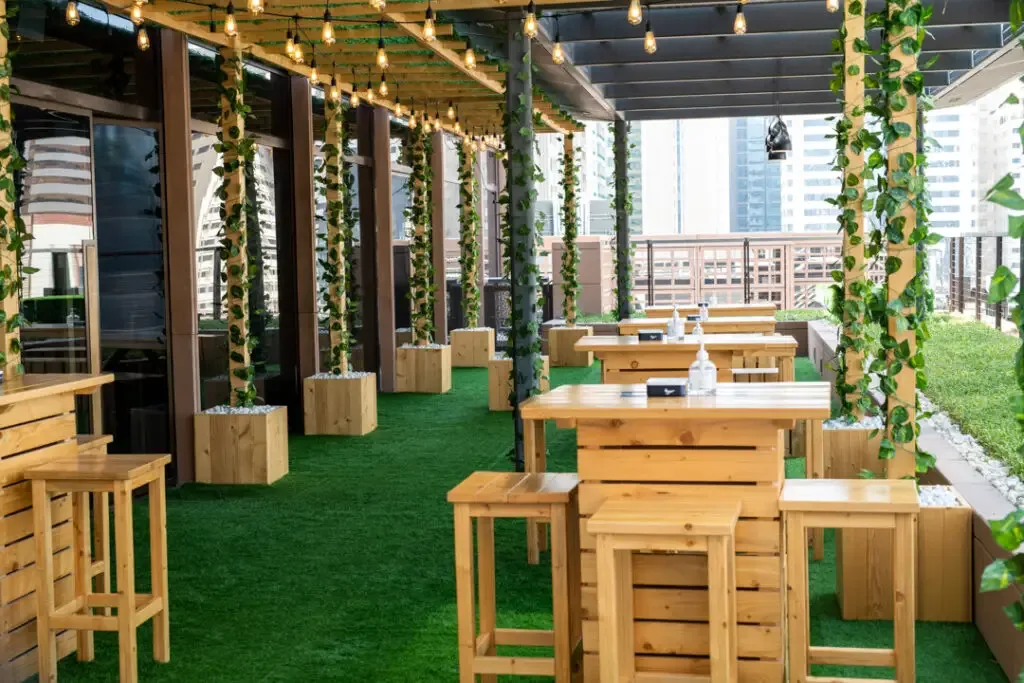 Wednesday is Wings & Bingo night. Join the fun and get a bargain on unlimited wings and three drinks for only 109 AED.
Live music is played by a DJ throughout. The bingo host maintains a lively atmosphere with jokes aimed at the guests in typical Irish fashion.
Live music, five free selected house drinks and 50% off food are available on ladies' night every Thursday from 6 pm onwards.
The Irish Vickers is a gracious neighbour as they offer residents of the WTC 50% off the bill between 12 pm-6 pm with a welcome drink on arrival.
Saturday Brunch
Saturday is brunch day between 12 pm to 5 pm. Soft drink packages are 199 AED and house packages are 299 AED. The brunch is a meat lover's dream serving up flame-grilled BBQ beef burgers, ribs, chicken breasts, pizza and much more.
At the brunch, families with kids can enjoy the games room and a bouncy castle. As Saturday enters the second half of the day, sports bar goers can avail of the 'drunch' from 6 pm-9 pm, allowing unlimited house drinks for 169 AED.
Late-night happy hours are available from Sunday to Thursday, 11 pm-3 am, allowing selected drinks for 30 AED, bucket deals and late-night entertainment.
Every Sunday, a roast dinner is served 1 pm to 8 pm, where guests can choose from unlimited roast chicken, beef or their famous glazed pork ham.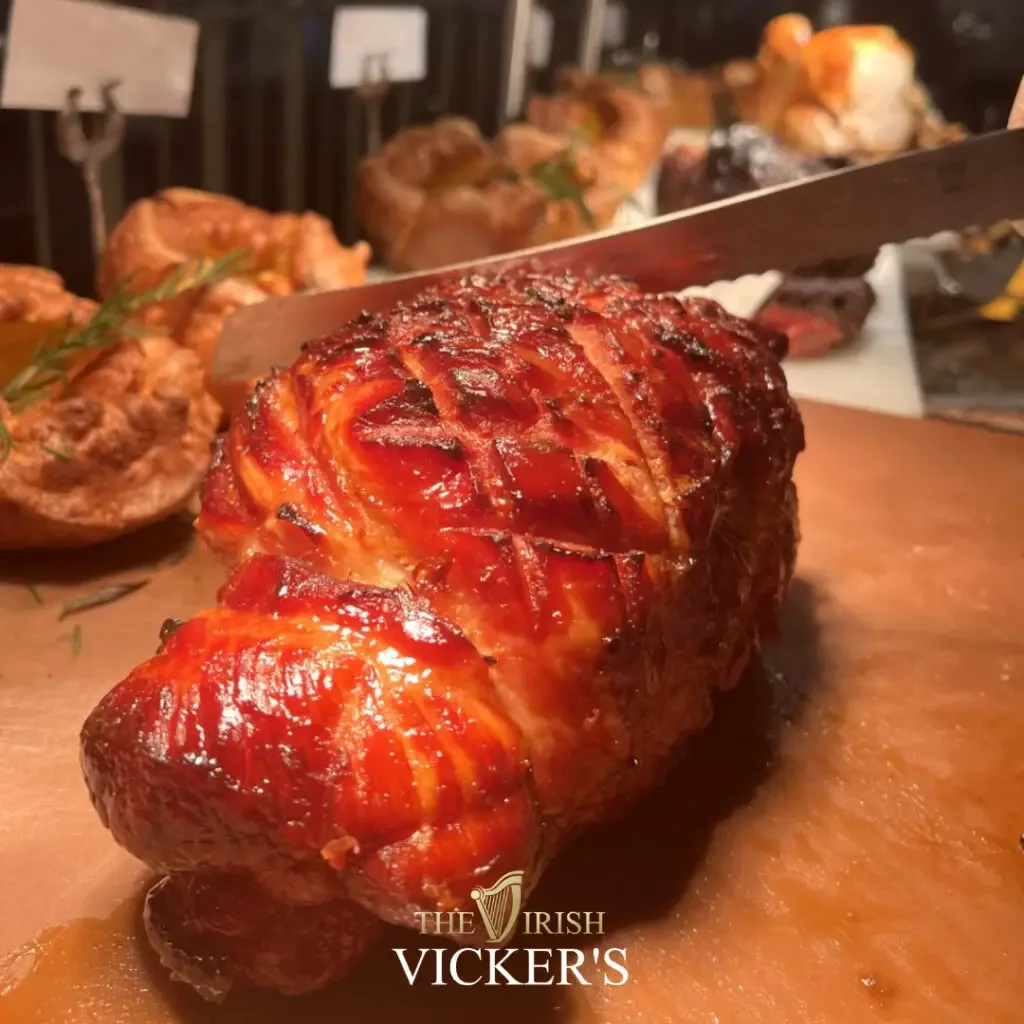 Afterwards, check out the golf simulator deal for 99 AED with five house beverages, available all day.
The Irish Vickers has been known to host some epic pop-up events around the city. They include collaborations with Conor McGregor during F1 Abu Dhabi and wild St Patrick's day celebrations at Abu Dhabi Golf Club.
For more information, call +971 2 886 9636.
Opening Hours: Monday to Sunday 12 pm to 4 am
Location: WTC MALL – The Hub, 6th Floor – Abu Dhabi – United Arab Emirates
4. Victors
Another Irish bar makes it onto the list of the best sports bars in Abu Dhabi. The venue has 21 screens dotted throughout, broadcasting all the best sports activities.
On Mondays, there is an all-day happy hour at this sports bar. Every Tuesday, hoteliers can grab three house drinks and one starter from the menu from 7 pm to closing.
Wednesday's night is lively, with a resident DJ hitting the turntables and punters can lap up three free drinks and 50% off starters menu options.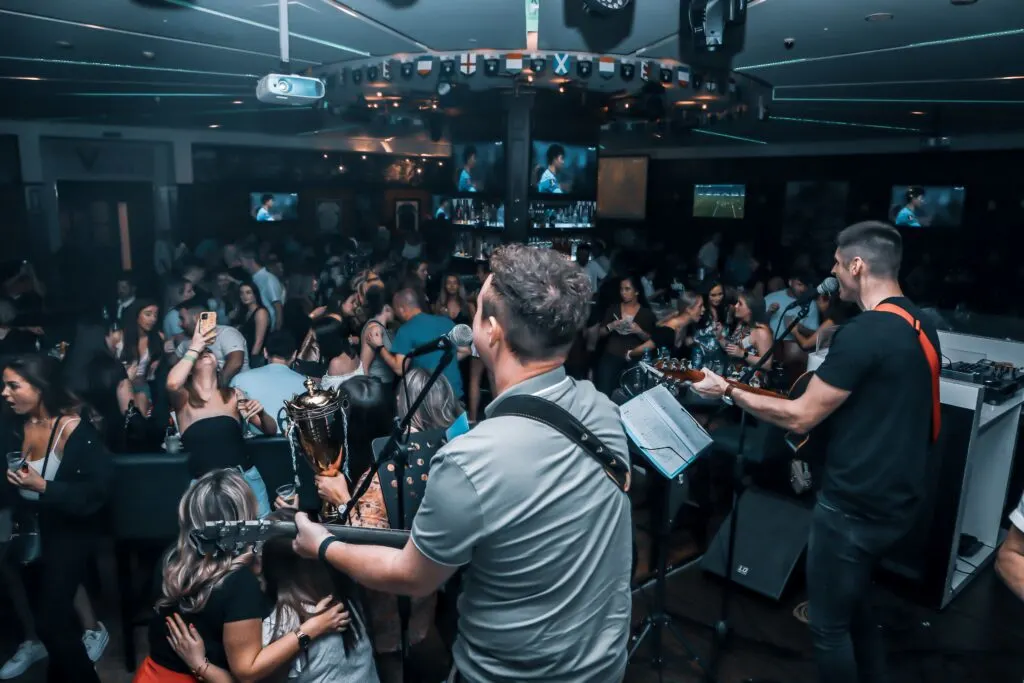 On Thursdays, Victors serves unlimited wings and three house drinks alongside a bingo night for 109 AED.
When the working week is over, 'Friday Night Lights' is the event to be at!
Abu Dhabi residents and tourists alike can join in on a quiz night every Friday from 8 pm to 11 pm and at the same time there is a deal on five selected house drinks for 100AED.
Before quiz night on Fridays, there is a drunch deal running between 6 pm-9 pm, which is unlimited drinks for 169 AED.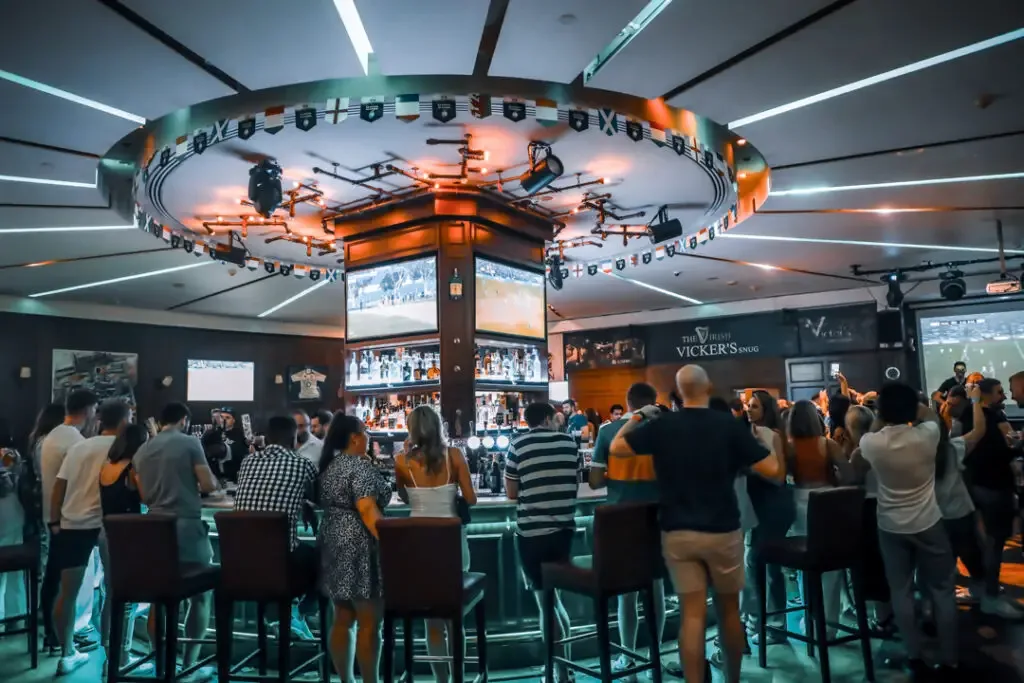 The brunch deal rolls into Saturdays from 6 pm to 9 pm. Avail of unlimited house drinks for 169 AED.
Grab a roast or breakfast every Sunday from 12 pm to 6 pm. Each option costs 109AED, with the breakfast coming with three house drinks or the roast with one drink.
For reservations and more information, call +971 50 393 5529.
Opening hours: 12 pm to 3 am (Monday to Sunday)
Location: Millenium Al Rawdah Hotel – Abu Dhabi – United Arab Emirates
5. Captains Arms Le Meridien
This quaint ye olde English tavern comes to life on match-day with many regular pub lovers congregating for all the sports action. Join in on the local pub atmosphere and watch the action over the summer indoors or outdoors in the cooler months.
On the outside terrace sits a massive LED screen, making an epic sports viewing experience for those cooler months from November through April.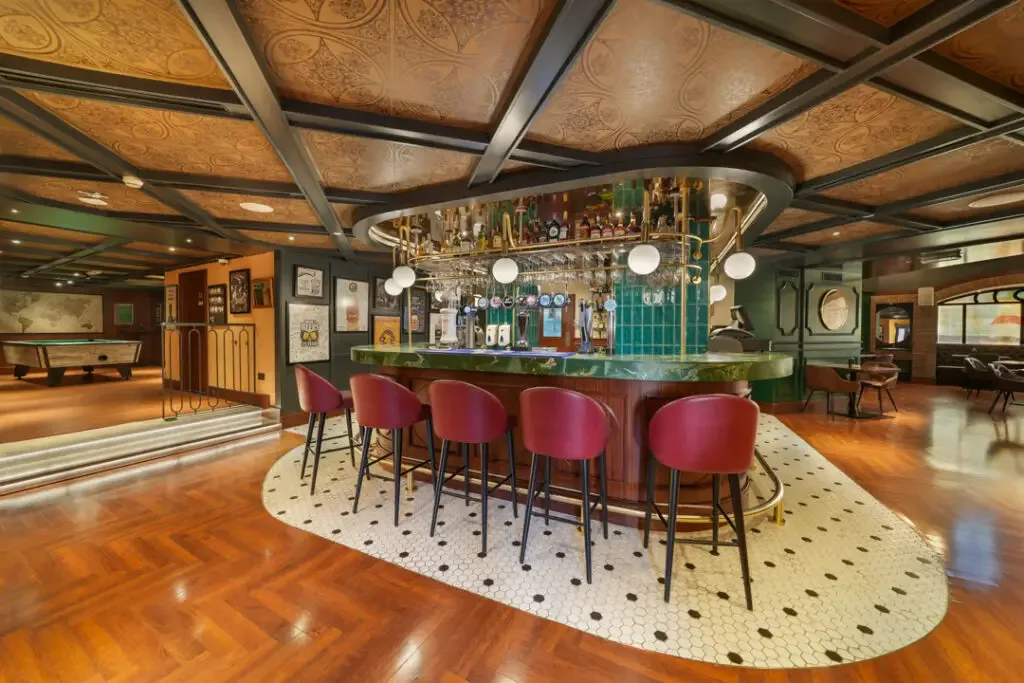 The bar comes with a pool table often crowded with groups of friends competing against one another.
Captains Arms is renowned for its delicious pub grub. We recommend the sizzling fajitas which is served on a hot stone.
Captains Arms happy hour is available from 12:30 pm to 8 pm where all the favourite drinks cost 25 AED.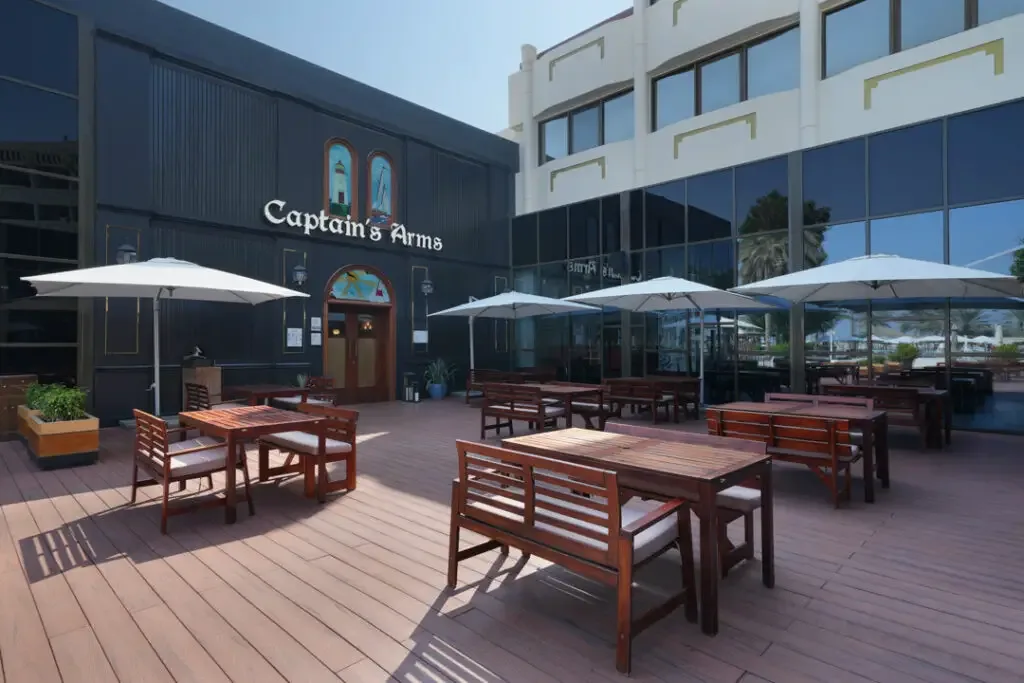 Get unlimited wings every Wednesday for two hours plus two pints for 99AED any time between 1230 pm to 11 pm.
Sundays are a day for a delicious roast and it costs 120AED for one house drink from 12 pm to 8 pm.
Location: Le Meridien Abu Dhabi, Tourist Club Area, Abu Dhabi
Timings: 12:30 pm to 2 am daily
Contact: 971 56 688 5361.
6. The Sportsmans Arms
Tucked inside a tennis stadium is a fitting location for this sports bar. Zayed Sports City has many sporting activities, and the bar is a great hang-out spot afterwards.
This bar has seven large LED screens and a pool table inside! Whilst the outdoor patio terrace has a large screen for all sports action. The sports bar is jam-packed with deals throughout the week.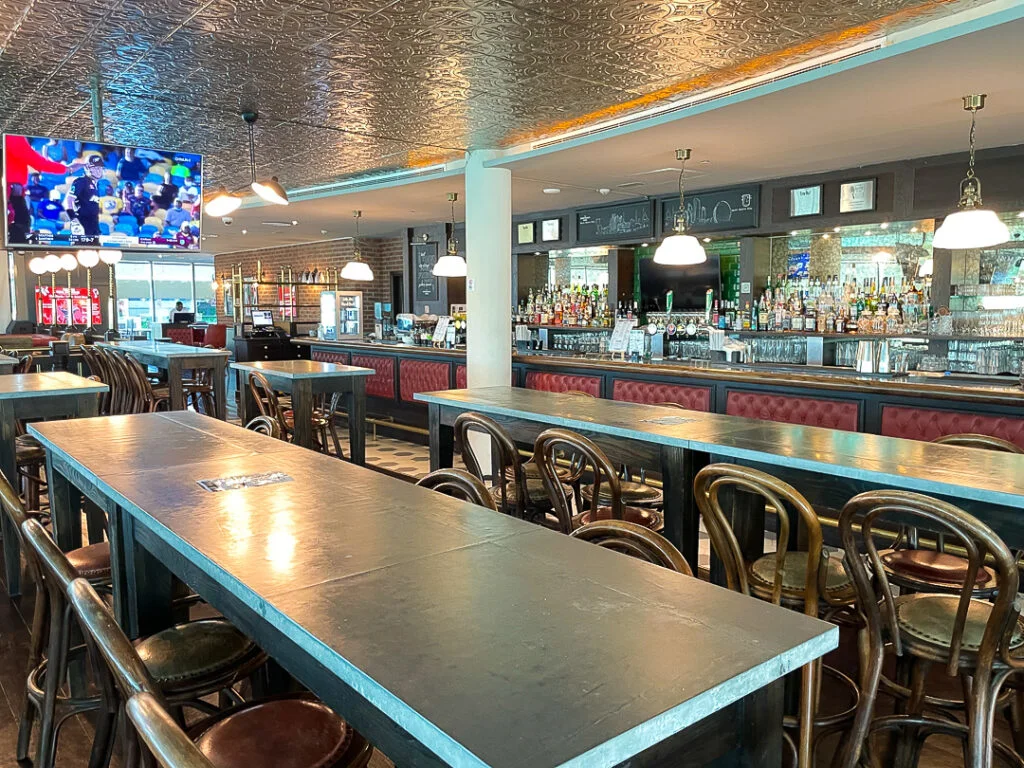 Happy hour is daily from 12 pm to 8 pm on selected house beverages. Hoteliers can avail of the 50% off the total bill every Monday.
Monday to Thursday is a chicken wing feast from 5 pm to 9 pm for 99 AED.
On Pizza Tuesdays, guests can pick from a selection of pizzas and get two house beverages for 80AED.
Costing 85 AED every Wednesday between 5 pm to 10 pm is the burger combo deal. Get a chicken or beef burger and a choice of selected starters.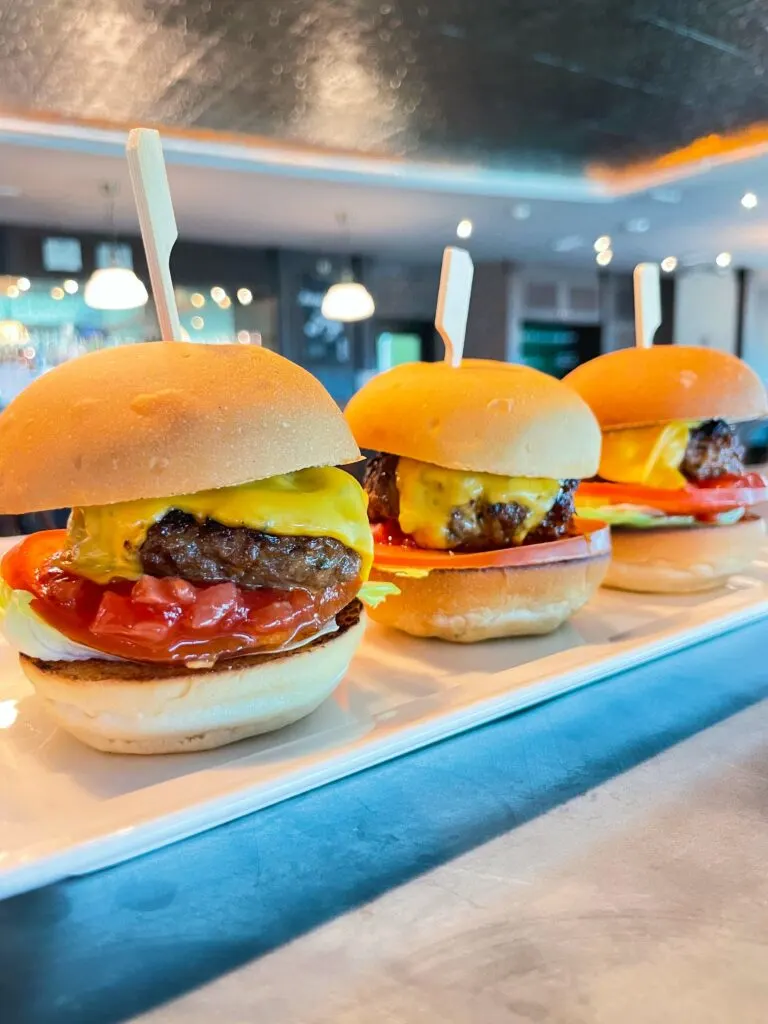 Every Thursday is steak and wine night between 5 pm to 10 pm. Choose from NY-strip loin rib eye or a fillet steak with potatoes and cover it in a signature sauce.
Friday is a ladies, teachers, and cabin crew night. Sip on four selected beverages and enjoy one snack for 50 AED.
Friday and Saturday is the Sportsman's arms brunch 1 pm to 4 pm and 7 pm to 10 pm. Beverage-only deals start from 160AED and food with beverages start from 200AED.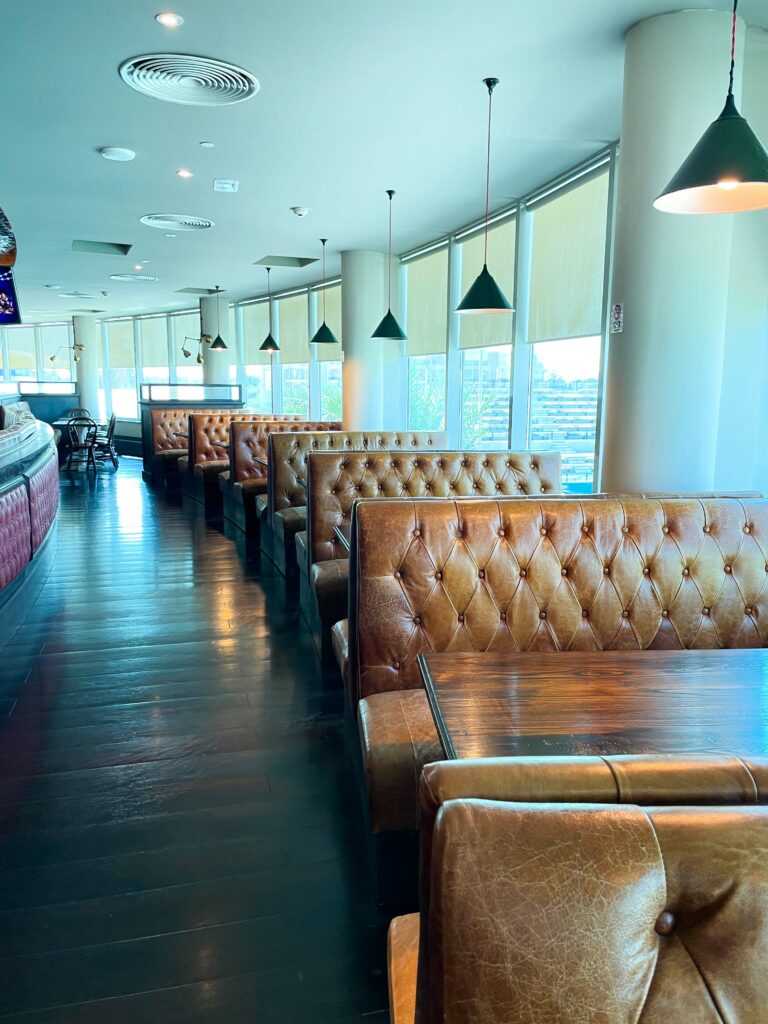 Throughout the weekend, from Friday to Sunday, is an award-winning roast served with all the trimmings starting from 85AED.
Location: Zayed Sports City-First Floor, International Tennis Centre – Abu Dhabi
Timings: Sunday to Thursday, 8am to 12 am, Friday and Saturday, 8am to 1 am
For information or reservations, Call 024471066
Whatsapp-0543495352.
7. Mc Gettigans
The Irish American brand is well known for lively sports venues throughout the UAE. The Dusit Thani branch publishes a jam-packed timetable of all the sporting events.
The top sports include soccer, rugby, Gaelic football, hurling, formula one and much more.
With many deals on food and beverages throughout the week, it might be a lucky day if it tees up with a big sporting event.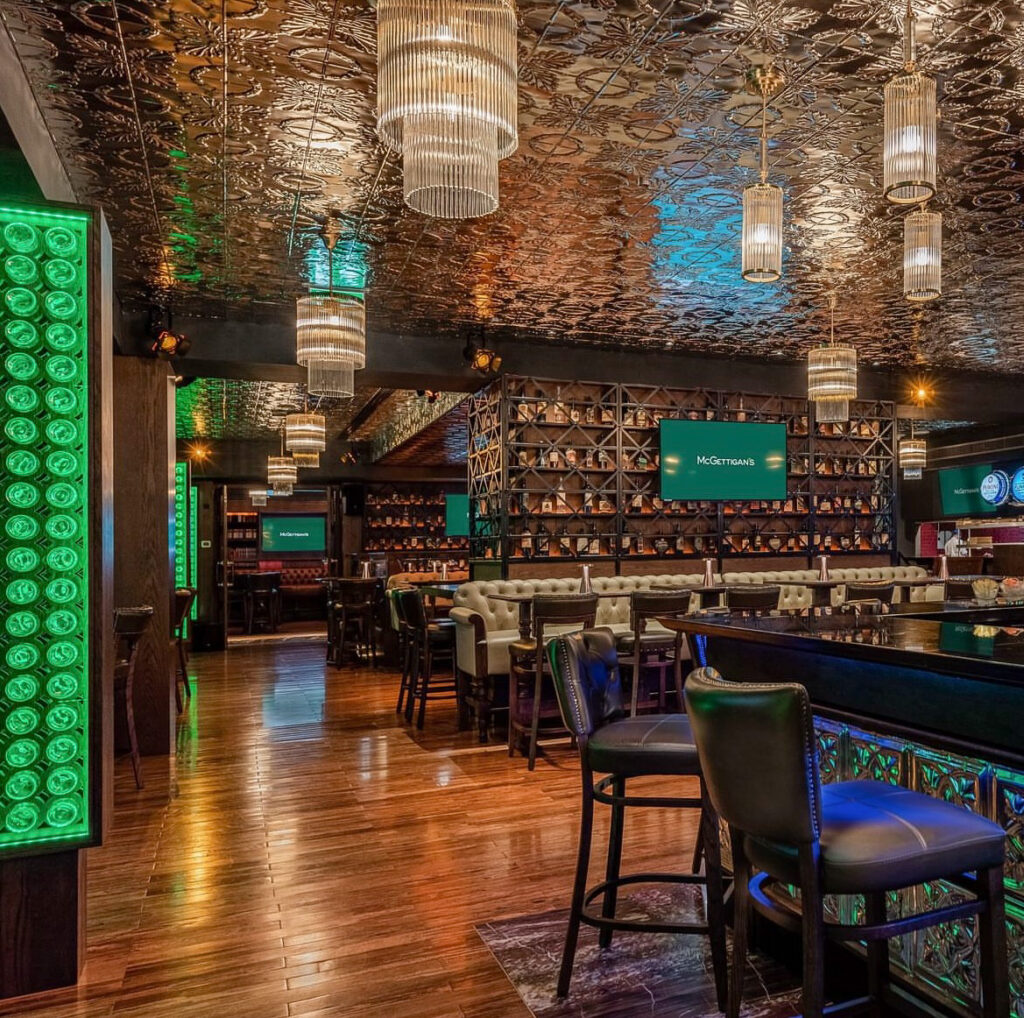 Happy Hour runs daily from 3 pm to 8 pm. Purchase any food item and get two house beverages at 'Mcgett together Mondays'.
Tuesday is the signature burger night with a beverage for 89 AED from 6 pm to 11 pm. Wednesday is loads of fun with a quiz night from 8 pm onwards. With food, drinks and prizes, fun is guaranteed.
Indulge in unlimited wings with three beverages from 6 pm to 11 pm for 99AED. The long weekend drunch is available Friday through Sunday for five beverages.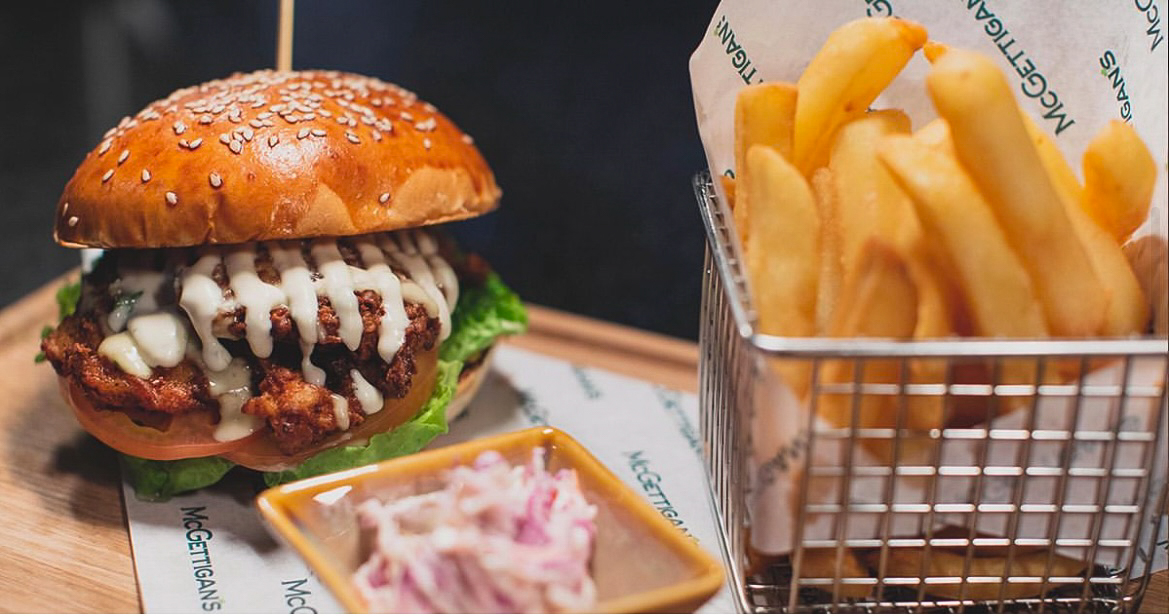 Packages start at 125 AED. Available Friday and Saturday from 2 pm to 11 pm and Sunday 12 pm to 11 pm.
Location: Dusit Thani- Al – 925 Sultan Bin Zayed The First Street – Muroor Rd – Abu Dhabi
Timings: Monday to Thursday, 3 pm to 2 am
Friday to Saturday, 12pm to 3 am
Sundays 12 pm to 2 am.
Call: 97126988137
8. Appaloosa Bar
Appaloosa Bar offers one of the best sports bars in Abu Dhabi experience, with 30 indoor screens and a large outdoor screen, perfect for the winter months. The sports bar attracts an energetic crowd on sports nights.
Happy hours, the pool table, a beautiful outdoor terrace, and delicious bar bites are some of Appaloosa's main drawing points.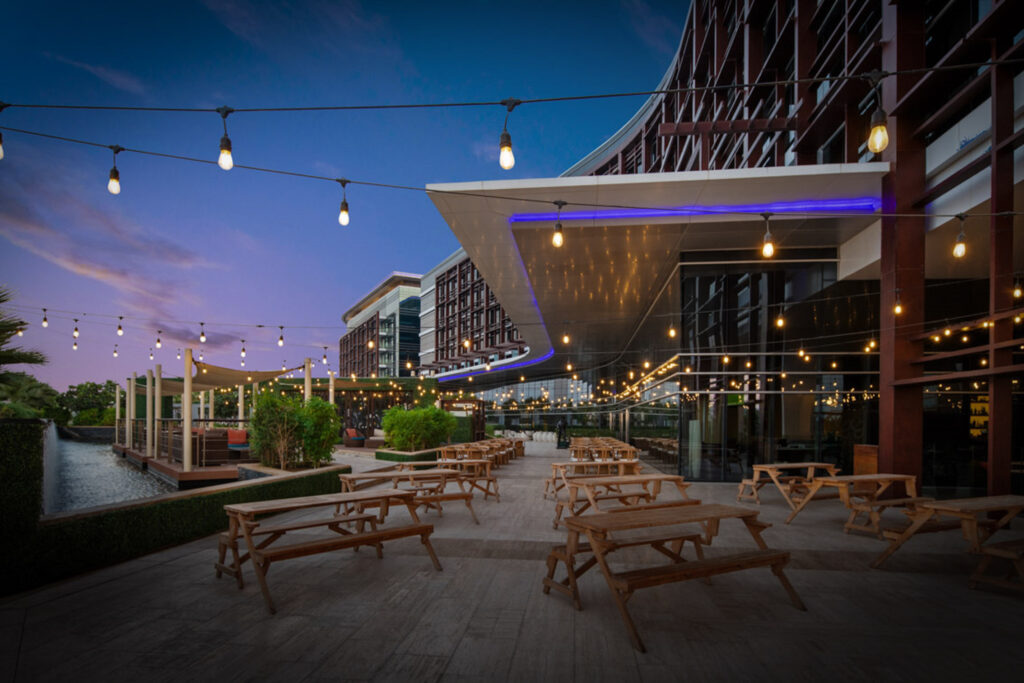 Grab the squad and enjoy happy hours daily with selected beverages priced at 30 AED. Enjoy special-priced drinks on weekdays from 12 pm to 7 pm and at weekends from 10 am to 7 pm.
Taco Tuesday brings a slice of Mexico to the table with unlimited tacos for two hours of choice from 12 pm to 12 am, priced at 99AED.
Appaloosa puts sports bar fans to the test with the Champions Wednesday challenge. Finish a half-kilo burger in thirty minutes plus a pint to win an additional free pint. The challenge costs 99 AED.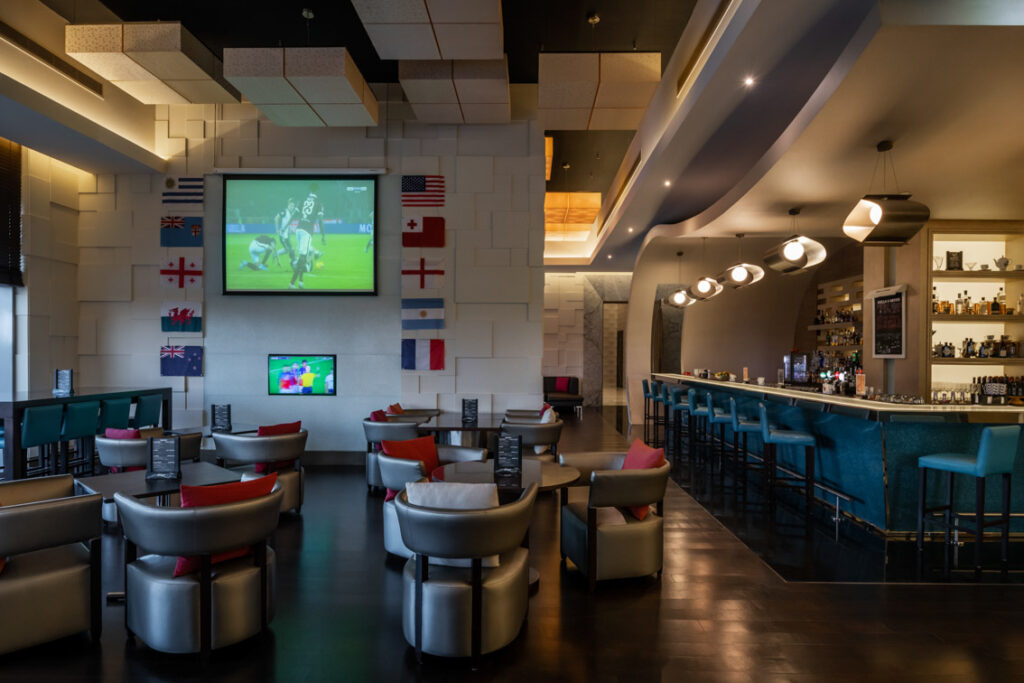 Thursday is quiz night at 7:30 pm. Be there to be in with a chance to win some prizes.
The Marriott has an after-brunch deal at Appaloosa with free-flowing house beverages for two hours for 99AED from 4 to 7 pm.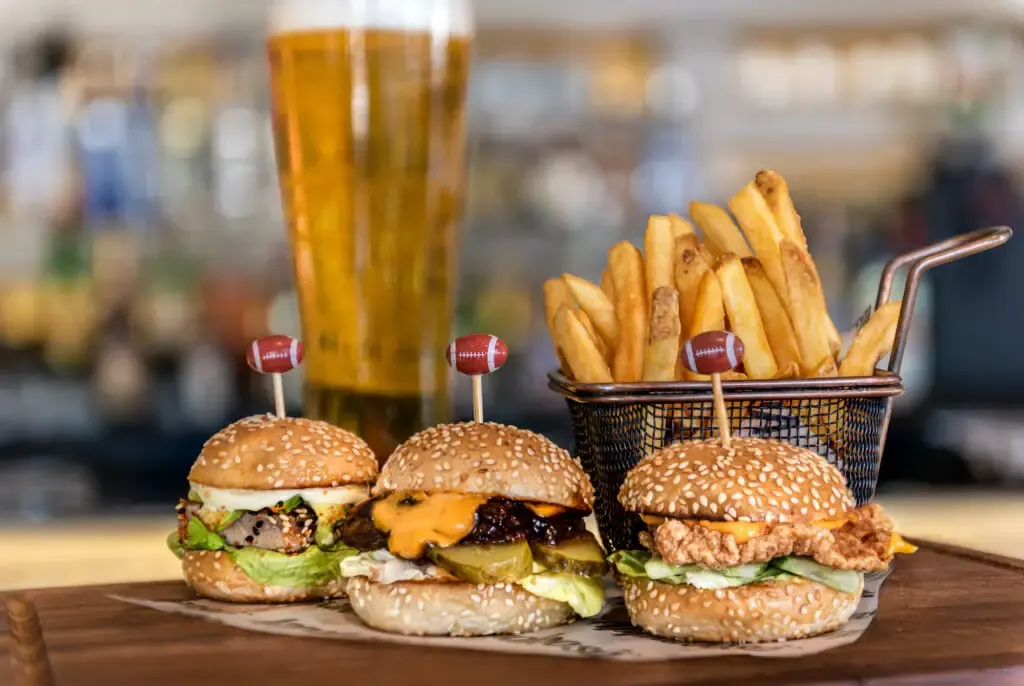 Check out the Sunday roast between 1 pm to 4 pm for some delicious Sunday goodness for 99AED.
Location: Marriott Hotel Al Forsan, Abu Dhabi, Street 12th Khalifa City A – Abu Dhabi
Timings: Monday to Friday, 12 pm to 3 am Saturday to Sunday, 10 am to 3 am
Call 971 2 201 4131
9. Hemmingways
The award-winning pub is tucked away on the ground floor of the Radisson Blu Hotel on the Corniche.
Crowds are glued to the multiple wide-screens in the pub when the sporting showdowns happen. A pool table and all the classic pub grub is available.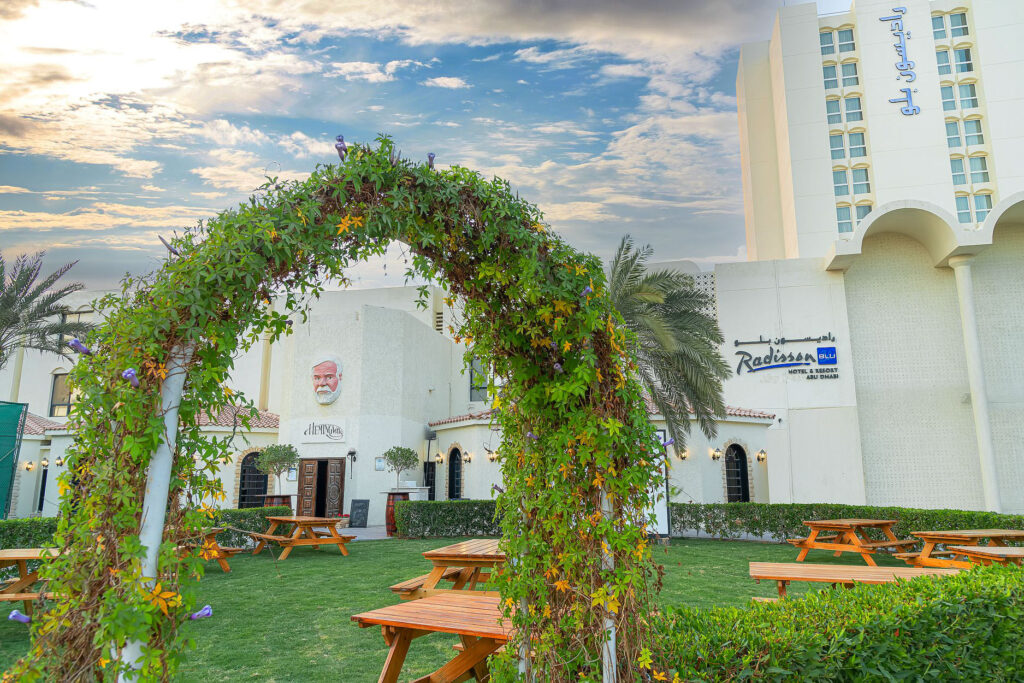 Throughout the week, there are some fantastic deal. The slider deal is available daily from 4 pm to 12 am. It costs 89 AED for three sliders with a bottle of hop. Happy hour is daily, with the cocktail of the day costing 49AED between 4 pm and 12 am.
Wear a jersey of the team that is playing on screen and if they win, get a bucket of four bottles of hops for free.
Ladies' night is on Thursdays from 4 pm to 1 am where they can get three beverages for 60AED plus 20% off on all food orders with live entertainment.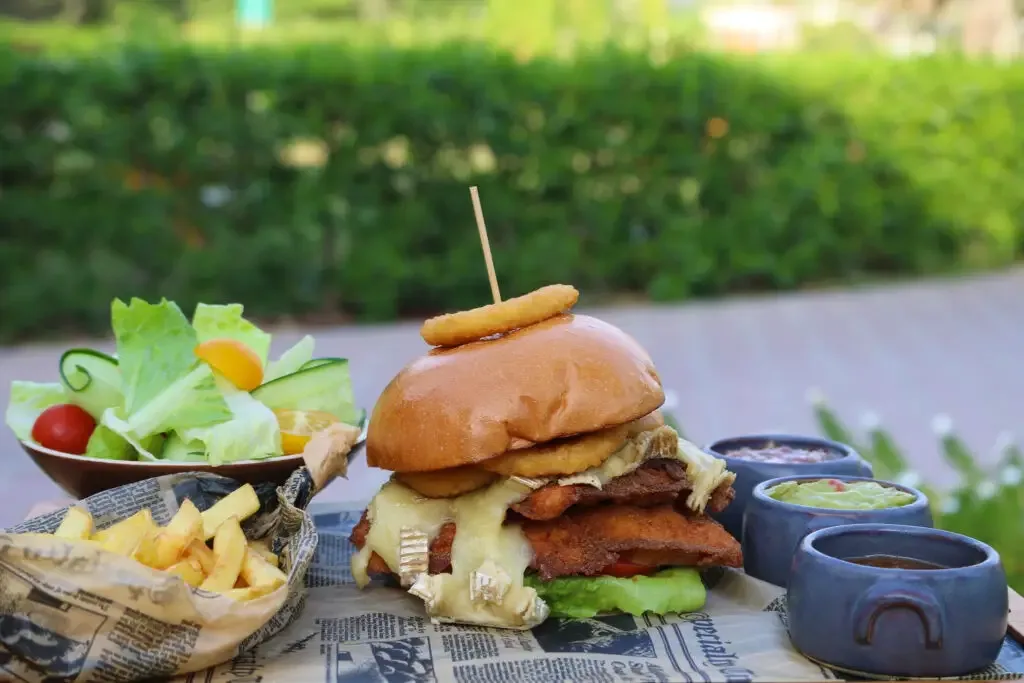 The locally famous duo band play on Thursdays and Fridays from 9 pm to 2 pm and Saturdays from 7 pm to 1 am.
Feast on a succulent roast all day, Friday to Sunday, for 89AED or upgrade to the deal with two beverages for 129AED.
Location: Radisson Blu Hotel & Resort-W Corniche Rd – Al Bateen – Abu Dhabi
Timings: 4 pm to 2 am Daily
Call: 97126924999
We hope you enjoyed reading about the best sports bars in Abu Dhabi. Did you visit any of the above listed posts? Leave a note, we love to hear from you.