Abu Dhabi is an archipelago of over 200 islands in the Arabian gulf making it a haven for all things water sports. With a coastline stretching 700km, there are many perfect places to wakeboard in Abu Dhabi.
Historically, wooden Dow boats were the only thing floating on Abu Dhabi waters for fishing and pearl diving.
Nowadays, the coast sees tourists and locals enjoying everything the gulf has to offer, be it in a personal boat, or private hire for fishing, water sports or relaxation.
Interest in wake boarding is increasing in the Emirate with more facilities and services popping up. Most notably, the Al Forsan Park Wakeboarding facilities.
Most of the companies providing wake boarding in Abu Dhabi accept all skill levels and there is no need to buy equipment, it is all part of the price!
Differences Between Wakesurfing & Wakeboarding Abu Dhabi
Many people wonder what the difference is between wakesurfing and wakeboarding. Wake surfers use a rope to hold onto whereas wake surfers are hands-free.
Wake surfing requires a great deal of balance, weight distribution, coordination, and core stability.
As the engine is located inside the boat it has safety benefits. The back of the boat is open, eliminating the risk of injury from the propeller.
Similarly, with the engine being in the centre of the boat, it provides the vessel with greater weight distribution and manoeuvrability which helps with tricks.
Let's jump right into looking at the best places to go wake surfing and wakeboarding in Abu Dhabi.
1. Abu Dhabi Marine-Corniche
Abu Dhabi Marine is one the biggest providers of water activities in the city. Wake boarding and wake surfing are some of the most popular.
The activities are enjoyed near the famous landmark, Emirates Palace, creating an epic backdrop and raising the profile of the sport.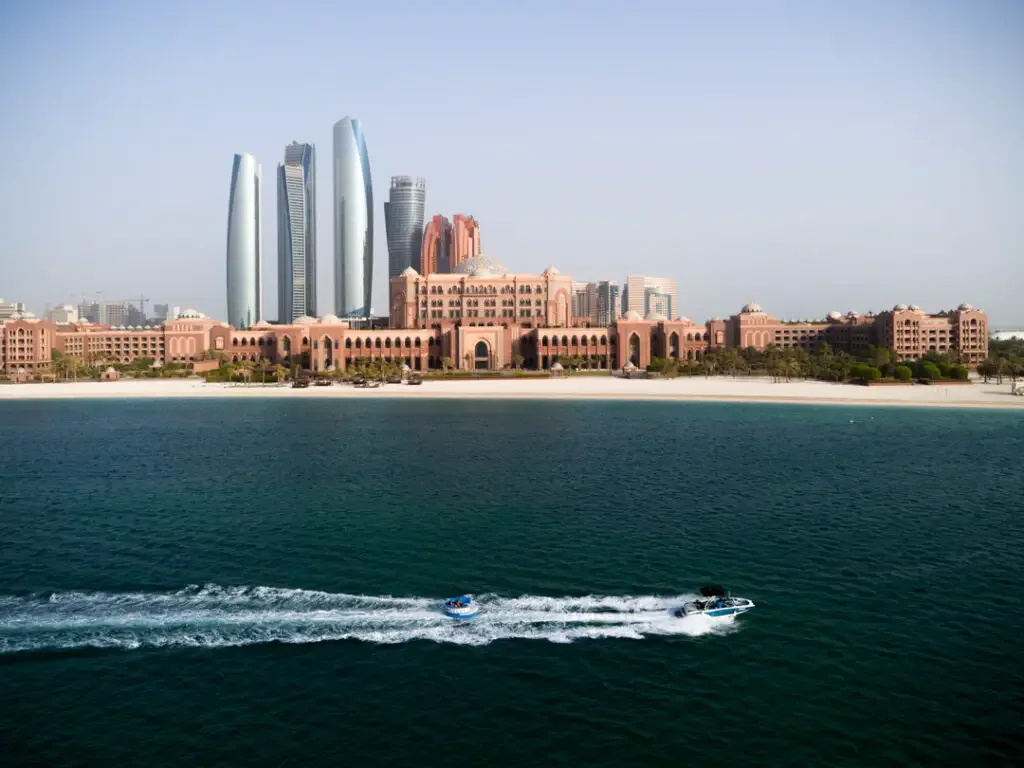 The Instagramable backdrop of the Emirates Palace is not near as impressive as the coach's ability on the water. The company takes pride in coaching children and beginners creating a fun-filled outing for families.
Although perfect sea conditions are never guaranteed, the water close to Emirates Palace is somewhat protected from the open waters of the Gulf.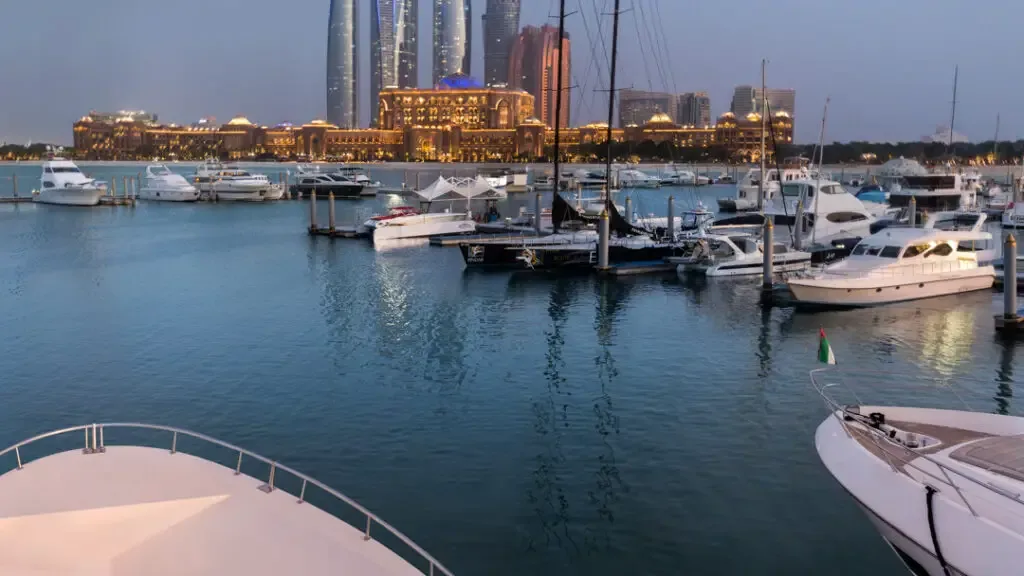 In the first few lessons, wake boarders are briefed on safety precautions as well as positioning. Once the necessary position and posture have been achieved, wake boarders can reach speeds of up to 40 km.
All equipment is provided for the lesson which includes the wakeboard, jacket, and helmet.
Cold drinking water is provided. Not to mention showering facilities at the state-of-the-art water sports centre where there is a chill vibe.
Price: Wakeboarding and Wakesurfing 330AED for thirty minutes
Location: Emirates Palace Water Centre
Call: 08004386
Timings: Daily 08:00 am to 19:00pm
2. Al Forsan International Sports Resort
There are many epic wakeboarding cable parks across the world and of course, Abu Dhabi has one of the best at Al Forsan Park.
Al Forsan has a special cable park for wakeboarding in Abu Dhabi and is the first of its kind in the Middle East. Not to mention the park has hosted a few competitions.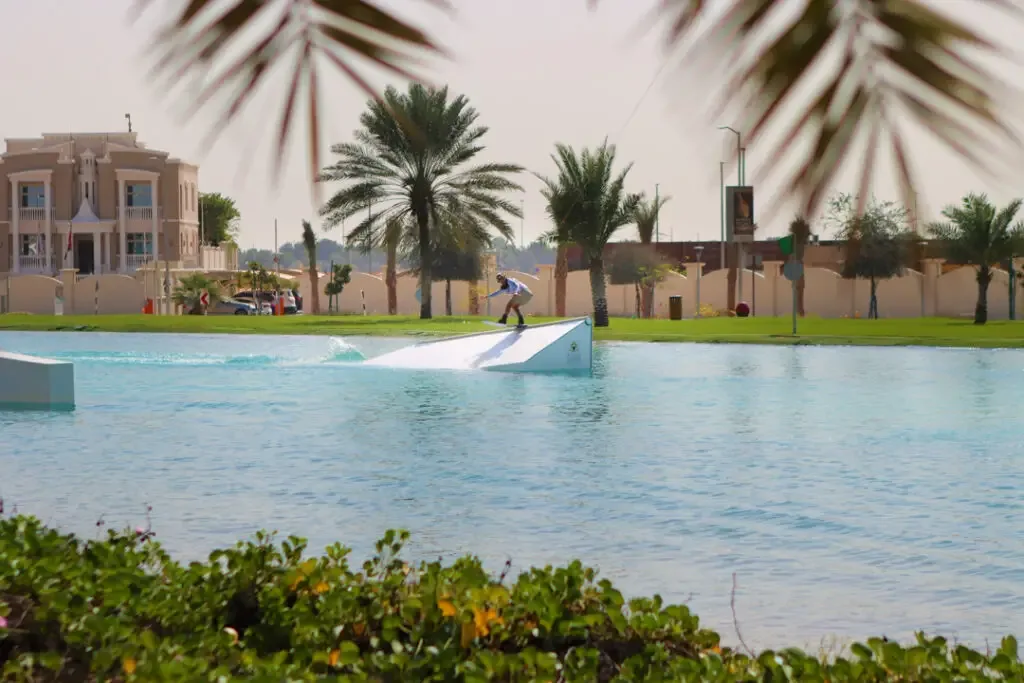 It has a pro lake, a beginner lake and a beginner's cable, which pulls wake boarders in a straight line.
The main differences between wakeboarding in a cable park versus the sea are the water conditions, torque speed and obstacles.
Needless to say, the wake board park has calm waters unless it is obscenely windy. The cable system can accommodate multiple people at once, unlike a boat.
Similarly, the system overarches the water park and pulls wake boarders between 29 to 35 kilometres depending on skill level. There are multiple ramps to do flips, ollies and twists.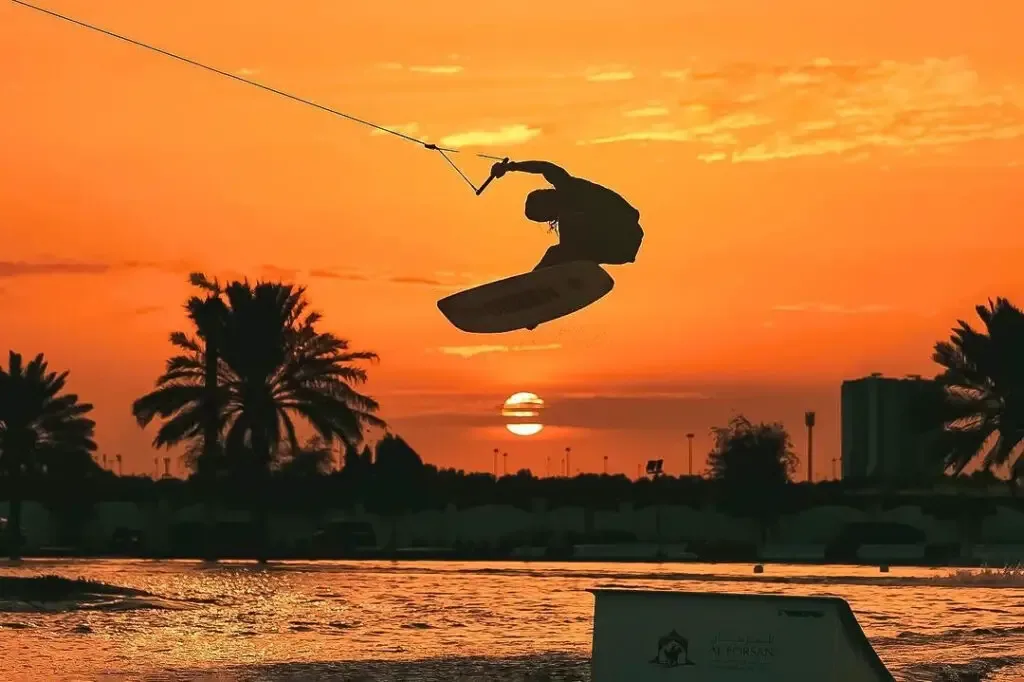 The wakeboard park has a pipeline that wake boarders can grind the board along. For starters, the main challenge will be to assume an upright position and complete some of the course on the lake.
Both parks are much the same, however, the pro wake park is vastly bigger in size, requiring a greater degree of stamina. It is fantastic to watch the more advanced wake boarders glide through the water and leap into the air.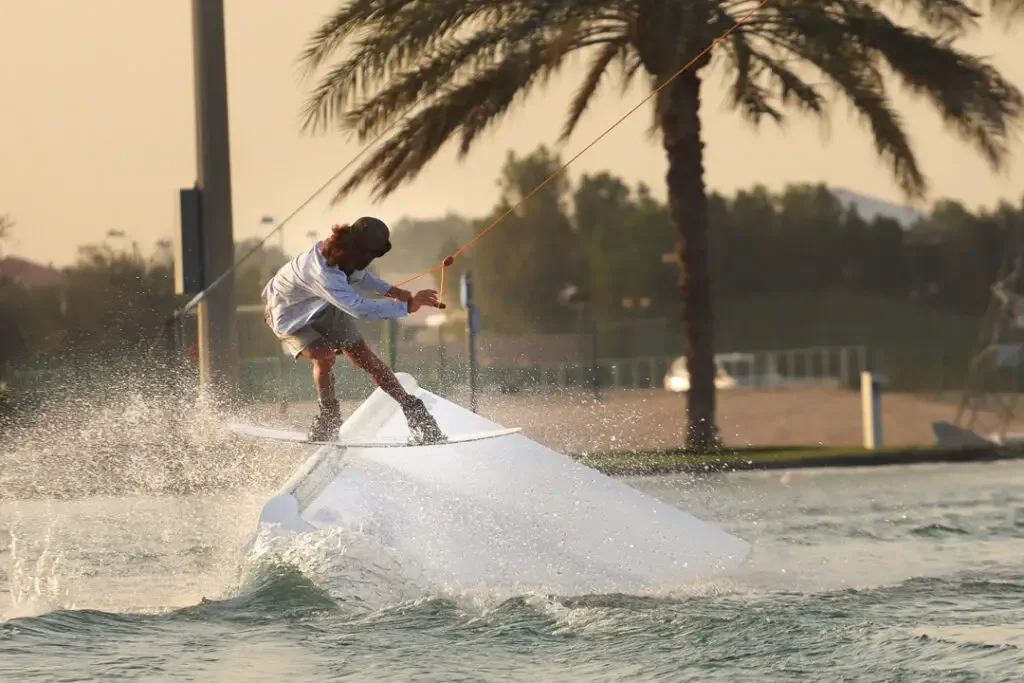 If wakeboarding is difficult to master, there is an option to use a kneeboard which is a fun experience and doesn't require as much skill. For those serious about the sport, there are coaching services available.
Al Forsan Coaching
The coaches at Al Forsan have an infectious passion for the sport. They aim to build local talent and bring it to the international stage.
Al Forsan coaches offer individual lessons and group lessons, teaching students the fundamentals in a step-by-step process. The experienced team have the ability to take serious wake boarders to a professional level.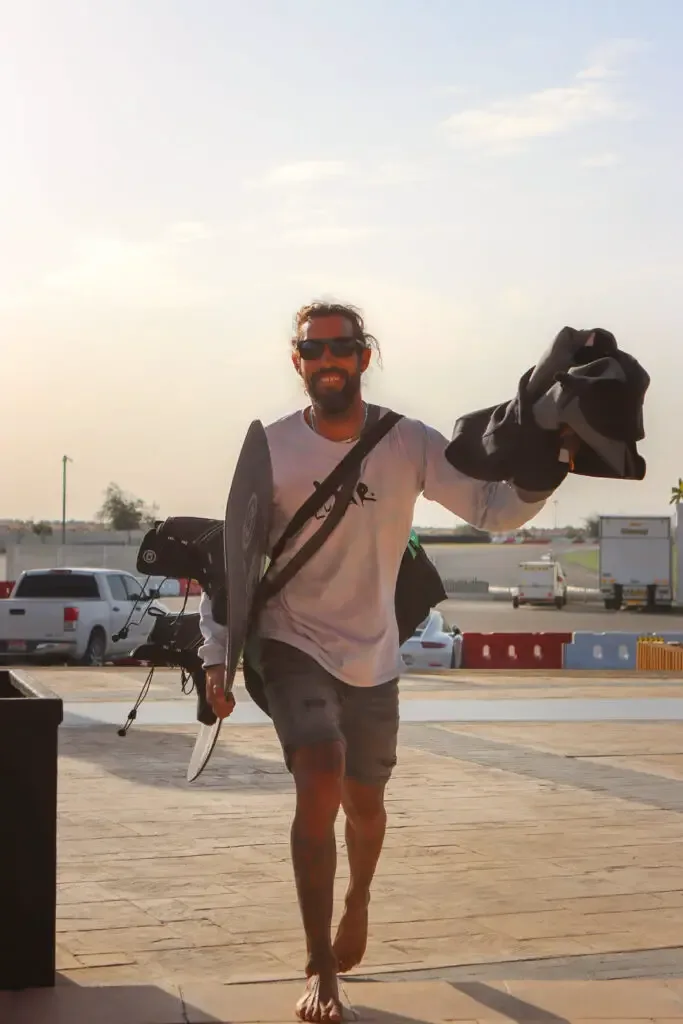 Al Forsan has many other activities such as go-karting, zip lining, archery, paint balling, shooting and equestrian.
One of our top recommended restaurants, Kishi Thai and Japanese is the perfect hangout spot after a day of wake boarding for unlimited sushi.
Pricing: 137 AED. Emirates ID or passport is required to wakeboard. A helmet and life jacket are supplied.
Wakeboards, ski sets and kneeboards rental 37AED
Wet suit rentals are 137 AED.
Coaching prices: Individuals and groups, with a group of fewer than five, cost 315 AED per person for one hour and 1470AED per person for five hours.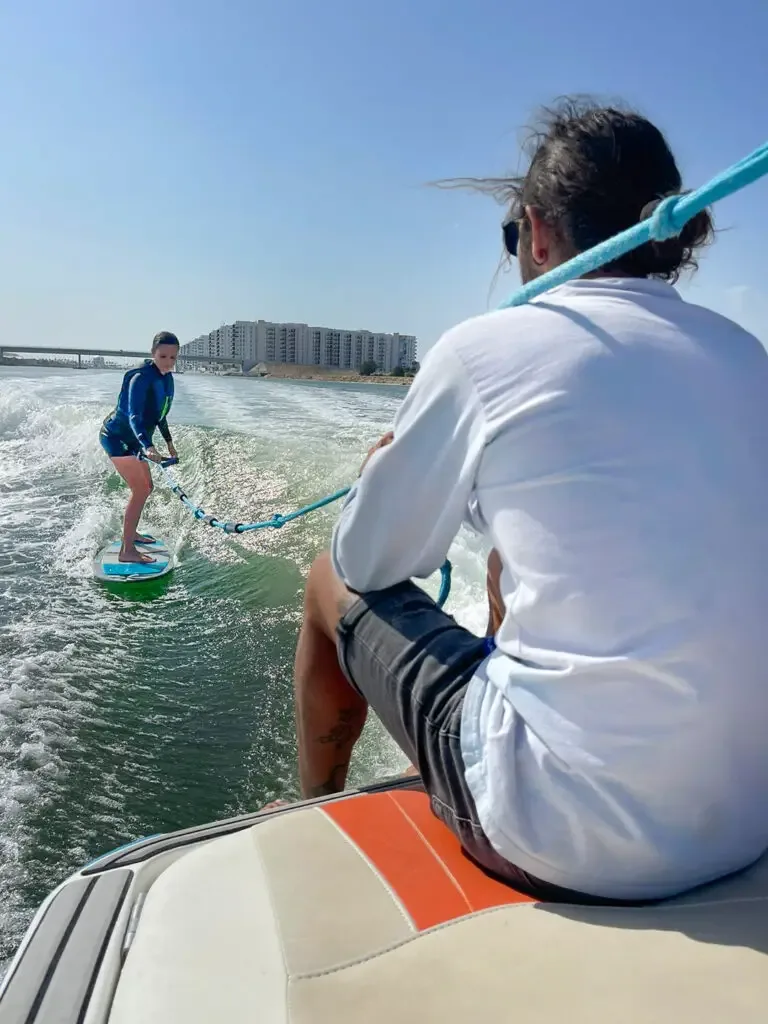 For a group of five or more, the cost is 210 AED per person for one hour and 945 AED per person for five hours. Cable time included.
Fazaa discounts are occasionally available.
Timings: 07:00 am to 23:00 pm
Contact: 800 9900
Location: Al Forsan International Sports Park
3. Eywoa Marine Sports-Yas Marina
Eywoa Marine sports have a fleet of four boats docked up in Yas Marina with a team of expert coaches.
The company utilizes the canals around Yas Marina for the calm waters creating the perfect wake boarding experience cruising past more scenic locations on the outskirts of Yas Island.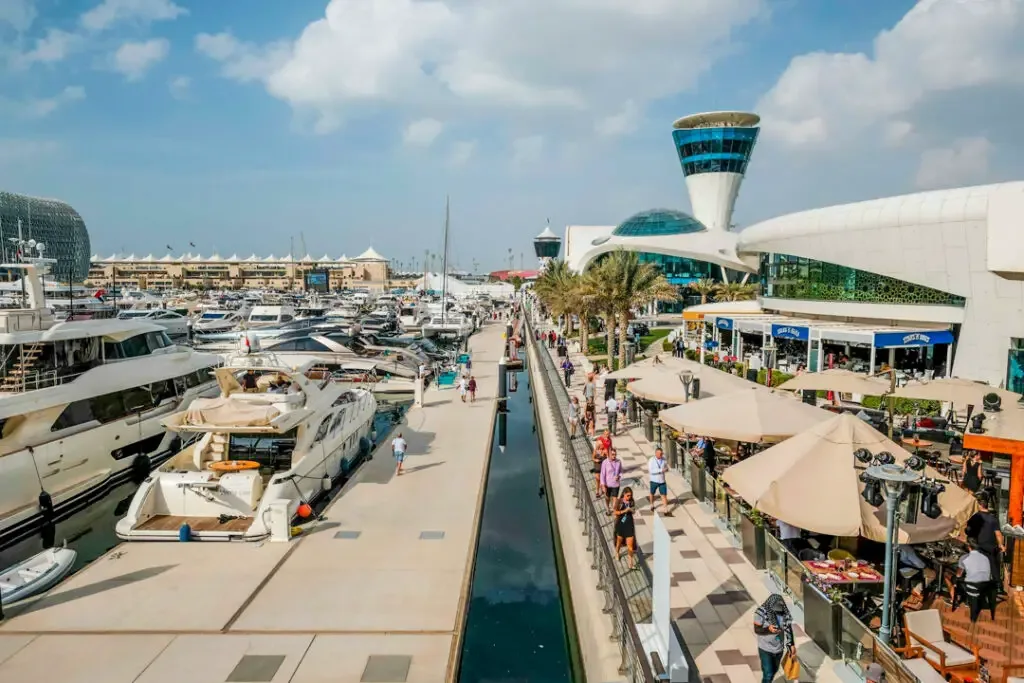 The company offer wake boarding and wake surfing activities. The certified coaches teach kids from the age of five upward. They supply equipment for both adults and children during the experience.
Eywoa has been known to host groups who have especially come to Abu Dhabi to wakeboard.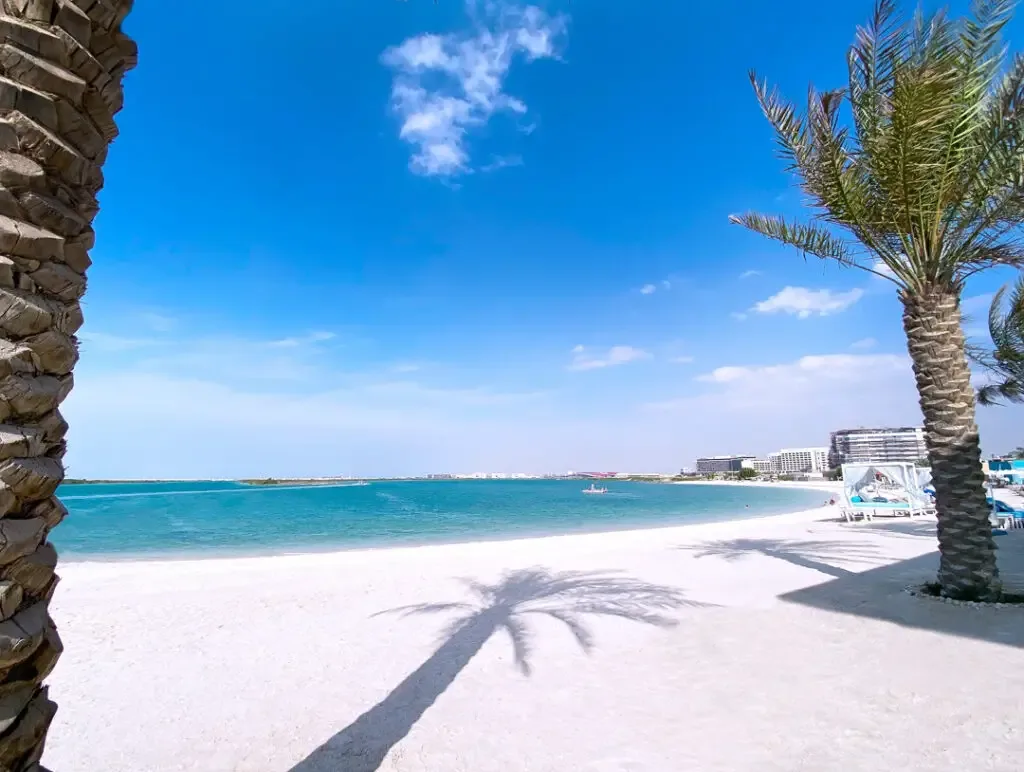 Price: 350AED for thirty minutes or 600AED for one hour.
There are ten-hour packages for 5500AED. The same prices apply to wake surfing.
Soft drinks, riding gear and a shower on the boat are included in the price.
Call: 971 554136273
Timings: Monday to Sunday, 06:00 am to 18:00 pm
Location: Yas Marina Yas Island, Abu Dhabi
Eywoa has an online store which sells wakeboards, wake surfboards, surfboards, skim boards, wake vests, clothing, and wake boarding bindings.
4. Wake Evolution- Eastern Mangroves
The next stop is the Eastern Mangroves. At Wake Evolution, the team's mission is to share the obsession with wake boarding.
Whether you are a newbie trying to get to a standing position, a seasoned wakeboarder learning new tricks or a pro looking for the best location, Wake Evolution covers all abilities.
Wakeboarders can rip through the calm waters and be surrounded by the lush greenery of the mangroves.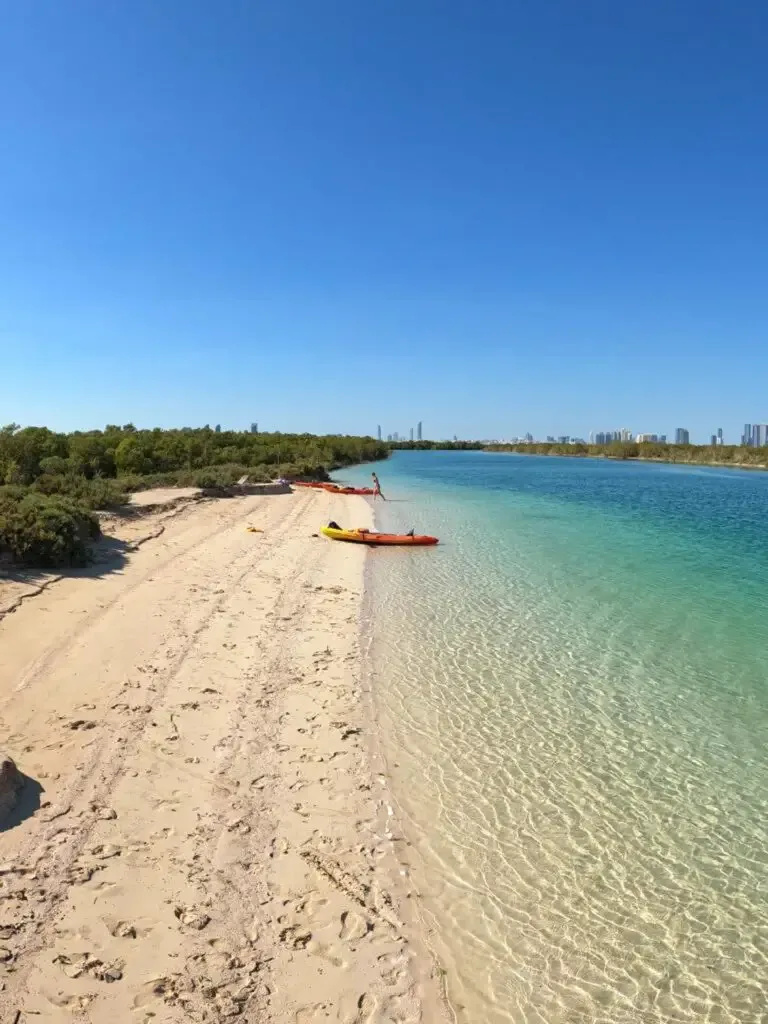 Wake Evolution uses its geographical location to its advantage as its patch has protected channels and islands.
On offer are one off lessons, packages, coaching and wake training camps.
Pricing: Wakeboarding and wake surfing cost 300aed for thirty minutes or 550AED for an hour.
For private coaching, it costs 400 AED for forty minutes or 700 AED for one hour.
A three-hour package cost 1500 AED and five hours cost 2250 AED.
Five hours of coaching lessons cost 2750 AED.
For a wake training camp, the cost varies depending on the number of sessions, accommodation, coaching and how many days need to be booked.
Call: +971 503065612
Timings: Monday to Sunday, 07:00 am to 18:00 pm
Location: Eastern Mangroves Marina, The dock closest to Anantara Hotel.
When To Go Wakeboarding in Abu Dhabi
Abu Dhabi, like most desert regions, has intense hot weather, especially in the summer months.
From June through to September, the prevailing winds from the south bring hot, humid air from the Gulf of Oman.
Average temperatures range from 39 degrees to 42 degrees. The Shamal is a wind which can come from any direction, causing sandstorms, and reaches up to 60 km per hour, lasting one to two days.
Typically, Shamals occur a couple of times during the summer months. It is important to understand such weather conditions before heading out on the water. The Shamals can also occur as the season changes.
Peak temperatures can reach up to 50 degrees, making it unbearable to wakeboard at certain times of the day in the summer months.
It is possible to wakeboard early morning and late evening during the summer months. Sunrise can be expected from 05:33 am onwards and set as late as 7 pm.
Despite the hot weather, the average wind speed is less during the summer months creating calmer waters. Wake boarding lovers are more likely to get the glass-like water conditions during summer.
Cooler conditions start in November or December, and right through until April. During the cooler months, the wind blows from the west with very occasional rainfall. The wind peaks in February.
Choppy waters can be expected, and it is best to assess the sea conditions before heading out. There are plenty of opportunities to hit calm waters with cooler temperatures.
Temperatures range from 15 to 26 degrees in the winter months of Abu Dhabi.
Disclaimer: This post about wakeboarding in Abu Dhabi may contain affiliate links. By using them, it will not cost you any extra, we will receive a small commission to keep us writing.
You may also like:
Best spots to go kayaking in Abu Dhabi